This post contains affiliate links which means that I will make a small commission if you purchase a product after clicking on any of them, at no extra cost to you.
Especially when it comes to food, make sure that you are not sleeping on The Heights! Seminole Heights restaurants really know what they are doing. Along with great restaurants, there are also plenty of neat bars, breweries, and coffee shops that need to be on your list of places to check out in Seminole Heights!
Best Seminole Heights restaurants
Wicked Oak BBQ
If you are yearning for a mind-blowing BBQ experience, Wicked Oak will provide you with just that! There is soo much deliciousness to choose from, and I am dying to go back ASAP to try what I was too full to get this time.
This is definitely one of the best Seminole Heights restaurants for when you're recovering from a hangover 😉
Must try: If you're as indecisive as us, do their combo platter! It comes with two meats, two sides, and two sauces. Pulled pork, pulled brisket, mac and cheese, and coleslaw ended up being our choices, and it was all absolutely amazing. 
The coleslaw was creamy and finely chopped, the mac and cheese was gooey and cheesy, and the meats were so tender and lean. We tried the Wicked mango and sweet BBQ sauces. The Wicked mango totally stole the show. It was light, sweet, and had a little kick to it— I'm looking forward to trying their guava and apple BBQ flavors next time I go!
Also, I almost forgot about the piece of garlic toast that they throw in with the meal— CRISPY, BUTTERY, GOODNESS Y'ALL.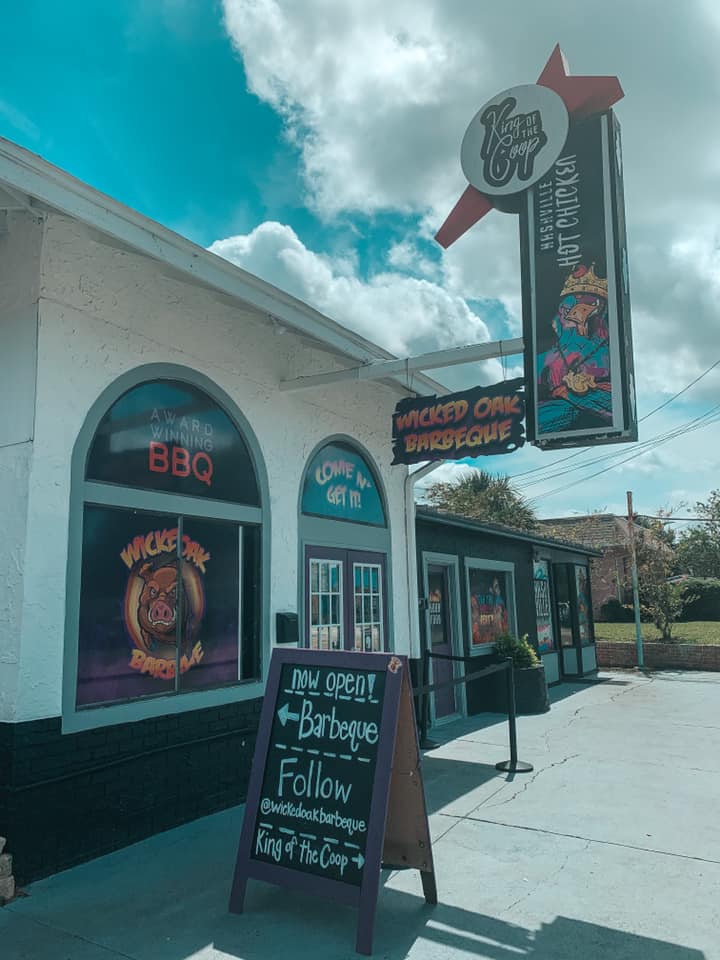 Gangchu Chicken & Beer
When it comes to exploring the vibrant culinary scene of Seminole Heights in Tampa Bay, do not overlook Gangchu Chicken & Beer!
One of the standout items on the menu at Gangchu Chicken & Beer is their crispy chicken sandwich. Prepared with a unique twist, the kimchi-brined chicken breast is perfectly complemented by the tangy Gangchu ranch and pickled daikon. Tossed in their mouthwatering honey chili garlic sauce, this sandwich elevates the concept of a fried chicken sandwich to new heights!
As a self-proclaimed food enthusiast, I can confidently say that this dish stands out as one of the best fried chicken sandwiches I've had in Tampa Bay!
We also loved the Beef Bulgogi, which is thinly sliced marinated ribeye, combined with onions, sesame seeds, and steamed rice. The combination creates a harmonious flavor profile that is both savory and subtly sweet. Accompanied by the banchan plate, featuring kimchi, bok choy, marinated cucumbers, and daikon. The burst of flavors and the quality of ingredients truly make it memorable.
For cocktails, we loved The Clifton, a refreshing concoction of gin, citrus soju, almond, passion fruit, and lemon. It was truly a delightful blend of flavors. The Minnehaha, on the other hand, offers a unique combination of vermouth, rum, triple sec, lime, almond, and ube extract, taking your taste buds on an exotic journey. These craft cocktails perfectly complement the vibrant atmosphere of the restaurant.
What sets Gangchu Chicken & Beer apart from other restaurants in Seminole Heights is its array of fun features. Tuesday nights come alive with trivia. Thursdays, the restaurant transforms into a game night hub. And for those who love to showcase their vocal talents, the karaoke room is the perfect setting. It also is perfect for birthdays in Tampa!
King of the Coop
Tampa's first Nashville hot chicken spot is worth ALL of the hype surrounding it! King of the Coop actually used to be connected to Wicked Oak BBQ, so we got one meal from Wicked Oak and one from King of the Coop. Boy oh boy did we waddle out of there!
Since my last visit King of the Coop has relocated to the inside of Flocale, a new food hall concept that includes King of the Coop, Rock Brothers Brewing (an Ybor City staple), and Westshore Pizza.
They also have a few other locations, including one coming soon to Westchase!
Must try: They offer sandwiches, but we went with the three hand-breaded chicken tender basket with hushpuppies. You have six heat choices starting at Naked (with no heat) and ending with Coops Fury (a blend of Nashville Hot and Habanero powder). We got Midway which is right in the middle, and it had just the right amount of heat for us.
The chicken was crispy, juicy, and SO flavorful! I went here thinking fried chicken wasn't really my thing and left with an addiction. It has led me to order fried chicken at several of the other Seminole Heights restaurants, and honestly Seminole Heights really knows what they're doing! I haven't been disappointed yet.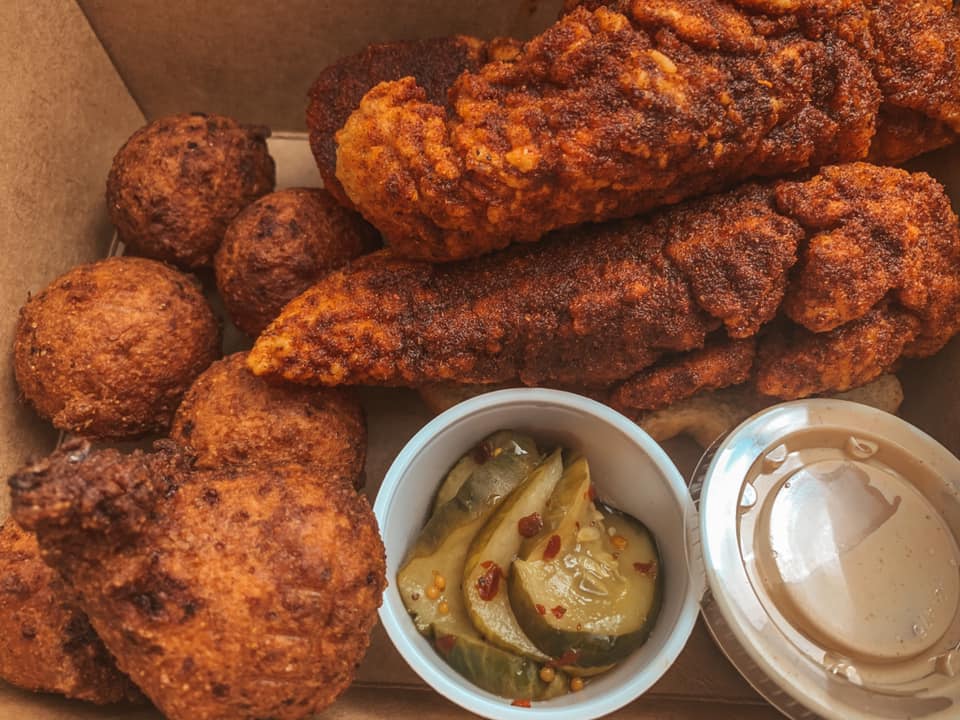 The C House
The C House: Champagne | Charcuterie | Cheesecake. Notice a trend? This place is so fun and clever— take note of how every menu item starts with a C! We went here for Sunday brunch, and it was lit y'all.
We got there two minutes before they opened and there were already at least twenty people in the parking lot waiting to be seated. The hostess said she definitely recommends making reservations Friday-Sunday just to be safe!
Despite how busy the place was, we still received excellent service.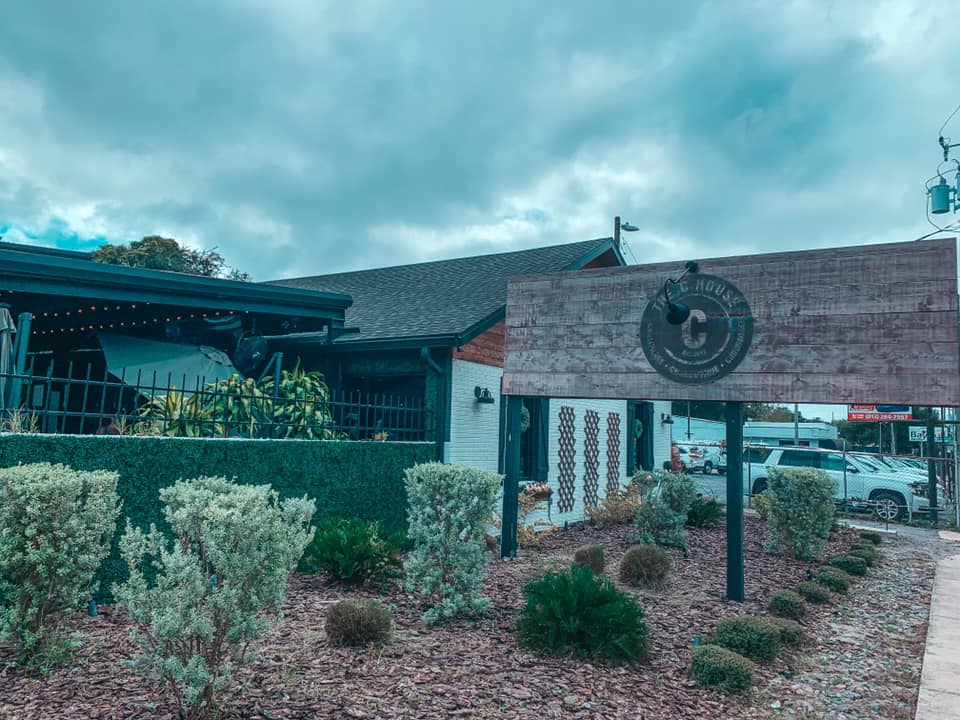 Must try: We weren't super hungry, so Remi and I decided to share an entree to ensure we had room for their pumpkin cheesecake (two of my favorite things!). We had the chicken euphoria, and it was quite euphoric. I don't normally do french fries, but they were bomb! Fresh, crispy, and topped with a flavorful seasoning. If, like me, you have sensitive taste buds, ask for light seasoning on the fries— it's very flavorful and a little goes a long way. Another fried chicken win here with the chicken euphoria!
After sharing our entree, we had just enough room to eat a little over half of their housemade pumpkin cheesecake that was everything I had hoped it to be! And, yes, we took home the last three bites that we couldn't squeeze in at brunch!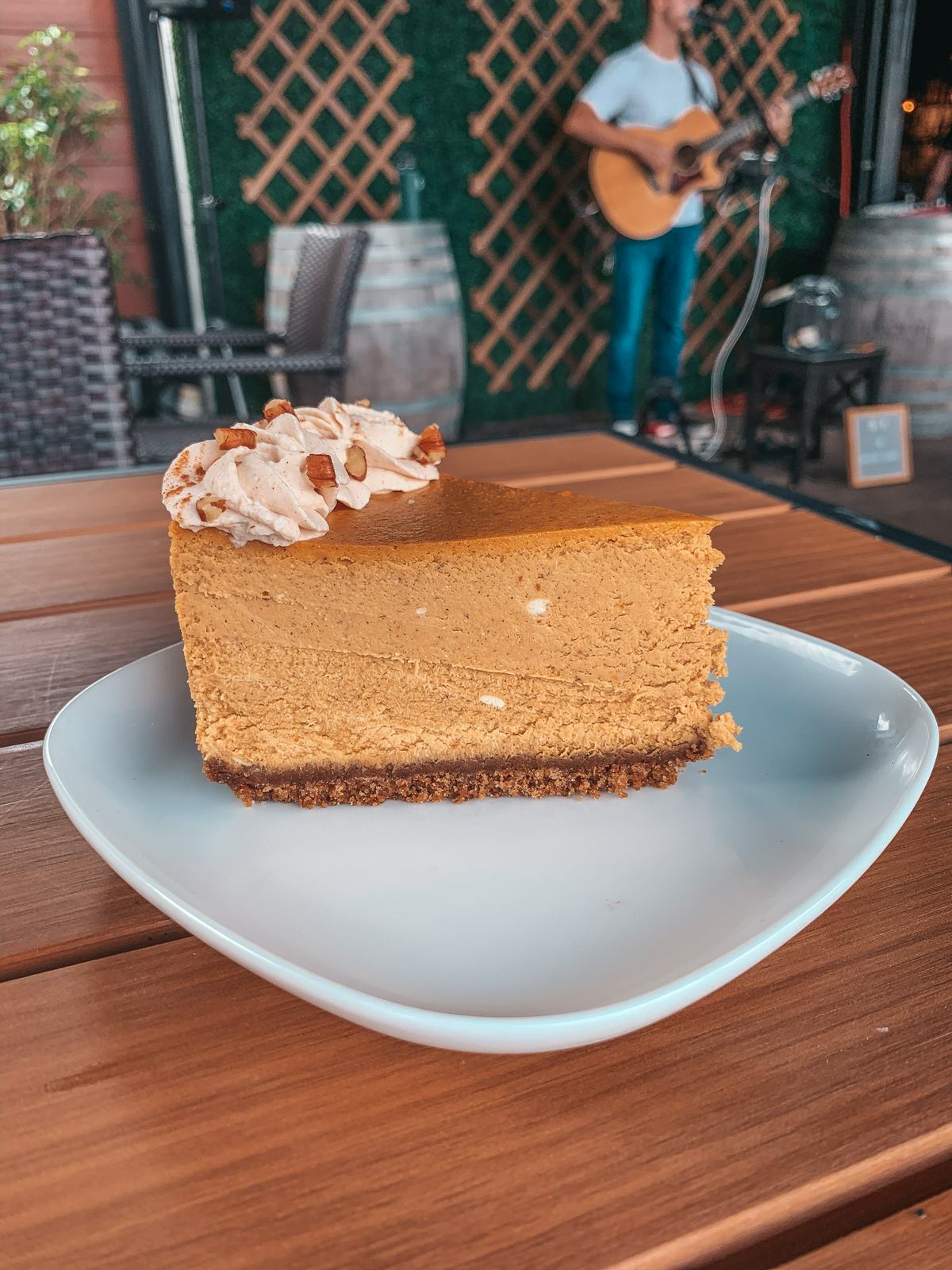 Along with the yummy food, they had live music that was so enjoyable and really good cocktails. I had their Bloody Mary, which I really enjoyed. It was not too heavy, well seasoned and flavored, and came with a little chunk of bacon, celery, and an olive.
Remi had their Comeback Kid (tequila, fresh lime juice, guava nectar, ginger bitters, and fresh mint), but with Titos instead of tequila. If you want a light and refreshing drink that goes down almost too smoothly, this is the drink for you! I'm sure The C House is good no matter when you go, but if you are looking for a good brunch spot— this for sure is it.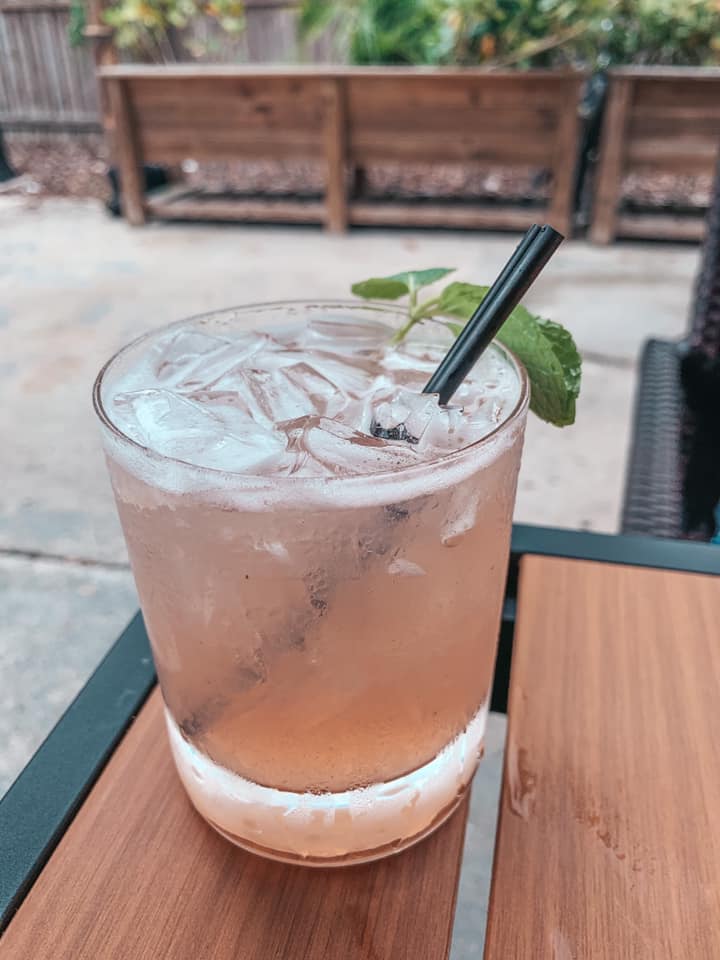 Armature Works
Armature Works is such an awesome spot, especially for the indecisive! It's one of my favorite places to recommend in Tampa. I like to think of it as a boujie food hall. You have a TON of food options, from pizza to sushi and BBQ to vegan. While there are more fast-paced style food options, you also have some sit-down options as well as a rooftop bar. There really is something here for whatever craving or culinary experience you're wanting.
The great thing about Armature Works is there are plenty of activities to do as well. Urban Kai offers SUP rentals, classes, and tag-along adventures, or if you're not feeling too adventurous before eating, you can always enjoy a nice stroll on the Riverwalk.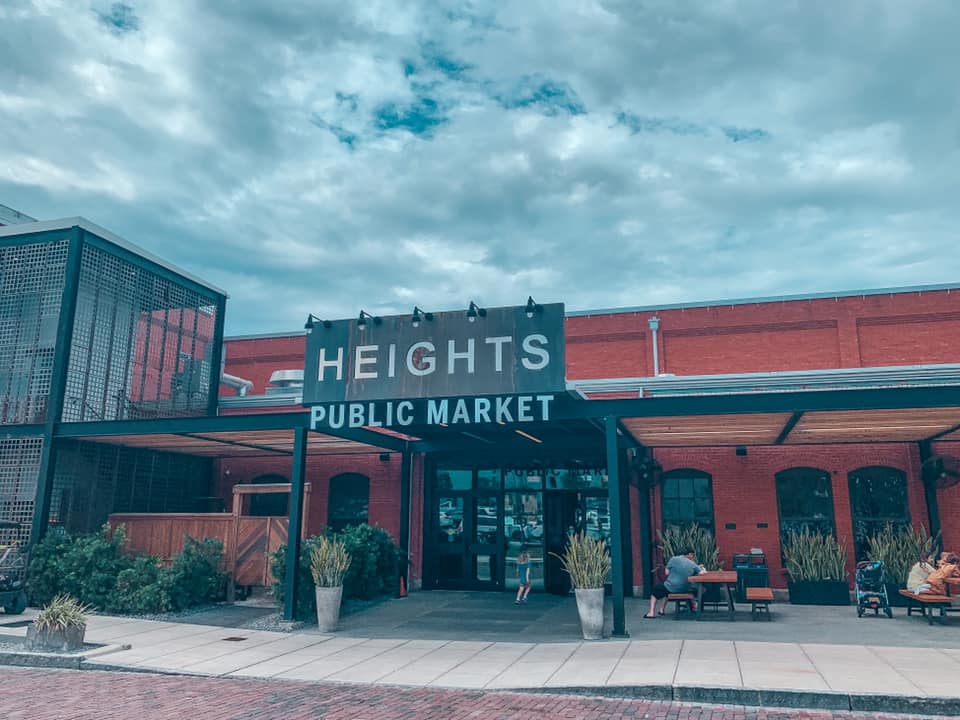 Must try: This place is jam-packed with delicious food options! So far I have enjoyed pizza from AVA, sushi from Zukku, and cocktails at M. Bird. Bake'n Babes now has a location at Armature Works, and if you're craving dessert, this is the spot! My absolute favorite spot here though is Muchachas! You'll want to get the quesatacos and street corn for an explosion of flavor.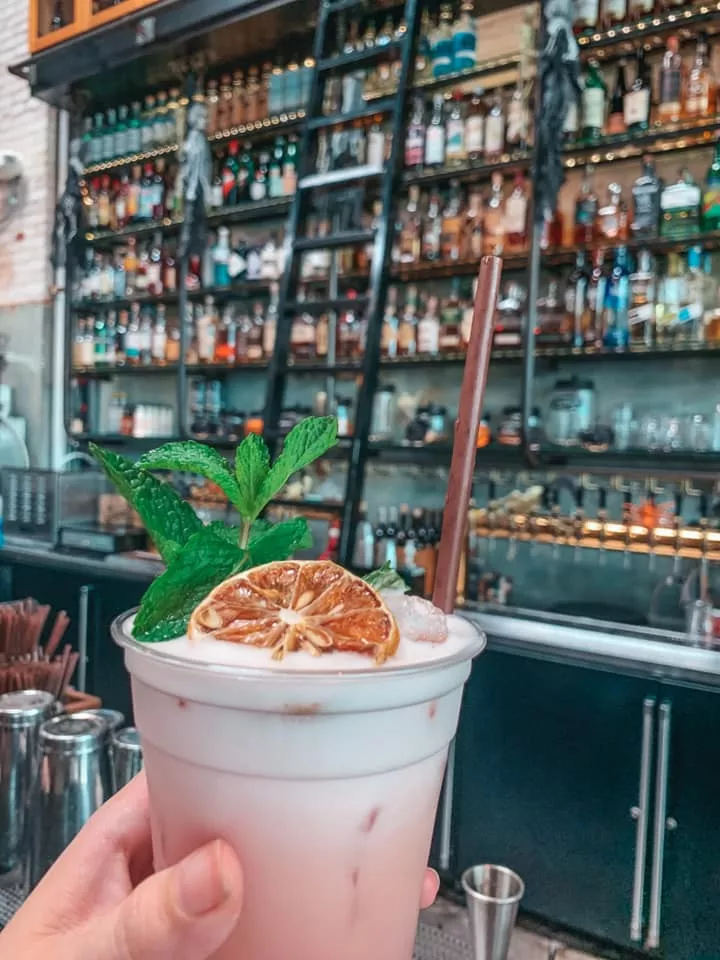 Mekenita Cantina
Inspired by Oaxacan traditions and fresh Pacific ingredients, Mekenita Cantina truly brings something to the table that my taste buds have never before experienced. Interesting cocktails and a dynamic food menu with such creative, fresh dishes that will get you excited.
This is definitely not my normal style of cuisine, but I was truly blown away. Go here once and you'll understand why it's on the list for best Seminole Heights restaurants.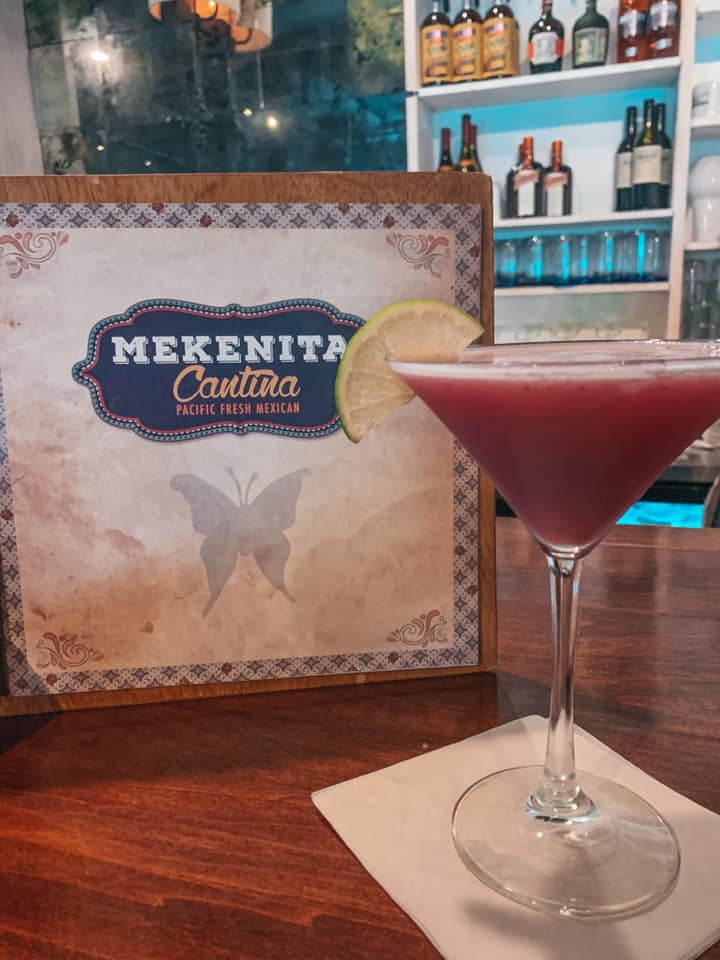 Must try: To drink, I enjoyed the Black Lavender, which is New Amsterdam vodka, muddled blackberries, lime, lavender flower, lemongrass, and bubbly! The true star of the show were the grilled citrus chicken & plantain nachos. The ingredients were so fresh, I seriously felt healthy eating nachos. The nachos come with a pineapple papaya salsa and a passion fruit serrano citrus sour cream— are you drooling yet??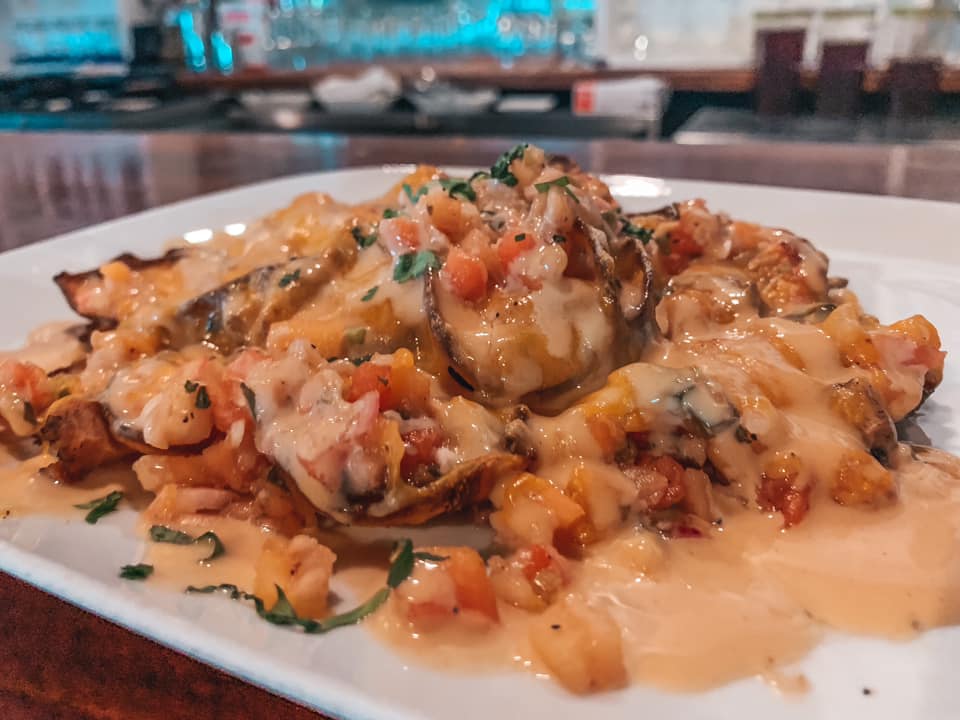 Harvest Bowl Eatery & Market
Harvest Bowl is a fast-casual dining experience that doubles as a market. You'll find bowls that are healthy, hearty, and fresh! If none of their signature bowls pique your interest, you can always create your own. They have vegan and vegetarian options as well! While it is fast-casual, I found the vibe to be super chill and adorable!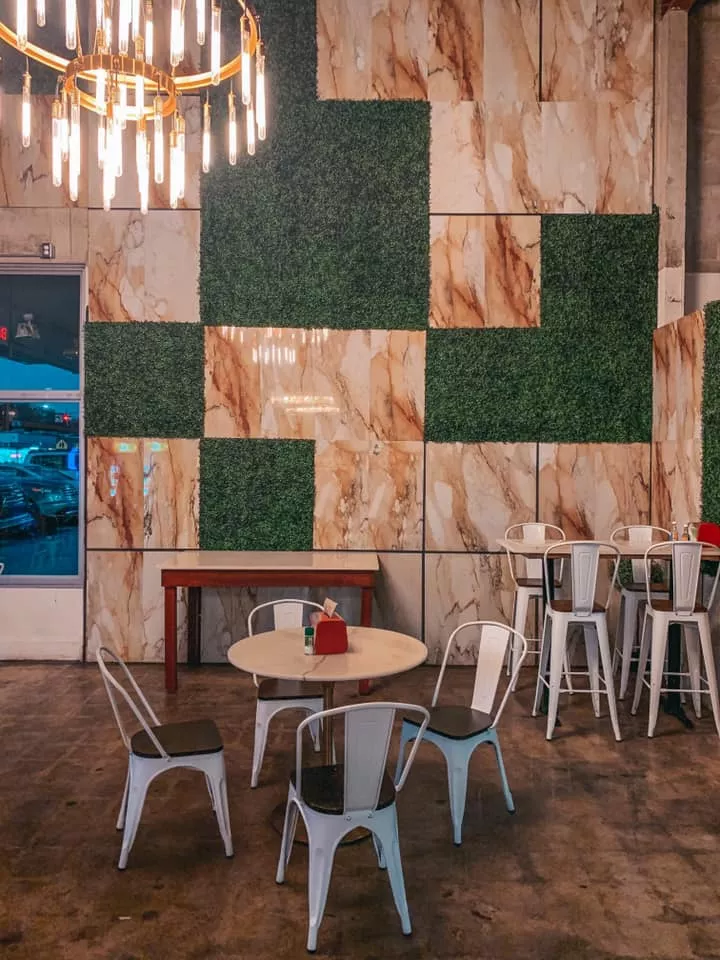 Must try: While I absolutely loved my bowl, every menu item sounded and looked so good I don't think you can go wrong! Remi and I shared the surf & turf (that way we had room for their Riverwalk acai bowl ;)). The surf & turf is brown rice, mixed greens, green beans, grilled mushroom, sweet potatoes, filet tips, and grilled shrimp (I subbed broccoli for the sweet potatoes).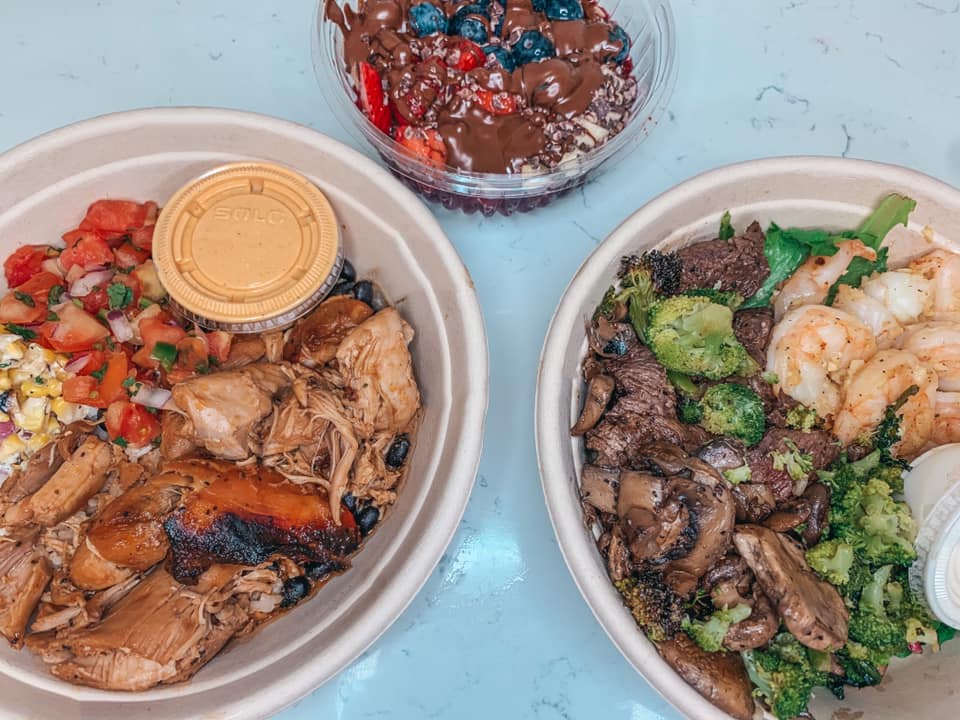 Best breweries, cocktail lounges, and bars in Seminole Heights
Common Dialect Beerworks
This family and dog-friendly brewery is the perfect place to gather and enjoy an ice-cold beer! This unique brewery blends the art of craft beer creation with a warm, inclusive atmosphere, resulting in an unforgettable experience.
Common Dialect's commitment to quality is evident in every sip, as their skillful brewers concoct a diverse range of flavors that cater to both traditional and adventurous palates. I really enjoyed their Gator Face Embrace which is a mango, coconut, peach, and vanilla sour!
They often have rotating local food trucks on the premise as well as fun events like weekly Tuesday Trivia.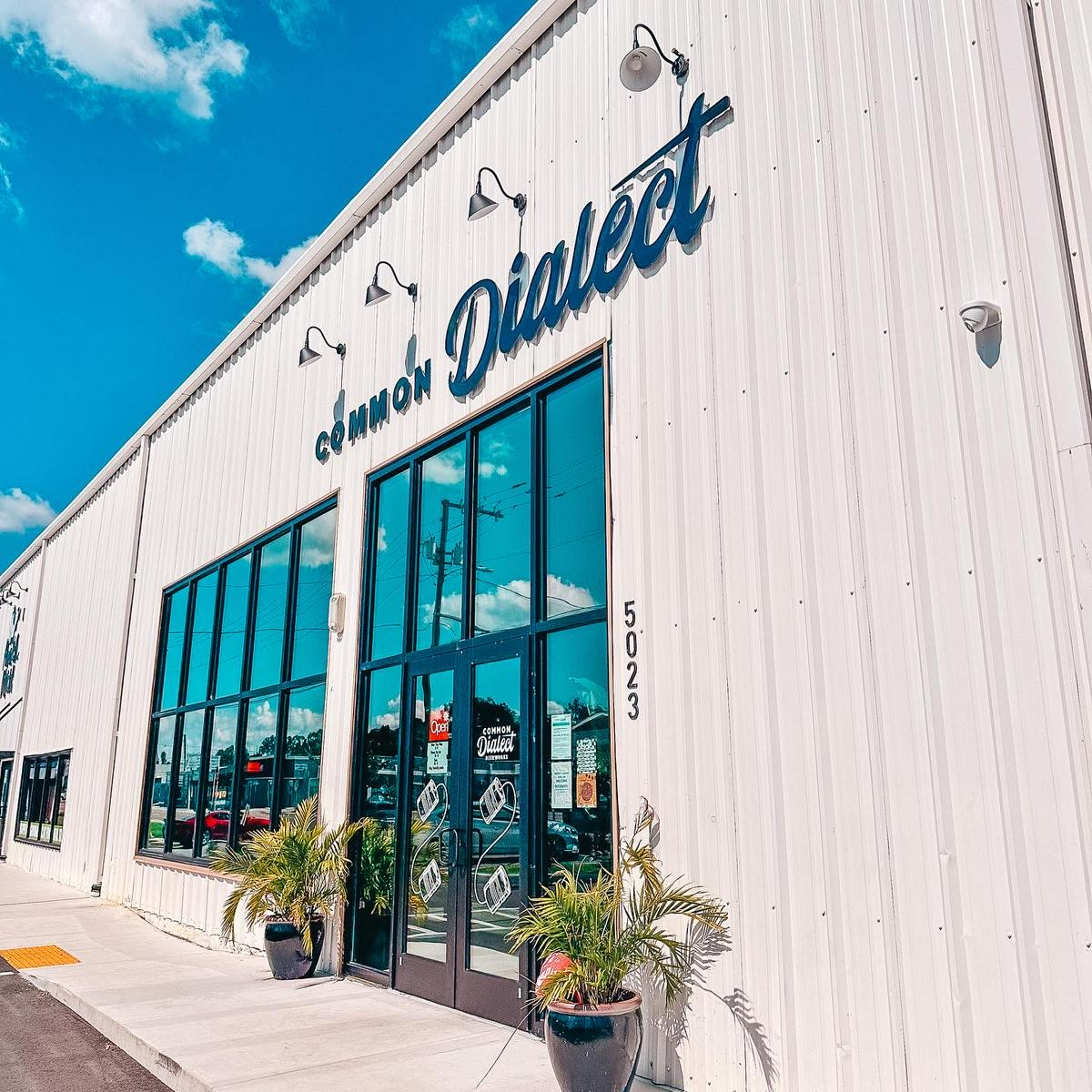 Woven Water Brewing Company
Woven Water Brewing is my type of brewery! They don't just have your typical IPAs and ales. Woven Water offers a unique array of hard seltzers and fruited sours. They change seasonally, but for the fall they offer fun options such as pumpkin spice fusion which is a super fruited Sour Ale conditioned on pumpkin, banana, cream of coconut, pumpkin ice cream, and pumpkin spices, or their raspberry peach cobbler a la mode which is a super fruited sour ale conditioned on raspberries, peaches, vanilla ice cream, cinnamon, and graham crackers.
For someone who isn't typically much of a beer drinker, I love when breweries have unique options like this! The beer is also a little thicker because it has parts of the fruit actually in it. Definitely ask the bartender about their fermentation and conditioning process, because it's really interesting!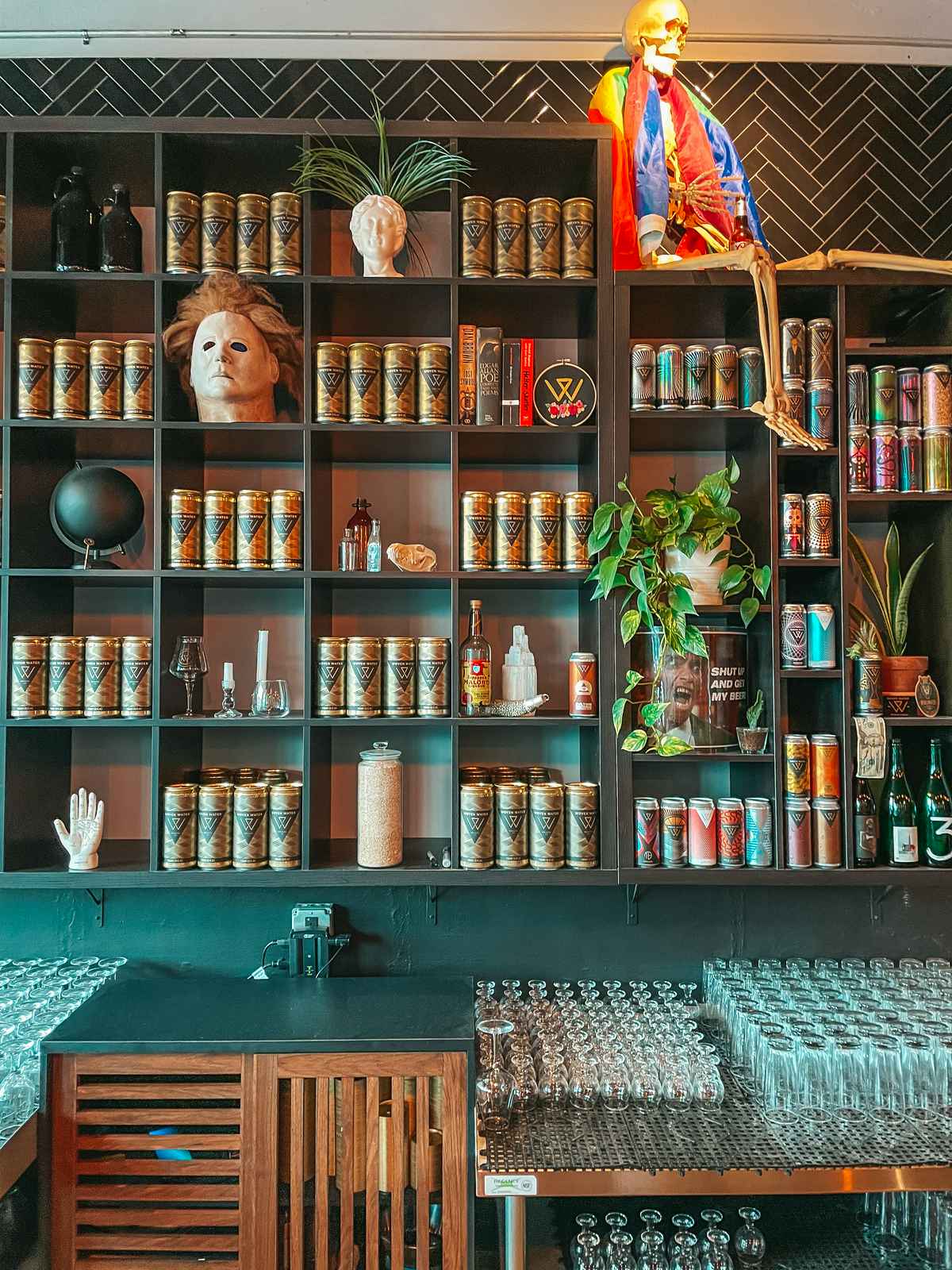 Mandarin Heights
Mandarin Heights is a whole vibe. It's easily one of the best bars in Tampa. From the aesthetic to the drinks, being here just brought me so much joy. The decor gives a mid-century modern lounge essence and has indoor and outdoor options. The cocktails are super fun and innovative. If nothing on the drink list appeals to you, the bartenders are more than happy to craft something catered to your taste and preferences!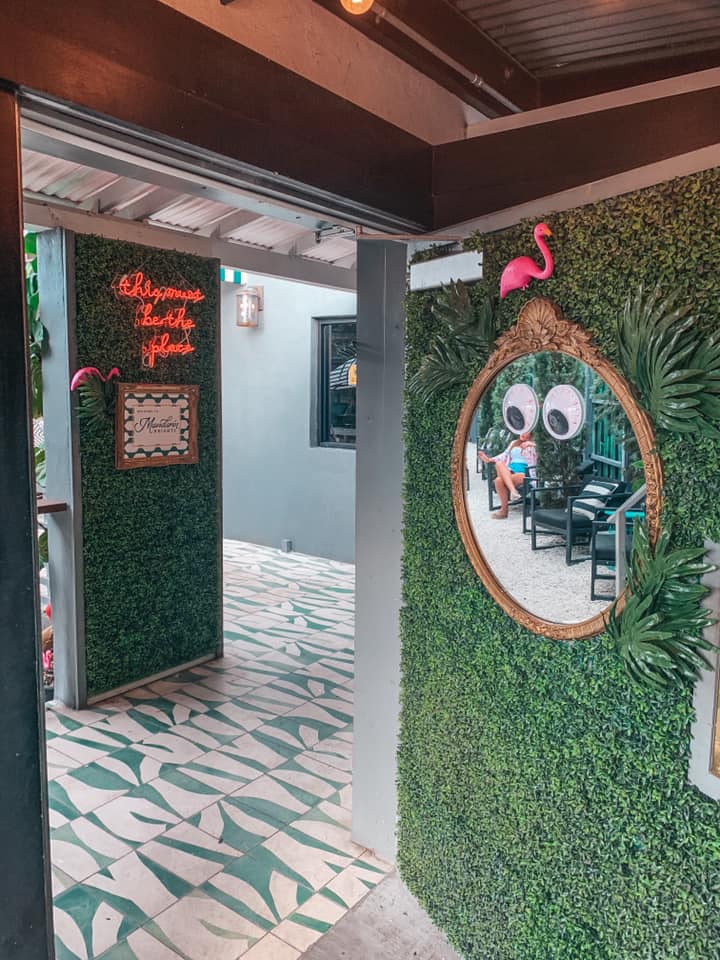 And don't leave without taking advantage of the adorable photo op— they change it up frequently! If you're ever in St. Pete, be sure to check out their sister location, Mandarin Hide. It's one of the best bars in downtown St. Pete, and it gives off speakeasy vibes.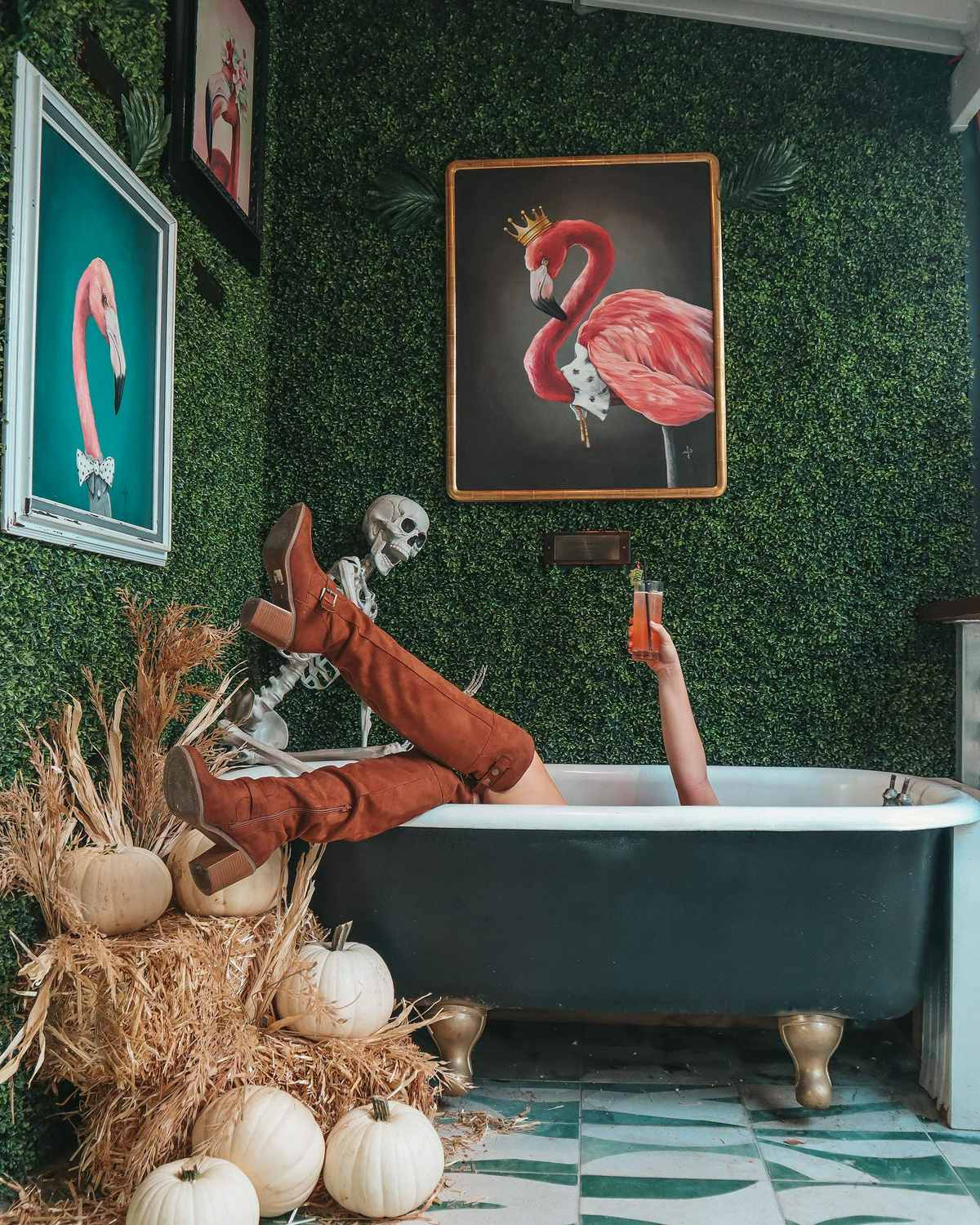 Lowry Parcade & Tavern
If you're a gamer like Remi and I, you'll definitely want to make a pit stop at this place, which has classic arcade games, pinball machines, air hockey, and more. We always like to entertain ourselves while we're getting our drink on, and this place did the trick! Make some bets— "loser has to buy next round" or "winner gets to pick the next stop!"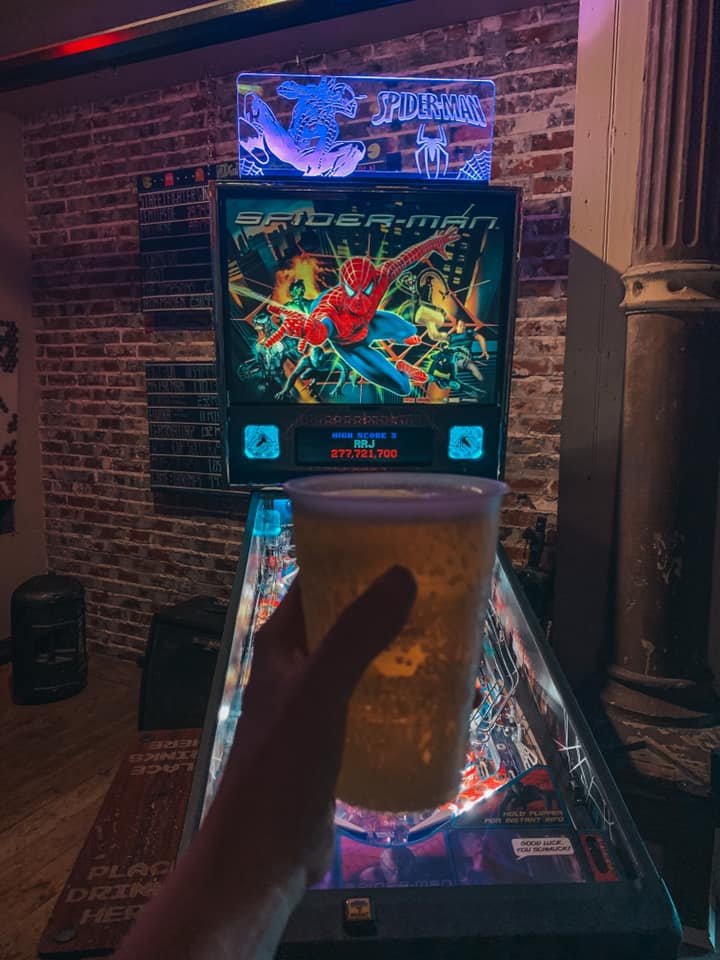 Angry Chair Brewing
I've expressed before that beer isn't really my thing, but having so many breweries in the Tampa Bay Area, it's really hard to not want to explore all of the breweries. Angry Chair is on the small side, but that shows no reflection on the large collection of interesting beer options. They offer 5, 12, and 16-ounce pours— which I love because Remi can drink a 16-ounce in the time it takes me to drink a 5!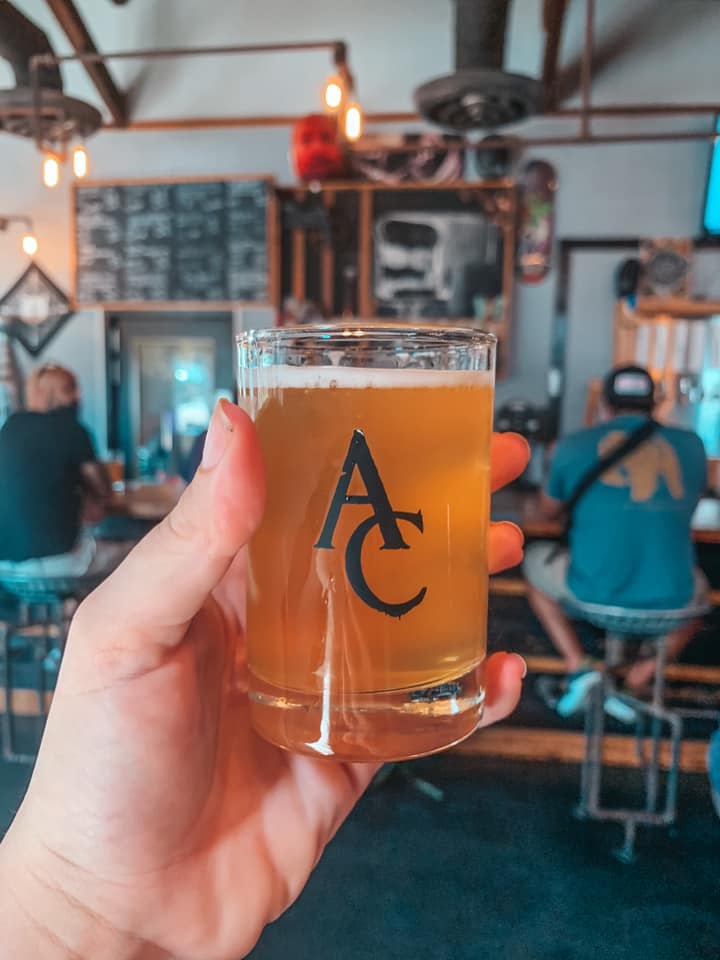 Related read: best breweries in downtown St. Pete and fun breweries in Clearwater.
C. 1949
Pool, darts, and plenty of unusual beers to choose from. C. 1949 has over 35 rotating locally crafted beers and ciders on tap and over 100 bottled beers, ciders, and wines— so trust me when I say you will totally be able to find a drink here that suits you.
They offer flights, which is what I ended up doing and enjoying. You can enjoy sipping inside while playing some games, or outside in their cute beer garden. We were actually getting bitten up when we realized they even have bug spray for you to use!
If you're hungry, they have rotating food trucks next to the beer garden. I've heard raving reviews for Saucin!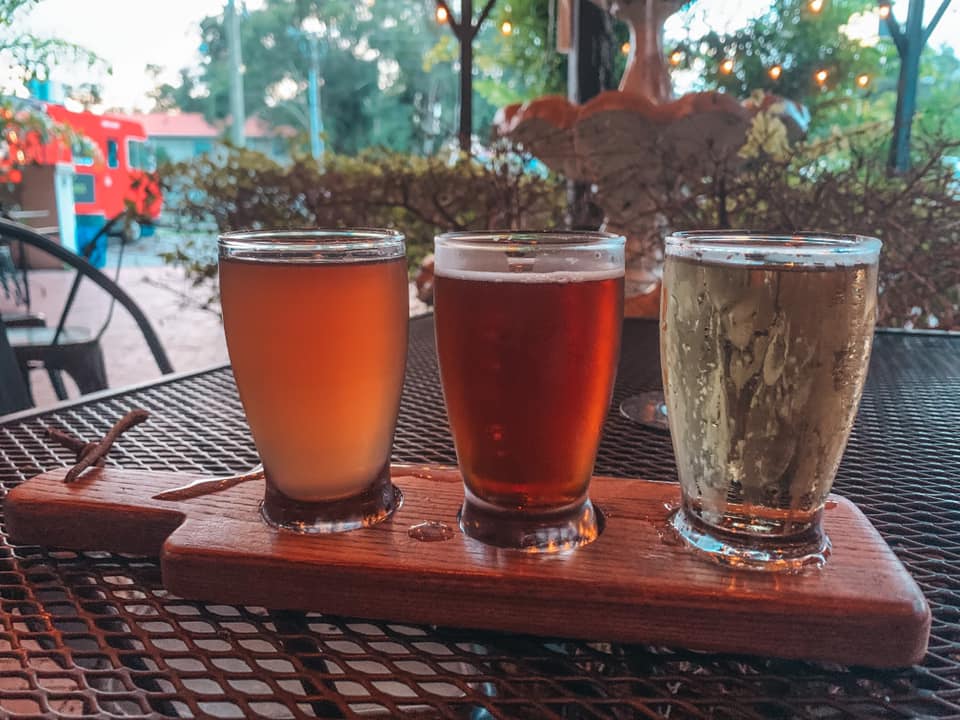 Velvet Gypsy
This bar fits right in with Seminole Heights' eclectic vibe! Depending on the day Velvet Gypsy has live music, a DJ, or watch parties for your favorite sports teams. On the last Sunday of each month, they even host Soul Market which has a variety of local crafters and vendors.
You will love their fun cocktail list, and if you aren't feeling like drinking they even have some exciting mocktails to offer! They have an outdoor patio with games like Jenga and cornhole, plus they're pet friendly!
Be sure to check out their daily specials, or happy hour which is Monday-Friday from 6-8 PM.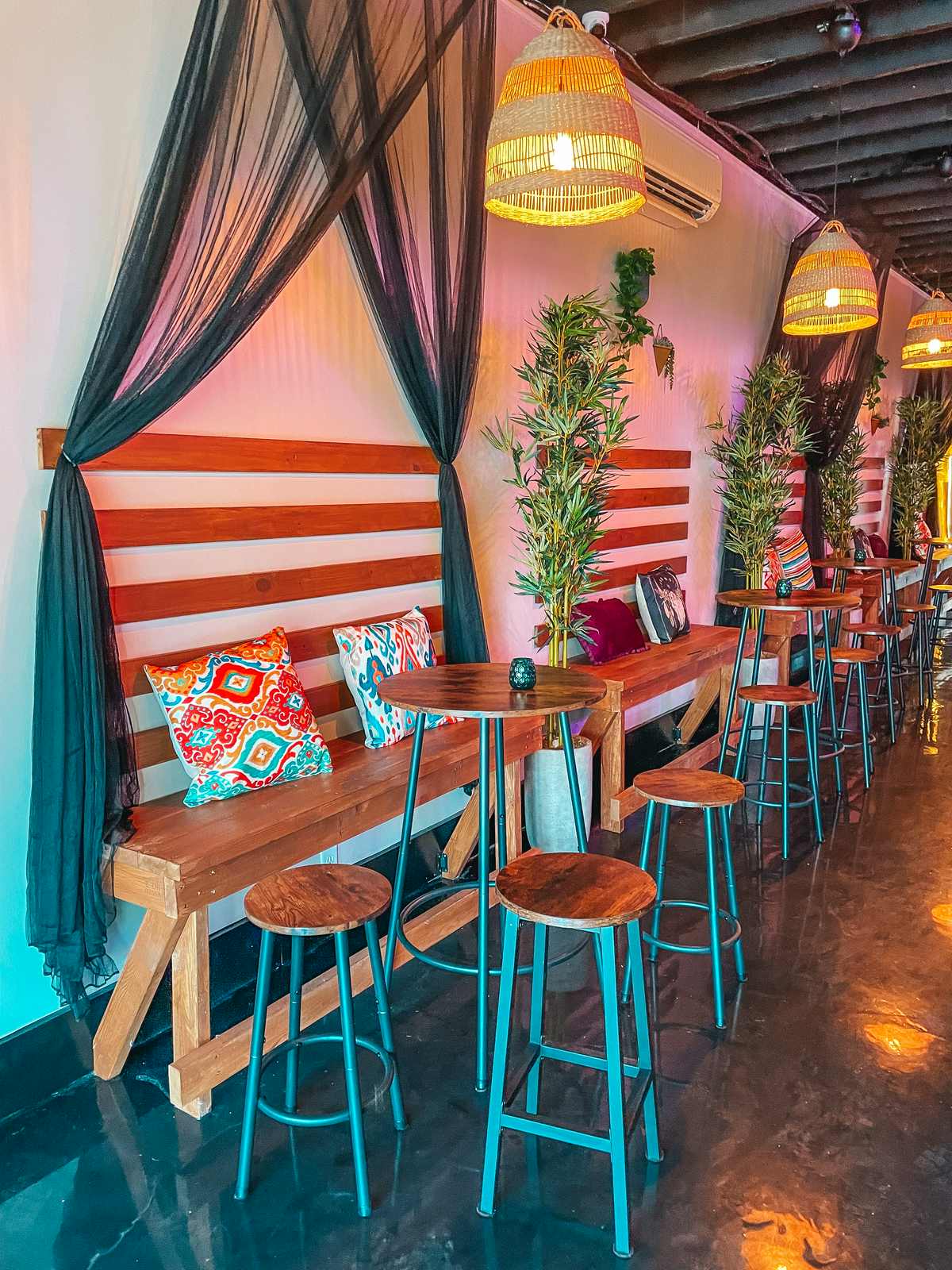 Nebraska Mini Mart
Another fun place to enjoy some drinks! Nebraska Mini Mart is fully equipped with outdoor bocce ball, shuffleboard, and ping pong! The outdoors are my happy place, so I love that that's where all of the games are! They have beer, wine, and kegged cocktails— or even milkshakes if you're in the mood! If you work up an appetite playing games, they also have delicious burgers, fries, and chicken sandwiches!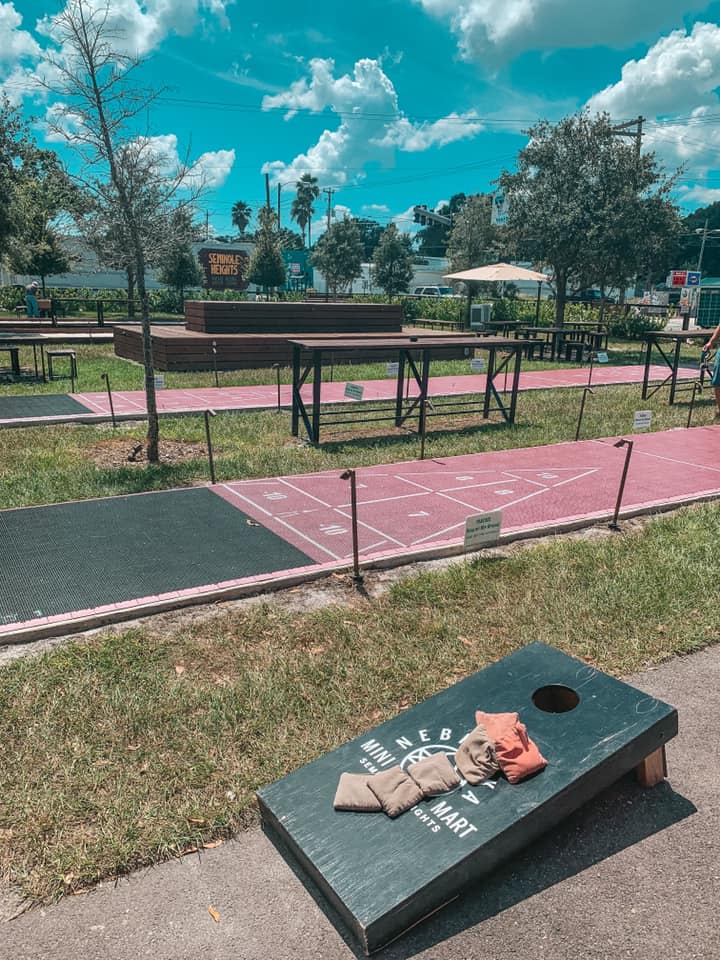 Best dessert spots and coffee shops in Seminole Heights
Chocolate Pi
Chocolate Pi serves cakes, pies, tarts, coffee, ice cream, and more. That may sound like your typical bakery— but Chocolate Pi is anything but. Beautiful lattes topped with colorful sprinkles and dried strawberries along with ones that look like galaxies topped with glitter are more than just a beautiful pic for the gram— they are also a treat for the taste buds.
There's an array of antique furniture that adds to the beautiful aesthetic of this spot where you can enjoy your specialty latte while getting some work done. The only issue is you may drink three lattes before you know it while you're working, because they go down that easily.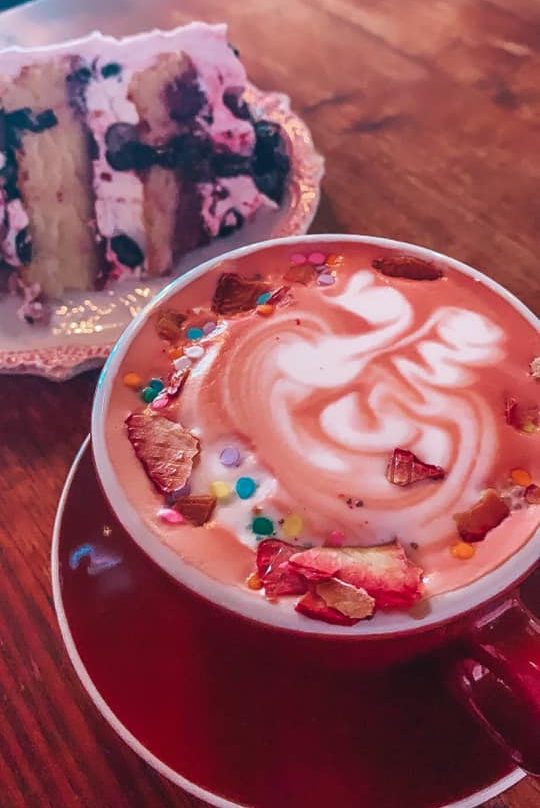 The Brushed Suede is their black sparkly glitter latte you may have seen people posting about. They offer it in the flavor vanilla, as well as the occasional second flavor option (this changes)!
My personal favorite is the Strawberry Shortcake Latte. It is delicious in every possible way. But, I'm not going to lie— I usually get both. As far as sweets go, it depends on your taste. Ask the employees their opinion based on what you typically like in your bakery items (sweetness and moistness, etc.) and they are more than helpful!
If you're a fan of cute coffee shops, you'll love St. Pete!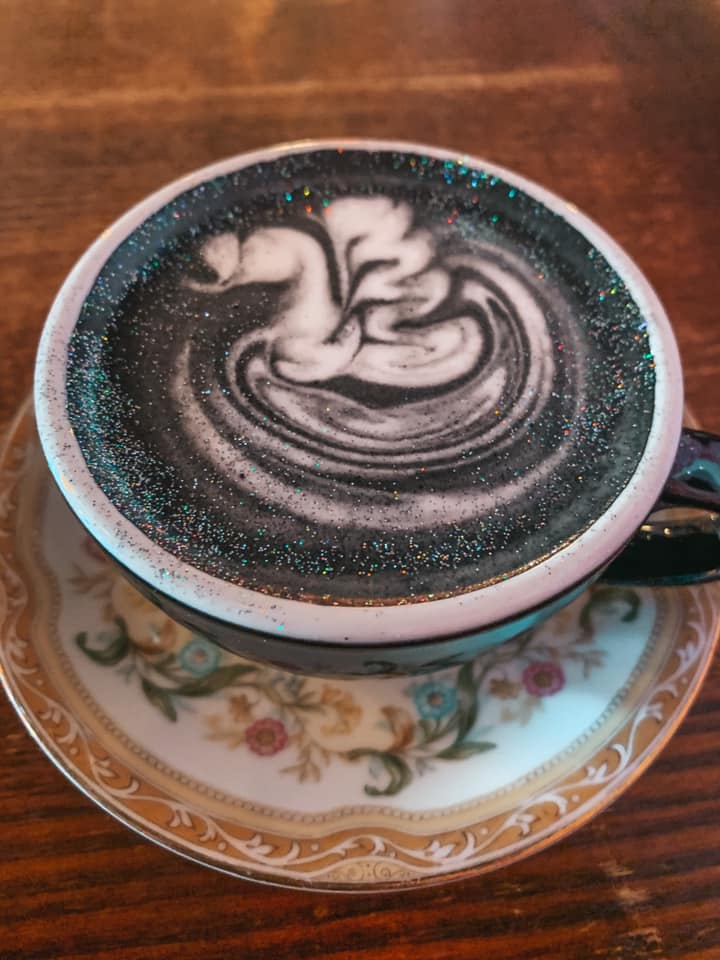 If you enjoy this post, check out my ULTIMATE Tampa, Florida Guide with the best things to do, restaurants, coffee shops, and more!
Sea Maid's Creamery
As soon as you pull up, you'll notice the character that this adorable Tampa ice cream shop has. Sea Maid's is colorful, fun, and most importantly, full of endless, delicious dessert options. They have cookies, cupcakes, brownies, and even the coveted hot cocoa bombs!! I can only vouch for their ice cream so far, but it was SO delicious!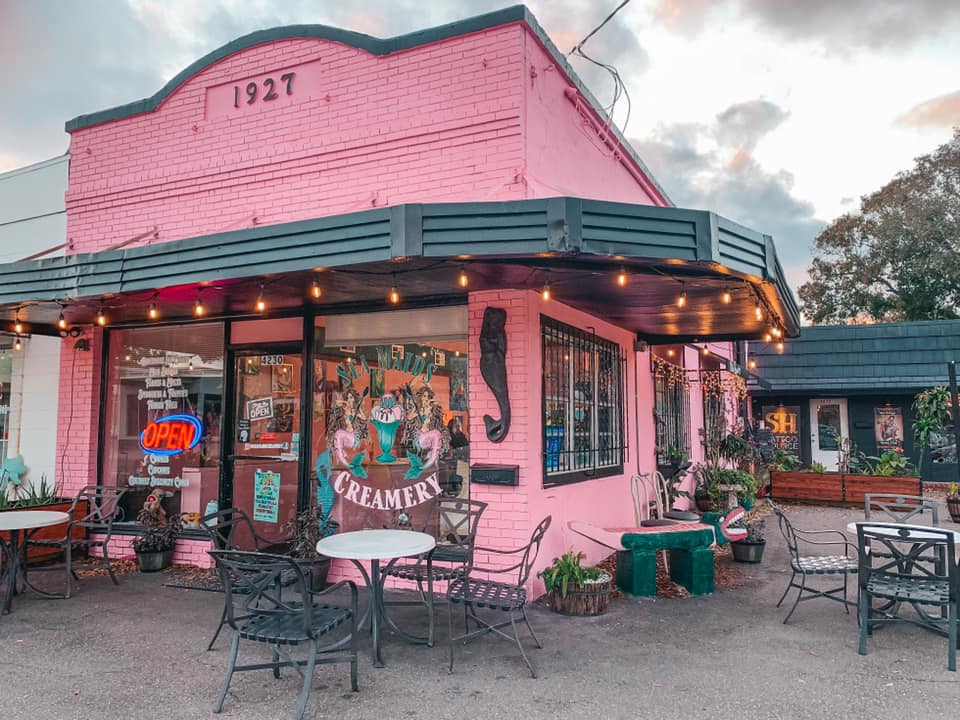 I got the Spongebob ice cream in a waffle cone that was dipped and coated with fruity pebbles. The Spongebob is basically cookie dough ice cream— but prettier, because it's yellow. I am picky about my cookie dough ice cream, but I was beyond impressed.
Next time, I'm going BIG and getting a milkshake! Peep their Instagram to see all of the beautiful shakes, sundaes, and concoctions Sea Maid's has created and tell me you're not craving dessert!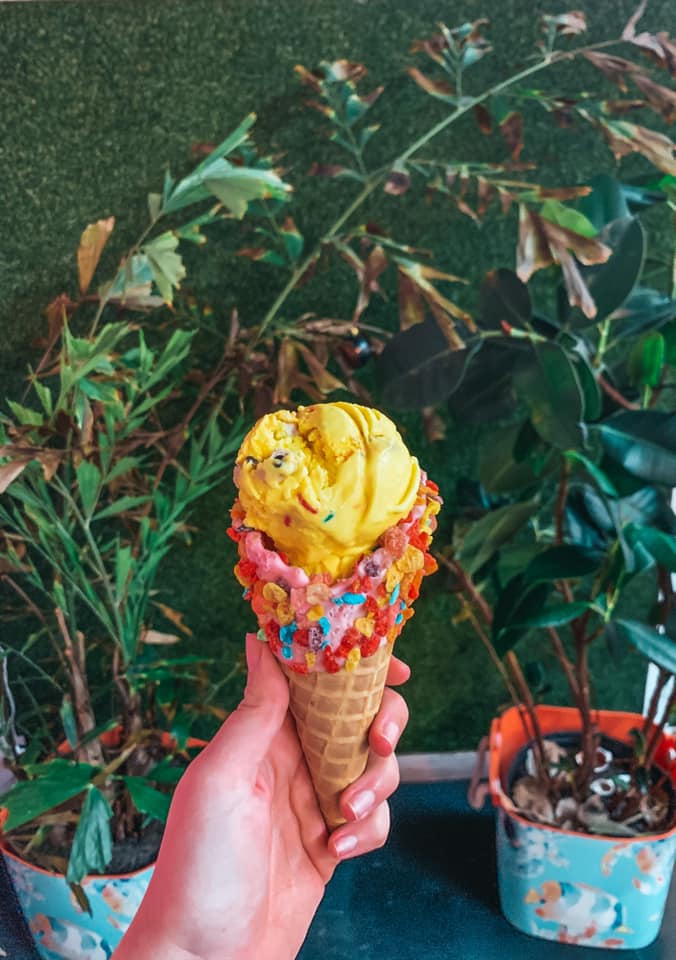 King State
Another delicious Tampa coffee spot! King State is a coffee shop that also has delicious-looking food, and craft beers. The aesthetic has everything you would want in a coffee shop. I went with their vanilla cappuccino, it was yummy and bonus points for the cute design! King State is a really great hangout spot!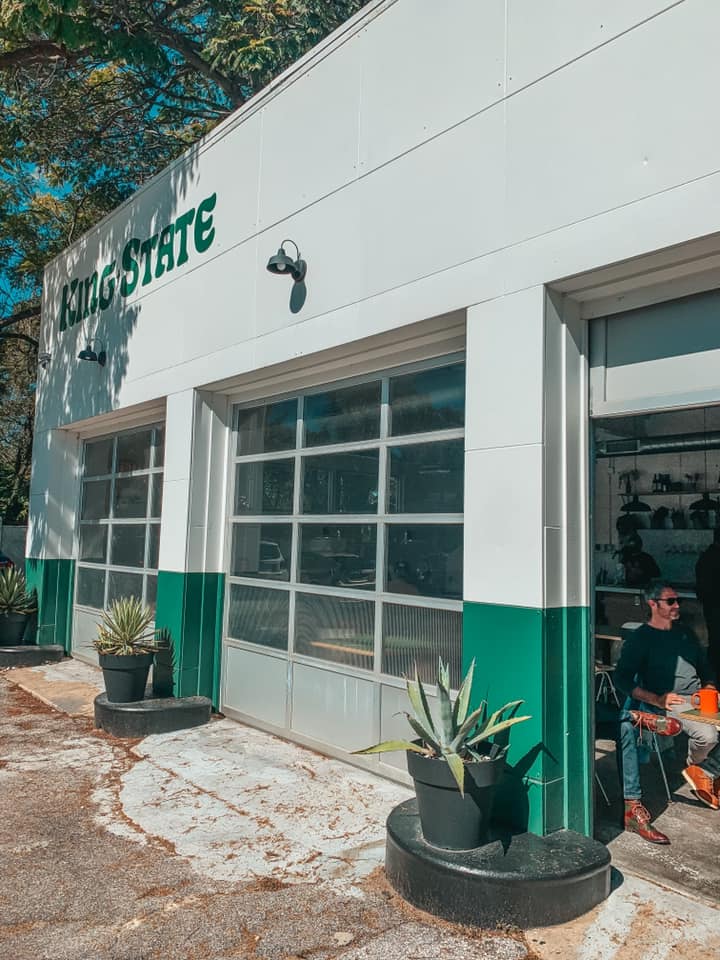 Spaddy's Coffee
Spaddy's Coffee is my newest find for Seminole Heights coffee shops! It's the perfect place to enjoy your morning coffee outdoors. Their patio area is adorable, and especially very enjoyable during Florida's fall weather that hits around mid-October! They have all of your favorite coffee classics, but I personally enjoyed doing their cold brew with half and half and pumpkin spice.
Spaddy's also has a location in South Tampa.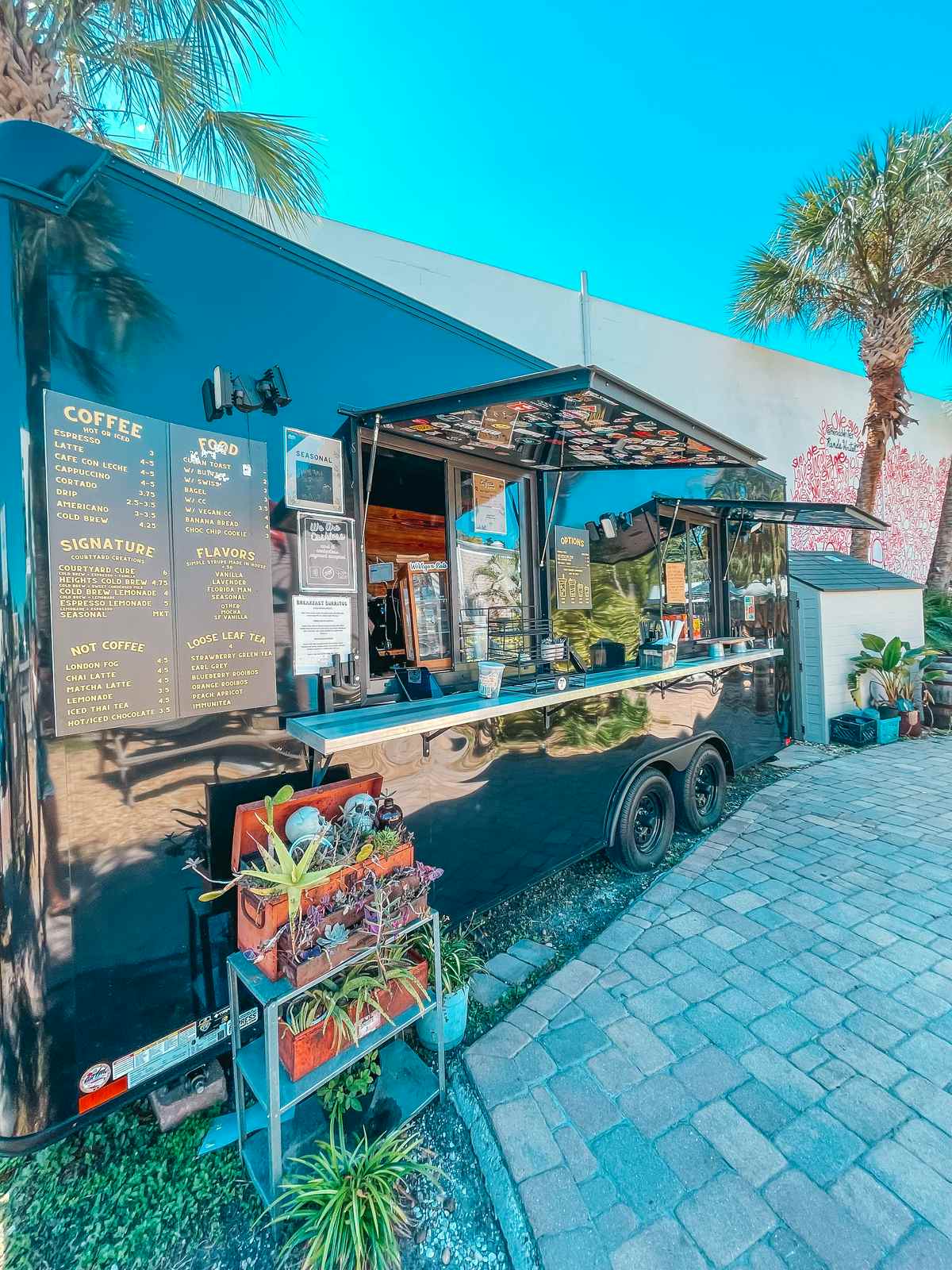 I hope you enjoyed this list as much as I enjoyed trying each place on it!!
If you check out any of these spots be sure to use the hashtag #guidedbydestiny on Instagram so I can share it with my followers 🙂
Check out some of my other local guides before you go:
20+ free things to do in Tampa
Best rooftop bars in Tampa Bay