This post contains affiliate links which means that I will make a small commission if you purchase a product after clicking on any of them, at no extra cost to you.
Austin is such an amazing, lively city! There are so many fun bars, plenty of delicious restaurants, and even a ton of outdoor activities to check out in this big city. Austin really has it all. While I tackled a lot on my three days in Austin, there is plenty more on my list of things to do in Austin for the next time I visit!
I will be including things that I did, as well as the activities that were recommended to me that I didn't get to squeeze in this time so you can decide what you want to make time for during your visit to Austin!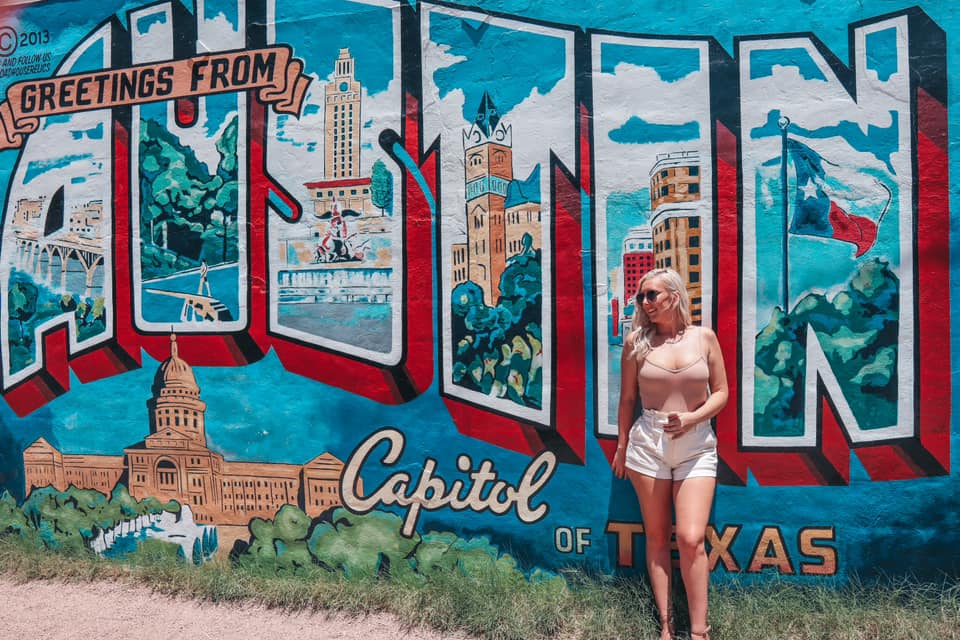 Quick links for your Austin Texas trip
🏨 Accommodation
Easily compare prices, secure great deals, and enjoy the added benefit of flexible cancellations up to 24 hours in advance for the majority of hotels with Booking
🎟️ Tours and tickets
Discover your next adventure with ease by using Viator which allows you to explore a multitude of local tours, ensuring you find the best experiences at the best prices.
🚘 Car rental
Rentalcars is the best tool for comparing prices for your date amongst the most popular rental car companies!
Fun Things to Do in Austin, Texas
Mount Bonnell
Mount Bonnell is a half-mile loop trail. After 102 stairs you'll reach the view deck and pavilion. Make sure to explore all of the little side trails and gaze at the gorgeous estates below!
While it's considered the highest point in Austin, you really don't have to put too much effort into reaching the peak. If you want you can even bring food and enjoy a picnic at one of the picnic table areas along the main trail. It's beautiful (but definitely more crowded) around sunset.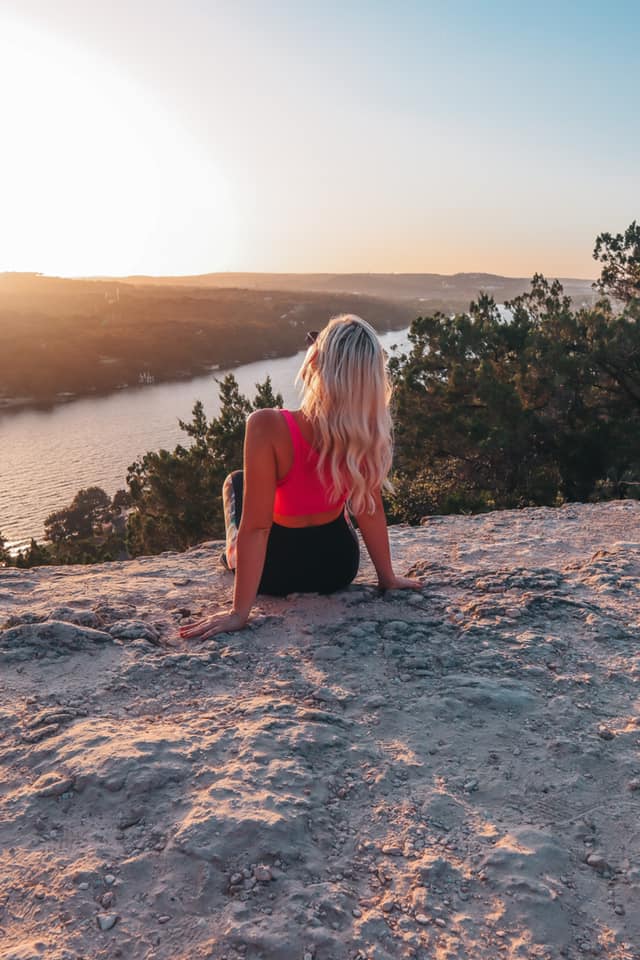 360 Bridge Overlook 
The 360 Bridge Overlook is one of the best free things to do in Austin! It's another short trail (half a mile, out and back) with a high reward. You'll get views of Lake Austin and the Pennybacker Bridge. Something you may notice is that Pennybacker Bridge is constructed so that no part of the structure touches the water.
This keeps Lake Austin free from support columns, which is great because the recreational lake is highly popular with boaters and water skiers. While it's a half a mile out and back from the bottom to the cliff viewpoint, there is a trail that goes a little less than a mile further out.
🚤Austin boat tour
This boat tour leaves from the Loop 360 Boat Ramp and takes you all around Lake Austin!
Click herе to book
If you have a group, This 2-hour private boat tour leaves from the same spot and takes you and up to 11 friends all around Lake Austin!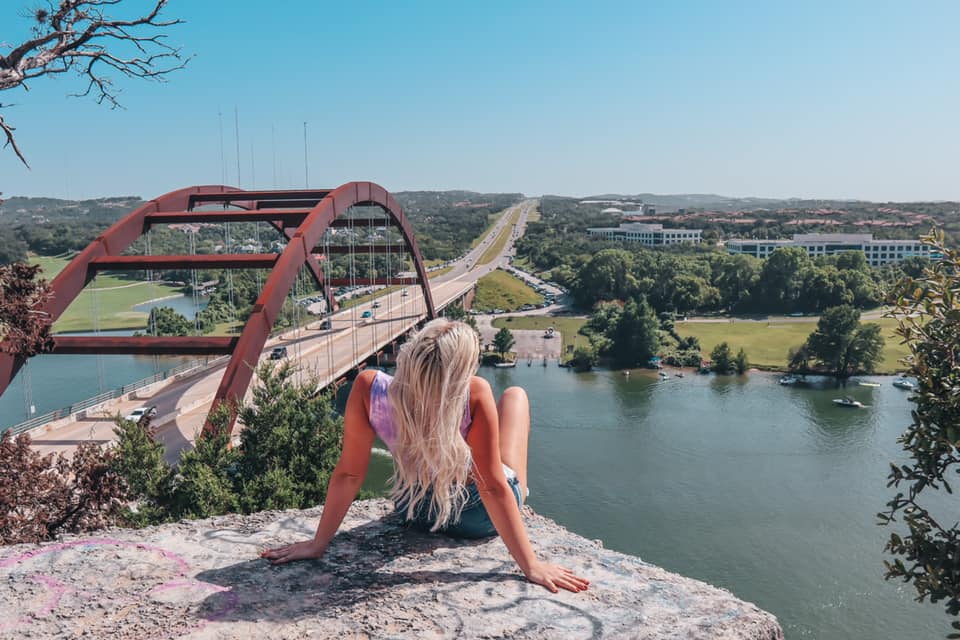 The Texas State Capitol
The grounds and architecture are definitely a sight to see! If you have some extra time they offer free 30-minute tours. If you aren't worried about the tour, you can head there anytime before 10 PM on weekdays and 8 pm on weekends. Want more info? Check out this post!
This small group tour hits several of Austin's landmarks including the Capitol and is a great option if you don't have a rental car.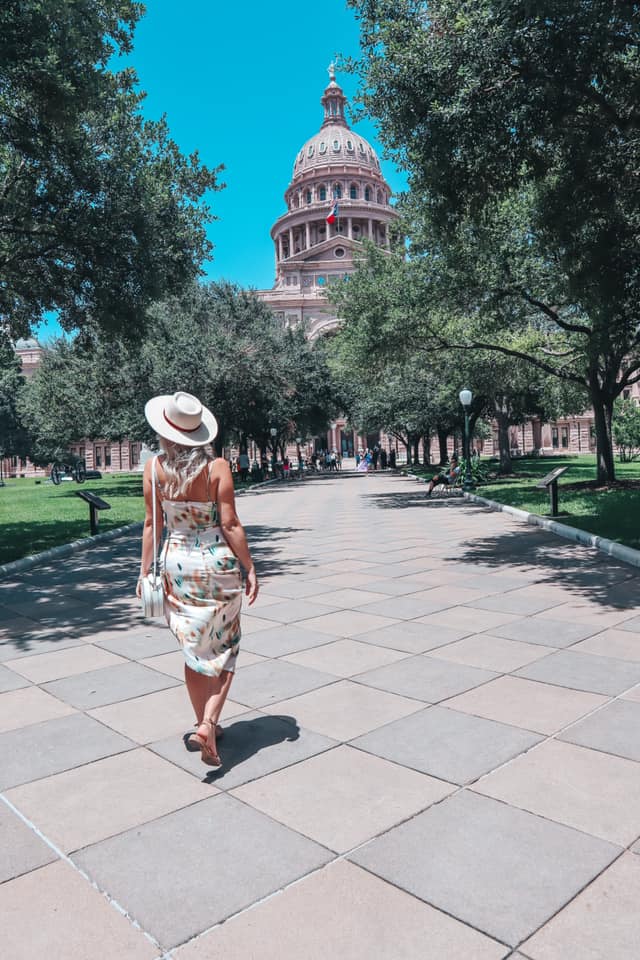 Check out the speakeasies
We did Firehouse Lounge and Midnight Cowboy and loved them both! Firehouse Lounge is located inside a hostel and your entry will be through a bookshelf. They don't accept reservations, but this speakeasy is pretty spacey, so that shouldn't be a problem.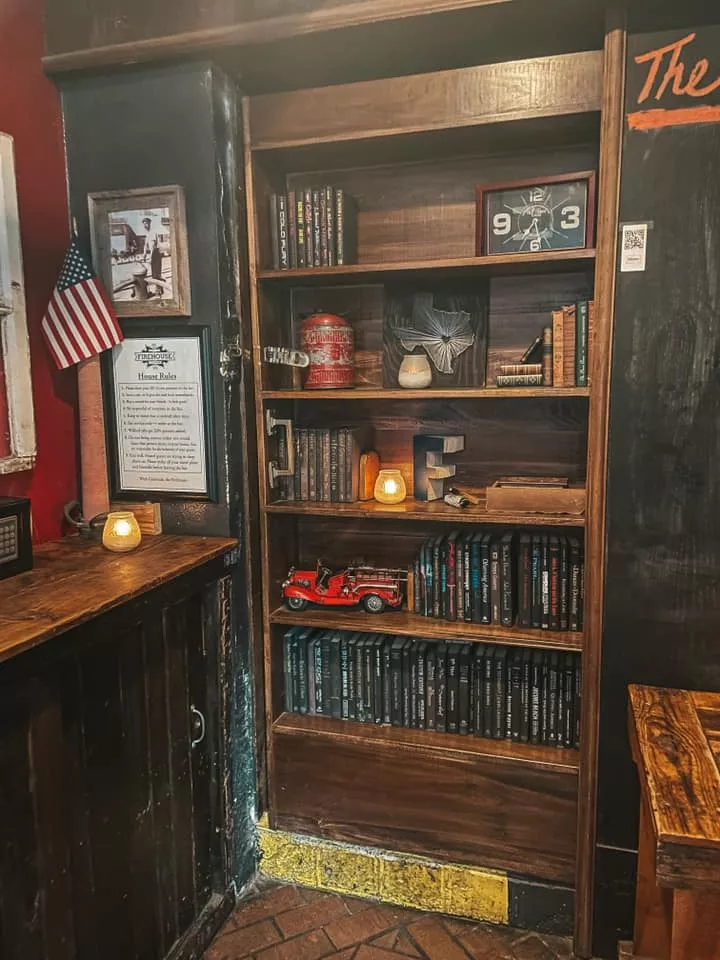 Midnight Cowboy requires reservations, and we did this one after it was highly recommended by a number of locals. It definitely lived up to the hype. From the moment our Uber pulled up and the driver had no idea where she was dropping us off, I knew I had found my ideal speakeasy.
If you aren't sure what you're looking for, it'll be the modest door at 313 E. Sixth Street. You may notice a red light above the door— as long as that's on, that means they are open for business. You will then press the buzzer for "Harry Craddock" and wait to be let in!
The service here was amazing and extremely personable. The drink menu currently consists of each bartender's own drink concoction, along with some classics. There is also a really fun and interesting history to the building I'm sure your bartender will tell you about 😉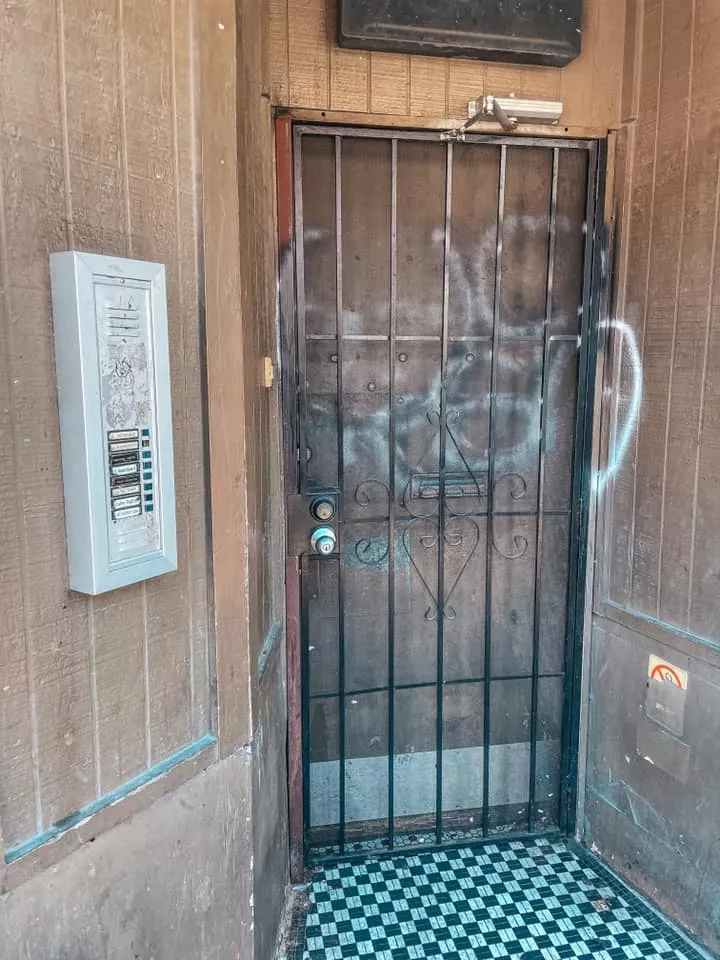 There were actually a lot of speakeasies in Austin! Some others are:
Here Nor There (need an app)
Milonga Room
Floppy Disc Repair Co
J. Stephen's.
Rainey Street
Y'all I have never seen anything like Rainey Street. I was in love! If you want a fun night out (or a Sunday Funday) this is going to be your spot! Vintage homes converted into bungalow bars with fun backyard patio parties is what you can expect here.
Each bar is so uniquely different from the last! We went on a Friday night during prime time, and I'm not going to lie, I don't have it in me to wait in lines for bars anymore, so we missed out on a few of the ones that I really wanted to check out (Container Bar, Bungalow, and The Parlor Bar). But honestly, I don't think there's a bad bar on Rainey Street.
We had a blast at Augustine and Stagger Lee, but I definitely plan on making my way through all of the Rainey Street bars on my next Austin visit! Sixth Street is also worth checking out for fun bars and great restaurants!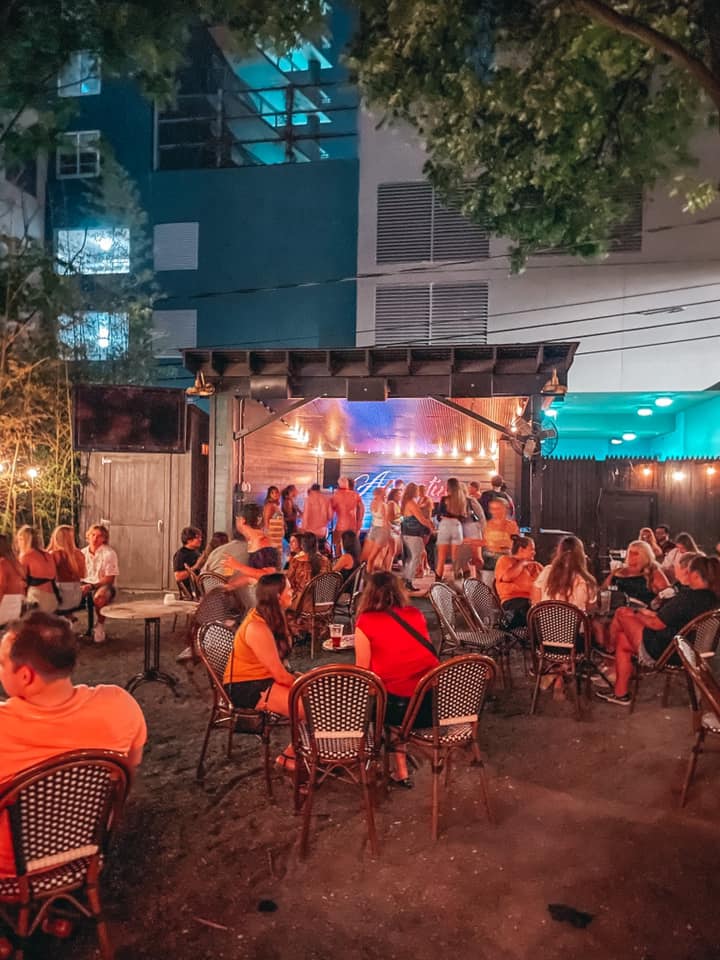 South Congress
South Congress is another area of Austin that has a stretch of cute boutiques, delicious eateries, and trendy lodging options. Oh, and the famous Austin bats are located under the Congress Avenue Bridge. Find a spot to watch as the world's largest urban bat colony emerges from beneath!
I recommend avoiding the crowds on the bridge and doing a kayak tour where you get to watch the bats emerge from the Congress Avenue Bridge from the river!
If you want a more in-depth guide on the shops, dining, and lodging on South Congress check out this post!
Barton Springs Pool
This spot is the perfect way to cool off on a hot Texas day! Located in Zilker Park you will find this three-acre recreational pool filled with water from an underground spring. The temp stays 68-70 degrees year-round and only costs $9 for non-residents to swim.
Lady Bird Lake
Kayak or stand-up paddleboard (SUP) in this beautiful area! While it's called Lady Bird Lake, it's actually a reservoir, as it's a dammed section of the Colorado River. Many people do it around sunset to catch a closer look at the Austin bats.
There are even boat tours you can take, including ones that focus on scoping out the bats. If you're feeling up to it there's also an 11-mile trail around it you can enjoy! Here are some other activities you can check out at Lady Bird Lake!
Some other popular nature activities include: 
Barton Creek Greenbelt (I've heard great things about Twin Falls)
Mckinney Falls State Park
Lou Neff Point
Hamilton Pool Preserve (this is about a 40-minute drive from downtown Austin)
Best restaurants in Austin, Texas
Truth be told, there are going to be amazing restaurants every way you look in Austin. We were constantly passing places that I wanted to check out, but unfortunately, a girl can only eat so much!
🍗 Austin, Texas Foodie Tour
If you're into foodie tours so you can make the most of your experience, this tour came highly recommended!
Click herе to book
These are the restaurants I was able to hit, and really enjoyed!
Caroline
There are three parts to this amazing restaurant: 
Coffeehouse at Caroline
Caroline
Upstairs at Caroline
Each brings something different to the table. Upstairs at Caroline has games like pool, foosball, and Jenga, along with fun cocktails and some light bites. This is totally the spot to meet up with friends and hang out.
If you want more of a dining experience you can head to Caroline. We went there for brunch, and their huevos rancheros were the perfect start to my morning! They serve all the meals, including dessert, and I'm convinced they don't have a bad dish on the menu.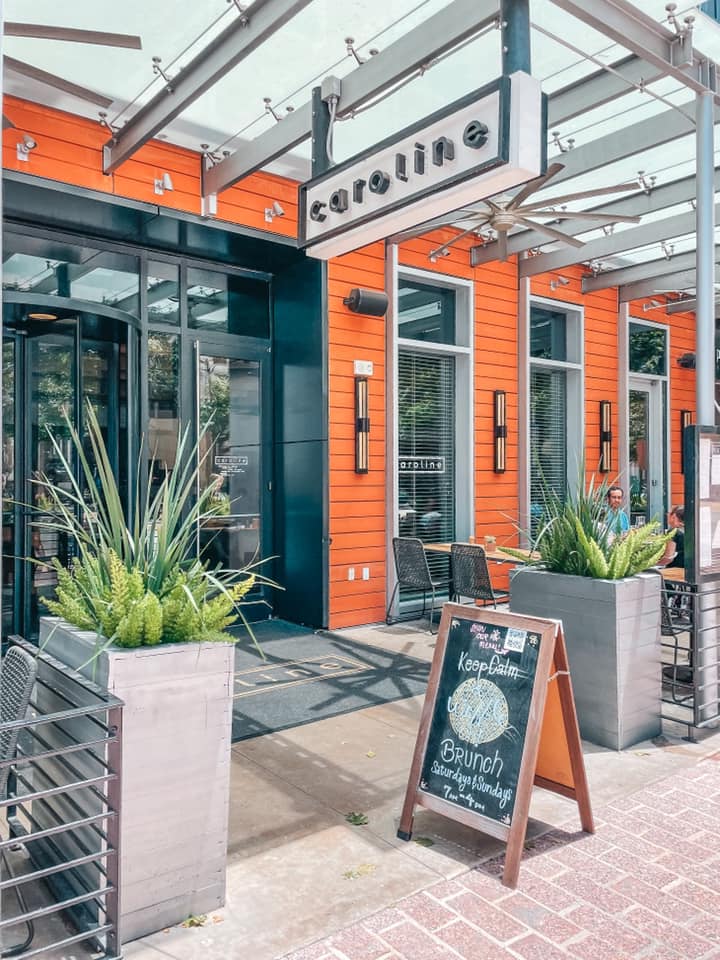 Jo's Coffee
I figured we'd start with coffee. Jo's is definitely one of the most well-known coffee stops in Austin. If you don't recognize the name, I'm sure you'll recognize the wall (pic below). There are a few locations, but the one that we went to was the one located on South Congress.
They have breakfast and lunch items, and even have live music for you to enjoy on their outdoor shaded patio area. I definitely recommend going with their Iced Turbo, a signature drink with chocolate and hazelnut.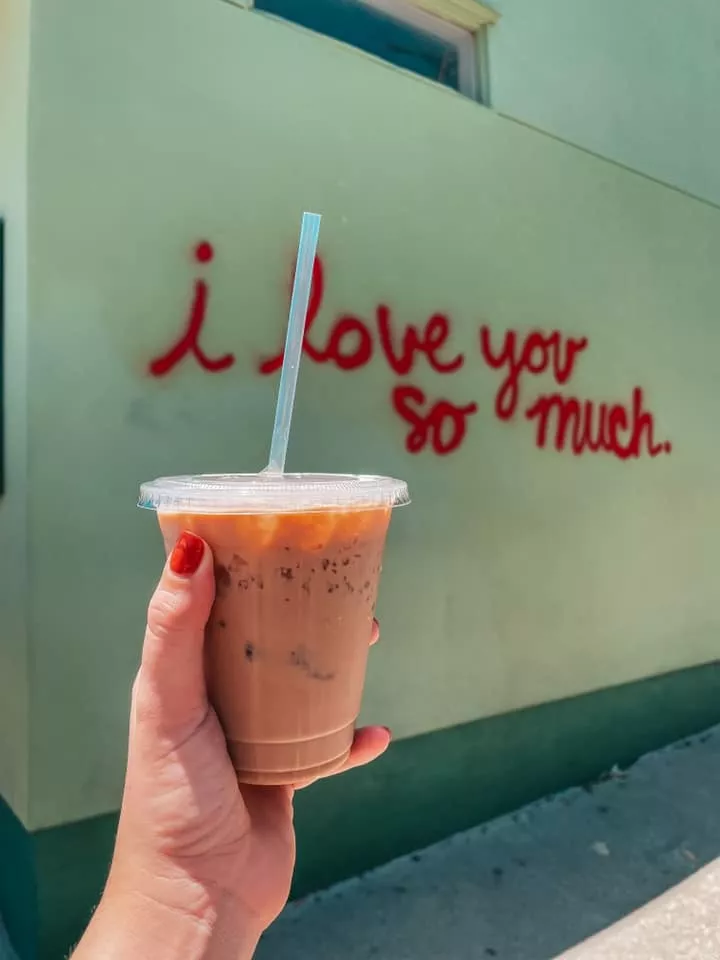 The Hideout Coffee House
The Hideout is actually downtown Austin's longest-running independent coffee house! They offer coffee and some light bites along with a curated beer and wine list.  It's actually located below an improv theatre, so grab a drink and head on up for a show Thursday-Sunday (they even offer classes).
For your coffee, I highly recommend doing one of their signature drinks (Raspberry Riot, Hideout Hazelnut, and Gorilla Mocha) as an iced latte. I did the Raspberry Riot, and it was gone in seconds!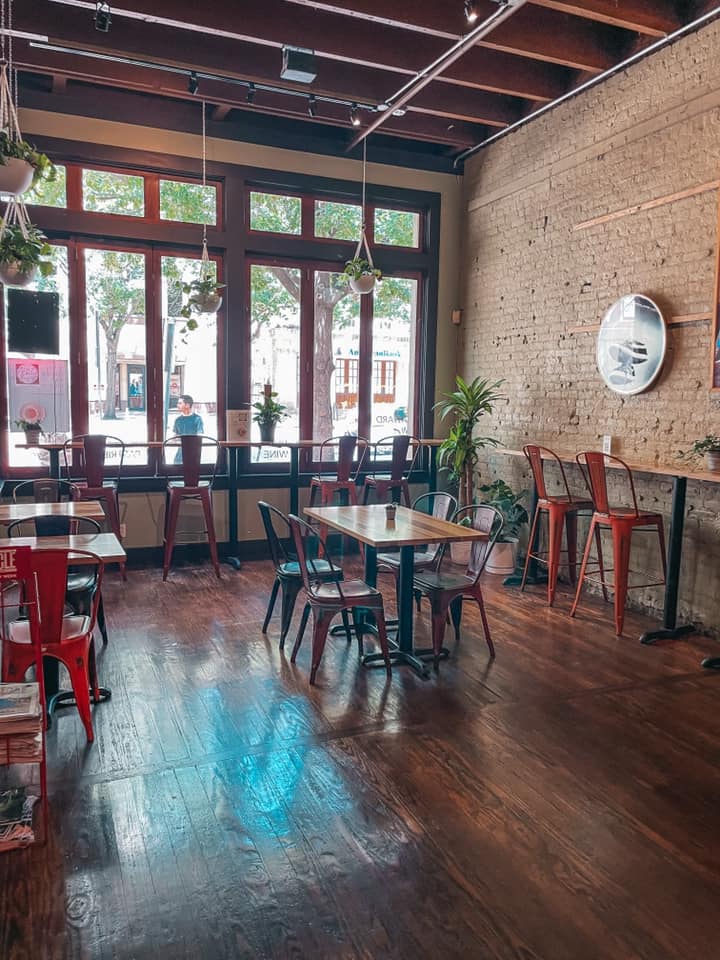 Some other cute coffee shops: 
Mozart's Coffee
Merit Coffee
Civil Goat Coffee
Coffee and Crisp
South Congress Cafe
Head to South Congress Cafe for brunch! Four words: carrot cake French toast. Pure culinary genius. And yes, it tasted every bit as good as it sounds. I'm not even a sweet breakfast kind of girl, but I knew my taste buds had to experience this. Paired with one of their famous infused bloody Marys, you have the perfect balance of savory and sweet.
While they normally take reservations, they do not for brunch on the weekends. We got there shortly after they opened and had no issue getting right in!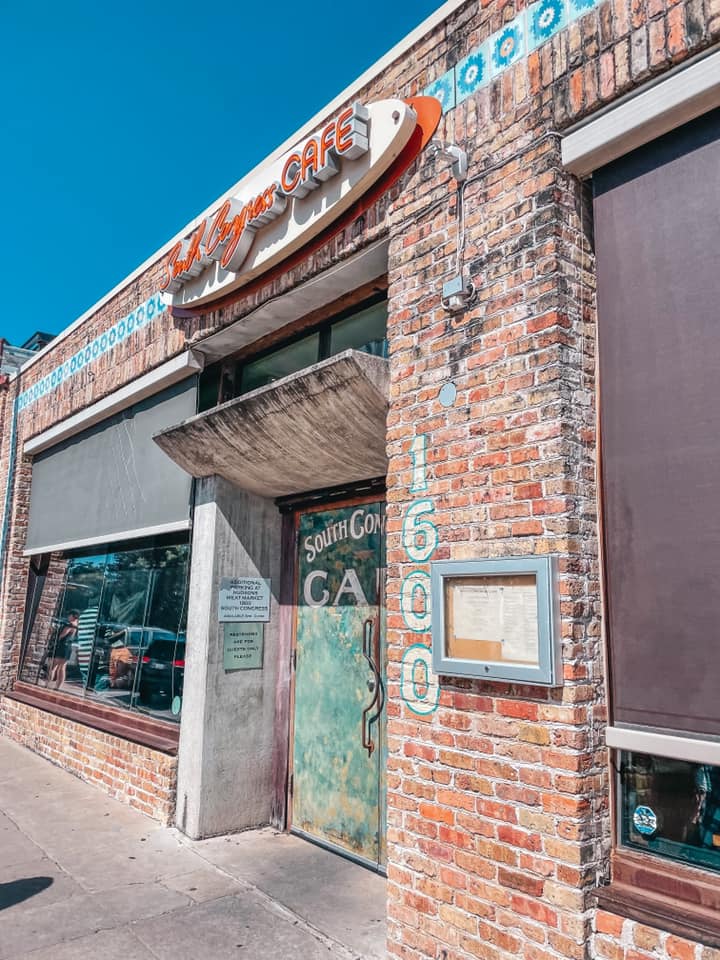 Terry Black's BBQ
You can't hit up Austin without experiencing some Texas BBQ. Terry Black's is THE SPOT. While I, unfortunately, didn't get to experience it, the locals and tourists alike hyped it up. I went during prime time on a weekend, and the line was too long for my grumbling tummy to wait.
They do typically work through the line quickly though from what I hear. Also, if you do get there and the line is long, you can purchase drinks from the bar to enjoy while you wait. They offer your favorite typical meats and sides as well as some desserts (they have peach cobbler!) you can enjoy in their outdoor patio area.
If you really don't want to chance the wait you can order for pick up 24 hours in advance, but you will need to have a $75 minimum.
Mumtaz Market and Café
We actually stumbled on this place by accident after shooting some pics at the Greetings From Austin postcard mural. I found myself looking around in awe of the interior design the entirety of our time there. It's such a lovely restaurant with a relaxed ambiance.
You can expect South Asian-inspired dishes, including a full curry menu. I recommend starting with their roasted cauliflower. Mumtaz uses fresh ingredients not only in their dishes but in their cocktails as well. I don't typically do mules because I'm not a fan of ginger beer, however, they incorporated fresh ginger instead, and wow was it delightful!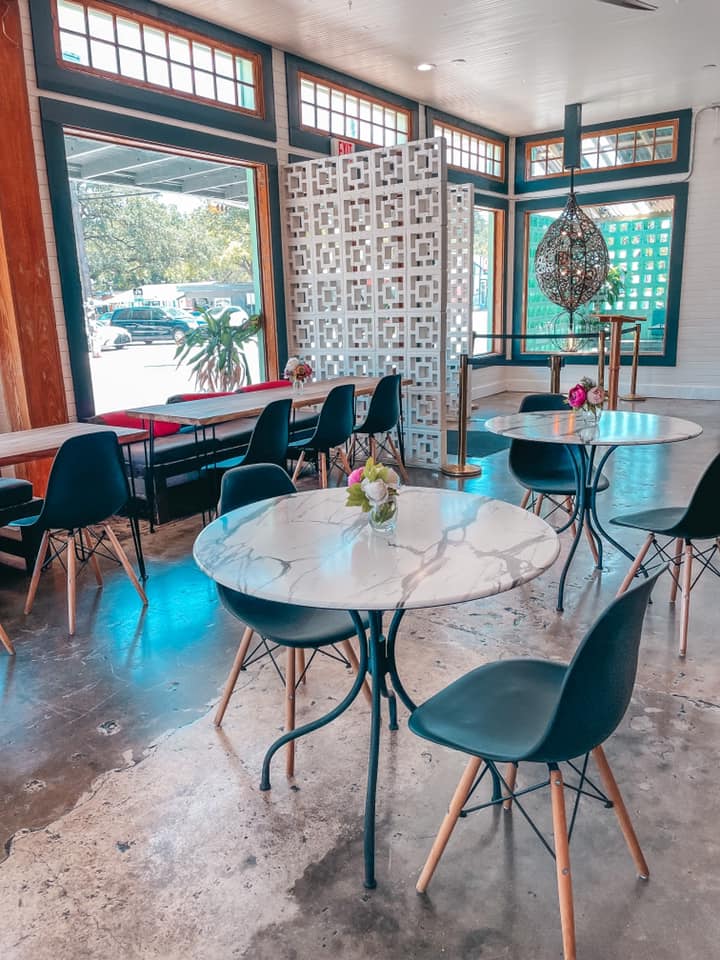 Loro
Asian smokehouse meets Texas BBQ. Didn't know that was a thing? Me neither, but trust me, it works! The atmosphere is casual with a sophisticated touch. They have a large patio where you can sit in a covered or uncovered area as well as some indoor dining spaces.
Snacks like the wonton chips and dip and crunchy sweet corn fritters were a great way to start. I went so hard on the apps I could hardly finish my delicious brisket sandwich! Loro actually serves Franklin BBQ (another well-known Austin BBQ spot) for their dishes! Oh, and don't leave without trying their frozen mojito 😉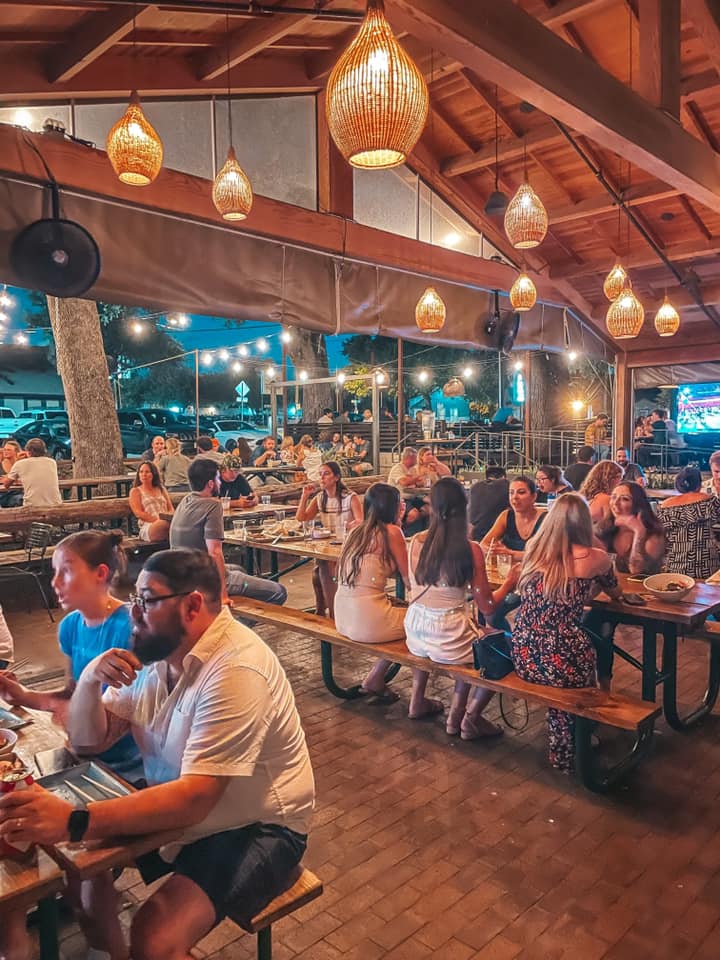 Lazarus Brewing Company
The tacos at this spacious brewpub stole my heart! Maybe it's just me, but I feel like tacos are an Austin staple. Lazarus had some of the best tacos I've ever had, and I mean it! I got a couple of different kinds, but the carnitas stole the show. They also have a nice selection of beers that are spoken very highly of! I was recovering from the prior night's shenanigans and couldn't persuade myself to try it sadly (as if I needed another reason to go back).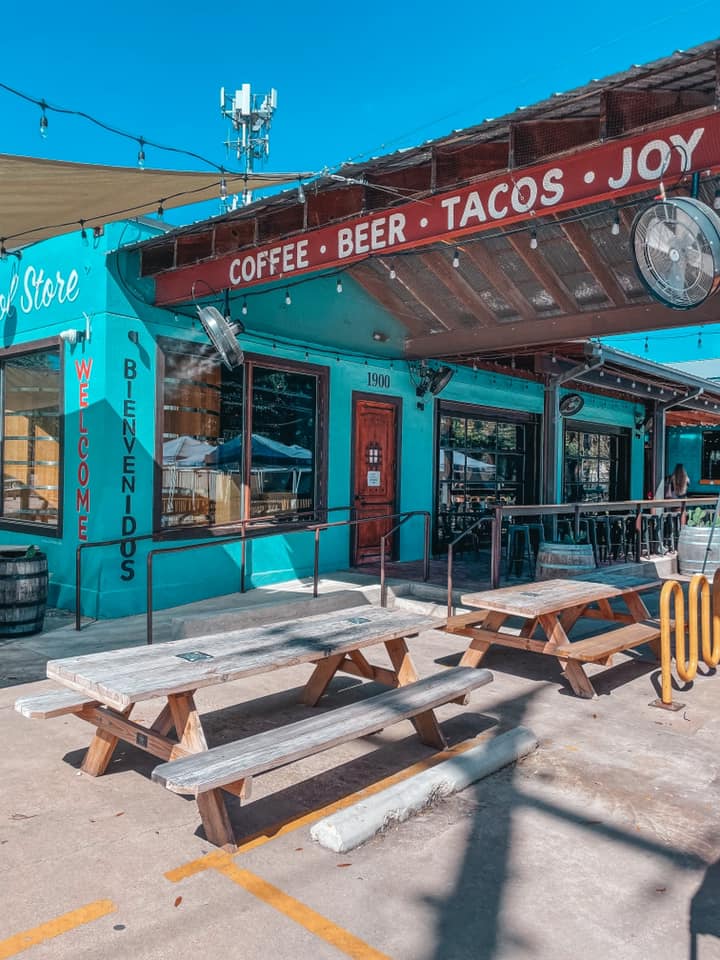 Perlas
Perlas is conveniently located right on South Congress. They offer a relaxed casual dining experience on the oak-shaded patio (you can even bring your pup!) and a little bit of a finer dining setting indoors. We went here for our last night in Austin as our fancy dinner. They have steak and seafood options including some salads and sandwiches. Be sure to start off with an oyster shooter and Ahi tuna tostadas!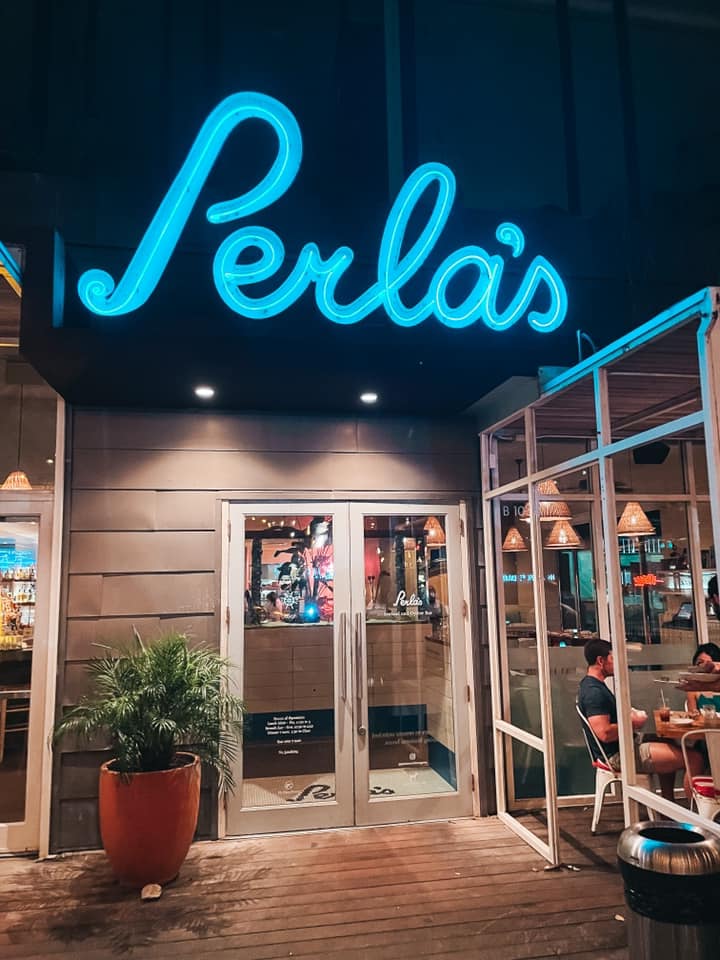 Eureka!
This Austin restaurant was a pleasant surprise. We spent an afternoon here relaxing before heading to the airport. The service was as amazing as the food and cocktails (s/o to Katie!). Eureka! is an all-American scratch kitchen that delivers gourmet and classic food items with their own twist alongside a rotating craft beer and cocktail menu.
This was definitely one of my favorite meals from the trip! I had the spicy fried chicken sandwich with mac 'n' cheese balls (I'm drooling just thinking about them again), and my friend got their Ahi salad, which was also delightful if you're wanting something on the lighter side! And if they still have a drink called "Wild Child," do yourself a favor and order one!
Word on the street is they also have an epic brunch that includes menu items like Creole Benedict with fried green tomato and Bananas Foster crunchy French toast.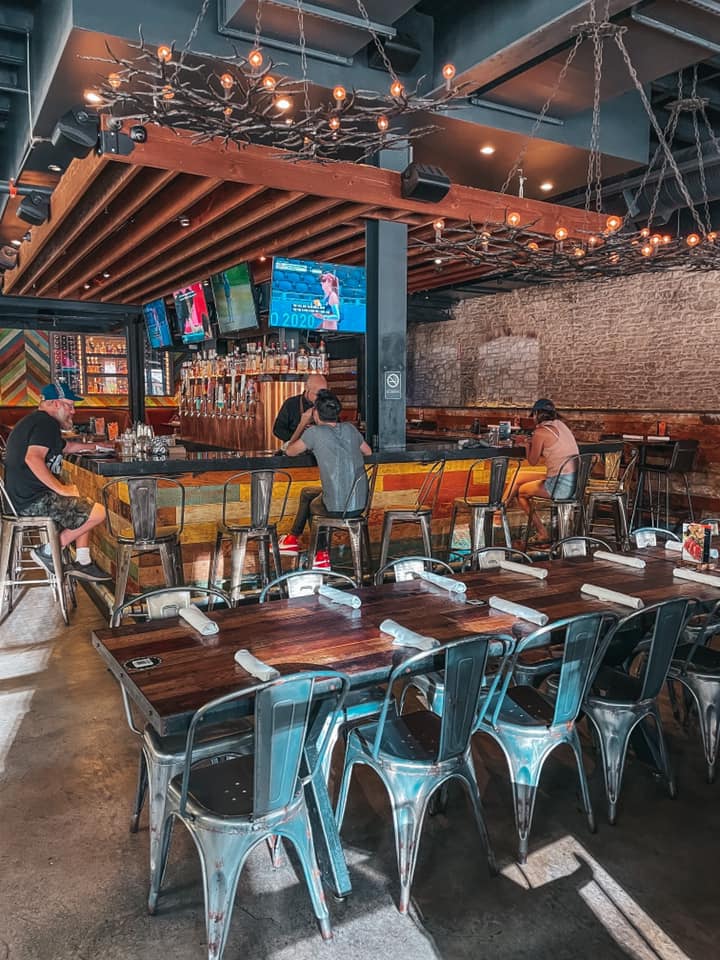 P6
Vibes, on vibes, on VIBES y'all. P6 is located on the rooftop of the LINE Hotel. It overlooks Lady Bird Lake, and if you go around sunset you may even be able to spot the bats flying out from the Congress Avenue Bridge. Be sure to make a reservation, especially if you are going prime time on a weekend.
I really enjoyed my Sundown Cobbler from here— vodka, fruit rouges, prosecco, and fresh berries. All of their drinks sounded very refreshing, and they also have a small Mediterranean-inspired menu if you're wanting a bite. We loved the atmosphere at the LINE Hotel so much we even stopped at the downstairs bar to grab a drink because we weren't ready to leave. Even the bathrooms here were cool! Seriously, check it out.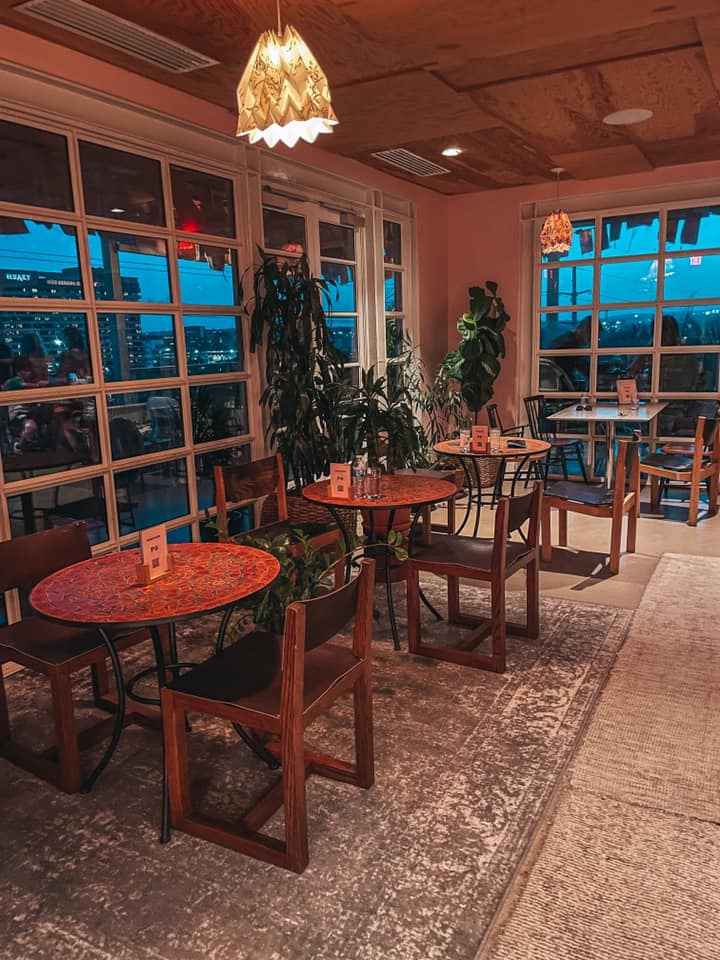 The Roosevelt Room
Serving up extremely innovative and unique craft cocktails as well as some light bites, The Roosevelt Room is an essential stop. Reservations are definitely encouraged here! For seating, they have a downstairs dining room and an upstairs mezzanine. The mezzanine has its own bar, lounge seating, a pool table, and a balcony view of the downstairs.
The drinks are sorted on the menu by house creations (10 cocktails crafted by their bar staff) and classic cocktails, which all 53 of them are divided by the seven major drinking "Eras" since bartending became a profession. I can't even begin to describe the amazing array of cocktails they offer, so I'm going to link the menu! Even the glasses the cocktails are in are unique, be sure to check out the Zombie.
Getting around Austin, Texas
I will say, I do wish I would've rented a car, at least for one of the days. Austin is a bit more spaced out than you might expect. There are car rental spots in the downtown area if that's where you decide to stay. There is plenty that is within walking distance or a cheap Uber away, but there is a lot that it makes more sense to have a rental car to get you to. Scooters and bikes are pretty big in the city if you want to opt out of renting a car and utilize those and Ubers for transportation though!
If you do rent a car and don't want to pay the parking fee that hotels often charge you, make sure to check out SpotHero! It helps you find affordable parking for the time frames you need.
Where to stay in downtown Austin, Texas
Holiday Inn Express & Suites Austin Downtown
Holiday Inn Express locations are typically always a great budget-friendly option. They offer comfortable stays, are in great locations, and they include a hot breakfast! This location is right next to a lively bar and food truck scene and is just a short walk from The Capitol building and Rainey Street.
Hotel Indigo Austin Downtown
Hotel Indigo is only slightly more expensive than the Holiday Inn Express, which is literally located right next door. So again, the location is great. The Hotel Indigo has a bit more of a fun, artsy vibe as well as a lovely rooftop pool and lounge area. This is where we stayed, and we really enjoyed it.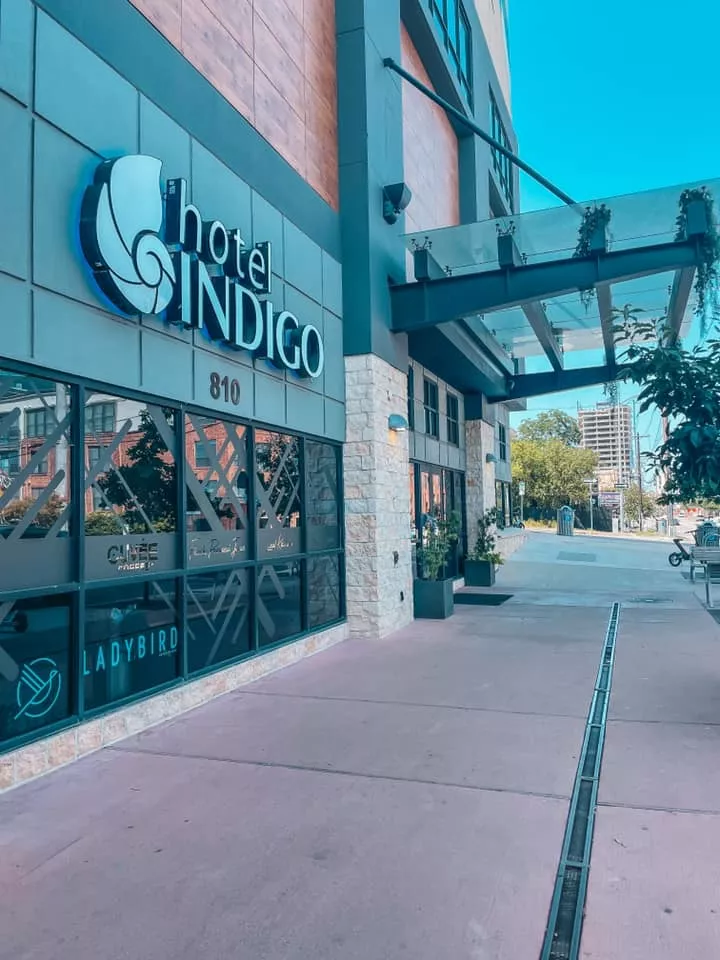 Hotel Van Zandt
Hotel Van Zandt is absolutely breathtaking, and it's located right behind Rainey Street. That means you're near one of the coolest bar scenes in the area! Speaking of bars, Hotel Van Zandt also has its own swanky bar where you can enjoy live music. They also have a rooftop bar and pool. Oh, and if you really want to splurge, peep their suites' soaking tubs!
The LINE Austin
We stumbled on The LINE Austin because we checked out P6, and we truly did not want to leave. The aesthetics were out of this world! There's an outdoor infinity pool, rooftop bar and restaurant, super chic rooms, and an adorable coffee shop.
The location is right by the Congress Avenue Bridge on Lady Bird Lake, and a less than 10-minute walk from Rainey Street, a 25-minute walk from the happenings of South Congress Ave., and a 20-minute walk to the Texas State Capitol building. This makes The LINE very centrally located in the downtown area. They also have free bike rentals and Saturday morning yoga sessions!
I hope you get to check off as many of these things to do and restaurants to eat at in Austin as possible during your visit! If you have any other recommendations for me to hit next time I visit Austin, let me know in the comments! 
Which spot would you hit first?! If you have any other questions about Austin feel free to DM me, and if you do any of my recs use the hashtag #guidedbydestiny so I can share it with my followers!