This post contains affiliate links which means that I will make a small commission if you purchase a product after clicking on any of them, at no extra cost to you.
Spending a weekend in Portland Oregon and looking for the perfect 3-day itinerary? I've got you covered! Portland is a vibrant and eclectic city that combines a laid-back atmosphere with a thriving cultural scene. Nestled in the heart of the Pacific Northwest, this city is an oasis of natural beauty, renowned culinary experiences, and a haven for art and music enthusiasts!
Portland evoked memories of another Pacific Northwest gem—Seattle. With their close proximity, it's no surprise that Portland and Seattle share a similar vibe and charm. As I explored the streets of Portland, I couldn't help but draw comparisons to the eclectic energy that I adore about Seattle.
This 3 day Portland itinerary is designed for the intrepid traveler who craves adventure and wants to experience everything this captivating city has to offer in just a few days. I've packed in a whirlwind of exploration within the city limits, but I've also included two incredible day trips that will showcase the stunning natural beauty of the Pacific Northwest!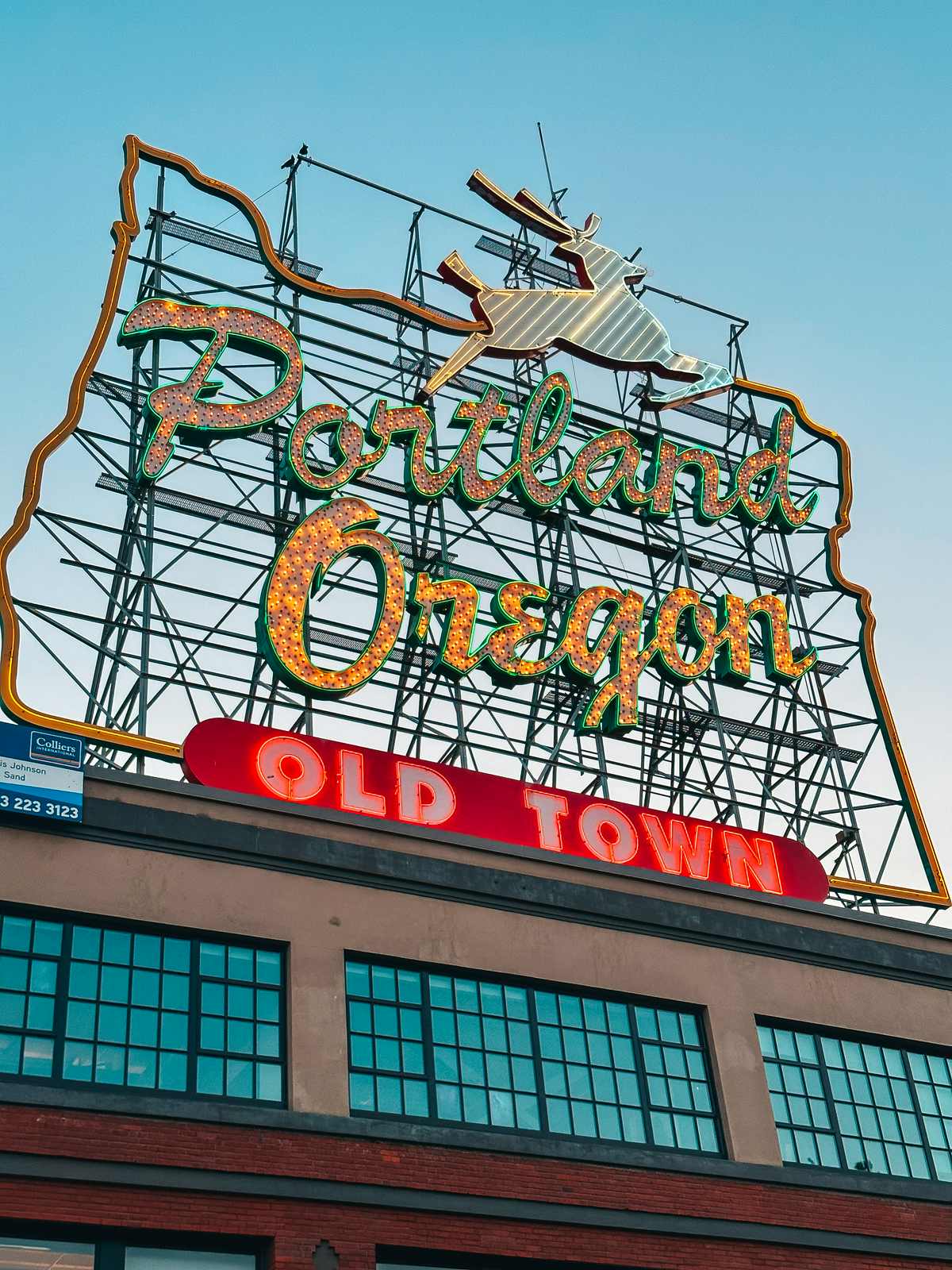 Getting Around Portland, Oregon
While Portland offers an array of public transportation options, I want to share a little secret with you: getting a rental car is the way to go. Just like in my Seattle guide, having a car gives you the freedom and flexibility to embark on exciting day trips and fully immerse yourself in the wonders of the region. So, trust me on this one—opting for a rental car will allow you to make the most of your time in and around Portland.
🚗 Need a rental car?
Use this tool to compare prices from the top rental car companies for your trip dates!
Click herе to compare
Travel hack: if you're worried about the annoyance of paying overnight parking fees, I get it. When Remi and I travel we always use Spot Hero to find more affordable parking options nearby. We found parking at the City Center Parking Garage which was just a few blocks from our hotel. Our hotel parking would've cost $55 per night, but the garage we went to only cost $21 per night!
IMPORTANT: If you do rent a car, be sure not to leave any valuables in your vehicle! I read too many reviews of break-ins happening to people's cars so I would suggest absolutely nothing being visible left inside the car.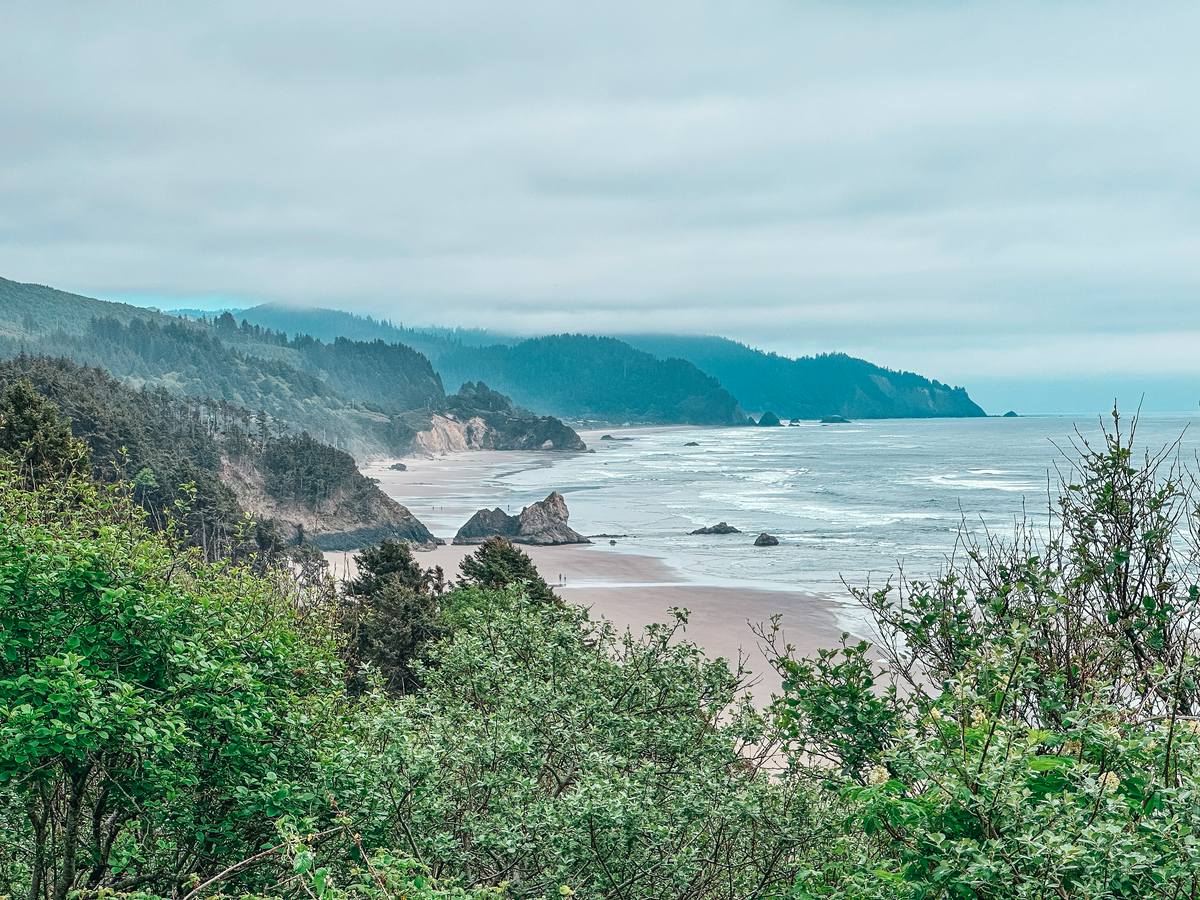 3 Days in Portland: How to Spend an Epic Weekend in Portland Oregon
Weekend in Portland Day 1: Explore Portland
Check into your hotel
Upon arriving in Portland, Oregon, check into your hotel and prepare to embark on an incredible adventure. After checking into the fabulous Dossier Hotel (which I cannot rave enough about, seriously!), we knew we were in for an amazing time. The attention to detail and the stylish ambiance of this hotel made it an absolute dream.
I'll spill all the deets on this incredible hotel in the "Where to stay in Portland" section, so stay tuned.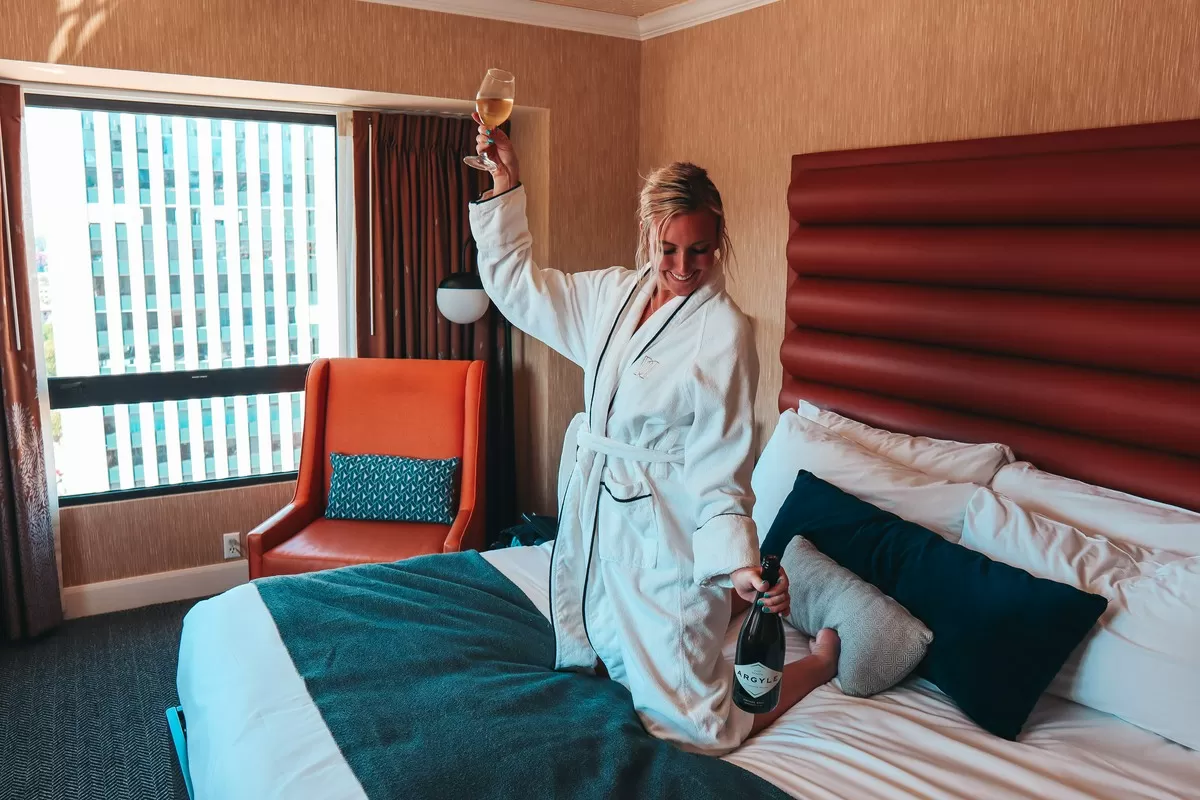 Grab lunch at Urban Farmer
If like us, your stomach is growling after a long morning of travel, head to Urban Farmer for a delicious lunch. Located within The Nines Hotel, this Portland restaurant boasts a chic and contemporary ambiance. Indulge in their craft cocktail selection while savoring the mouthwatering flavors of their lunch menu offerings.
We couldn't resist trying their grilled chicken sandwich, loaded with bacon, gruyere, apricot jam, and sofrito aioli. Talk about a flavor explosion! Their refreshing salad was the perfect complement to our meal.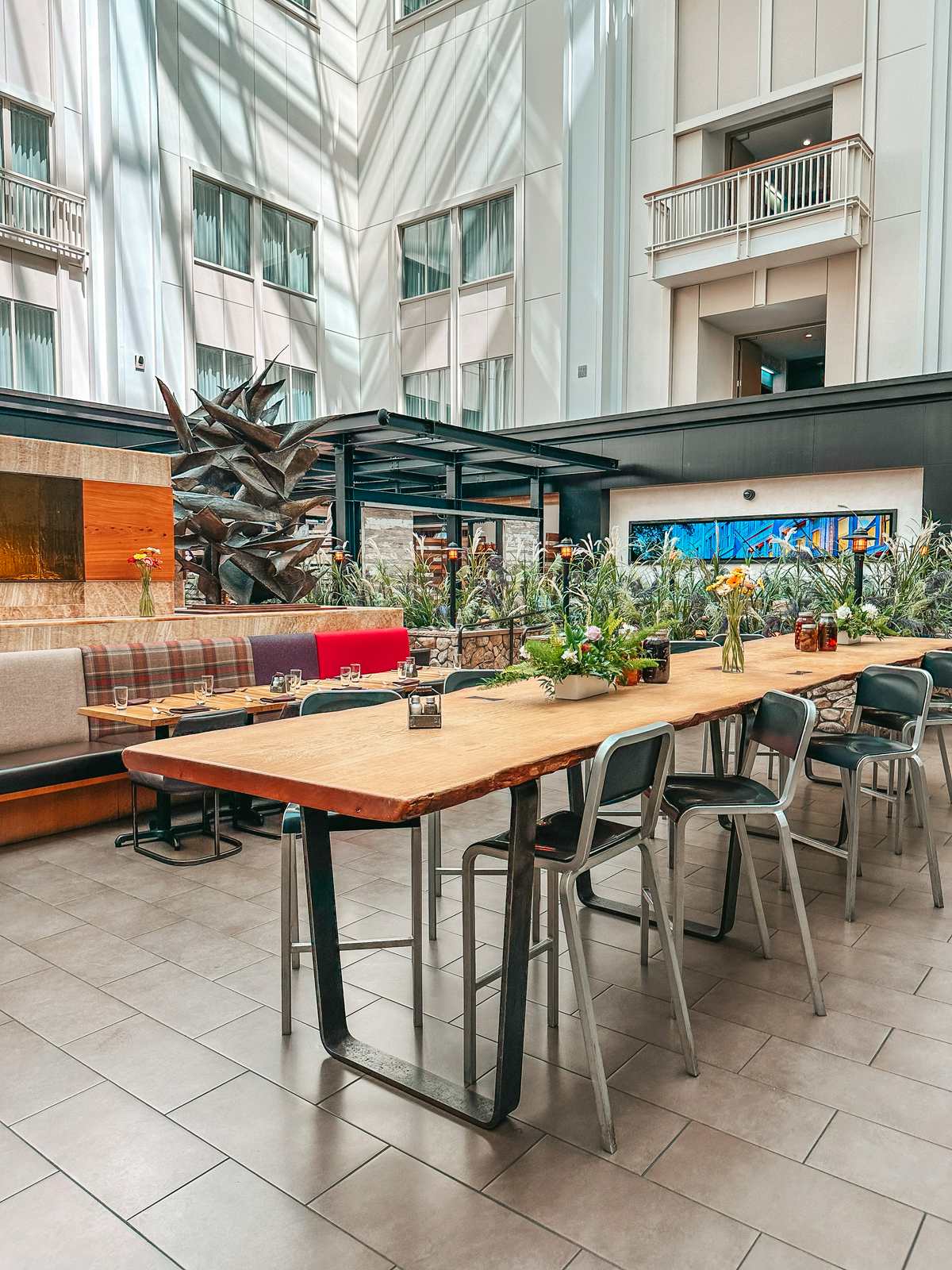 Visit the Crystal Springs Rhododendron Garden
The Crystal Springs Rhododendron Garden is a picturesque garden that is a haven for nature lovers and flower enthusiasts, offering a tranquil escape from the bustling city. Prepare to be mesmerized by the vibrant colors, fragrant blossoms, and serene ambiance of this stunning botanical wonderland!
Wander through the garden's winding paths, and marvel at the sheer variety of rhododendron species on display. In addition to the breathtaking rhododendrons, the Crystal Springs Garden is also home to a diverse array of other plants and flowers. Azaleas, magnolias, and camellias grace the landscape, adding to the beauty and providing a different burst of colors throughout the seasons.
The garden operates from 10 AM to 6 PM during the spring and summer seasons. Keep blooming season in mind when planning your visit! The rhododendrons typically burst into a vibrant display of colors from late April to early May, showcasing nature's artwork at its finest.
There is an entrance fee of $5 for most days, but admission to the Crystal Springs Rhododendron Garden is free on Mondays!
Other flower fields you may want to check out:
Be sure to make sure they're in blooming season for your visit!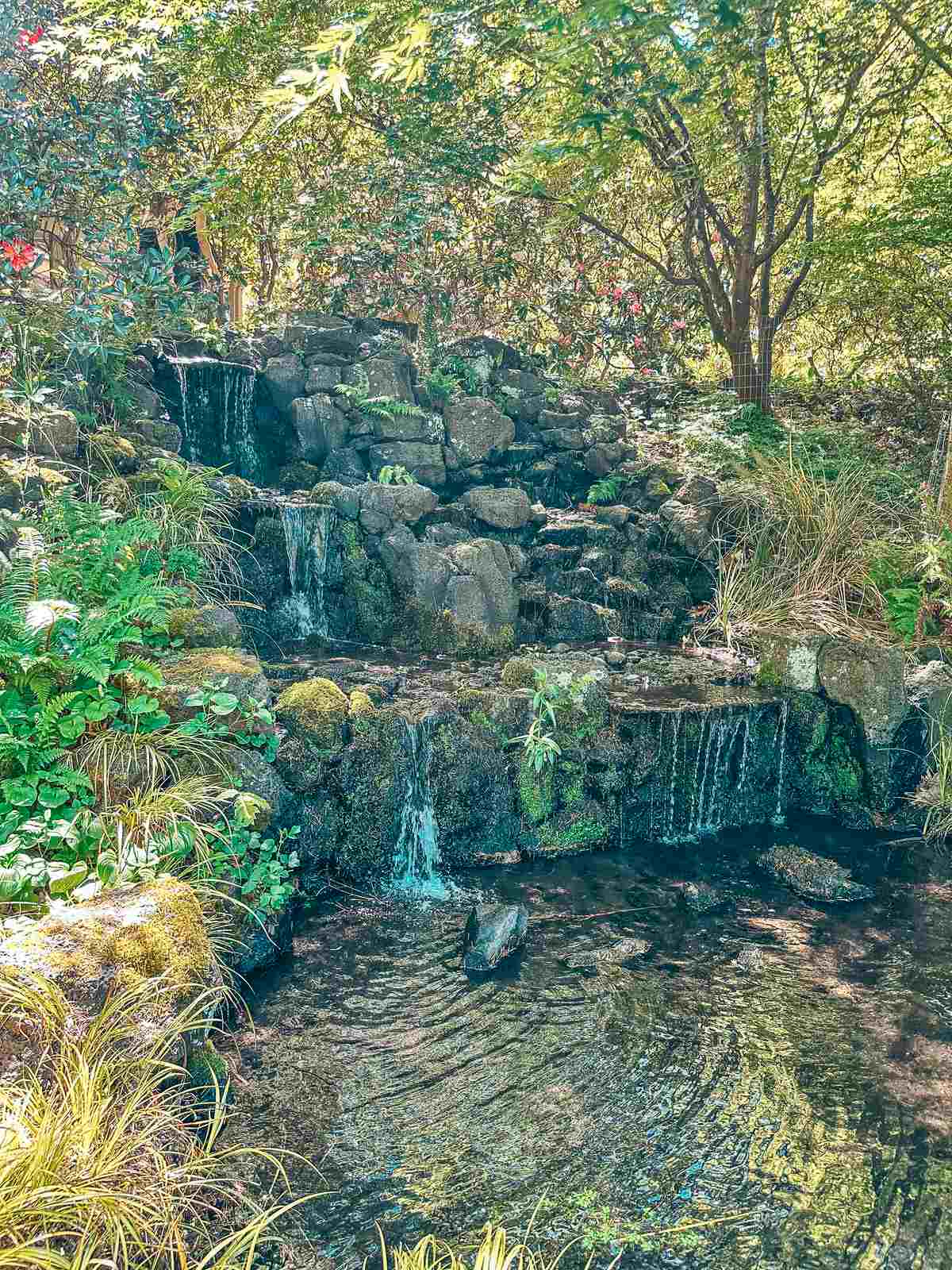 Grab a mid-day pick-me-up
After immersing yourself in the beauty of the Crystal Springs Rhododendron Garden, you may find yourself in need of a mid-day pick-me-up to keep the exploration going strong. We were drawn to the familiar sight of a Dutch Bros Coffee nearby. Having first fallen in love with their coffee during our Arizona road trip, stumbling upon a Dutch Bros drive-through was exactly what we needed!
Portland's coffee scene is pretty legendary, so also check if there are any local shops nearby! Our Dutch Bros order: vanilla cold brew with half and half and a decadent Snickerdoodle frost.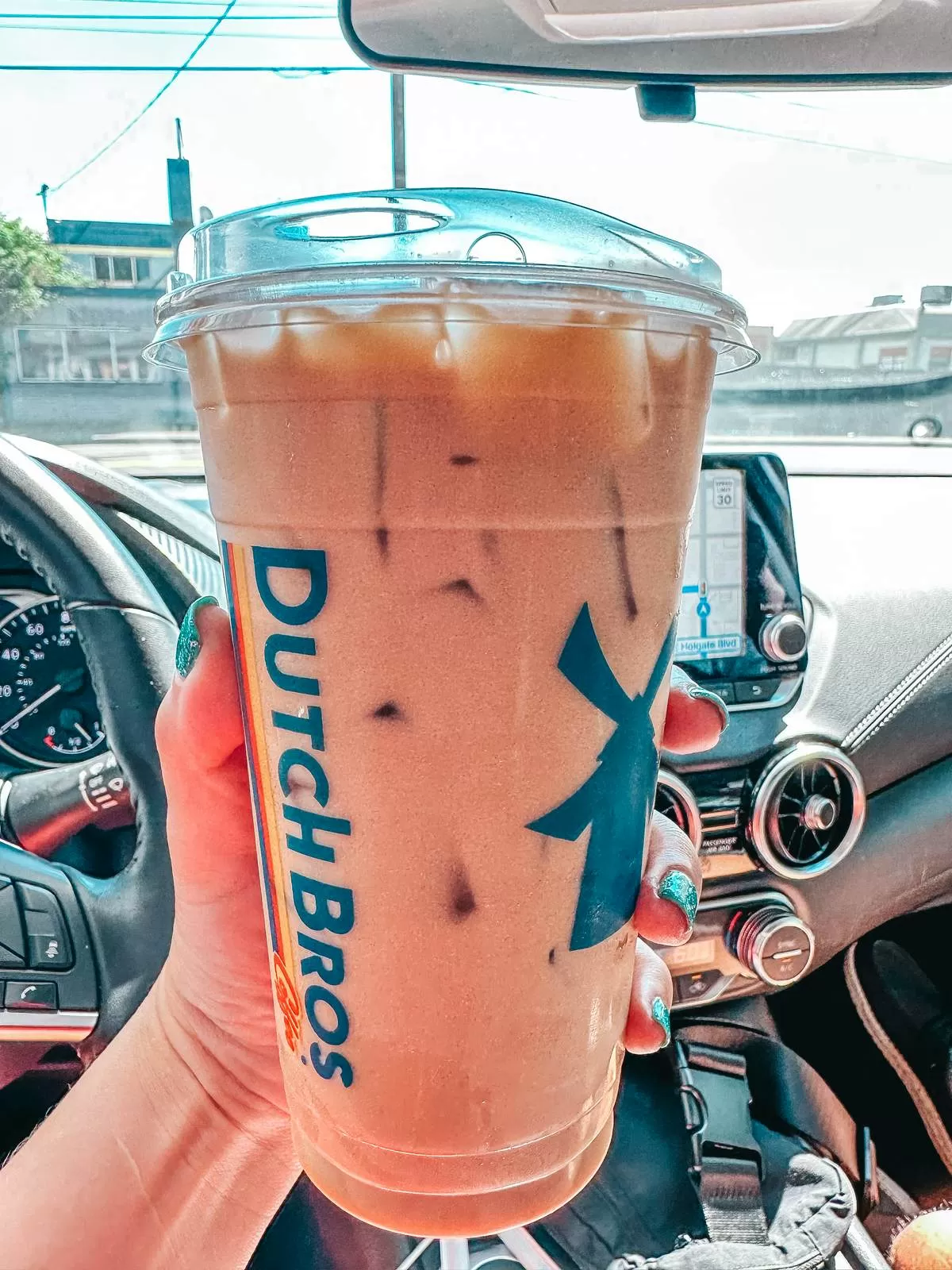 Explore Washington Park
Next, venture into Washington Park, a sprawling urban park with endless attractions! While there are numerous options to explore, we focused on two must-see spots: the International Rose Test Garden and the Portland Japanese Garden.
While our visit to the International Rose Test Garden unfortunately didn't coincide with the peak bloom season, this free attraction still provided a serene escape amidst fragrant blooms. To witness the garden in its full splendor, the best time to visit is typically from late spring to early summer when the roses are in their vibrant glory.
Adjacent to the Rose Test Garden you'll find the Portland Japanese Garden, an acclaimed oasis of tranquility and considered one of the most authentic Japanese gardens outside of Japan! Upon entering this serene haven, we were transported to a world of Zen. Impeccably manicured landscapes, serene ponds, and traditional Japanese architecture harmoniously coexist, creating a sense of serenity that is truly unparalleled.
Admission to the Portland Japanese Garden is around $21 per person.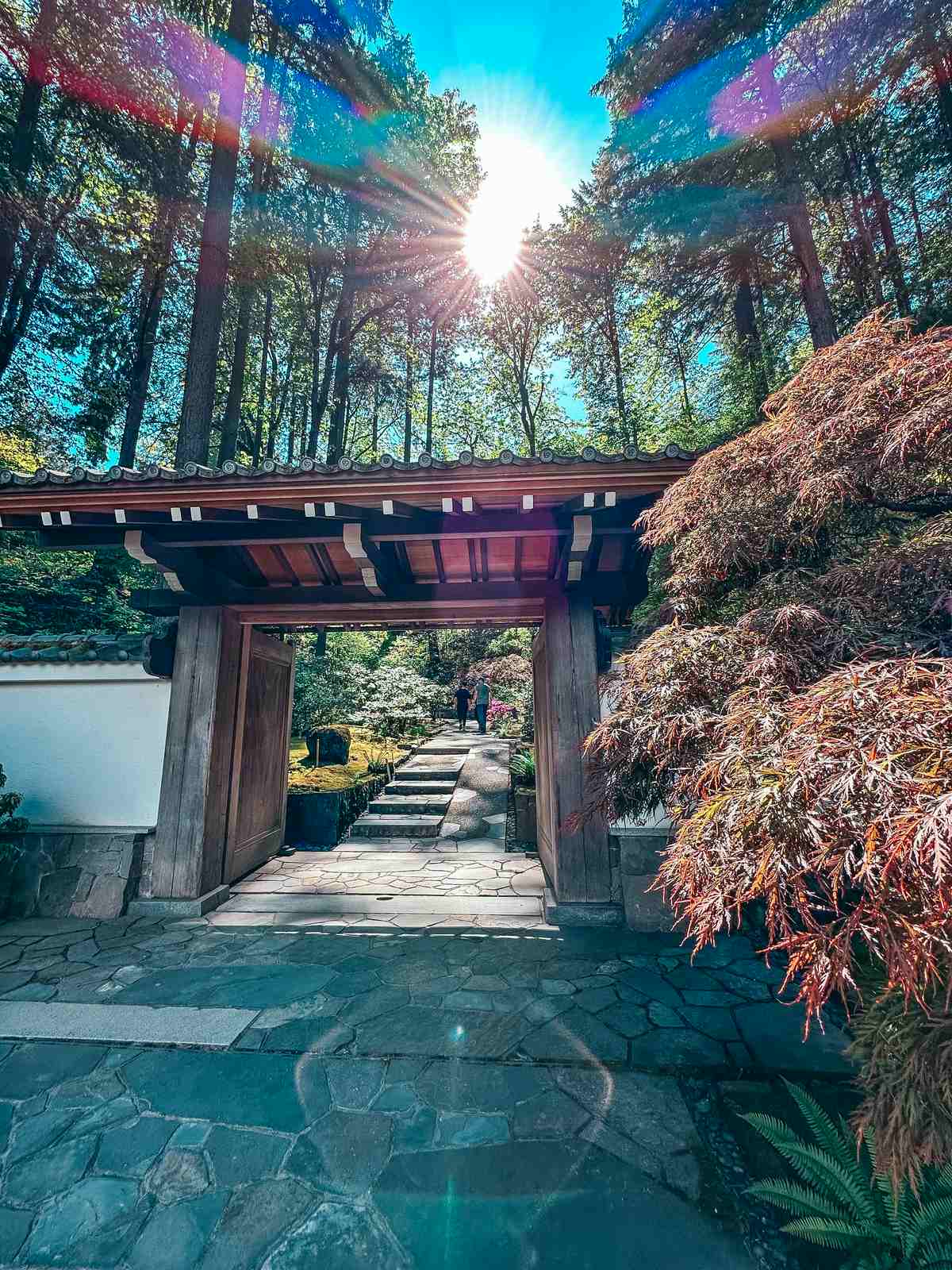 Parking in the vicinity of the gardens is available on an hourly basis. If you're looking to explore other areas of the park you will find a free shuttle service in this area that will take you to the other areas such as the Oregon Zoo, hiking trails, or the Hoyt Arboretum.
As you can tell, Washington Park offers a myriad of activities and sights that will captivate your senses and leave you yearning for more. We couldn't resist returning the following morning to explore further, and we're so glad we did!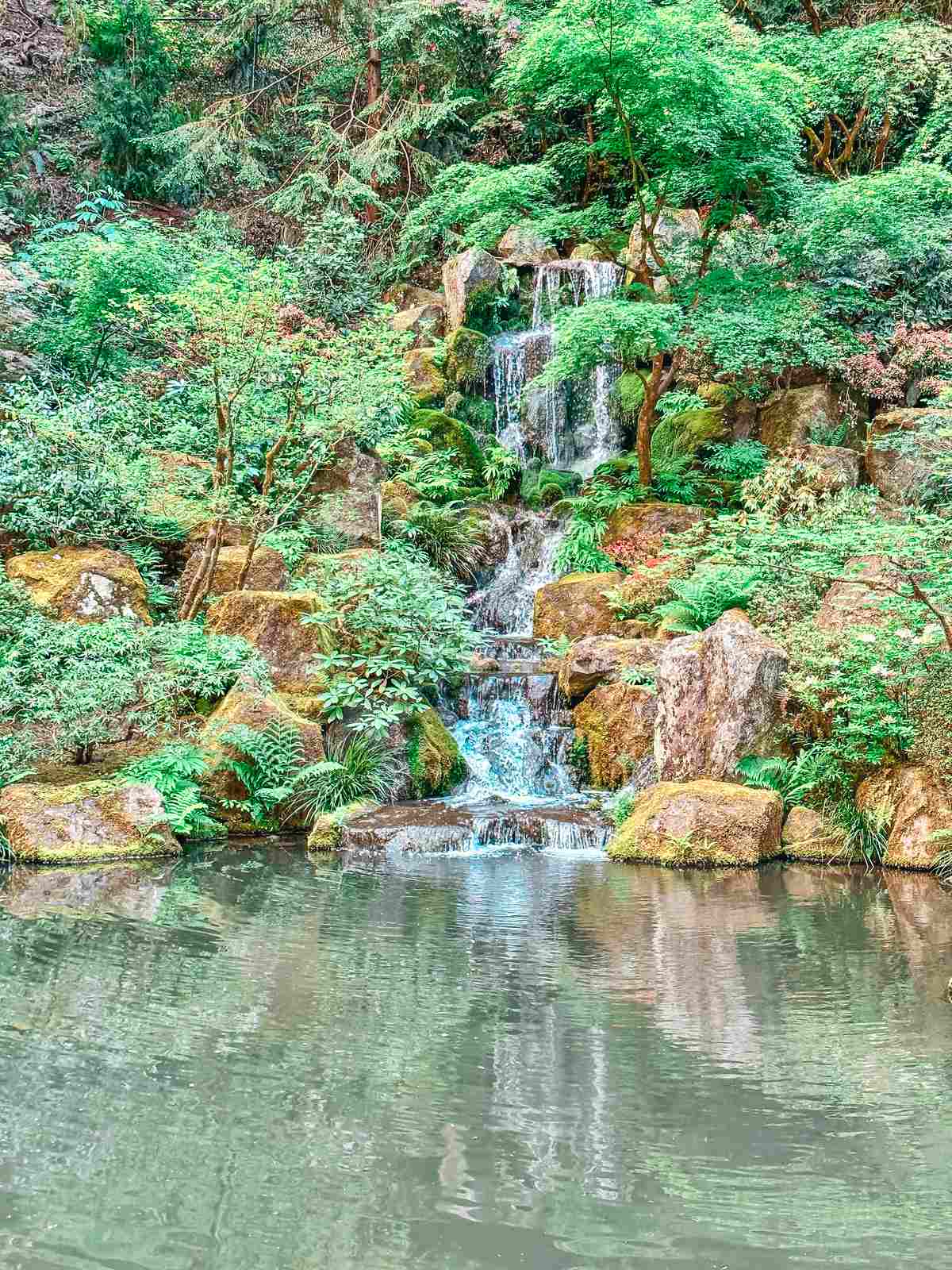 Have dinner at Bistro Alder
After a long day of travel and exploring, Bistro Alder provided us with the ultimate convenience, being located right inside the Dossier Hotel. We were grateful for the opportunity to unwind and enjoy a relaxed, leisurely meal without venturing too far from our cozy accommodations.
This new American bistro perfectly captures the essence of Pacific Northwest cuisine and showcases the freshest, seasonal bounty of the region, ensuring that every dish is a celebration of local flavors. Whether you're a guest at the hotel or not, this restaurant is an absolute must-visit during your time in Portland!
We loved the selection of starters that showcased Bistro Alder's unique twists on classic dishes. The endive "Caesar" salad offered a refreshing take on the traditional favorite, while their goat cheese deviled eggs provided a delightful burst of creamy indulgence. However, the true star of the show was the kabocha squash soup. This velvety and soul-warming creation had a delicious kick that left us craving more.
For our entree, we took the advice of the knowledgeable staff and opted for the highly recommended pork loin chop. This succulent cut of meat hailed from a local Oregon farm, and we could taste the difference in every bite.
The pork was incredibly tender, juicy, and bursting with flavor. But what truly elevated the dish was the accompanying raisin and honey sweet and sour sauce. The combination of savory and sweet notes took this dish to a whole new level of culinary bliss.
To complement our meal, we delved into the carefully curated selection of craft cocktails. The attention to detail in Bistro Alder's beverage program was evident, and we savored each sip! I can assure you you will not be disappointed here.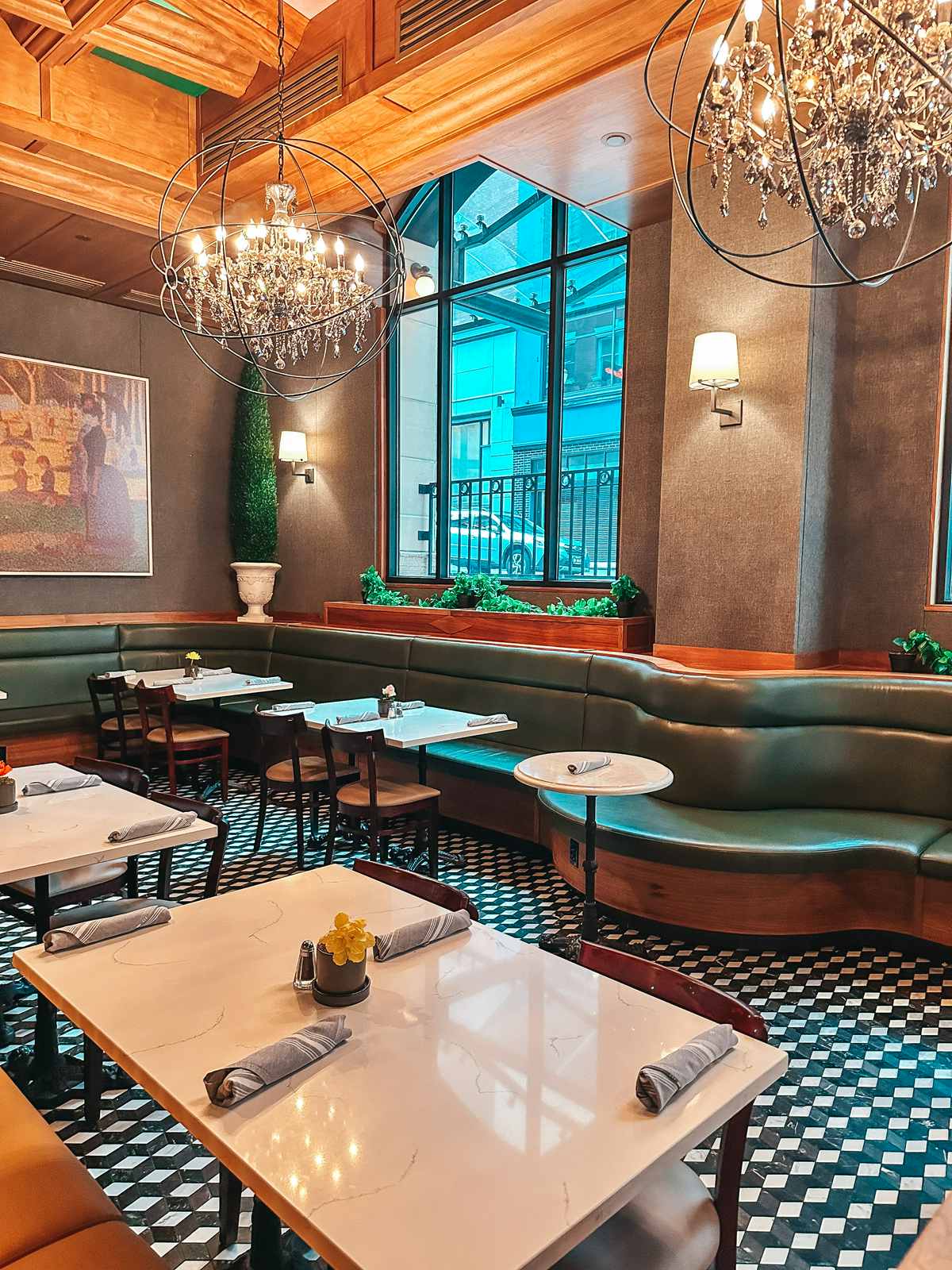 Weekend in Portland Day 2: day trip to Cannon Beach
Grab breakfast
We were starting our mornings pretty early (around 7:30 AM), and surprisingly a lot of nearby coffee shops didn't open until later. Luckily, Bistro Alder has breakfast and coffee from 7 AM-11 AM Monday – Friday. Their French toast and breakfast sandwich were both solid options depending on if you prefer savory or sweet. They serve Stumptown Coffee, which is a local favorite, and for good reason!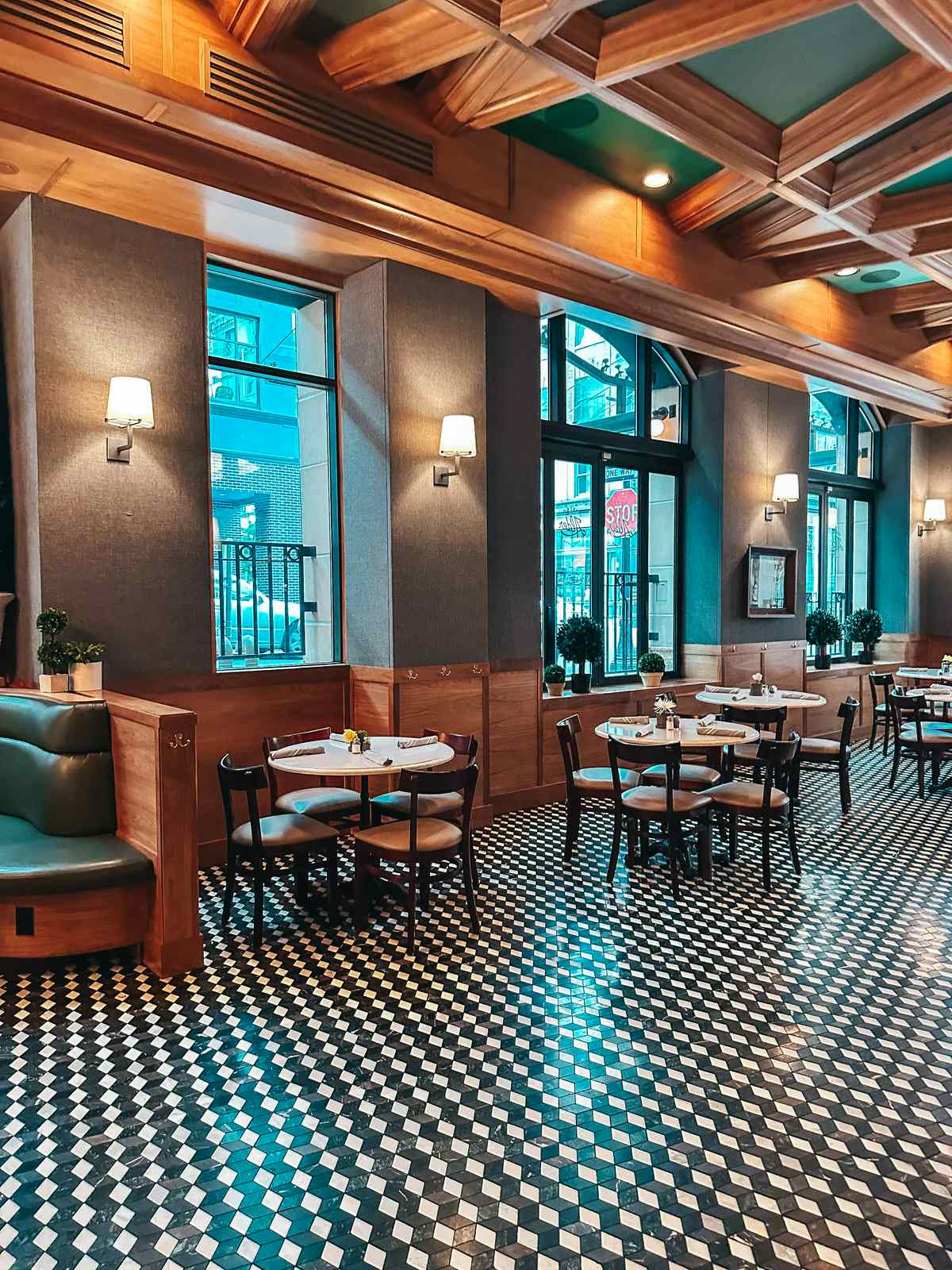 Head to the largest bookstore in the world— Powell's Books
This one is for all of my bookworms and literary enthusiasts! Prepare to be captivated by Powell's Books, a sprawling literary wonderland! It's actually the largest independently owned bookstore in the world.
As soon as we stepped into Powell's Books, we were instantly greeted by the intoxicating aroma of books. The sight that unfolded before us was nothing short of awe-inspiring. Rows upon rows of shelves stretched as far as the eye could see, housing an immense collection of books spanning every genre imaginable!
Wandering through the labyrinthine aisles, and multiple stories (4 levels) we found ourselves lost in a treasure trove of literary gems. From bestsellers to rare editions, the sheer diversity of titles available was astounding. The knowledgeable staff was always ready to lend a helping hand, offering recommendations and sharing their passion for literature.
What makes Powell's Books truly remarkable is its commitment to showcasing local authors and independent publishers. It serves as a hub for literary events, author readings, and book signings, creating an intimate and engaging space where authors and readers can come together to celebrate the written word.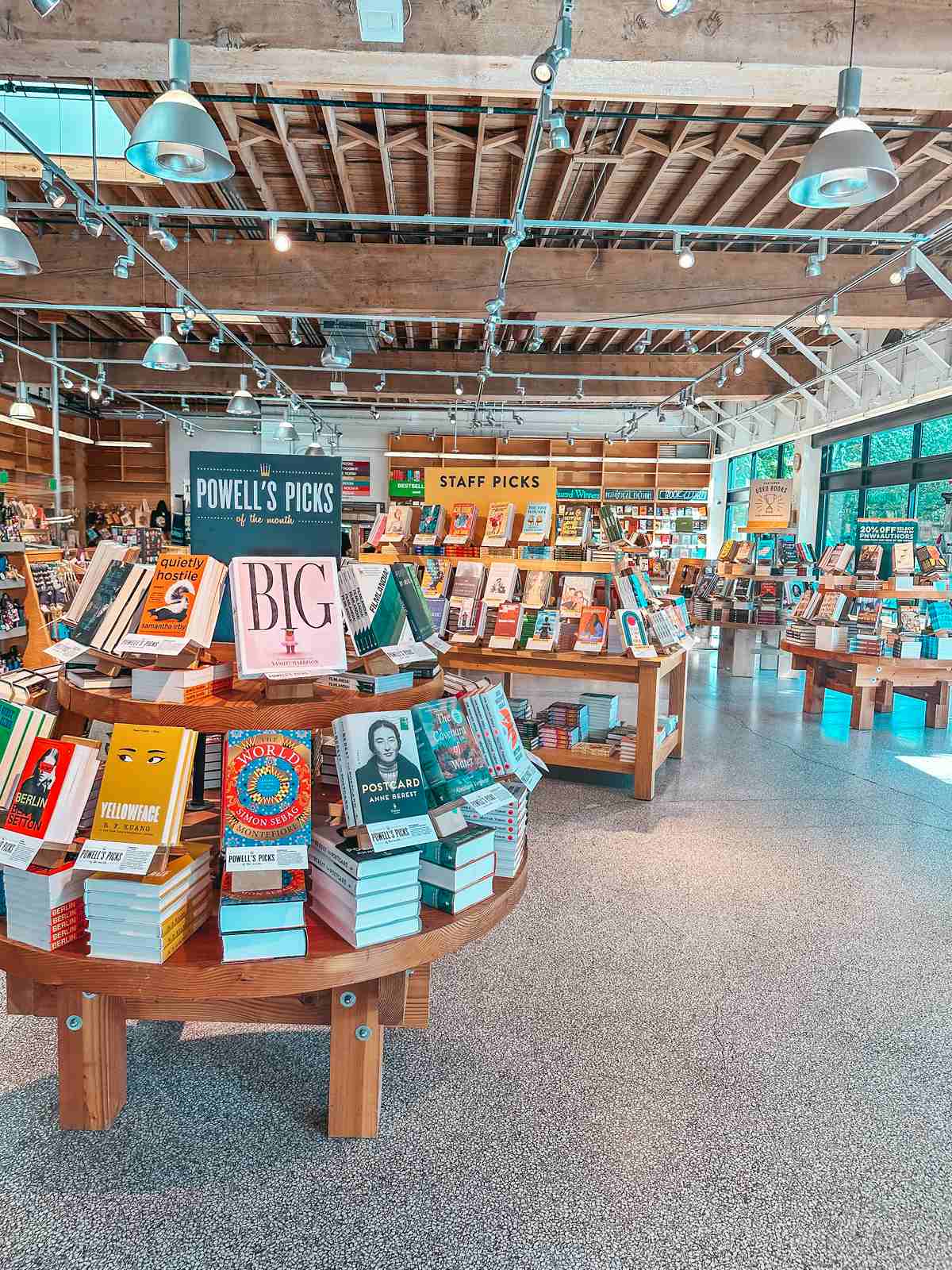 Visit the Pittock Mansion
Perched atop a scenic hill in Washington Park, the Pittock Mansion stands as a testament to Portland's rich history and offers visitors a glimpse into the city's past. This historic landmark showcases the lives of one of the city's influential families and the architectural grandeur of the era.
While exploring the mansion itself requires an admission fee, the real highlight of Pittock Mansion doesn't cost a penny! At the top of the hill, a lookout offers panoramic views of Portland and its surrounding natural beauty. So even if you choose not to enter the museum, I highly recommend making a stop at the lookout, especially if you're already exploring Washington Park.
From the majestic peaks of Mount Hood to the sparkling waters of the Willamette River, the view from the Pittock Mansion lookout is truly breathtaking!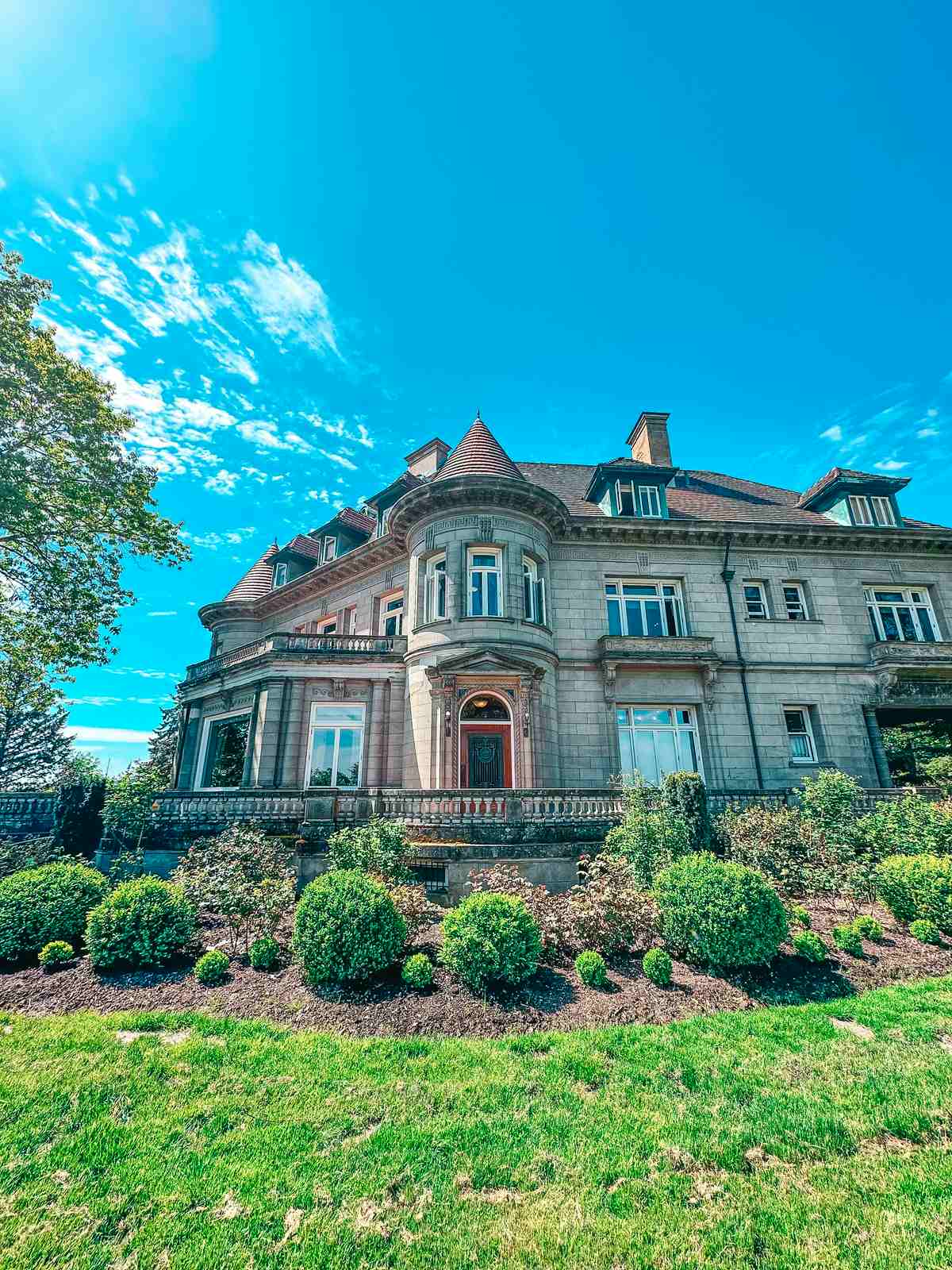 Explore Forest Park
Nestled within the urban landscape of Portland lies a lush oasis known as Forest Park. Spanning over 5,000 acres, this Portland activity beckons outdoor enthusiasts and nature lovers to explore its diverse trails and immerse themselves in verdant forests.
One of the most enticing aspects of Forest Park is the abundance of trails fit for all levels of hikers. From leisurely strolls to challenging treks. I can't get Remi to commit to long hikes, but we did check out a few shorter ones!
Be sure to check out Witch's Castle. These stone ruins, adorned with moss and nestled among towering trees carry an air of mystery and intrigue. The hike to Witch's Castle is approximately 1.5 miles.
Parking at Forest Park is free, but availability can be limited. If possible, start your adventure earlier in the day to allow for a better chance of securing a parking spot. Remember to respect the park's rules and guidelines, and always practice Leave No Trace principles to preserve the natural beauty of this enchanting sanctuary!
Check out some of the best trails in Forest Park!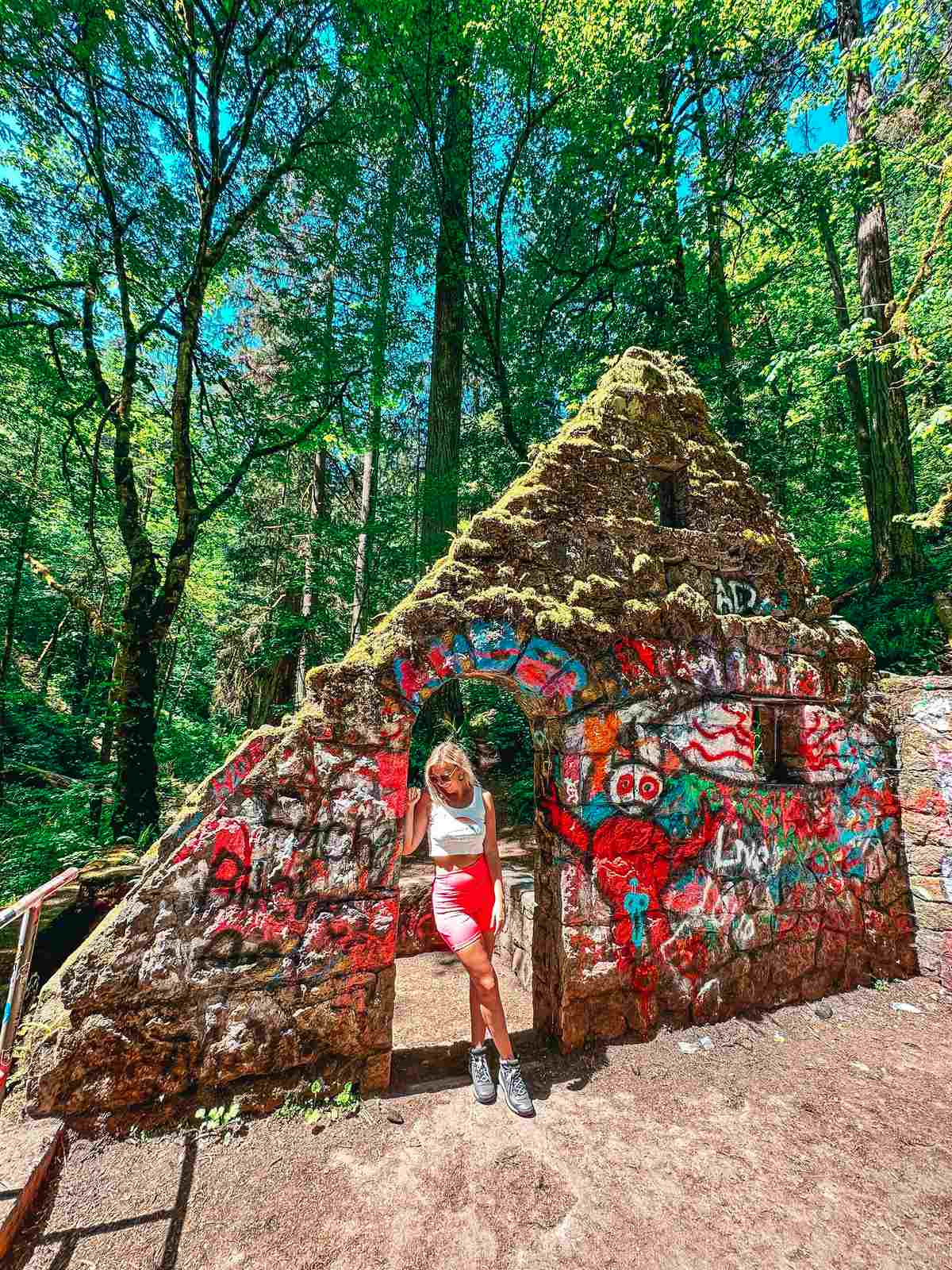 Grab lunch
We made a beeline for Red Onion Thai for lunch and boy, were we in for a treat! The lunch special offered an incredible value, with each plate priced at just $10. Since we love sharing our meals, we decided to indulge in both their delectable red curry and the mouthwatering pad kee mao, also known as drunken noodles.
The flavors were phenomenal, and the portions were so generous that we happily had leftovers to savor later. Red Onion Thai truly exceeded our expectations and left us craving more of their amazing dishes!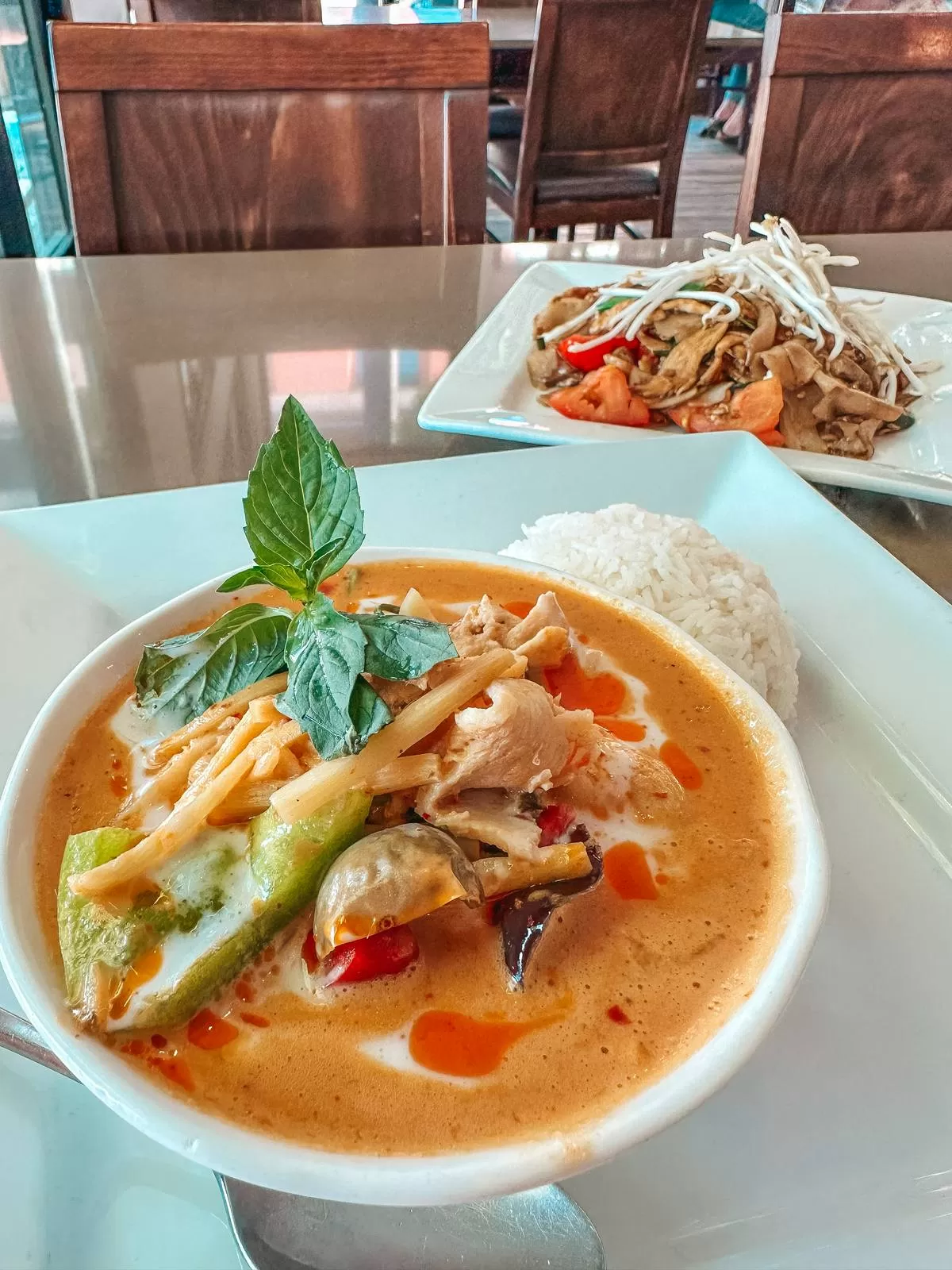 Take a day trip
Nestled along the stunning Oregon coastline, Cannon Beach is a slice of paradise that offers the perfect day trip from Portland. From the iconic Haystack Rock to the captivating Ecola State Park, this coastal gem beckons visitors with its awe-inspiring beauty and a host of unforgettable experiences.
We started off our day trip by grabbing a coffee from some Seaside coffee shops. This coastal town was so charming, and if you have spare time I encourage you explore it. Stroll along the promenade, visit the aquarium, or simply relax on the beach while soaking up the coastal ambiance.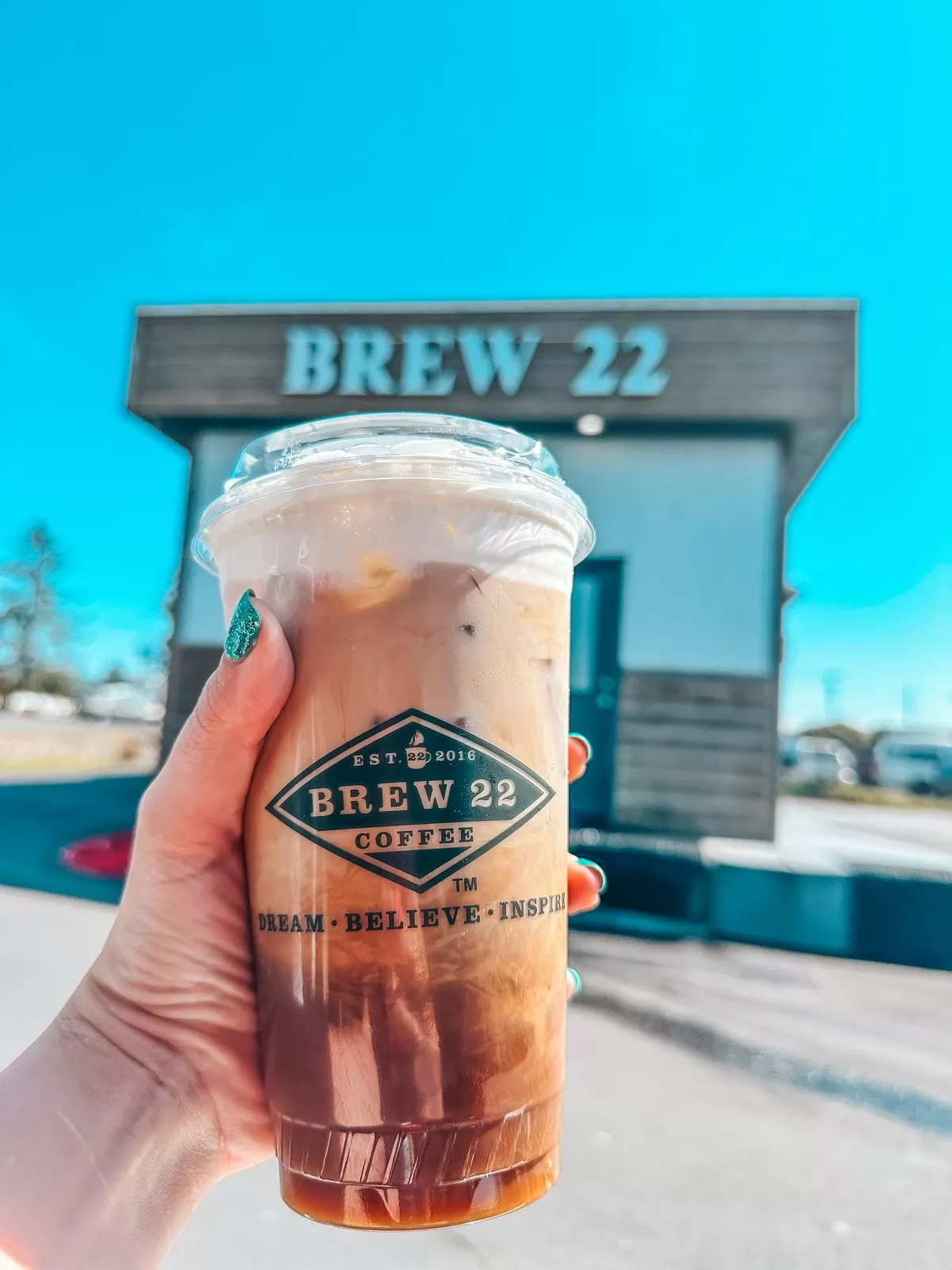 State Parks
This area has so many amazing state parks and the best part about these attractions in Cannon Beach is their close proximity to one another, making it easy to explore them all in a row.
We began with Hug Point, a secluded beach known for its scenic beauty and intriguing rock formations. Explore the tidal caves, admire the ancient forest backdrop, and feel the refreshing ocean breeze on your face.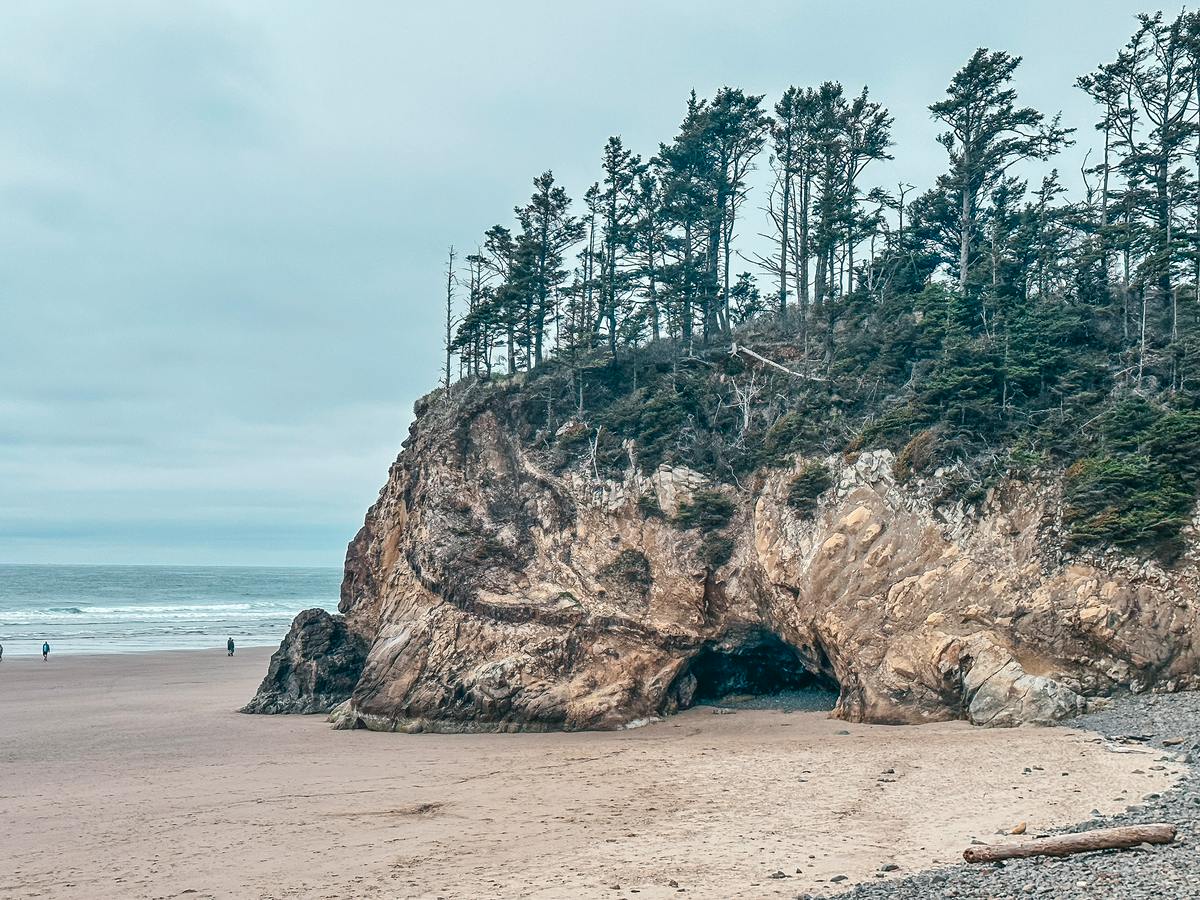 Nature enthusiasts will also find joy in tidepooling at Arcadia Beach State Recreation Site. This hidden gem offers an opportunity to discover a diverse array of marine life as you explore the vibrant tidepools that dot the shoreline.
Ecola State Park is a coastal treasure that will leave you breathless. Immerse yourself in the park's lush forests, embark on scenic hikes, and revel in panoramic views of the Pacific Ocean. The rugged coastline and dramatic cliffs make for incredible photo opportunities that showcase the raw beauty of the Oregon coast.
No visit to Cannon Beach is complete without setting your sights on the majestic Haystack Rock. But this towering monolith is more than just a rock; it's a National Wildlife Refuge teeming with marine life.
Exploring the tidepools surrounding the rock reveals a vibrant world filled with fascinating creatures waiting to be discovered. We even got to see several starfish!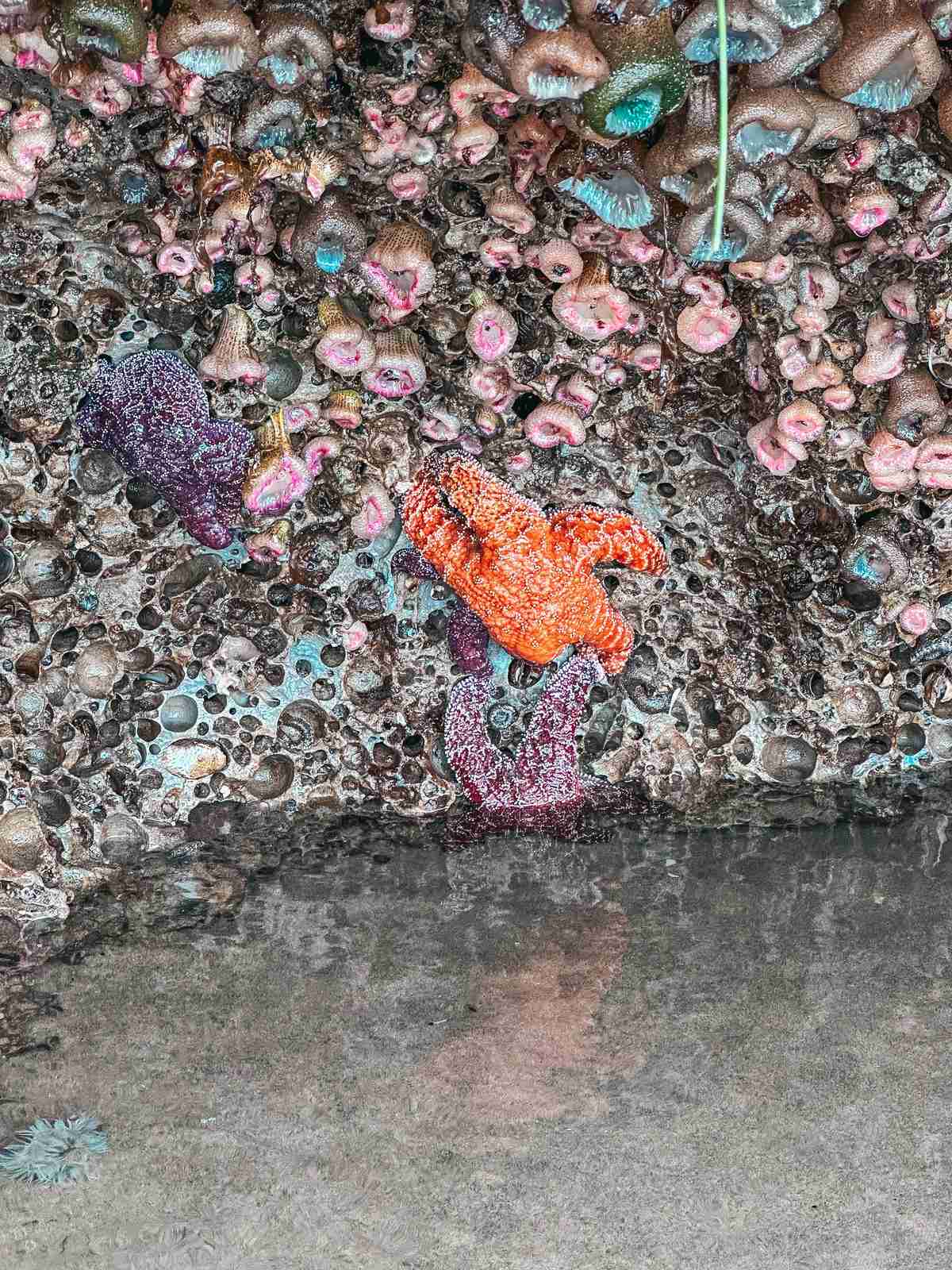 Downtown Cannon Beach
When you're ready to explore the heart of Cannon Beach, downtown awaits with its charming shops, art galleries, and local eateries. Don't miss the chance to savor the coastal-inspired cuisine and sample refreshing craft brews at Pelican Brewing, a popular spot that captures the essence of the region.
I am certainly no expert on this area since we had such limited time, but if you have more than a day, here is a full Cannon Beach guide!
🚗 Don't have a rental car?
This 8-hour tour takes you to experience the Oregon coast to see all of the sights!
Click herе to book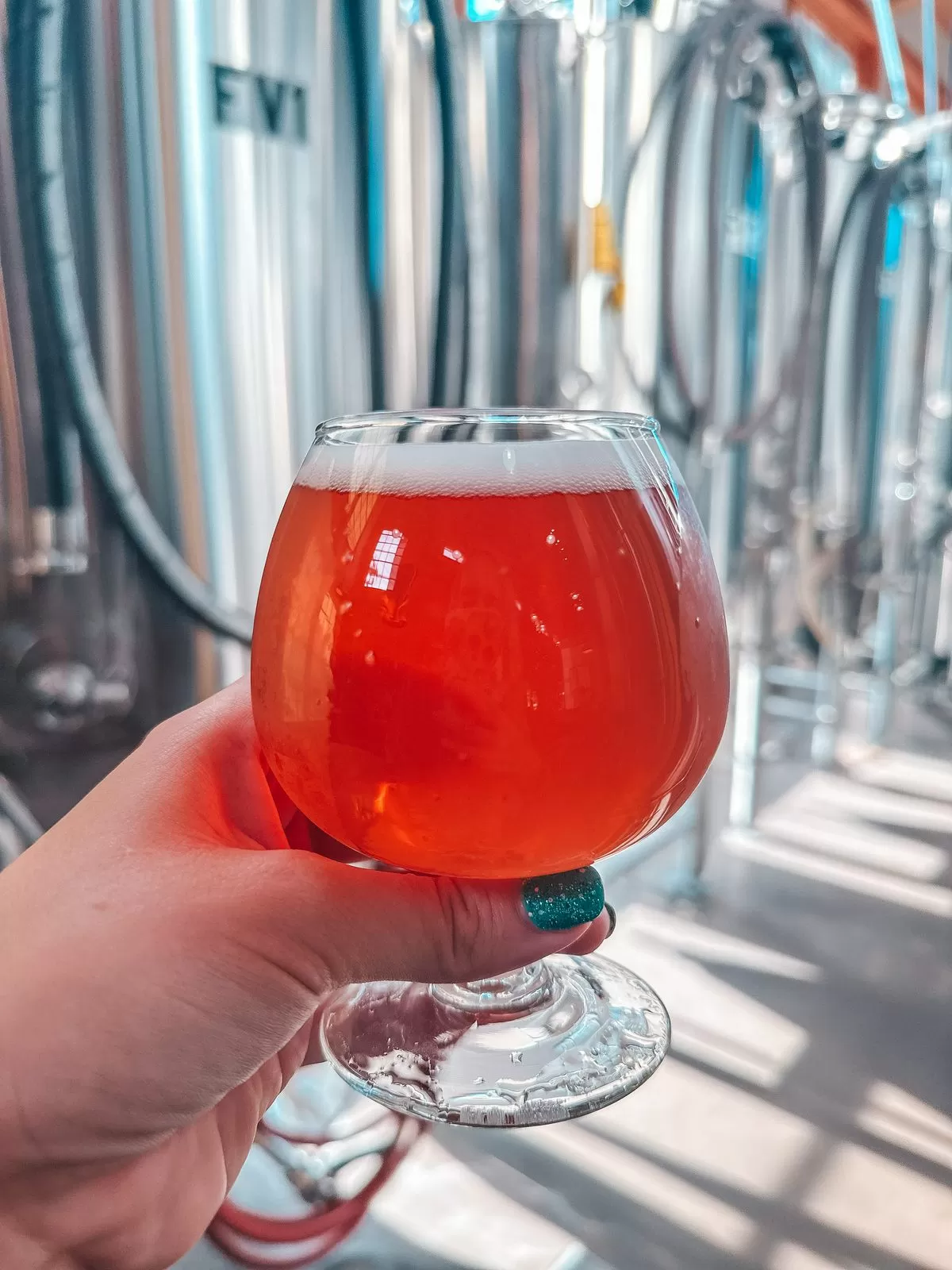 Come back and enjoy dinner with a view
When it comes to exceptional dining experiences in Portland, few places can rival the culinary delights and breathtaking views offered by Portland City Grill. Perched high above the city on the 30th floor of the U.S. Bancorp Tower, this renowned restaurant boasts not only an amazing menu but also a panoramic vista that will leave you in awe.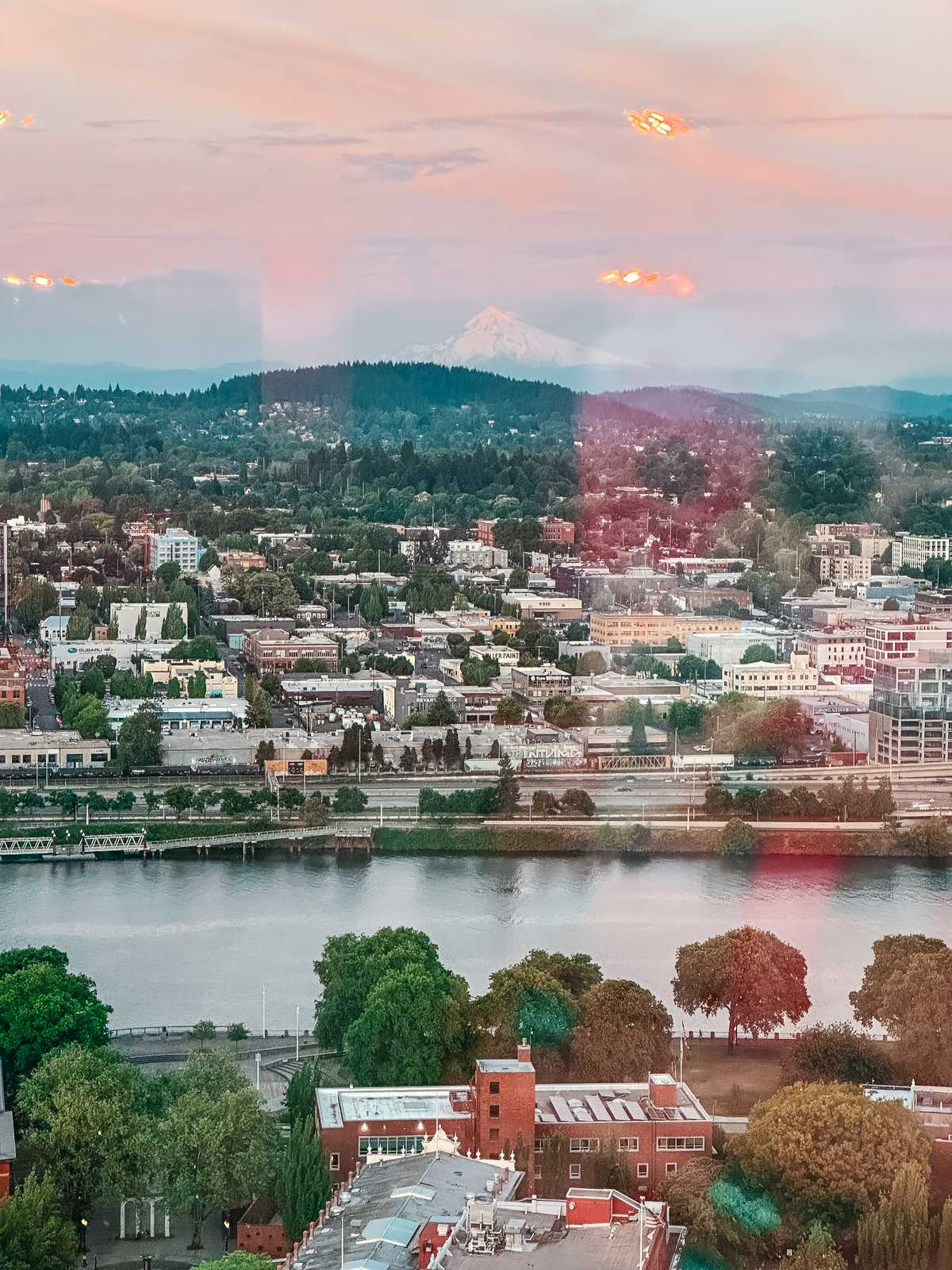 The ambiance immediately embraced us with a sense of sophistication and warmth. But it was the view that truly stole the show. The floor-to-ceiling windows revealed a sweeping panorama of the city's glittering lights casting a magical glow over the entire dining room, with sights of Mount Hood in the background.
The menu showcases a fusion of flavors, highlighting the best of the Pacific Northwest's culinary offerings. Remi and I had the pleasure of experiencing the best salmon of our lives here!
The simplicity of the dish was its brilliance. The blackened salmon was cooked to perfection! It was presented with a beautiful sear and tender flakiness. With every bite, the delicate flavors of the fish melted in my mouth, leaving a sensation that can only be described as sheer bliss. It was a testament to the skill of the chefs who allowed the quality of the salmon to shine through, elevating it to a culinary masterpiece!
This is truly the perfect way to end your second day in Portland!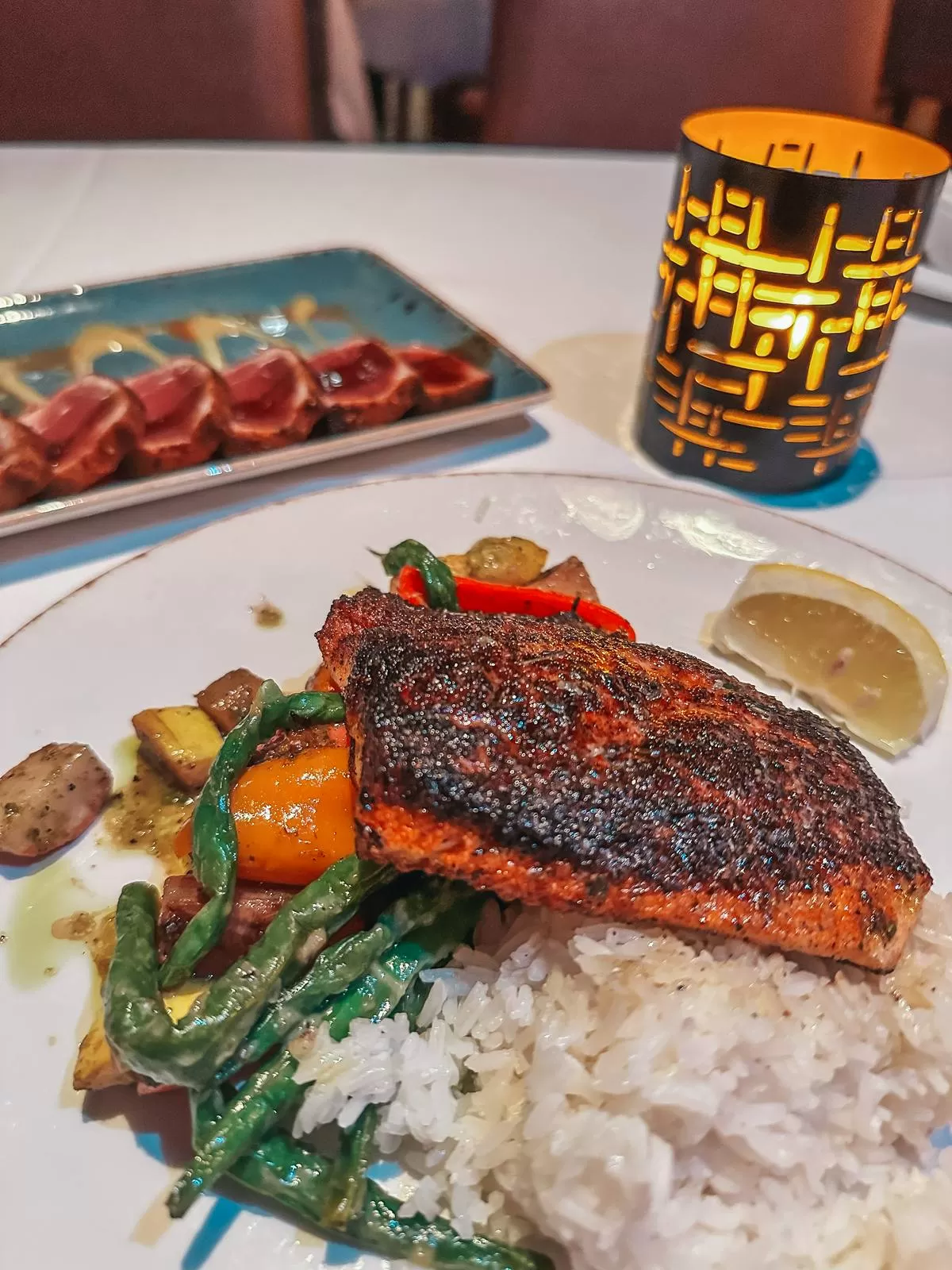 Weekend in Portland Day 3: Waterfalls and hikes
Grab breakfast
I read that Gravy was a must in just about every Portland blog post, and honestly, it was not overhyped. It delivered! This charming breakfast spot offers not only quick and friendly service but also a culinary masterpiece that will leave you craving more.
We were greeted with a warm and inviting atmosphere, setting the tone for a delightful meal. Not to mention the service was so quick!
Now, let's talk about the star of the show: the French toast. Gravy's French toast is simply divine. Made with fluffy challah bread, each bite was a heavenly combination of rich flavors and irresistible texture. I truly savored every mouthful.
So, if you're looking for a breakfast spot that offers both efficient service and delectable dishes, make sure to add Gravy to your Portland itinerary.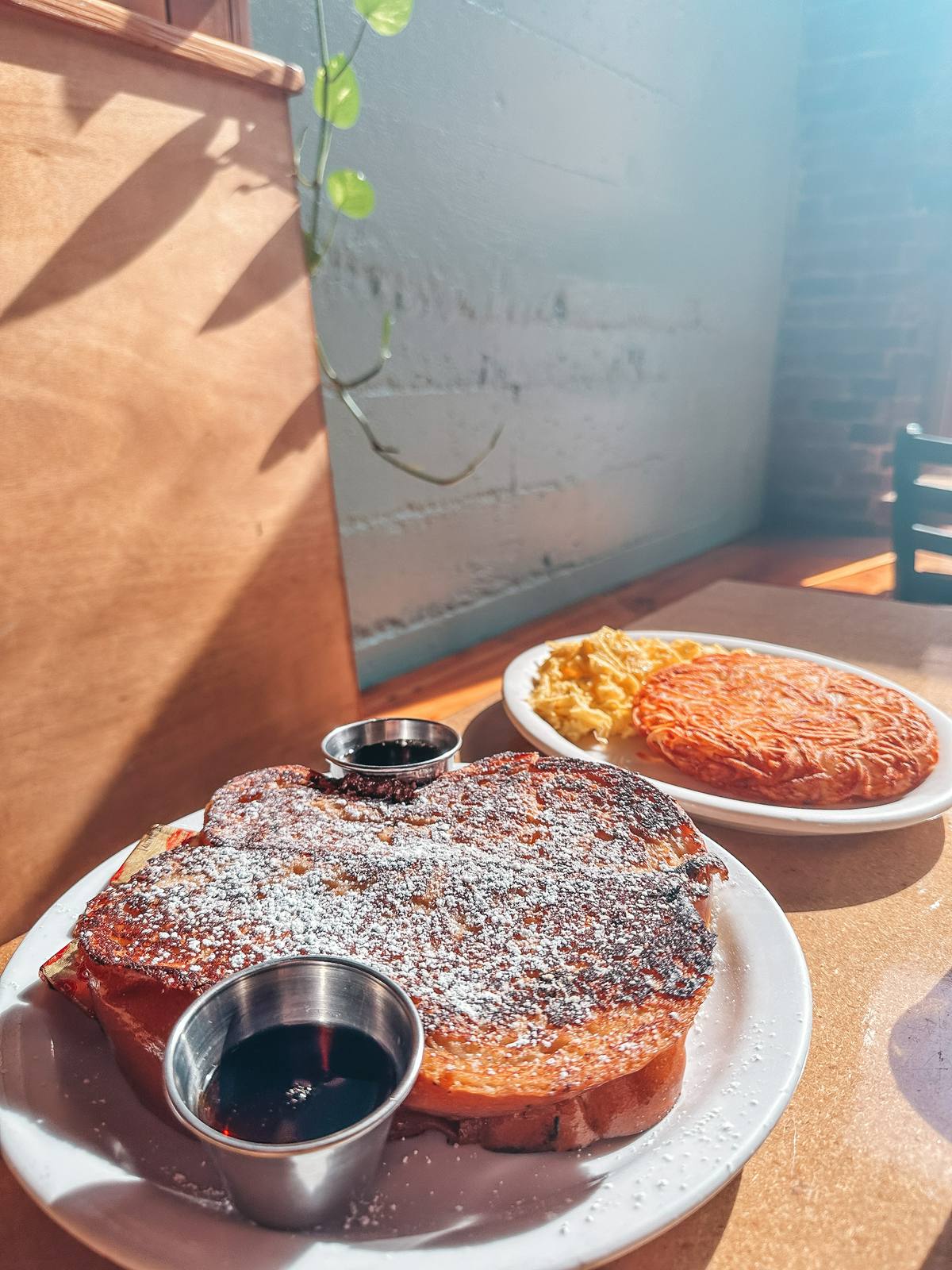 Chase waterfalls
For nature enthusiasts and waterfall fans, a journey along the Columbia River Gorge Scenic Highway is an absolute must when visiting Portland! This picturesque route offers a treasure trove of breathtaking Oregon waterfalls, catering to both avid hikers and those seeking easier access to nature's wonders.
One of the highlights of our trip was experiencing the awe-inspiring Multnomah Falls. A short drive from Portland, this iconic waterfall captivates with its grandeur and beauty.
We opted for a 2-mile out-and-back hike to the top of the falls, where we were rewarded with panoramic views and a sense of accomplishment. However, if you're looking for that iconic shot of the bridge and don't want to hike, don't worry! You can still marvel at the falls without embarking on a trail.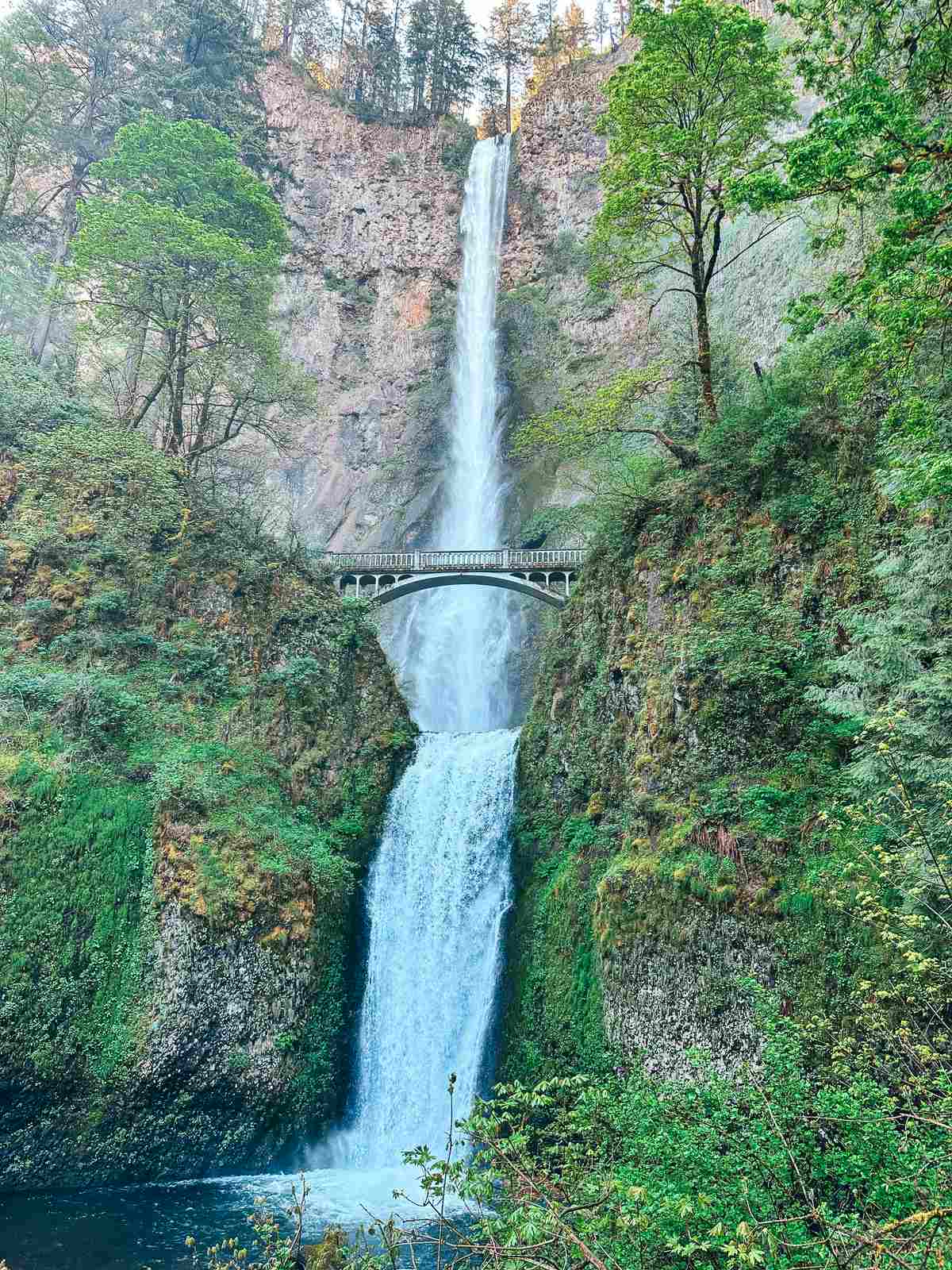 In addition to Multnomah Falls, we explored other magnificent waterfalls in the area, including Latourell Falls and Bridal Veil Falls. These waterfalls offer shorter hikes that allow you to witness different perspectives of their splendor. From Latourell's striking basalt column to the ethereal cascade of Bridal Veil, each waterfall showcased its own unique charm.
Parking at some of these popular sites can be limited, so starting your day early is key. We arrived at Multnomah Falls around 8:30 am and were rewarded with a peaceful and uncrowded experience. However, as we were leaving, the crowds began to gather.
Again, if you opt out of doing a rental car, this half-day Columbia River Gorge and waterfall tour is a great option. It covers all the stops mentioned, plus a couple of extras.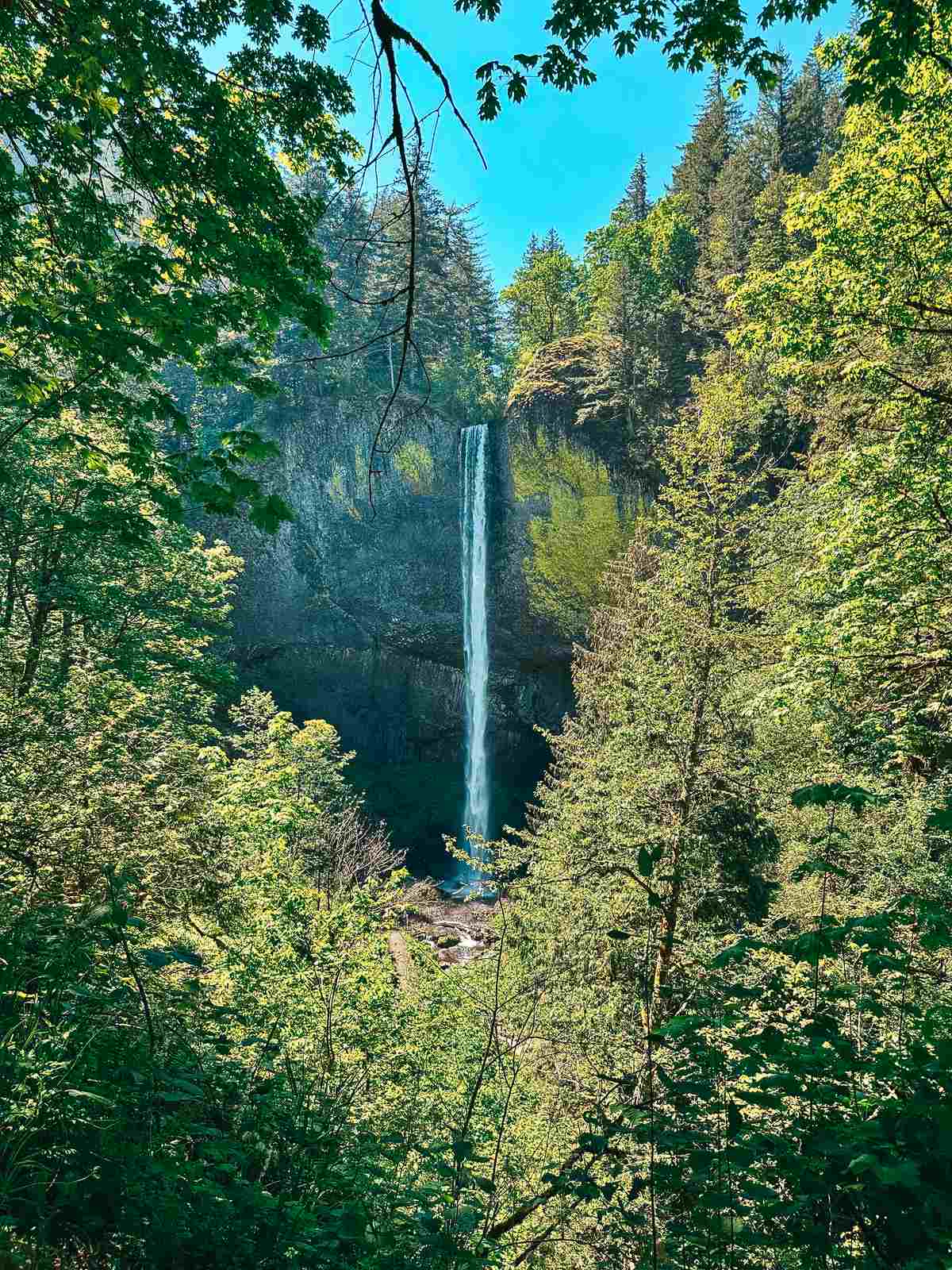 Check out some other nearby hikes
For a serene escape into nature with breathtaking views of Mount Hood, we set our sights on Powell Butte Nature Park. This tranquil oasis offers a variety of trails that cater to different hiking preferences and skill levels. As we embarked on our adventure, we opted for some of the shorter trails to soak up the stunning vistas while enjoying the open landscapes.
Some of these trails provide minimal shade, so don't forget to pack sunscreen and bug spray to make your experience more comfortable.
Powell Butte Nature Park offers a perfect blend of natural beauty and tranquility, making it an ideal destination for hikers seeking a refreshing outdoor experience. While exploring the park, we marveled at the sight of Mount Hood gracefully dominating the horizon, providing a picturesque backdrop to our journey.
If you're craving more outdoor exploration, Tom McCall Preserve awaits just a 30-minute drive away from the waterfalls and Portland. This hidden gem boasts awe-inspiring hikes that immerse you in the splendor of the surrounding landscape. Although we didn't make it to Tom McCall Preserve during our trip, we've heard rave reviews about its trails and unspoiled beauty.
For a tour that includes waterfalls and Mount Hood hikes check out this epic 8-hour tour.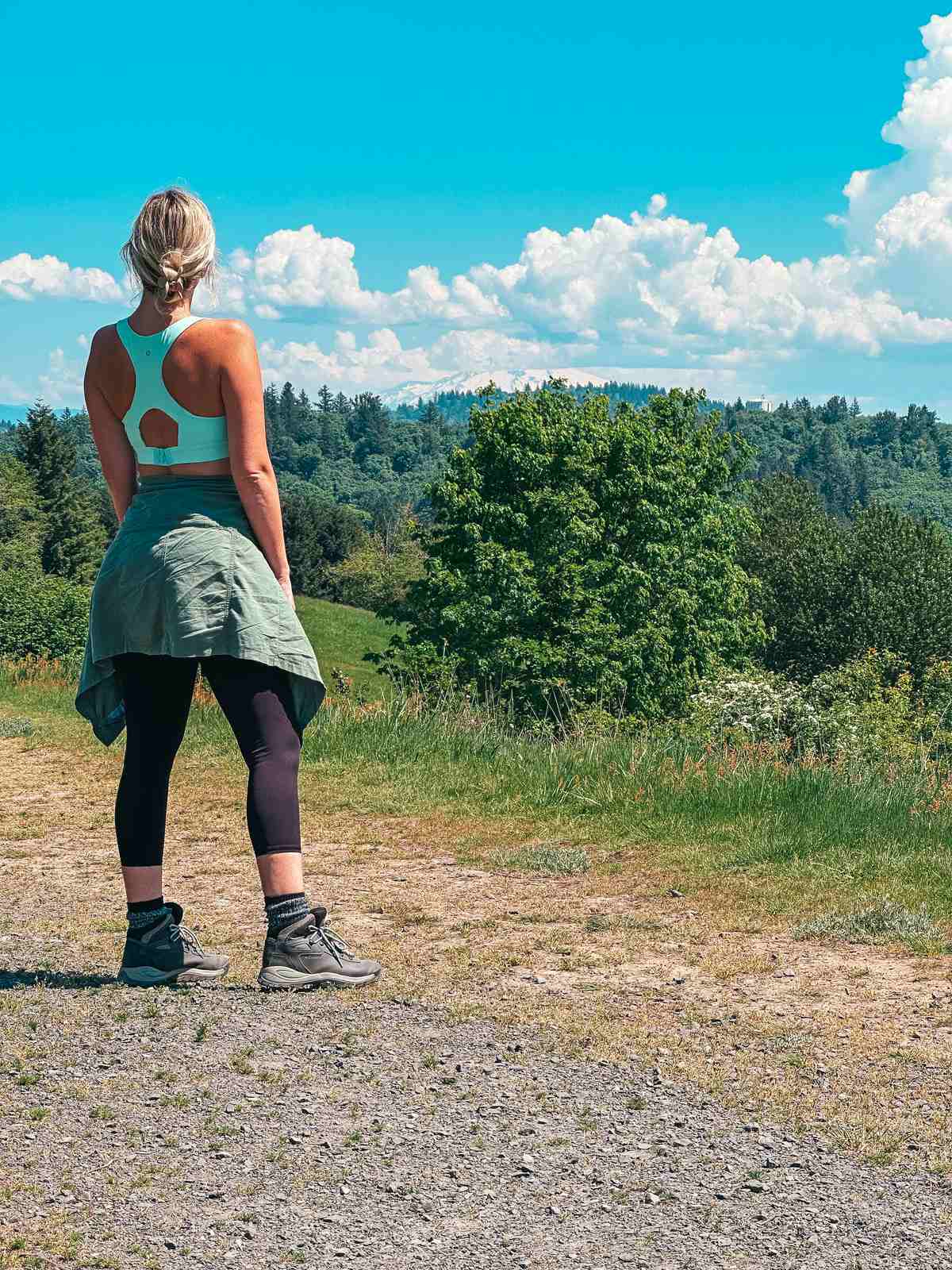 Treat yourself to a locally crafted brew
No visit to Portland is complete without indulging in its vibrant craft beer scene. During our exploration, we found ourselves at Ecliptic Brewing, a gem nestled in the heart of the city.
Ecliptic Brewing is known for its stellar lineup of locally crafted brews that push the boundaries of flavor and creativity. Their selection showcases a variety of styles, ensuring there's something to satisfy every palate. From hop-forward IPAs to smooth and rich stouts, each sip was a testament to their dedication to quality and innovation.
The atmosphere at Ecliptic Brewing is relaxed and inviting, creating the perfect setting to savor your beer of choice after a day of hiking. The knowledgeable and friendly staff is always ready to guide you through their offerings, providing insights into the brewing process and flavor profiles.
Some other popular Portland breweries:
Deschutes Brewery
Cascade Brewing Barrel House
Chances are you'll need a little break after this! We went back and showered and took a 30-minute power nap before hitting the town again.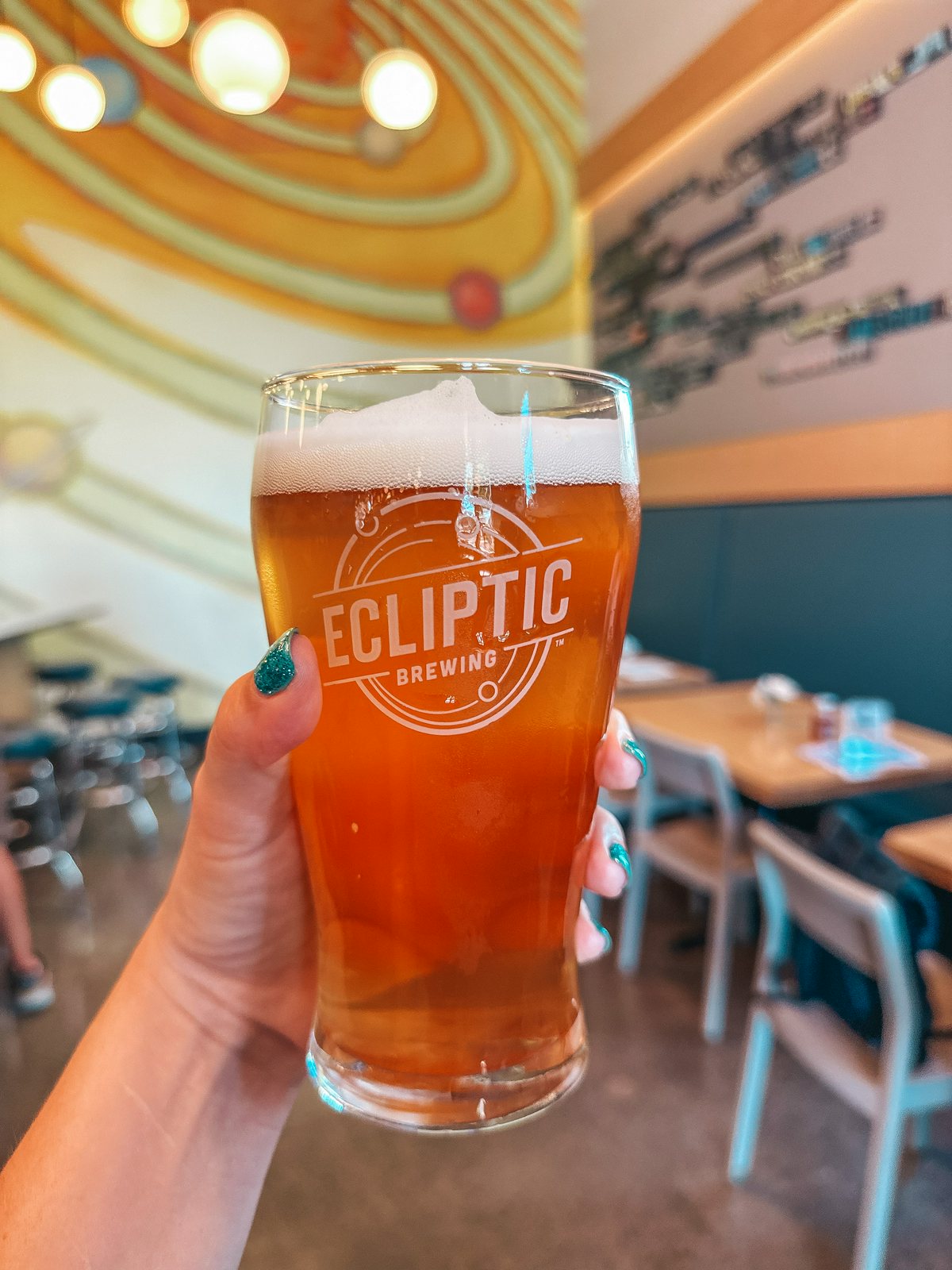 Pregame dinner with a donut
In the land of unique culinary experiences, Portland takes the cake, or in this case, the donut. The city has become synonymous with its donut craze, where locals and visitors alike can indulge in mouthwatering treats that defy expectations. But when it comes to choosing between two iconic establishments, Voodoo Doughnut and Blue Star Donuts, the debate rages on.
We had to decide for ourselves! But honestly, the jury is still out.
Voodoo Doughnut is a quirky and unconventional spot that has gained cult-like status. This lively donut shop offers a whimsical experience, complete with vibrant colors, offbeat decorations, and an array of outlandish flavors. Picture yourself sinking your teeth into the infamous Voodoo Doll or devouring a Bacon Maple Bar, where sweet and savory unite in perfect harmony.
🍩 Portland Donut Experience
If you're really into the Portland donut experience you can even check out this underground donut tour!
Click herе to book
On the other hand, Blue Star Donuts takes a more refined and sophisticated approach to the donut game. Their donuts are made with a brioche dough that results in an irresistibly light and fluffy texture. The flavors at Blue Star Donuts are carefully crafted, showcasing a blend of unique and high-quality ingredients. Pick between popular flavors like Blueberry Bourbon Basil or Passion Fruit Cocoa Nib.
During our time in Portland, we couldn't resist checking out both Voodoo Doughnut and Blue Star Donuts. Each offered their own unique experience. Voodoo Doughnut embraced the wild and whimsical side of donut making, while Blue Star Donuts showcased a refined and sophisticated flavor palette.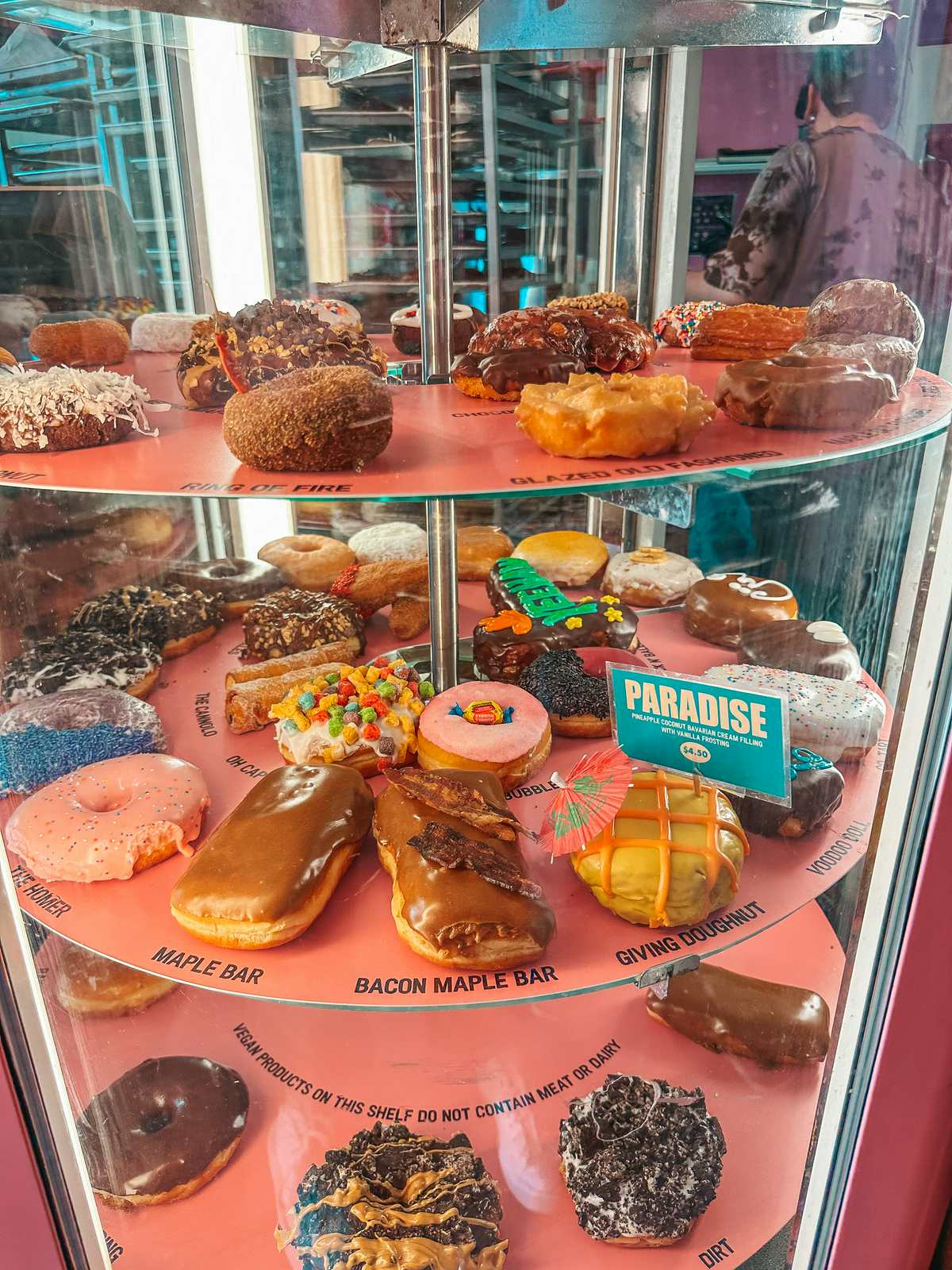 Check out a speakeasy
You know me, I can't resist the allure of a hidden speakeasy when exploring a new city. Portland didn't disappoint, and we stumbled upon a hidden gem known as Bible Club. Nestled within an unassuming home, this speakeasy transported us back in time to the era of Prohibition.
What made Bible Club truly stand out was its exceptional service and delectable cocktails. The mixologists behind the bar were true artists, crafting drinks that had us swooning with every sip. From classic concoctions to inventive creations, the cocktail menu catered to every taste bud.
The ambiance of Bible Club was equally enchanting. Adorned with vintage decor and antiques, the space created an atmosphere that felt like stepping into a bygone era. The dim lighting and cozy seating added to the allure, making it the perfect spot for an intimate evening with friends or a special date night.
No password is needed for entry. While the exterior may look like an ordinary home, stepping inside reveals a hidden world of craft cocktails and nostalgic charm. Make sure you check out this secret waiting to be discovered!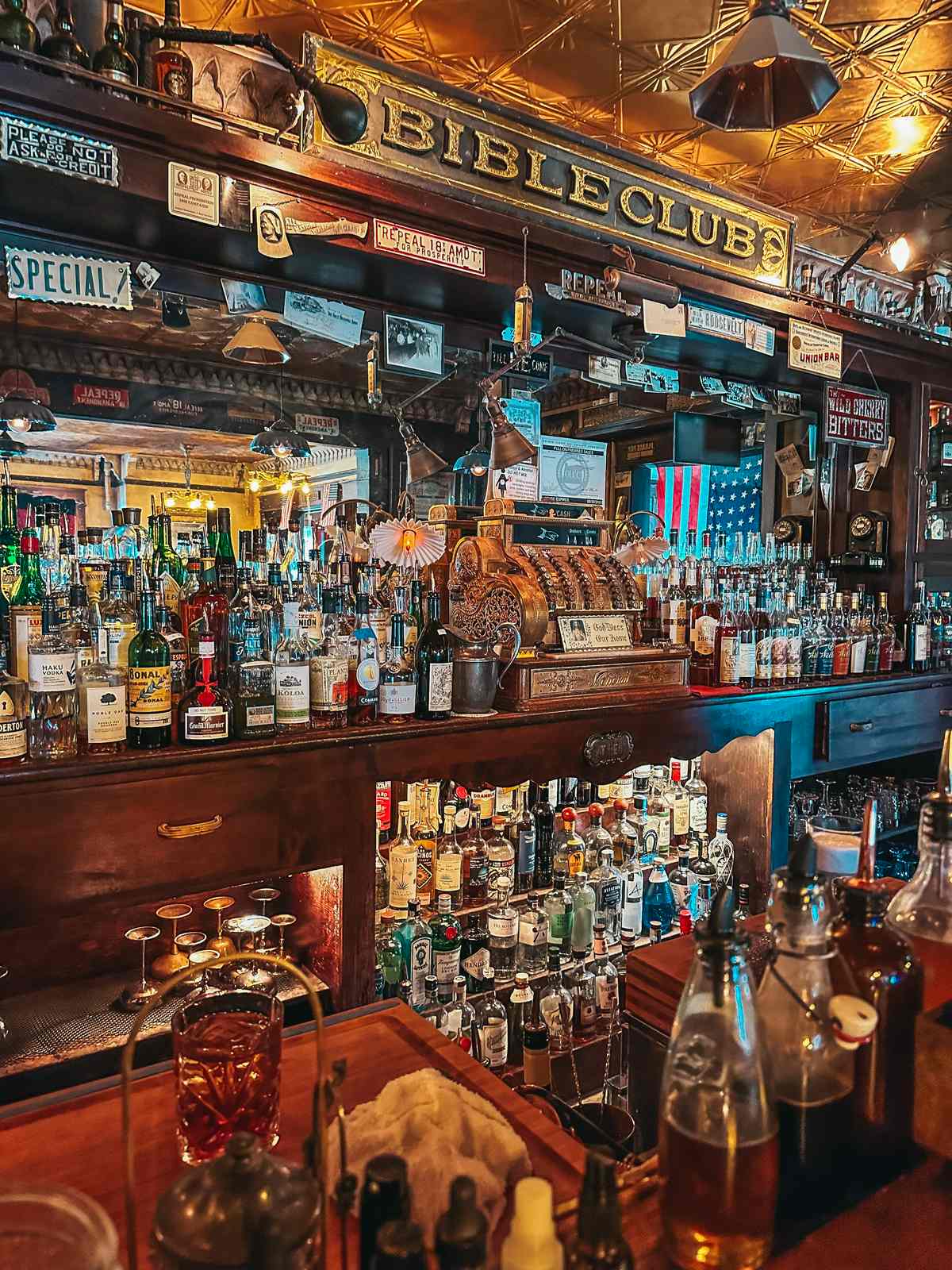 Enjoy dinner
When it comes to dinner in Portland, the options are abundant, but one restaurant that caught our attention was Clark Lewis. Known for its commitment to using fresh and locally sourced ingredients, this dining spot offers a culinary experience that celebrates the flavors of the Pacific Northwest.
This Portland restaurant has an ever-changing menu! The chef crafts dishes based on what is fresh and available, ensuring that each visit offers a new and exciting culinary adventure. This dedication to seasonal ingredients guarantees that every bite bursts with vibrant flavors.
During our visit, we savored the delightful flavors of the Pacific Northwest, complemented by some amazing local wines. The Caesar salad was a standout, with its light and crisp greens and a dressing that left us craving for more. The carrots were a delicious, showcasing the true essence of this humble vegetable elevated to new heights.
The main course featured a perfectly cooked salmon, a local favorite. While it was undeniably delicious, we couldn't help but compare it to the phenomenal salmon we enjoyed at Portland City Grill the previous night. The salmon at Clark Lewis held its own, but in the shadow of our previous culinary experience, it had a tough act to follow.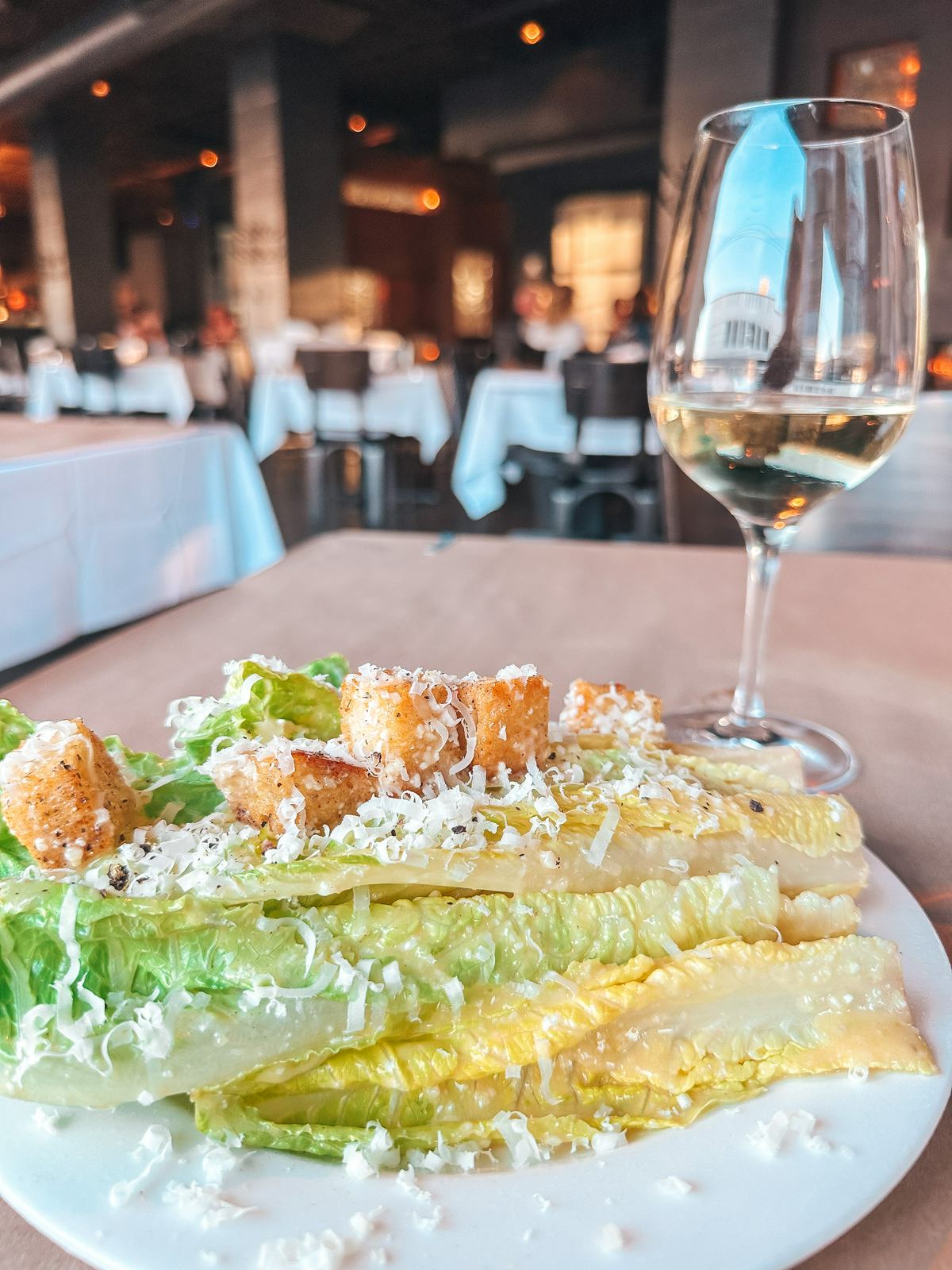 Where to Stay for a Long Weekend in Portland, Oregon
Portland offers a variety of neighborhoods, each with its own unique charm and character. Here are a few neighborhoods worth considering:
Downtown: If you want to be in the heart of the action, Downtown Portland is the place to be. It's bustling with shops, restaurants, and entertainment venues.
Pearl District: Known for its trendy shops, art galleries, and vibrant culinary scene, the Pearl District is a hip and fashionable neighborhood. It's a great choice for those seeking a stylish and lively atmosphere.
Nob Hill (Northwest): This neighborhood is brimming with charming Victorian houses, boutique shops, and cozy cafes. Nob Hill offers a more relaxed and residential vibe, with easy access to Forest Park and the enchanting Washington Park.
Hawthorne: If you're looking for a bohemian and eclectic neighborhood, Hawthorne is the place to be. It has plenty of vintage stores, quirky shops, and an array of dining options. This area exudes a laid-back and artsy ambiance.
No matter which neighborhood you choose, Portland has a reputation for its welcoming and friendly atmosphere, sure to make your stay enjoyable and memorable!
🏨 Looking for Portland accommodation?
Check out available Portland hotels for your dates.
Click herе to search
Dossier Hotel
During our trip, we had the pleasure of staying at the Dossier Hotel, located in Downtown Portland. This boutique hotel offers a convenient location, allowing us to explore the city's attractions on foot. The service was exceptional, and the hotel's on-site restaurant provided a delicious dining option right at our doorstep.
The Dossier's attention to detail was evident throughout our stay. The corner rooms with city and mountain views in the distance were a highlight, offering breathtaking vistas of the surrounding area. The large windows in the bathroom added a unique touch, allowing natural light to flood the space. One notable aspect of the hotel was its commitment to showcasing local art, with captivating pieces displayed throughout the entire property.
To further enhance your experience, the Dossier offers complimentary bike rentals, allowing you to easily navigate the city's bike-friendly streets! They also provide umbrellas in case you encounter Portland's occasional rain showers.
If you're seeking a comfortable and conveniently located hotel with impeccable service, stunning views, and a touch of local flair, the Dossier Hotel is an excellent choice for your stay in Portland.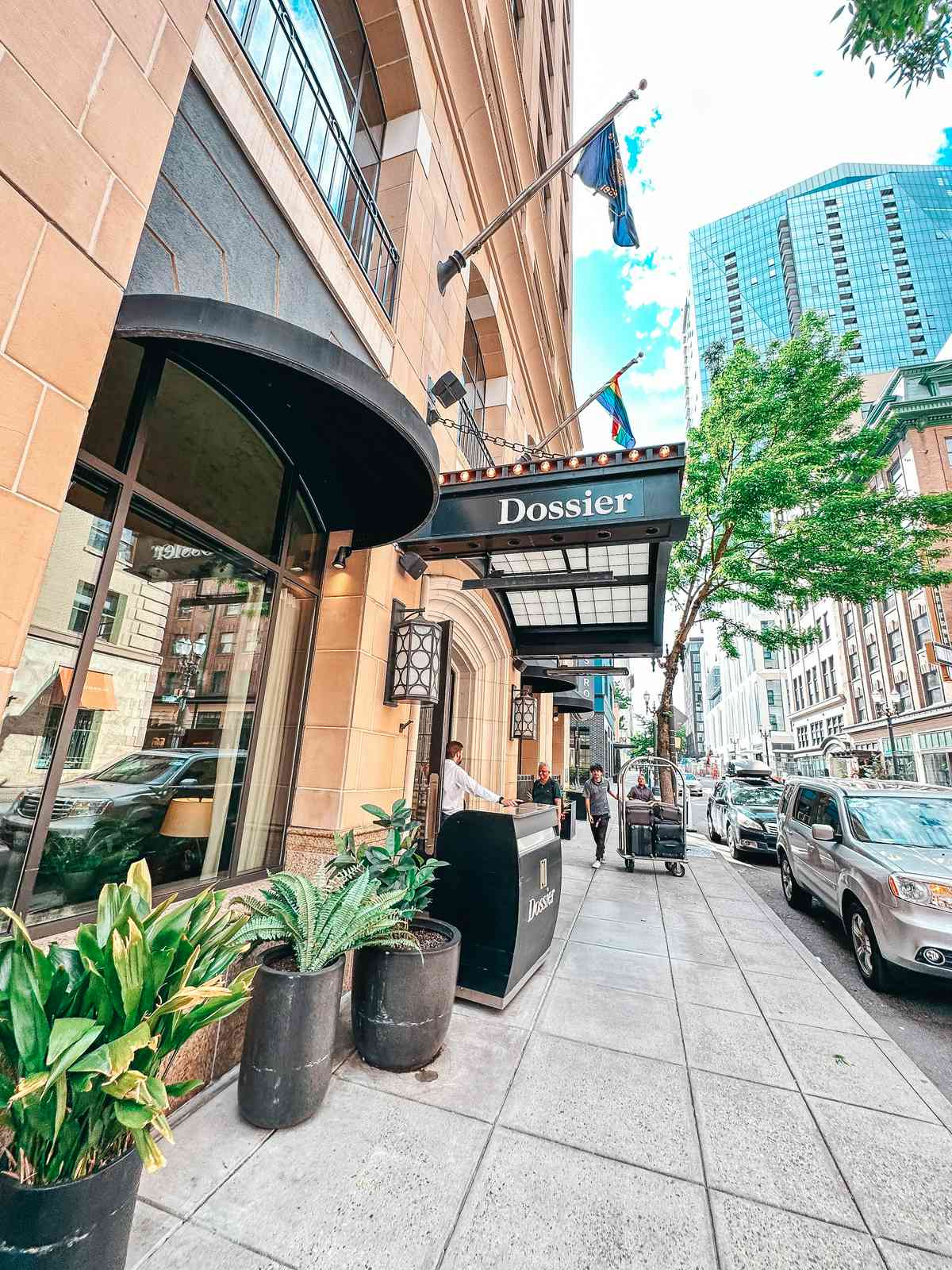 Ready for an epic weekend in Portland?
A weekend in Portland, Oregon can be full of adventure! From exploring the natural beauty of Washington Park and the Columbia River Gorge to indulging in the local culinary scene and immersing yourself in the city's unique culture, there's something for everyone in this Pacific Northwest gem.
Let me know what you're most looking forward to, and follow me on Insta @guidedbydestiny for more travel content!