This post contains affiliate links which means that I will make a small commission if you purchase a product after clicking on any of them, at no extra cost to you.
If you're looking for a fun Florida vacation, you can't go wrong with a weekend in St. Augustine. Known as the oldest city in America, this charming coastal town is packed with history, culture, and tons of activities for visitors of all ages. In this post, I'll be sharing my favorite things to do in St. Augustine, where to stay in St. Augustine, must-visit restaurants and coffee shops, and so much more!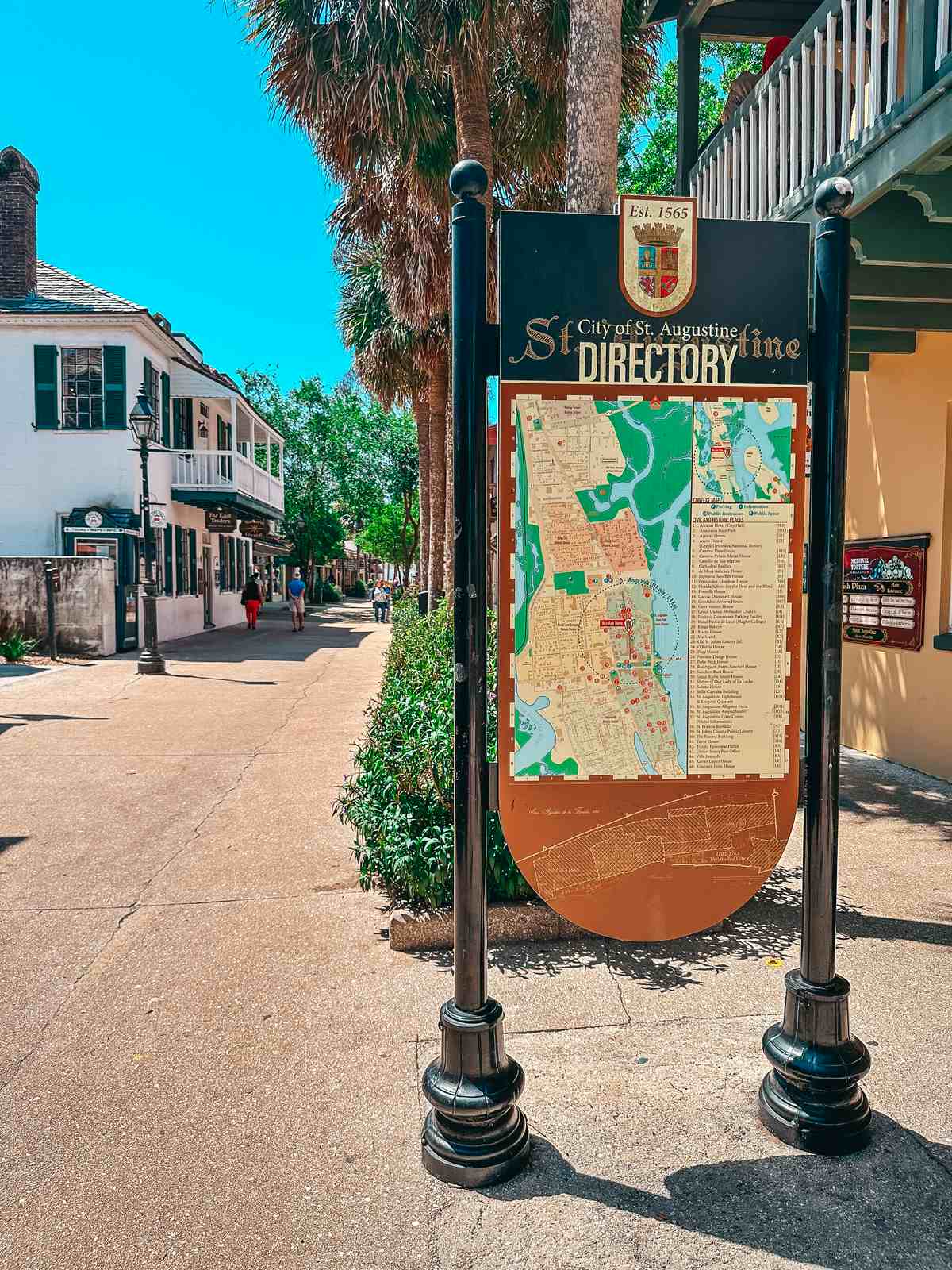 Things to do During a Weekend in St. Augustine
Anastasia State Park
If you're looking to soak up some sun and enjoy some outdoor activities, Anastasia State Park is the perfect spot. This beautiful park is located on Anastasia Island, just a short drive from downtown St. Augustine, and features four miles of pristine beachfront, as well as a variety of nature trails and picnic areas. Popular activities here include swimming, fishing, kayaking, and camping.
One of the park's most popular activities is shelling, where visitors can find sand dollars and shark teeth along the beach. However, visitors should be aware that there are certain parts of the park where bobcats and rattlesnakes are more prevalent, so it's important to avoid those areas. The park is open from 8 a.m. to sunset, and admission is $8 per vehicle.
St. Augustine Beach
Of course, if you're looking for a more traditional beach experience, St. Augustine Beach is the place to be. This wide, sandy beach is a favorite among locals and visitors!
This bustling beach is a popular spot for swimming, surfing, and sunbathing, as well as beach volleyball and other activities. There are also plenty of restaurants and bars nearby, making it a great place to spend the day or evening!
| Tip
🐬Get the best experience of sightseeing St. Augustine from the water on a tour which combines dolphin searching with a lesson on the history and ecology of the area.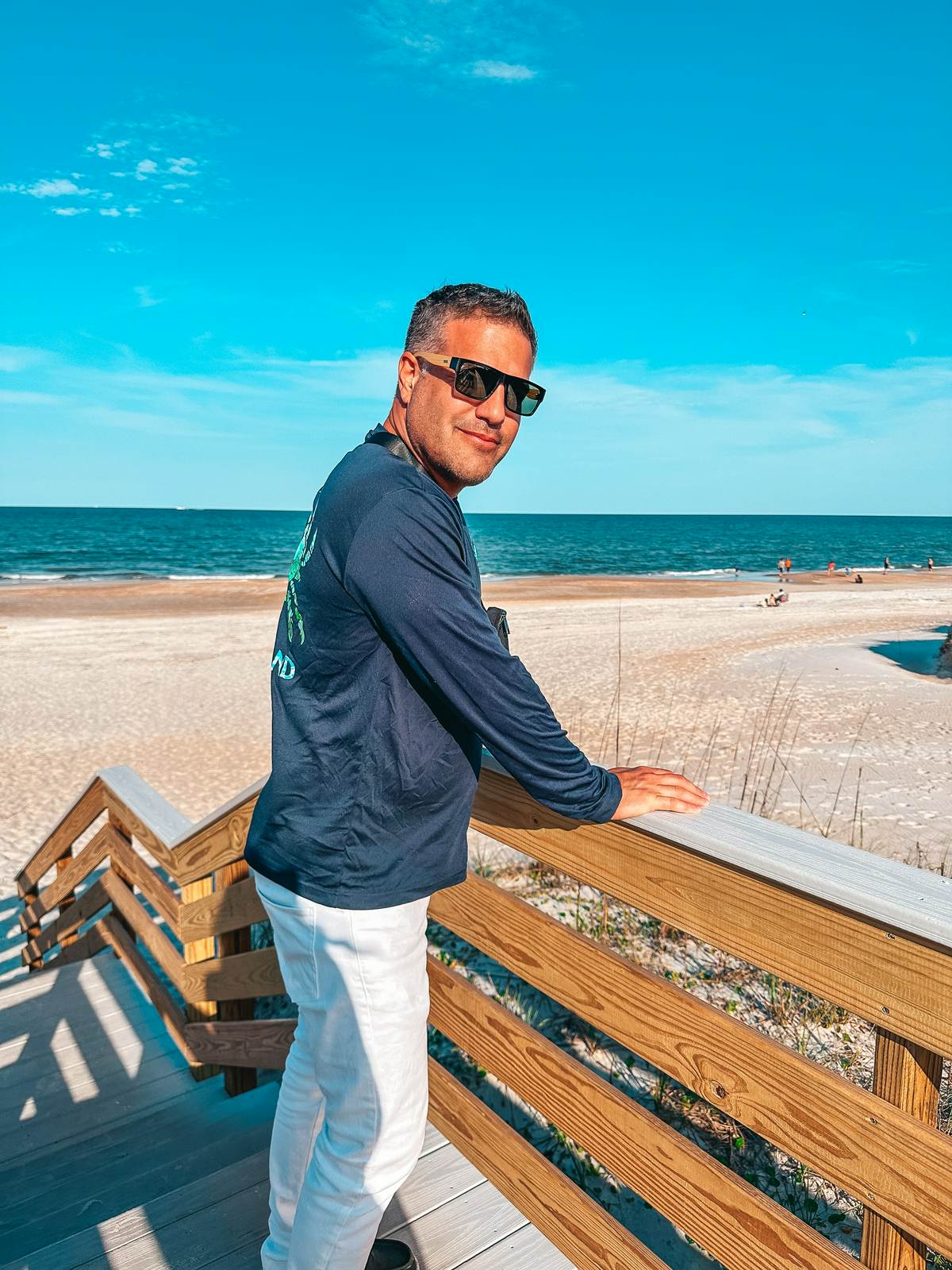 St. Augustine Lighthouse
For some truly stunning views of the city and the coastline, head over to the St. Augustine Lighthouse. This iconic landmark has been guiding ships safely to shore since 1874, and today offers visitors the chance to climb 219 steps to the top for panoramic views of the area. The lighthouse also features a museum with exhibits on maritime history and the life of a lighthouse keeper.
The first St. Augustine Lighthouse was approximately 300 yards northeast of the current Lighthouse and actually fell into the ocean in 1880! This current location was selected due to its relatively high elevation atop an old beach dune.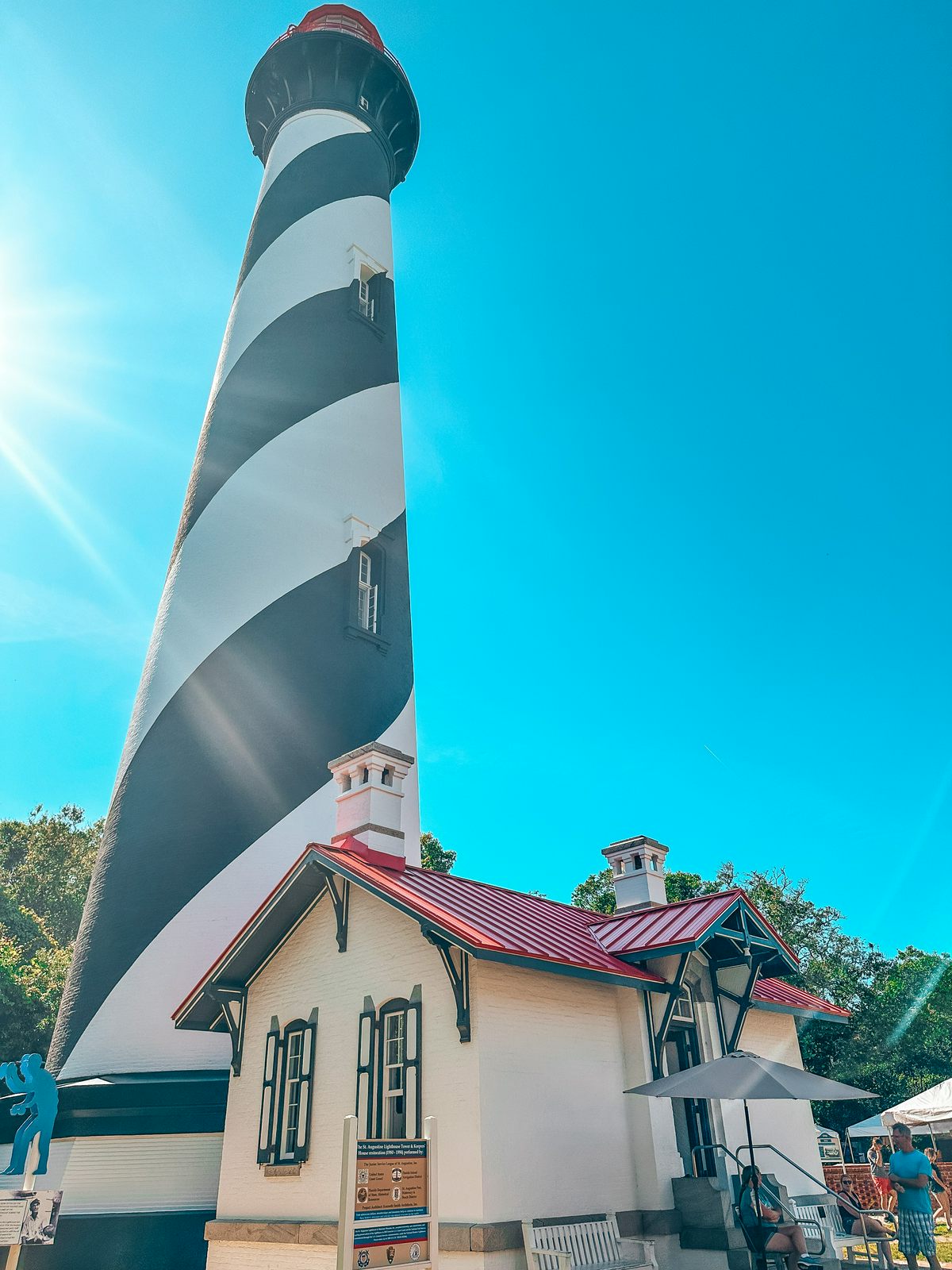 Old Town
No weekend in St. Augustine is complete without a visit to Old Town, the historic heart of the city. Here, you'll find cobblestone streets, quaint shops, and a variety of attractions that showcase the city's rich history. Highlights include the Colonial Quarter, where you can step back in time to experience life in 18th-century St. Augustine, and the Oldest Wooden School House, which is exactly what it sounds like – the oldest wooden school house in America!
Activity idea
⭐ Do a walking tour through the historic district!
Book the tour
Castillo de San Marcos
No trip to St. Augustine would be complete without a visit to the Castillo de San Marcos. This impressive fortress was built in the late 1600s and served as a military stronghold for the Spanish, British, and American armies. Today, you can explore the fort and its exhibits, as well as watch reenactments of historic military drills and cannon firings.
The park is open 7 days a week starting at 9:00 am and the last admission is at 5:00 pm. If you have an America the Beautiful Pass park entry is free for you plus three others, otherwise it is $15 per person!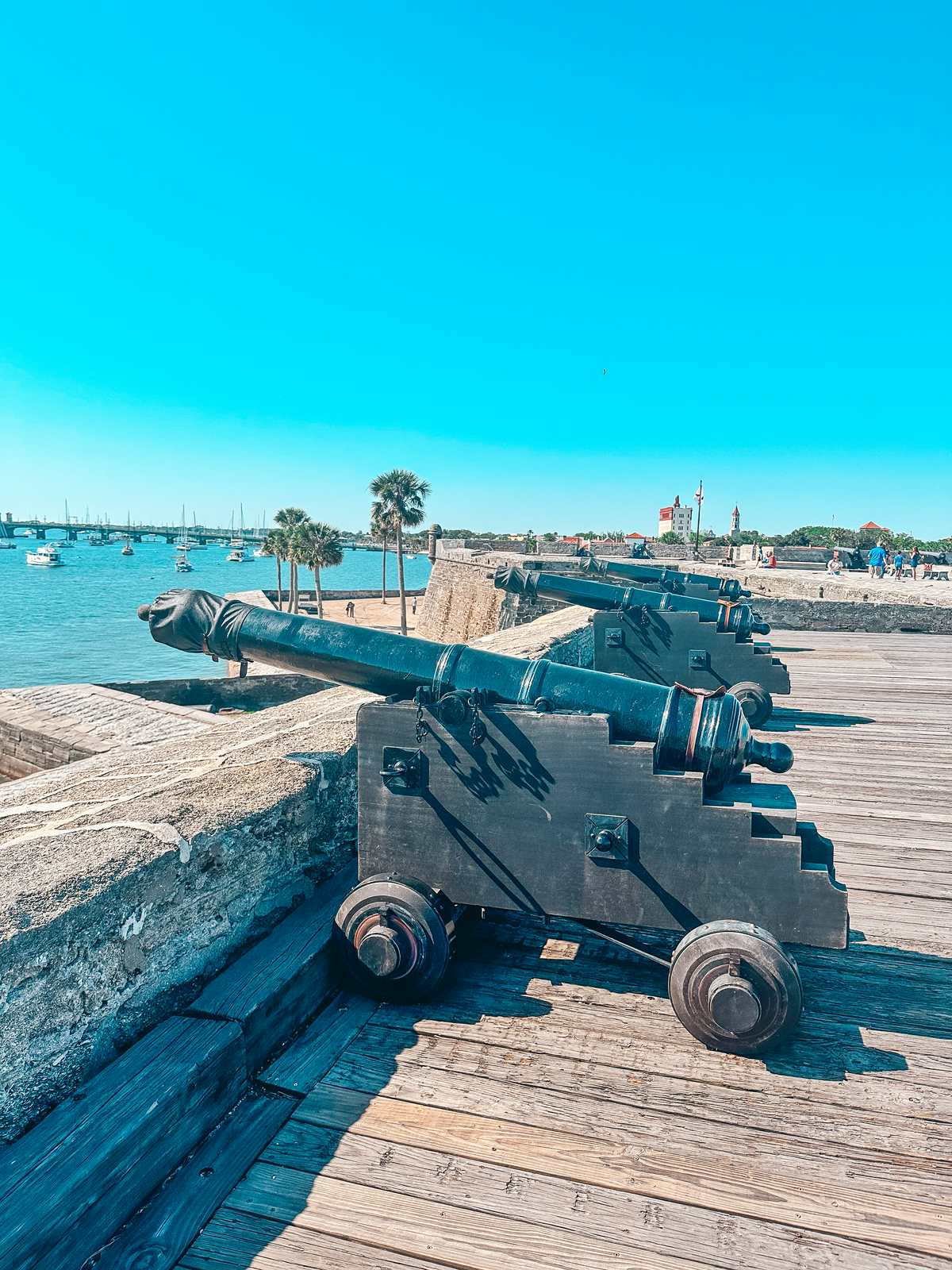 San Sebastian Winery
If you're a wine lover, be sure to stop by the San Sebastian Winery for a tasting. It's the second-largest winery in Florida. This award-winning winery is located in downtown St. Augustine and features a variety of wines made from locally grown grapes! The tastings and self-guided tours are offered daily and are completely free, making it a great way to spend an afternoon in the city.
Their reserve cabernet sauvignon was so good we had to leave with a bottle!
Feel free to make your way up to the third floor of the winery to visit 'The Cellar Upstairs' wine and jazz bar. They offer a selection of starters and shareables as well to enjoy with your wine.
While the winery is open seven days a week, The Cellar Upstairs is only open Thursday-Sunday.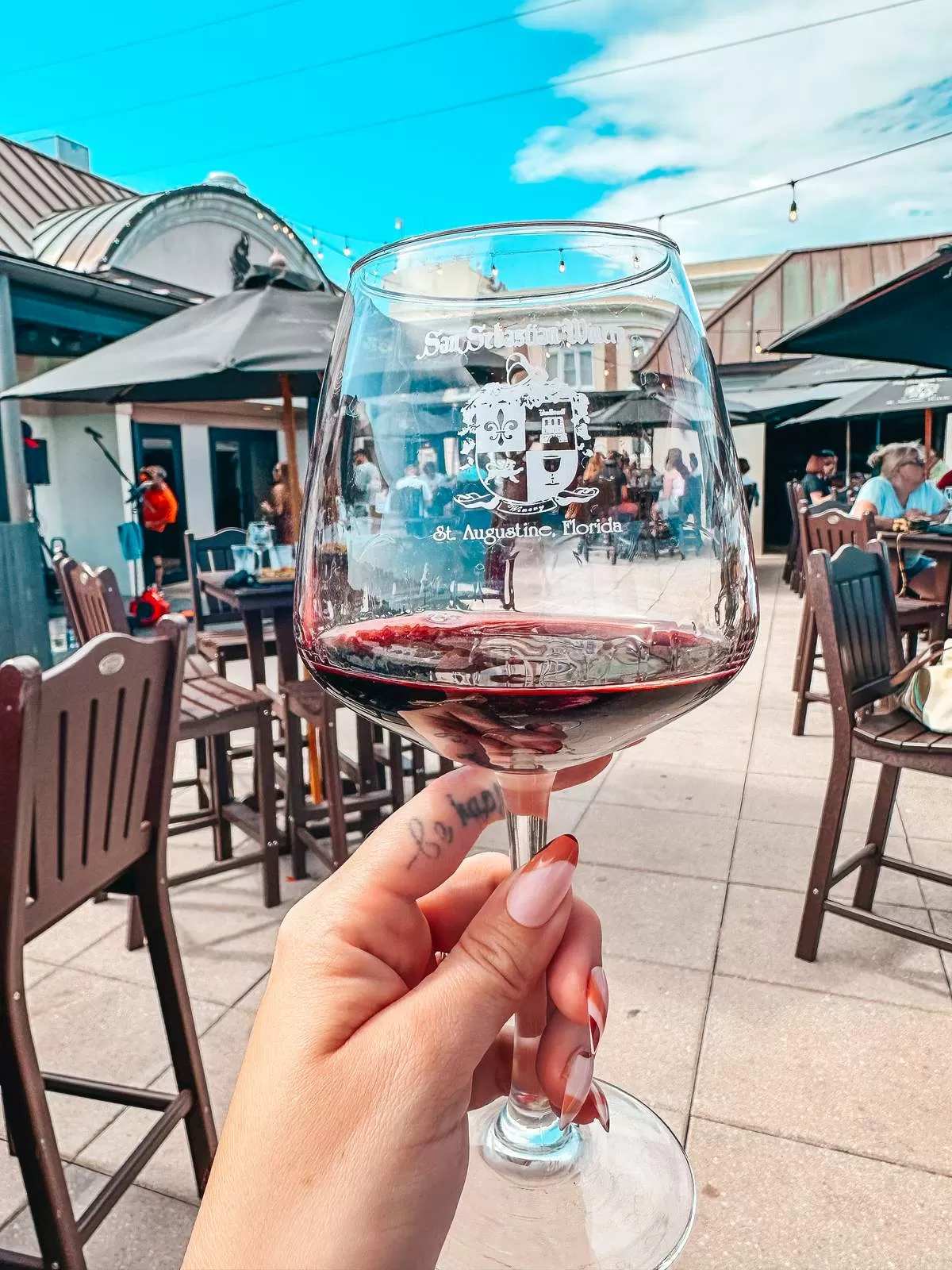 Fiesta Falls Miniature Golf
For some family-friendly fun, or if like me you like kicking your boyfriends' butt in mini golf, check out Fiesta Falls Miniature Golf! This colorful, tropical-themed course features 18 holes of challenging and entertaining putt-putt, as well as waterfalls, caves, and other fun obstacles. It's a great way to spend an afternoon with the kids, your friends, or your partner!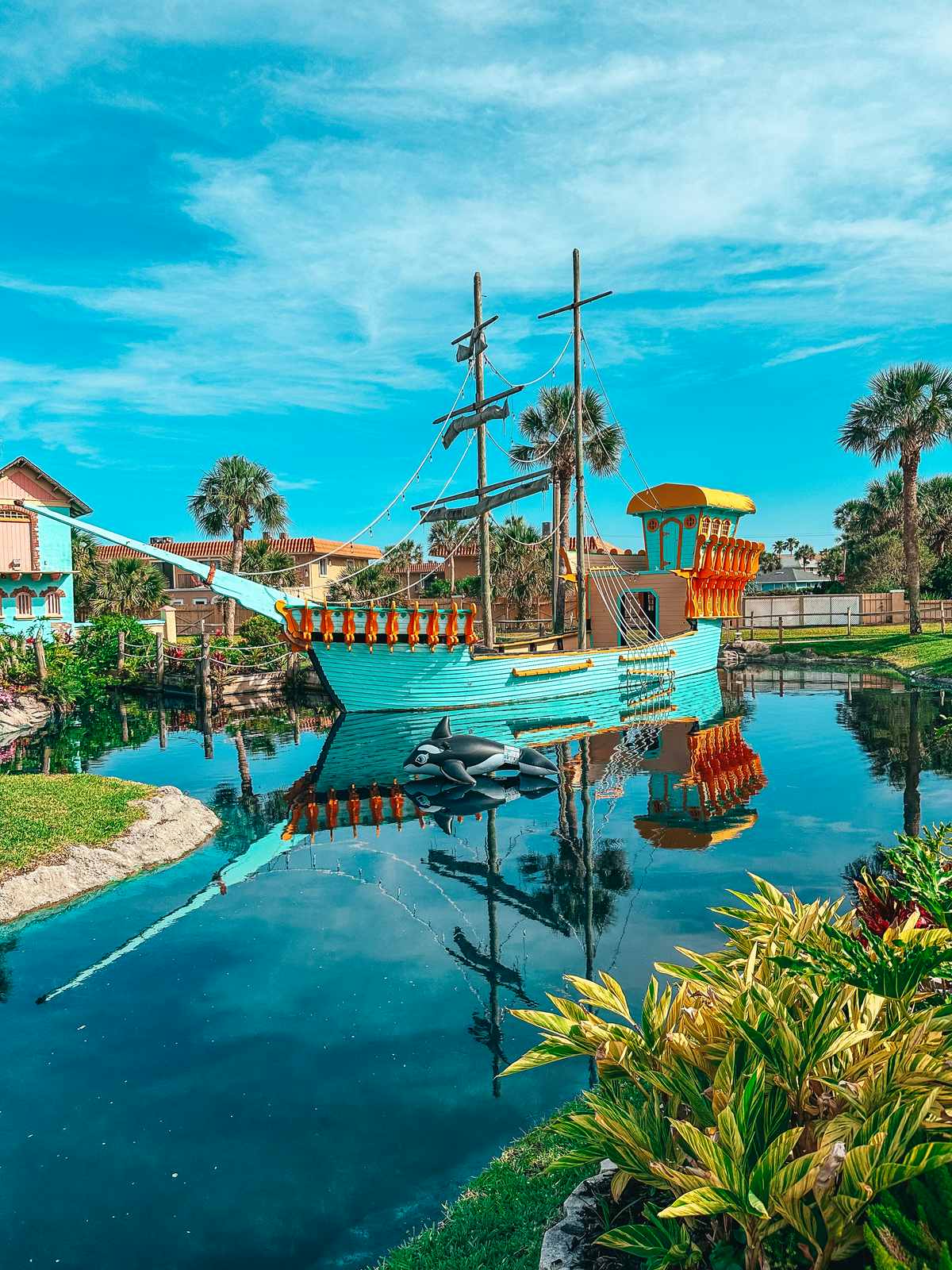 Old Town Trolley
One of the best ways to explore St. Augustine and learn about its history is on the Old Town Trolley. This 23-stop hop-on, hop-off tour takes you to all of the major attractions in St. Augustine, including the Castillo de San Marcos, the St. Augustine Lighthouse, and the Fountain of Youth. The trolley also offers live narration by knowledgeable guides who share fun facts and interesting stories about the city's past.
If these tours sound familiar, it's because it's also one of the best things to do in Key West!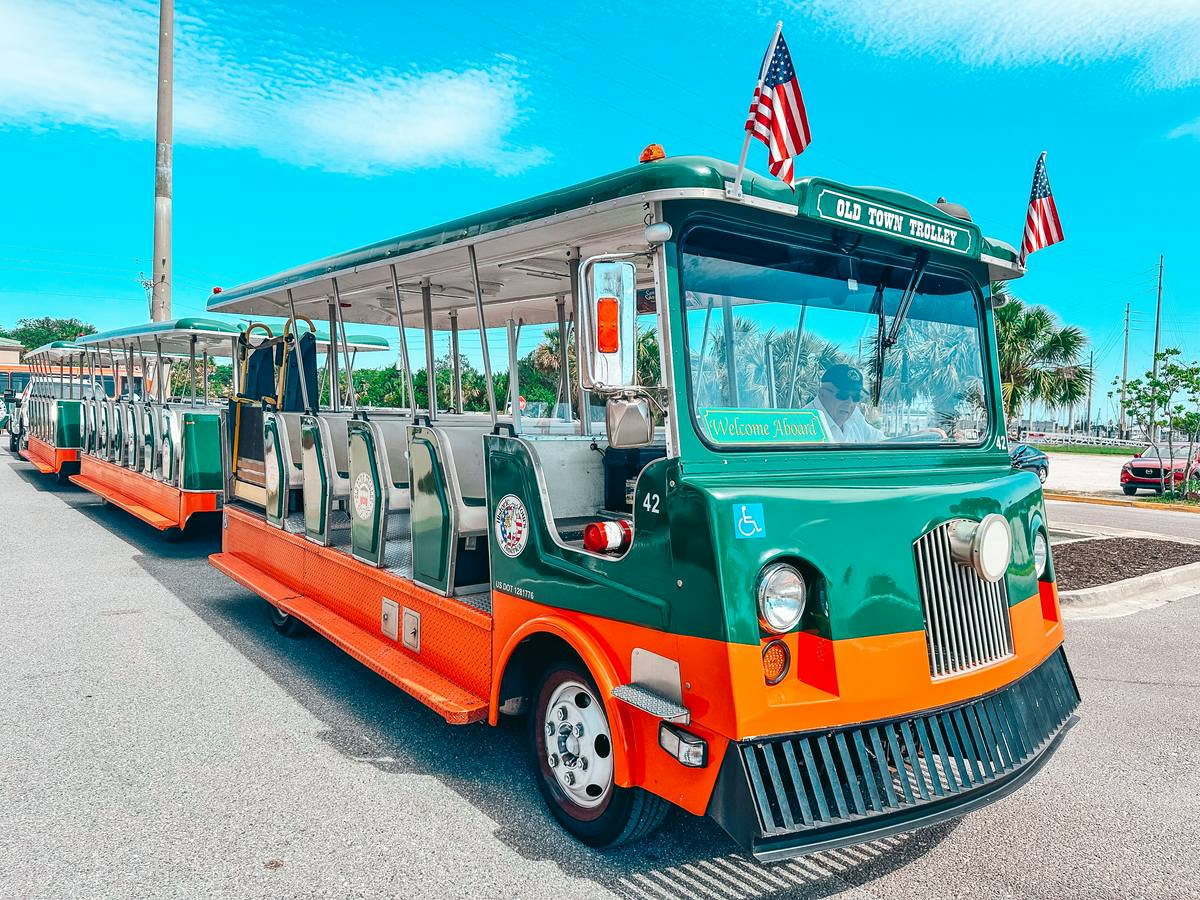 Spend the day or evening on a St. Augustine boat tour
Experience the beauty and charm of St. Augustine from a whole new perspective with a boat tour that will take you on an unforgettable journey through the city's waterways!
One of the most popular boat tours is the sunset water tour, where you'll cruise around the banks of downtown St. Augustine and take in iconic sites like the Bridge of Lions and the Castillo de San Marcos National Monument. You'll also venture into the St. Augustine Inlet and see St. Augustine Lighthouse & Maritime Museum. This tour lasts about an hour and is the perfect way to wind down after a long day of sightseeing.
For wine lovers, the wine tasting cruise is a two-in-one tour that allows you to sail along St. Augustine's picturesque coastline while indulging in generous wine samples. With stunning views of landmarks like the Castillo de San Marcos and the Bridge of Lions, this tour also offers access to the onboard bar and six different wine tastings.
If you're looking for a more lively experience, the #1 booze cruise in St. Augustine is the perfect option. This sunset cruise lasts 1 1/2 hours and offers music, and the chance to bring your own beverages (a cooler and ice are provided for you). It's an excellent choice for bachelorette parties or any group looking for a fun night out on the water.
And if you're looking for a private experience, the 2-hour private day sail along the historic St. Augustine Bayfront is a great choice for crews. Enjoy the sun and the sea breeze as you sail past the stunning landmarks of St. Augustine's bayfront with your group.
No matter which boat tour you choose, you're sure to have a memorable and breathtaking experience in one of Florida's most charming and historic cities.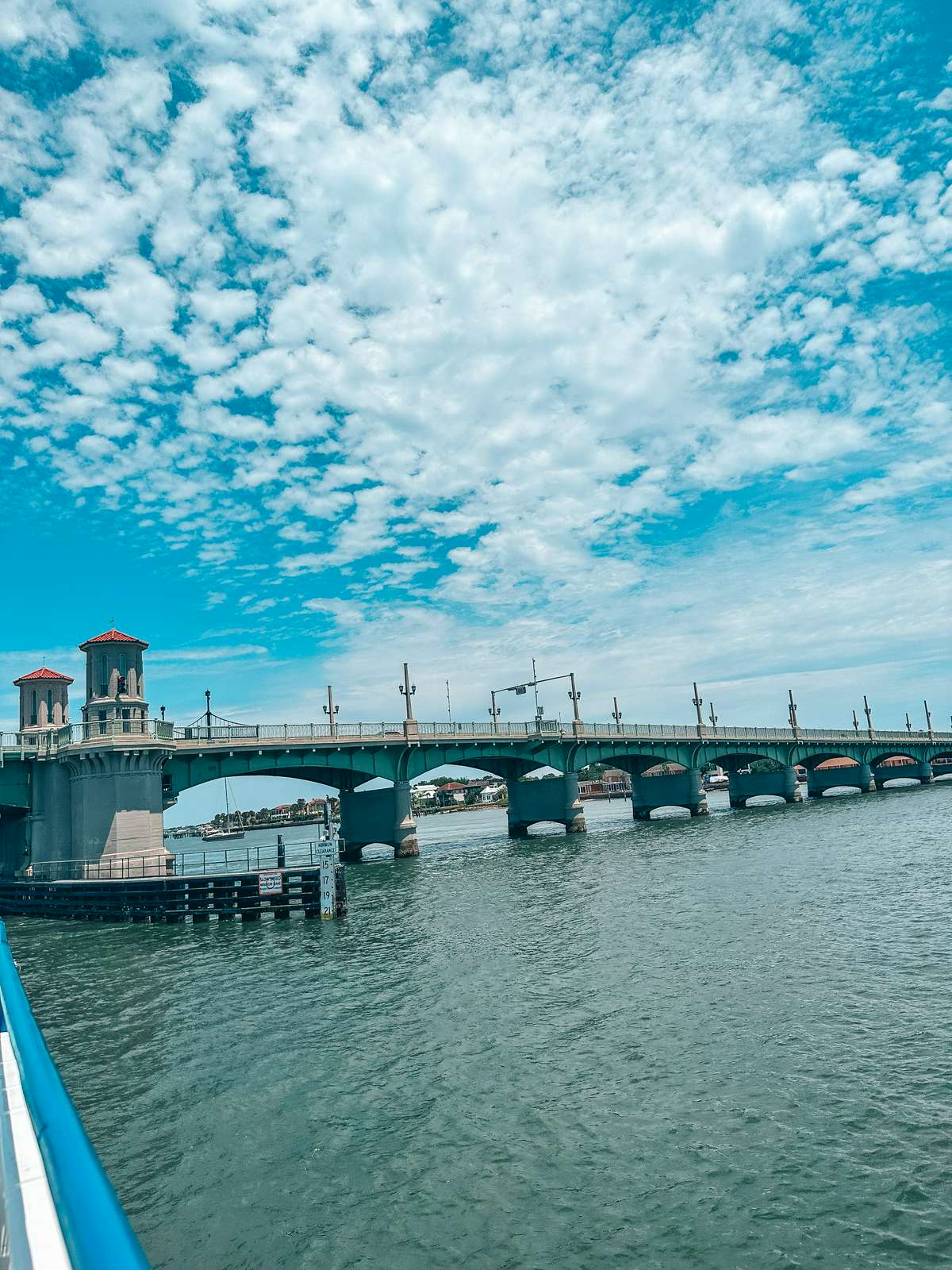 St. Augustine Ghost Tour
Of course one of the best things to do in St. Augustine, the oldest US city, is a ghost tour! If you're looking for a family-friendly ghost tour in St. Augustine, look no further than this 1 1/2-hour spine-tingling experience. Led by a costumed guide, you'll explore the city's spookiest sites, including cemeteries, the grounds of the Old Fort, and other haunted locations.
Along the way, you'll hear fascinating tales of the city's past, filled with little-known legends and eerie anecdotes. This small-group tour is limited in size to maintain an appropriately eerie atmosphere. With a perfect blend of light-hearted fun and bone-chilling thrills, this ghost tour is ideal for families looking to experience the darker side of St. Augustine.
Fountain of Youth
Legend has it that Ponce de Leon discovered the Fountain of Youth in St. Augustine, and today you can visit the site where it is said to be located. As the site of the oldest European settlement in America, this historic park offers visitors a glimpse into the city's rich past, as well as a chance to explore its natural beauty.
One of the main attractions of the park is, of course, the legendary Fountain of Youth. According to legend, taking a sip from the fountain can help rejuvenate the body and mind, leaving you feeling refreshed and renewed. Who needs Botox when you have the Fountain of Youth?
But the park offers so much more than just the fountain. Visitors can explore the Timucuan village and burial grounds, learn about the history and culture of the native peoples who inhabited the area before the arrival of European settlers. You can also visit the Discovery Globe, or the park's planetarium, with fascinating shows about astronomy and the history of the universe.
Take a stroll along the boardwalk and marvel at the natural beauty of the park, where you might even catch a glimpse of the peacocks wandering around the area.
The Fountain of Youth is open daily from 9 am – 6 pm and adult tickets cost $19.95.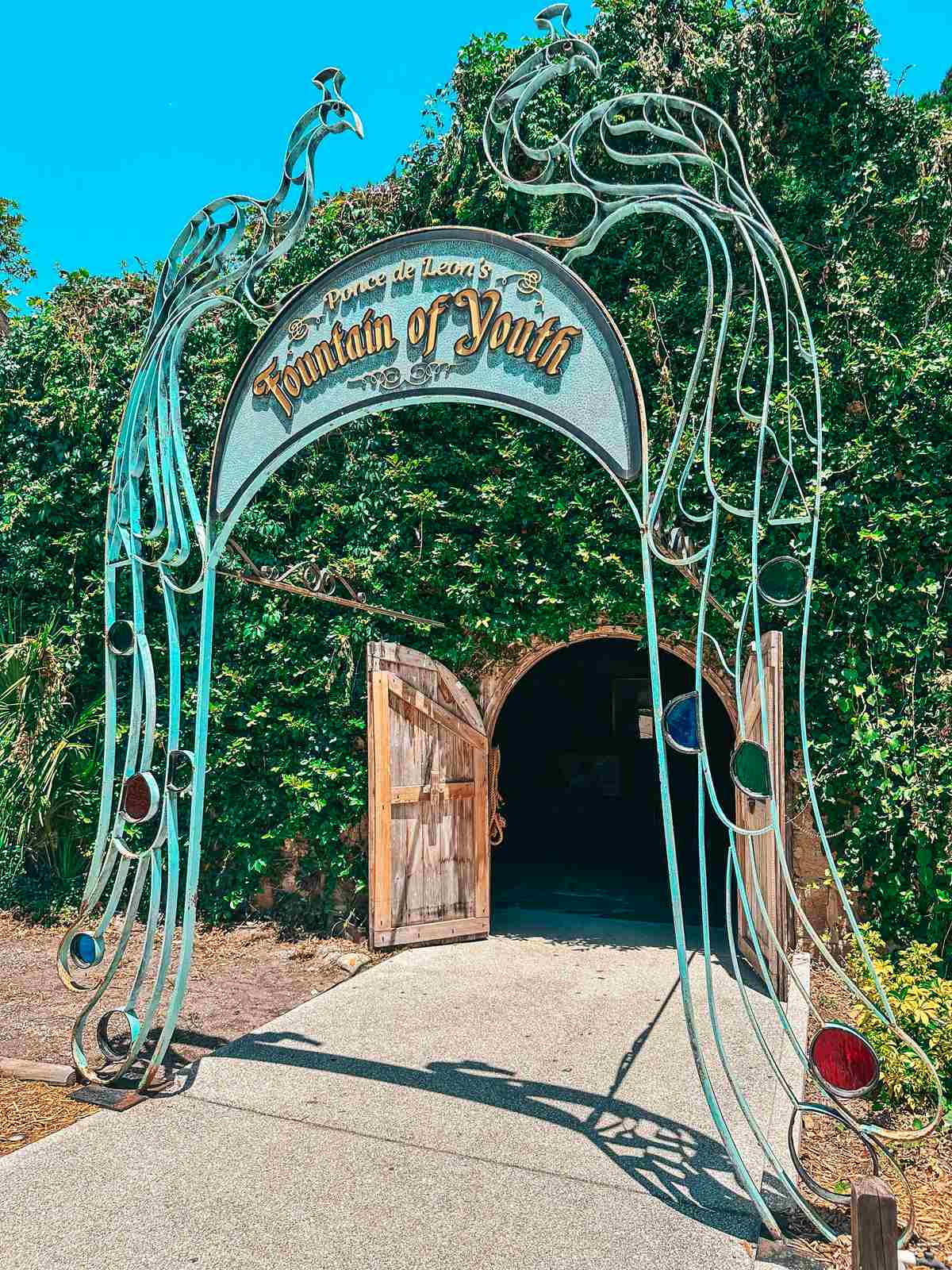 Villa Zorayda Museum
For a taste of the exotic, head over to the Villa Zorayda Museum. This beautiful mansion was built in 1883 by a wealthy businessman who was inspired by the architecture of the Alhambra Palace in Spain.
Today, the museum features a collection of art and artifacts from around the world, including an Egyptian rug made entirely from cat hair that was used to carry mummies. The rug is hung up and is never to be walked on. The one time it was taken down to be cleaned, a dead cat was found on the doorstep of the museum the next day!
For a truly immersive experience, be sure to take one of the museum's self-guided audio tours, where you'll learn about the history of the Villa Zorayda and the fascinating stories behind the collection. The museum is open daily, and admission is $15 for adults and $7.50 for children.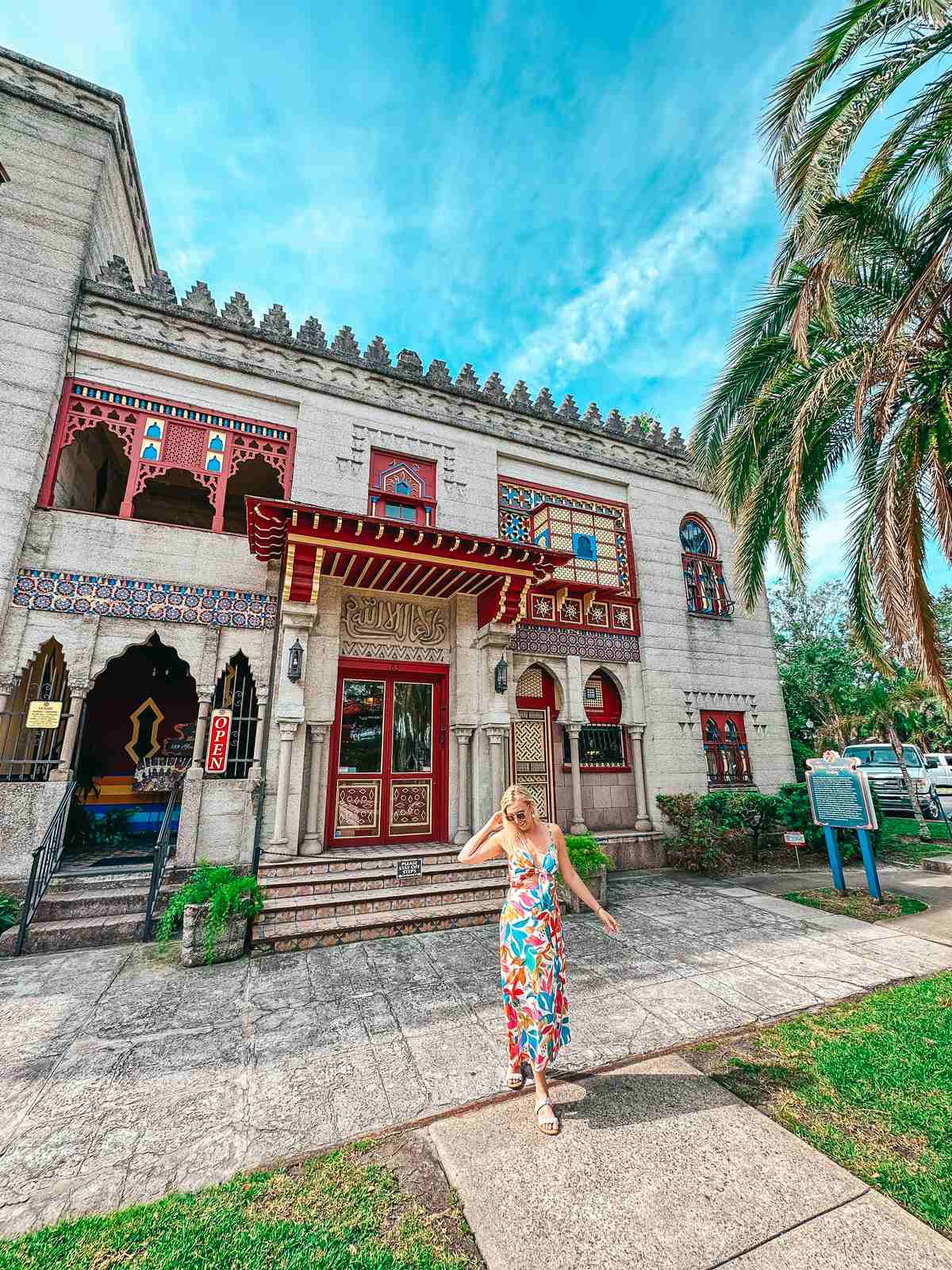 Pirate Museum
If you're looking for a swashbuckling adventure in St. Augustine, be sure to visit the Pirate & Treasure Museum. This unique attraction is dedicated to the history and lore of piracy, with a fascinating collection of artifacts and exhibits that will transport you back to the Golden Age of Piracy.
At the Pirate & Treasure Museum, you'll get a glimpse into the lives of notorious pirates like Blackbeard, Captain Kidd, and Anne Bonny. You can explore interactive exhibits, and learn about navigation, weapons, and other aspects of pirate life.
You'll also have the opportunity to see rare treasures recovered from actual pirate shipwrecks, like gold and silver coins, jewelry, precious gems, and even the world's only surviving treasure chest!
For a truly immersive experience, you can take part in the Blackbeard's Treasure Hunt, a fun scavenger hunt that will take you throughout the museum in search of hidden treasure! The museum is open seven days a week and admission is $18.99 for adults and $9.99 for children.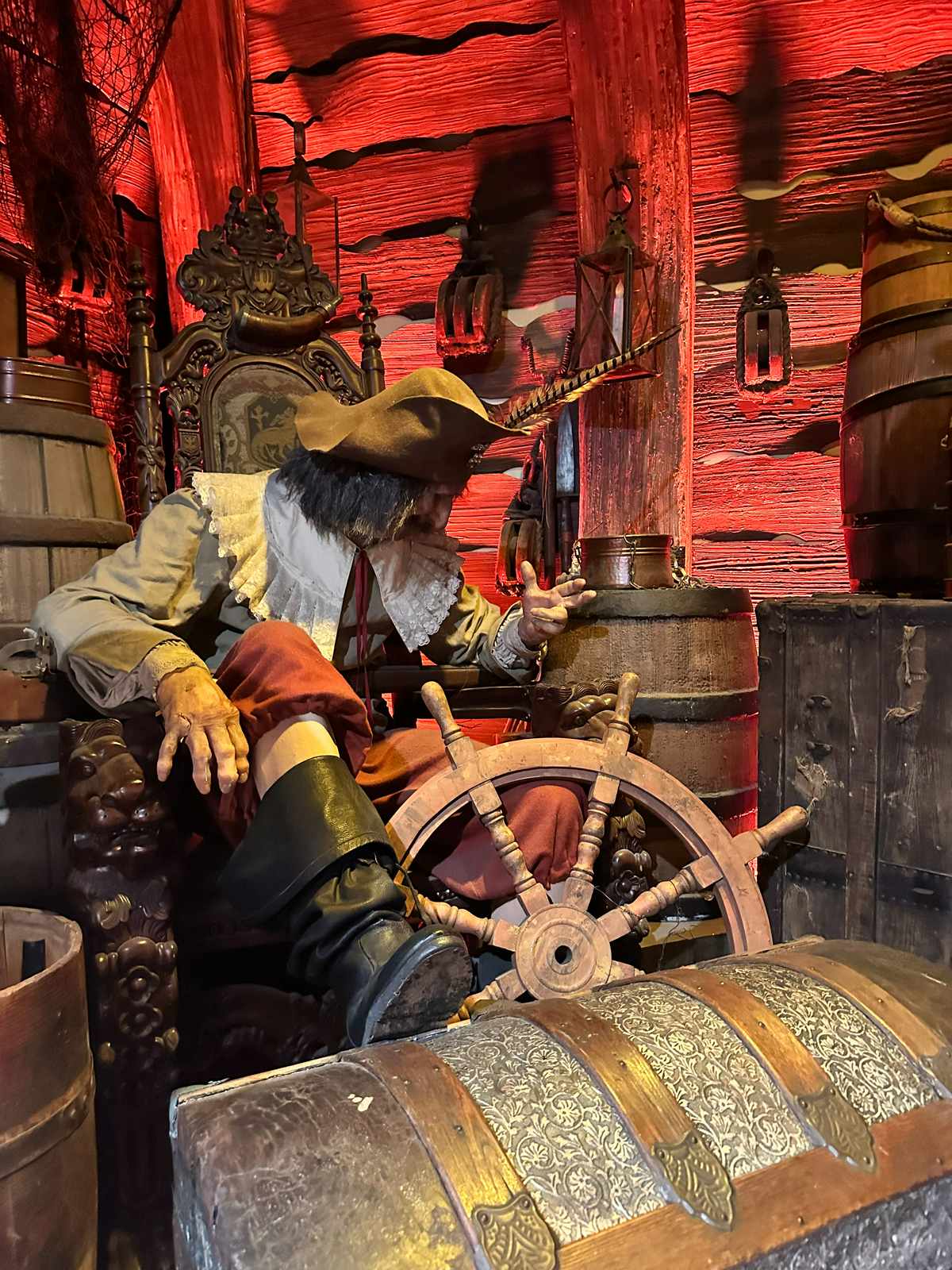 St. George Street
No trip to St. Augustine is complete without a stroll down St. George Street. You'll be transported back in time to the colonial era, with its cobblestone streets, Spanish-style architecture, and charming courtyards. This pedestrian-only thoroughfare is lined with shops, restaurants, and historic buildings that date back to the city's founding. It's a great place to pick up souvenirs, grab a bite to eat, or just people-watch!
There's a wide range of boutiques, galleries, and specialty shops. They sell everything from handmade crafts to high-end clothing and jewelry! You'll find unique souvenirs, gifts, and treasures at every turn, making it the perfect place to pick up something special to remember your trip to St. Augustine.
When it's time to refuel, St. George Street has no shortage of dining options. From casual cafes and bakeries to upscale restaurants and wine bars, you'll find something to satisfy every craving. Be sure to try some of the local specialties, like the Minorcan-style datil pepper sauce, fresh seafood, and classic Southern comfort food.
St. Augustine Distillery
For some local flavor, head over to the St. Augustine Distillery. This craft distillery produces a variety of small-batch spirits, including vodka, gin, and whiskey, using locally sourced ingredients. You can take a free tour of the distillery to learn more about the process and sample some of the products.
But the St. Augustine Distillery is more than just a place to sample delicious spirits. It's also a community-minded business that is committed to sustainability and giving back. The distillery uses renewable energy sources and recycles as much waste as possible, and it supports local charities and non-profits through its "Spirits with a Cause" program.
If you're looking for a unique souvenir, pick up a bottle of your favorite spirit to take home with you. I couldn't resist taking home a bottle of their datil bloody mary mix!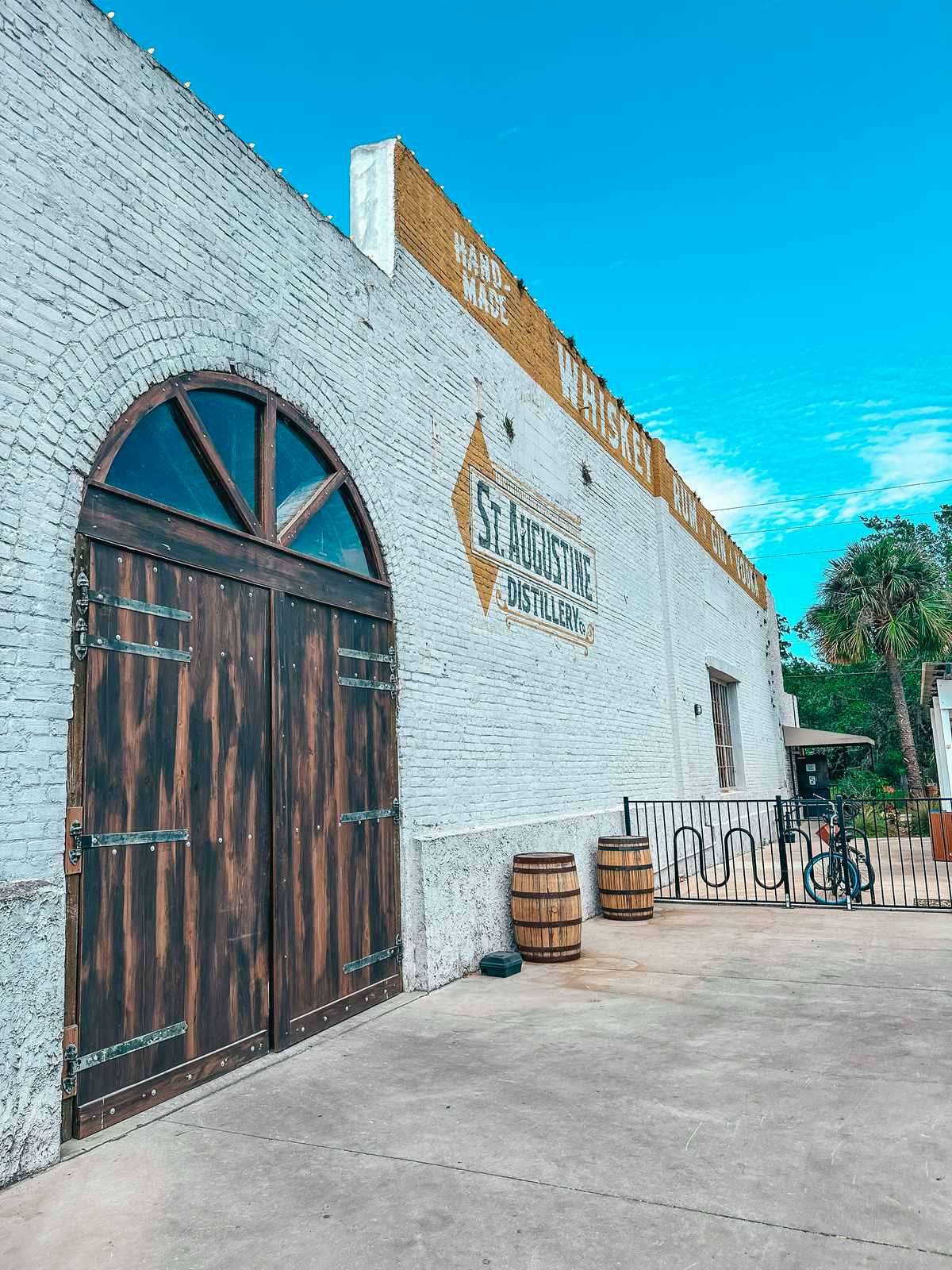 St. Augustine Alligator Farm
For a truly wild experience, visit the St. Augustine Alligator Farm. This 125-year-old attraction is home to hundreds of alligators, as well as other reptiles, birds, and mammals.
The farm hosts shows and feedings, where visitors can learn more about these fascinating creatures. Did you know that alligators only eat around 90 pounds a year? That's equal to humans eating about one sandwich a week!
One of the highlights of the Alligator Farm is the thrilling Gatorland Zip Line, which takes you soaring above the alligator and crocodile habitats for a bird's eye view of the park. You'll also have the opportunity to get up close and personal with some of the park's residents, like the playful lemurs or the majestic birds of prey.
Of course, the stars of the show at the Alligator Farm are the alligators and crocodiles. You can observe these fascinating creatures in their natural habitats, from the murky waters of the breeding marsh to the sun-drenched banks of the Nile crocodile exhibit.
If you're feeling brave, you can even take part in one of the Alligator Farm's hands-on experiences, like feeding the alligators or holding a baby alligator. With its unique blend of education and entertainment, the St. Augustine Alligator Farm Zoological Park is a fun activity for any weekend in St. Augustine itinerary.
The farm is open daily, and admission is $33.99 for adults and $18.99 for children.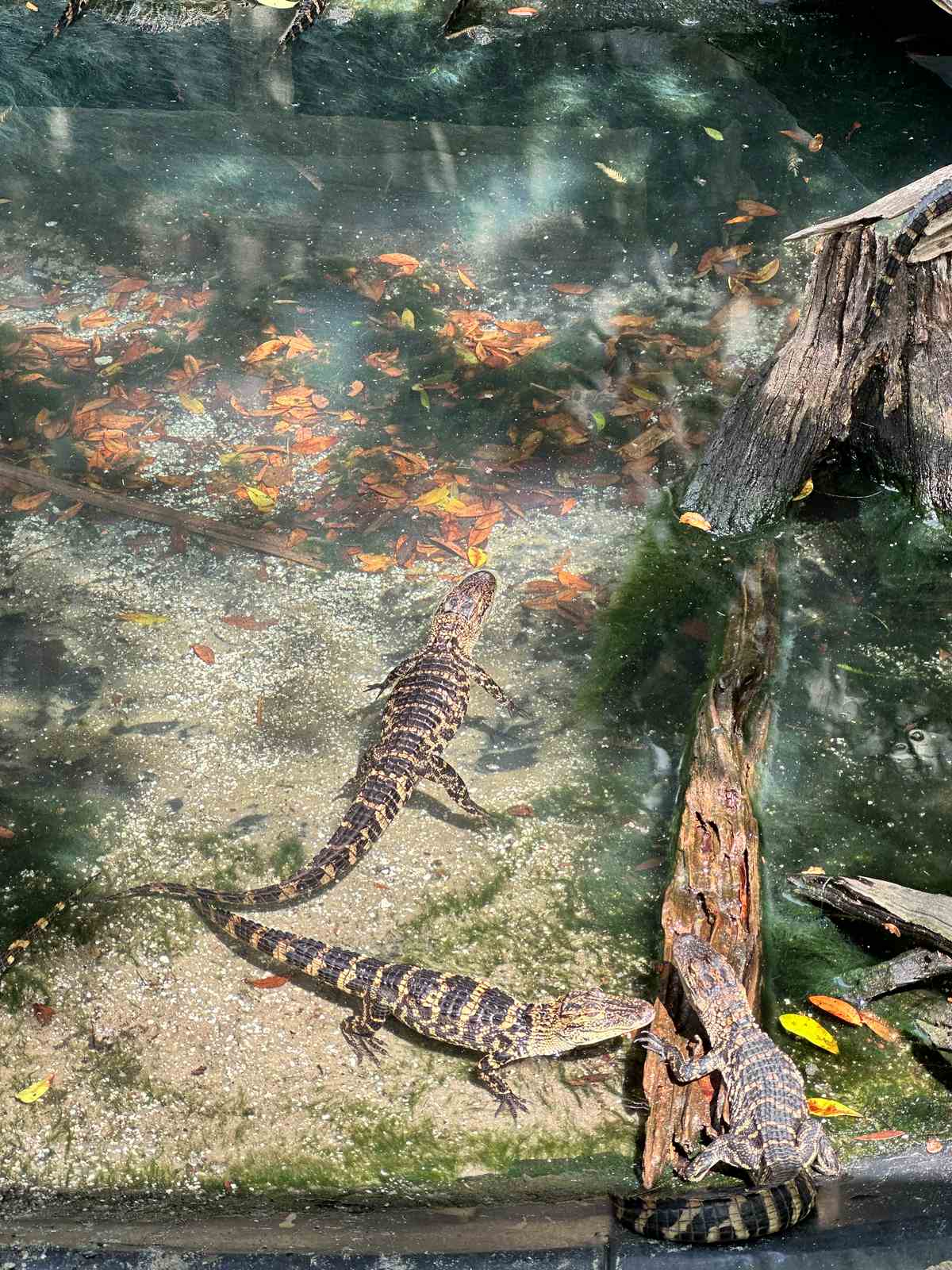 Lightner Museum
For art lovers visiting St. Augustine, the Lightner Museum is a must-see attraction. The museum is housed in the beautifully restored former Hotel Alcazar, which was built in 1888 by Henry Flagler. It boasts an impressive collection of decorative art from the 19th and early 20th centuries.
The Alcazar Hotel was the first hotel in the United States to have a fully functional in-ground pool, which was considered a luxurious amenity at the time. Today, the pool serves as a centerpiece of the museum, and you can actually enjoy lunch here.
As you explore the museum's three floors, you'll be transported back in time to the Gilded Age, when opulence and excess were the hallmarks of high society. You'll see a wide range of decorative arts, including fine art, furniture, sculpture, and musical instruments. One of the highlights of the museum is the collection of Tiffany glass, which features stunning stained glass windows and lamps by famed artist Louis Comfort Tiffany.
Be sure to check out the museum's beautiful courtyard, which features a stunning fountain and lush greenery, the perfect spot for a peaceful escape from the city. The museum is open seven days a week and adult admission is $17.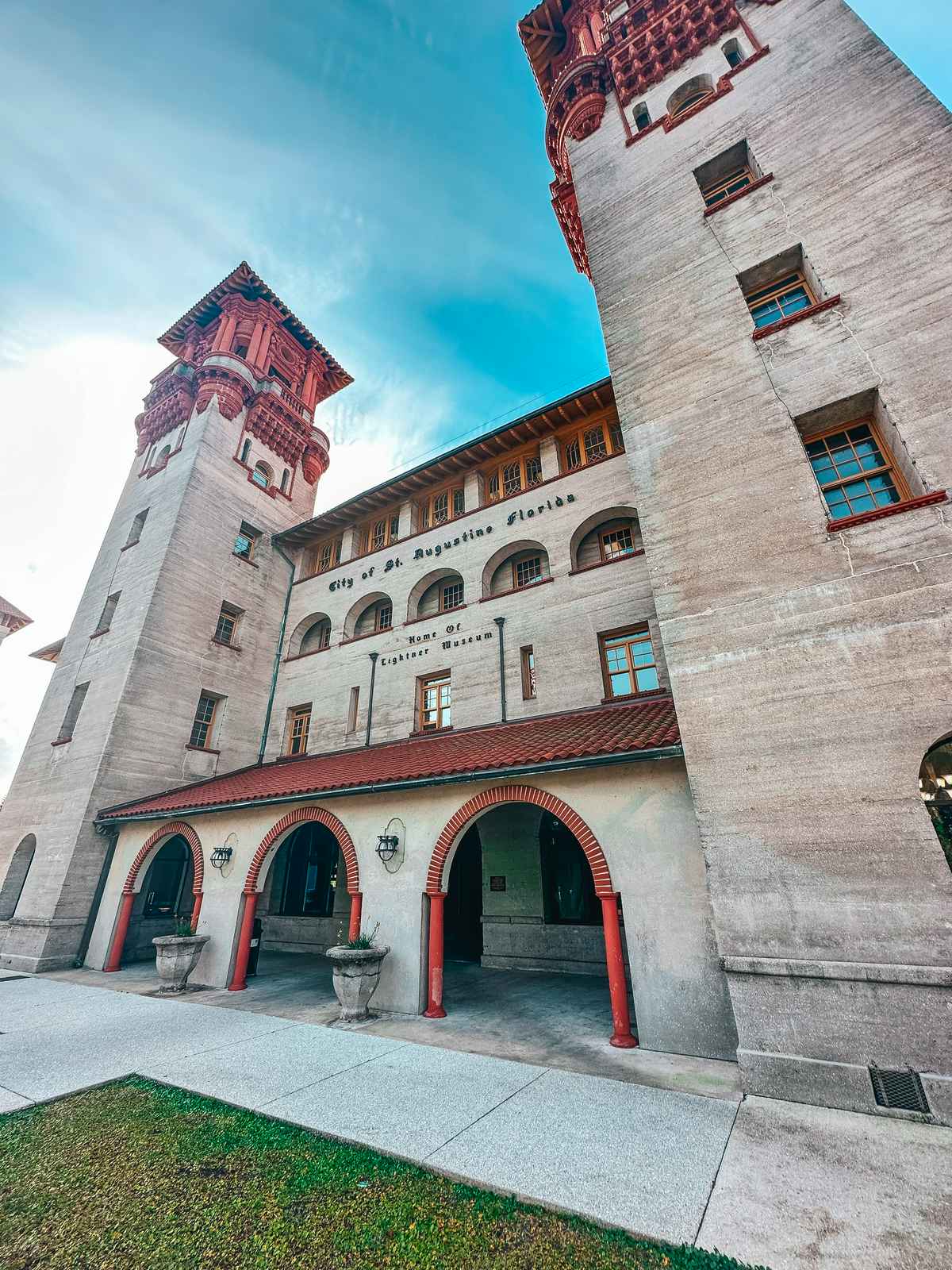 Whetstone Chocolate Factory
For chocolate lovers, a tour of the Whetstone Chocolate Factory is a must-do during your weekend in St. Augustine. The factory produces small-batch artisanal chocolate with only 5 employees who make the chocolate using tools that are over 100 years old!
During the tour, visitors can learn about the chocolate-making process and sample several different types of chocolate. Cacao beans are also one of the most rich high-antioxidant foods when eaten raw! The tour costs $10.95 for adults and $8.45 for children.
They have a few locations throughout St. Augustine, even if you don't do the tour, make sure to try some of their chocolate!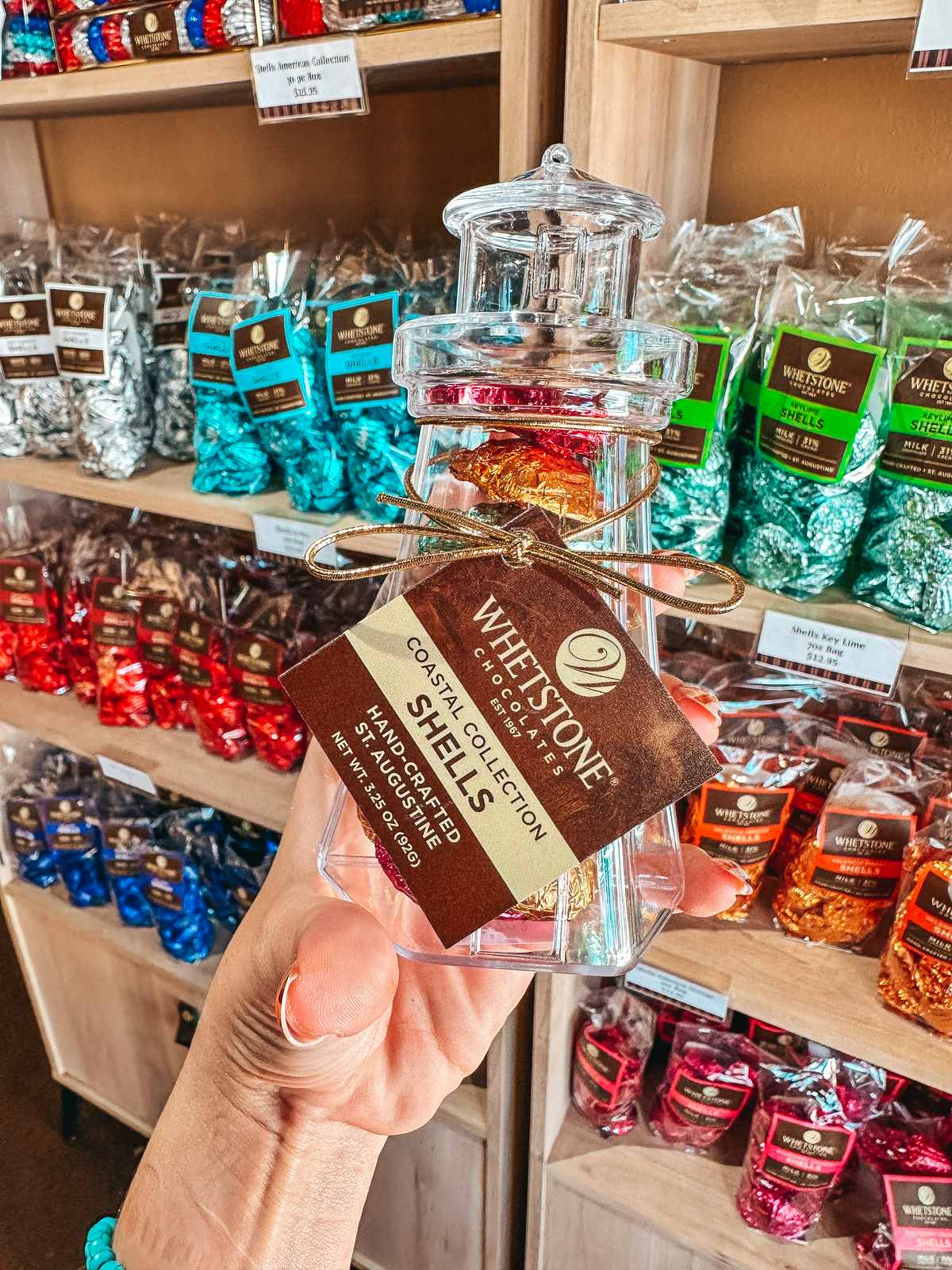 Ravine Gardens State Park
Located just a short drive from St. Augustine, Ravine Gardens State Park is a hidden gem that's worth a visit. This beautiful park features hiking trails that wind through lush gardens, as well as a suspension bridge that offers stunning views of the ravine below! It's a great place to escape the hustle and bustle of the city and immerse yourself in nature.
The park also features a picnic area, playground, and a seasonal display of azaleas that is truly breathtaking. The admission is $5 per vehicle.
If you're driving from Tampa, this is right on the way to St. Augustine. I was so bummed we didn't have time to stop here this trip, but it's on my list for next time!
Check out a local event
You can vary your leisure time with plenty of events including concerts and performances. Here are some of the upcoming events: