This post contains affiliate links which means that I will make a small commission if you purchase a product after clicking on any of them, at no extra cost to you.
Our 4-day Seattle itinerary worked out so beyond perfectly I have to share it! I feel like we were able to make the most of each day and have such diversity in our surroundings and activities on our short trip to Seattle. This 4-day itinerary is for the adventurer who really wants to get the most out of their Seattle trip.
There's so much to see and do in Seattle that you could easily spend weeks exploring everything it has to offer. But if you only have four days, don't worry – I've put together an itinerary that will allow you to experience the very best of Seattle in a short amount of time.
Note: I only really have a couple of personal recommendations for restaurants because we mostly packed our food for the day trips or were too tired to do anything other than order in once we got back to the room!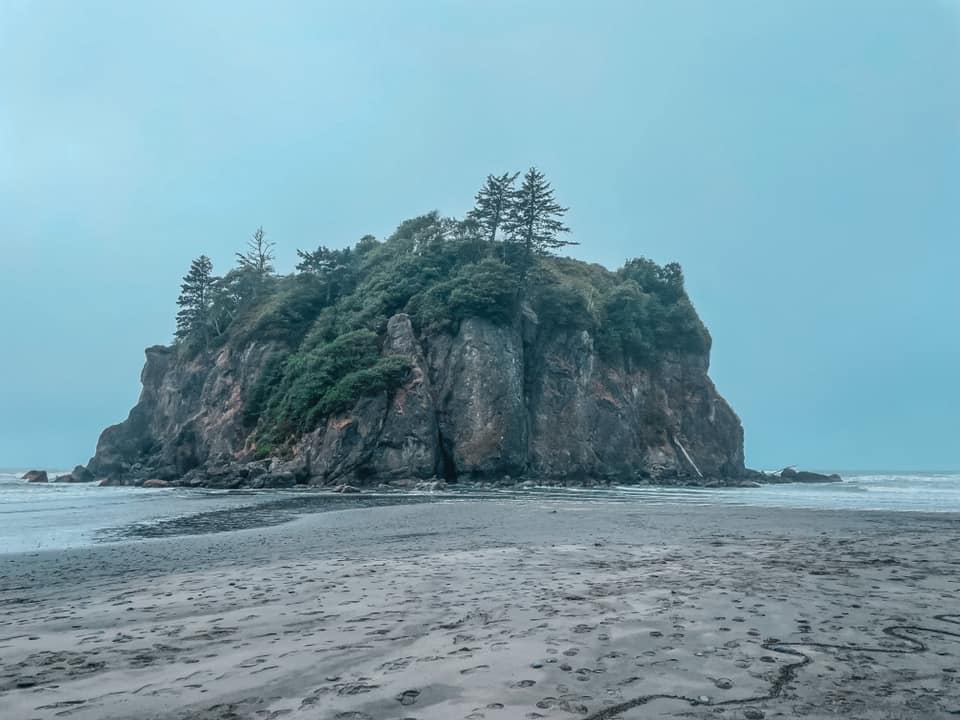 4-Day Seattle Itinerary
Day 1 — explore downtown Seattle
Arrive at the airport and take the link light rail 
You can take the link light rail from the airport into downtown Seattle. The ride is a little bit over 40 minutes and only costs $3! Uber and Lyft are a little bit quicker but way more expensive ($40-60).
Get settled into the hotel and get ready to explore
I loved staying at Hotel Monaco in downtown Seattle! As I've mentioned, I love IHG hotels (I have an IHG credit card which I love), especially Kimptons! They have a free wine hour from 5-6 pm, a lovely in-house restaurant and bar, and it is in a great location.
You're right by the beautiful Seattle Public Library, a couple of blocks from Pike Place Market, and right by the University Street stop for the link light rail. Wherever you decide to stay, get settled and get ready to head out to explore downtown Seattle!
🏨Want the best hotel deals?🏨
Check out Booking.com to compare prices during your dates.
Click herе to compare!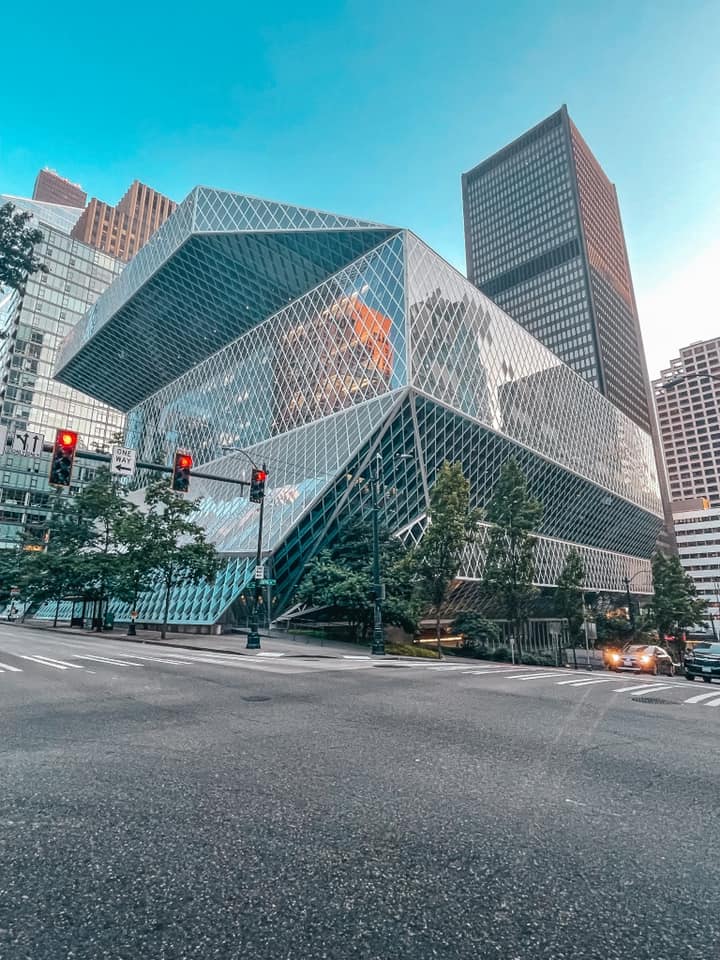 Grab lunch and explore Pike Place Market
You're probably pretty hungry at this point, so find somewhere to stop and eat! A few recommendations are:
The great thing about the market is there are all types of options from street food, to grab-and-go, to sit down. If you want to try a little bit of everything, they also offer a Pike Place Market Walking Food Tour— your ticket includes food samples, cultural history, and a local guide.
Also, the Pike Place Market has 6 levels! So be sure to give yourself sufficient time to explore.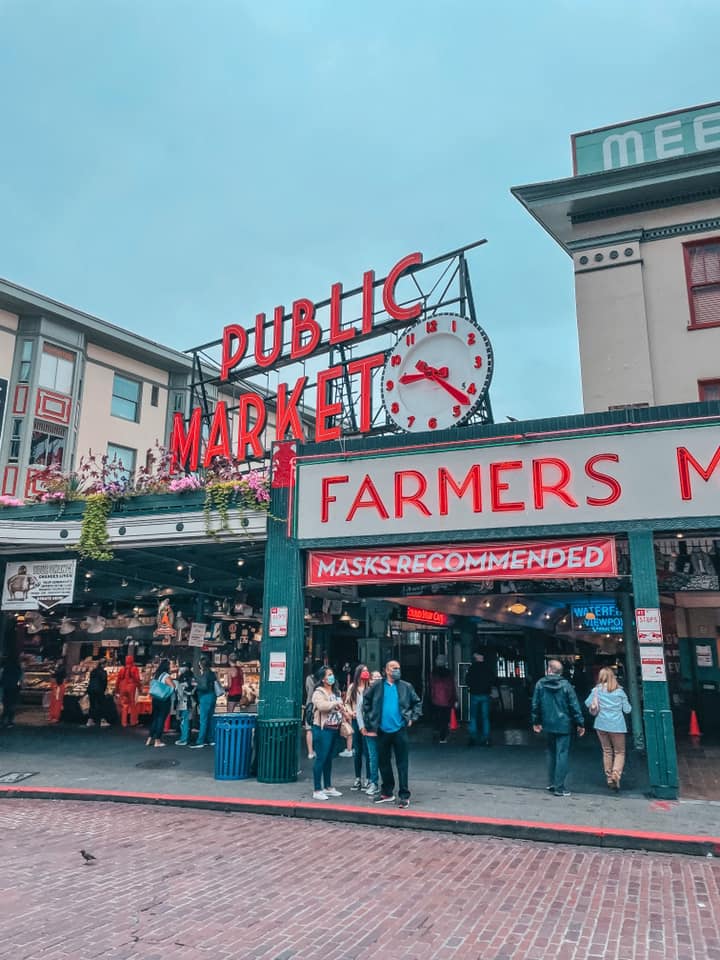 The shops and local vendors have things such as fresh produce, seafood, flowers, and handmade journals! The Original Starbucks is also located within the Pike Place Market. Honestly, the line is pretty long no matter the time of day.
I just snapped a pic of me in front of it and got coffee from Storyville Coffee— which was AMAZING. The vibe was so cozy and adorable, PLUS they gave me a free mug! The line wasn't too bad when I arrived, but as I was leaving it was pretty long.
Regardless of which shops and restaurants you visit at the Pike Place Market, it's an absolute must for your Seattle bucket list!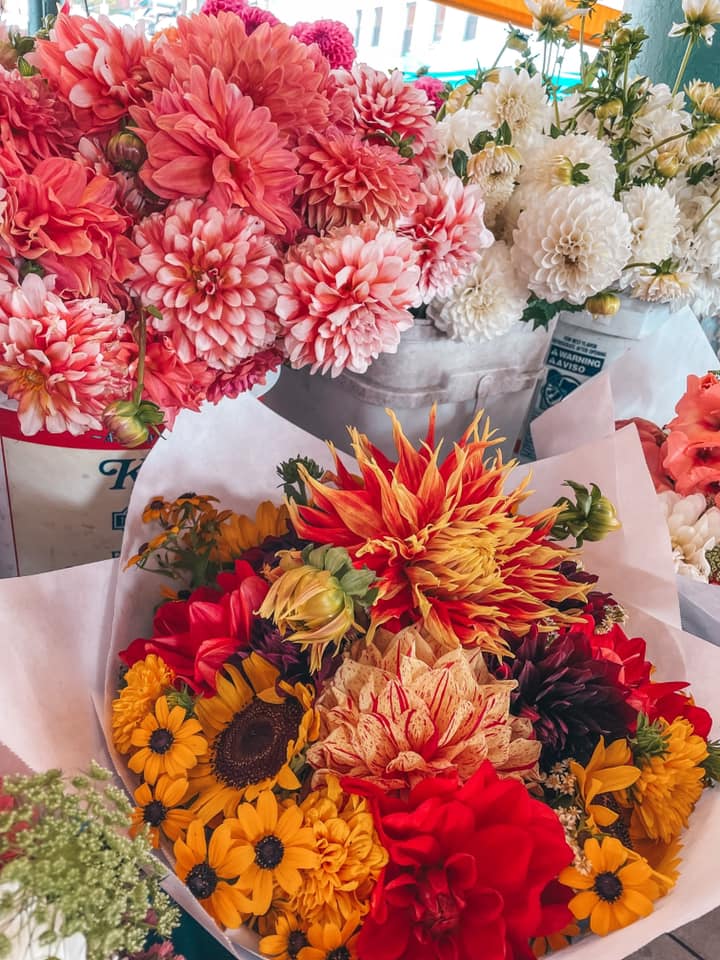 Check out the Seattle Great Wheel
The Seattle Great Wheel is 175 feet tall and offers a grand way to view Seattle. The cost is $14 for adults, and it's a short walk from the market (located on Pier 57). It's ranked 9th for the tallest observation wheel in the US! The High Roller in Las Vegas is number 1.
The ride itself is generally between 10-20 minutes long (depending on the season and crowd). The gondolas are climate controlled (so no worries if you're visiting during the colder months), and they fit up to 8 passengers each.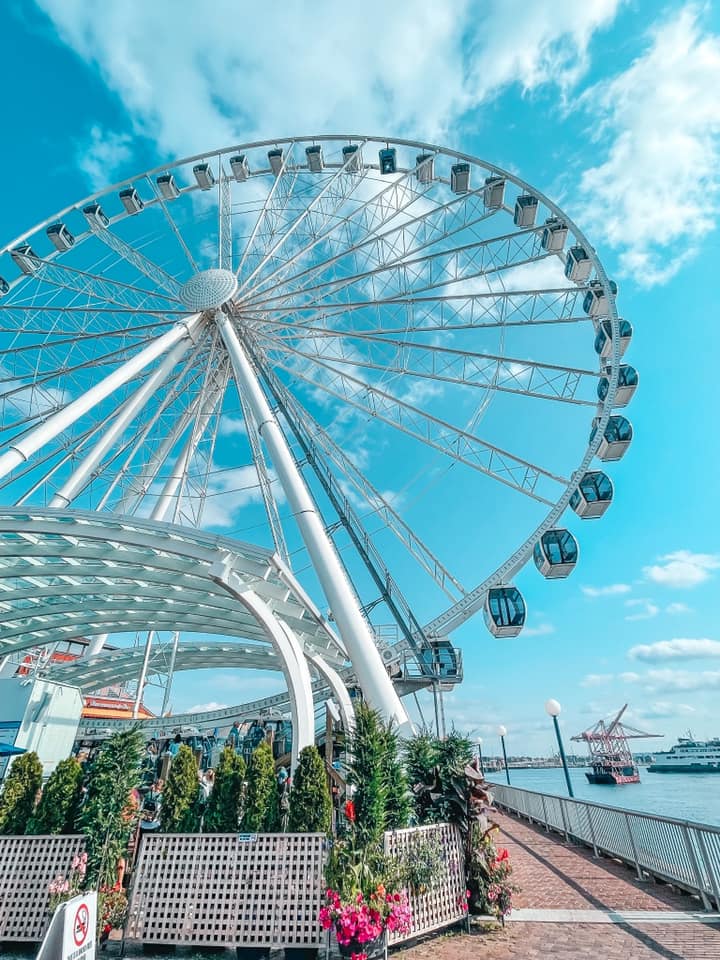 Check out a brewery or two
Seattle has some really great breweries, and you know I can't resist a good brewery! Old Stove Brewing and Seattle Beer Co. are in that area of the Seattle Great Wheel.
If you want to hit both you'll come up on Seattle Beer Co. first, and then Old Stove Brewing will be just a short 3-minute walk from there. Old Stove Brewing had cocktail options along with the beer offerings and had a pretty solid food menu as well.
Optimism Brewing is about a 10-minute drive from this area, but I heard good things if you have time to check them out as well!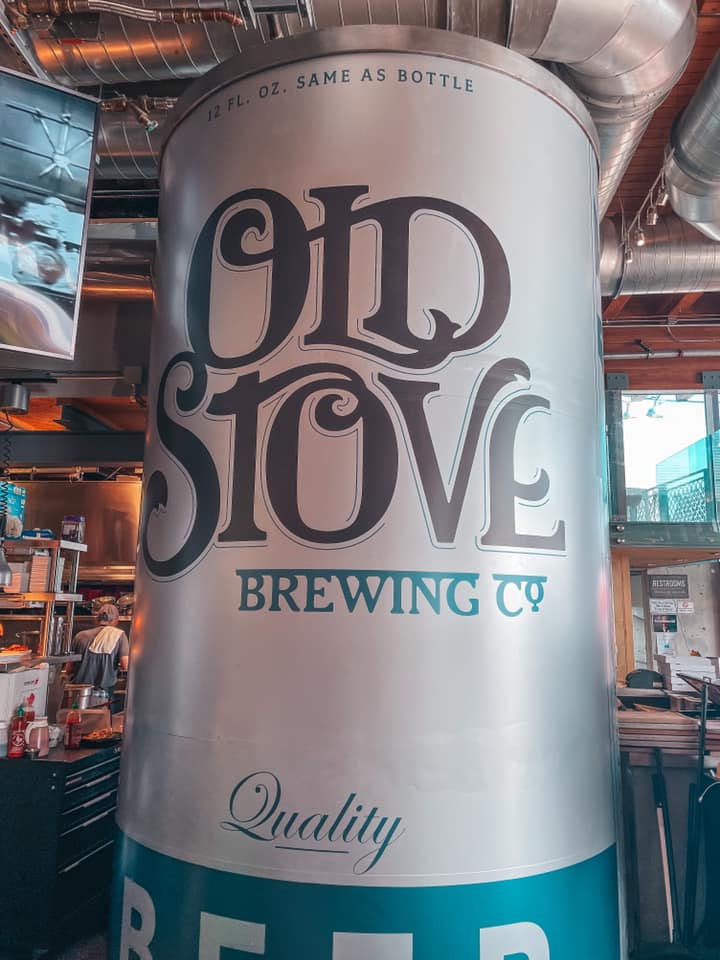 Head to the grocery store to get food
Day 2 and day 3 are going to involve a bit of driving and exploring. You're going to want to load up on some snacks for the drives and stops (check out my long drive tips)! We got stuff to make sandwiches, granola bars, chips, veggies, and lots of water. Don't forget ziplock bags or Tupperware to put your sandwiches in!
Get ready for a nice dinner
If you're following this itinerary, chances are you're going to be pretty worn out the other nights, so this may be one of the few chances you get to enjoy a nice sit-down dinner. I highly recommend going to Elliott's Oyster House. Be sure to make reservations ahead of time, and try to do it around sunset! It's located on the pier, so the views around this time were unbelievable. The food is so fresh and delicious!
I had a very difficult time deciding what to eat because so many things sounded so good! With assistance from our amazing server I ended up going with their house salad to start (SO GOOD), and their fresh Halibut which was topped with mango salsa. It was absolutely to die for. Elliott's is officially a staple for me every time I return to Seattle in the future from here on out!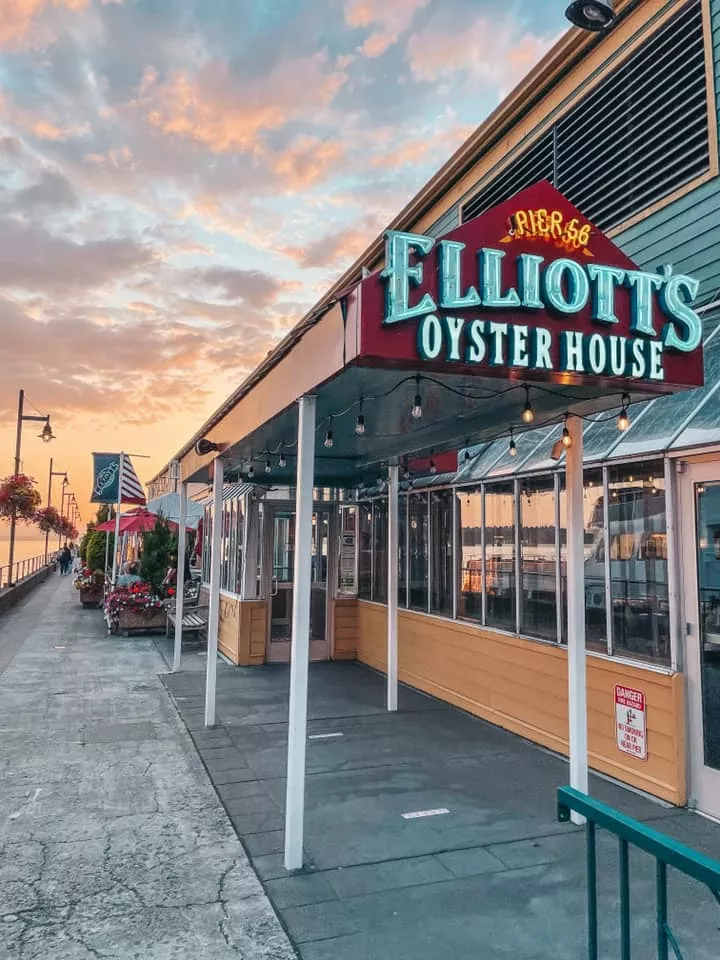 Day 2 — Mount Rainier National Park
Pick up your rental car
I have had some pretty annoying situations when it comes to rental cars, so I was beyond delighted when I had the smoothest, and honestly probably quickest, rental car experience ever at Avis! We rented through Rentalcars.com, and it was just a little over $200 for the 2 days. Rental car prices were a little steep at the time of our trip, which is why we only rented it for a couple of days instead of the whole time.
We made the pick-up location the Avis on Pike Street, so it was just a short walk from our hotel! Especially if you're doing your car rental in the middle of your trip you're not going to want to go all the way back to the airport to grab it and return it (we returned it before our last day).
Hit up Starbucks Reserve Roastery
Have you heard of these? Starbucks Reserve is pretty much Starbucks on steroids. If you're like me and have a Starbucks obsession then this place is a must-stop! And if you do rent your car from Avis, it's a short walk from there 😉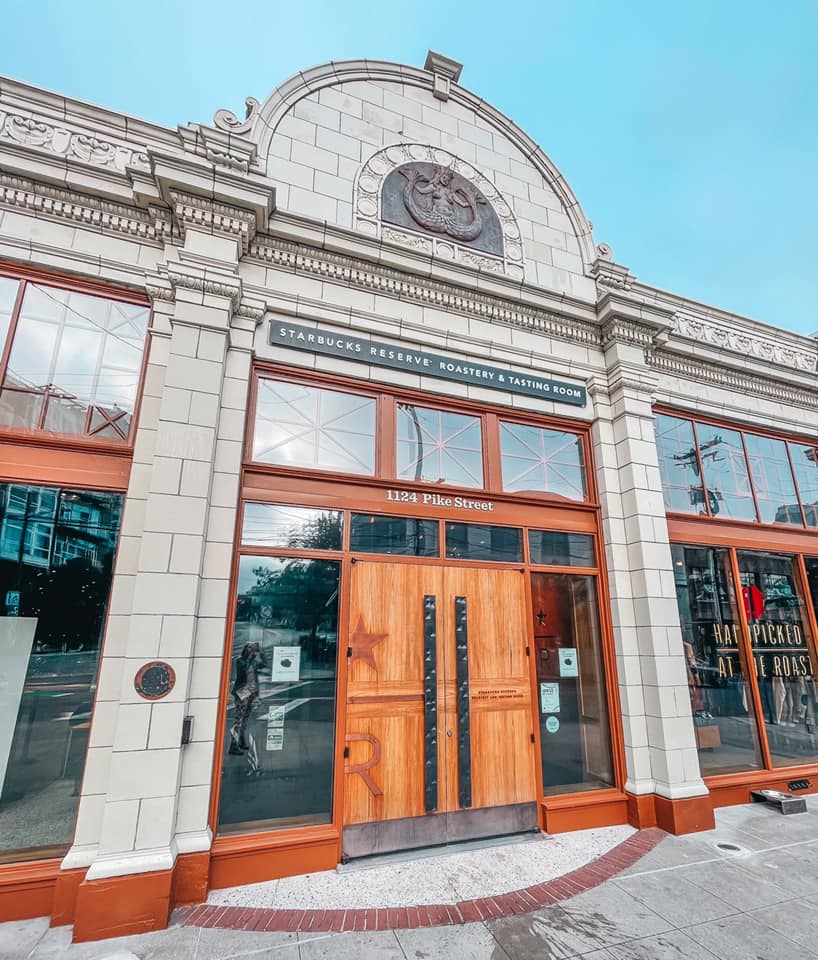 There are only 6 Starbucks Reserve Roastery locations and only 3 in the US! Okay, okay, so what is it? What makes it different? First of all, the locations are HUGE. Like way bigger than any normal Starbucks you've visited.
There are lounges, fireplaces, a full bar, as well as a merchandise store. And you're sure to notice the large copper cask which is used for storing the beans after they are roasted.
Speaking of a full bar, that's right, you can get cocktails here! Grab a coffee-based cocktail or a glass of wine if you choose! As for the menu, you're not going to find your typical Starbucks options. Stop at the bakery area for a fresh croissant or sandwich before heading over to the coffee bar area to order your drink. They even have some fun flight options!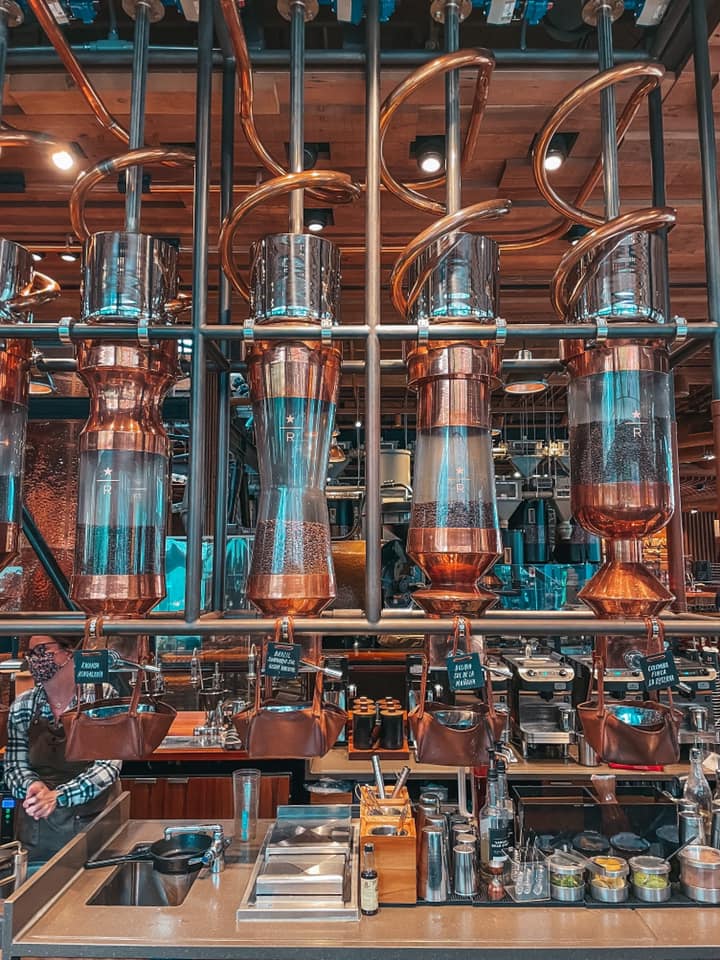 Check out Snoqualmie Falls
Snoqualmie Falls is a 268-foot waterfall about 40 minutes outside of downtown Seattle. The trail is about 1.6 miles out and back, however, we just parked at the top, checked it out, and then drove to the bottom and checked it out. Not because we felt like being lazy, we just really wanted to get to our next stop at Mt. Rainier National Park as soon as we could!
If you do choose to do the trail, it's not strenuous at all, it's actually paved! The falls were absolutely beautiful at both points (I think I liked the upper slightly better), and it is definitely worth a stop.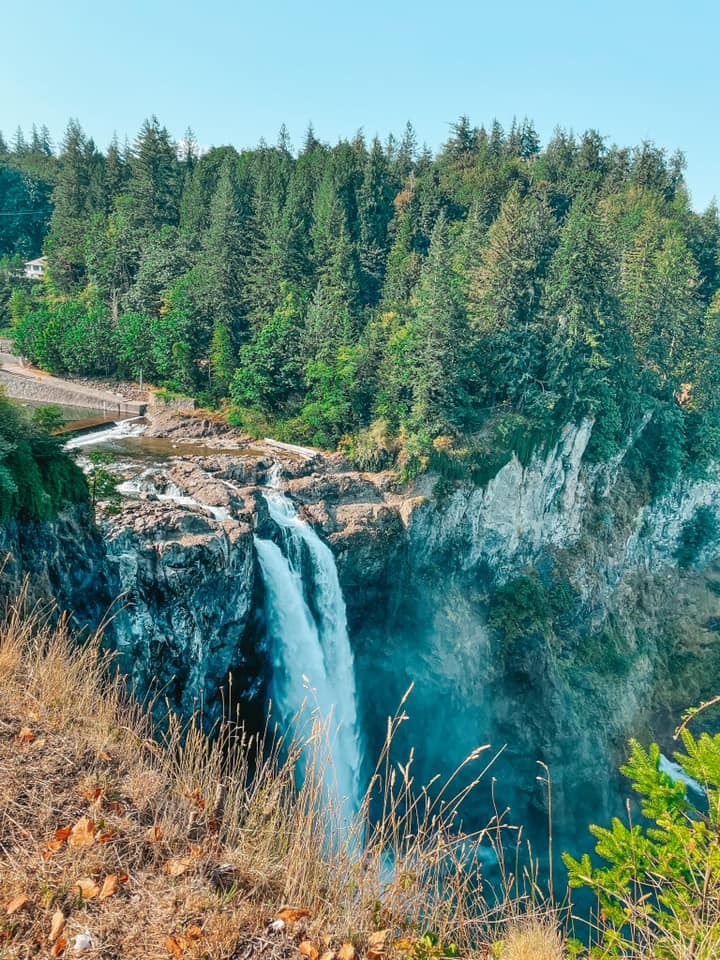 Hike a trail at Mount Rainier National Park 
Honestly, I'm sure any hike in Mount Rainier National Park is absolutely beautiful so feel free to do whichever one sounds the best to you— but we really loved Naches Peak Loop Trail.
It was a two-hour drive from Snoqualmie Falls and is a 3.3-mile loop. Do the trail clockwise for the best views! We put Tipsoo Lake into the GPS and were lucky enough to be able to find parking. There were a couple of lots in case the one you're initially taken to is full!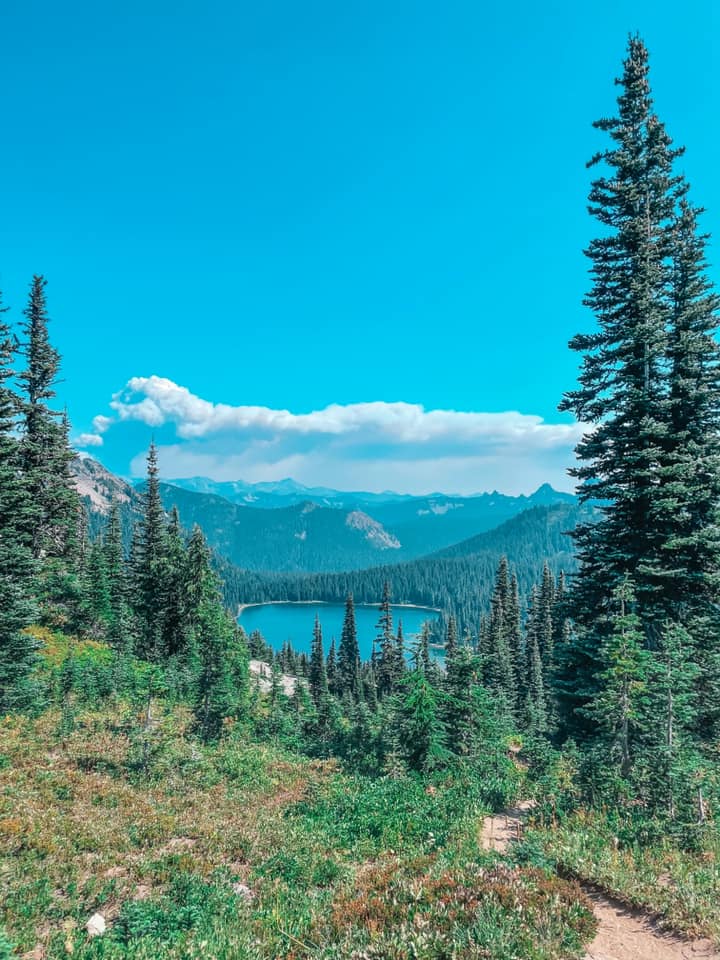 If you plan on going to multiple National Parks, I highly recommend getting the America the Beautiful Pass! It's $80 and covers the entrance to over 2,000 parks across the US and is valid for 1 year! We were heading to Utah after this trip to check out the Mighty Five so I made sure to snag one, and it was well worth it. If you don't want to get the pass the single-vehicle fee for Mount Rainier is $30.
I will say another trail that looked amazing was the Skyline Trail Loop! It's a 5.6-mile loop that starts at Jackson Visitor Center.
Mount Rainier National Park is officially my favorite national park that I have experienced. Even if you don't decide to rent a car, this full-day tour provides transportation and a local guide!
Head back to Seattle to experience views at Kerry Park
Views from Kerry Park are EPIC! From this viewpoint, you are able to see Seattle's beautiful skyline. I was able to find free street parking in Seattle just a little ways down from the park entrance. I would have stayed here for sunset, however, it was beginning to get cloudy over the city. In the other direction, there was still some sun so I hopped back in the car and went to our next stop! 
Watch the sunset at Discovery Park
This was another one of the trip highlights for me. The sunset here was absolutely magical. So Discovery Park is actually huge, 534 acres to be exact, so make sure you put the West Point Lighthouse into your GPS.
There is a 4.4-mile loop that takes you out to the lighthouse, but if like myself you're pushing it really close to missing the sunset you can drive to it. I was very concerned because there was a sign that said no parking, however, several other vehicles were there.
When I asked a local bystander, they assured me I would be fine for a few and to just go and take in the beauty of this sunset. So I did, and it was fine! I wouldn't recommend parking here for a lengthy amount of time— I was there for about 25 minutes before heading out.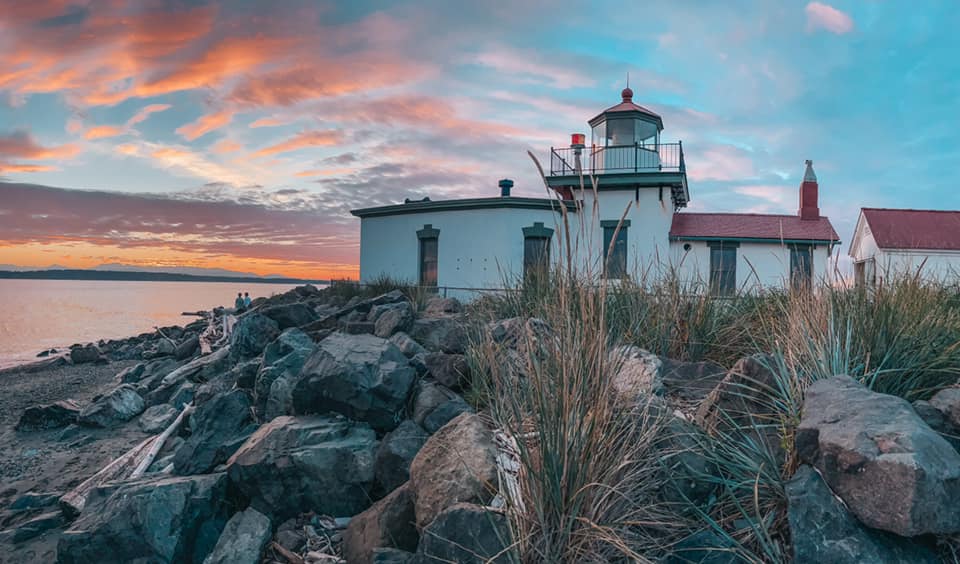 Day 3 — Olympic National Park
Wake up early and grab some coffee
Retro Coffee gets a solid rec from me. Their coffee was outstanding (bonus points for having pumpkin spice), and they had lots of great options for food on the go— which is exactly what we needed before hitting the road for the next 3 hours. They also had solid vegan and vegetarian options! I got one of their vegetarian breakfast burritos and it was flavorful and filling.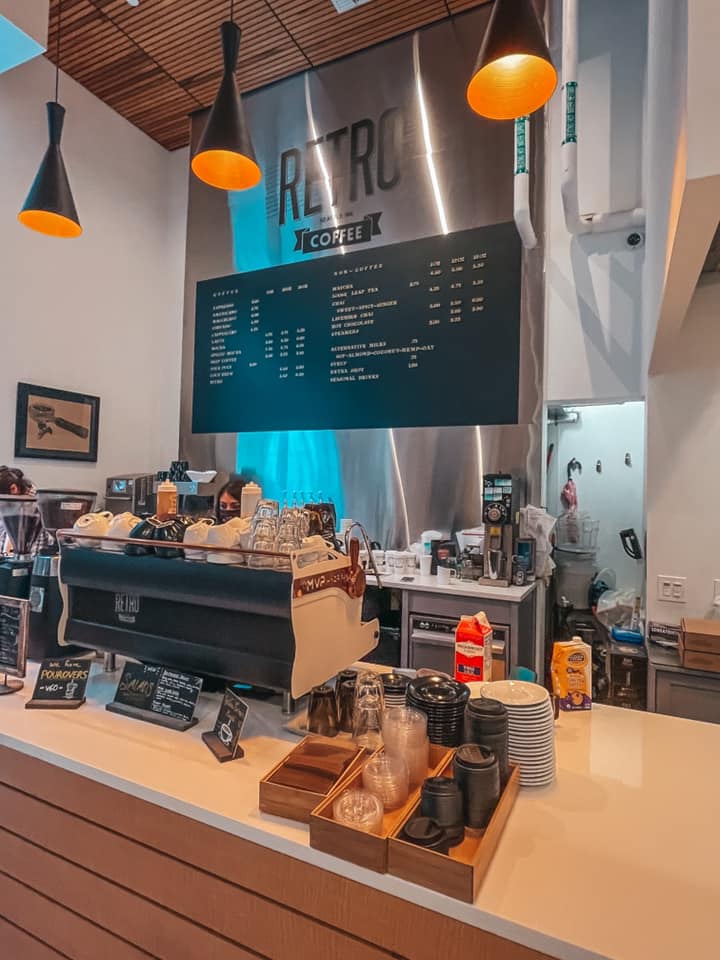 Head out to explore Olympic National Park
We started at Ruby Beach, which was a 3-hour drive from Seattle.  Ruby Beach is truly something special. Coming from Florida, I have never seen a beach quite like this one. Now that I've been to Portland, Oregon though I can see the similarities between Ruby Beach and Cannon Beach!
There are sea stacks, driftwood logs, and even some shacks built out of the driftwood along the beach. We went on a dreary day, but it was a good dreary. The weather fit perfectly with the vibe of Ruby Beach, and honestly, I don't think I would've enjoyed it as much on a sunny day.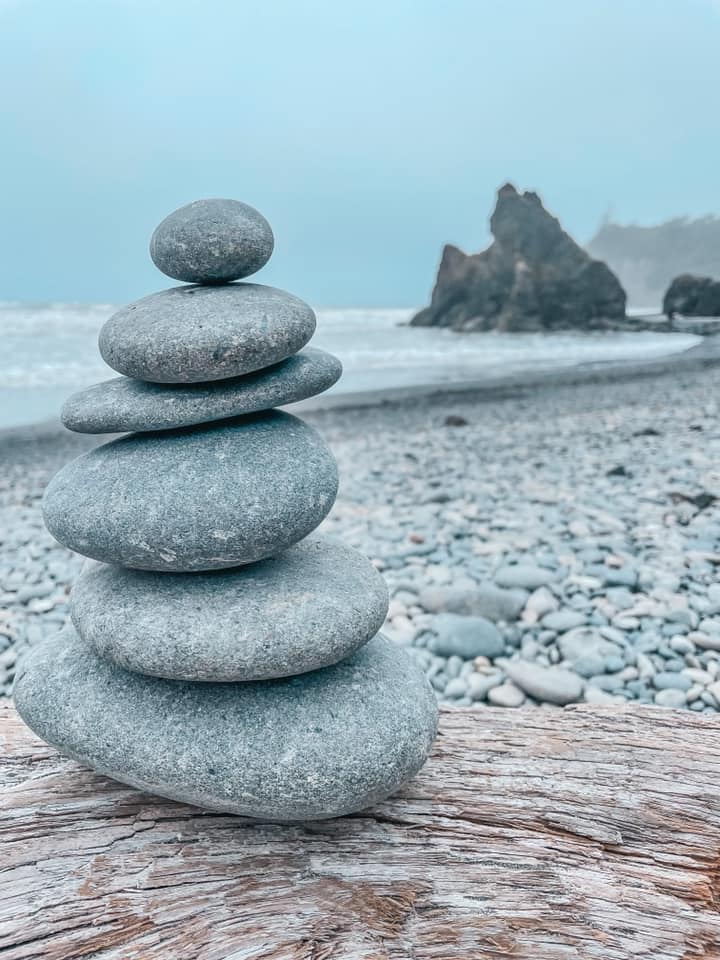 We had initially planned to explore Marymere Falls (1 ½ hours from Ruby Beach) and Hurricane Ridge, but we were a little worn out and wanted to get back at a decent time.
Instead we ended up stopping at Lake Quinault, and wow was it dreamy! The water was so blue, I couldn't get over we were still in Washington! Depending on what you feel you have time for, any of those places came highly recommended.
If you really want to spend some time in Olympic National Park, then I think the most desired destination is Hoh Rainforest! It literally looks like it's straight from the Avatar movie.
If you are trying to get back at a decent time then enjoy wandering around Ruby Beach and head to Lake Quinault for a few to relax, meditate, and pick some wild blackberries to enjoy along with the views.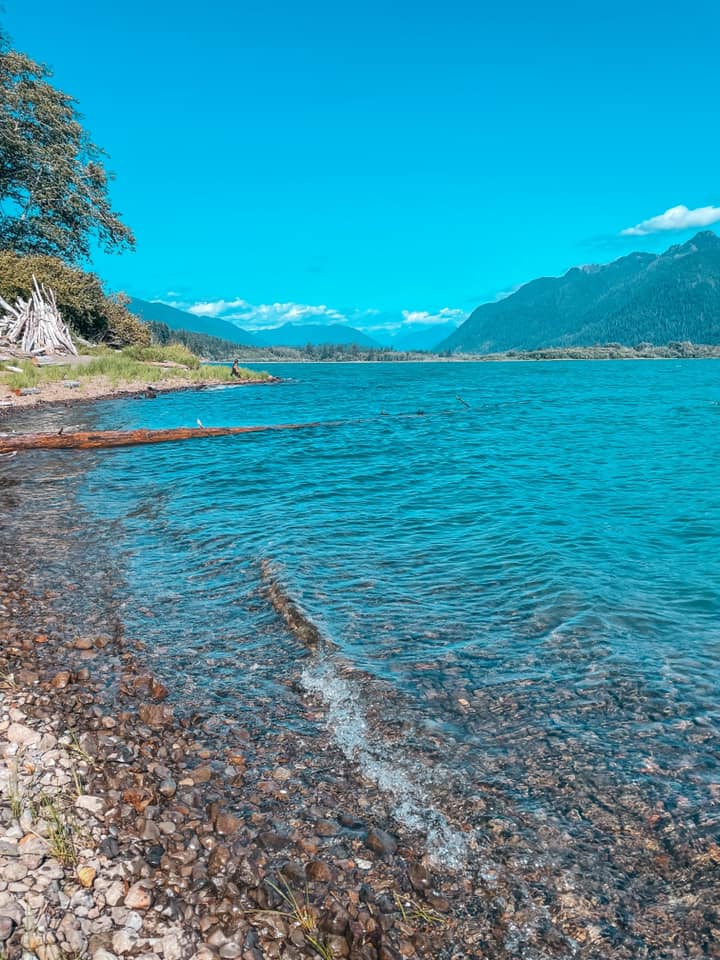 Again, the park fee is $15 per vehicle for Olympic National Park, so I highly recommend getting the America the Beautiful Pass if you plan on doing a few parks within the year!
Space Needle for sunset
The Space Needle gives 360-degree indoor and outdoor panoramic views of downtown, Mt. Rainier, Puget Sound, and the Cascades and Olympic Mountain Ranges. So, morning, afternoon, sunset, dusk— truly it doesn't matter because the views are going to be wild regardless. I just find sunsets extra beautiful and always aim to visit special places around that time to make the experience extra special.
Give yourself 1-2 hours for this experience. Make sure you purchase your tickets in advance because you need to reserve a time slot. Tickets cost $34-37.50 for adults, depending on the time you book. If you want to do the Chihuly Garden and Glass as well you can bundle your tickets and pay $54-62.50.
Or you can get a CityPass for $115 which covers the entrance to the Space Needle, Seattle Aquarium, Chihuly Garden and Glass, Museum of Pop Culture, and Woodland Park Zoo!
Day 4 — choose-your-adventure
Return rental car
Below I give three options for how you can best spend your last day, none of which require a car! So your best bet is to save a little bit of money and return it this morning.
Okay, so for day 4 I'm going to do something a little different. This is a choose-your-adventure. There are 3 options.
Option 1:
This is the only whale-watching tour you can do that leaves from downtown Seattle, instead of you having to drive several hours to the San Juan Islands. If you choose this option you're going to head straight over to load on the boat from dropping your car off and getting a coffee. You need to be on the boat by 8 AM! From here you will take a 4-hour ride over to Friday Harbor.
Things to know about the ride:
You will have service most of the time! So you can even bring your laptop and get some work done. Or take your Kindle and do some reading (my Kindle is my current obsession).
There are outlets, so bring your phone chargers!
There is an enclosed upper level and lower level where you will have an assigned seat for the duration of your trip. However, you're able to walk around as you please. The top deck is open air where you can head for some more views.
There is a naturist who is very informative and helpful with information regarding the surrounding islands, marine life, and more!
There is a concession stand on the boat where you can get snacks— they're okay, but I'd say bring your own if possible.
Once you get to Friday Harbor you will stay on the ferry as some people get off. You will then begin your 2-hour whale-watching experience. Chances are you will see some whales, sea lions, and other marine life!
You won't get super close, but it is still cool to see these beautiful creatures in their natural habitat. The Clipper also has binoculars for you to rent if you choose (or you can bring your own!). During this time they will also open the front of the boat for you to get a little bit of a closer look.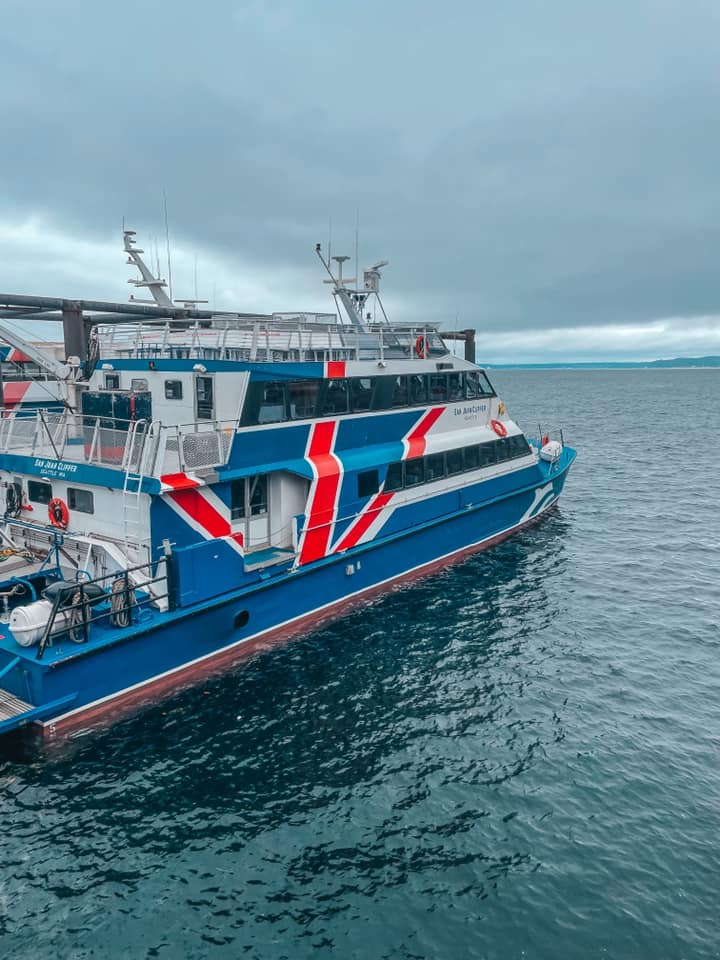 Once you are done with the whale watching, you will then head back to Friday Harbor where you will have two hours to explore. We snagged lunch and a drink at San Juan Brewing and it was really good! From there, there were a lot of adorable shops that we checked out. Crystals, chocolates, books, and more! Friday Harbor is seriously so cute you'll enjoy just wandering around.
Once you're done exploring, it's time to load back on the boat and head back to Seattle. We bought a deck of cards and ended up playing a drinking game with a couple that we met half of the way back! So if you don't feel like being productive, that's always an option as well.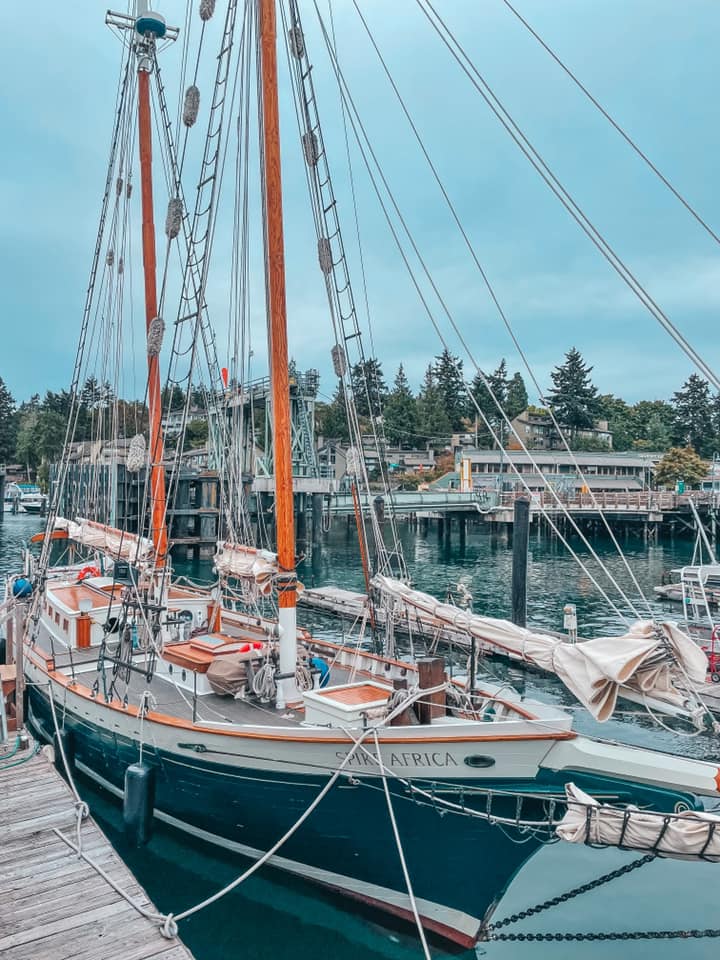 Option 2:
Take FS Clipper to Friday Harbor and explore for 4 hours
You can take the same ferry for whale watching to Friday Harbor, but instead of staying on it for the 2-hour whale watching tour, you can get off and explore Friday Harbor for 4 hours. Having more time on the island will allow you to check out some options that are a little bit further from the port such as:
If you have another day you can even stay the night on Friday Harbor and take the ferry back the following day. If you do this I recommend doing a kayak tour! Have you seen the Tik Toks of the kayakers at San Juan Island where the orcas are swimming right around them?! How cool would that be?!
Option 3:
Explore more of downtown Seattle
If you couldn't squeeze in all of the things I mentioned before, save some for this day. Along with doing the Underground Walking Tour and drinks at The Nest Rooftop Bar for sunset (the views are gorgeous anytime really, but especially sunset)! To be honest, we did option 1, but I wish we would have done this option.
Whale-watching was a cool experience, however, it wasn't exactly what I was expecting. You don't get super close, and it's just a very long day— after having long days on day 2 and day 3. So I personally think that taking the last day to leisurely explore the city a little more would have been the most enjoyable.
When is the best time to visit Seattle?
This depends on what you're looking for. The peak travel season for Seattle is the summer months (June-August). July and August are the driest months, and the temps are typically in the 70s. If you want to go during the low season to avoid the crowds you can visit October-March.
While you will avoid some crowds, it's Seattle's rainy season, many high-elevation roads may be closed prohibiting you from checking out certain hikes, and the temps are going to be quite cold (personally my Florida blood can't handle much less than 70). Also, if you are going to do whale watching, the best time for whale watching in Seattle is the summer months from June-October.
We went in August and I found it to be perfect. The temps were great, we had mostly sunny days and no rain, and we definitely got to see the whales! Nowhere we went felt too busy, but we also went after school had started back up so I think that always helps!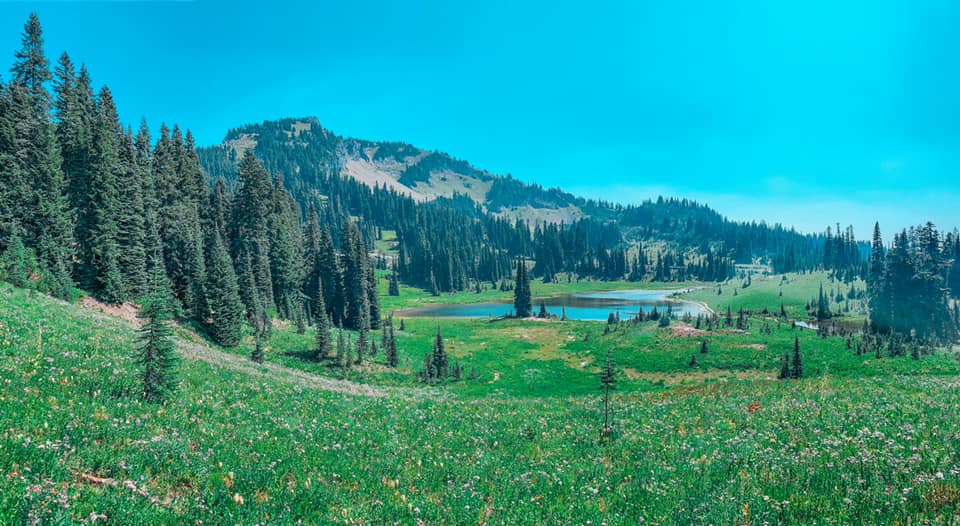 General tips for visiting Seattle
When it comes to parking your rental car, that can be one of the most annoying things to have to pay for on top of renting it. Our hotel charged somewhere around $40/night for parking. Honestly, I always avoid paying those high rates by using SpotHero to search for more affordable parking close by.
BUT this time we got even luckier on our own and stumbled on free street parking right by the Seattle Public Library (which was a 2-minute walk from our hotel). So keep an eye out for street parking! It was free from 8 pm-8 am, and each night we didn't get back until around 8, and then woke up early the next morning— so it really worked out!
Make sure you take bug spray and sunscreen, especially if you're going in the summer months.
Dress in layers. The temps definitely vary throughout the day, as well as day to day. So bring a wide range of clothing options and definitely dress in layers.
Before making plans be sure to check that the place you're wanting to go to is open at that time or on that day. Many places were closed on Tuesdays and Wednesdays, or wouldn't open until 8:49 am (I'm serious). So don't forget to check before making your plans!
Ready for an epic 4 days in Seattle?!
I hope you enjoyed this 4-day Seattle itinerary for your quick trip! I would love to hear which activity or place excites you the most! And as always, if you have any questions or want more info, feel free to DM me!