This post contains affiliate links which means that I will make a small commission if you purchase a product after clicking on any of them, at no extra cost to you.
Are you looking for the perfect winter getaway? Cabo in December is the answer! This Mexican destination is known for its stunning beaches, delicious cuisine, and vibrant nightlife. Plus, the weather is usually sunny and warm throughout the month. It makes a great escape from the cold winter months.
In this guide, I'll tell you everything you need to know about visiting Cabo in December. From what to pack and where to stay, to all the must-see attractions and activities, you'll be ready to make the most out of your holiday!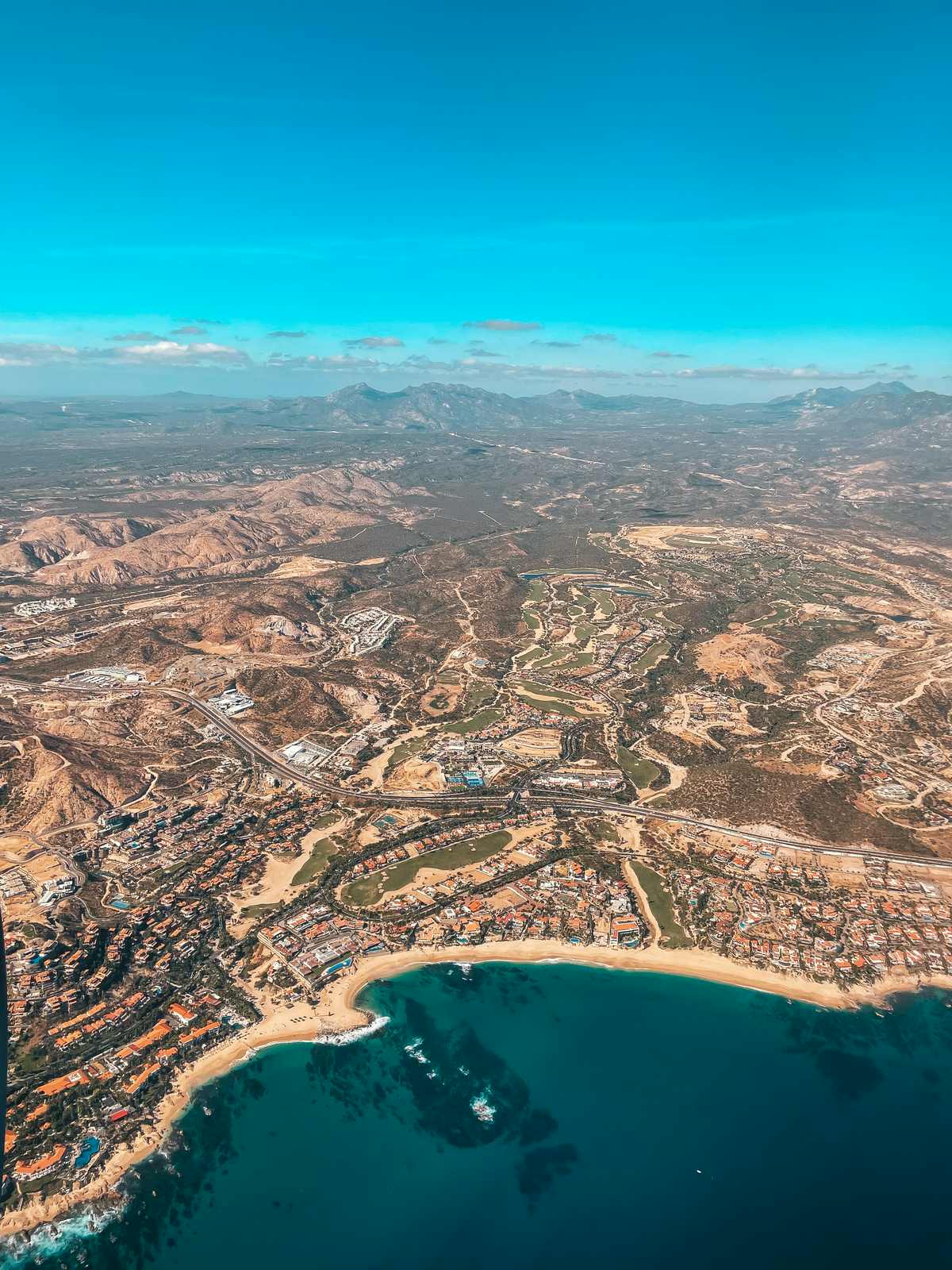 Weather in Cabo in December
Heading to Cabo in December is an excellent choice. Especially if you're looking for warm, sunny days with an average temperature of around 79°F (26°C). December brings clear skies and low humidity, making it a perfect winter escape. Days are warm and balmy, while evenings may bring temperatures down to 60°F (16°C).
With such mild weather, December is one of the most popular times to visit Cabo. Rain is rare during this time, but it can happen—so be sure to pack a rain jacket. The ocean temperature during this time of year is around 75°F (24°C), making it the perfect temperature for swimming.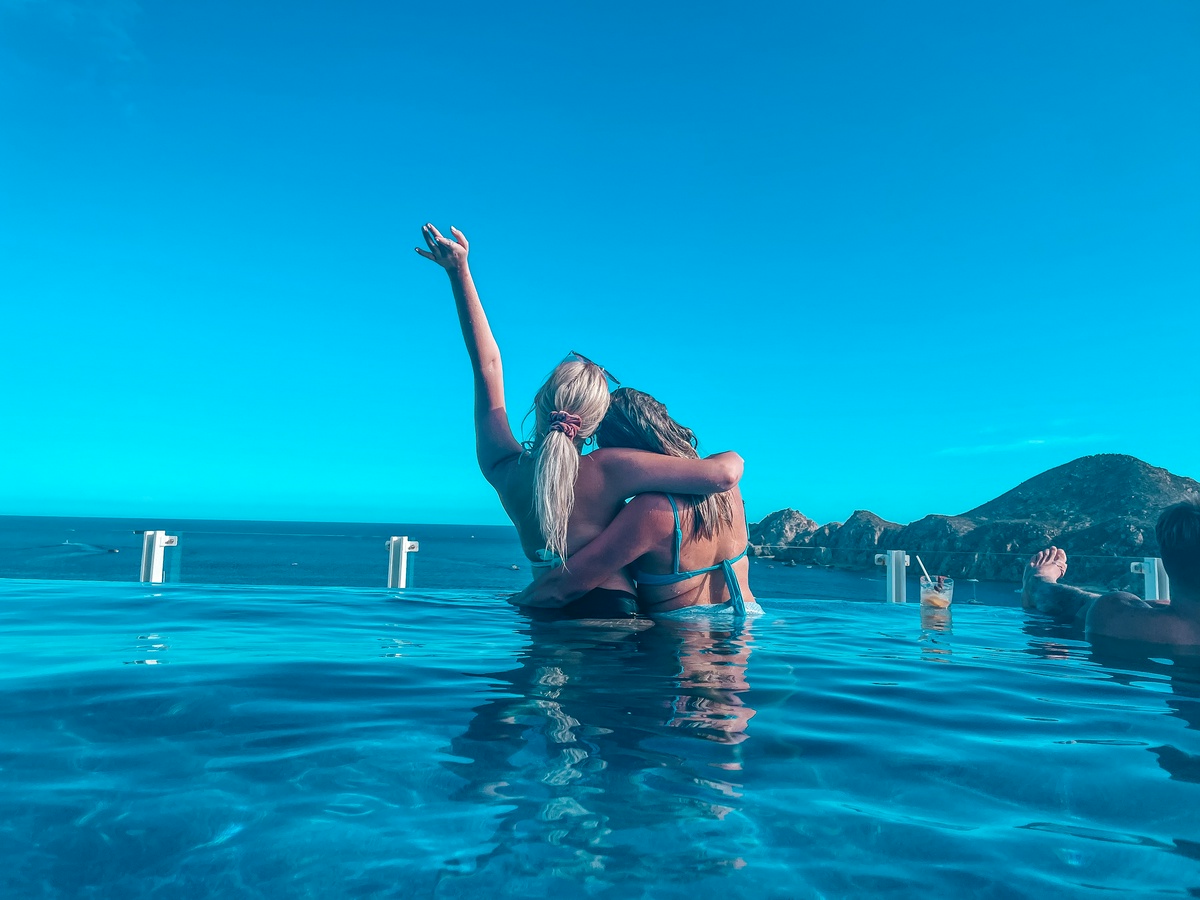 Quick links for your Cabo trip
🏨 Accommodation
Easily compare prices, secure great deals, and enjoy the added benefit of flexible cancellations up to 24 hours in advance for the majority of hotels with Booking
🎟️ Tours and tickets
Discover your next adventure with ease by using Viator which allows you to explore a multitude of local tours, ensuring you find the best experiences at the best prices.
🚘 Car rental
Rentalcars is the best tool for comparing prices for your date amongst the most popular rental car companies!
Fun things to do in Cabo in December
Swim with whale sharks
Swimming with whale sharks is one of the most unique things to do in Cabo San Lucas! It should be on every adventurer's bucket list.
Whale sharks are the largest fish in the ocean, and migrate to the waters surrounding Cabo during the winter months. Their docile nature provides a captivating encounter for those fortunate enough to swim alongside them.
These mesmerizing creatures can reach lengths of up to 40 feet (12 meters). They present a once-in-a-lifetime chance to witness their beauty up close.
While weather conditions can occasionally impact such excursions (our trip was unfortunately canceled), the months from October to March generally offer favorable conditions for swimming with whale sharks in Cabo.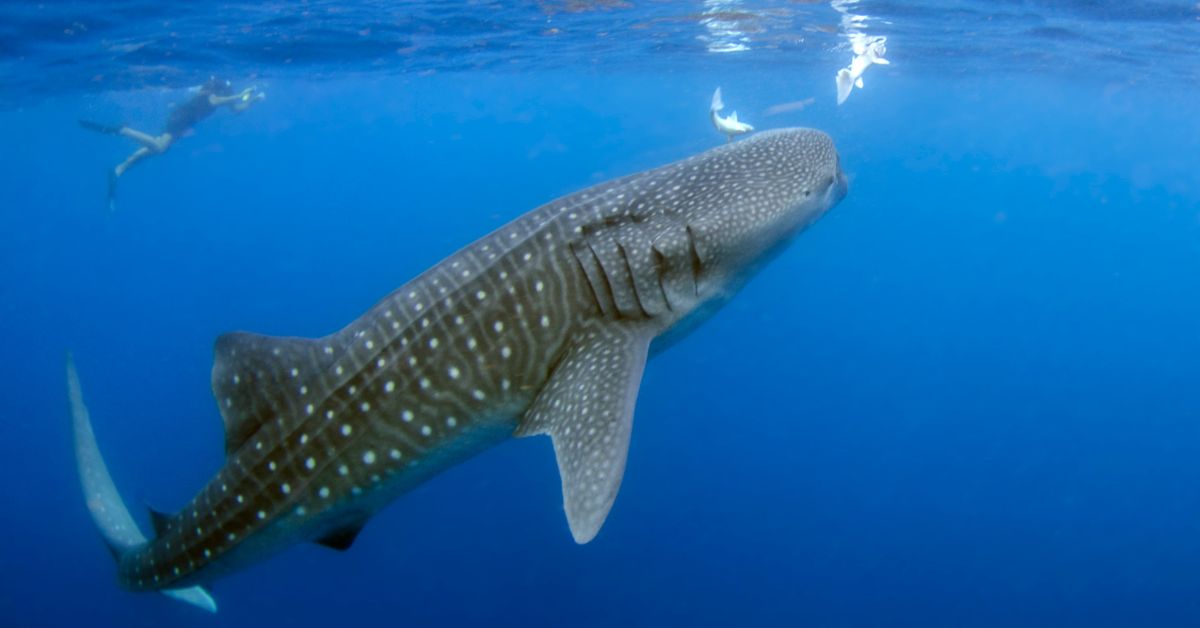 Snorkel and boat day
We had the BEST time on our snorkel and boat day with Cabo Adventures! The tour offers an unforgettable snorkeling experience in the crystal-clear waters of two beautiful bays. Sail on a luxurious catamaran to explore Santa Maria Bay and Chileno Bay. These are renowned for their vibrant marine life and pristine coral reefs.
Upon arrival at the bay, you'll have the opportunity to snorkel and discover the underwater wonders. Also, swimming alongside tropical fish, colorful coral formations, and other fascinating sea creatures. The tour provides all the necessary snorkeling equipment and guidance, ensuring a safe and enjoyable experience for all skill levels. We even were able to spot whales breaching in the distance!
After snorkeling, you can relax on the spacious sun deck of the catamaran. You can soak up the sun and sipping on refreshing drinks from the open bar. A delicious lunch is also provided onboard, offering a variety of dishes to satisfy your appetite.
⛵️ Up for a Cabo boat day?
Snorkel, relax, and enjoy refreshing drinks, and lunch with Cabo Adventures!
Click herе to book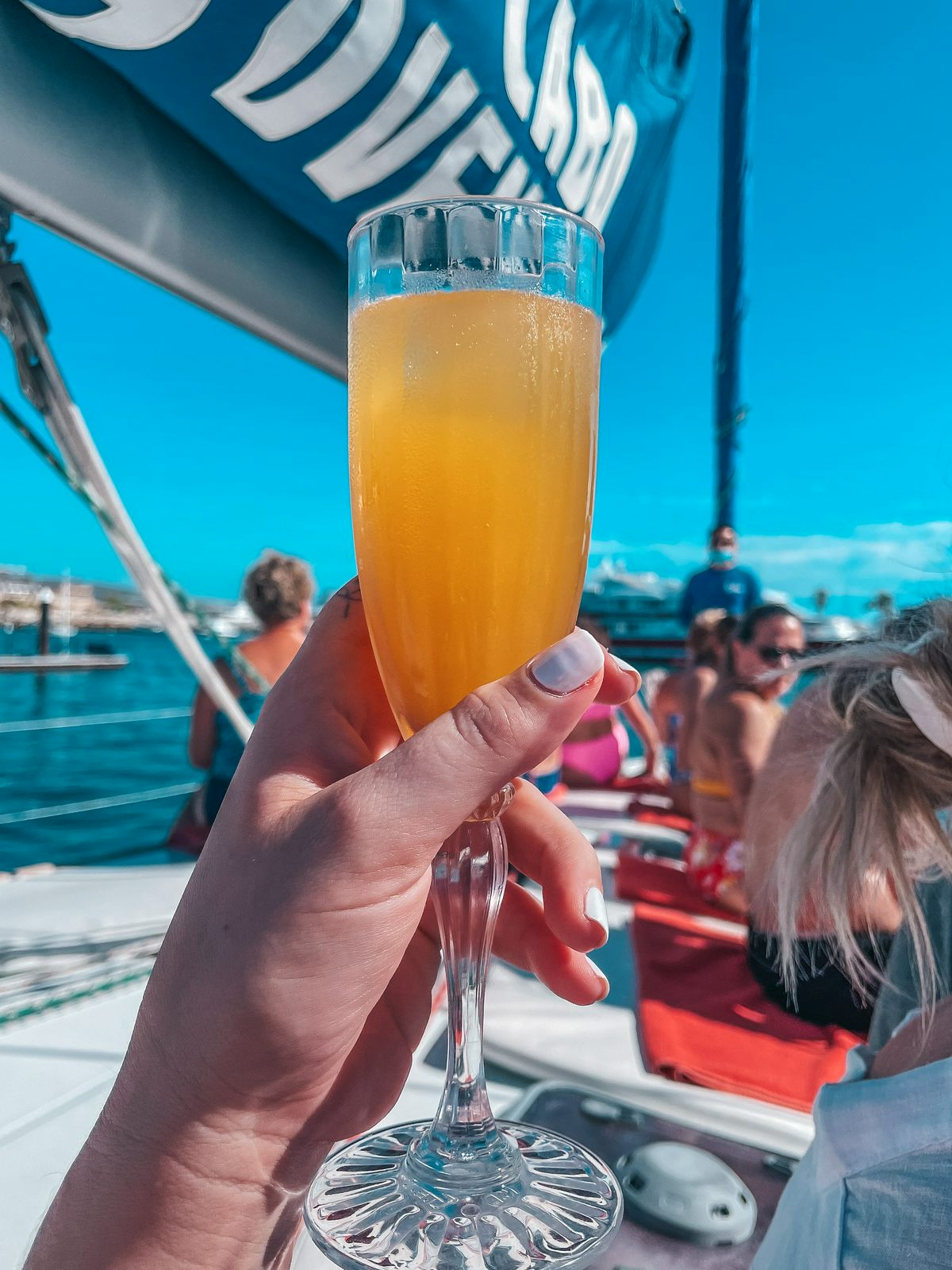 Go ziplining
Ziplining in Cabo offers an incredible perspective of the region's scenic beauty! Soar through the air as you traverse canyons and valleys, taking in breathtaking views of towering cliffs and lush landscapes. This adrenaline-pumping activity is perfect for those seeking an exhilarating experience and a unique way to connect with the natural wonders of Cabo.
This highly recommended zipline tour includes lunch, soaring over the dramatic curves of desert canyons, and driving a powerful UTV on off-road trails!
🌴 Zipline Cabo
Zip from platform to platform, and gain a deeper appreciation for the natural wonders that make Cabo such a captivating destination!
Click herе to book your tour!
Do an ATV tour
Another exhilarating Cabo activity is an ATV tour. Ride through rugged terrains, sandy beaches, and desert trails while experiencing the thrill of off-road exploration. With experienced guides leading the way, you can safely navigate the diverse terrain and witness stunning views of the surrounding natural beauty.
This 3-hour ATV tour includes a Mexican buffet lunch, a tequila tasting, and an opportunity to discover parts of Cabo San Lucas that are inaccessible by traditional tour vehicles.
🐪 Camel ride in Cabo
This slightly more expensive tour includes a camelback desert tour!
Click herе to book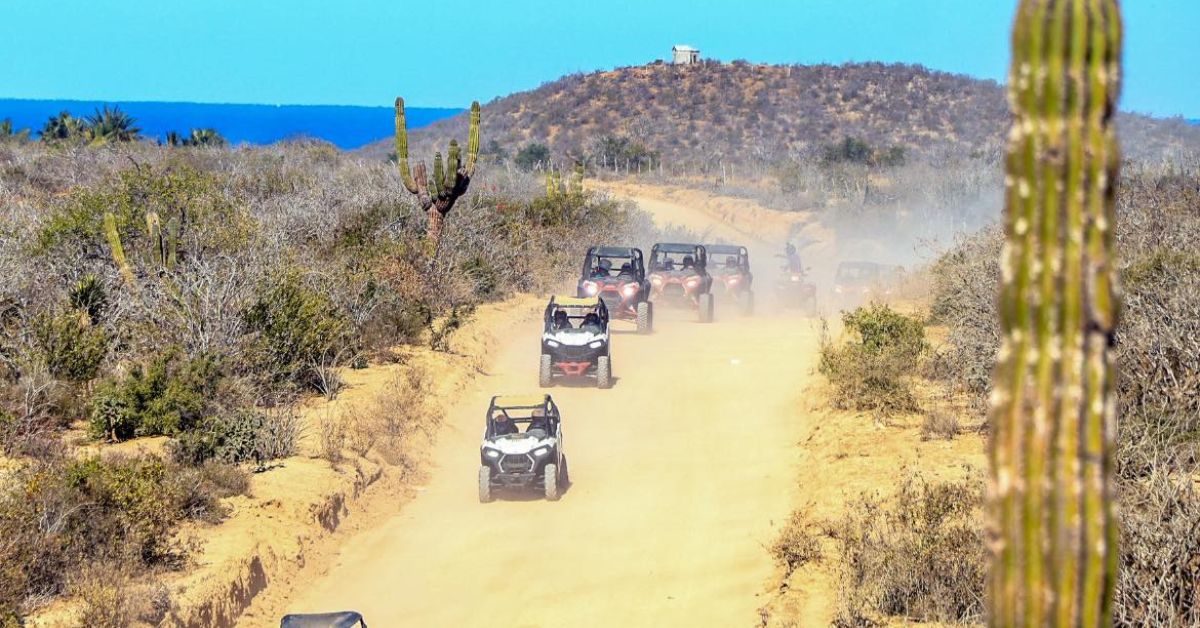 Boat tour to visit Lovers Beach
The Glass Bottom Boat Tour to The Arch offers an exciting and immersive experience to explore the iconic natural rock formations and marine life of the region. These natural wonders are a must-see when visiting Cabo in December! As you cruise along the picturesque coastline, the transparent bottom of the boat provides a unique perspective, showcasing the vibrant marine ecosystem beneath.
The tour allows for drop off and pick up at Lover's Beach and highlights the famous Arch of Cabo San Lucas, a majestic rock formation that stands as a symbol of the region. Keep your eyes peeled for playful dolphins, sea lions, and various species of tropical fish that inhabit the crystal-clear waters!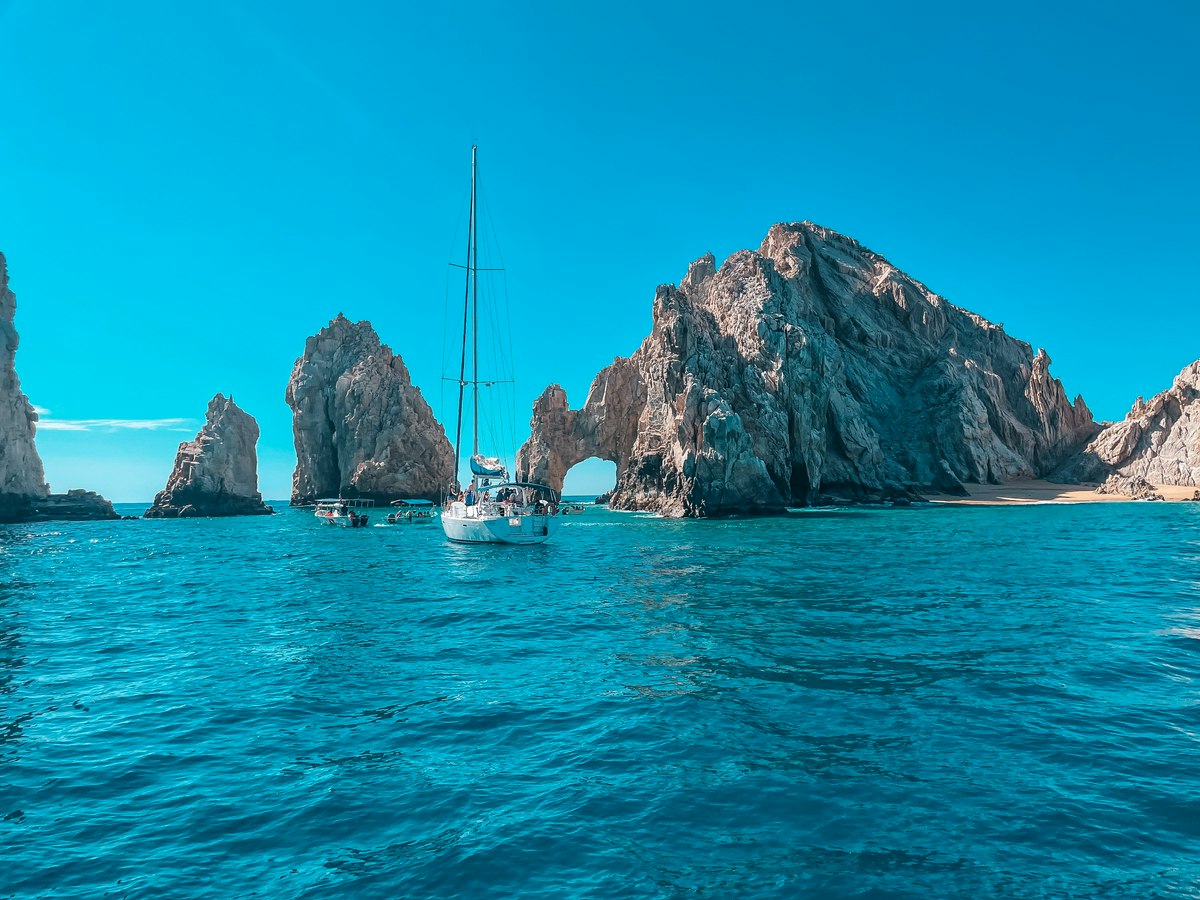 Relax at Medano Beach
Relaxation awaits you on the stunning shores of Medano Beach in Cabo. This picturesque stretch of golden sand and crystal-clear waters offers the perfect setting for unwinding and soaking up the sun. As one of the most popular and accessible beaches in Cabo, Medano Beach provides a laid-back atmosphere with a variety of amenities and activities to suit your preference.
Medano Beach is also home to a vibrant beachfront scene, with beach clubs and bars offering delicious food and refreshing cocktails for you to enjoy. From sipping on a tropical drink to indulging in fresh seafood, you can immerse yourself in the relaxed ambiance while taking in the breathtaking views of the ocean and the iconic Land's End Arch in the distance.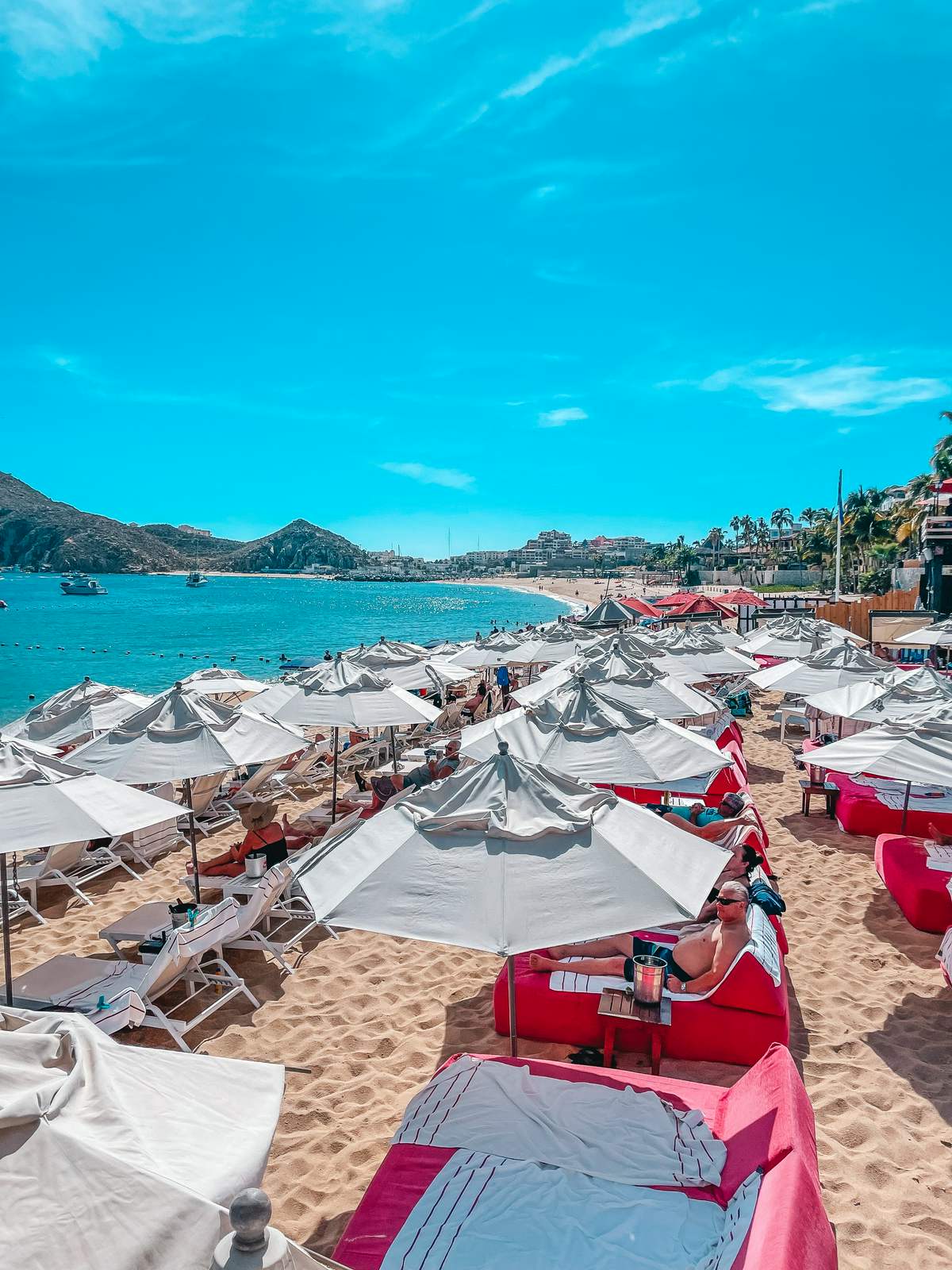 Glass bottom kayak tour
Embark on a unique adventure with a glass bottom kayak tour in Cabo, where you can paddle across the pristine waters while marveling at the vibrant marine life beneath you. These specially designed kayaks offer a transparent view into the underwater world, allowing you to witness the colorful coral reefs, tropical fish, and other marine wonders without getting wet.
As you glide across the crystal-clear waters, the captivating beauty of the Sea of Cortez unfolds beneath you, creating an unforgettable experience.
You'll have the opportunity to explore the beach, soak up the sun, and even snorkel around Pelican Rock! The tour also includes insightful commentary about the local ecosystem, geology, and history of the area.
🐠 Glass Bottom Kayak Tour
With its combination of adventure, natural beauty, and educational elements, this tour offers an unforgettable experience in Cabo San Lucas!
Click herе to book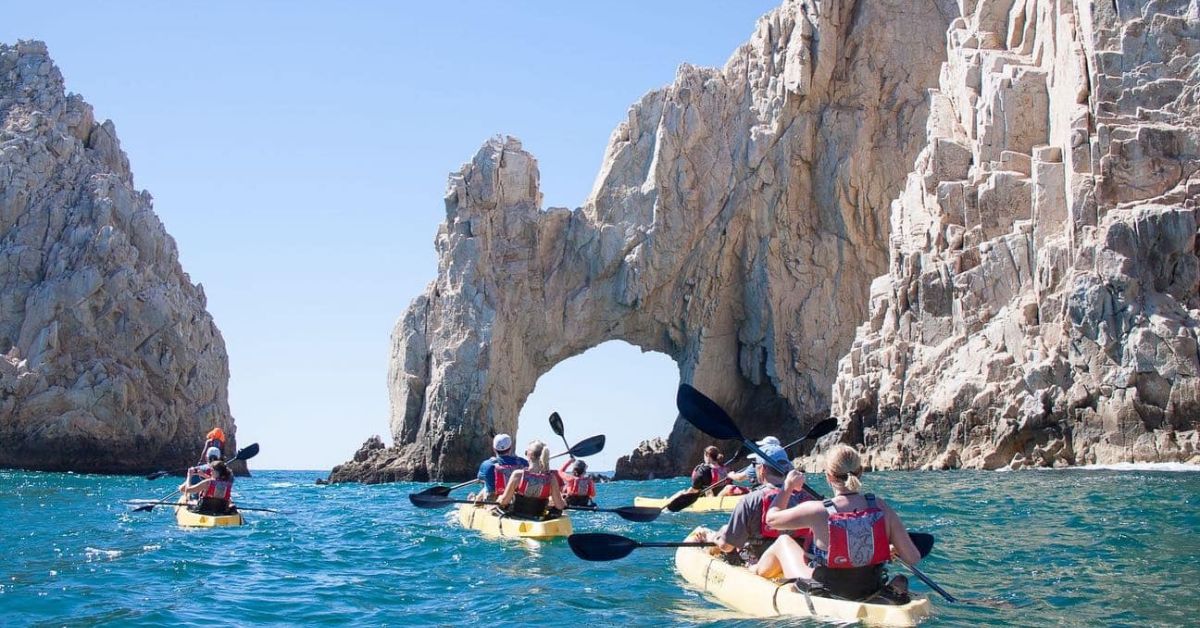 Indulge in the cuisine
Whether you're visiting Cabo in December or any other time of the year, enjoying the amazing food here is a MUST! Be prepared to indulge in the flavors and admire the beautiful vibrant presentations. Check out a list of some of the best Cabo San Lucas restaurants below!
Cabo breakfast and lunch restaurants:
A cozy and inviting café that offers a delightful atmosphere for coffee enthusiasts. The menu features a wide variety of coffee options, from classic espresso-based drinks to specialty creations. The prices are reasonable, making it an excellent choice for a quick caffeine fix!
A vibrant and colorful restaurant that celebrates the rich culinary traditions of Mexico. Located in the heart of Cabo's historic district, this charming eatery exudes an authentic and lively atmosphere. Step into Los Tres Gallos and be transported to a world of vibrant Mexican culture and flavors. With its cheerful décor, colorful tiles, and charming courtyard setting, Los Tres Gallos offers a welcoming and festive ambiance. The restaurant also features live music performances, adding to the vibrant atmosphere!
A casual and lively eatery that celebrates the culinary delights of Mexican street food. Located in downtown Cabo, this popular spot offers a vibrant and energetic atmosphere, perfect for enjoying delicious tacos and exploring the world of mezcal (which ya'll know is my favorite spirit!).
A trendy and vibrant restaurant with modern and stylish decor known for its fusion of global flavors, combining traditional Mexican ingredients with international culinary influences. The menu features dishes such as fresh ceviche and flavorful tacos to mouthwatering grilled meats and seafood, each dish is carefully crafted using locally sourced ingredients. They also offer rooftop dining!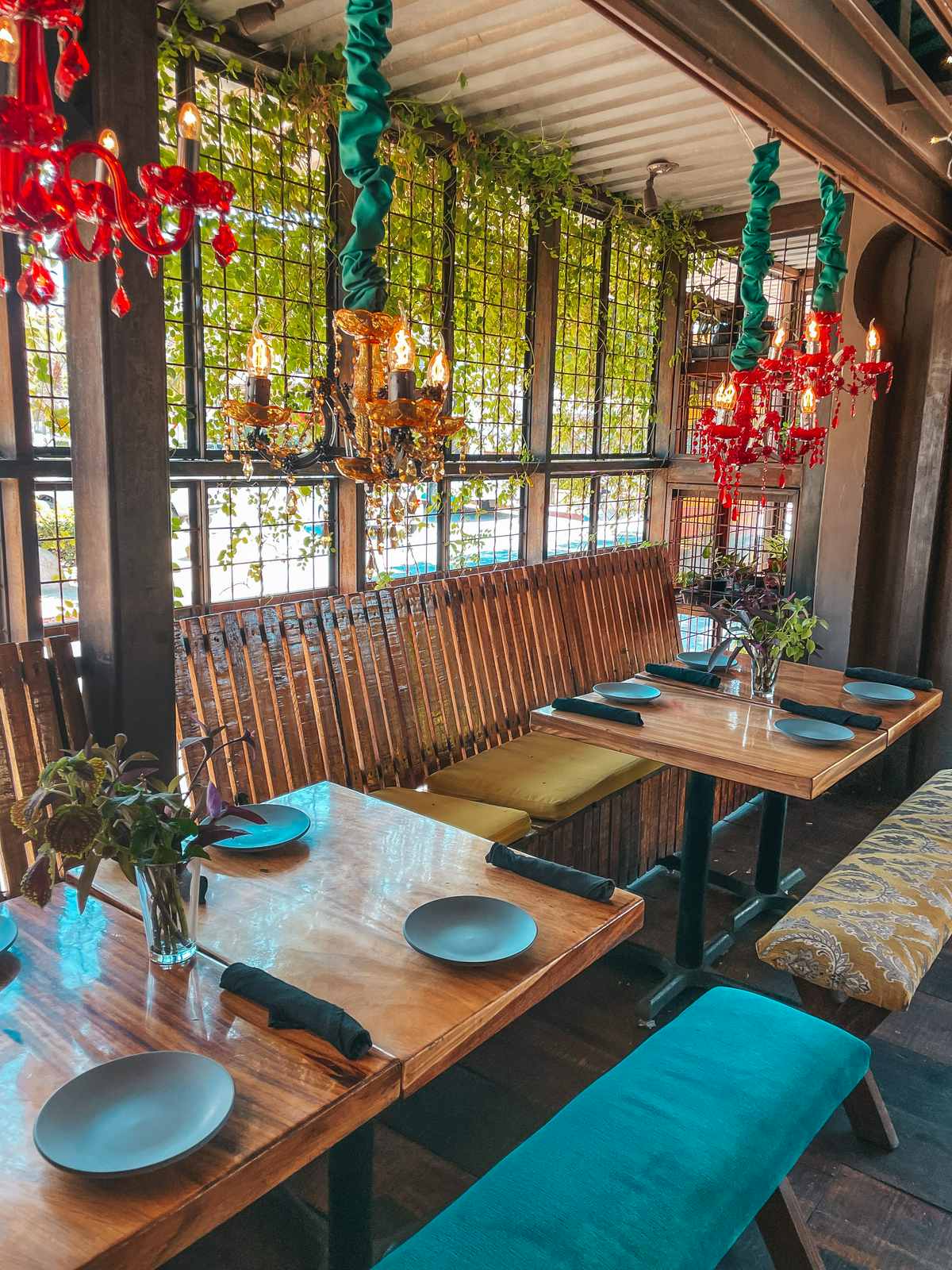 Cabo beach clubs and beachfront dining fit for day drinking:
A legendary restaurant and bar located right on Medano Beach. With its laid-back and festive atmosphere, The Office embodies the essence of beachfront dining in Cabo. Sip on a refreshing margarita or a cold beer as you take in the stunning ocean views and soak up the lively beachfront ambiance.
Located right on Medano Beach, Mango Deck offers a prime spot to enjoy a delicious meal with your toes in the sand or sip on tropical cocktails while taking in the ocean views. It is also known for its lively entertainment, with live music, contests, and a lively party atmosphere.
A trendy and stylish beach club offering a tranquil and relaxing escape. With its pristine white sands, crystal-clear waters, and swaying palm trees, this exclusive beach club provides a slice of paradise for visitors. Lounge on comfortable beach chairs, dip your toes in the refreshing ocean, and indulge in delicious food and refreshing drinks at the beachfront restaurant and bar.
Known for its breathtaking views and luxurious infinity pool, this rooftop oasis offers a sophisticated and upscale atmosphere where guests can indulge in relaxation and take in the stunning surroundings. The chic lounge area provides ample seating options where guests can socialize, sip on crafted cocktails, and savor delicious bites from the rooftop bar and restaurant. The attentive staff ensures that your every need is met, even offering poolside massages!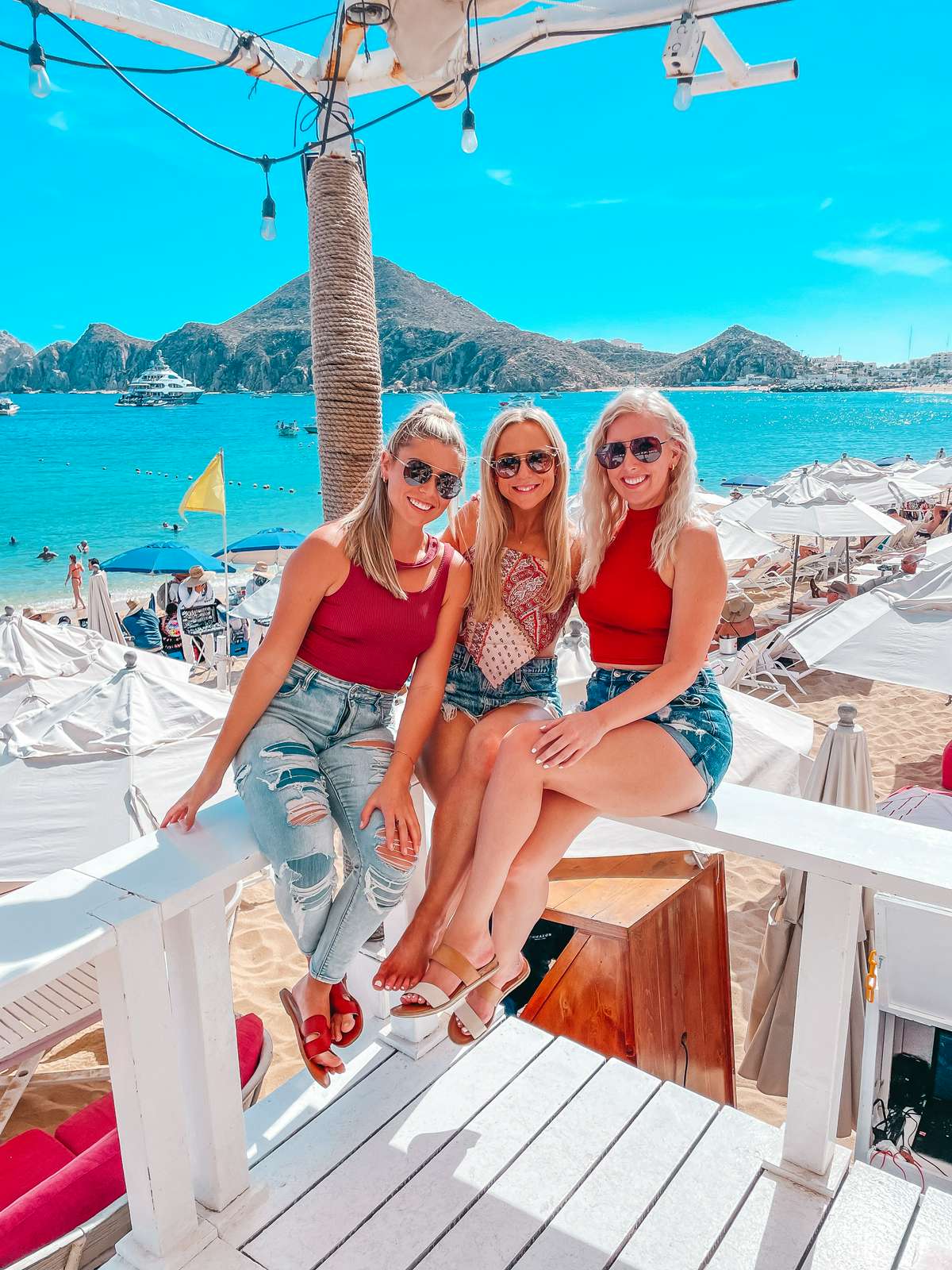 Must-visit Cabo dinner restaurants:
A charming and highly regarded restaurant known for its exquisite Mexican cuisine and stunning beachfront setting. Nestled within the luxurious Hacienda Beach Club & Residences, the restaurant offers a blend of traditional Mexican flavors with a modern twist.
The menu at Hacienda Cocina y Cantina features a variety of authentic Mexican dishes made with locally sourced ingredients, showcasing the rich and diverse flavors of the region. Guests can also enjoy a wide selection of tequilas, mezcal, and handcrafted cocktails from the well-stocked bar.
Located near the marina, this upscale establishment offers a fusion of Mexican and international flavors with a focus on fresh seafood. The menu features mouthwatering dishes such as grilled lobster and signature seafood platters.
Additionally, the restaurant boasts breathtaking views of the Pacific Ocean, allowing guests to enjoy a memorable dining experience while taking in the spectacular coastal scenery.
Perched on the cliffs of Pedregal, El Farallon is an extraordinary seafood restaurant that offers a truly breathtaking setting. With panoramic views of the Pacific Ocean, this iconic establishment creates an ambiance of elegance and luxury.
The menu boasts a wide selection of fresh seafood, including the finest oysters, lobsters, and fish. The intimate candlelit setting and impeccable service add to the allure of dining at El Farallon, making it an ideal choice for a special occasion or a romantic evening.
A captivating restaurant perched on a cliff overlooking the Sea of Cortez. This award-winning dining destination combines gourmet cuisine with a stunning backdrop of breathtaking ocean views.
The menu showcases a fusion of Mediterranean and Mexican flavors, with an emphasis on locally sourced ingredients. Guests can choose to dine indoors or on the spacious terrace, both offering a front-row seat to the mesmerizing sunsets that Cabo is renowned for.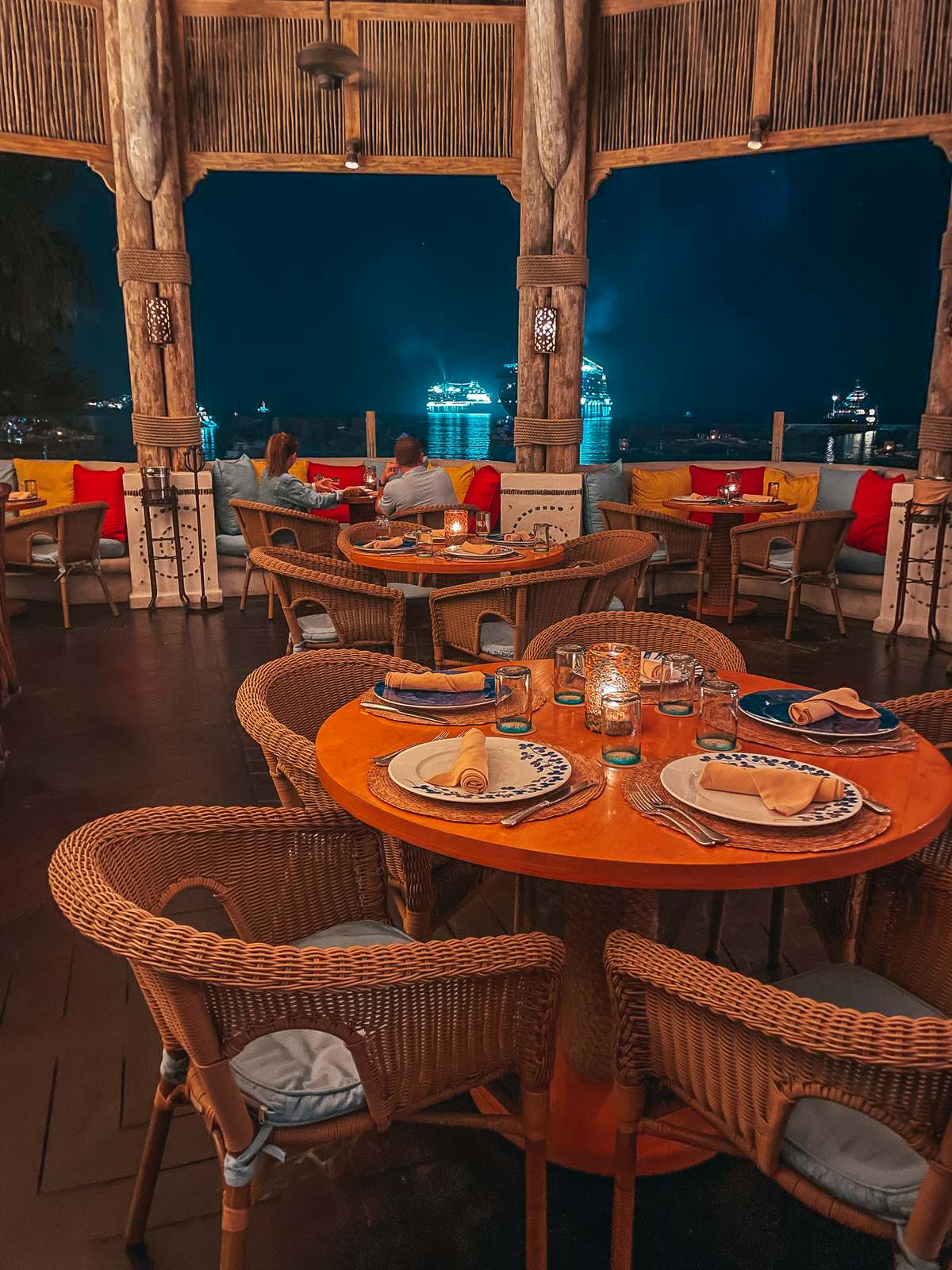 Enjoy Cabo nightlife
Experiencing Cabo's nightlife is an exhilarating and unforgettable adventure. From pulsating nightclubs to lively beachfront bars, Cabo San Lucas offers a vibrant and diverse nightlife scene that caters to every taste! The energy is contagious as locals and tourists come together to dance, socialize, and enjoy live music.
With world-renowned venues, talented DJs, and an atmosphere that exudes excitement, Cabo's nightlife promises endless fun and memorable moments that will keep you coming back for more.
Be sure to check out Squid Roe, a legendary bar and nightclub in the heart of Cabo's nightlife scene. This multi-level venue is known for its lively atmosphere, energetic staff, and unforgettable party vibes. Just walking around downtown you're sure to come across plenty of bars that call your name!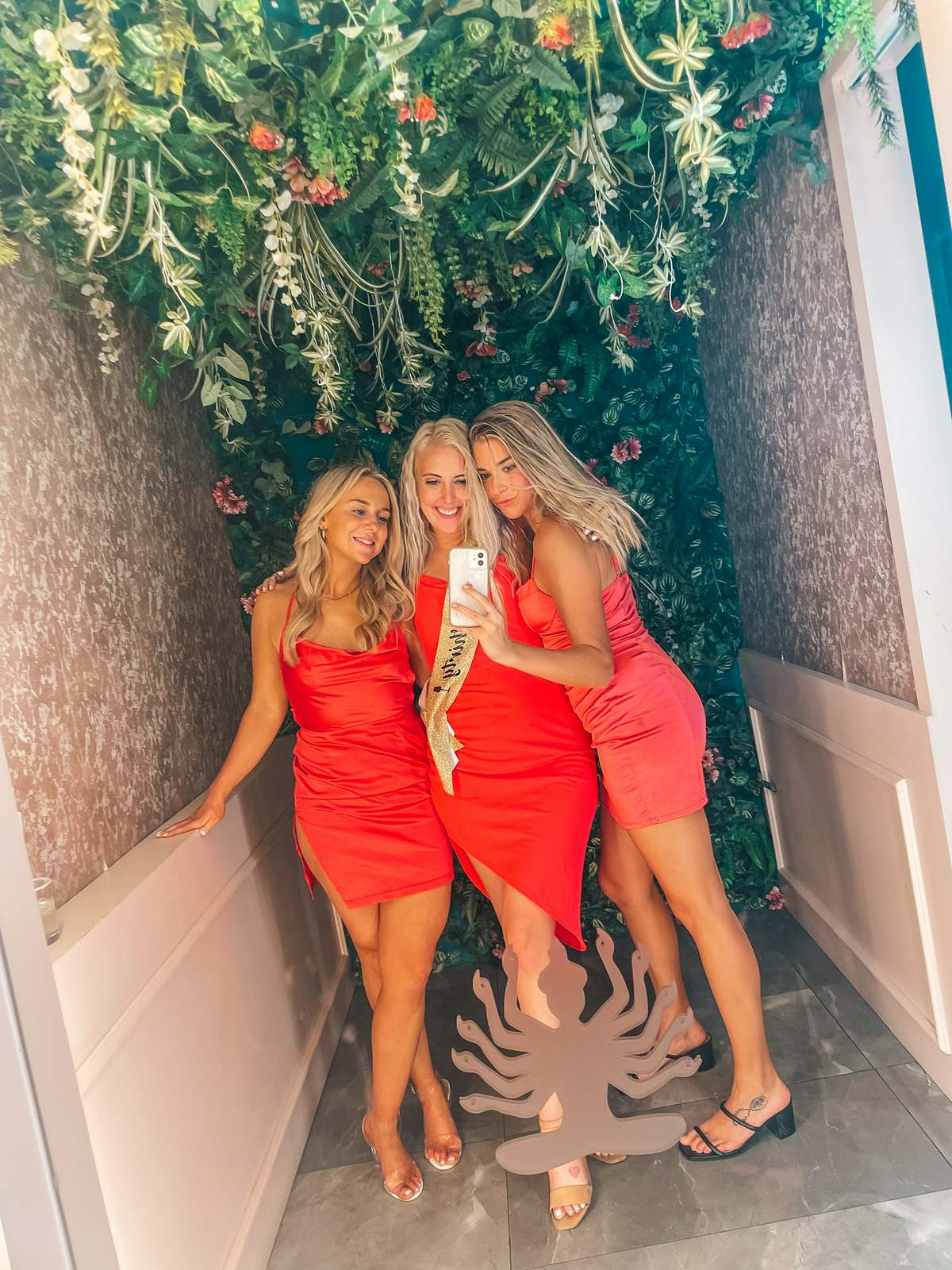 Getting around in Cabo
Cabo has a variety of transportation options available to get you around town. The most popular and reliable way to get around is by taxi. Taxis in Cabo are plentiful and can be hailed from any major street corner or hotel. If you prefer to take an Uber, these are also available throughout the city.
For those who are staying within the city limits, there's no need to rent a car as taxis and Ubers can easily get you where you need to go. However, if you plan on exploring the region more extensively or taking day trips outside of the city, it may be worthwhile to consider renting a car.
There are also many tour companies that offer excursions with transportation included. If you book a tour, you don't have to worry about navigating the area or finding a taxi. This can be a great option for those who want to explore Cabo but aren't comfortable driving in a foreign country.
We didn't feel renting a car was necessary since our condo was conveniently located in town, and our excursions all provided transportation.
Where to stay in Cabo in December
Resorts
When it comes to accommodations in Cabo, one of the most popular options is staying at resorts, which offer a wide range of amenities and services. Two of the most renowned resorts in Cabo San Lucas are The Cape, a Thompson Hotel, and Grand Solmar Land's End Resort & Spa.
The Cape, a Thompson Hotel, is a luxurious oceanfront resort that offers stunning views of the iconic Arch of Cabo San Lucas. With its modern and sophisticated design, the resort provides a stylish and upscale atmosphere. Guests can indulge in spacious rooms and suites with private balconies, plush amenities, and contemporary decor.
The Grand Solmar Land's End Resort & Spa is an award-winning resort that offers a tranquil and luxurious retreat with its spacious suites, elegant furnishings, and top-notch amenities. The resort features infinity pools, a world-class spa, fitness center, and several dining options. Guests can relax on the pristine beach, take part in water activities, or enjoy a rejuvenating treatment at the spa. With its impeccable service and stunning coastal views, Grand Solmar Land's End Resort & Spa promises a truly memorable stay.
For those seeking more affordable accommodations, a popular choice is the Marina Fiesta Resort & Spa. This resort offers comfortable rooms and suites, along with an array of amenities such as a swimming pool, spa services, and multiple dining options. The Marina Fiesta Resort & Spa provides a convenient location in the heart of Cabo San Lucas, close to the marina, shopping centers, and vibrant nightlife spots.
Check out Cabo resorts and hotels here!
VRBO
Another fantastic option for accommodations in Cabo is vacation rentals through platforms like VRBO (Vacation Rentals By Owner). This option is ideal for larger groups or families, offering spacious and private homes or condos with all the comforts of home.
We personally chose this option for our stay in Cabo, as we were traveling with a group of six. Our VRBO rental provided us with epic views, either within walking distance or a short Uber ride from everywhere we wanted to go. The place itself was stunning and incredibly spacious, complete with amenities like a grill and a hot tub, which added an extra level of enjoyment to our vacation.
VRBO offers a wide selection of properties to suit different preferences and budgets, allowing travelers to experience the beauty and convenience of Cabo in a home-away-from-home setting!
Cabo in December can be a busy time, but we were still able to secure our beautiful condo rental for around $250 per person for one week!
Check out rental options available for your dates here!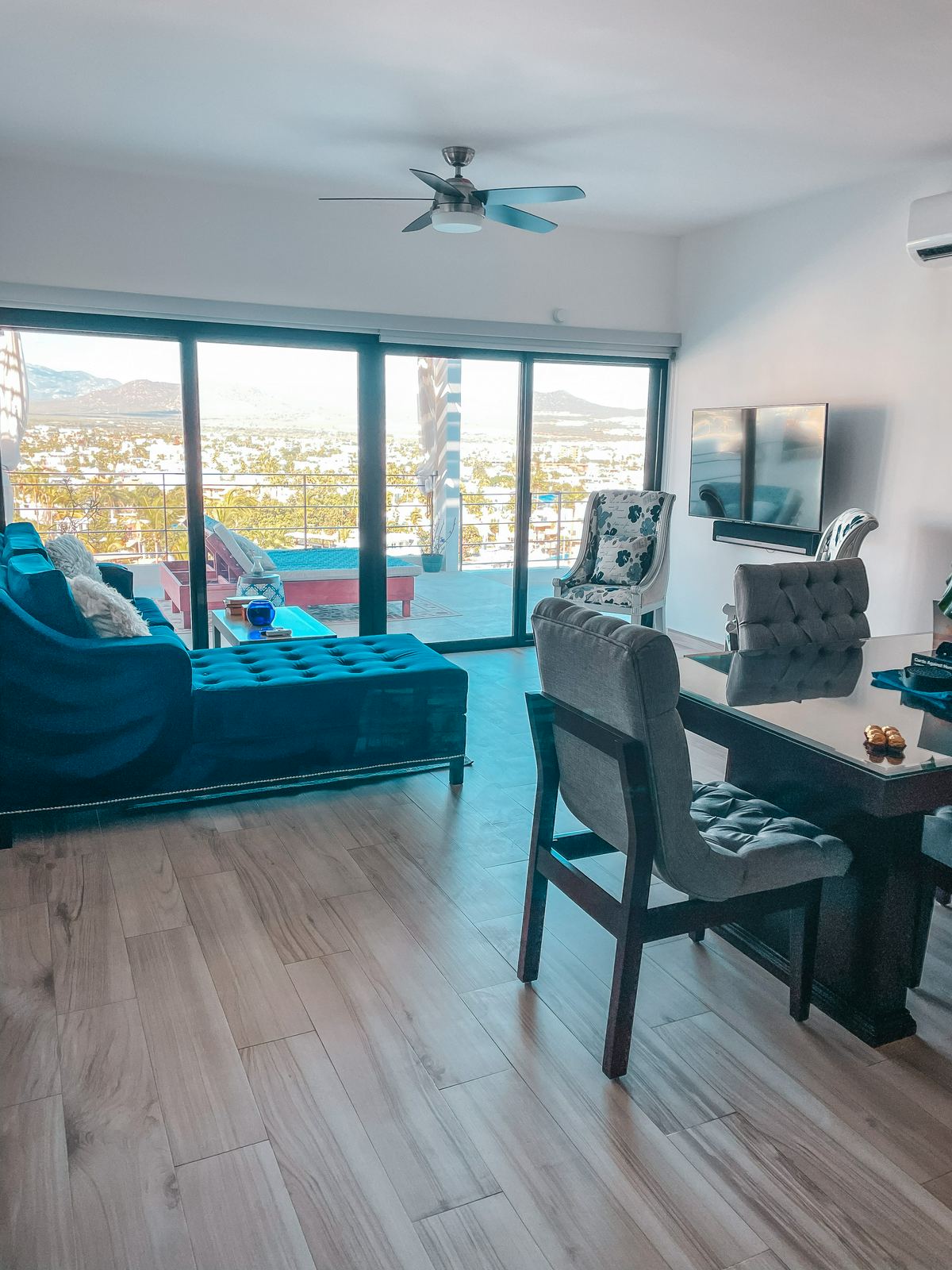 What to Pack for Cabo in December
If you're visiting Cabo in December, here's a brief list of essentials to ensure a comfortable and enjoyable trip:
Lightweight clothing: Pack breathable and lightweight outfits suitable for warm daytime temperatures, such as shorts, t-shirts, sundresses, and swimwear. Check out all of my beach destination faves here!
Sun protection: Bring sunscreen with a high SPF, sunglasses, and a wide-brimmed hat to shield yourself from the intense sun rays.
Layering options: Although daytime temperatures are pleasant, evenings can be slightly cooler. Pack a light jacket or sweater for the evenings or any unexpected temperature drops.
Beach essentials: Don't forget your beach towel, flip-flops or sandals, and a beach bag to carry your sunscreen, water bottle, and other beach necessities.
Comfort shoes: Bring along a pair of comfortable shoes that are great for walking and exploring.
Water activities gear: If you have room and don't plan on doing tours but want to snorkel, plan on snorkeling bring your snorkeling gear and water shoes.
Travel Documents: Remember to pack your passport, identification, travel insurance information, and any necessary travel documents to ensure a smooth journey.
Cash and cards: Carry a mix of cash and cards for convenience, as some establishments may prefer cash payment.
Adapters and chargers: If you're traveling from a different country, ensure you have the appropriate power adapters and chargers for your electronic devices.
Portable water bottle: Staying hydrated is essential, so bring a refillable water bottle to keep you refreshed throughout your adventures.
Tips for Traveling to Cabo in December
Plan ahead: Cabo is a popular tourist destination and can get very busy during December. It's best to plan your trip well in advance to ensure that you have the best chance of getting the accommodations, activities, and restaurants you want.
Book flights early: Booking flights as early as possible is key to finding the best prices and securing seats.
Bring appropriate attire: The weather in Cabo in December can range from warm and sunny to cool and rainy, so make sure you bring layers that you can add or remove depending on the conditions.
Research safety measures: It is important to research safety measures before visiting any destination, particularly one that is located in a different country. Be sure to read up on local safety protocols so that you can stay safe while exploring the area.
Don't forget your passport
Plan airport transportation ahead of time since you can't use Uber and Lyft. Book a shuttle beforehand and don't forget to book a round trip.
Make dinner reservations ahead of time, especially if it's a popular place, and especially if you have a group.
Get currency exchange and alert the credit card company going to be out of town.
Respect local customs and traditions. Show respect for the local culture, traditions, and etiquette when interacting with the locals. Learning a few basic Spanish phrases can also go a long way in enhancing your travel experience.
Look into travel insurance. We actually had to cut our trip short because we got COVID and were unable to get money back for our stay and tours we had already booked.
Ready to pack your bags for Cabo?
Cabo in December offers a unique and enchanting experience for travelers seeking a winter getaway. From the idyllic beaches and crystal-clear waters to the captivating landscapes and vibrant marine life, Cabo has something to offer for every type of traveler. Whether you're seeking adventure and adrenaline-fueled activities or you prefer to unwind and relax, Cabo provides a perfect blend of natural beauty, thrilling adventures, and serene relaxation.