This post contains affiliate links which means that I will make a small commission if you purchase a product after clicking on any of them, at no extra cost to you.
If you're looking for the best places to eat in Tampa, then you're in luck! There are plenty of delicious Sparkman Wharf restaurants to choose from. Whether you're in the mood for seafood, tacos, pizza, burgers, or something else, you'll find a variety of tasty options in the area. In this blog post, I'll share with you some of the top Sparkman Wharf restaurants that you gotta check out!
PS, if you're in search of a good coffee shop, Shortwave Coffee just opened in Sparkman and their strawberry basil latte put them on the list for one of the best coffee shops in Tampa!
Sparkman Wharf restaurants
Gallito Taqueria
A modern taqueria putting a twist on classic Mexican street food, Gallito Taqueria offers a variety of delicious tacos, burritos, and quesadillas. They use fresh, authentic ingredients. Because they are located in Sparkman Wharf, you can enjoy their tasty Mexican cuisine with a waterfront view.
Gallito Taqueria's specials are also something to look forward to. For Taco Tuesdays they offer two street tacos for $6. So if you're looking for a great deal to go along with your delicious meal, you know where to find it.
I went with their fried fish taco and grilled mojo chicken taco and was blown away by how powerfully flavored they were! 10/10 recommend this spot if you're craving good street tacos.
Aside from their Sparkman Wharf location, they also have a location in Lakeland that offers the same great food and drinks.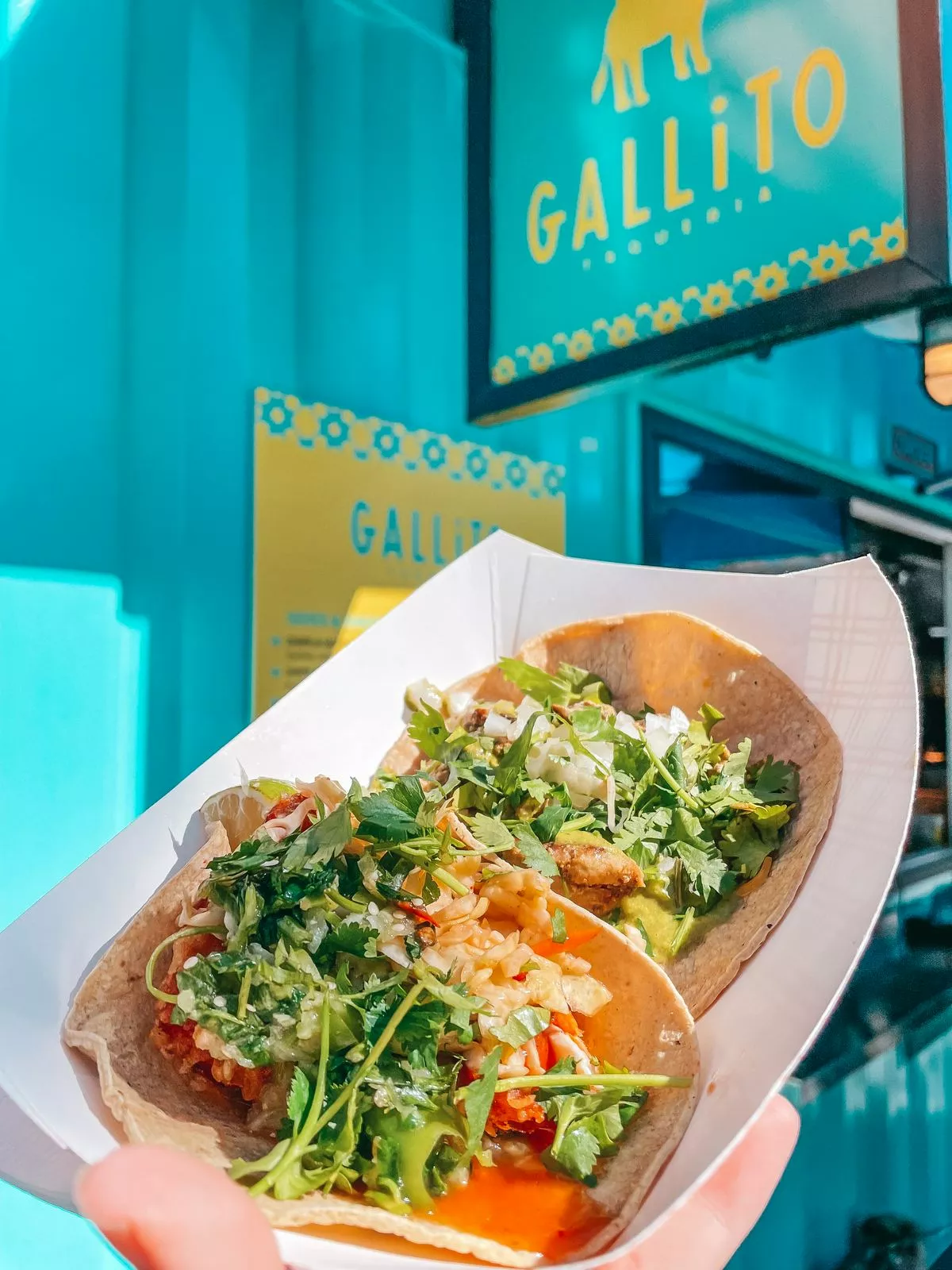 Noble Rice
Noble Rice in Channelside is an expansion of the popular Hyde Park restaurant of the same name, which closed at the onset of the pandemic. The old space has since been reopened as Koya, a high-end omakase spot.
Noble Rice itself has a modern Japanese menu with high-quality fish and seafood dishes that are inventive and delicious as well as a full bar focused on Japanese whiskey and sake.
The price points may seem a little higher than your typical sushi restaurant, but they fly their seafood in weekly from Japan to ensure quality and freshness. It's a great dinner restaurant if you're trying to impress a date! They even offer uni and toro as menu highlights. We loved their toro tartare.
I had my first, but certainly not my last, milk-bread experience. It was truly heavenly! I also highly recommend their tempura poke roll. Each roll gets its own shoyu sauce. This one was paired with a white shoyu and it complimented it perfectly.
If you want to dine at one of the best restaurants in Tampa, make reservations here!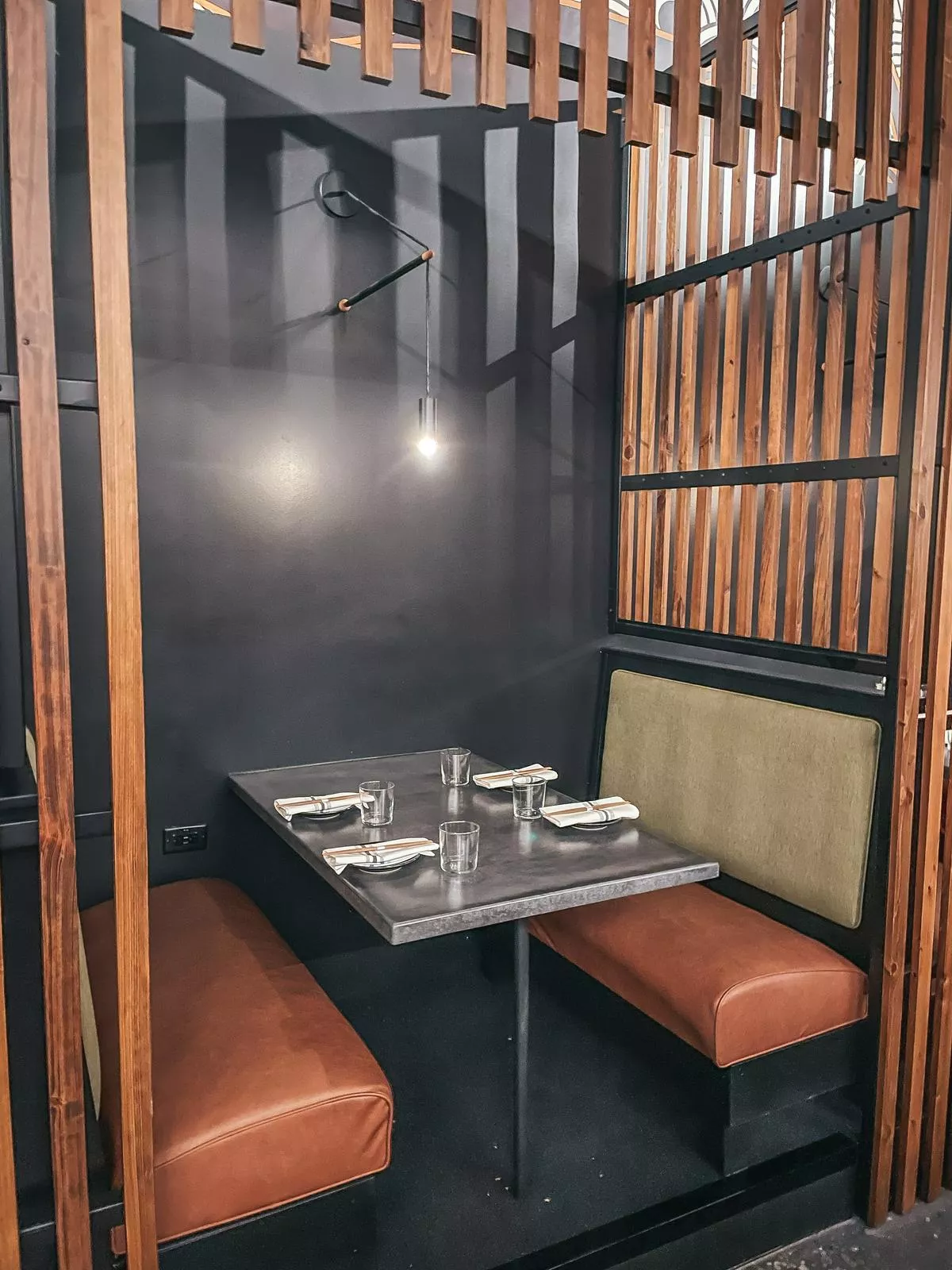 Edison's Swigamajig
Edison's Swigamajig is a no-frills dive bar and fish kitchen container shanty. It's all about cocktails and the catch! Enjoy the unique creations of Chef Pierola's menu of new flavors that go beyond clarified butter and Old Bay.
The seafoodie menu changes daily with the fresh catch, so you'll have a different experience every time you visit. Edison's Swigamajig is the perfect place to relax, sip on delicious cocktails, and savor some of the freshest seafood in town. Stop by to see what new and exciting flavors await!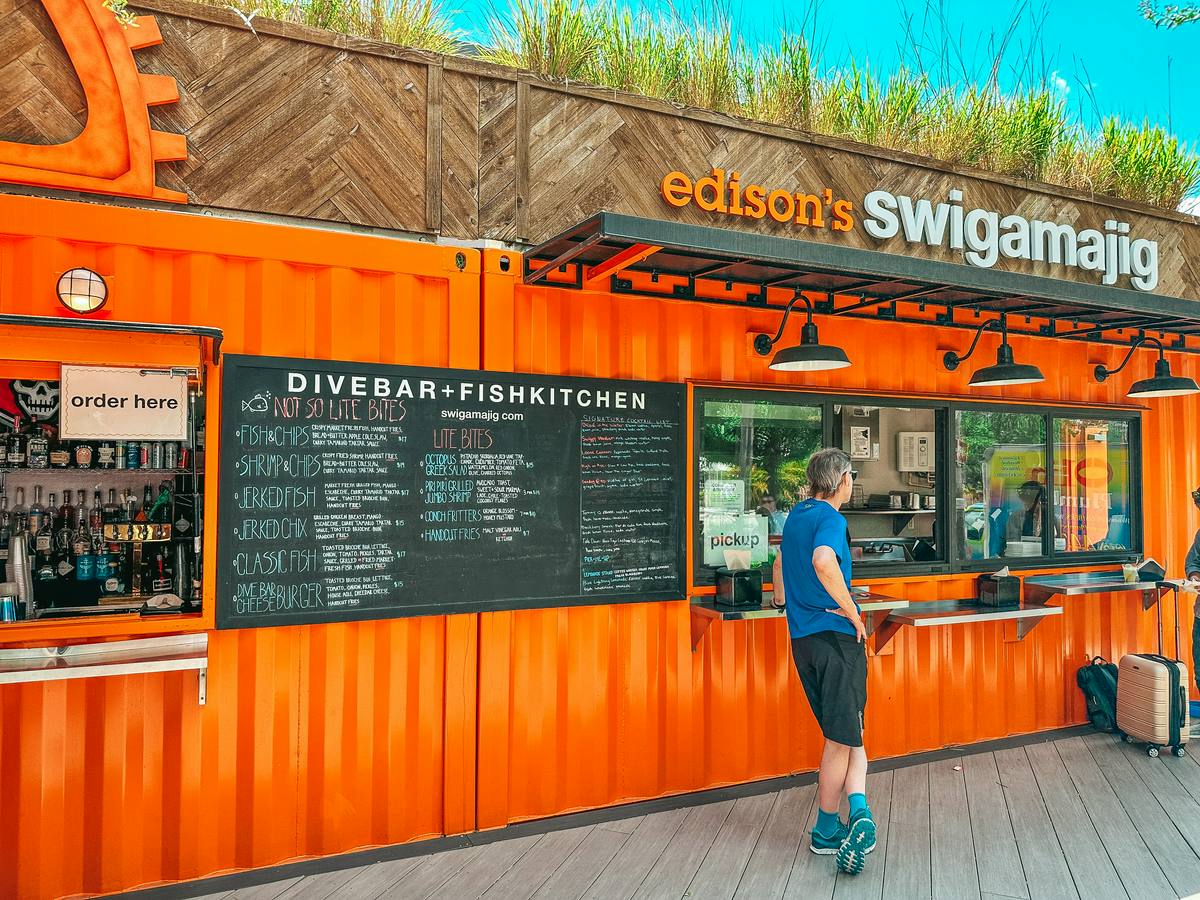 Dang Dude
Dang Dude is a casual restaurant at Sparkman Wharf that's owned by the same group as Nebraska Mini Mart, Gallito Taqueria, and their newest addition Lunch Lady. If you eat here expect to experience creative and delicious takes on Asian fusion cuisine. With familiar flavors like spicy beef and ginger garlic fried rice, these umami-packed dishes are fun, delicious, and sure to please everyone at your table.
We ordered their chilled sesame noodles and loved the marrying of flavors that were present. It had a good kick, but we loved it! I rarely order cold noodle dishes, I actually don't know that I ever have, but this dish was such a treat for our tastebuds.
Don't forget to sample their boozy boba – it's one of their most popular drinks. Dang Dude is also very accommodating when it comes to dietary restrictions. They use vegan, homemade fish sauce, gluten-free noodles, and dumpling wrappers when needed so everyone can enjoy their food. Stop by today for a unique and flavorful meal!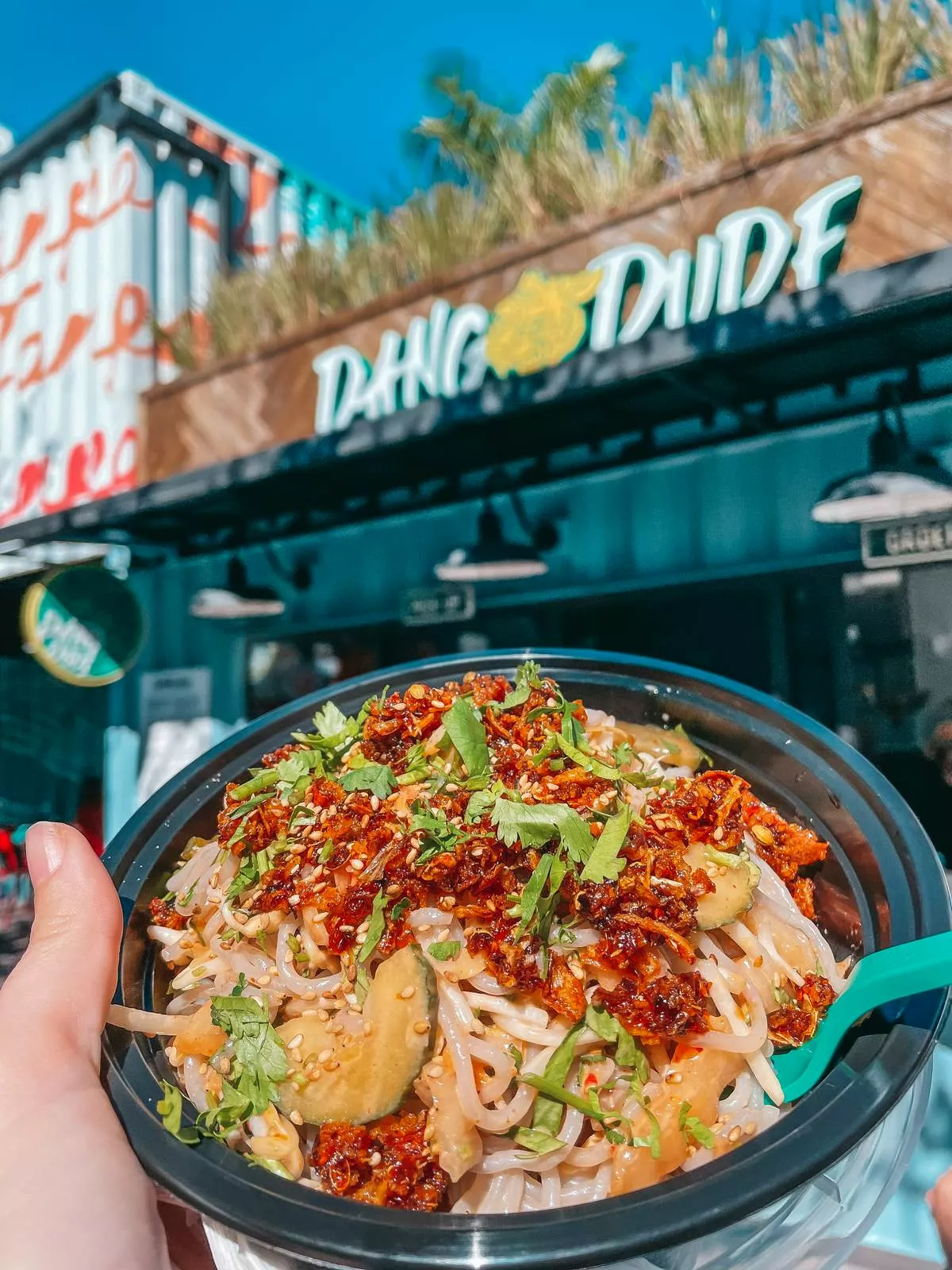 Lunch Lady
If you're looking for a fast-casual restaurant with fresh and locally sourced ingredients, you'll want to check out Lunch Lady. Lunch Lady offers pressed sandwiches, salads, juices, and teas made from scratch in-house.
For those looking for vegetarian or vegan options, Lunch Lady has you covered with plenty of delicious choices. The restaurant's sandwiches are inspired by the owners' culinary travels. You can expect to find traditional sandwiches with unexpected twists.
Remi and I decided to go with their umami salad and it was bursting with amazing flavors, and you could tell the ingredients were high quality! No matter what you order, you'll enjoy fresh ingredients that come together to create a meal that's both flavorful and satisfying.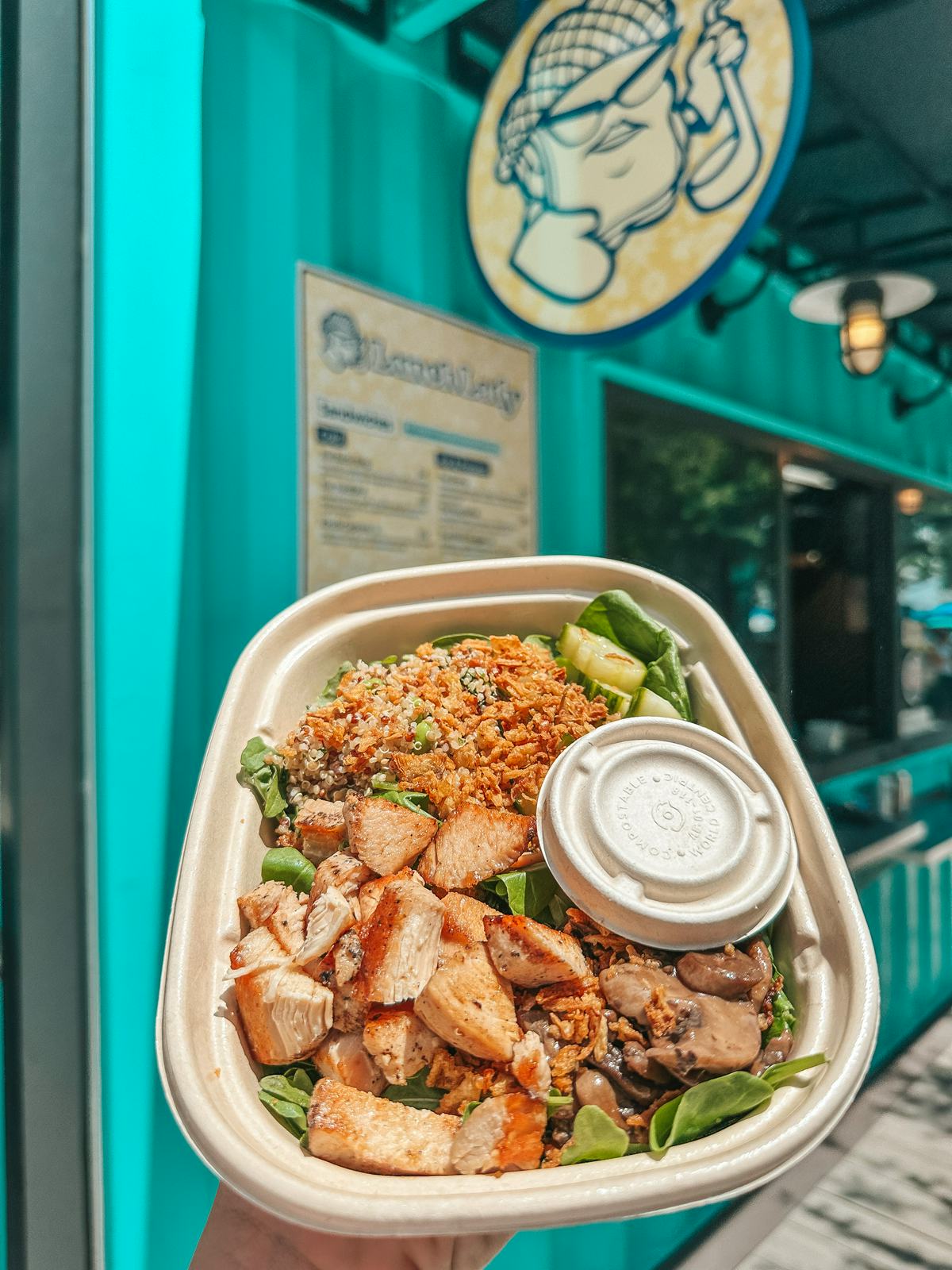 JoDog Craft Hot Dogs
If you're looking for a unique hot dog experience, look no further than JoDog Craft Hot Dogs, owned by Michelin-starred Chef Joe Isidori and Millennium Restaurant Group's Guy Revelle and Mark Gibson. JoDog Craft Hot Dogs serves up signature menu items like the New York City-style chili cheese dog, the Carolina Slaw Dog, the spicy Mexico City Dog, Joe's Famous Kimchee Dog, and the Hello Tokyo.
We got the Mexico City Dog and it was easily the best hot dog I've ever had. So many great flavors! Not to mention I just love that they are taking a total classic and putting these wild spins on it. I've heard great things about the Kimchee Dog and will definitely be making that my next victim.
Along with delicious hot dogs, JoDog will also serve crispy waffle fries and spicy loaded fries, as well as beverages including beer, sake bombs, and chilled signature cocktails.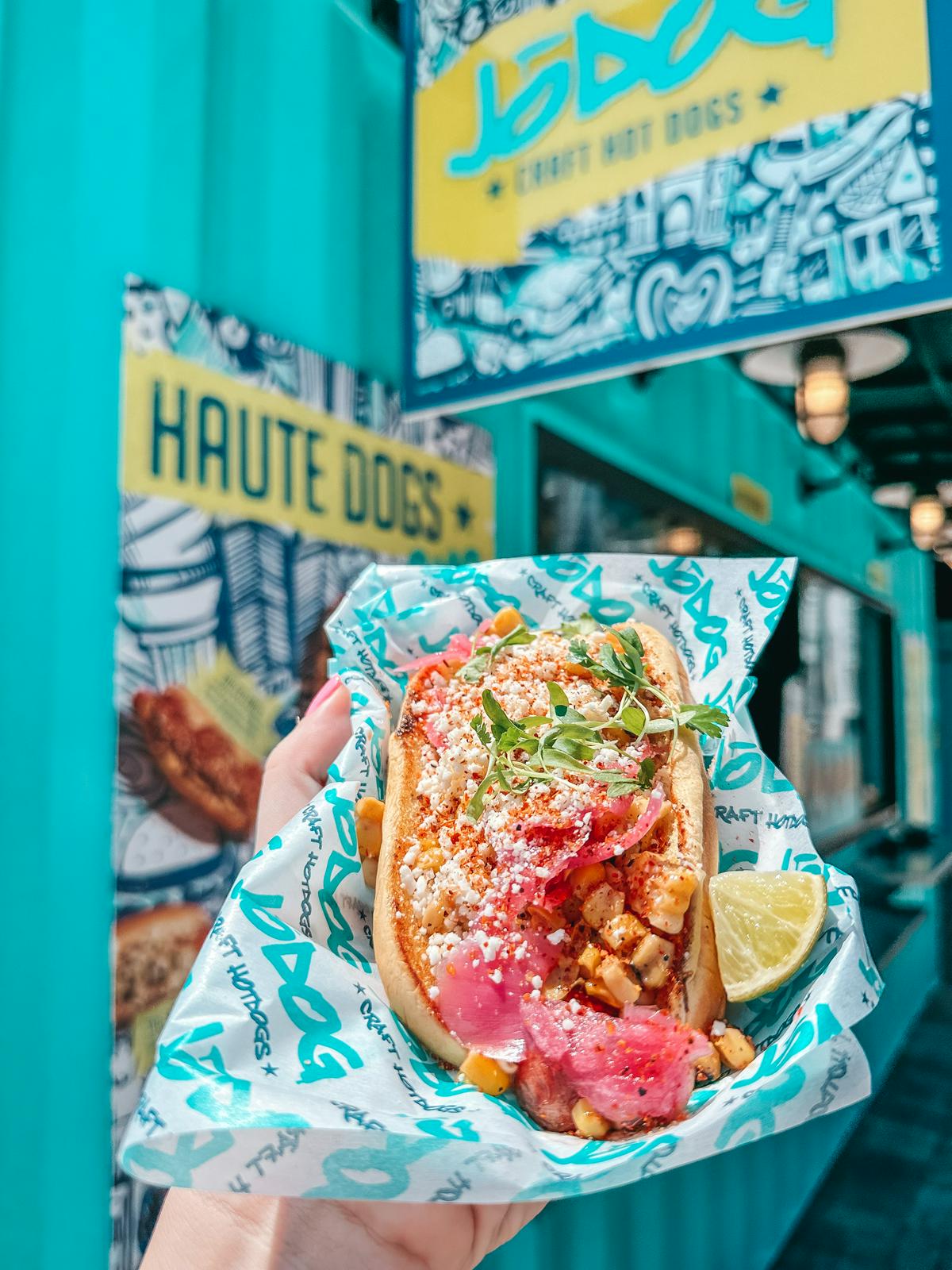 JoToro
If you're looking for a Michelin-star chef experience at Sparkman Wharf, head over to JoToro. This taco joint is helmed by Chef Joe Isidori and offers a menu of "Fine Mexican Provisions" featuring wood-fired tacos, knife-and-fork burritos, and salads.
JoToro also offers Mexico City-style street corn, grilled Thai watermelon feta salad, and spicy Vietnamese steak. In addition to the food, there are also craft-batched margaritas and premium tequila flights available. This restaurant offers a unique twist on Mexican cuisine and is sure to impress even the most discerning palates.
I fell in love with their flavor-packed supreme guac which included roasted corn, pico, jalapeño, pickled onion, tajín, cotija, and parm! We were pretty much full after that, but couldn't leave without trying their birria tacos, which were absolutely divine. If you go for Taco Tuesday all of their tacos are $5!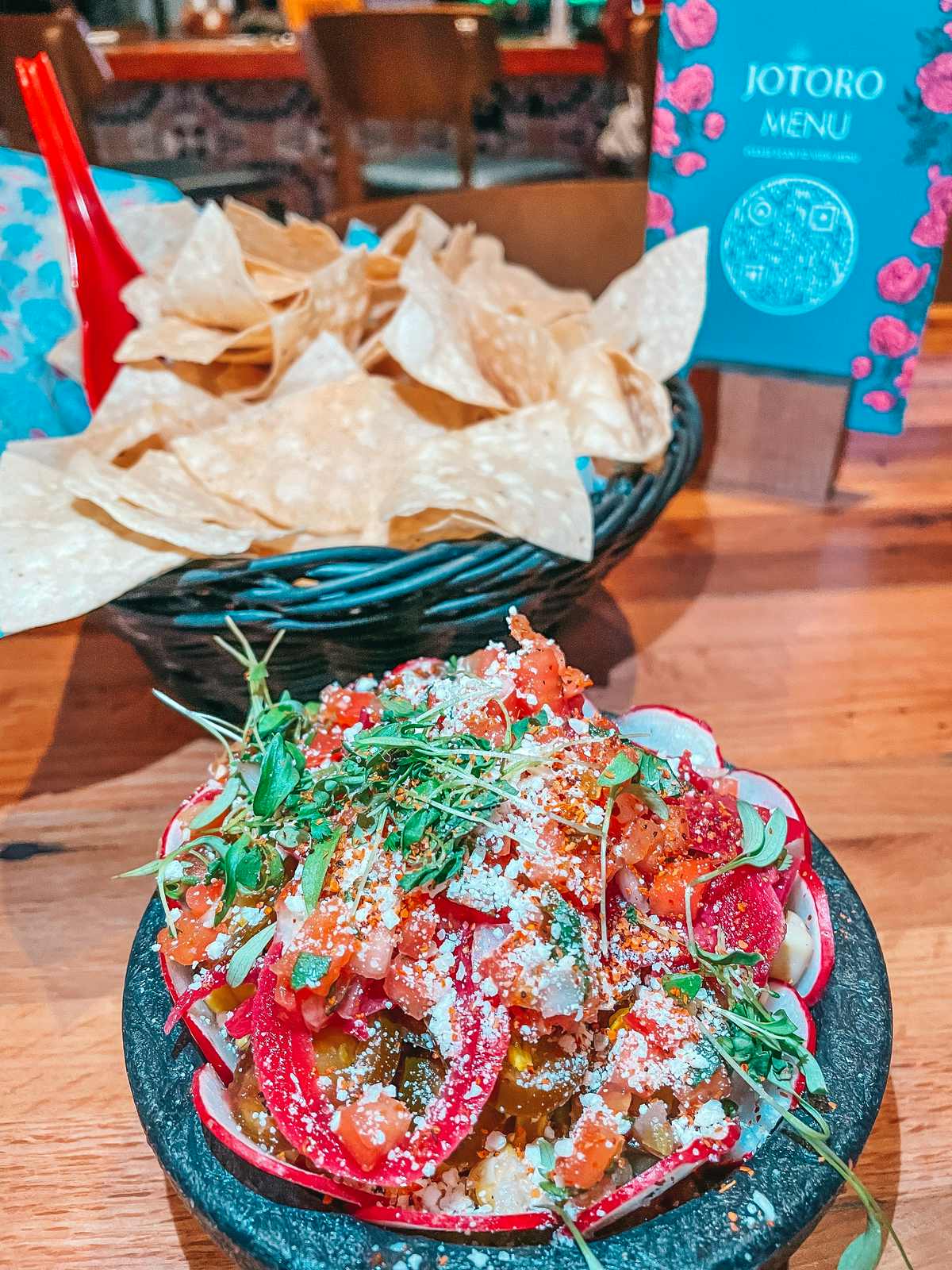 The Battery
The Battery is the perfect restaurant in Sparkman Wharf if you're looking for a cool and sophisticated atmosphere with classic, yet refined plates, fine bourbon, exquisite wine, and second-to-none hospitality. The menu features a wide selection of lavish charcuterie options alongside house-cut Prime steaks, premier seafood offerings, and made-with-love craft cocktails.
Whether you're in for a casual night with friends or an elevated evening out, The Battery has something for everyone. From its large open wine display and curated whiskey vault to its exposed brick and beautiful accents, it's a warm hub for all types of occasions.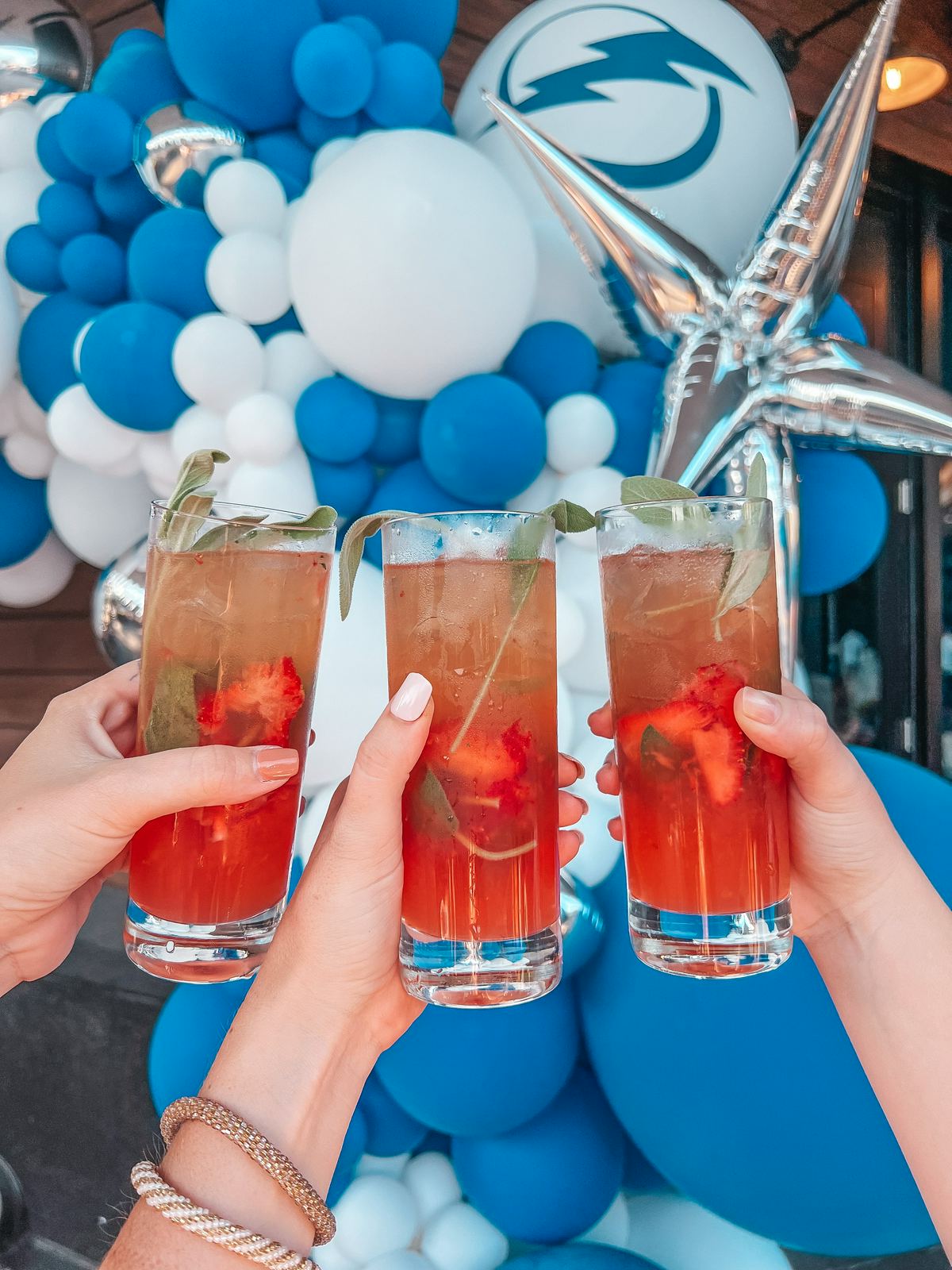 You also can't leave without getting dessert! Some of the best ice cream in Tampa Bay can be found in Sparkman Wharf from Jeni's Ice Creams and Hampton Chocolate Factory, so save room 🙂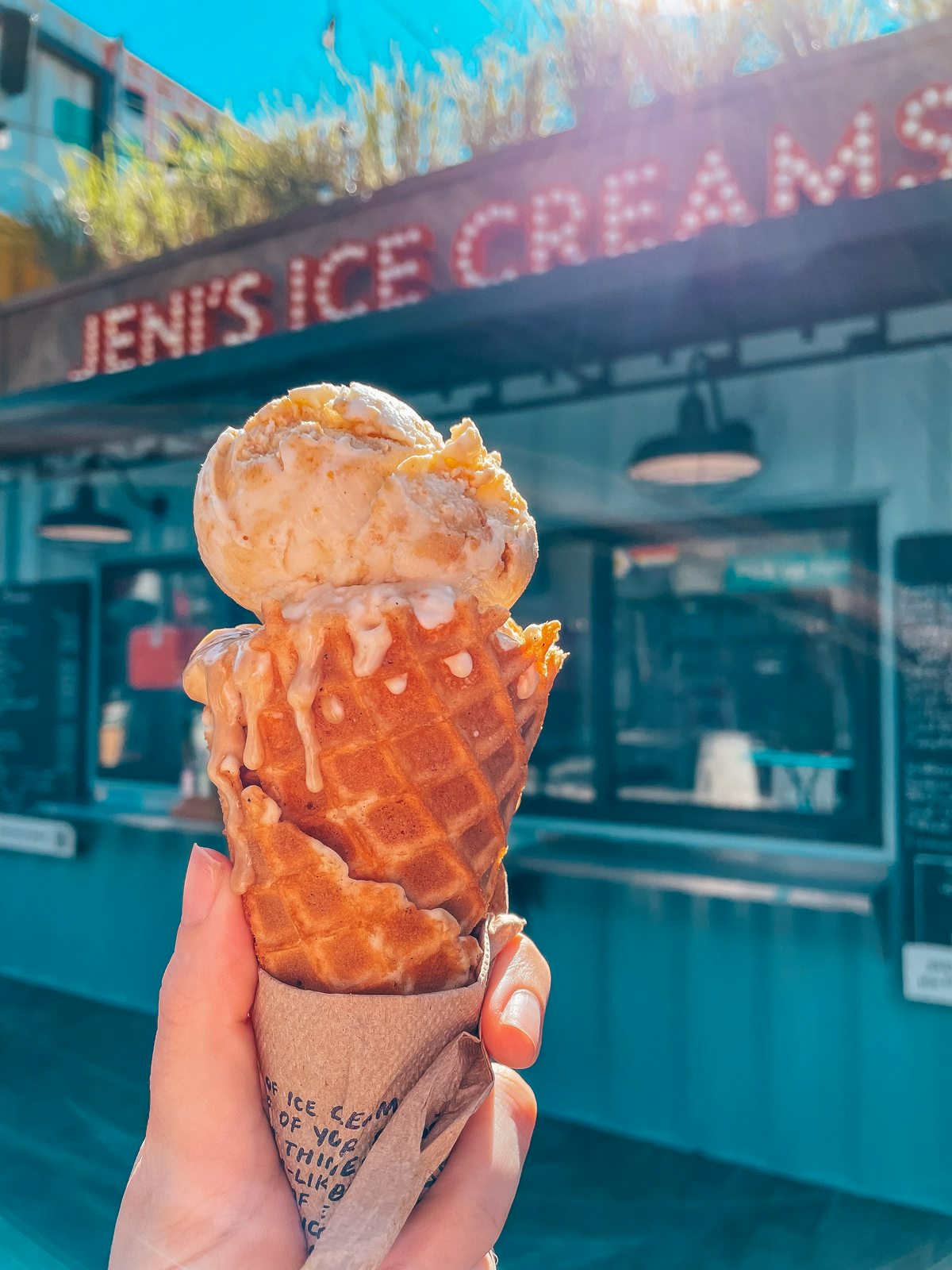 No matter what you're in the mood for, the restaurants at Sparkman Wharf have something to satisfy your craving. So next time you're in Tampa, be sure to check out this vibrant dining destination and see for yourself why it's a must-visit spot for foodies.