This post contains affiliate links which means that I will make a small commission if you purchase a product after clicking on any of them, at no extra cost to you.
Kauai is the perfect destination for an unforgettable Hawaiian vacation. It is the oldest and northernmost of the Hawaiian Islands and is also known as "The Garden Isle" because of its fertile volcanic soil and abundant rainfalls. With its lush landscape and abundance of activities, the island is sure to provide plenty of lasting memories.
If you're looking for the perfect Kauai 3-day itinerary, you've come to the right place. I've put together an exciting itinerary that will take you to some of the best spots around the island and leave you with plenty of stories to tell. From hikes to beaches, there's something for everyone in this Kauai itinerary!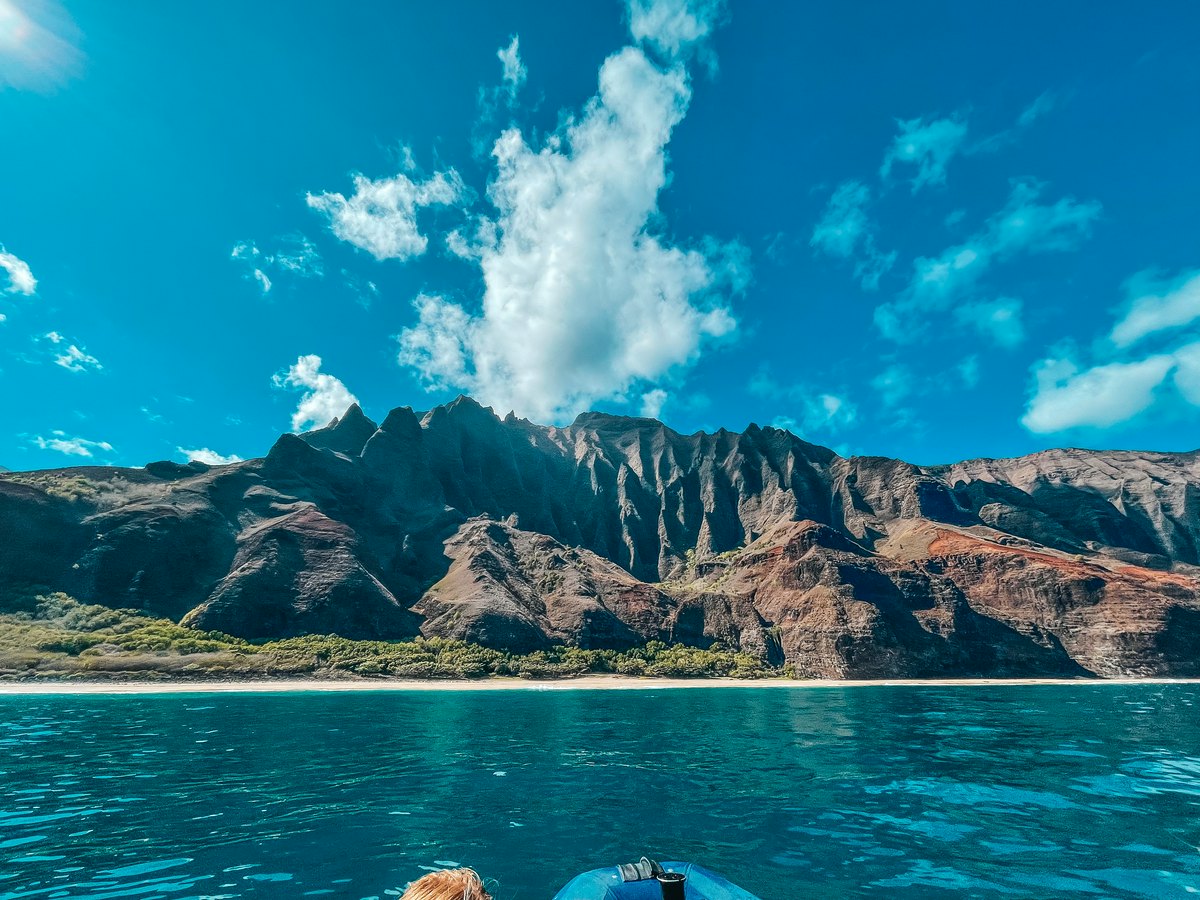 Where to stay in Kauai
If you're looking for a great place to stay in Kauai, I highly recommend the Kauai Shores Hotel. I stayed there during my 3-day trip and found it to be perfect. The hotel is located right on the beach, just minutes away from some of the most beautiful and popular attractions on the island.
It's also conveniently located in the middle of the island in Kapaa, making it easy to explore all the different areas of Kauai.
At Kauai Shores Hotel, you'll get all the perks you expect from a top-notch hotel, such as free Wi-Fi and a comfortable pool area. But that's not all – they also offer free bikes to explore the island, morning yoga classes, and an amazing onsite restaurant: Lava Lava Beach Club.
🌺 Kauai Shores Hotel
Whether you're looking for a romantic getaway or an exciting adventure, Kauai Shores Hotel is the perfect place to stay!
Click herе to book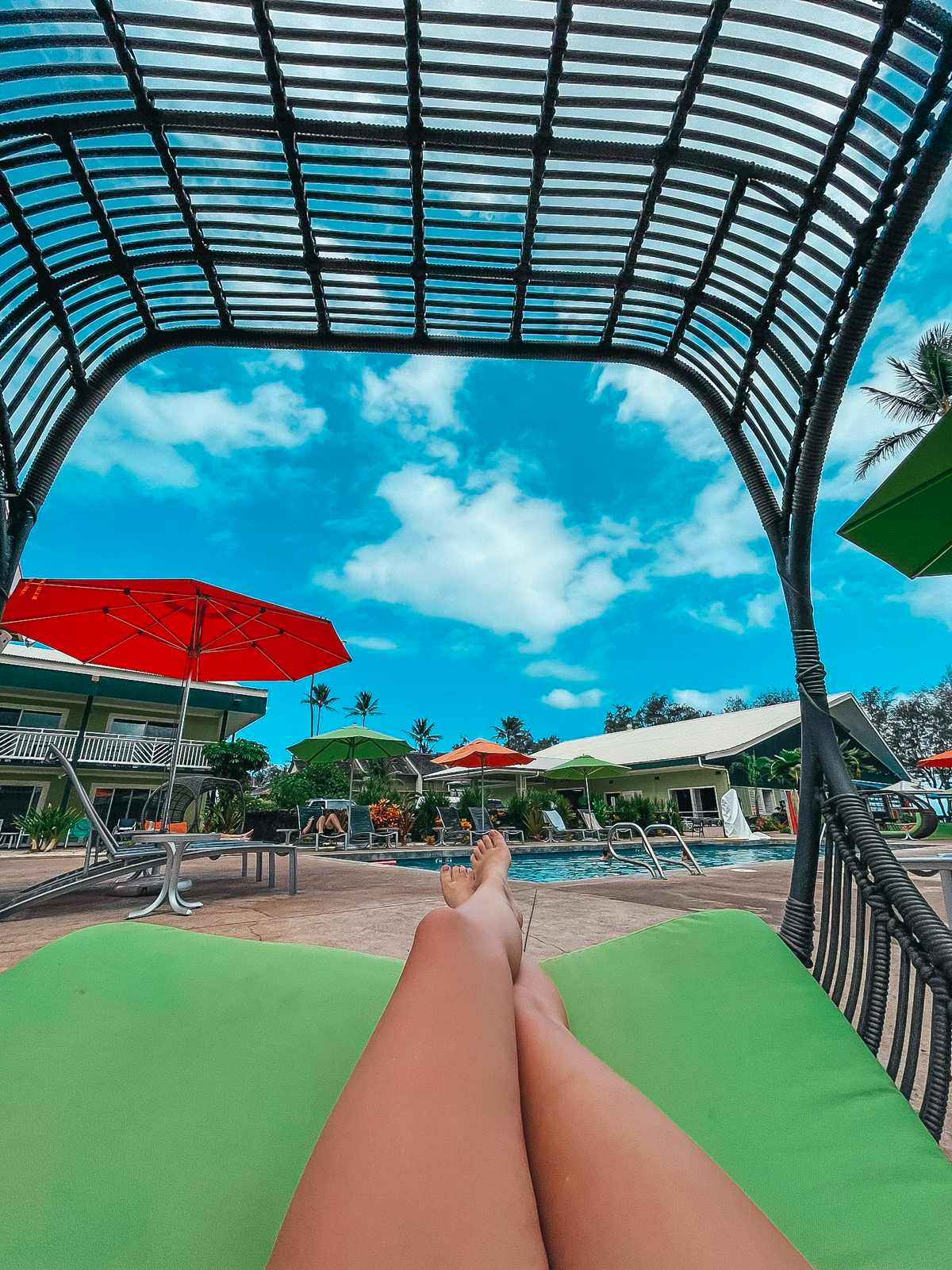 Kauai 3-day itinerary
Day 1: Explore Kauai's West Side
You are going to be gone for a good chunk of the day, so if possible pack plenty of snacks to bring with you!
Check out my Hawaii packing list recommendations!
Go Blue Adventures raft tour
Start your Kauai adventure off with a bang by taking a thrilling raft tour with Go Blue Adventures! This is a unique and exciting way to explore the Na Pali Coast, zipping through caves and waterfalls while appreciating the view from the ocean. While raft tours are more expensive than boat tours, it is worth every penny for the incredible experience.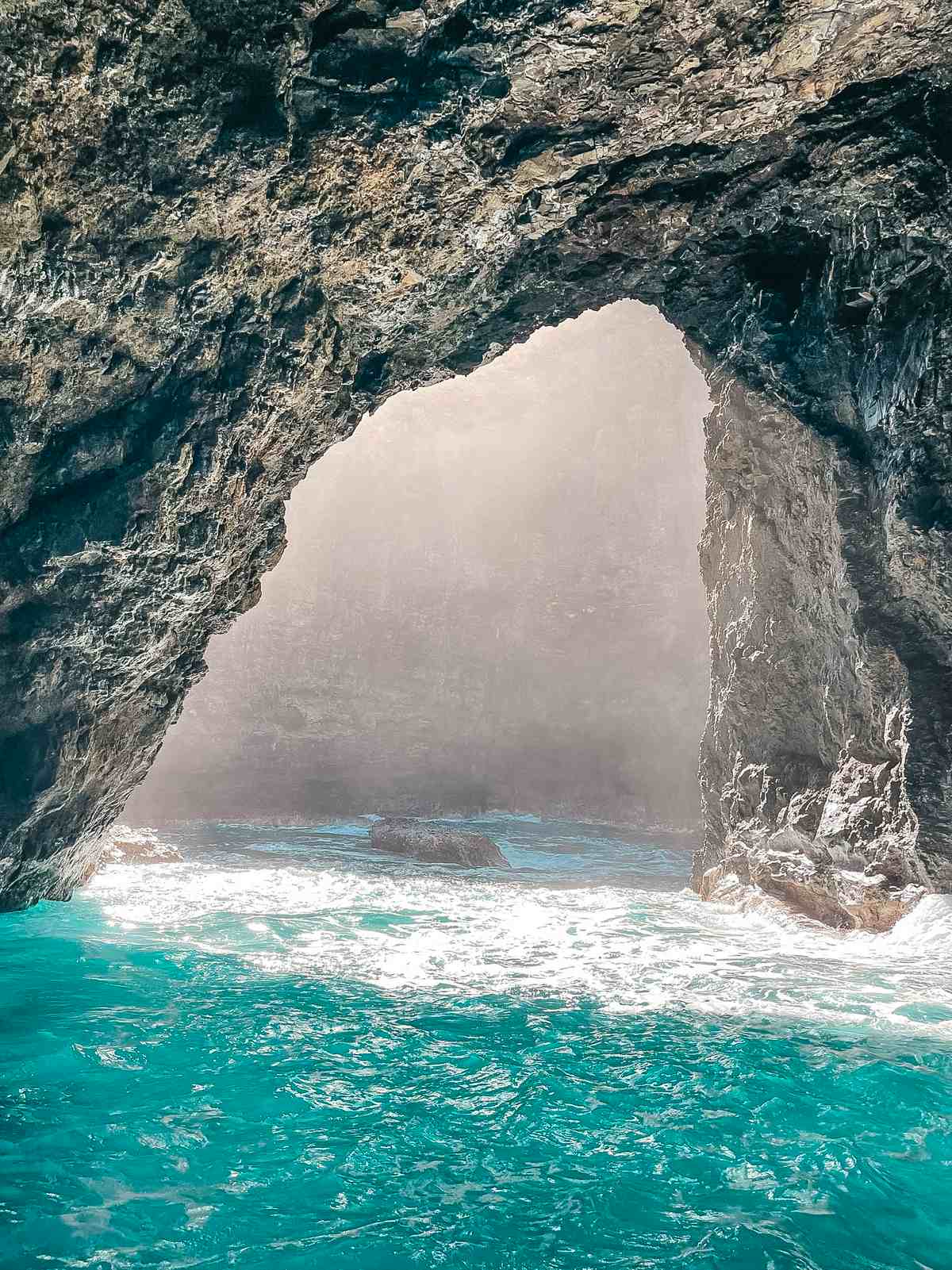 Go Blue Adventures offers a 7 am tour and a 2 pm tour. I recommend doing the 7 am tour so you can get your day started bright and early! If you are staying at the Kauai Shores Hotel you will be about 50 minutes away from the boat harbor meeting point.
The excursion is 5 hours and includes some time for snorkeling and snacks. We were able to jump off of the raft multiple times and encountered dolphins, tropical fish, and sea turtles. The tour guides are absolutely hilarious and full of knowledge and fun facts, plus they took so many amazing photos and videos so we could have the memories to cherish forever!
If there's one thing you absolutely have to have on your Kauai 3-day itinerary, it's gotta be this.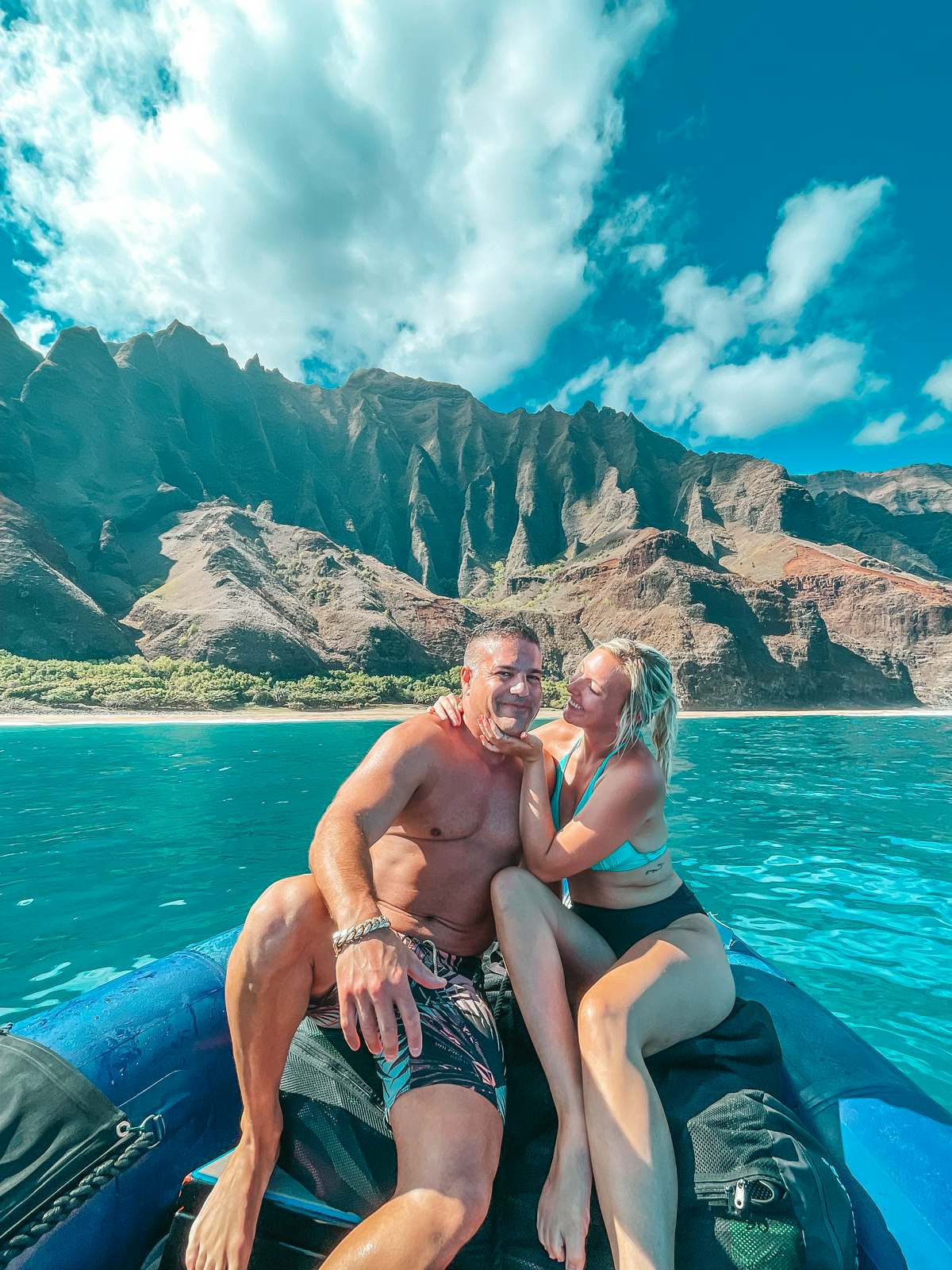 Waimea Canyon State Park
After the raft tour, you may be a little bit beat, but I recommend taking some time to explore Waimea Valley (it's right in the same area). This stunning valley is home to some of Kauai's most beautiful natural scenery, exciting hikes, and historical sites.
We unfortunately weren't able to see as much as I would've liked to because of the weather. Rain clouds started forming, so the closer we got to the top, the less we could see.
Waimea Canyon State Park's dramatic cliffs rival those of Zion National Park or Grand Canyon National Park and are definitely a sight to see. The canyon is over two miles deep and more than 10 miles long.
You can spend several hours here doing hikes and hitting all of the stops along the way, or you can spend less time and just do a driving tour stopping at lookouts.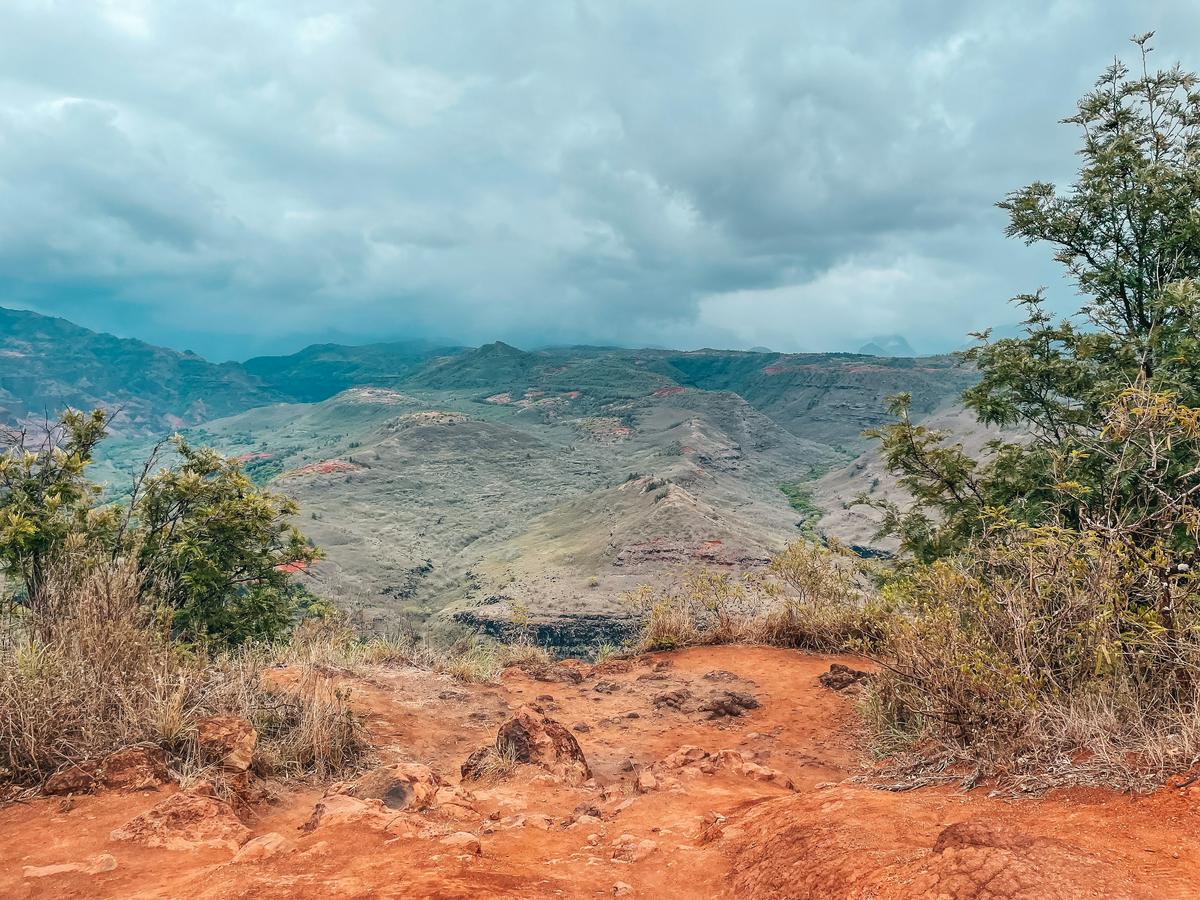 I highly recommend downloading the Shaka Guide app which is super helpful for anyone looking for an adventure-filled day here. The app doesn't require any wifi and relies on your car GPS to give you a personalized tour of the valley.
Stories, history, tips, and recommendations are all a part of the Shaka Guide app experience. It tells you which stops are worth it, as well as which ones may not be. They also have tours for Oahu, Maui, Vegas, and more!
Here is a more detailed guide on Waimea Canyon.

Relax and enjoy dinner at Lava Lava Beach Club
On your way back to your hotel make a pit stop at Sunrise Coffee. Their acai bowls are amazing, plus if you need a caffeine boost grab one of their cold brews.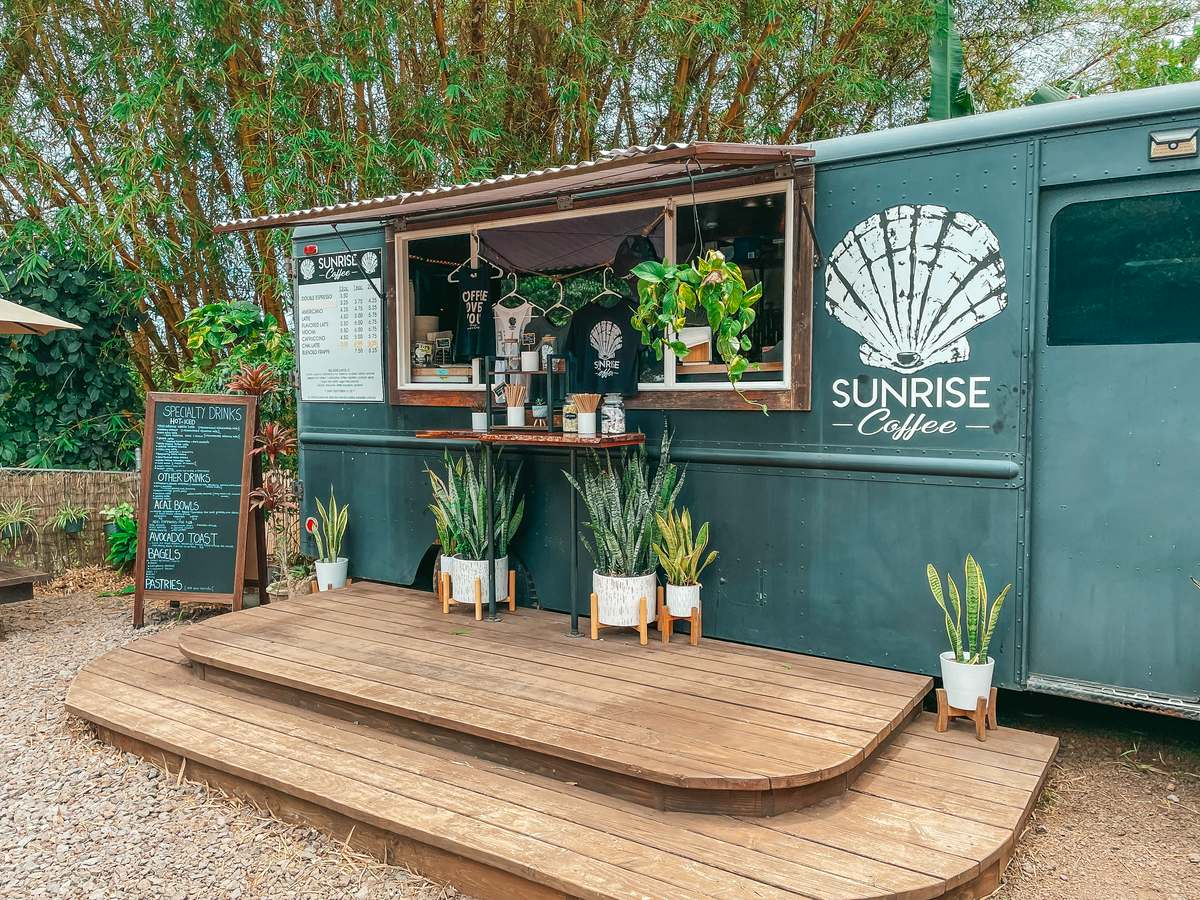 Pick-me-up or not, you're going to be exhausted. Go relax and head to Lava Lava Beach Club for an unbeatable oceanfront dining experience, (they're the same owners as Huggo's on the Big Island). This tropical beachfront restaurant serves fresh seafood and a selection of delicious cocktails. We loved it so much we ate here a few times!
I am genuinely convinced they can do no wrong. We loved their tuna, edamame, and their mango tango naan flatbread was unlike anything my tastebuds have experienced before. Remi was obsessed with their mai tais, but I could not get enough of the watermelon jalapeno mezcal cocktails I was requesting. They put a li hing mui powder rim on it which is made from dried plums.
After dinner, rest up! You have another big day ahead of you tomorrow 🙂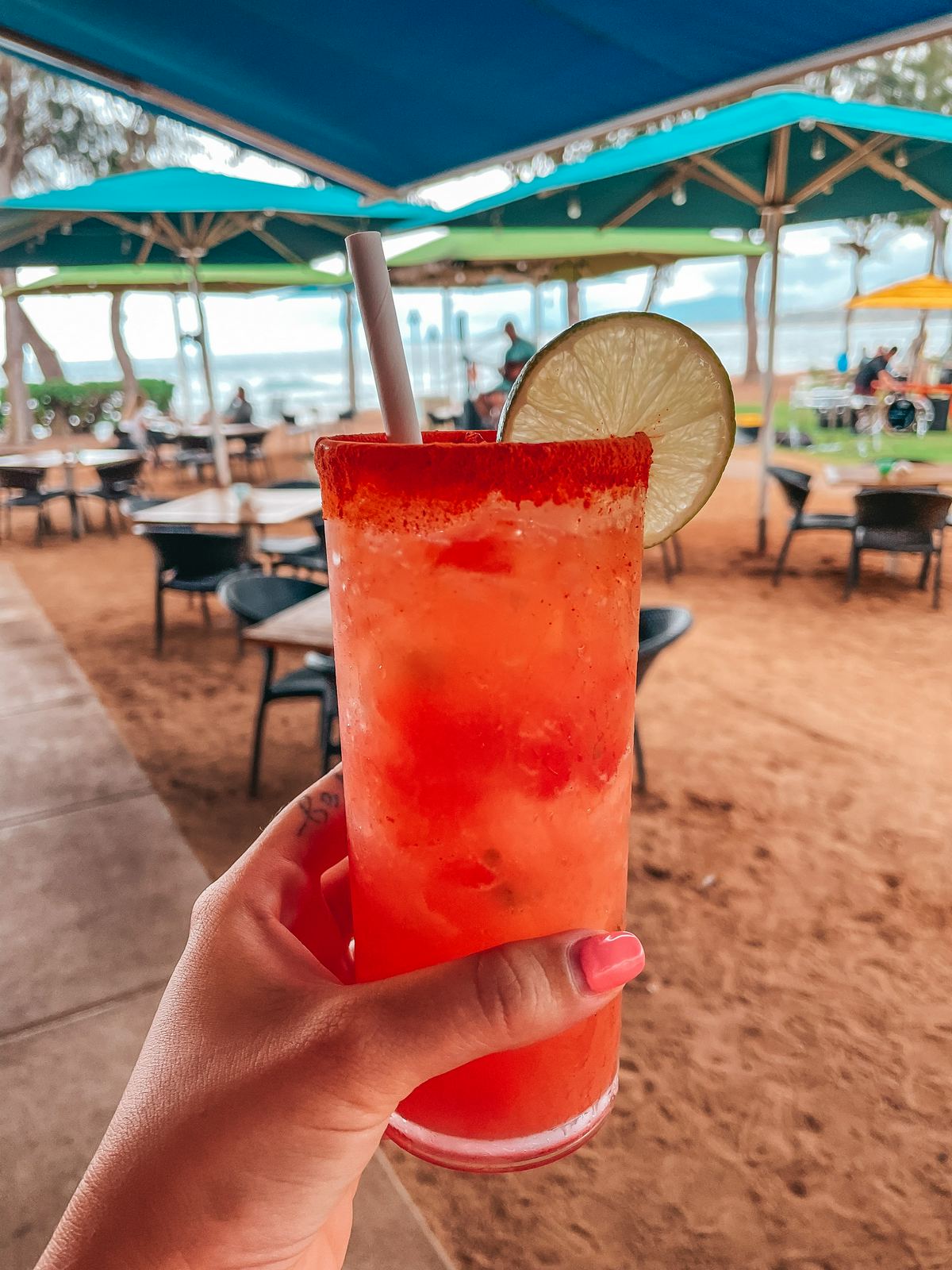 Day 2: Explore Kauai's North Shore
Breakfast and North Shore pit stops
For day two of your Kaui 3-day itinerary you will be embarking on another little road trip. This time you're off to explore Kaui's North Shore! The north shore of Kauai is a sight to behold. With its lush greenery, beautiful beaches, and amazing waterfalls, it's no wonder that this is a popular tourist destination.
First things first though, let's start with breakfast! Java Kai is a great spot for coffee and breakfast sandwiches. With a great selection of both locally roasted coffee beans and espresso drinks, it's the perfect place to start your day. Be sure to try one of their famous breakfast sandwiches for a truly delicious experience. I suggest the surfer girl sandwich and their mocha anu blended coffee drink.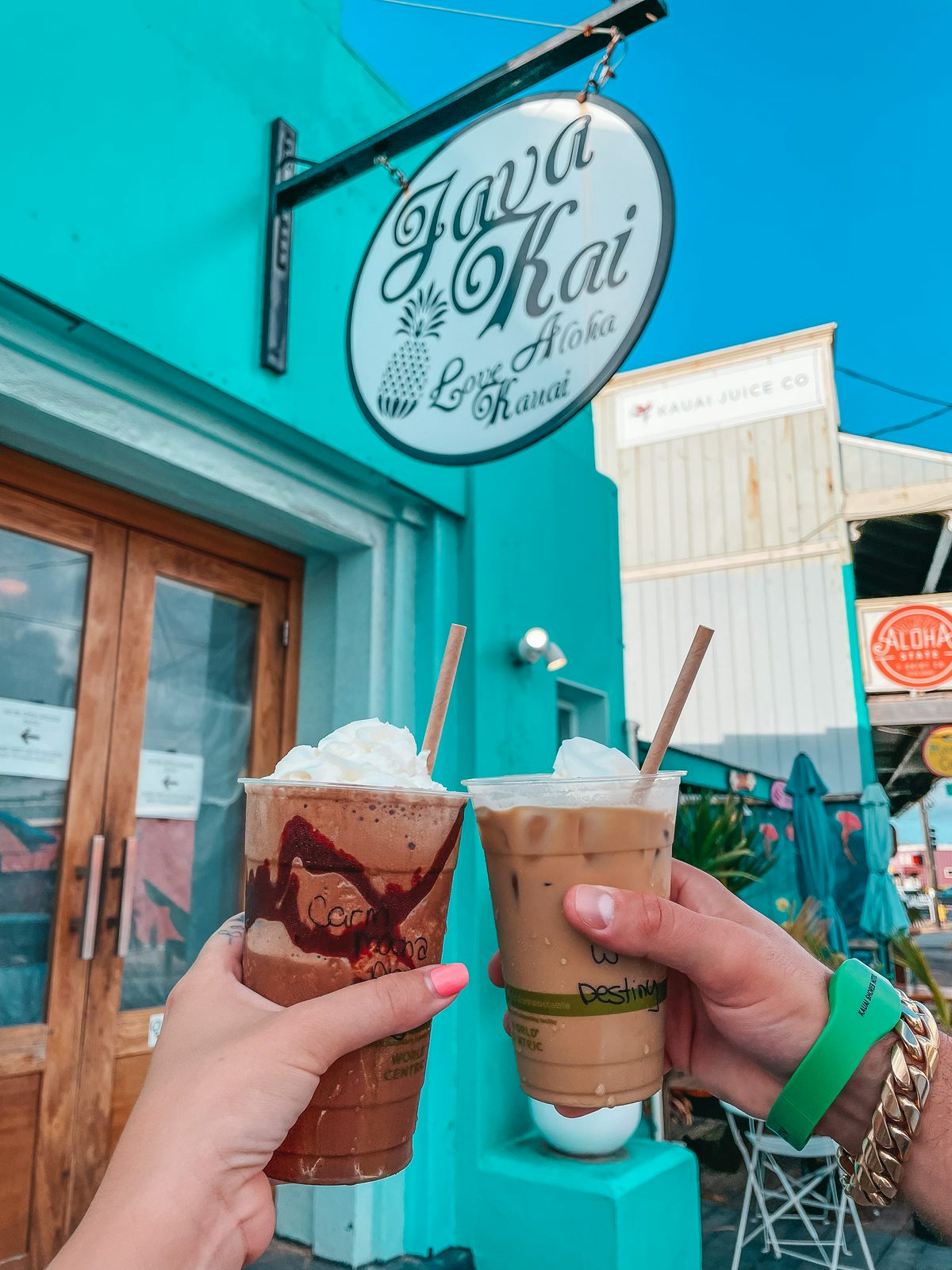 Once you leave Java Kai you'll head about 30 minutes North to your first stop for a breathtaking view of the Hanalei Valley at the Hanalei Valley Lookout. This picturesque spot offers stunning views of the magnificent mountains and lush valleys.
Waiʻoli Huiʻia Church is located in nearby Wailua, just minutes away from the Hanalei Valley Lookout. This historic church is the oldest functioning church in Kauai and dates back to 1834. It's one of the most popular tourist attractions in the area and is surrounded by a beautiful garden with tropical flowers.
Inside you can find interesting historical artifacts and artwork from local artists. Make sure to stop by and admire this incredible piece of Hawaiian history.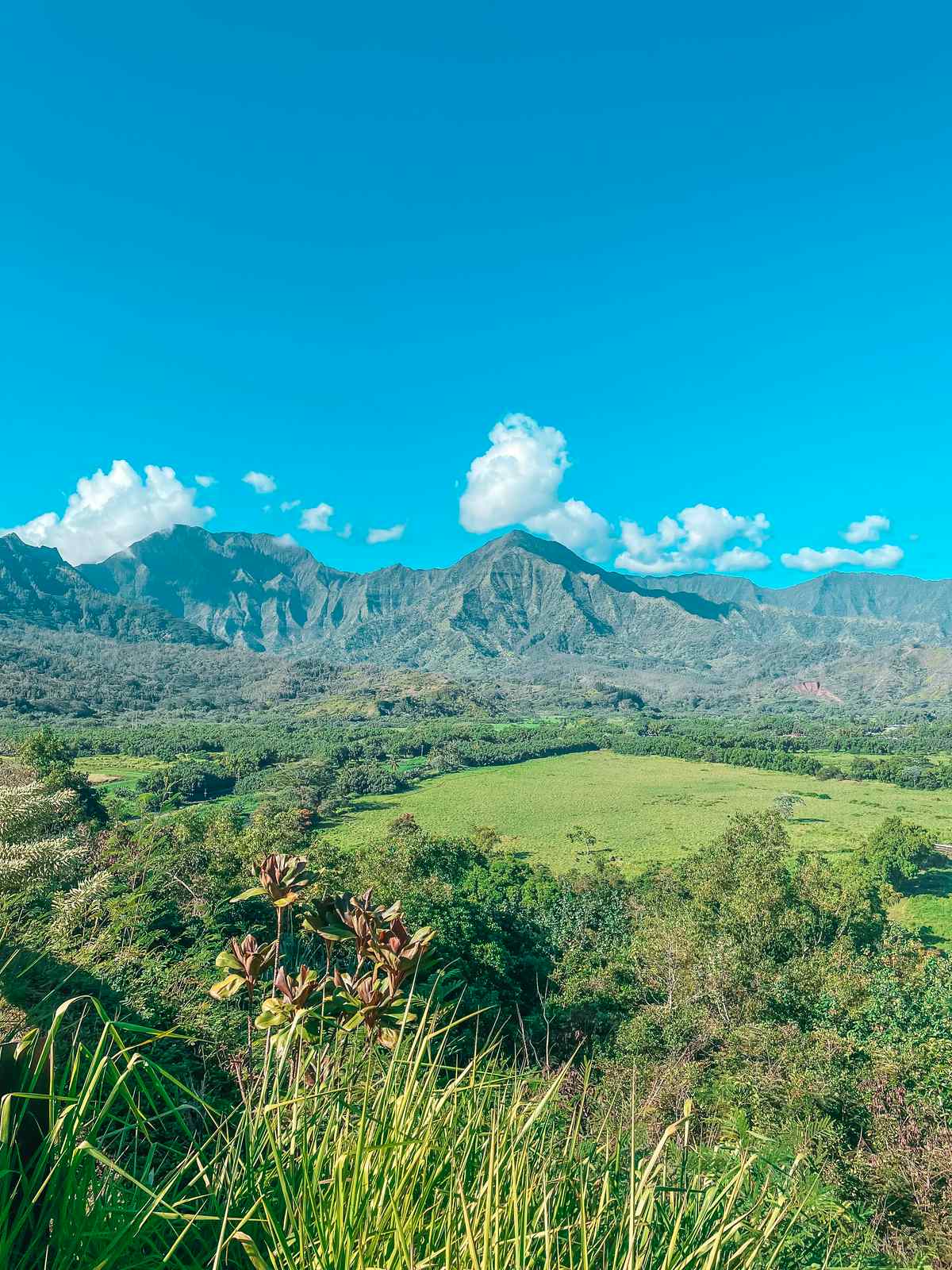 Snorkel and relax at Tunnel's Beach
Tunnels Beach is a must-visit for any traveler to Kauai. Tunnels Beach (also called Makua Beach) is a well-known beach noted for its world-class snorkeling and beauty.
The beach has a safe inner reef that is great for beginners and kids and a challenging outer reef for more experienced snorkelers. The offshore undersea caves are where the beach gets its name.
If the waters are calm, Tunnels Beach offers a lot of offshore exploration opportunities. Large waves that batter the shore throughout the winter can make snorkeling challenging. Beware – parking can be tricky here so plan accordingly. We actually parked right next door at Haena Beach, but still struggled to find a spot.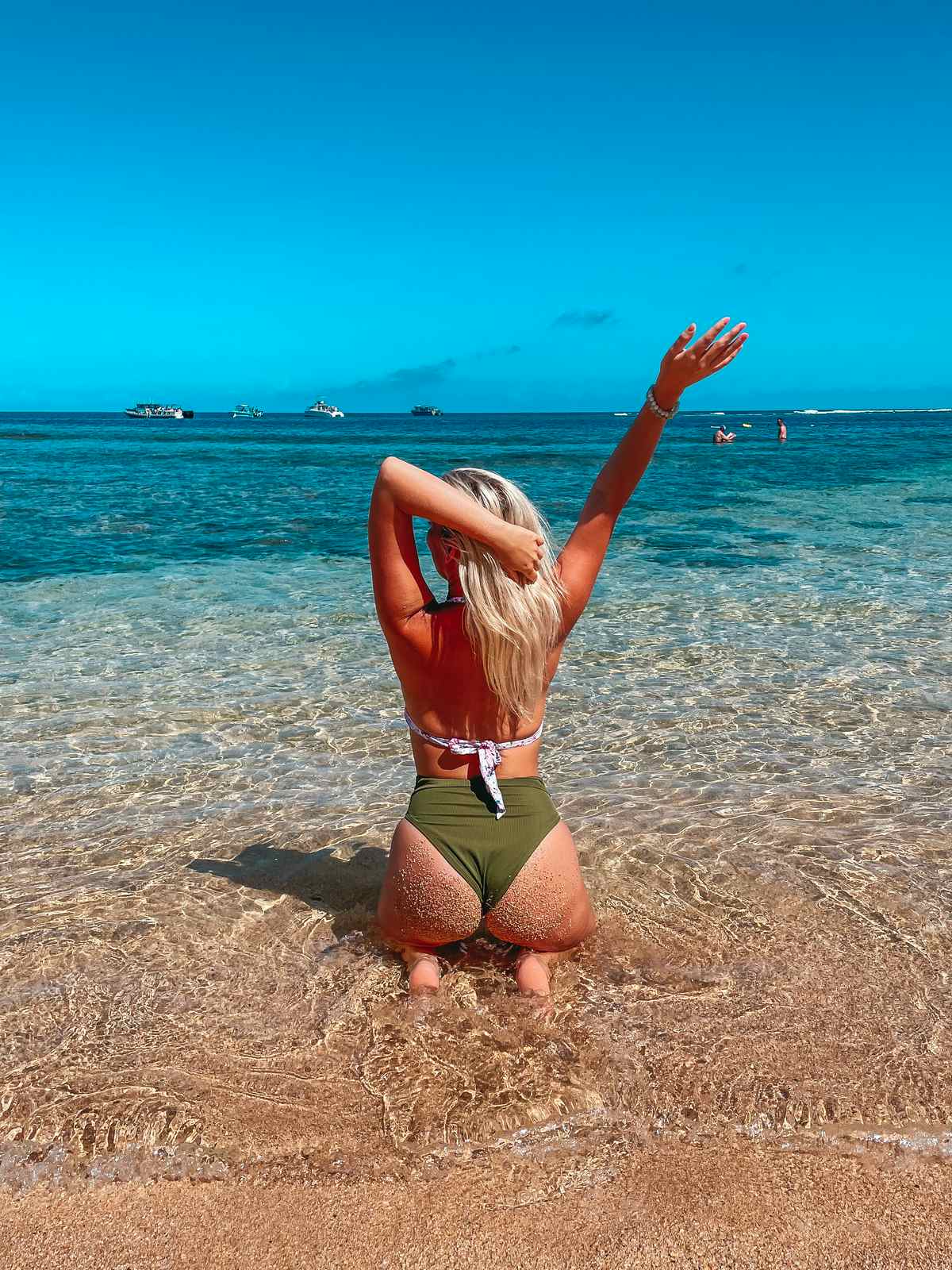 Lunch and shopping in Hanalei
Once you're done working up an appetite snorkeling, head to Hanalei for some shopping and a light lunch. It will be a pit stop to break up your drive back to your hotel. The town is small but full of charm and character. There is something special about this quaint little village, making it a great place to spend an afternoon.
Some things to do in Hanalei Town include shopping at the local boutiques, browsing art galleries, or taking a leisurely stroll around the town. Hanalei Bay is also a popular spot for swimming, kayaking, and stand-up paddle boarding. So make sure to take advantage of all the outdoor activities that Hanalei has to offer!
For lunch, I suggest Hanalei Poke, a local favorite and must-try for visitors. Their poke bowls are legendary and they offer several styles of poke varying with sauces and levels of spice.
Queen's Bath
We would've loved to stop at the Kilauea Point Lighthouse which was in between Hanalei Town and Queen's Bath, but it unfortunately wasn't open the day we were visiting. So if you have the chance check it out for breathtaking views of the coast. It's a great spot for photography and you can also spot some whales from here in season.
Queen's Bath is about 10 minutes from Hanalei and it is a lava rock-enclosed tidal pool perfect for swimming, snorkeling, and exploring the marine life. Make sure you're wearing your bathing suit if you plan on swimming because there aren't any facilities to change in.
Additionally, it is recommended that visitors wear water shoes or sturdy sandals as there is a short but steep hike down to the pool (about 0.5 miles). The trail can be slippery and muddy in places, so good footing is essential. You'll encounter epic ocean views and some small waterfalls during the hike, but they are not the main event.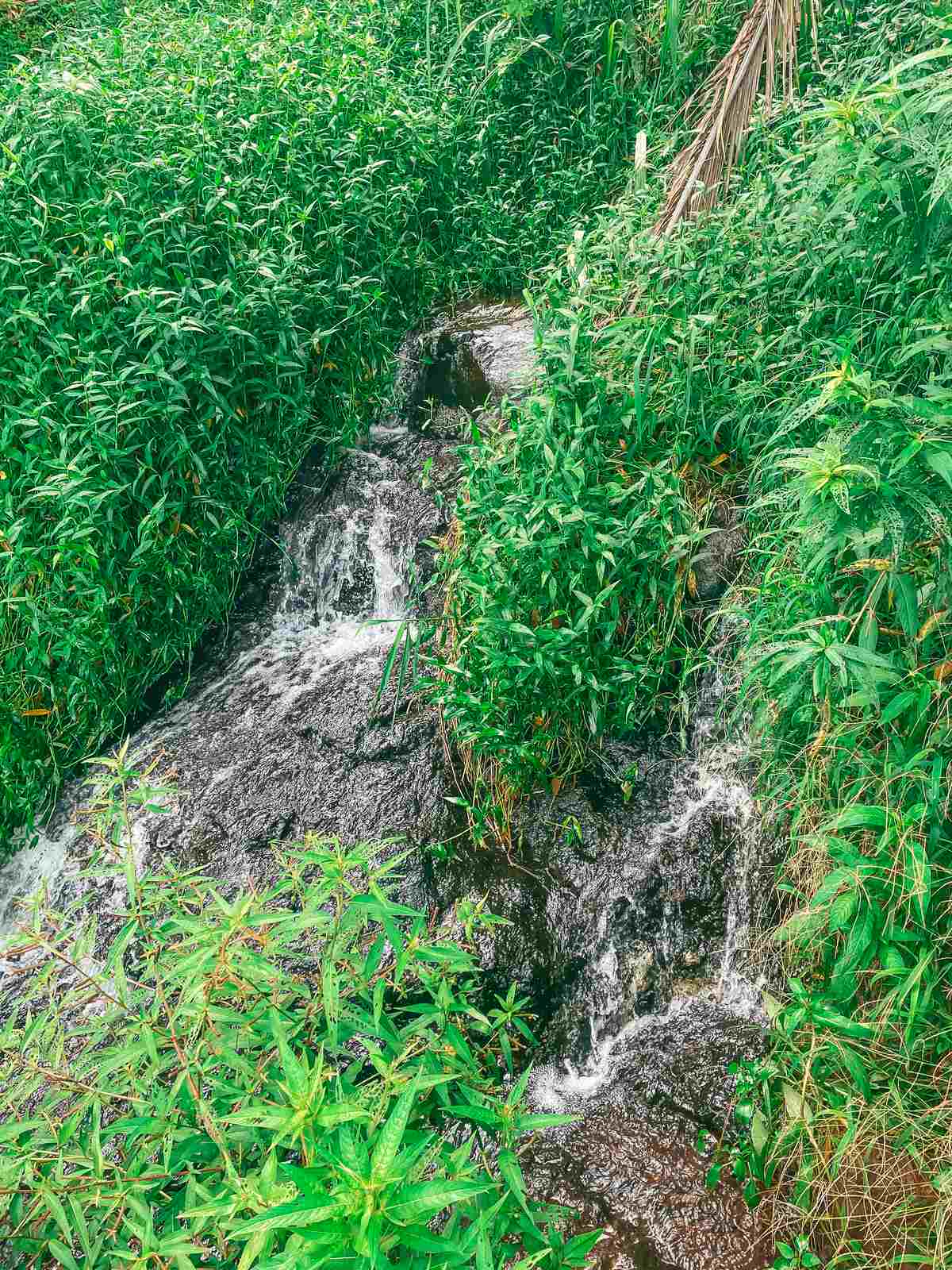 Once you reach the bottom of the trail, you'll be rewarded with an amazing view of the pool surrounded by lush vegetation and towering cliffs. Queen's Bath is like Mother Nature's own rooftop pool. The unique setting makes Queen's Bath a must-see destination on any trip to Kauai.
Be sure to check All Trails before going here to make sure the trail is open! It can be closed due to weather or ocean conditions.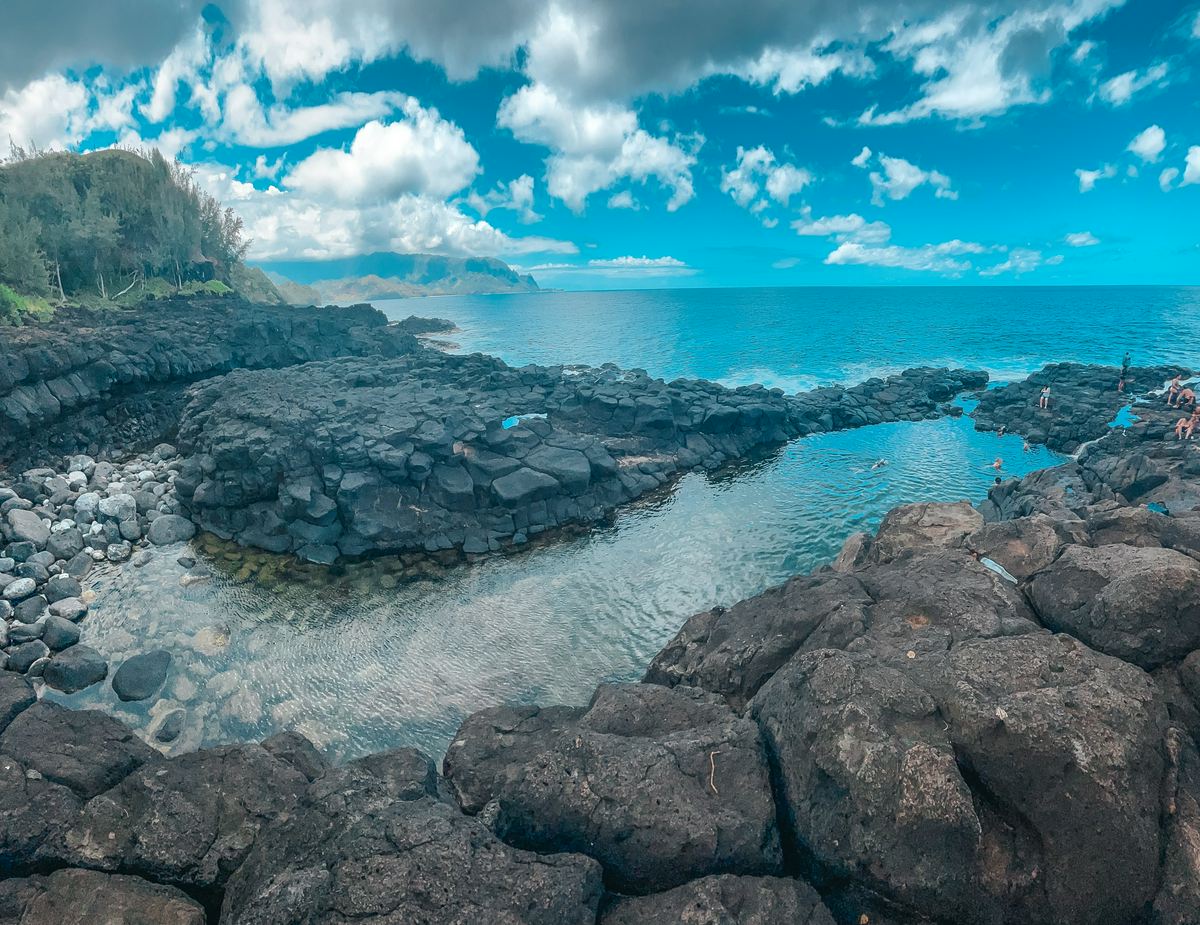 Go back and get ready for a nice dinner at Oasis on the Beach
If you're looking for an amazing restaurant to dine at while on Kauai, then Oasis on the Beach is the perfect spot. Located beachfront at the Waipouli Beach Resort, this restaurant offers a variety of delicious dishes and wonderful service.
With its stunning views of the ocean and expansive outdoor seating, Oasis on the Beach will make you feel like you've stepped into paradise. The menu features fresh seafood, and delicious steaks. To give you the greatest and freshest ingredients, they work directly with Kauai's farmers, ranchers, and fishermen and source over 90% of their ingredients locally.
We started with the Caprese-style tomatoes and finished with the filet and lobster tail. The flavors were amazing, and the steak and lobster were both so tender and delicate. Be sure to make reservations if possible, and be aware they are closed on Sundays and Mondays.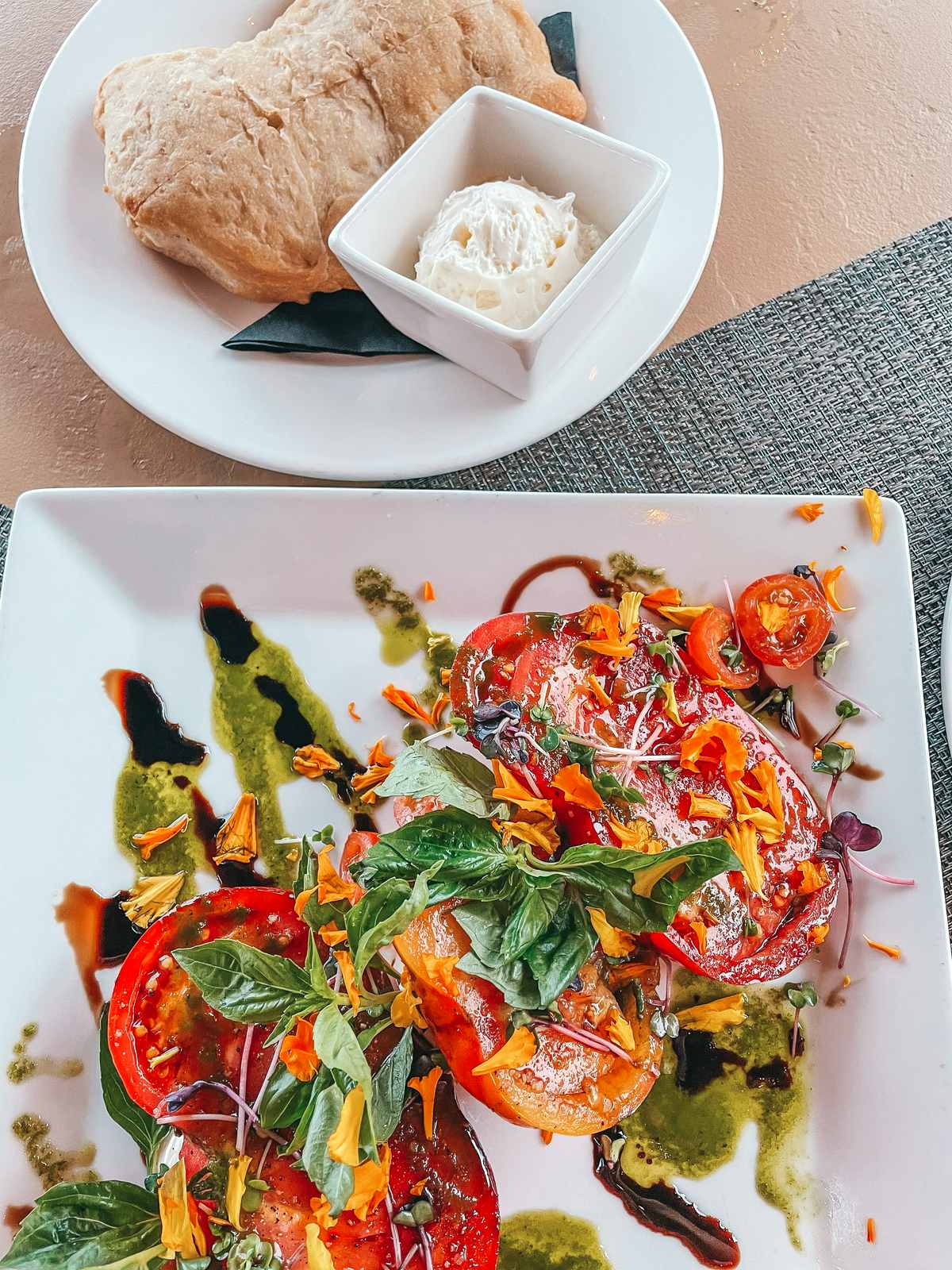 Day 3: Explore Kauai's East Side and South Shore
Oceanfront yoga and bike ride
If you are staying at Kauai Shores Hotel, start your final day in Kauai by waking up bright and early (7 AM) to grab one of their free bike rentals to explore Kapaa. The Kapaa bike path goes along the beach for several miles.
We rode down to Small Town Coffee. A quaint little gem in Kapaa, offering great service and delicious coffee. From its cold brews to its cappuccinos, this cafe has something for everyone. They also offer light snacks and sandwiches for those looking for a quick bite.
If you make it back by 8:30 am you can join in Kausi Shores' daily 8:30 am yoga on their oceanfront lawn.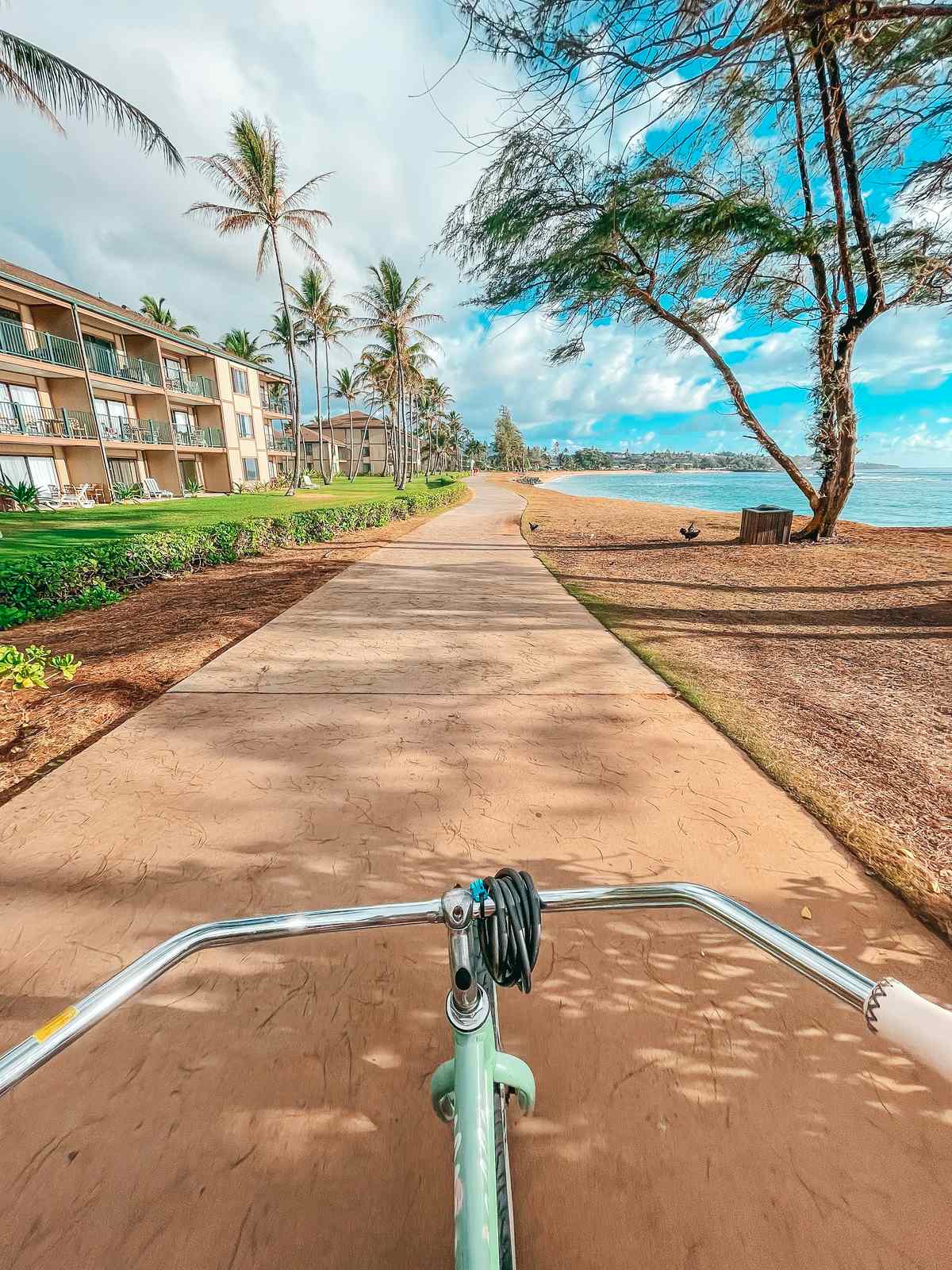 Kauai Coffee Company
For my coffee lovers out there, visiting Kauai Coffee Company is a must for your Kauai 3-day itinerary! It's one of the largest coffee producers in the United States and is the perfect place to learn about the coffee industry and sample a variety of different coffees from the region.
Visitors can take a tour of the company's coffee production facility, shop for specialty coffee blends, and try out their own delicious single-origin coffees. When you visit the Kauai Coffee Company, make sure you check out their special events and tastings. They offer many interesting activities like live music, educational lectures, and even a farmers market.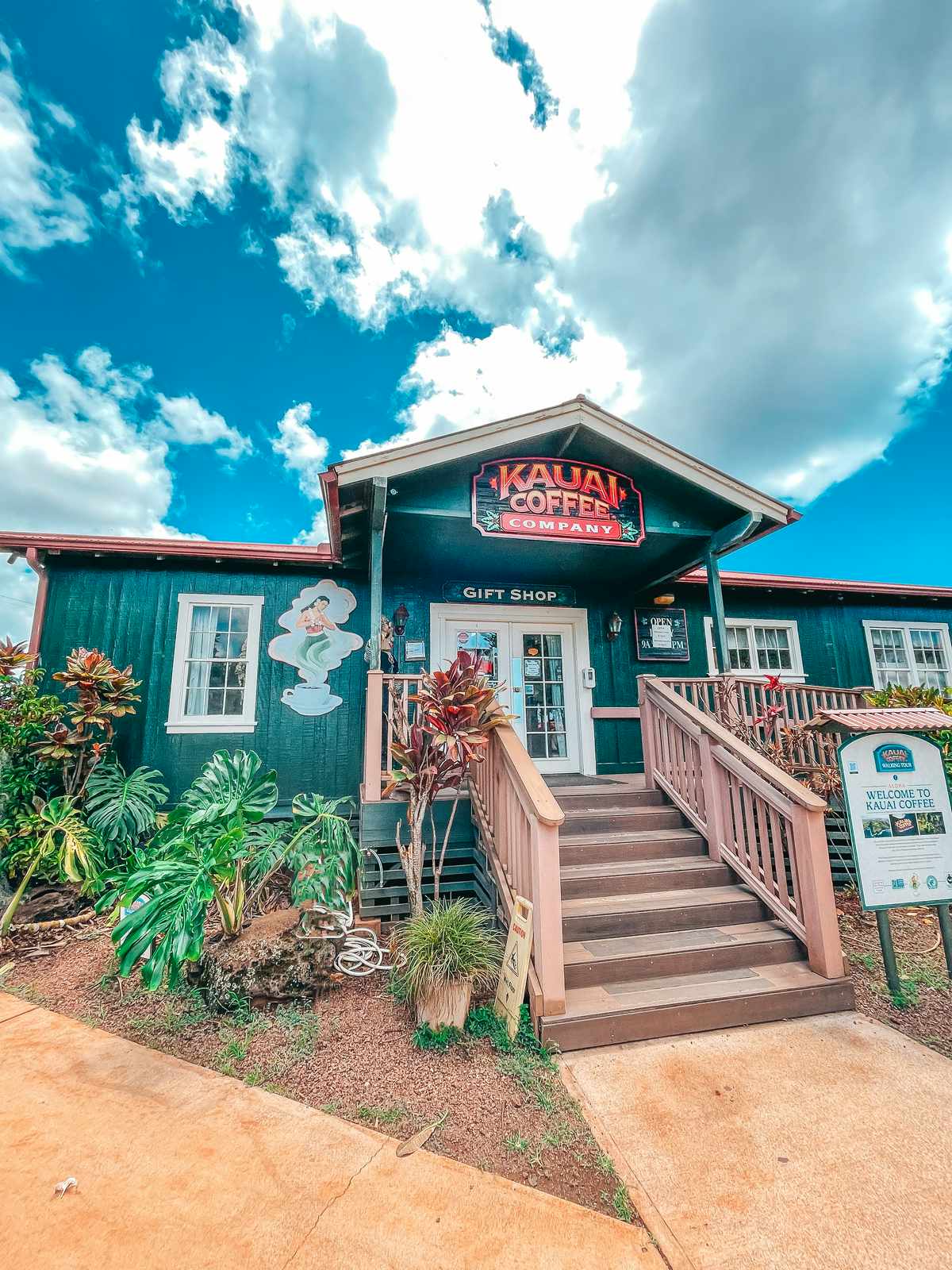 Makauwahi Cave Reserve
The Makauwahi Cave Reserve is a living museum dedicated to both preserving the past and native species conservation. As Hawaii's largest limestone cave, it is also home to the richest fossil site in the islands, as well as a uniquely preserved archaeological site.
Covering 17 acres of restored forest land, dune vegetation, and wetland habitat, the Reserve is home to almost 100 species of native plants – many of which are endangered. Among these plants are waterbirds and an underground ecosystem of blind cave invertebrates, which can only be found here.
The Reserve has become a major tourist attraction due to its stunning beauty, educational exhibits, and unique history.
Visitors to the Reserve can take part in guided tours, attend educational programs, participate in volunteer opportunities, or simply explore the land on their own. It is the perfect way to appreciate nature and learn about the history of Kauai.
Note: There is a short self-guided trail that is less than 0.5 miles to get to the cave.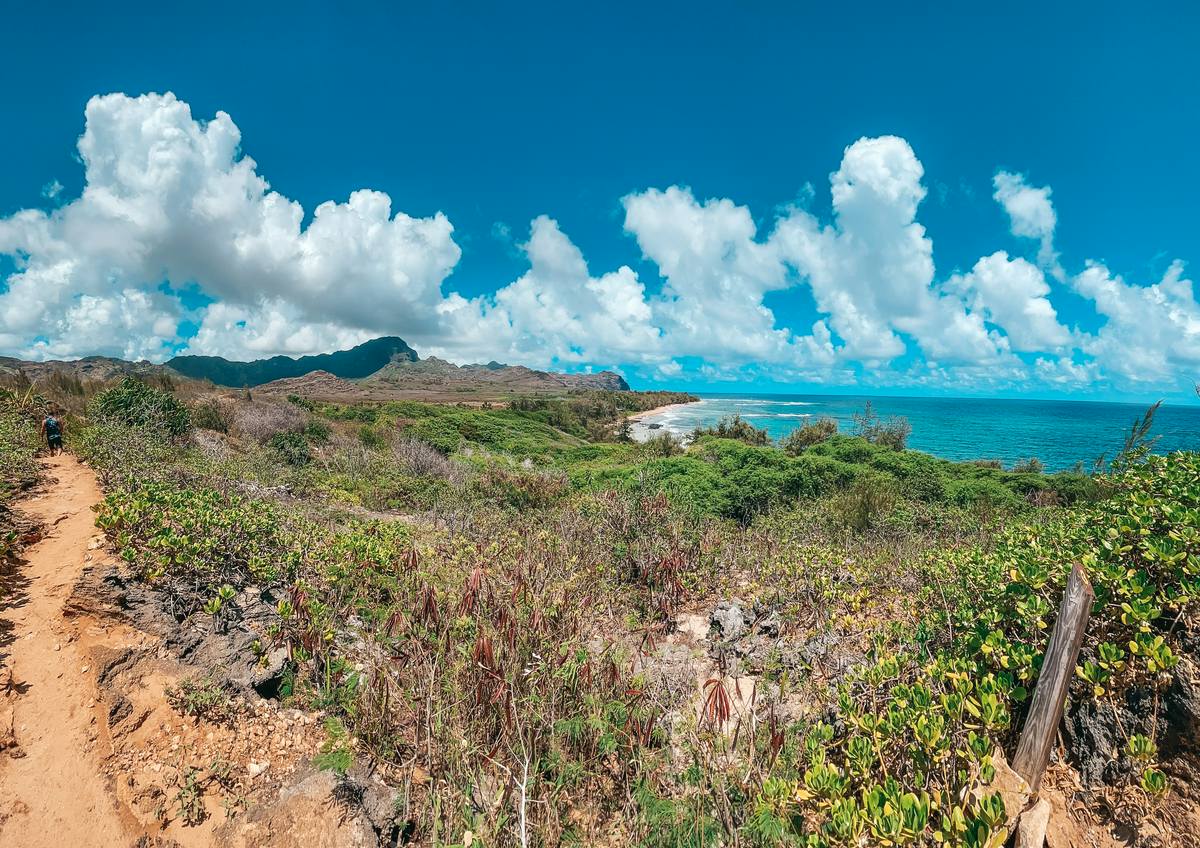 Lunch and Koloa Rum Distillery
You gotta enjoy one last poke bowl before your trip is up! The Fish Express serves Hawaiian plates and fresh Hawaiian fish lunches, but their specialty is poke bowls and their topping bar with a full-service seafood counter. You can create your own poke bowl, which is charged by the pound, customize the base, and add toppings.
After you have a nice foundation make your way to Koloa Rum Company. Kōloa Rum Company is the first licensed distillery on the island of Kauai. It all started when sugarcane came to Hawaii with ancient Polynesian voyagers, and commercial sugar production operations in Hawaii were first established in the town of Kōloa in 1835.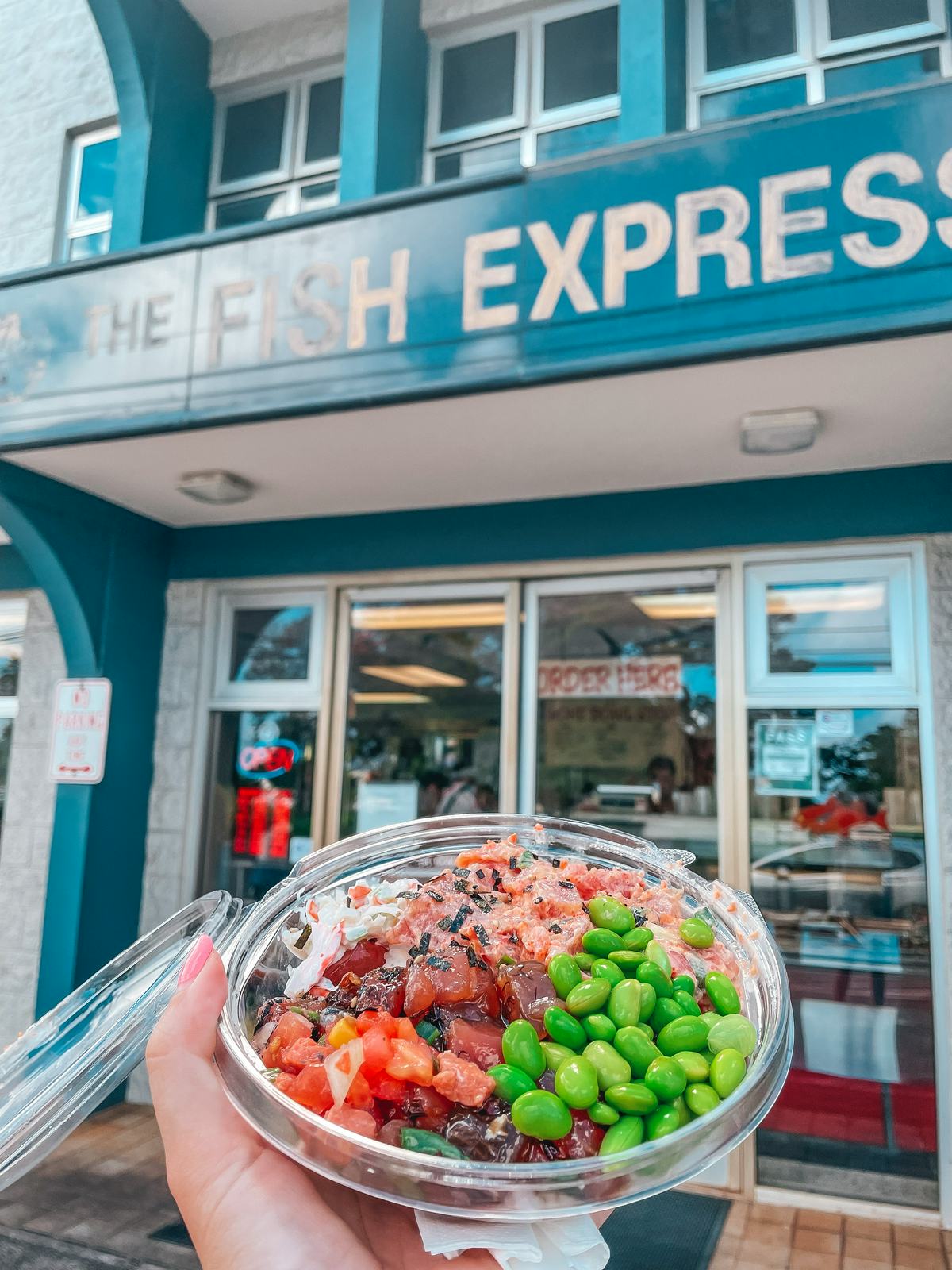 Now, Kōloa Rum Company is a single-batch, craft distiller and bottler of premium Hawaiian rums. They create superior Hawaiian rums and ready-to-drink cocktails using locally sourced ingredients. They are deeply rooted in their Hawaiian heritage and promote sound and sustainable agricultural practices to provide meaningful support and diversity to the local agricultural industry.
The rum tasting at Koloa Rum is free but it is a first-come, first-serve experience so it's best to get there early to secure a spot. During the tasting, you'll have the chance to sample a variety of flavored rums including coconut, lime, and pineapple.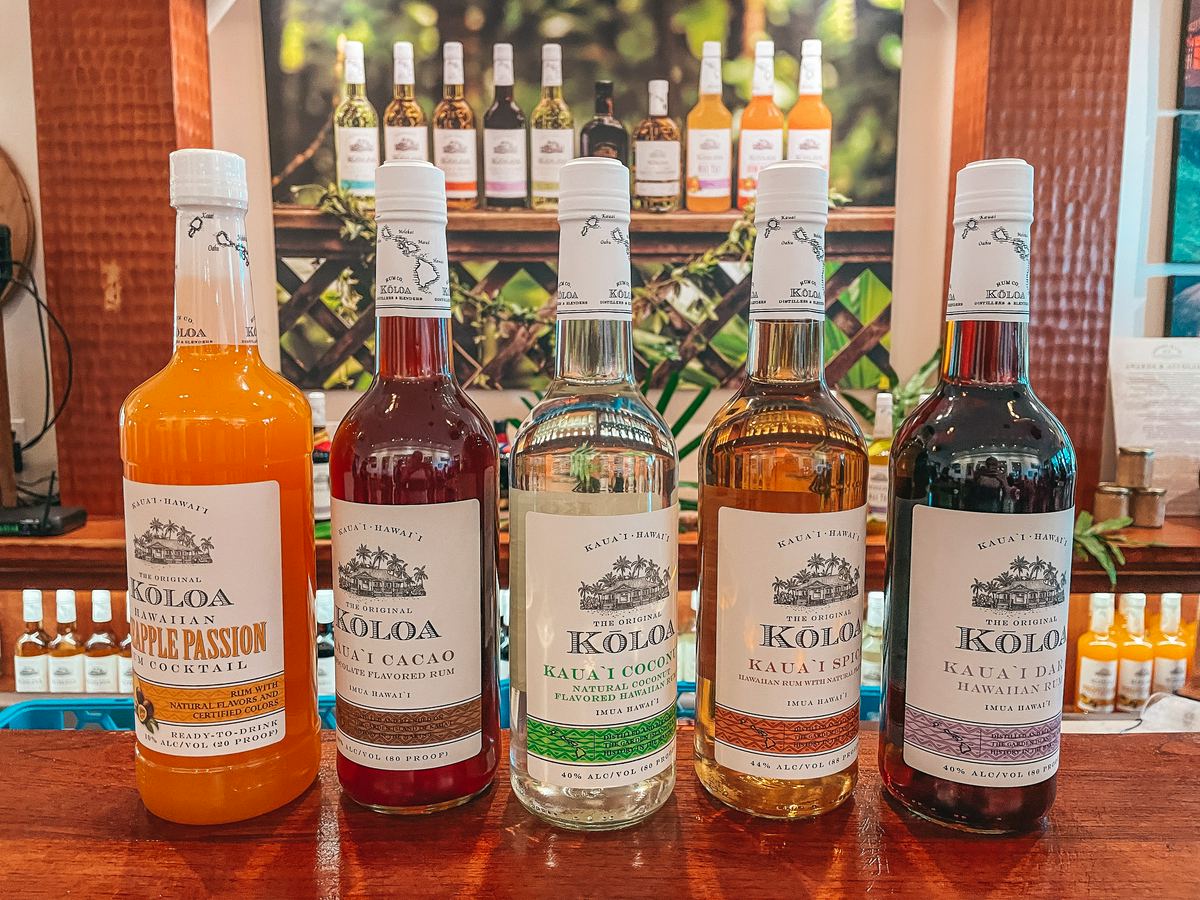 Alternative options for your Kauai 3-day itinerary
We had a 6 PM flight on our last day, so the rum tasting was our last Kauai adventure. Here are some alternative options in case you have more time on day 3. Plus depending on the time of year you go, some of the activities I previously mentioned may not be an option during the season you visit so it's good to have some backup plans.
Helicopter tour
Helicopter tours are one of the most incredible things to do in Kauai, and you'll get the chance to take in some stunning views of the lush greenery, mountains, and waterfalls. Plus, you'll be able to see some iconic filming locations like Jurassic Park and Pirates of the Caribbean!
If you are island hopping and have to choose one island to take a helicopter tour from, Kauai is without a doubt the one to choose. The Na Pali Coast is such a breathtaking sight, I can't even begin to imagine the magical feeling you will get seeing it from an aerial view.
This 50-minute helicopter tour gives you aerial views of Mt. Waialeale, Waimea Canyon State Park, Hanapepe Valley Lookout, Na Pali Coast State Park, and Manawaiopuna Falls (Jurassic Park Falls).
Helicopter tours are one of the more expensive Kauai activities. If you are dedicated to getting that aerial view of the island but want to save a little check out this GA8 Airvan tour which is about half the price and 20 minutes longer.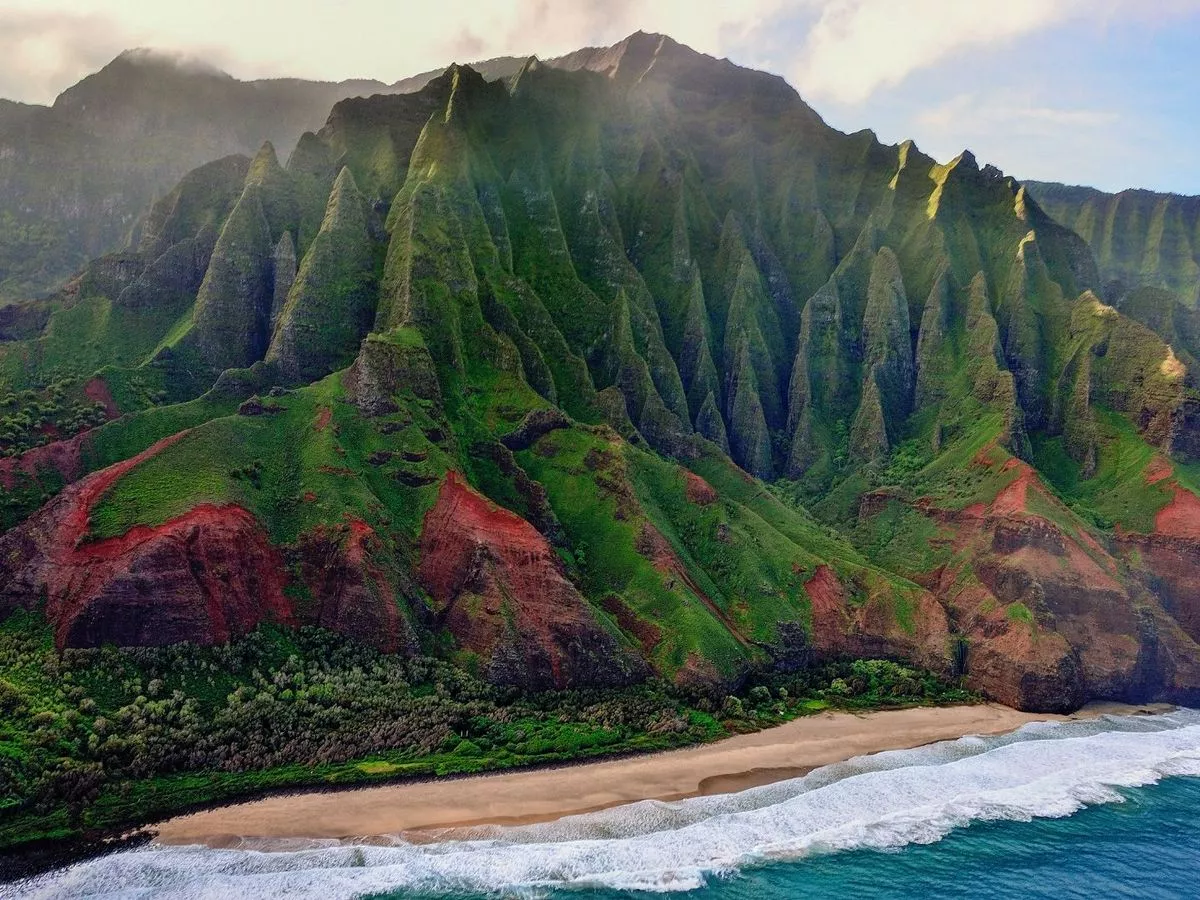 Go ziplining
Experience the thrill of ziplining in Kauai with Outfitters Kauai! This amazing company offers 10 ziplines, 4 tours, and the FlyLine Kauai Zipline. The ziplines vary by size, skill level, and terrain, allowing for a variety of experiences for everyone.
These amazing courses are located over lush valleys, tumbling waterfalls, and forest canopies – made famous by movies like Jurassic Park, Pirates of the Caribbean, and Indiana Jones! You'll get to experience Kauai from an entirely new perspective.
Related read: 4-day Big Island Itinerary, 3 Days in Maui, Free things to do in Oahu
Tubing with Kauai Backcountry Adventures
Kauai Backcountry Adventure's three-hour tour will have you hopping in a four-wheel-drive vehicle and traversing the former Lihue Plantation lands as you ride deep into Kauai's pristine emerald-green interior.
As you travel along the lush riverbanks, you will get breathtaking vistas of Mt. Wai'ale'ale, deemed one of the wettest spots in the world and the second-highest point on the island of Kauai.
You'll even witness spectacular waterfalls before arriving at the launch site. Once there, you'll grab a tube and a headlamp, and jump in the gently flowing waters. From there, you'll float down open canals and through five amazing tunnels and flumes.
At the end of the adventure, you'll arrive at a lovely picnic area for a magnificent lunch and a plunge into a natural swimming hole. Don't miss out on this amazing tubing experience in Kauai!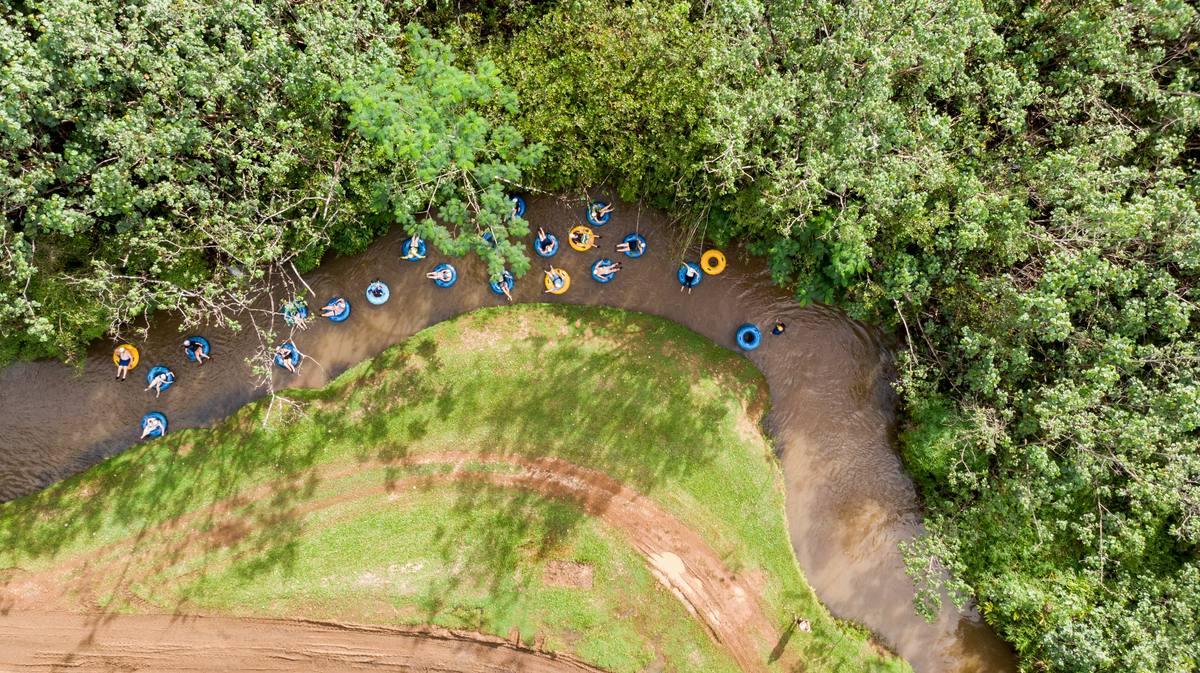 Getting around for your Kauai 3-day itinerary
The best way to explore Kauai is by renting a car. Renting a car gives you the freedom to explore the entire island without having to depend on public transport or taxis. This 3-day itinerary includes visiting some of Kauai's most beautiful spots, so having your own car will be essential. Not only is it more cost-effective, but also much more convenient since you can go at your own pace.
Planning out your Kauai 3-Day Itinerary is the perfect way to ensure an unforgettable Hawaii vacation. From exploring some of the most beautiful beaches in the world to the Na Pali Coast which will take your breath away! Follow me on Insta @guidedbydestiny for more travel content 🤍