This post contains affiliate links which means that I will make a small commission if you purchase a product after clicking on any of them, at no extra cost to you.
Let me just start off by saying as someone who typically doesn't consider herself a breakfast person, these 7 breakfast restaurants in Clearwater Beach made me strongly reconsider that statement.
Amazing bloody marys, insane waffle creations, more types of crepes than you could ever imagine, and eggs benedict that will blow your mind. They say that breakfast is the most important meal of the day, so before you get started doing all of your fun vacation activities, make sure you start the day on the right foot with one of these bomb breakfast spots in Clearwater Beach!
Best Breakfast Restaurants in Clearwater Beach
Jimmy's Fish House
Whether you prefer your breakfast savory or sweet, you're in for a treat at Jimmy's Fish House! With menu items such as strawberry cheesecake waffles, creme brulee French toast, and an oscar mignon benedict you're surely going to have a tough time deciding!
Can't decide if you want savory or sweet? They also have chicken and waffles where you can get the best of both worlds 😉 I personally always make Remi order something sweet, I get savory, and then we share!
If you're a fan of bloody marys you've gotta try Jimmy's! (It's one of the best drinks on Clearwater Beach.) They serve theirs with a shrimp skewer and beer chaser. Oh, and did I mention you'll get to enjoy your breakfast with the most STUNNING waterfront views?! Watch dolphins and boaters go by as you start your morning. It's certainly not a bad way to start the day.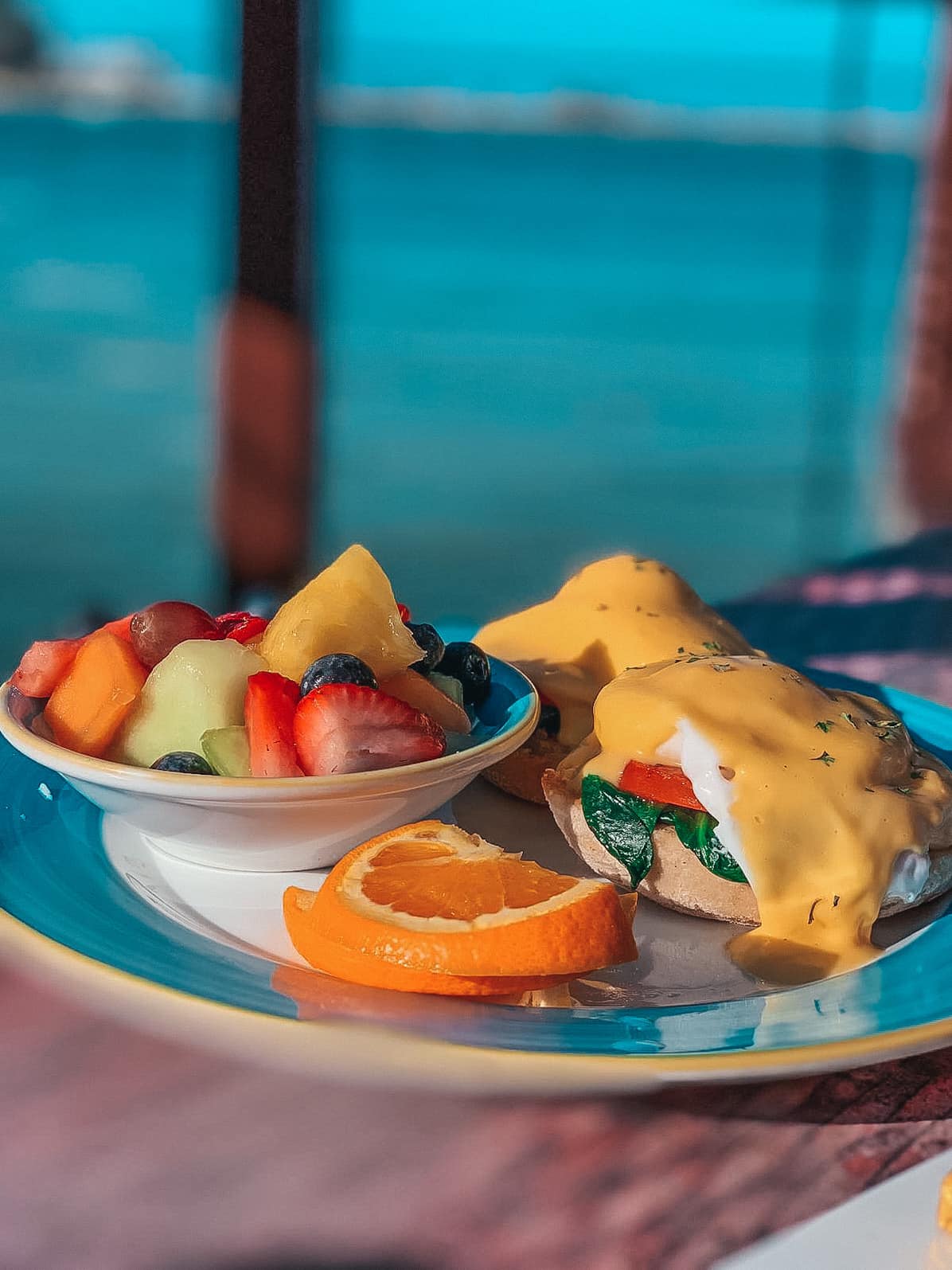 Clear Sky Cafe
Clear Sky continues to kill it. They are one of the best restaurants in Clearwater Beach and Dunedin, but their breakfast menu is just as good (and extensive) as their lunch/dinner menu!
They have 5 different pancakes (from banana nut to M&M), 8 different French toasts (from cinnamon bun to Nutella), 3 different waffles (and even a beignet), 14 different omelets, and SO MUCH MORE. Skillets, sandwiches, quiches, crepes— it's unbelievable how much they carry on their menu, but they do it all so well.
On the weekends they do a bloody mary bar, and they have several fun flavored mimosas! It's the perfect spot for brunch in Clearwater Beach.
Speggtacular Clearwater Beach
Speggtacular is a local chain that has been around for over 10 years. They are especially known for their crepes, but also offer several egg dishes (Benedicts, omelets, skillets, etc.) and other sweet breakfast options like waffles and French toast.
The highlight of this Clearwater Beach breakfast spot is how much bang for your buck you get! Each order gives you so much food for such a cheap price, which doesn't happen too often on the beach. There are so many reviews raving about this place, so go check them out for yourselves!
Another Broken Egg
Before you order breakfast at Another Broken Egg, start off with a cocktail! It is vacay after all. They have lemon blueberry, black cherry, strawberry nectar, orange, apple pie, and cranberry cocktail mimosas as well as four different types of bloody marys to choose from. You can even get them by the glass or by the pitcher.
I always struggle deciding if I want a breakfast cocktail or coffee, but with Another Broken Egg you don't have to choose! Get one of their heavenly spiked cold brews and have the best of both worlds.
As far as food goes, let me suggest the strawberry pound cake French toast or their crab cakes Benedict. Their entire menu is very fresh and creative though, so there really isn't a wrong choice!
Something that makes Another Broken Egg stand out as one of the best breakfast restaurants in Clearwater Beach is that they are super inclusive and have a good sized gluten-free and vegetarian menu as well!
TIP: Sign up for their emails and get special offers including free beignets or biscuits on your first visit 🙂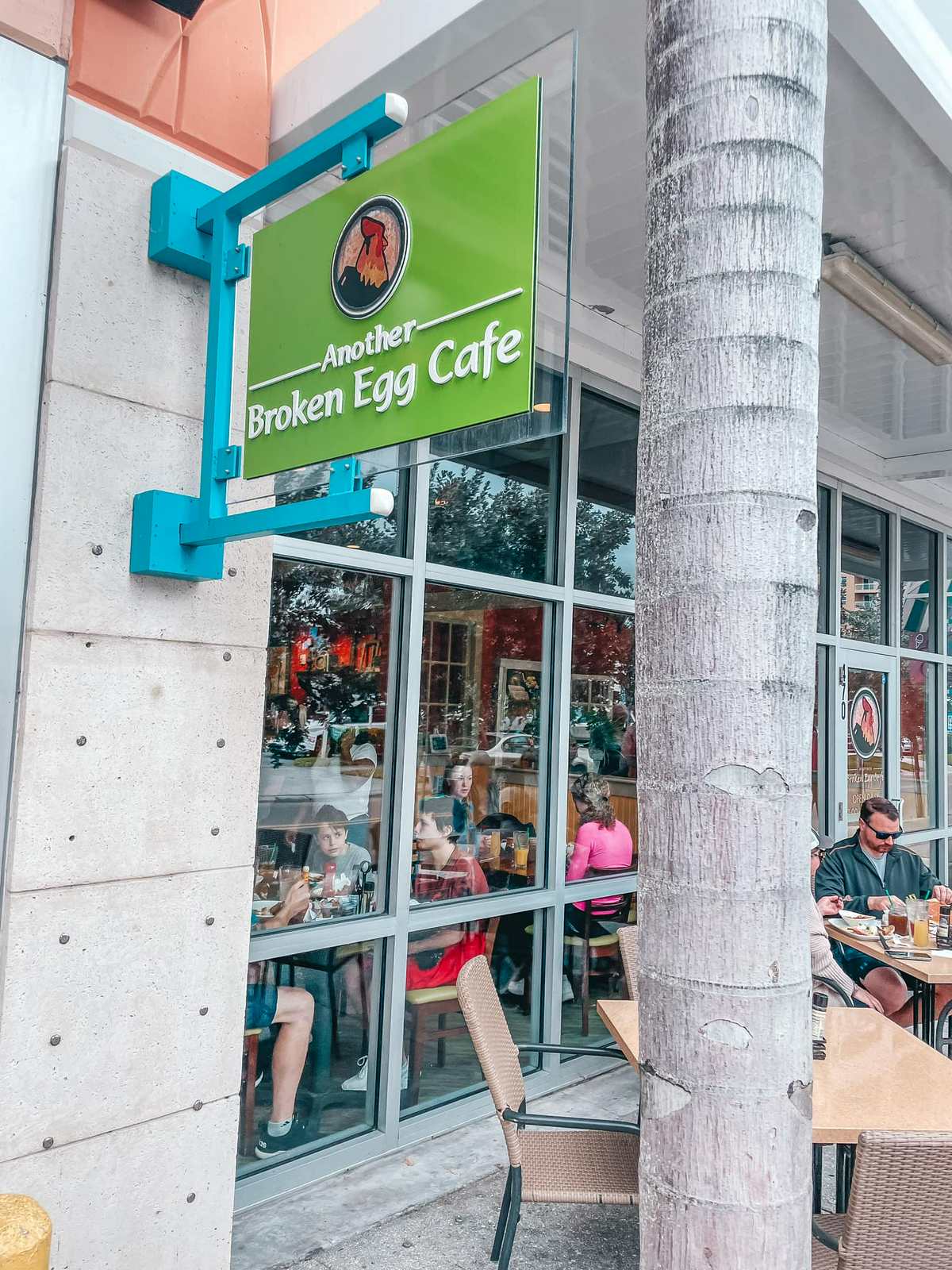 Holy Crepe
Crepe lovers, Holy Crepe is calling your name! I never knew there could be so many different types of crepes. With over 40 to choose from you can get savory or sweet— they even have a Philly cheesesteak crepe, pizza crepe,  and crepes where the base is an egg.
The great thing about this breakfast restaurant is it's great for on the go (unless they're backed up and there's a wait). They serve up your crepe in a cone, no utensils needed.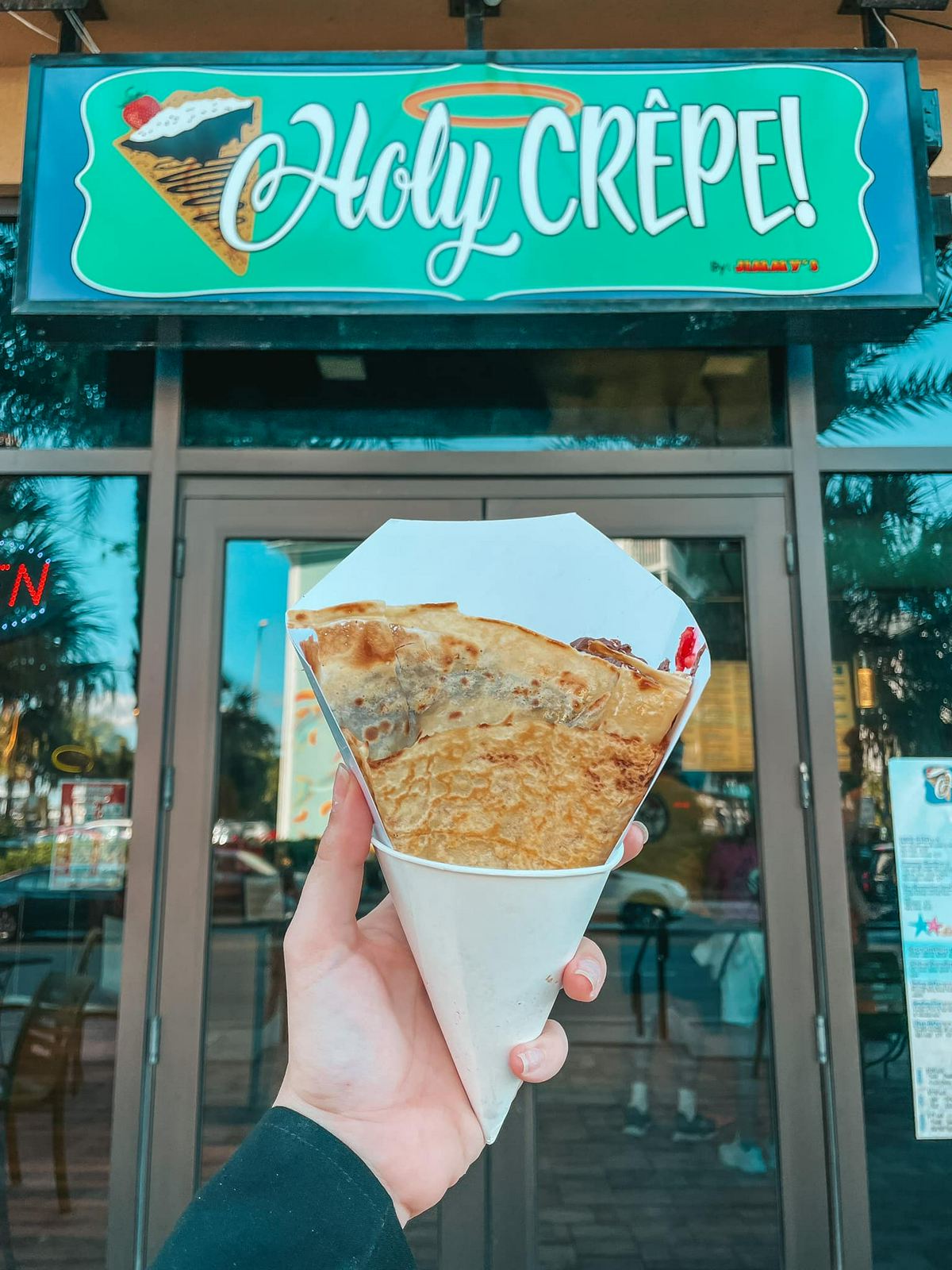 Ryan's Island Cafe
Wake up late, but still craving breakfast? Ryan's Island Cafe serves breakfast ALL DAY! Not to mention this spot has nearly 2,000 raving reviews. Seriously, they're rated at a 4.9 on Google with nearly that many reviews, so that's pretty impressive.
Ryan's mostly serves up savory options like their breakfast burrito, breakfast quesadilla, and steak Benedict, but do have a French toast special and boss stacked pancakes for those of you with a sweet tooth.
Crabby's Bar & Grill
Crabby's Bar & Grill is located right across the street from Clearwater Beach and you can enjoy indoor or outdoor shaded dining.
Build your own omelet, get a traditional breakfast, or try their crabby Benedict or huevos rancheros! Crabby's menu includes all of the basics with some fun twists. They also have a bloody mary bar with four types of bloodies and five mimosa flavors. If you're wanting something different, try dad's chocolate milk 😉
If you're a little further down on North beach, The Salty Crab has the same exact breakfast menu!
I know if I were in your shoes I'd have a pretty tough decision deciding which of these breakfast restaurants in Clearwater Beach to visit during my time! Be sure to let me know where you go and what you got!
Also, if you're wanting coffee, check out Blessed Cup. It's an adorable coffee shop in Clearwater Beach that has everything from lattes to fun frappuccinos!
If you're interested in other blog posts on this area, here are some others:
Things to do in Dunedin, Florida