This post contains affiliate links which means that I will make a small commission if you purchase a product after clicking on any of them, at no extra cost to you.
If you're anything like me, you love coffee. The smell of it brewing in the morning is enough to get me going, and I find it essential for making it through long days at work. To help you on your quest for the best coffee shops in Tampa, here are my top picks for local roasters and their signature brews!
Best coffee shops in downtown Tampa
Lady and the Mug
Lady and the Mug is the perfect stop for a cup of coffee and a bite to eat. The staff is friendly, the atmosphere is cozy and inviting, and it's a great place to relax and get some work done or even catch up with friends!
Whether you're wanting to keep it simple with a vanilla latte or step out of your comfort zone with one of Lady and the Mug's fun, seasonal options, you won't be disappointed. They have pastries as well as savory options on their food menu. My personal favorite actually is their vegan tamale!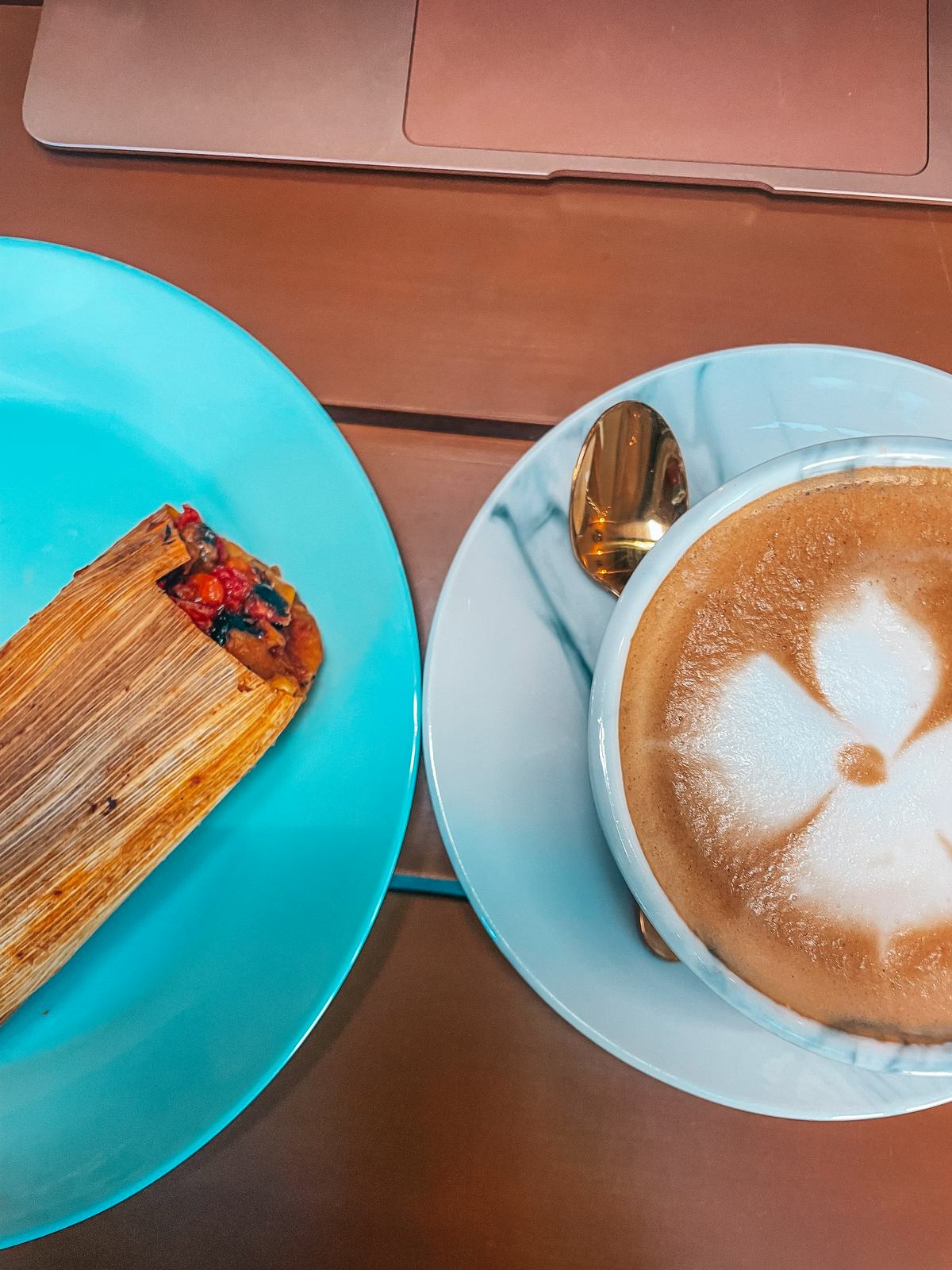 The Attic Cafe
The Attic is a space intended to fulfill not just your coffee, but all of your brunch needs! Delicious breakfast and lunch options, but their fun coffee drink creations are what really stole my heart.
This is a place to go during the week with your laptop and just enjoy the city views and fresh air. I had the cookies and cream iced latte which was BOMB, but they are always introducing fun, new coffee concoctions, so make sure to ask what they have or check out their Insta!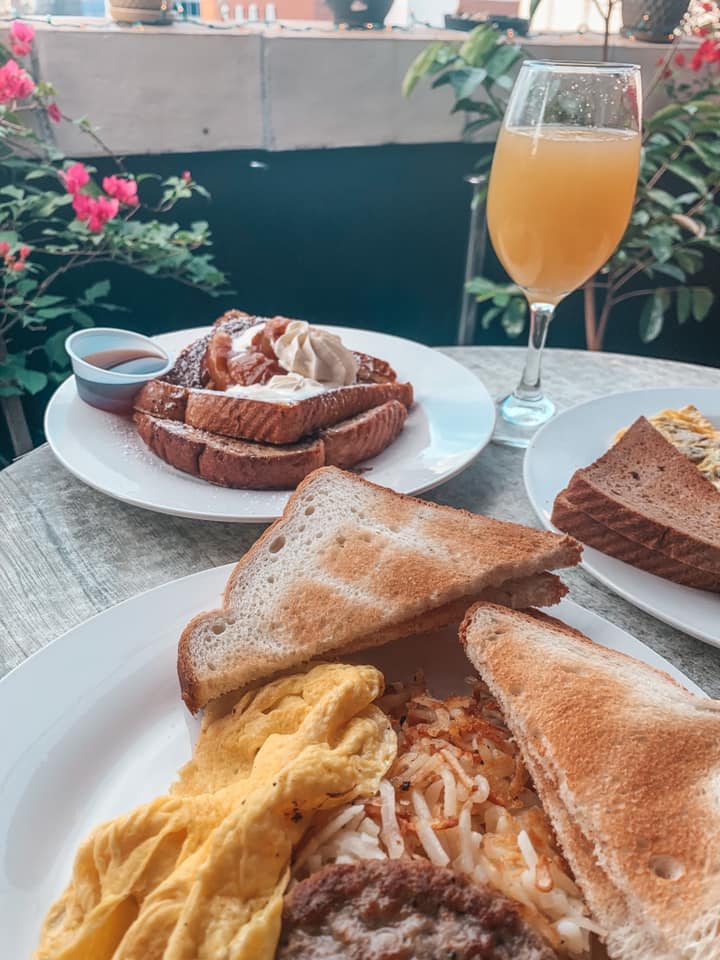 Craft Kafe
This cafe is native to St. Pete, but recently made its way to Tampa with one of their newest locations! It's a quaint, but gorgeous cafe. Craft Kafe's cold brew was smooth and tasty, the latte packed just the right amount of sweetness, and their gluten-free baked goods were unreal.
Don't make the same mistake as me and come hungry. Regardless I still couldn't resist trying their carrot cake cupcake (no regrets). Aside from baked goods they also offer salads, sandwiches, and specialty toasts (all of which abide by their mission of slaying gluten and are gluten-free).
Something unique to their coffee menu is their superfood lattes which include drinks like their Pretty in Pink which is Saku Tea ruby ginger blend, house-made almond milk, and honey.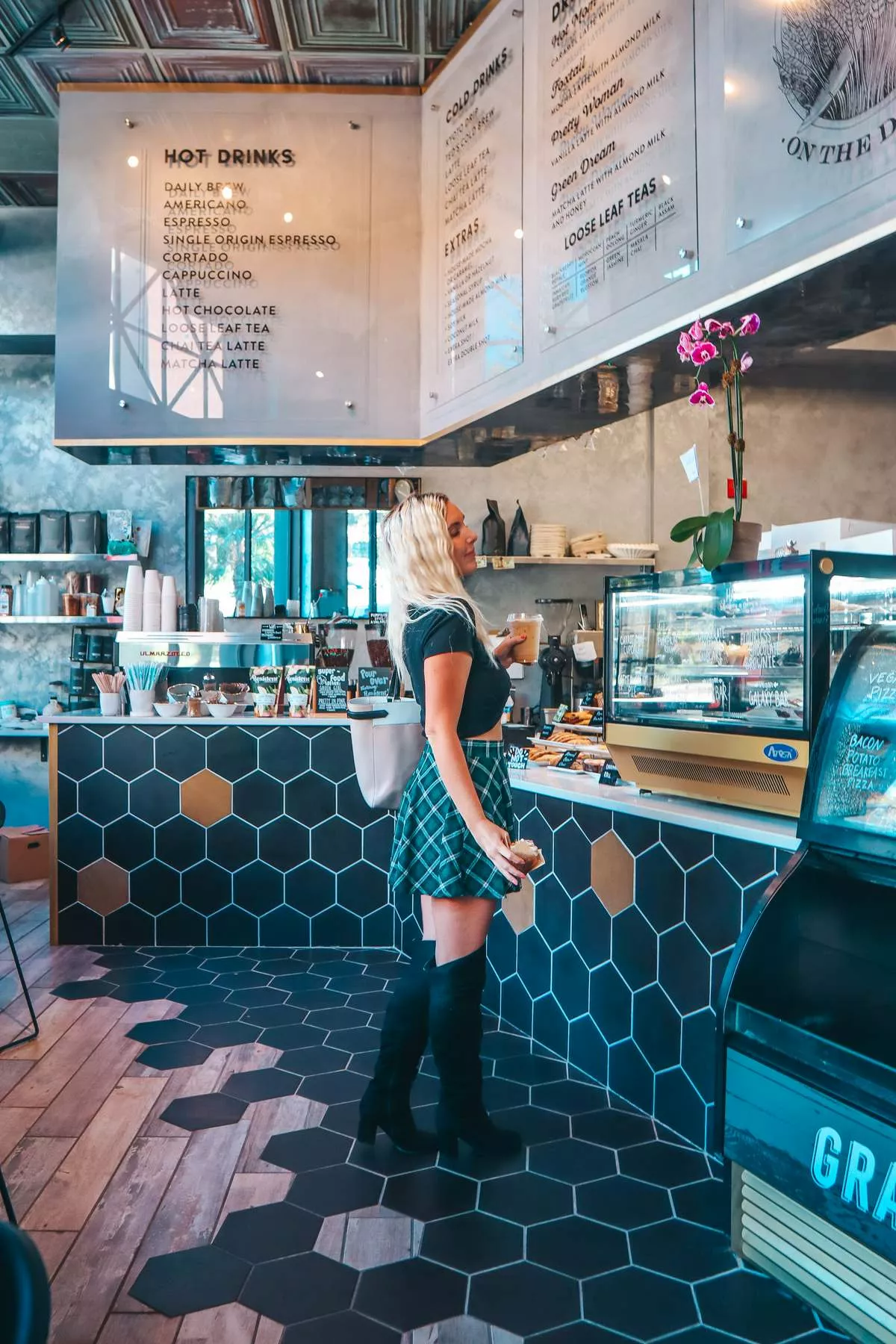 Oxford Exchange
If I could be a live-in tenant at Oxford Exchange that would be ideal. This Tampa coffee shop is interior design GOALS. And it's more than just a pretty face— the food and drinks are amazing too. They serve Buddy Brew, which is my absolute favorite coffee. Their vanilla, or seasonal, cappuccinos are always my go-to. If you come hungry with a sweet tooth their French toast and seasonal pancakes are always a hit!
There are a ton of fun cocktails on their menu as well, but I can never seem to resist the Buddy Brew. You don't have to dine in to enjoy your cup of Joe, they have a Buddy Brew located outside of the dining area along with a bookstore, a shop, and champagne bar. You can easily spend your entire afternoon here. If you are looking to be productive here, they do not have free Wi-Fi.
If you're here for a bachelorette party, birthday celebration, or special occasion, this spot definitely needs to be on your list! And make a reservation for their brunch.
Their sister location, The Library, is located in St. Pete and is one of my favorite downtown St. Pete coffee shops and brunch spots!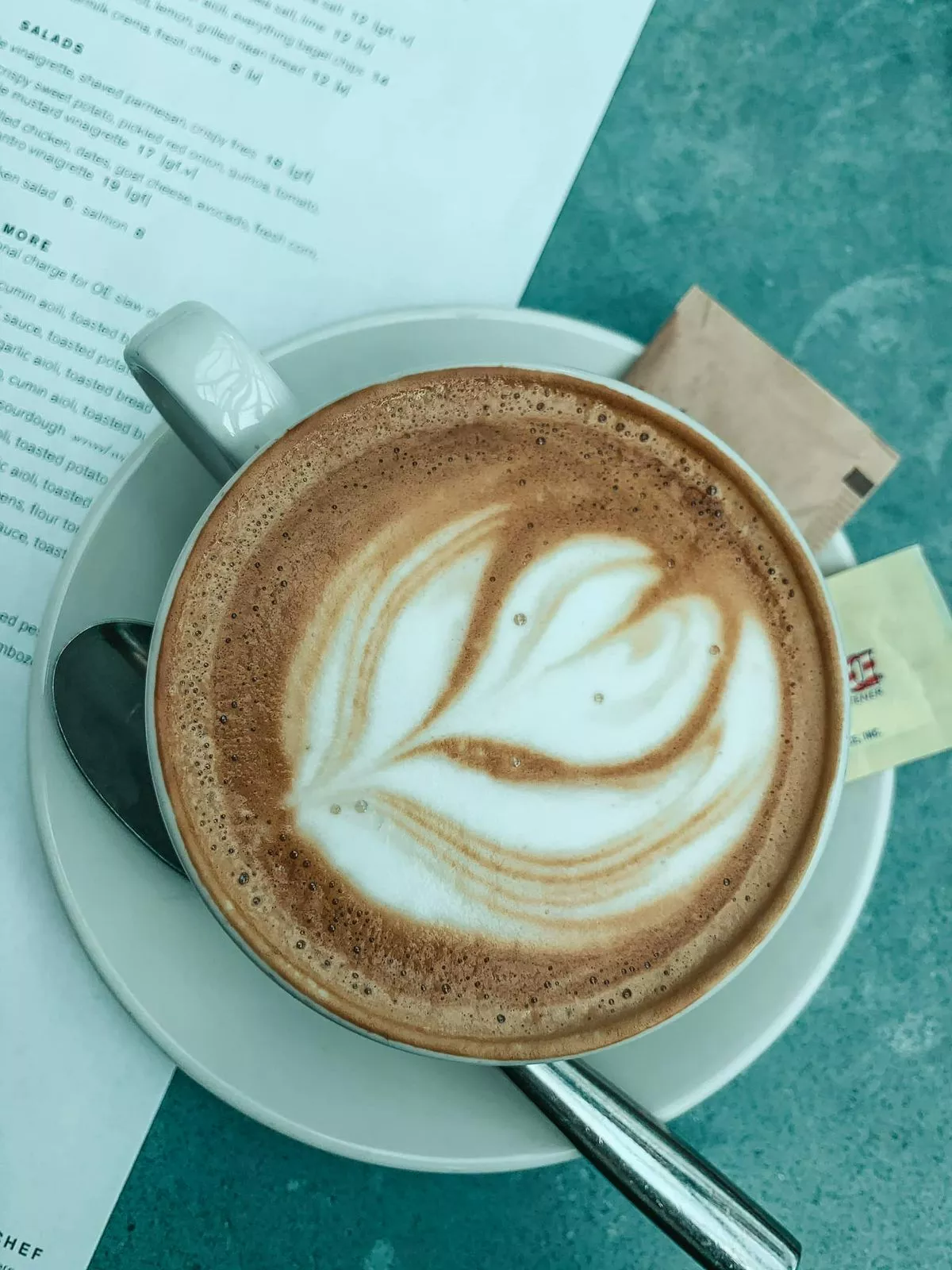 Moxie's Cafe
When it comes to the best coffee shops in Tampa, Moxie's Cafe stands out with its delightful offerings. From a scrumptious breakfast sandwich to a cold brew that will leave you craving more, Moxie's delivers an exceptional coffee experience.
The cold brew at Moxie's is a true masterpiece—a perfect blend of sweet and creamy flavors. Topped with velvety cold foam, it adds an extra layer of perfection to the already outstanding brew. If you're a cold brew aficionado, this is one you simply can't miss in Tampa Bay!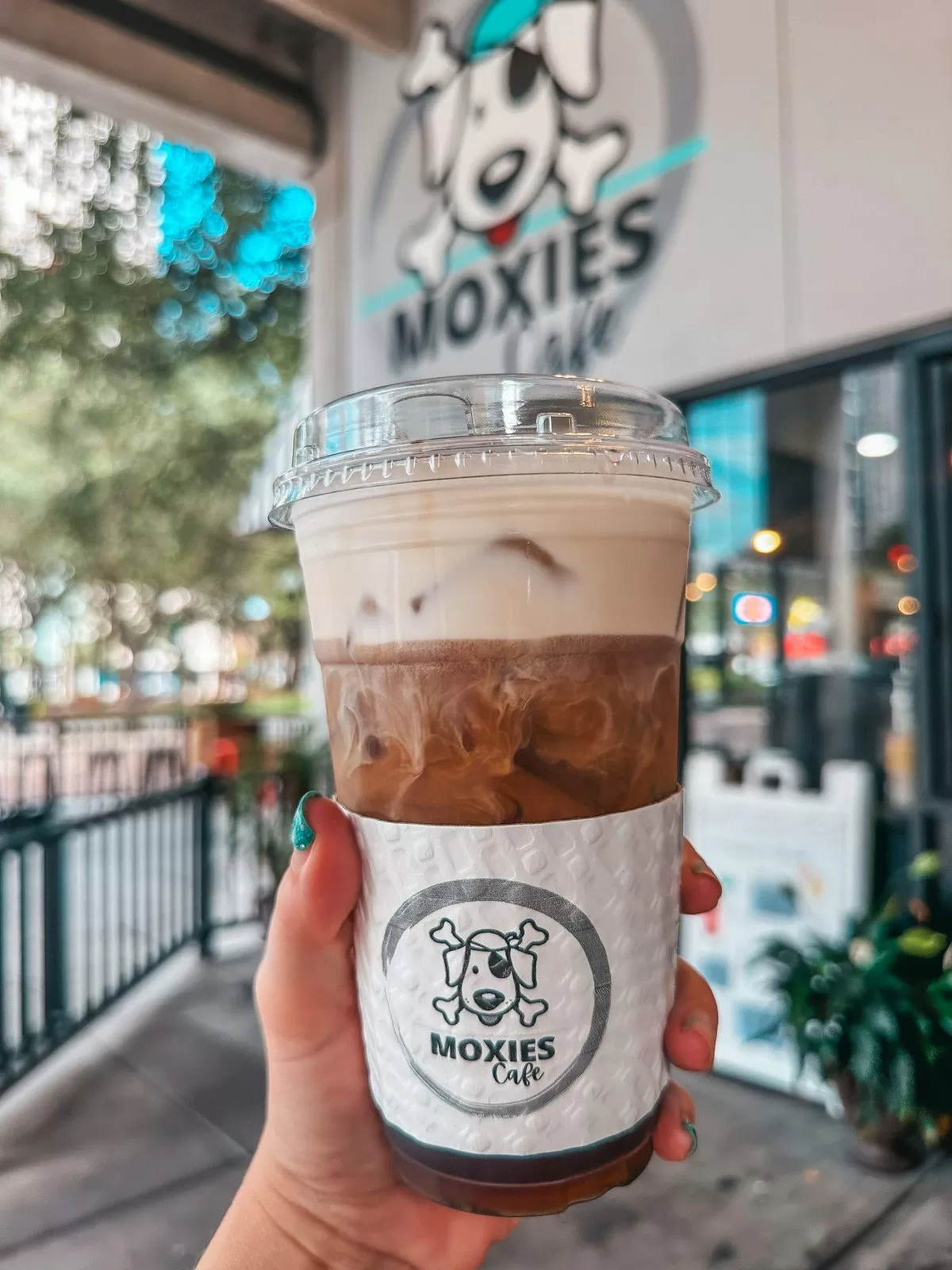 Ginger Beard Coffee
You can find Ginger Beard Coffee in Tampa's Channelside District located inside of Pour House. They specialize in nitro infused cold brew coffees, however, each of their coffee drinks I've tried have been amazing quality.
Chai is not my thing, but word on the street is their chai lattes are one to be reckoned with. They also have another location inside of Magnanimous Brewing (one of the best breweries in Tampa!).
Because its located in Pour House you can work here from morning to night as you switch from coffee to beer or wine 😉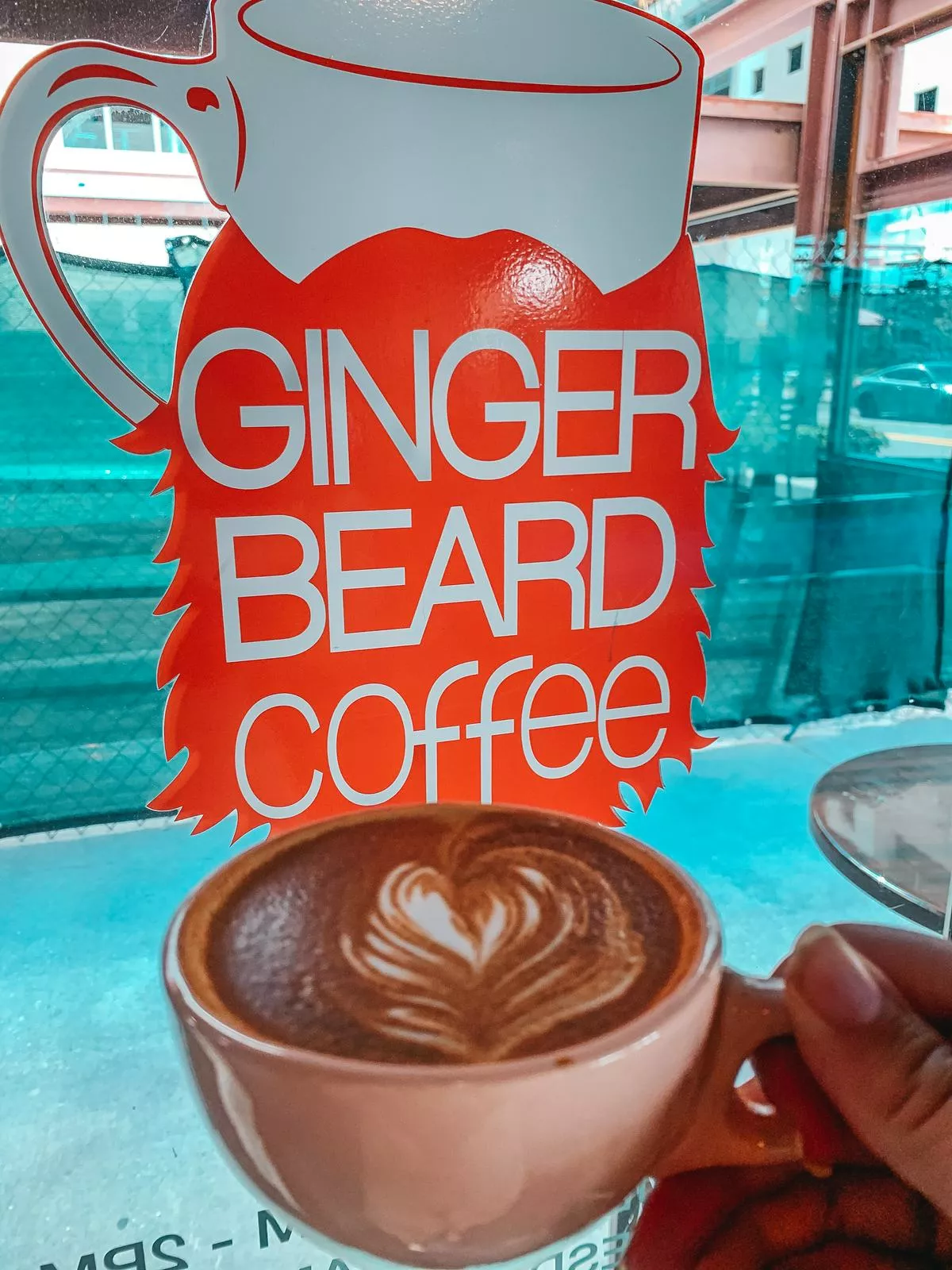 Shortwave Coffee
Shortwave Coffee is a brand new coffee shop located in the Sparkman Wharf area of Tampa, Florida. This trendy spot offers a wide selection of specialty coffee drinks, as well as a variety of delicious pastries and sandwiches to enjoy.
One of the standout features of Shortwave Coffee is the expertly crafted coffee drinks. The baristas here are true professionals and take great care in brewing each cup to perfection. Whether you prefer a classic cappuccino or a more unique latte, the team at Shortwave Coffee has you covered. I fell in love with their iconic strawberry basil latte!
Another highlight of Shortwave Coffee is the cozy, inviting atmosphere. The shop is decorated with a modern, minimalist aesthetic, and features plenty of comfortable seating both indoors and outdoors. Whether you're looking to catch up with friends, get some work done, or simply enjoy a quiet moment to yourself, Shortwave Coffee is the perfect spot.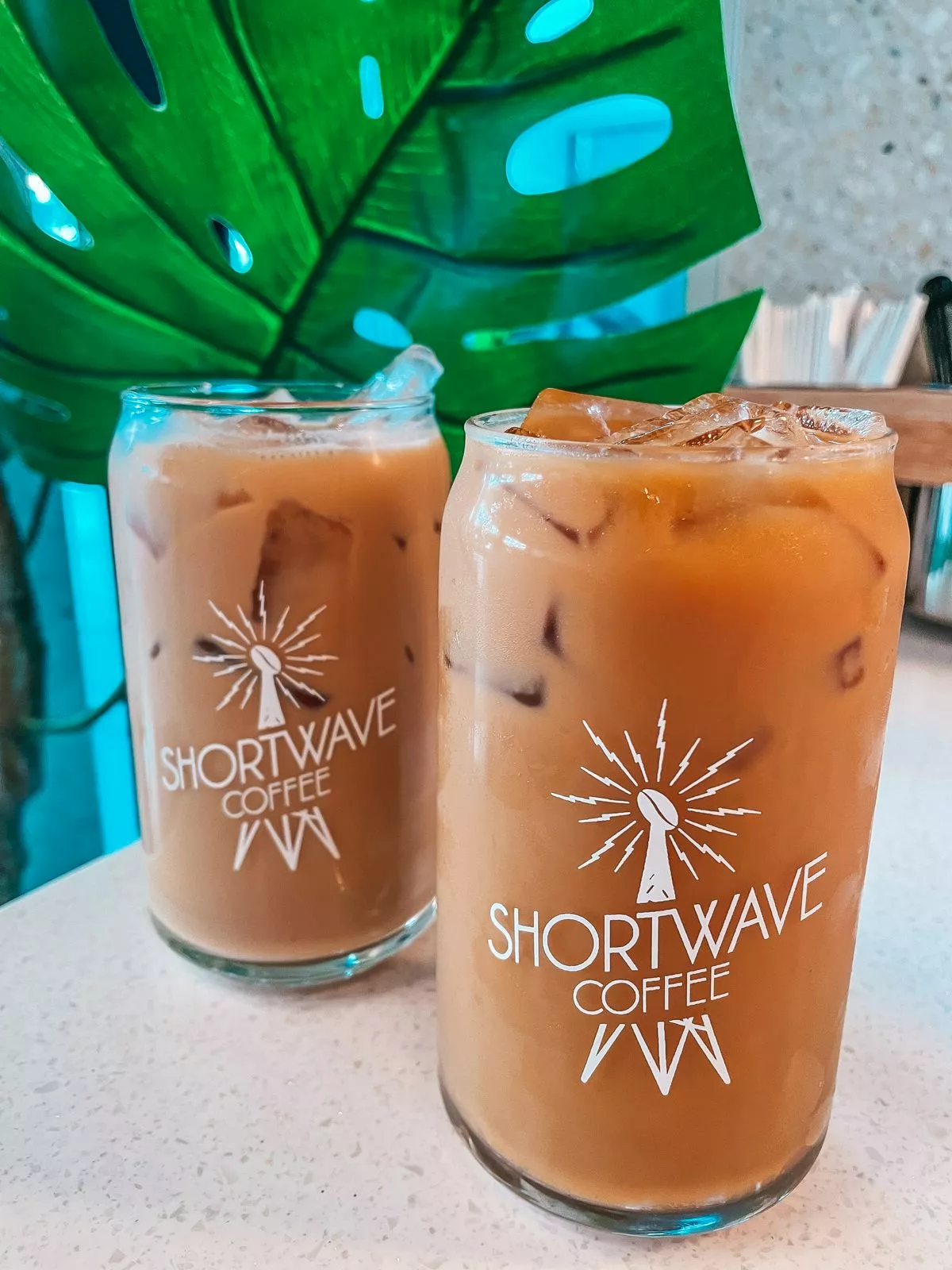 Victory Coffee
Victory Coffee was one of my latest Tampa coffee shop discoveries, and let me tell ya, I've definitely been missing out! Finally experiencing this place was definitely a sweet victory 😉 Sorry, I had to!
I fell in love with their cold brew, but their breakfast sandwich was the cherry on top. They have a true scratch kitchen where everything is made to order which is especially great for my picky eaters out there or those with dietary restrictions.
The food can take a little, but I assure you it is worth the wait.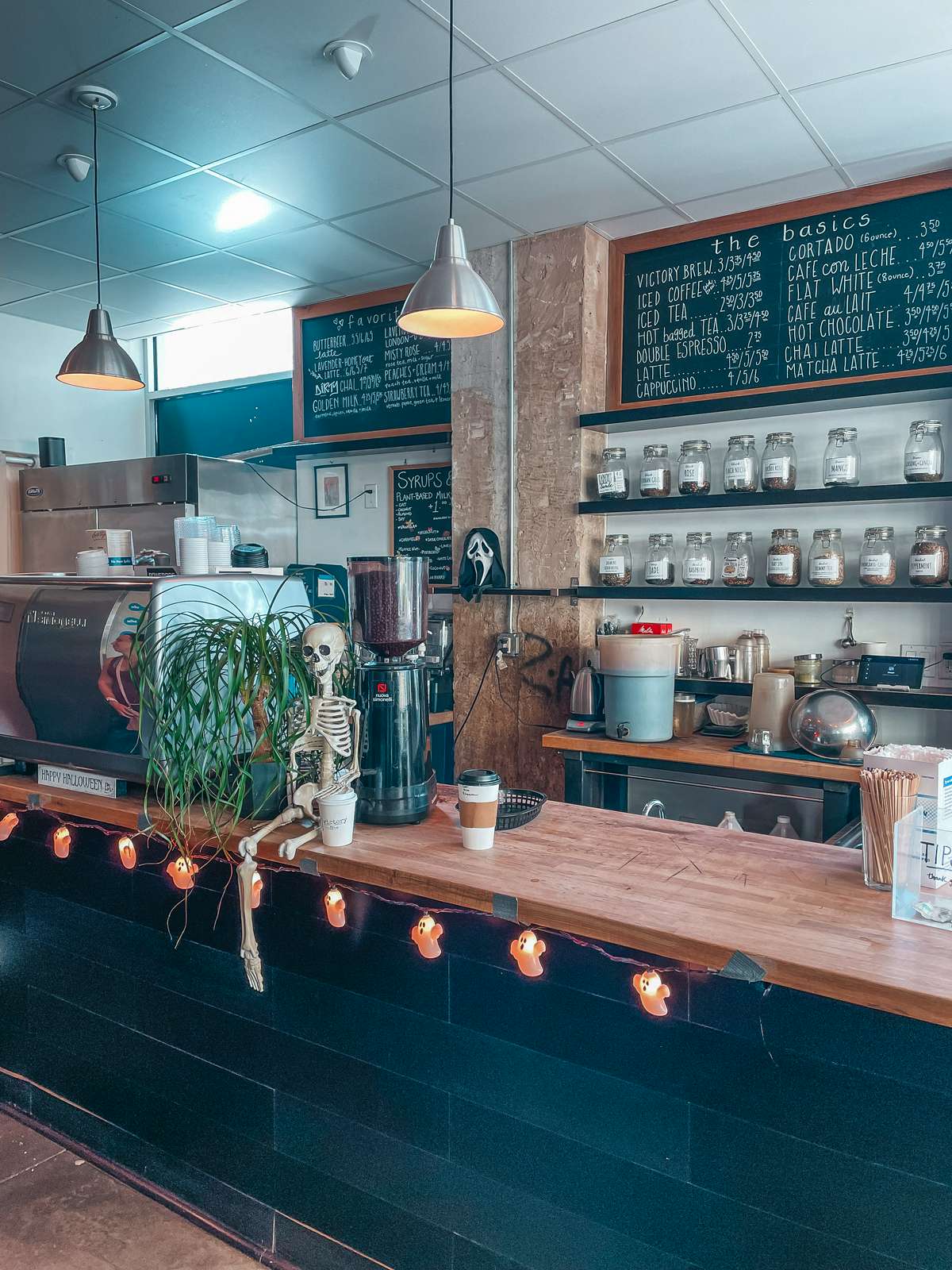 Best coffee shops in Ybor City Tampa
Cafe Quiquiriqui
Something that is a must for your list of things to do in Ybor is grab a Cuban coffee! Located inside of the beautiful Hotel Haya you will find Cafe Quiquiriqui where you can do just that. The cafe is so lovely and aesthetic, plus their cafe con leche is rich and creamy, making it a great option!
If you're wanting to get a nibble snag one of their empanadas, pastalitos, paninis, or other baked goods. I had one of their lunch empanadas, but their breakfast ones (served until 11) sound amazing! Regardless, be sure to get their cilantro sauce for dipping, it's SO good!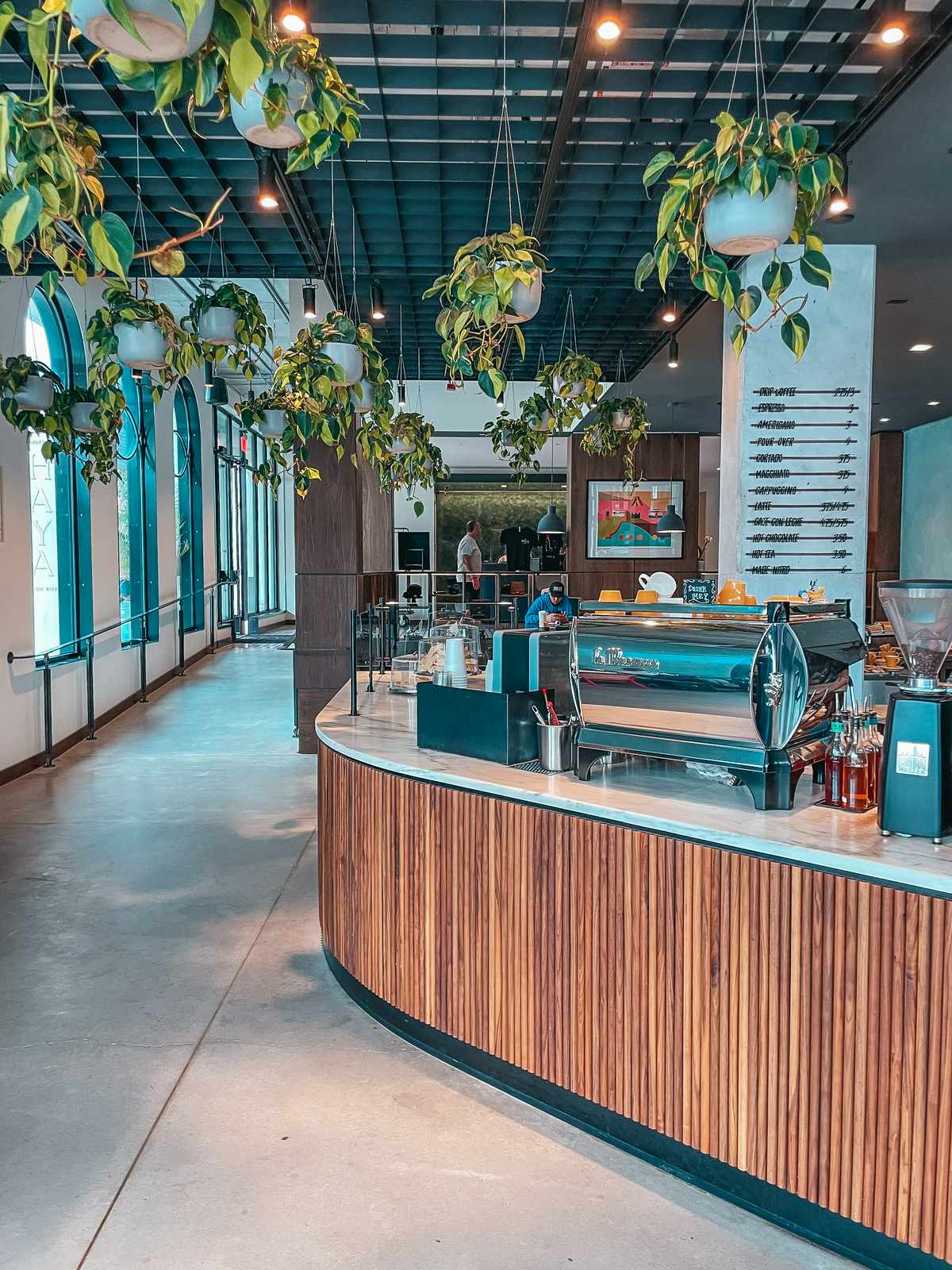 Foundation Coffee Co.
Foundation Coffee Co. is located inside The Bunker, a historic building that has been a part of Ybor City since 1926! The location puts you within walking distance to several other small businesses, and even weekend markets. I visited on a Saturday and noticed the Ybor City Saturday Market was happening right across the street!
There is plenty of seating indoors including comfy couches where you can relax and mingle with friends, and a few cafe tables outside if you're looking to enjoy the lovely Florida weather. You can grab a handcrafted coffee or espresso drink, or something from their ever-expanding tea bar.
I loved my cold brew, but if you're visiting around the holidays they always have fun, exciting drinks. For Christmas they have options like a sugar cookie latte, rum cake latte, or peppermint mocha. All of which can be paired nicely with one of their fresh baked goods.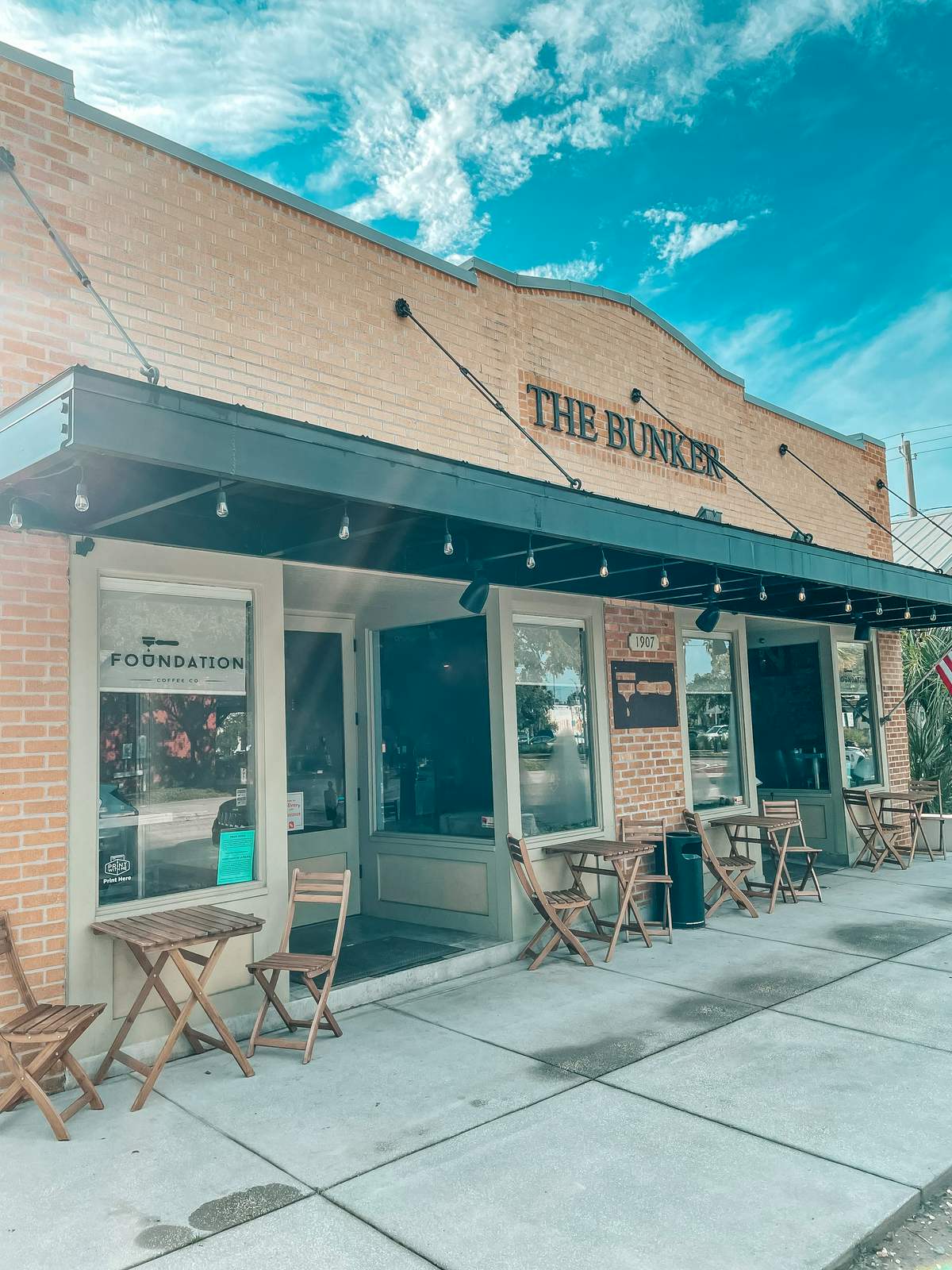 22nd Street Coffee
The first thing you'll notice about 22nd Street Coffee is how great the parking situation is. One of the things that can be difficult with Tampa coffee shops is finding parking, 22nd Street Coffee has an entire lot!
Once you enter, you'll see this spot is pretty big inside, and offers a great workspace. I got their coño with pumpkin spice and it was phenomenal! The perfect amount of sweetness, and it actually gave me a coffee buzz (my caffeine addiction has led me to believe that was no longer possible).
I was also skeptical about ordering a Cuban because I'm very picky, but it was SO GOOD. I mean look at that sauce! Pro tip: always ask for extra pickle.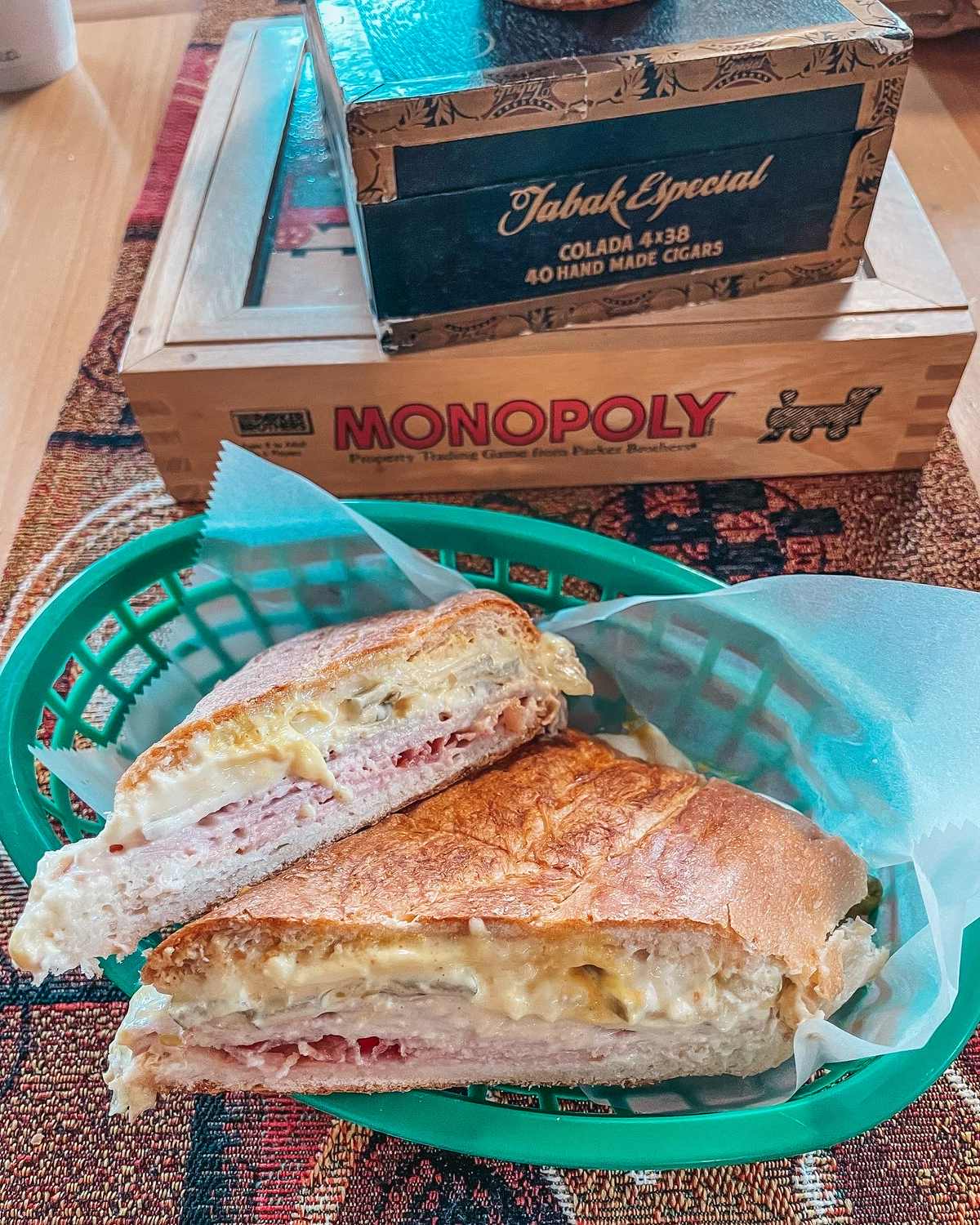 Best coffee shops in Seminole Heights
King State
Another amazing coffee shop in Tampa! King State is a coffee shop that also has delicious-looking food and craft beers. The aesthetic has everything you would want in a coffee shop. I went with their vanilla cappuccino, it was yummy and bonus points for the cute design! King State is a really great hangout spot.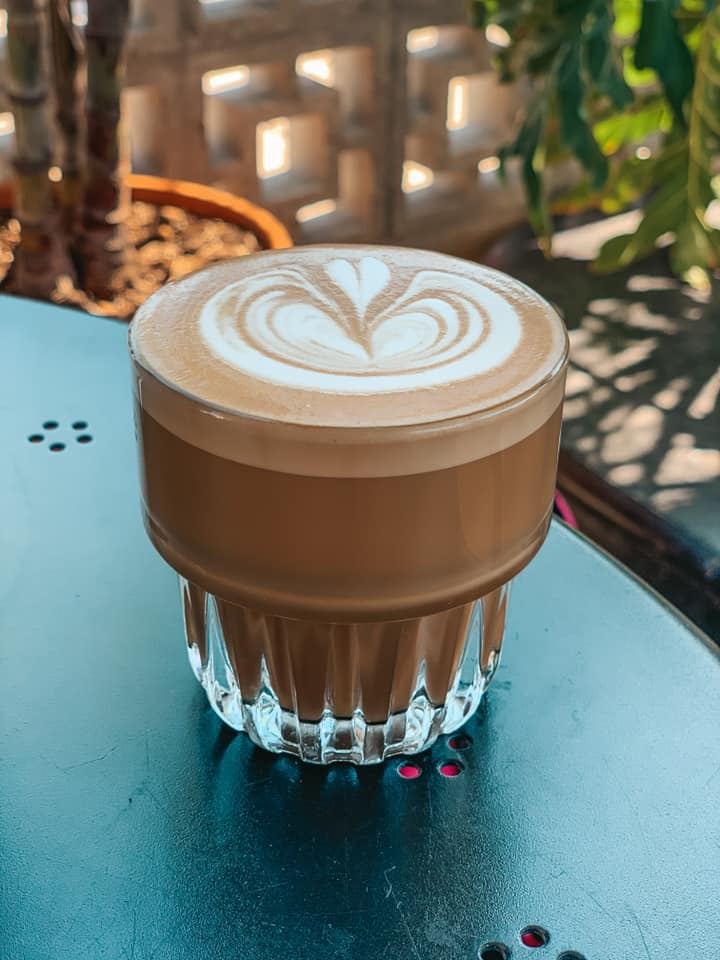 Chocolate Pi
Chocolate Pi is a must-visit spot in Seminole Heights! It serves cakes, pies, tarts, coffee, ice cream, and more. That may sound like your typical bakery (it is one of my favorite Tampa dessert spots as well)— but Chocolate Pi is anything but. Beautiful lattes topped with colorful sprinkles and dried strawberries along with ones that look like galaxies topped with glitter are more than just a beautiful pic for the gram— they are also a treat for the taste buds.
There's an array of antique furniture that adds to the beautiful aesthetic of this spot where you can enjoy your specialty latte. The Brushed Suede is their black sparkly glitter latte you may have seen people posting about. They offer it in the flavor vanilla, as well as the occasional second flavor option (this changes)!
If you enjoy this post, check out my ULTIMATE Tampa, Florida Guide with the best things to do, restaurants, coffee shops, and more!
My personal favorite is the Strawberry Shortcake Latte. It is delicious in every possible way. But, I'm not going to lie— I usually get both. As far as sweets go, it depends on your taste. Ask the employees their opinion based on what you typically like in your bakery items (sweetness and moistness, etc.) and they are more than helpful!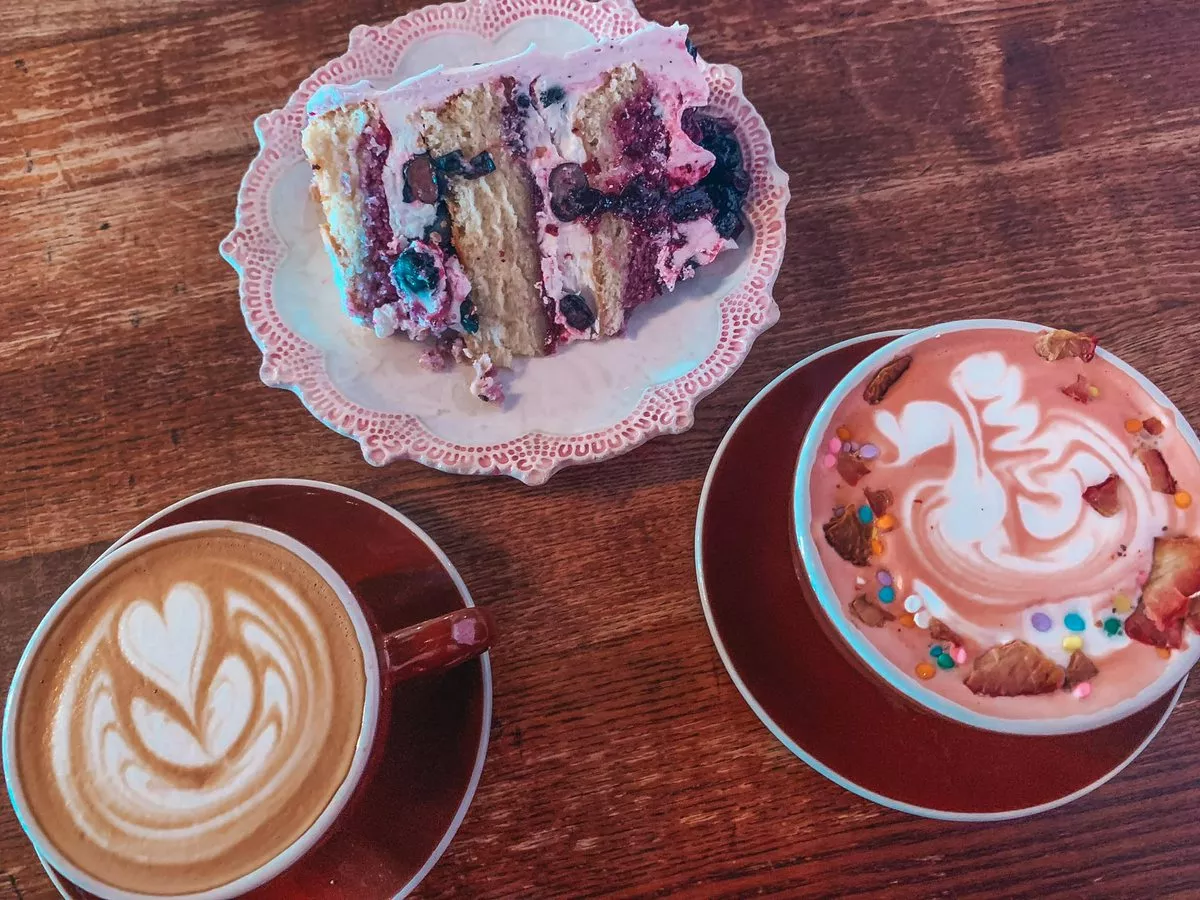 Spaddy's
They have a brick-and-mortar location in South Tampa, but if you're in the Heights area you are going to love Spaddy's little mobile outdoor coffee shop!
I asked my barista what to get and he recommended the Heights cold brew which is just cold brew with sweetened condensed milk, and I thought it was lovely! They have other interesting cold brew concoctions like cold brew lemonade, which I'm definitely curious about, but not sure if I'm curious enough to order it (if you do, you'll have to let me know!).
For flavors, they offer vanilla, lavender, caramel, seasonal, and Florida Man (I definitely giggled at that one). They also have tea options as well as some small bites.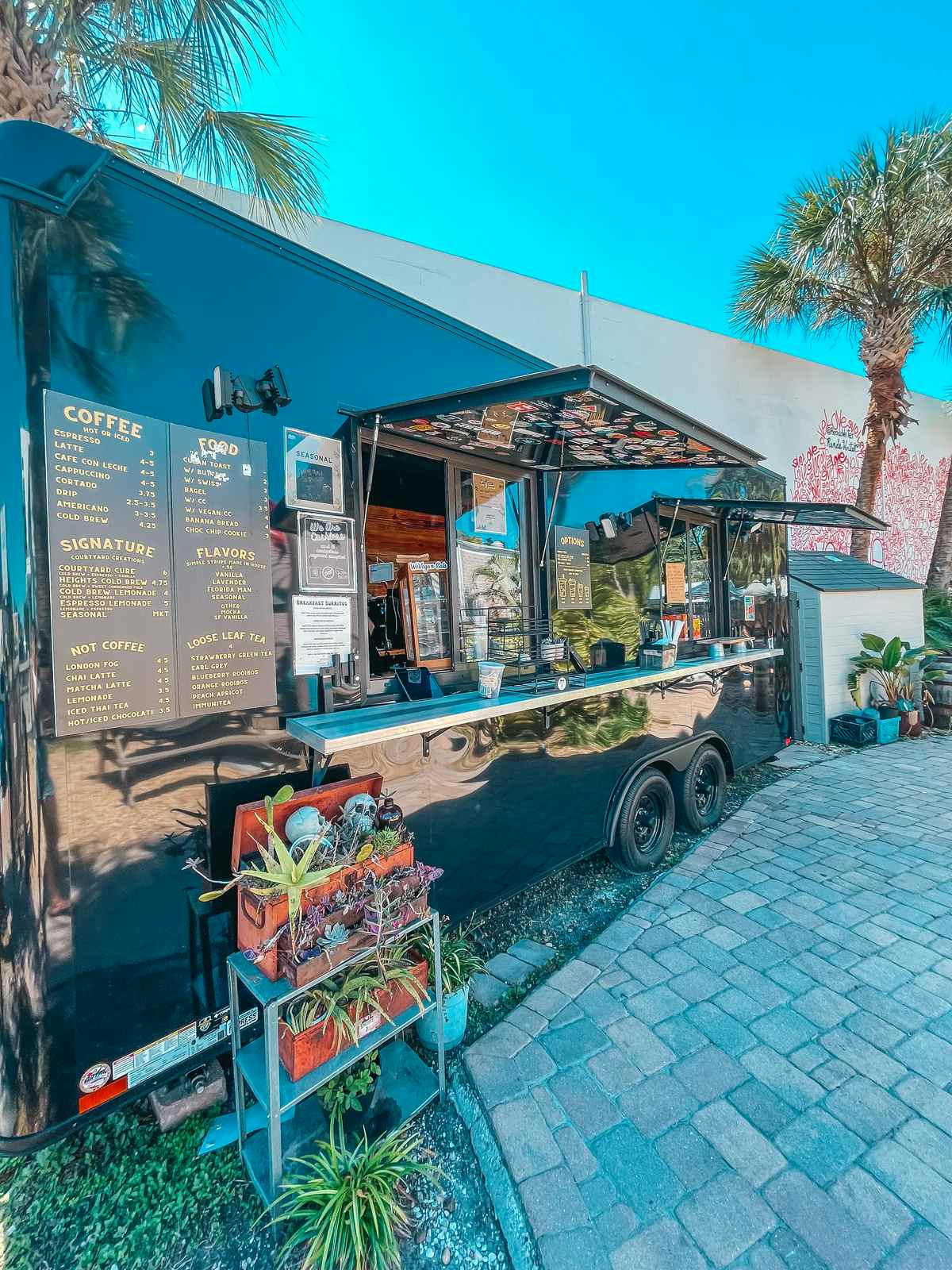 Best coffee shops in Midtown Tampa
Joffrey's
Joffrey's Coffee has a location in Midtown, but can be found in several coffee shops in the Tampa Bay Area, including one of my favorite coffee shops in Indian Rocks Beach, Pipo and Betty's!
This Tampa coffee shop believes coffee roasting is both an art and a science, and it's obvious it's something they've mastered. This cafe offers a variety of different drinks, but they are one of the few coffee shops in the area I've found that serve their cold brews with cold foam! And it's to die for.
They exclusively purchase Specialty Grade Arabica beans—an elite designation achieved by less than 10% of Arabica beans produced in the world! They also practice small-batch roasting in order to ensure maximum flavor and freshness for every cup.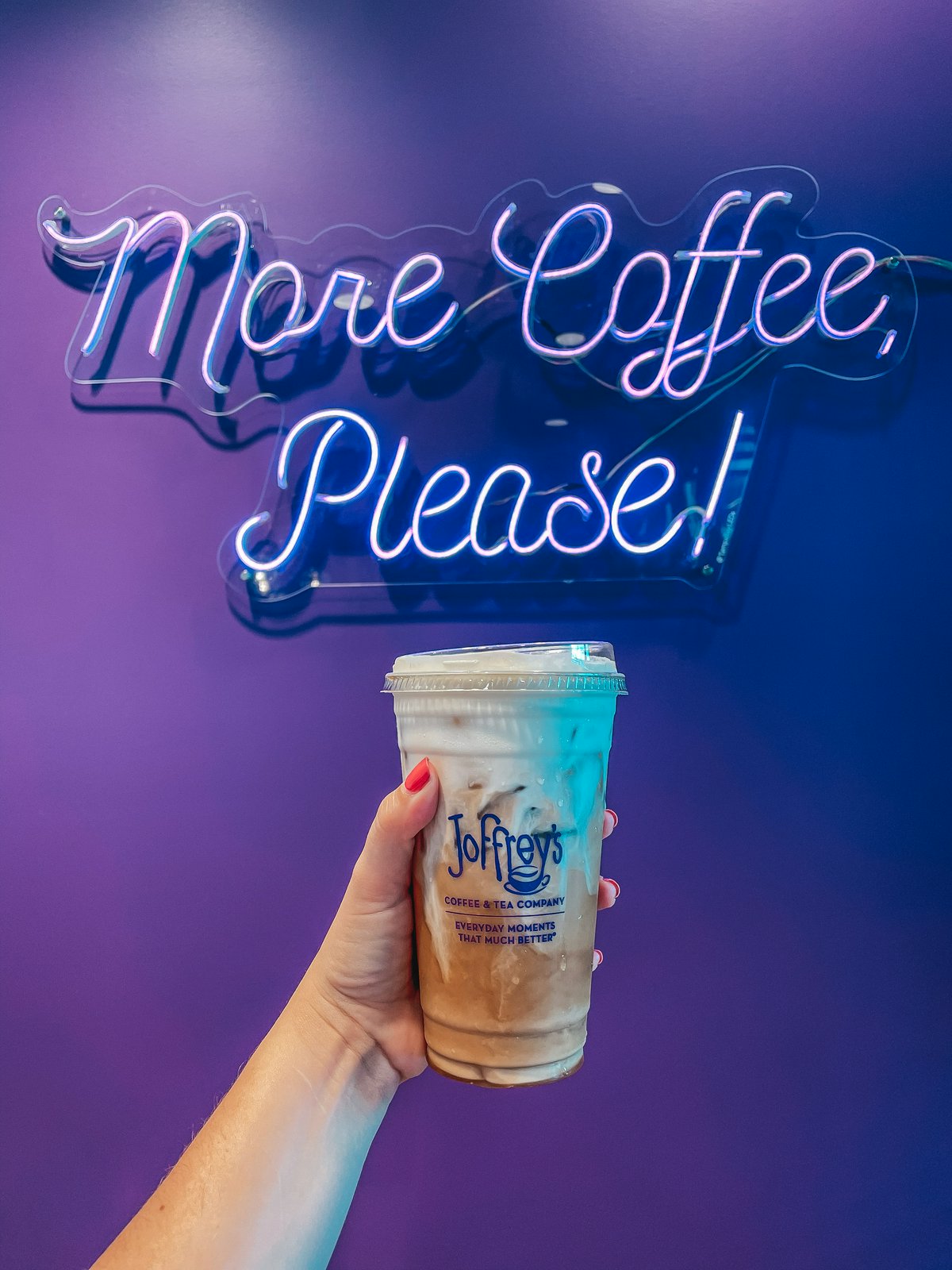 Best coffee shops in North Hyde Park
Psomi
Psomi (which means bread in Greek) is a family-owned Greek American bakery and eatery. While you can get fresh and tasty coffee and baked goods here, they also have one of the best weekend brunches in Tampa!
With baked goods like Brioche Bread Pudding Muffins, Mama's Baklava, and Baklava Coffe Cake I'm not sure how you're going to decide! Rooted in a Greek foundation with global twists, Psomi focuses on creating delicious food and drinks with the freshest ingredients, traditional values, and friendly service.
They source their coffee from Bandit Coffee (one of my St. Pete faves!), and have a housemade baklava syrup option to spruce up any coffee drink. Psomi is open Wednesday through Thursday.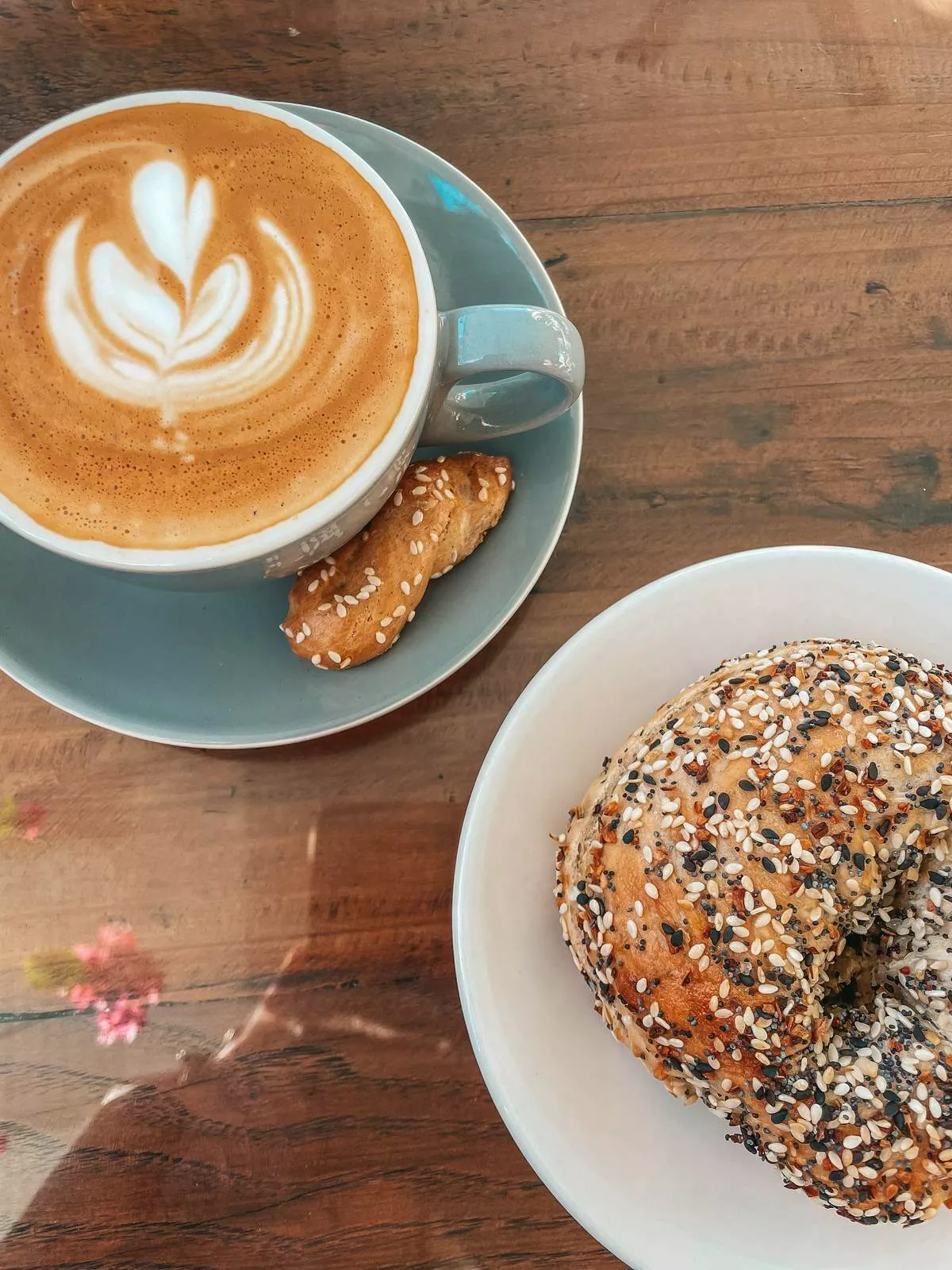 Willa's Provisions
Willa's Provisions is tucked inside the full-service restaurant, Willa's (an excellent brunch or dinner spot). It serves up King State coffee and has the most ADORABLE shop! If you go around the holidays they even decorate adorably with pastel pinks and greens.
The coffee was top-notch— we tried the fall spice and vanilla cappuccino and loved them both! They are a scratch kitchen, so I recommend grabbing a bite to eat as well. I just got a bagel with their house made scallion cream cheese and I am officially a cream cheese lover now! They also have breakfast sandwiches and burritos if you're looking for something a little more filling.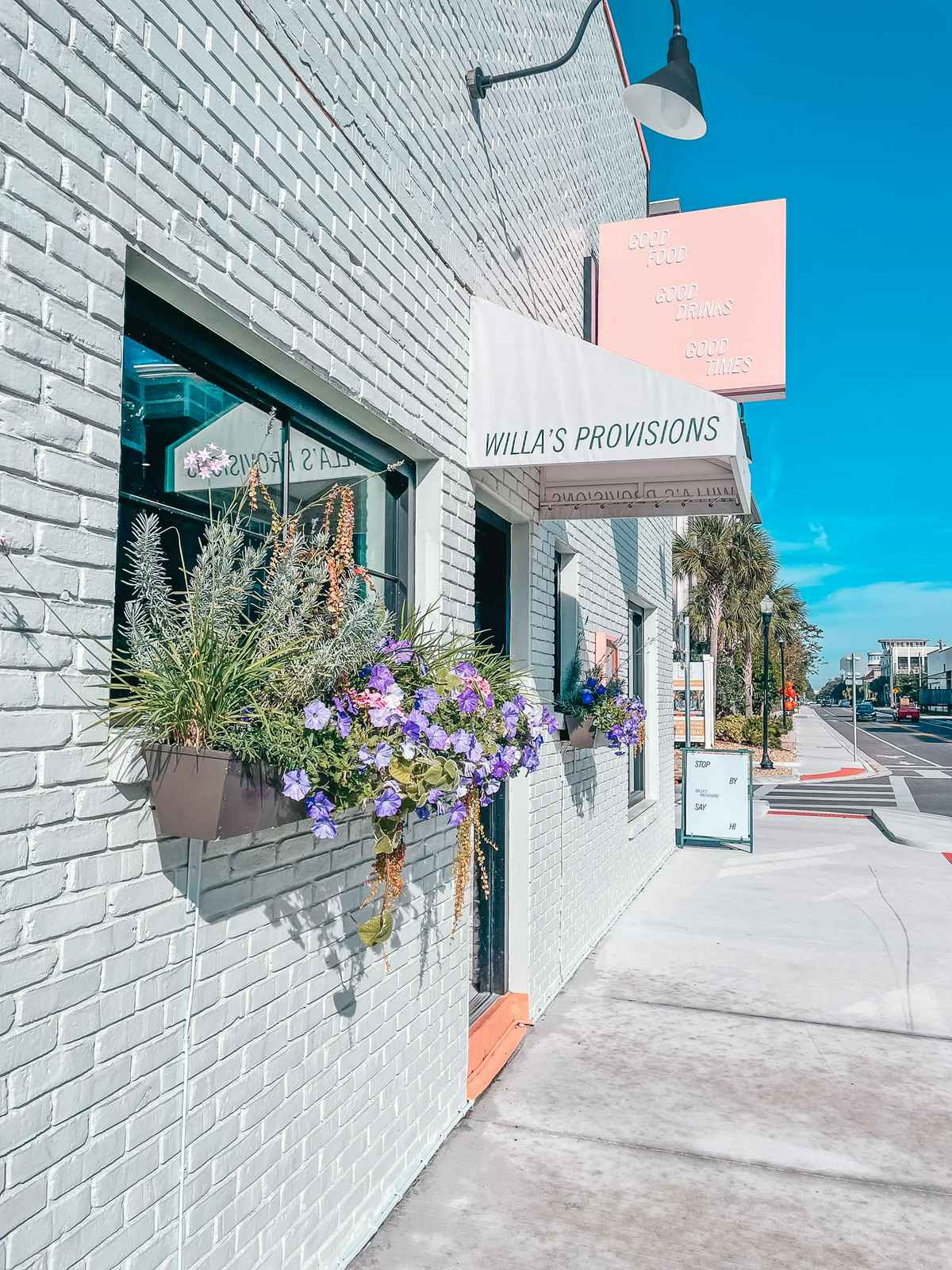 The Lab Coffee
The Lab Coffee stays true to its name and consistently has new coffee offerings in their shop. They encourage you to converse with the barista to help design your daily drink or explore new avenues to enhance your coffee knowledge and experience.
Whether you enjoy a sweet and creamy cold brew or choose to indulge in one of their consistently rotating espressos, you're sure to find the perfect cup of coffee for your needs.
The interior is sleek and industrial, and it's definitely another great Tampa coffee shop to bring your laptop to and hang out for a while. And this is also another spot I recommend bringing your appetite to. I loved their breakfast bagel sandwich which was served with Sriracha mayo on the side, but I'm going to give their Cuban and guava cheese pastry a try next time!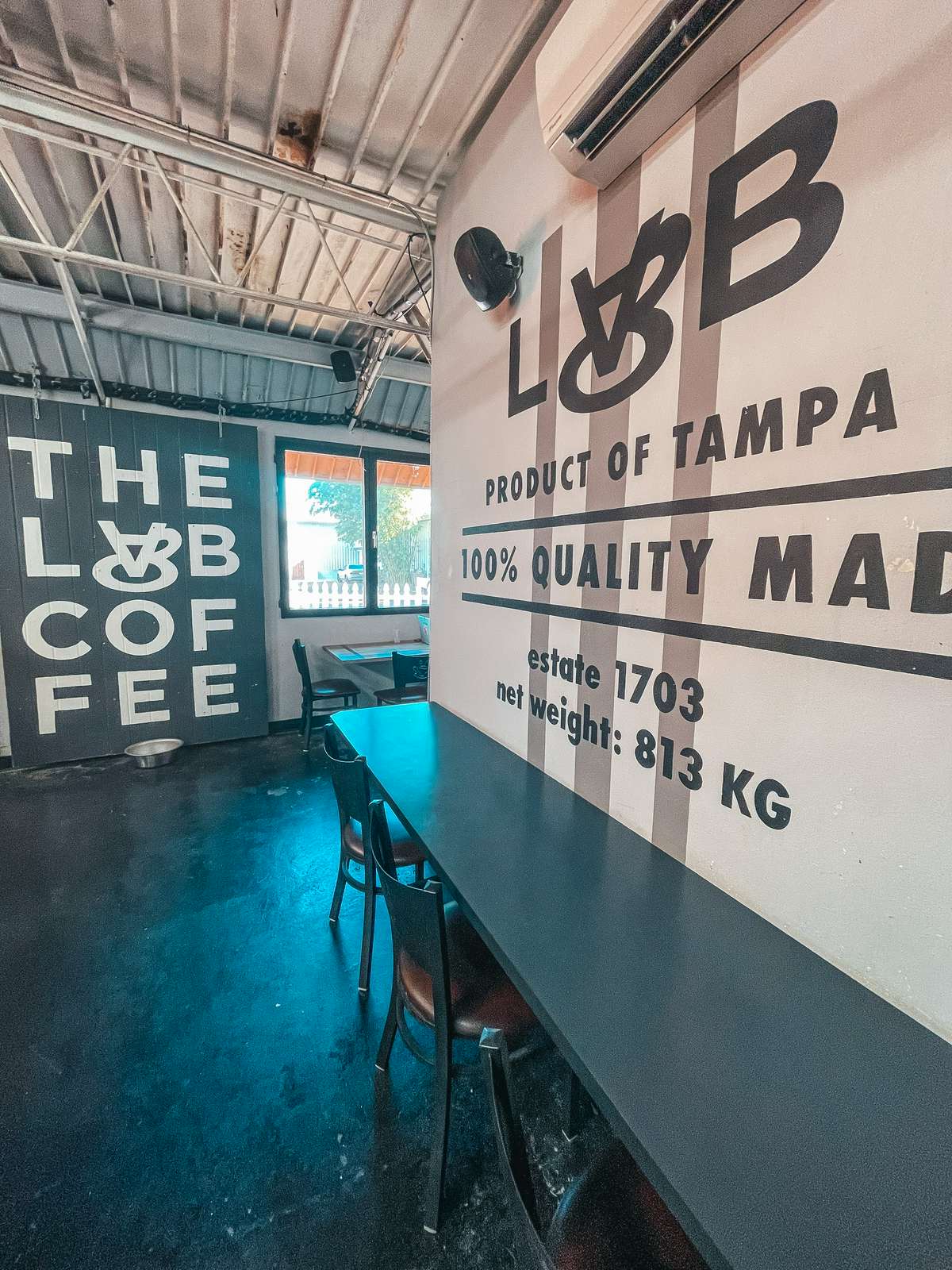 Best coffee shops in Hyde Park
Buddy Brew
I've already praised my obsession with Buddy Brew, it is a Tampa staple after all. Not only can you count on the coffee to be great, but the shops are adorable too. They're great hangout areas if you want somewhere cute and relaxed to enjoy your cup of coffee or if you're attempting to be productive.
I always get their vanilla or pumpkin spice cappuccino and it's yet to fail me. They have a location in Armature Works, Hyde Park, Bay to Bay, Kennedy, and inside of Oxford Exchange.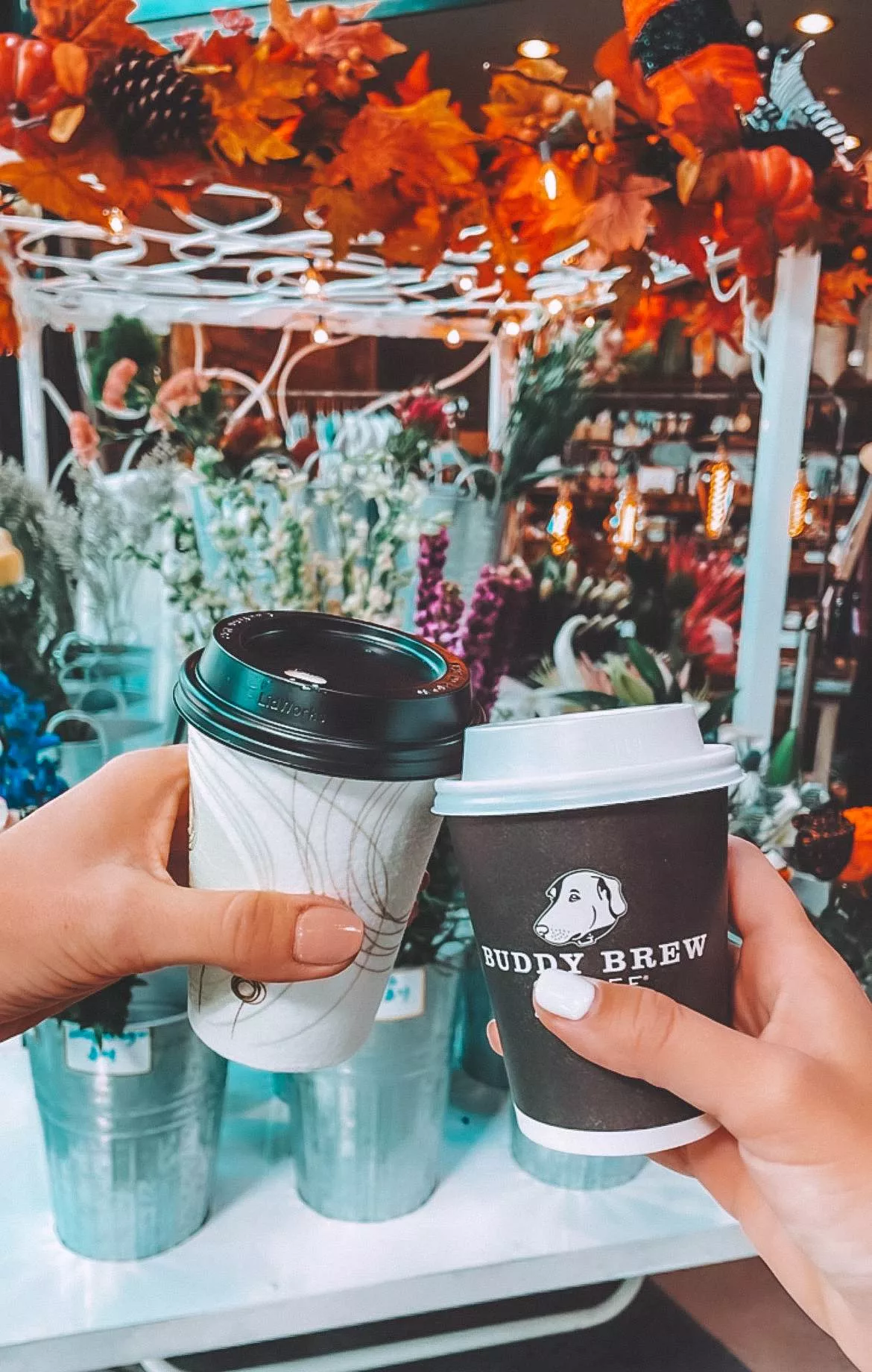 Jet City Espresso
Jet City Espresso has been flying under my radar for too long! They serve up their carry-out espresso drinks, smoothies, and pastries from a historic Hyde Park house that doubles as an Airbnb. Breakfast and lunch options are also available.
Grab your Café Borgia and enjoy it on the front porch. Don't even think about getting anything aside from their signature Café Borgia. Honestly, I'm sure everything here is great, but this was truly something special. Curious what's in it? It's a blend of blend of local, raw honey, steamed milk, whipped cream, a hint of nutmeg, orange blossom, and orange zest.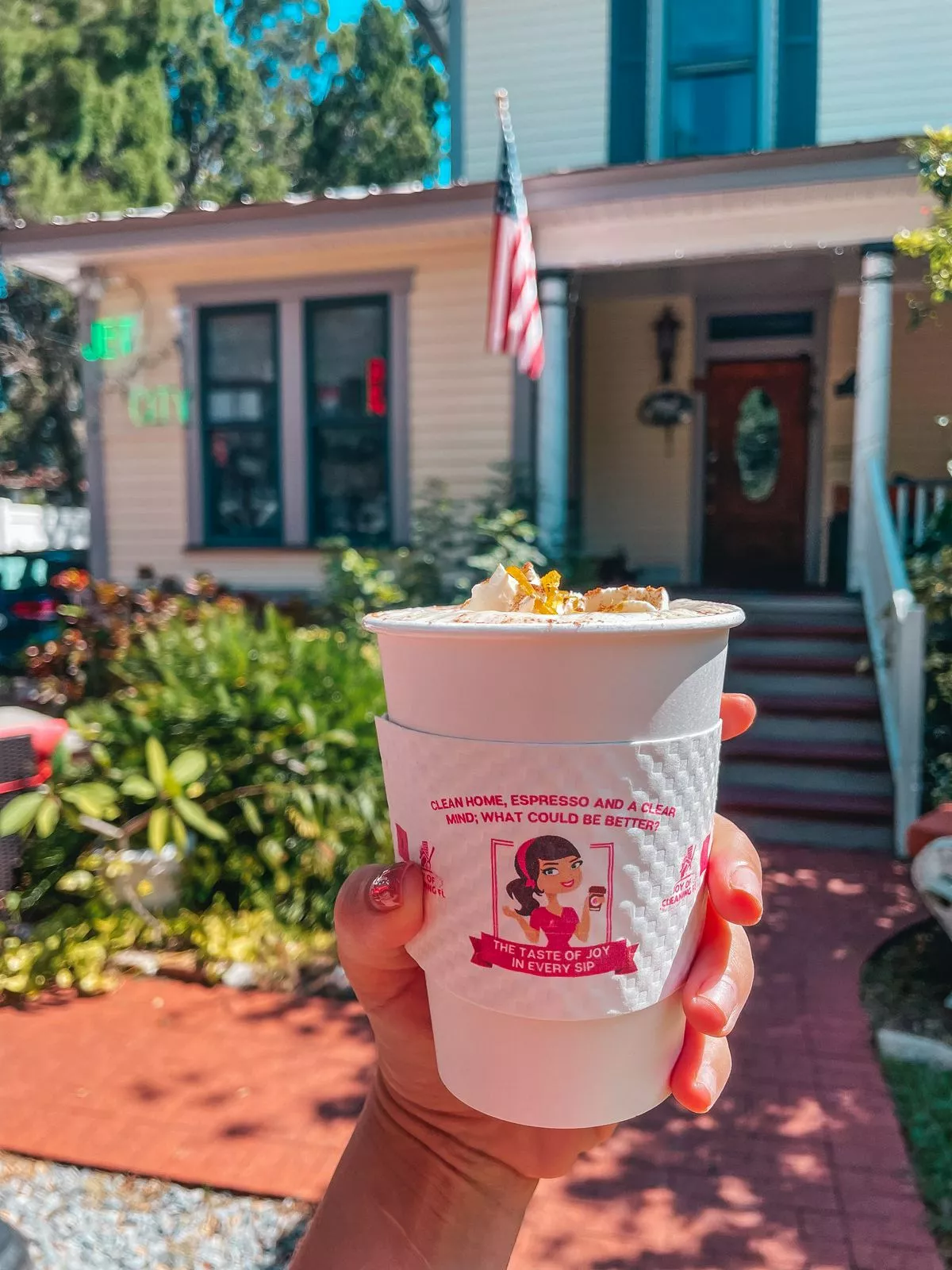 And there you have it, a list of the best coffee shops in Tampa. From the traditional to the trendy, this city has something for everyone when it comes to your morning caffeine fix. And if I missed one of your favorite spots? Let me know in the comments!