This post contains affiliate links which means that I will make a small commission if you purchase a product after clicking on any of them, at no extra cost to you.
Nestled along the banks of the mighty Mississippi River in the heart of the Midwest lies "the Twin Cities." Minneapolis and St. Paul, two distinct yet harmonious cities, come together to form a dynamic metropolitan area brimming with culture, history, and endless opportunities for exploration!
Not only are there are ton of fun things to do in the Twin Cities, but there are also a ton of fun facts about this area! Did you know the University of Minnesota is the largest campus in the country? And the Minnesota State Fair is the second-largest state fair in the country (Texas is number one). It's also home to one of the largest shopping malls in America!
I had a lot of fun checking Minnesota off of my list (I'm trying to make it to all 50 states!), and I can't wait to share with you all of my favorite things to do in the Twin Cities!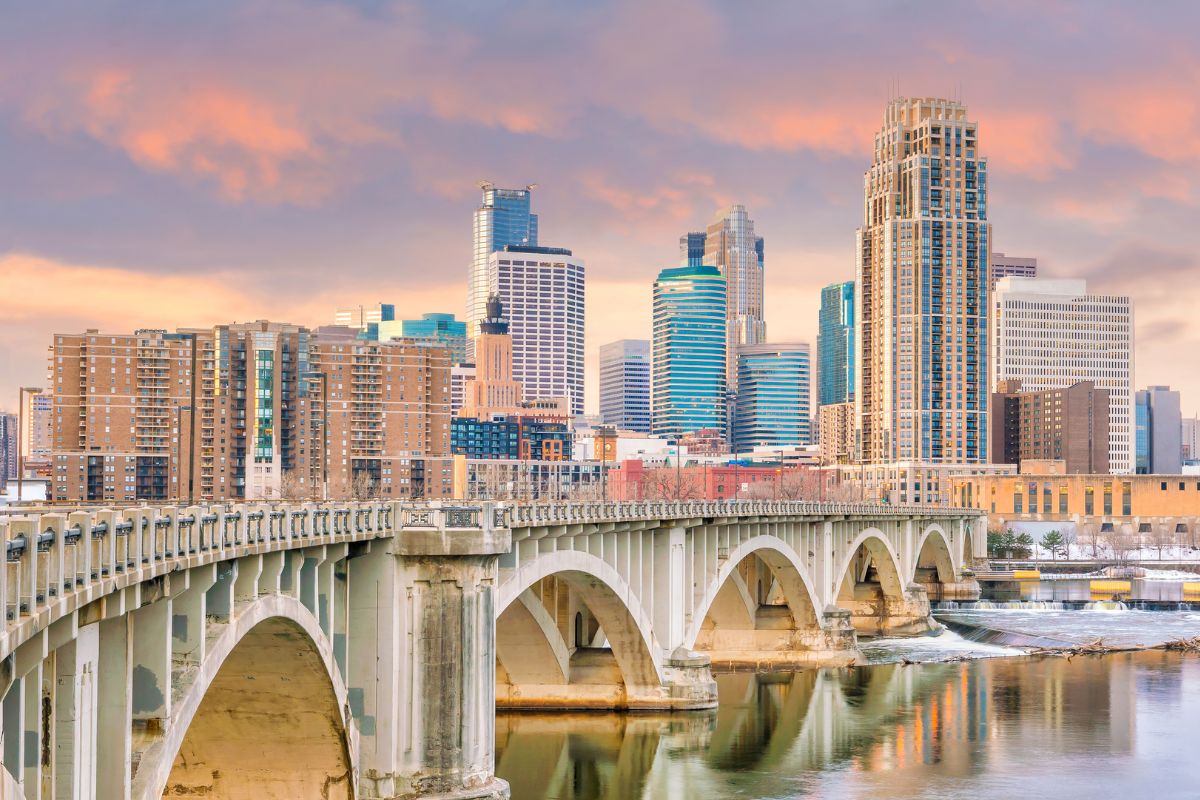 Why do they call it the Twin Cities
Technically the "Twin Cities" started off as Minneapolis and St. Anthony in the mid-1800s. In 1872 Minneapolis absorbed St. Anthony and they became one.
St. Paul being the next closest big city filled in and took over as the new other half of the Twin Cities, but each city remained unique.
Minneapolis, known for its water-powered flour mills and emerging industries, and St. Paul, the state capital, a strategic transportation hub thanks to its location along the Mississippi River, thrived side by side. This close-knit growth and development earned them the nickname "Twin Cities."
While Minneapolis is often associated with modernity, boasting a vibrant arts scene and a youthful atmosphere, St. Paul embraces its history and traditions with charming neighborhoods and historic architecture.
When is the best time to visit Minneapolis and St. Paul
Choosing the best time to explore Minneapolis and St. Paul depends on your preferences and what you'd like to experience. Spring (March to May) brings blooming flowers and outdoor events, making it ideal for outdoor enthusiasts and art lovers.
Summer (June to August) is the peak tourist season with warm weather, perfect for enjoying outdoor activities and festivals, though expect larger crowds.
Fall (September to November) offers picturesque autumn scenery and milder weather, making it great for outdoor adventures minus the summer rush. Meanwhile, winter (December to February) is for those who relish winter activities like ice skating and skiing, along with indoor cultural attractions to stay warm.
The Minnesota State Fair usually occurs from the end of August through the beginning of September. This is when we went, and loved the weather, and being able to check this well-known fair off of our bucket list!
Fun things to do in the Twin Cities
Things to Do in St. Paul
Como Park Zoo & Conservatory
If you're looking for one of the best free things to do in the Twin Cities, the Como Park Zoo & Conservatory may be it! It's the perfect activity for all ages. You get to experience a combination of wildlife and lush gardens.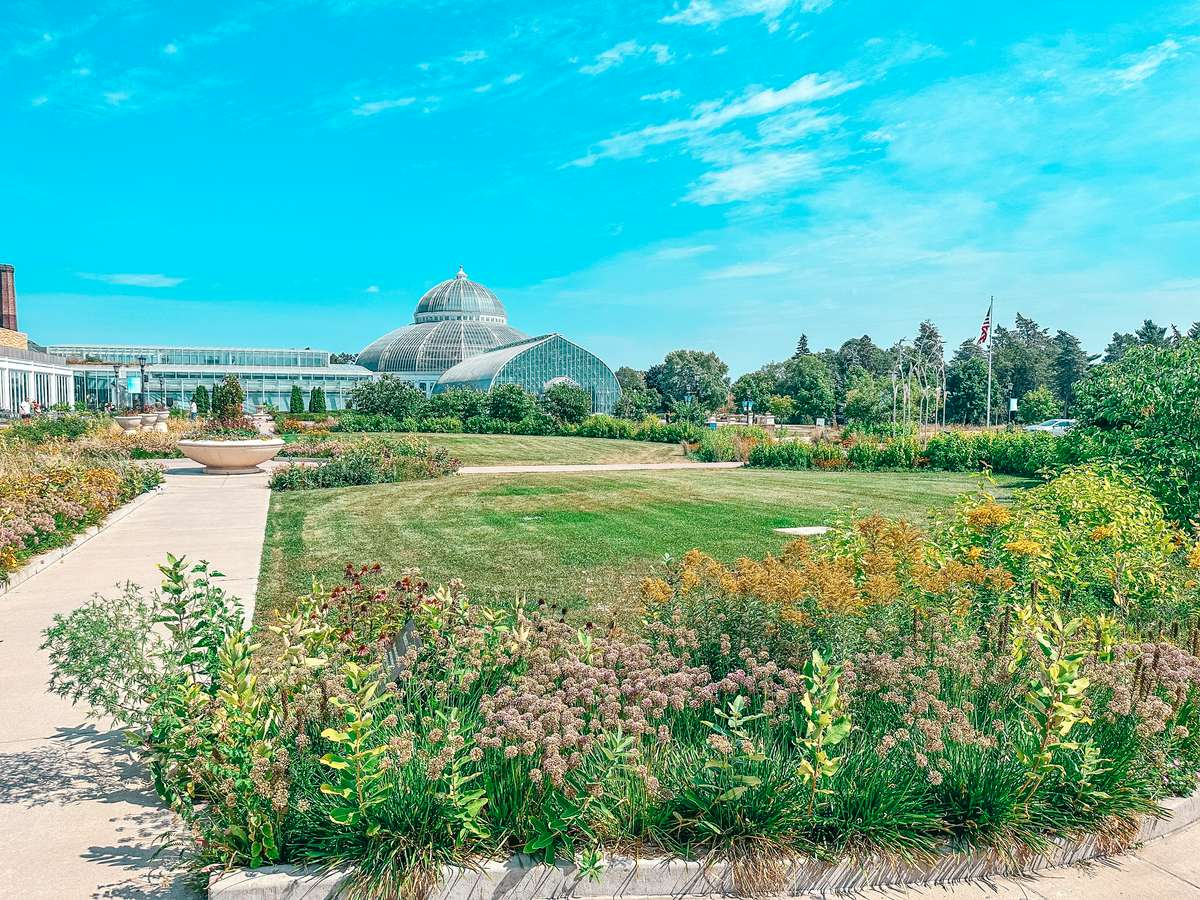 I was really impressed with how much this St. Paul attraction offered, especially since it was free. Explore the zoo's diverse animal exhibits and immerse yourself in the stunning botanical gardens, including the sunken garden, fern room, and tropical enclosure.
The zoo has everything from majestic big cats to playful primates, but I think that the star of the show was the sea lions. Beyond the animal exhibits, the Conservatory transports you to a botanical paradise.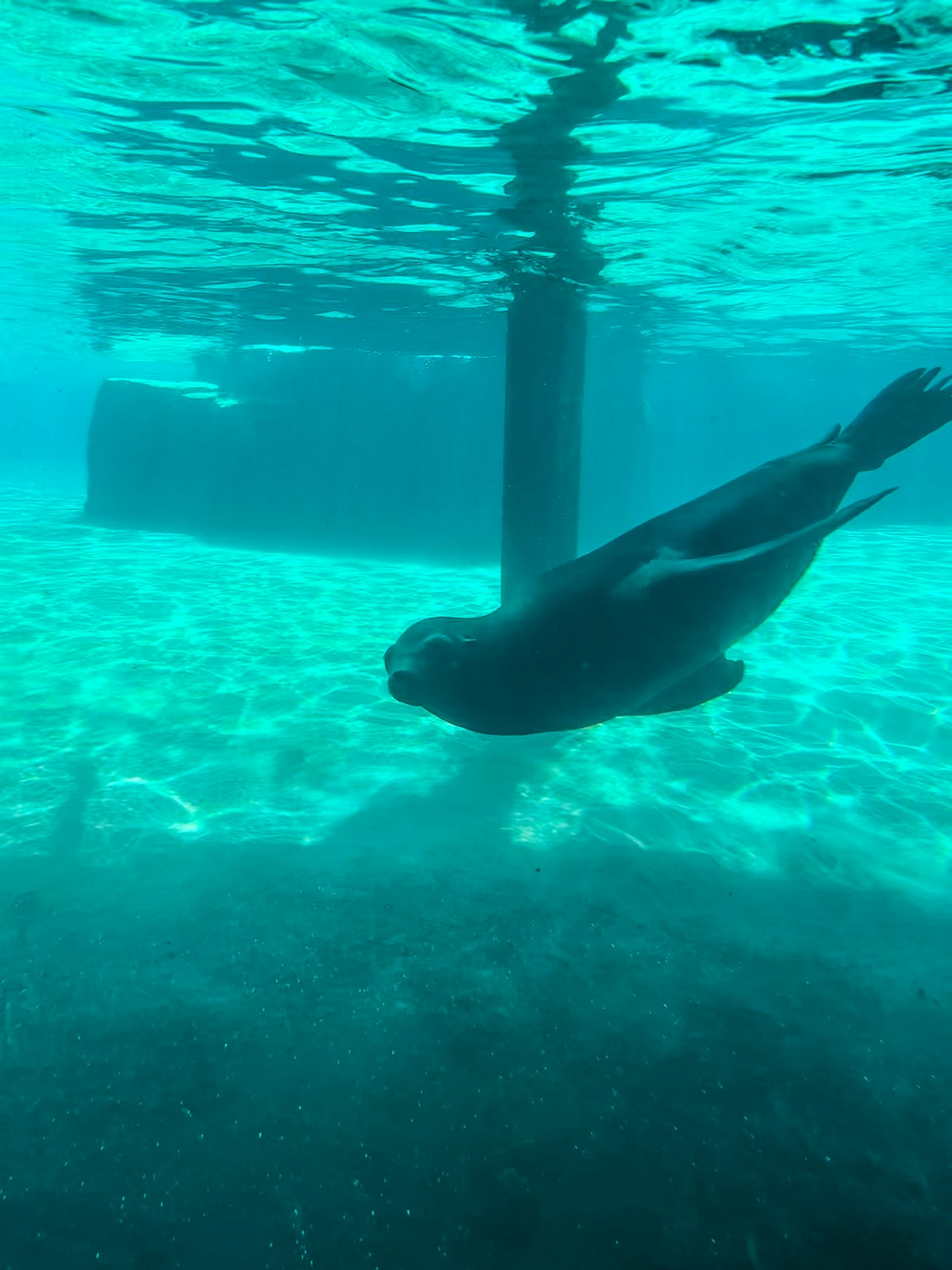 Stone Arch Bridge
The Stone Arch Bridge is an architectural masterpiece that effortlessly spans the mighty Mississippi River, connecting the cities of Minneapolis and St. Paul.
This historic bridge is not just a practical pathway; it's a symbol of the region's rich history and a beloved attraction for locals and visitors alike.
When you park on the St. Paul side and set foot on this iconic structure, you're in for a breathtaking experience that perfectly frames the Minneapolis skyline as it stretches across the river.
As you stroll along the pedestrian walkway, you'll be treated to panoramic views of the Mississippi River and the cascading St. Anthony Falls, which powered Minneapolis's early milling industry.
The bridge's unique arches and intricate stone masonry tell the story of a bygone era, where the river served as the lifeblood of industry and commerce in the region.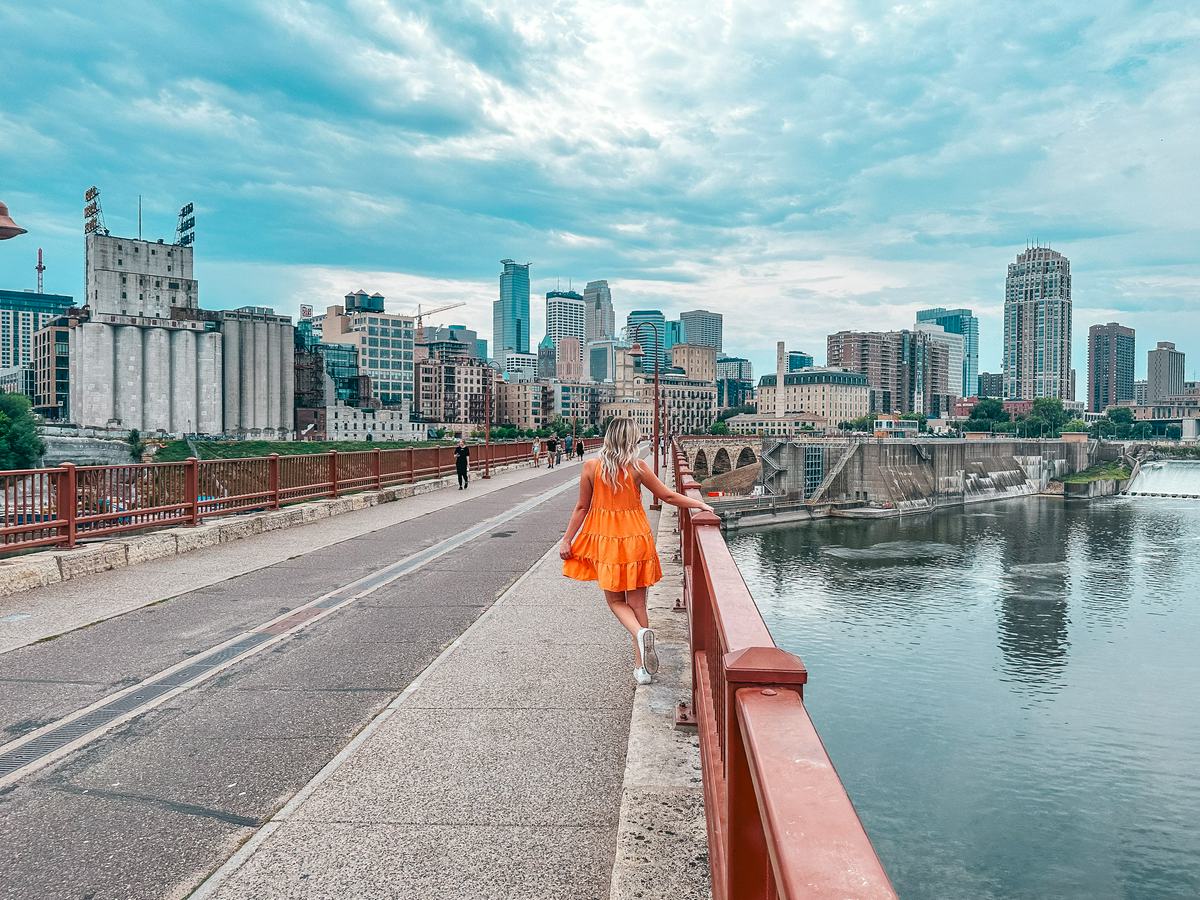 St. Paul Farmers Market
The St. Paul Farmers Market is not just a place to shop for fresh produce; it's a vibrant community hub that encapsulates the essence of farm-to-table living!
Nestled in the charming Lowertown district of St. Paul, this market has been a beloved institution for over a century. We parked a few blocks away but ended up stumbling on Mears Park on our walk. It's seriously the cutest park ever!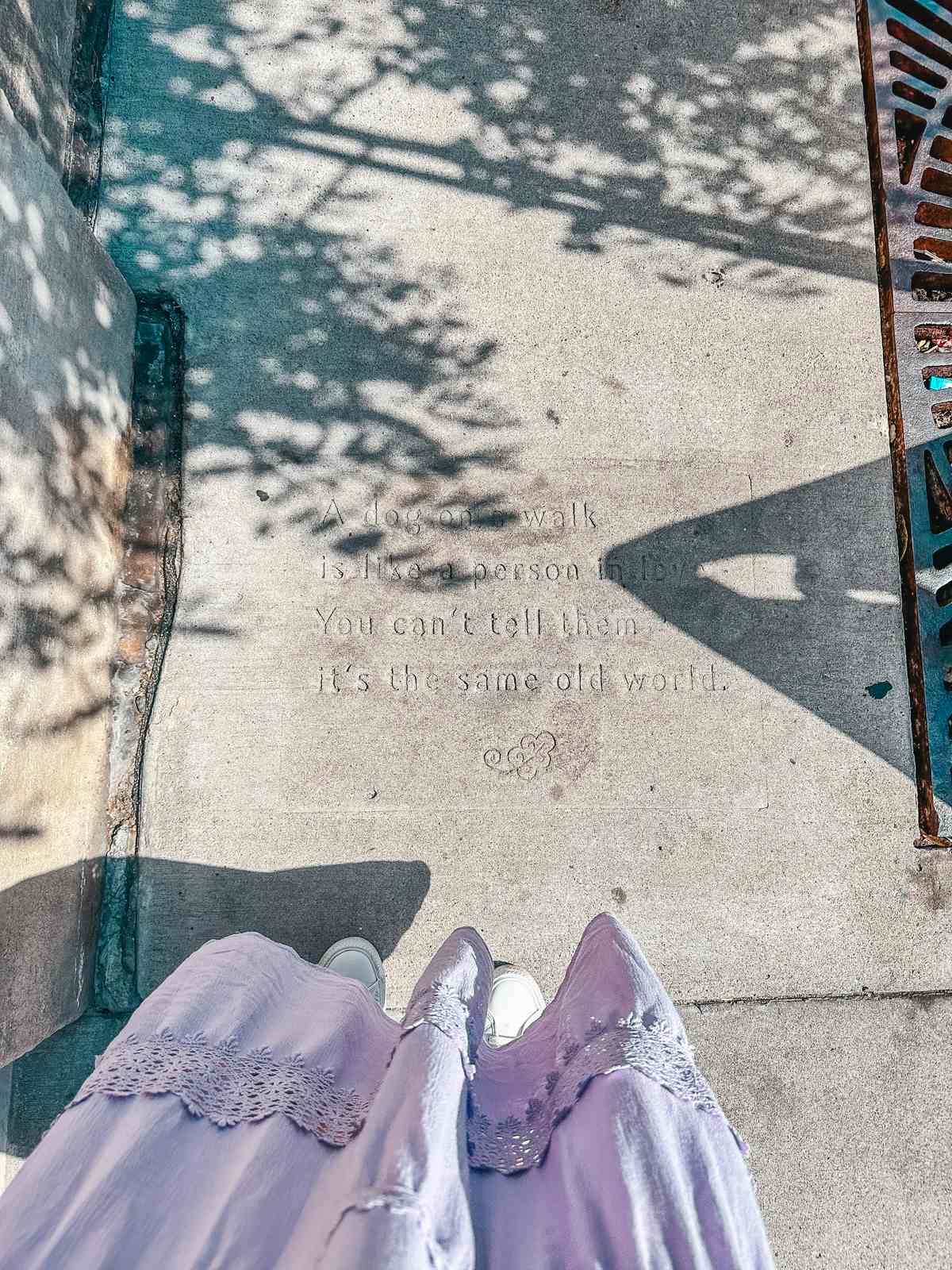 When you step into the lively atmosphere of the market, you'll be greeted by an array of sights, scents, and sounds that awaken your senses and immerse you in a world of culinary delights.
The produce here was some of the best I have ever seen! From vividly colored heirloom tomatoes to leafy greens that seem to defy the laws of nature (the lettuce was larger than my head!). I suggest grabbing some goodies and enjoying a little picnic in Mears Park.
Check here for seasonal hours.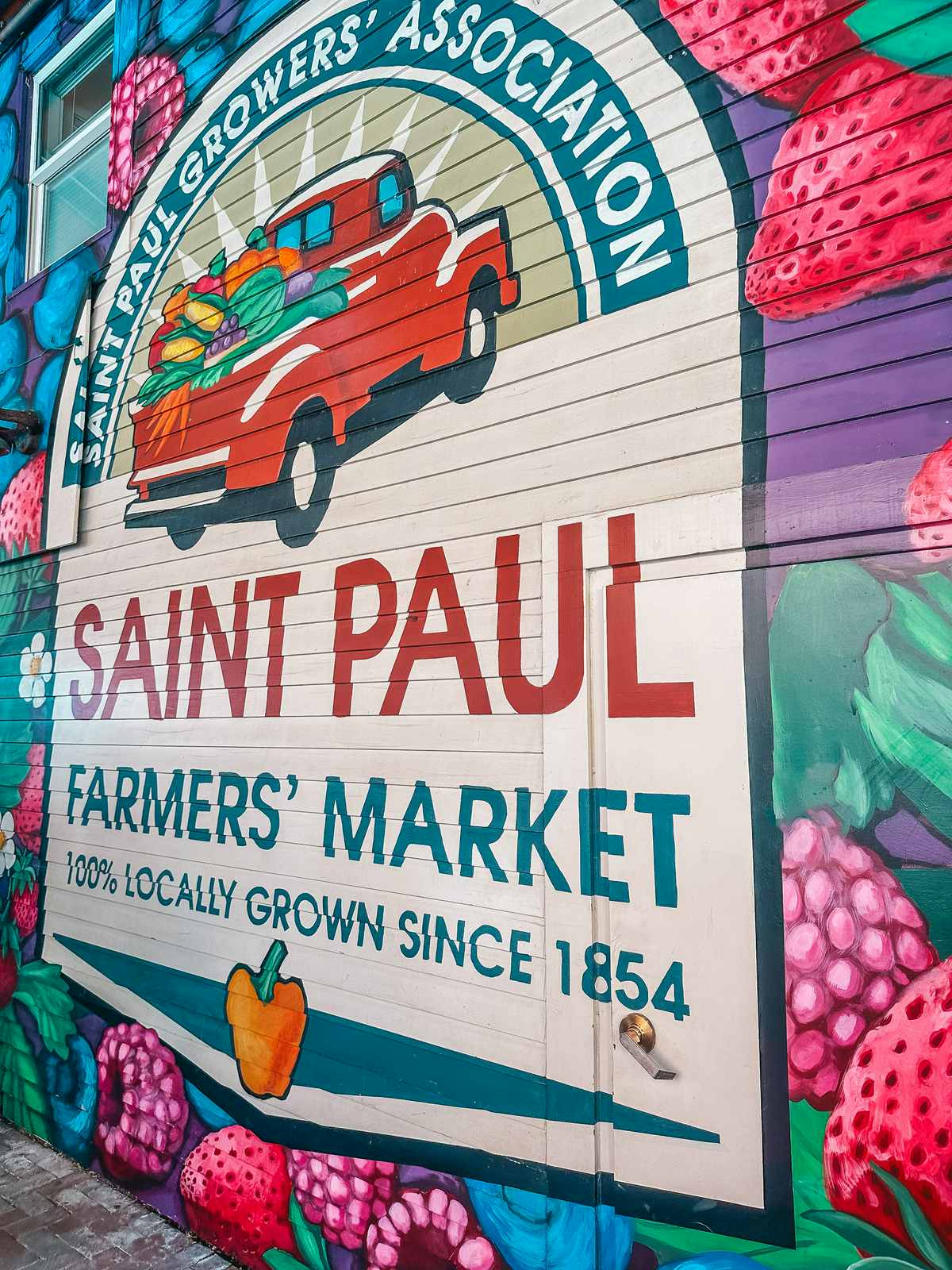 Minnesota State Capitol
The Minnesota State Capitol stands as a magnificent architectural testament to the state's rich history and enduring commitment to democracy. Located in the heart of St. Paul, this monumental building is more than just a seat of government; it's a symbol of the people's aspirations and the embodiment of the state's civic pride.
The building's striking white marble exterior, adorned with intricately carved statues and allegorical figures, is a sight to behold. Step inside, and you'll find yourself in the midst of a breathtaking architectural marvel.
If you have the time you can even go on a guided tour to gain fascinating insights into the building's design, the art and murals adorning its chambers, and the role it plays in Minnesota's governance. You can even witness the legislative process in action when sessions are in progress!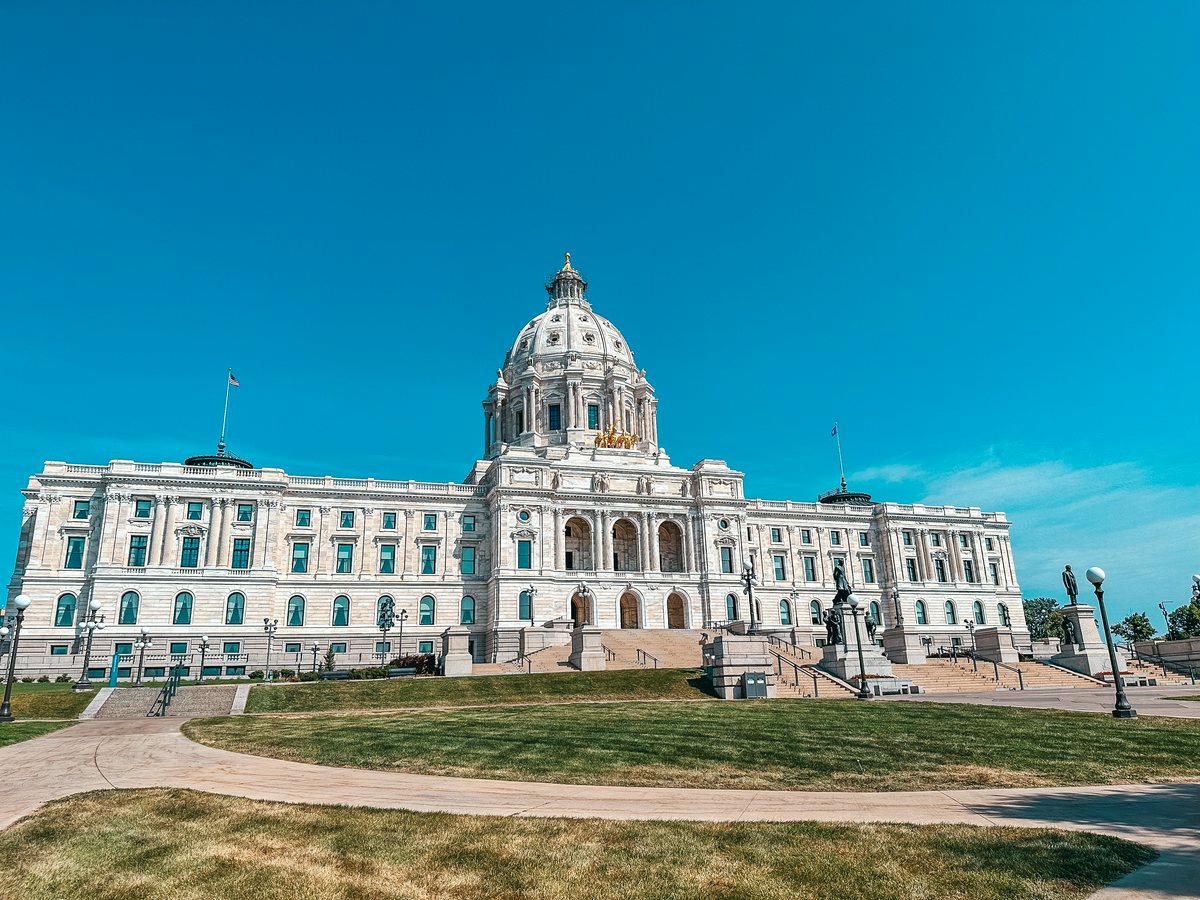 St. Paul Cathedral
The Cathedral of Saint Paul, often referred to simply as the St. Paul Cathedral, stands as a magnificent spiritual and architectural treasure in the heart of St. Paul.
Its towering presence and intricate design make it a captivating landmark that beckons visitors from near and far. This sacred edifice is a testament to both faith and artistry, offering a glimpse into the spiritual and cultural heritage of the Twin Cities.
You can attend a religious service to experience the power of faith or simply visit for a moment of quiet contemplation. Guided tours are also available, offering insight into the history, architecture, and significance of this iconic structure.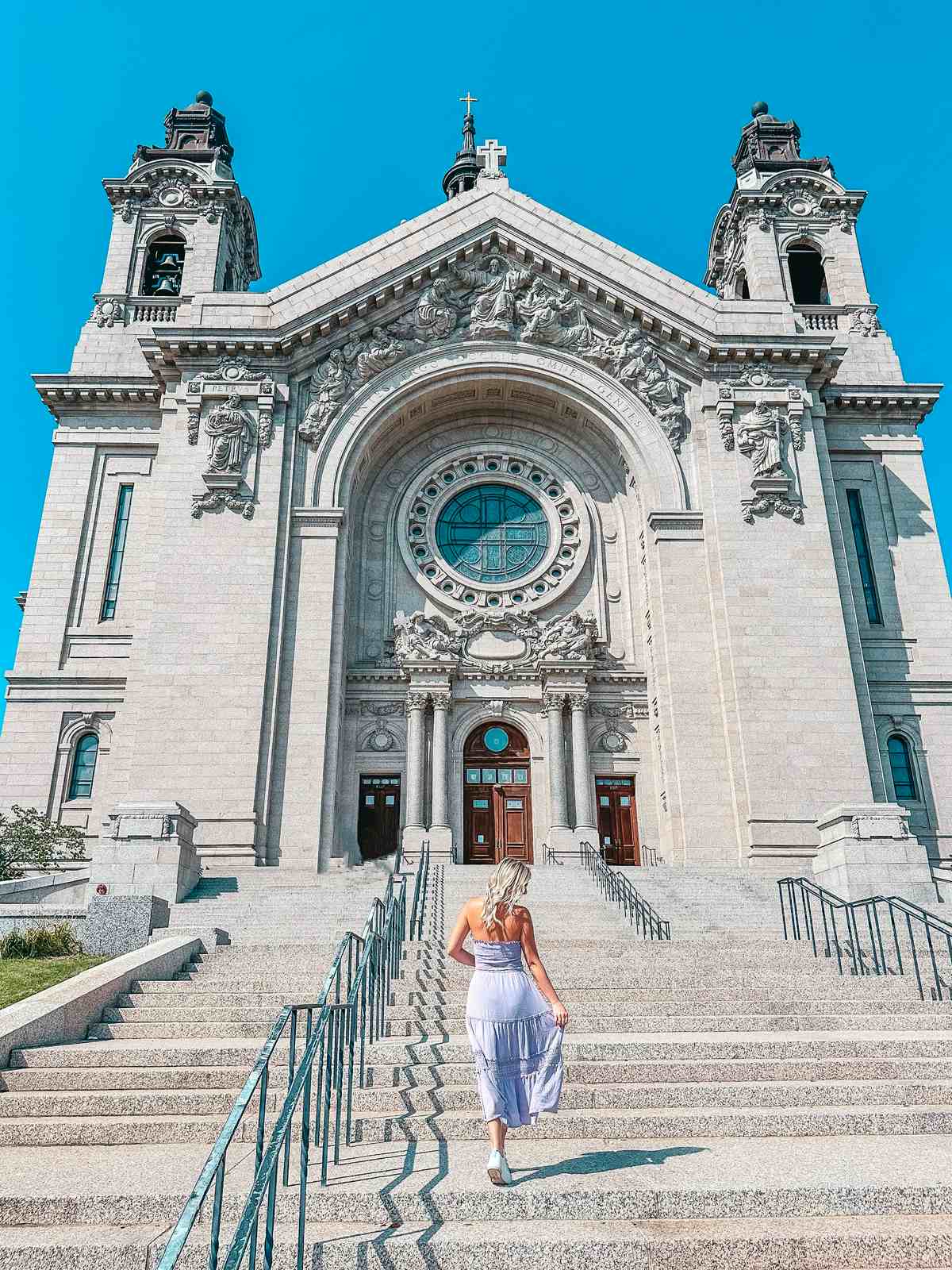 Hope Breakfast Bar
If you have a weakness for carrot cake like myself, visiting Hope Breakfast Bar is an absolute MUST for your list of things to do in the Twin Cities!
The menu here is extremely unique, and honestly, even if you don't like carrot cake I'd say it's worth the stop. With menu items like "fried pickle waffles", it keeps things interesting enough for any palate.
We went with a savory and a sweet dish getting the pork belly and biscuit alongside the mini carrot cake pancakes and both were absolutely delicious!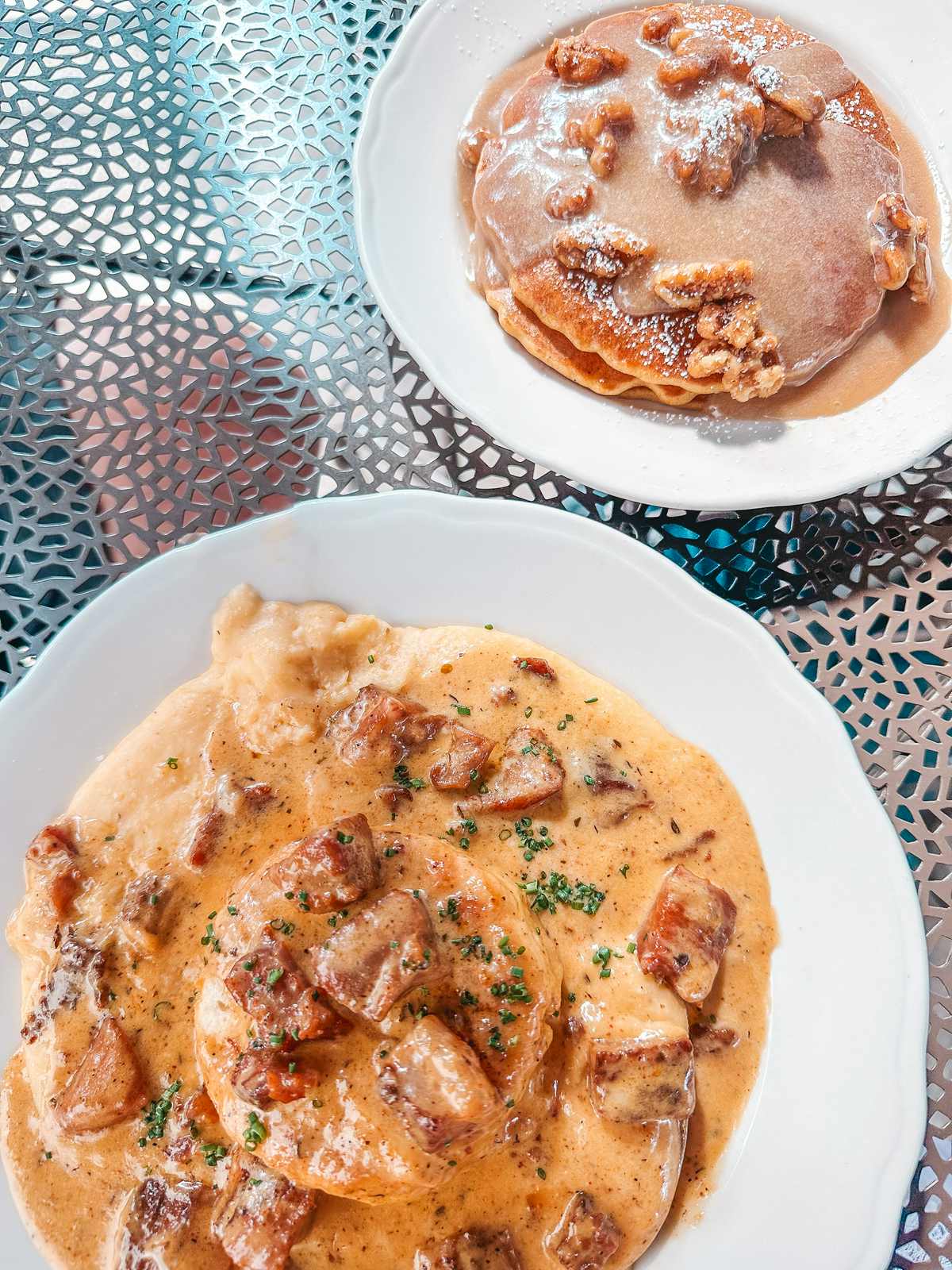 Experience St. Paul's coffee scene
St. Paul's coffee scene really impressed us! With a diverse array of coffee shops to explore, it's a paradise for coffee connoisseurs like myself, and a cozy haven for those seeking a moment of morning relaxation.
Cafe Astoria is conveniently located right next door to Hope Breakfast Bar. Remi and I were drawn in by the artistry and flavors of their offerings.
The "Sunday Candy" is a visual masterpiece, but more than that, it was delicious! Pro tip? Add a pump of white chocolate to make it next level.
Quixotic Coffee is another gem in the St. Paul coffee scene, nestled in close proximity to Minnehaha Falls (technically in Minneapolis).
I had been wanting a doughnut the entire weekend, and theirs fulfilled every craving. As for the coffee, their seasonal pumpkin cream cold brew was nothing short of extraordinary. I'd go as far as to say it was one of the best I've ever had!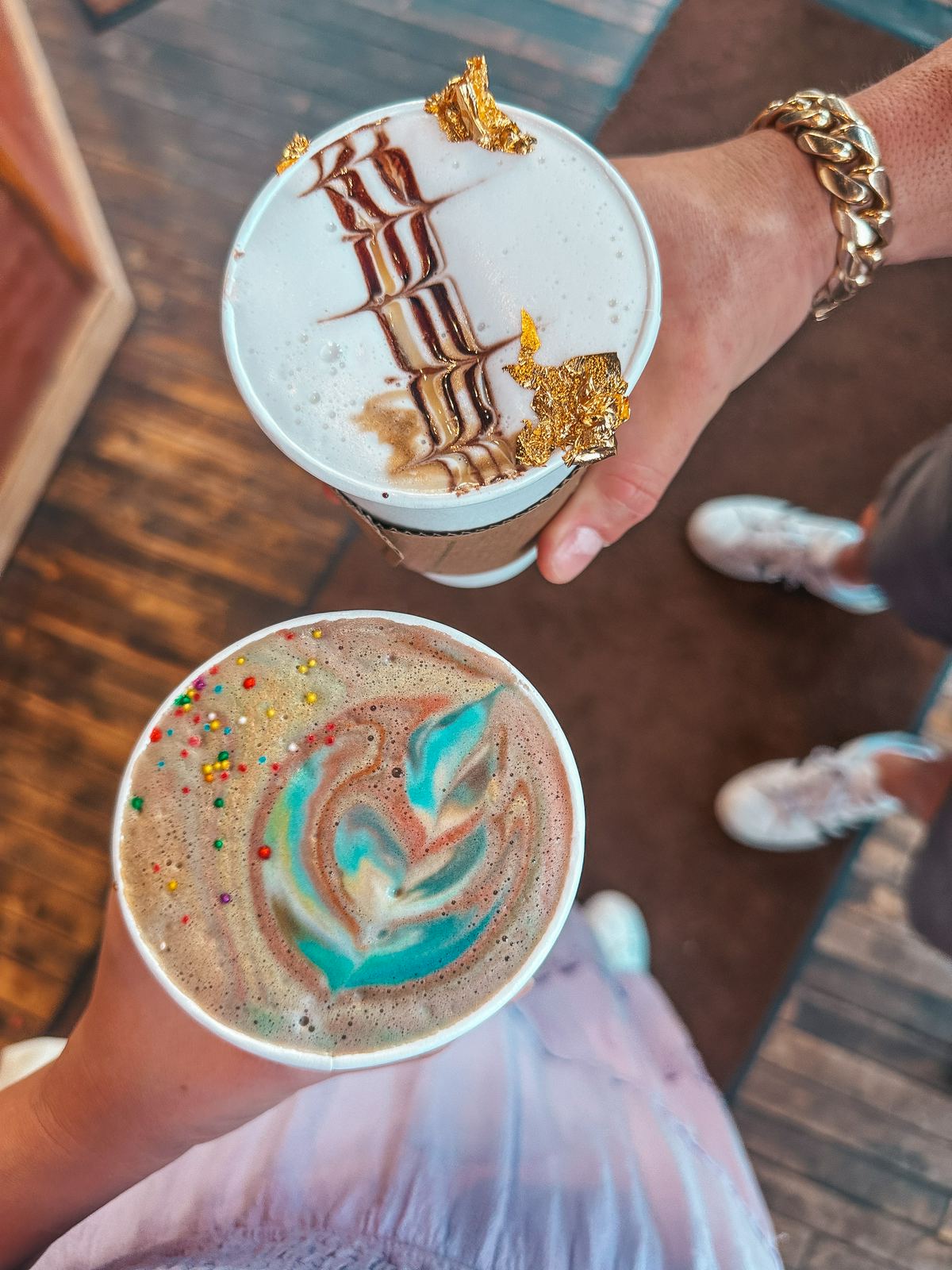 Minnesota State Fair (Late August to Early September)
If your visit coincides with late August and early September, make sure to attend the Minnesota State Fair, one of the largest and most iconic state fairs in the country!
Enjoy a wide array of food, entertainment, agricultural exhibits, and thrilling rides. Be sure to check the specific dates for the year of your visit.
One of the main draws of the Minnesota State Fair is undoubtedly the food. From classic corn dogs and deep-fried cheese curds to more adventurous creations like pickle pizza and Spam sushi, the fair's culinary offerings are nothing short of legendary.
Four of us went to the fair and we tried so many of the famous foods, but my all-time favorite? The cajun fried pickles from the Perfect Pickle! They absolutely were perfect.
Check out foods to get and what to skip here.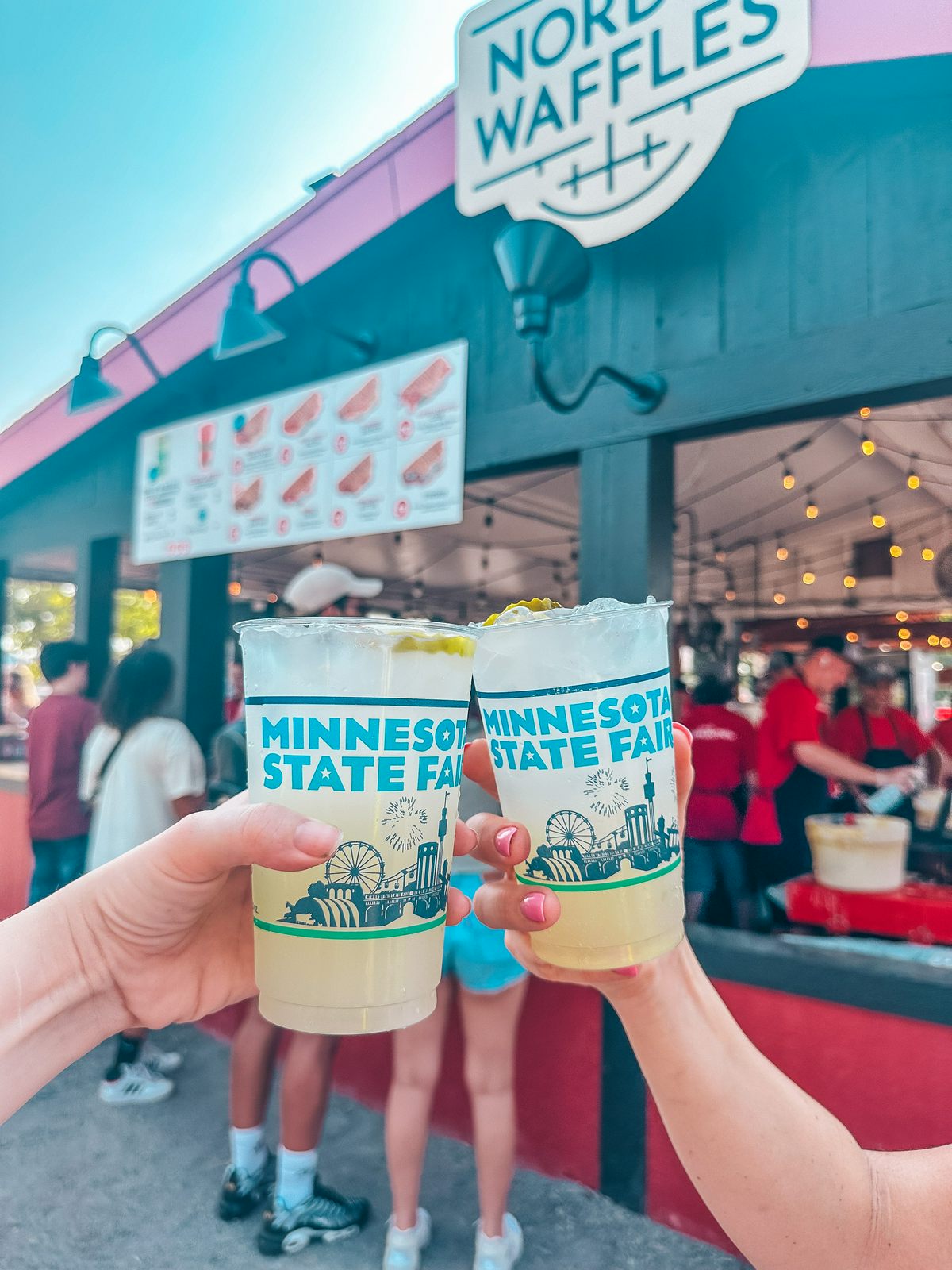 Things to do in Minneapolis
Weisman Art Museum
The Weisman Art Museum is a cultural gem nestled on the University of Minnesota campus. Designed by the renowned architect Frank Gehry, the museum itself is a work of art!
Inside, you'll discover a diverse collection that spans from modernist masterpieces to contemporary creations. As you explore the galleries, you'll encounter thought-provoking exhibits that challenge perspectives and inspire creativity. This is another one of the best free things to do in the Twin Cities!
Minnehaha Park Falls
Minnehaha Park Falls is a natural wonder that transports you to a serene oasis within the heart of Minneapolis. The centerpiece of the park is the breathtaking 53-foot waterfall, which tumbles over a limestone bluff into a picturesque pool below.
We found this area to be so tranquil and loved seeing so many people enjoying it on a beautiful Sunday morning. You can explore the park's hiking and biking trails, which offer scenic views of the Mississippi River, limestone bluffs, and lush greenery.
In the summer, the park comes alive with cultural events, outdoor concerts, and the opportunity to rent paddleboats for a unique perspective of the falls.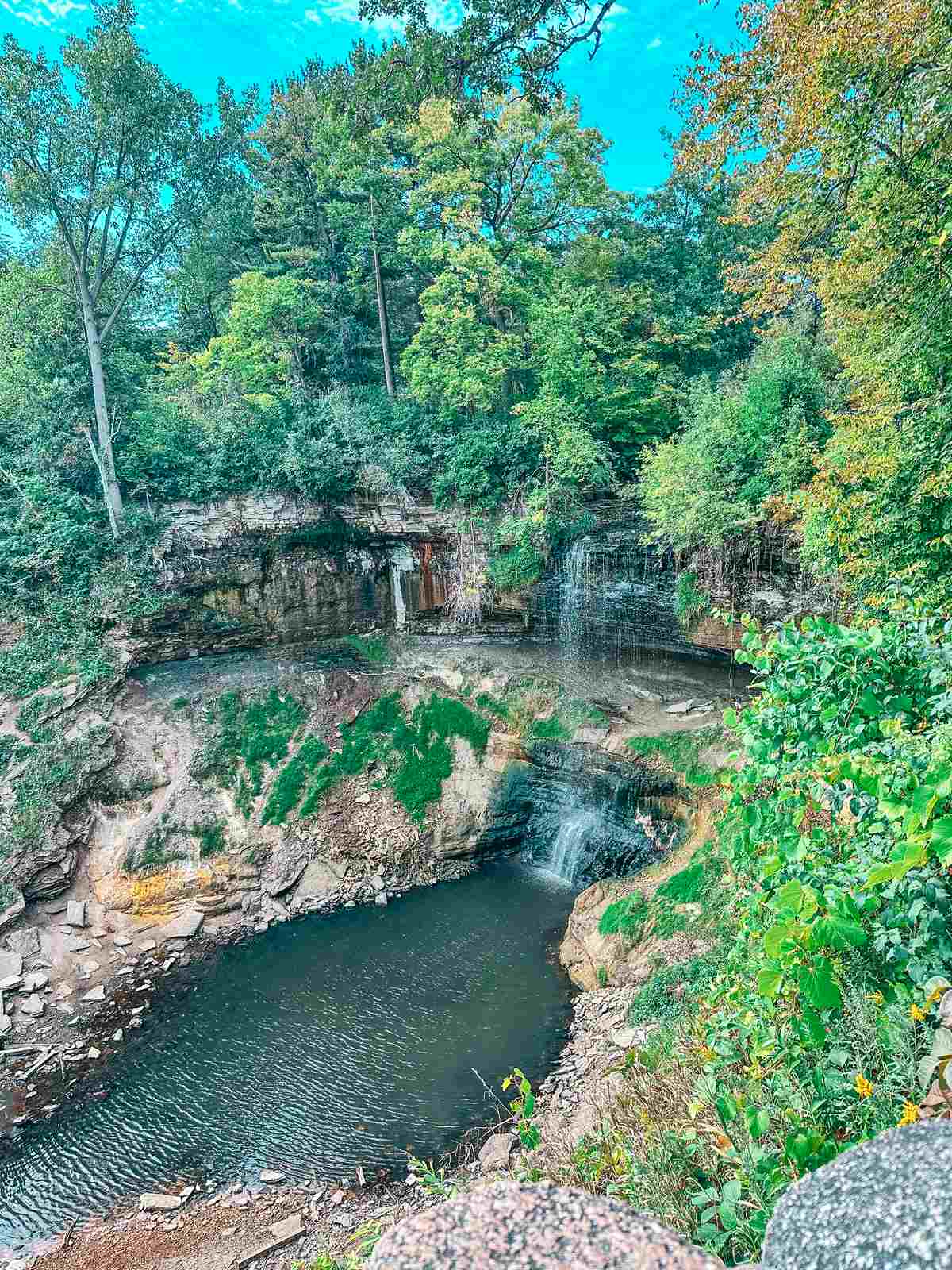 The Minneapolis Sculpture Garden
The Minneapolis Sculpture Garden is a unique outdoor art gallery that seamlessly blends art and nature. Situated right next door to the Walker Art Center, this expansive park features a stunning collection of contemporary sculptures by renowned artists from around the world.
Stroll through the garden and encounter iconic works like "Spoonbridge and Cherry" by Claes Oldenburg and Coosje van Bruggen.
The unique interplay between the sculptures and the natural surroundings creates a dynamic and ever-changing visual experience. Along with the art, you'll find beautifully landscaped gardens and walking paths.
Tip: I would definitely get a rental car for your trip. Many of these places are not walking distance to each other, and you'd spend more on Ubers than renting a car. Use this tool to compare rental car company prices during your dates.
The Mall of America
The Mall of America, while technically located in Bloomington (just a short drive from Minneapolis), is an undeniable draw for visitors to the Twin Cities!
It's not just a shopping mall; it's a colossal retail and entertainment complex that's equal parts shopping paradise and family adventure. With over 5.6 million square feet of space, the Mall of America houses hundreds of stores, from high-end boutiques to popular brands, ensuring a shopping experience like no other.
Beyond shopping, you'll discover an indoor amusement park called Nickelodeon Universe, complete with thrilling rides and attractions.
For underwater enthusiasts, SEA LIFE Minnesota Aquarium offers a mesmerizing underwater journey.
Add to that a multitude of dining options and entertainment venues, and you have a destination that promises endless excitement for everyone, making it well worth the short drive from Minneapolis!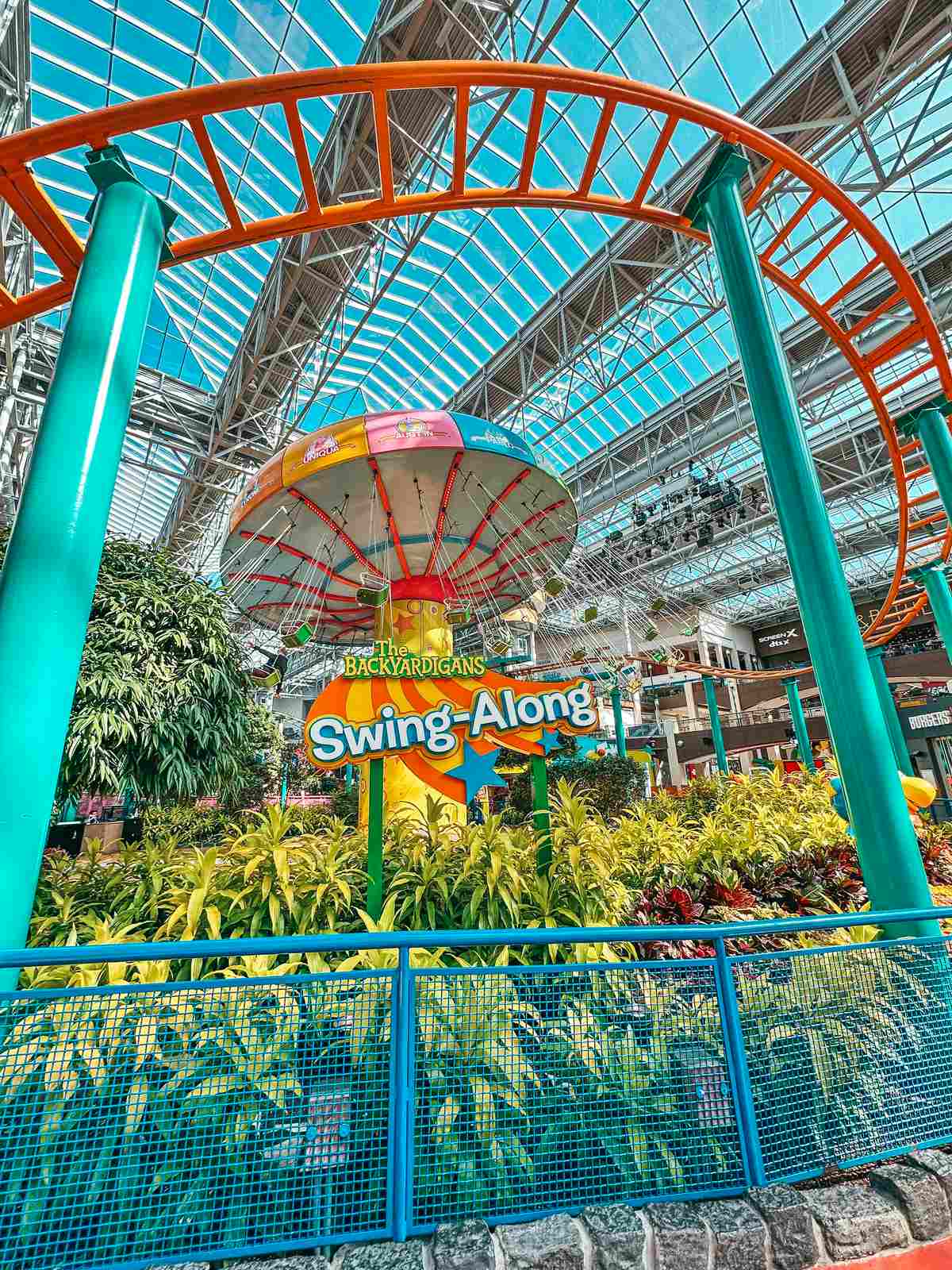 Bob Dylan Mural 5th Avenue and Hennepin
A tribute to one of Minnesota's most celebrated sons, the Bob Dylan Mural at 5th Avenue and Hennepin Avenue in downtown Minneapolis pays homage to the iconic musician.
There are several amazing murals throughout Minneapolis, but this is definitely one of the most popular!
Brewery Scene
Minneapolis has a thriving craft brewery scene that's perfect for beer enthusiasts! Among the standout breweries, Bauhaus Brew Labs offers a blend of art and science with a focus on innovative, German-inspired brews.
Indeed Brewing is known for its diverse selection of craft beers and a welcoming taproom with a lively atmosphere. The pistachio cream ale was soooo good!
For a unique twist, check out Sociable Ciderworks, where you can savor a range of flavorful ciders in a relaxed setting. While you're here, be sure to snag a glizzy, aka a hot dog, from the onsite food truck.
We got the crunchy dog which was a hot dog topped with Mexican mayo, avocado, crushed tortilla chips, salsa, and cilantro. We added pickled onions, and let me just say WOW. 10/10 recommend.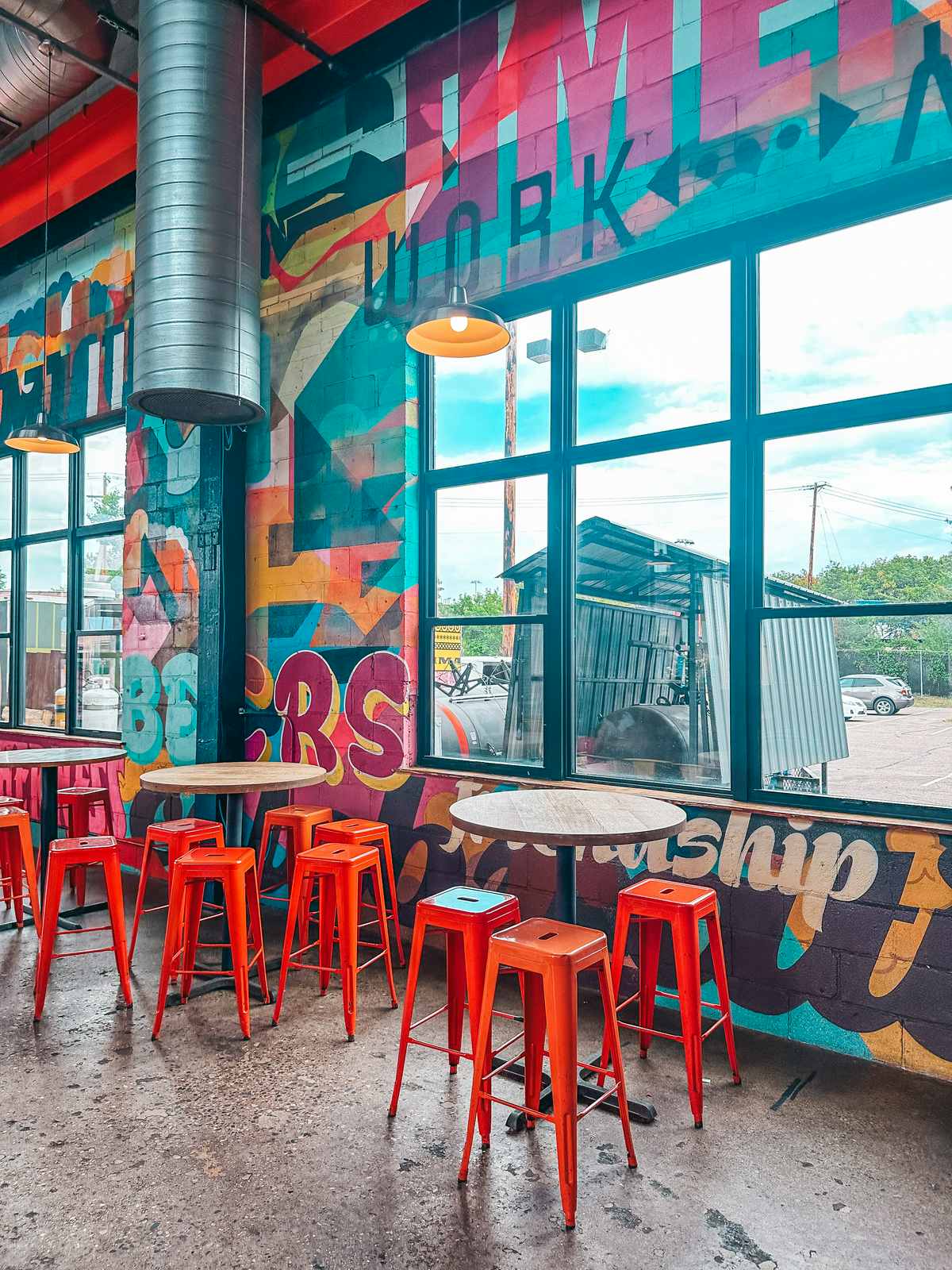 Speakeasy Experience
For those seeking a touch of mystery and nostalgia, Minneapolis has its share of hidden speakeasy bars. One standout is Volstead's Emporium, which captures the genuine essence of a Prohibition-era speakeasy.
True to the nature of these establishments, finding Volstead's can be an adventure in itself, as it's tucked away from plain sight. Once inside, you'll step into a world of low lighting, classic cocktails, and a timeless ambiance that harkens back to an era of secrecy and sophistication.
One of the employees was nice enough to give us a tour of the place, and WOW. It was the gift that kept on giving. There were so many secret passageways and hidden doors, we were truly amazed! I also really enjoyed my mezcalita 😃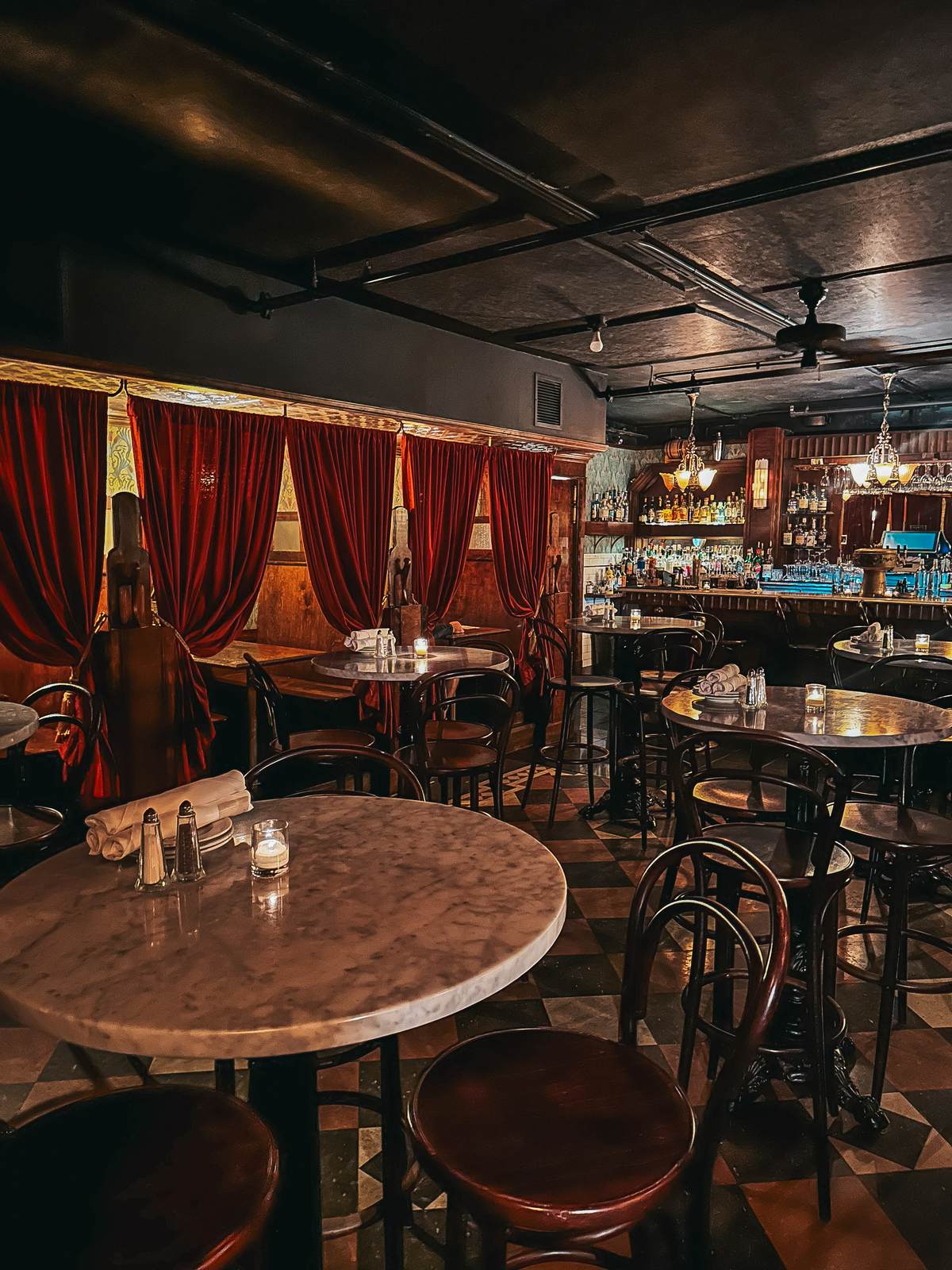 Best places to stay in Minneapolis and St. Paul
We didn't actually stay in either of the Twin Cities, but instead at this gorgeous VRBO that sleeps 10 and has a jacuzzi, pool table, and outdoor fire pit! It was located in Eden Prairie and 20 minutes from Minneapolis.
If you want to stay in Minneapolis Moxy Minneapolis Uptown is an affordable yet stylish option. It's located in the trendy Uptown neighborhood and is within walking distance of numerous restaurants, bars, and shops.
Radisson Red Minneapolis Downtown is a comfortable and well-located mid-range option. This sleek hotel is situated in the historic downtown district and offers spacious rooms with modern amenities. You'll be close to popular attractions such as the Target Center and the Nicollet Mall shopping district.
The InterContinental Saint Paul Riverfront is also a stunning luxury option in St. Paul. Overlooking the Mississippi River, this upscale hotel boasts spacious rooms with river views, top-notch dining at Citizen Supper Club, and easy access to the Science Museum of Minnesota and CHS Field. It's the perfect option if you're seeking a pampered stay in St. Paul!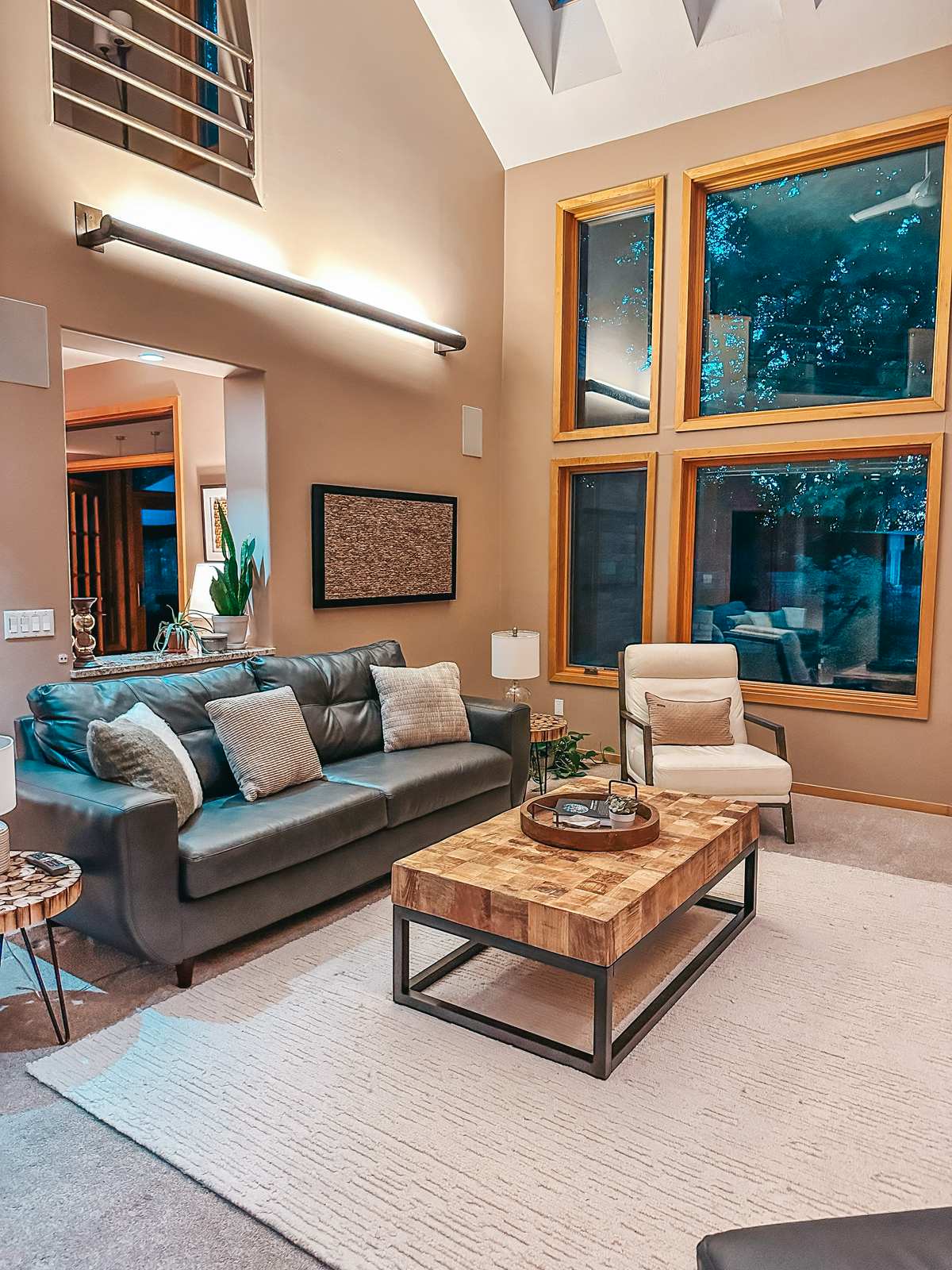 Ready to start checking off these fun things to do in the Twin Cities?
So there you have it, a taste of some of the best things to do in the Twin Cities! From the artistry of museums and natural wonders like Minnehaha Falls to the retail wonderland of the Mall of America and hidden speakeasies, there's a little something for everyone in this dynamic duo of Minneapolis and St. Paul.
Before you go, be sure to check out some of my other Midwest posts:
3 days in Chicago