This post contains affiliate links which means that I will make a small commission if you purchase a product after clicking on any of them, at no extra cost to you.
St. Louis, the Gateway to the West! This vibrant city located in the heart of Missouri offers visitors a variety of exciting activities, from exploring historical landmarks to indulging in delicious cuisine. Whether you're a history buff, an art lover, or a foodie, St. Louis has something for everyone. If you're not sure how to spend a weekend in St. Louis, this post is for you! From the best things to do to where to get your morning coffee this blog post has you covered!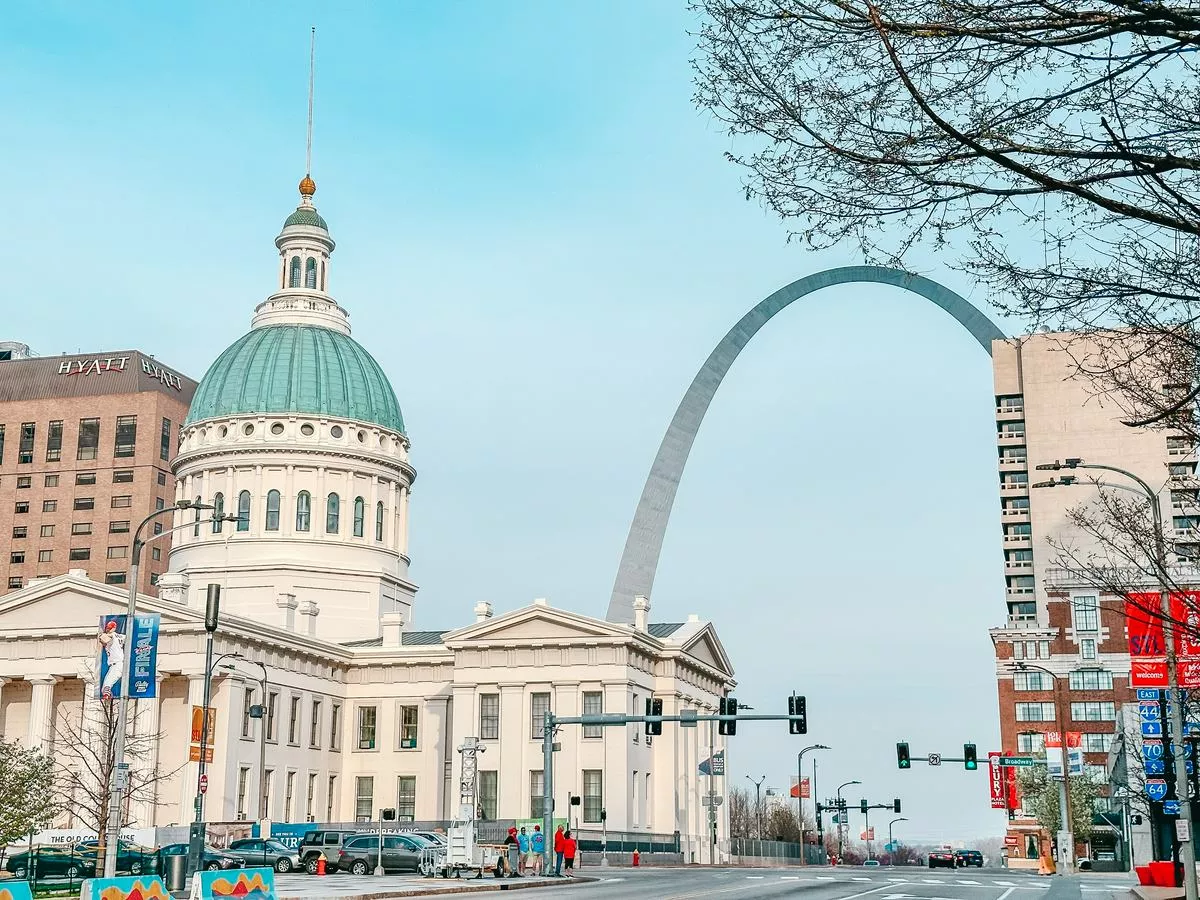 Best things to do during a weekend in St. Louis
The Gateway Arch National Park
Of course you can't spend a weekend in St. Louis without visiting its most iconic landmark! The Gateway Arch National Park is free to visit and includes 91 acres. Enjoy a picnic, visit the free museum, or take the tram to the top of the arch. Tram. tickets do cost and range from $11-15 depending on age.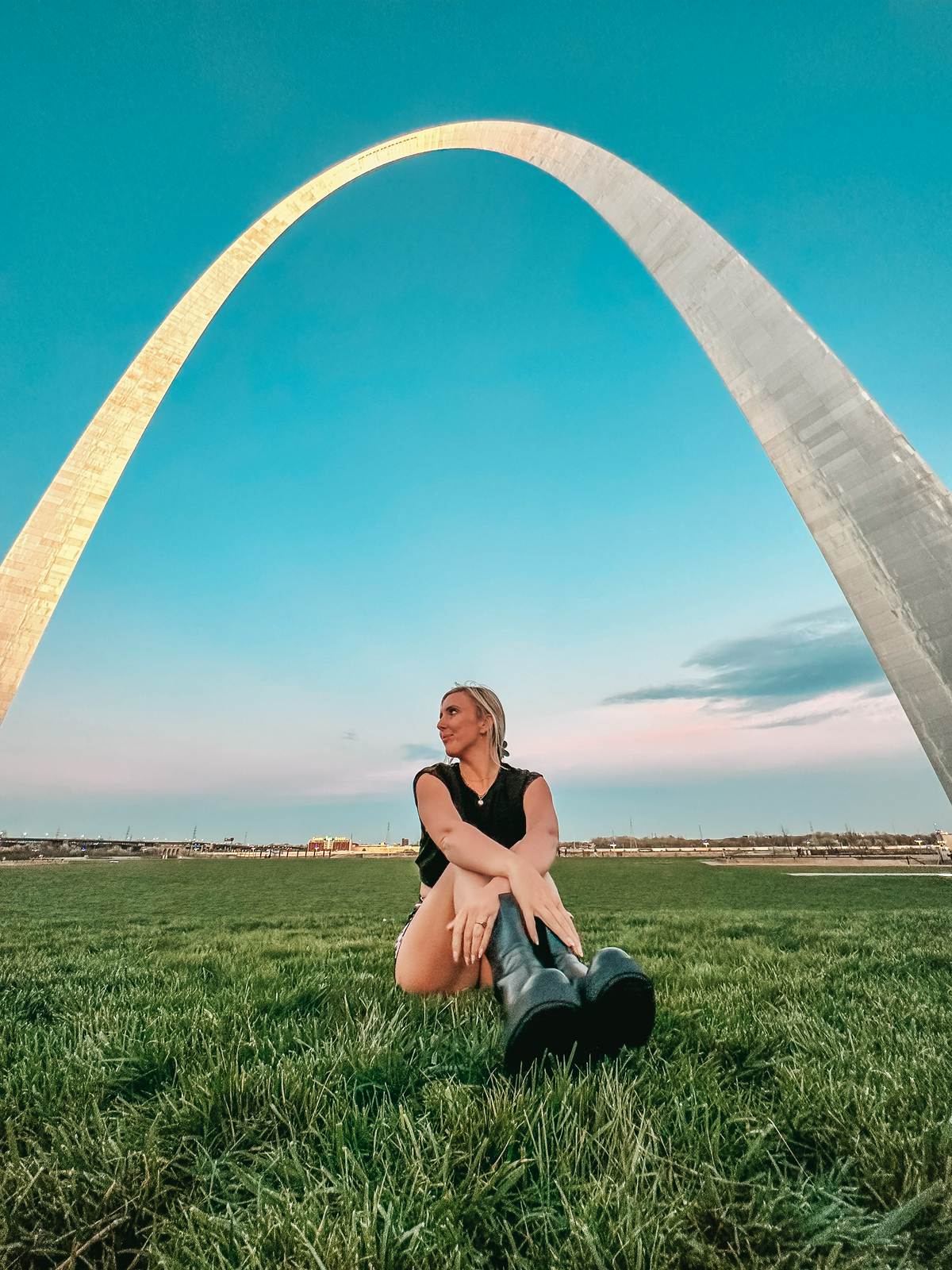 Central Library
Maybe it's just me, but I really do have an obsession with beautiful libraries! The Central Library in St. Louis is a true work of art. The beautiful Beaux-Arts-style building offers free one-hour guided tours on Mondays and Saturdays that focus on the building's architecture and history, led by knowledgeable guides.
The library features unique design elements, such as the Rotunda and Grand Staircase, and houses an impressive collection of books and artifacts. A visit to the library is a must for anyone interested in architecture, history, or literature. It is open from 9 am – 8 pm.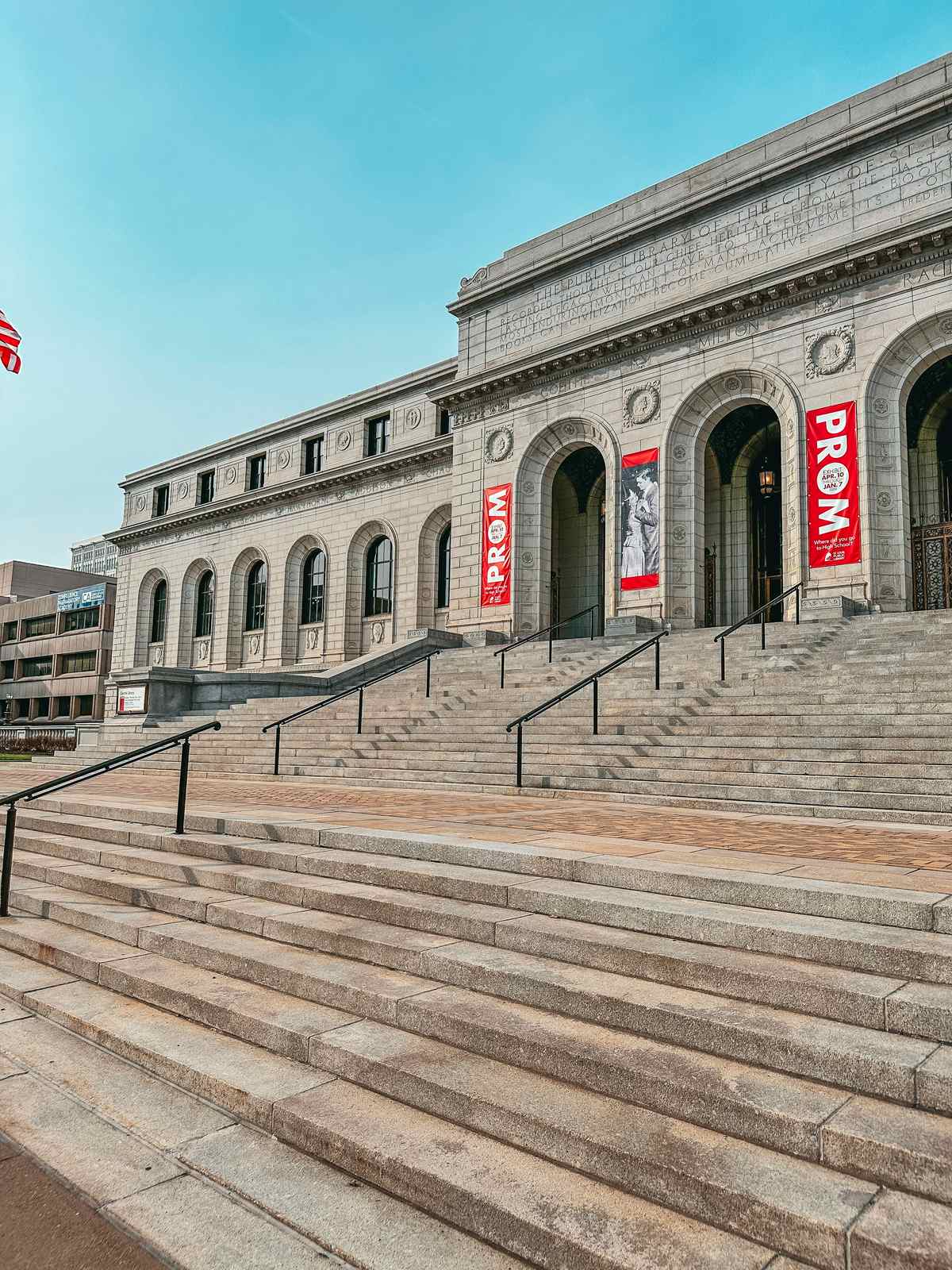 Similar to libraries, I also seek out cute local bookstores. My research led me to Left Bank Books! Its charm proves why it's been a local favorite for 50-plus years. They are actually the oldest and largest independently-owned full-line bookstore in St. Louis!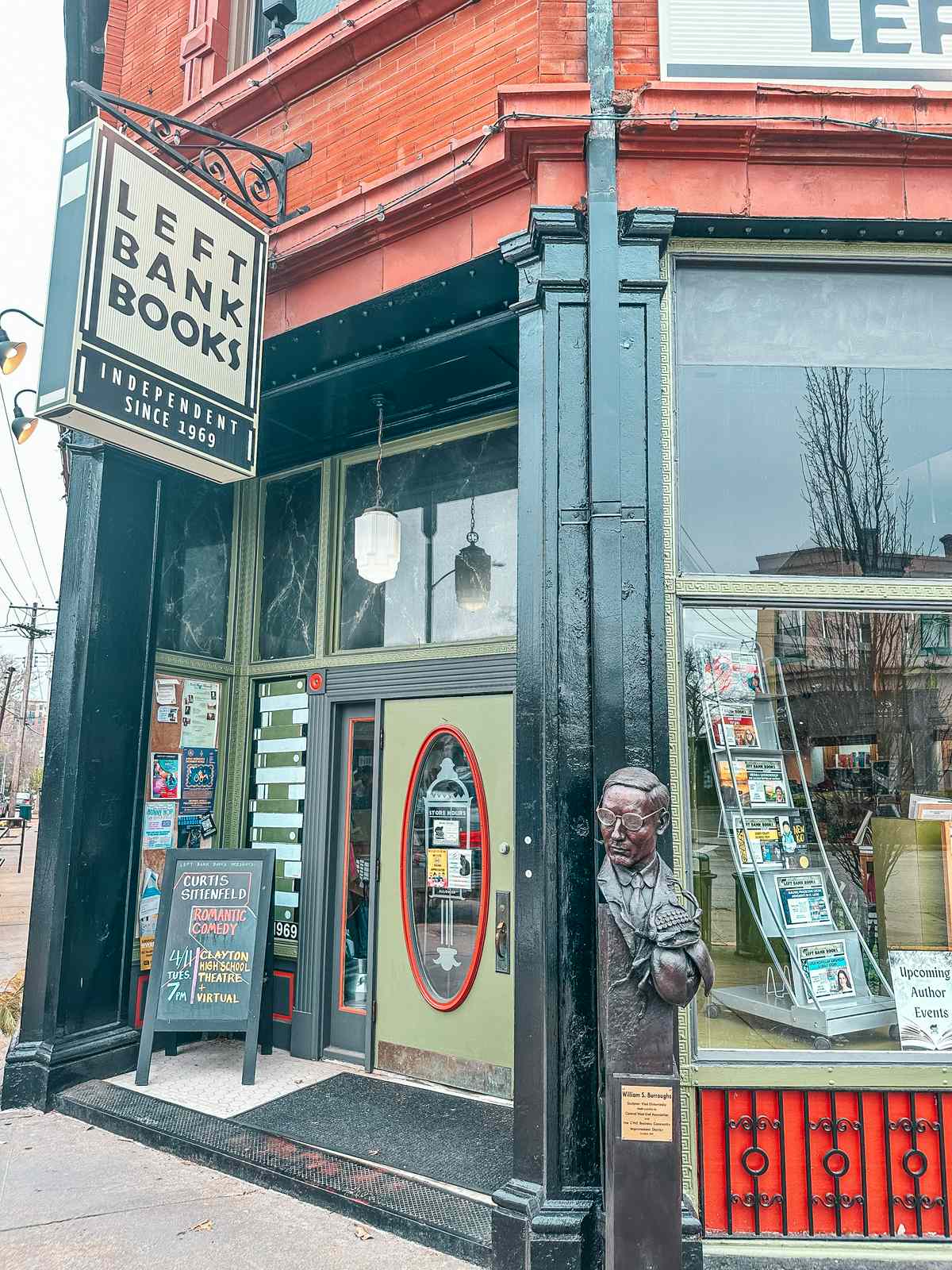 Citygarden
Take a stroll over to Citygarden, a unique urban park that features sculptures, fountains, and greenery. It's a great spot to relax and take in the city's art and culture. The park also hosts events throughout the year, including concerts and movie screenings.
You won't need much time here unless there's an event. We just strolled through here on our way to the library!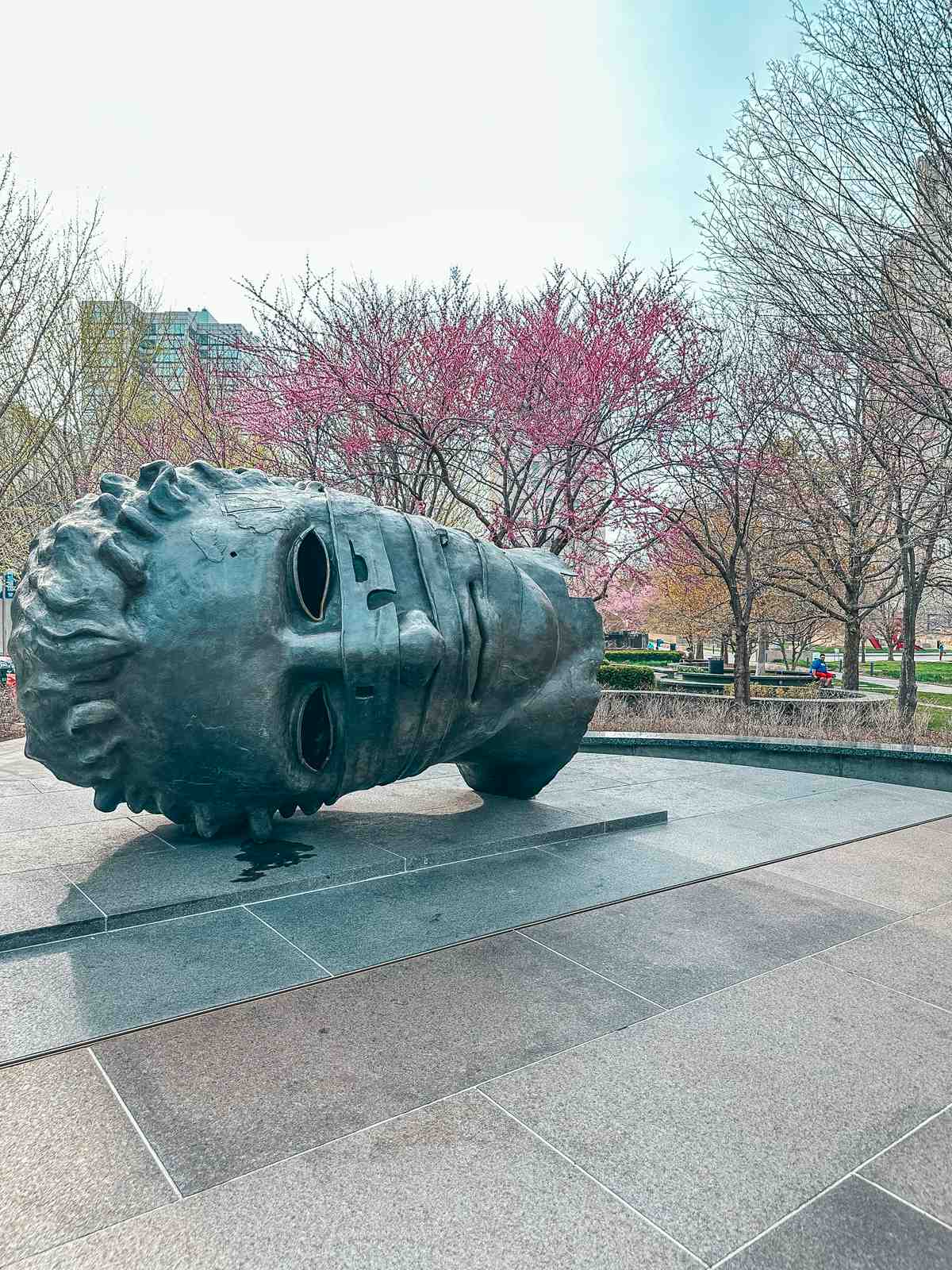 City Museum
The City Museum located in St. Louis is an extraordinary and unparalleled immersive experience that I can assure you you won't find anywhere else.
With a massive area of 100,000 square feet, this converted shoelace factory turned museum now boasts climbing structures, tunnels, caves, secret passageways, sculptures, mosaics, and more, all constructed from recycled materials.
This playground is perfect for both kids and adults alike, and with tickets priced at just $20, it's an affordable all-day adventure. One of my favorite features of the museum is its slides, some of which reach a height of one hundred feet.
The creators of this St Louis gem have given free rein to their imaginations. I didn't expect to have as much fun here as we did, but it's definitely an activity you're not going to want to miss!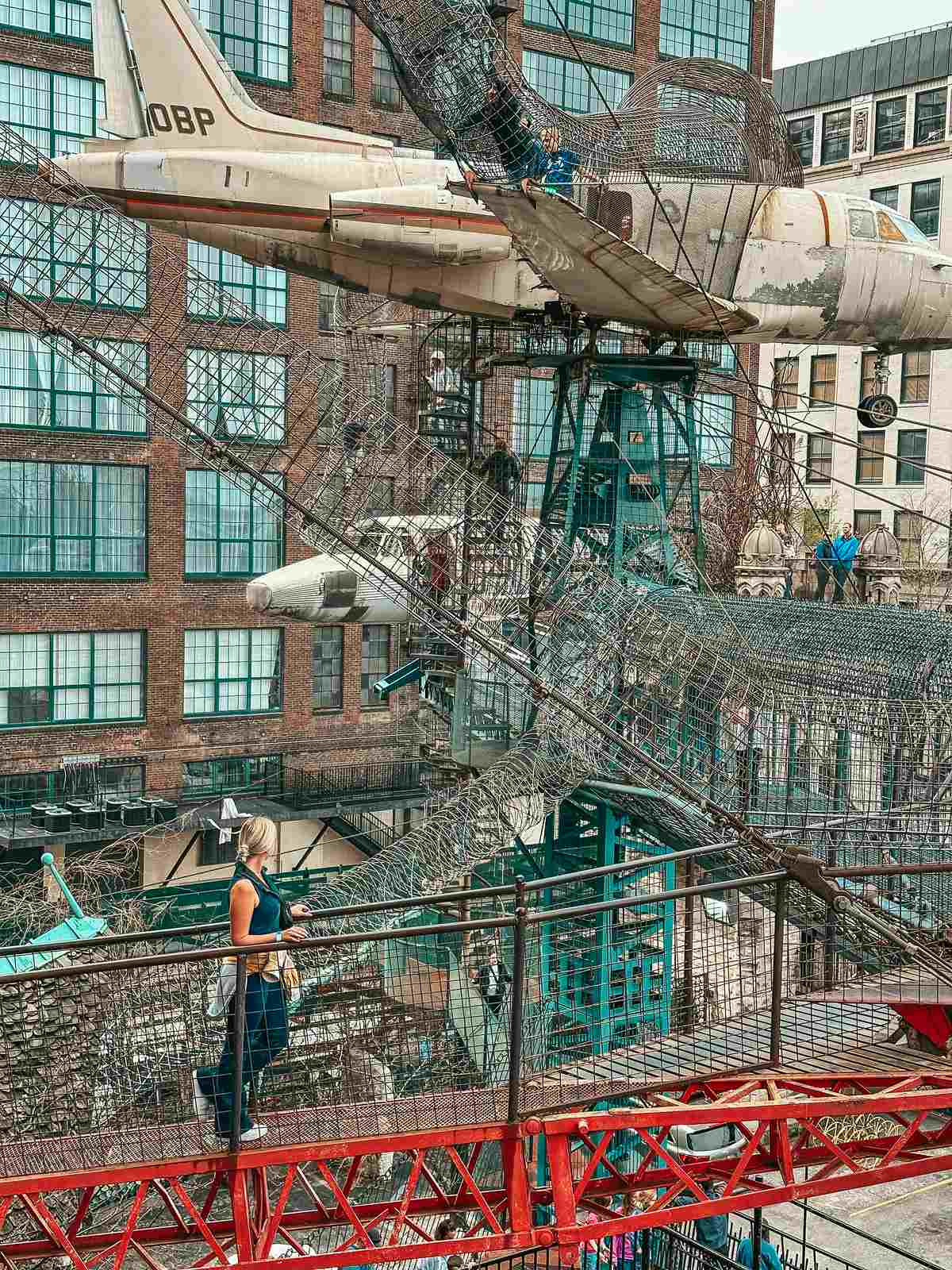 City Foundry STL
City Foundry STL is another exciting destination for those looking for a good time. There's a cinema, VR experience, and a variety of dining options, but the real star of the show is Putt Shack.
This high-tech miniature golf course is unlike any other! Add this to your list of fun things to do in St. Louis with kids!
With augmented reality technology, you can see your score in real-time, and the course itself is full of fun obstacles and challenges. The bar serves up some seriously delicious cocktails, including the spiced pineapple mezcal margarita, which is a must-try.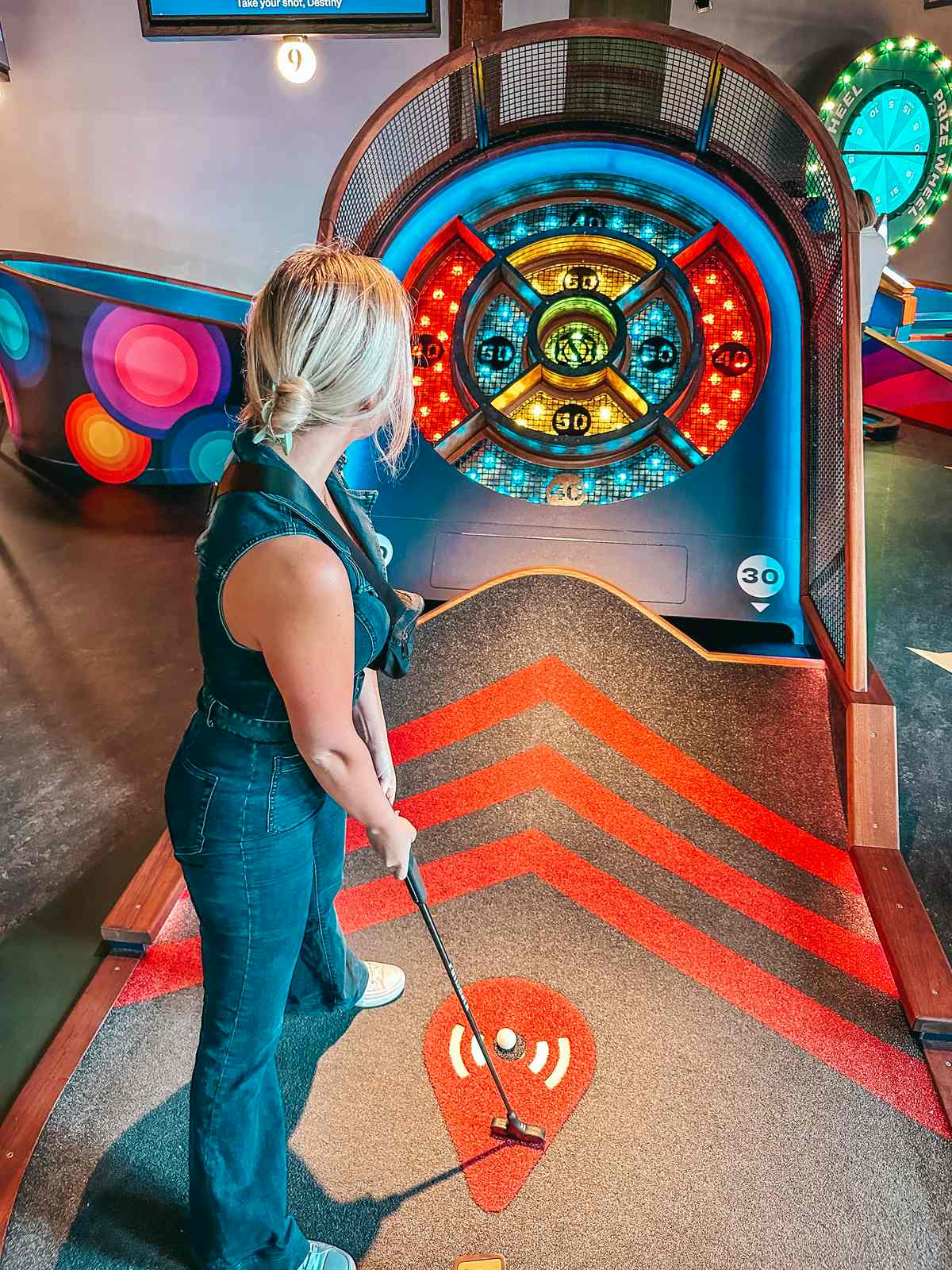 Forest Park
Spend the afternoon at Forest Park, a sprawling urban park that's home to several attractions, including the Saint Louis Zoo, the Saint Louis Art Museum, the Missouri History Museum, and the Jewel Box. Take a leisurely walk or rent a bike to explore the park. The park also features several lakes, walking paths, and picnic areas, making it a perfect spot to relax and enjoy the outdoors.
Keep in mind that there is limited free parking for the zoo, so arrive early or be prepared to pay for parking. We arrived at the zoo during the last hour and unfortunately didn't get a chance to see any of the animals out so I suggest visiting earlier in the day.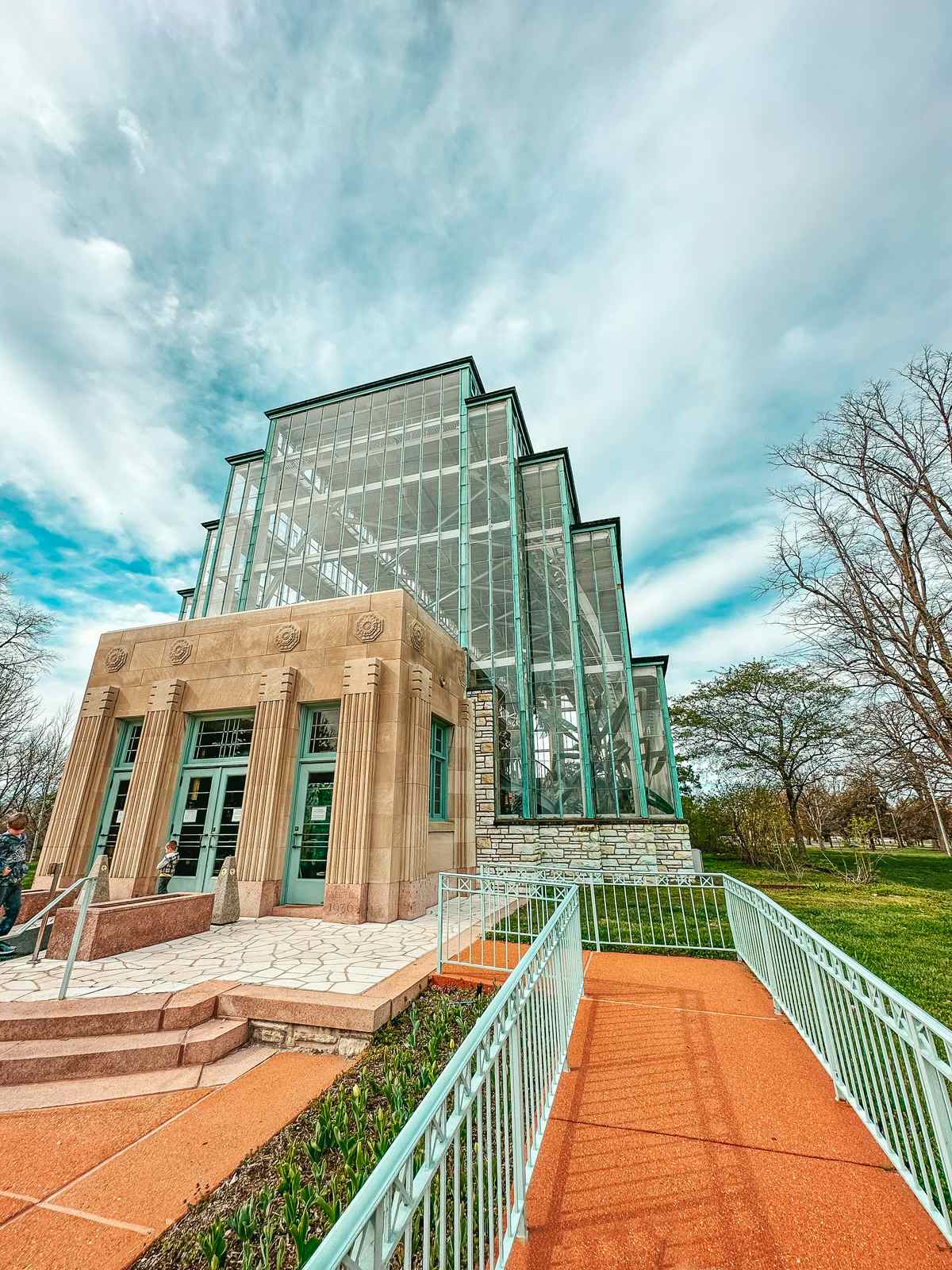 Anheuser-Busch Brewery
Take a tour of the historic Anheuser-Busch Brewery, where you can learn about the beer-making process and sample some of the company's famous brews. Remi and I found the tour to be so interesting! I really am not much of a beer drinker, but I love learning about the stories behind the businesses.
There are a few different tour options, but we just did the Day Fresh Tour which was a steal at $15 and lasts a little over an hour. You'll learn about the brewing process, the history of the brewery, and get to taste some of their most popular beers. The tour ends with a take-home beer for you to enjoy later. If you're a beer or history lover, this is a must-do activity.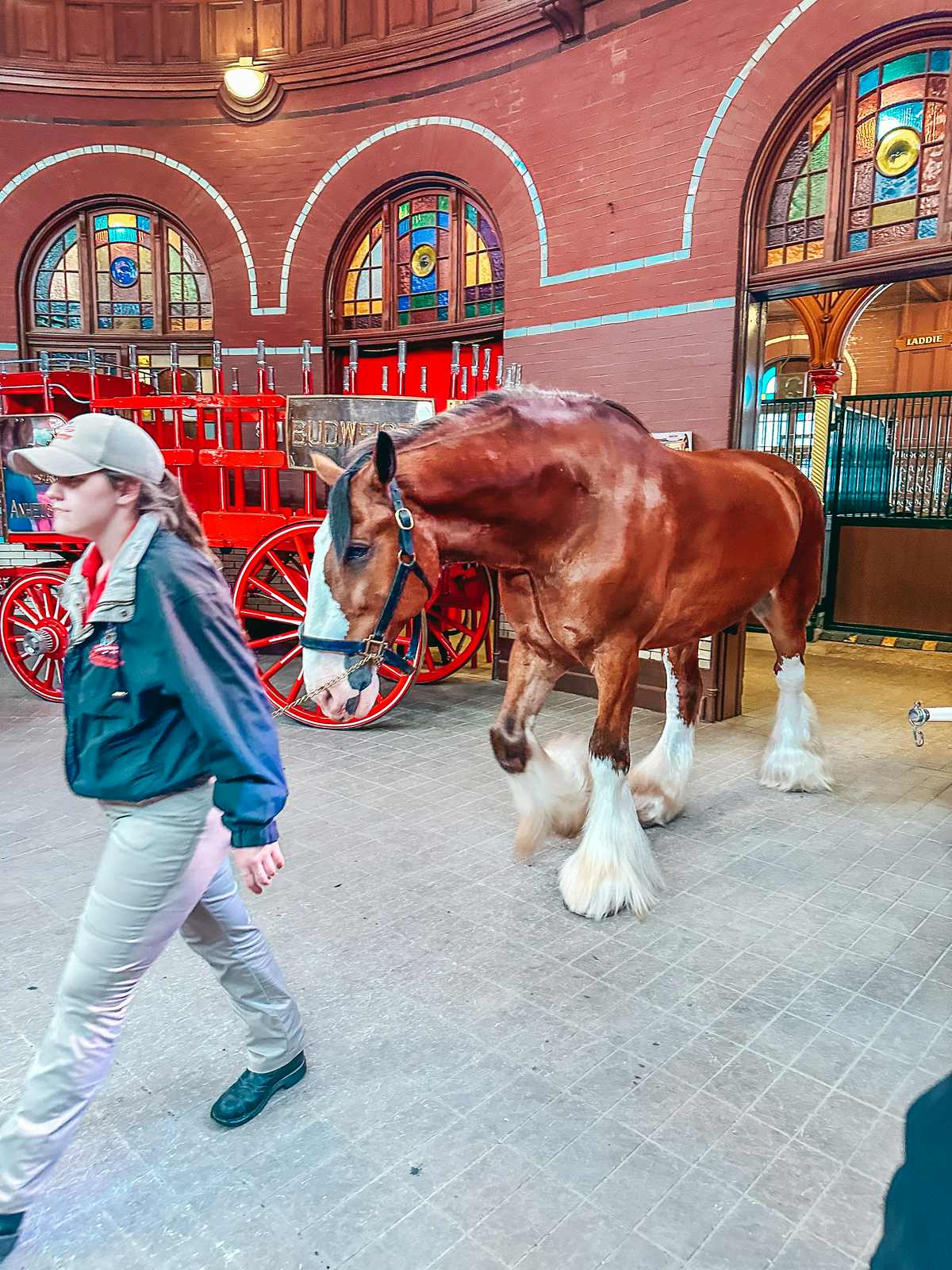 Some other good breweries include:
Urban Chestnut Brewing Company
4Hands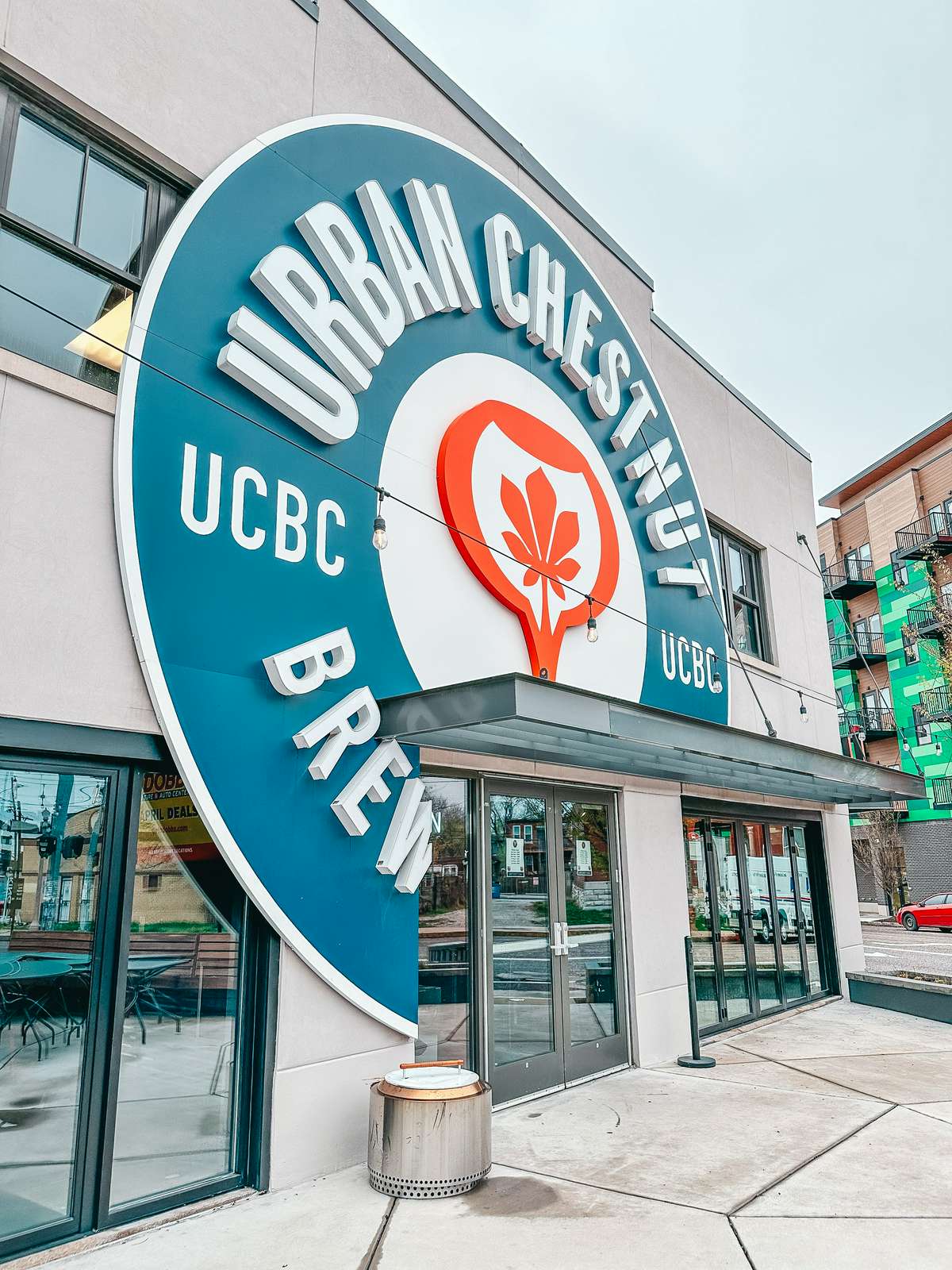 Some other things to do in St. Louis that I didn't have the chance to check out:
Go to a baseball game at Busch Stadium— St. Louis is widely regarded as a big baseball city, with a long and storied history in the sport. Walking around the city on a game day you'll be sure to note its passionate fan base. The Cardinals have won 11 World Series championships making them one of the most successful and celebrated franchises in all of professional baseball!
Missouri Botanical Garden— a 79-acre oasis that's home to beautiful gardens, conservatories, and sculptures. Admission is $14 and it is open Tuesday-Sunday from 9 am – 5 pm.
Union Station— a historic train station that has been transformed into a lively entertainment complex. The station features a variety of restaurants, shops, and attractions, including a Ferris wheel and an aquarium. Take a ride on the Ferris wheel for panoramic views of the city, or explore the aquatic life at the aquarium. They also have a free fire and light show every night hourly from 5 pm – 9 pm.
Grant's Farm— owned and operated by the Busch family, this is a great free thing to do in St. Louis! It includes a petting zoo, tram rides through the property, animal shows, and tours of the historic home. Visitors can also see a collection of exotic animals, such as kangaroos, zebras, and elephants, as well as the iconic Budweiser Clydesdales. It wasn't open when during our visit, but opens in mid-April.
Root beer float from Fitz's and Ted Drewes frozen custard— apparently these are dessert must-stops! I'm personally not into root beer floats and I grabbed a martini from Bailey's Chocolate Bar instead.
Tower Grove Farmers Market— this was opening the weekend after I visited, but it is Satrudays April-November from 8:00 am – 12:30 pm. It's a great way to experience local vendors. I personally love visiting local markets when I travel!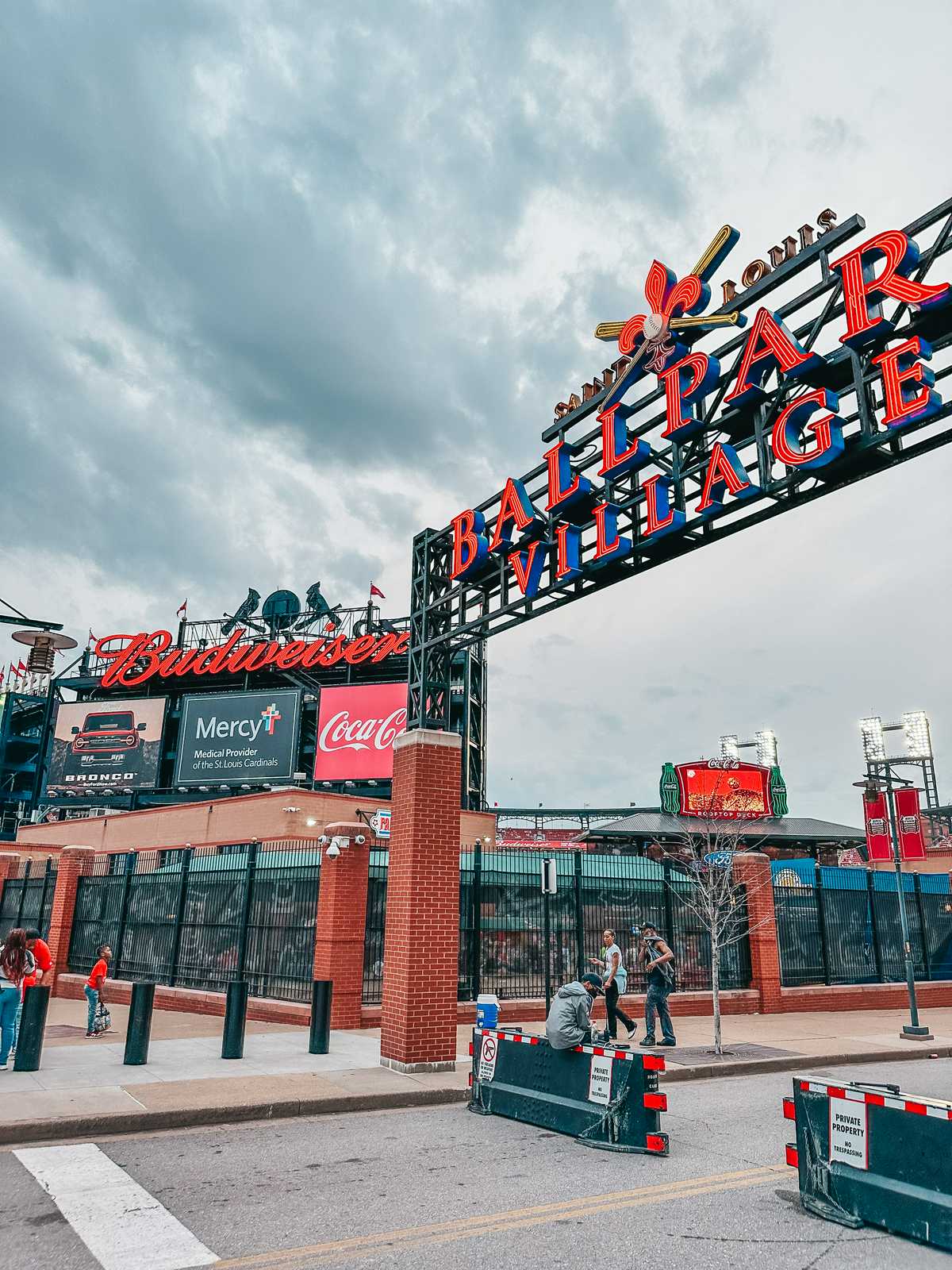 Where to eat and drink during a weekend in St. Louis
Coffee shops + breakfast spots
Ivy Coffee Tartines & Things
Located in the Benton Park neighborhood, Ivy Coffee Tartines & Things is a quaint coffee shop that serves some of the best tartines in town. A tartine is an open-faced sandwich that is typically served on bread. Ivy's tartines are made with fresh ingredients, artisan sourdough bread, and a variety of spreads, including hummus, goat cheese, and avocado.
We actually couldn't resist trying their French toast which was served on their housemade sourdough, and it didn't disappoint! Pair your tartine or breakfast of choice with one of their specialty coffees or teas for a real treat!
Their coffee was absolutely delightful. Remi got a vanilla lavender cappuccino and I got a vanilla caramel latte. Both were so good, and I'm not a lavender lover typically! All of their syrups are made in-house, and the interior is done so nicely. We spent our morning working from here and loved every minute of it.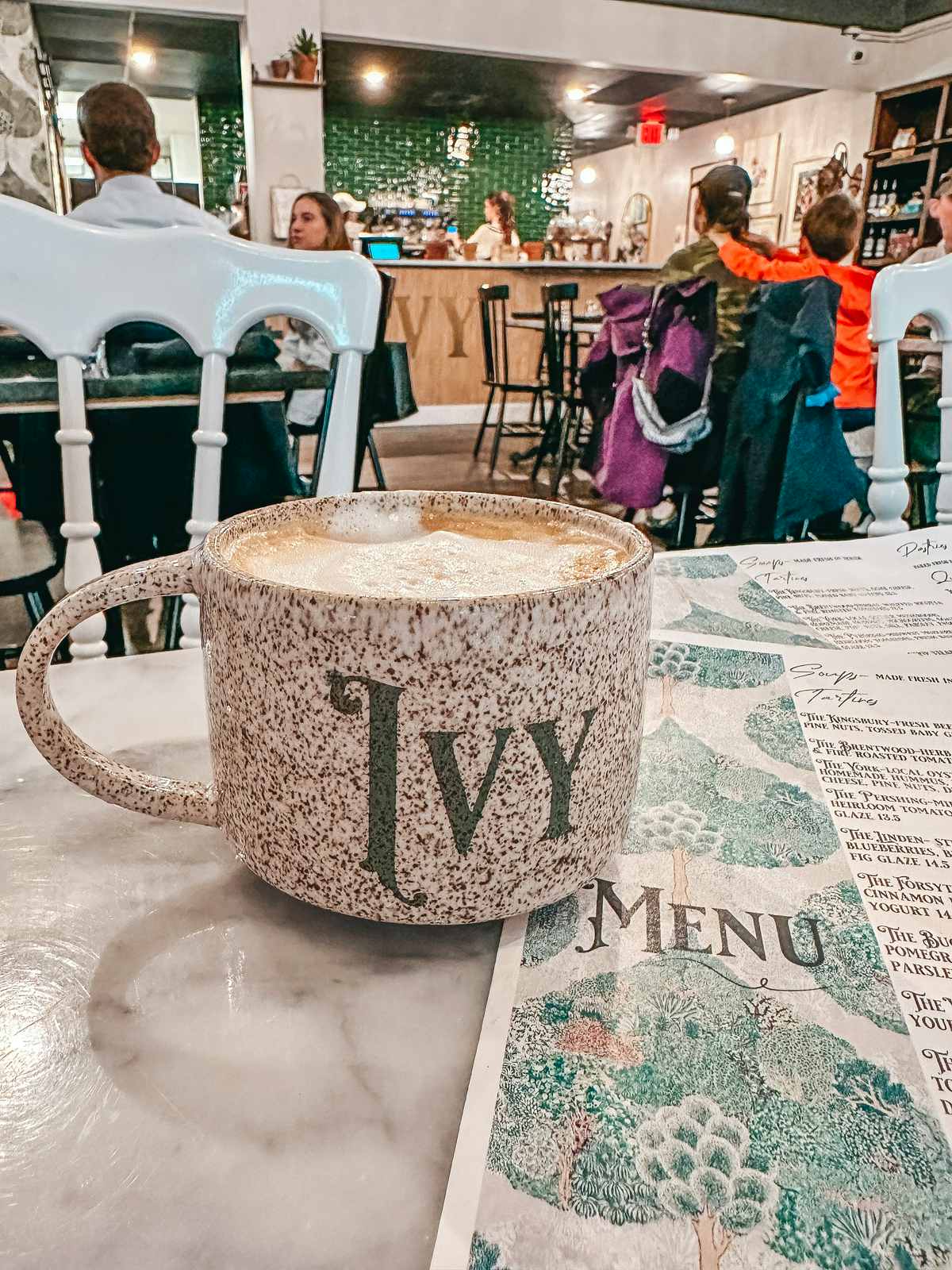 Latte Lounge + HG Eatery
This restaurant and coffee bar is located right down the street from the City Museum and serves up some amazingly flavorful breakfast and brunch dishes. The menu features classic favorites like pancakes and omelets, as well as more creative options like the crab and crawfish benedict, which includes a blackberry jalapeno jam that was definitely piquing my interest.
Naturally grabbing a coffee from the Latte Lounge is a must! They offer a flight option, as well as a ton of fun latte combinations. Remi got the Owner's Favorite and I got a cold brew with vanilla and half and half. I'm so picky about my cold brew, it's always a risky choice. This time it paid off though! It was one of the best and smoothest cold brews I've had in a long time.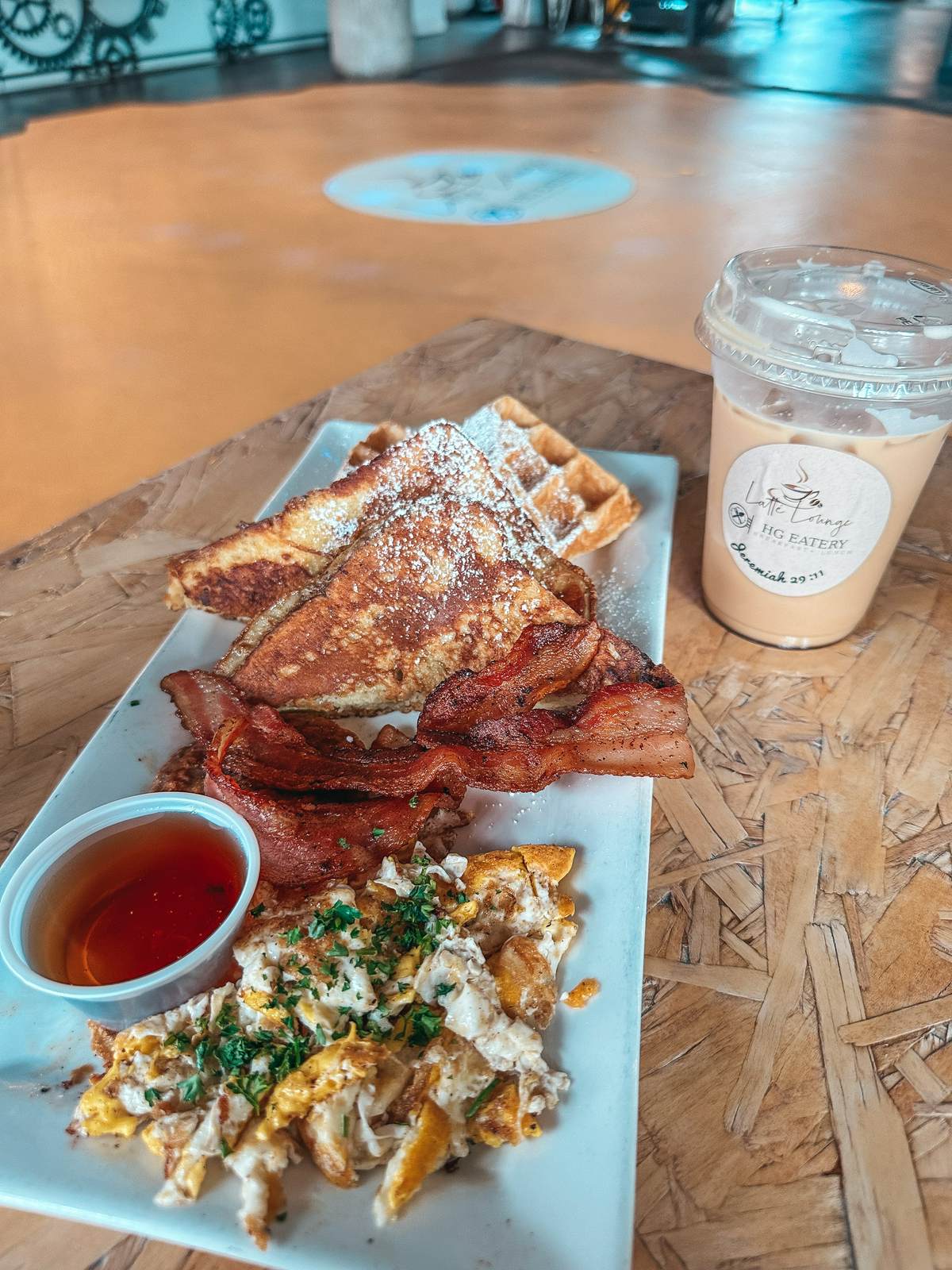 Fun bars + cocktail lounges
Venice Cafe
If you're looking for a unique drinking experience, head to the Venice Cafe in the Benton Park West neighborhood. This eclectic spot features live music and art installations. Frankly, it's just an entire vibe. Every way you look there is something to keep your eyes entertained.
This place is cash only, so make sure you have cash on hand if you plan on drinking here. Oh, and be sure to check out the bathroom area before you leave!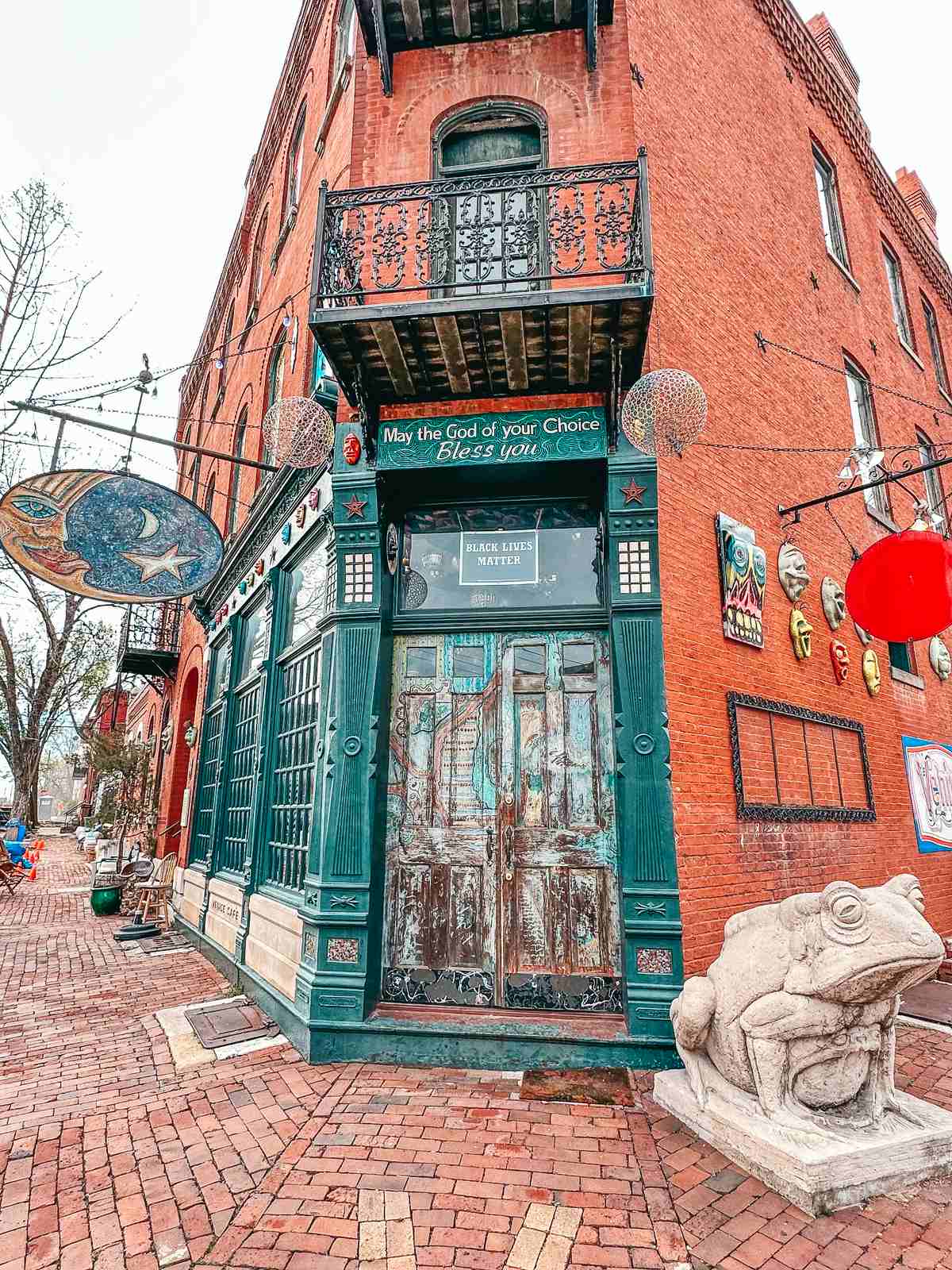 Bailey's Chocolate Bar
For those with a sweet tooth, Bailey's Chocolate Bar in Lafayette Square is a must-visit. The menu features a variety of chocolate-inspired cocktails, desserts, and small plates. We tried their salted caramel signature martini and OH MY GOSH. So so delicious, I can hardly believe there's alcohol!
The vibe feels intimate here too, so especially if you're traveling with your partner this is a sweet little spot to pop in for dessert or a nightcap.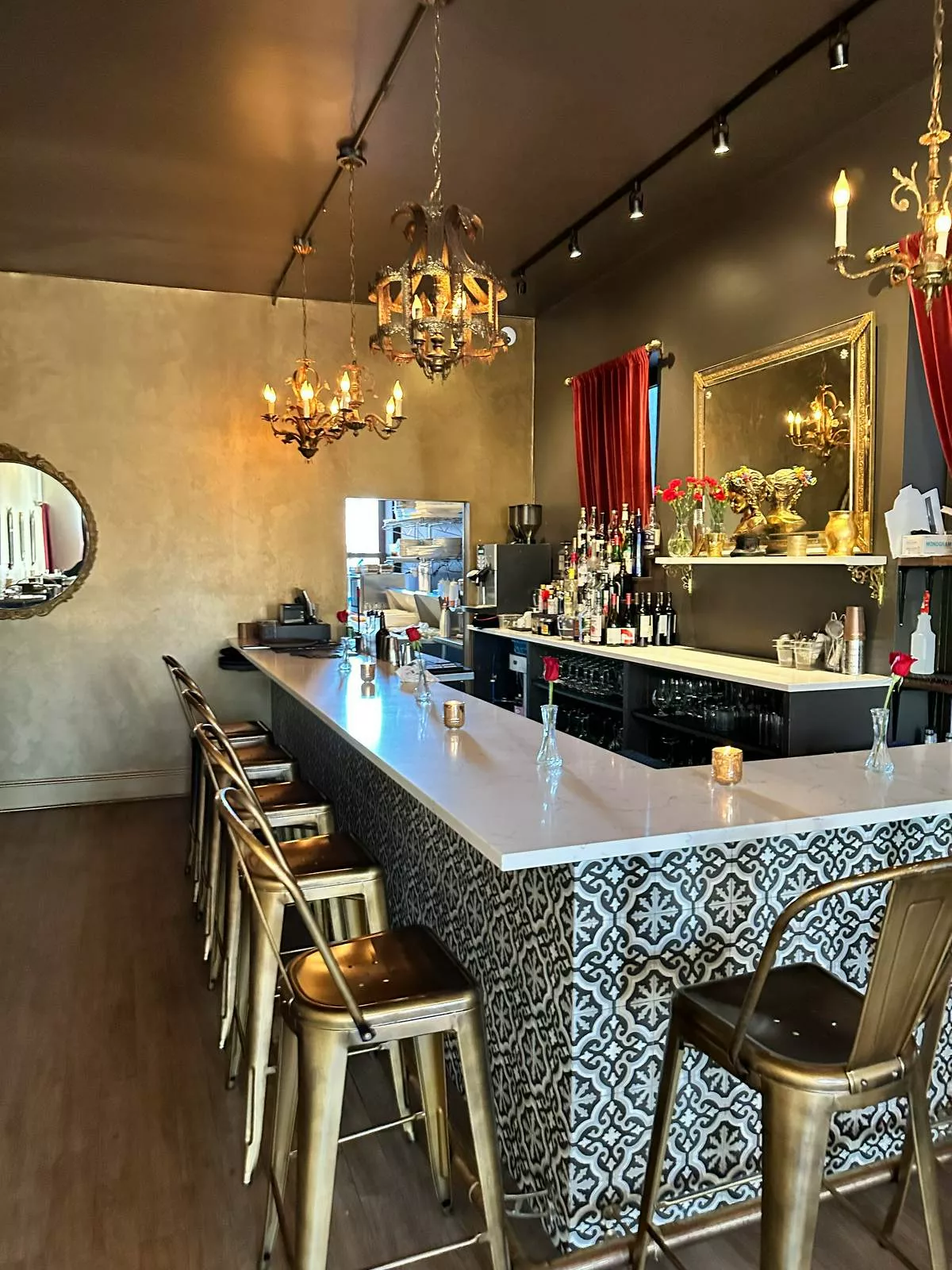 Delicious St. Louis restaurants
360 Rooftop Bar
Located on top of the Hilton St. Louis at the Ballpark, 360 Rooftop Bar offers stunning views of the Gateway Arch and Busch Stadium. Everything here caught our eye, from the views to the cocktails to the pizza a server was carrying past us to the next table.
We weren't even that hungry when we came here but we knew we had to try something! We ended up going with the Bialy which was goat cheese, onion, garlic, walnut, and sesame honey. It was so unique we knew we probably wouldn't run into a small plate like that anywhere else. The flavors and presentation were amazing!
I wish we would've had time during our weekend in St. Louis to go back for a full meal. The cocktails were also great!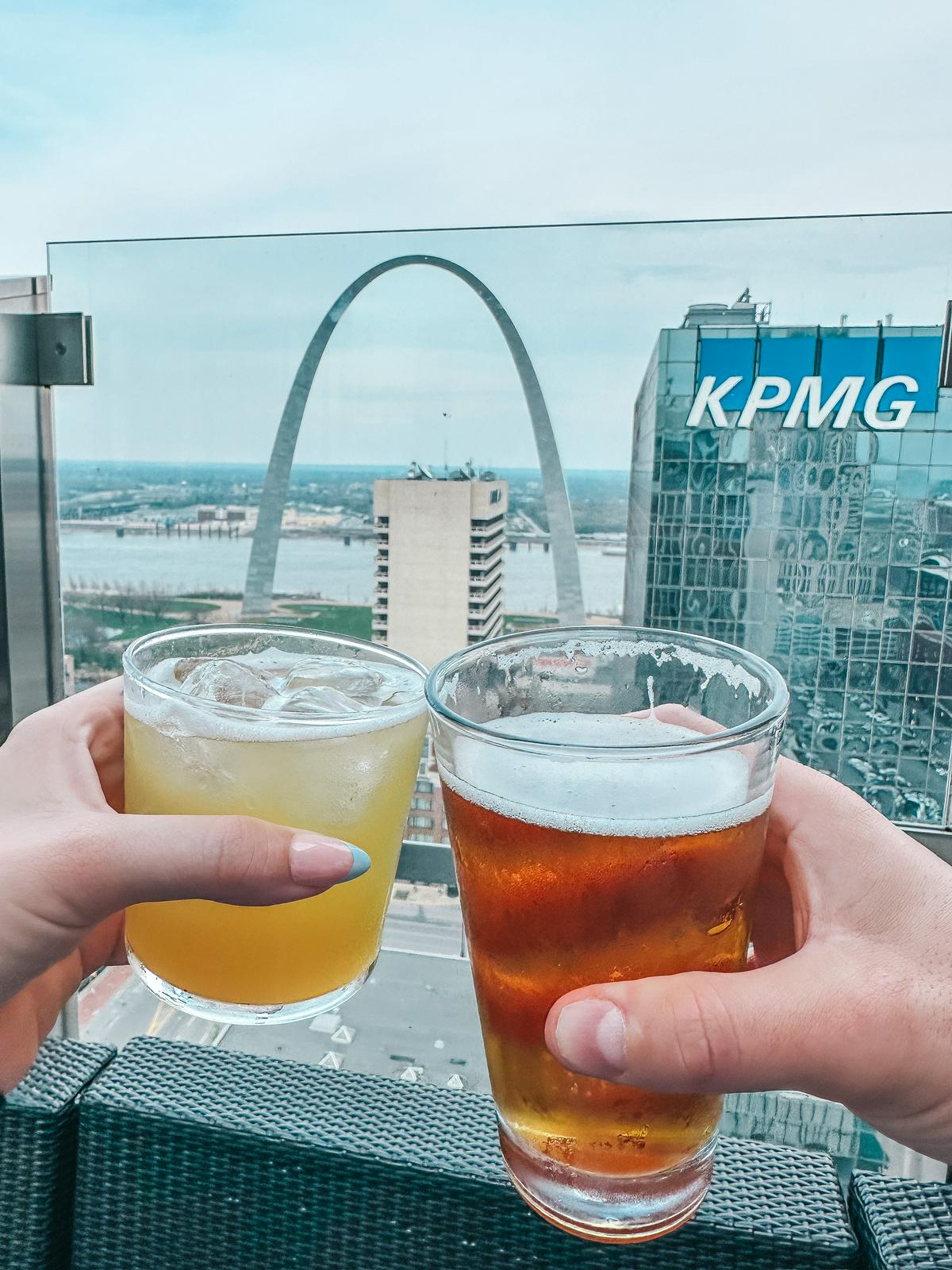 Mama's on the Hill
If you're in the mood for Italian cuisine, head to Mama's on the Hill in the historic Italian neighborhood of The Hill. The menu features all of your favorite classic dishes, but the reason you're here is for the "Toasted Ravioli". This craze was created and popularized in St. Louis. The filling is a delicious meat and they provide a housemade marinara for dipping.
We ate so many carbs during our weekend in St. Louis that we just came here to share a Caprese salad and toasted ravioli. We were impressed with both, but my favorite star of the show has to be the espresso martini which was easily in the top three for best espresso martinis I've ever had! Another one of the top three can be found at Mandarin Hide in downtown St. Pete 😉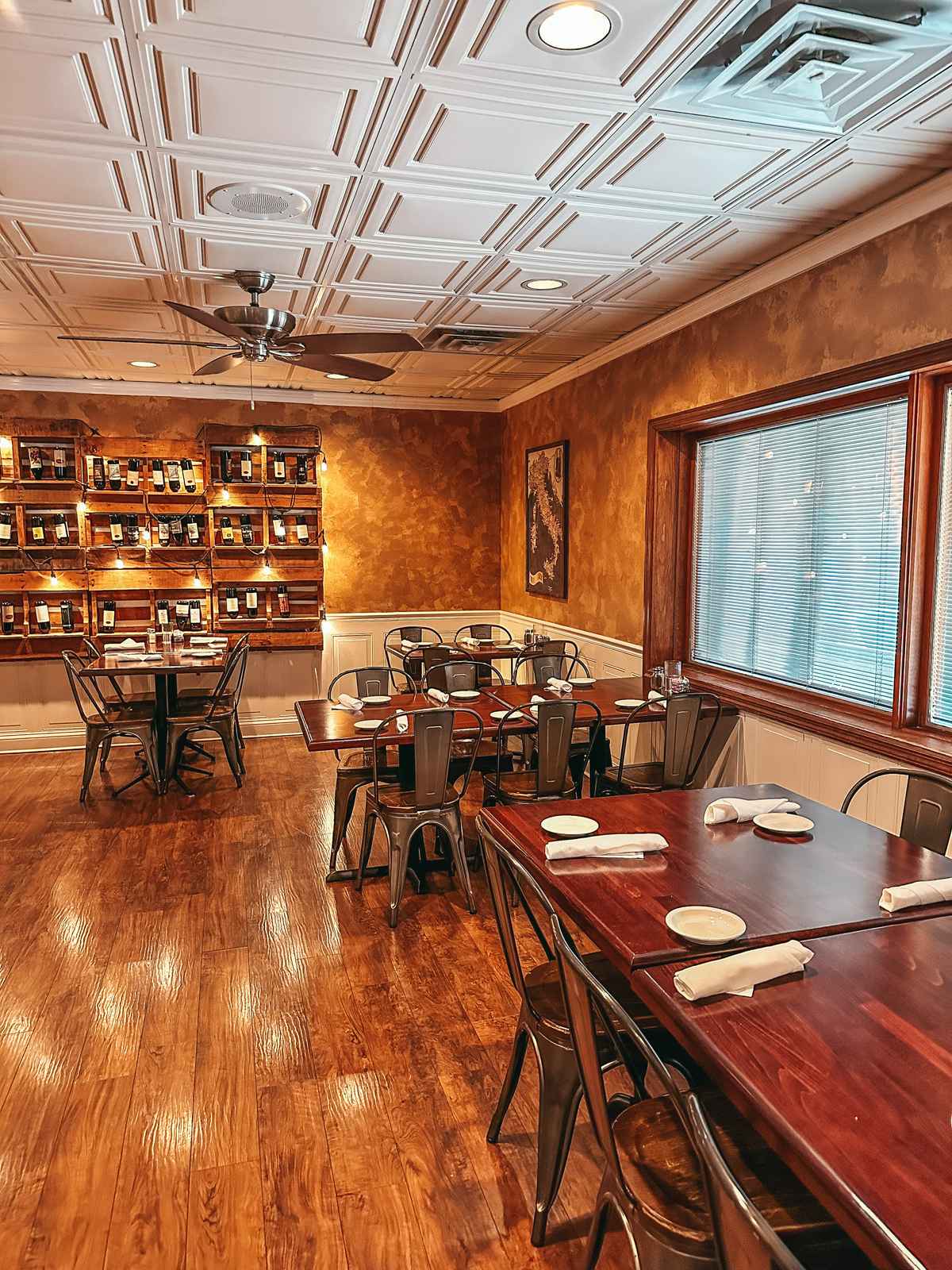 Salt + Smoke
I feel like getting BBQ in St. Louis is a must! And of course, we couldn't leave without trying some St. Louis ribs. Salt + Smoke was absolutely the move. The ribs legit fell right off of the bone. The menu features a variety of other smoked meats, including brisket and pulled pork, as well as classic sides like mac and cheese and green beans.
Each entree comes with a bacon cheddar popover too! Splitting one entree was more than enough food for us, but it was SO good! I suggest the "my sweet bestie" sauce for your meat. They are about the 3 B's here, so pair your barbecue with a local beer or bourbon for the ultimate experience.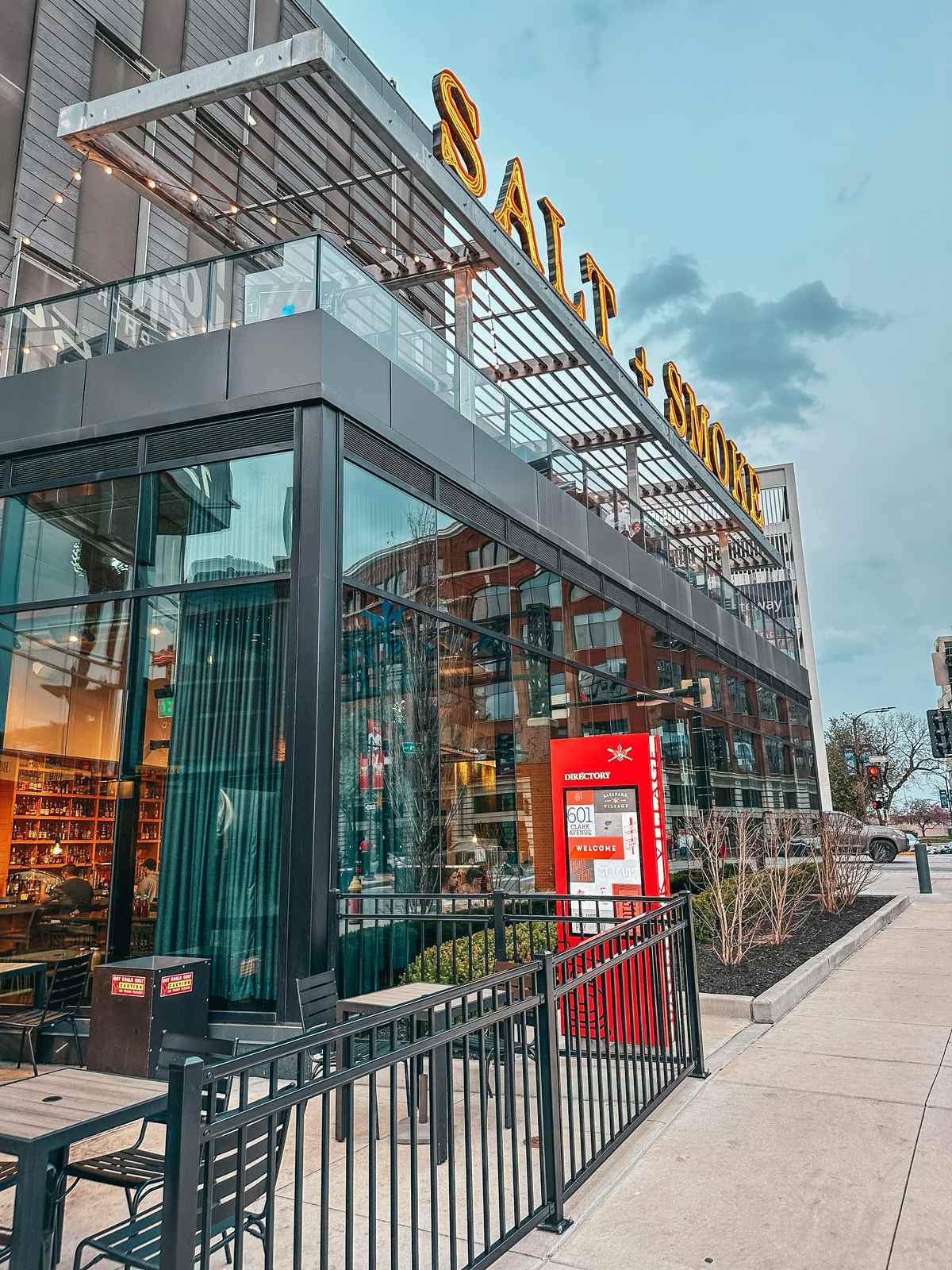 Planter's House
Located in the Lafayette Square neighborhood, Planter's House is a cocktail bar that specializes in handcrafted drinks made with house-made syrups, bitters, and fresh ingredients. They also have a carefully crafted menu full of their chef's specialties. We had their pork osso bucco and it was great!
Remi had their locust cocktail and I was actually appalled that I liked it. It had such an interesting mix of ingredients to pair with mezcal, but somehow they really made it work!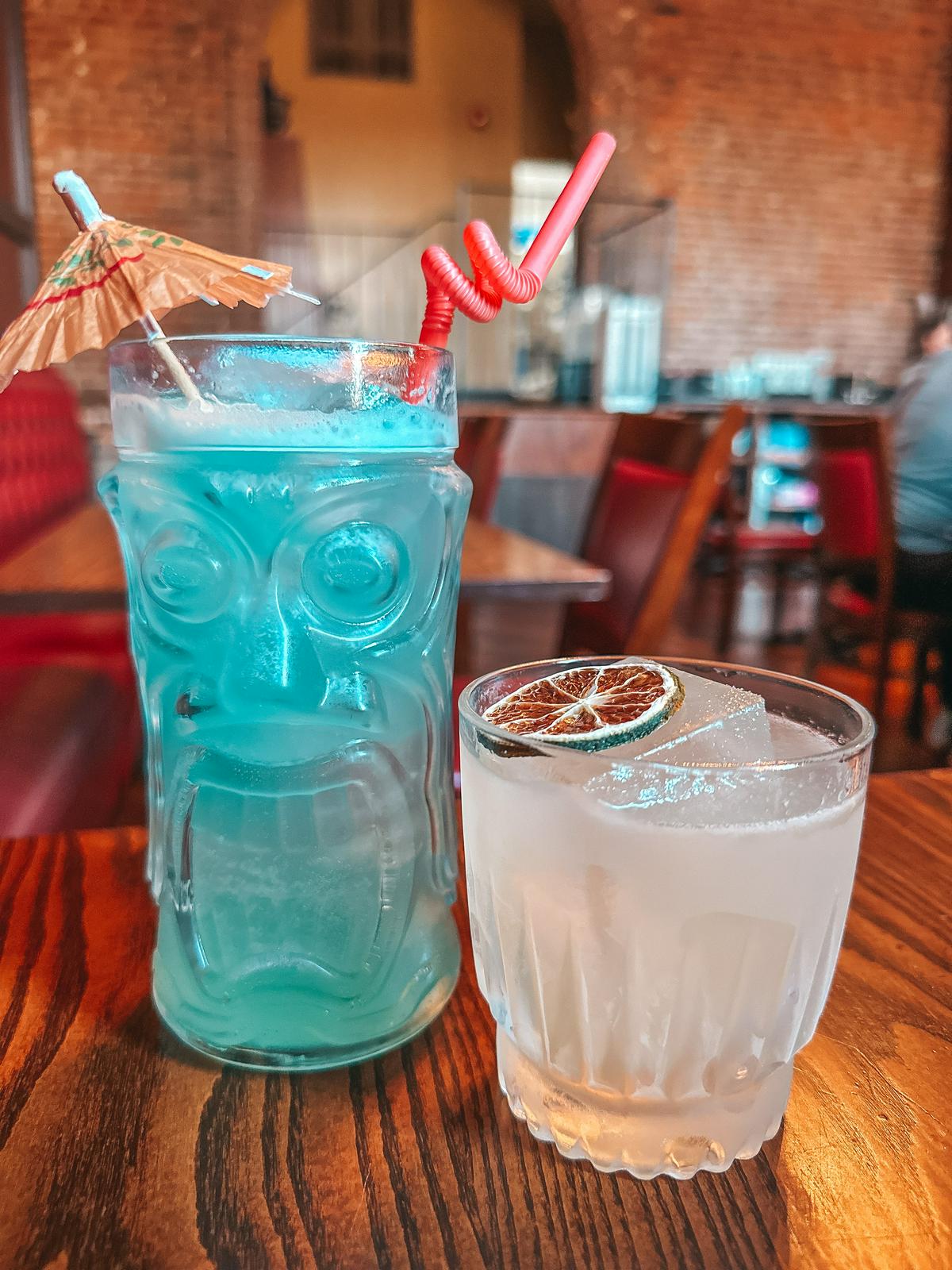 City Foundry STL
I love food halls! Similar to Tampa's Armature Works City Foundry houses 17 different kitchens and 14 local shops! Places like this are perfect if you're with a crew who can never seem to agree on where to eat. I will say we struggled to pick where to nosh at because everything sounded so good!
We ended up grabbing tostones from Buenos Aires Cafe, tacos from Kalbi Taco Shack, and a mini cheesecake from Patty's Cheesecakes. I don't think there's a wrong answer, but whatever you're craving I'm sure they have something for it!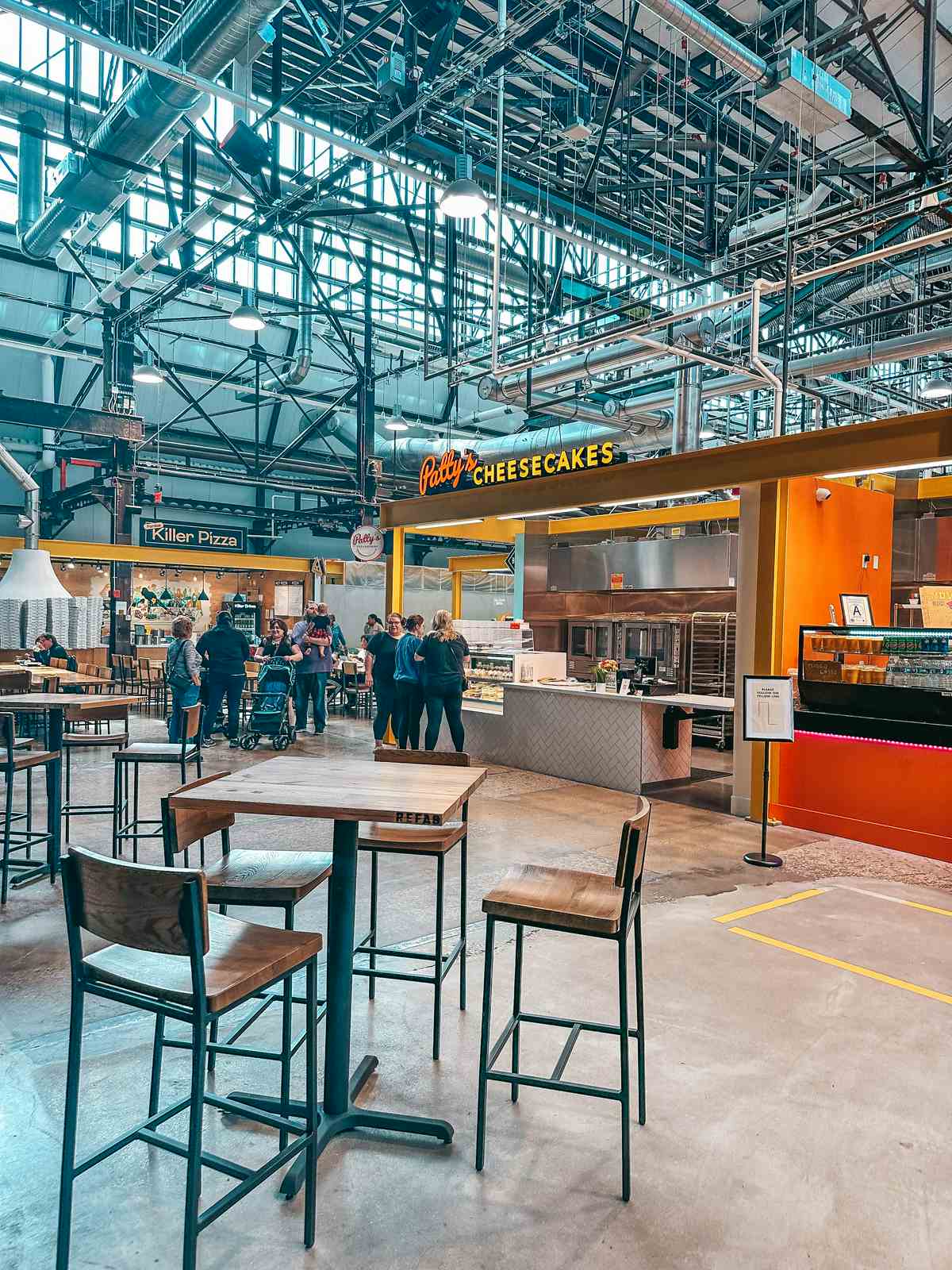 Other places I heard were great but didn't get the chance to check out
Where to stay during a weekend in St. Louis
If you're planning a trip to St. Louis and wondering where to stay, there are plenty of great options to choose from. During our recent visit, we stayed at the Pennywell Hotel and couldn't have been happier with our choice.
The hotel is located in a prime spot, within walking distance to the iconic Gateway Arch, Busch Stadium, and many other attractions! The spacious and clean rooms made for a comfortable stay, and I was surprised by how affordable it was (we paid less than $250 for 2 nights!).
But if you're looking for other options, there are plenty of other great hotels to choose from. The Four Seasons Hotel St. Louis is a luxurious choice that offers stunning views of the Mississippi River and downtown St. Louis. The Hotel Saint Louis, located in the heart of downtown, is a chic boutique hotel with stylish rooms and plenty of amenities.
Check out all of the hotels in the St. Louis area here!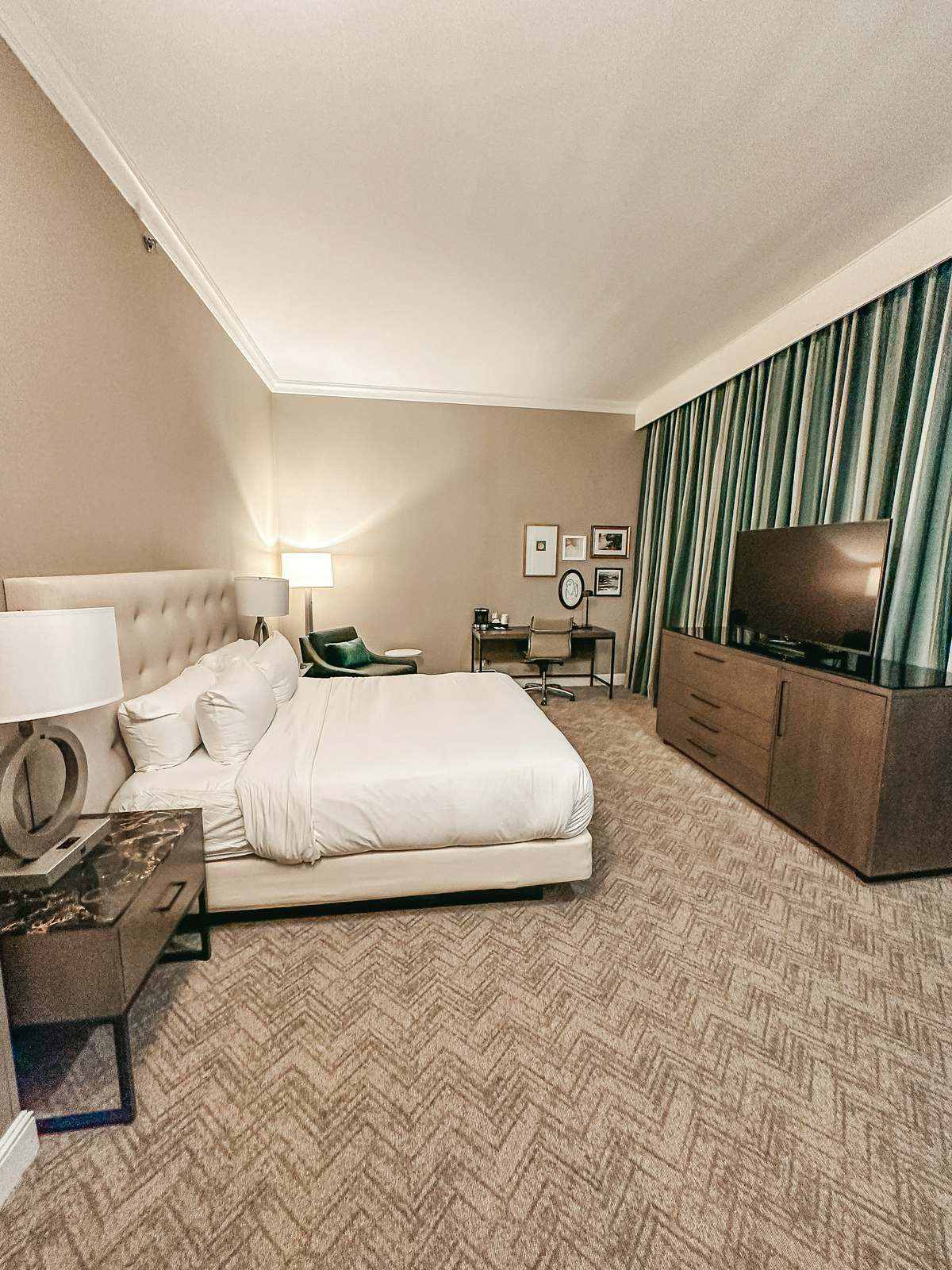 How to get around during a weekend in St. Louis
If you're planning a trip to St. Louis, you may be wondering about the best way to get around the city. During our recent visit, we found that renting a car was a convenient and affordable option for exploring the city.
We rented a car and found that there were plenty of parking options available throughout the city. We were able to find a parking garage next to our hotel that only cost $21 per night, which worked well for us since we were exploring different areas of the city each day. In addition to parking garages, we also found that street parking was often free or very affordable in many parts of the city.
Compare rental car prices here!
Overall, spending a weekend in St. Louis offers the perfect blend of history, culture, and entertainment. With so much to see and do, you're sure to leave with lasting memories of this vibrant Midwestern city! Be sure to follow me on Instagram @guidedbydestiny for more fun travel content!