This post contains affiliate links which means that I will make a small commission if you purchase a product after clicking on any of them, at no extra cost to you.
If you only have 2 days in Budapest, you'll want to make the most of it! From the iconic Hungarian Parliament Building to the Buda Castle, there are many amazing sites to see in the city. With a bit of planning and a few tips, you can explore all the best of Budapest in a short amount of time. In this blog post, I'll share my best tips on how to make the most of your 2 days in Budapest!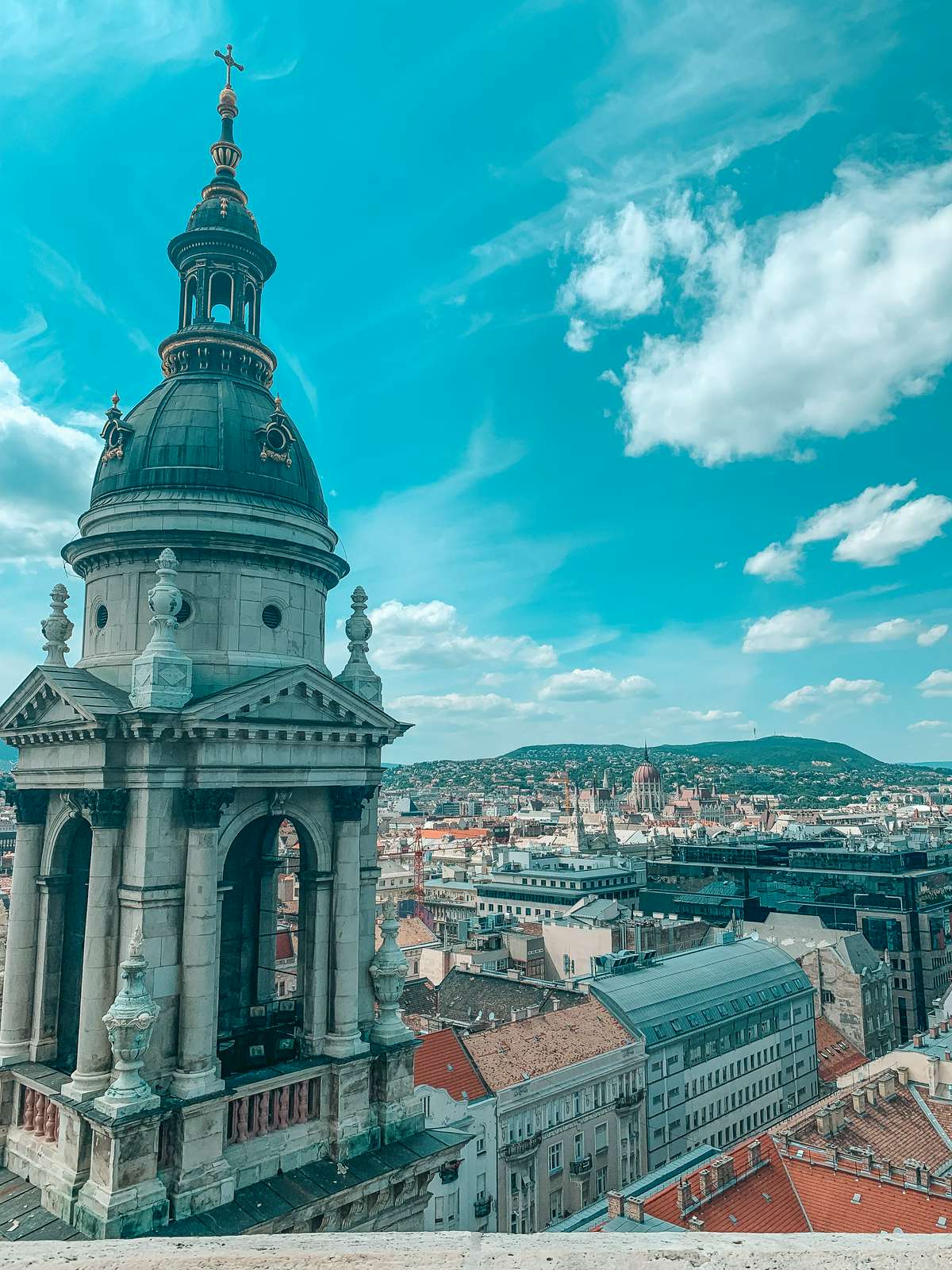 Best things to do if you only have 2 days in Budapest
Free walking tour
A great way to start exploring Budapest is by taking a free walking tour. On this tour, you will be taken around to some of the must-see sights and monuments in the city, while your knowledgeable guide will give you all the history and stories behind them. You'll get to take in all the beauty and culture of this city from a local perspective.
Some of the sights you'll see on this tour include St. Stephen's Basilica, Vörösmarty tér, Buda Castle, and the Hungarian Parliament Building. You'll also get to experience the cobblestone streets and alleys of the old city, as well as the beautiful and lively squares in the center of town. Plus, your guide will have some interesting facts and stories about the city that you won't find anywhere else.
I suggest this being one of the first things you do because it helps you get acquainted with the city! Also, while the tour is free, don't forget to tip your guides 🙂
🚌Cover more ground
If you want to see as much as you can of Budapest in a short period of time, check out Budapest's hop-on hop-off bus!
Click herе for current pricing
Pro tip: Download Rick Steve's Audio Europe (one of my favorite travel apps). He has a ton of free audio tours you can listen to while exploring on your own!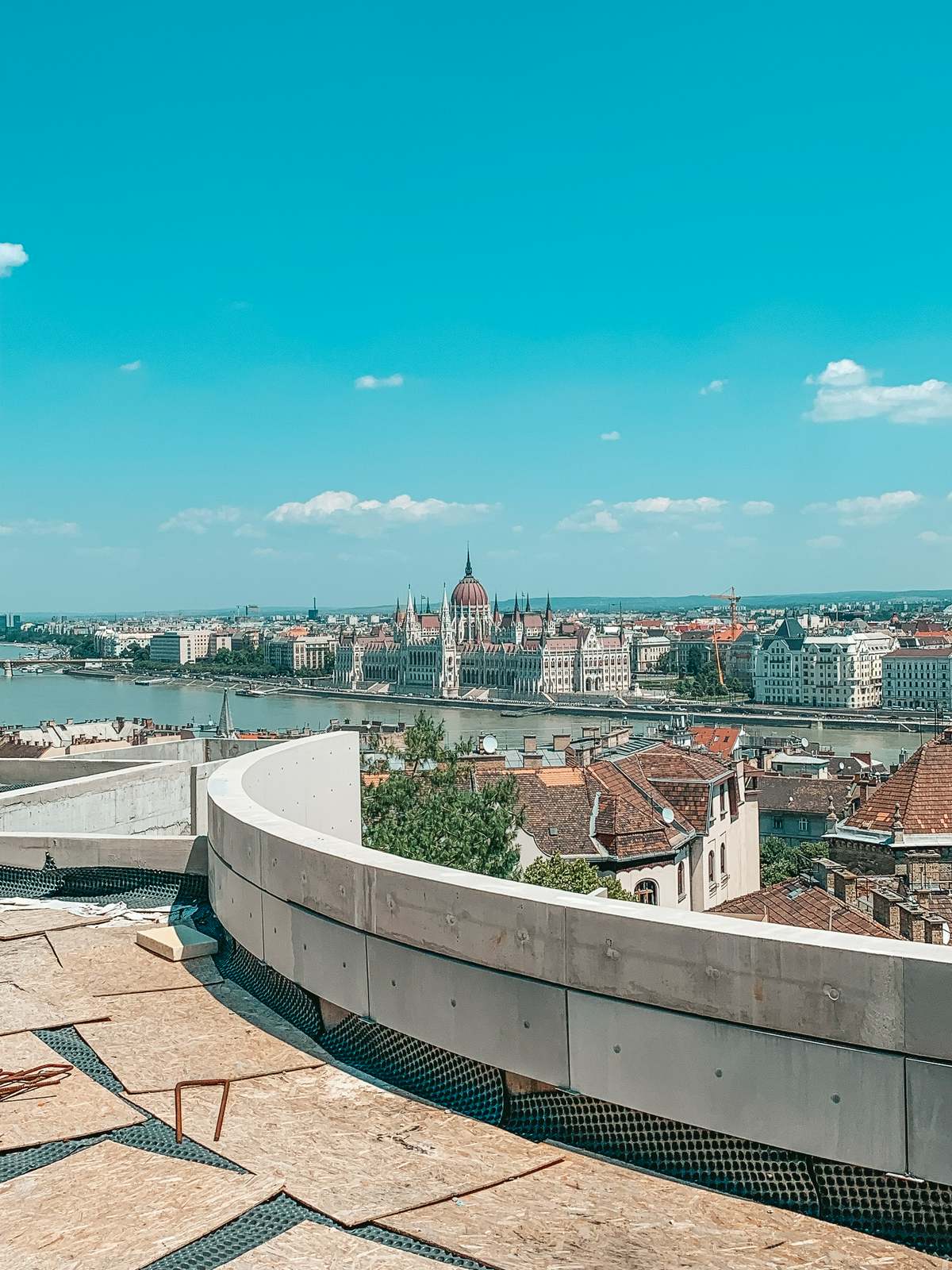 Fisherman's Bastion
The Fisherman's Bastion is a stunning architectural wonder with breathtaking views of the Danube River and the Hungarian Parliament Building. Built in 1905, it is a terrace comprised of seven towers surrounded by battlements. The towers represent the seven Magyar tribes who settled in Hungary in 896.
The bastion is free to enter and offers panoramic views of the city. Visitors can take a stroll along the walkways and take in the beauty of the structures, including turrets, arches, and statues. Inside, there are several cafes and restaurants where visitors can enjoy a bite to eat while admiring the view.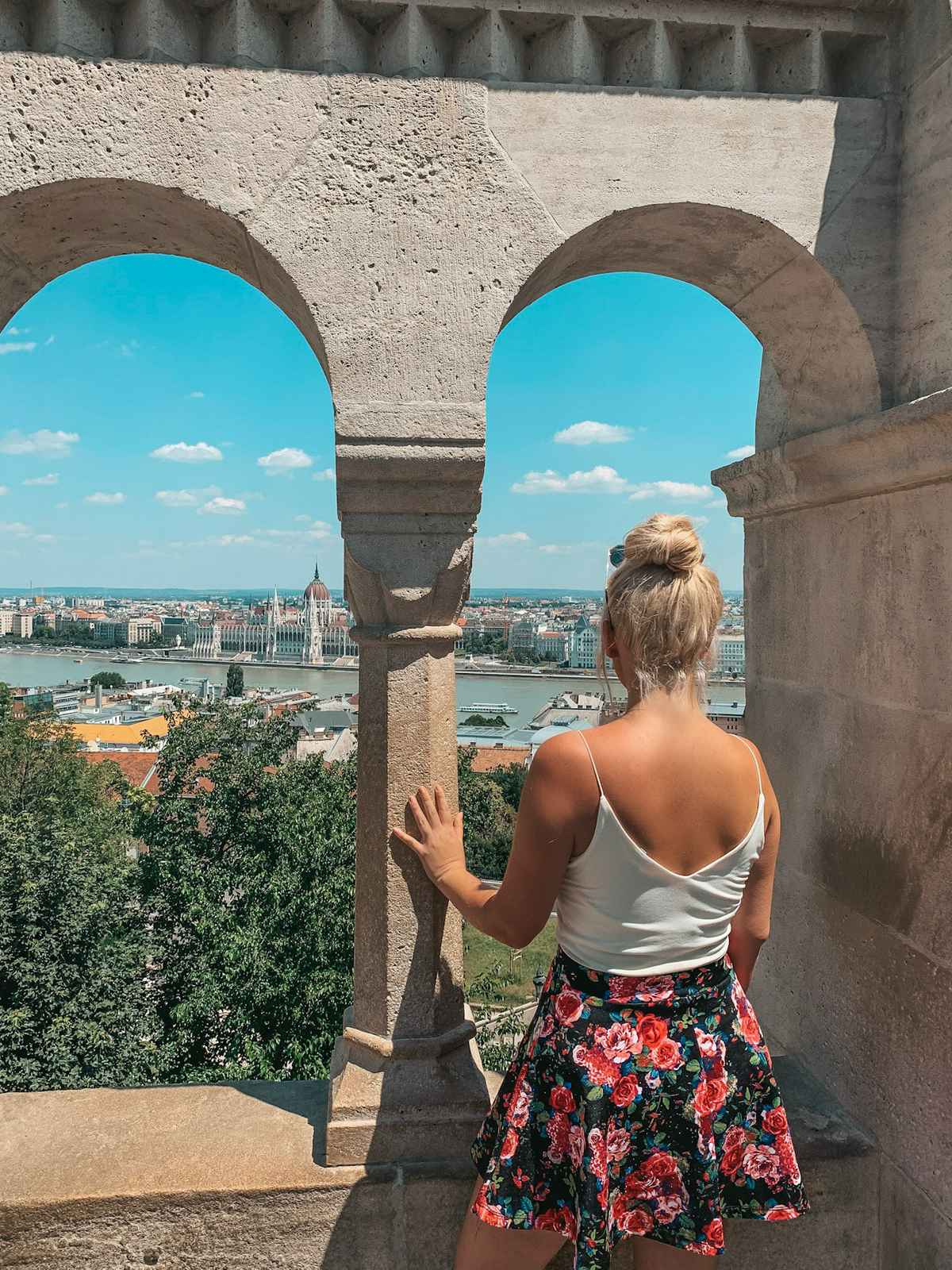 While on the terrace, one can also find a small chapel dedicated to St. Matthias. The terrace is located on Castle Hill, and it overlooks the Danube River, the Chain Bridge, and the Parliament Building. During the nighttime, visitors can witness the beautiful lights from the bridge and the Parliament reflecting off of the river.
If you want to enjoy the upper observation deck you must pay a fee of HUF 1,000 (around 2.50 USD).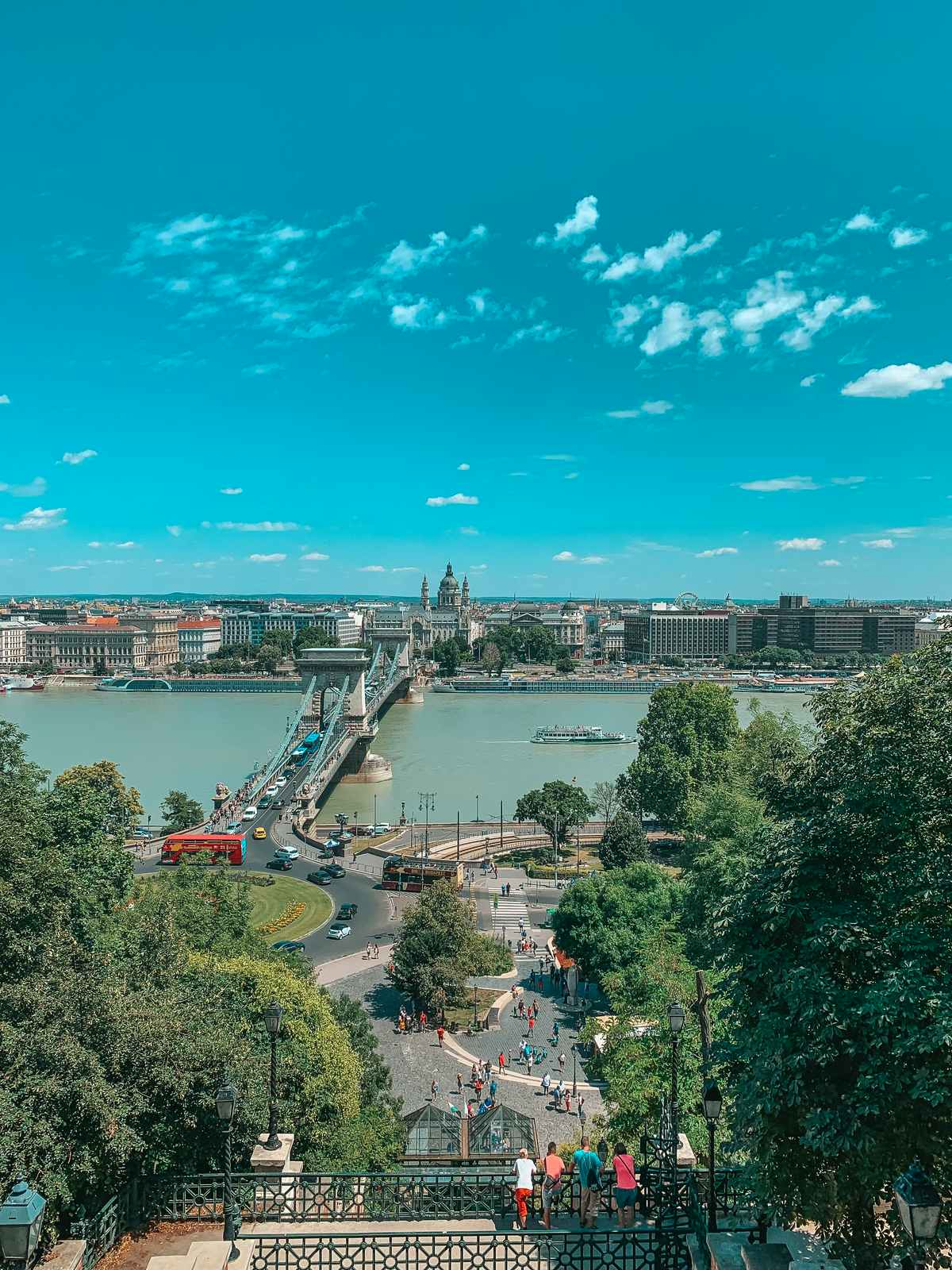 Gellért Hill Cave
Gellert Hill Cave is a natural cave located in Gellert Hill which is also near Fisherman's Bastion. It's accessible by climbing up the hill and taking the entrance path located near the Citadella. Once inside, you can explore the labyrinth of chambers, filled with breathtaking stalagmites and stalactites. The main chamber of the cave is said to be the oldest part of the entire Gellert Hill Cave, believed to have formed over one million years ago.
Visitors to the Gellert Hill Cave will also find various historical artifacts, such as coins, pottery, and carved stone tablets that date back hundreds of years. There are also regular guided tours available, which provide an insight into the cultural and spiritual importance of this incredible site.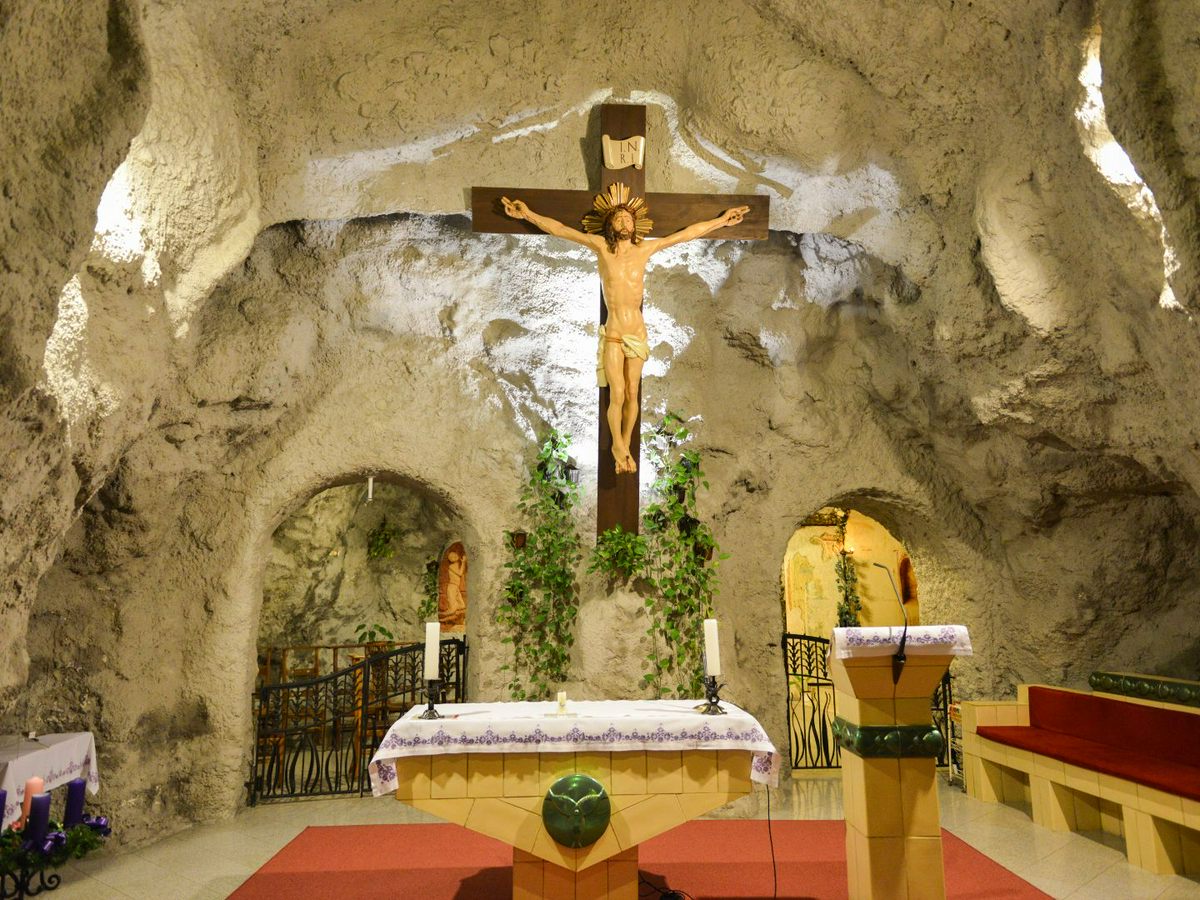 St. Stephen's Basilica
St. Stephen's Basilica is one of the most well-known churches in Budapest, it's also the largest! Its main entrance is adorned with fine arts, including a bronze door featuring a depiction of Saint Stephen, the patron saint of Hungary. Inside, visitors can marvel at the grand dome, tambourine, sanctuary vault, and canopy altarpiece.
The interior of the basilica houses several other artworks, including sculptures by Miksa Róth and frescoes by Károly Lotz. It is also home to a number of choral and classical music performances, as well as contemporary musical performances.
Visitors should note that admission to the church is free but donations are requested. As a place of worship, visitors should dress modestly if they plan on entering the building.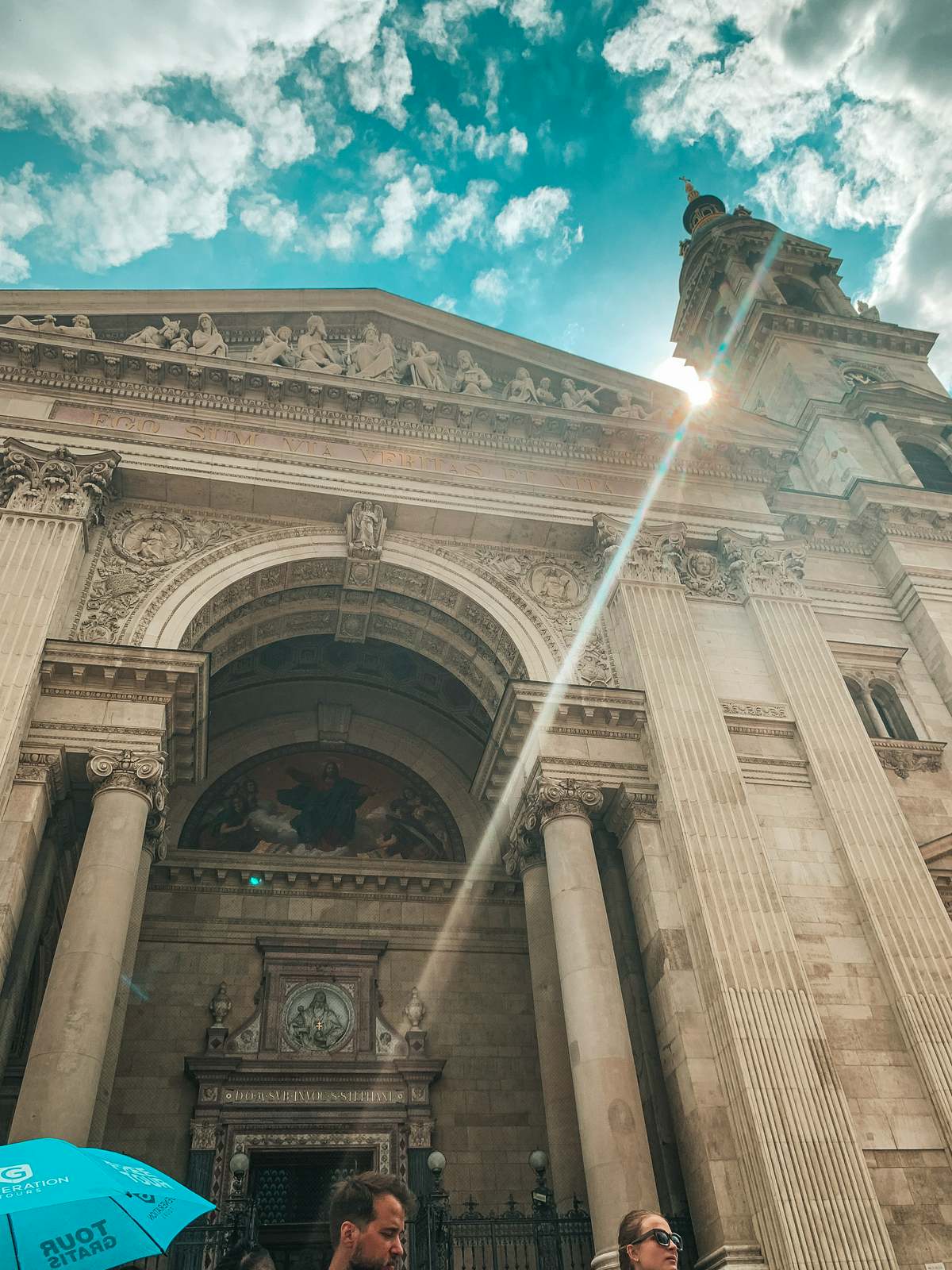 Great Market Hall
The Great Market Hall, also known as Central Market Hall, is the most beautiful and largest of all Budapest market halls. It is a must-see for tourists. The Market Hall is open from Monday to Saturday from 6 AM to 5 PM, with some stalls closing earlier. Saturdays offer a special Cultural Day with live music, shows, and food tastings, as well as a regular budget guided tour.
You can browse the stalls and buy some souvenirs, or taste some Hungarian delicacies such as goulash, stuffed cabbage, and kürtőskalács. There are also wine stalls, where you can buy Hungarian wines and other alcoholic beverages. Other products on offer include hand-crafted traditional jewelry, leather goods, and much more.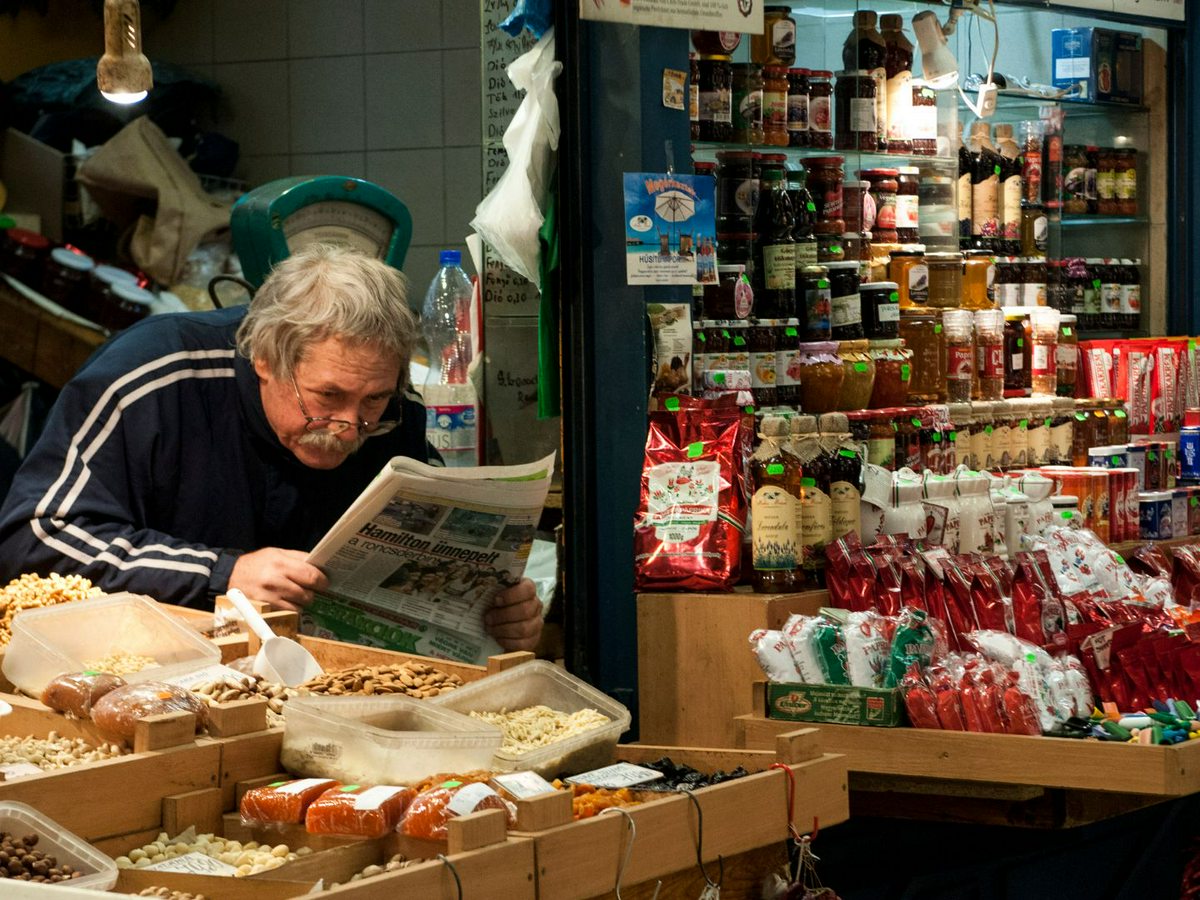 Chain Bridge
The Chain Bridge is a suspension bridge that spans the Danube River between Buda and Pest. Completed in 1849, it was the first permanent bridge connecting the two sides of the river, and it's become an iconic symbol of the city of Budapest. The bridge is 400 meters long and hangs from two massive stone lions at either end.
Unfortunately, the bridge is currently closed for construction and renovation, although it is expected to re-open in 2023. However, even from a distance, visitors can appreciate its beauty, as it is illuminated at night and is a stunning sight on any evening stroll.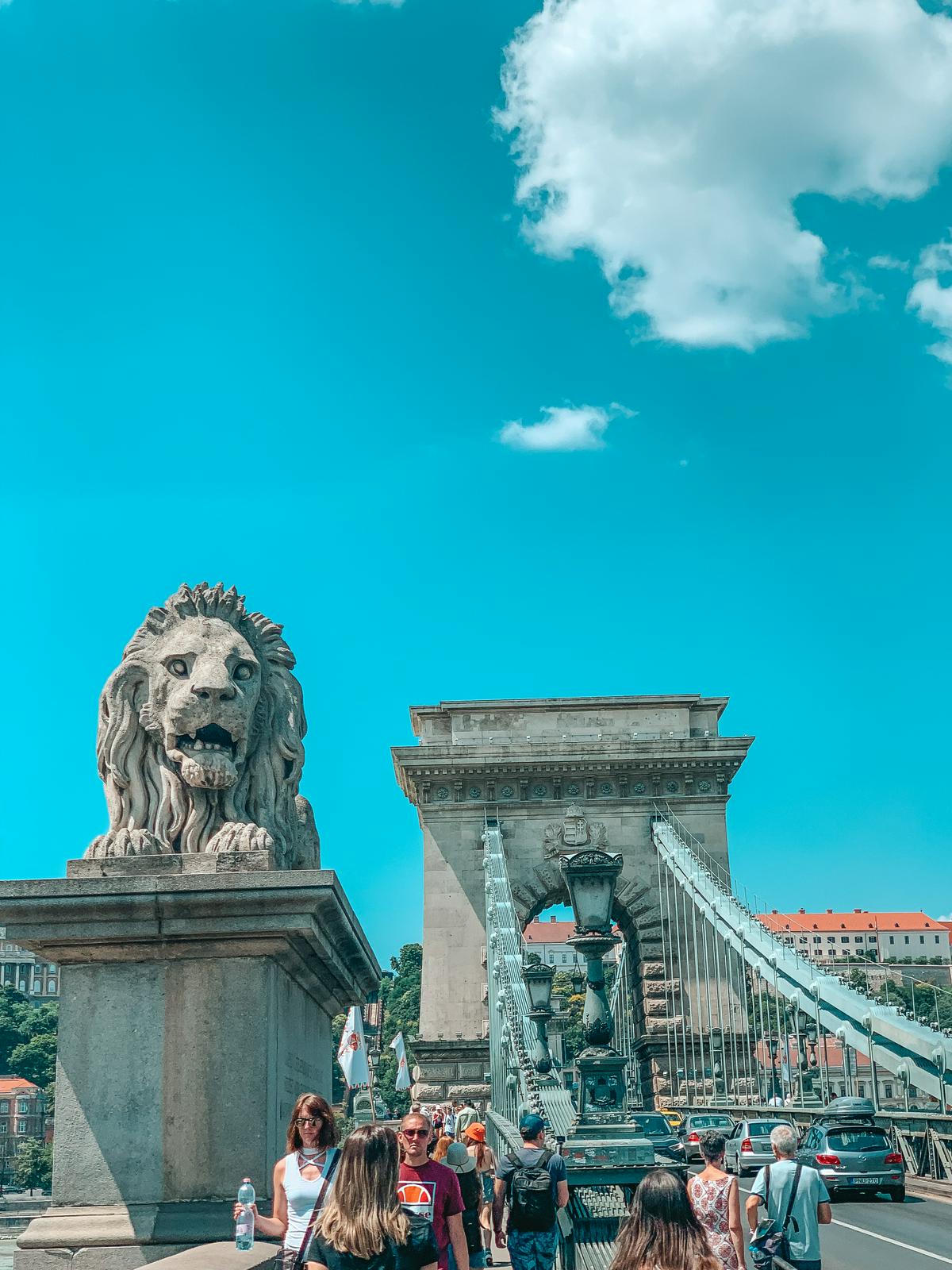 Liberty Bridge
The Liberty Bridge is one of the iconic landmarks of Budapest and also spans the Danube River between Buda and Pest. It was designed by Adam Clark in 1894 and is the third oldest bridge in the city, after Chain Bridge and Elisabeth Bridge.
It's a great spot to take a leisurely walk and enjoy the beautiful views of the river and the city. Visitors can also enjoy the lovely view from Fisherman's Bastion which overlooks Liberty Bridge from the Buda side. The bridge is especially beautiful at night when its lights are illuminated, and it's a popular spot for photographers.
City Park
City Park is a great place to explore on your two-day itinerary. The park is home to some of the city's most iconic landmarks, including Heroes' Square, Vajdahunyad Castle, and Szechenyi Baths. There are also many outdoor activities to be enjoyed, such as horse riding, roller skating, cycling, and jogging.
The most notable feature of City Park is Heroes' Square, where you can find statues of Hungary's most important historical figures. At the center of the square is the Millennium Monument, a huge column with the archangel Gabriel on top holding the Hungarian Holy Crown.
Other attractions in the park include Vajdahunyad Castle, a romantic castle built in 1896, and the beautiful Szechenyi Baths. For nature lovers, there are plenty of trails to explore in the surrounding woods. If you're feeling adventurous, you can even go for a swim in the lake or try your hand at fishing. No matter what you decide to do, City Park is sure to be one of the highlights of your two-day visit to Budapest.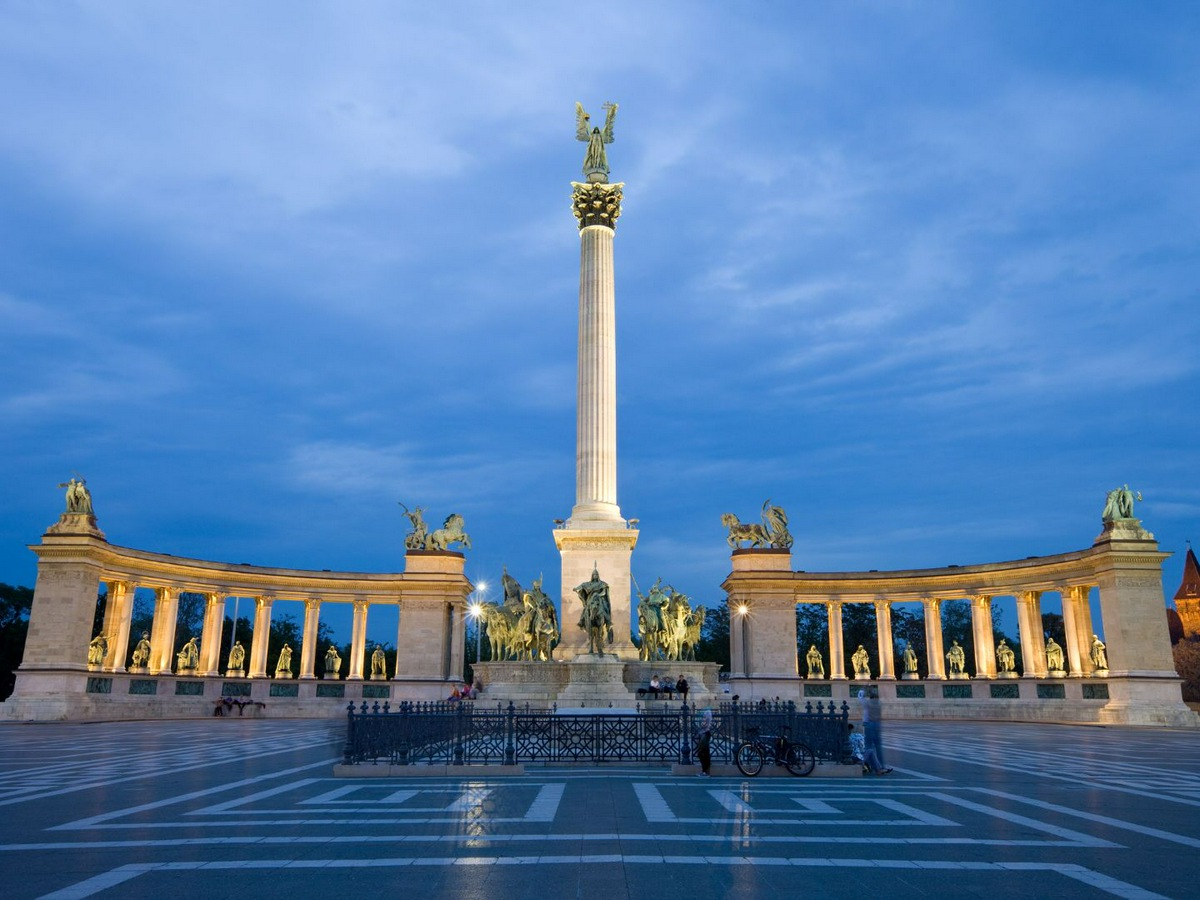 Széchenyi Thermal Bath
The Széchenyi Thermal Bath is one of the most popular attractions in Budapest. It is a sprawling complex of thermal pools, saunas, and steam rooms that offer a truly unique experience.
It's located in City Park and is one of the largest medicinal baths in Europe. The thermal baths are fed by two thermal springs and are filled with natural minerals believed to have healing properties. Visitors can choose from several different pools, each with its own temperature ranging from 64 to 100 degrees Fahrenheit. In addition to the thermal pools, the complex also offers several steam rooms and saunas.
The cost of admission to the Széchenyi Thermal Bath varies depending on the package you select. Basic admission starts at around 3,400 HUF (approximately 11 US dollars) for a single person. This includes access to the pools, saunas, steam rooms, and lockers.
Check out this guide to Budapest's thermal baths and discover why it's a must for any Budapest bucket list!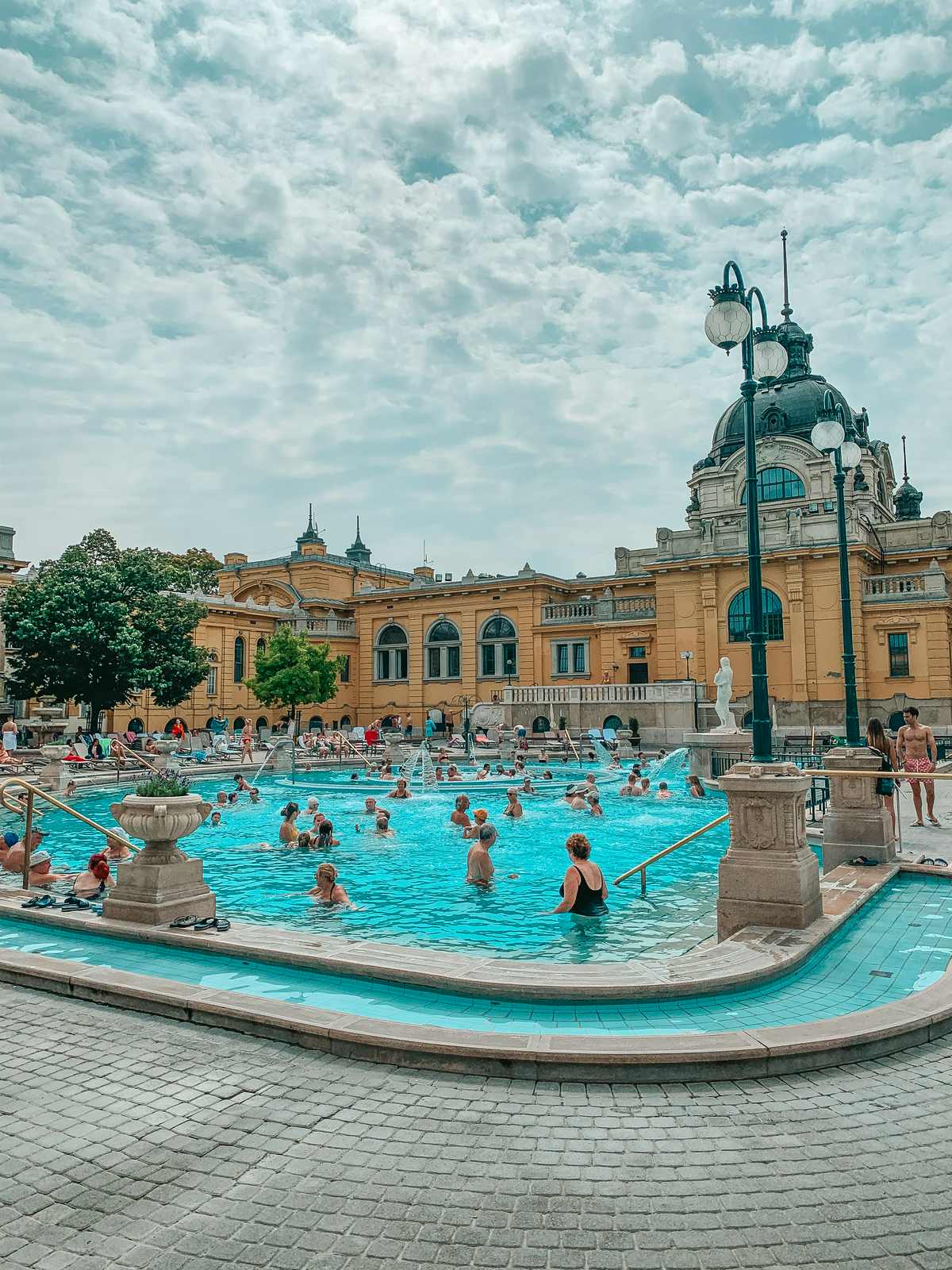 Ruin bars
When you think of Hungary, the first thing that may come to mind is not necessarily nightlife. However, Budapest is home to some of the most unique bars in the world: ruin bars. Ruin bars are a combination of nightlife, art, and culture that can only be found in Hungary.
What makes these bars so unique is their interiors. Some are built in old abandoned buildings, while others are decorated with random objects such as vintage furniture, statues, paintings, and various antiques. This gives each ruin bar its own unique atmosphere.
The city is full of different ruin bars, but there are a few that stand out above the rest. Szimpla Kert and Instant-Fogas are a couple of the most popular ruin bars in Budapest. These bars offer a variety of drinks and activities, such as live music, movie screenings, and pool tournaments. No matter what type of experience you're looking for, you're sure to find it at one of these ruin bars.
Szimpla Kert is open until 4 AM and has a slightly more chill vibe. Instant-Fogas was a little more of a party/ravey scene. It has 18 bars, 7 dance floors, and is open until 6 am.
Noiret Billiard is not necessarily a ruin bar, but it is underground and is so much fun! They have several pool tables and just about every other game you can imagine.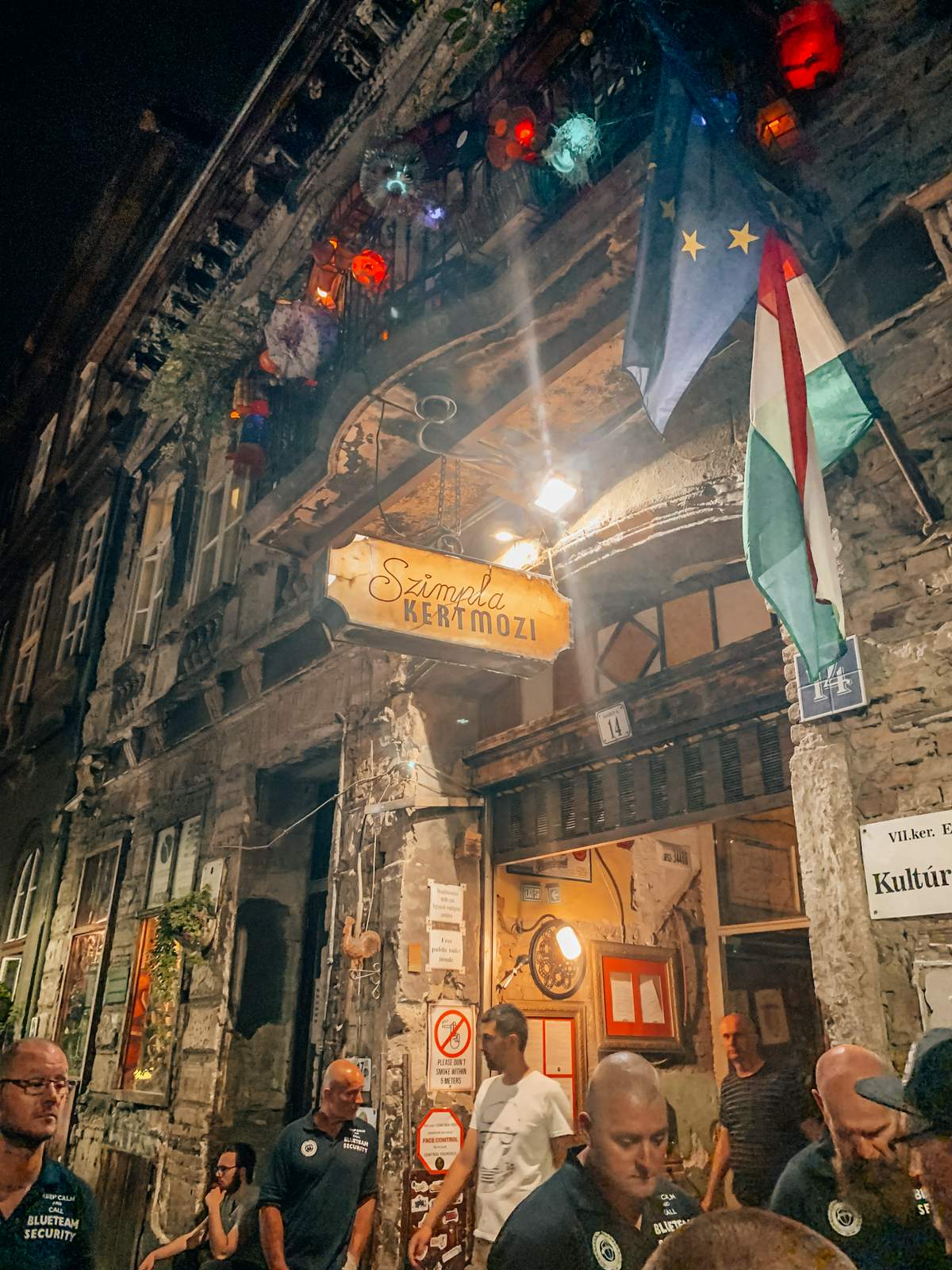 Budapest Eye
The Budapest Eye is the city's largest Ferris wheel and gives riders a spectacular view of the Danube River and the city skyline. Located in the heart of the city, it stands 213 feet tall and consists of 42 air-conditioned cabins that can each accommodate 6 people.
The ride lasts approximately 15 minutes, giving visitors ample time to take in the sights from up high. Each cabin is equipped with interactive media screens offering interesting facts about the city, as well as a variety of music. The ride takes visitors on a journey of breathtaking views, showing them some of the city's most iconic landmarks.
The cost of riding the Budapest Eye is 3,000 Hungarian Forints per person (approximately 10 USD). The ticket price includes entrance to the observation deck, where visitors can get a closer look at the city's spectacular skyline.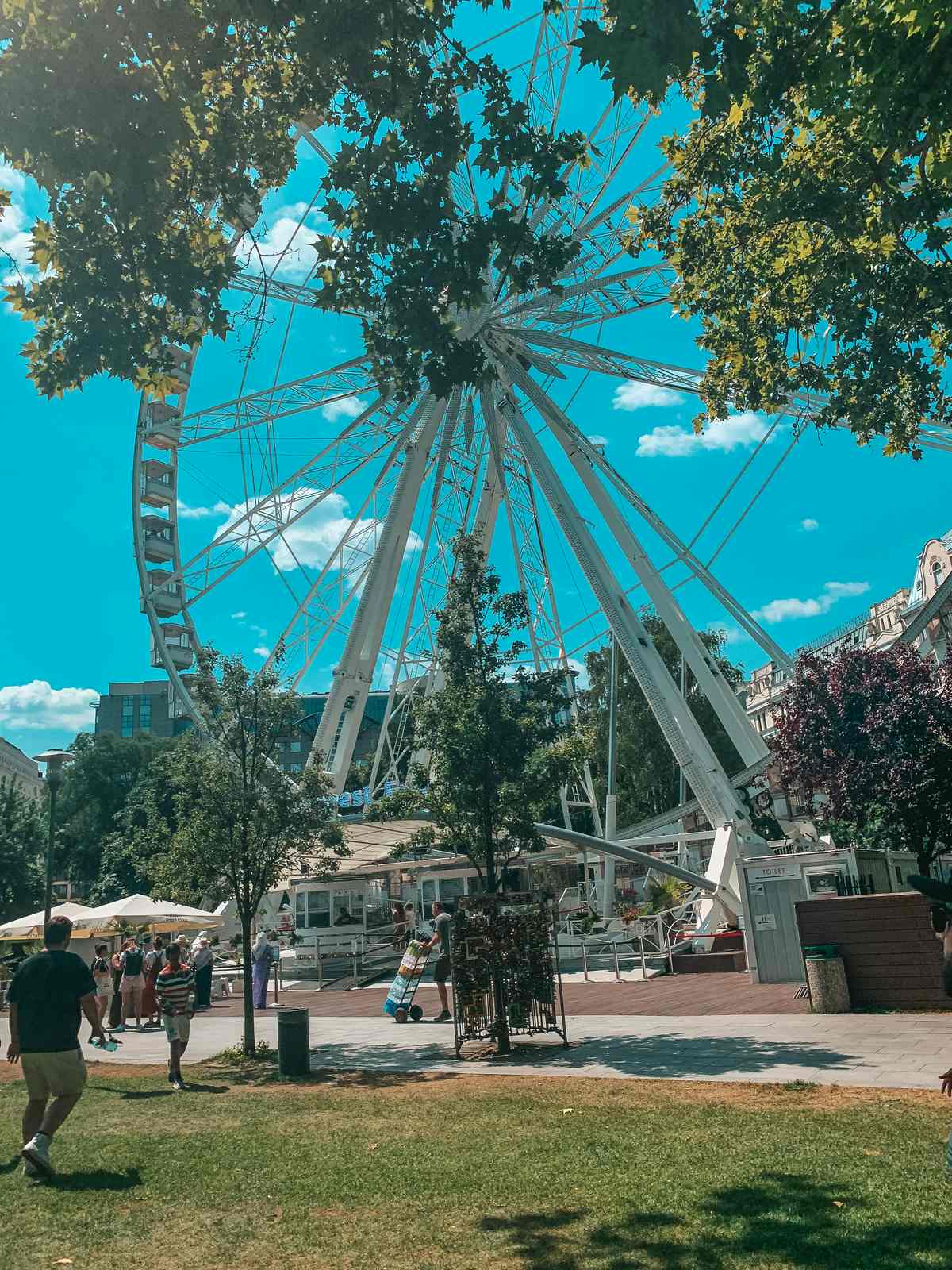 Danube River cruise
One of the best ways to get a good overview of the city is by taking a river cruise along the Danube. Legenda City Cruises offers a Sightseeing Night Cruise which is an affordable way to see the city from a different perspective.
This cruise takes you along the Danube, showing off Budapest's grand architecture and historic sites. You'll get to experience the beauty of the city lit up at night, as well as some unique views of the castle district and Margaret Island.
For those who don't mind spending a little more, there is a dinner cruise that includes dinner, drinks, a Folklore Dance Show, and Live Music. This is a great way to have a fun evening and get a unique view of the city while dining on delicious Hungarian cuisine.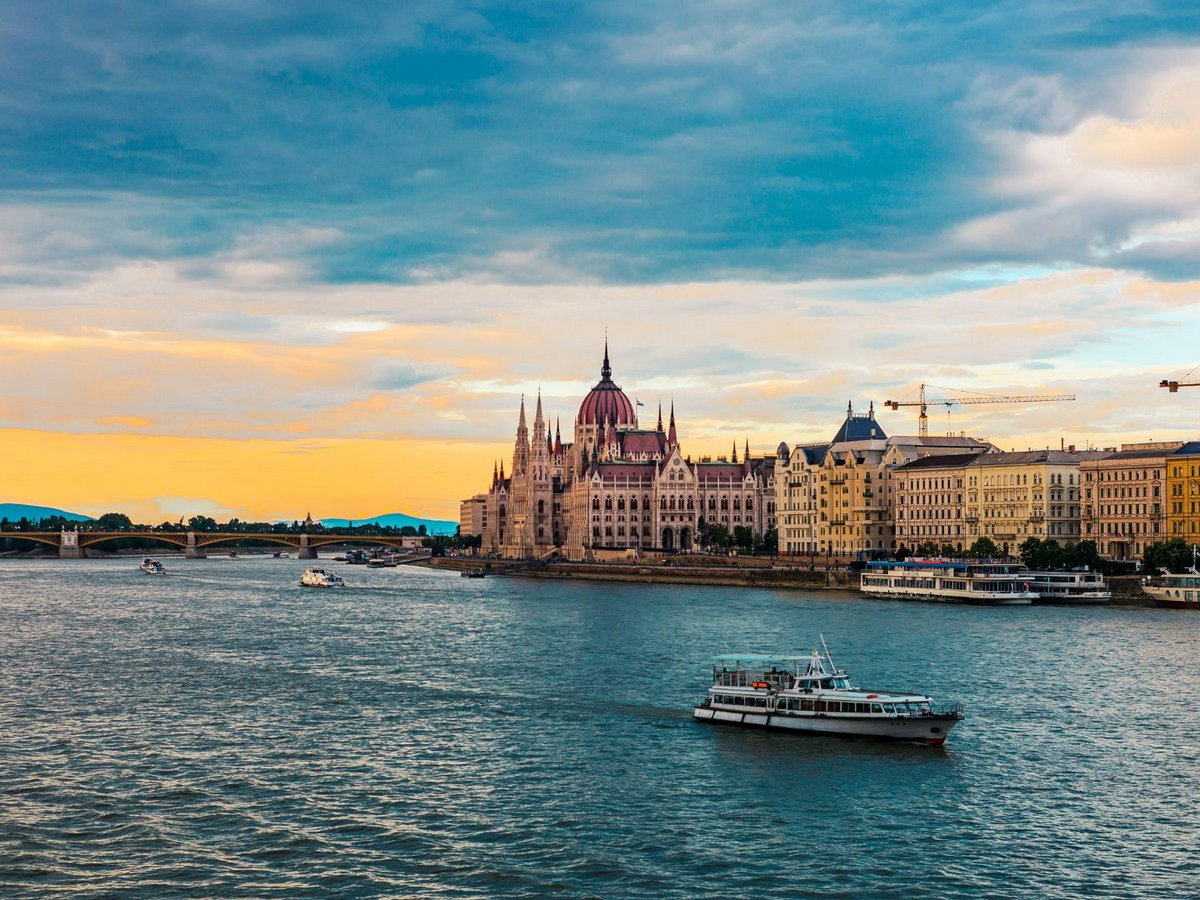 Enjoy some of the local cuisines
I was shocked, but Hungary ended up having my favorite cuisine! Even over Italy! If you're visiting the city for two days, there's plenty of time to enjoy a few meals. One of the best places to start is Kiosk, which serves up classic Hungarian dishes with a modern twist. I had their chicken paprikas, which is a must while you're in Hungary!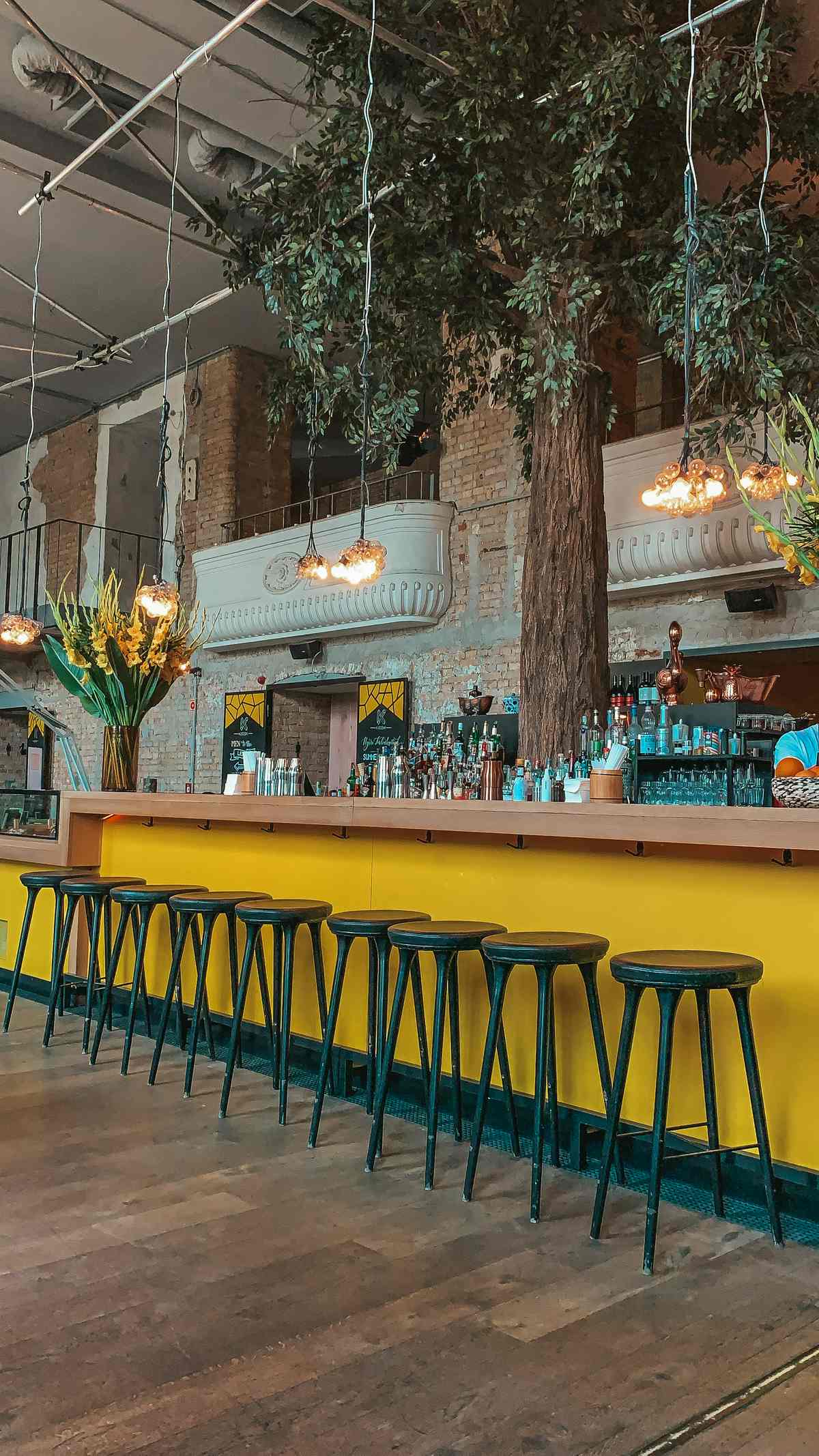 Another option is Karavan, an outdoor food truck area with some of the best street food in town. I actually went here a couple of times during my short trip. I especially loved my cheese Paquito, which was basically like a Hungarian crunchwrap. It had chicken, cheese sauce, nachos, cucumber, sour cream, and lettuce in it.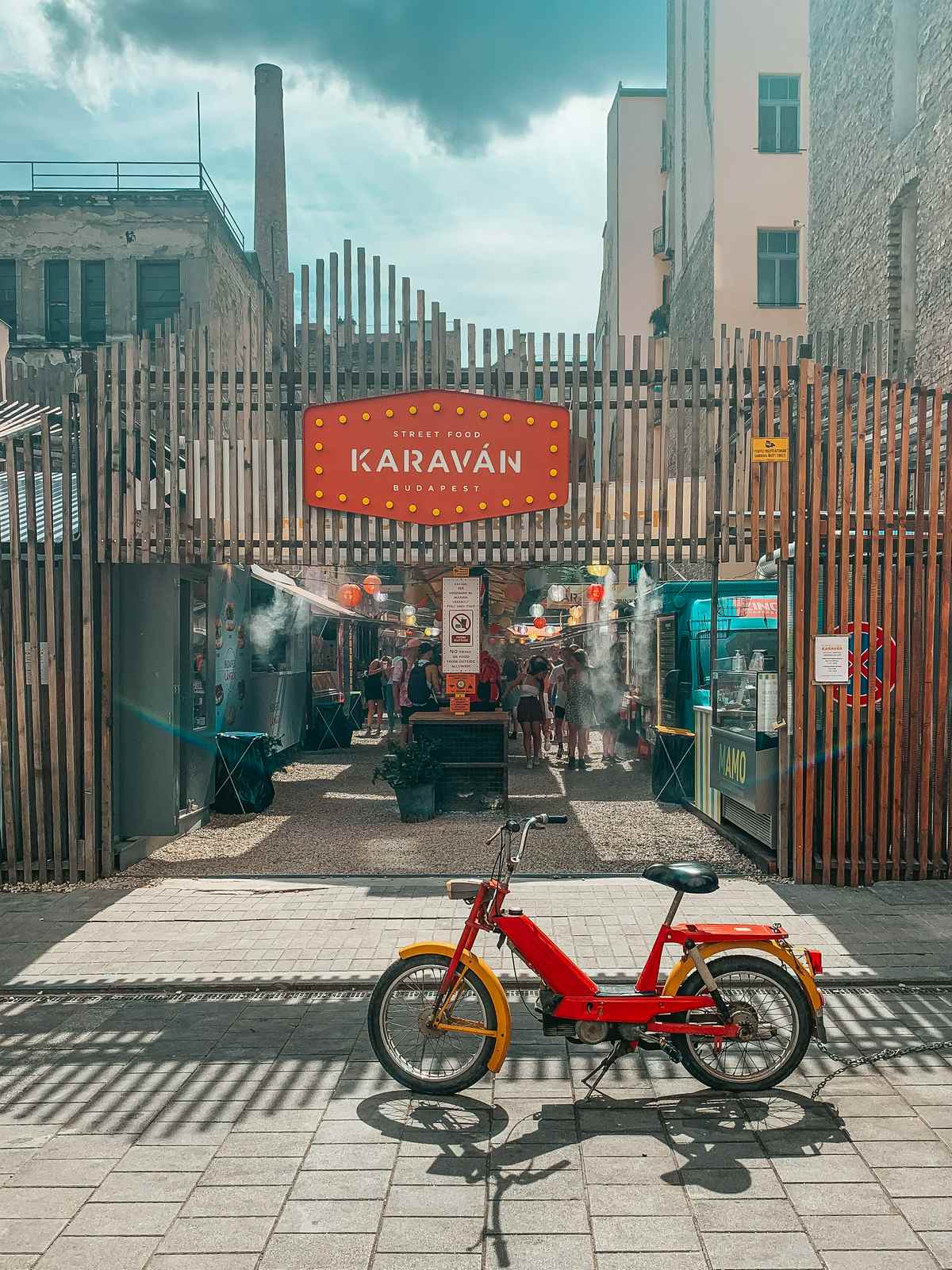 I really enjoyed how much Hungarians incorporate vegetables into their dishes! They put cucumbers with everything. For breakfast and coffee, check out the adorable Vinyl & Wood!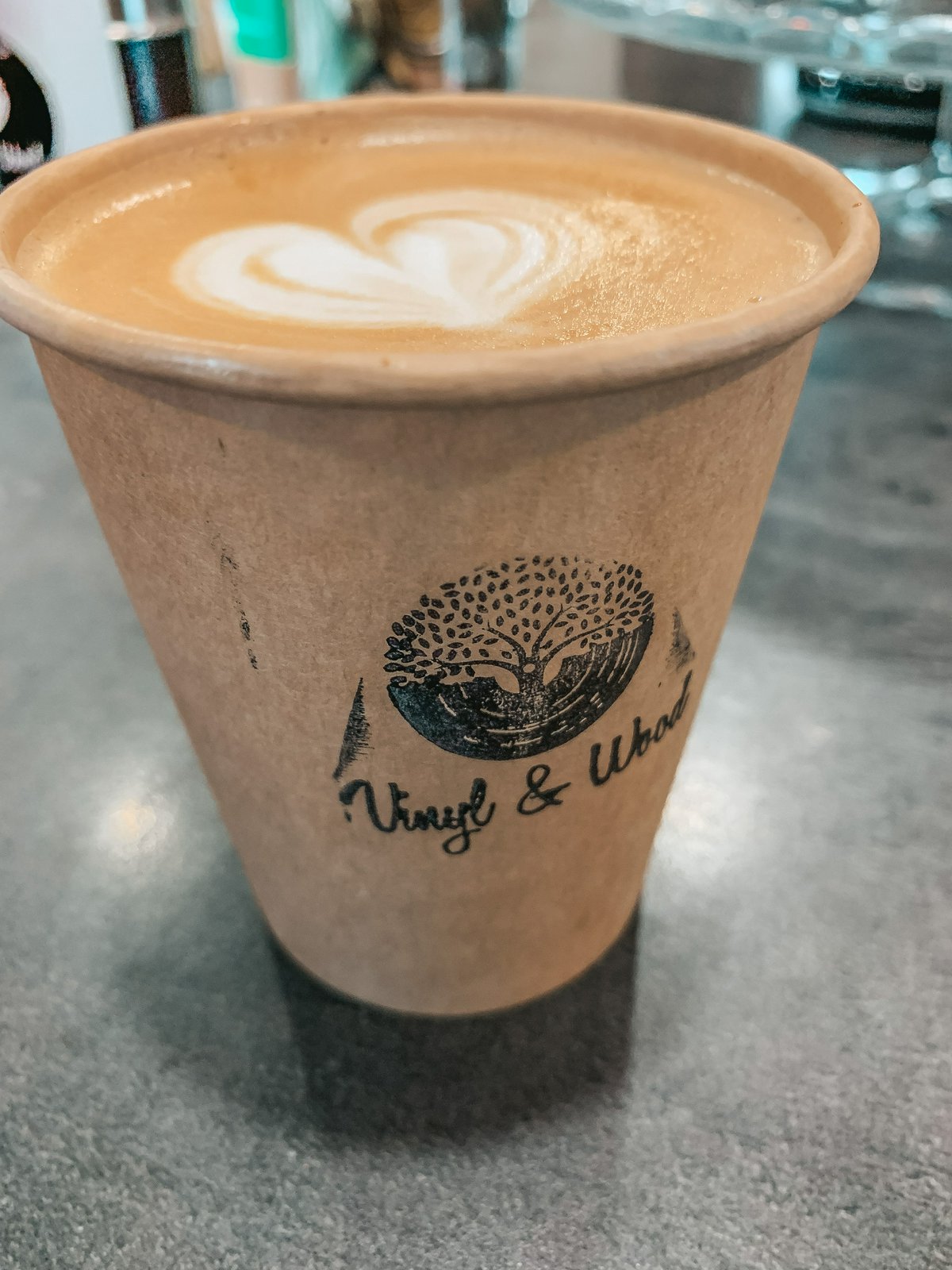 Where to stay in Budapest
When visiting Budapest, there is a wide variety of accommodation options available, depending on your budget and preferences. If you prefer hotels, here are some of the best options located in the heart of Budapest:
No matter which option you choose, each of these hotels provide an excellent location near the city center. Whether you are looking for luxury or convenience, you can find the perfect accommodation to suit your needs. I love booking.com because their cancellation policy is pretty lenient.
VRBO is another great place to look, you can find places for as low as $30/night. If you're really on a budget, hostels and Couchsurfing are pretty popular in Europe! I utilized both when I was solo traveling through Italy.
Exploring Budapest in only two days can seem daunting. I hope that this guide helps you make the most of your short trip to Budapest! One thing I'm sure of though, is you're going to be left wanting more. Budapest is one of my favorite places I've ever visited and I'm dreaming of the day I get to go back.