This post contains affiliate links which means that I will make a small commission if you purchase a product after clicking on any of them, at no extra cost to you.
Couchsurfing has become a popular travel trend in recent years, and for good reason. As someone who has couchsurfed my way through Europe, I can attest to the incredible experiences and budget-friendly opportunities that come with this form of travel. Couchsurfing allows you to connect with locals, immerse yourself in the culture, and save money on accommodation.
In this blog post, I will share my personal experience with Couchsurfing in Europe, and why I believe it's an excellent option for budget travelers looking to explore the continent (but also why you should take precautions).
What is the Couchsurfing app?
For those of you who are unfamiliar, the Couchsurfing app is an accommodations app that helps connect you with people all over the world. There are many ways you can connect. You can host people and offer them a place to crash during their travels, or you can be hosted and stay with other people on the app.
There are also planned meetup events, along with individual meetups you and fellow couchsurfers can set up. Their tagline sums up what they're all about: "You have friends all over the world, you just haven't met them yet."
The cool thing about this app is that it offers free accommodations! I'm sure you're wondering how it can be free. How do you get a place to stay with a person you have never met before, who owes you nothing, and they don't expect you to pay anything?
The Couchsurfing app network is mostly filled with kindhearted fellow travelers who want to help others have the opportunity to see the world. Rather than money in exchange for a place to crash, you're expected to connect, cook them a meal, share some stories or life experiences, give them some insight on cool spots you found they might be into in their area, etc. 
(I had one incidence with a couchsurfer who thought of it as somewhat of a dating app and I've heard of others who have had similar experiences, but we'll get to how to handle that.)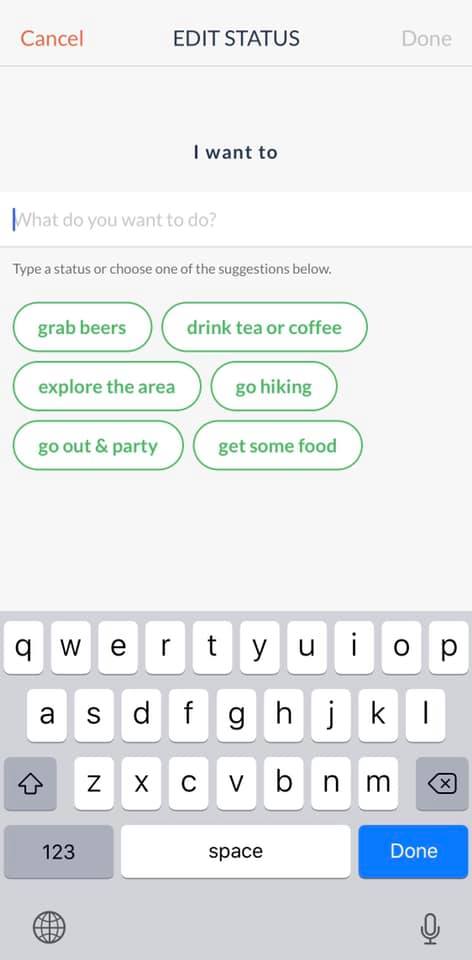 Is the Couchsurfing app safe?
So, as with everything when traveling, you need to take precautions. When looking for someone to couchsurf with, there are a number of filters you can select in order to make yourself feel more comfortable. The filters include: 
number of travelers (you can use this app even if you're traveling with other people)
type of accommodation (private room, public room, or shared room)
if the host has references
if the host is a verified member
gender
languages spoken
age range
You can also select preferences like kid-friendly, allows smoking, pet-free, pet-friendly, etc.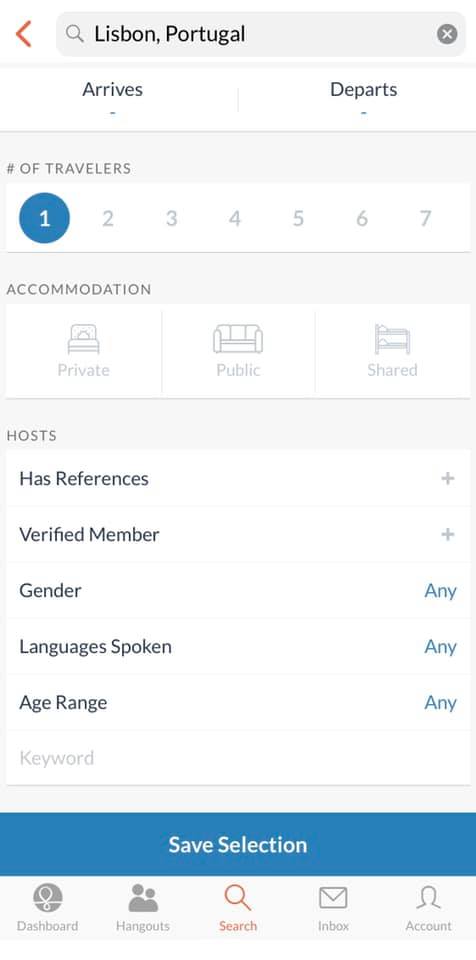 Initially, I tried to filter for only females when searching for places. I soon found that there are not as many female couchsurfing hosts as there are males. I made sure I selected "has references," "English" under languages spoken, and "accepting" and "maybe accepting guests" for availability. For "sort by," I chose "last login".
A lot of times, I'd get people high up on the list that seemed like a good match but they hadn't logged in for months.
Once you have your filters set, you're ready to search. I messaged a lottttt of people before I got some yeses. This was typically because the time I was going to Europe was peak tourist season, which meant most of the locals were going out of town themselves.
When deciding who to message, make sure the person has a good amount of reviews, and make sure you read every last one of them. I tried to pick people who had reviews that mentioned, "I was a solo female traveler and I felt very safe couchsurfing with so and so," or something along those lines. Since most of the options were males, I made sure they had females who reviewed them and felt comfortable.
Since I was planning my trip months ahead of time, I was able to message back and forth with the people for a little bit before traveling to get a feel for their personalities. I also made sure to add them on social media.
When meeting your Couchsurfing host, there is a list of guidelines you should follow on the app. For example, initially meet during the daytime in a public place.
My personal experience Couchsurfing in Italy
Other than one pretty uncomfortable experience, I owe a lot of the amazing memories I have to the awesome people I met through this app. I only did my Couchsurfing in Italy, since my trip was cut short before I made it to Portugal.
Couchsurfing in Rome
Mary and Max
My first encounter with a fellow couchsurfer was in Rome. Mary and Max hosted me. They were the sweetest, most adorable couple ever. I was so lucky to have been able to stay with them.
The first night when I arrived, Mary had prepared bruschetta and one of the best pasta dishes I had during my time in Italy. She was already giving me a place to stay, and I couldn't get over that she still wanted to take time to cook for me and the other couchsurfer who was staying with her.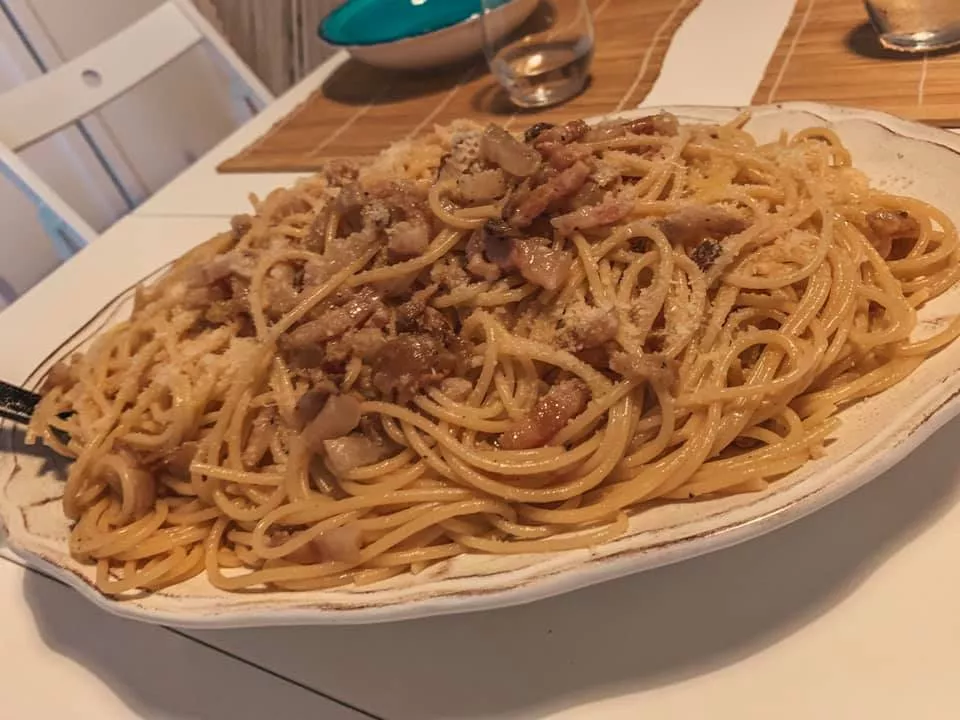 At dinner, we all shared travel stories and life experiences. Mary and Max have done a lotttt of traveling, and Mary actually has her own food blog! After dinner, they pulled up a map and gave us some local tips, and showed us all the best sights and activities to check out.
You're going to have different styles of hosts. In her profile, Mary stated that she worked from home during the day and expected the guests to be out of the house from 8 am-6 pm. I had a lot I was trying to cram into a small amount of time, so this was no problem for me. In the evening, we met up and she took us to an amazing pizza place.
In Italy, you just order a whole pizza for yourself, and it's normal. What a dream, right? The pizza there is extremely thin though, so you don't feel too bad after finishing the whole thing. I stayed with Max and Mary for two nights in Rome and then headed to Sorrento for a couple of days.
Check out these must-try dishes Italy is famous for!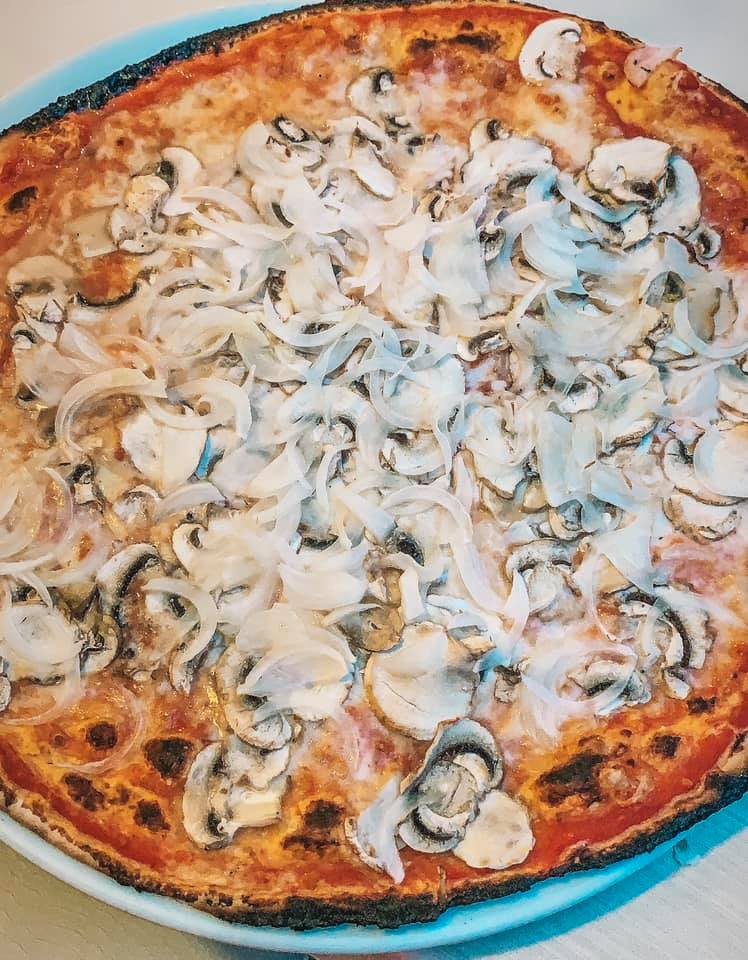 After Sorrento, I came back to Rome for a couple more days. This time I just did an Airbnb (I tried to use a variety of accommodations). I spent a decent chunk of time in Rome and had a bit of downtime. I thought it'd be cool to meet some locals or fellow travelers, so I got on the Couchsurfing meetup page.
Giorgio
That's how I met Giorgio, a Roma native. His reviews showed that everyone who met him thought he was the kindest soul and an excellent tour guide. We met up and then he showed me around the city.
It was so surprising to me that people wanted to spend their free time showing tourists around places I'm sure they've been so many times before, but so many Europeans are just that nice!
Giorgio drove me around, and showed me a lot of Rome's hot spots and even some locals' spots. I totally lucked out. He was so knowledgeable about the city. And thanks to him, I got to check ride on a moped through Rome off of my bucket list! 🙂
Gabriel
The next person I met was Gabriel. He was a local club owner and had ins at the nicest restaurants in town. After showing me a little more of the city, including the Secret Key Hole, we went to L'Isola Ristorante.
Firstly, let me tell you how cool the Secret Key Hole is. You see three different countries through one keyhole located on Aventine Hill. You are in Rome, gazing into Sovereign Order of the Knights of Malta, and at the end, you see St. Peter's Dome, which is located in the Vatican. I thought this was so cool.
Anyways, back to the best Italian food I had on my entire trip. I have never been treated so well at a restaurant in my life. I didn't order anything — we just kept getting plates of food placed in front of us so we could try a little bit of everything (this isn't normal, but I think we got special treatment since Gabriel was friends with the owner).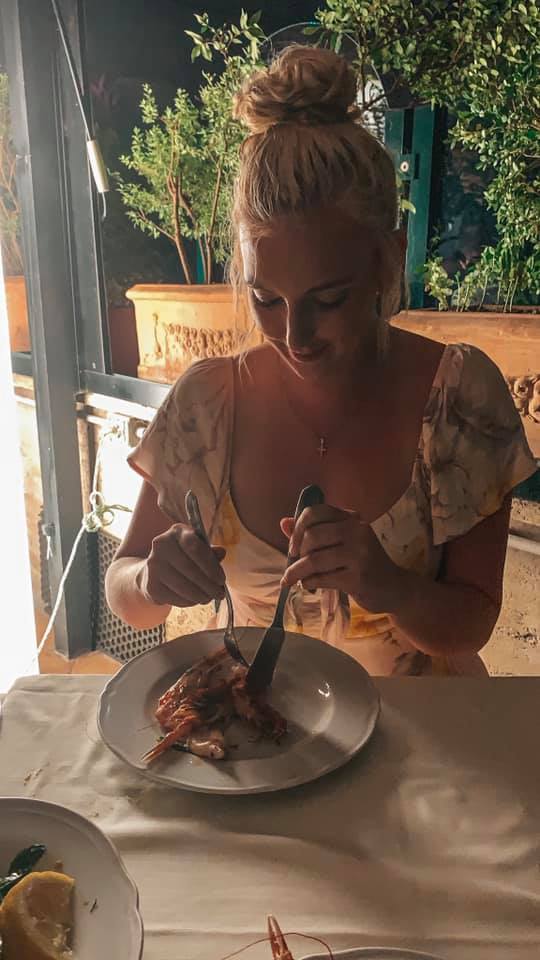 It was course after course, and every last one was delicious. I always thought I hated calamari, but they served it grilled here, and oh my goshhhh, my taste buds were in heaven! We had every type of seafood you can imagine, pasta, wine, dessert, and an after-dinner cappuccino and limoncello shot.
For our pasta, they brought us our own little pepper plant to sit on the table so we could freshly pick off however much we wanted to use. This experience was truly one of the highlights of my Rome experience, and I owe it all to the kindness of Gabriel.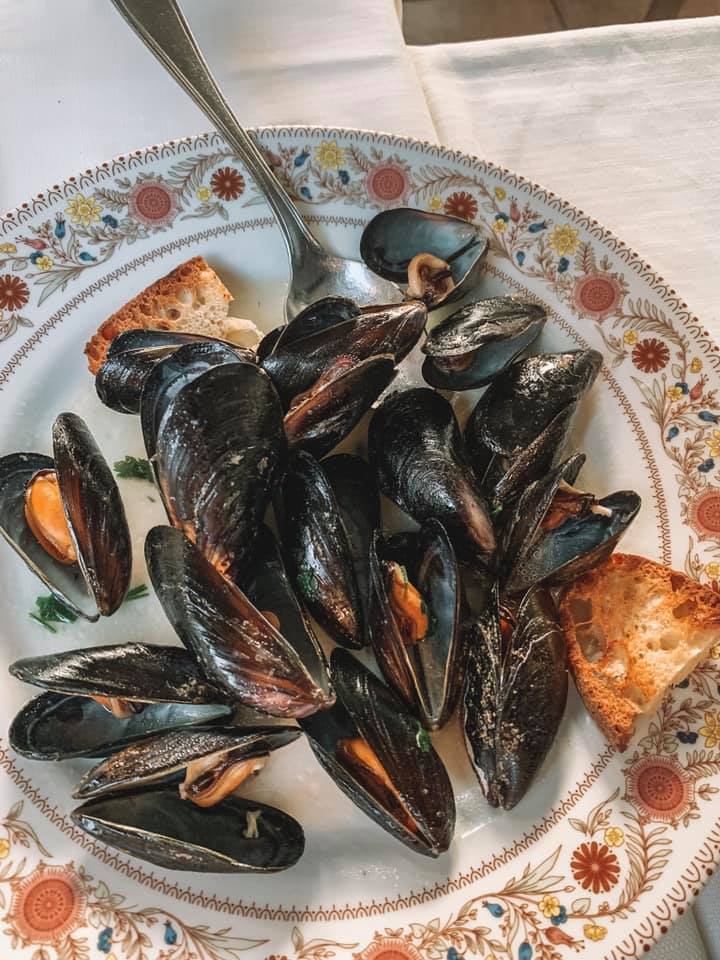 Couchsurfing in Florence
After my three amazing Couchsurfing experiences came my uncomfortable one in Florence.
The not-so-good experience
As I stated before in safety, you should always meet someone during the day. This way, you can assess if you feel comfortable with them. This was the one person I didn't do that with because he worked at a vineyard and worked until the evening. I explored Florence all day, and then he met me in the evening and we went to grab dinner.
Everything was totally fine — the conversation was good, and I felt comfortable. I was exhausted after dinner (before dinner really) because I had been walking around all day. He wanted to pop into a bar, and I said I was good for one drink. A couple ended up meeting us while we were out, and we were all playing games and having fun, but as time went on, he started to be very touchy.
He was constantly in my personal bubble trying to put his arm around me and show me how to play a game I already knew how to play. It was uncomfortable. I would pull away, move somewhere else, and bring up my boyfriend, but he just wasn't getting it. He also kept ordering shots, which I told him I had no interest in doing.
We left and I was hoping to go home, but he drove me to a lookout point. It was beautiful, but I was so exhausted. I finally just got in the car and said I would be there when he was done.
The expectation
Arriving to his house, I looked into what was a combined kitchen and living room with a love seat that was maybe four feet long. I said, "This is me?" and set my stuff down. His response was, "Uh, yeah, I guess".
It was like he expected me to just share a bed with him. I did not want to stay there. I put myself in a situation where I was exhausted and felt a little helpless. He tucked me in and attempted to kiss me on the cheek. Needless to say, I did not sleep well.
Getting out of a bad situation
Once I woke up the next morning I made an excuse as to why I had to leave and got out. I was supposed to be there for three more nights. I felt so helpless and emotional through the night. It was hard not to be upset with myself.
But ya know what? I felt as badass as I imagine Ronda Rousey did when she became the first female UFC fighter when I walked several miles (in 90 degree weather), with 40 pounds of luggage strapped to my back (and front) to get myself out of a crappy situation.
I made sure to report him through the app in hopes of keeping someone else out of the situation I was in.
Reflecting
This experience could have been worse. He was not pushy — he was just very touchy, and I definitely think he expected more of a return than just me cooking him a meal. At first, I convinced myself that he's Italian — this is just how they are, and they're a little more touchy than Americans.
But as it continued, I realized that didn't make it okay with me, and I didn't have to accept it. I did read the reviews for him, and they were all great. They even included female travelers! So it's unfortunate that I had the experience I did with him. It was a lesson learned that made me even more cautious and aware going forward.
Couchsurfing in Venice
Abin
After Florence, I was to stay with Abin in Venice. I messaged him prior to coming to let him know that I just left a really uncomfortable situation that I wasn't willing to put myself in again. I warned if he had any unconventional expectations of couchsurfers who crashed with him, I wanted to know so I could make other accommodation arrangements.
Abin was so sweet. He assured me that was not the case, although he was aware there are hosts out there like that. So after getting that conversation out of the way, I was making my way to Venice.
Abin was sooo helpful and pleasant. He made sure to send me all of the bus route information to ensure I made it to his place okay. While he had to work a lot of the time I was there, he made sure to take me out in Venice the first day I arrived.
Abin showed me around the island, offering to take pictures of me wherever I wanted (so sweet). Later, there was a cool little local festival going on, where we ate and danced.
The next morning, I explored Venice on my own for a little while until I met up with some friends I made in Florence a few nights earlier. I had begun experiencing some dental issues earlier in the week, so during this time, I was debating on going back to the States early. Once back at Abin's, he helped by looking up dentists in the area and giving me words of encouragement.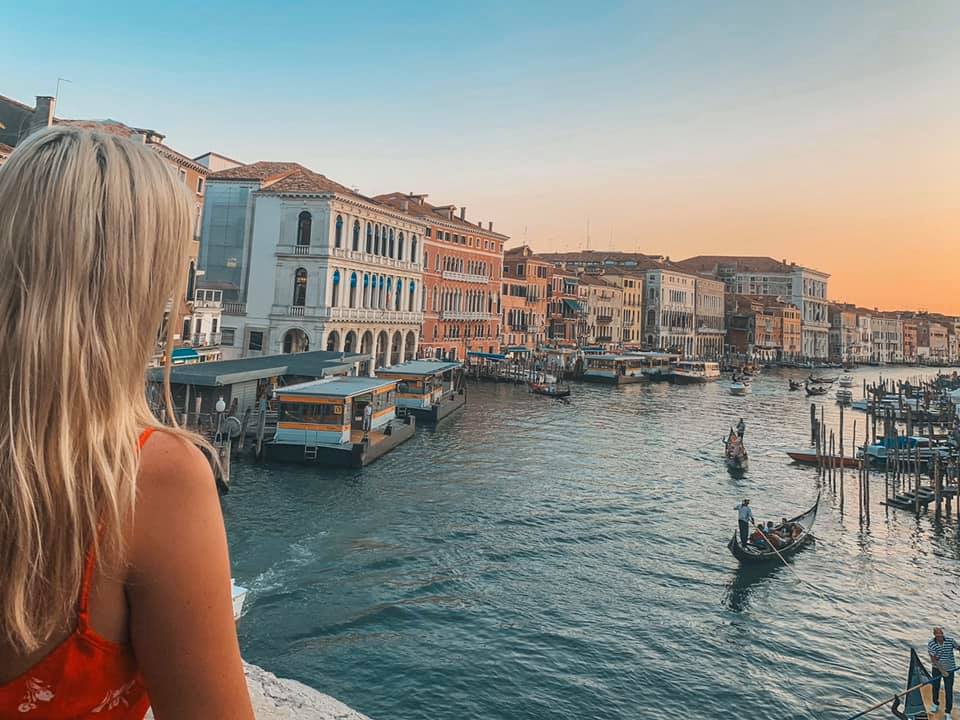 Couchsurfing App Alternatives
While I can only vouch for the Couchsurfing app itself, here are some popular alternatives:
My Couchsurfing App Review
I think that Couchsurfing is great. It's a great way to meet some really awesome people who share a passion for travel and creating beautiful friendships. I am so grateful for all of the unforgettable experiences I had thanks to the kind people that I met.
The unfortunate experience I did have taught me to be more cautious going forward. If you do these three things I think you will have a great experience with this app:
follow the guidelines they give you for meeting fellow couchsurfers
do your research on the person you're considering staying with
talk with potential host a bit before actually couchsurfing with them
Also, this doesn't just have to be used abroad, you can use it for US travel too! If you've couchsurfed before, tell me about your experience in the comments below!
Check out some of my other favorite travel apps here!