This post contains affiliate links which means that I will make a small commission if you purchase a product after clicking on any of them, at no extra cost to you.
Chattanooga, Tennessee, was the last stop for us on our two-week road trip, and I'd say we definitely ended on a high note. Chattanooga is full of amazing restaurants and bars, as well as plenty of exciting outdoor activities that are sure to keep you occupied during your weekend trip!
There are so many trails around the area, and if I wasn't totally exhausted from our previous stops, I wouldn't have minded staying here longer! Alright y'all, here's your guide on how to best spend a weekend in Chattanooga!
Quick links for your Chattanooga weekend trip
🏨 Accommodation
Easily compare prices, secure great deals, and enjoy the added benefit of flexible cancellations up to 24 hours in advance for the majority of hotels with Booking
🎟️ Tours and tickets
Discover your next adventure with ease by using Viator which allows you to explore a multitude of local tours, ensuring you find the best experiences at the best prices.
🚘 Car rental
Rentalcars is the best tool for comparing prices for your date amongst the most popular rental car companies!
Things to Do to Have an Epic Weekend in Chattanooga
One of my favorite things about Chattanooga was all of the amazing outdoor adventures you get to have! If you only have 2 days you may not have time for all of these activities, so prioritize to your liking! But if you have a long weekend in Chattanooga, I thnk you should be able to squeeze them all in 😉
Foster Falls
Funny story— I like to get to trails early, like pretty much once they open, so I can avoid the potential crowd. This trail opened at 8 am, and we were running behind because we had to wait a little bit for our breakfast to be ready. So, we actually weren't heading there until like 8:30 am, and it's a 45-minute drive from Chattanooga.
I was bummed thinking it was already going to be somewhat busy by the time we got there, but like 25 minutes into our drive… the time changed! And we got an hour back! I was so stoked!
The moral of the story here is: if you want to hike Foster Falls and get there when it opens, leave at 8:15 am, and you'll end up getting there on time. Don't forget that means you lose an hour when heading back, in case you have other plans!
This trail is about a mile-and-a-half-long loop and so worth the rocky trek! There are two ways to begin the trail— you can either start with the waterfall or end with it! Or if you don't really feel like hiking and just want to enjoy a pretty waterfall, well, then you can hike less than half a mile to reach Foster Falls and experience its beauty, and then turn your butt right around if you choose!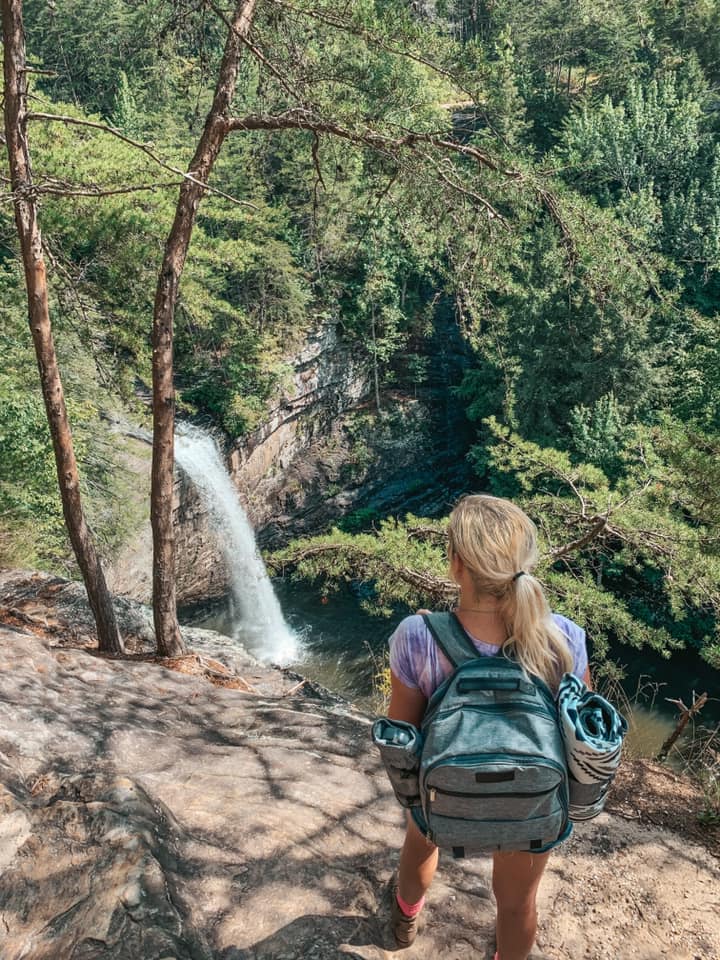 North Chickamauga Creek Conservancy
This was one of my favorite gems from the whole road trip. Remi and I stumbled on this and began hiking down and saw this body of water. It was so blue and clear— we were like, "Ah, totally makes sense why they call it the blue hole!"
We spent over an hour in this oasis enjoying Mother Nature's pool. We even found an area that had some natural jets (it was just water running over rocks, but it felt nice). Once we decided it was time to head back to the hotel to meet my mom, we went back out the way we came and encountered a sign that said "Blue Hole .7 miles ←."
It was at that moment we realized we just had the most magical moments in what wasn't even the main event!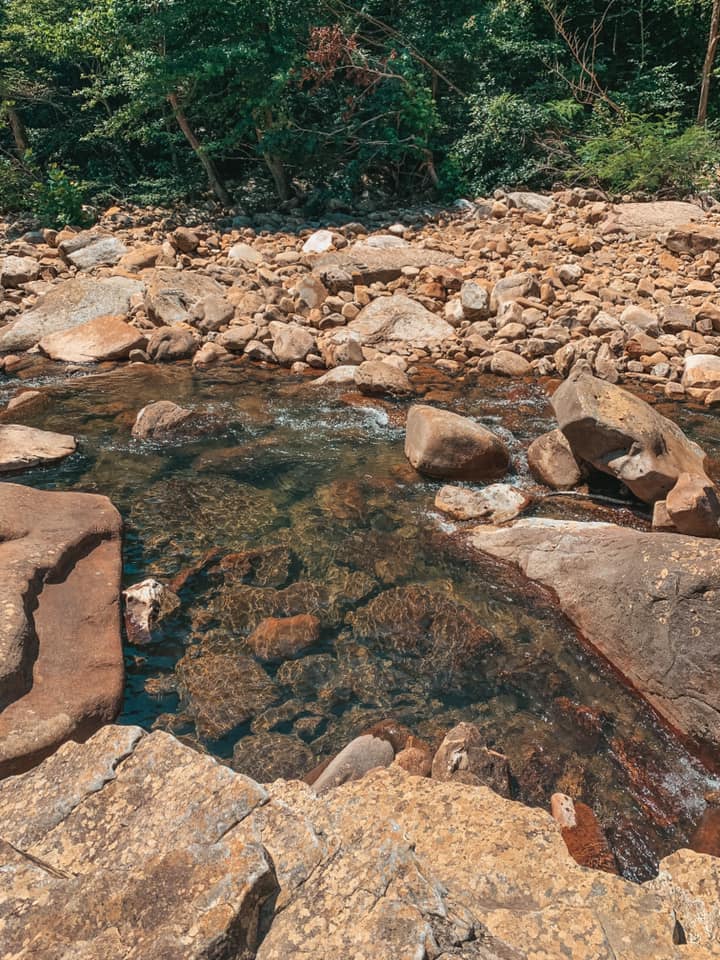 We obviously had to turn back around and begin our trek again to find the true Blue Hole. Let me tell ya, I liked our Blue Hole better. The actual Blue Hole was extremely crowded, and there was absolutely no social distancing. It was a ton of younger kids and some families waiting in line to jump off a huge boulder.
The area where we stopped maybe about .4 miles into the hike was so much nicer and more secluded. We didn't have anyone around us, which now, thinking back, we should have known it wasn't the Blue Hole, because the parking lot was completely packed and we didn't have anyone near us when we were swimming.
You are not allowed to have alcohol, but you can take food, drinks, non-alcoholic beverages, and a speaker and make a day of it. Had I not wanted to do so many other activities, I could've spent all of my time here! The best things in life really are free.
Go white water rafting
Embark on an exhilarating journey down the Middle Ocoee River with the Middle Ocoee River Rafting Trip! This thrilling adventure offers a heart-pounding whitewater rafting experience that's perfect for adrenaline seekers and nature enthusiasts alike.
Set against the stunning backdrop of the Ocoee River's scenic beauty, you'll navigate through class III and IV rapids, testing your teamwork and paddling skills. Led by experienced guides, this approximately 3-hour tour guarantees an unforgettable escapade as you conquer the roaring rapids and traverse captivating stretches of the river.
With all necessary equipment provided, including safety gear and a briefing, you can focus on the excitement and challenges that lie ahead. This adventure is ideal for both beginners and experienced rafters alike.
If you love white water rafting and have longer than a weekend in Chattanooga you may want to splurge for the full-day white water rafting adventure!
If white water rafting is too adventurous for you, check out this awesome guided kayak tour where you can spend some more serene time on the water. You have a guide filling you in on the history of the area and even go to a cave at night where you get to witness 100,000 bats fly from a cave at night! Kind of reminds me of Austin, Texas.
Southside Social
Not only does Southside Social have pretty delish food, but more importantly, they have SO MANY GAMES. You know I love a good game place. Bowling, foosball, ping pong, darts, corn hole… I could really keep going. The place is a huge warehouse with a huge yard as well.
We went here on a Saturday night and a Sunday night, and it was totally different vibes each time. I recommend going on a Sunday because it was way less busy. We had the dart room completely to ourselves!
Such a fun place to have a nightcap and show off a little bit of your competitive side.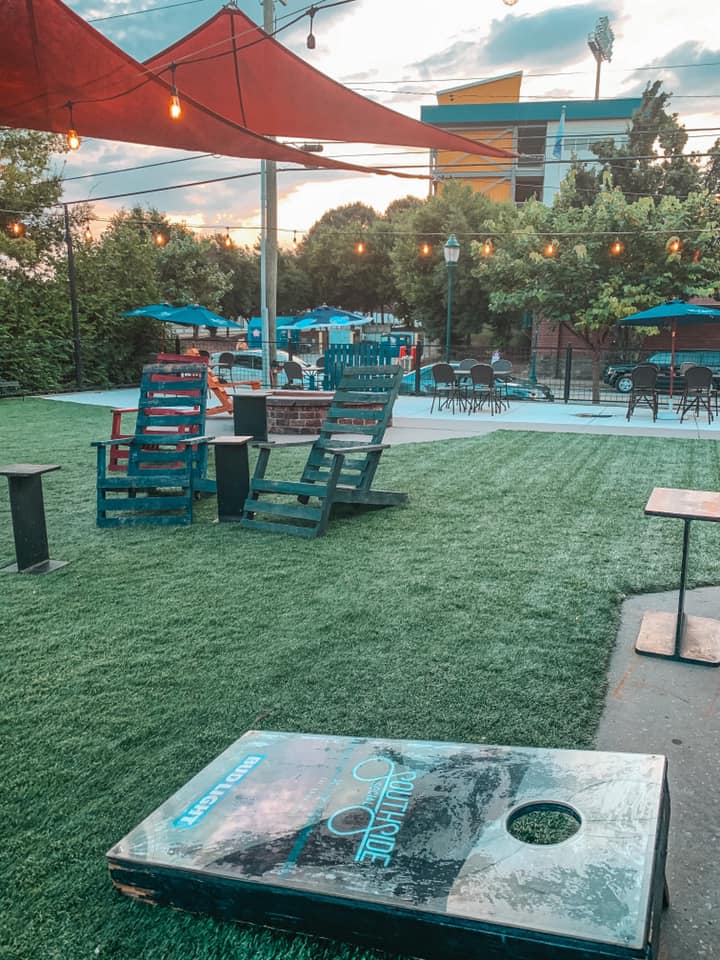 Ruby Falls
Ruby Falls is SO beautiful! I haven't done a cave tour since elementary school, so this was super neat to me. Even in the heat of the summer, it feels chilly down in the cave!
Prior to the tour, you watch a video giving information on the history and discovery of Ruby Falls, and it really sets the tone for the expedition. The video was so nicely done! They really paint you a love story and plot behind the whole thing.
The tour lasted about an hour and a half, and it covered about a mile of paved cavern trail. Walking through the cave was really cool, but once you got to see Ruby Falls itself, that was something else. I saw many waterfalls on this trip, but seeing one inside of a cave was a very unique experience!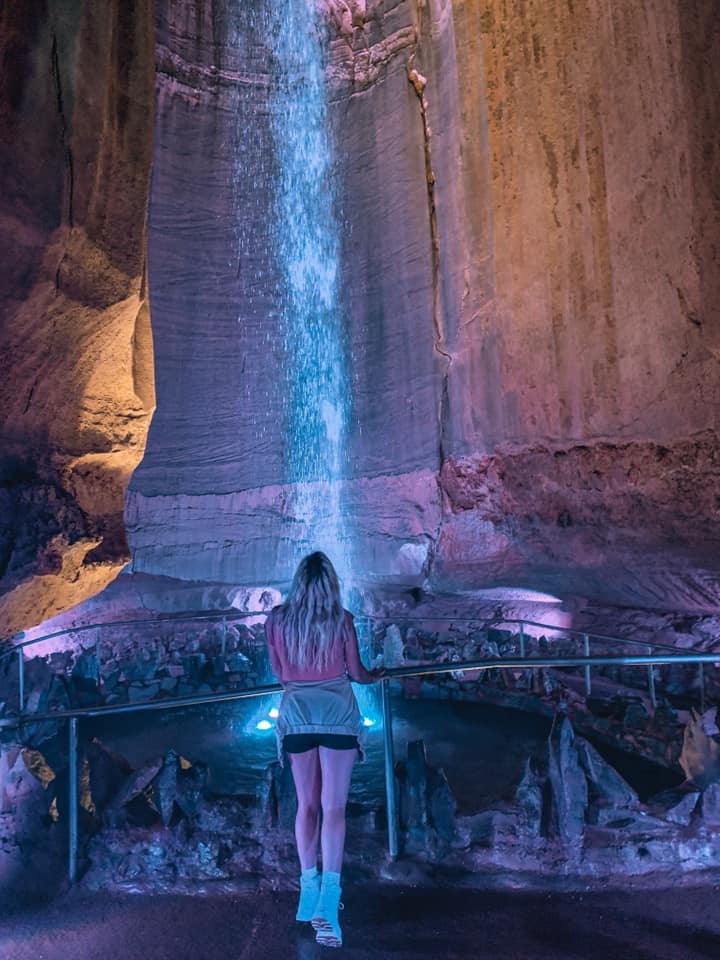 Zipline at Ruby Falls
If you are an avid zipliner, this may not be for you. But if you want to test the waters and get a quick thrill, this is an awesome, affordable way to do so! Ziplining is usually around $100, but Ruby Falls offers it for only $20! Full disclosure, it is very brief.
You zip two lines, and it lasts a total of five minutes from start to finish. The views are nice, though, and you also get some time to do their rock-climbing walls beforehand if you choose. So, it's really not a super long experience, but it's a great, cheap way to catch some air.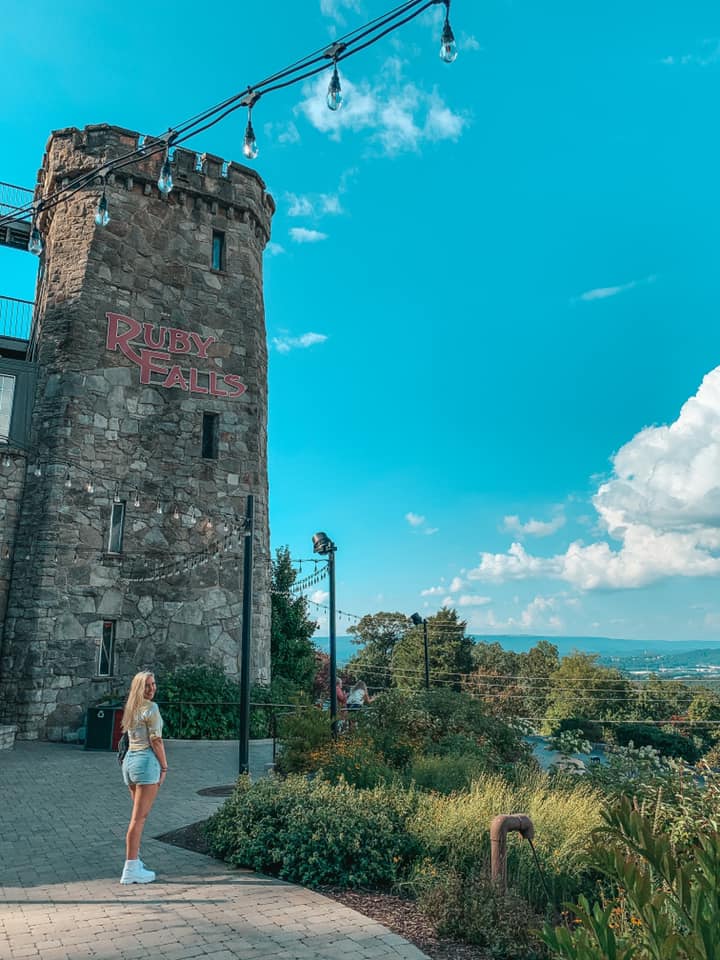 The Incline Railway
We didn't actually do this or Rock City because we ended up doing the North Chick Blue Hole for the second day in a row and didn't have time. This is super close to Ruby Falls, though, and you can actually knock out the last four things on this list within half of a day.
The Incline takes you up Lookout Mountain and back. It's $15 round trip to take the world's steepest incline! At the bottom, you can explore Historic St. Elmo, which has some unique shops and restaurants. At the top, you can catch beautiful panoramic views from the observation deck.
Rock City
Less than 10 minutes from the Incline, you can experience beautiful views of seven states, some gardens, and trails! Here are some things you don't want to miss when visiting Rock City!
Cute breakfast spots and coffee shops in Chattanooga
Frothy Monkey
This was my favorite breakfast and coffee I had during our weekend in Chattanooga! Their lattes were flavorful and delicious. I got their Hummingbird latte which was house-made pecan syrup, a hint of banana, and topped with cinnamon and dried pineapple garnish. They have other fun specialty lattes as well, but I highly recommend this one!
They also had yummy breakfast sandwiches if you want a nibble too. We stopped here on our way to a hike and it was the perfect pre-hike snack! I got a sausage and egg breakfast sandwich on an everything bagel. If you're not on the run, their patio looked like an adorable place to enjoy a latte and brekkie sandwich.
If you are into history and have time during your weekend in Chattanooga for an extra tour, a trolley tour has a pick-up spot here at Frothy Monkey. You have a knowledgeable tour guide and visit a 100+-year-old train station, historic railroad museum, and the oldest and second-largest national cemetery in the US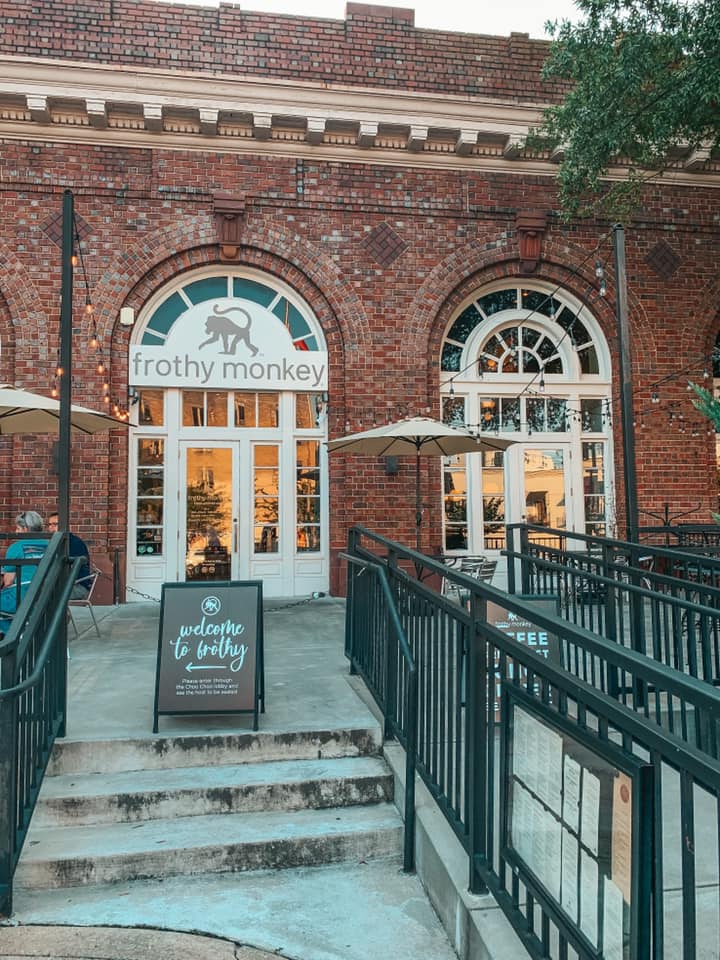 Sleepyhead Coffee
First of all, a moment for the adorable name. Second of all, they have the aesthetic to match! You know when you find a place that's so aesthetically pleasing and you're praying that the food and drinks are up to par? Well, Sleepyhead Coffee is more than just a pretty face— it has delicious coffee to match!
I got a simple vanilla cappuccino and thought it had a really nice flavor. We had to get it to go, but if you have time, enjoy it there and get a picture with their adorable neon sign while holding your pink coffee cup!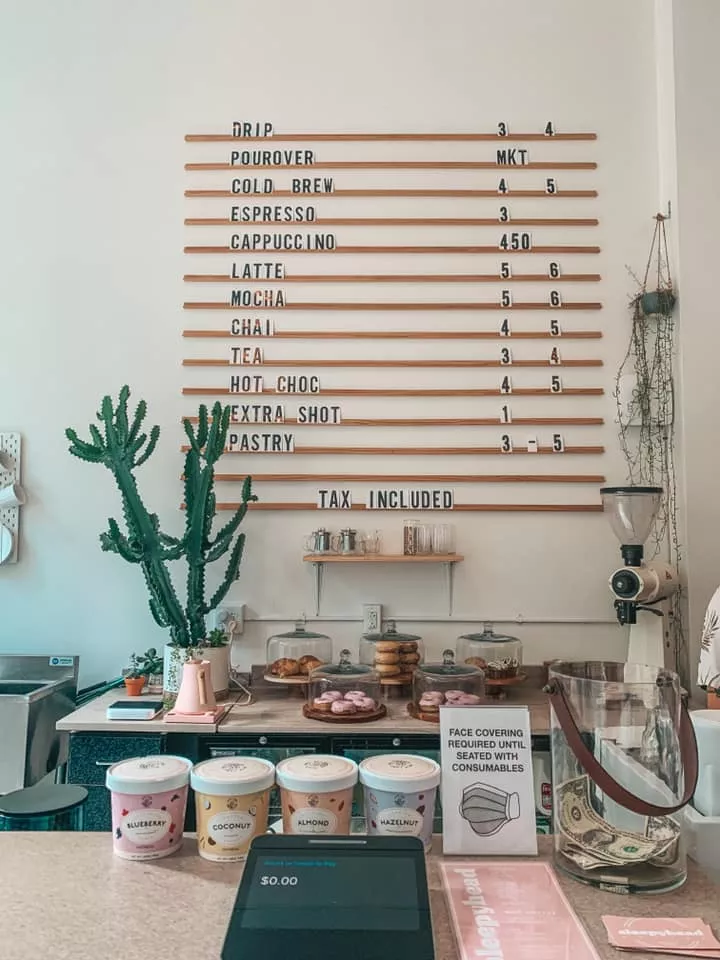 Mean Mug Coffee
The breakfast and coffee here were also on point! The barista even put a lovely design on the vanilla cappuccino for us!
Get the breakfast plate, which is two scrambled eggs, cheese grits, your choice of meat, and toast or a biscuit with housemade preserves. The cheese grits were amazing, and the housemade preserves were like a strawberry jam that was BOMB.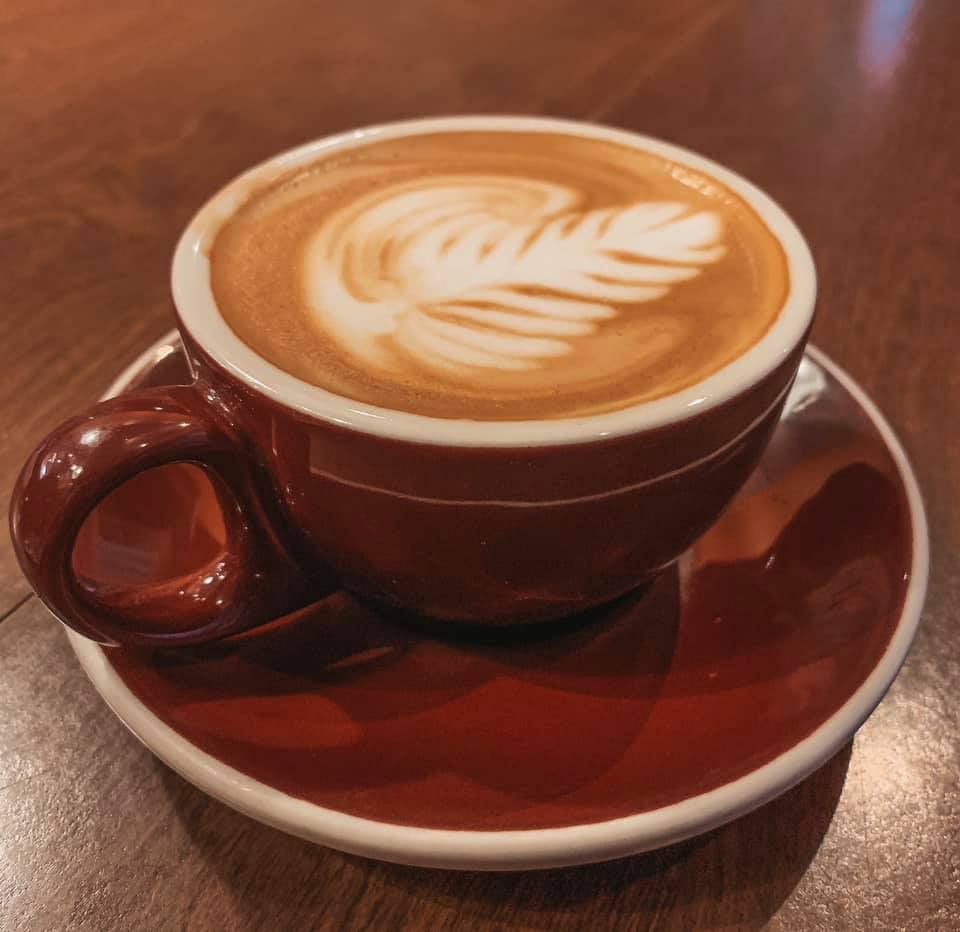 Fun restaurants and bars in Chattanooga
Stir
We just stopped at Stir for a cocktail and an app, but if they're any representation of what their entrees are like I'd say that's a good sign! The charbroiled oysters are to die for, and their Strawberry Moon Sangria sealed the deal on my love for this place.
The vibe here is industrial-chic, and we couldn't stop gushing over how much we loved the design of this place. 10/10 recommend for food, drinks, and interior design inspo.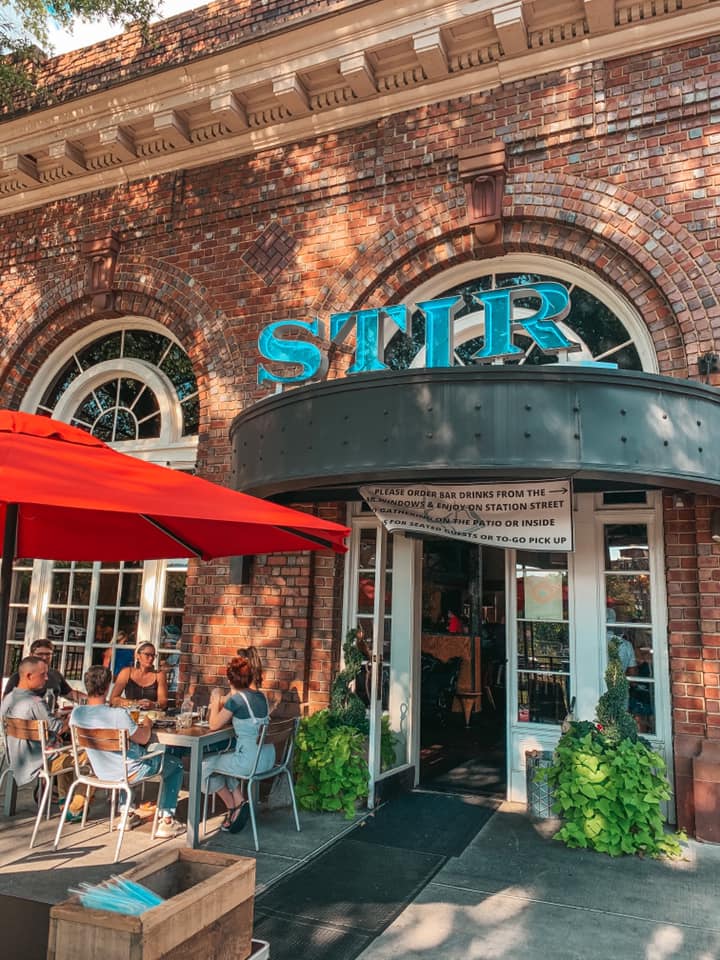 Terminal Brewhouse
It sounds like it's just pub food, but the salad I got from here was one of my favorites from the trip! But before we get to the main, you have to start with the pizza pie rolls! This is not a request, it's an order. They took two things I'd say almost everyone loves, pizza and egg rolls, and had them join forces. Pure genius.
My taste buds started dancing just reminiscing about this experience. *Wipes drool off computer*
On a lighter note, they also have so many delicious-sounding salads. I got the BrewHouse Salad and added onion and salmon (although I think chicken would have been a better choice with this salad). I also subbed out the wheat beer vinny dressing they usually pair with it for their citrus honey vinny, and it was 100% one of the best dressings I've had in a long time. 
Their pizzas are heavenly if the rolls don't give you your fix! And the cherry on top? They have rooftop seating where you can enjoy your food and drinks.
Southside Social
Southside Social is so much more than a place to eat, like I mentioned earlier! But as far as food goes, on Sundays, they have an all-day brunch menu and a limited normal menu.
The mac and cheese balls are a must, but pro tip— get ranch instead of the marinara they normally serve with it. For entrees, they have a variety from pizza to BBQ. I will say the beans totally stole the show and they were everything I didn't know I needed.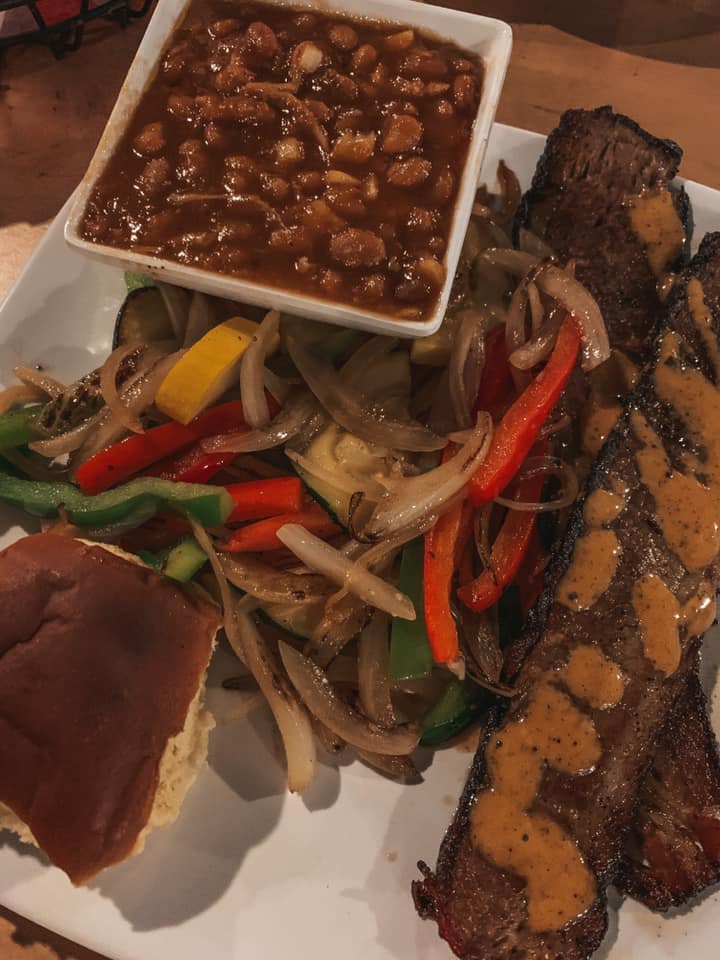 Unknown Caller
Unknown Caller is Chattanooga's first speakeasy! The entry of this place is so cool! Luckily, your GPS will take you right to a phone booth. Walk into the first door, where you'll see a payphone to your left and another door in front of you. You'll have to dial the correct number on the phone for them to answer and let you in.
I'm obsessed with the furniture, art, music choices (they played it all), and bar presentation. The vibe here is very cool, and unlike anything else you'll experience during your weekend in Chattanooga. The staff was super friendly and the bartenders were craftsmen.
Remi got an Old Fashioned and I got a Clover Club. We absolutely loved this place, definitely go enjoy a cocktail or two here if you have the chance!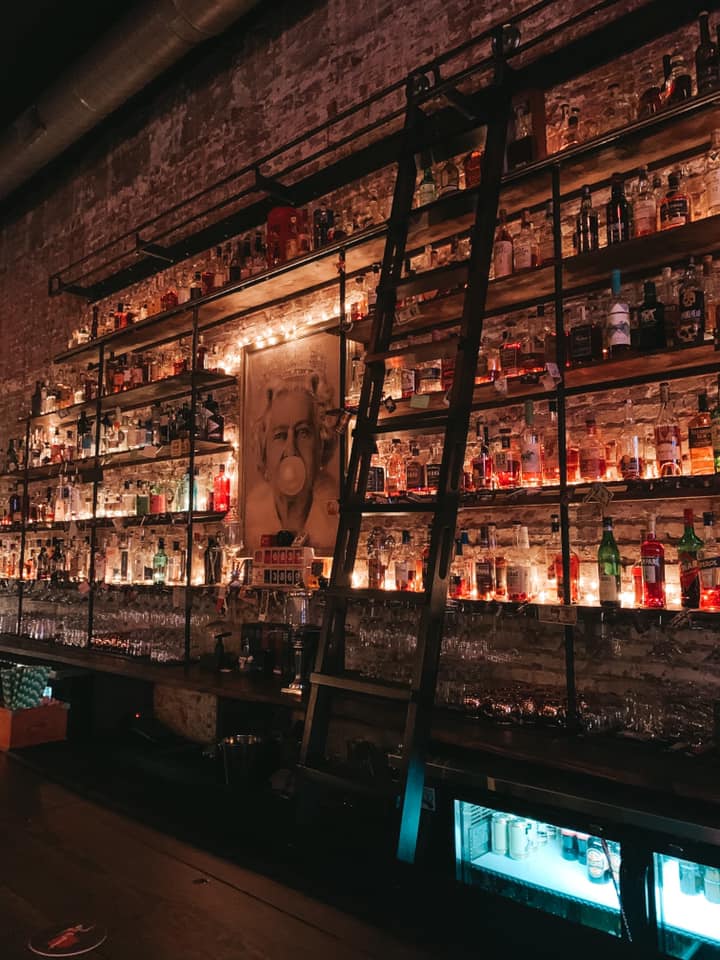 Check out my post on the best speakeasies in Tampa Bay!
Clumpies Ice Cream Co.
Clumpies has multiple locations in the downtown area. Lucky for me I didn't try this until our last day, because I definitely would have been back several more times.
They have such unique flavors. I decided to do the peach cobbler, which was delightful, but Remi's scoop of brown sugar cinnamon coffee cake 100% stole the show. If you're an ice cream lover (heck even if you're not) make sure you don't skip out on grabbing a scoop!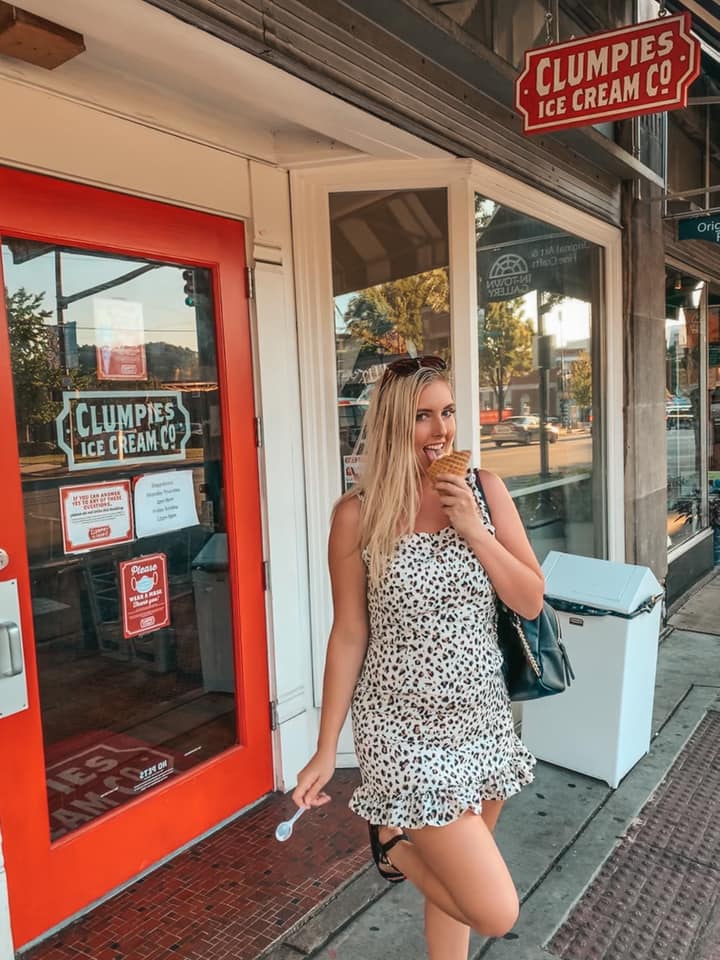 Where to stay for a weekend in Chattanooga
If you're looking for a good budget option, Holiday Inn Chattanooga Downtown is solid. Something that is always so great about Holiday Inn is that they have "kids eat free" in any Holiday Inn on-site restaurant! This is so great for families traveling on a budget!
Hotel Indigo is a good midrange option. Hotel Indigos are very unique and trendy, but cozy at the same time. They always have amazing on-site restaurants and bars. This one is in a prime location along with the other hotels I mentioned.
If you don't mind spending a little bit more during your weekend in Chattanooga, the Read House Hotel comes highly recommended. It's a beautiful, historic hotel located right downtown. They have a restaurant and bar with a speakeasy vibe and a billiards room! As well as an indoor pool that's open year-round.
Getting around during your weekend in Chattanooga
I would definitely recommend renting a car for your visit if you plan to do any nature activities. Even though we were there over the weekend in Chattanooga we didn't have too much of a hassle finding parking. We did have to feed the meter occasionally but nothing too crazy.
I love this tool for finding rental cars because it helps you find the best prices from several different companies!
Some hotels charge outlandish fees to park your car, but I always use SpotHero to find affordable parking in the area. It's literally a game-changer.
As far as getting around downtown, it's pretty big. You absolutely can walk, but if you don't want to worry about parking or taking too long getting somewhere by walking, they have bike rentals throughout downtown. You can rent a bike for a day for just $8!
We absolutely loved our weekend in Chattanooga, and I am sure you are going to enjoy yours! If you're looking for another epic fall road trip idea, check out my New England fall road trip itinerary.
What are you looking most forward to doing on your visit to Chattanooga?! Follow me on Insta @guidedbydestiny for more travel content 🙂