This post contains affiliate links which means that I will make a small commission if you purchase a product after clicking on any of them, at no extra cost to you.
There are a number of waterfall hikes you can do in Tennessee, but this one was definitely one of our favorites and one of the best waterfall trails of our trip! Less than an hour's drive if you're staying in Chattanooga, and just under two hours if you're coming from Nashville.
In this guide, I've got you covered with tips, general information, and fun facts about Foster Falls! (Note: we did this in the summer months).
General Information and Fun Facts About Foster Falls
Address: 498 Foster Falls Rd. Sequatchie, TN 37374
The trail is a 1.6-mile loop and part of South Cumberland State Park.
Foster Falls is a 60-foot waterfall.
I would say this is a moderate hike. There are parts that are a really easy trail, but there are quite a few parts that are super rocky that entail a little coordination and more effort.
There's a fun little suspension bridge you get to take that goes over the falls' stream!
Some trails have parking and other fees, but this one is totally free!
If you're into rock climbing, you may enjoy this trail! We saw quite a few climbers on our journey.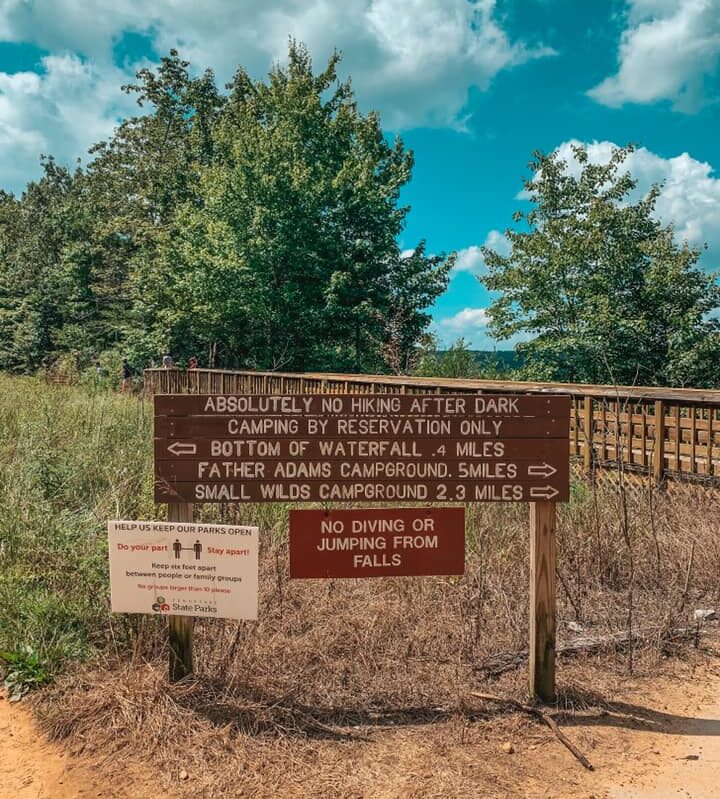 Getting to Foster Falls
If you're stationed in Chattanooga, you're in for a treat—a mere 45-minute drive separates you from the wondrous embrace of South Cumberland State Park. Hit the road, put on some tunes, and before you know it, you'll be trading cityscapes for the serenity of Foster Falls.
And for those of you making your way from the music-filled streets of Nashville, fear not. You're looking at an adventure-worthy drive of just under two hours.
Parking is a breeze, too. As you roll up to the trailhead, you'll find ample parking facilities eagerly waiting to accommodate your trusty ride. And here's a delightful bonus—it won't cost you a penny. That's right, you can enjoy the splendors of nature without even reaching for your wallet.
But here's a pro tip: Foster Falls can get quite popular, especially when nature's at its finest. So, if you're looking to savor the tranquility and catch the falls in their most peaceful moments, an early arrival is your golden ticket.
Foster Falls Trail
When you are about to begin the loop, you will come to an overlook as well as a trail that goes to the left and one that goes to the right. So, you have a few different options when doing the trail.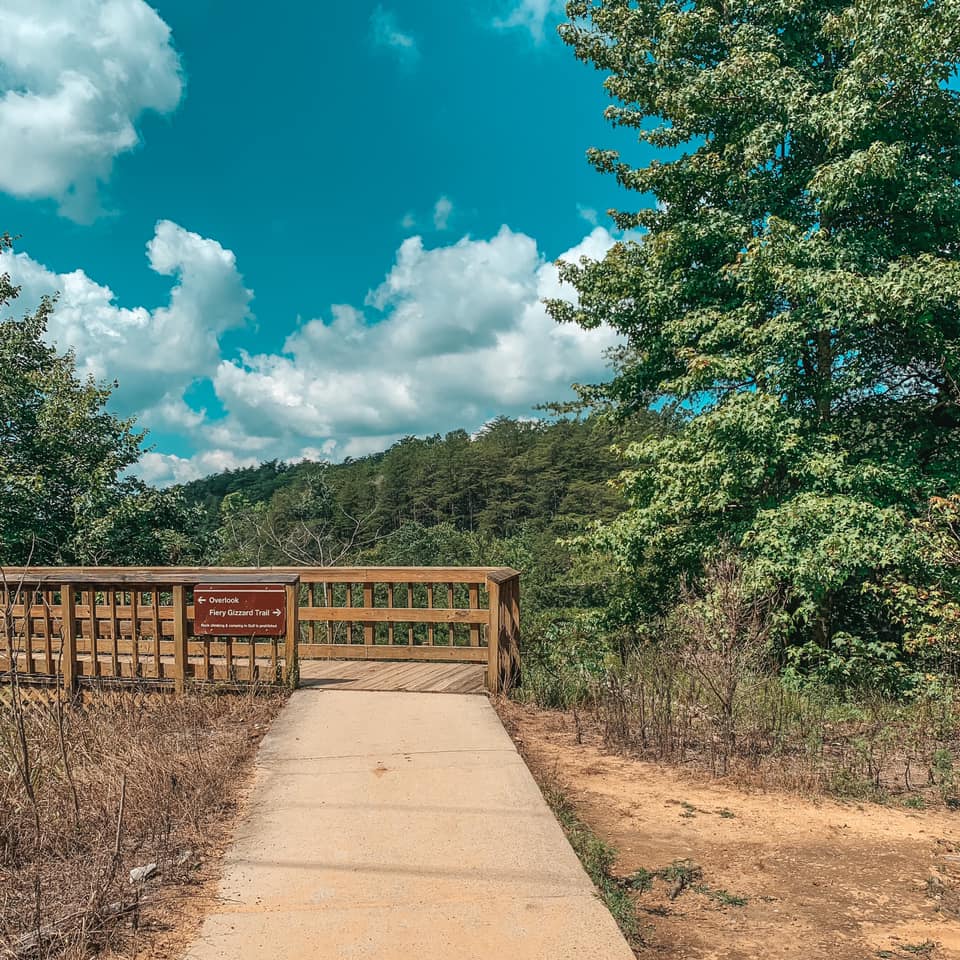 Option 1
If you aren't really into hiking but want to see a beautiful waterfall, this is a great trail for you! If you go to the left at the sign, you will be able to get to the waterfall in less than half a mile! It is a very rocky route, but it only lasts like 10 minutes.
Once you get to the bottom of the rocky trail, you'll come to the suspension bridge. Cross that and look to your right, and you will see the falls! Enjoy taking a dip, and then head back the way you came. It's a short and sweet hike with an awesome reward. It may be busier if you come in the afternoon.
However, if you come too early, it will probably be too chilly to take a dip. But if you don't mind a little bit of cold— hey, go for it!
Option 2
You can also do option 1, but instead of turning around, finish the loop. There are pros and cons to beginning this hike when it opens. The pro is that you will most likely have the waterfall to yourself. It's very peaceful and beautiful— there's even a large flat rock where you can sit and enjoy a breakfast you packed while listening to the waterfall (this is what we did).
The con is that if you wanted to swim in the waterfall, it's most likely not going to feel too refreshing, since the mornings can be slightly chilly and you haven't worked up a sweat from the hike yet.
This is the option we chose. But after we completed the loop, we were so sweaty and hot and wanted nothing more than to enjoy a nice dip in the falls. Soooo we began the loop again and took our asses right back down to the falls! So we ended up making it a two-mile hike, but it was so worth it.
It was very nice to have the waterfall completely to ourselves for 40 minutes in the morning while we enjoyed a picnic breakfast before moving onto the loop, and it was such a treat to finish in the falls. However, there were quite a few more people at that point.
Option 3
If you don't really care about having the waterfall to yourself or you go in the afternoon when you won't have it to yourself anyway, then this is the best option. Go to the right at the overlook, and follow the arrow that says "Fiery Gizzard Trail" You will immediately begin the loop and end at the falls, where you can take a nice refreshing dip after working up a sweat!
Which option would you choose?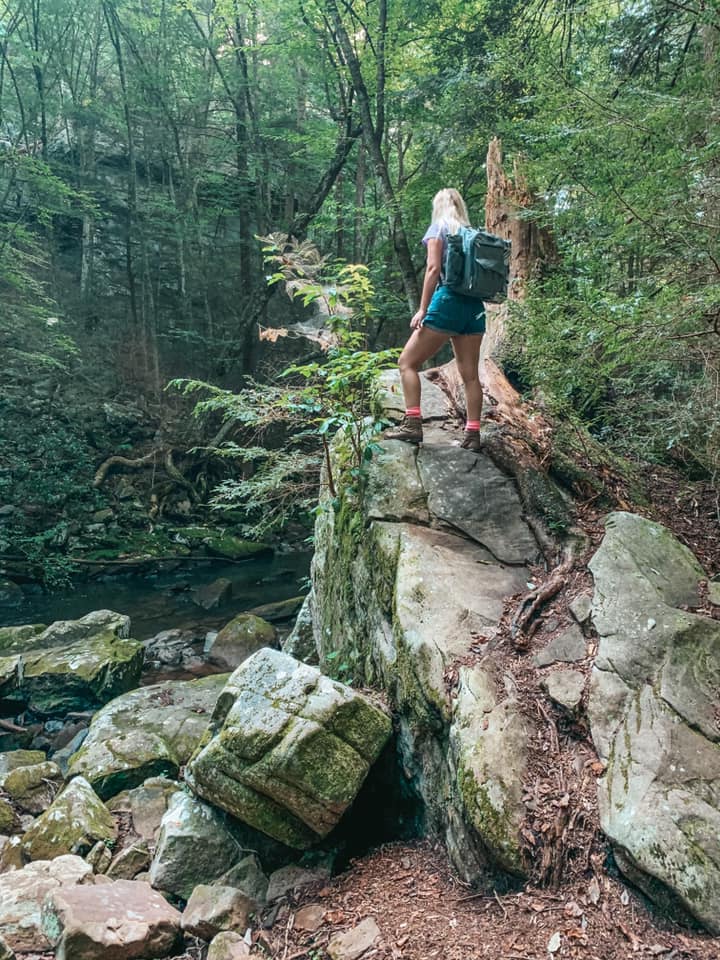 Foster Falls Trail Tips
If you are coming from Chattanooga to do this trail, beware of the time change! This actually worked out really well for us. I like getting to trails right when they open to beat potential crowds. We thought we were running late, but when the time changed, we ended up getting there just five minutes after it opened!
Download the All Trails app. All Trails is great for any trail you're trekking. It gives you general information about the trail and reviews from people who have done it, and you can download the trail map to see where you are on it!
Take bug spray and sunscreen! For the most part, you're in the shade, but there are some parts of the trail that are in the open, and if you want to swim, you may want some sunscreen! I think bug spray is a given on any hike— but just don't forget it!
If you plan to swim, take water shoes. The swimming area is extremely rocky, and my water shoes definitely came in handy.
If you're doing the full trail, I would wear boots over tennis shoes. Because this trail can be pretty rocky, hiking boots made it much easier for me to navigate and take sturdy steps.
If it rained within hours of your trip, know that the rocks will be extra slippery.
They do have bathrooms.
Wildlife and Flora at Foster Falls
Migratory songbirds serenading from treetops, squirrels darting among branches, and perhaps even a glimpse of elusive critters—all part of the harmonious chorus that accompanies your hike.
And let's not forget the flora, the true artists of this living canvas. The trail is a gallery of colors and textures, with a delightful array of plant life, from delicate wildflowers that whisper in the breeze to towering trees that offer cool, shaded respites. Each step is an opportunity to embrace the intricate beauty that thrives around you.
Seasonal Considerations for Foster Falls
Foster Falls is a mesmerizing chameleon that transforms with the seasons. Each season brings its own magic to this natural wonderland.
Spring ushers in a burst of new life, with lush greenery, budding flowers, and the sweet songs of returning birds. Summer takes center stage, inviting you to bask in the warmth and dip your toes in cool waters—a refreshing escape from the sun's embrace.
Autumn paints a masterpiece of fiery hues, as the leaves don their golden, orange, and red finest, creating a breathtaking backdrop for your journey. And then there's winter, a serene wonderland where the falls may don a crystalline cloak, offering a unique perspective of icy beauty!
Each season presents its own charm, inviting you to witness Foster Falls through a different lens. As you plan your visit, consider the canvas you wish to explore and the experiences you yearn for.
I hope you enjoy whichever season you choose to experience at Foster Falls! And if you are visiting from Chattanooga, be sure to check out my Chattanooga guide for more ideas and follow me on Instagram @guidedbydestiny for more travel content.