This post contains affiliate links which means that I will make a small commission if you purchase a product after clicking on any of them, at no extra cost to you.
Fall is my absolute favorite time of the year! We don't get to experience much of the lovely fall weather in Tampa, so it always feels like the perfect time to make a trip up north. New England is one of the best (and most popular) places to road trip in the fall!
There are so many activities available during this season! Go leaf peeping in New England or do an apple cider tour in Vermont. This fall road trip will take you from Boston to Portland Maine, making stops along the way that showcase some of these unique cities and towns!
We did our New road trip at the end of October and missed peak foliage. Nonetheless, we were still able to enjoy the colors of nature. Peak foliage varies year to year so use this foliage tracker to help you plan your fall road trip.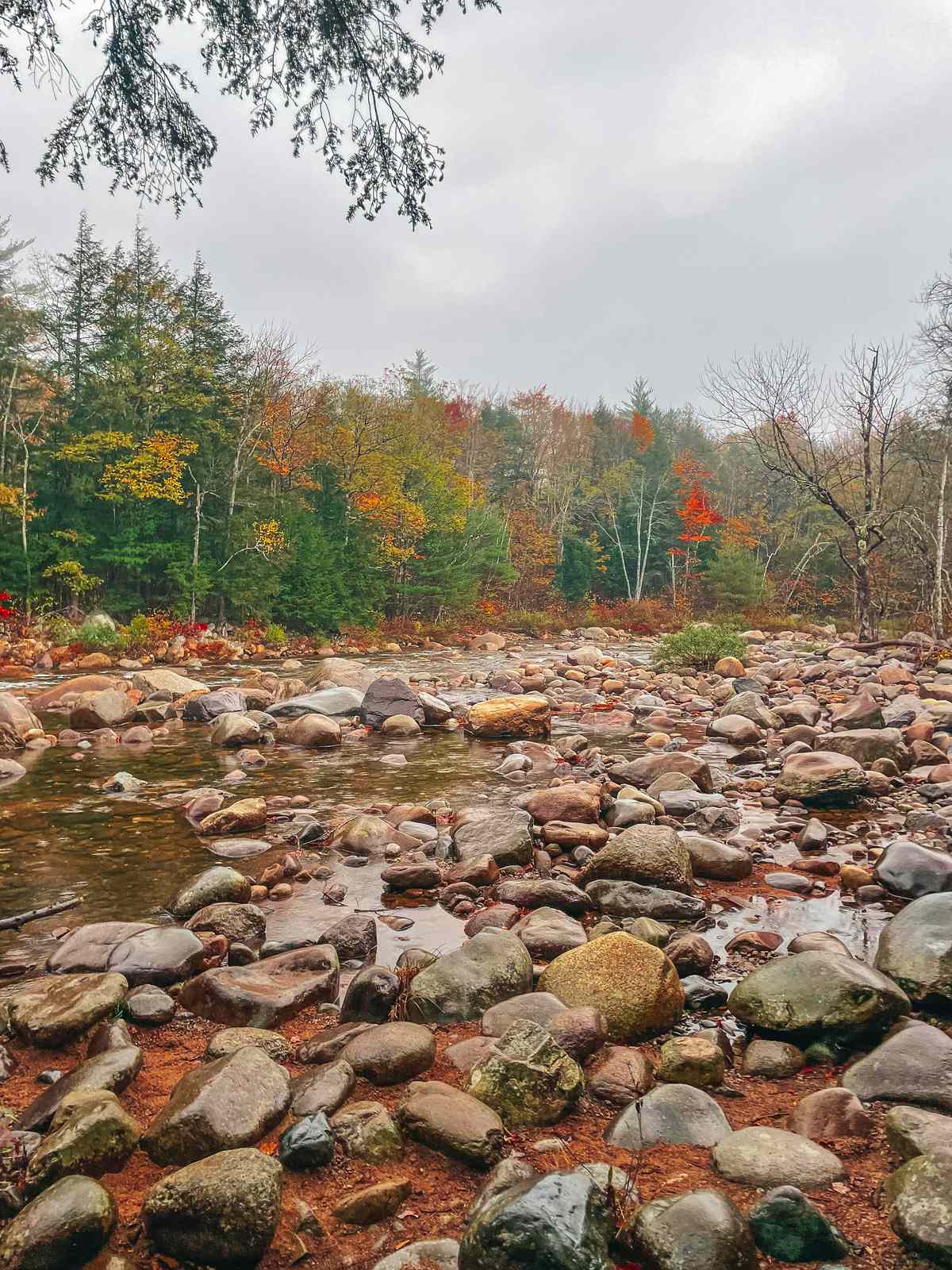 Quick links for your New England road trip
🏨 Accommodation
Easily compare prices, secure great deals, and enjoy the added benefit of flexible cancellations up to 24 hours in advance for the majority of hotels with Booking
🎟️ Tours and tickets
Discover your next adventure with ease by using Viator which allows you to explore a multitude of local tours, ensuring you find the best experiences at the best prices.
🚘 Car rental
Rentalcars is the best tool for comparing prices for your date amongst the most popular rental car companies!
New England fall road trip itinerary
Day 1: Drive from Boston to Maine with a pitstop in Salem, Massachusetts
In order to avoid traveling from a different city or state the day our flight left from Boston, we decided it would be best to just head right to Maine and enjoy Boston on our final day. It's just a short 2-hour drive from Boston to Maine, but first I suggest making a pitstop in Salem which is just 40 minutes outside of the city.
Salem's historic reputation for witchcraft comes from the Salem witch trials of 1692, in which 20 people were tried and executed. Today, Salem is a tourist destination known for its Halloween celebrations, as well as its many attractions.
The city is also home to a number of historic sites, including the House of the Seven Gables, which was built in 1668. It's one of New England's most famous landmarks, and it's also where Nathaniel Hawthorne set his novel "The House of the Seven Gables."
We only had a few hours in Salem for our road trip, but fell so in love with this charming, spooky city! This may have been one of my favorite stops on our New England fall road trip.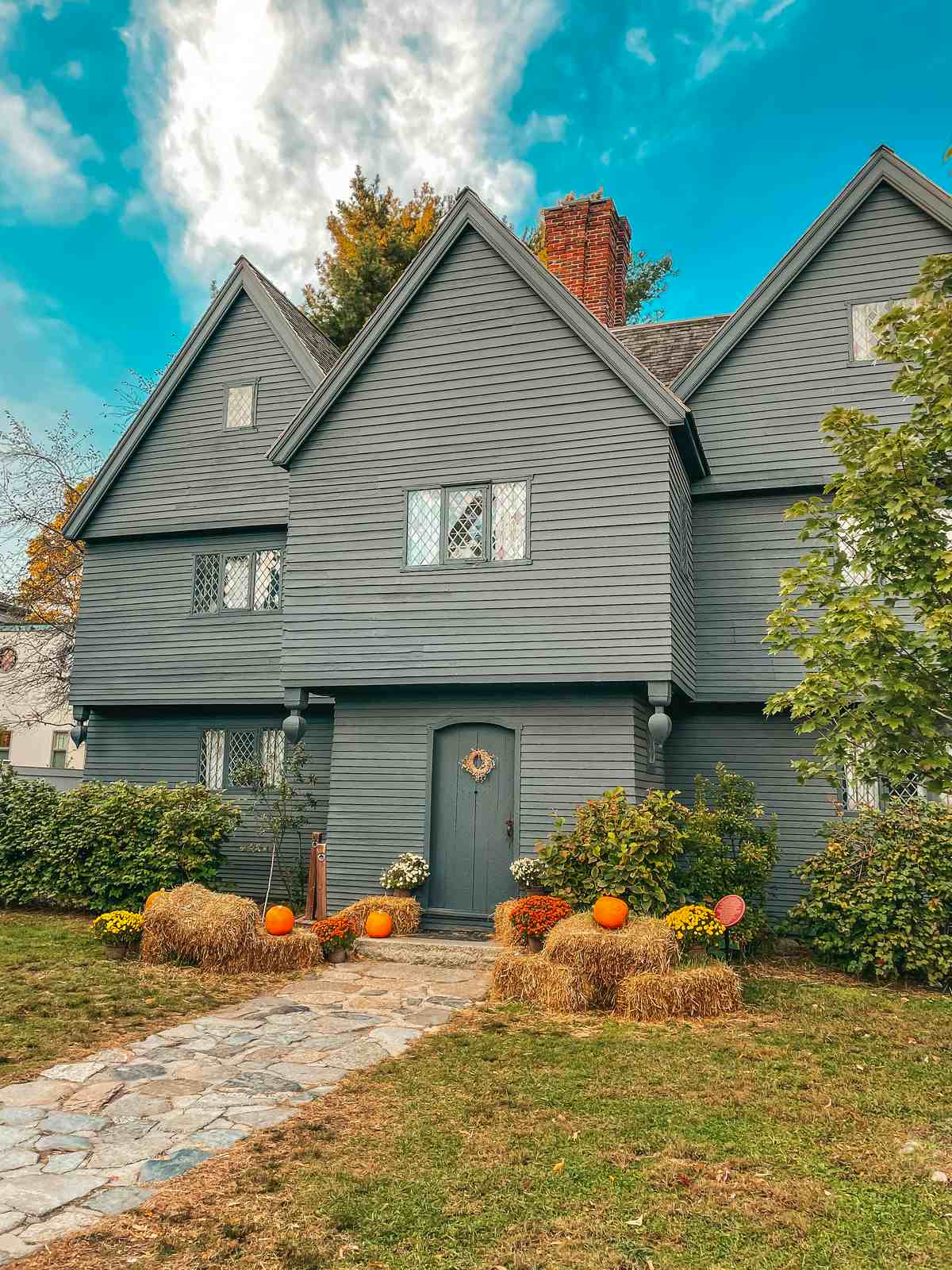 Things to do in Salem, Massachusetts
Take some pics at the Hocus Pocus filming locations. I mean it is a classic! Most of the locations are pretty easy to get to, so I'd try to squeeze in a couple while you're here. Here's a list of where you can find all the spots.
Visit The Witch House (The Jonathon Corwin House). It was home to Judge Jonathan Corwin (1640–1718) and is the only structure still standing in Salem with direct ties to the Salem witch trials of 1692. It's open 7 days/week from 10 AM – 5 PM. Meaning if you have a mid-afternoon flight, this may be the first thing you want to do. Admission is $9 for adults.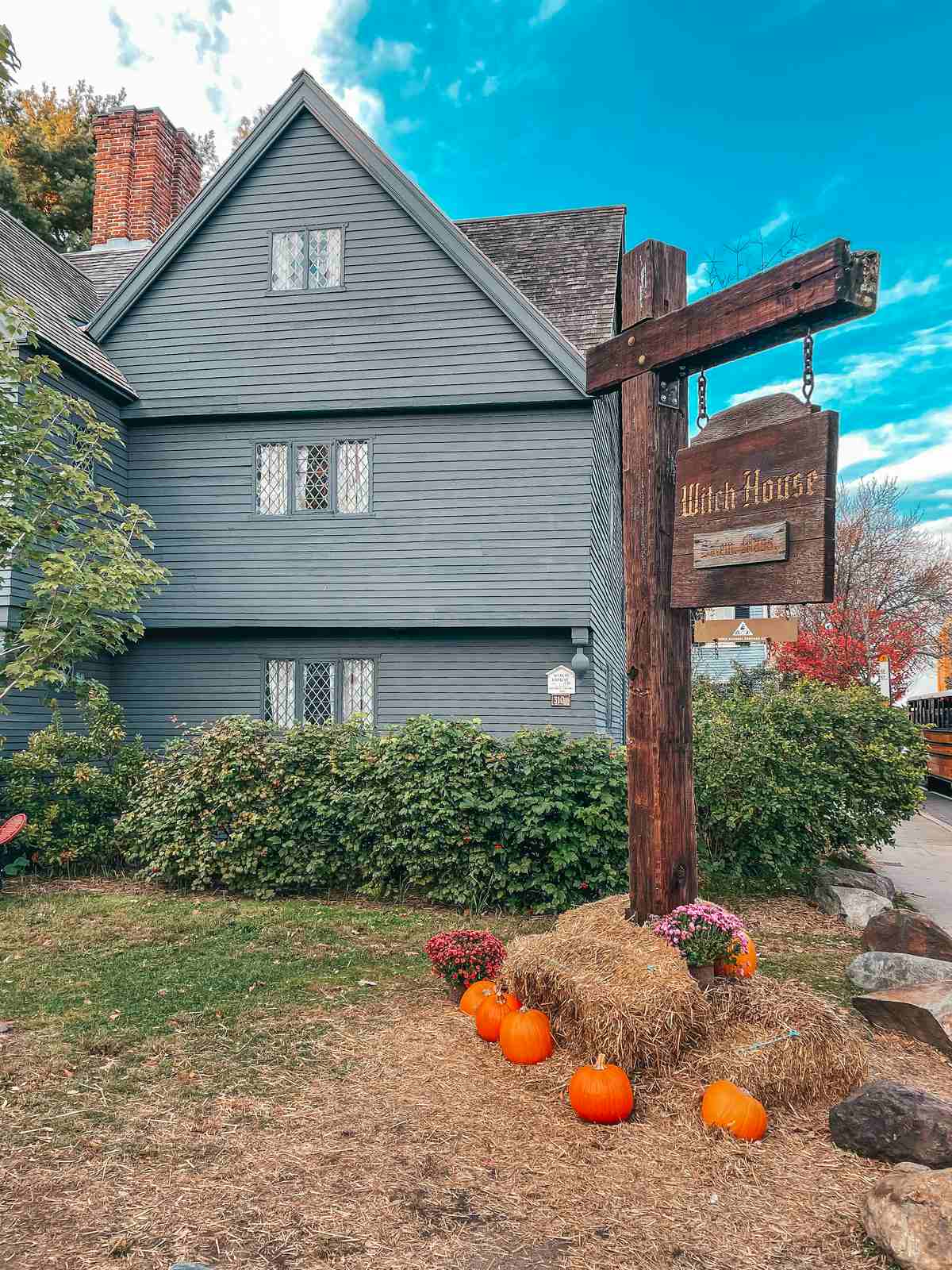 Check out the fun shops— just strolling around the downtown area is beyond pleasant. They have some super neat shops, including plenty of places to get a reading (you know I couldn't resist!).
Grab a bite and drink at The Roof. You'll love this rooftop bar. We were even lucky enough to enjoy it under an eerie full moon! They have tacos, burritos, and bowls served alongside fun cocktails and shooters (or beer if you wish).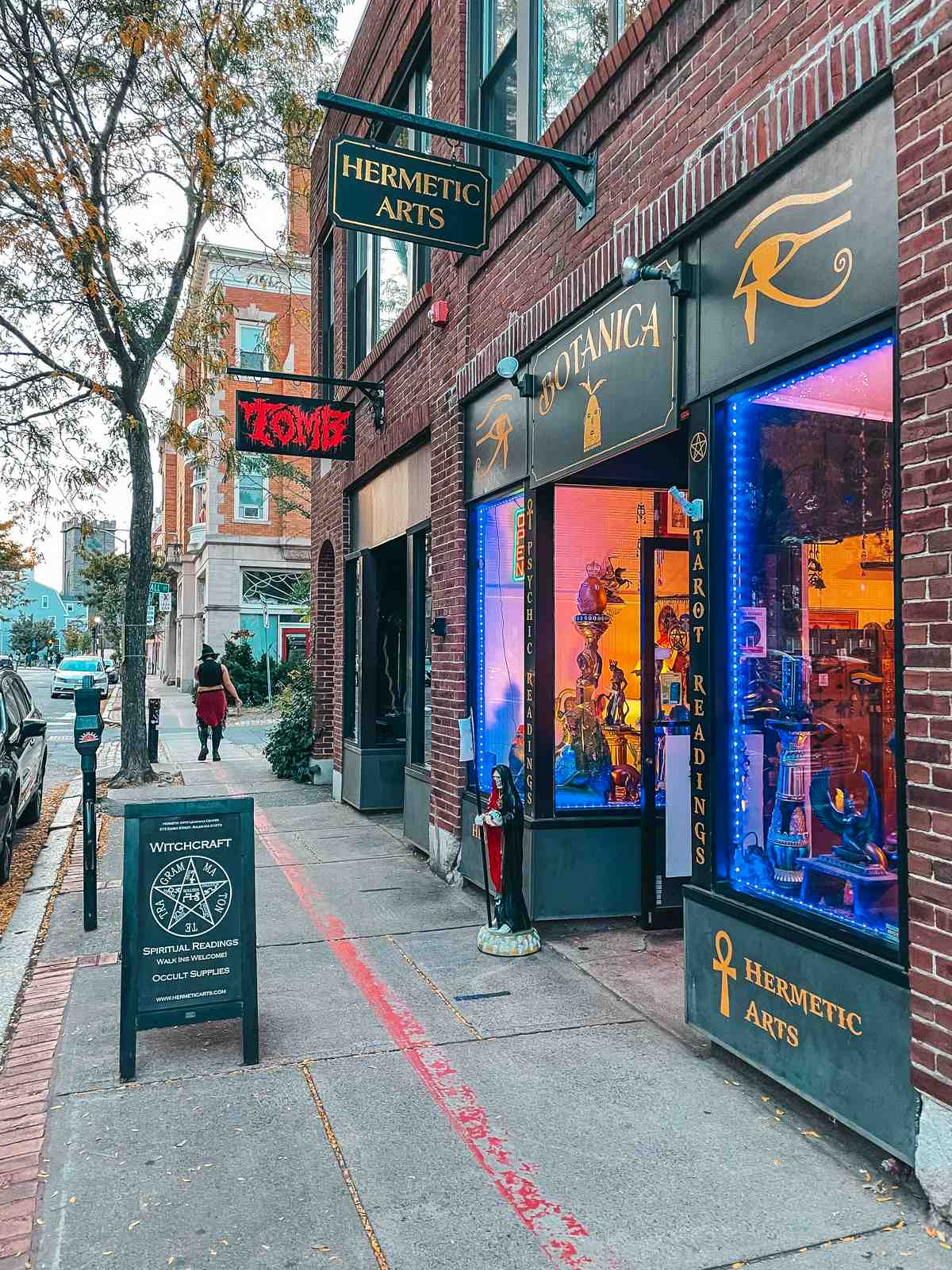 Once you're done enjoying your time in Salem, head to your hotel in Portland. It's just a little over an hour's drive! We stayed at the Holiday Inn Portland – By the Bay.
🏨 Book your stay in Portland
With a great location in Portland, and just a short drive from Salem, Holiday Inn Portland By the Bay is the perfect place to stay in Portland!
Click herе to book direct
Day 2: Portland, Maine
I've heard plenty of great things about Portland, and it definitely lived up to the hype! I would love to go back to experience it during the summer months.
Portland is a diversified coastline area that welcomes guests with a variety of unique Maine experiences. You have access to it all—shopping, sailing, beaches, amazing restaurants, and more. This metropolis with a small-town feel is a cultural hotspot and a nature lovers' paradise. It is home to craft breweries, ocean cruises, and a renowned culinary and cultural scene.
For the most part, we just took ourselves on a self-guided foodie tour and enjoyed strolling around this charming coastal city.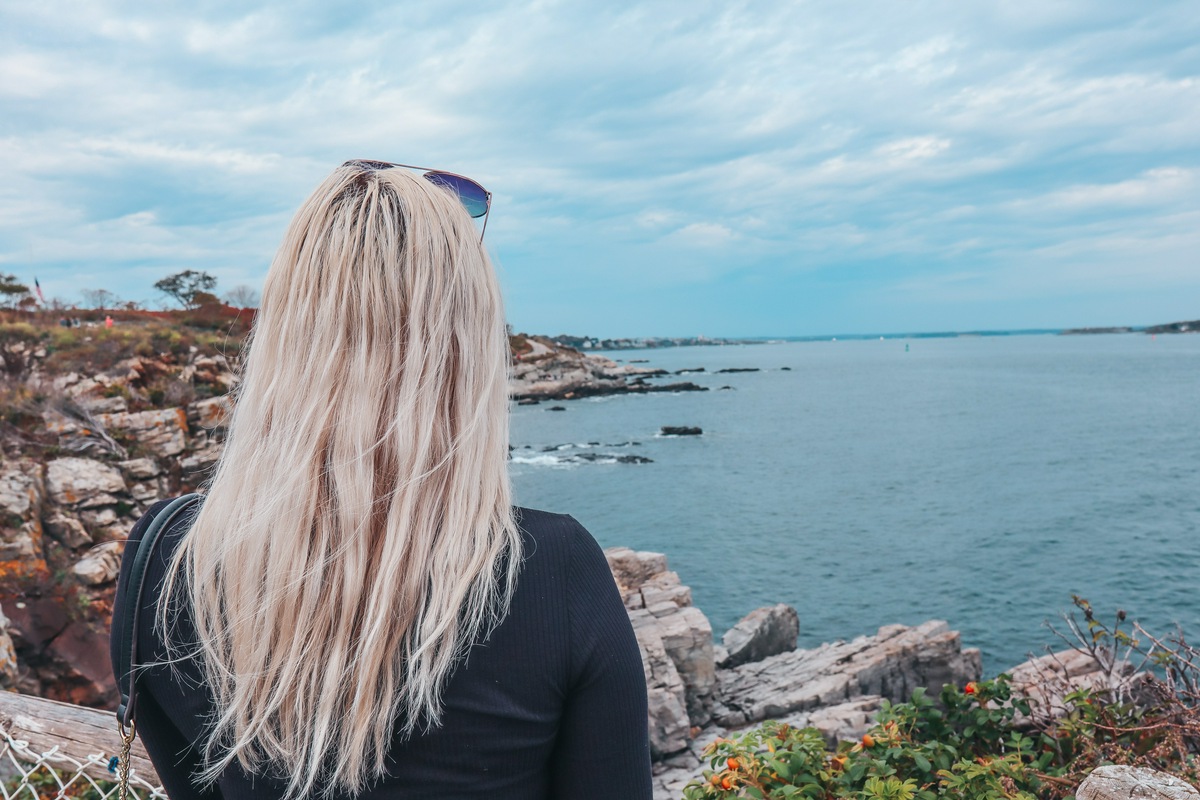 Things to do in Portland Maine
Grab a cup of joe from Bard Coffee. We were able to walk here from our hotel, and the weather was an absolute dream. The coffee was delicious! The inside wasn't open at the time due to COVID restrictions, but it worked out because we snagged our coffee and strolled down the cobblestone streets to the next spot.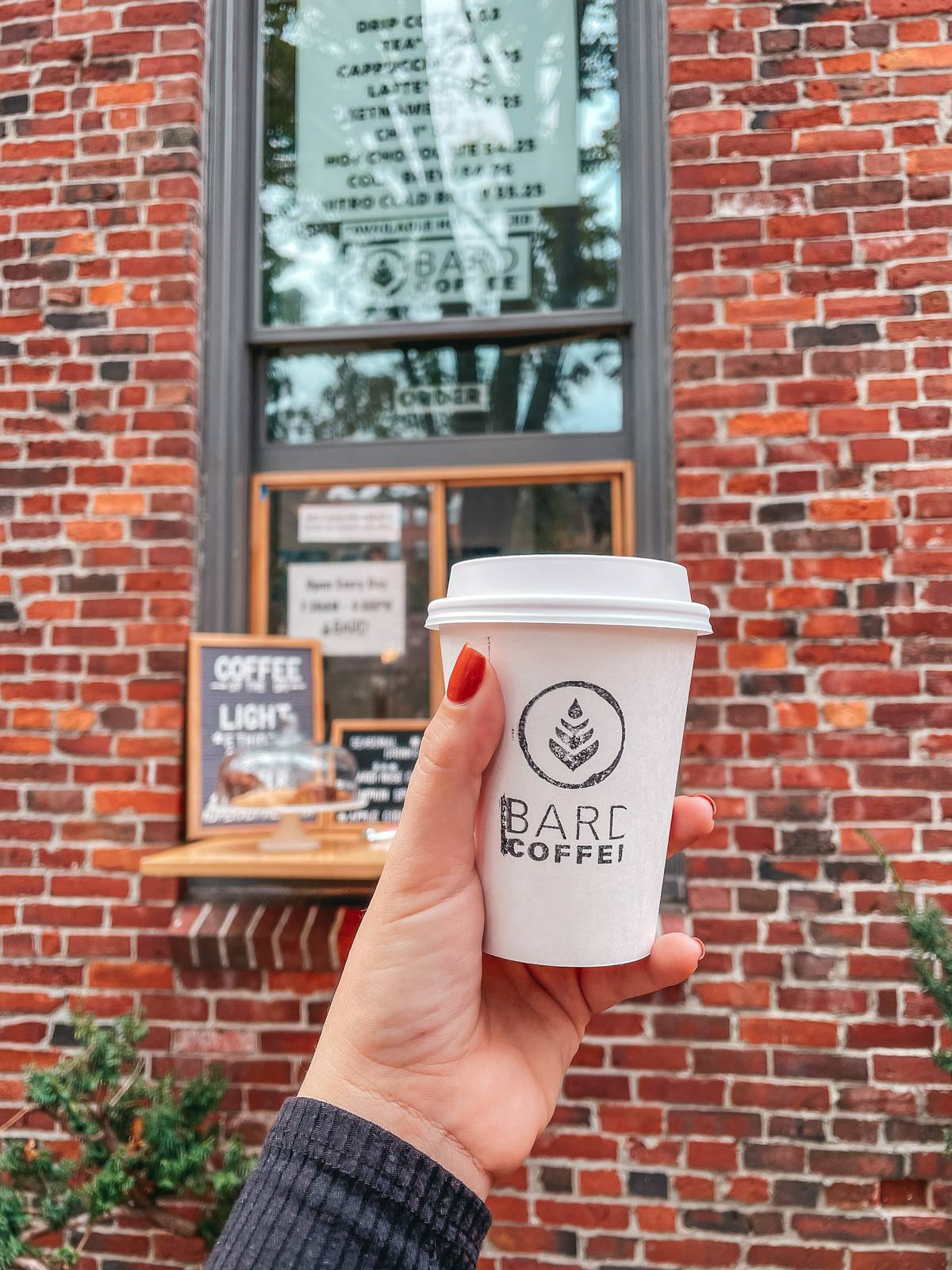 Just a hop skip and a jump away from Bard Coffee is The Holy Donut (they have 3 locations, we went to the one on Commercial Street). This beloved local family-owned spot sells potato donuts with unique variations such as pomegranate, honey lavender, blueberry lemon, and several more! (It's so funny to me that donuts seem to be just as much of a craze in Portland, Oregon as they are in Portland, Maine.)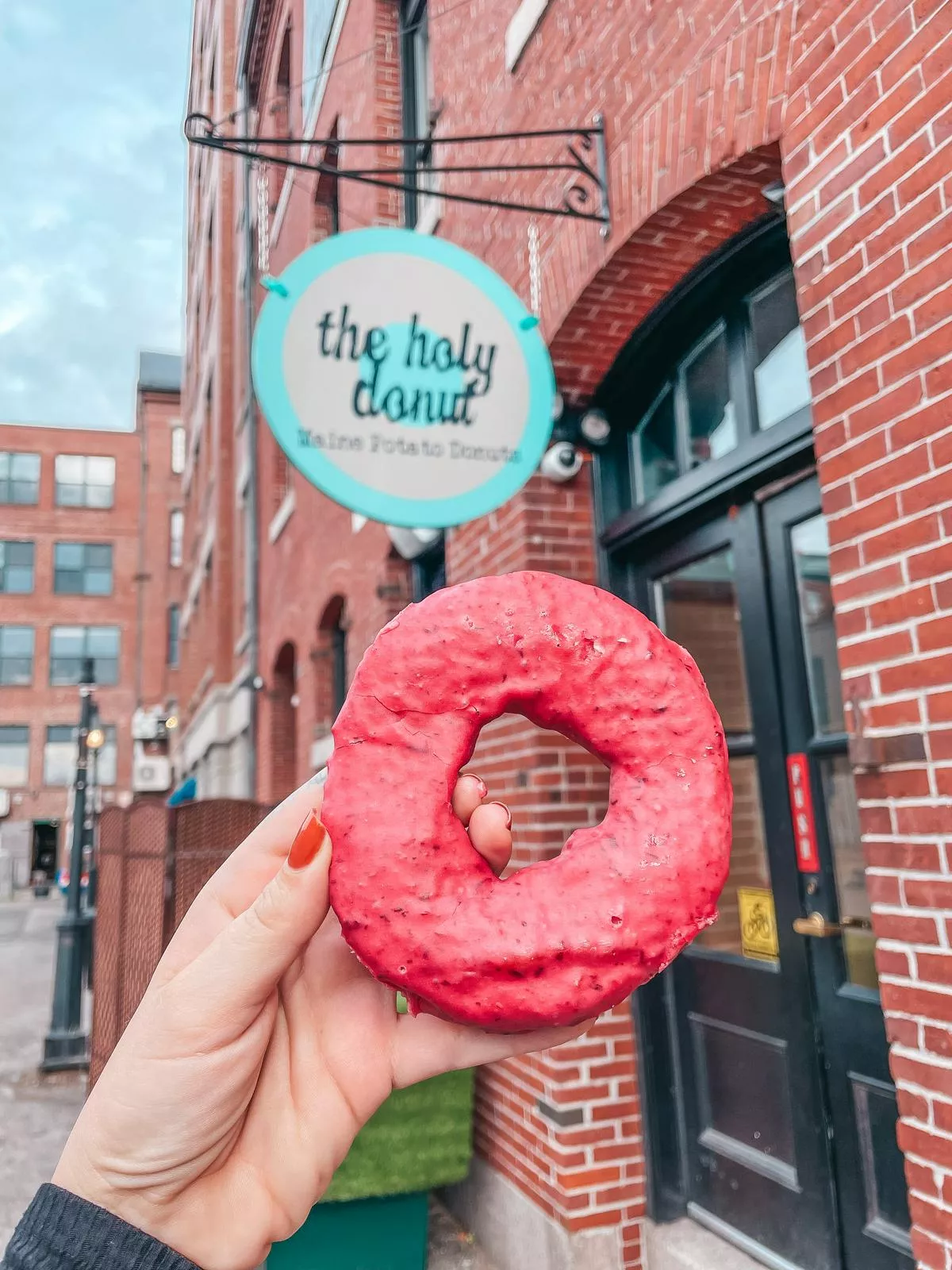 Visit Maine's oldest lighthouse, the Portland Head Light at Fort Williams Park. With more than 90 acres of open space for enjoyment, there are options for picnics, kite flying, arboretum tours, cliffside loop walks, and exploring the rocky coastline. If you come hungry there are four food vendors (including Cousins Maine Lobster) selling lobster rolls, sandwiches, hot dogs, and gelato. The sights here were extraordinary. This ended up being my favorite thing we did in Portland!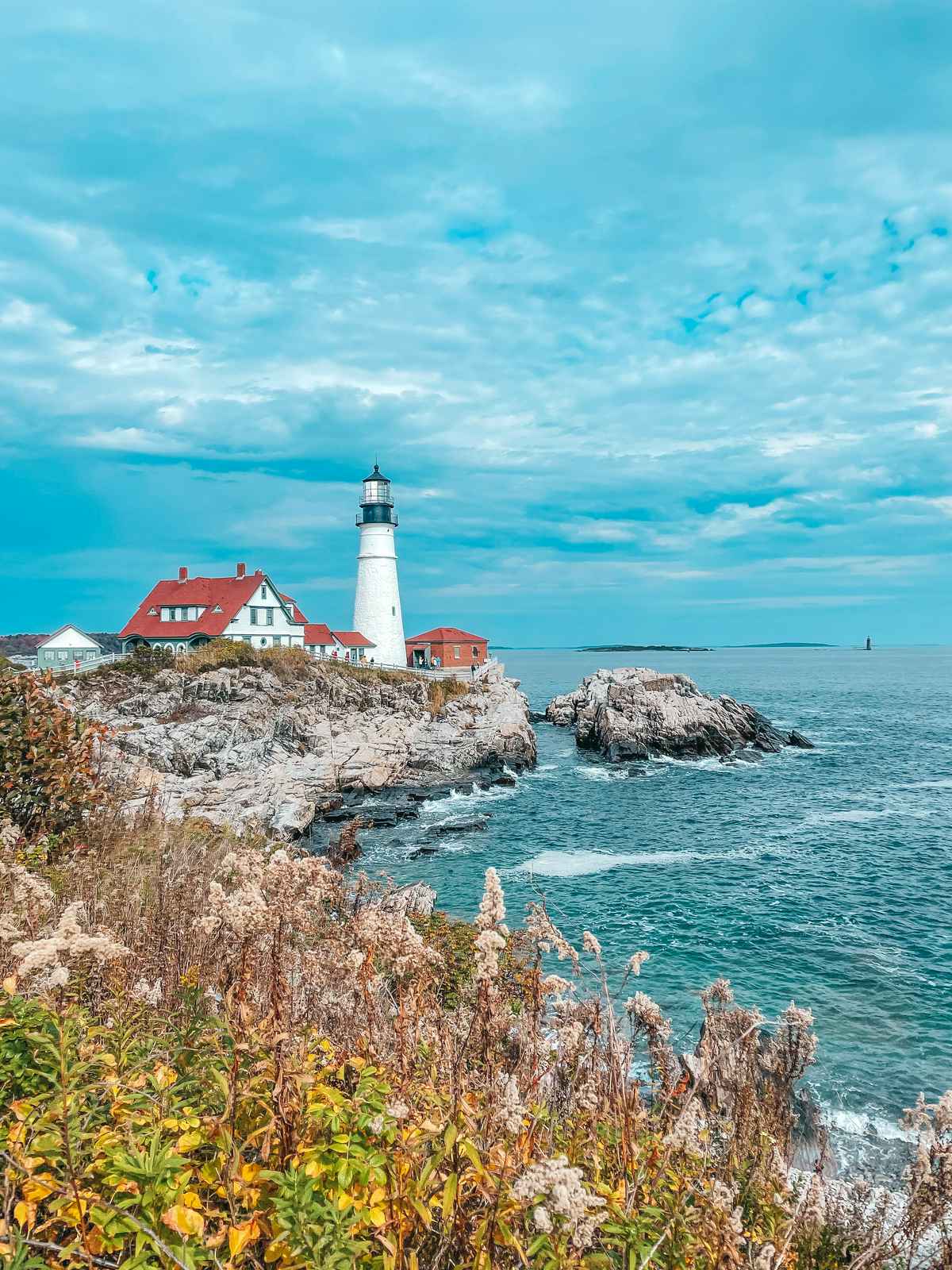 Grab some chowder and a lobster roll from Luke's Lobster. You'll love enjoying these Maine classics with stunning waterfront views. If you're really hungry you can even order a whole steamed lobster!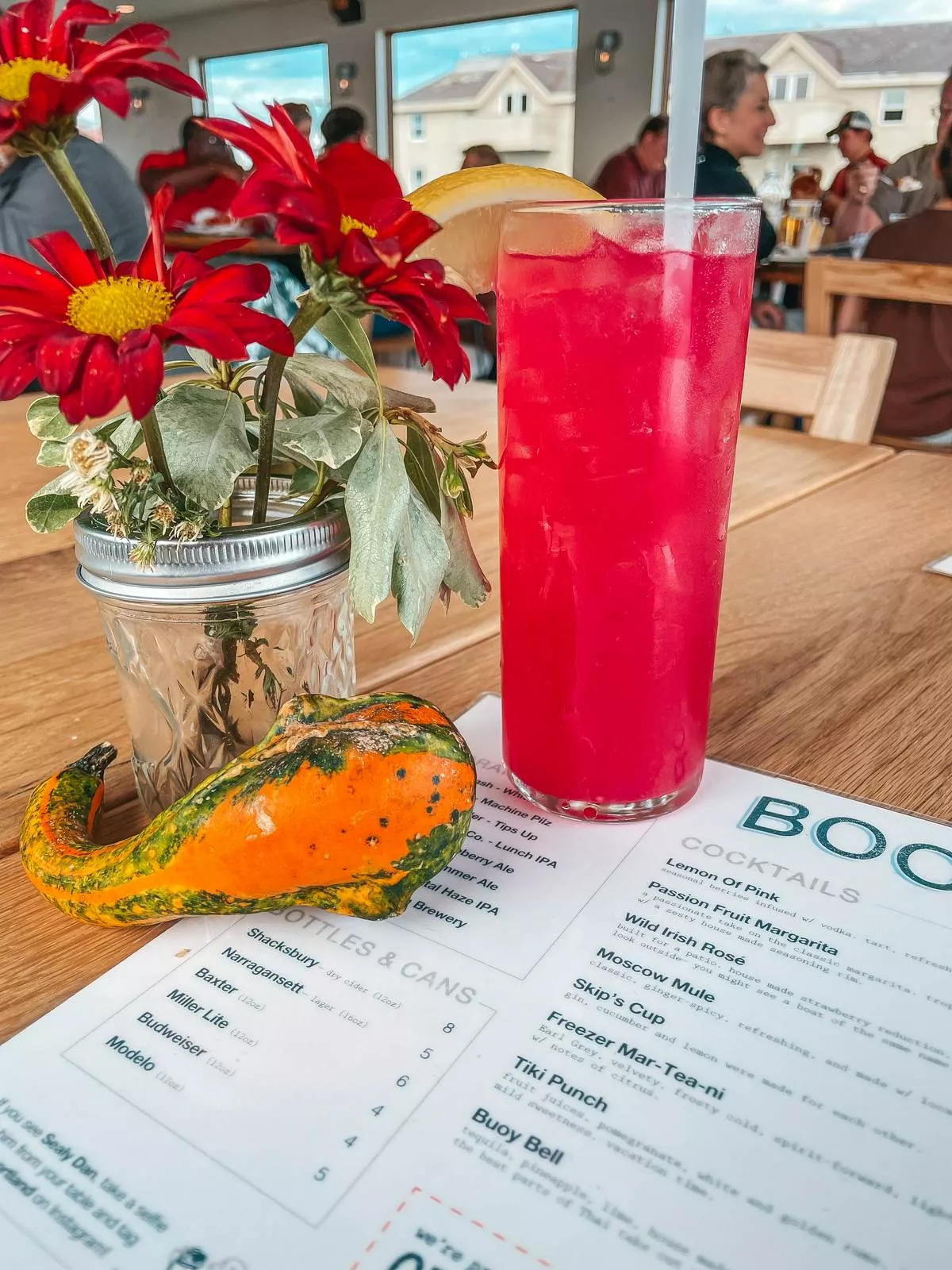 Check out some breweries and distilleries. We visited Oxbow Blending & Bottling which offers a wide variety of draft and bottle beer from Oxbow and other guest breweries, as well as a unique collection of wine and Amaro. Next door is Hardshore Distilling where you can find some of the greatest and smoothest gin! I was shook at how good it was just to sip on, but they also can make you some fun cocktails with it if you're not a sipper.
Grab some frites from Duckfat which is conveniently located right outside of Oxbow Blending & Bottling. They offer a small menu that includes Belgian-style Frites that are hand-punched, and twice-fried in duck fat.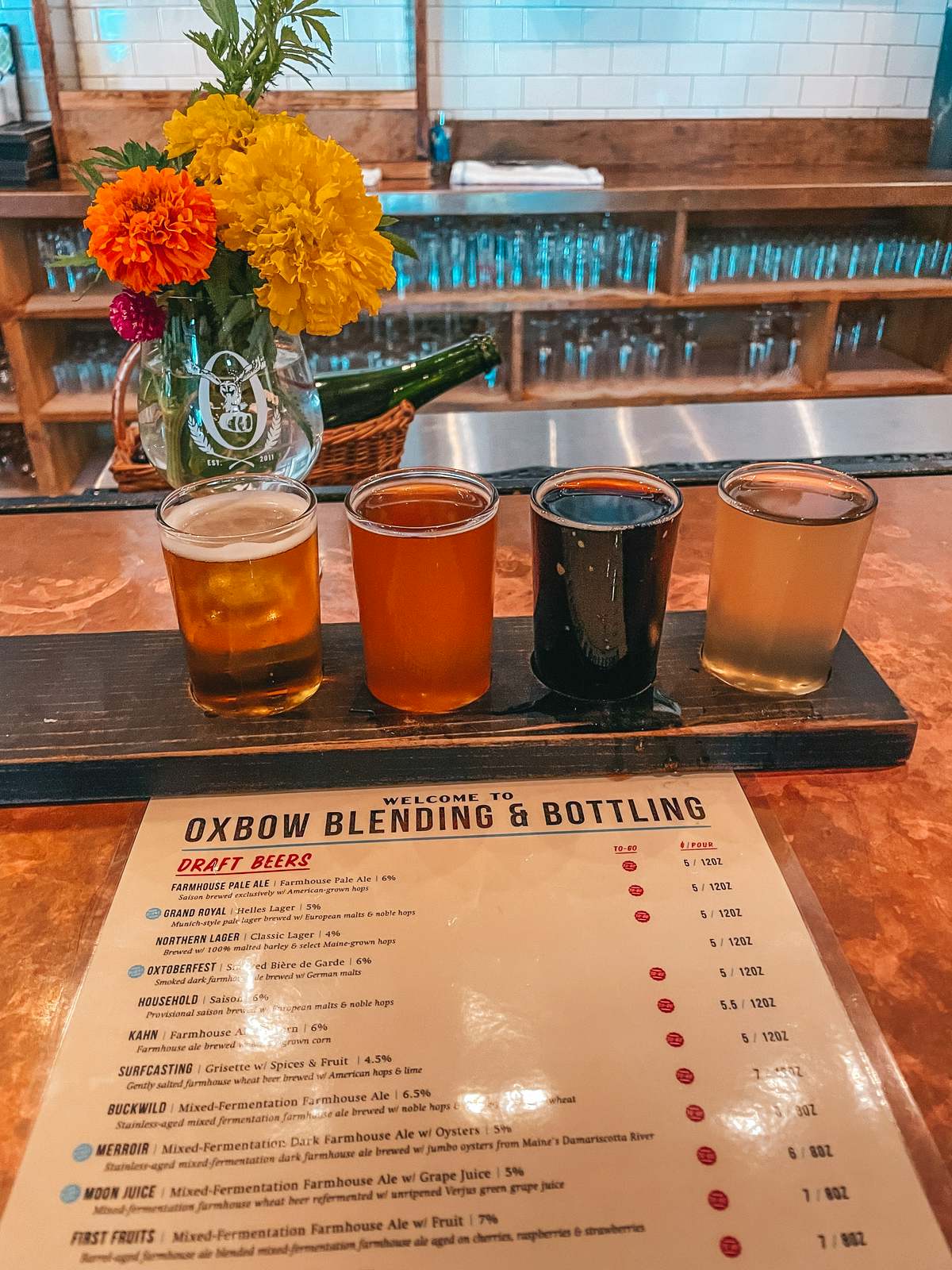 Day 3: New Hampshire | Conway, Lincoln, and White Mountain National Forest
The drive from Portland to the White Mountain Forest is just a little over 2 hours. Driving through New Hampshire was an adventure on its own, we were in awe at the colors! Anything that piqued our interest we would just pull off and enjoy.
Because we had such limited time on this trip we did try to cram in as much as we could, however, I know this is only a glimpse into the many amazing fall activities to do in New Hampshire.
Things to do in New Hampshire
Drive the Kancamagus Highway, a 34.5-mile road trip through New Hampshire's White Mountain Forest! The views are stunning; it's worth taking your time here just to enjoy them. In addition to this scenic road trip route being amazing by itself, there are several points along this route where you can stop off at scenic overlooks with great photo ops.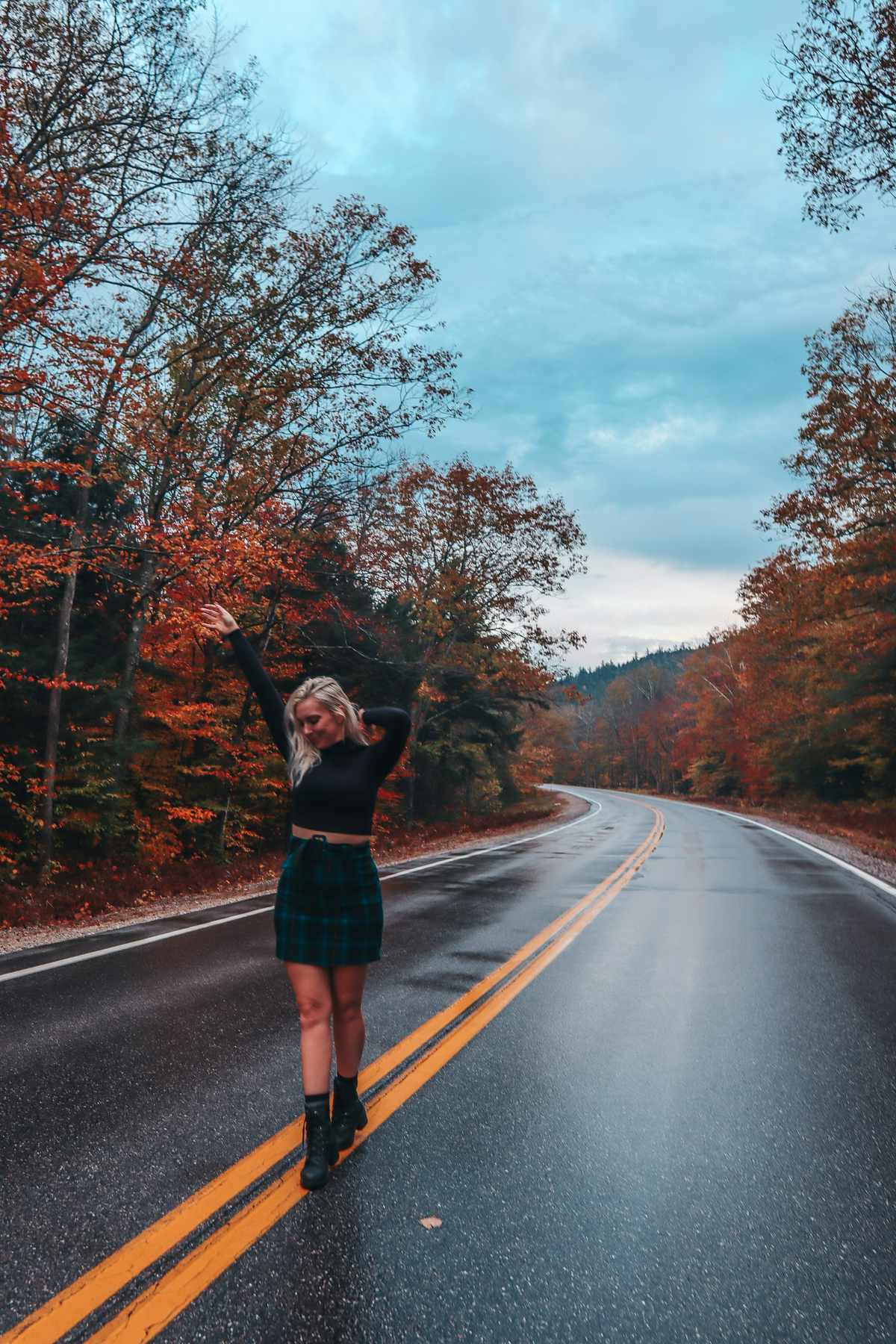 Lower Falls is one of the more popular scenic stops along the Kancamagus Highway. There is parking, a picnic area, and restrooms located here. During warmer months people can be found taking a dip in the watering hole.
Just a few minutes drive separates you from the Albany Covered Bridge. The stream flowing beneath it and fall foilage surrounding it make it another amazing stop on the Kancamagus Highway.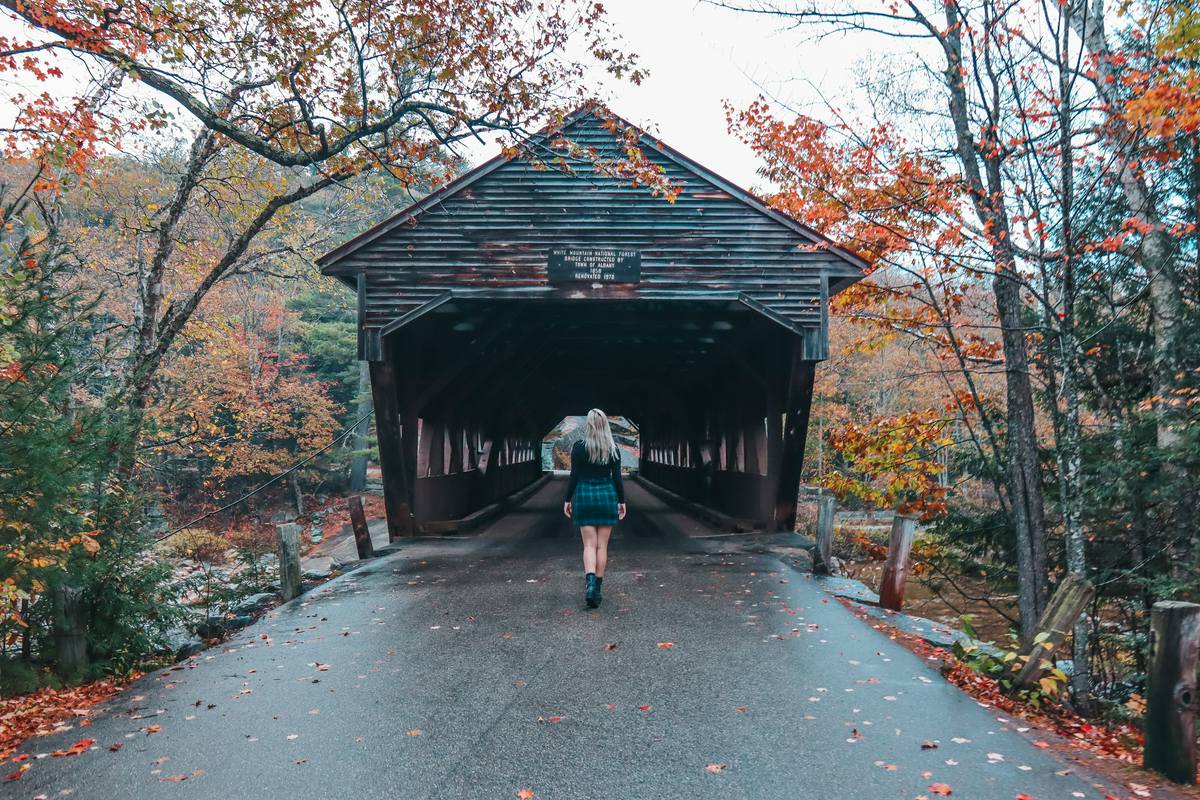 Eat dinner at The Common Man in Lincoln. We overstuffed ourselves, but it was worth every bite. Their Nantucket pie which includes shrimp, scallops, haddock, and Maine lobster meat baked with lobster cream sauce and seasoned Ritz crumbs gave me life.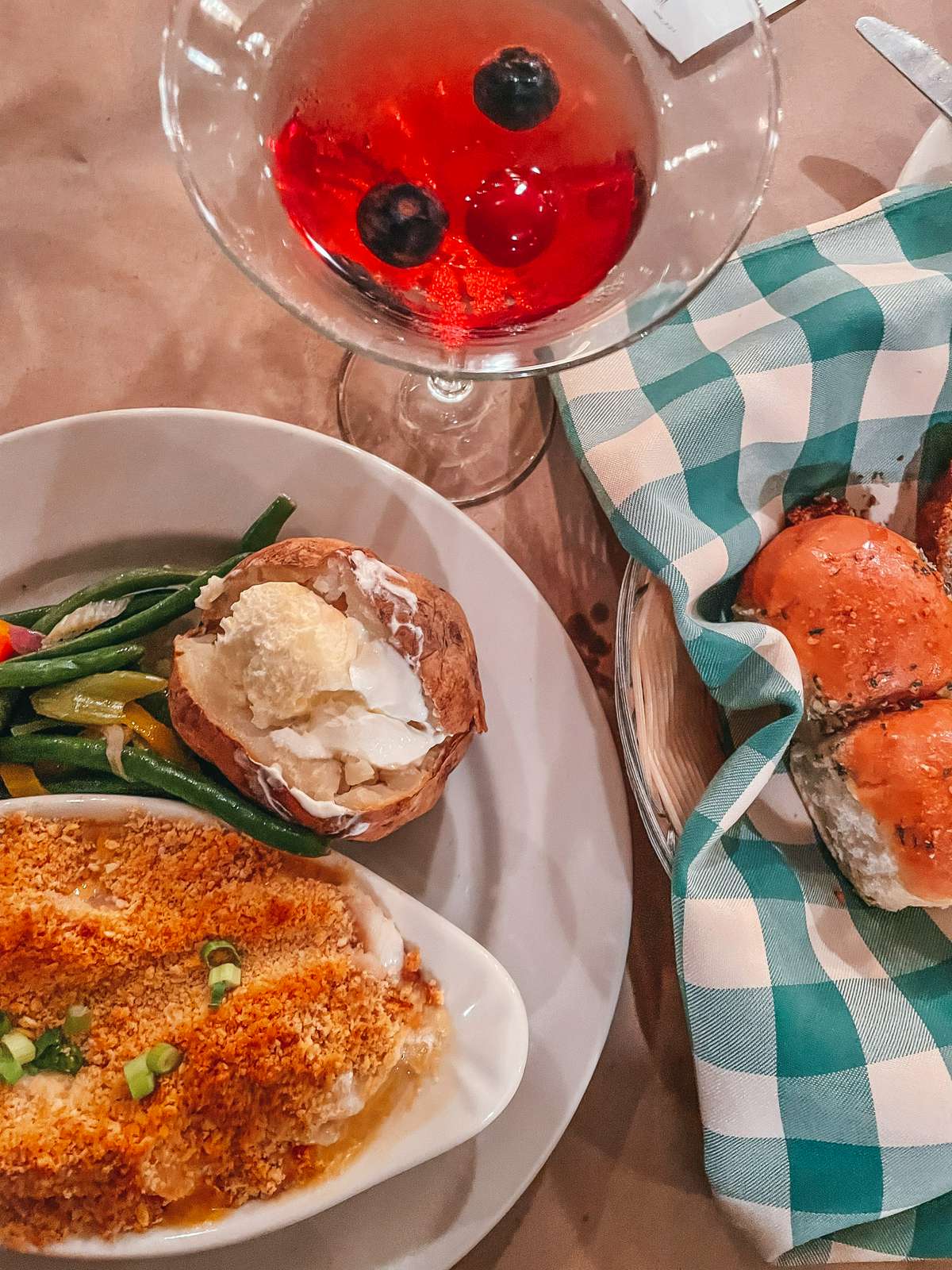 We didn't have time for hikes, but there are so many great ones in the area I definitely hope to have time for our next trip! Here are some popular ones along Kancamagus Highway you may want to check out:
We stayed overnight in Lincoln at the Holiday Inn Express & Suites Lincoln East – White Mountains. Holiday Inn Expresses are usually a little more affordable and always include breakfast which I love. It's a great way to save a couple of bucks during your New England road trip.
Related read: This southeast USA road trip itinerary, Utah road trip itinerary, and Arizona road trip itinerary are three other great fall road trip options!
Day 4: Vermont | Stowe, Waterbury, and Burlington
Stowe, Waterbury, and Burlington are all great places to visit in Vermont in the fall! Stowe is a little less than 2 hours from Lincoln and has lush forests and rolling hills. A quick 20-minute drive from Stowe gets you to Waterbury which has charm, history, and beautiful valleys.
Just another 30 minutes outside of Waterbury you'll find yourself on the eastern shoreline of Lake Champlain in Burlington, where Ben & Jerry's originated.
Things to do in Vermont
Drive around and admire the beauty of Stowe. Check out the Percy Farm Corn Maze. Don't be intimidated when they make you exchange phone numbers in case you get lost. It was definitely one of the more challenging corn mazes I've ever done, but we made it out in a half an hour!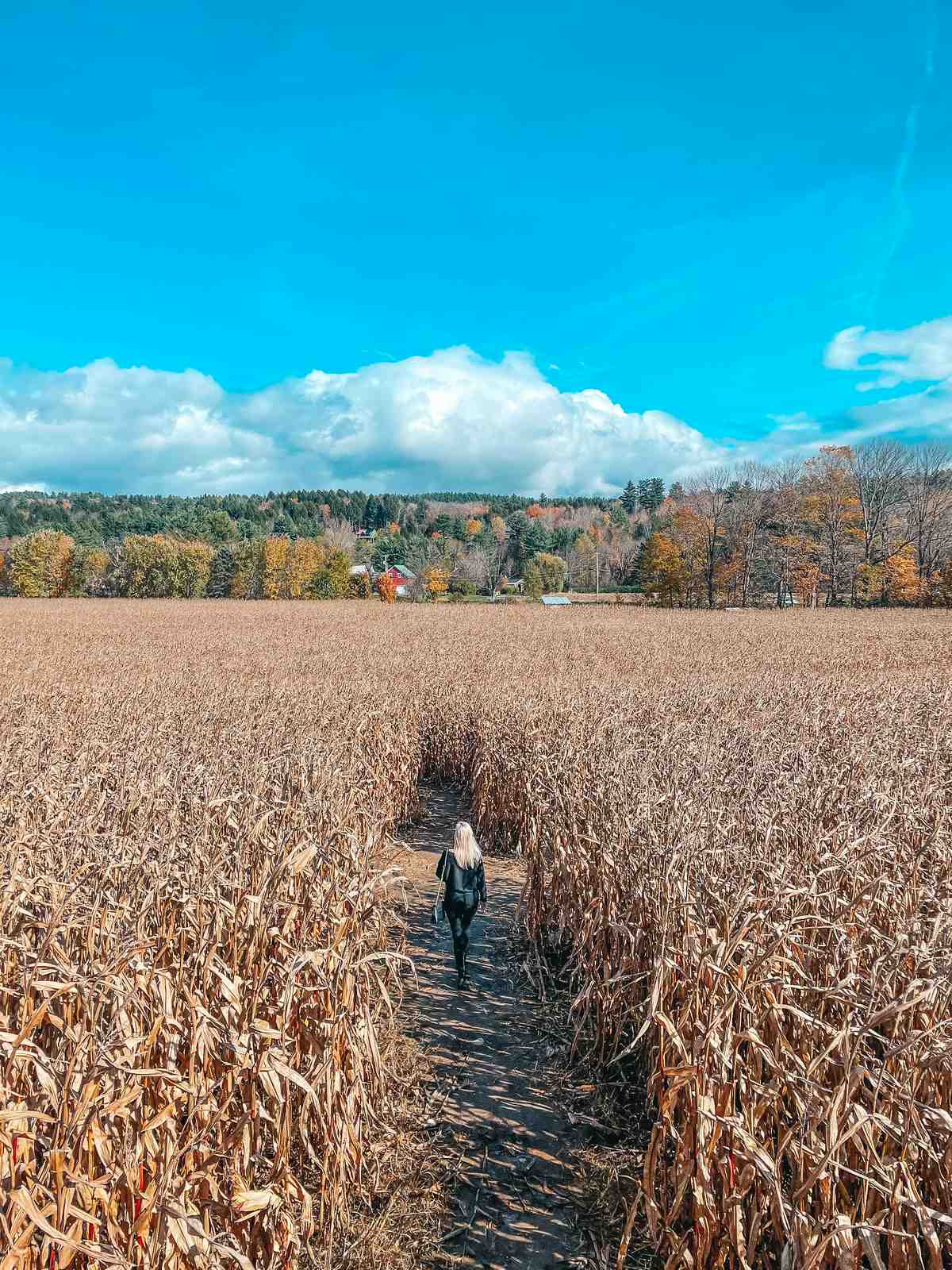 Sip on cider slushies and hard cider at Cold Hollow Cider Mill in Waterbury. And of course, you can't leave without snagging some cider donuts!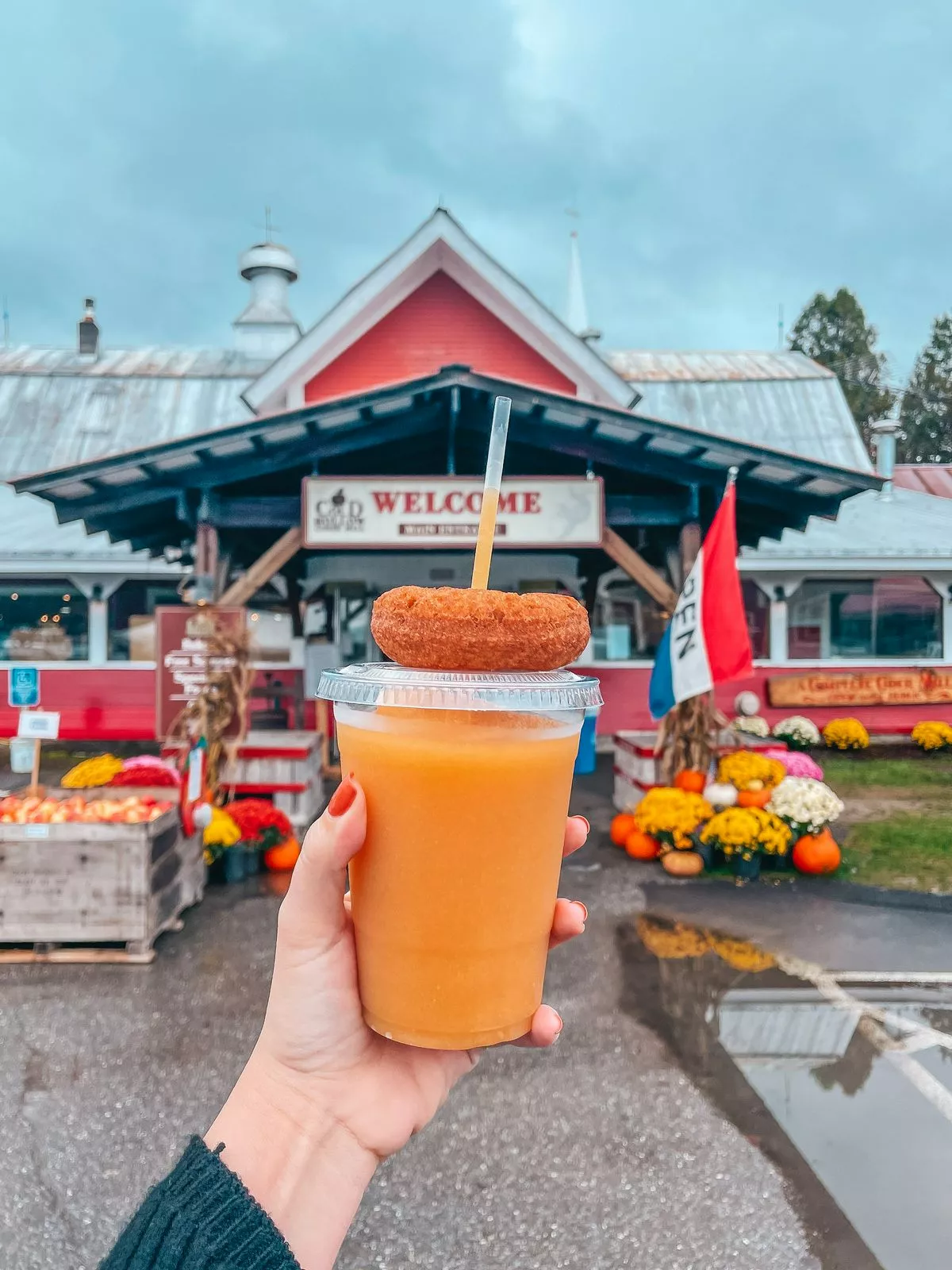 Visit one of Vermont's cutest gems, Burlington. Church Street Marketplace is an adorable award-winning pedestrian mall home to over 100 shops and restaurants, as well as year-round events, entertainment, and more! We enjoyed lunch at Leunig's Bistro (the beef bourguignon was phenomenal) and drinks at Foam Brewers, Fiddlehead Brewing Company, and Shelburne Vineyard before heading to our hotel for the night.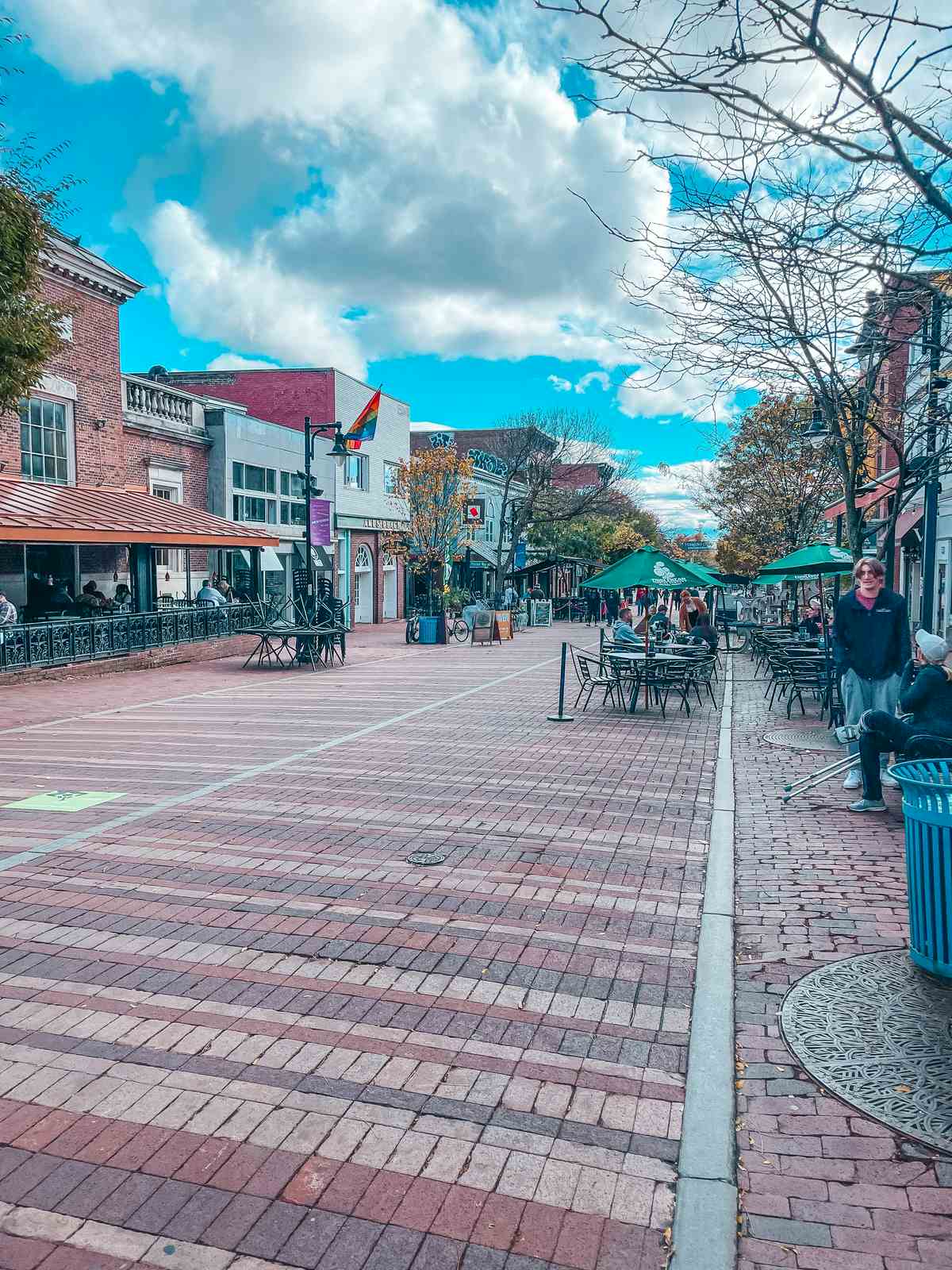 Sometimes I reflect on how much we did in one day and it's kind of wild. We covered three cities and didn't feel rushed. Makes me second guess complaining there's not enough time in the day when I can't get 3 tasks done. We did only get just a taste of them (literally and figuratively), but I feel like what we did and saw were some of the best things to do in Vermont.
We ended up stopping at Molly's Restaurant in Hanover and staying at Holiday Inn Express & Suites Manchester-Airport. It was 2 1/2 hours away from Burlington and less than an hour away from Boston (where we were heading the following morning).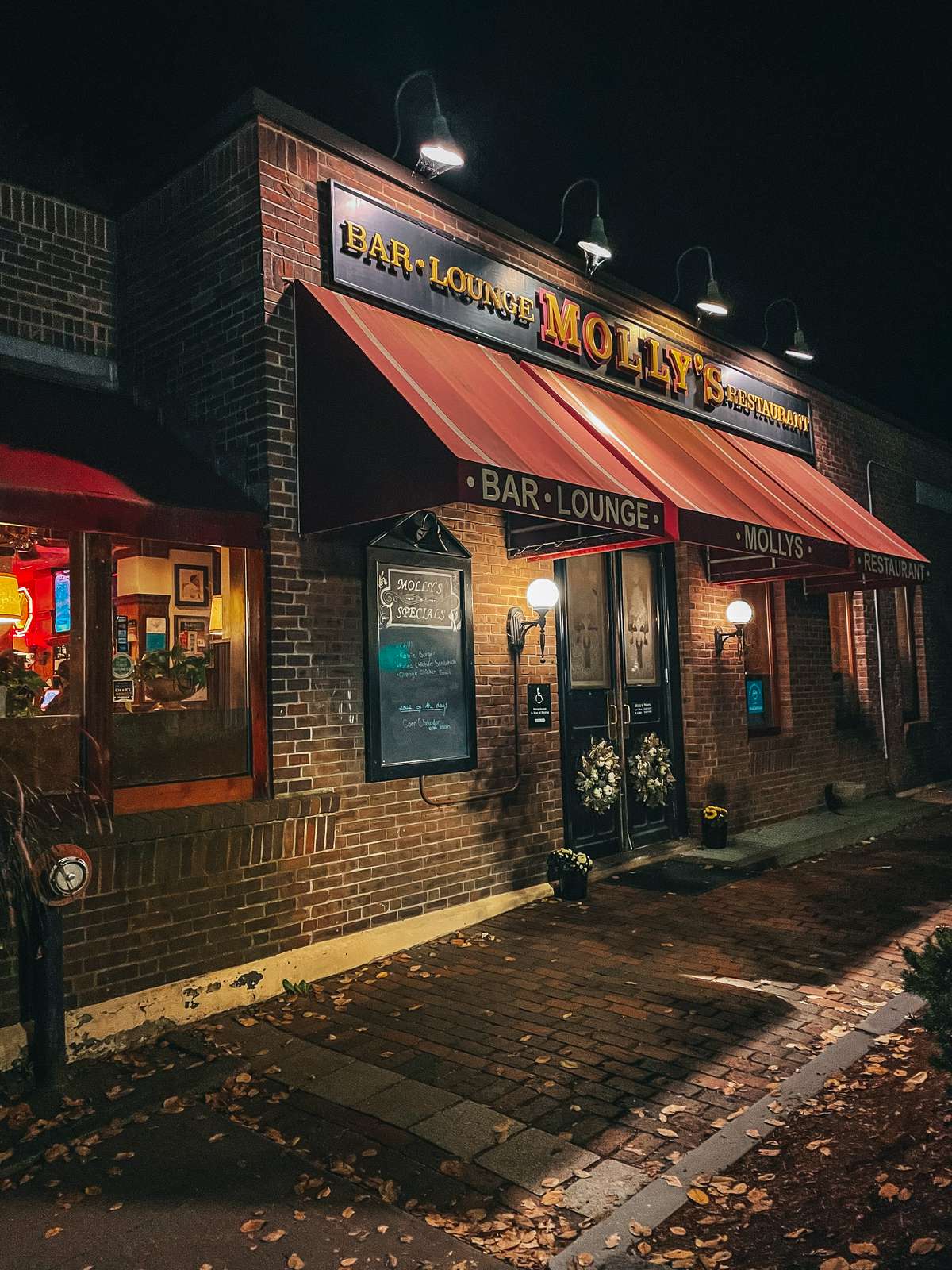 Day 5: Boston
The final stop on our epic New England fall road trip! Boston is a pretty big city, with plenty to eat, see, and do and flooding with history. I've visited twice and don't even feel like I've seen half of what this city has to offer yet! I've compiled a few of my favorite things to do in Boston, as well as some things that are still on my list!
Things to do in Boston
Check out Beacon Hill— This is one of Boston's most picturesque neighborhoods. The streets are lined with Federal-style and Victorian brick row houses lit by antique lanterns. Acorn Street is located here and it's one of the most photographed streets in the city. Why you ask? It's a charming original cobblestone street— something you don't come across too often nowadays.
Fenway Park— Go for a game, or just to snap a pic in front of this iconic spot. It's the oldest of all current major league ballparks!
Boston Public Library— The Boston Public Library is located in Copley Square, and let me tell ya it's a stunner. If you're like me and love a good library, it's up there for one of the most beautiful and historic I've ever been to.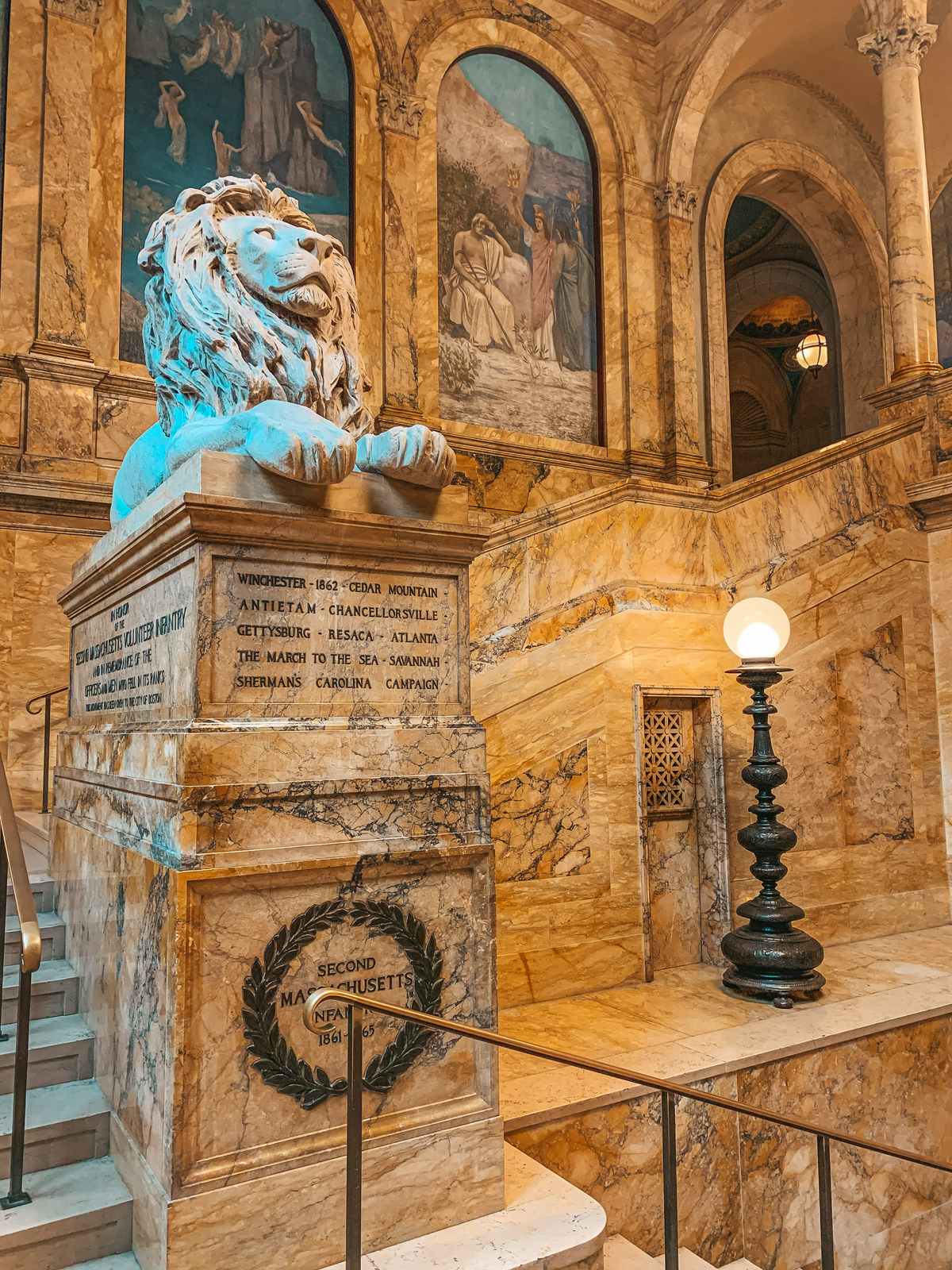 Do a whale watching tour— If you are visiting Boston during whale watching season (April-October) then a whale watching tour is a must! Enjoy spotting humpback and fin whales, along with Atlantic white-sided dolphins from your high-speed catamaran.
Freedom Trail— One of Boston's most iconic things to do! Follow 2.5-mile Freedom Trail that leads to 16 nationally significant historic sites including Paul Revere House (the oldest remaining structure in downtown Boston), Boston Common (America's oldest public park), Old State House (the oldest surviving public building in Boston), the Old North Church (if you have time, tour the crypt!) and several other historical locations. If you want to get the most out of your experience, they offer affordable guided tours!
Prudential Center— Enjoy shopping and eating at this gorgeous enclosed shopping center. I especially recommend checking out Eataly! Copley Place is another stunning shopping center located right next door.
Visit Cambridge— Wander Harvards' campus, eat and play trivia at The Asgard, or check out one of their fun speakeasies A4cade (located in a grilled cheese shop and full of games) or Brick and Mortar (we actually really struggled to find this one!).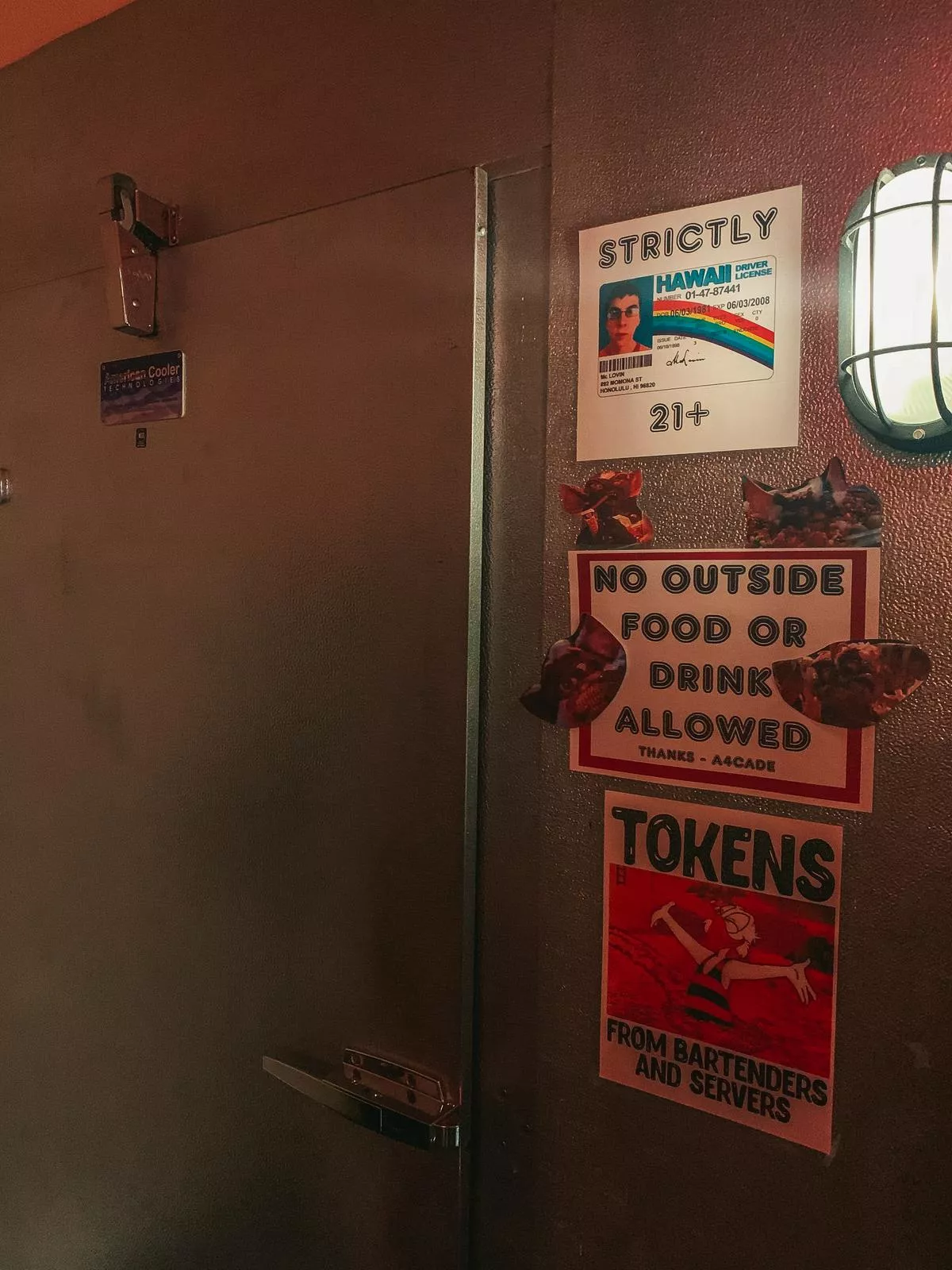 If you want to explore the city in a unique way check out Boston Duck Boat Sightseeing City Tour. You get to tour the city in a renovated World War II amphibious vehicle. The tour begins on the streets and then is taken to the Charles River for a view of the city by boat.
🚌 Hop-On Hop-Off Trolley Tour
If you want a tour that allows you to get off and enjoy some of the stops while also receiving historical info and fun facts check out this 14-stop tour is for you.
Click herе to book!
Where to eat and drink in Boston
Here are some of my favorite bars and restaurants we got to experience in Boston!
VERSUS— a super fun arcade bar!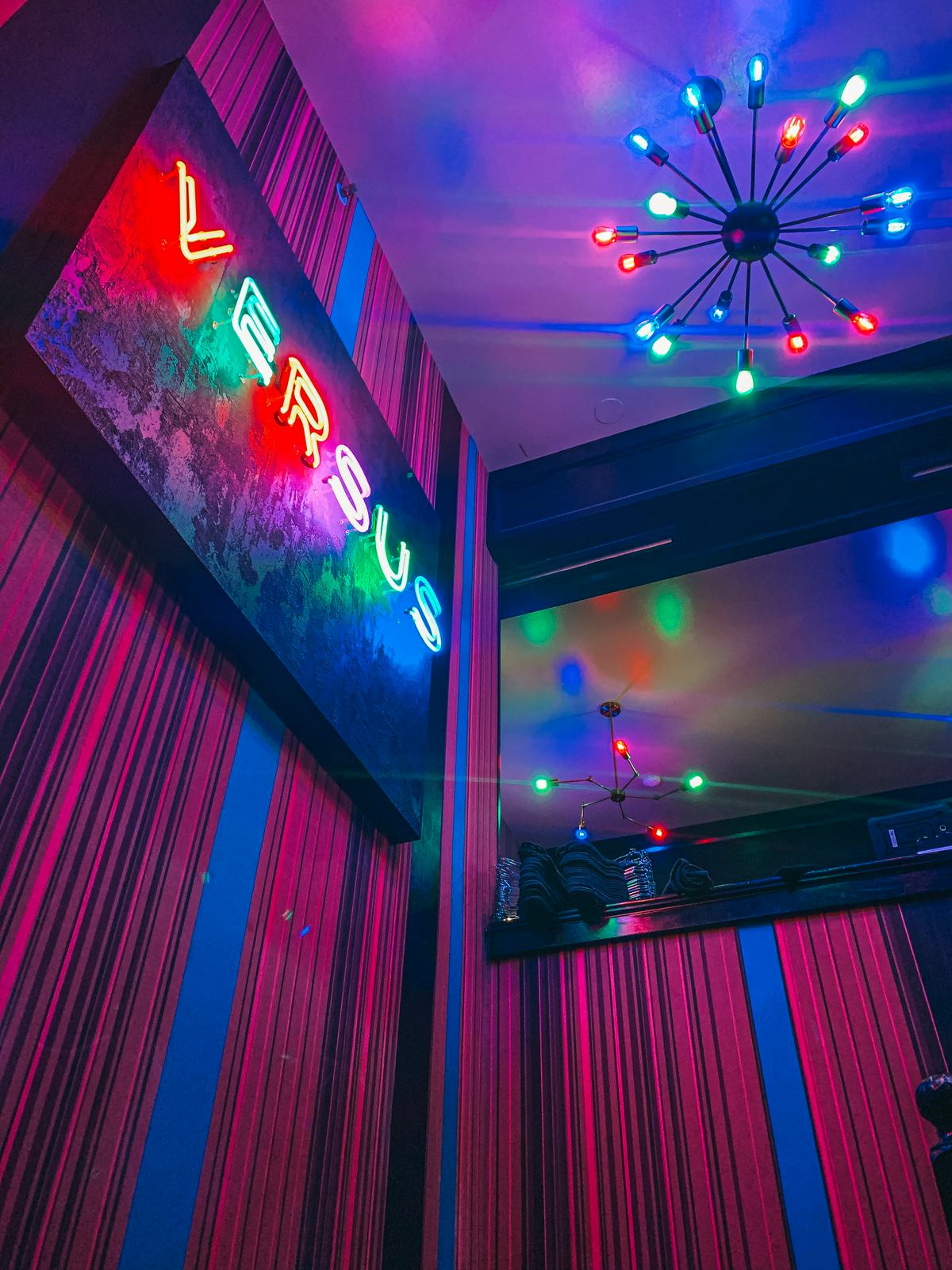 Citrus and Salt— a Baja-inspired restaurant with Mexican eats and fun, creative cocktails.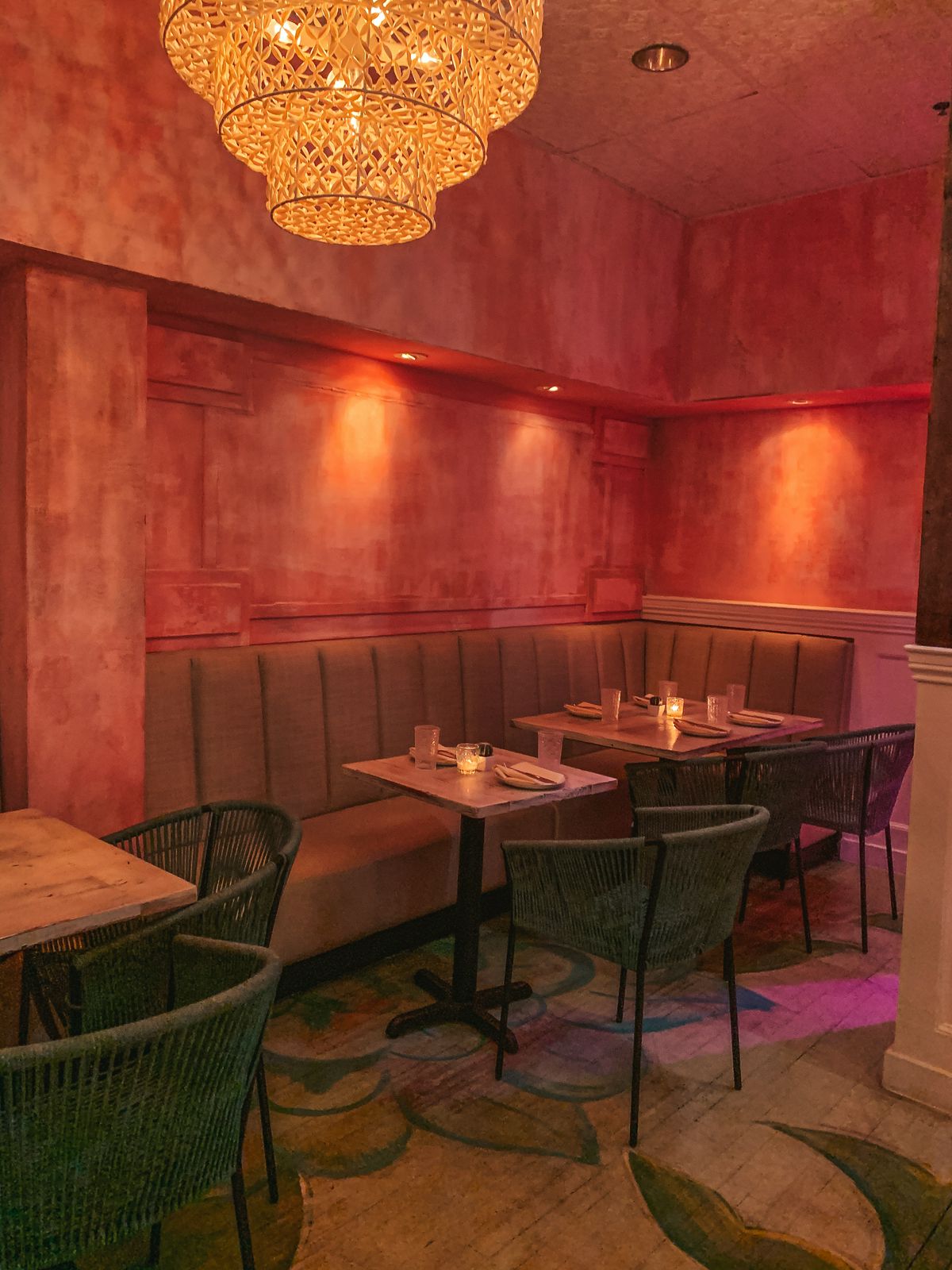 Terra at Eataly—delight yourself with amazing Italian food and craft cocktails in this stunning eatery.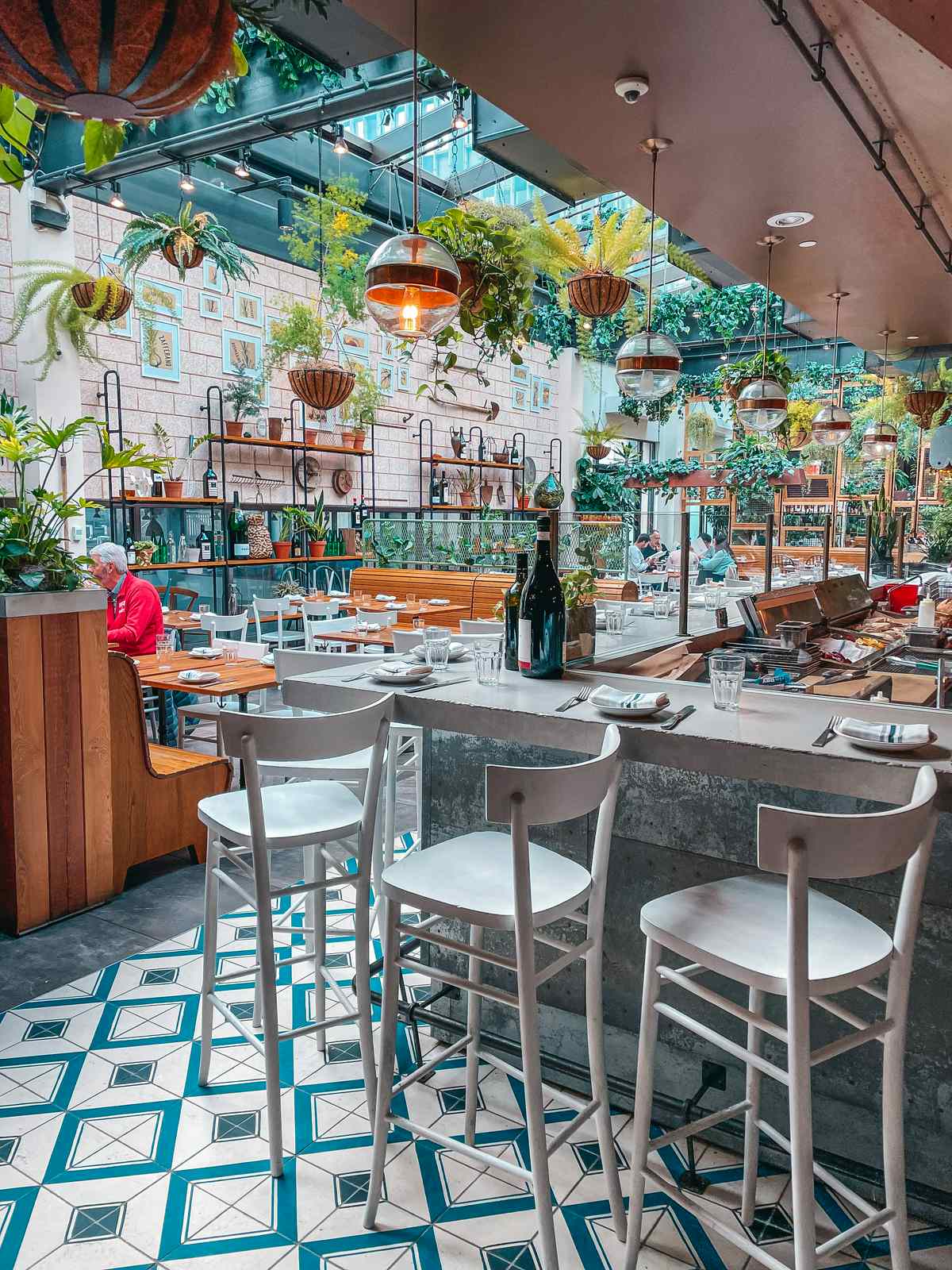 Legal Sea Foods— best (ok, and only) whole lobster I've ever had! It was so unbelievably good, one of the best parts of it is the shrimp & scallop stuffing it was filled with. Also, let's take a moment to admire all of the lobster in the lobster bisque. They have several locations throughout Boston.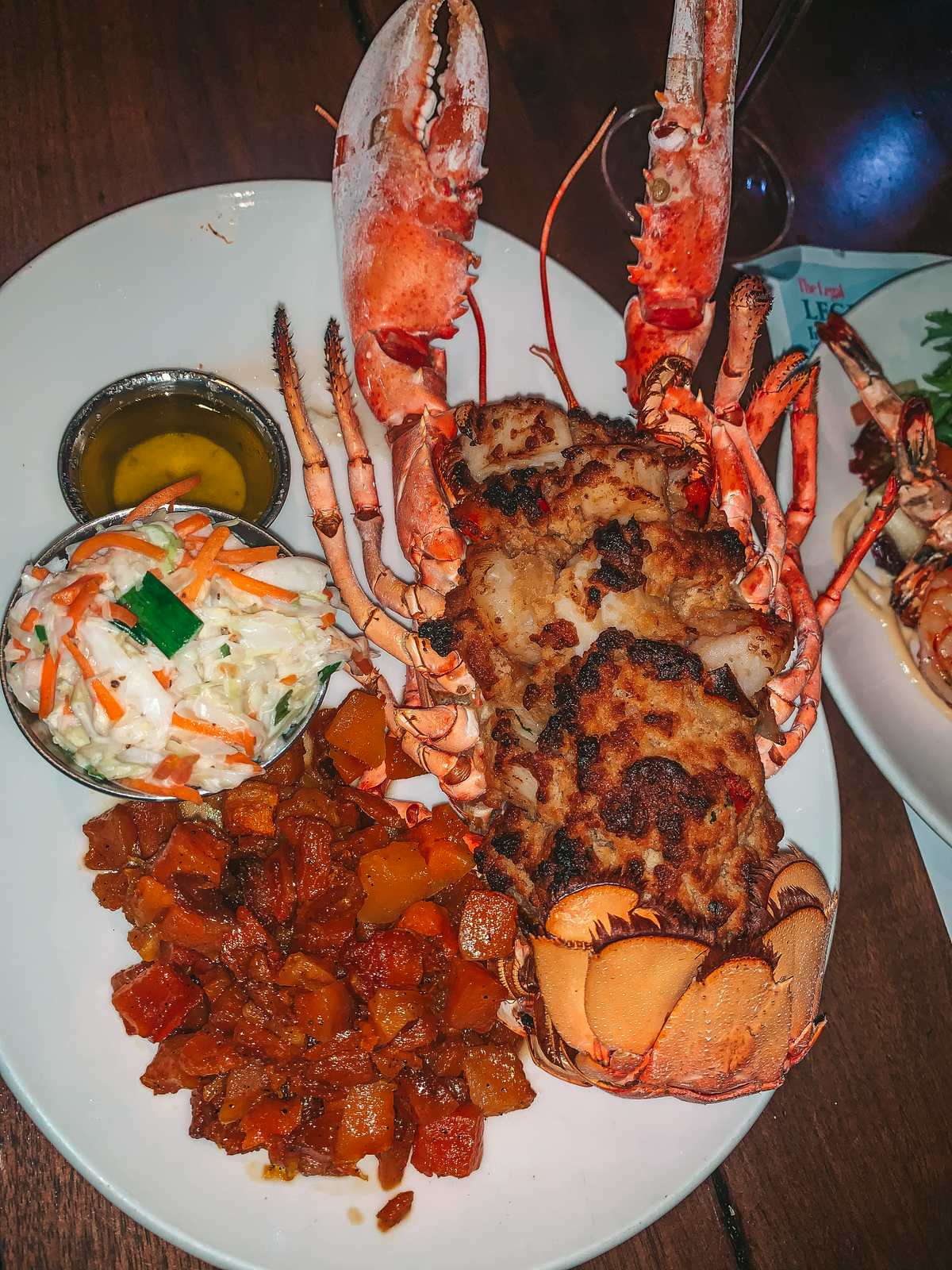 Trident Booksellers & Cafe—This place is so cozy and especially nice on one of Boston's dreary days. Come here for good coffee and a good breakfast, and leave with a new book!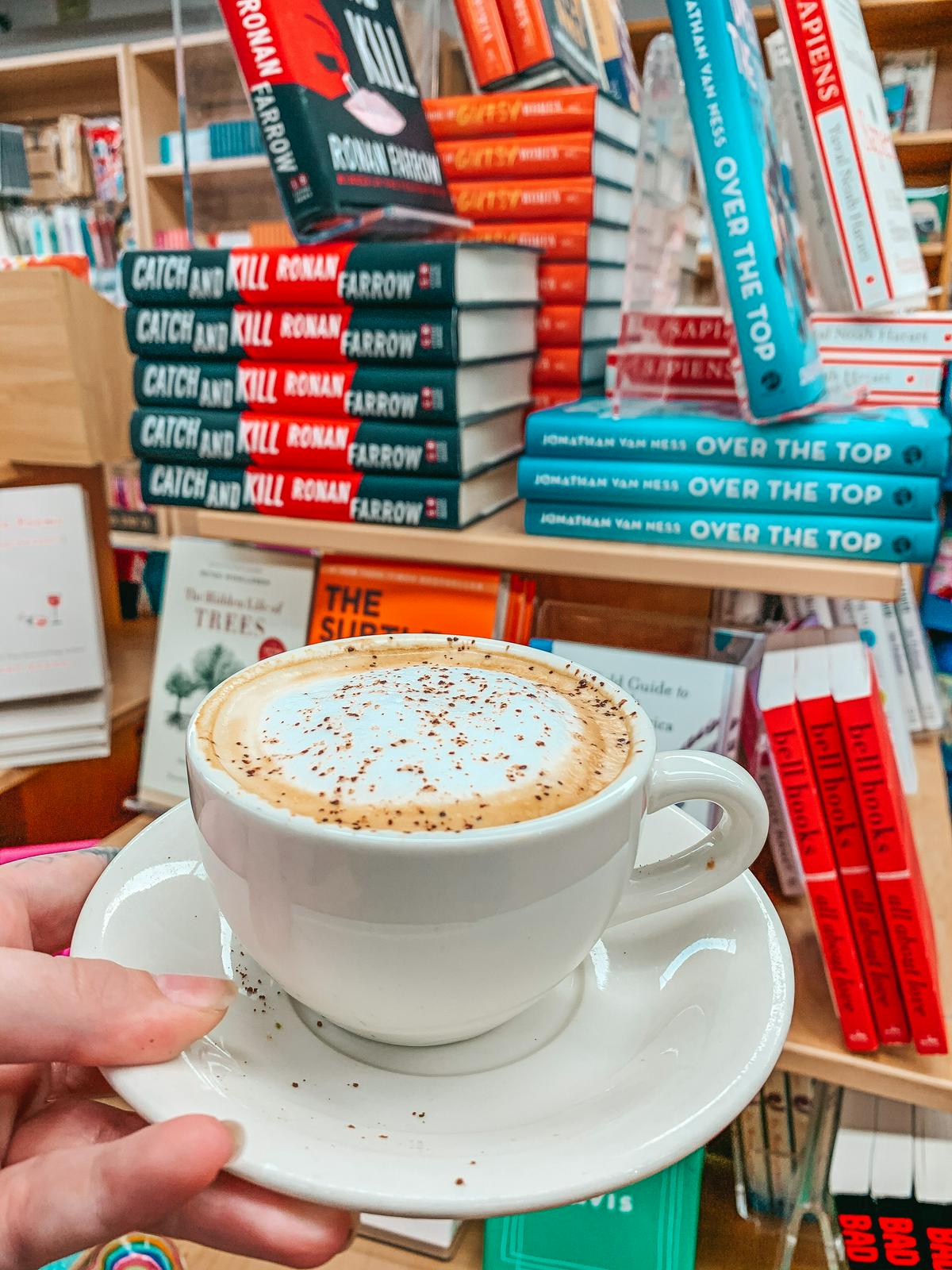 We didn't get to check it out, but the Samual Adams Brewery is located in Boston too!
If you are looking for a road trip to do in the fall, New England is one of the best. From Boston to Portland, Maine and each stop in between has so much to offer. From beautiful views of rivers, falls, and mountains to great food and fun activities. I hope this post has given you some ideas for your epic fall road trip!