This post contains affiliate links which means that I will make a small commission if you purchase a product after clicking on any of them, at no extra cost to you.
White sand beaches, delicious seafood at beachfront restaurants, and fun nightlife. What more can you ask for in a Florida bachelorette party destination? This ultimate Clearwater bachelorette party guide is going to give you every detail. How to get there, some awesome Clearwater Beach party planners, the best things to do, fun bars, and more! After reading this all you're going to have to worry about is the booking!
Also, before you go be sure to check out my epic list with a variety of fun and unique items perfect for any bachelorette party, including adult drink pouches, bachelorette party games, photo booth props, and more!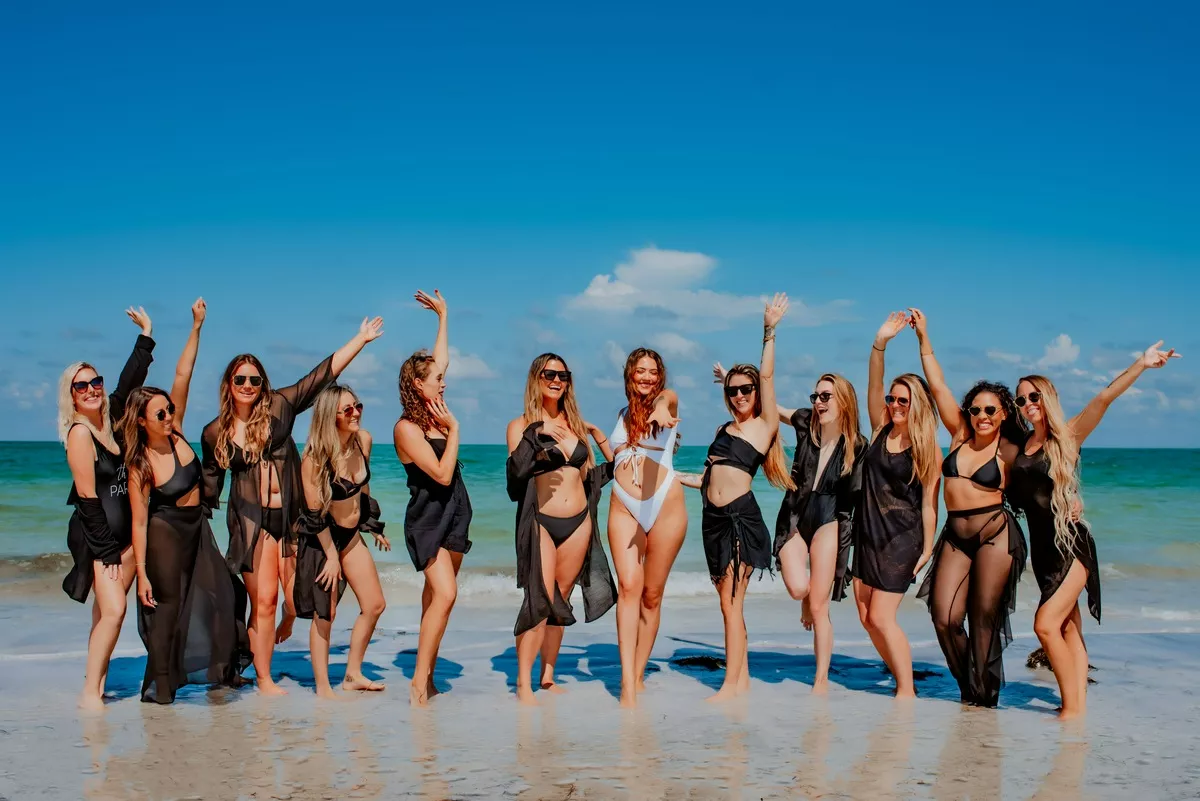 Clearwater Bachelorette Party Guide
Quick links for your Clearwater Beach Bachelorette Party
🏨 Hotel accommodations
Easily compare prices, secure great deals, and enjoy the added benefit of flexible cancellations up to 24 hours in advance for the majority of hotels with Booking
🎟️ Tours and tickets
Discover your next adventure with ease by using Viator which allows you to explore a multitude of local tours, ensuring you find the best experiences at the best prices.
🏠 Accomodation for larger groups
VRBO is the best for finding accomodation for large groups!
Why should you have your bachelorette party in Clearwater?
Compared to many other popular bachelorette locations, Clearwater isn't as expensive. Not to mention 10 months out of the year in Clearwater the weather is warm. This means even in the Florida winter off-season when the rates are a little lower you can still enjoy nice weather.
Another reason Clearwater Beach is a great bachelorette party destination is that it's easy to get to, and it's easy to get around once you're here. If you want to explore other areas such as Tampa or St. Pete (check out my St. Pete bach guide), you may need a rental car. Other than that Clearwater is very walkable.
And the final reason you should have your bach party in Clearwater is that there are so many fun things to do! And don't worry, we'll be covering them all in this post.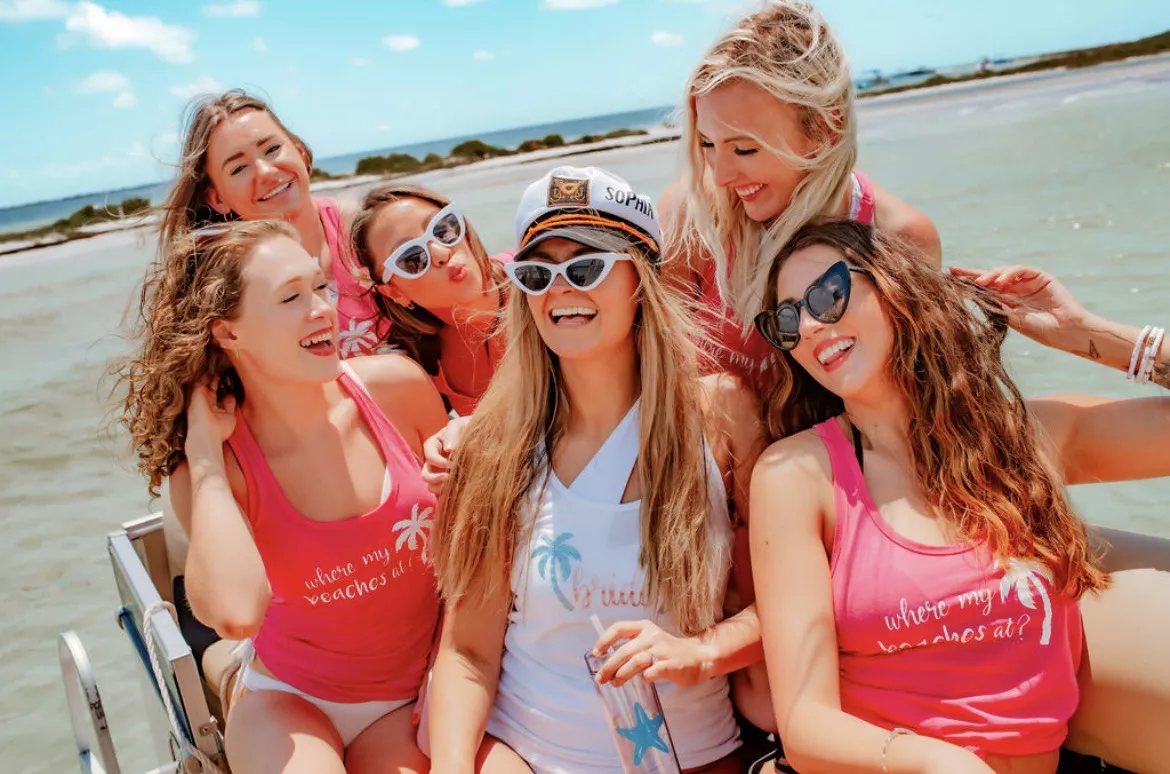 How do you get to Clearwater Beach?
Clearwater Beach is surprisingly easy to travel to from most places; it's within 30-45 minutes of two airports.  Tampa International Airport (TPA) is known for its easy navigation, recent renovations, and numerous airlines and flights from the major carriers.
You should not have an issue finding flights. Clearwater/St. Petersburg Airport (PIE) hosts Allegiant Airlines if you have a hub near you! This is a good budget-friendly flight option. It is a bit harder to secure flights to this airport due to its small size and limited carriers, however, it can be quite economical!
Should you hire a bachelorette event planner in Clearwater?
Eliminate the stress of planning a bachelorette party. Less stress, more party! Have fun soaking up the sun of Tampa Bay while TampaBay Baches handle everything else!
They'll deck out your hotel or Airbnb with the on-theme decor before you even step foot into your lodging. Don't worry about running to the grocery store when you arrive, they provide a "Stock The Fridge" option where your favorite drinks and snacks are ready for you upon arrival. Want a charcuterie board and champagne bar waiting for you too? They can surely do that!
No need to stress over where to go or what to do in a new city. TampaBay Baches also offers itinerary planning based on your vibes, likes, and must-dos. By partnering with local vendors in the area, they've comprised a list of amazing add-on experiences such as boat rentals, beach picnics, charcuterie classes, and so much more!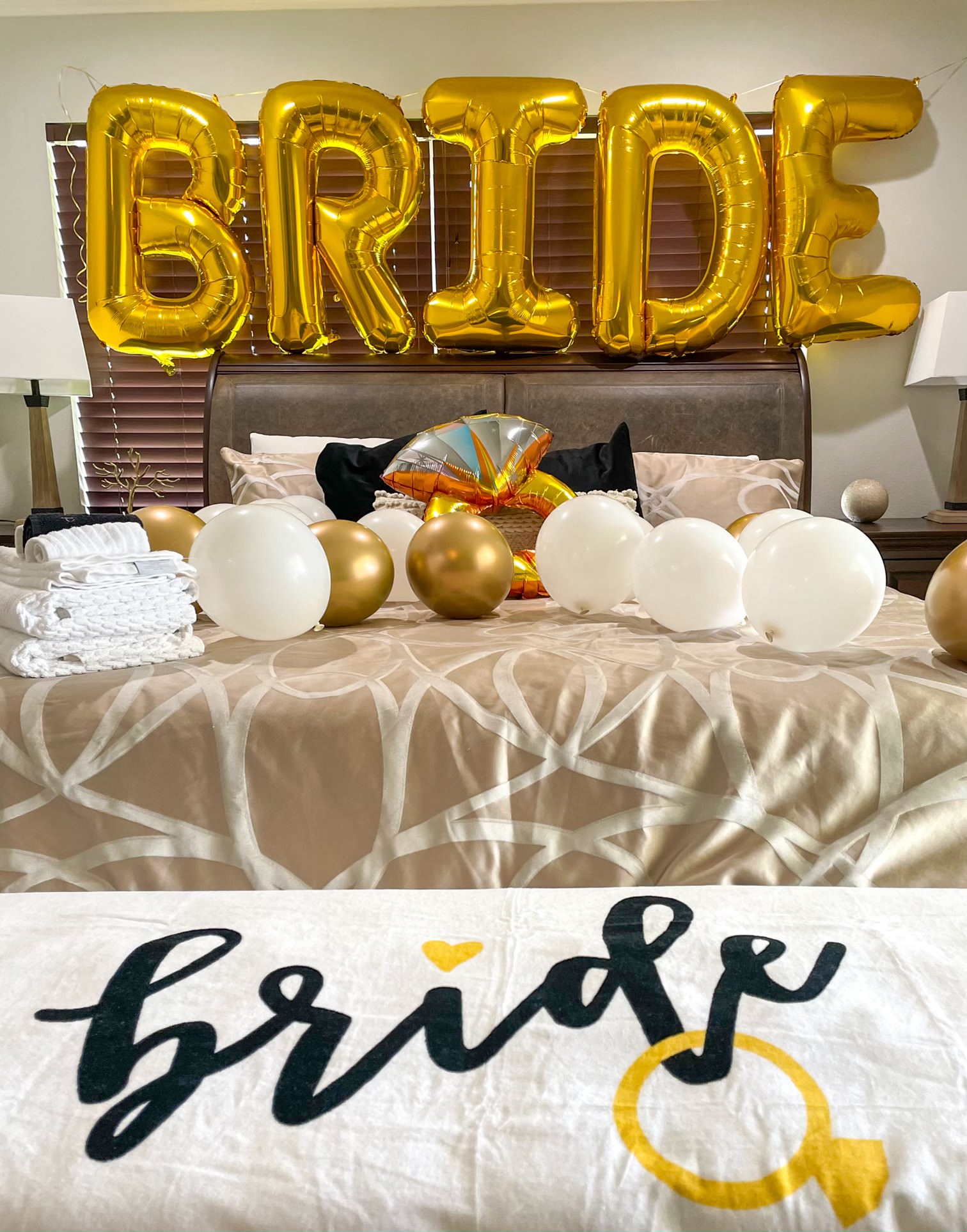 Tampa Bay Bachelorette also provides full-service decorating with add-ons such as itinerary planning and fridge stocking! We enjoyed their Barbie's last bash theme for my pretend Clearwater Beach bachelorette party (I take my research very seriously ;)). It was so fun, and not a detail was missed!
We did some fun add-ons like custom cookies from Cookies by Sarah and custom-branded coconuts. The cookies exceeded our expectations and fit the theme beautifully! Not to mention they tasted heavenly.
The coconuts were not only delicious, but they also helped a bit with the following morning's hangover. I suggest getting enough for everyone to have before going out, as well as one for the morning after (trust me).
The best part about these services is all you have to worry about is picking a theme and showing up! Leave the creativity and planning to the professionals while you enjoy your fun weekend in Clearwater Beach.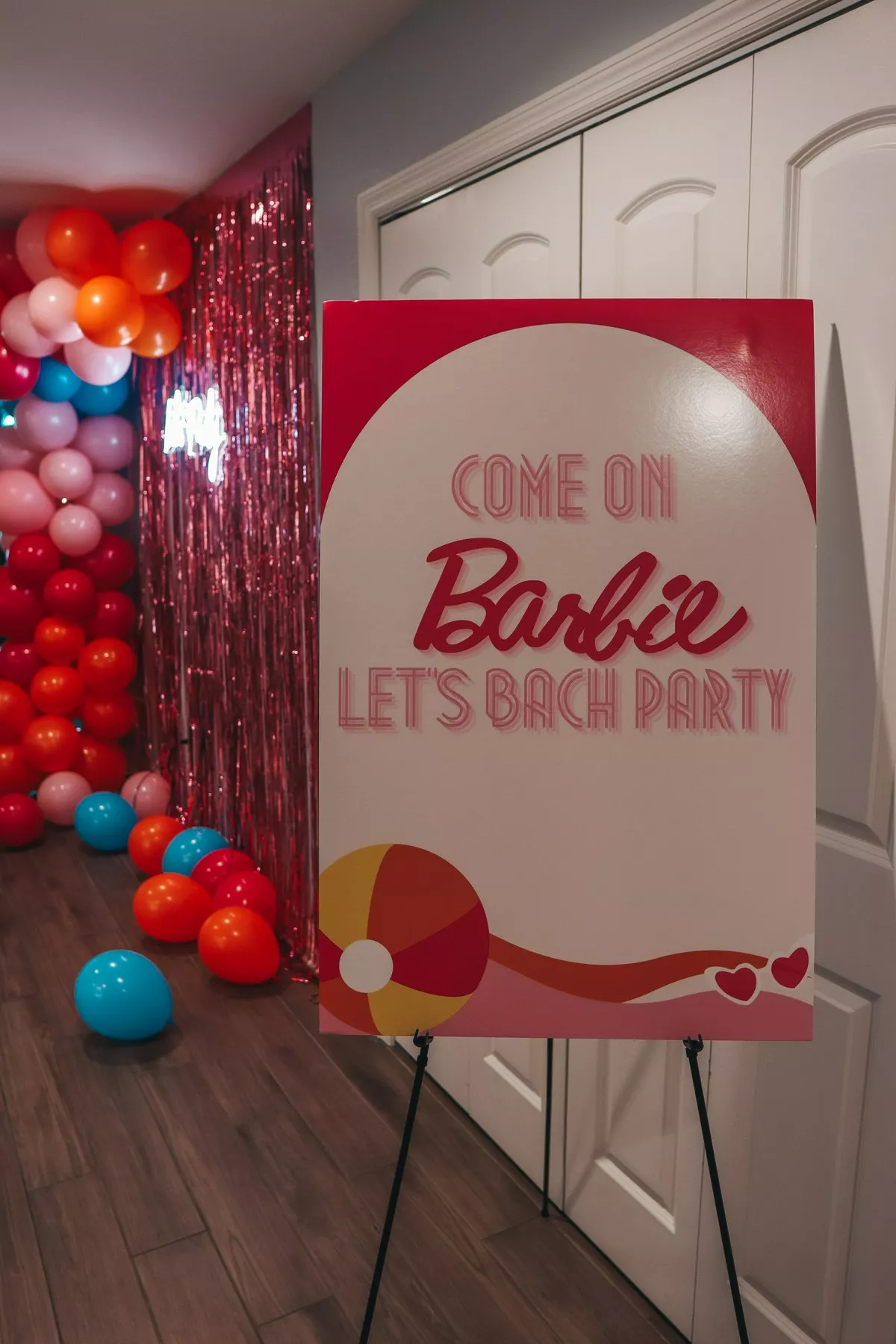 Fun daytime Clearwater Beach activities
Clearwater Beach Scavenger Hunt
I created this scavenger hunt for my 30th birthday, and we literally had the FUNNEST time! This is definitely an adults-only scavenger hunt, but the tasks and challenges are so much fun. It's perfect for bachelorette parties! You're going to love this unique, memorable, and cheap way to experience Clearwater Beach.
Boat day
Hands down one of the funnest things to do in Clearwater Beach for your bachelorette party is book a boat tour with Bach Boats! Choose anywhere from a half to a full day of island hopping and pick any one of their beautiful and fun boats. They accommodate small and large bachelorette party groups.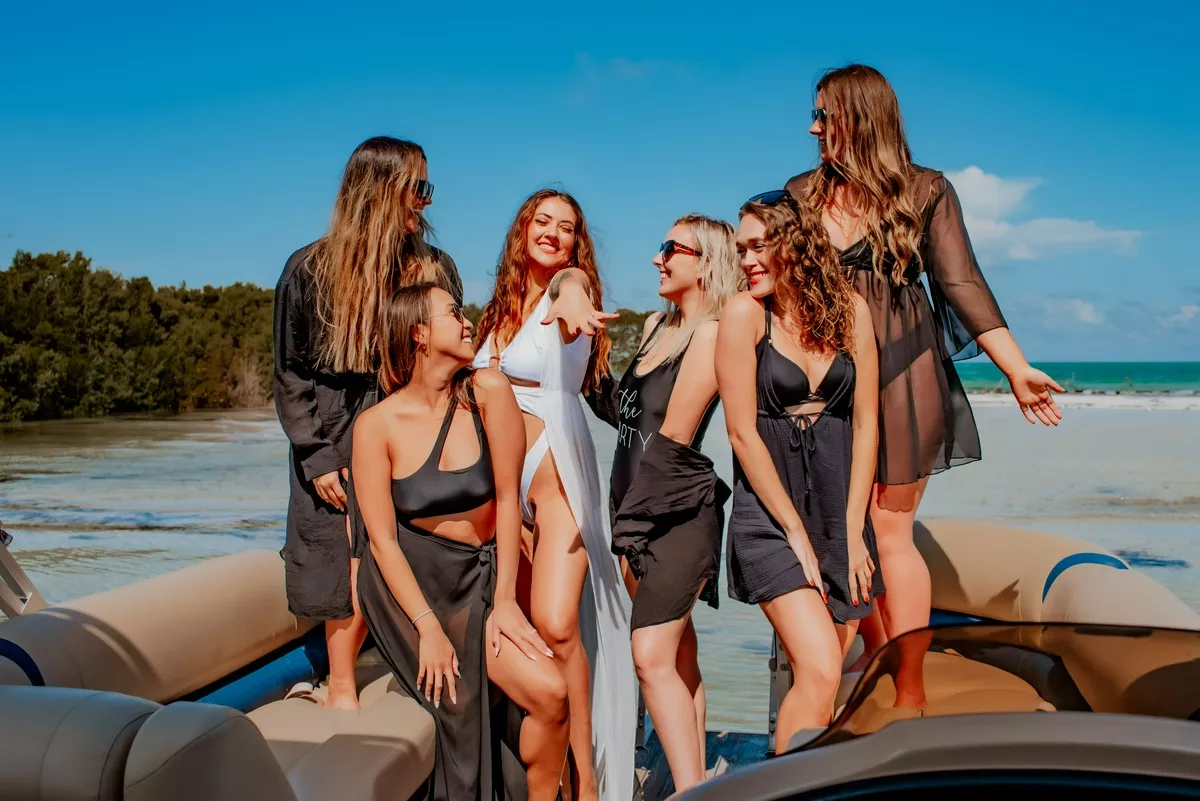 When I went out with them we did a 6-hour boat ride on the Avalon Funship, which is a giant pontoon boat with a second-story waterslide.  We were extra comfortable with lots of space and shade on the rental boat and felt completely at ease with the professional captain.  
As our bachelorette boat party was on the way out to 3 Rooker Island, the captain spotted some playful wild dolphins.  They followed us along jumping in the boat wake, they were so close!  Once on the island, we got some amazing pictures on pristine beaches which were extra fun with our  "Where my Beaches At" tanks and cups from Tampabay Baches.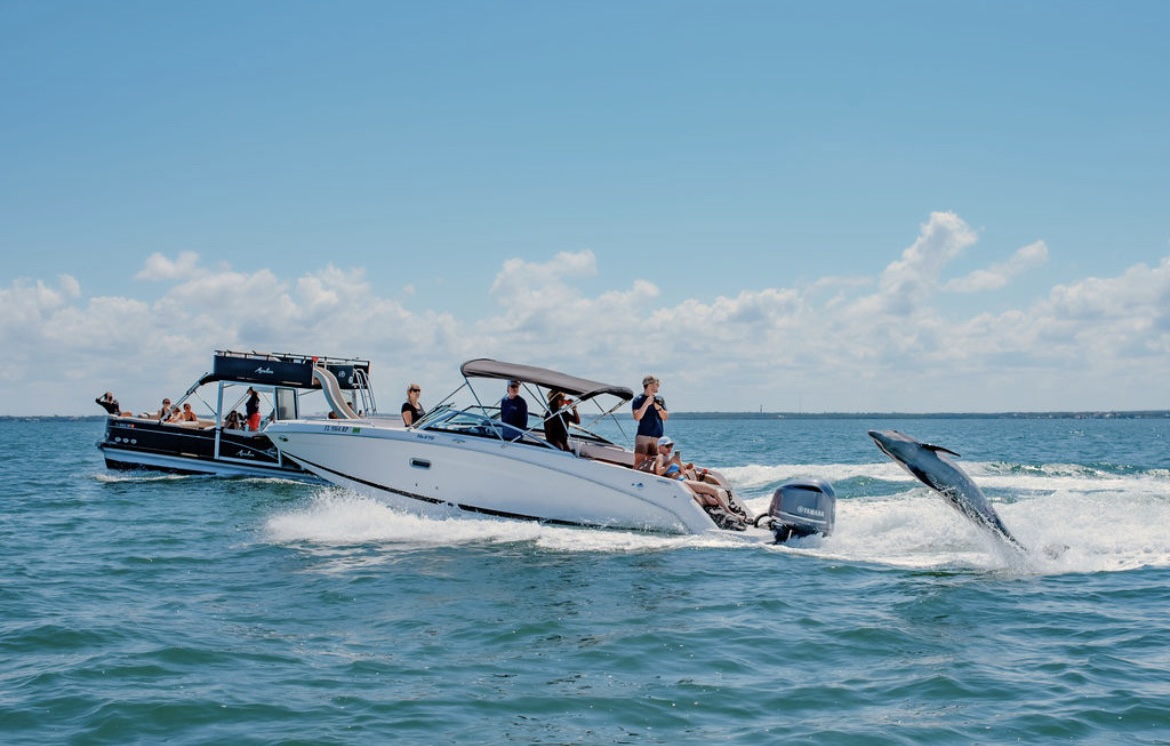 We hopped over to another island with the clearest green water and had a delicious charcuterie board and snacks. We then did some wading in the water with our fun ring floats, toasted on the upper-level tanning bed, and wore out the waterslide!
It was such a memorable day! You must have a boat day for your Clearwater bachelorette party with Bach Boats.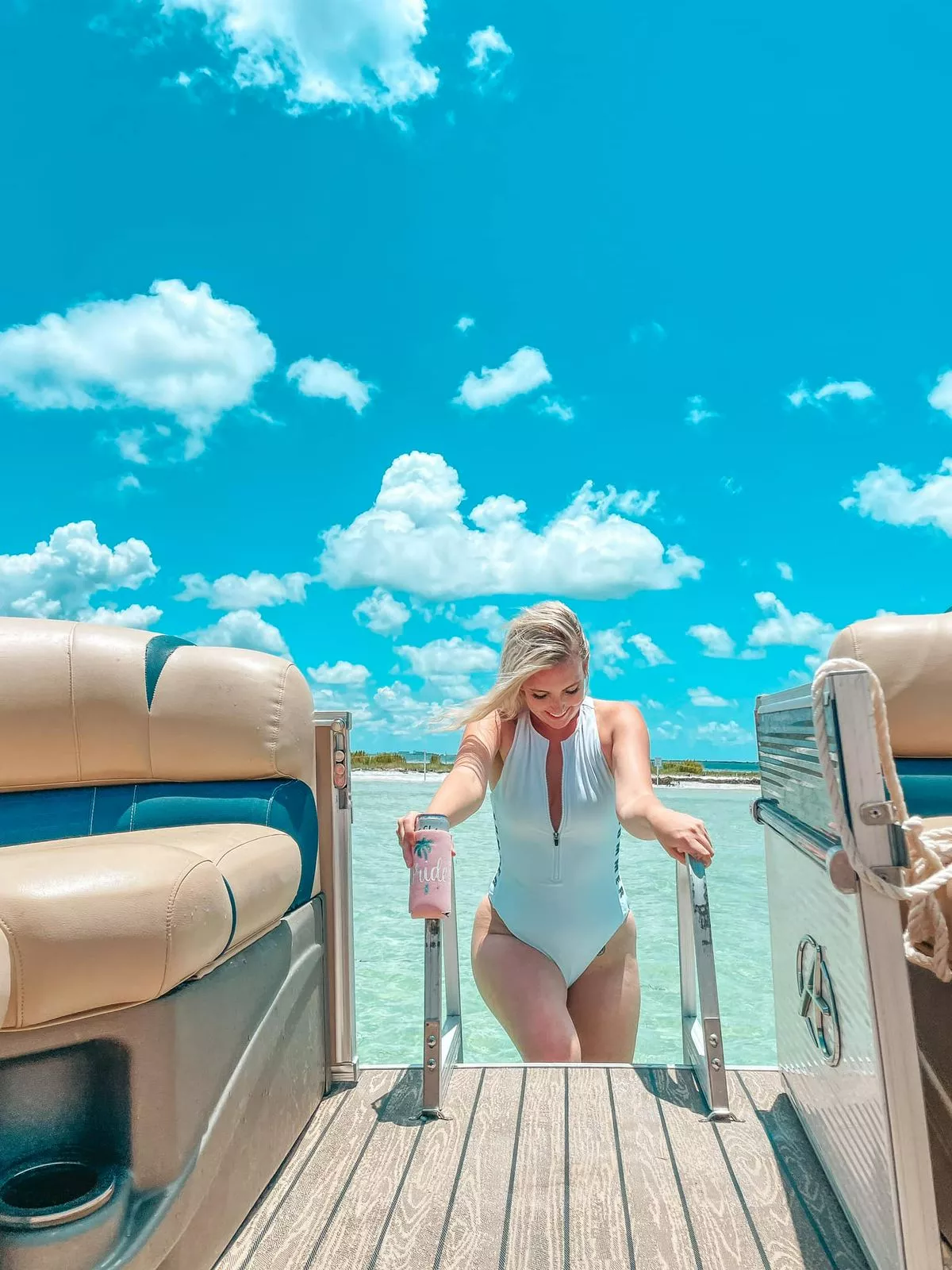 Beach day
One of the best things to do in Clearwater Beach is of course JUST RELAX! Pack up your cooler, grab your sunscreen, and enjoy the pristine white sand and calm waters.
Most people just lay out on the beach area closest to their hotel, but I will give you a couple of suggestions if you're looking to venture out.
I usually prefer to layout on South Beach by Shephard's. I find it to be a little less crazy as it's on the intercoastal. The water is very calm here, and while it still may be crowded, it's typically a little less crowded than the main beach by the pier. It's also conveniently located by Makin Waves, which is where I like to get my kayak and Jet Ski rentals.
While it may be busier, Pier 60 is also a great place to relax at the beach. You're also pretty central in this area, meaning you'll be close to plenty of activities, bars, and restaurants.
If you enjoy beach volleyball, head down by Frenchy's Rockaway and get your game on! Work up an appetite and then get one of the best grouper sandwiches on the beach.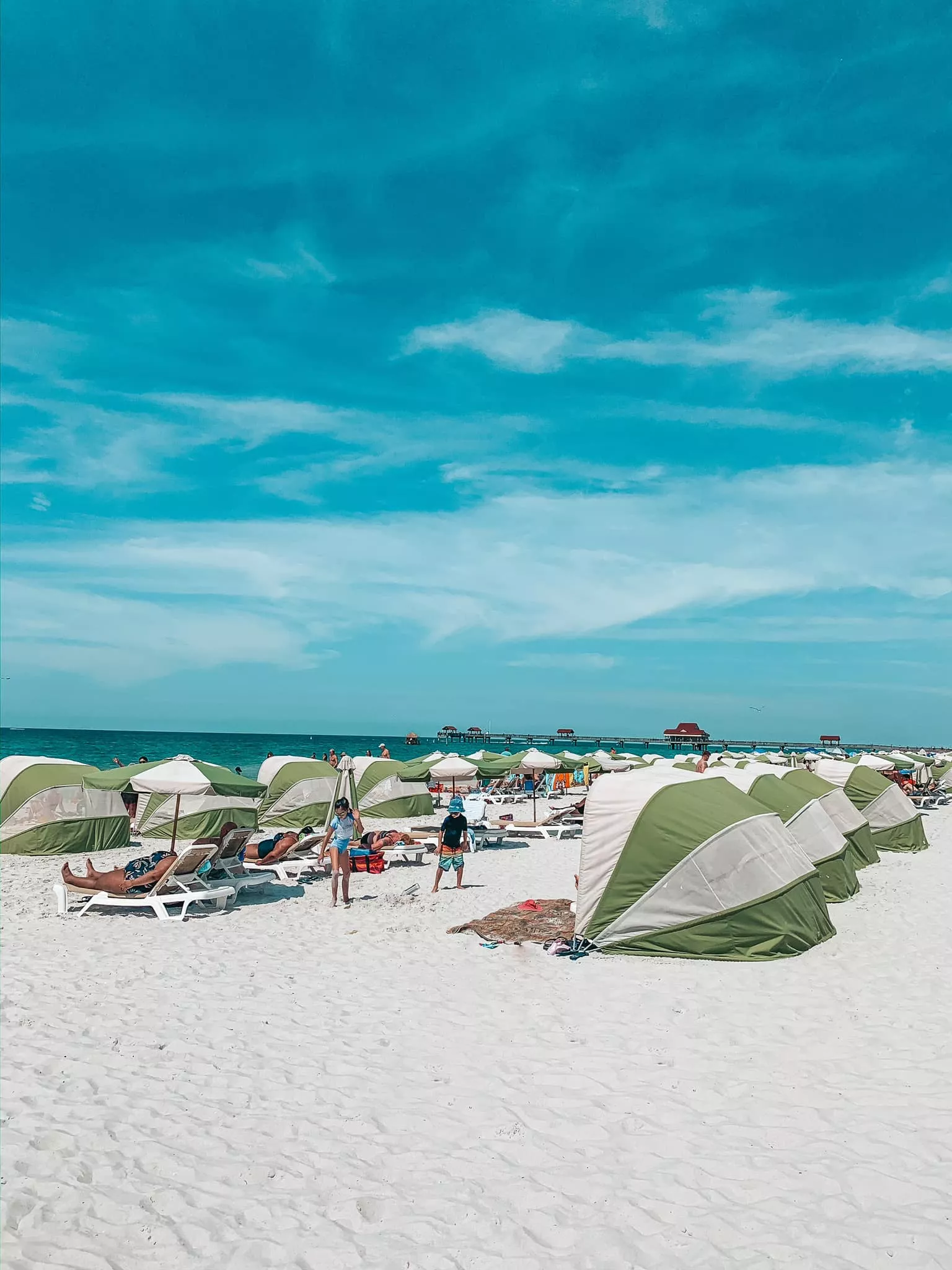 Cruisin Tiki's
Cruisin Tiki's is your own personal floating bar. Cruise around Clearwater on a 1½- to 2-hour cruise. You bring your own booze and snacks, but the tiki provides you with cups, ice, a blender, and a fun way to explore the Gulf of Mexico.
We had such a blast on our tour! You can do it early in the morning, afternoon, or sunset. We saw so many dolphins when we went in the afternoon; it was the cherry on top! This tour is for smaller groups and can accommodate up to 6 people.
🍹Want to do an epic tiki boat tour?🍹
This activity is perfect for bachelorette parties!
Click herе to book
If you have a larger group Clearwater Tiki Boat holds up to 18 passengers, and is an open bar!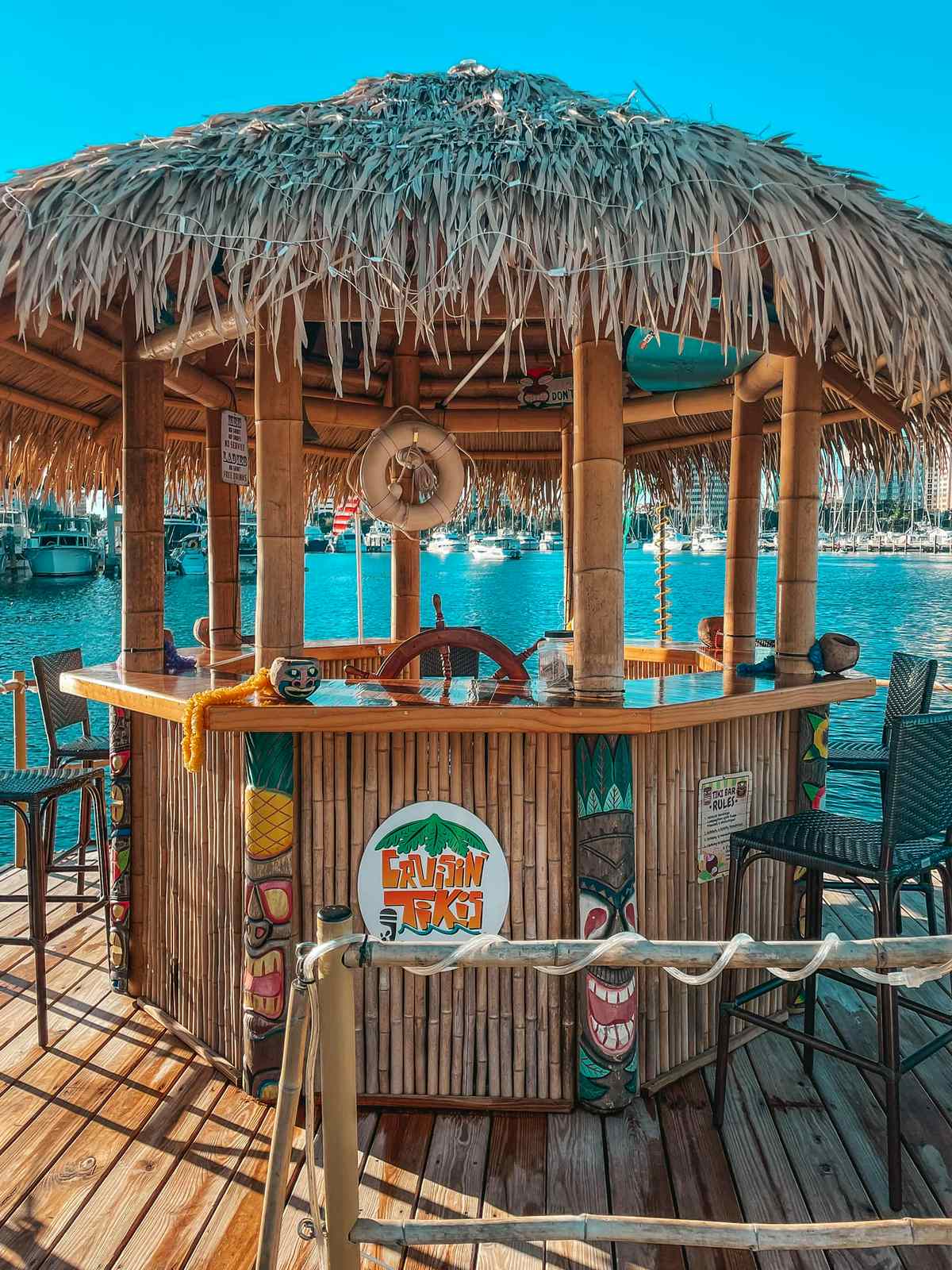 Have a picnic
Do you know what the best thing to do after a night out is? Have a brunch picnic setup fully equipped with your own champagne cart. The last thing we wanted to do after our wild night on the town was leave our beach rental, so we brought brunch to us!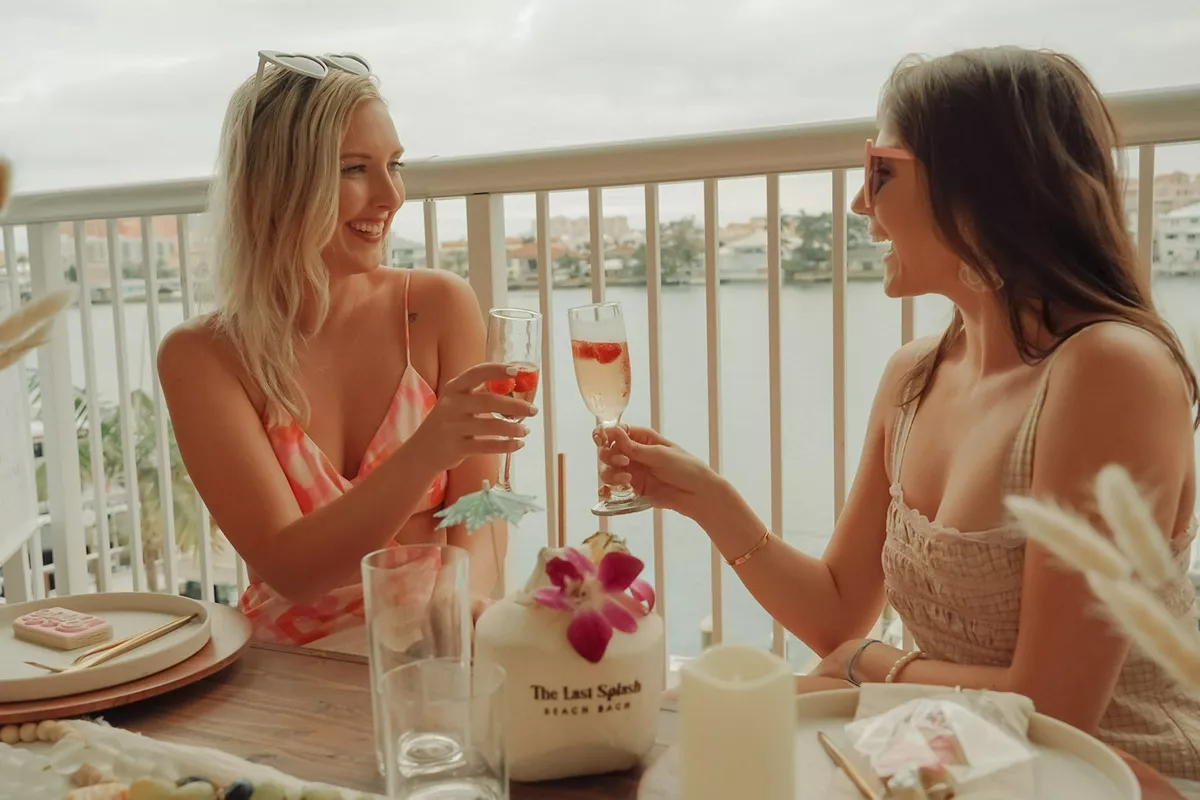 Gather 'Round & Graze creates beautiful and delicious brunch boards, and Surfing Coconut brought us back to life before enjoying our morning champs. The Picnic Babe provided the most stunning boho picnic setup! A perk of booking with The Picnic Babe is she also provides photography services as well! Check out a few of the adorable shots she got from our special day 🙂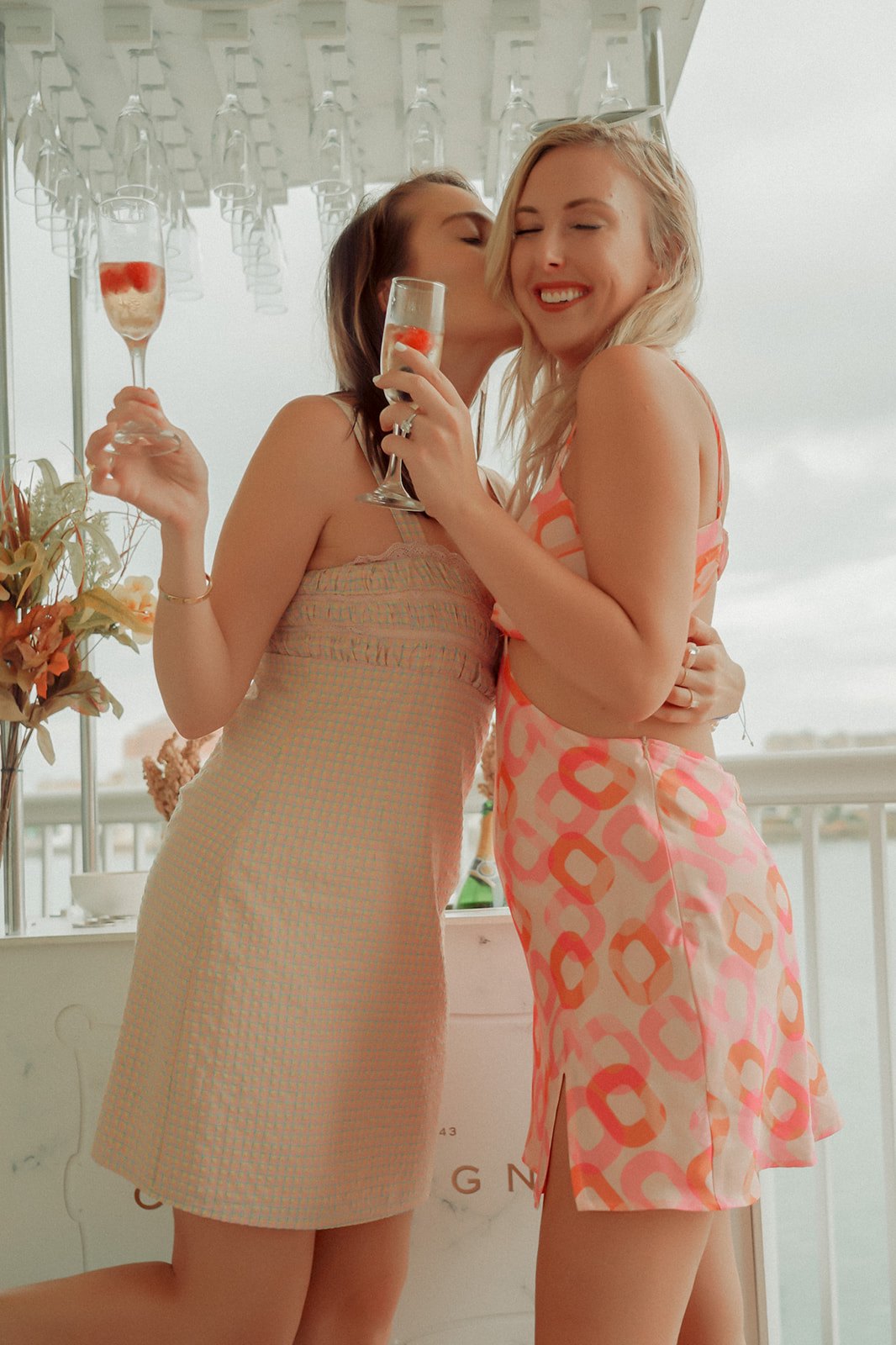 Clearwater Beach bar crawl
There are so many fun beach bars, with delicious beach-inspired cocktails and fun, lively environments. Shephard's has a great outdoor venue with live music, a dance floor, and even some games.
Toucan's, Jamminz, and Brown Boxer are all within walking distance from each other and are all a blast! Brown Boxer even has an arcade with a ton of games for you to bust out your competitive side. Or if you love rooftop bars, check out Jimmy's Crow's Nest or Jimmy's on the Edge.
Check out my list of fun beach cocktails and the best beach bars to get them at! The best part about this Clearwater Beach activity is you can partake in this fun rain or shine!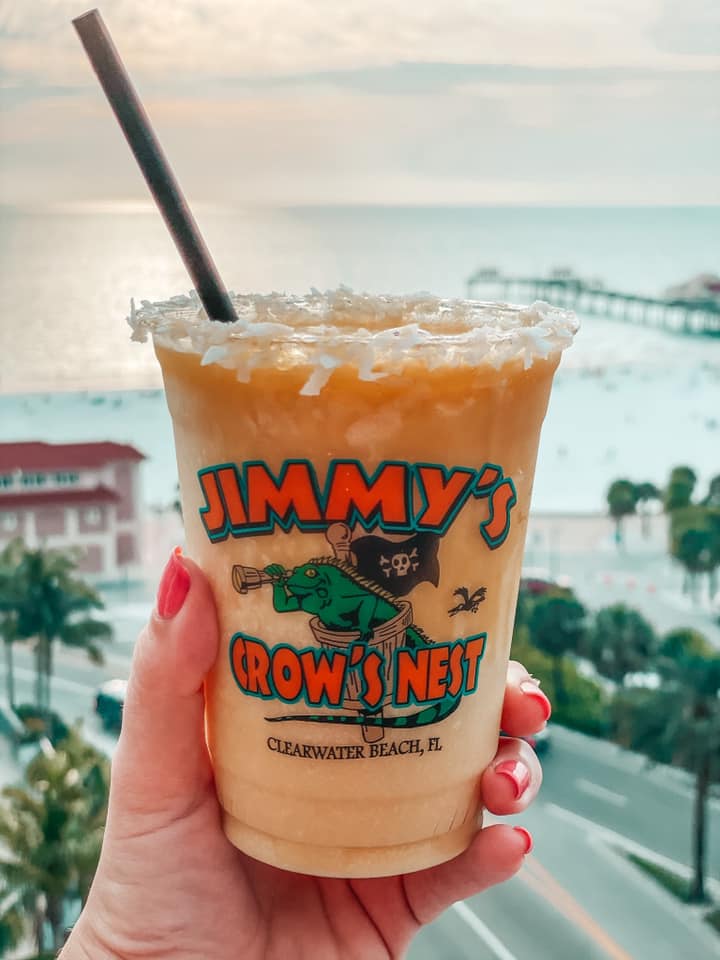 Spa day
I'm sure you already know this, but you deserve to be pampered! Many of the hotels have full spas and offer a number of services. One of the most beautiful spas in Clearwater Beach has got to be the Tranquil Spa at Sandpearl Resort. It's not going to be a cheap day, but you will certainly leave feeling refreshed.
Private wine tasting
One of the most unique things you can do for your Clearwater Beach bachelorette party is enjoy your own private wine tasting with Malbec Bay! Again, we had a day or two where we just did not want to get out of our PJs and wanted to just enjoy our beautiful condo views so this experience was perfect!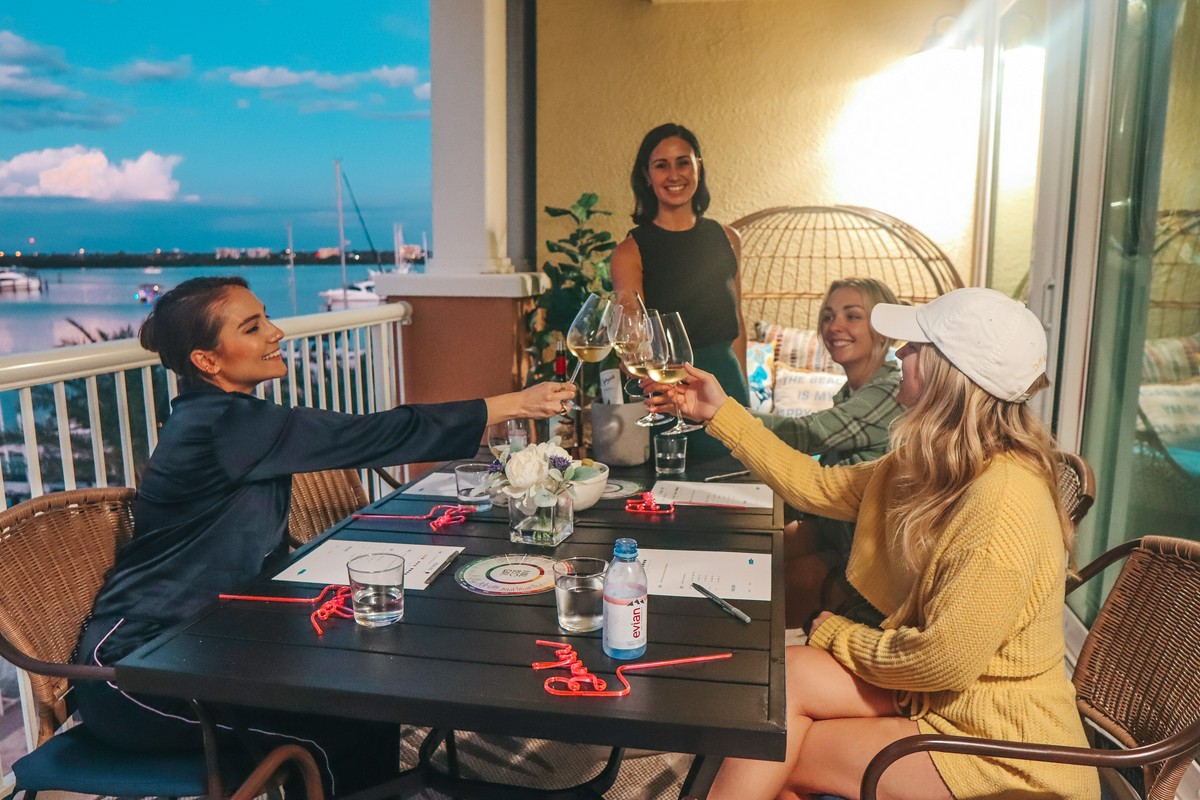 There are a few different experiences you can choose from aside from a private wine tasting, one of them being a blind tasting game where you get 4 wrapped mixed wine bottles, a tasting game board, and tasting tools to give you the structure to taste wine and recognize unique characteristics.
I have done wine tastings with Mercedes on several occasions, and each time I learn something new!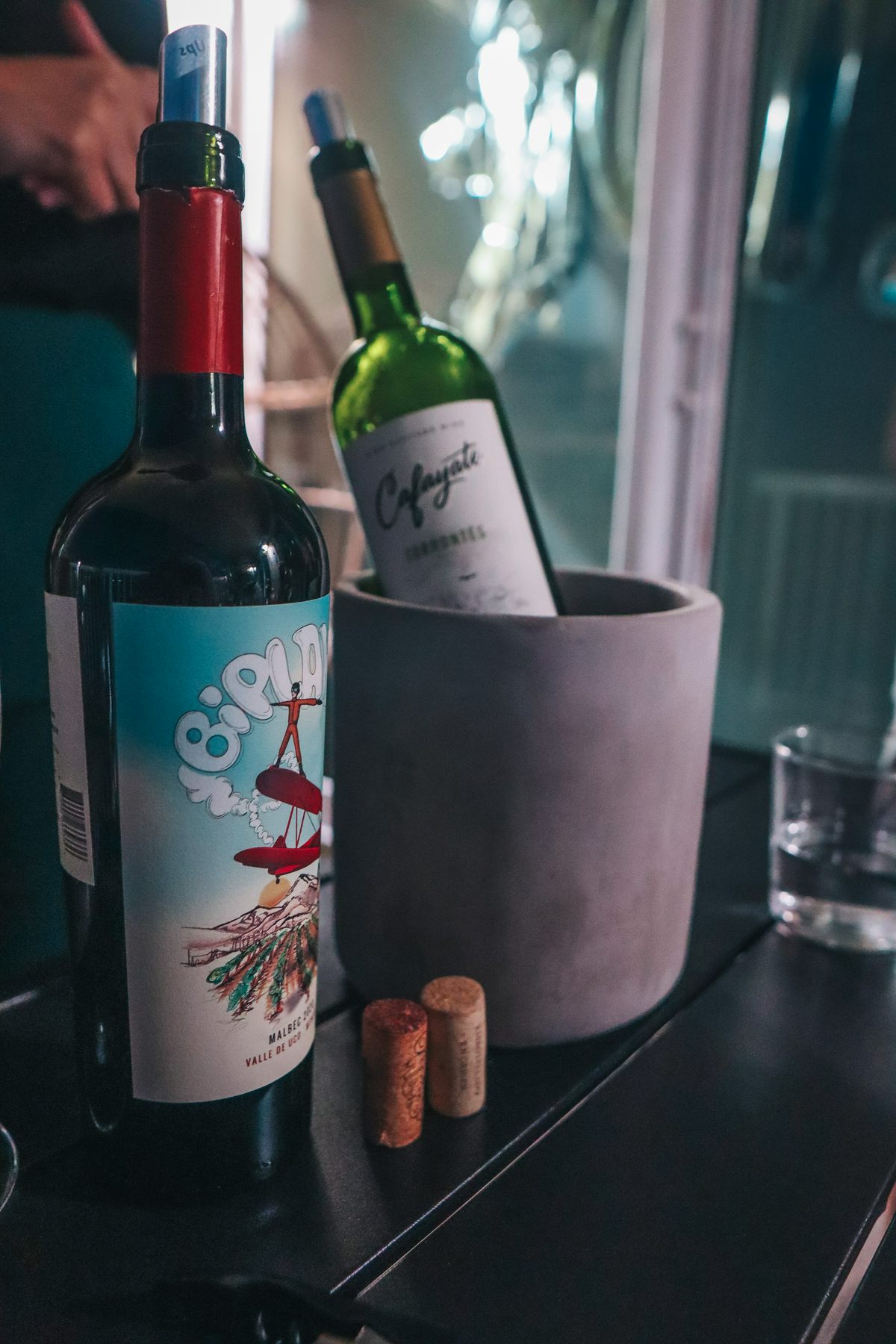 Pier 60
Pier 60 is pretty iconic when it comes to Clearwater Beach. You can visit during the day to check out the views and maybe if you have a nice buzz you'll take a ride down their giant inflatable water slides or hop in the human hamster wheel.
It's also beautiful in the evening during Pier 60's Sunset Celebration. This occurs 2 hours before until 2 hours after sunset every night. You can expect performers of all kinds, along with crafters, face painters, and musicians— not to mention the most beautiful, untainted views of the sunset.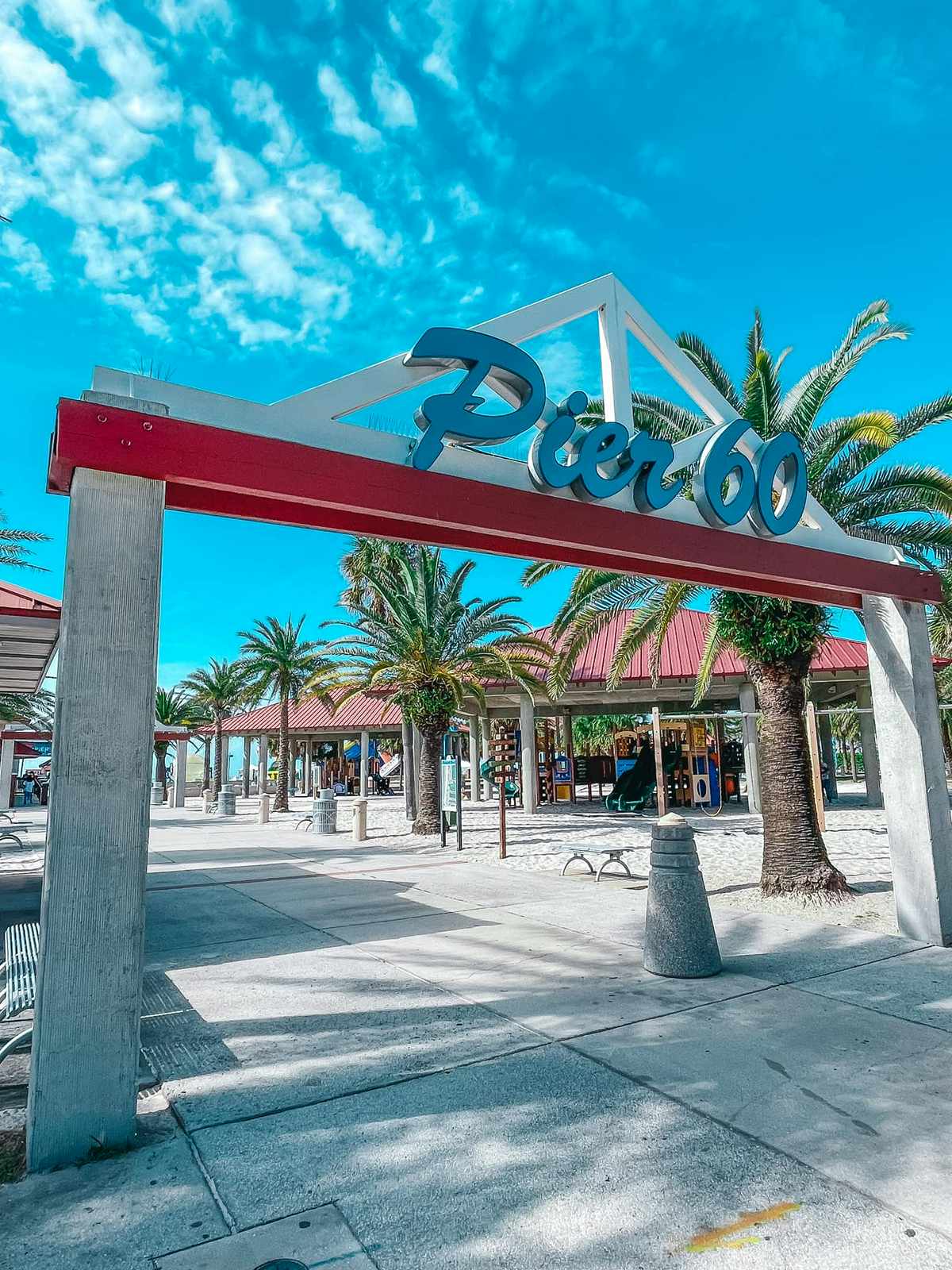 Joseph's Tea Room
Joseph's Tea Room is located in Clearwater, off of the beach. This is an experience if you have a rental car or don't mind Ubering. Nonetheless, this is a fun, unique thing to do for your bachelorette party in Clearwater.
Joseph's Tea Room serves an al la carte menu, or a full afternoon tea experience. The afternoon tea experience includes a full pot of teas for each guest, a berry salad, and a 3-tier tray filled with assorted tea sandwiches, croissants, scones, and assorted petite desserts.
When it comes to their teas they have 70+ tea options to choose from categorized by caffeine level (they have it all from caffeine-free to highly caffeinated). I did their lemon meringue green tea which was considered medium. Drinking the entire teapot was honestly too easy, it was that good!
Make things even more fun by dressing the part in sundresses, hats, gloves, and a small purse.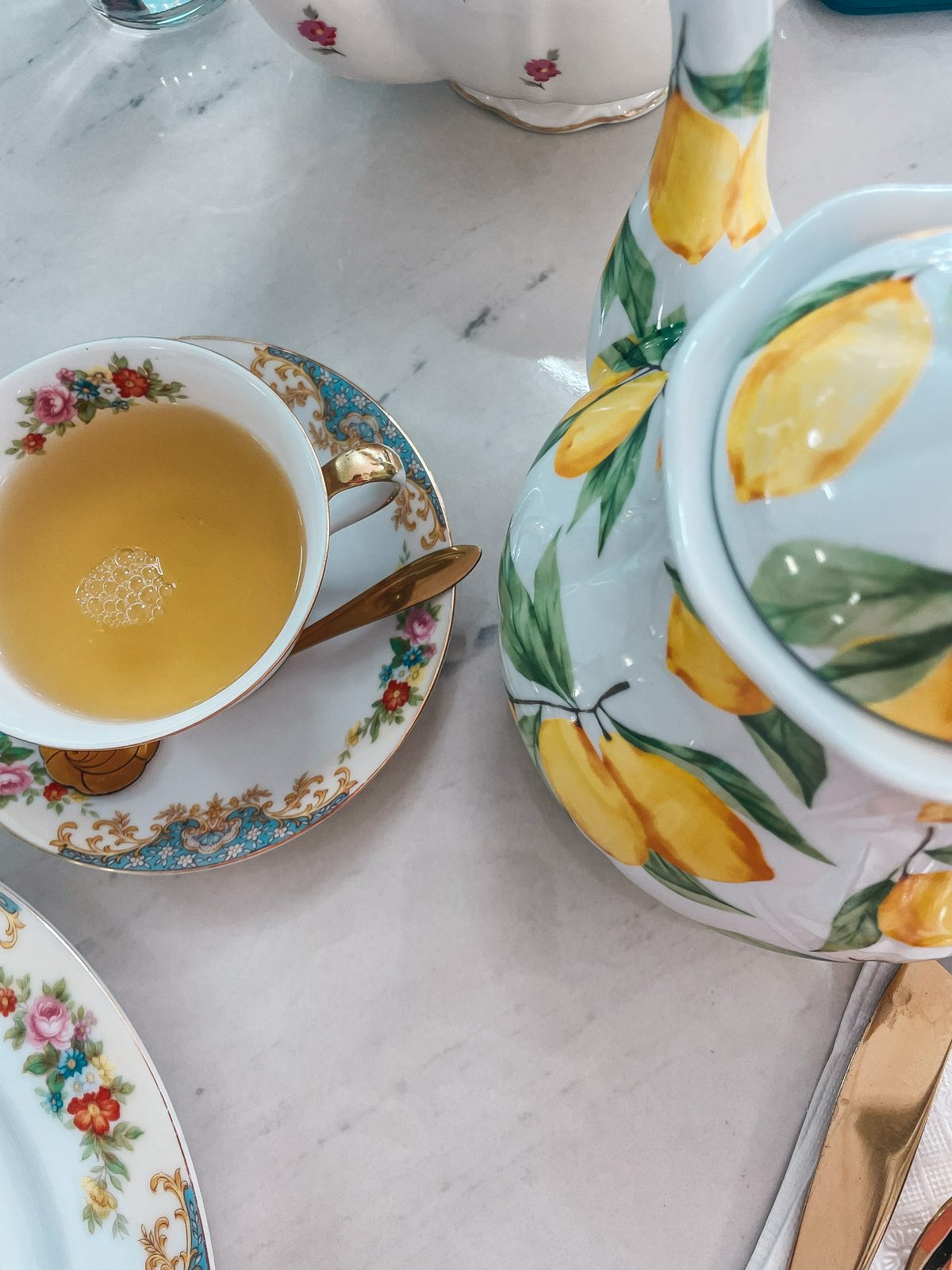 Take a day trip
As I said, one of the best things about having a bachelorette party in Clearwater Beach is how accessible it is to so many of Tampa Bay's other awesome areas! If you only have a few days I wouldn't worry about taking a day trip. However, if you're staying more than 4 days I would definitely try to experience another area!
Dunedin is right next door (just a short 10-minute drive) and is one of my all-time favorite day trips in Tampa Bay. It's charming and has amazing restaurants and some fun nightlife options.
If you don't mind driving a little further, there is so much to explore in Tampa and St. Pete! You can do an epic pool party at WTR in Tampa, or do one of St. Pete's fun speakeasies.
If you're looking for more of a nature vibe, drive an hour north to Weeki Wachee for some kayaking with a chance to see manatees!
🌊Looking for a unique Clearwater activity?
Swim in the crystal clear waters of a Florida spring and get a chance to see manatees in their natural habitat!
Click herе to book
Clearwater Beach nightlife
Bar Tiki
Bar Tiki is a craft tiki bar and an absolute MUST-STOP if you are on Clearwater Beach! It's easily one of the best rooftop bars in Tampa Bay. The drinks here are so fun and well-crafted. After struggling to decide, we let our bartender Savannah create us the "pick your poison" which leaves your fate in the bartender on duty's hands. This drink was one of the most delicious heavenly drinks I've ever had!
We liked it so much, that we stayed for another round. If you want to choose your own fate, they have mojitos, mai tais, or even a black margarita and spiked Dole whip to choose from!
They also have games like corn hole and Connect 4, and a Hawaiian-inspired food menu if you get hungry. Peep my TikTok for more from my Bar Tiki visits!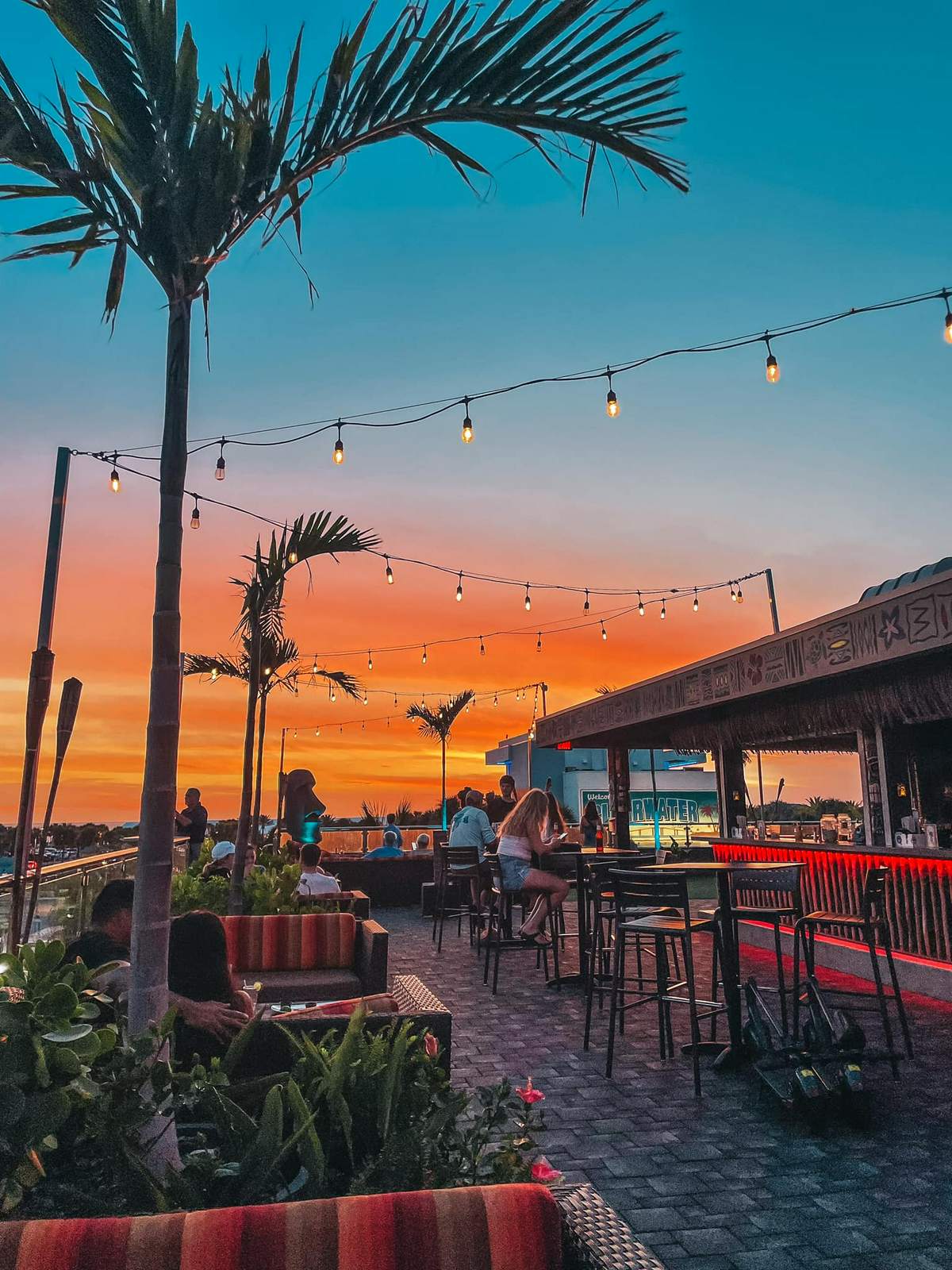 Brown Boxer North Beach
Another fun Clearwater Beach bar is Brown Boxer on North Beach. They have numerous arcade-style games, pool, and darts! You can expect DJs and lively music and crowds on most nights.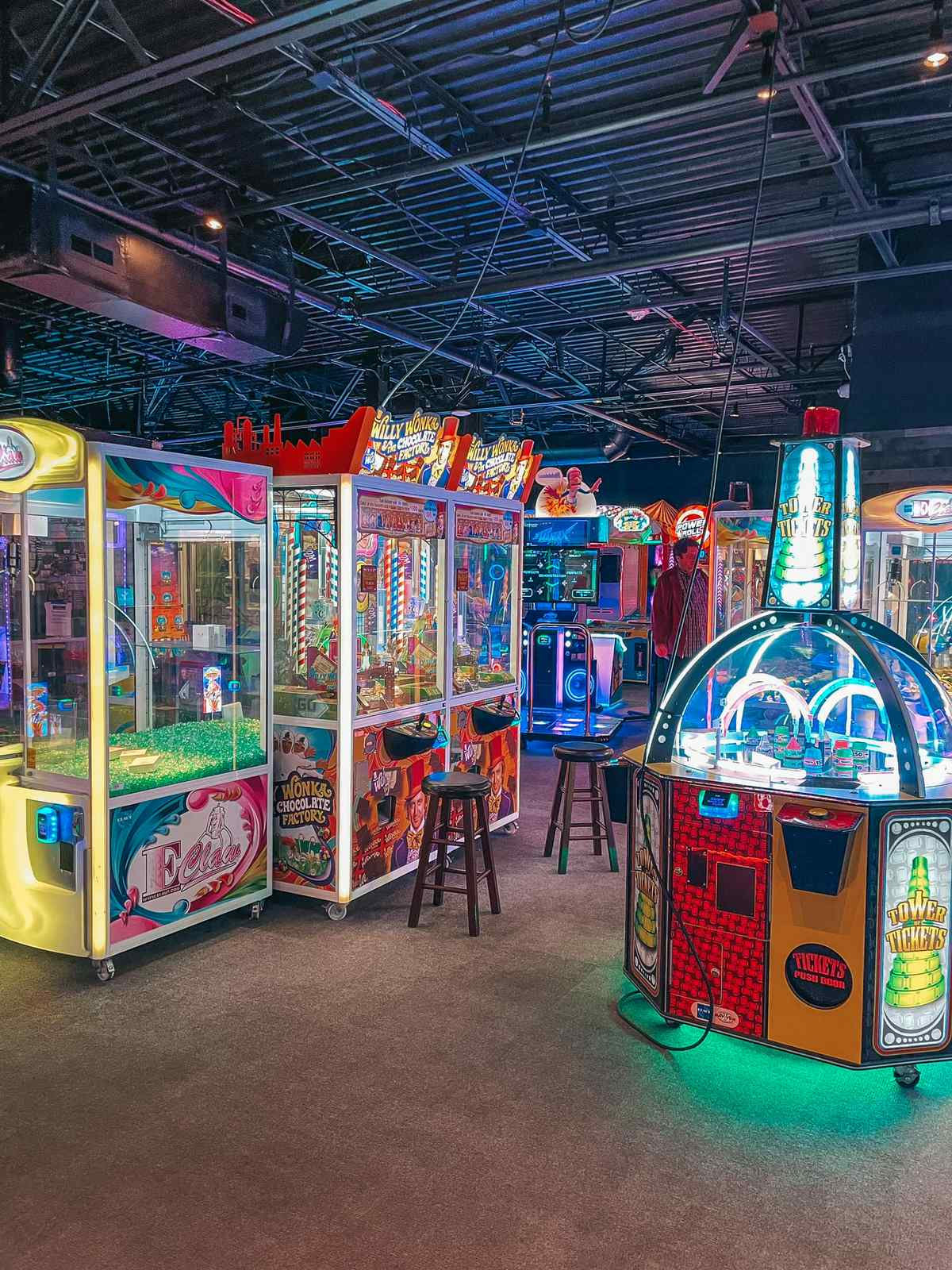 The Wave
The Wave which is located inside Shephard's Beach Resort is the only nightclub in Clearwater Beach. It's currently open Friday through Sunday from 10:00 pm-2:30 am. You can expect DJs, dancing, and VIP tables if you're down to splurge a little bit. What is really awesome about this venue, is it's literally right on the beach. So step outside of the nightclub and get some fresh air while dipping your toes in the sand!
Shipwreck
If you enjoy hole-in-the-wall bar scenes, end your night at Clearwater Beach's oldest bar! Shipwreck is where the locals head when everything else is shutting down. They have pool, darts, a jukebox, and even some fun cocktails (mine came with a rubber ducky and popsicle!).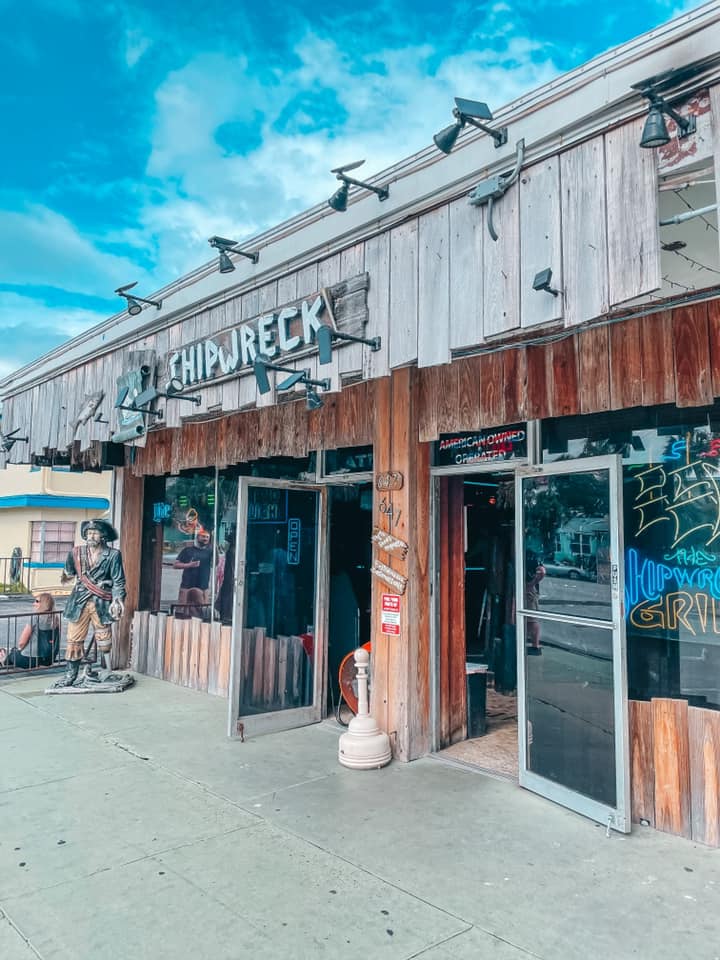 Clearwater Beach brunch and breakfast restaurants
If you're looking for a good brunch or breakfast spot in Clearwater Beach I suggest Jimmy's Fish House, Island Way Grill, or Clear Sky. Island Way Grill only does their brunch on Sundays, but it's buffet style and only costs $29.95, and includes one mimosa or glass of champagne. It's also waterfront if you choose to sit outside!
Jimmy's Fish House has menu items such as strawberry cheesecake waffles, creme brulee French toast, and an oscar mignon benedict! Plus, if you are a fan of bloody marys they have one of the best on the beach! It comes with a beer chaser and shrimp and veggie skewer. The views are also epic, and there is plenty of seating on the deck which means even as a bigger group you probably won't have to wait for a table.
Clear Sky is highly recommended by locals and tourists alike. They have an extensive brunch menu, as well as a bloody mary bar on the weekends!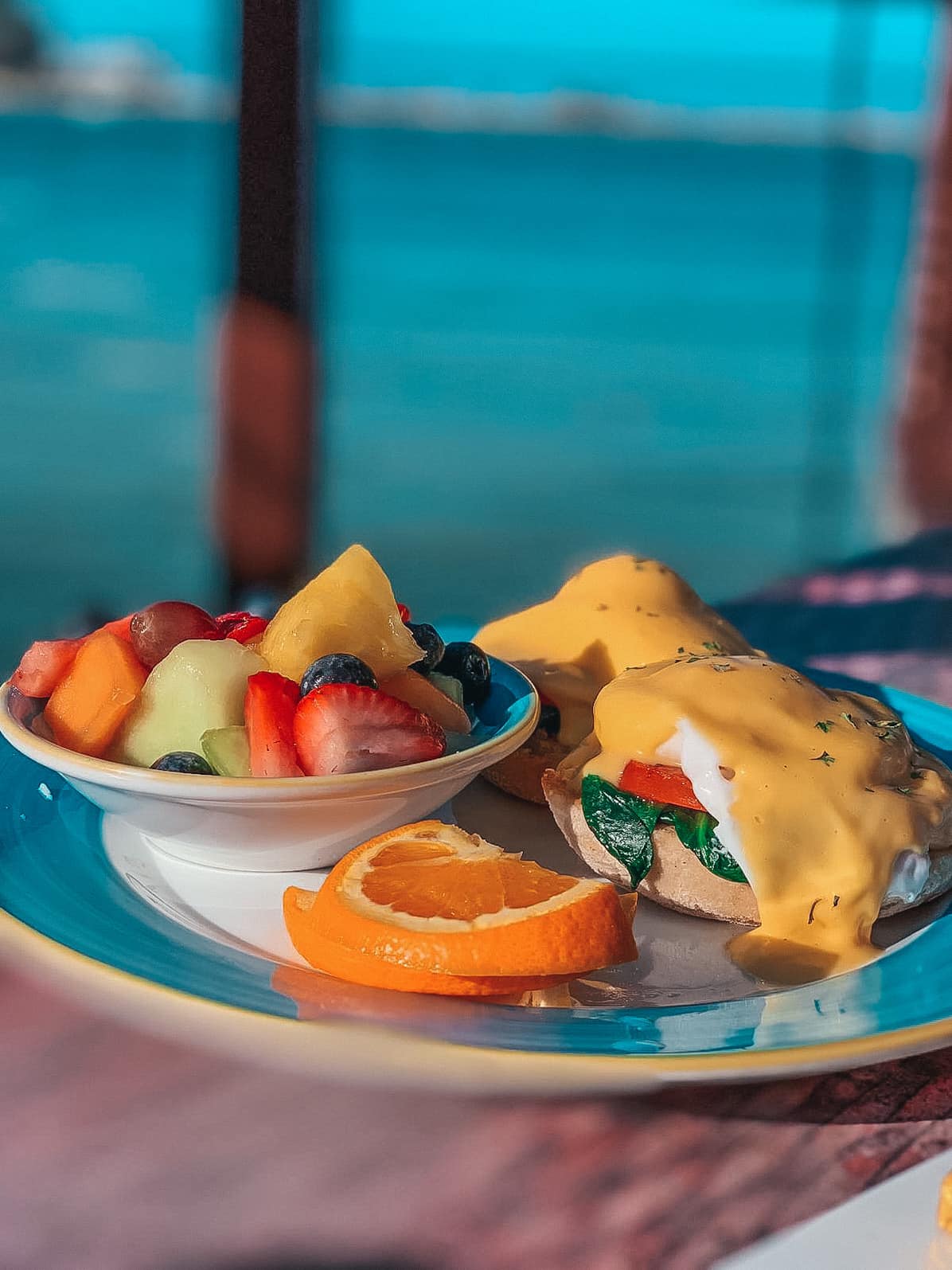 Clearwater Beach lunch and dinner restaurants
As far as good options for lunch and dinner in Clearwater Beach go, all of the places I suggested for brunch also have awesome lunch and dinner menus. Along with those I would also recommend Frenchy's Rockaway, Crabby's Dockside, and Palm Pavilion for somewhat casual dining experiences.
Frenchy's is beachfront, has great seafood, and their Loopy Lada is a must-try! Crabby's Dockside has beautiful views on their third level (especially at sunset), and they literally have the best crab legs on the beach. Palm Pavillion has yummy food you can enjoy beachfront while listening to live music.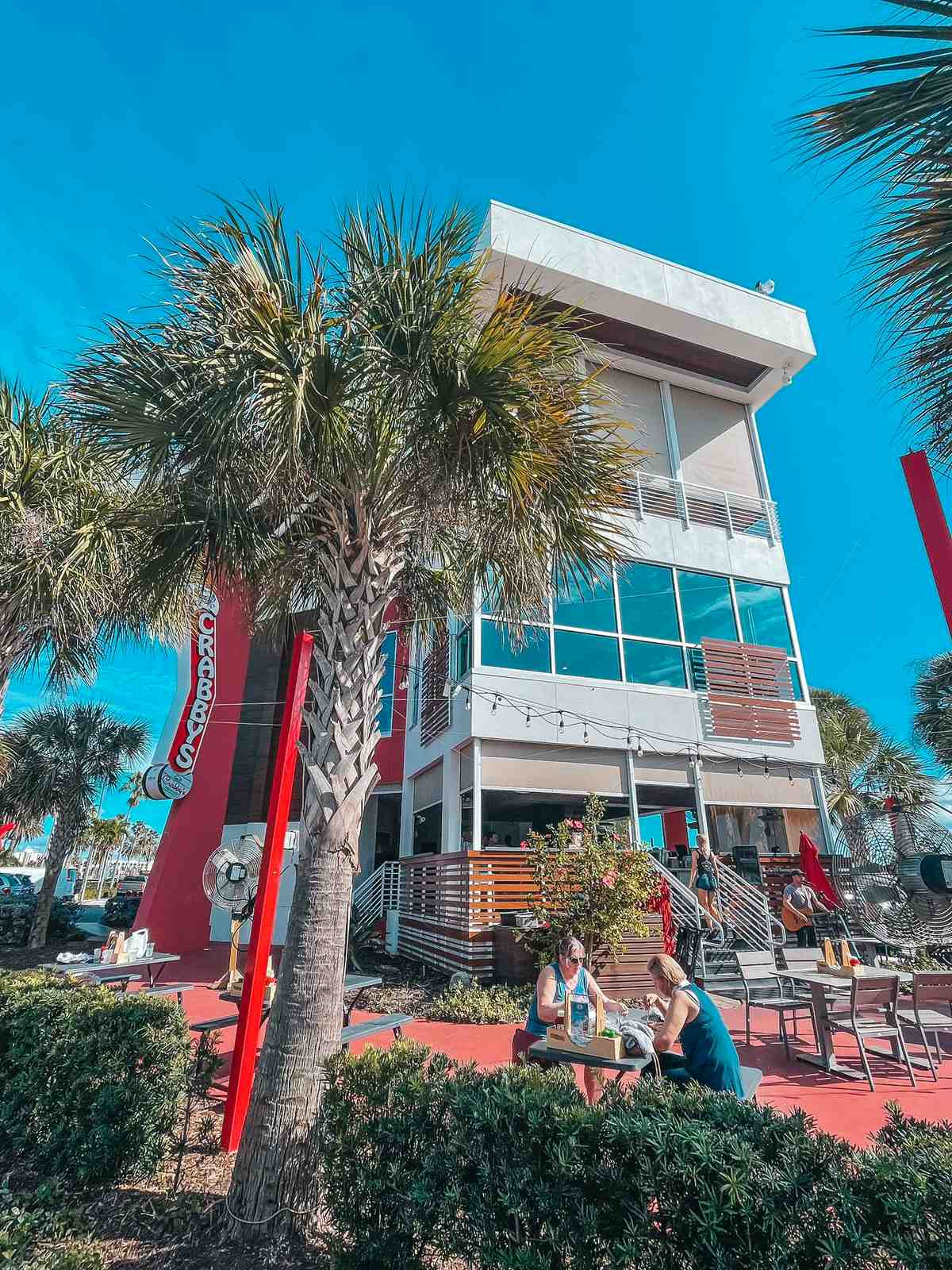 For nicer dinners where you don't mind spending a little more check out SHOR American Seafood Grill (they have some of the best calamari! And several other delicious apps and mains), Caretta on the Gulf (seafood), Ocean Hai (Asian fusion), Blinkers (steakhouse), or Bob Heilman's Beachcomber (seafood).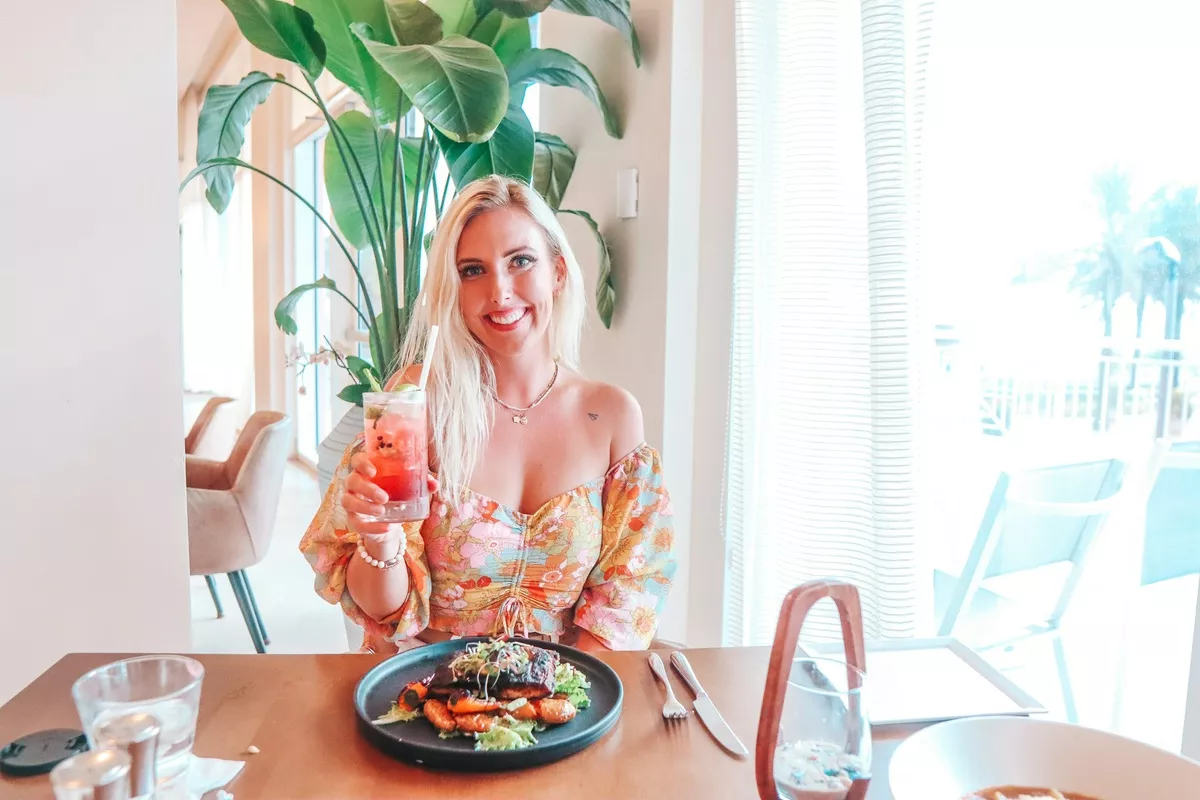 Where to stay in Clearwater Beach
For smaller groups who prefer to do a hotel stay check out Edge Hotel, Pier House 60, and Springhill Suites by Marriott (all three of these options even include breakfast). If you don't mind splurging a little more, Hyatt Regency, Sandpearl, and Opal Sands are all solid resort options.
If you have a larger group and want a suite or rental home we absolutely loved our stay at this beautiful condo on Clearwater Beach that slept 7.
It felt so spacey, the location was great, and the views were lovely. We ended up doing several activities at the condo because we loved it so much we didn't want to leave! It was equipped with everything you would need in the kitchen and bathrooms, and the decor really puts you in that beach vacay mindset.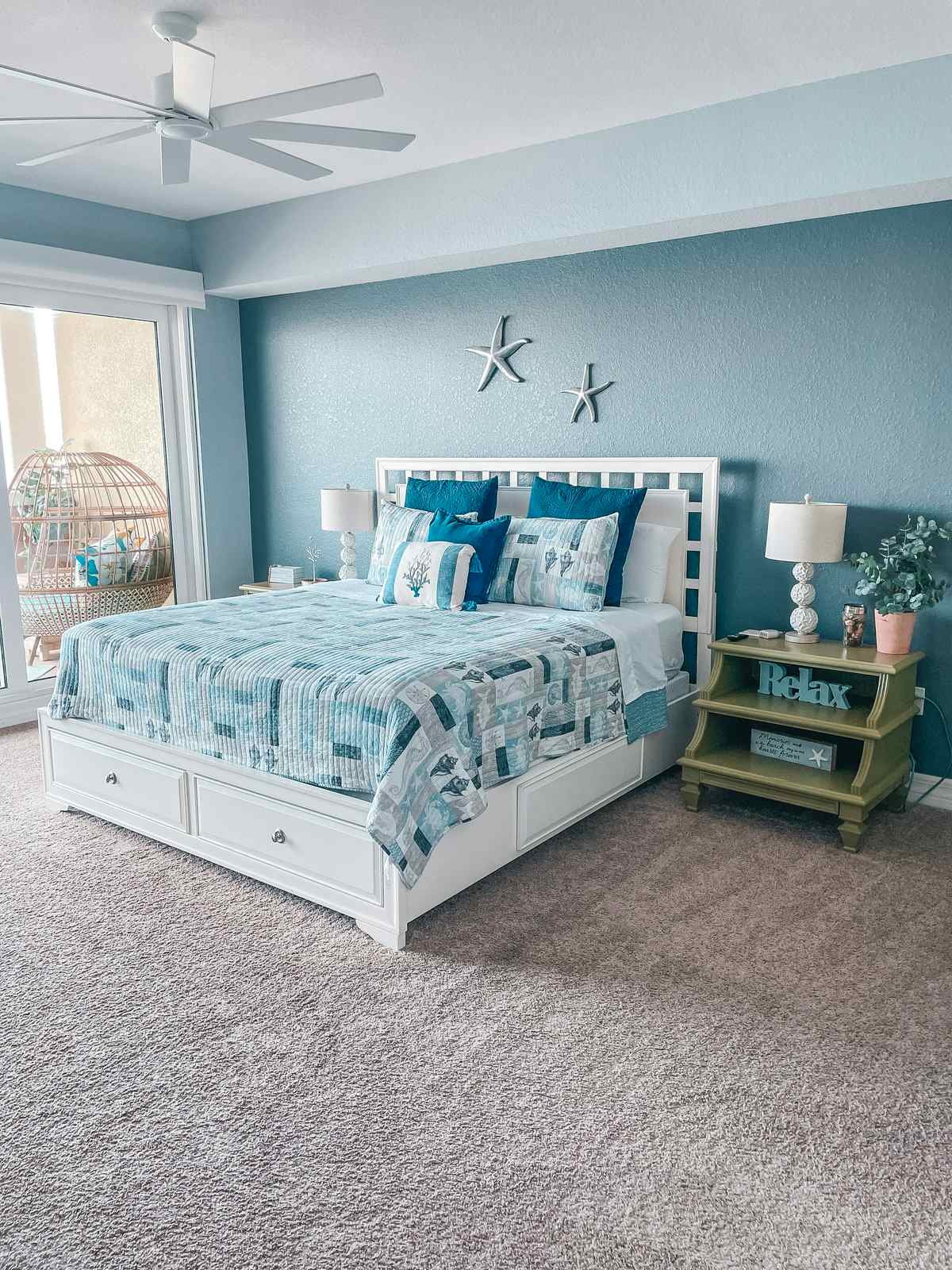 Some other options include:
The Avalon Club— Get their deluxe suite that has 3 bedrooms and sleeps up to 10 people. It's a 2-minute walk from the beach and has a pool and fitness center.
Sunset Splash Holiday Home—This 5-bedroom Clearwater Beach vacation rental is STUNNING. It's located on the intercoastal and has a private pool and pool table. It's minutes walking from the beach, activities, and nightlife.
Clearwater Beach Cabana Holiday Home— If you have an extra large group, this 7-bedroom home sleeps up to 26 people! It's in a great location and also includes a private pool.
Clearwater Beach is such a great choice for a bachelorette party! It has so much to offer, from amazing restaurants and bars to the white sand beaches and fun group activities. You'll have something fun to do all day long if you choose. I hope you have the most epic bachelorette party! If you need any more tips or insight feel free to message me on Instagram @guidedbydestiny.