This post contains affiliate links which means that I will make a small commission if you purchase a product after clicking on any of them, at no extra cost to you.
If you're looking for the best restaurants in Tampa Florida, you're in luck! From fine dining establishments to casual eateries, Tampa is home to some of the best restaurants in the state. In this blog post, I'll highlight some of the top restaurants in Tampa, their signature dishes, unique ambiance, and standout features. Whether you're a local or a visitor, there's no shortage of amazing restaurants to explore in this bustling city, so let's get started!
Best Restaurants in Tampa
Best steakhouses in Tampa
Bern's Steak House
Not only is Bern's Steak House one of the best restaurants in Tampa, but it's also one of the most iconic! Established in 1956, this steakhouse has been serving the best steaks in town for over 60 years.
Bern's is famous for its dry-aged beef, which is aged in-house for up to five weeks. The restaurant also boasts an extensive wine collection, with over 6,800 different labels. It's actually one of the largest wine collections in the world!
The ambiance is a little old-fashioned, with dark wood paneling and vintage furnishings, giving the restaurant a classic steakhouse feel. The steaks are perfectly cooked and served with a variety of delicious sides, making it the perfect place to indulge in a truly luxurious meal.
But what sets Bern's apart from other steakhouses is their attention to detail and commitment to providing an exceptional dining experience. From the moment you step inside, you'll be transported to a world of elegance and sophistication.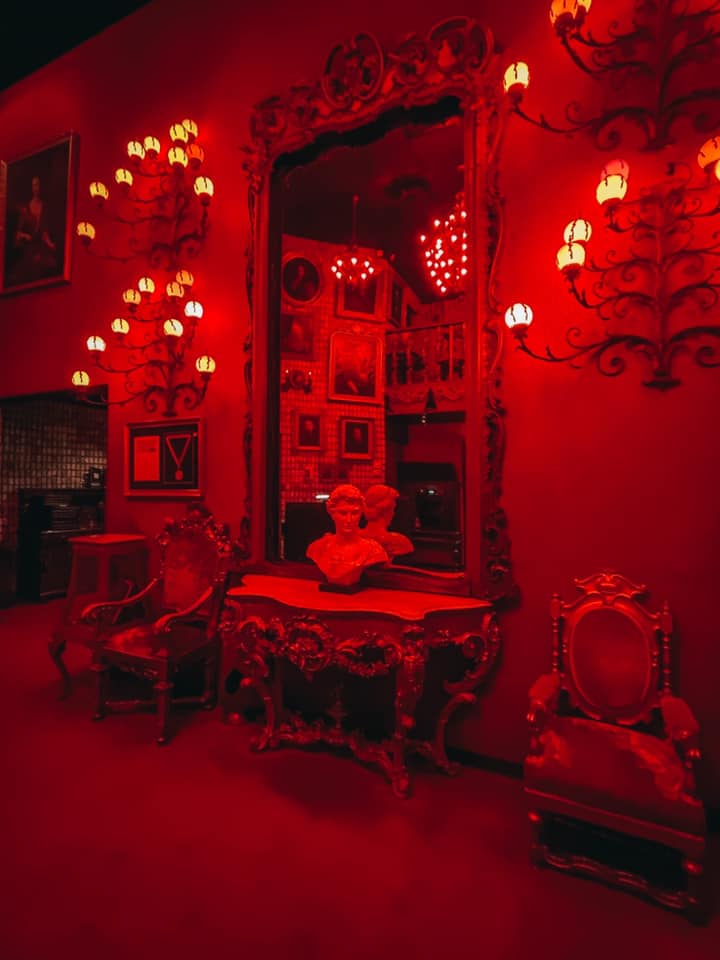 And if you're a fan of dessert, you're in luck. The Dessert Room at Bern's is a whole separate area with its own unique ambiance and features an incredible selection of desserts to choose from. With more than 50 different desserts on offer, there's something for everyone here, from classic favorites like chocolate cake and crème brûlée to more exotic options like tropical sorbets and fruit tarts.
With its mouth-watering steaks, incredible sides, and unforgettable desserts, it's no wonder this restaurant has become a local institution.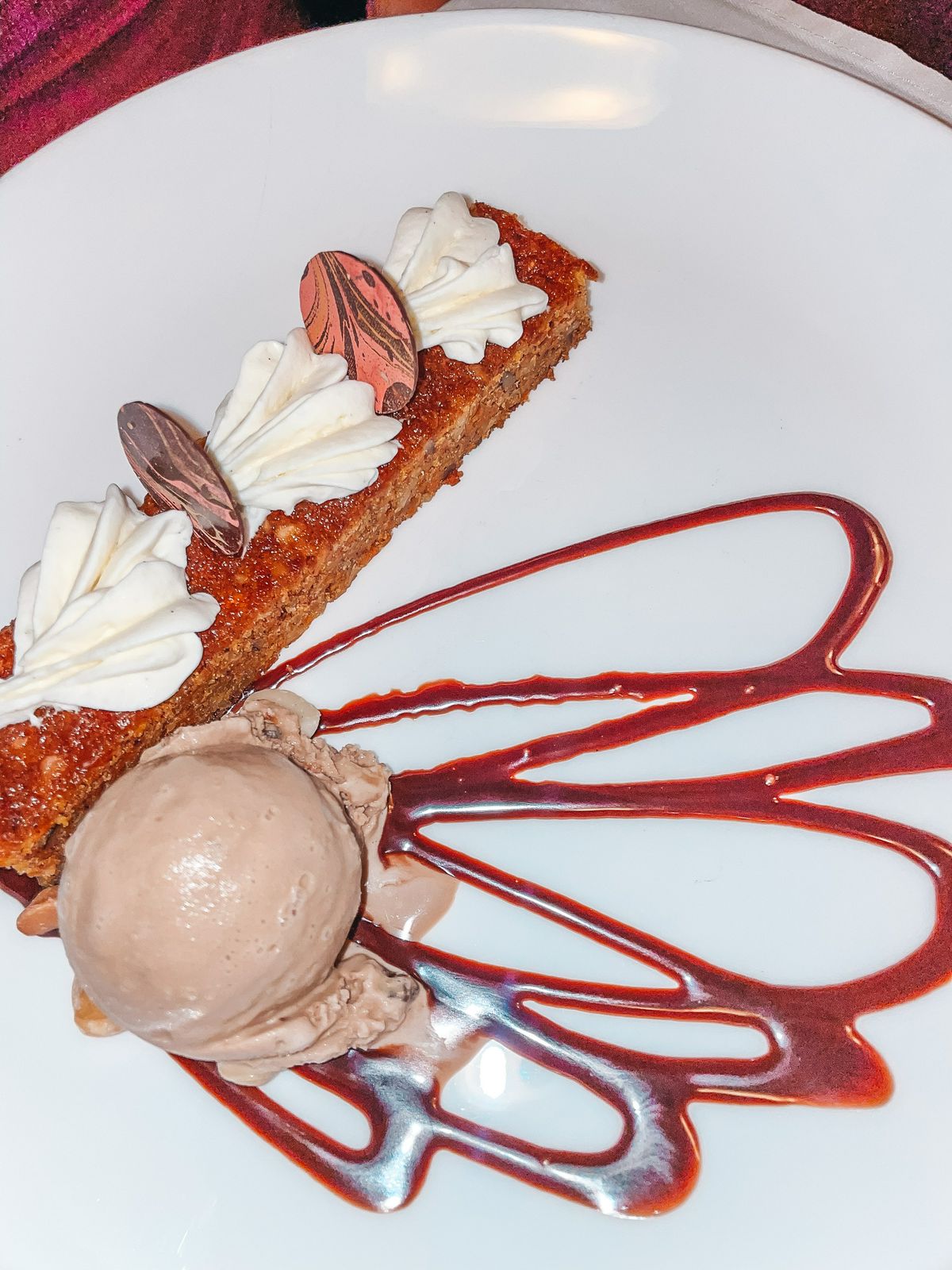 Charley's Steak House
Charley's Steak House is another legendary steakhouse in Tampa. Established in 1947, Charley's has been serving up some of the best steaks in town for over 70 years. They specialize in serving only the finest cuts of beef, as well as seafood and other classic steakhouse fare. They will actually present the cuts to you and explain the flavor profile of each!
While they have so many delicious-sounding appetizers, I choose to save myself for the entire head of roasted delicious cauliflower I know I plan to devour with my steak, It's a recipe I've attempted to recreate, but nothing compares!
Wash it all down with one of their expertly crafted cocktails or a glass of wine from their extensive selection. This is another Tampa restaurant you'll want to save room for dessert at! Their butter cake may be my favorite dessert in all of Tampa Bay!
With their attentive service and wonderful atmosphere, Charley's Steak House is sure to make your meal a memorable one.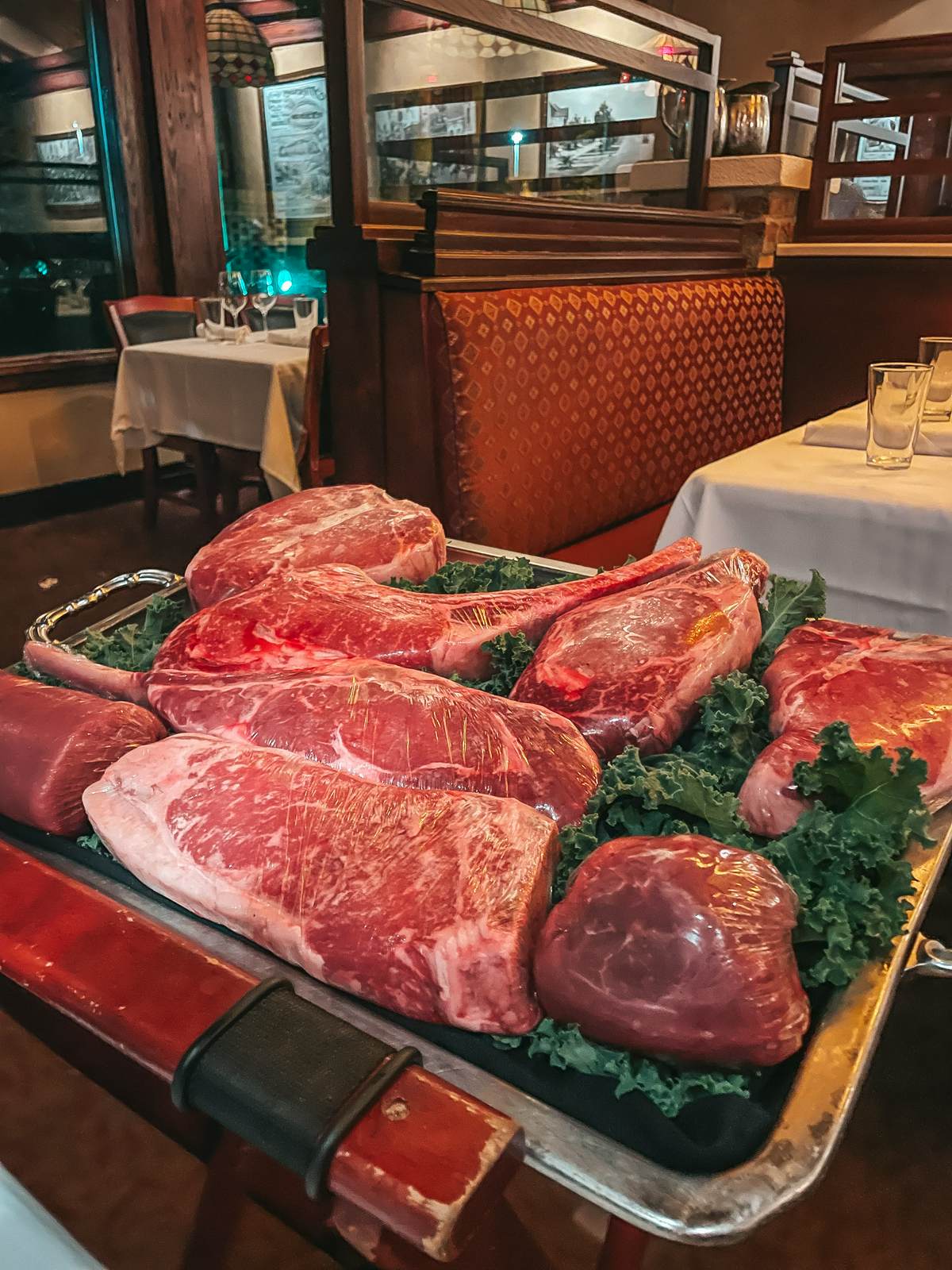 Meat Market
Meat Market is a contemporary steakhouse located in Hyde Park Tampa. The restaurant is known for its high-quality steaks and extensive wine list. Meat Market has a sleek and modern interior, with a focus on quality food and exceptional service. The restaurant also features a lively bar area, making it a popular spot for happy hour.
The menu features from prime steaks to specialty cuts like Japanese Wagyu. Seafood lovers can also enjoy a great selection of fresh fish and shellfish. The wine list is sure to please, boasting hundreds of labels from around the world. For a truly decadent experience, try their Tomahawk steak for two or their signature dry-aged burger.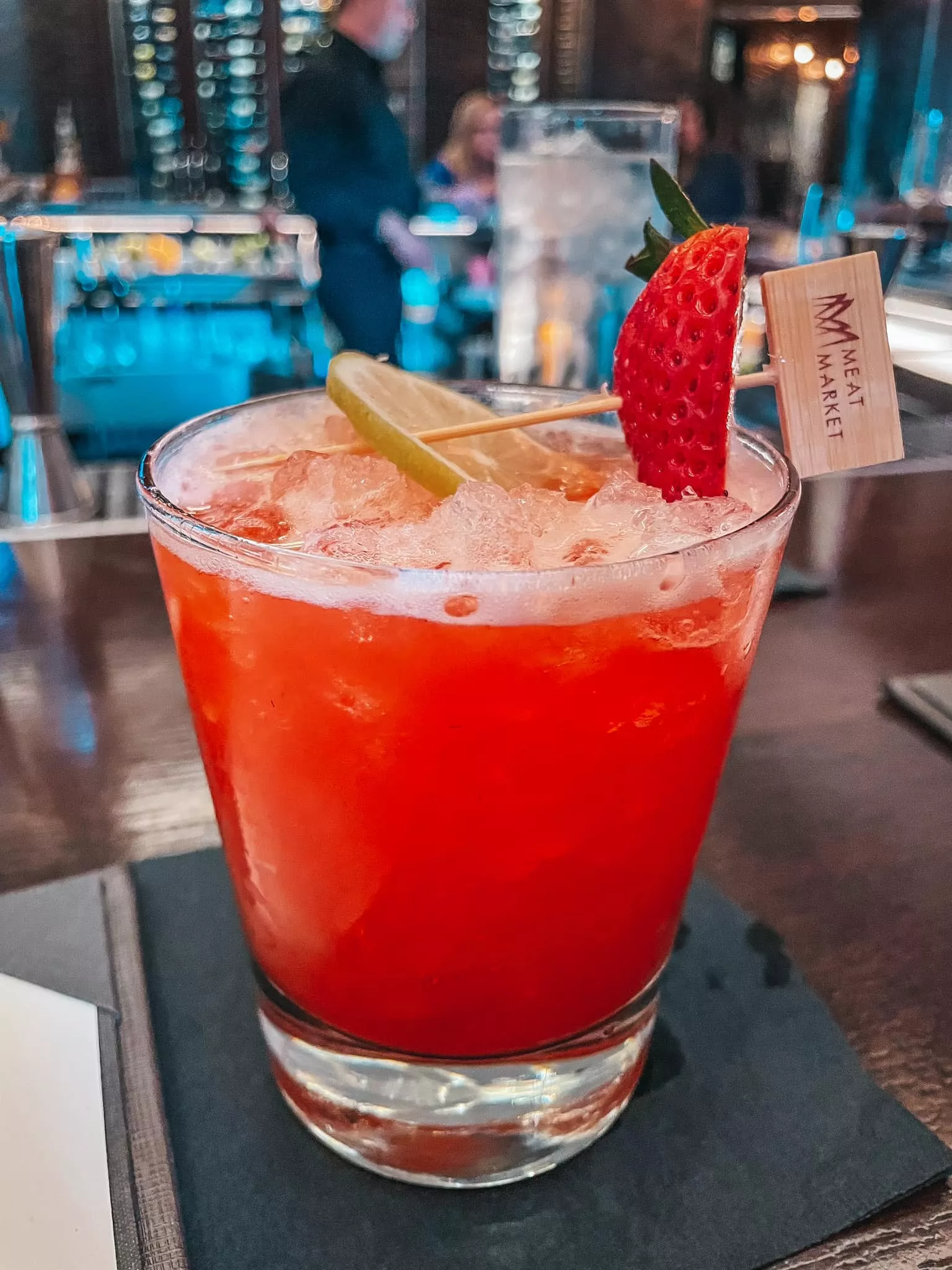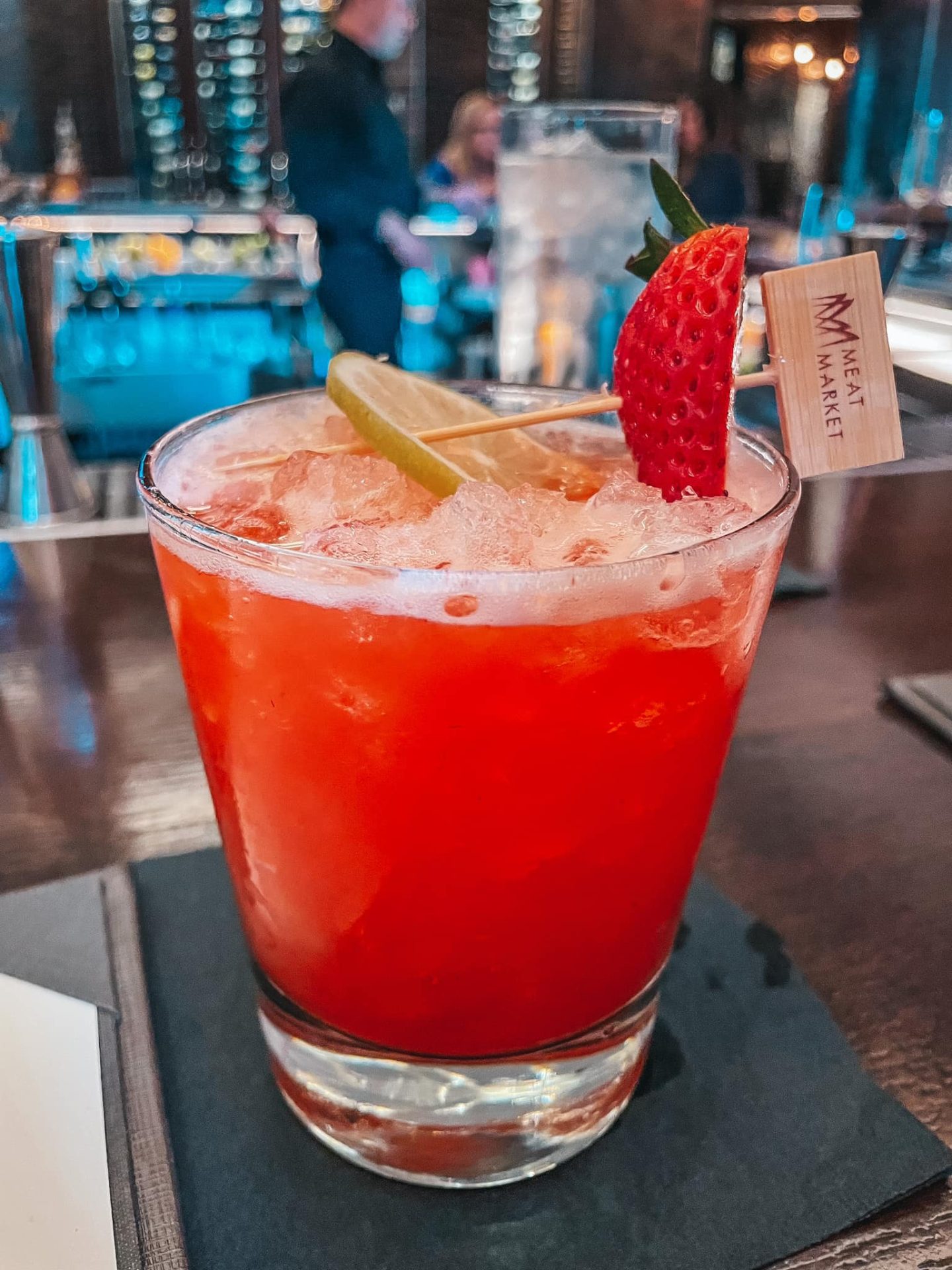 Best Italian restaurants in Tampa
Olivia
Olivia offers a unique dining experience for those seeking a taste of Italy with a modern twist. The restaurant is named after the owner's daughter, and the menu is a reflection of the family's passion for Italian cuisine.
One of the standout features of Olivia is the attention to detail in every dish. The restaurant uses only the freshest ingredients, so the menu changes seasonally. From the handmade pasta to the carefully selected wines, every aspect of the dining experience is carefully crafted to ensure a memorable meal.
The menu at Olivia features classic Italian dishes, as well as more innovative options. I loved their mini rigatoni and grape bruschetta. The restaurant also offers a selection of artisanal pizzas, which are cooked in a wood-fired oven for a perfectly crisp crust.
The decor is modern and elegant, with a color scheme of black, white, and gold that creates a sophisticated ambiance. Olivia also features an open kitchen, allowing guests to watch as their food is prepared. From the exceptional food to the stylish atmosphere, every aspect of the dining experience is sure to leave a lasting impression.
Olivia's owners also own Ponte and On Swann!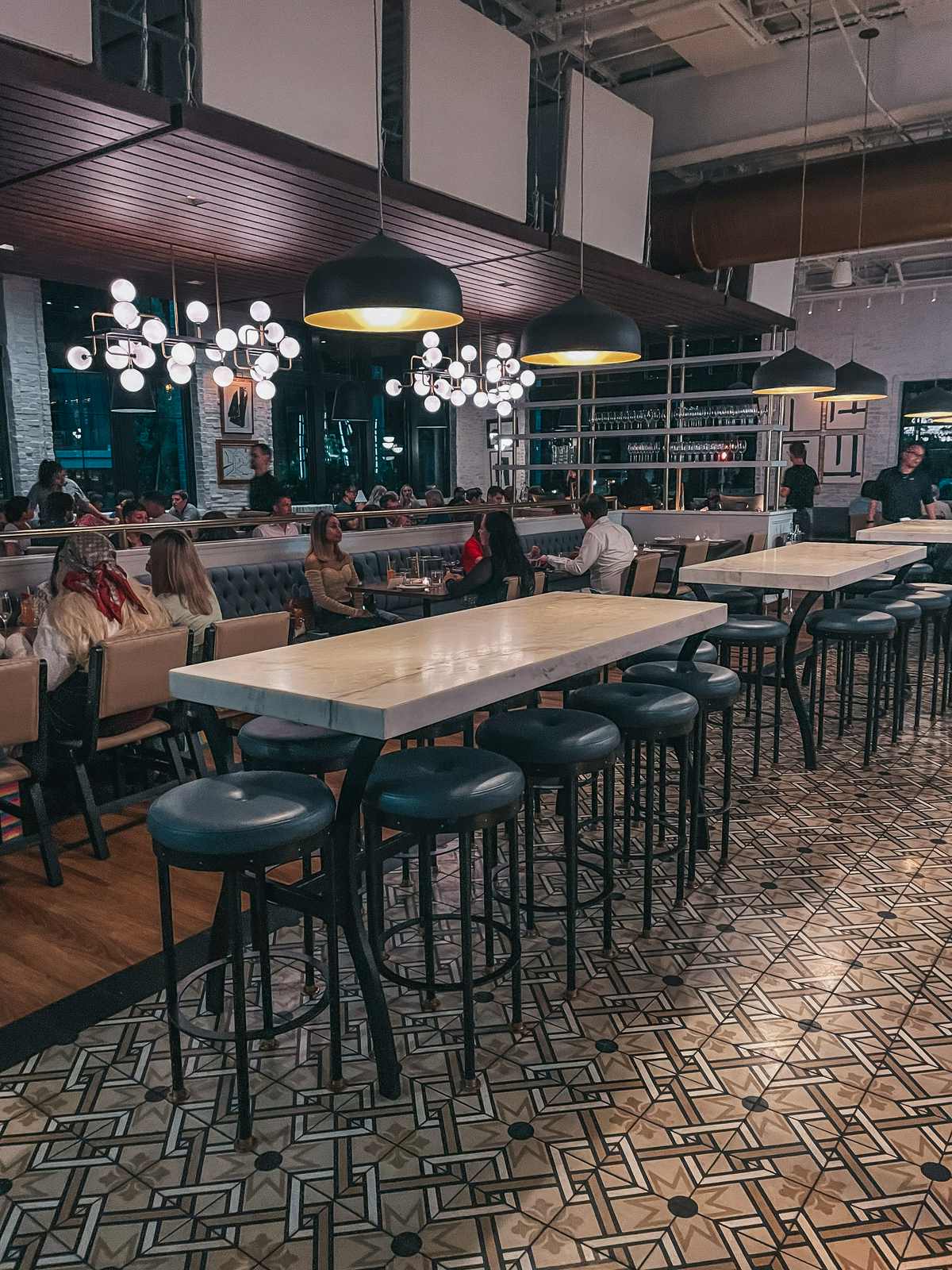 Timpano
Timpano is an Italian chophouse located in Hyde Park. The restaurant is known for its classic Italian dishes, including handmade pasta and wood-fired pizzas. The restaurant also features live music on weekends, adding to the ambiance.
The atmosphere near the bar area is lively and upbeat, making it a great place for a special occasion or night out. Once you get more into their dining area it has more of a cozy and intimate atmosphere, making it perfect for a Tampa date night!
Their espresso martinis are a force to be reckoned with, and for dinner don't even think about getting anything other than their parm-to-table experience which serves two and is bucatini al pesto prepared tableside in a parmesan wheel! To be fair I'm sure their other menu items are delicious as well, but I can't stay away from their pesto.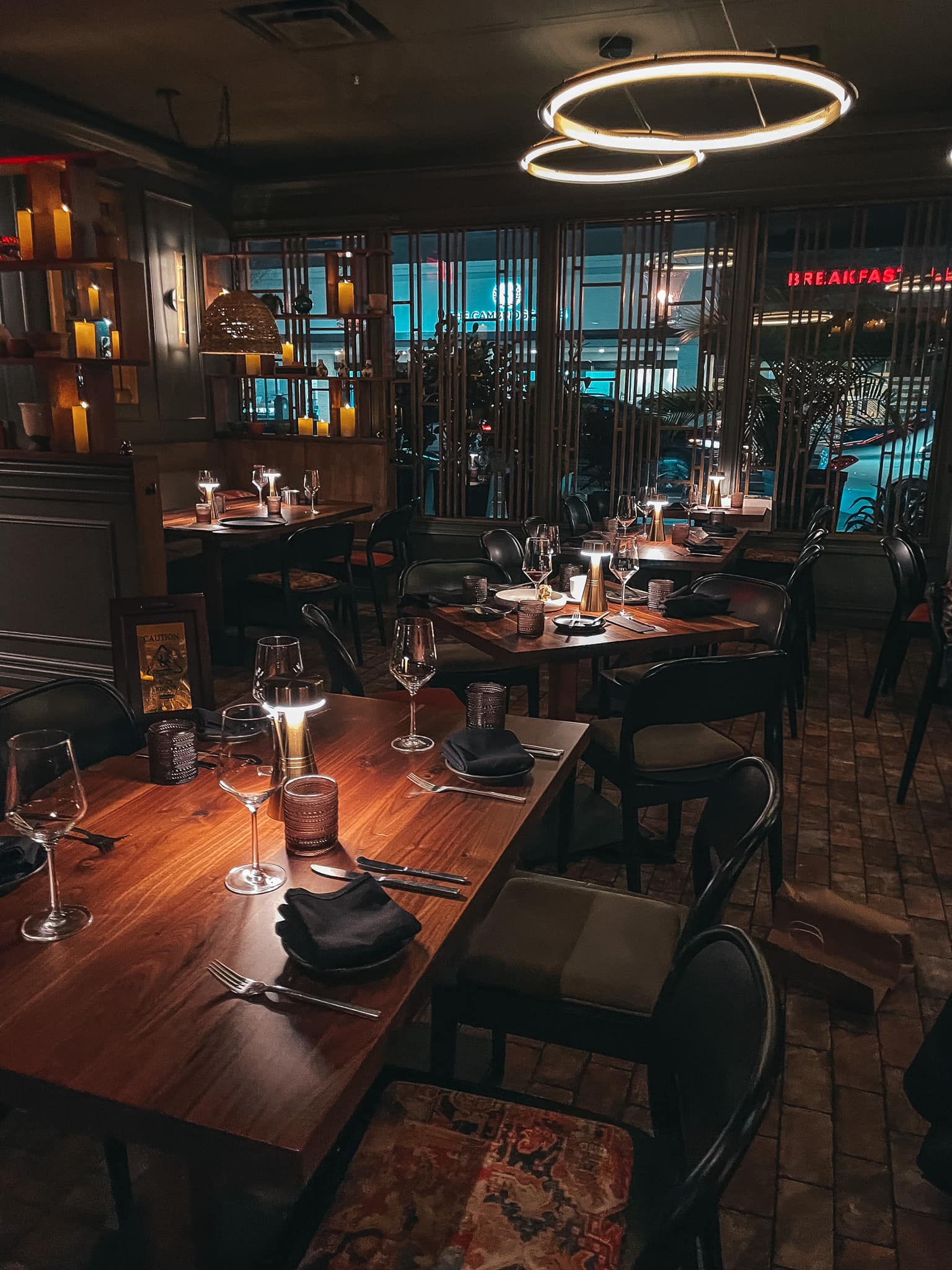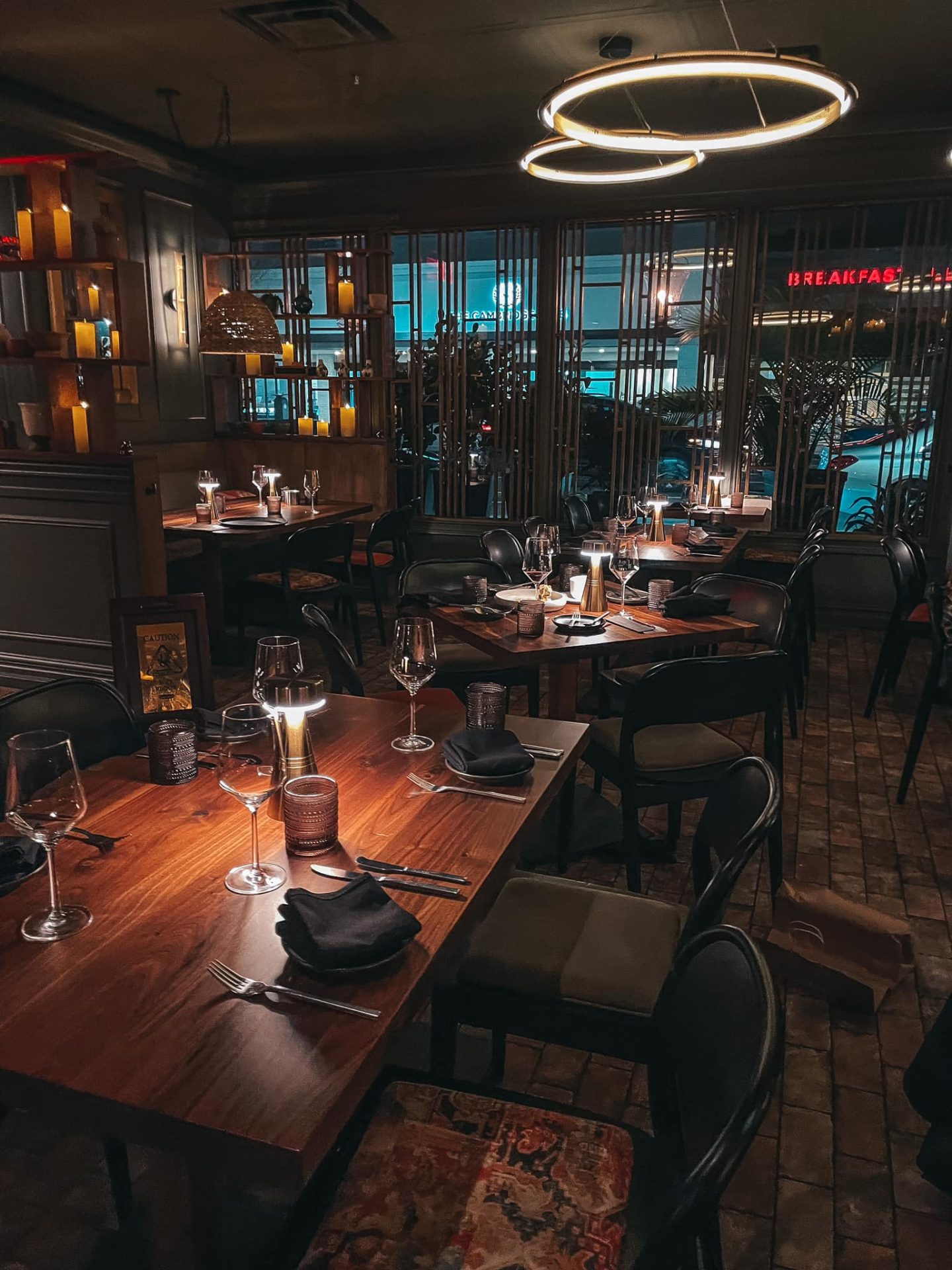 Oggi Italian
If you're in Tampa and looking for a taste of Italy, you must visit Oggi Italian on Davis Island. This charming restaurant offers not only delicious food but a lovely atmosphere, including an outdoor dining area that feels like you're in an Italian alley.
The food at Oggi Italian is not just any Italian food, it's authentic and of the highest quality. Their Caprese salad with sweety drop peppers is a must-try, as it perfectly captures the flavors of Italy. The butternut squash ravioli is also a slice of heaven with every single bite. It's evident that they use fresh ingredients and prepare their dishes with care and attention to detail.
But that's not all – their entrees come with a house salad, garlic baguette, and espresso. It's clear that they take pride in their food and want their guests to have the full Italian dining experience.
If you have dietary restrictions, you'll be happy to know that Oggi Italian offers gluten-free pasta and zoodles. This restaurant is truly a gem in the Tampa area and is a must-visit for anyone looking for an authentic Italian dining experience!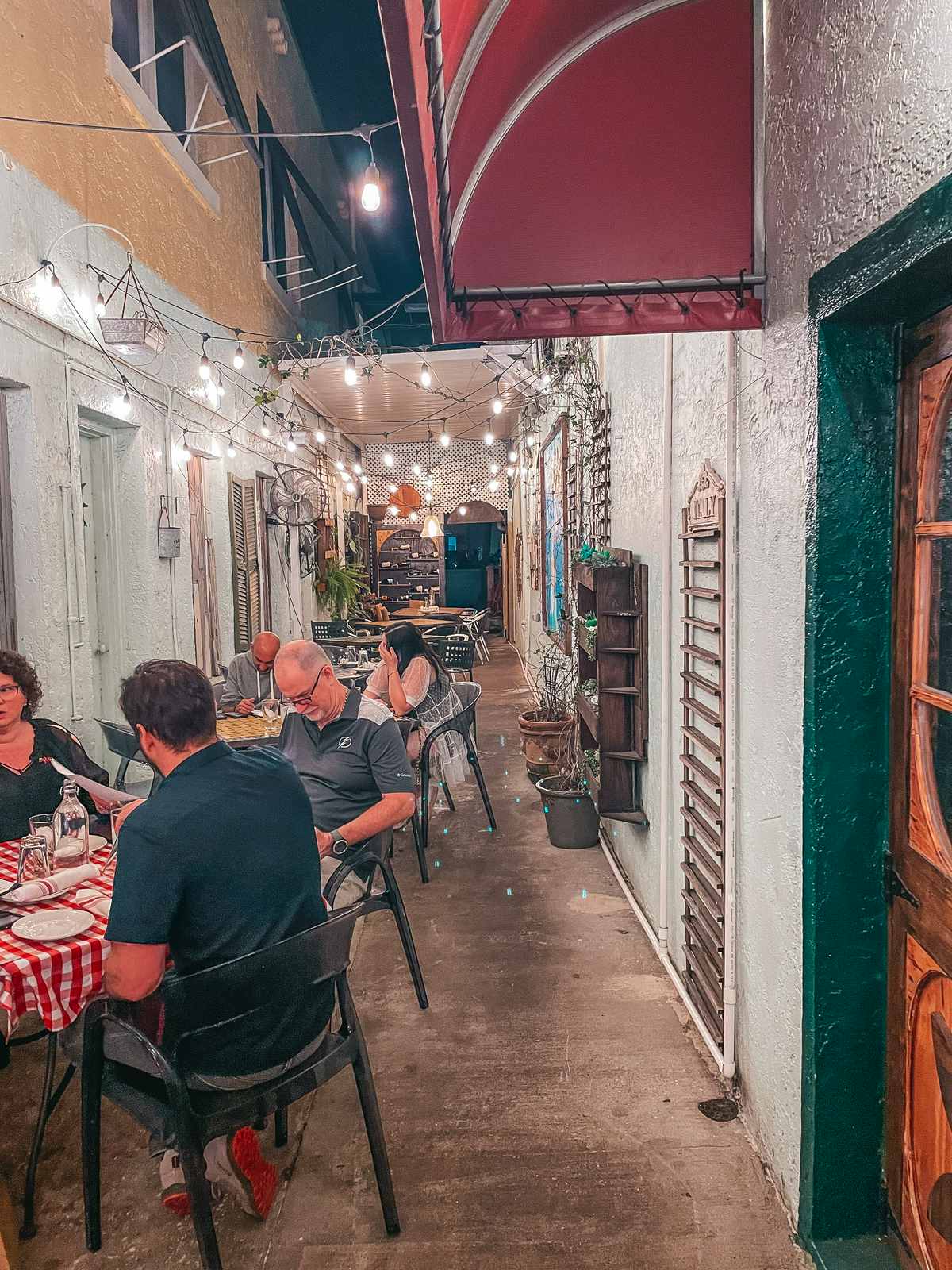 Rocca
Rocca is the place to go if you're looking for an elevated Italian dining experience. This restaurant has a pasta focus and is known for its tableside mozzarella and extensive wine list.
Although it was a sin not to order the tableside mozzarella, the portions at Rocca are huge, and with just two of us, it was slightly understandable (I will be back for it with a crew!). When I visited I was with my adventurous friend and tried menu items that I wouldn't typically order, and it paid off! The beet salad and carne crudo were both delightful, and it's always great to try new things.
When it came time for the main dish, we had to go with the pasta, and the tagliolini al ragu did not disappoint. It's clear that the chefs at Rocca put care and attention into every dish they make, and the flavors were simply delicious.
Despite being full, we couldn't resist trying the basil custard, and it turned out to be a pleasant surprise. It's unlike anything I've had before, but in a good way! I'm already planning my next visit to Rocca to try their lemon tart and tableside mozzarella!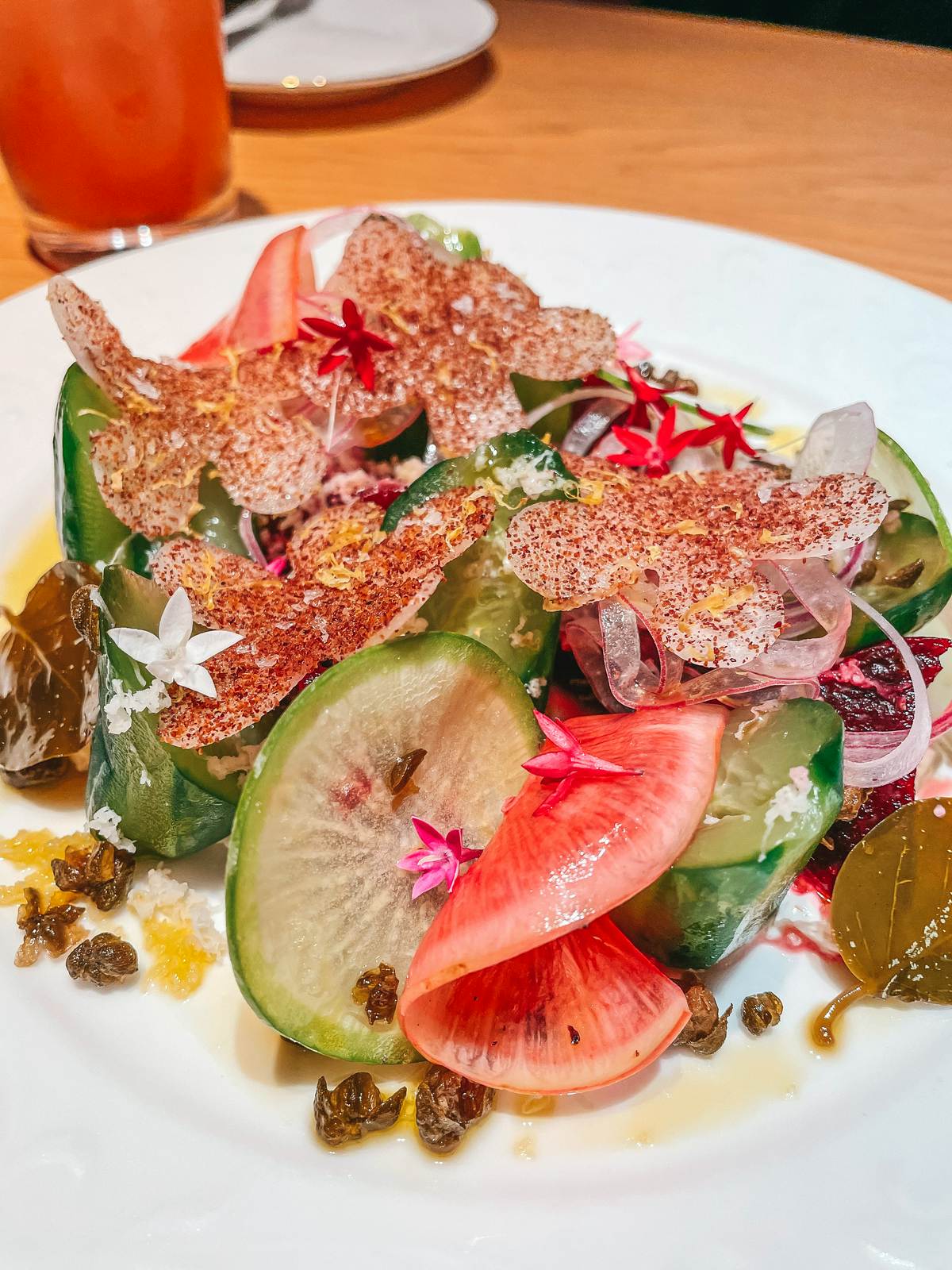 Best seafood restaurants in Tampa
Oystercatchers
One of the best seafood restaurants in Tampa is hands down Oystercatchers located at the Grand Hyatt Tampa Bay. With its stunning waterfront location overlooking Old Tampa Bay, this restaurant offers not only beautiful views but also fresh seafood, including oysters, shrimp, and lobster.
The atmosphere at Oystercatchers is relaxed and casual, with an outdoor patio area that is perfect for enjoying the views. You can enjoy a delicious meal while watching the sunset over the water.
If you're a fan of tuna, you'll be pleased to know that their tuna steak is seasoned well and absolutely fabulous. Their shrimp cocktail and drinks are also a treat, and you'll want to savor every sip and bite.
If you're planning a visit to Oystercatchers, you'll definitely want to try their brunch, which I've heard is great! With so many delicious options, it's clear that this restaurant is a must-visit for anyone looking for a seafood feast with a beautiful waterfront view.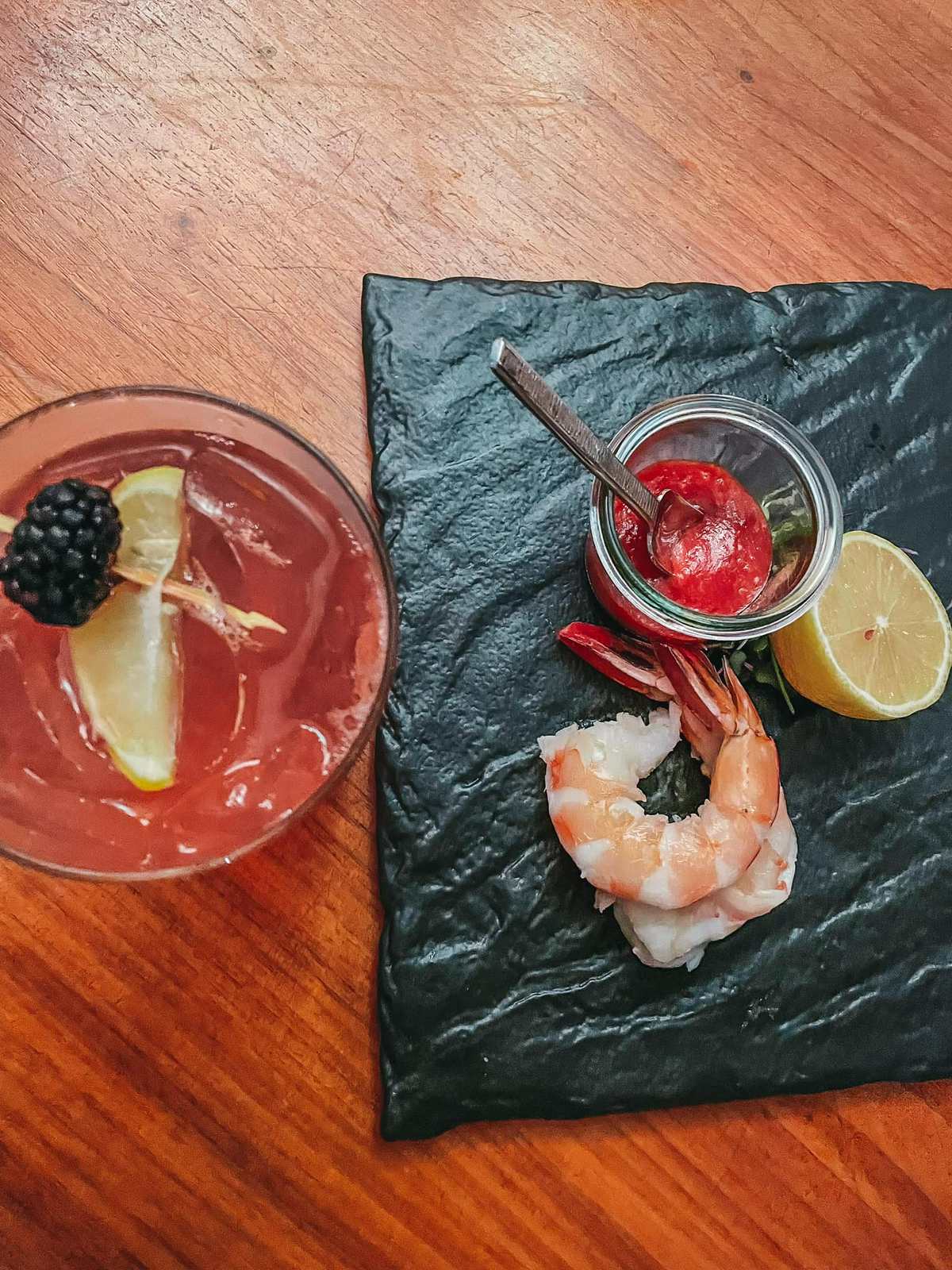 The Pearl
Nestled in the heart of Tampa's bustling Water Street district, The Pearl is a relative newcomer to the city's vibrant food scene. Despite its recent opening, this restaurant has already made quite a splash with its inventive cuisine, welcoming atmosphere, and craft cocktails.
I recently had the chance to visit The Pearl for brunch, and I can confidently say that it's already one of my favorite spots in town. From the delicious oysters to the mouth-watering huevos rancheros, every dish I tried was a delight. But what really sets The Pearl apart is its commitment to creating an inviting ambiance that makes diners feel right at home!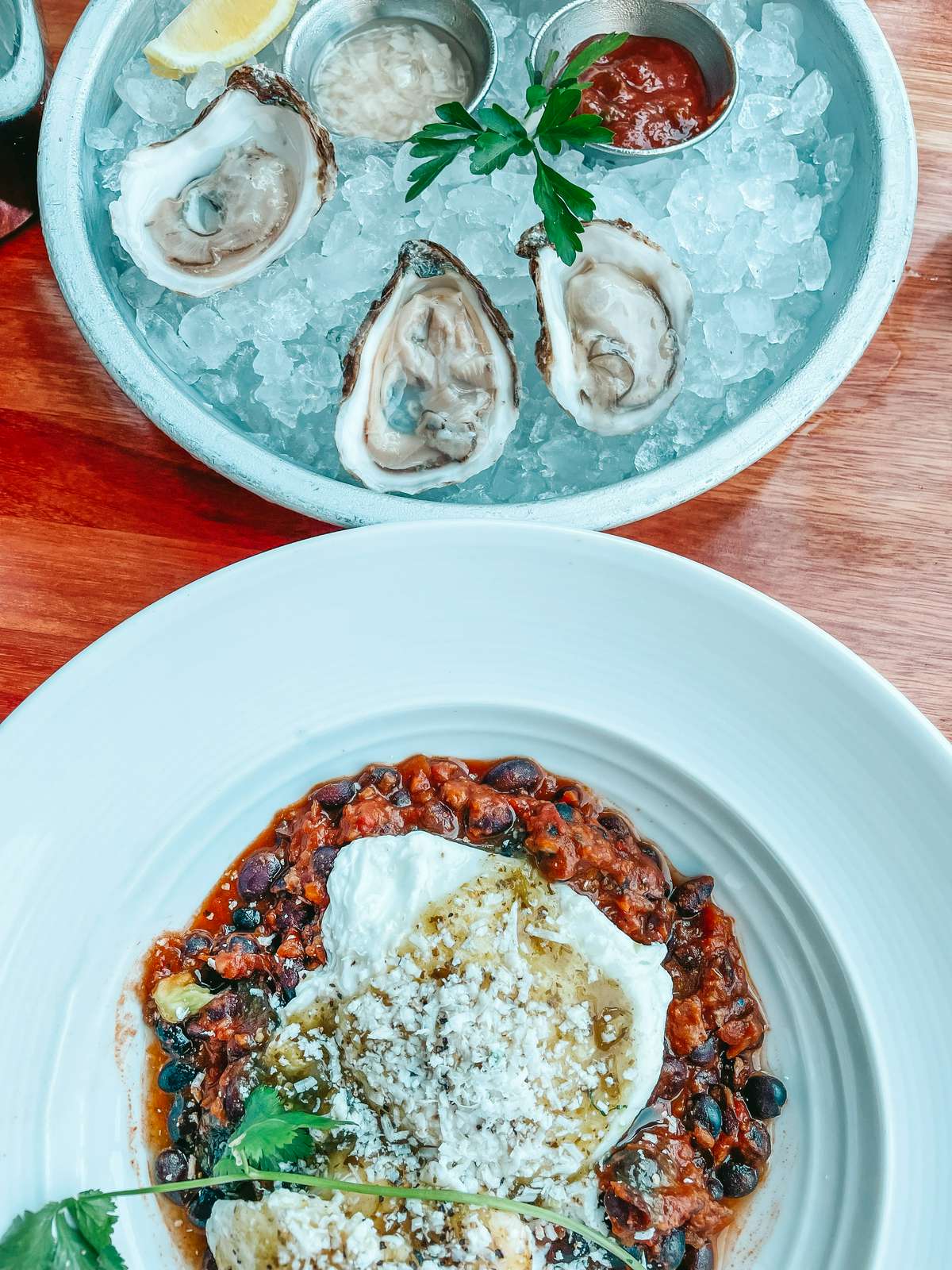 Best modern American restaurants in Tampa
Union
If you're on the hunt for a new favorite restaurant in Tampa, look no further than Union! This modern eatery recently opened its doors and has been winning over diners (myself included!) with its chic atmosphere, creative menu, and craft cocktails.
From the moment you walk in, you'll notice the sleek decor and sophisticated vibe. The bar area is particularly impressive, with a selection of spirits that would make any cocktail enthusiast swoon. Whether you're in the mood for a classic sipper or something more inventive, the talented bartenders at Union have got you covered.
When it comes to the food, Union does not disappoint! The milk bread, which sounds simple, is anything but. It's pillowy and rich, with just the right amount of sweetness and salt. The Brussels sprouts are a standout appetizer, with an Asian flair that adds depth and complexity to each bite. The crispy tuna roll is another must-try, showcasing the freshest seafood around (brought right from St. Pete).
For something more substantial, the Korean BBQ bowl is a winner. It's not what you might expect, but in the best way possible. The warm salmon and cold noodles are perfectly balanced, with pickled veggies that add a tangy, refreshing element. It's the kind of dish that makes your taste buds sing.
Of course, no meal at Union is complete without a cocktail (or two). The Starry Night is a particularly refreshing option, that screams summertime. And if you're a fan of espresso martinis, be sure to save some room for the biscotti version – it's a real treat!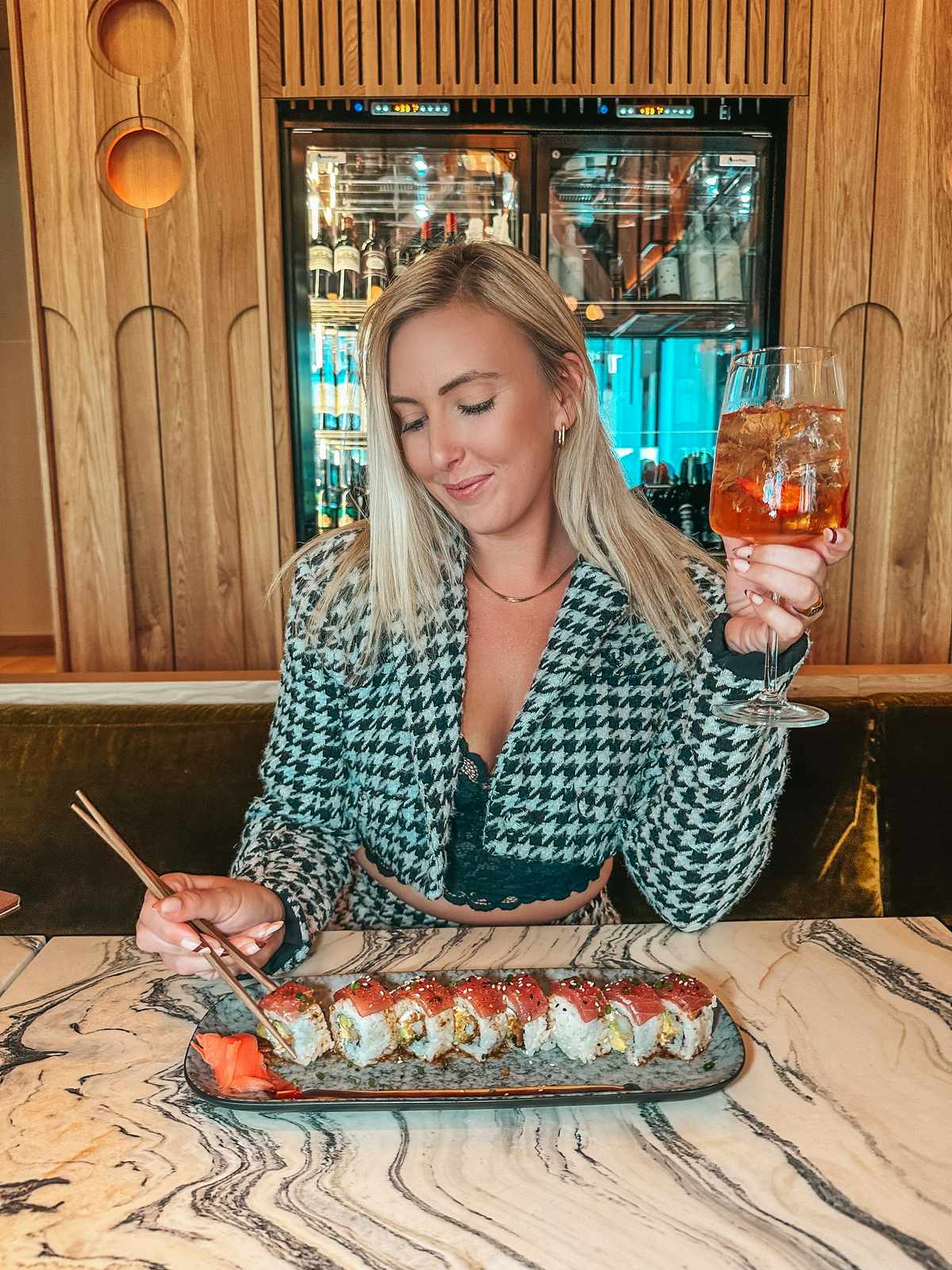 Ponte
If you're looking for a luxurious dining experience in midtown Tampa, look no further than Ponte Modern American. This restaurant is known for its contemporary American cuisine, featuring dishes made with locally sourced ingredients. This Tampa restaurant boasts a chic and modern atmosphere, complete with a full bar and outdoor seating.
You can enjoy a night of experiential dining at its finest, with tableside caviar and champagne. Even if you're not typically an escargot person, you'll be pleasantly surprised by Ponte's version. Their escargot is delicate and tender, topped with a delicious puff pastry. And don't forget to start with their iconic mushroom soup, which is a must-try.
For mains, you can choose from several prime and aged steak selections, seafood, or other carefully crafted dishes.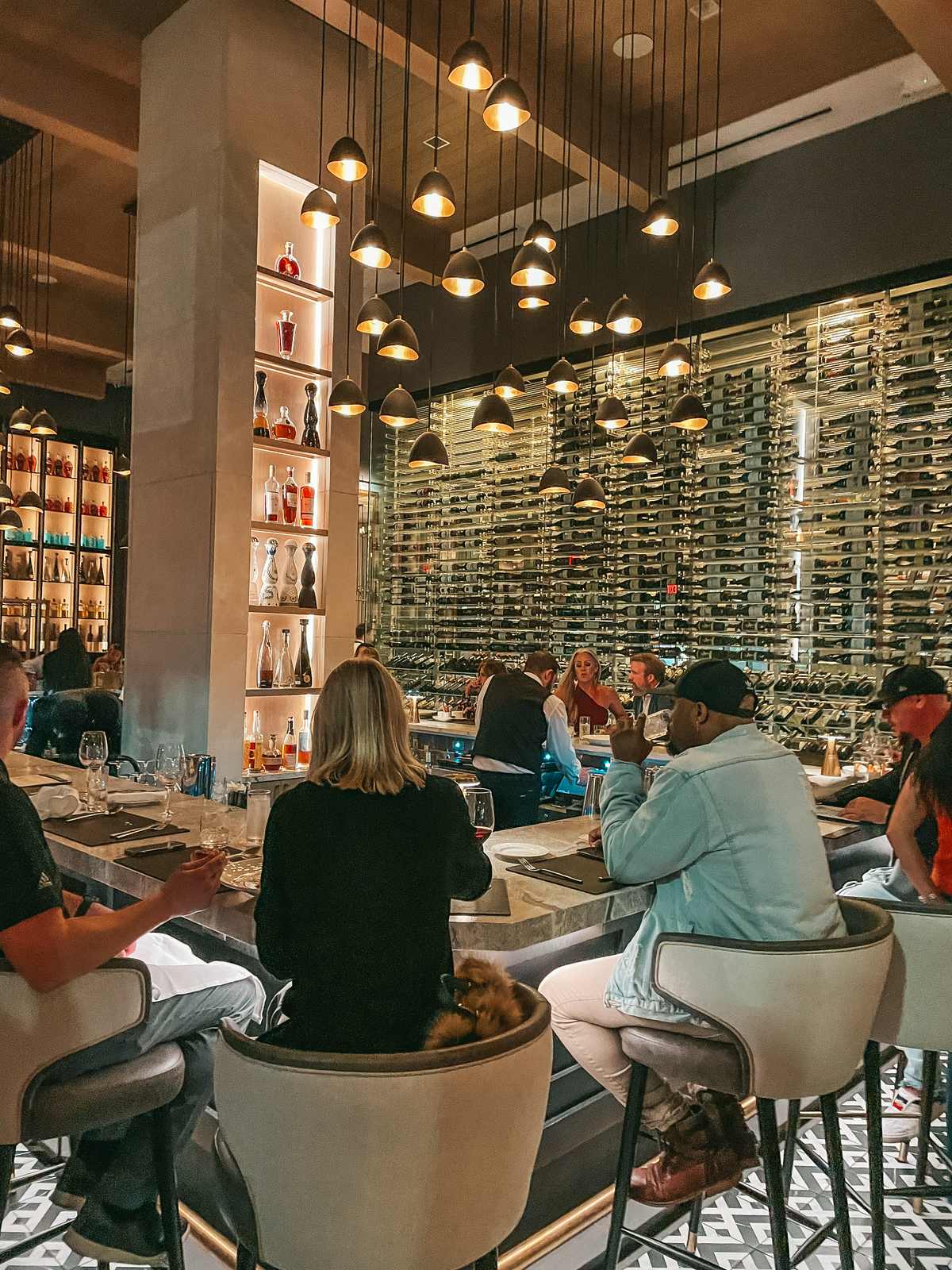 Oxford Exchange
Oxford Exchange is a stylish brunch café that is not only a feast for the eyes with its stunning interior design, but also serves up delicious food and drinks. From their French toast to their seasonal pancakes, there's something for everyone on the menu.
Oxford serves Buddy Brew coffee, which is probably one of my favorite coffees in all of Florida. I usually grab one of their vanilla or seasonal cappuccinos. If you're not in the mood for a sit-down meal, you can grab a cup of coffee at the Buddy Brew location outside of the dining area, and browse the bookstore or shop while you sip.
And if you're looking for an aesthetic spot for a Tampa bachelorette party or special occasion brunch, Oxford Exchange definitely needs to be on your list. Did I mention they have a champagne bar? They even do an afternoon tea experience on Sundays!
If you find yourself in St. Pete, be sure to check out Oxford Exchange's sister location, The Library. It's one of the best downtown St. Pete coffee shops and brunch spots around!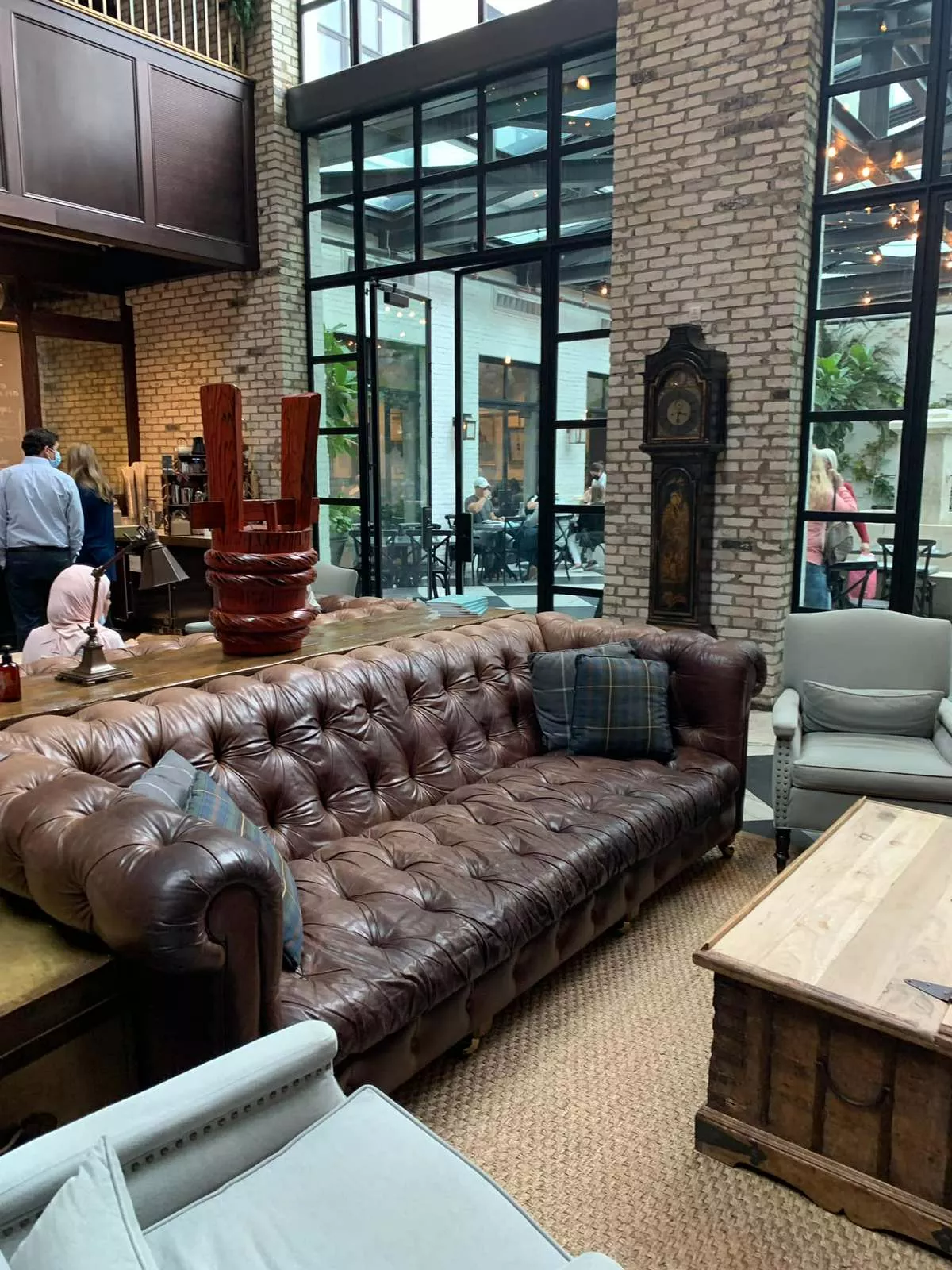 Willa's
If you're looking for a new dining experience with unique and flavorful dishes, Willa's is the perfect spot for you. Their scratch kitchen ensures that every meal is made with care and attention to detail, and even their craft cocktails are made with homemade syrups!
The menu items may be unfamiliar, but don't be afraid to try something new – everything is delicious! Be sure to check out their weekend brunch, which features fantastic coffee and an excellent menu. If you're in the mood for a cocktail, the Parsley Pepper Margarita with mezcal is a must-try. And for those who don't imbibe, their mocktail options are equally delicious.
With happy hour every day from 3-6 PM, Willa's is the perfect place to unwind and enjoy fantastic food and drinks.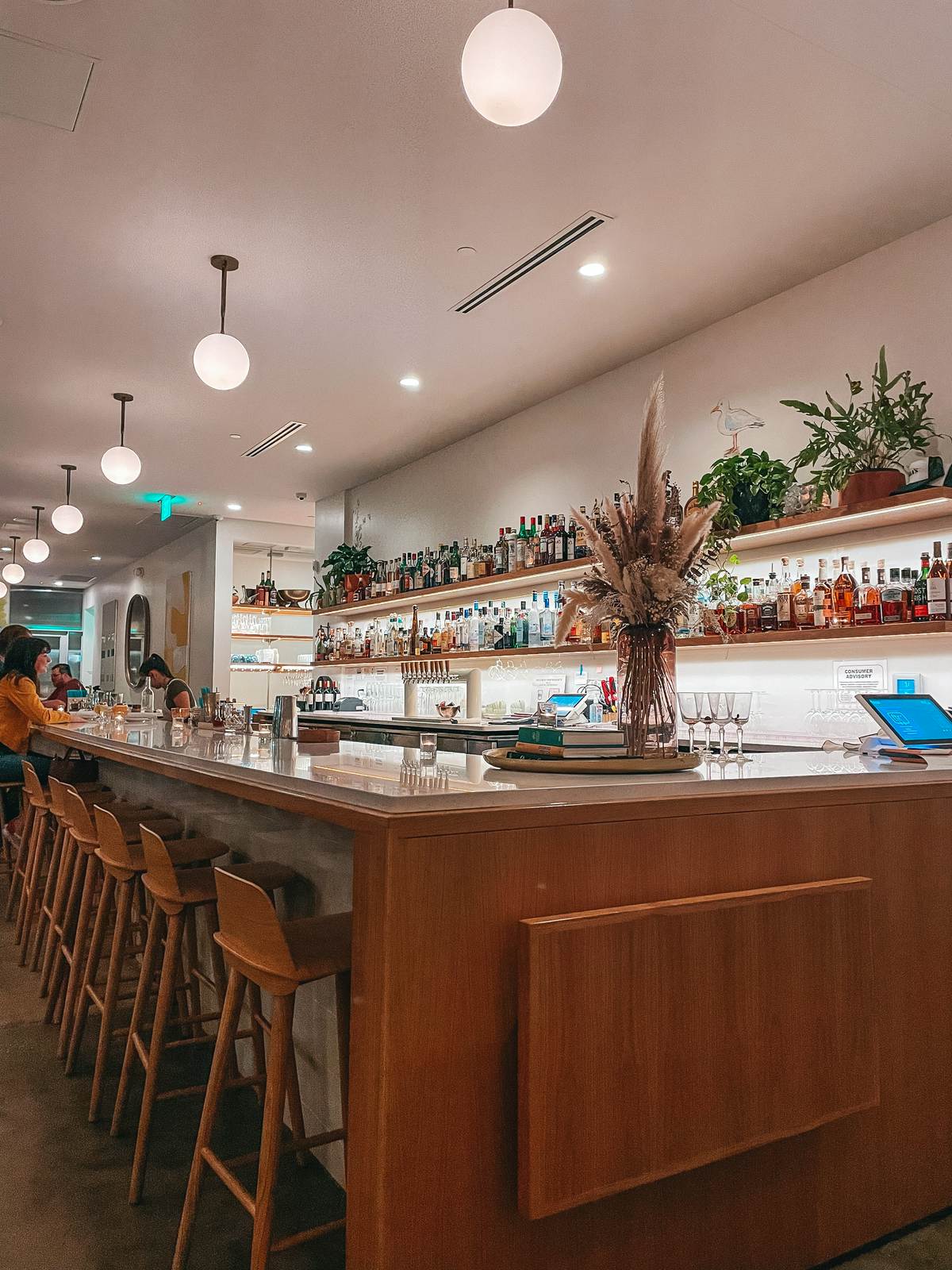 Best Asian restaurants in Tampa
Haiku
If you're looking for a fun and lively spot for Asian cuisine in downtown Tampa, Haiku is the place to be! The restaurant has a modern and stylish atmosphere, with a sushi bar and open kitchen, where you can watch the chefs prepare your meal.
Haiku's mission as a restaurant is centered around providing extreme quality, dedicated service, and beautiful presentation to each and every customer, ensuring that every visit is a memorable one. From the carefully crafted dishes made with the freshest ingredients to the attentive and welcoming service, Haiku takes pride in delivering a dining experience that is truly exceptional.
The menu features a wide range of Asian dishes, including sushi, ramen, yakitori, and so much more. I particularly enjoyed their volcano roll, which is a delicious combination of tuna, salmon, and crab. Their cocktails are also a must-try, with unique flavors and creative presentations. Overall, Haiku is a great spot for a night out with friends or a fun date night!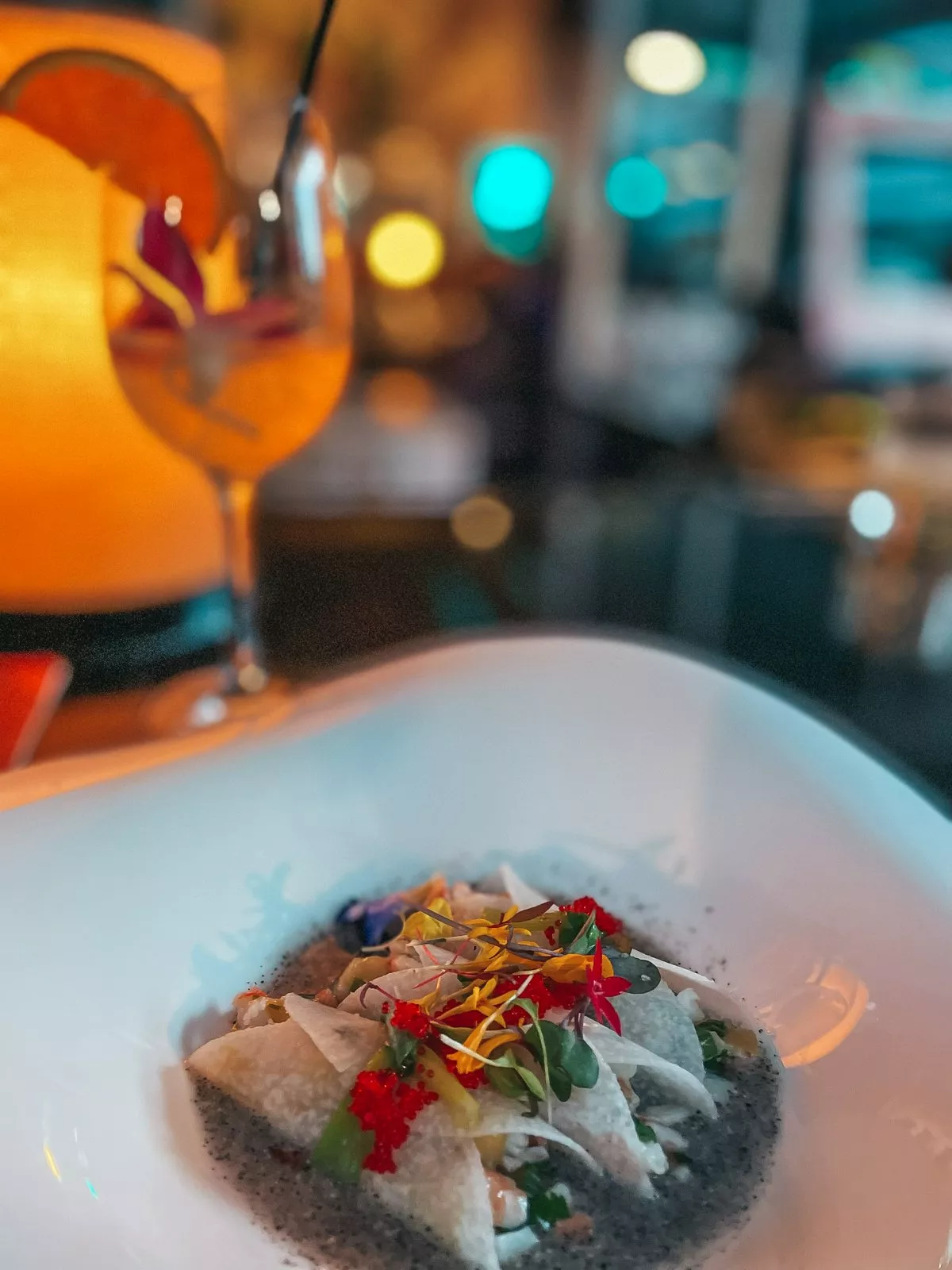 Noble Rice
Noble Rice in Channelside is an expansion of the popular Hyde Park restaurant of the same name, which closed at the onset of the pandemic. The old space has since been reopened as Koya, a high-end omakase spot.
Noble Rice itself has a modern Japanese menu with high-quality fish and seafood dishes that are inventive and delicious as well as a full bar focused on Japanese whiskey and sake.
The price points may seem a little higher than your typical sushi restaurant, but they fly their seafood in weekly from Japan to ensure quality and freshness! They even offer uni and toro as menu highlights. We absolutely loved their toro tartare!
I had my first, but certainly not my last, milk-bread experience. It was truly heavenly! I also highly recommend their tempura poke roll. Each roll gets its own shoyu sauce. This one was paired with a white shoyu and it complimented it perfectly.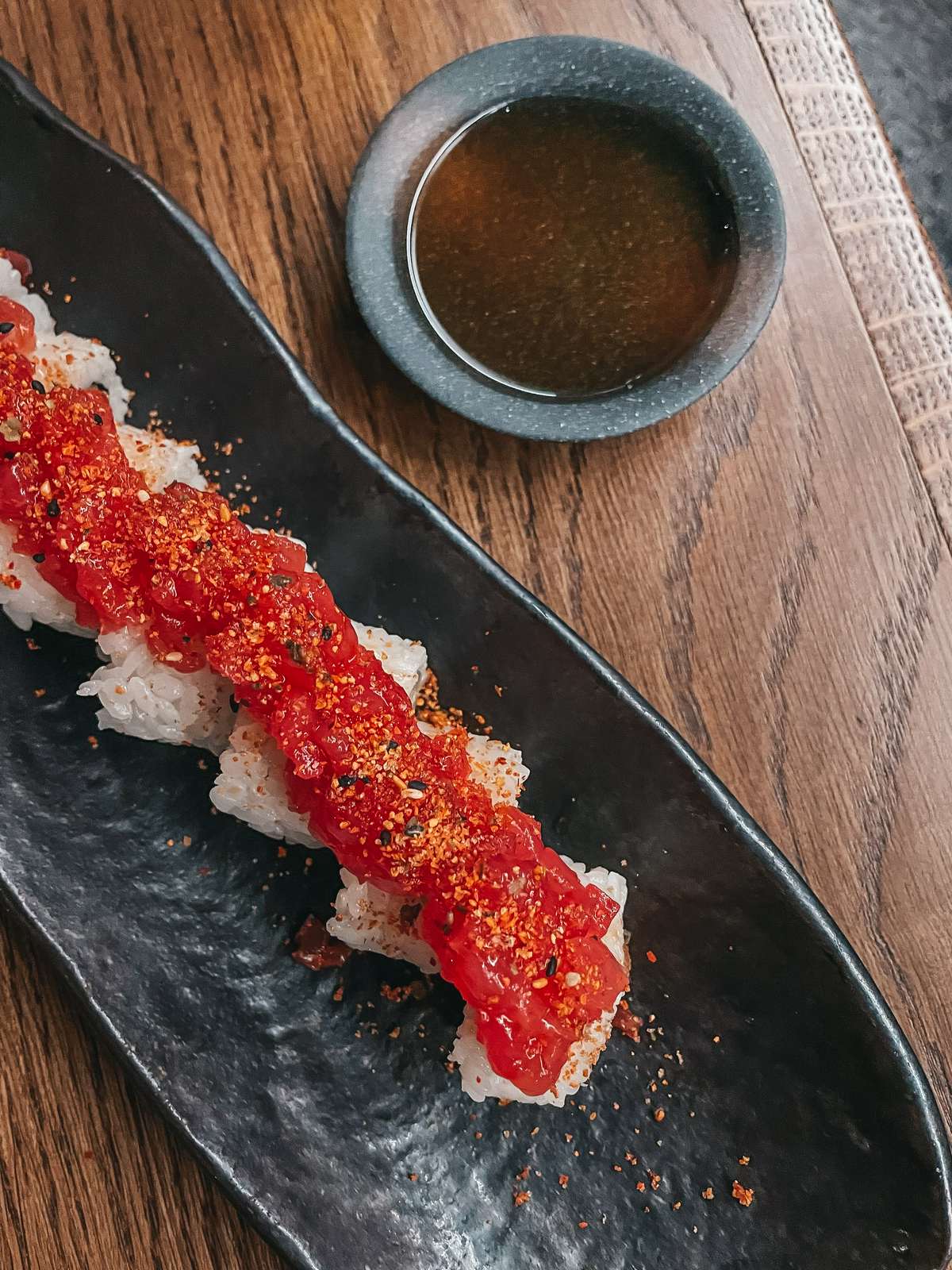 Thanks for coming along with me on this culinary journey through the best restaurants in Tampa! I hope this guide has inspired you to try some new spots and indulge in some delicious dishes. Whether you're in the mood for fresh seafood, contemporary American cuisine, or Asian-inspired dishes, Tampa has something to offer for everyone.
Before you go, be sure to check out some of my other Tampa blog posts:
Best Cuban Sandwiches in Tampa Bay