This post contains affiliate links which means that I will make a small commission if you purchase a product after clicking on any of them, at no extra cost to you.
Tampa, Florida is the perfect spot for a bachelorette party. The city has so much to offer, from amazing restaurants and bars to incredible nightlife and entertainment options. You'll find something fun to do all day long! So grab your girls and get ready because there are plenty of places that will make any bride-to-be feel like royalty when planning an epic bachelorette party in Tampa!
Also, before you go be sure to check out my epic list with a variety of fun and unique items perfect for any bachelorette party, including adult drink pouches, bachelorette party games, photo booth props, and more!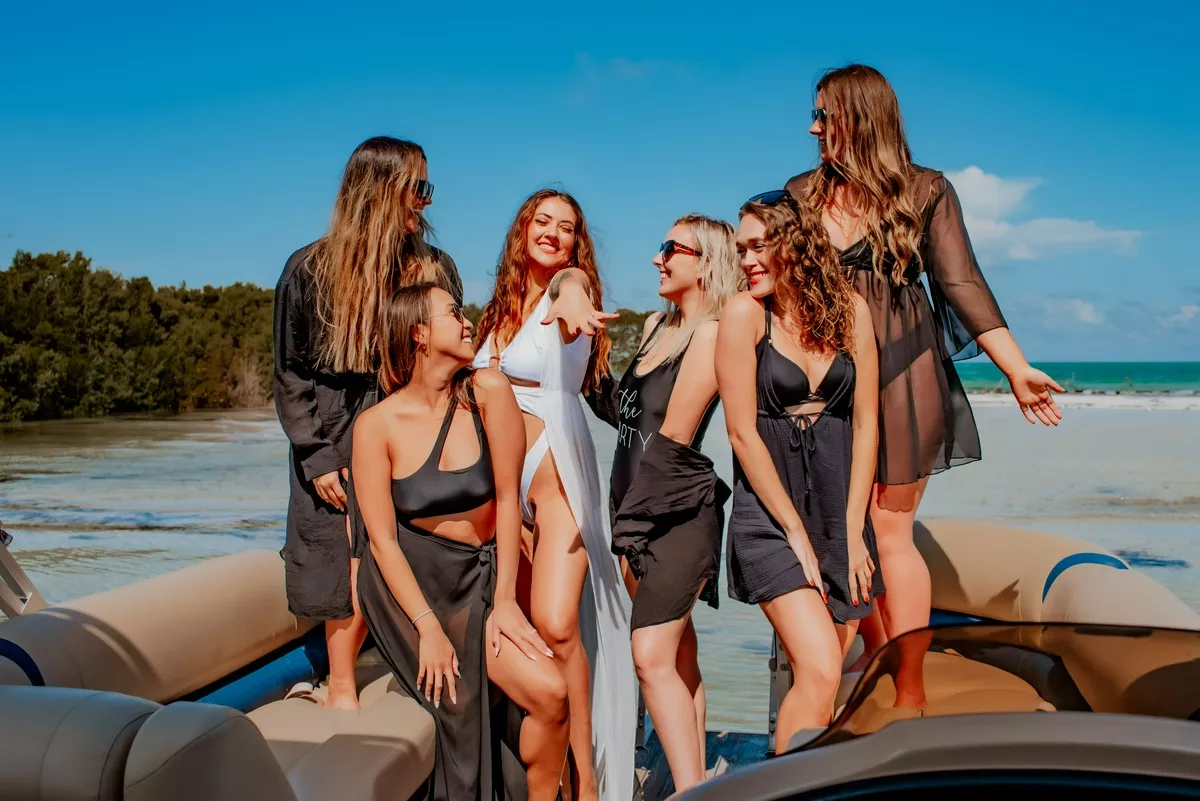 Quick links for your Tampa bachelorette party
🏨 Accommodation
Easily compare prices, secure great deals, and enjoy the added benefit of flexible cancellations up to 24 hours in advance for the majority of hotels with Booking
🎟️ Tours and tickets
Discover your next adventure with ease by using Viator which allows you to explore a multitude of local tours, ensuring you find the best experiences at the best prices.
🚘 Car rental
Rentalcars is the best tool for comparing prices for your date amongst the most popular rental car companies!
Tampa Florida Bachelorette Party Guide
Why should you have your bachelorette party in Tampa?
There are many reasons why Tampa is an ideal destination for a bachelorette party. First and foremost, the weather is incredible (even in the winter!). With sunny skies and warm temperatures for nearly 10 months out of the year, Tampa is the perfect place to escape to for a tropical getaway. You can expect to enjoy plenty of beach days, pool parties, and outdoor activities without worrying about rain or cold weather.
In addition to the beautiful weather, Tampa is also incredibly easy to get to. The city is served by Tampa International Airport (TPA), which is located just a few miles from downtown. Many major airlines offer direct flights to Tampa from cities across the country, making it a convenient and accessible destination for your entire bachelorette party.
You can also fly Allegiant into the St. Pete Clearwater Airport (PIE). This is a good budget-friendly flight option. It is a bit harder to secure flights to this airport due to its small size and limited carriers, however, it can be quite economical!
Another reason to choose Tampa for your bachelorette party is the wide range of activities and attractions available. Whether you're looking for a relaxing spa day or an adventurous boat tour, Tampa has something to offer everyone. From the beautiful beaches to the vibrant nightlife, you're sure to have an unforgettable time in this amazing city.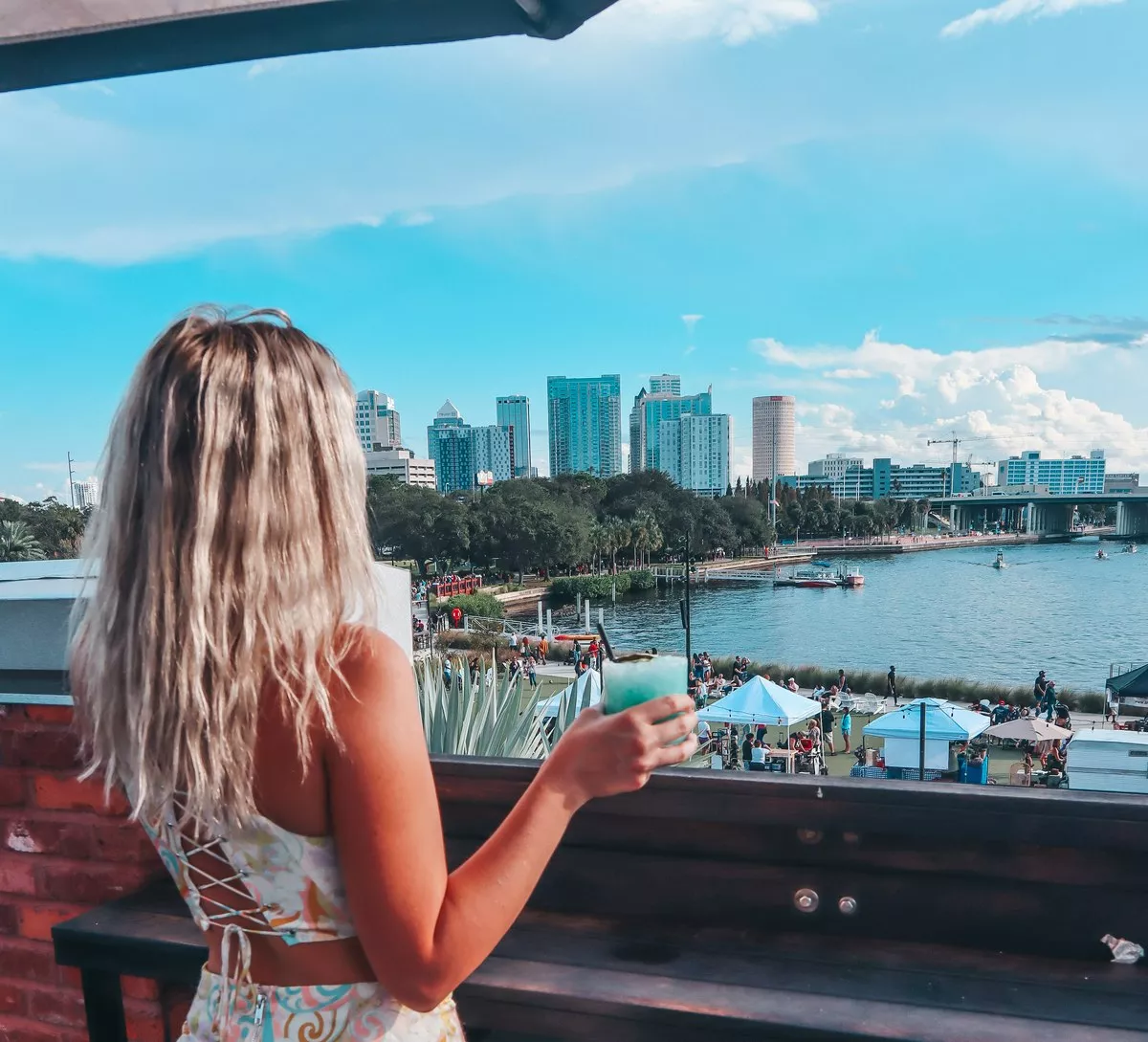 Vendors to check out for your Tampa bachelorette party
Planning and decorating: Tampa Bay Baches and Tampa Bay Bachelorette both provide full-service assistance for all of your party planning and decor needs! From fridge stocking to itinerary planning and of course, they will make any theme your heart desires come to fruition with their decor and detailed touches.
Custom coconuts from Surfing Coconut: this is such a fun, unique, and delicious addition to any party!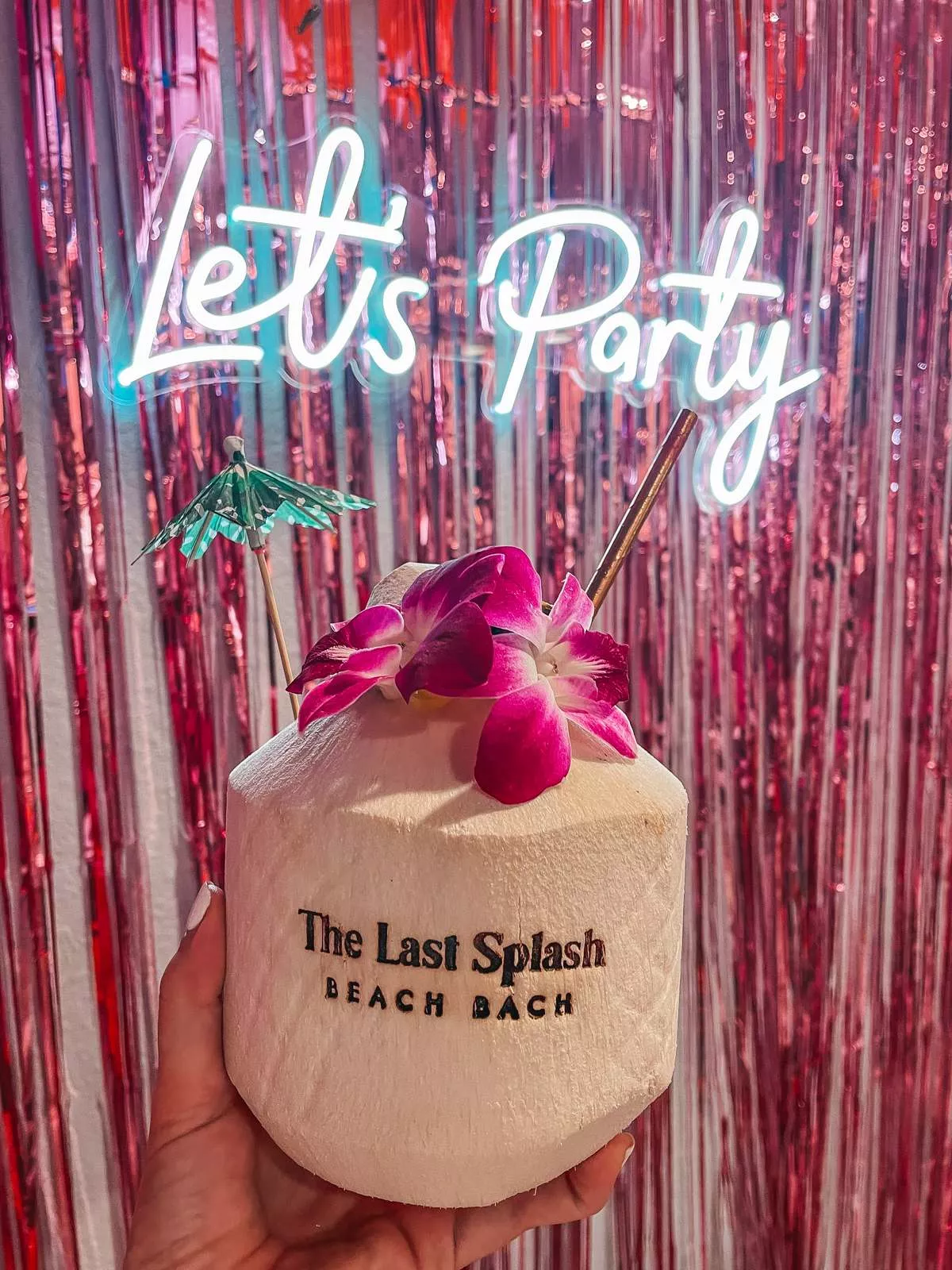 Fun Tampa bachelorette activities
🎟️ Tampa CityPASS
If you plan on checking out some of Tampa's top attractions, save money with CityPASS!
Click herе for more info
Boat tours
Tampa Bay Fun Boat is a popular sightseeing boat tour with daytime and sunset cruises. 
If you prefer to be the captain of your own boat, check out eBoats Tampa, which offers 1- to 4-hour boat rentals. No boating license is necessary.
If you want your own private boat with captain included, Staying Afloat Party Boat prices start at $700 for 4 hours for up to 12 people. Or you can do a 2-hour charter exploring the heart of downtown Tampa for $400 for up to 12 people.
Both options have longer charter options as well.
Pirate Water Taxi
The Pirate Water Taxi is a fun hop-on, hop-off shuttle service. With 14 stops and a narrated tour that allows you to explore downtown Tampa and the Riverwalk District all day!
All-day passes are $25 for adults and $15 for kids.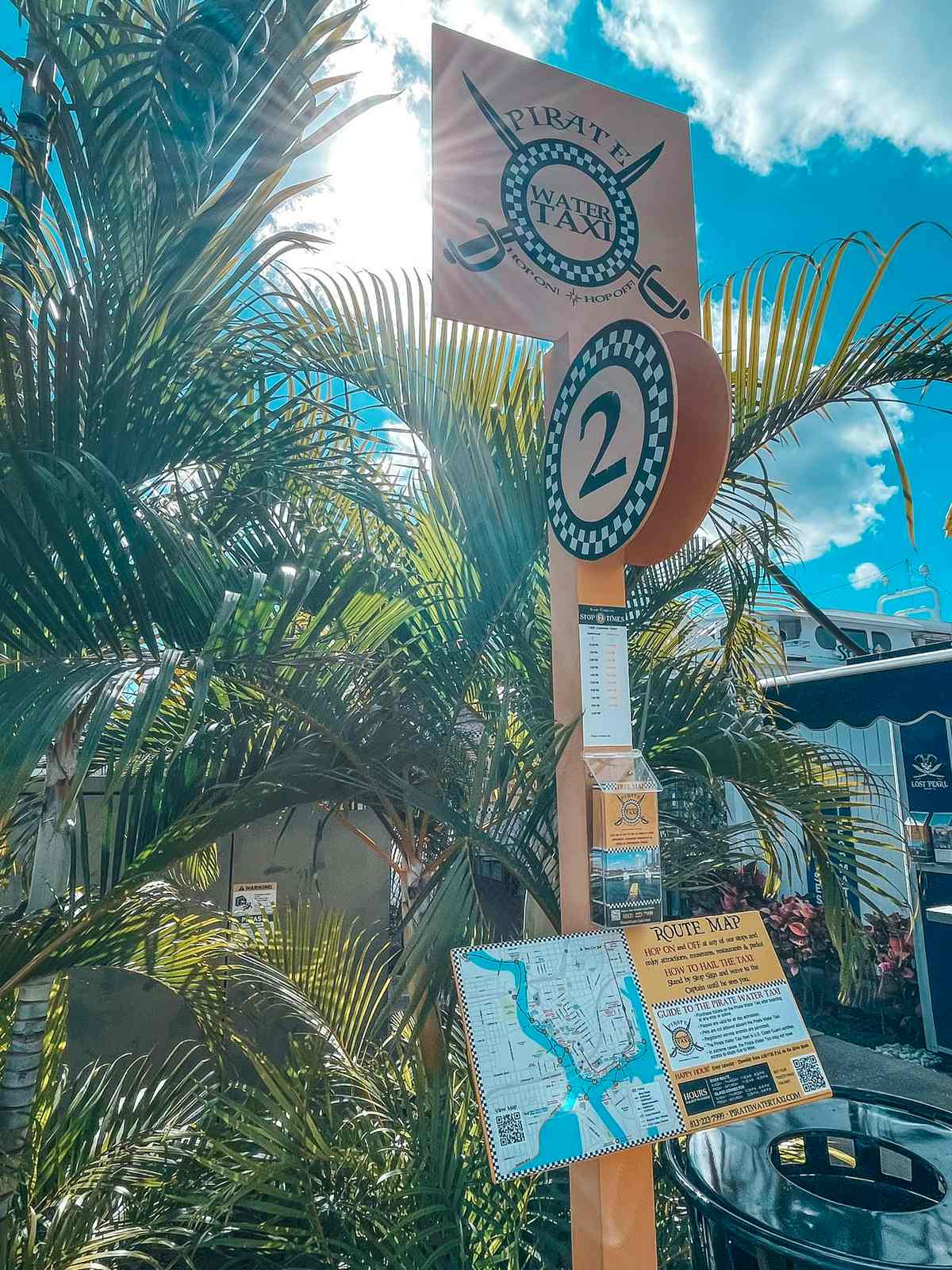 Dinner Cruise
Yacht StarShip Dinner Cruise is a buffet-style cruise. The menu offers seafood and non-seafood options. The price includes your meal and an open bar that's Free at Sea.
The open bar includes Bud Light, Michelob ULTRA, Bud Light Seltzer, house wines, and house liquors. They also have a DJ providing an even more enjoyable evening!
Prices vary depending on if you choose to do your cruise in the early evening, during happy hour, or at sunset. And you can purchase tickets to do just the cruise without dining as well!
The food and service were actually phenomenal for our experience, plus I loved the views of downtown from the water!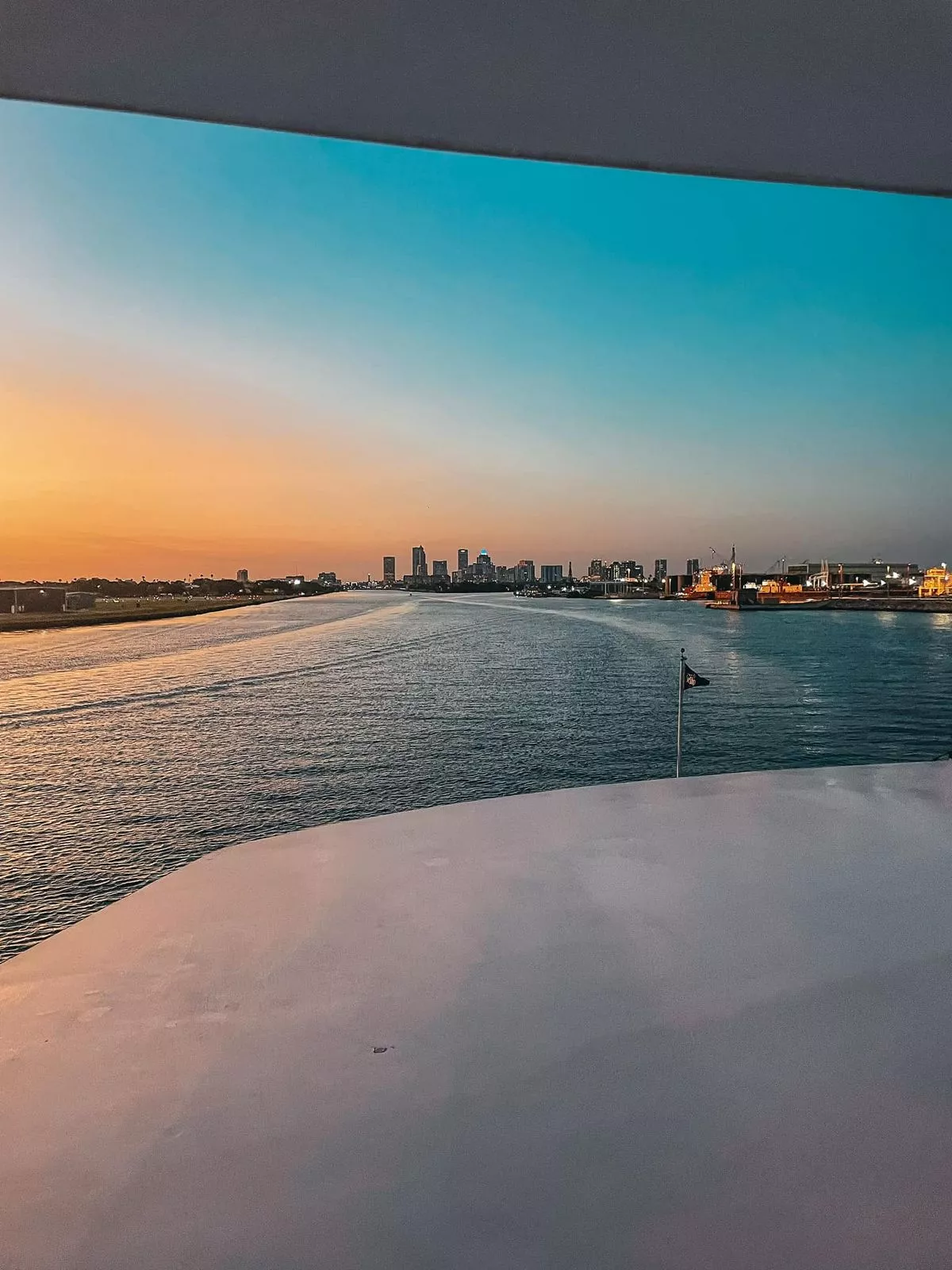 Kraken Cycleboats
I'm sure you've seen pedal pubs, well, Kraken Cycleboats takes things to the next level and takes you out pedaling on the water!
The Kraken holds up to 15 people, and seats are $45 each. The price includes a 2-hour cruise, souvenir cups, coolers, a captain, and a sound system. It is a BYOB experience.
You get a mini tour of downtown Tampa from the bay and even get to make a pitstop at Armature Works!
Beach Day
Tampa beaches are a little different than ones such as Clearwater Beach and St. Pete Beach, but they are still beautiful and a great spot to catch some rays!
Ben T. Davis is probably the most popular beach in the Tampa city limits. It stretches along the Courtney Campbell Causeway and provides a white sand beach, picnic shelters, and beach volleyball. It's also close to Whiskey Joe's (one of my favorite waterfront dining spots in Tampa) and WTR, two other fun spots! You can even rent kayaks or paddle boards to take out on the water here.
If you drive, you will unfortunately have to pay for parking. And if you're going over the weekend you'll want to arrive at a decent time to ensure you can snag a spot.
Cypress Point Park and Picnic Island Park are two other popular Tampa beaches. Check out this list for all of your beach day necessities.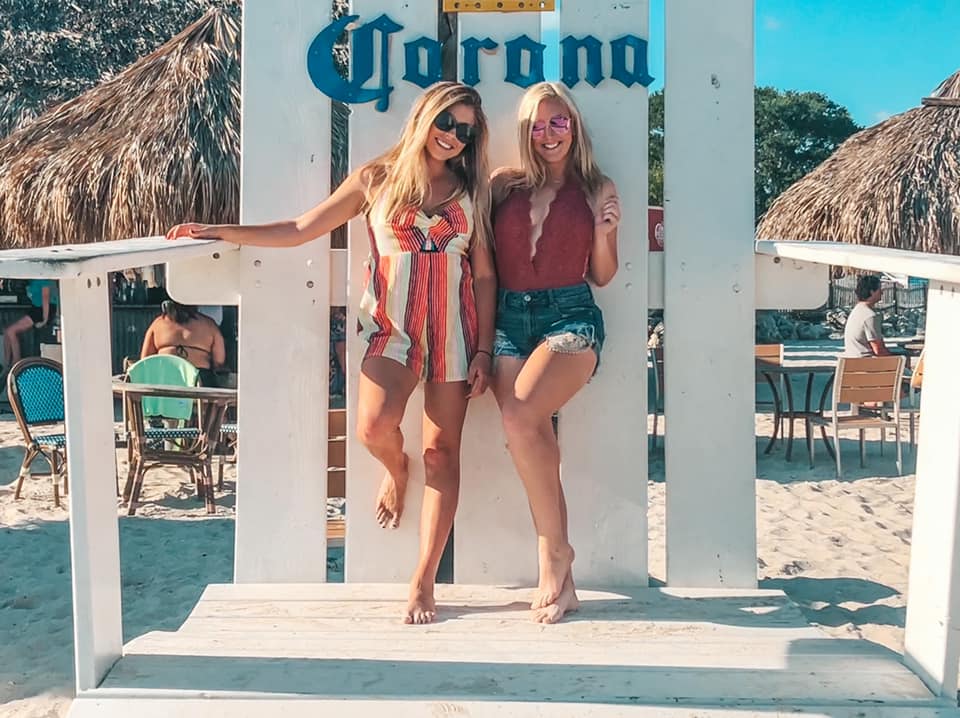 WTR
I absolutely love WTR— it is such a fun venue! If they aren't hosting an event during the week you can have a pool day there for free.
They do often have great performers and DJs here, especially on the weekends. The environment here is super fun and there's always great music. It's located right on the bay, so you get poolside luxury with a view! This is easily one of my favorite Tampa bachelorette party activities!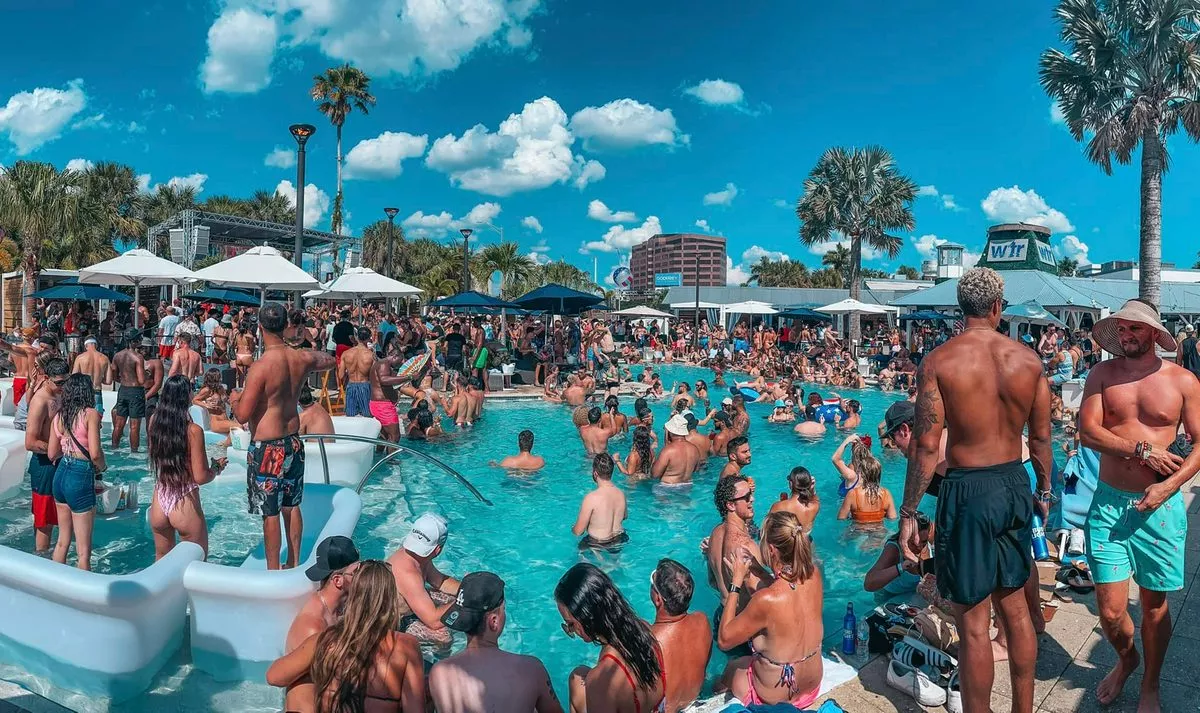 Cruisin Tikis
Cruisin Tikis is your own personal floating bar. Cruise around Tampa, St. Pete, or Clearwater on a 1½- to 2-hour cruise.
You bring your own booze and snacks, but the tiki provides you with cups, ice, a blender, and a fun way to explore the area. This was honestly one of my favorite boat tours. We had a total blast!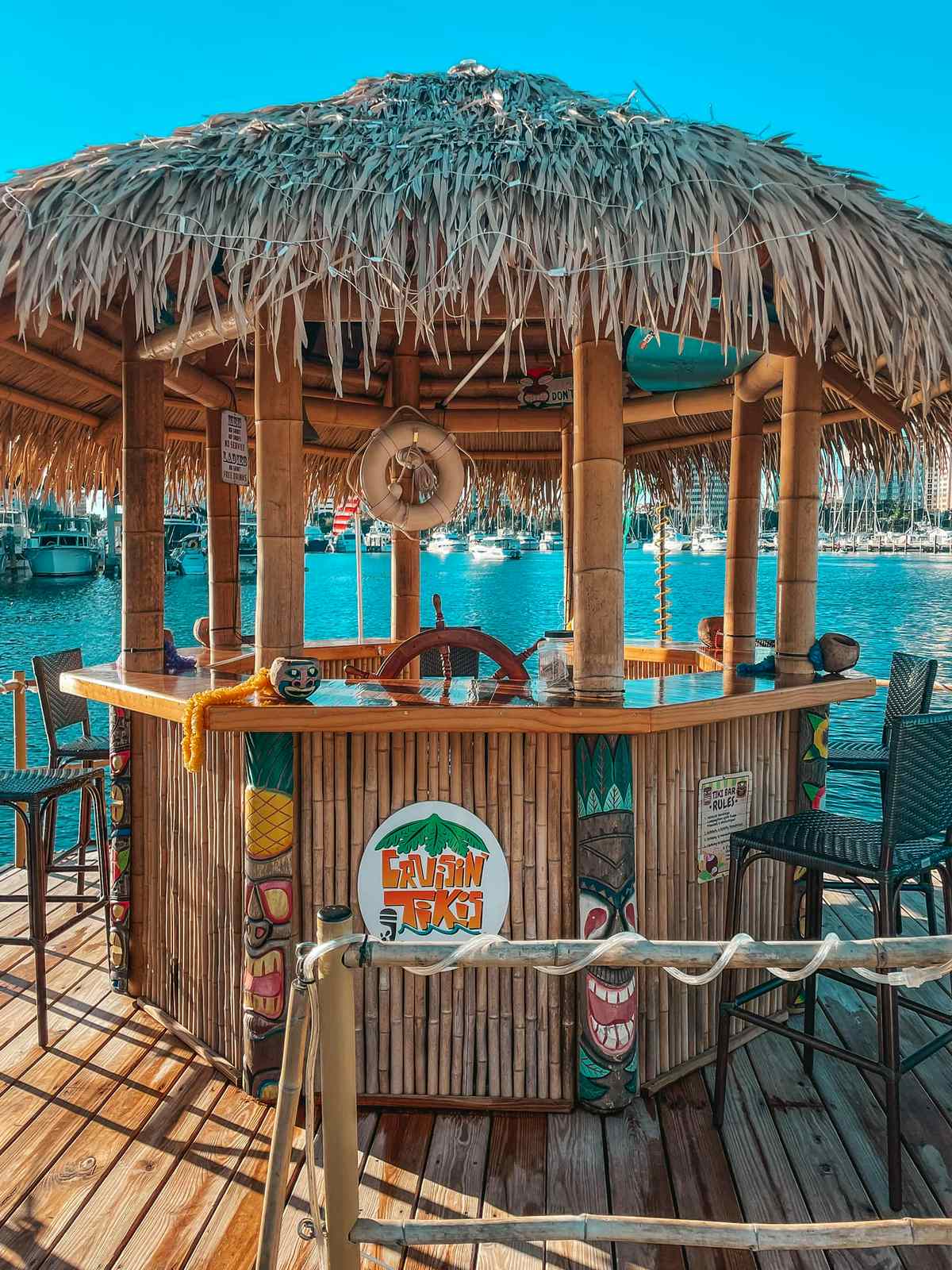 The Cake Drip
If you're looking for a fun and unique activity to do with your girls on your Tampa bachelorette party trip check out The Cake Drip!
This dessert spot in Hyde Park allows you to create your own custom chocolate bar in-house. For this option select their "chocolate tasting flight". This is a 21+ experience, and champagne is included.
Not only can you customize your chocolate bar, but you can also make your own custom cake as well. Cake Drip is more than just a delicious dessert spot – it's an experience! They have adorable photo areas around the shop that will make for great Instagram photos, too.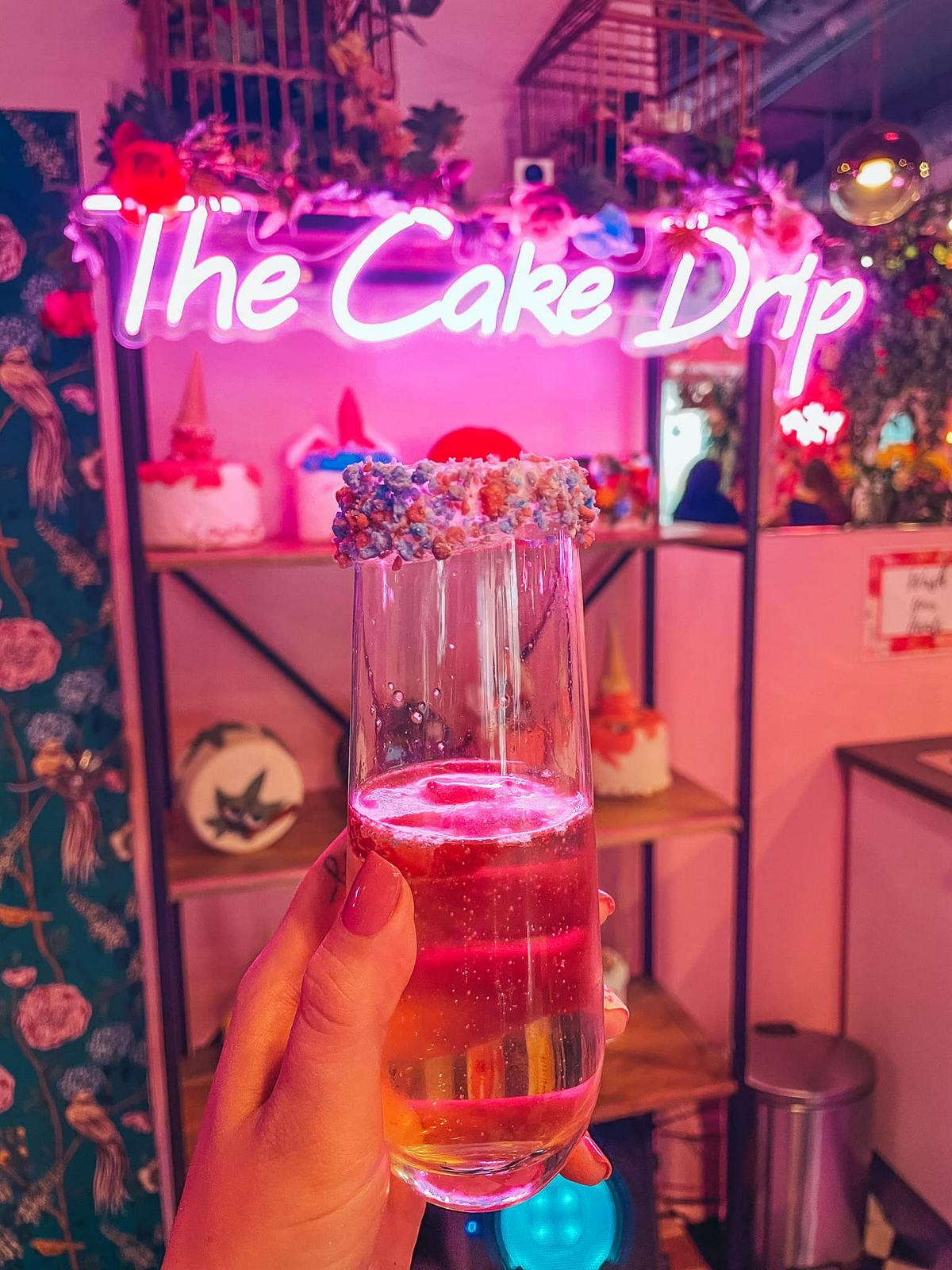 Picnic
Tampa has plenty of beautiful parks and outdoor spaces that would be perfect for a stunning bachelorette picnic. You could pack a basket of delicious snacks and drinks, and enjoy a relaxing afternoon in the sunshine. One of my favorite picnic spots in Tampa is Curtis Hixon Waterfront Park.
If you are renting an Airbnb or VRBO most picnic companies will also set up at your place! We loved having a hungover picnic brunch that we just had to walk out of our rooms for haha!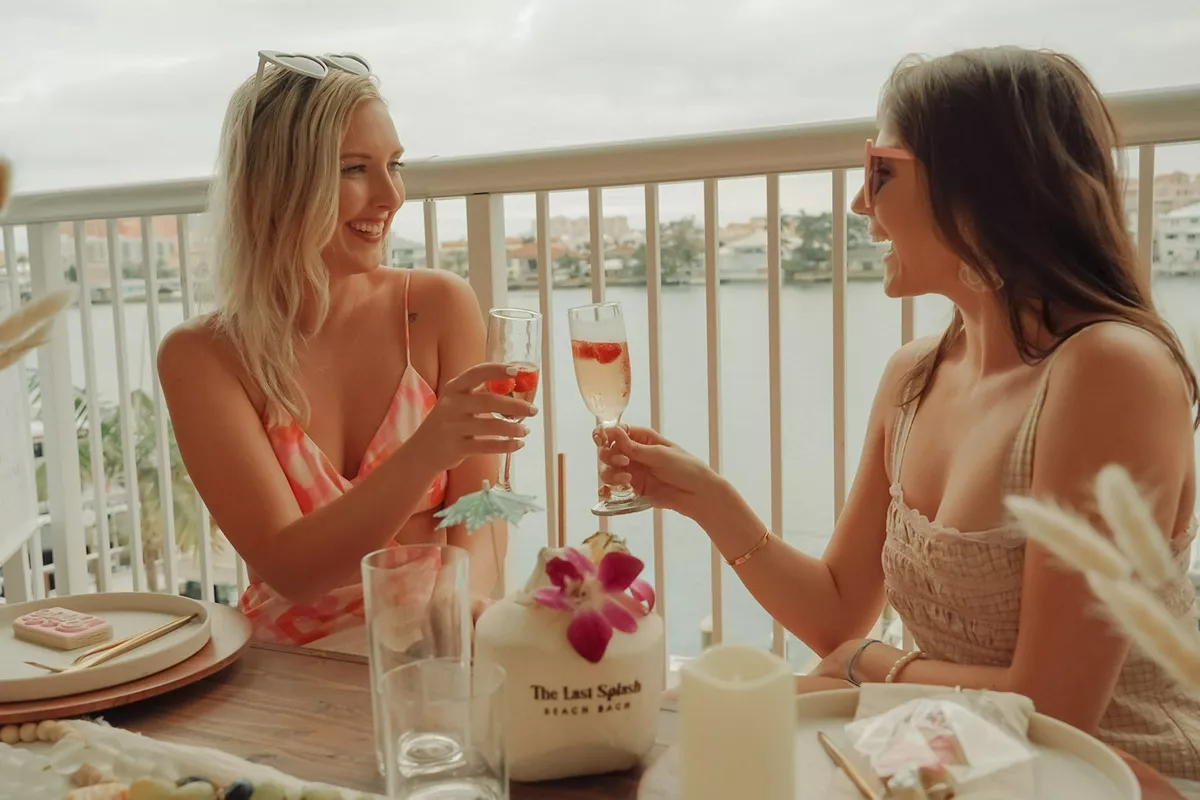 Sparkman Wharf & Splitsville
This is such an awesome waterfront location located right in Channelside. Sparkman Wharf has a ton of little food stands set up with several fun options.
Once you go into Splitsville, you'll notice the setup is southern and upscale, but it has a chill vibe. They have darts, pool, lawn bowling, bowling, ping pong, and Skee-Ball.
During the week, everything can be very open, but on the weekends, it tends to get busy. You can test your luck, show up and get your name on a list, and explore the area and get some eats at Sparkman while you wait, or you can call ahead and make a lane reservation for bowling.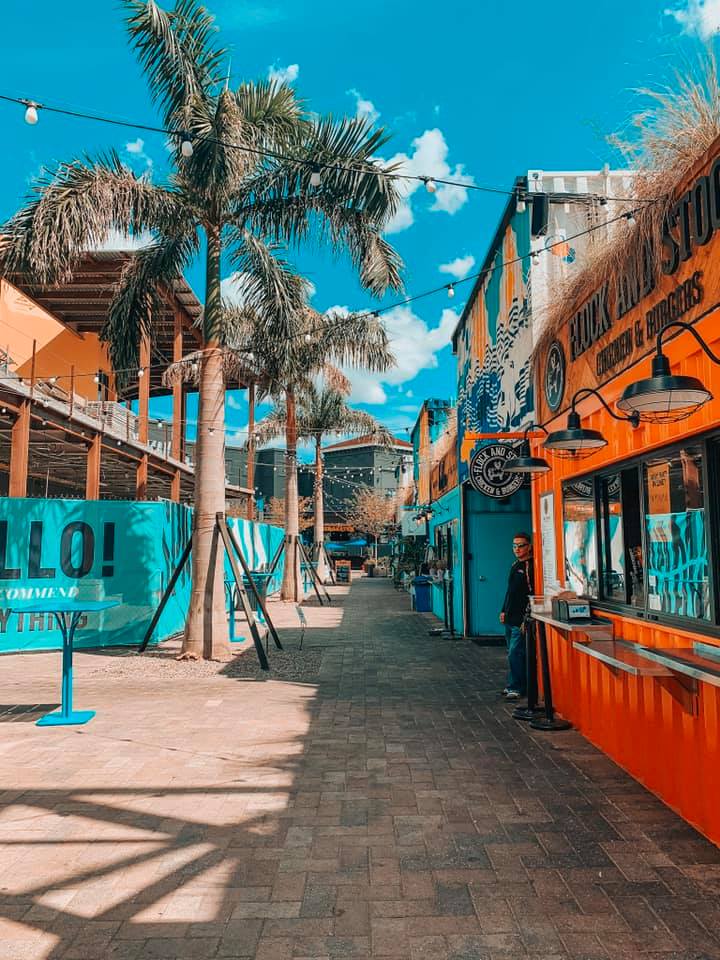 Hard Rock Casino
The Seminole Hard Rock Casino is a popular destination in Tampa, and it's a great option for a bachelorette party. You and your friends can try your luck at the slot machines or table games, enjoy some drinks and live entertainment, and maybe even indulge in a spa treatment at the Rock Spa & Salon.
They also sometimes host pool parties. Check out their room rates!
Private wine tasting
One of the most unique things you can do for your Tampa bachelorette party is enjoy your own private wine tasting with Malbec Bay! If you don't feel like leaving your Tampa rental for an evening Mercedes can bring the experience to you!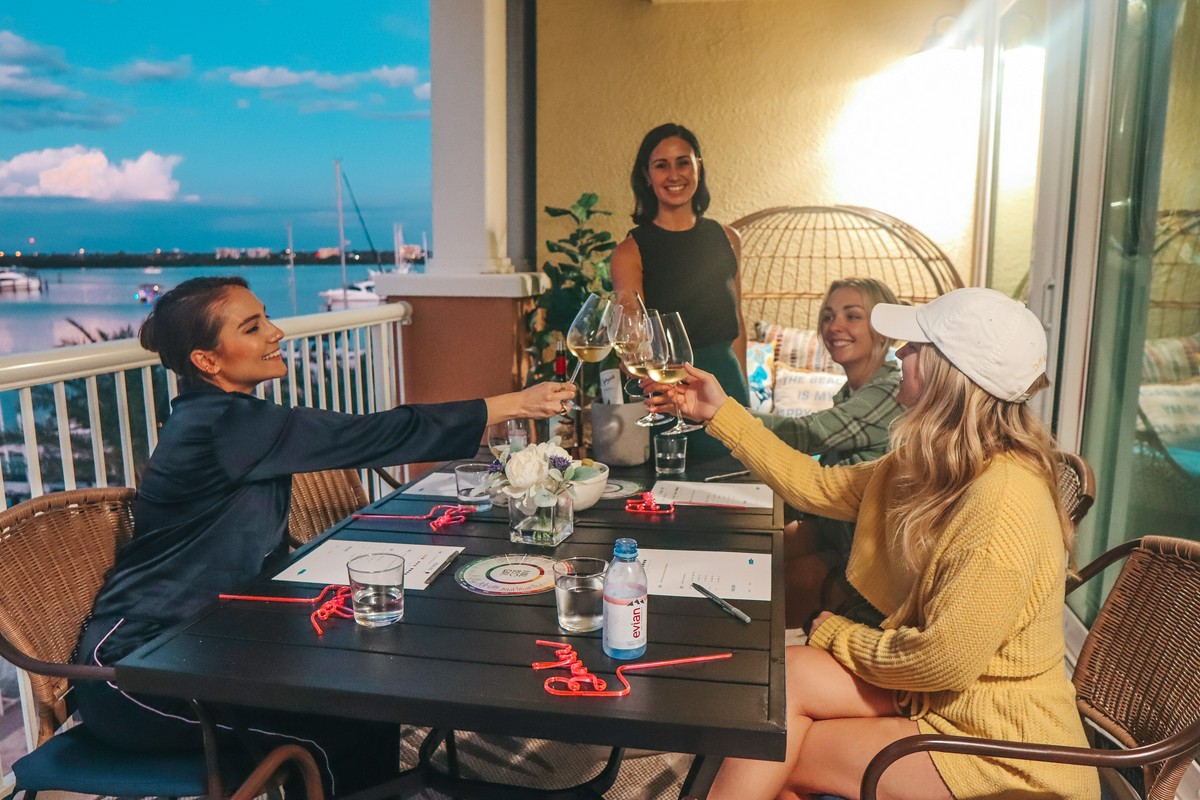 There are a few different experiences you can choose from aside from a private wine tasting, one of them being a blind tasting game where you get 4 wrapped mixed wine bottles, a tasting game board, and tasting tools to give you the structure to taste wine and recognize unique characteristics.
A wine tasting is an intimate way to explore the vast array of wines. You can expect a wide range of wines from all over the world at this event and each tasting will have its own unique style.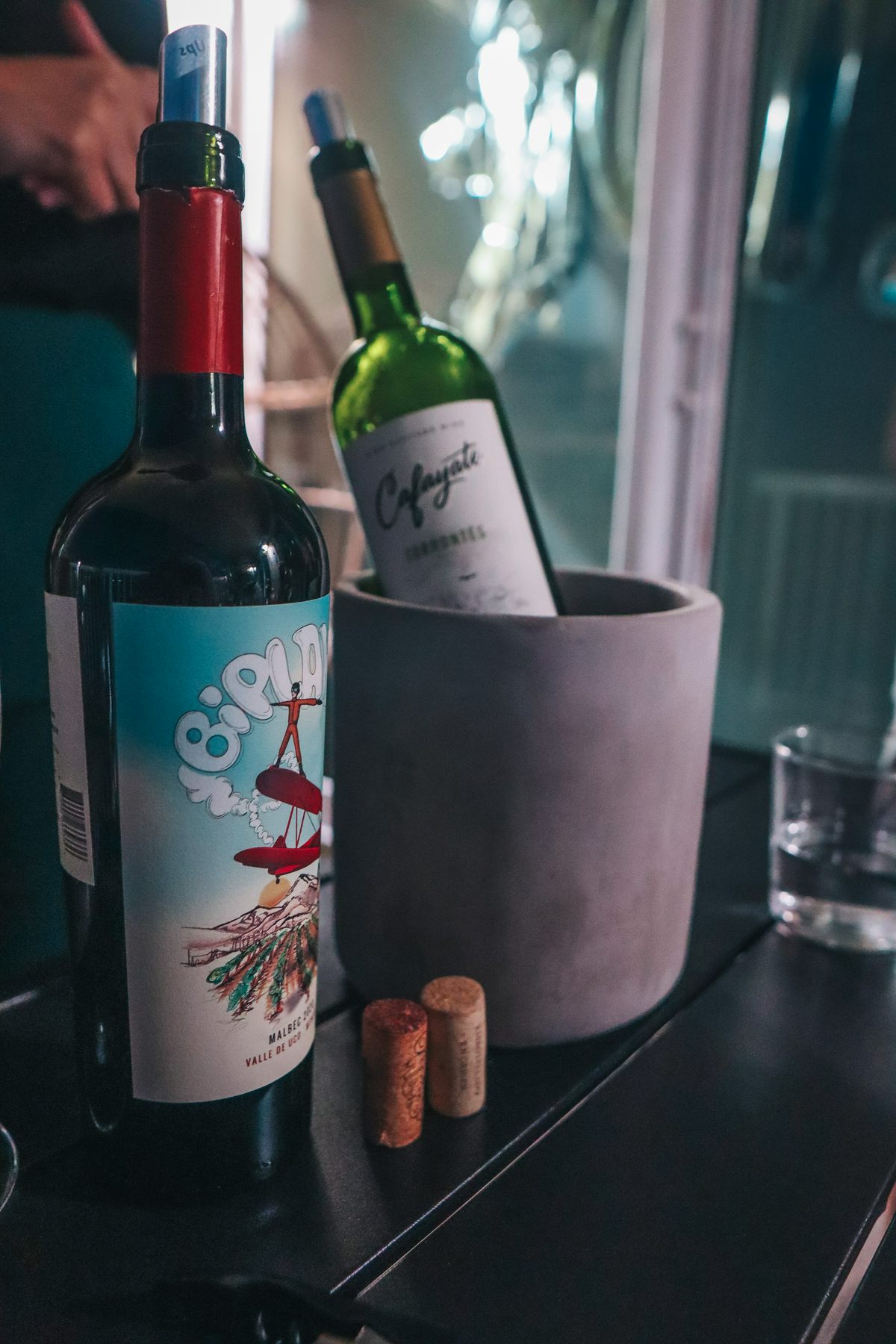 Topgolf
Topgolf is a 3-level golf entertainment complex that features 102 bays, a rooftop terrace, lively bars, and a unique spin on your golf game.
Even for those who don't actually like golf, Topgolf is fun. Is it embarrassing when you attempt to swing and miss the ball completely (speaking from experience)? Sure. But after a few of their yummy cocktails, you'll be convinced you're the next Tiger Woods (minus the scandal).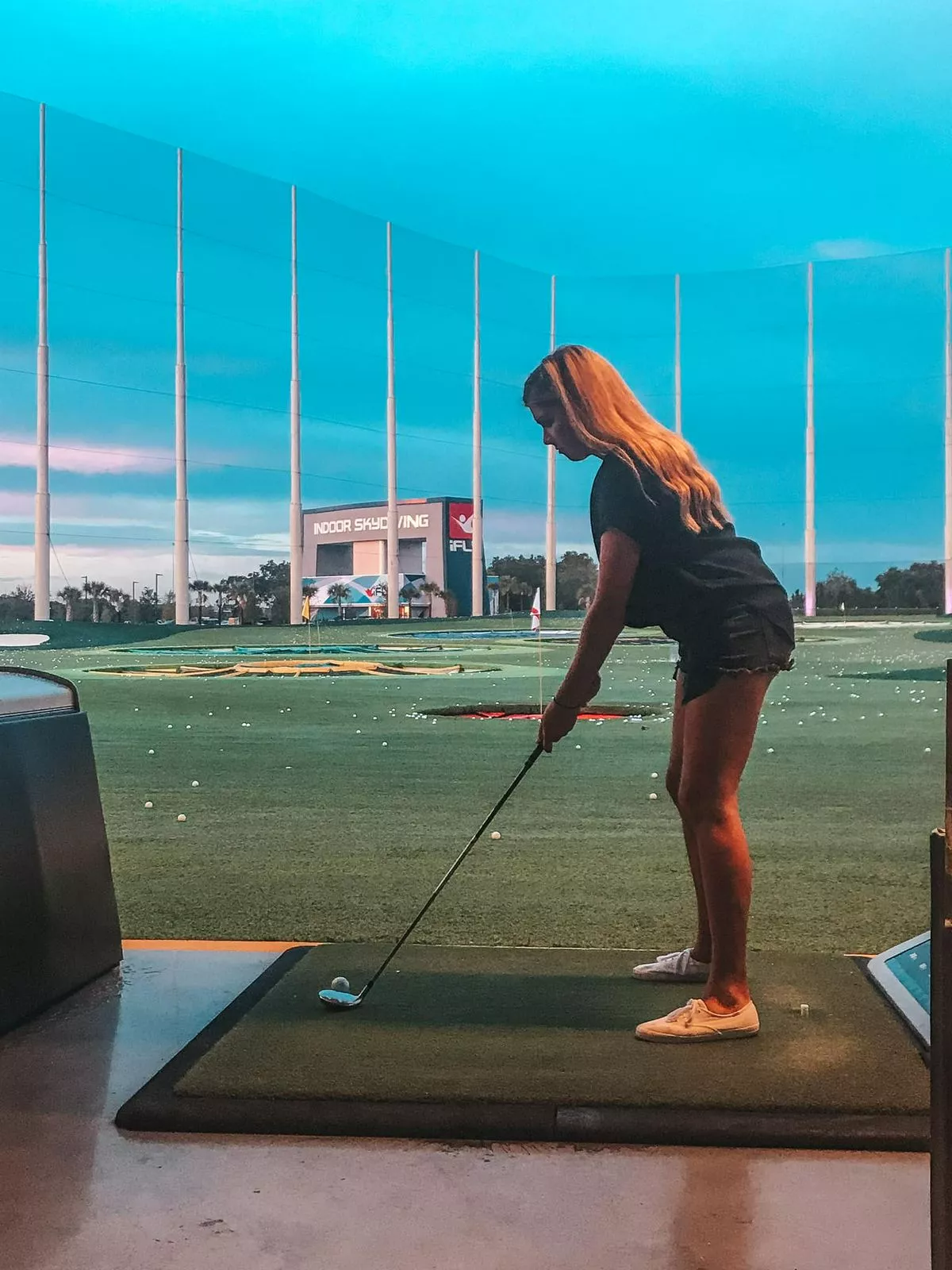 Dave & Buster's
SO MANY GAMES. Places like this are so fun, because it doesn't matter what type of game person you are— they have something for you! Basketball, DDR, the classics like Pac-Man, etc. It really makes you feel like a kid again running around here.
Pro tip: sign up for Dave & Buster's emails to get monthly savings as well as $10 in free gameplay with a $10 gameplay purchase for joining!
Dave & Buster's can be a little far of a drive, but it's right by Topgolf if you choose to do that too. GameTime in Ybor may be a closer option, and they also have plenty of fun games!
Busch Gardens
For an adrenaline-packed day of adventure, Busch Gardens is a great choice. This theme park features a variety of roller coasters and other rides, as well as animal exhibits and live shows. You and your friends can have a blast screaming your heads off on the coasters, and then relax with a cold drink and some delicious food.
Splurge and enjoy their safari! You literally get to hand-feed giraffes, and it's the coolest thing! Tickets are around $100, and it's an additional $50 for the feed the giraffes safari tour.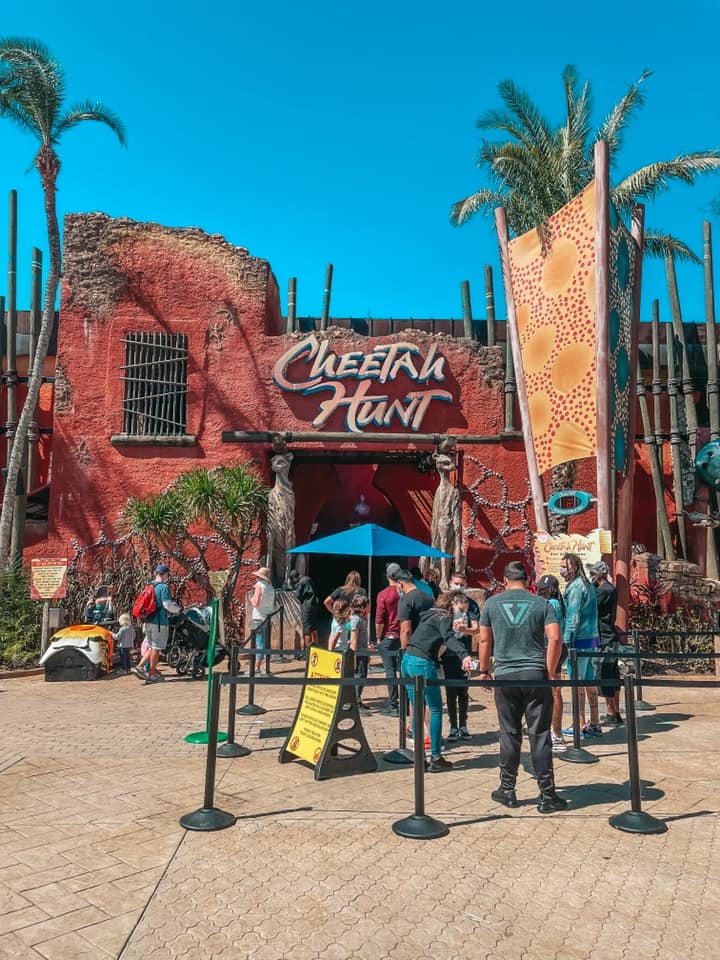 Adventure Island
If you're looking for some outdoor fun, Adventure Island is a great option. This water park features a variety of water slides, a lazy river, and a wave pool. You and your friends can spend the day soaking up the sun and having a blast on the water rides.
Enjoy a night out on the town
Tampa has a lively nightlife scene, with plenty of bars and clubs to choose from. Some popular nightlife spots in Tampa include Ybor City, SoHo, and the Channelside District.
Check out my complete list of the best bars in Tampa! Or some of the fun speakeasies in Tampa Bay.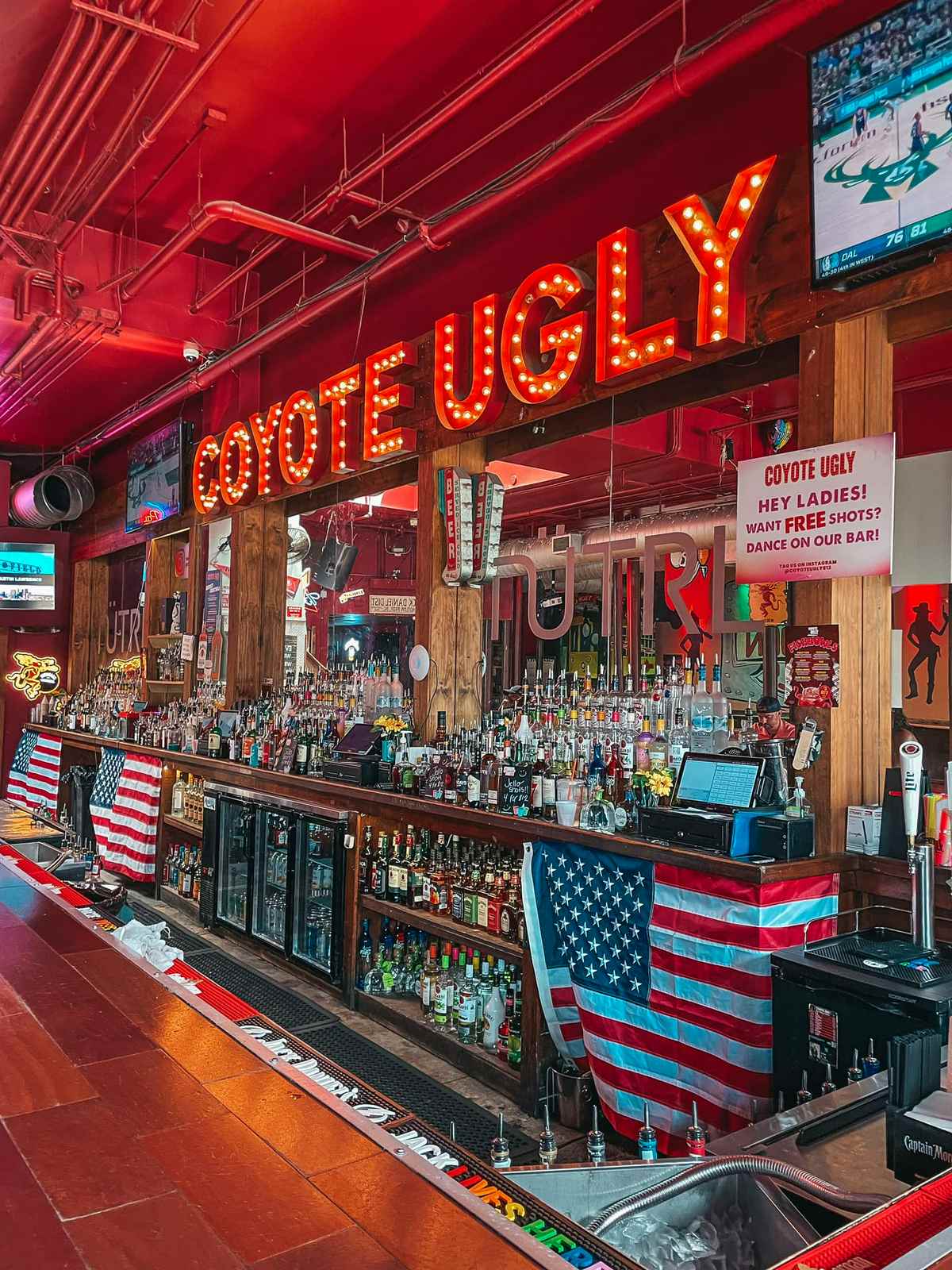 Spend a day exploring one of Tampa's surrounding areas
If you plan on spending a day on Clearwater Beach or St. Pete Beach, be sure to check out my other bachelorette party guides!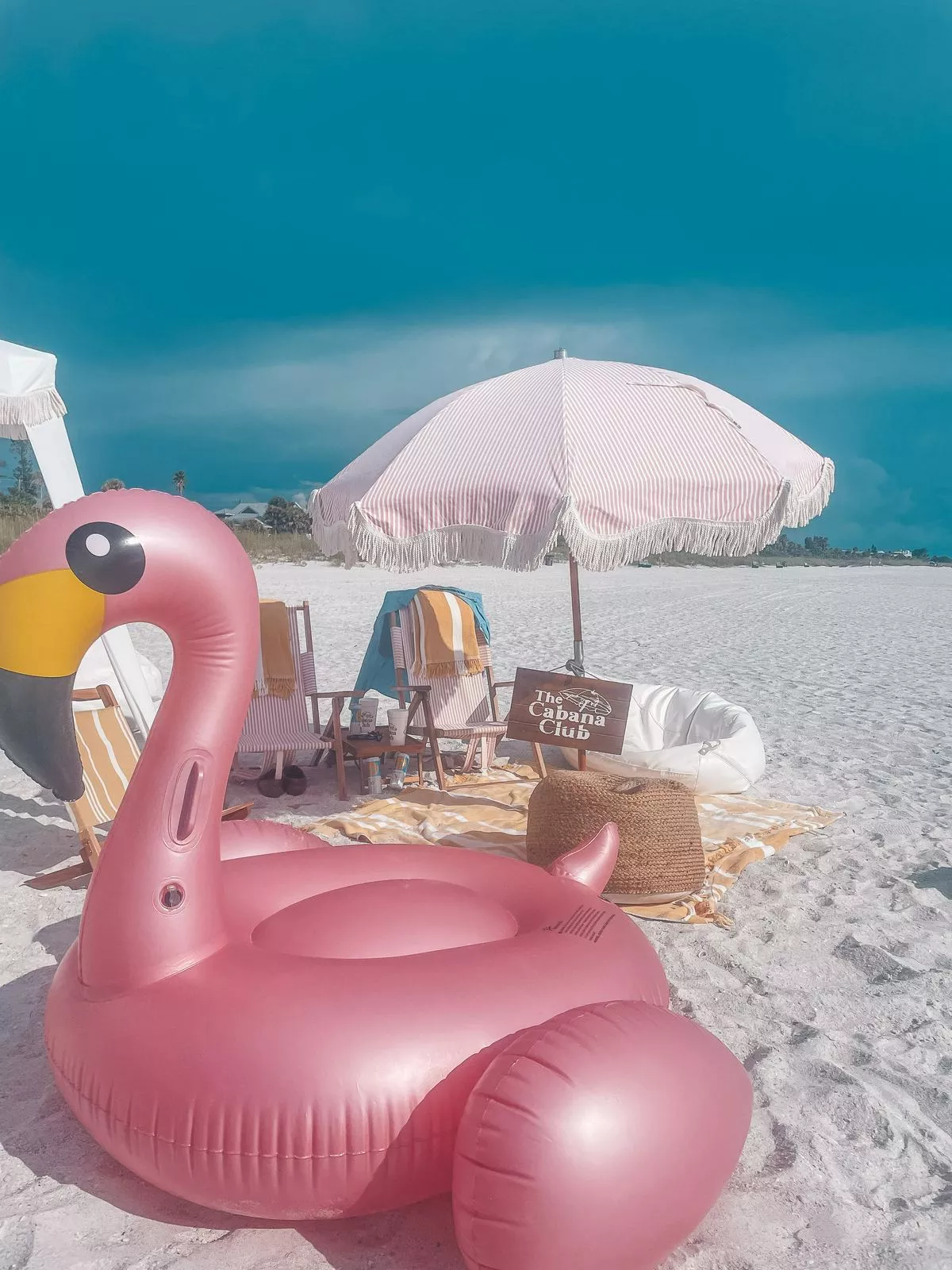 Best Tampa brunch restaurants
For breakfast or brunch, Oxford Exchange is an AMAZING spot! You will fall in LOVE with the interior design of this stylish place! And it's more than just a pretty face— the food and drinks are amazing too! I love their French toast, and they serve Buddy Brew coffee, which is one of my favorite Tampa coffee shops.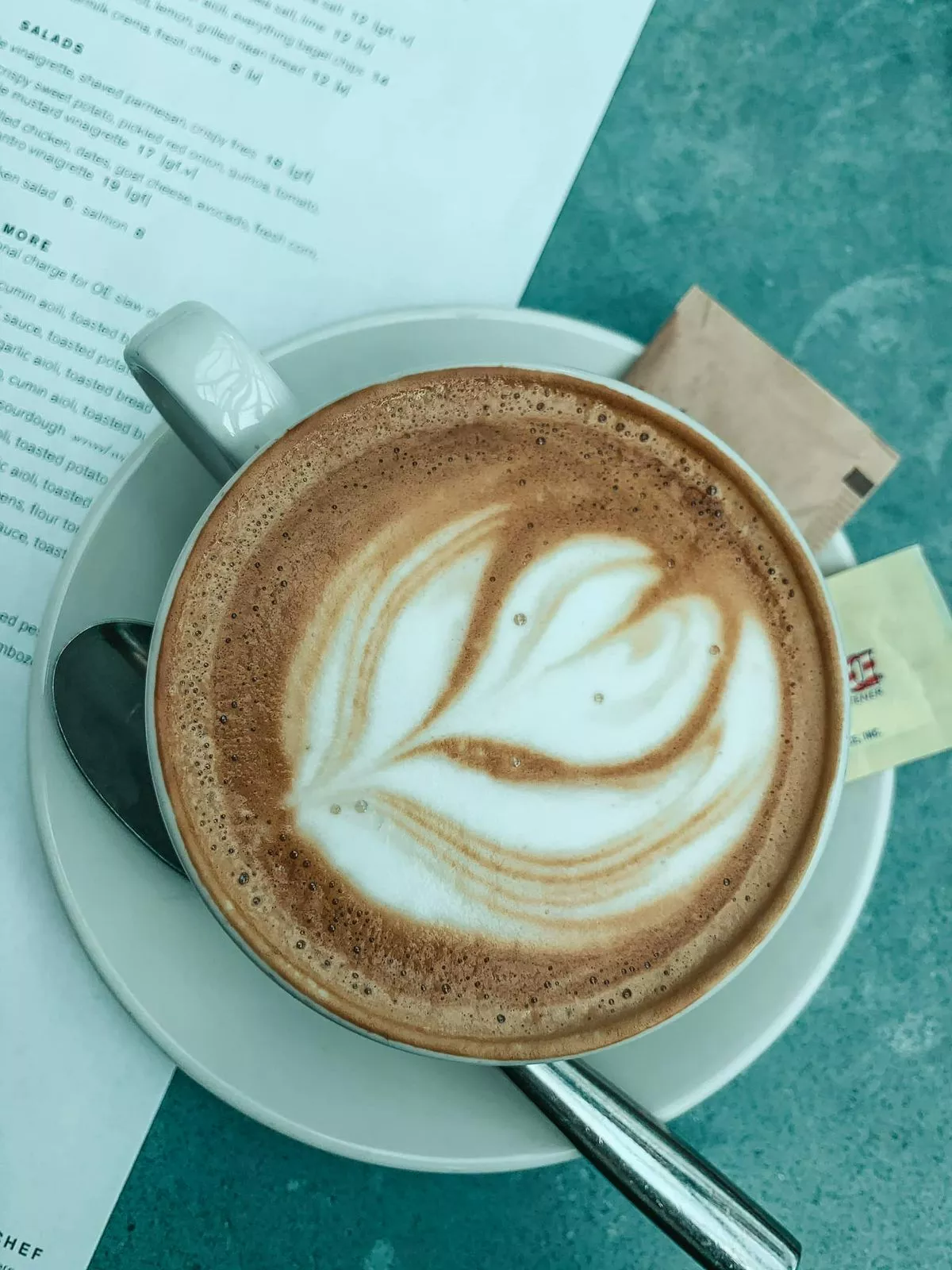 Willa's, Meat Market, AmSo, and Psomi are also great options! If you're looking for a more upscale brunch experience, check out Meat Market in Hyde Park Village. This steakhouse serves up a delicious brunch menu featuring dishes like truffle eggs benedict and lobster omelets. They also offer a variety of bottomless drink options, including mimosas, Bellinis, and Bloody Marys.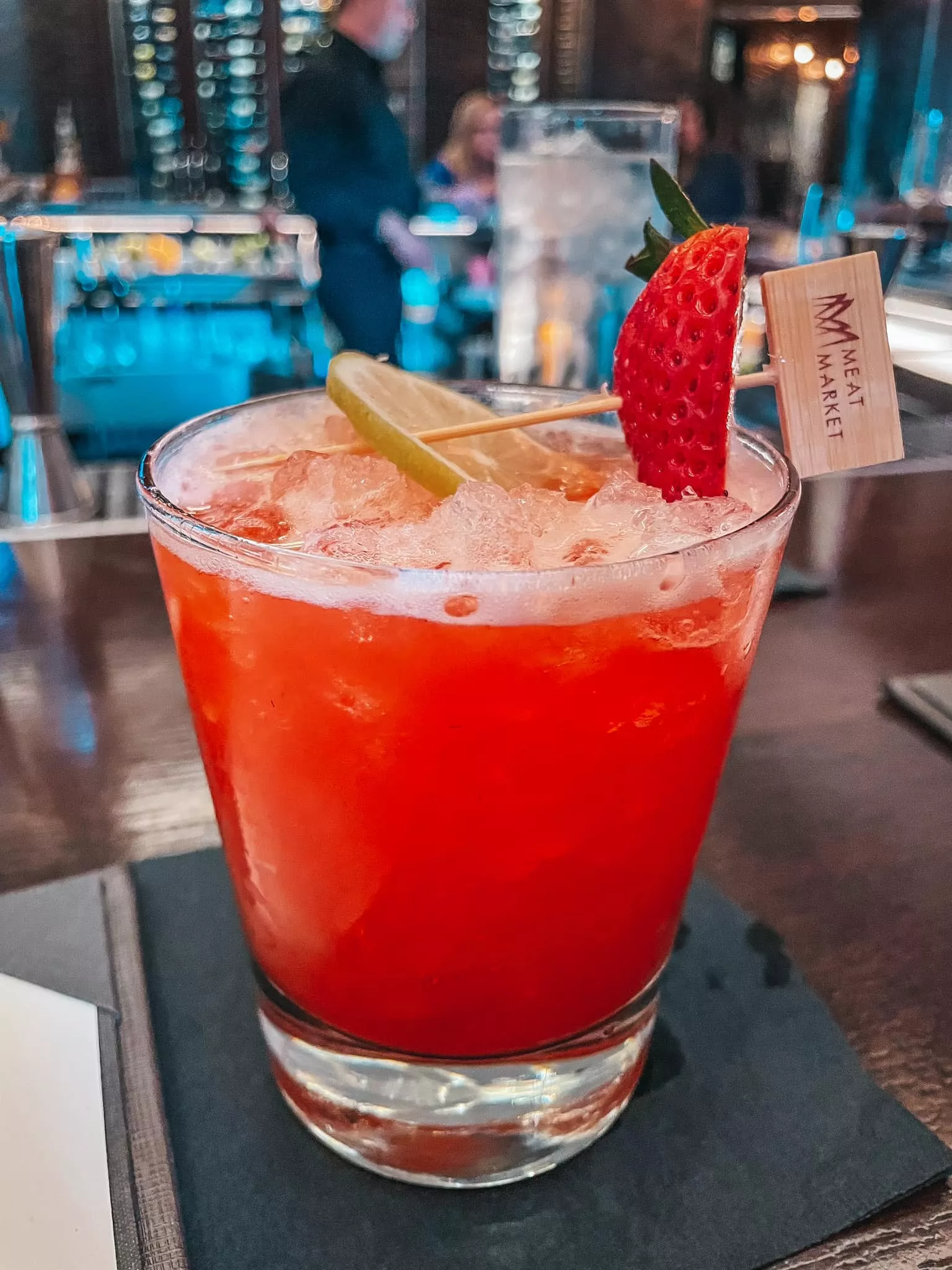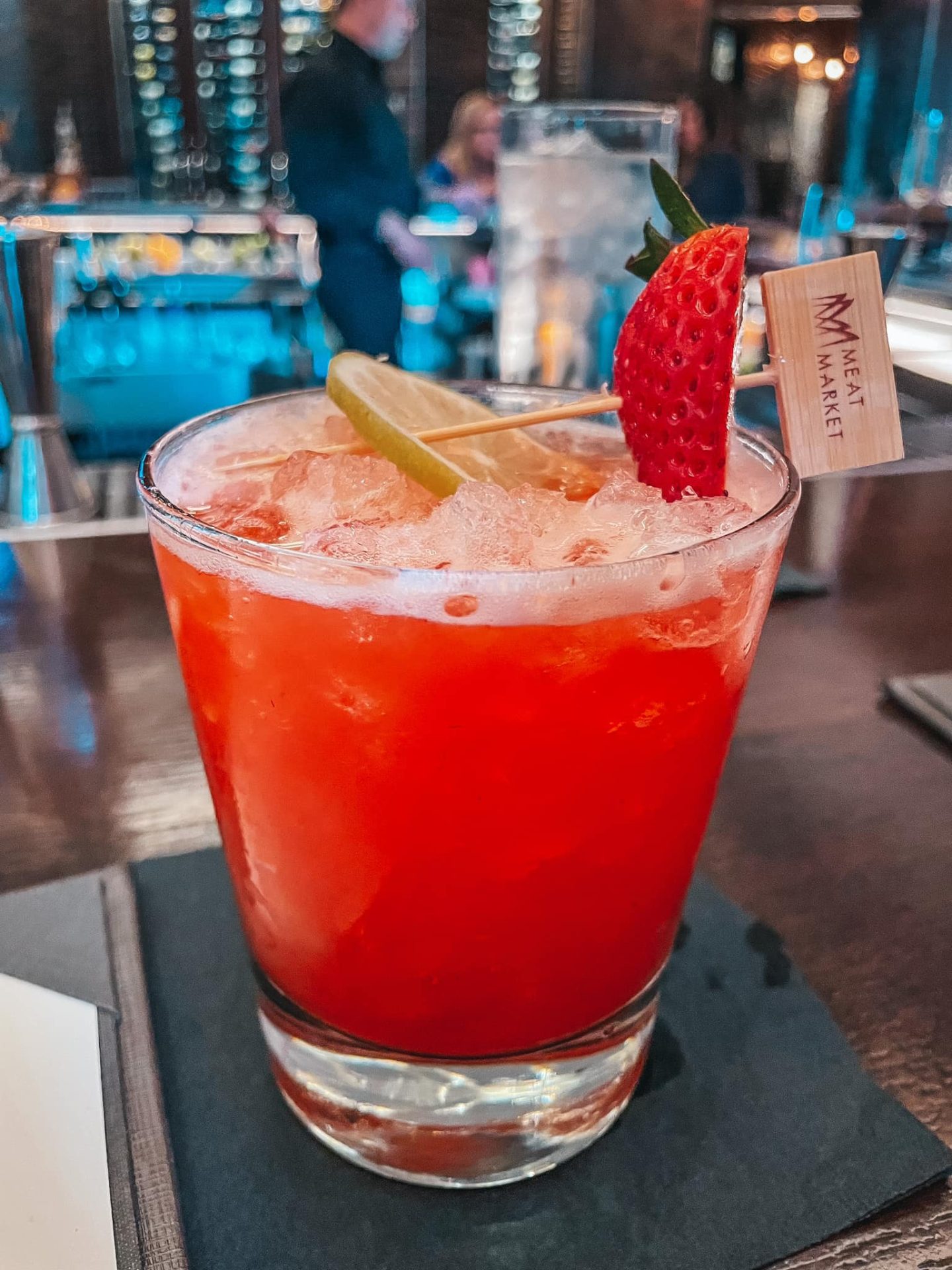 For a more casual and fun atmosphere, head to American Social in downtown Tampa. This waterfront restaurant and bar offers a delicious brunch menu featuring classic dishes like chicken and waffles and breakfast burritos. They also offer a variety of drink specials, including bottomless mimosas and Bloody Marys.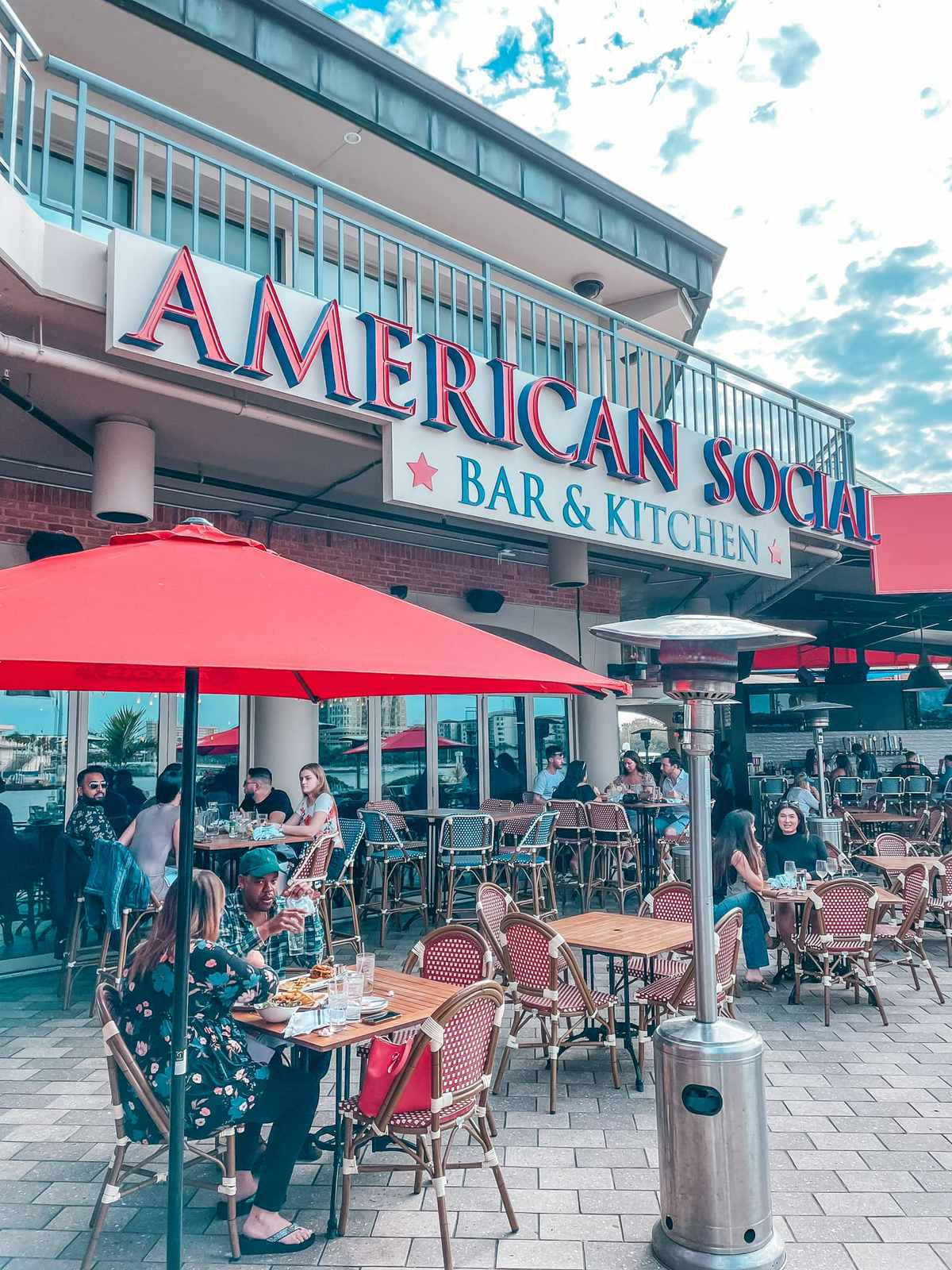 If you're looking for a delicious and Instagram-worthy brunch spot for your bachelorette party consider Willa's, Psomi, or Timpano.
Psomi is a Greek-inspired cafe with a brunch menu featuring Mediterranean dishes. They also offer a variety of coffee and tea drinks, as well as cocktails like their famous sweet Greek espresso martini.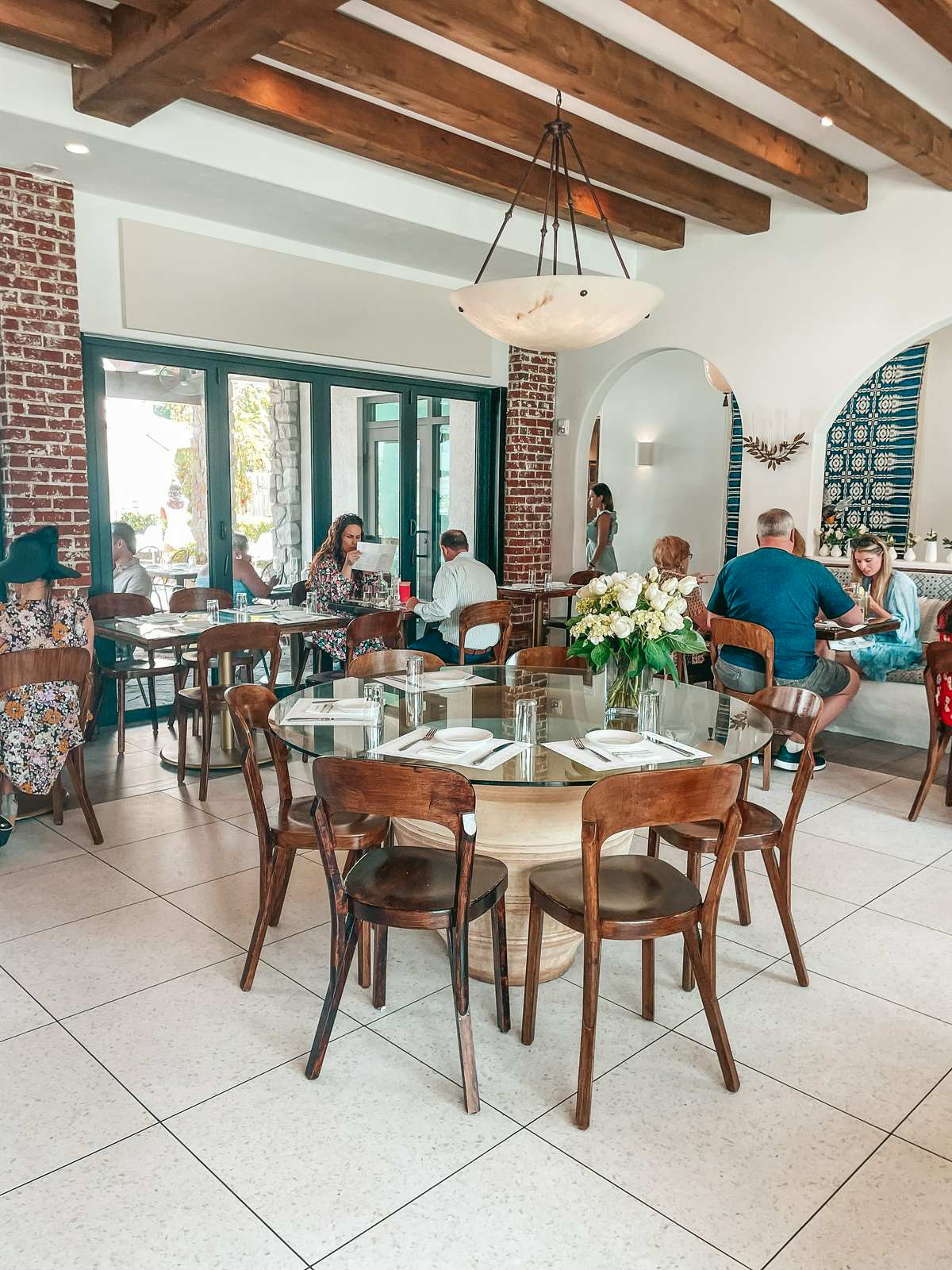 Willa's is a charming and cozy cafe that serves up simple classic dishes, killer cocktails, and fine wines.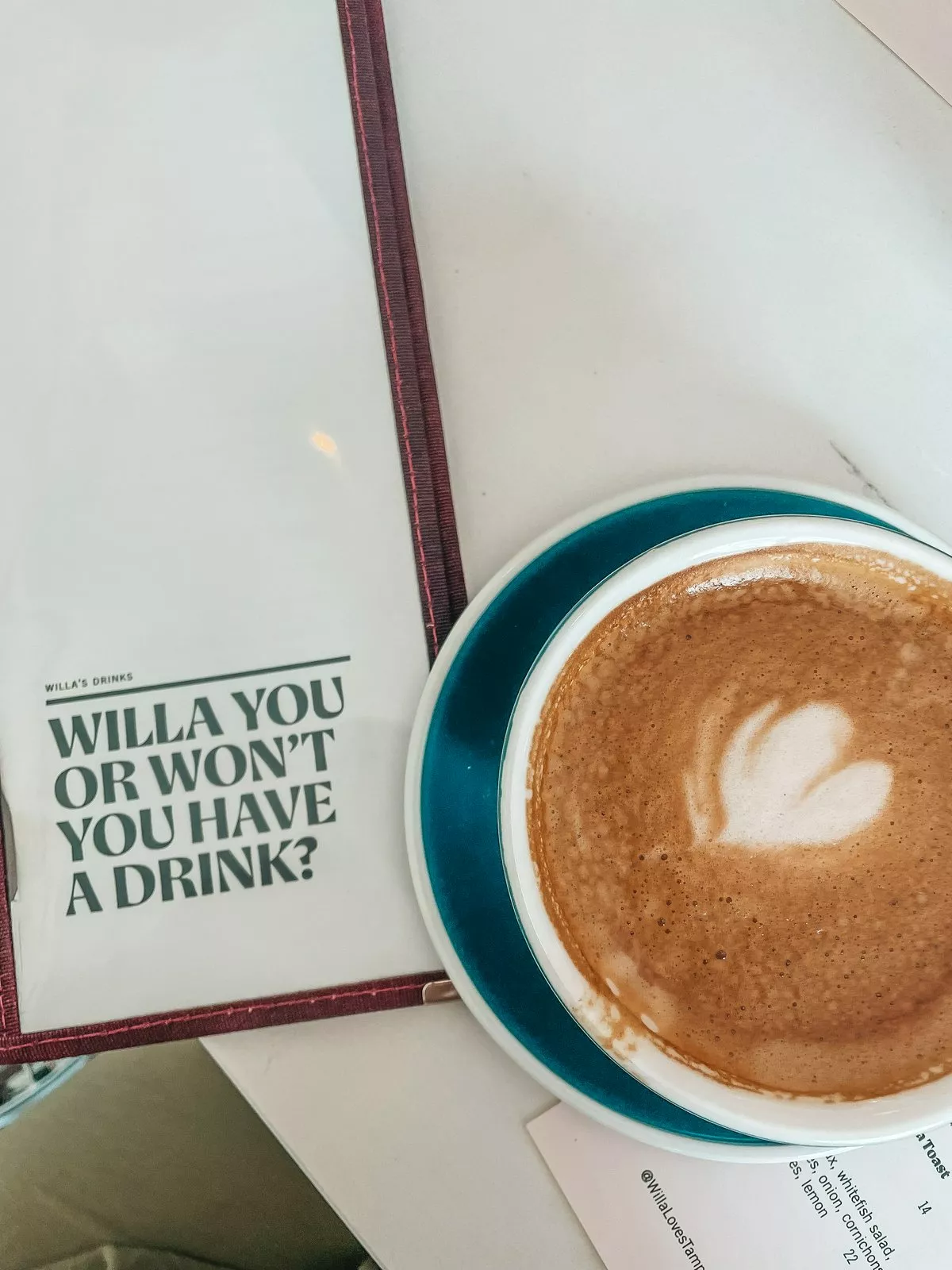 Located in Hyde Park Village, Timpano is an upscale Italian-American restaurant that offers a decadent brunch menu on Sundays. Their brunch menu features a variety of classic breakfast dishes with an Italian twist, such as eggs Florentine with spinach and prosciutto, and lemon ricotta pancakes. They also offer a selection of refreshing cocktails, including bellinis and mimosas.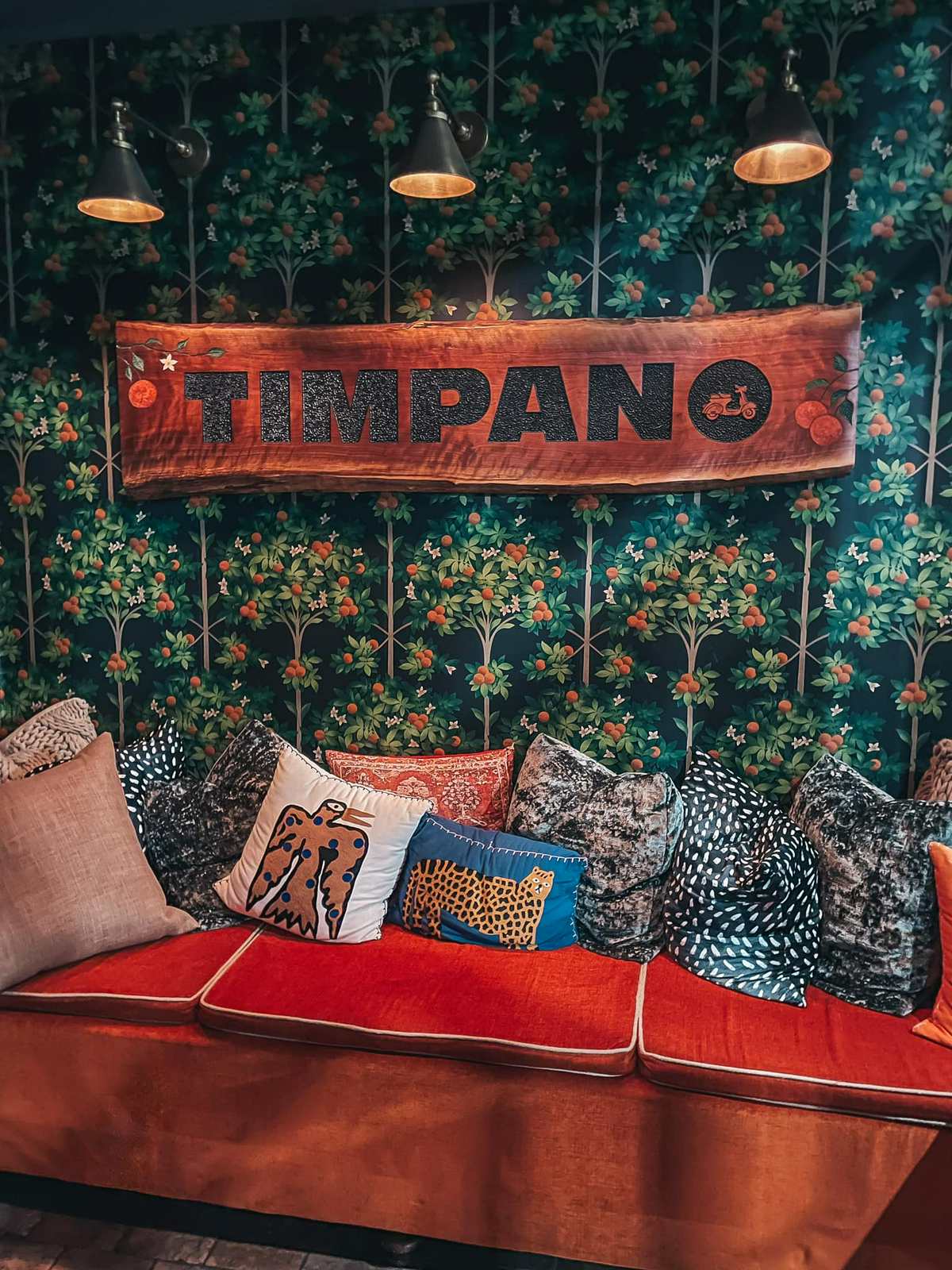 No matter which Tampa brunch spot you choose, you're sure to have a delicious and memorable meal with your bachelorette party. Just be sure to make a reservation in advance, as these popular spots tend to fill up quickly!
Best Tampa dinner restaurants
The restaurants I mentioned for brunch all have amazing dinner menus as well! Along with those options you may want to check out these Tampa dinner restaurants as well:
Ponte
Ponte is known for its contemporary American cuisine and features dishes made with locally sourced ingredients. The menu includes items such as roasted duck breast, pan-seared sea bass, and short rib ravioli. You will love the chic and modern atmosphere! They also have a full bar and outdoor seating.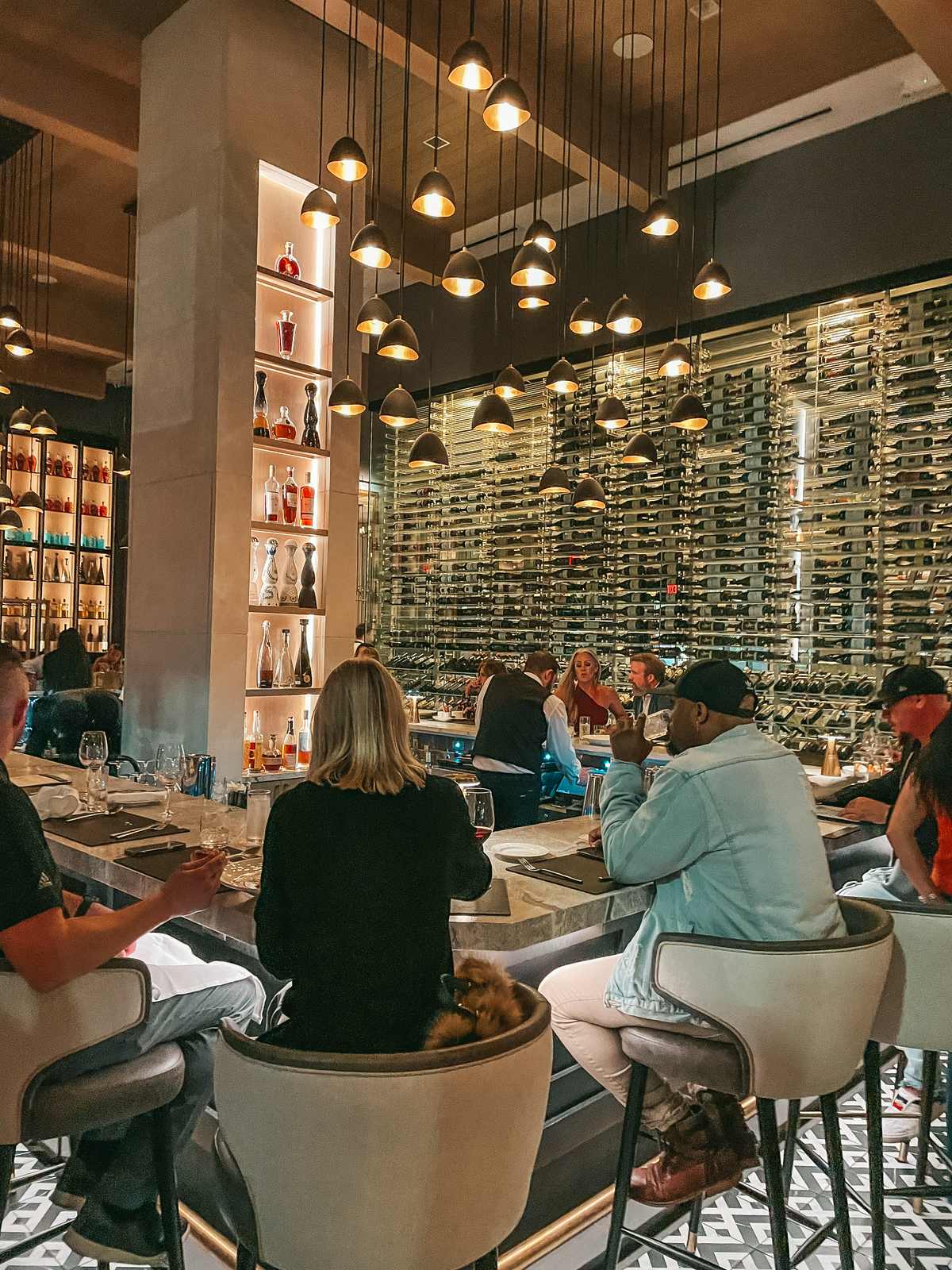 Bern's Steakhouse
Bern's is a Tampa institution, and it's a must-visit for any foodie or steak lover. This iconic steakhouse features an extensive menu of steaks, chops, and seafood, and they're known for their impressive wine cellar. They also have several unique dining experiences, including the Harry Waugh Dessert Room, where you can indulge in decadent desserts and port wine.
They are booked up months in advance, so get on making this reservation ASAP.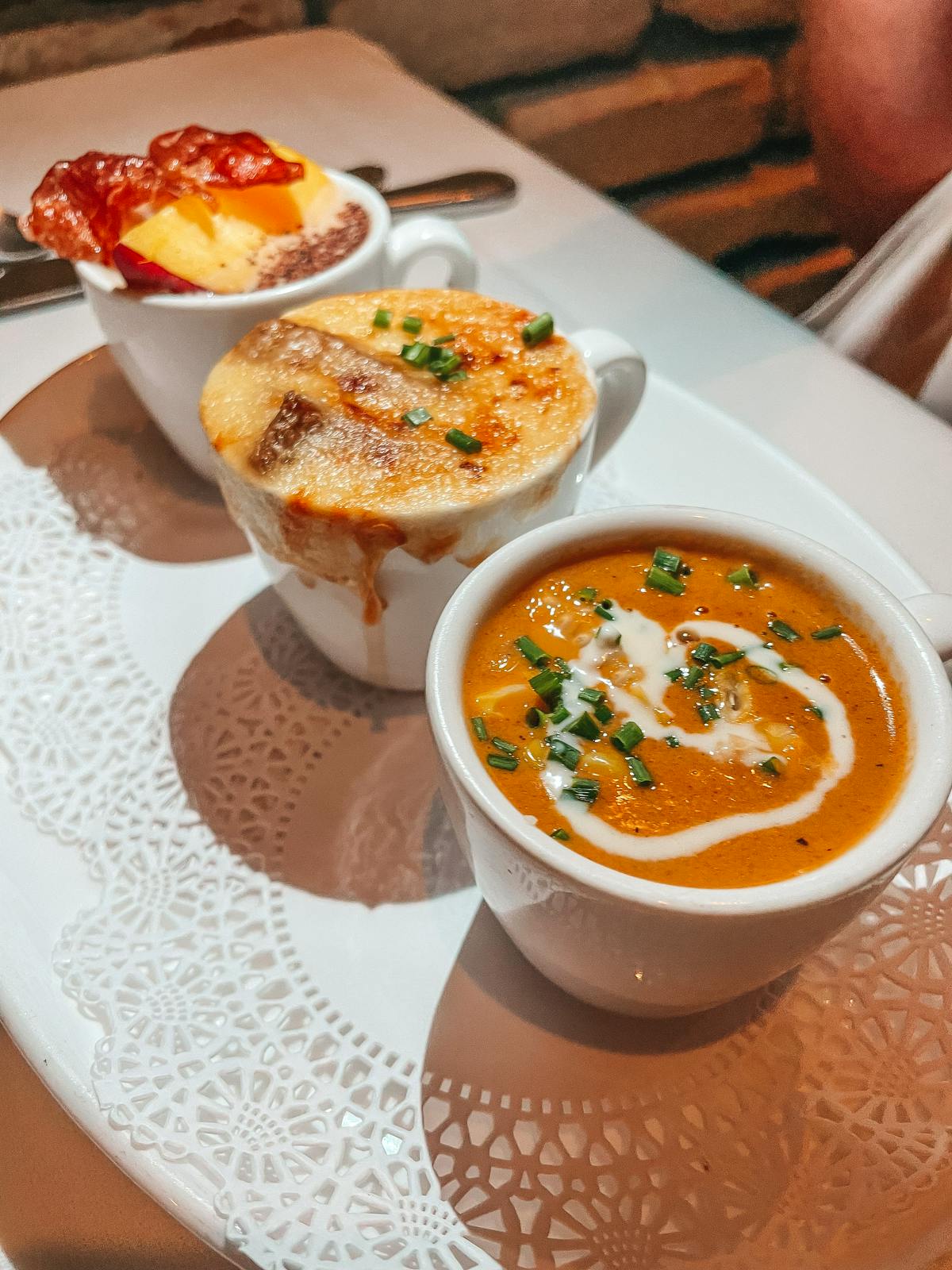 Charley's Steakhouse
Another great steakhouse option is Charley's, which has been serving up delicious steaks in Tampa for over 40 years. Their menu features a variety of cuts of beef, as well as seafood and chicken dishes. They also have a lively atmosphere and an extensive drink menu.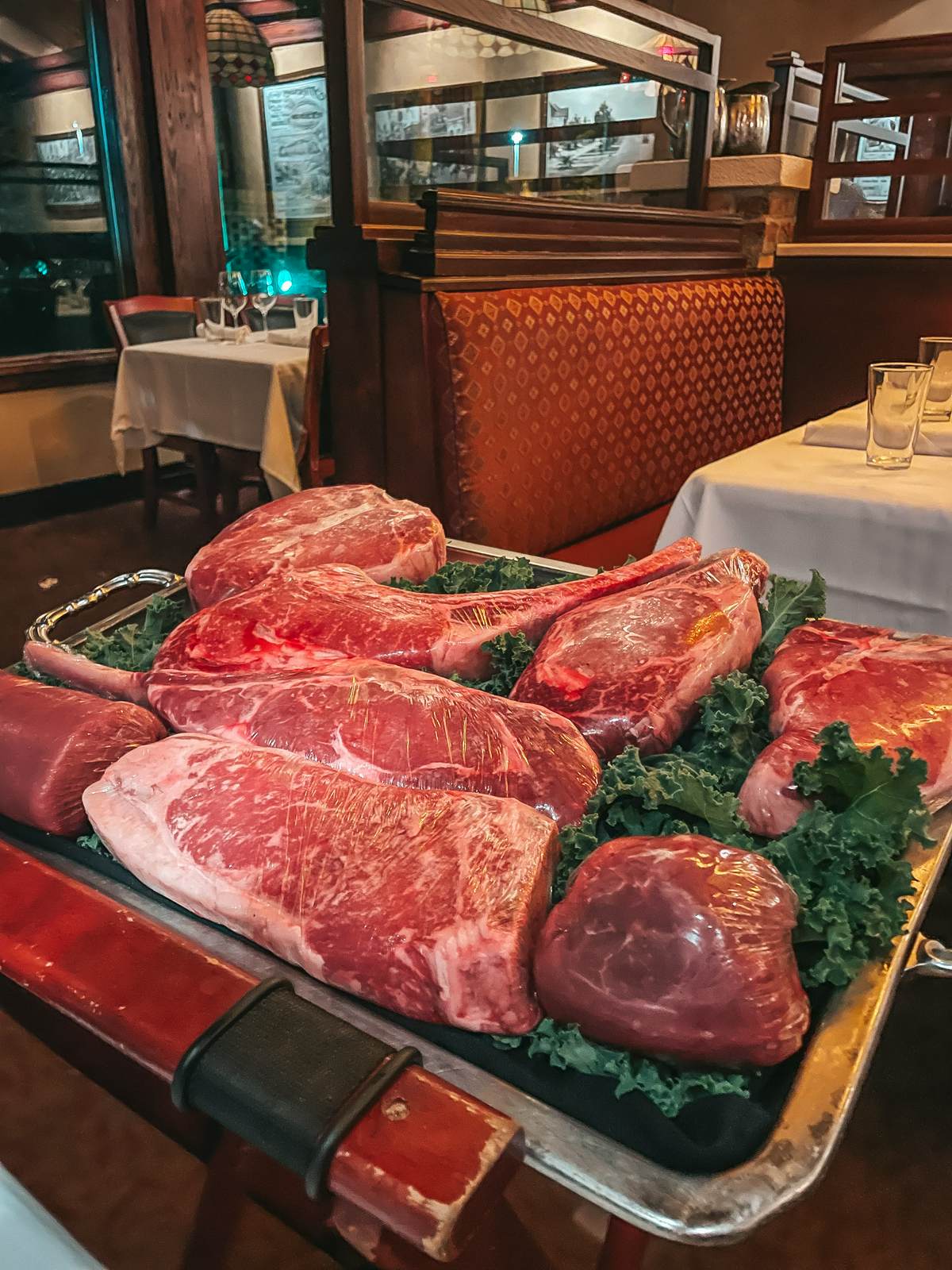 Olivia
Olivia is a chic and trendy Italian restaurant located in South Tampa. Their menu features a variety of fresh pasta dishes, as well as seafood and meat dishes. They also offer a selection of creative cocktails and a cozy outdoor patio.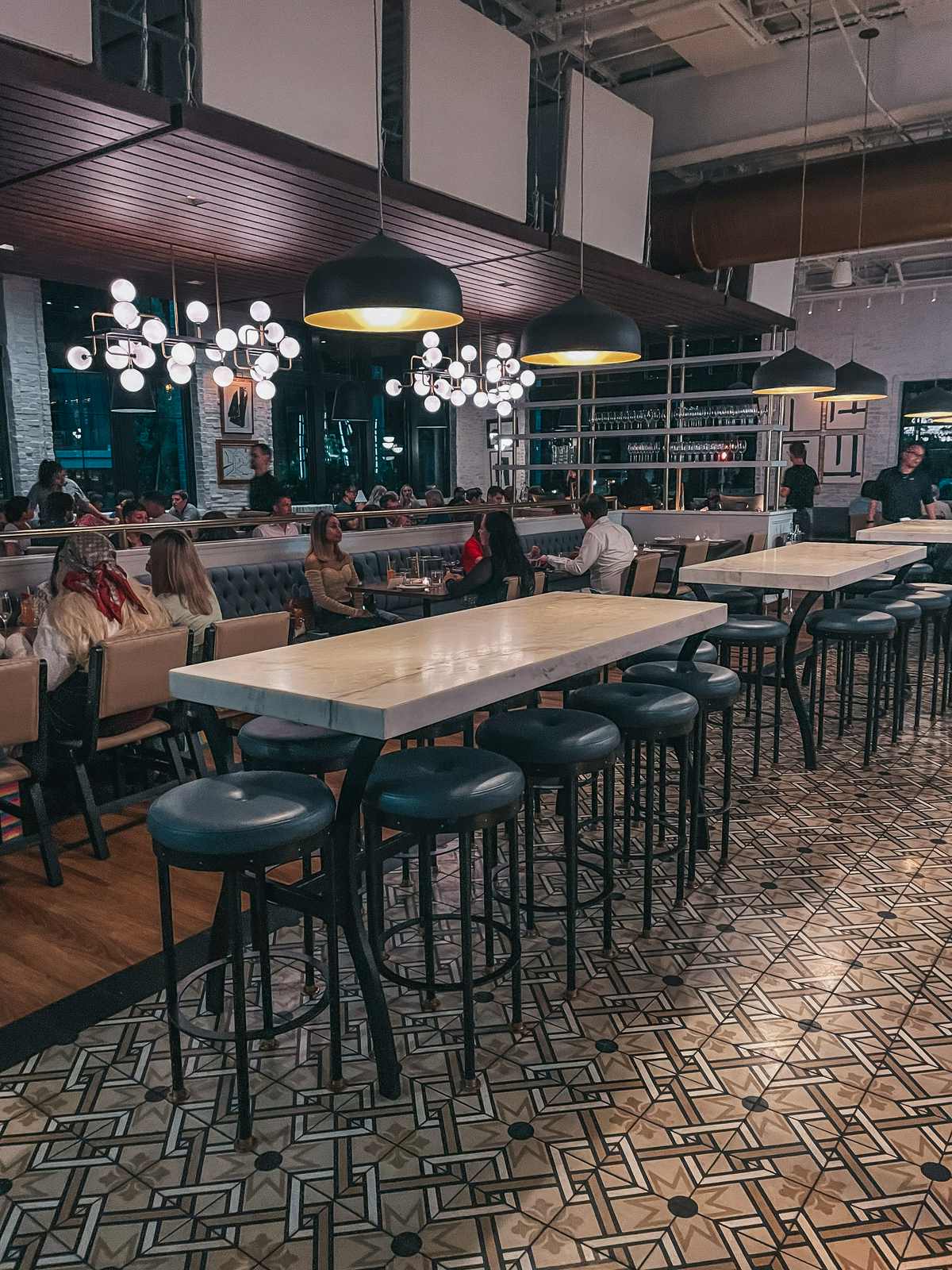 Haiku
If you're in the mood for sushi, Haiku is a great option. This sleek and modern Japanese restaurant serves up delicious sushi rolls, sashimi, and other Japanese dishes. They also offer an extensive drink menu, including sake and cocktails.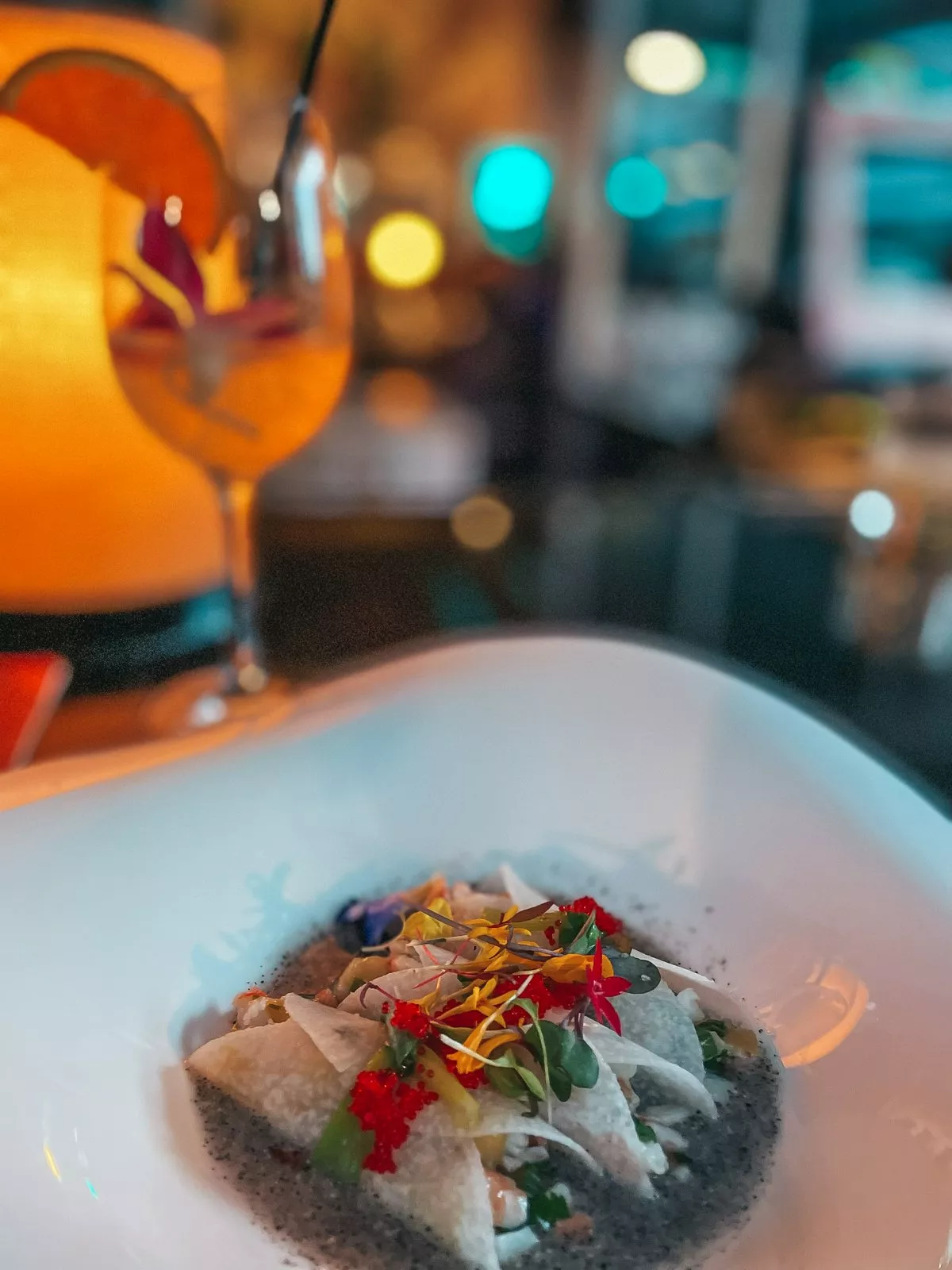 Overall, there are so many amazing dining options in Tampa that would be perfect for a bachelorette party. Whether you're in the mood for steak, seafood, Italian, or sushi, you're sure to find a restaurant that fits your group's tastes and preferences. Just be sure to make a reservation in advance, as these popular spots tend to fill up quickly!
Where to stay in downtown Tampa
If you're staying in the downtown area, a hotel will most likely be your best bet. There aren't too many Airbnb's in the downtown area, and they often end up being more expensive than a hotel with all of the additional fees.
There are a ton of awesome hotels in Tampa. Where you're going to want to stay just depends on what your itinerary looks like!
If you don't mind splurging The Tampa Edition is the newest hottest spot on the block! It provides an extraordinary, luxurious hotel experience that is unlike anything else Tampa Bay has seen. It even includes seven food and beverage venues to be explored. Check out my full Tampa EDITION review for all the details on this spot.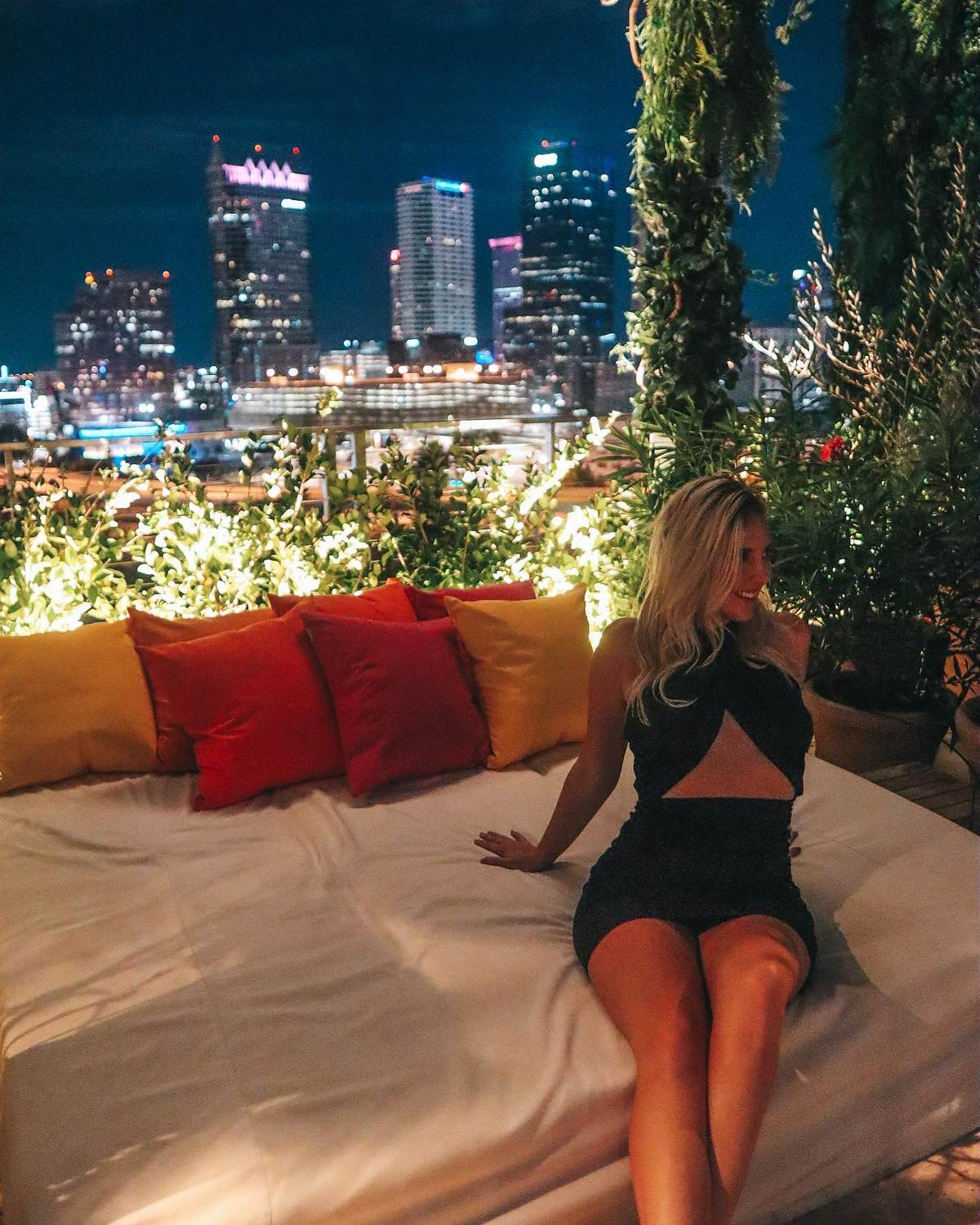 If you're wanting to stay in downtown Tampa, I recommend checking out Hyatt Place Downtown. The reviews are excellent, and they have an outdoor pool, fitness center, and a modern, sleek look. Not to mention the location is prime. The JW Mariott Tampa Water Street is also a great location, plus you can use your Bonvoy points to book!
You're right in the heart of downtown— a 10-minute walk (give or take a few) to the Riverwalk, nightlife, and the Amalie Arena.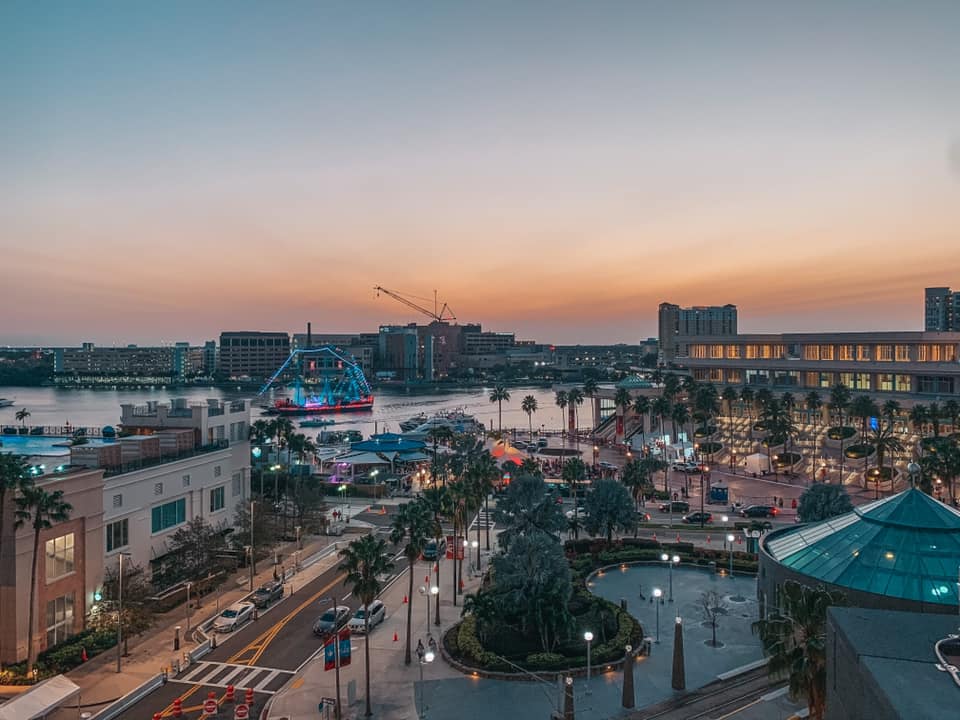 Other areas to stay in Tampa
If you want to stay near the water and have some views, The Godfrey Hotel and The CURRENT Hotel are both solid options providing beautiful sights of Tampa Bay.
The Godfrey Hotel is known for its fun and wild pool parties on the weekends at WTR.
The Heights is nice if you want to do things like Busch Gardens (it's 15 minutes away), but still be somewhat close to the other areas in Tampa and just 5 minutes from Raymond James and Amalie Arena. There's a cute affordable Bungalow that sleeps up to 6 people and has 3 bedrooms if you're traveling with a crew or the fam.
How do you get around in Tampa? 
If you plan to just stay in Tampa, you can get an affordable (around $15) Uber or Lyft into the city (it's about a 15-minute ride). I recommend renting a car though since you will most likely want to explore the surrounding areas as well!
If you do rent a car, download the SpotHero app. Hotels sometimes charge hefty parking fees, but SpotHero helps you find affordable parking in the area to avoid that!
If you really don't want to rent a car there is the Cross Bay Ferry which will actually take you from downtown Tampa to downtown St. Pete!
Tampa is a fantastic Florida destination for a bachelorette party, with plenty of activities and attractions to keep your group entertained. Whether you're looking for relaxation or adventure, you're sure to find it in this beautiful city. So gather your girls, pack your bags, and get ready for an unforgettable weekend!