This post contains affiliate links which means that I will make a small commission if you purchase a product after clicking on any of them, at no extra cost to you.
If you are looking for the best desserts in Tampa, then look no further! This guide will provide you with all of the sweetest spots in the Bay. From classic cakes and pies to inventive ice cream and milkshakes, there are enough delicious desserts in Tampa sure to satisfy any sweet tooth. So, get ready for a sugar rush, and let's explore some of the tastiest desserts in Tampa!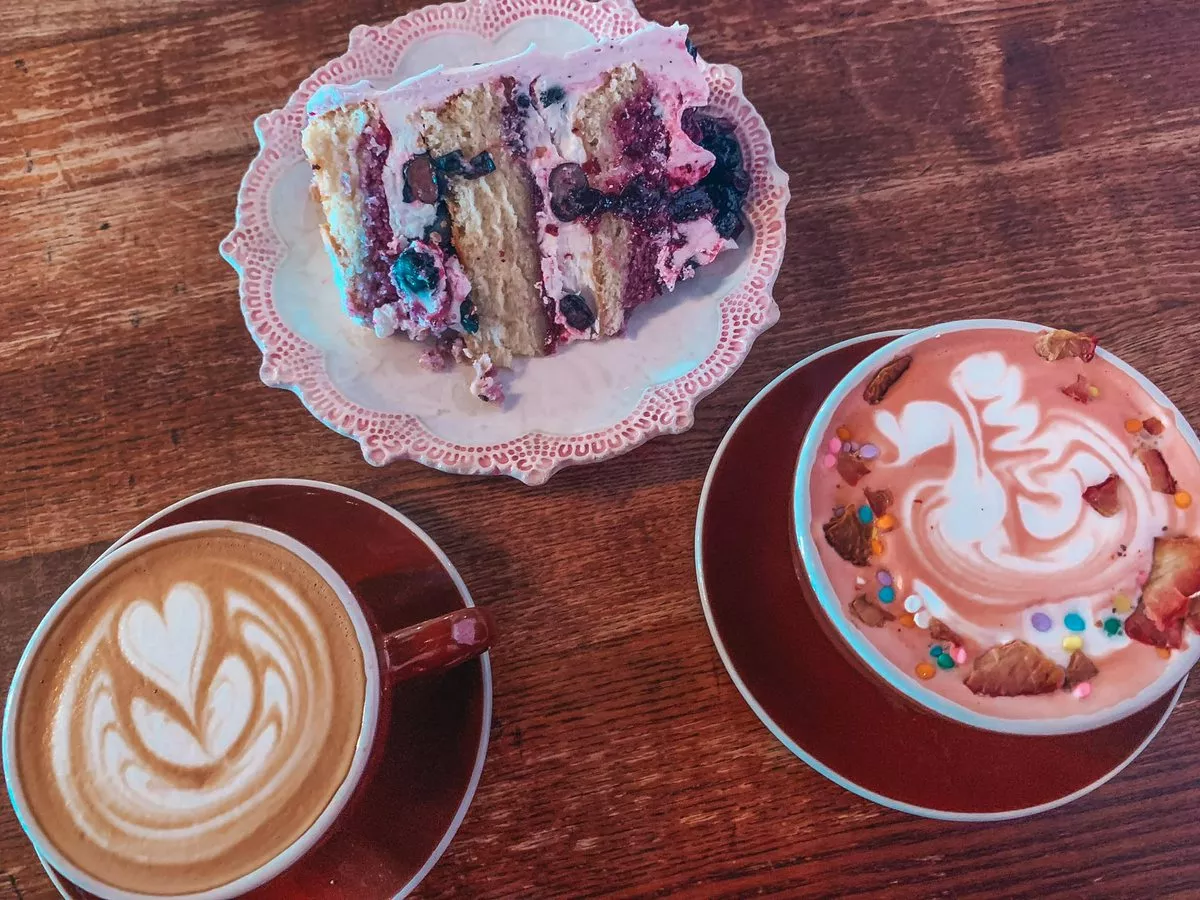 Best desserts in Tampa
Harry Waugh Dessert Room at Bern's Steakhouse
The Harry Waugh Dessert Room is easily one of the most iconic dessert spots in Tampa. It's a Tampa institution, famous for its decadent desserts and impressive wine list (17 pages!). Their desserts are made from scratch using only the finest ingredients, and they offer a wide variety of options, from classic crème brûlée to house-made ice cream and sorbet.
The dessert room is the perfect spot for a date night or a special occasion. They have traditional favorites like German chocolate cake and carrot cake to creative confections like the salted caramel bread pudding.
A couple of their signature specialty items which are prepared tableside include a bananas Foster and baked Alaska. Whichever dessert I get, I am always sure to pair it with their cappuccino Bern's Steakhouse which is finely ground, roasted coffee marinated in their secret blend of flavored liqueurs with a vanilla cream float.
If you dine at Bern's you automatically get a reservation at the Dessert Room, but you can also get a Dessert Room reservation by itself. Also, if you go to Haven for dinner, Bern's sister restaurant, they can also put you on the list for the Dessert Room.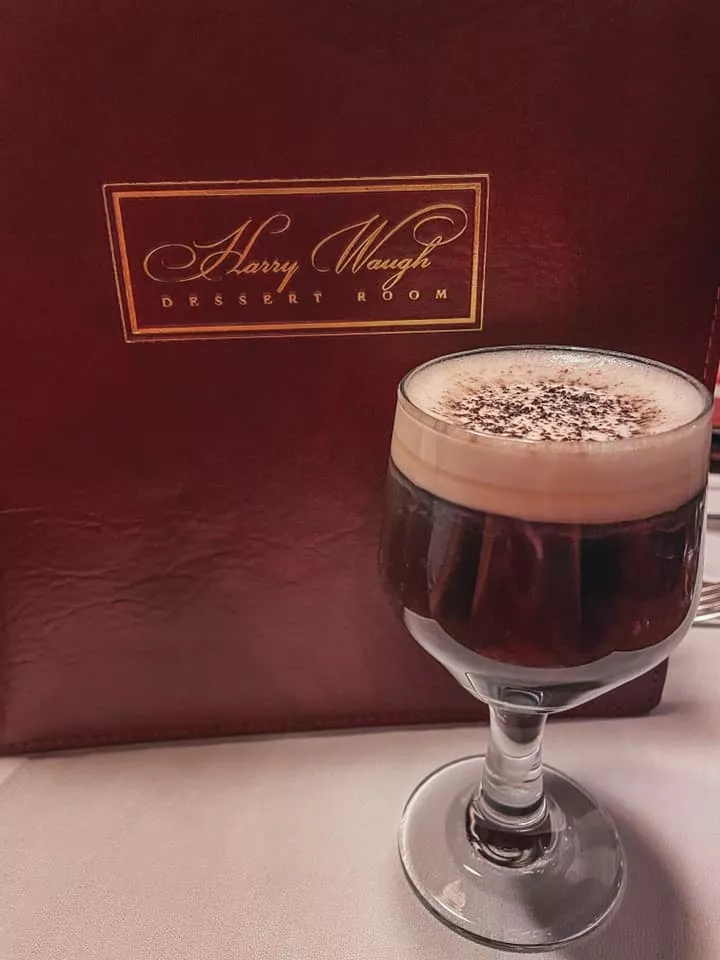 The butter cake at Charley's Steak House
Charley's Steak House is known for its amazing steaks, but their butter cake is not to be missed. This warm, buttery cake is topped with a rich, creamy caramel sauce and a scoop of vanilla ice cream, making it the perfect ending to a delicious meal.
This classic dessert is served in generous portions and provides the perfect sweet ending to your meal. Each bite is a heavenly combination of flavors that will surely satisfy even the most discerning of sweet tooth. Remi and I go here every year for our anniversary and are always sure to save room for dessert!
Whether you're looking for a decadent treat to cap off a special occasion or just a way to indulge in a classic dessert, the butter cake at Charley's Steakhouse is sure to please.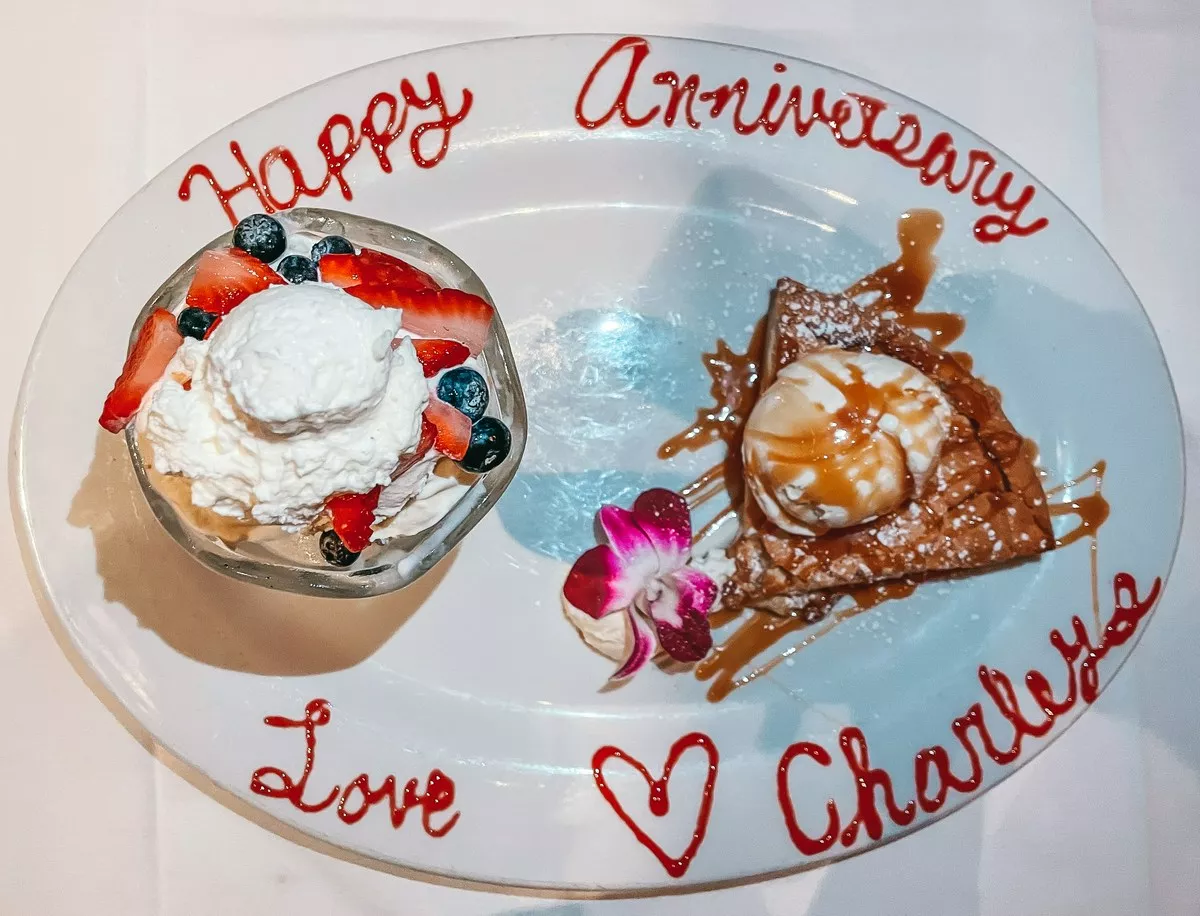 Chill Bros Ice Cream
Tampa locals (including myself) swear by Chill Bros ice cream, an artisanal family-owned and operated ice cream shop in Tampa. The shop's ever-changing lineup of ice creams showcases the flavors of Tampa and incorporates the work of the best food artisans in the community. They offer a wide variety of unique and delicious flavors, including my seasonal favorite, fluffer pumpkin.
All of their flavors are made with fresh ingredients, and they also offer vegan and gluten-free options. The shop has a bright and colorful interior, which makes it a great spot for an after-dinner treat. Plus, their generous portions will leave you feeling fully satisfied.
They have locations all over Tampa including Ybor City, South Tampa, Water Street, and SoHo.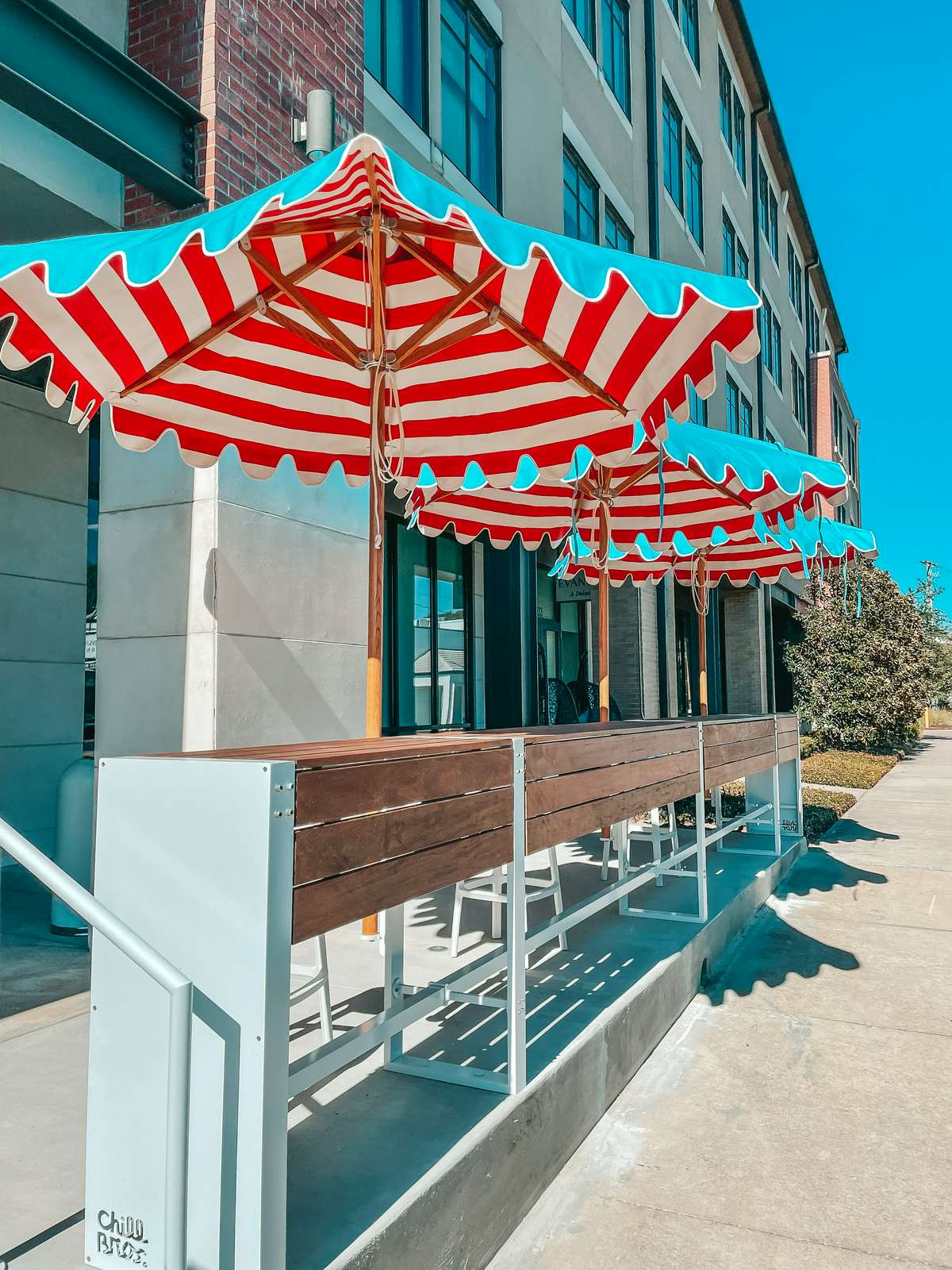 Limoncello cake at Gratzzi
Gratzzi is actually in downtown St. Pete, but I couldn't leave this dessert out. This classic Italian dessert can be found at one of the best restaurants in downtown St. Pete, Grattzi Italian Grille.
This delicious limoncello cake is made up of layers of moist, lemony sponge cake and is filled with tart limoncello cream. The cake is then frosted with more Limoncello cream, and topped off with a delicate layer of white chocolate. This sweet and creamy dessert is sure to delight your taste buds!
Not only does it taste amazing, but the presentation is absolutely stunning. The white chocolate topping, paired with the light yellow color of the limoncello cream, creates a striking presentation. Plus, the limoncello flavor gives the cake a delightful zesty finish that you won't find anywhere else.
I have tried other limoncello cakes in the area, and none compare to how light and moist Gratzzi's is.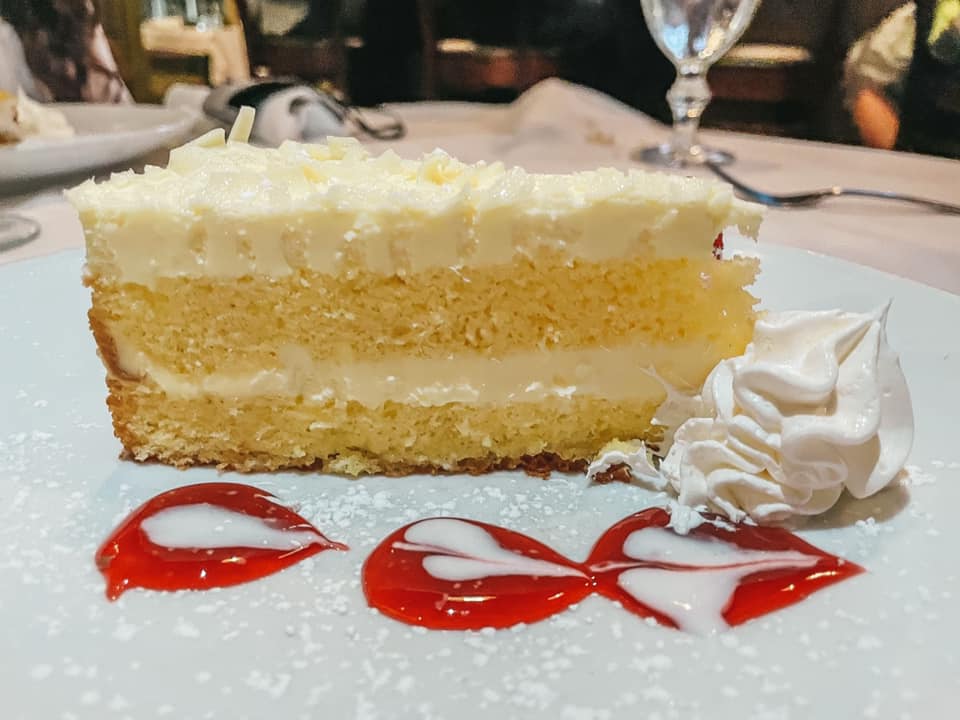 Bake'n Babes
Bake'n Babes is a bakery that offers a wide variety of delicious baked goods, including their Sleazy Brownies and renowned oversized chocolate chip cookies. Their signature item is their Freak Shakes, which are large milkshakes topped with a slice of cake and all sorts of crazy goodies. You can find the Freak Shake at their Davis Island location, or get The Works at their Armature Works location.
They also offer Babe Shakes, which are their shakes blended with any of their cookies or a Sleazy Brownie, and the Armature Works location serves up yummy taiyaki cones!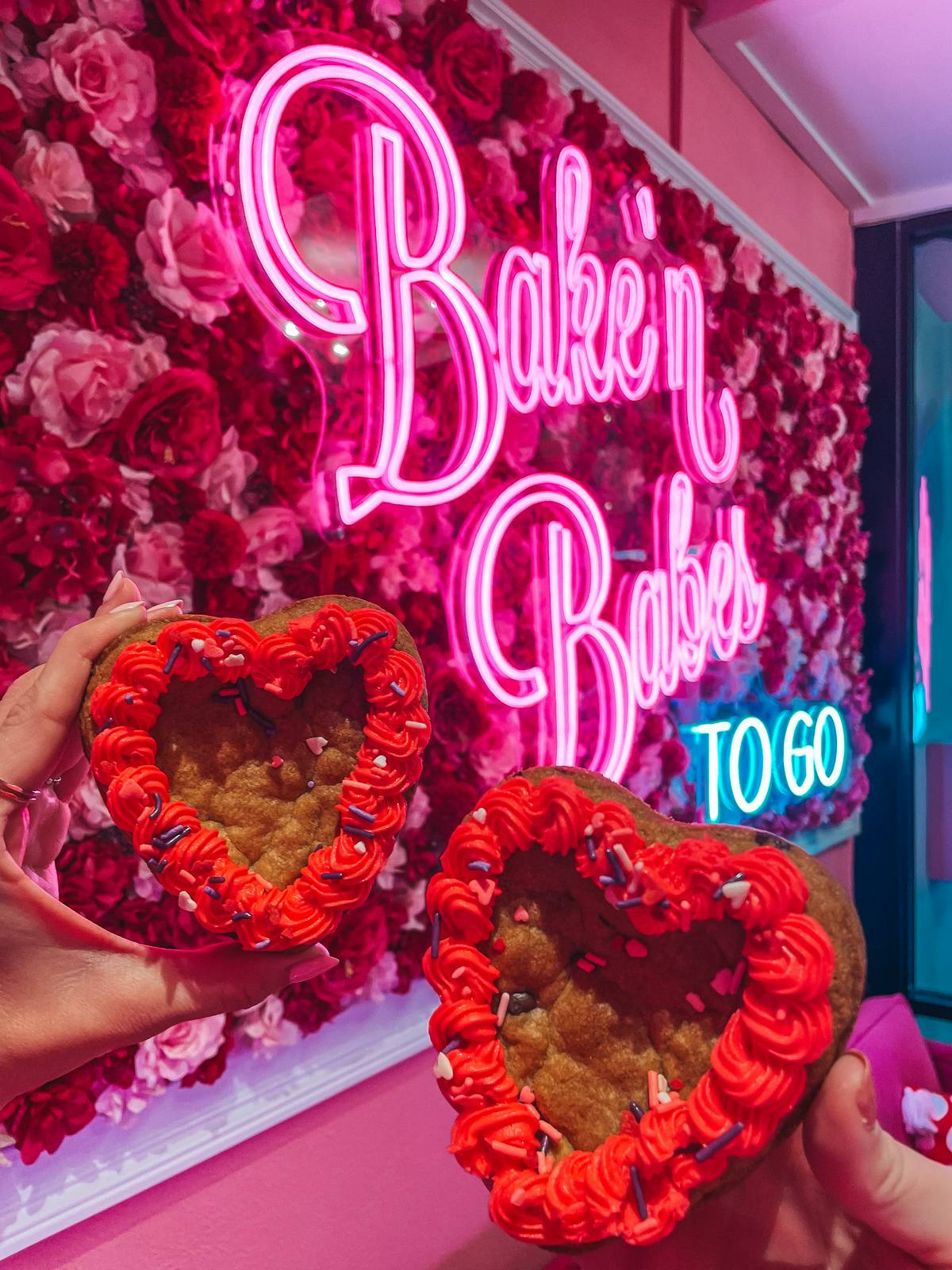 The Cake Drip
If you're looking for a unique and memorable experience with your sweet tooth in Tampa, The Cake Drip is the perfect spot! This dessert spot in Hyde Park allows you to create your own custom chocolate bar in-house, making it a totally unique experience. For this option select their "chocolate tasting flight". This is a 21+ experience, and champagne is included.
Not only can you customize your chocolate bar, but you can also make your own custom cake as well. Cake Drip is more than just a delicious dessert spot – it's an experience! They have adorable photo areas around the shop that will make for great Instagram photos, too.
You'll have a blast creating your own treat, whether it's a chocolate bar or a cake. Cake Drip makes it easy to create something special and sweet.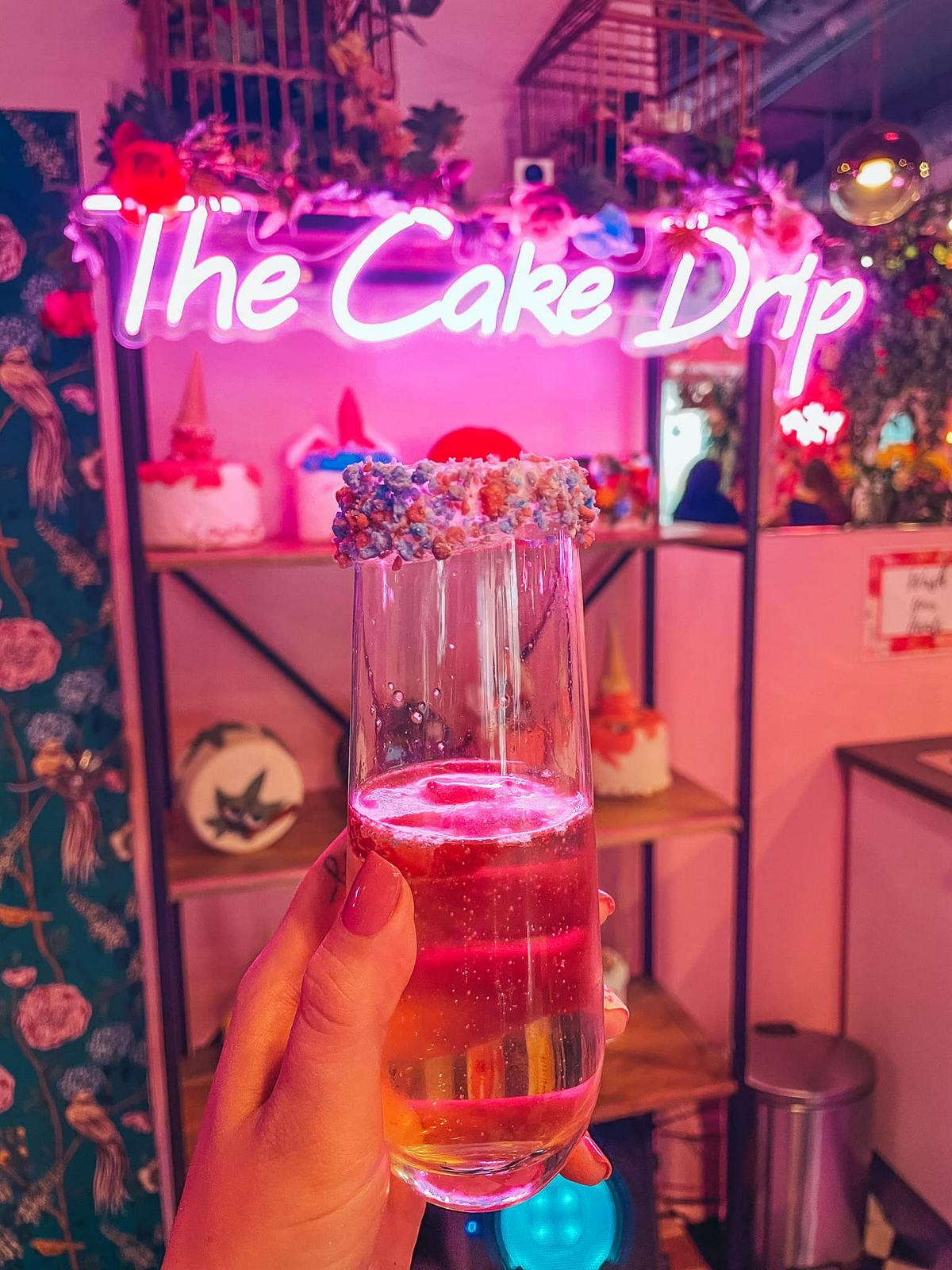 Hampton Chocolate Factory
Hampton Chocolate Factory is a chocolate shop that offers a variety of handmade chocolates, truffles, and other confections. Their chocolates are made with the finest ingredients, and they offer unique flavors like lavender and sea salt.
They serve more than just chocolate treats, though! Their ice cream is easily some of the smoothest and creamiest soft serve I've had in Tampa. And the options for what you can do with the ice cream are endless!
Hampton Chocolate Factory is devoted to making the most luxurious and delicious desserts that they can imagine. From creative sundaes to homemade ice cream sandwiches, you can always find something new and exciting here. For the holidays I had their peppermint brownie served on a waffle dipped in white chocolate, ya'll I don't even normally like peppermint, but this was UNREAL.
All of the ingredients used are of the highest quality, ensuring that each bite is a pure delight. This is a must-visit spot in Channelside.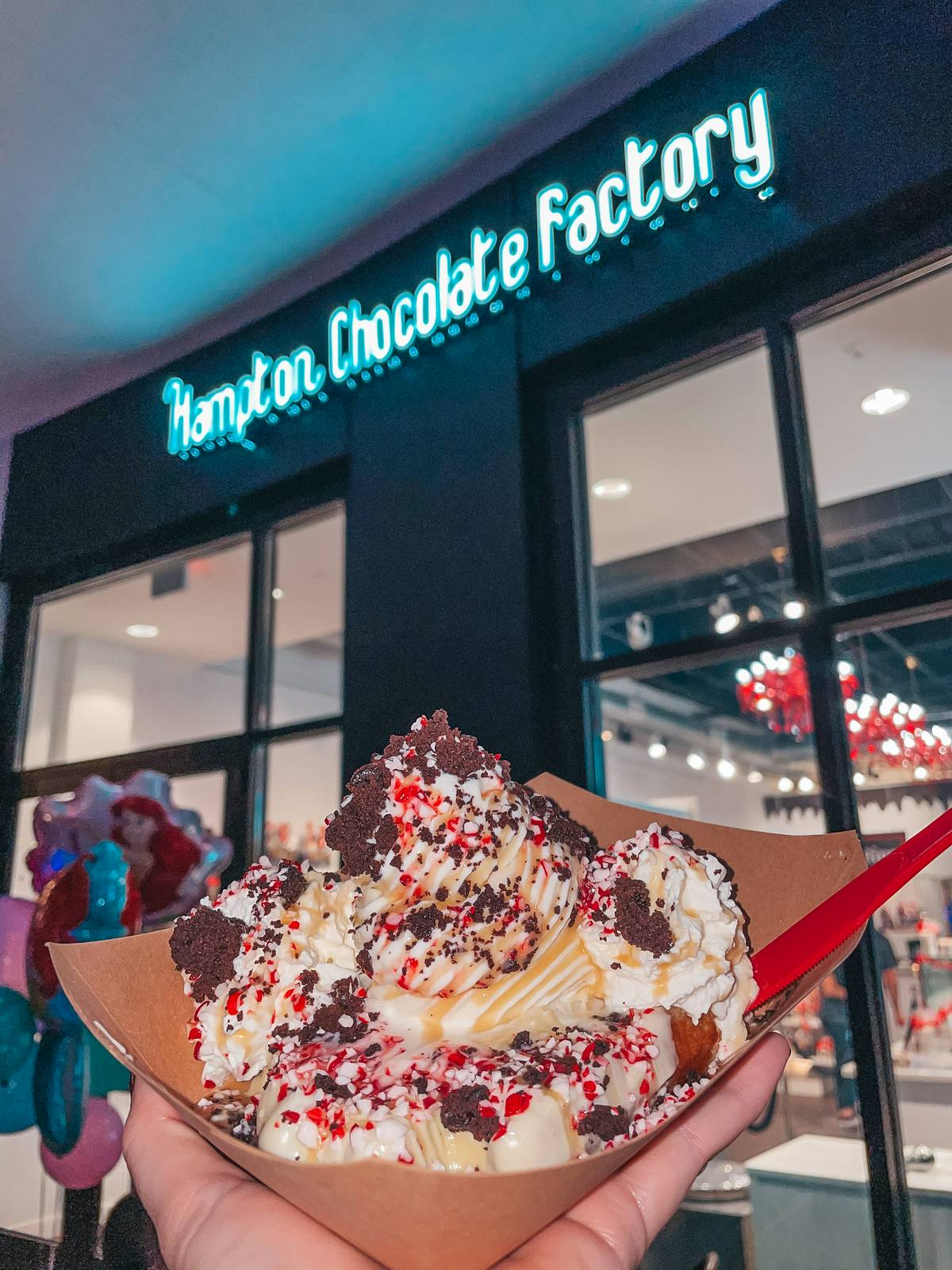 Desserts by Toffee to Go
For an amazing selection of delicious, handcrafted desserts, head to Desserts by Toffee to Go. Located in the heart of Tampa, this sweet shop is a must-visit for those with a sweet tooth.
They offer cakes, pies, dessert bars, cupcakes, ice cream sundaes, and more at this spot! While the carrot cake definitely caught my eye, I couldn't resist trying their toffee cheesecake topped with their gooey and delicious toffee sauce. It's certainly decadent, but every single bite was a mouthgasm. I wish there was a better word, but that's what it was.
Moral of the story? Run, don't walk to this Tampa gem!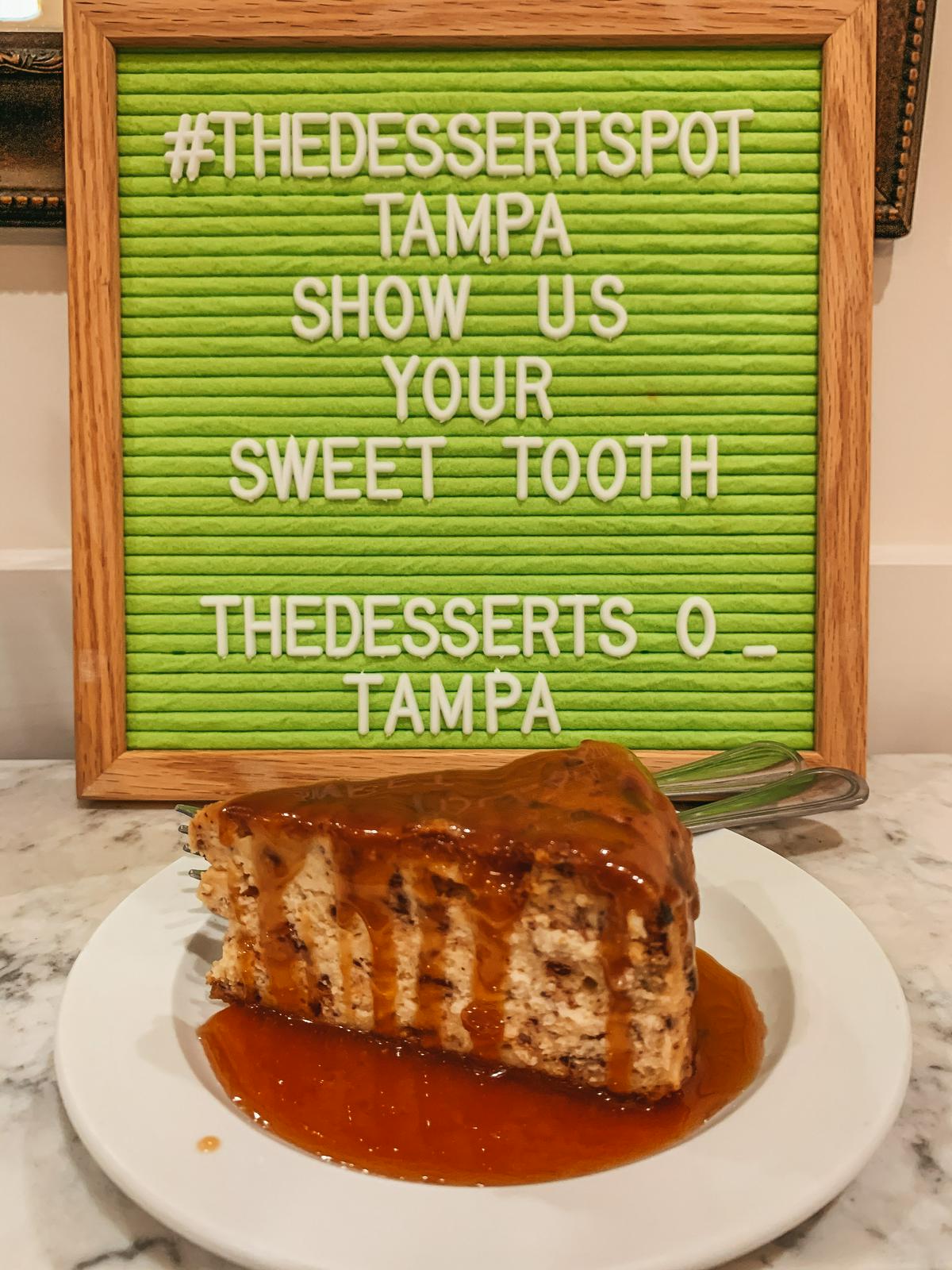 Chocolate Pi
Chocolate Pi is a dessert boutique and cafe that specializes in artisanal cakes, pastries, and macaroons. It's also one of my favorite coffee shops in Tampa! When it comes to choosing your dessert, it can vary from day to day what they have. I have enjoyed their blueberry cake, but I have yet to try their guava cake (it's on my list!).
Their beautiful lattes topped with colorful sprinkles and dried strawberries along with ones that look like galaxies topped with glitter are more than just a beautiful pic for the gram— they are also a treat for the taste buds. The Strawberry Shortcake Latte is one of my personal favorites. It is mouthwatering in every sense.
A variety of vintage pieces of furniture adds to Chocolate Pi's lovely appeal even more. Whether you're looking for something classic or something unique, Chocolate Pi is a Tampa dessert spot you're sure to enjoy.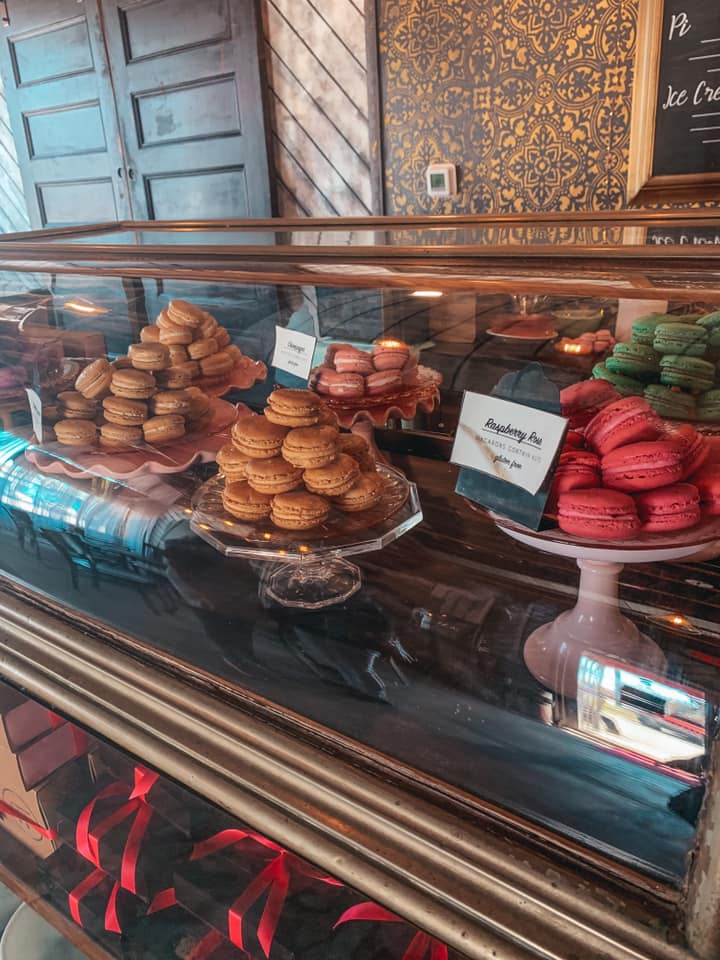 If you're a dessert lover in Tampa, there's no shortage of amazing options to choose from. Whether you're in the mood for a classic cake or something more inventive, these dessert spots are sure to satisfy your sweet tooth!