This post contains affiliate links which means that I will make a small commission if you purchase a product after clicking on any of them, at no extra cost to you.
St. Simons Island and Jekyll Island were our first stops on our epic 2-week road trip! They were also somewhat brief since we were trying to make it to Savannah by night, but there were plenty of things to do on St. Simons Island and Jekyll Island.
You can definitely spend more than a couple of hours on each island and have enough to occupy yourself, but here are some suggestions for must-stop places if you're just enjoying a day on St. Simons and Jekyll Island.
Things to do on St. Simons Island for a day
We stopped at St. Simons Island first even though it is a little bit past Jekyll Island because there were more daytime activities we wanted to do there, whereas on Jekyll Island, the activities I had on my to-do list didn't really matter what time we did them!
St. Simons was a 4 ½ hour drive from St. Pete, making it a great way to break up our drive to Savannah if you're coming from Florida and following our road trip itinerary. We hit the road at around 8:30 AM and arrived a little after 1 PM, just in time for coffee and lunch!
Check out my long drive tips for your road trip!
Wake Up Coffee Company
Definitely start here for a cup of coffee before heading right next door for lunch! The setup and aesthetic here were SO cute! Coffee was only available to go at the time we went because of COVID, but when dine-in (or drink-in) is available here again, it seems like the perfect workspace!
So if you have a little bit of extra time in this area, I definitely recommend chilling here for a little while you enjoy your bomb coffee! We had a vanilla cappuccino that was so delish! Also, check out how freaking cute their merch is at their shop! I'm truly obsessed with everything about this place.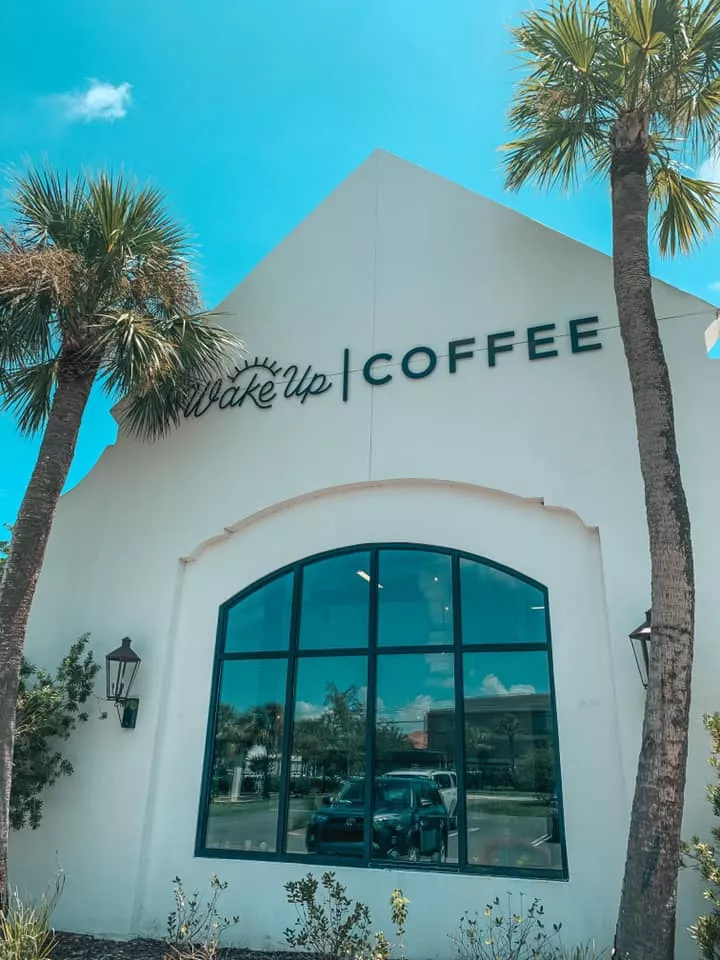 Southern Soul Barbeque
You won't have to go far at all for your next stop! If you're a fan of southern BBQ, Southern Soul BBQ is your place! One bite of your sandwich and you'll understand exactly why this is at the top of the list of things to do on St. Simons Island.
The restaurant itself is actually an old converted gas station. We enjoyed the outdoor picnic table seating right next to their awesome mural. Coming from St. Pete, I really appreciate fun murals.
We had pulled pork, brisket, and potato salad, and it was all heaven to my taste buds.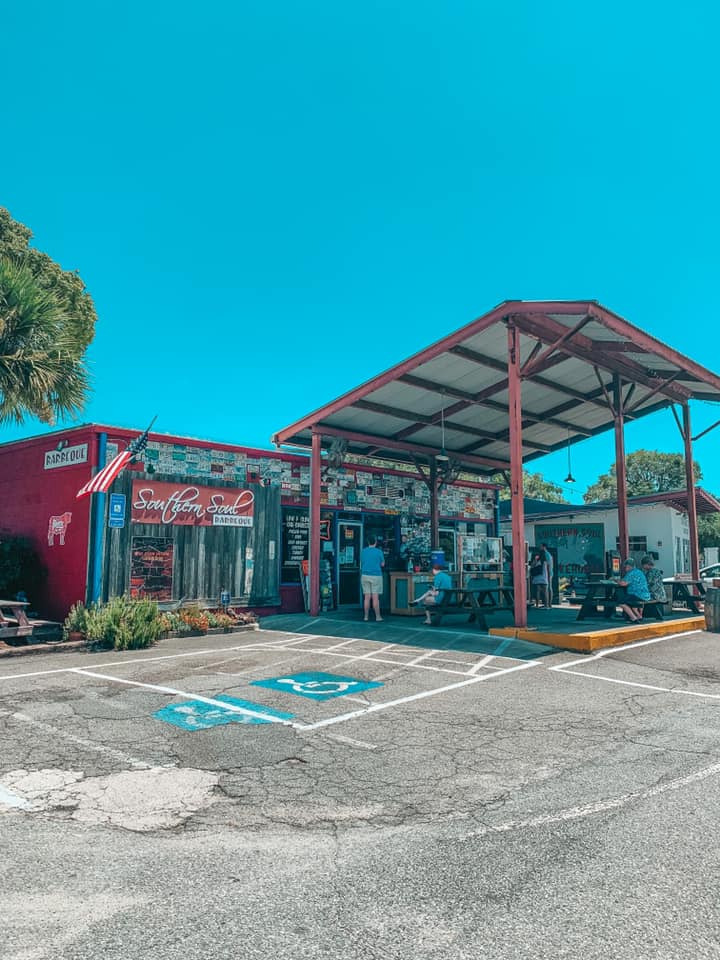 Golden Isles Olive Oil
If you love unique olive oils and balsamics, don't skip this unique thing to do on St. Simons! SO MANY options— your mind will be blown! They had such amazing combinations that you would probably never even imagine.
A few intriguing olive oils I saw were infused bacon, white truffle, and blood orange! Don't even get me started on the balsamics, which included flavors like lavender, dark chocolate, and blueberry!
I went with the Sicilian lemon white balsamic vinegar and Tuscan herb-infused olive oil! It was SO hard to choose! Luckily, they allow you to sample to help you narrow down your options. If you have any room after lunch (we unfortunately didn't), they also have a wine bar and offer charcuterie boards.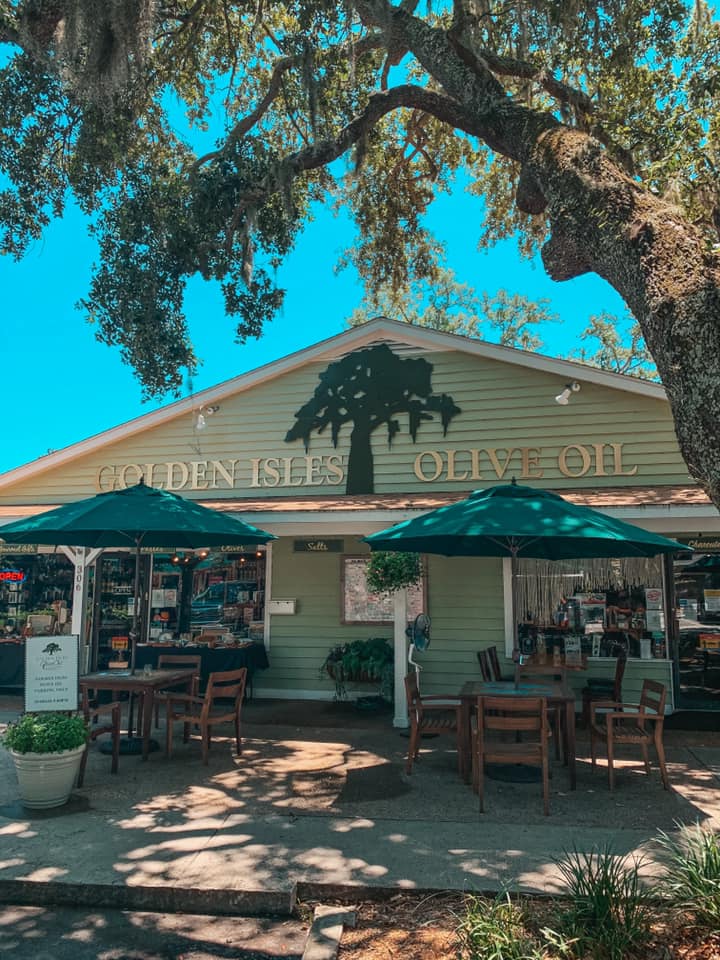 St. Simons Lighthouse
I just think lighthouses are so beautiful! St. Simons Lighthouse is actually one of five surviving lighthouse towers in Georgia and still serves as an active aid in navigating ships. 
When you first enter the lighthouse, you're in its museum. It contains artifacts and history of the island as well as insight into the life of a lighthouse keeper. Once you're done perusing the museum, you can take the 129 steps up to the top to see stunning panoramic views of St. Simons Island and Jekyll Island.
This is one of the things that must be done during the day, and part of the reason we started at this island. The last ticket for the museum is sold at 4:30 pm each day. Admission for adults is $12 per person.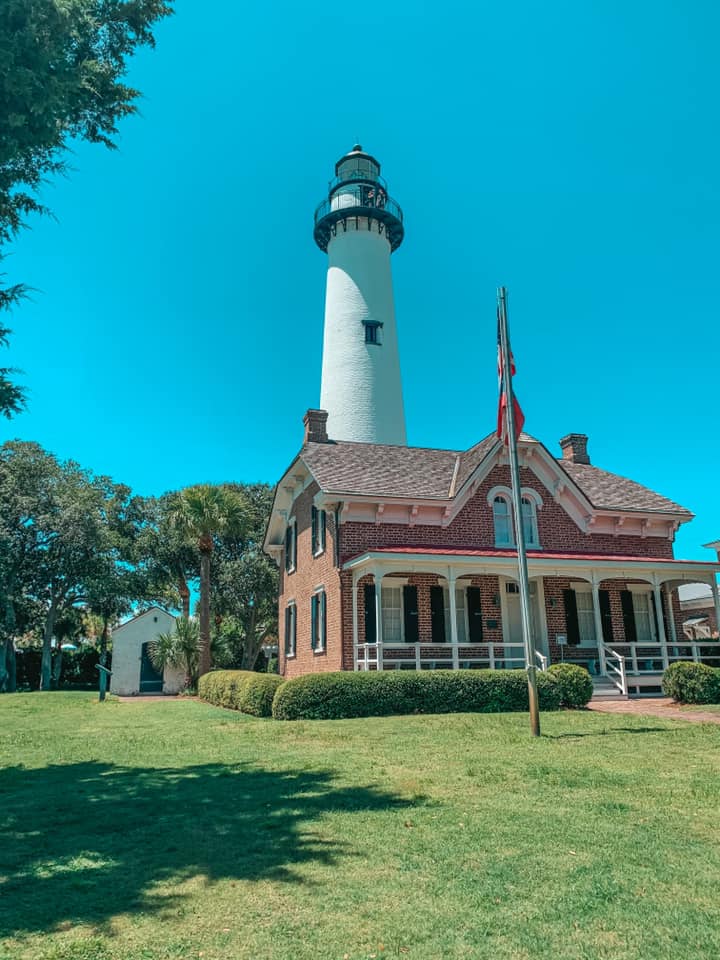 Tree Spirits
I just love when places have quirky little features or findings! Something super unique to St. Simons Island is its tree spirits. In the 1980s, Keith Jennings, a skilled craftsman, set out to leave his mark on the island. He began carving faces into some of the island's oak trees.
Jennings attributes the product to the tree's spirit— he carved what he felt was being exuded from the tree. While Jennings himself created 20 tree spirits, more seem to be popping up on the island. Some seem to be on private property, and we only had time to discover a few (there was one not far from the lighthouse!), but the ones we found were very neat!
If you're curious on where you can find the tree spirits, I've got you covered with this Tree Spirits Treasure Hunt!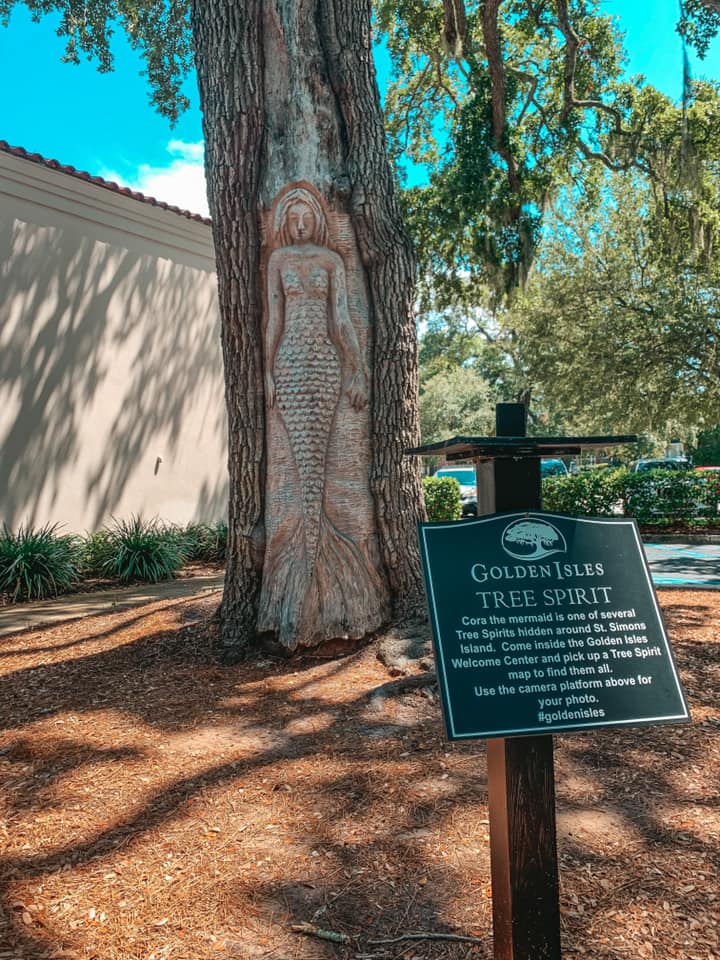 Echo Restaurant
This stop at Echo just so happens to be St. Simons's only oceanfront restaurant and bar, and after taking a peek at their drink menu, we knew we had to stop here! Their food menu looked really yummy if you want to grab a bite, however we were still so stuffed from lunch we didn't even have room to share an appetizer.
The drinks did not disappoint! I did the White Peach Sangria and Peach & Blackberry Muddle. Both spoke to me on a spiritual level. Seriously SO good! I am a sucker for drinks that have fresh fruit muddled in them. They just always seem to be light and refreshing. And that's exactly what these two drinks were!
Along with their classics, they also do seasonal drinks. It was summer when we went, but they currently have their fall cocktails as I write this— and oh. My. GOSH. I think I'm going to start playing around in the kitchen and attempt to make their Pumpkin Spice Martini!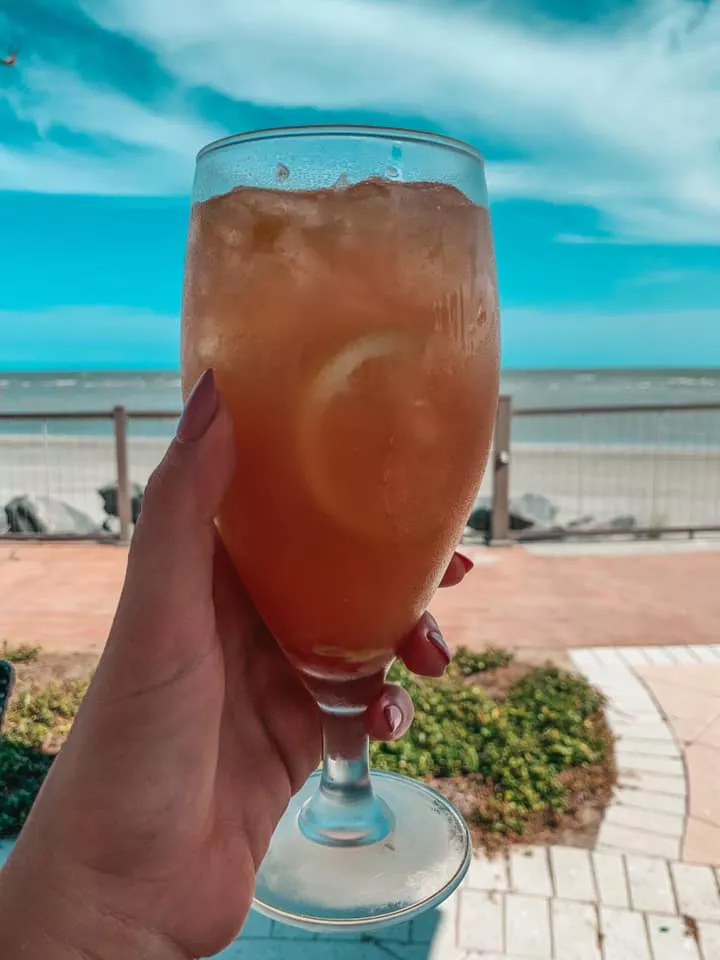 The Half Shell SSI
This will be your last thing to do in Simons Island before heading over to Jekyll Island. If you know me, or have read my other guides, you know I love a good oyster shooter. Well, The Half Shell SSI had them on the menu, so of course, we couldn't resist! 
If you are going during the week, note that they don't open until 5 pm. We got there right at five because we were ready to head to the next island, but couldn't leave without trying the shot. 
They have four different types of oyster shooters. Do you prefer tequila, vodka, or beer? They've gotchu. Personally, I went with the Bloody Mary Shooter, which is pretty much the same kind I get everywhere. It contains vodka, bloody Mary mix, an Old Bay rim, and is of course topped with an oyster. It hit the spot.
Remi lived a little more on the wild side and did the South of the Border shot which was tequila and Tabasco with the oyster. He said it was awesome, so if you like tequila, that one may be a winner for you.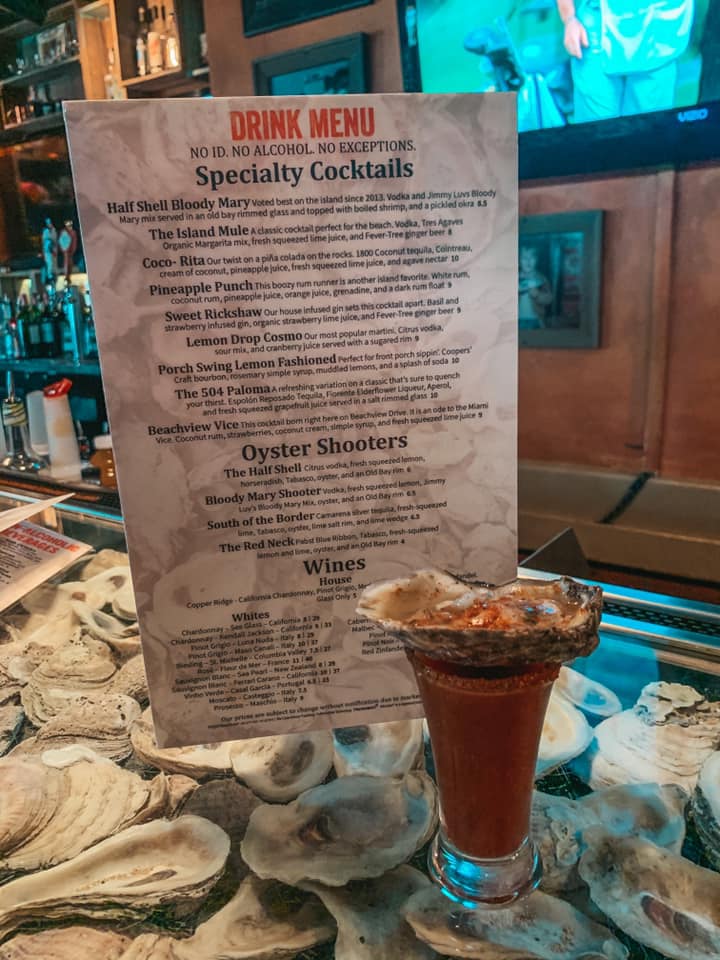 Things to do on Jekyll Island
After spending about four hours on SSI, it was time for us to make our 30-minute drive over to Jekyll Island. Here's the best way to spend an evening on Jekyll Island!
Driftwood Beach
For a second, we almost thought we'd skip Jekyll Island and just head to Savannah, but after looking up pictures of Driftwood Beach, I knew that we absolutely couldn't skip Jekyll Island. We went around sunset, and while it was overcast, I think that fit the vibe of Driftwood Beach way more than a sunny day would have.
It was like no place I'd ever been before— a graveyard for trees. It felt like a very surreal experience. This stop alone was worth making the drive.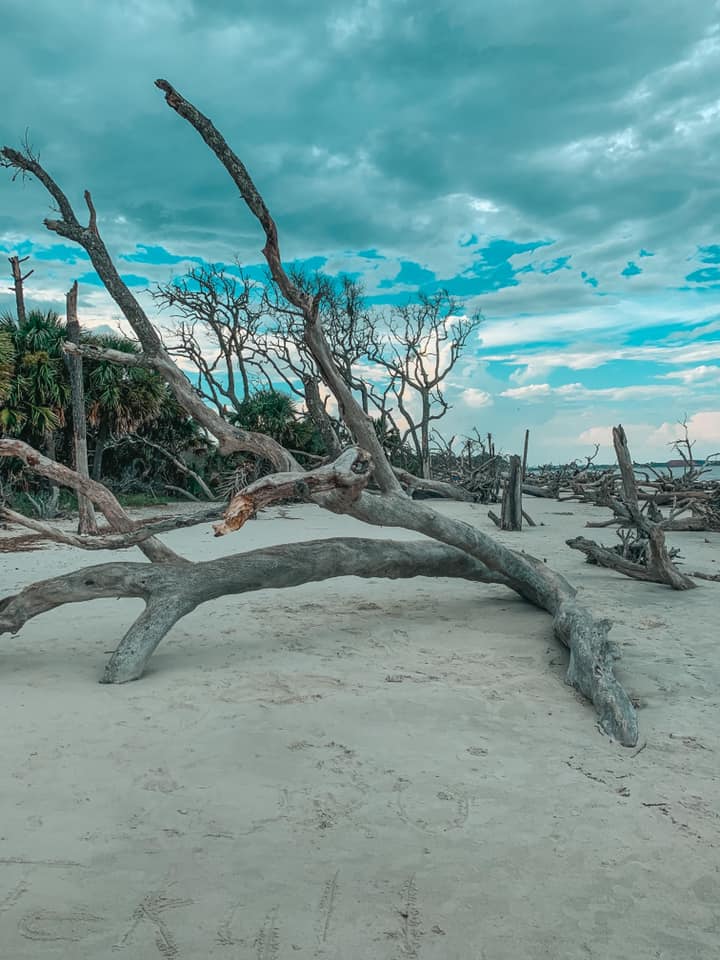 Horton Pond
Okay, we didn't have time for this spot, but it was on our list. It looked like rain was going to potentially happen, and we wanted to make sure we got to our dinner spot by sunset.
But if the weather is in your favor and you have the time, you should make the stop! Horton Pond is a wildlife viewing area where you can find scenic views, wildlife in their natural habitat, and even a cute little .7-mile trail (Tupelo Trail)!
Related read: Check out the ultimate road trip packing list!
Go horseback riding on the beach
If you have more time on Jekyll Island, Golden Isles Carriage and Trail at Three Oaks offers a selection of horseback riding opportunities.
I suggest doing the sunset ride which goes through the Maritime Forest. Enjoy the salt marsh and return to the beautiful Driftwood Beach!
The Wharf
We LOVED this dinner spot so much! They had live music and delicious food at the perfect location! It was a Thursday evening around sunset when we arrived (I highly recommend going around sunset!), so it was a little busy and we had to wait. They encourage reservations, so if possible, definitely call and make them.
The Wharf is located on the Jekyll Island Historic District Pier and has beautiful waterfront views. They had live Southern country music playing as the sunset, and we really enjoyed our food— it was such a treat.
It was the first moment on the road trip I felt like, "Wow, this is vacation." I have been on a total crab cake kick, so that's what I got here, and it was soo yummy and packed full of lump crab meat!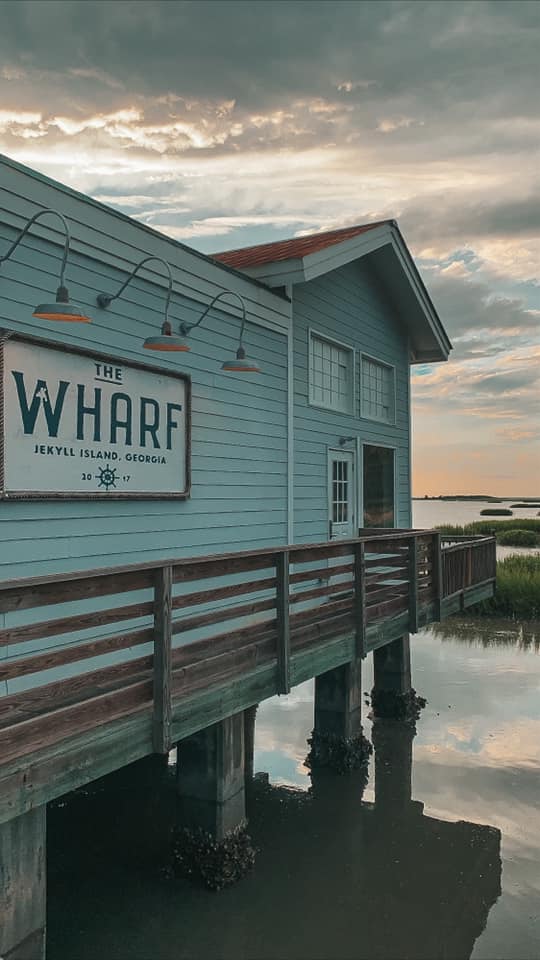 Both islands offer some really unique experiences, and it really was the perfect way to break up a road trip! I hope you enjoy your time on the islands!
And if you want to read about some other stops on our two-week road trip check out how to spend a weekend in Chattanooga, a complete Asheville guide, or some things to do in Helen, Georgia!
Where to stay on Jekyll Island
While we didn't stay here ourselves (we headed to Savannah for the night after this), there are a ton of great hotel options in this area!
Or, if you're stopping here as a pit stop like us, and heading to Savannah for the night, I cannot recommend Brice Hotel enough! If you stay during the week, it's usually pretty affordable. It has an absolutely beautiful design, an awesome location in Savannah, AND they have a happy hour every night where you get free wine during that hour!
Check out my complete Savannah guide here!
I hope you enjoyed this post on the best things to do on St. Simons Island and Jekyll Island! Let me know what you're most excited to check out in the comments 🙂
If you're looking for more road trip ideas check out this New England fall road trip itinerary, Utah Mighty Five road trip, or epic Arizona road trip!