This post contains affiliate links which means that I will make a small commission if you purchase a product after clicking on any of them, at no extra cost to you.
Lucky for you guys, I've been familiarizing myself with the drinks and acquainting myself with the beach bars of Clearwater Beach for the last five-plus years, and I'm here to give you all of the details. While there is plenty to do at Clearwater Beach, the beach bars and fun (often tropical) drinks are part of the experience. Regardless of what kind of drink you're craving, I will direct you to the best bar to go to.
Oh, and if you wanna make your bar-hopping experience even more fun and entertaining, check out my Clearwater Beach scavenger hunt (adults only)!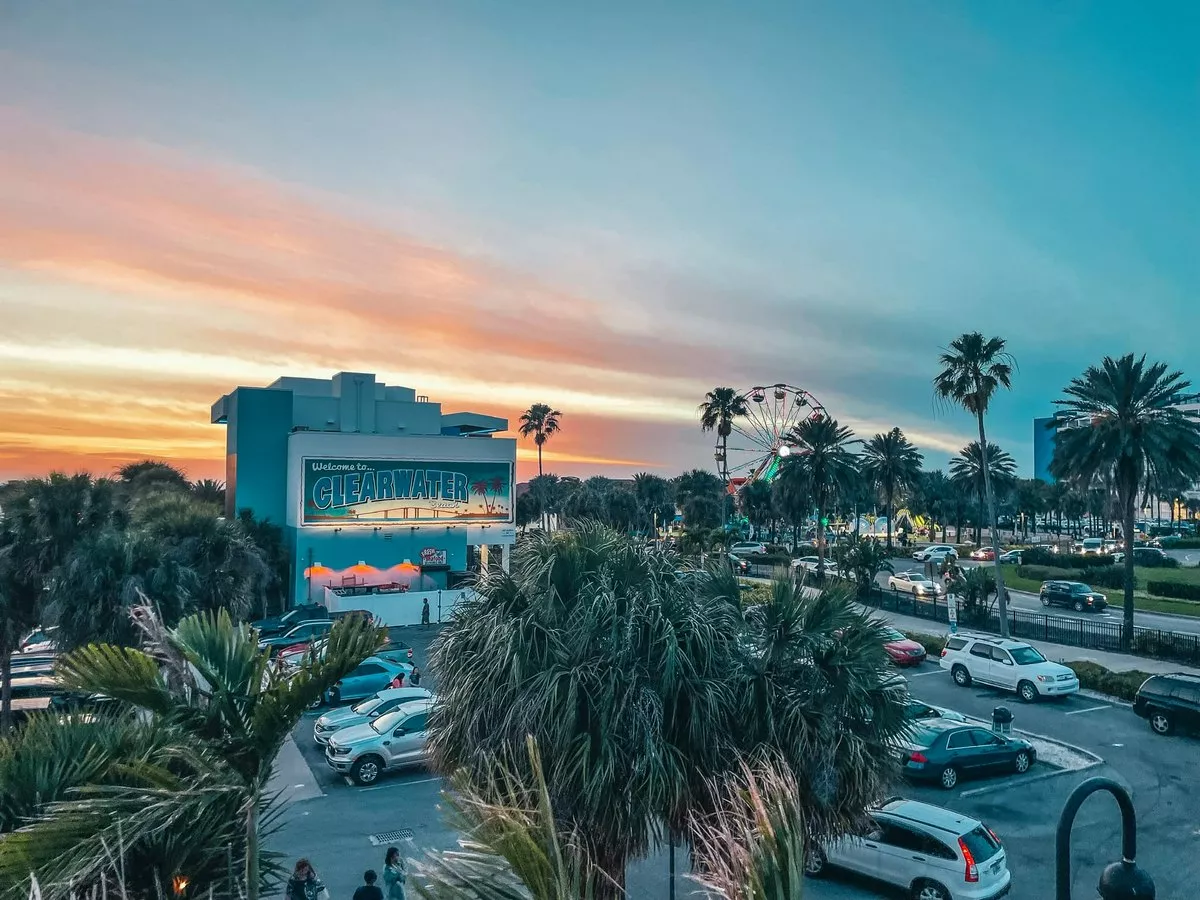 Best Beach Bars in Clearwater Beach— and What to Drink at Them
Best Bloody Mary in Clearwater Beach
Jimmy's Fish House
I actually found Jimmy's several years ago when I was asking people passing by where the best bloody mary on the beach was. They did not steer me wrong!
Equipped and fully loaded with a shrimp-and-veggie skewer, you get a nice appetizer with this drink, and they don't just stop there— if you're wondering what the short glass is next to it, that'd be your beer chaser (typically Miller or Bud Light). Ask 'em to make it spicy, and they add their own Jimmy's hot sauce to it to spice it up for ya.
This drink has also been my breakfast on Clearwater Beach many times after a fun night out.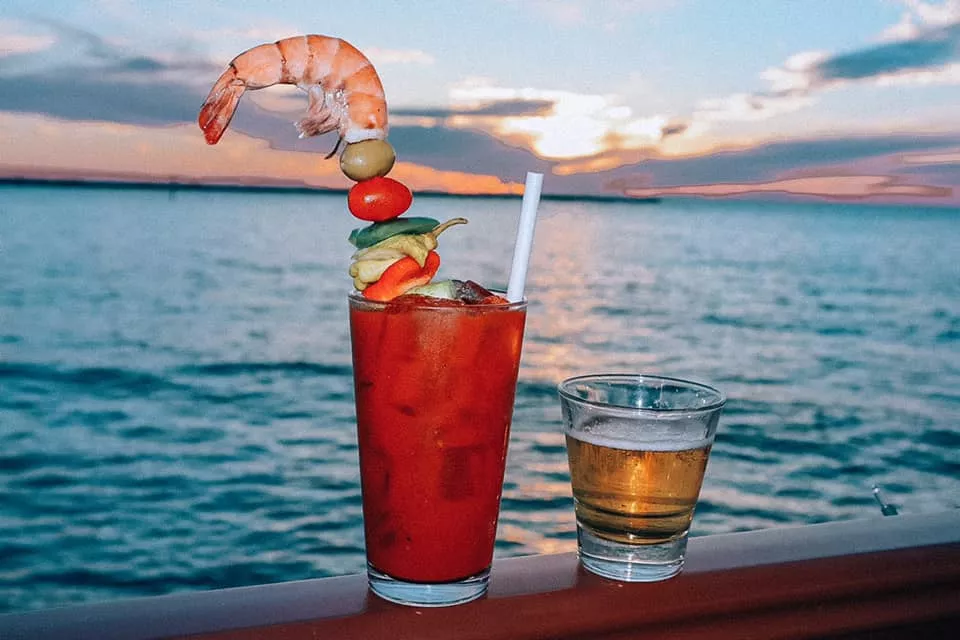 Best Martini in Clearwater Beach
Opal Sands Sea-Guini
Sea-Guini has all sorts of to-die-for martinis here, whether you're looking for something sweet and fruity or the classic with some stuffed blue cheese olives. Personally, I dream about their strawberry shortcake martini. Stoli vanilla vodka, muddled strawberries, simple syrup, and a graham cracker rim— sounds amazing, right?
I'm going to give you a hack to make it even more amazing: ask them to add their ice cream mix to it. This makes the drink a little bit creamy. Normally, I can't do a ton of sweet drinks, but when it comes to these, I can easily down a few— and in record time, embarrassingly enough.
This spot is also a great date night restaurant if you're getting hungry!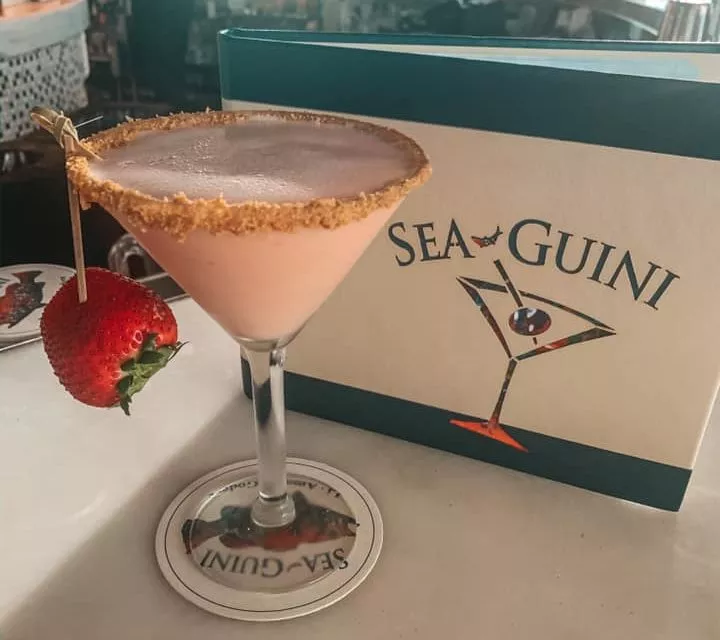 Best Tiki Drinks in Clearwater Beach
Bar Tiki
This craft tiki bar is a MUST-STOP if you are on Clearwater Beach! Its marina location makes it the perfect spot to kill some time if you're waiting to board for one of your Clearwater Beach activities. I also really love this spot for bachelorette parties! Clearwater Beach is actually one of my favorite Florida bachelorette party destinations because of fun spots like this.
The drinks here are so fun and well-crafted. After struggling to decide, we let our bartender Savannah create us the "pick your poison" which leaves your fate in the bartender on duty's hands. This drink was one of the most delicious heavenly drinks I've had in a while!
We liked it so much, we stayed for another round. If you want to choose your own fate, they have mojitos, mai tais, or even a black margarita and spiked Dole whip to choose from!
Bar Tiki also has games like corn hole and Connect 4, and a Hawaiian-inspired food menu if you get hungry. Peep my TikTok for more from my Bar Tiki visits!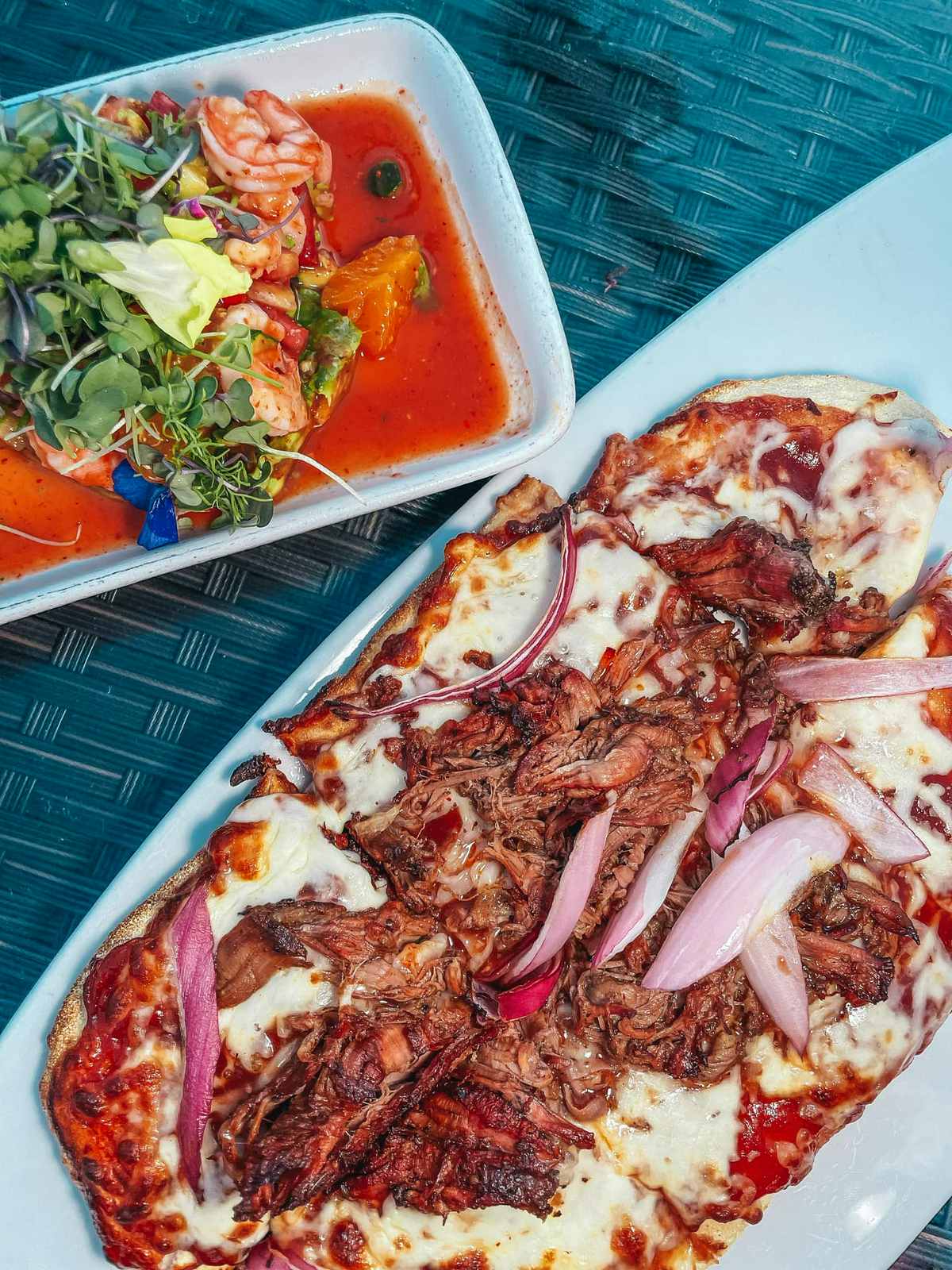 Best Mezcalita in Clearwater Beach
Vue 360
Mezcal has been my drink of choice for the last year and it's actually still pretty hard to find a good mezcal cocktail on Clearwater Beach. Luckily Vue 360 came to my rescue. Their mezcalita (a margarita with mezcal instead of tequila) is PHENOMENAL. Actually, it's too good.
Did I mention it's also a rooftop bar? Their drinks paired with the views is a dangerous combination. You're never going to want to leave! They also have plenty of other fun drinks including a key lime martini that straight up tastes like key lime pie. Graham cracker rim and all!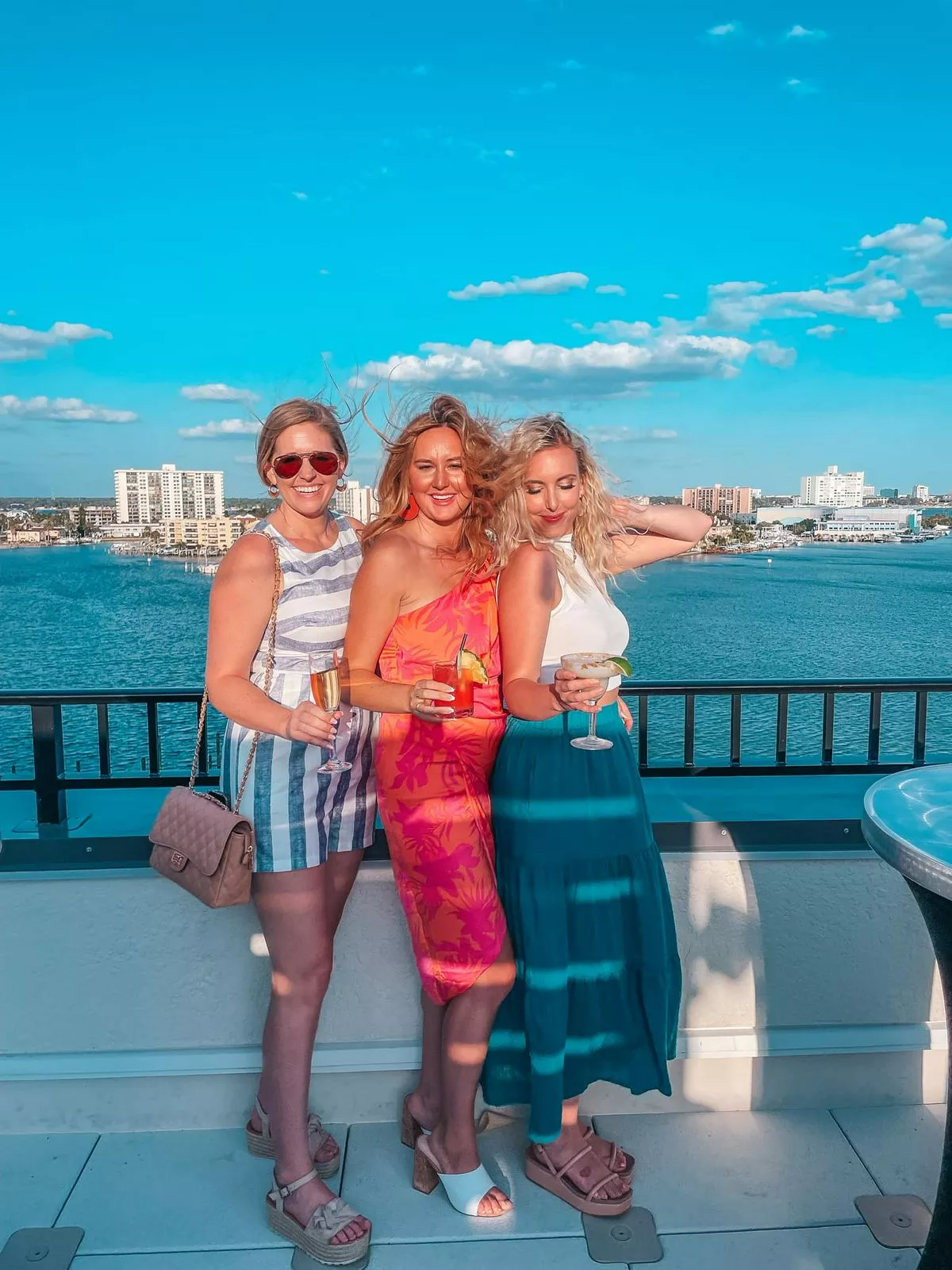 Best Beer Selection in Clearwater Beach
Surfside Taphouse
Surfside Taphouse is a beer lover's dream. With 50 beers on tap and daily bucket and draft specials, you are sure to find something you like. You can get a bucket of Bud, Bud Light, Corona, Corona Light, or Premier for $16.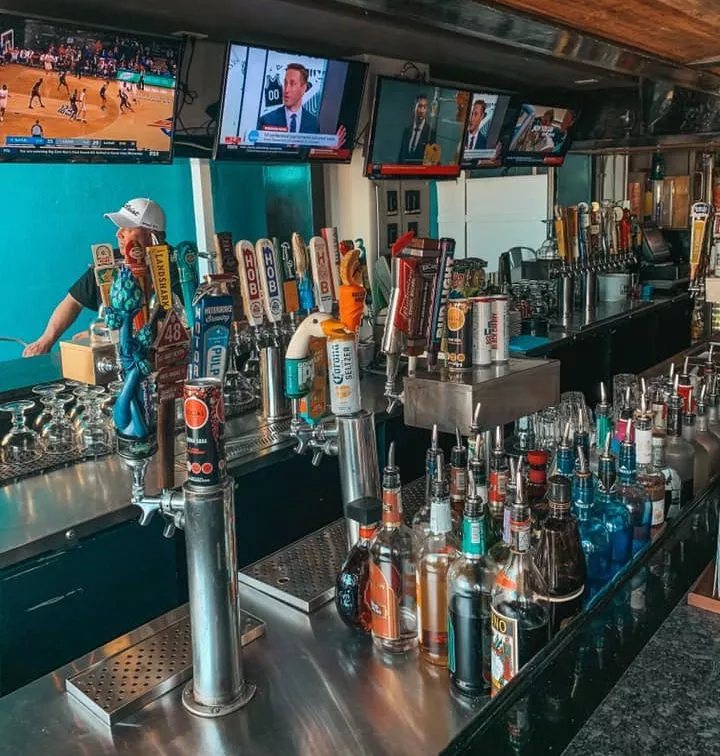 Best Mojito in Clearwater Beach
Salty's and Jimmy's Fish House
I have a weak spot for places that muddle fresh fruit into their mojitos instead of making it overly sweet with an artificial puree or just using a flavored rum or vodka to give it a different fruity flavor.
Both of these spots muddle the fruit and concoct the most refreshing mojitos. Salty's has a delicious blackberry lime mojito, and Jimmy's makes a mouthwatering strawberry pineapple mojito. At Jimmy's, make sure you ask for Chris to make it— he makes the best!
Both of these spots are also on my list of best restaurants in Clearwater Beach.
Best Sangria in Clearwater Beach
The Brown Boxer
It may look pretty basic, but trust me, this white sangria leaves your taste buds very pleased. It's very light and refreshing. Not too sweet with a nice peach flavor bursting through.
There's a North and South Beach Brown Boxer location— I have only tried these at the South Beach location, but if you go to North Beach, that spot also has darts and pool you can play while you enjoy your sangria! Drinks and games? You know that's on my list of top things to do in Clearwater Beach.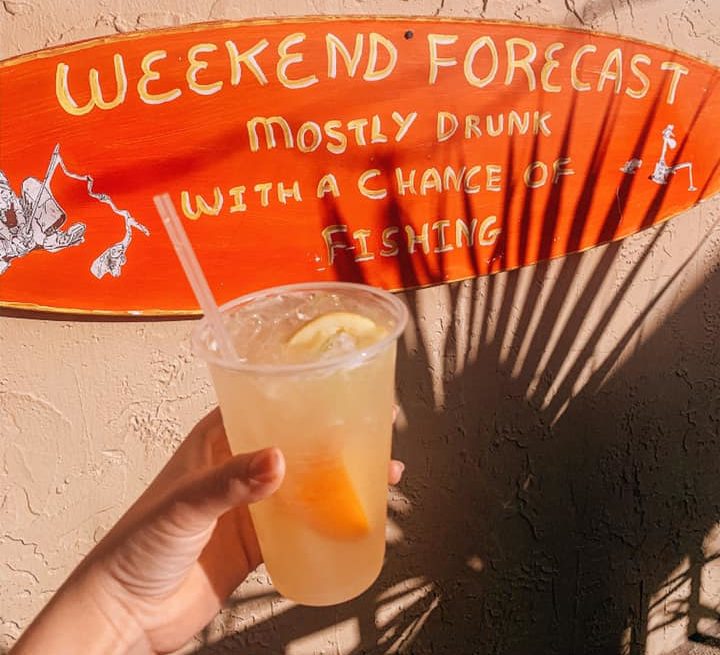 Best Oyster Shooter in Clearwater Beach
Cooters
Okay, first of all, I want you guys to understand how unexpectedly hard it is to find an oyster shooter on a beach that has a million places that serve oysters.
Second of all, if you're like the number of people I asked where to find good oyster shooters who were unaware just what exactly an oyster shooter is, let me fill you in. An oyster shooter is just as it sounds— an oyster in a shot glass mixed with some sort of alcohol.
Unlike the few places on the beach we found to accommodate and make us one despite them not being on the menu, Cooter's actually has them on their menu. At the cheap price of $3.99, their Cooter Shooter is a fresh oyster, beer, cocktail sauce, and hot sauce. Personally, I like bloody mary mix and vodka with mine.
Maybe that doesn't sound like your thing, but don't worry— just tell your server what you'd prefer, and they will totally accommodate.
Let me clarify that I cannot eat raw oysters by themselves, but for some reason, when they're mixed in with the bloody mary mix and alcohol, it just works— and it's amazing. Another hack: make sure you ask for an Old Bay rim.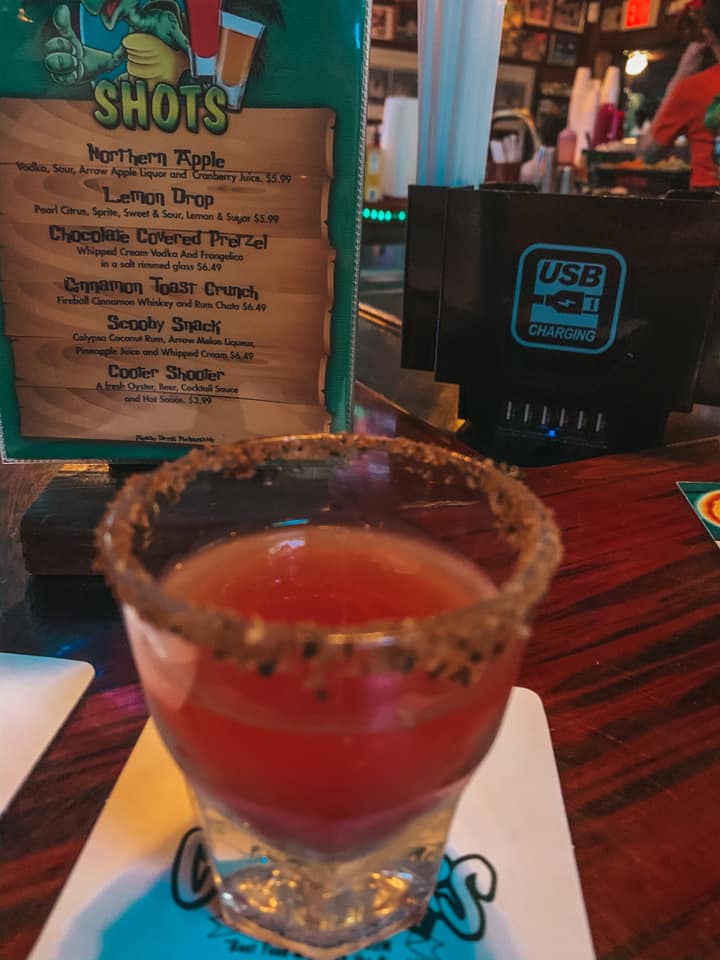 Related read: Check out the 10 best restaurants in Clearwater Beach
Best Instagrammable Drink in Clearwater Beach
Jimmy's Fish House
In the giant glass seen below, you can get a jumbo blue, strawberry, or regular margarita at Jimmy's. Or, if you're like me and are no longer friends with tequila, you can get a rum-based drink called Voodoo Juice. Fruity, tropical, and the perfect Instagram post to give your friends FOMO, I highly recommend this drink!
Kick back and enjoy the clear waters of Clearwater Beach while sipping on a drink that screams tropical paradise. It doesn't get much better than that!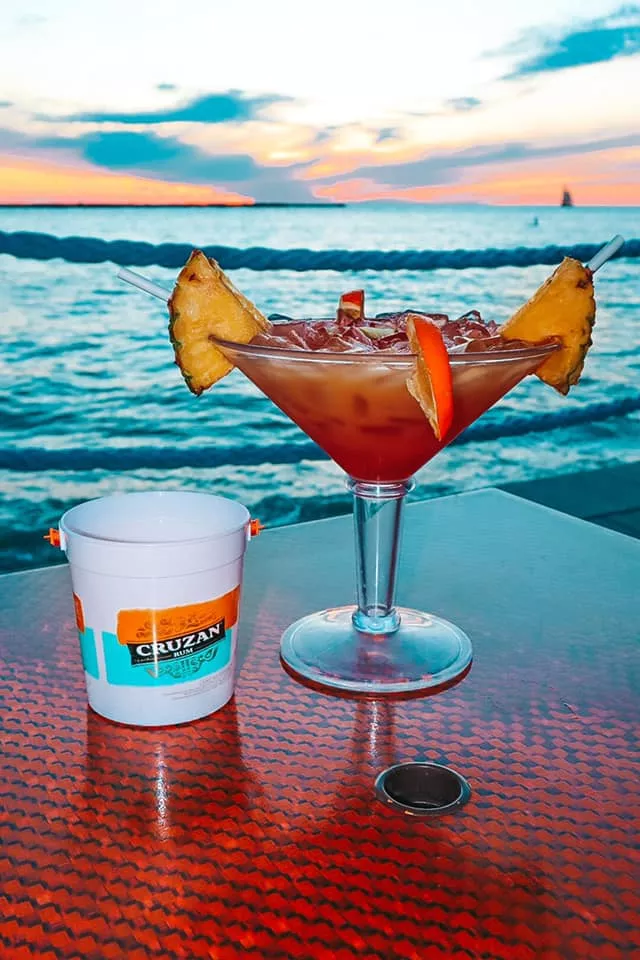 Best Classic Margarita in Clearwater Beach
Salt Tequila Bar
As I mentioned, me and tequila aren't exactly on speaking terms, but I couldn't leave out this fan favorite. You can find Salt bar and tap room inside of Shephard's, and they have over 100 varieties of tequila to choose from (who even knew they made that many?!).
You can either pick your favorite tequila for them to mix into a marg and add a Grand Marnier float, or do the budget-friendly option and enjoy one of their $5 margaritas. They have $5 margs all day, every day!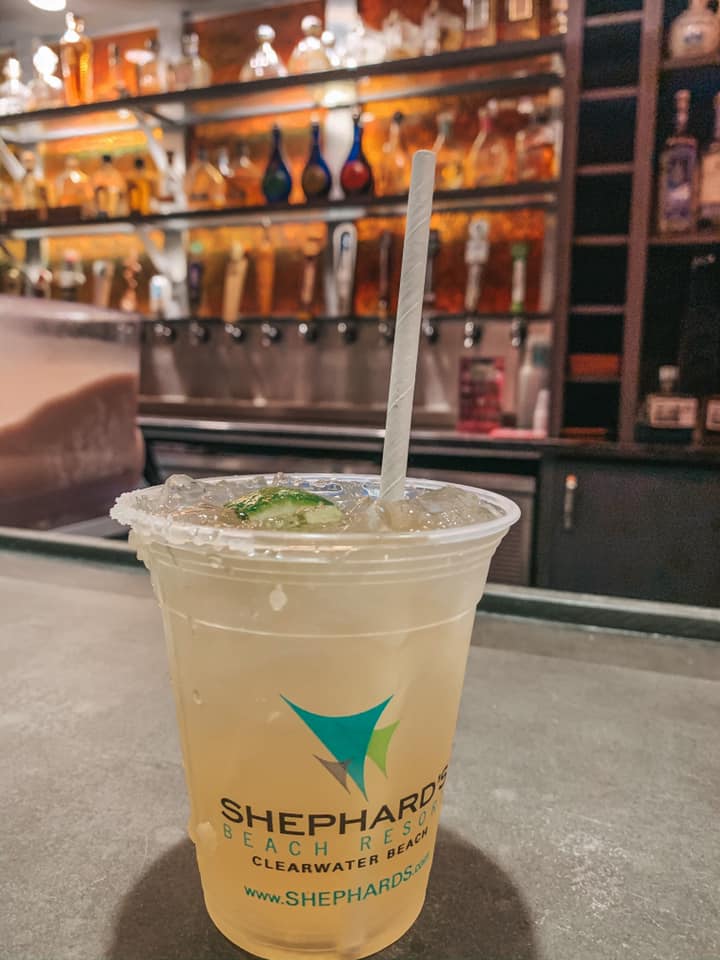 Best Wine Selection in Clearwater Beach
Clearwater Wine Bar and Bistro
With a selection of over 50 wines by the glass and over 200 bottle choices, I had my heart set on a delicious glass of pinot grigio, and the Viti di Mezzo fulfilled me. If you're not feeling nice and warm after a few glasses of wine, you will surely feel the warmth from the staff. Best yet, when we got our bill, we learned that it was happy hour— $10 for two glasses of wine!
Clearwater Wine Bar and Bistro is closed on Monday but has happy hour Tuesday-Sunday 5-7 pm. Happy hour includes two for one house wine and sangria, $2 off all wines by the glass, and $1 off all draft and bottled beer.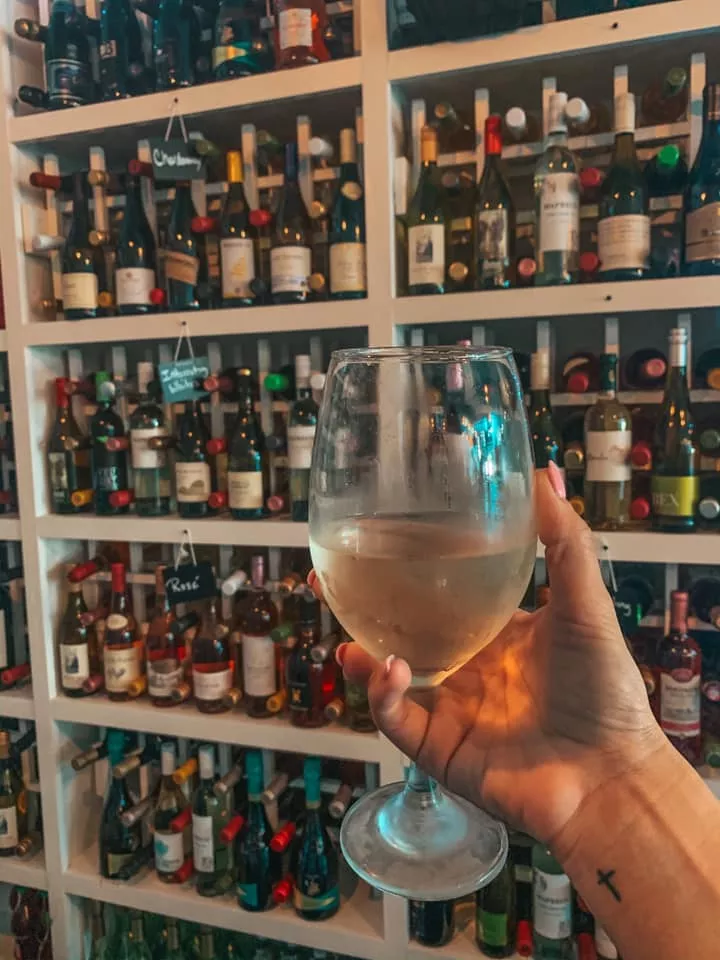 Best Locally Brewed Beer List in Clearwater Beach
Clearwater Social Brew and Cork
I'm not a big beer drinker, but Clearwater Social Brew and Cork offers a lot more than just a great local selection. The atmosphere here is different from the local beach bar vibe— it has more of an industrial look. It's one of the best breweries in Clearwater, and the only one on Clearwater Beach!
It's a nice change-up. The manager hand selects the beers on the rotating taps, and you get a great local selection. And if you're like me and can't make up your mind, they have a flight option. On top of the awesome beer selection, this spot also has a lot of games, from darts to Nintendo.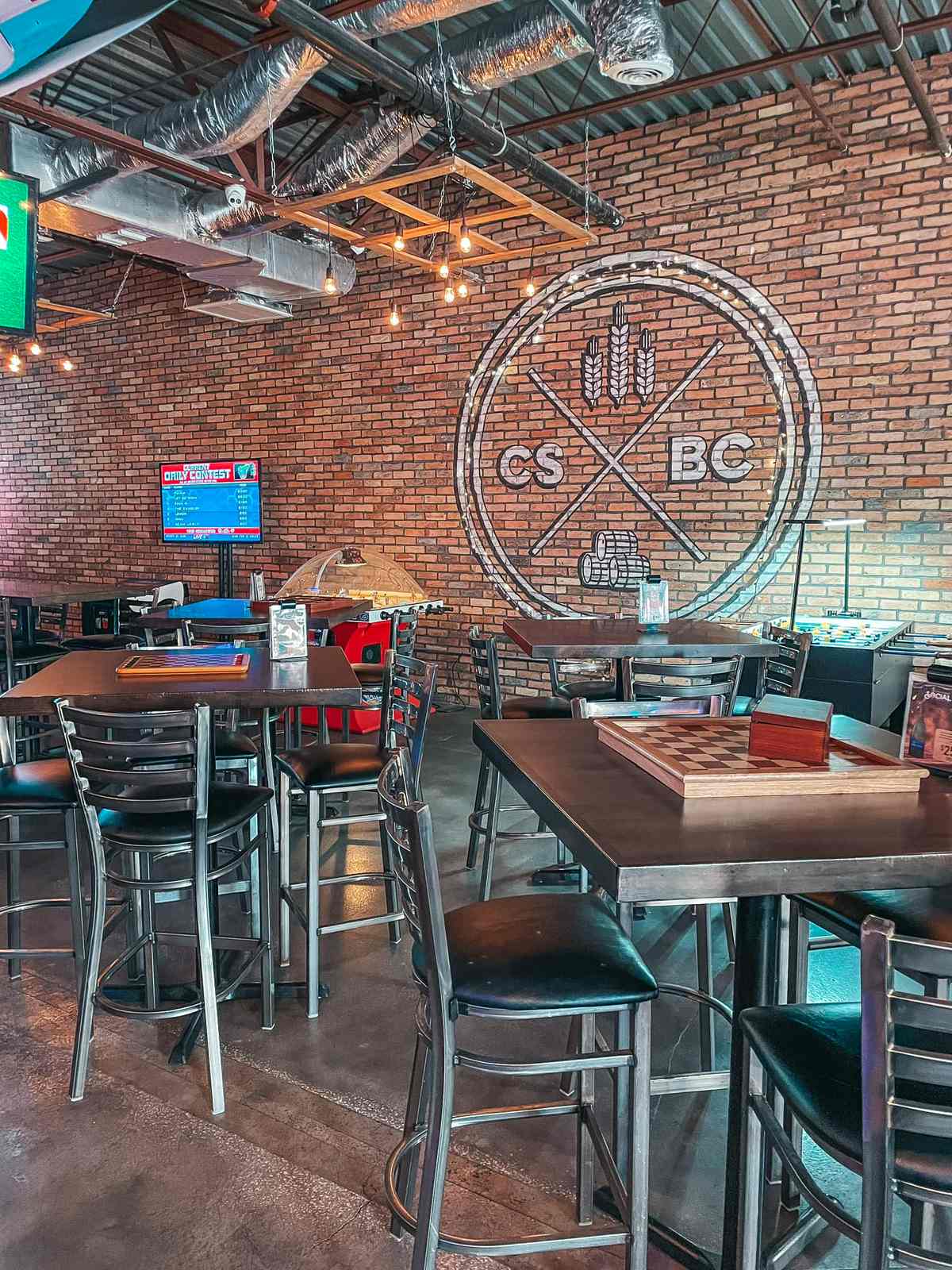 Best Pina Colada in Clearwater Beach
Salty's and Frenchy's Rockaway
Salty's definitely has the best classic pina colada. They are the only place I know of on the beach that uses real pineapple instead of puree or just a mix. And it's completed with a fresh coconut rim and pineapple slice.
It is exactly what you need to start your beach vacation. At Frenchy's, you NEED to get the Loopy Lada. Holy crap, this seriously tasted like a bowl of Froot Loops, taking me right back to my childhood. 
Pro tip: have both places add mango. I started adding mango to my pina coladas, and it is a total game changer.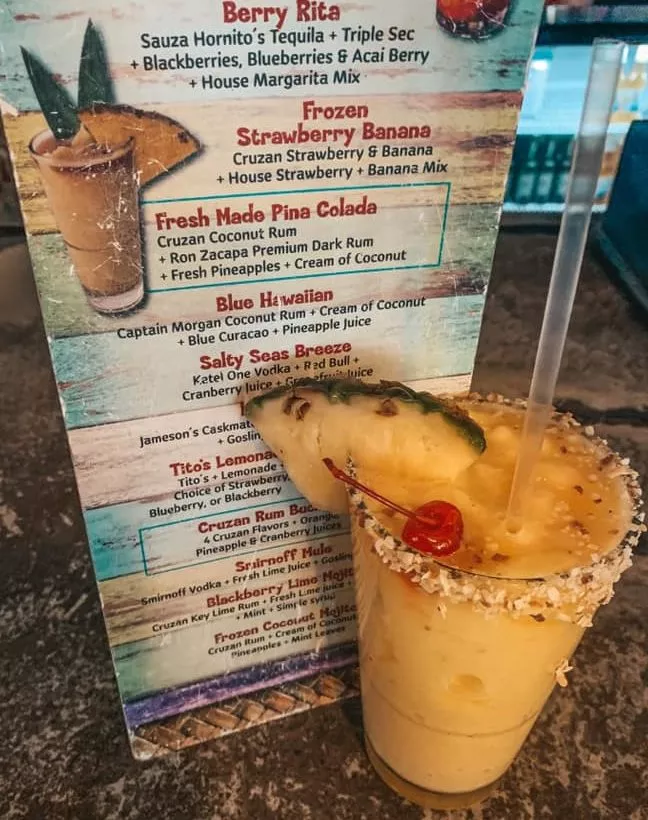 Best Rooftop Views in Clearwater Beach
Jimmy's Crows Nest and Jimmy's on the Edge
Jimmy's Crows Nest gives you stunning views of the Gulf and Pier 60 (located on North Beach). The Edge gives you city views on one side and a view of the Clearwater Harbor Channel that leads into the Gulf (located on South Beach).
If you're at either of these locations around sunset, they also pass around free Sunset Shots during their sunset celebration. They do a countdown for the spectacle, and everyone does the shot together!
Related read: Check out the 13 Best Rooftop Bars in Tampa Bay!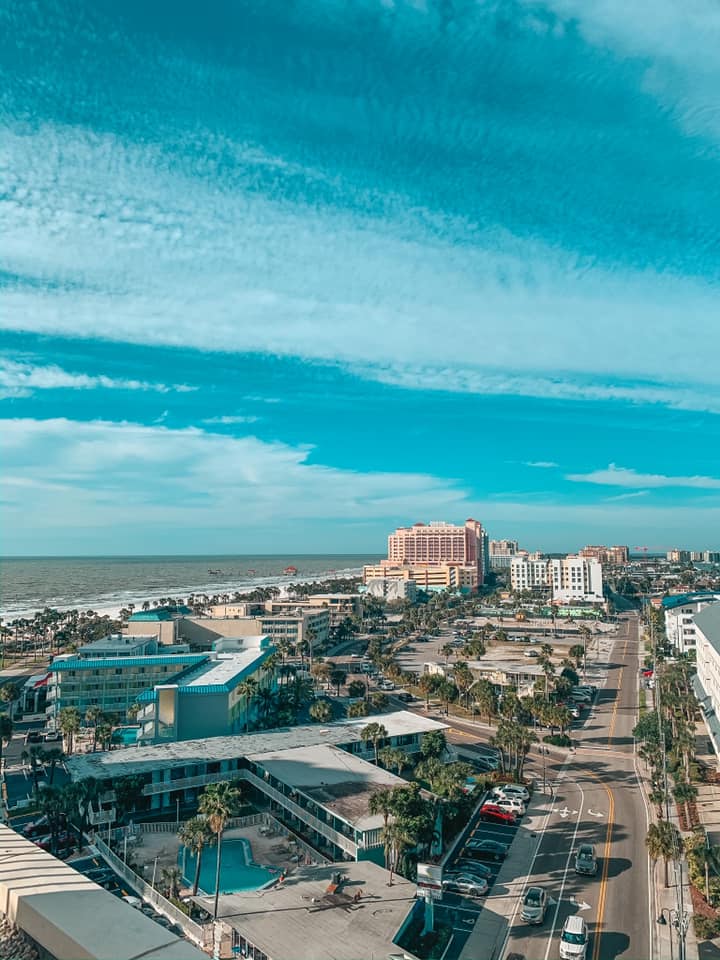 Best Game Spot in Clearwater Beach
Brown Boxer North Beach
Brown Boxer on North Beach is a total blast. As you may know, I like to get my game on while I enjoy my cocktails, so this is one of my fave spots to hang on Clearwater Beach. They have numerous arcade-style games, pool, and darts! And the location is right by a lot of other spots I've listed in this post, so you can easily bounce around! You can expect DJs and lively music and crowds on most nights.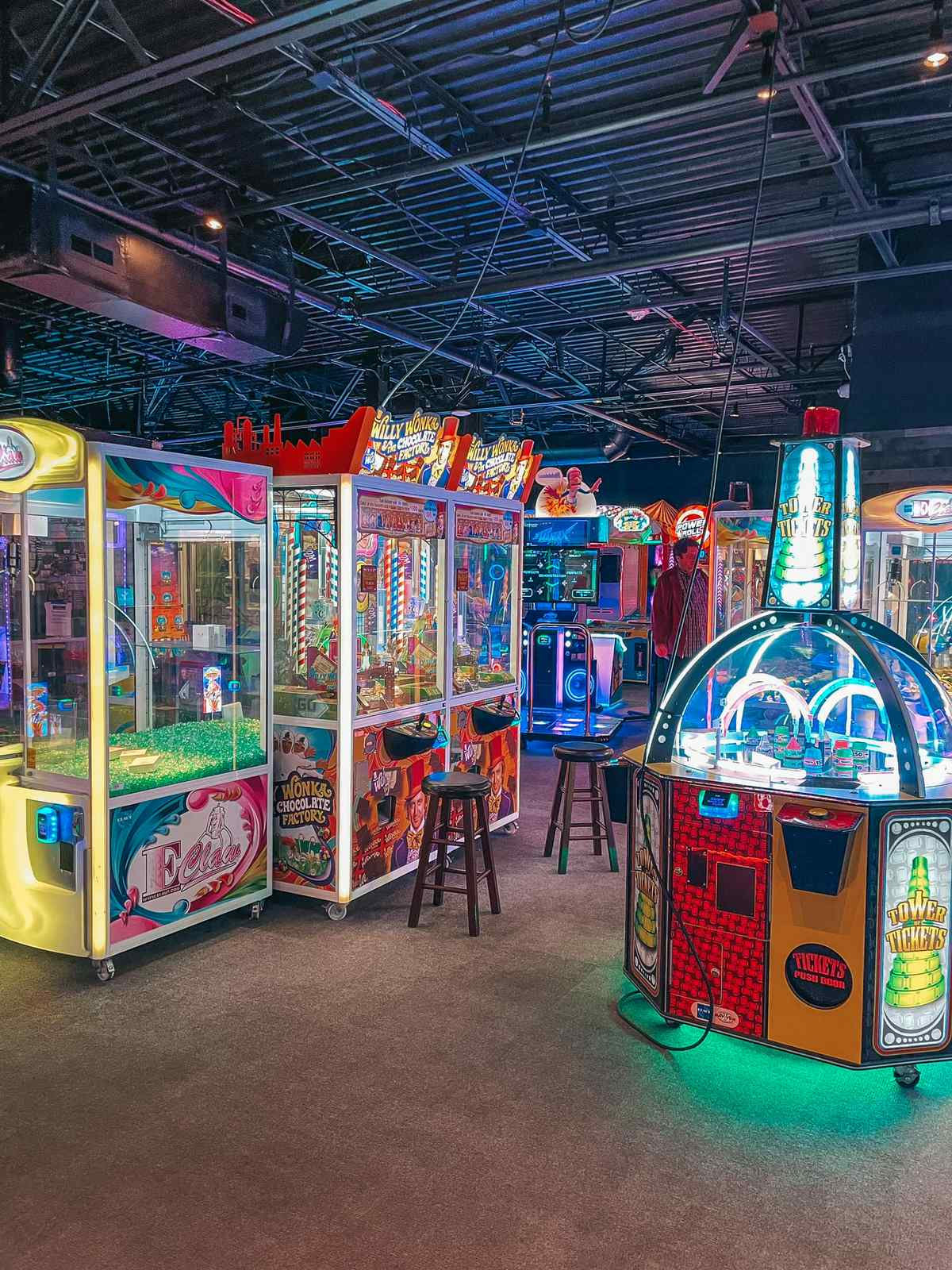 Best Night Club in Clearwater Beach
Wave at Shephard's Beach Resort
Okay, technically this is the only nightclub in Clearwater Beach, but still, it's a blast. The Wave is currently open Friday through Sunday from 10:00 pm-2:30 am. You can expect DJs, dancing, and VIP tables if you're down to splurge a little bit. What is really awesome about this venue, is it's literally right on the beach. So step outside of the nightclub and get some fresh air while dipping your toes in the sand!
Best Place to End the Night in Clearwater Beach
Shipwreck
Clearwater Beach's oldest bar! This is where all of the locals head when everything else is shutting down. It's your classic hole-in-the-wall bar, but make it nautical. Pool, darts, and a jukebox. They've recently added some fun cocktails to their drink list (mine came with a rubber ducky and popsicle!), and they always have an interesting shot of the month. There's really not a better way to end your night in Clearwater Beach.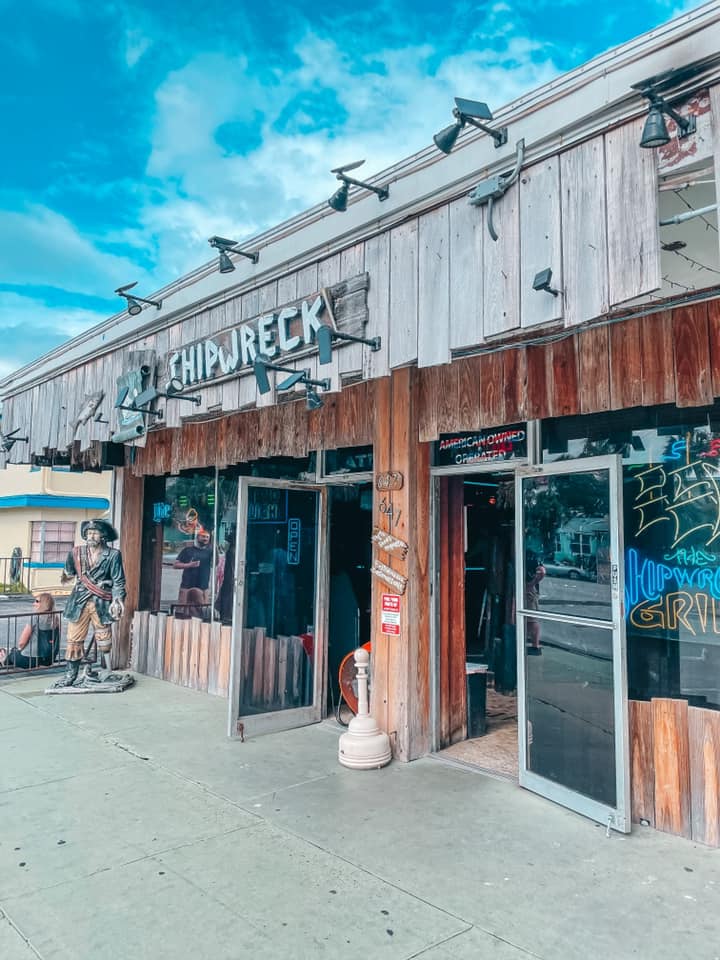 Which is your favorite Clearwater Beach Bar?
Follow me on Instagram at @guidedbydestiny to see more Florida fun! Also before you go be sure to check out these other Florida blog posts!
Best Bars in Downtown St. Pete
What to do in Downtown St. Pete
Ultimate Guide to Florida's Best-Kept Secret: Dunedin