This post contains affiliate links which means that I will make a small commission if you purchase a product after clicking on any of them, at no extra cost to you.
Welcome to Cartagena, a vibrant and historical city located on the Caribbean coast of Colombia! With its colorful streets, rich culture, and warm hospitality, Cartagena is a dream destination for travelers seeking a mix of history, relaxation, and adventure. It actually reminded me a little bit of Old San Juan!
In this blog post, I'll provide you with a comprehensive guide to help you make the most of your 3 days in Cartagena. From travel tips to the best things to do in Cartagena, I've got you covered!
For me, Cartagena was my favorite of the places we visited— the food was so fresh and amazing, the streets were so vibrant and lively, and there was a lot of culture and history to enjoy! So I really can't wait to show you all of the things that made me fall in love with this coastal Colombian city.
x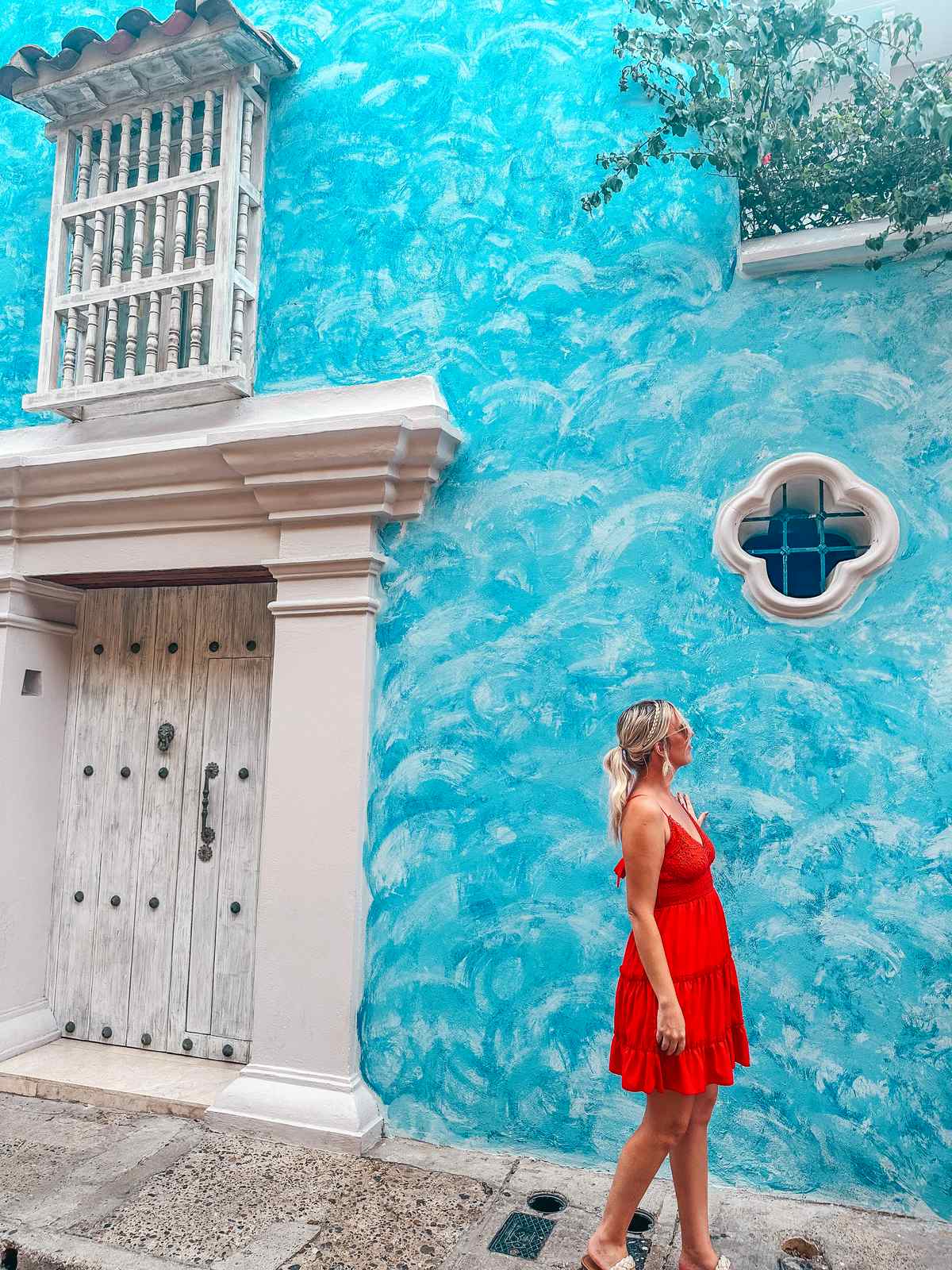 When is the best time to visit Cartagena?
The best time to visit Cartagena largely depends on your travel preferences and priorities. Cartagena enjoys a tropical climate with warm temperatures year-round, making it inviting for tourists throughout the year. If you prefer the sunniest and driest weather, the peak tourist season from December to March and July to August is the ideal time to visit.
During these months, you can bask in plenty of sunshine and enjoy the city's outdoor attractions and beaches to the fullest. However, keep in mind that this period attracts more tourists, resulting in larger crowds and higher accommodation prices.
For a more balanced experience, consider the shoulder seasons from April to June and September to November. These months still offer favorable weather with fewer crowds, and you might find better deals on accommodations and activities. Though you may encounter occasional rain showers, they are often short-lived and followed by sunny intervals.
No matter when you decide to visit, Cartagena's captivating beauty and cultural richness await, offering an unforgettable experience that will leave you with cherished memories of this coastal gem!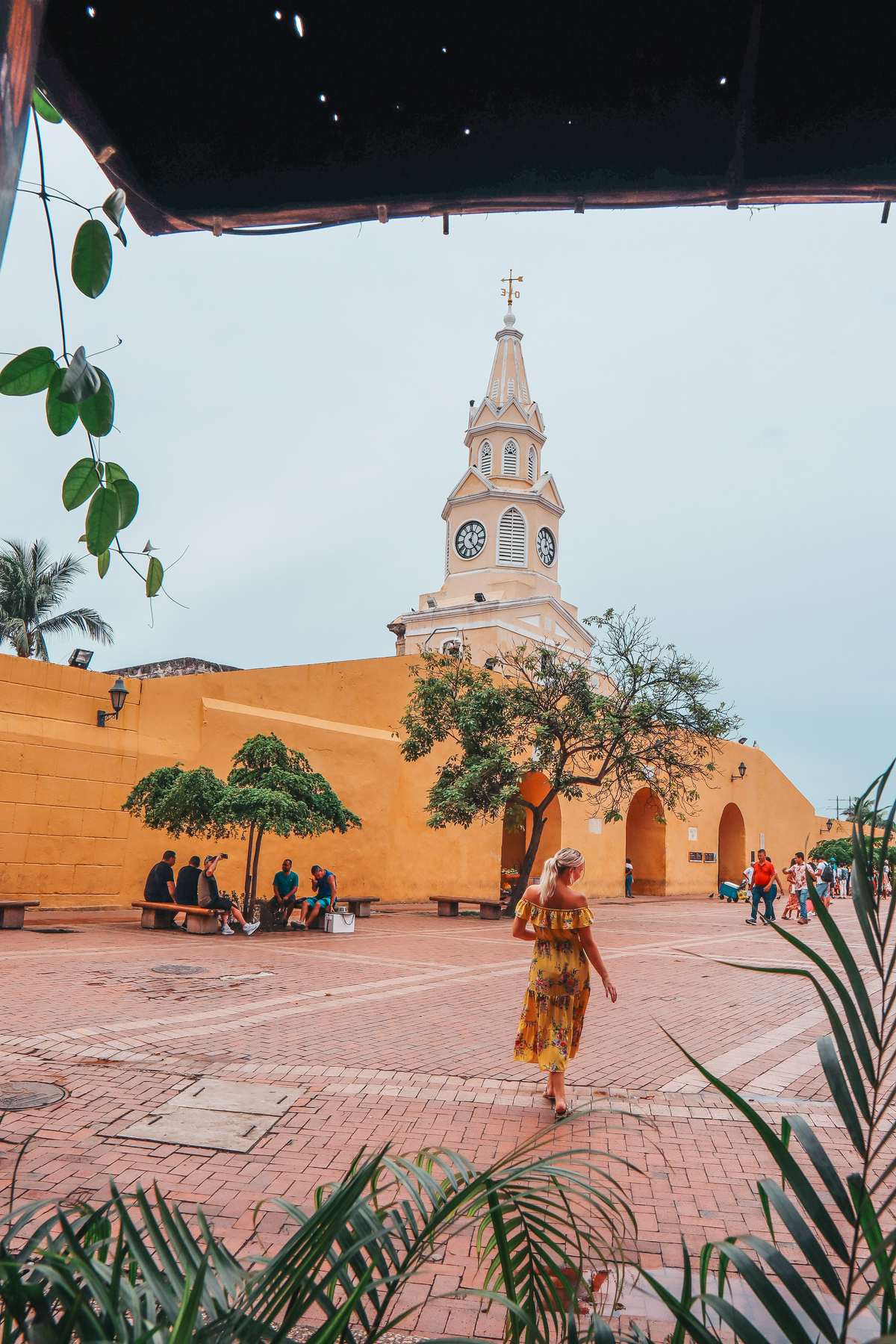 Is Cartagena safe?
When planning a trip to Cartagena, safety is a common concern for travelers. However, Cartagena has taken significant steps to improve its safety and security for tourists in recent years. The city's Old Town and Getsemani neighborhoods are generally considered safe for visitors, thanks to a strong police presence and vibrant activity day and night.
It's advisable to stay in reputable hotels or guesthouses within these areas to ensure a comfortable stay. As with any destination, it's wise to exercise caution and be aware of your surroundings. Avoid poorly lit and secluded areas at night, and opt for well-lit and busy streets. When out and about, keep your belongings secure and avoid displaying expensive items to deter pickpockets.
Trusting your instincts is crucial; if something feels off or someone seems overly persistent, remove yourself from the situation. To enhance your safety, use official taxis with identifiable markings or opt for reputable rideshare services like Uber, which offer transparent pricing and driver information.
Overall, with reasonable precautions and awareness, Cartagena can be a safe and enjoyable destination. Just like when visiting any other foreign country, being mindful of your surroundings, staying in well-frequented areas, and trusting your instincts will contribute to a safe and rewarding trip to Cartagena!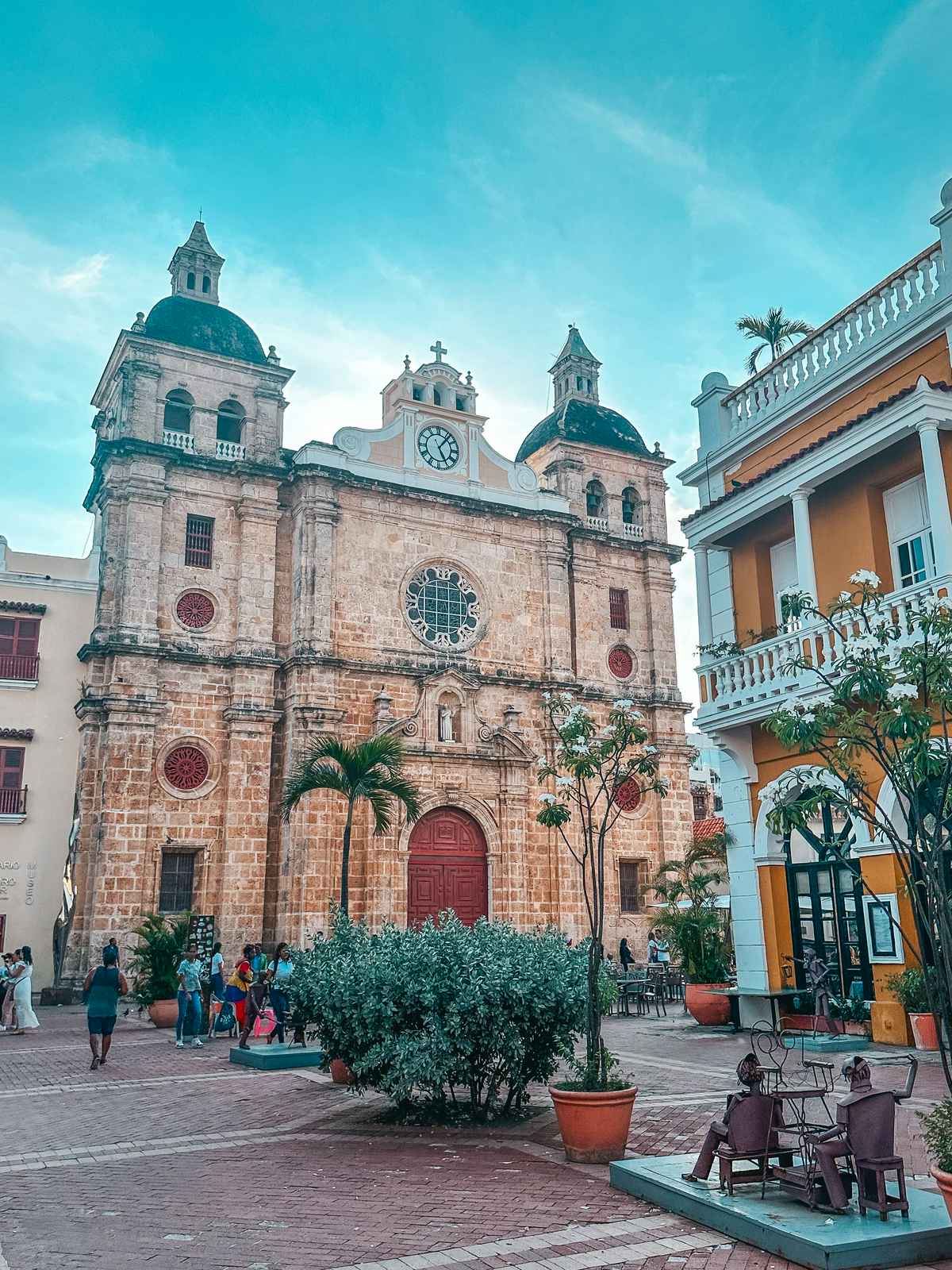 How many days in Cartagena do you need?
The ideal duration to spend in Cartagena depends on your travel preferences and available time. If you have limited time in Colombia and wish to explore other cities and regions, dedicating 3 days in Cartagena allows you to capture its essence before venturing to other destinations.
However, if time permits, extending your stay in Cartagena will reward you with a more immersive and enriching experience of this captivating city. Whether it's a short visit or an extended stay, Cartagena is sure to leave an indelible mark on your journey through Colombia.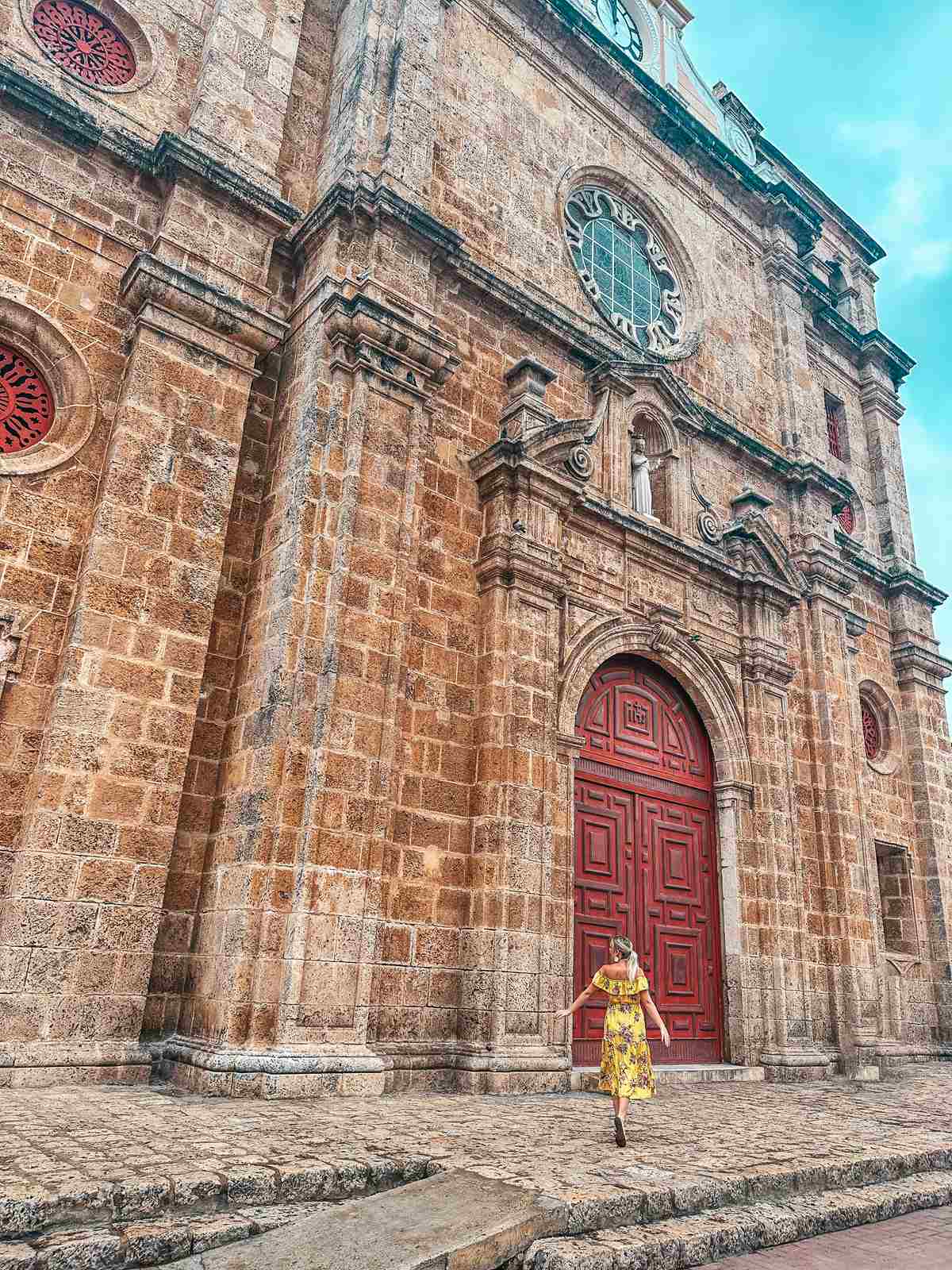 What is the weather like in Cartagena?
Cartagena enjoys a tropical climate, offering travelers warm temperatures and plenty of sunshine throughout the year. With little variation in temperature, you can expect pleasant weather during your visit. Daytime temperatures typically range from 75°F to 89°F, making it the perfect destination for those seeking a warm and inviting atmosphere.
However, do keep in mind that the city's humidity is famously high, especially during the rainy season. The months of April to May and October to November mark the two distinct rainy seasons, with short but intense afternoon thunderstorms. We visited Colombia in July and experienced very high humidity as well.
These rain showers are usually brief and followed by sunny spells, allowing you to continue your adventures without much interruption. The dry season, from December to March and July to August, is considered the peak tourist season due to the more predictable weather and lower chances of rain.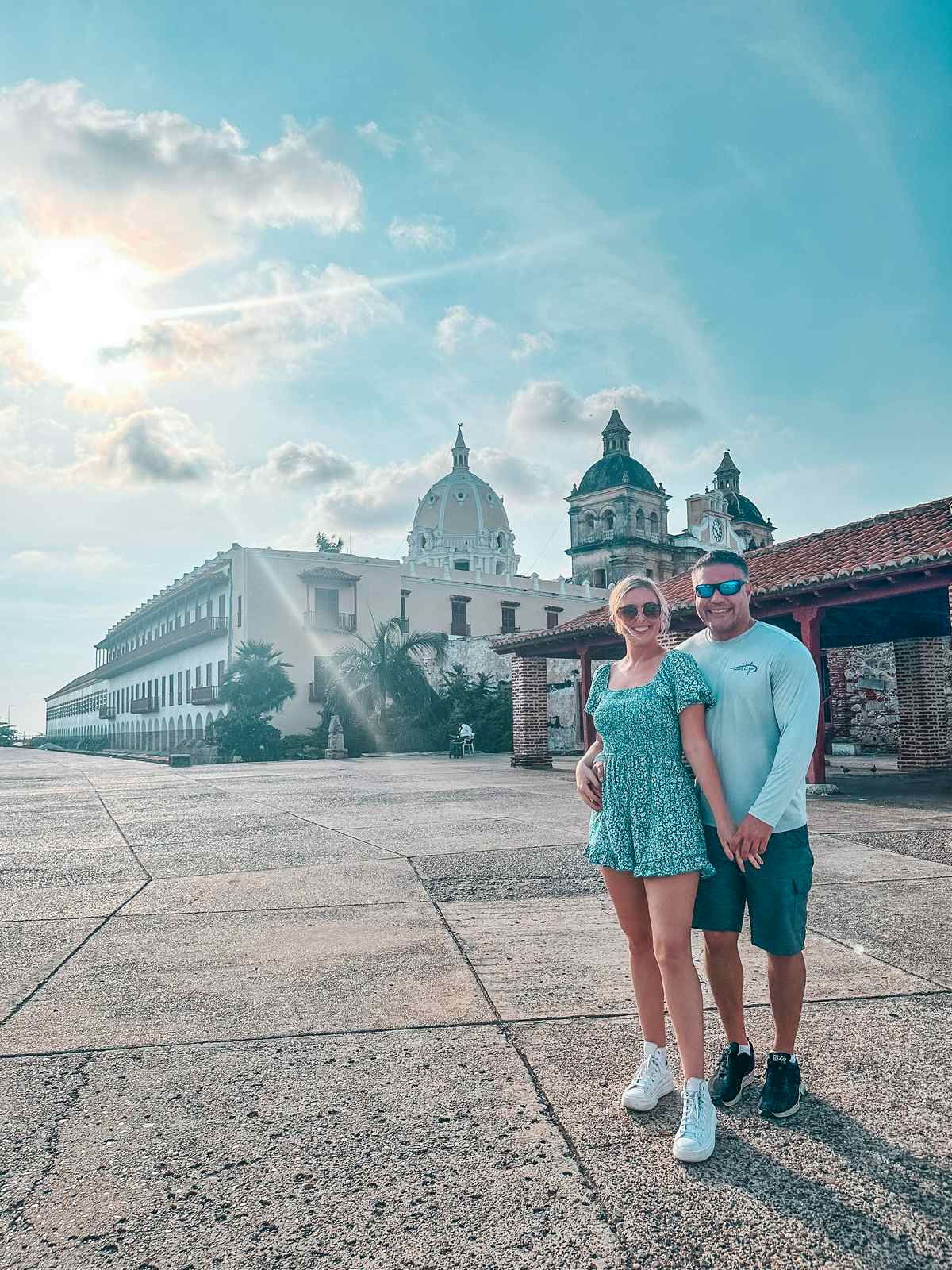 Best things to do in Cartagena
Cartagena is a treasure trove of cultural, historical, and recreational experiences, offering something for every type of traveler. From immersing yourself in the city's rich history to embracing its vibrant nightlife, here are some of the best activities to make your visit to Cartagena truly unforgettable!
Free Old Town walking tour
Embark on a free walking tour of Cartagena's Old Town to delve into its fascinating history and architecture. Led by knowledgeable local guides, you'll explore iconic landmarks like the Santuario de San Pedro Claver and the Monumento Torre del Reloj.
Learn captivating stories of the city's past while strolling through its charming streets. Remember to tip your guide at the end of the tour! This experience is often cited as a favorite among visitors, and I would agree it was definitely our favorite thing we did in Cartagena!
Even though the walking tour is free, you still need to sign up in advance. You can sign up here (it's near the bottom of the page).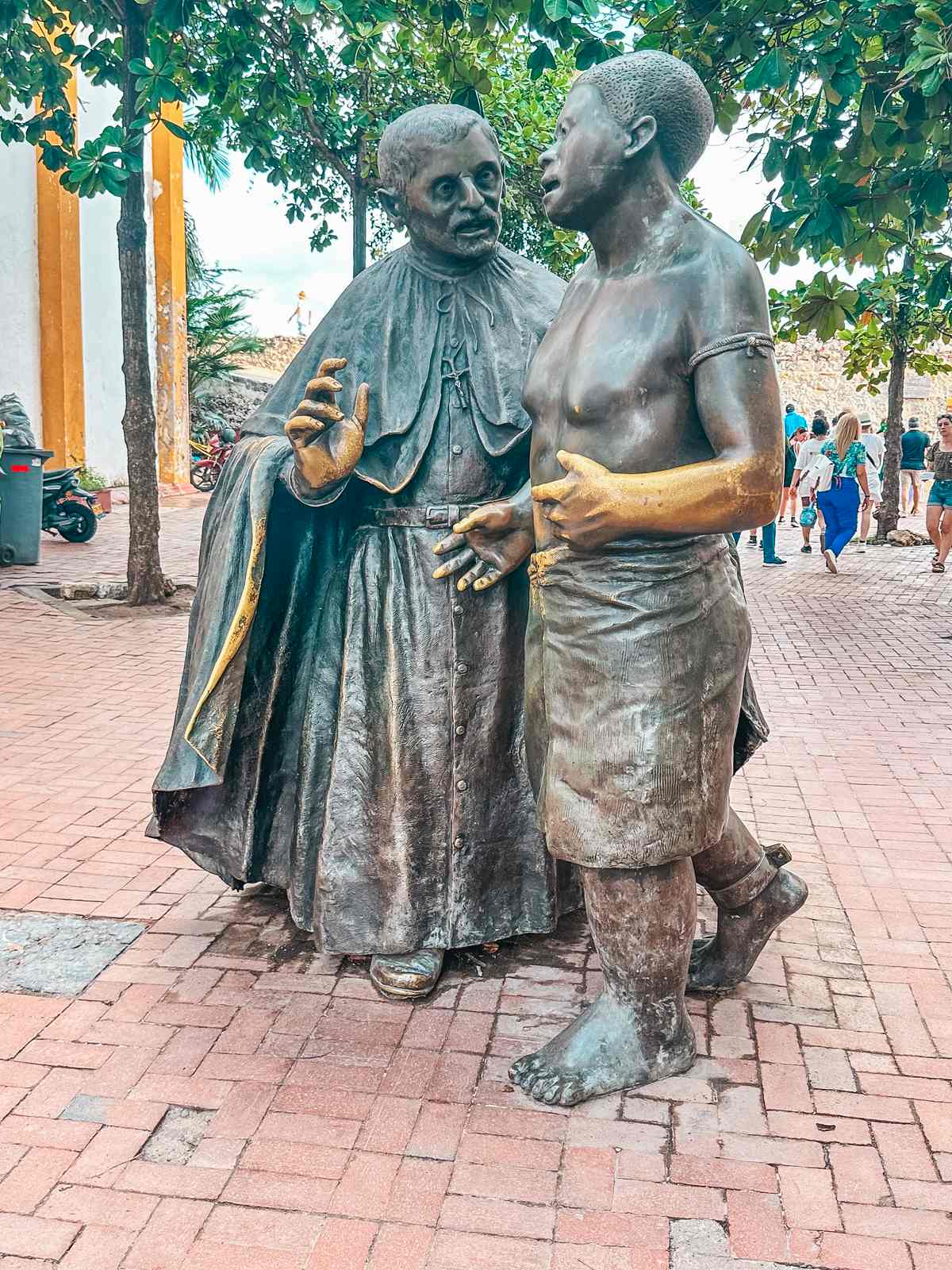 Walk the Fort Wall at sunset
Take a leisurely stroll along the Fort Wall of Cartagena during sunset, offering breathtaking panoramic views of the city and the Caribbean Sea. The setting sun casts a magical glow over the city, creating a picture-perfect moment you won't want to miss.
It's common to grab a cocktail and maybe even join in on some salsa at Cafe del Mar as well! It's a great way to enjoy the vibrant ambiance and mingle with locals and fellow travelers alike as you celebrate the essence of Cartagena's nightlife.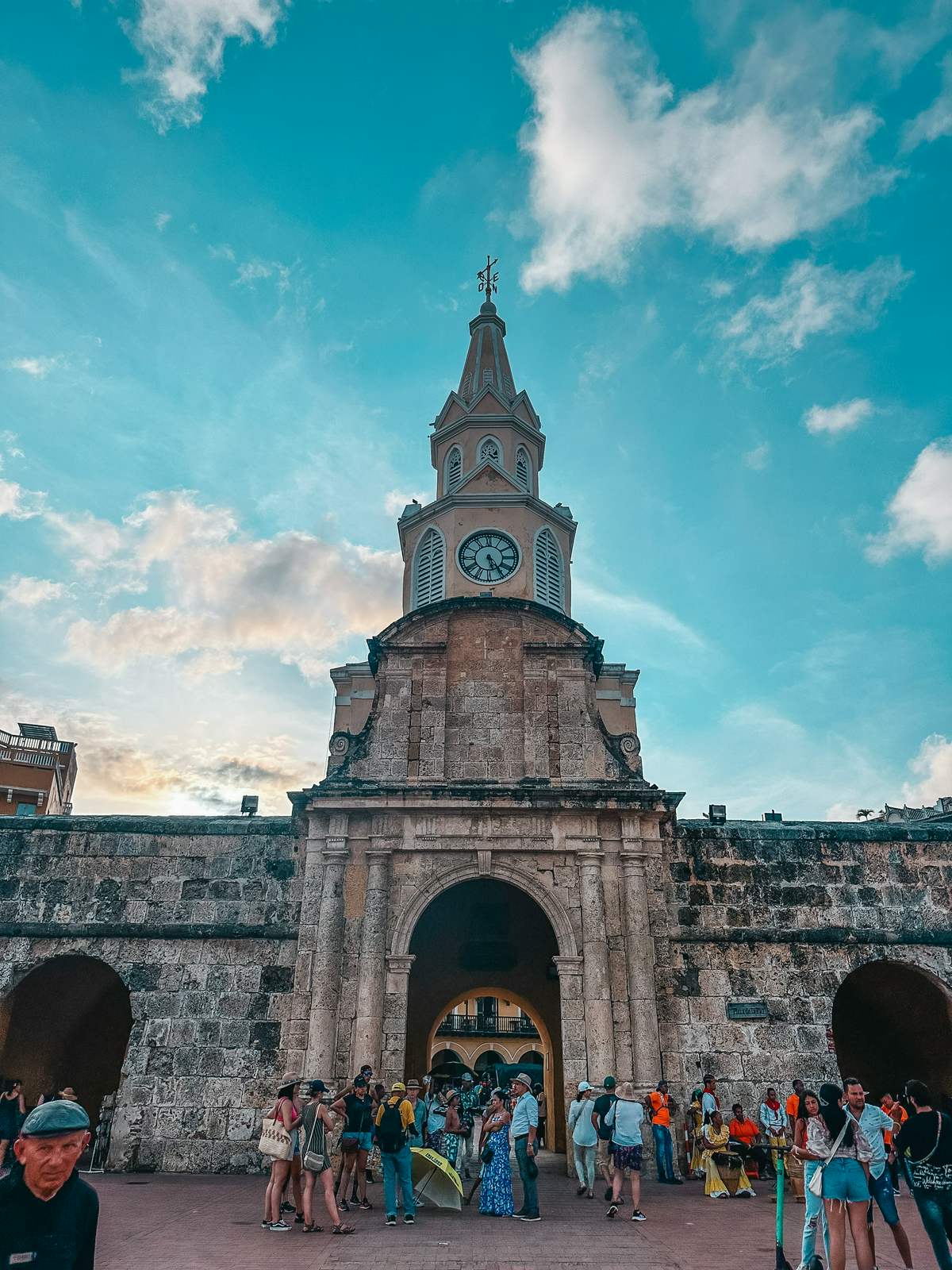 Explore Getsemani
Embarking on a walking tour in Getsemani is an enriching experience that unveils the vibrant heart and soul of Cartagena. With Civitatis' free walking tour in Getsemani, you'll join knowledgeable local guides who will lead you through the colorful streets and alleyways of this bohemian neighborhood.
Getsemani's captivating history and rich cultural heritage come to life as you pass by striking street art, colonial buildings, and lively plazas. The tour takes you on a journey of discovery, sharing tales of local heroes, the neighborhood's significance during colonial times, and its role in Colombia's fight for independence.
Along the way, you'll also have the opportunity to witness the blending of traditional Colombian culture with modern influences, creating a unique and vibrant atmosphere. This immersive walking tour provides a deeper understanding of Getsemani's significance and ensures you leave with a greater appreciation for the neighborhood's undeniable charm!
Again, even though it is a free tour you do need to sign up in advance.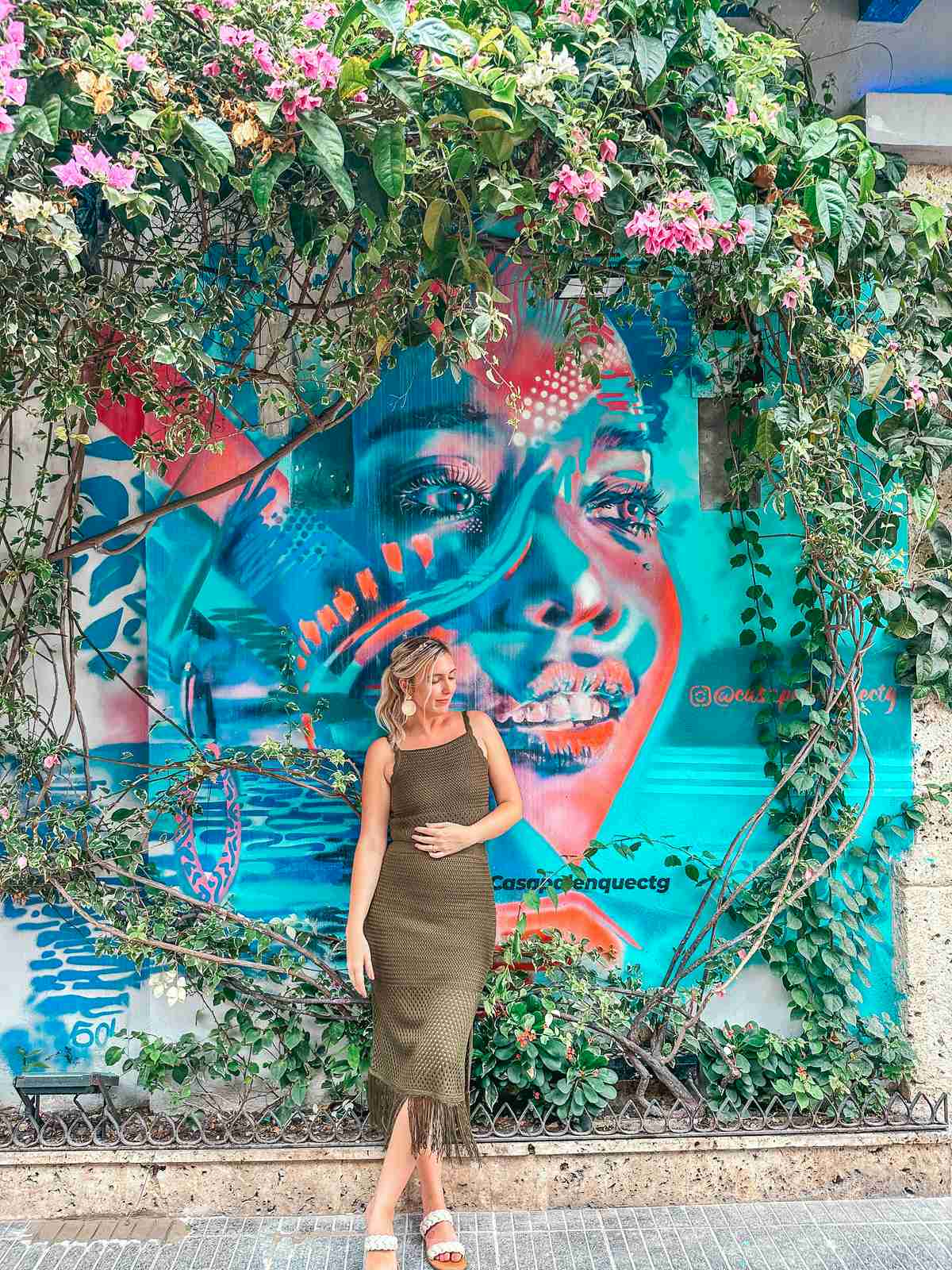 Wander the streets and go shopping
Wandering the streets was truly one of the most enjoyable things to do in Cartagena! Not to mention Cartagena is a shopper's paradise! It offers an array of markets, boutiques, and artisan shops. Explore the stalls at local markets like Calle 25, where you can find unique handicrafts, souvenirs, and Colombian goods to bring home!
You may even want to do some emerald shopping. Colombia has established its reputation as one of the world's top producers of these precious green gems. Explore various shops and jewelers to find the perfect piece to take home as a precious memento.
Carrerra 10 is another vibrant street lined with restaurants, bars, and shops. It's an excellent place to experience Cartagena's lively street culture and sample delicious local cuisine.
Pro tip: leave space in your luggage so you can do some shopping on your trip!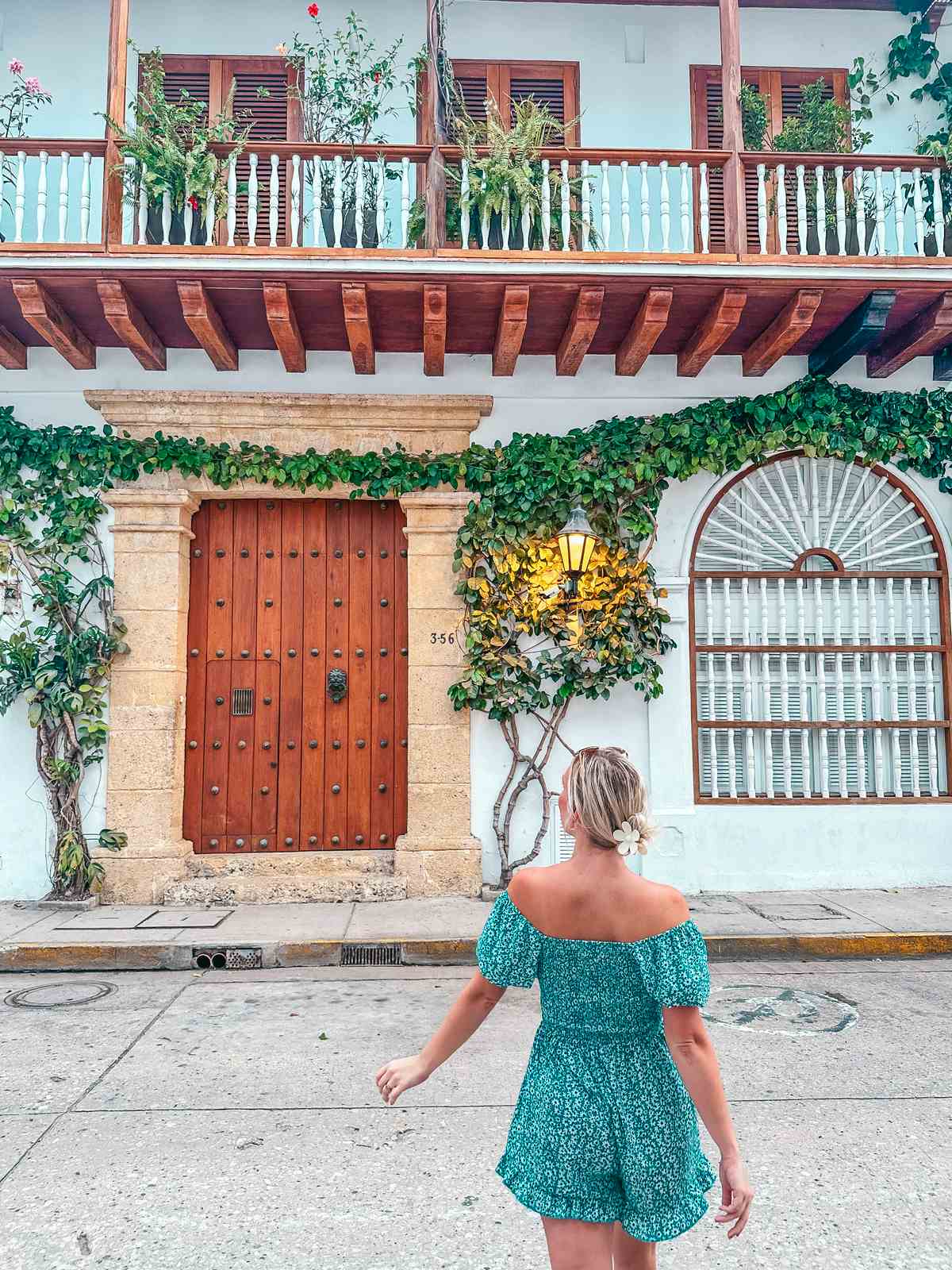 Take a dance class on a secret rooftop
This salsa lesson on a secret rooftop is a unique and exhilarating experience that allows you to immerse yourself in the vibrant world of Colombian salsa dancing! Set in a secret rooftop location in the heart of Cartagena's Old City, this class is led by experienced dance instructors who will guide you through the energetic and rhythmic movements of salsa.
With the stunning backdrop of the city's historic skyline, you will learn the basic steps, techniques, and styling that define this captivating dance style. Drinks are even included!
💃 Salsa on a Rooftop in Cartagena
I was so sad this was fully booked during our 3 days in Cartagena. That being said, be sure to book in advance (you'll have free cancelation up to 24 hours in advance)!
Click herе to book
Visit Castillo de San Felipe
Delve into Cartagena's military history by visiting Castillo de San Felipe, a formidable fortress that played a crucial role in protecting the city. Climb to the top for panoramic views and learn about the fortress's strategic significance.
You'll find Castillo de San Felipe located just a short distance outside of Old Town Cartagena. Today the fort stands as a well-preserved symbol of Cartagena's colonial past and is a UNESCO World Heritage site.
The entrance fee for adults is typically around 30,000 Colombian Pesos (approximately $8-10 USD), making it an affordable and worthwhile attraction to include in your 3-day Cartagena itinerary!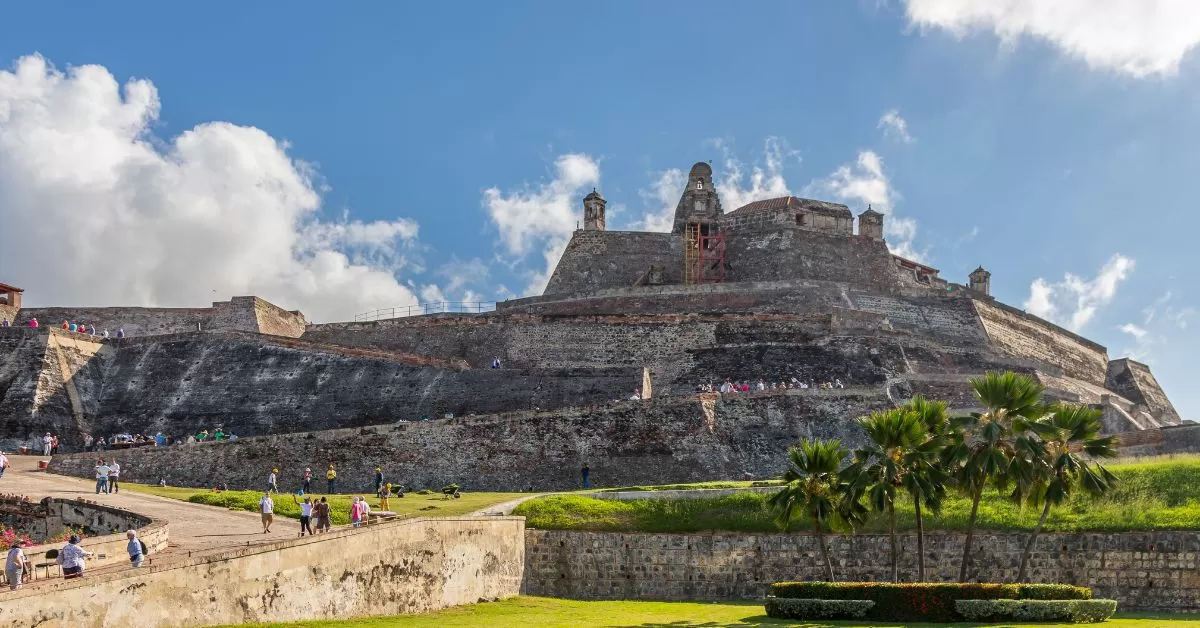 Indulge in the local cuisine
Cartagena is a food lover's paradise! It offers a number of culinary experiences that will leave your taste buds dancing with joy. From charming street vendors to upscale gastronomic spots, there's something to please every palate in this coastal gem.
As you wander through the city, you'll find endless amounts of stunning, unique-looking restaurants everywhere you turn. With so many choices, it's no wonder we could only eat so much during our visit! Cartagena had some of our favorite food from the entire Colombia trip—light, fresh, and bursting with delicious flavors.
If you're looking for an unforgettable gastronomic experience, Carmen is a MUST! This upscale restaurant combines traditional Colombian flavors with contemporary culinary techniques, resulting in an exceptional dining affair. While Carmen is considered a splurge, the experience is well worth it.
🥭 Cartagena Food Tour
For my super foodies, check out this awesome (and affordable!) tour that takes you through Bazurto Market!
Click herе to book
The menu features innovative dishes that highlight the region's local ingredients and seafood, elevating them to new culinary heights. The cozy ambiance and impeccable service complement the extraordinary food, making it a dining experience you'll cherish. Be sure to make reservations in advance.
Even at more upscale establishments like Carmen, you'll find that the prices offer excellent value for the quality and experience you receive. For a more budget-friendly option, don't miss the chance to explore the city's street food scene. From delicious arepas and empanadas to tropical fruit juices, street vendors offer a taste of Colombia's authentic flavors at incredibly affordable prices!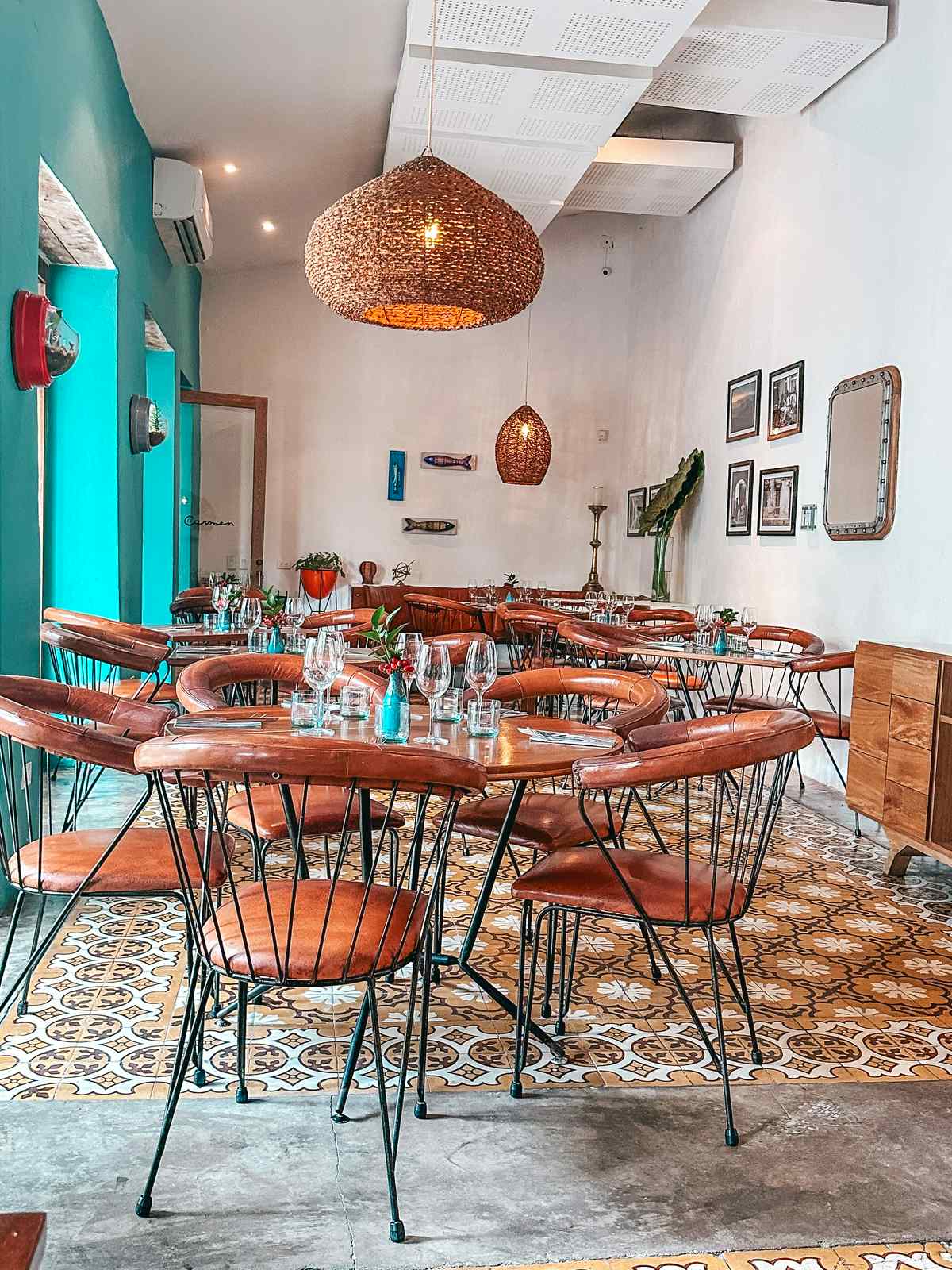 Eat ceviche
Speaking of local cuisine, Cartagena's coastal location means that its ceviche is among the freshest and most flavorful you'll find! Head to renowned cevicherias like Cancha Cevicheria and La Cevicheria to sample mouthwatering ceviche dishes bursting with local seafood and zesty flavors.
This light and refreshing delicacy is a true delight, perfectly complementing the city's tropical ambiance. We had it at least four times during our 3 days in Cartagena and each time it was unique!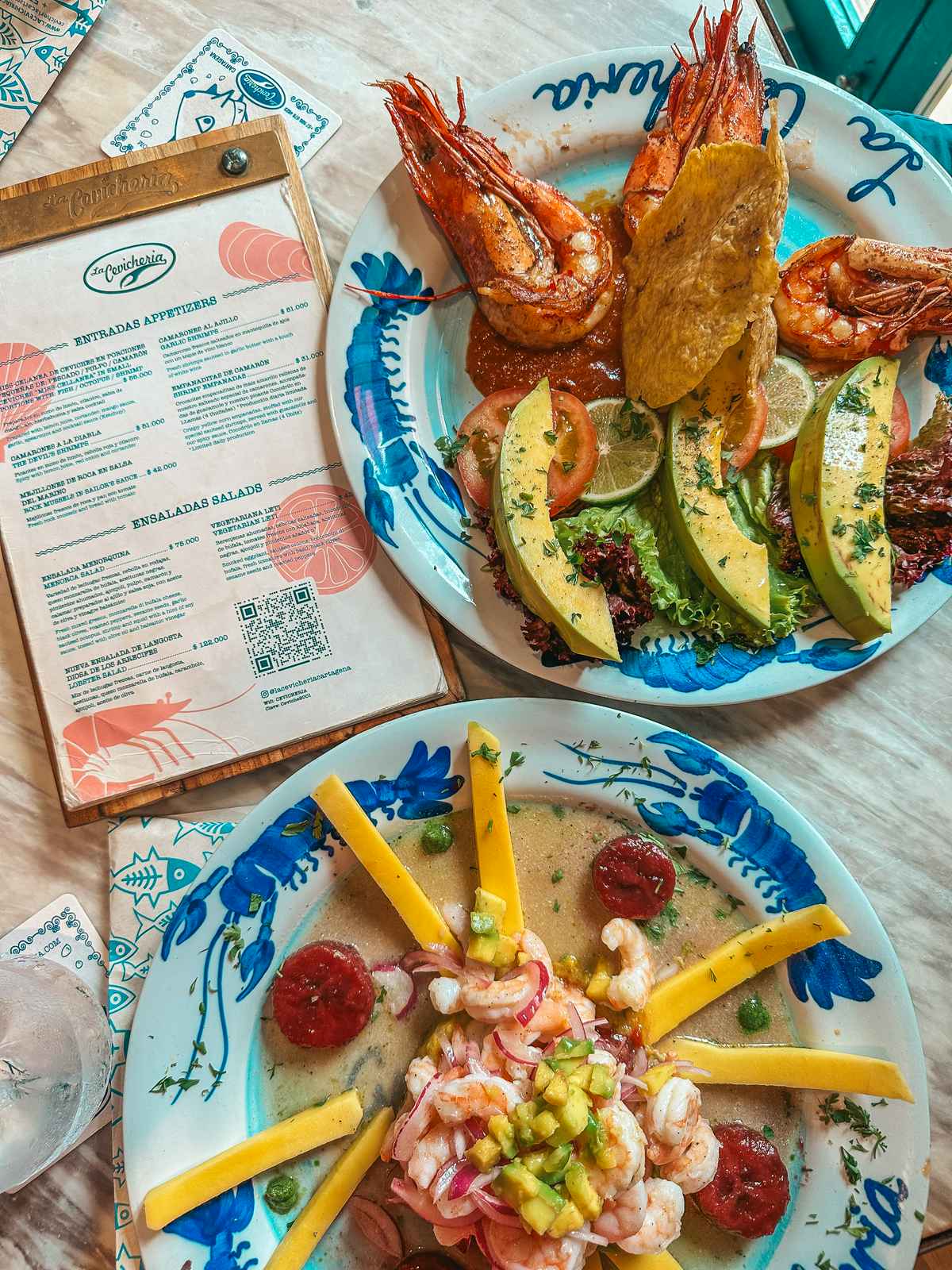 Enjoy Colombian coffee
For coffee aficionados, Cartagena has some excellent options to experience the rich flavors of Colombian coffee! Visit Cafe San Alberto, one of the city's most famous coffee spots, which lives up to its hype and serves exceptional coffee. Although I usually don't favor coconut flavors, I was pleasantly surprised by the accidental order of a coconut cappuccino, and it turned out to be super delicious!
Epoca Espresso Bar is another notable spot, offering high-quality coffee (and espresso martinis) in a cozy atmosphere.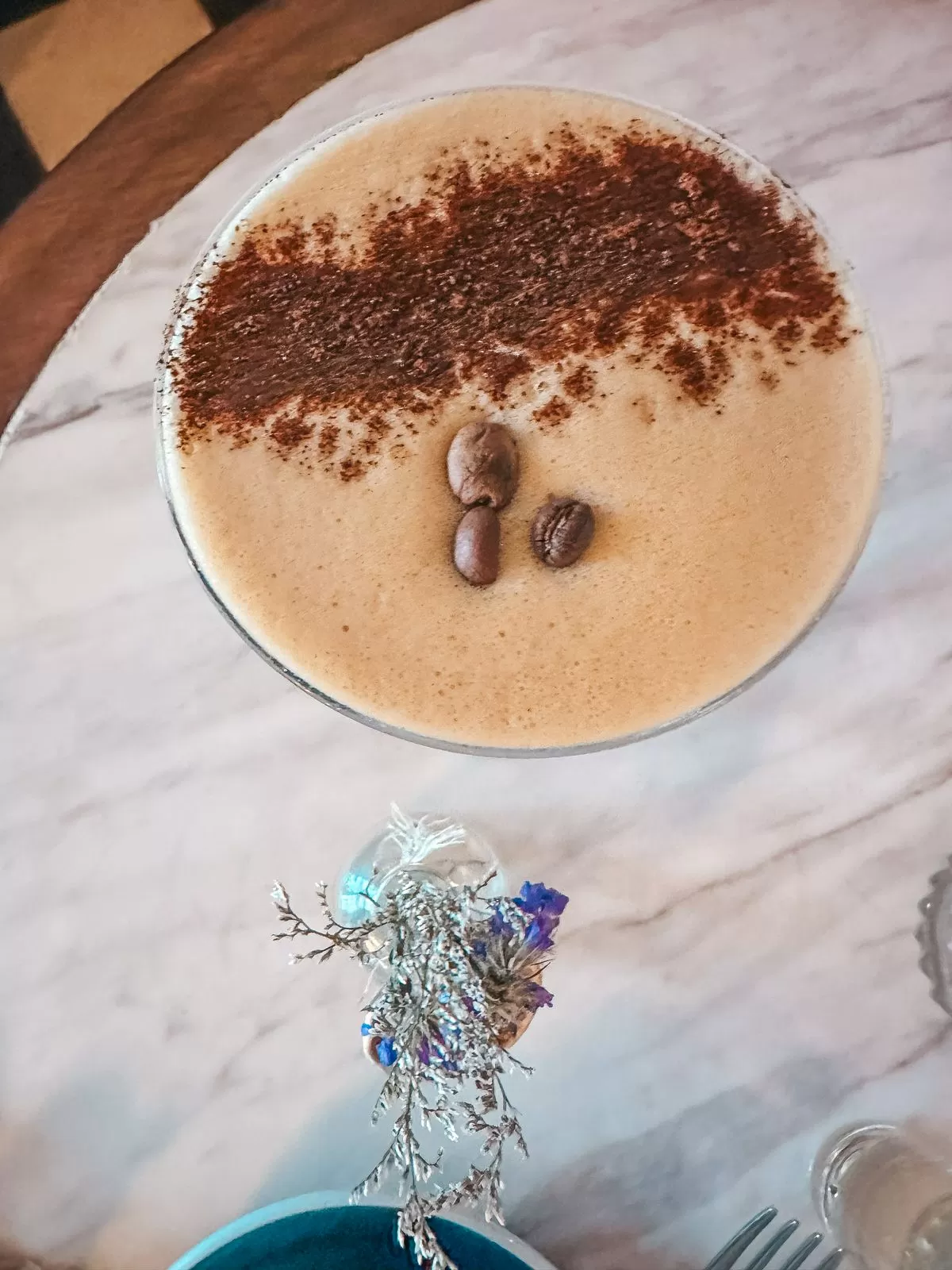 Book lovers will enjoy a visit to Abaco Libros y Café, a unique combination of a bookstore and coffee shop where you can sip on delicious coffee while perusing a wide selection of books.
If you don't plan to visit Colombia's coffee country during your trip, these coffee spots in Cartagena will allow you to savor the essence of Colombian coffee without leaving the city. If you're a true coffee aficionado check out this coffee tour that might pique your fancy!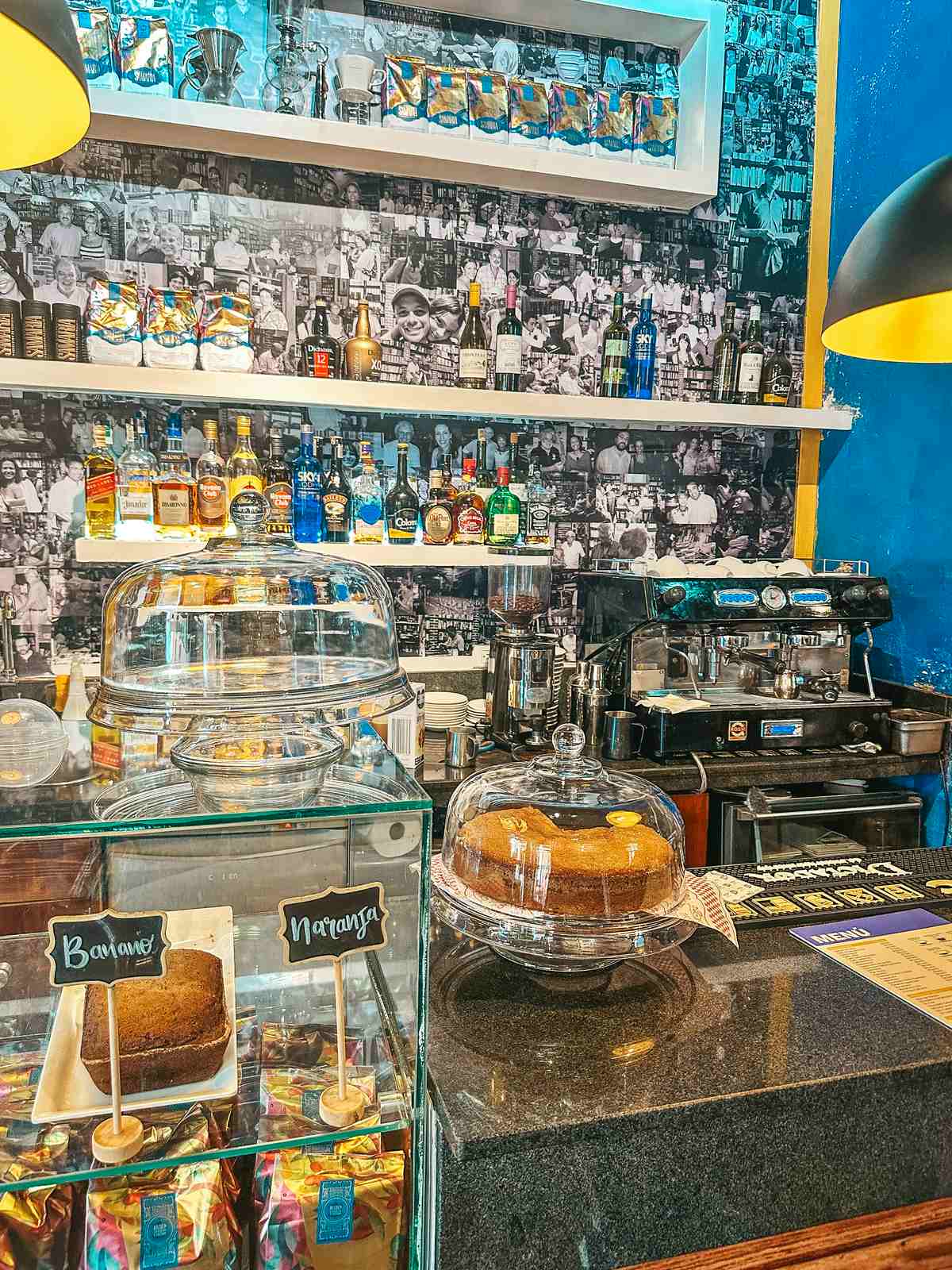 Paint on a Rooftop
Unleash your inner artist in a rooftop brunch and painting experience in the vibrant Getsemani neighborhood. This activity starts with a glass of champagne and refreshing fruit. Next, you'll be guided through some techniques, ensuring you capture a lively and colorful rendition of Cartagena's historical center.
Your masterpiece will be the perfect size to take home as a cherished memory or a beautiful addition to your décor. While painting, indulge in delicious empanadas, patacones (my fave!), and cheese fingers, paired with a refreshing mimosa.
🎨 Paint on a Rooftop
This is one of the best things to do in Cartagena and books up quickly, so be sure to book in advance!
Click herе to book
Indulge in local fruit
Indulging in local fruit is an absolute must while visiting Cartagena! While there might not be a specific fruit tour available (like the one we did in Bogota), exploring the city's vibrant markets and street stalls will reward you with a delightful array of exotic and tropical fruits to sample and savor! Lulo and granadilla are just a couple of the popular ones to have on your list!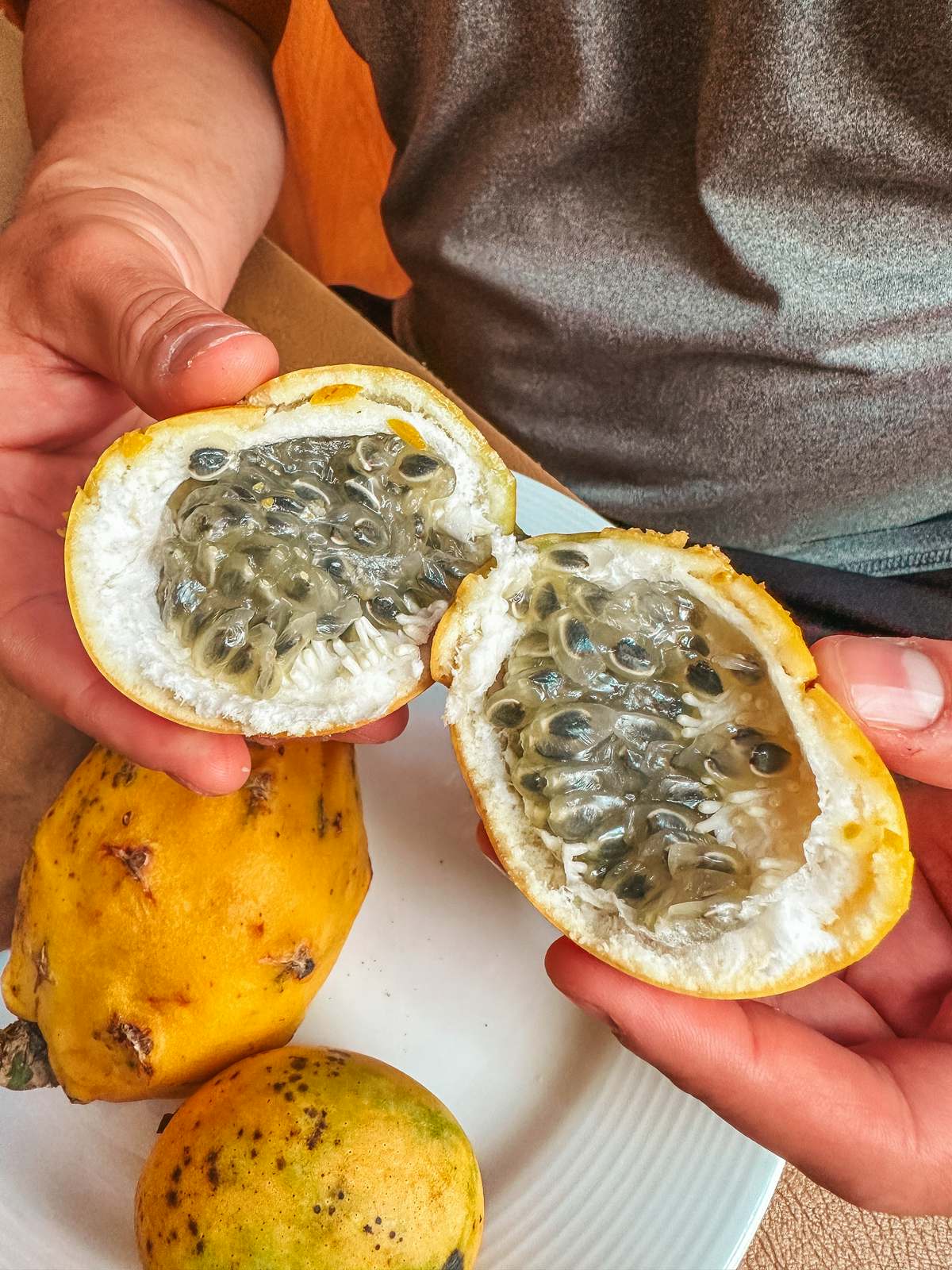 Experience the nightlife
Cartagena's nightlife scene is vibrant and diverse! From stylish rooftop lounges to lively salsa clubs, the city has something for everyone.
Bars in Old Town
Mondo Cocktail Bar is a hidden gem in the heart of Old Town. This tiki-inspired bar transports you to a bygone era with its tropical decor and vintage ambiance. Sip on creatively crafted cocktails while enjoying the laid-back atmosphere.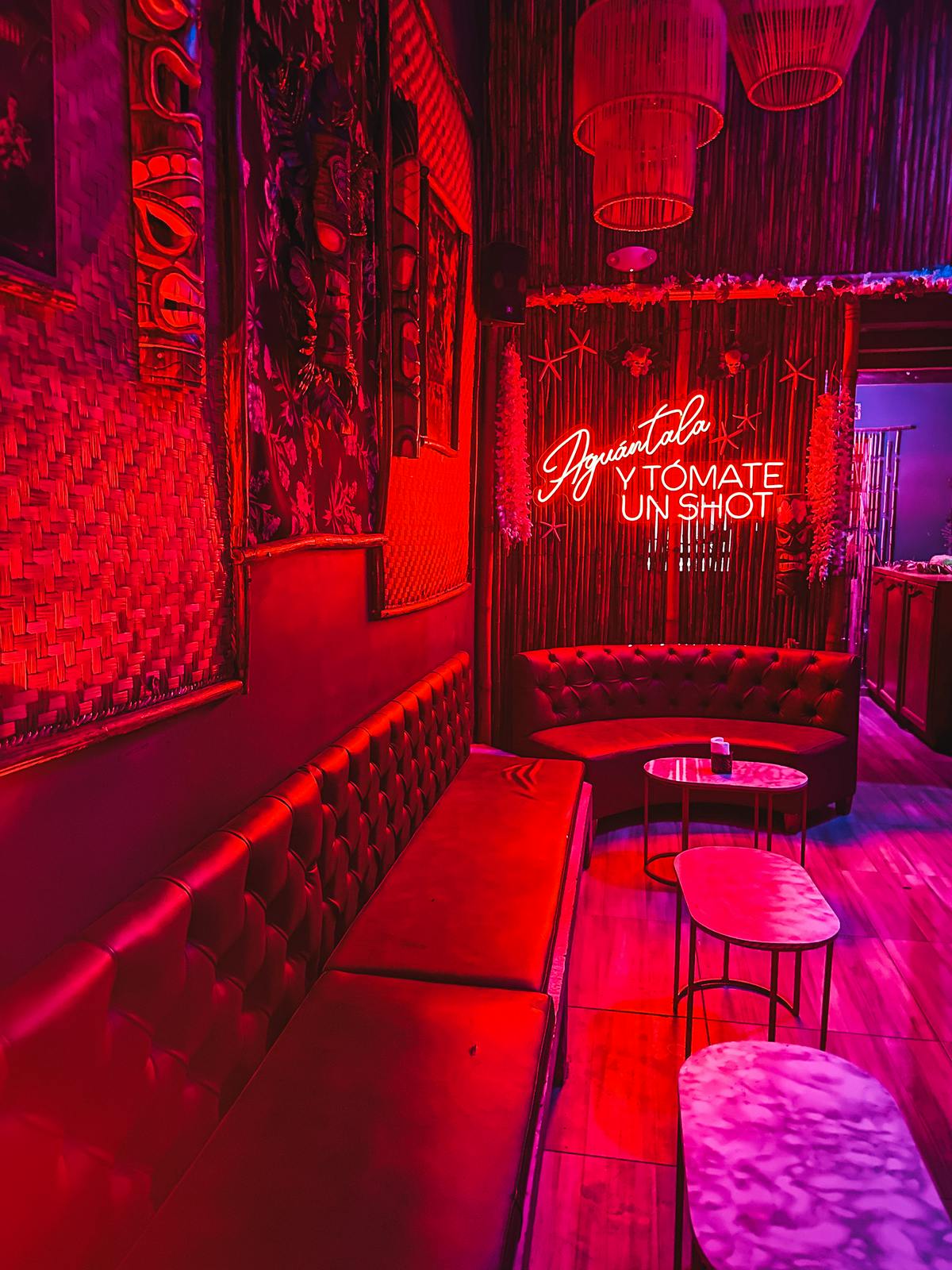 Mirador Gastrobar offers breathtaking panoramic views of the city. This rooftop bar is the perfect spot to watch the sunset while sipping on refreshing cocktails. The chill-out atmosphere, combined with the picturesque backdrop, creates a memorable experience that captures the essence of Cartagena's charm!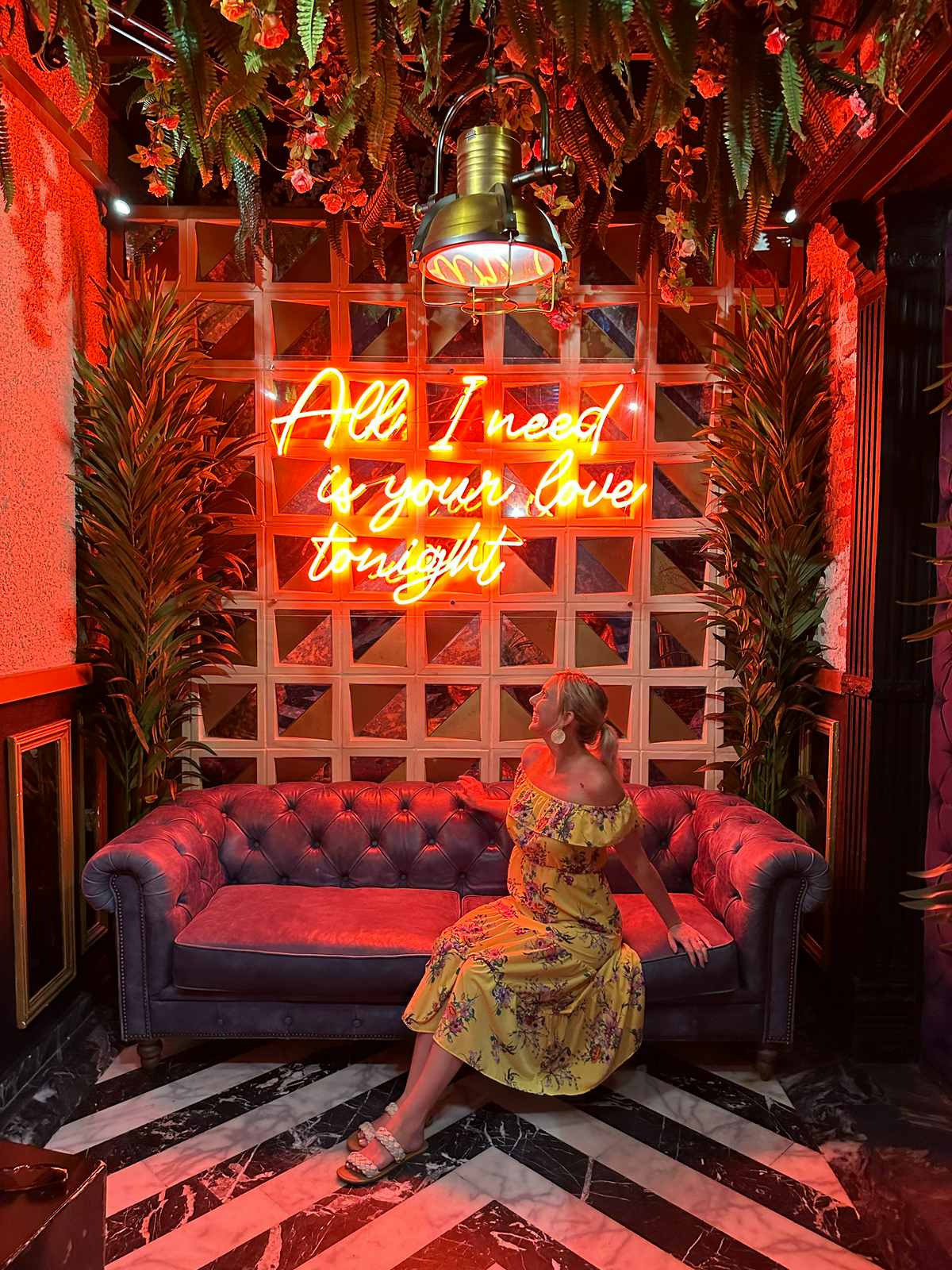 As one of the top 50 bars in the world, Alquimico is a cocktail lover's paradise. Located in a beautifully restored colonial mansion, this multi-level bar boasts a sophisticated setting with distinct areas, including a terrace, a speakeasy-style bar, and a rooftop lounge.
The bartenders here are true mixologists, concocting innovative and expertly crafted cocktails that tantalize the taste buds, including a clear espresso martini!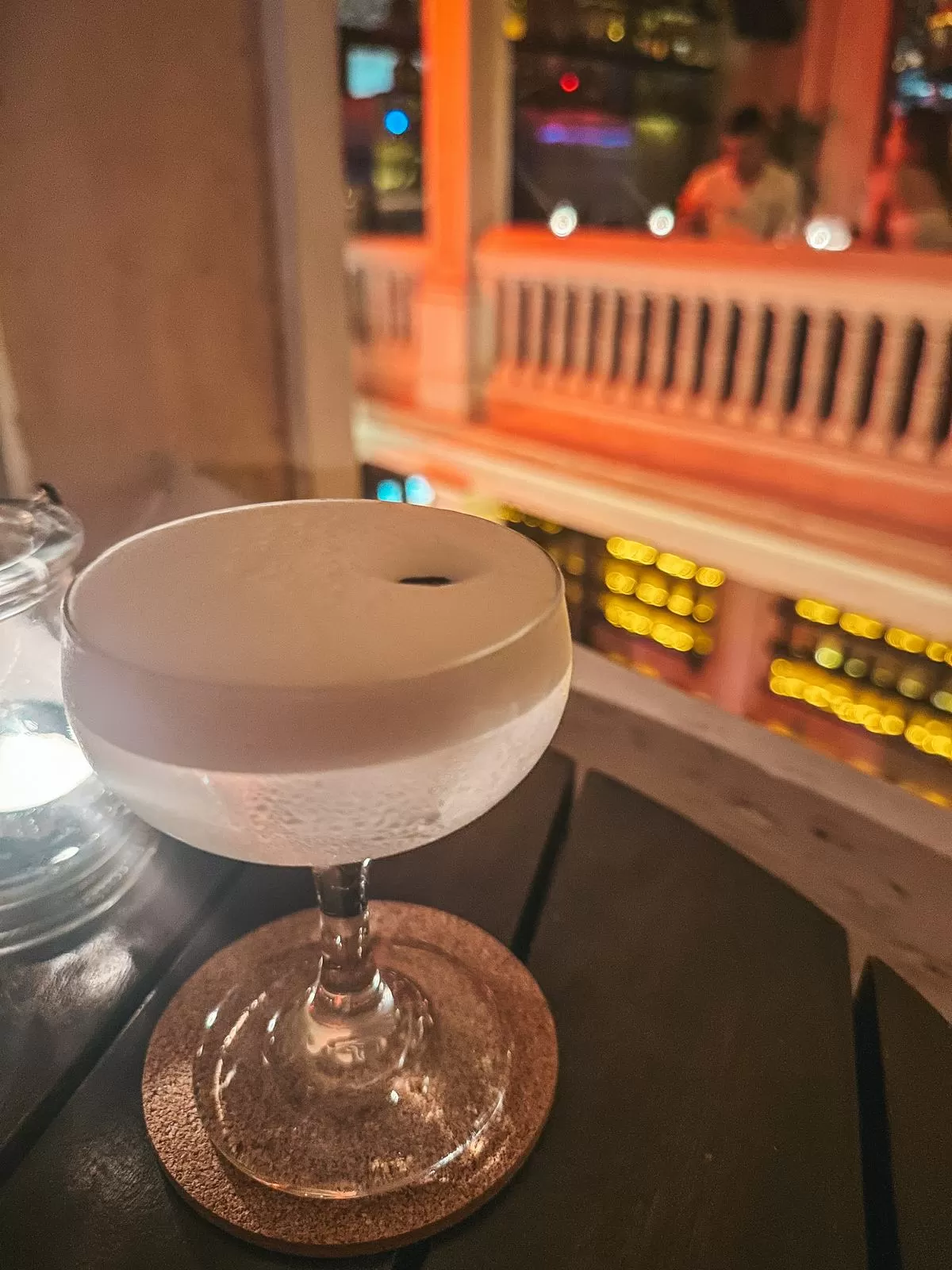 Right across the street is La Jugada Club House Gastrobar, another really fun multi-level bar and rooftop with delicious cocktails.
Cafe Del Mar is an iconic spot in Cartagena. It's a famous bar that offers a perfect setting to witness stunning Caribbean sunsets while enjoying cocktails and live music in a relaxed atmosphere!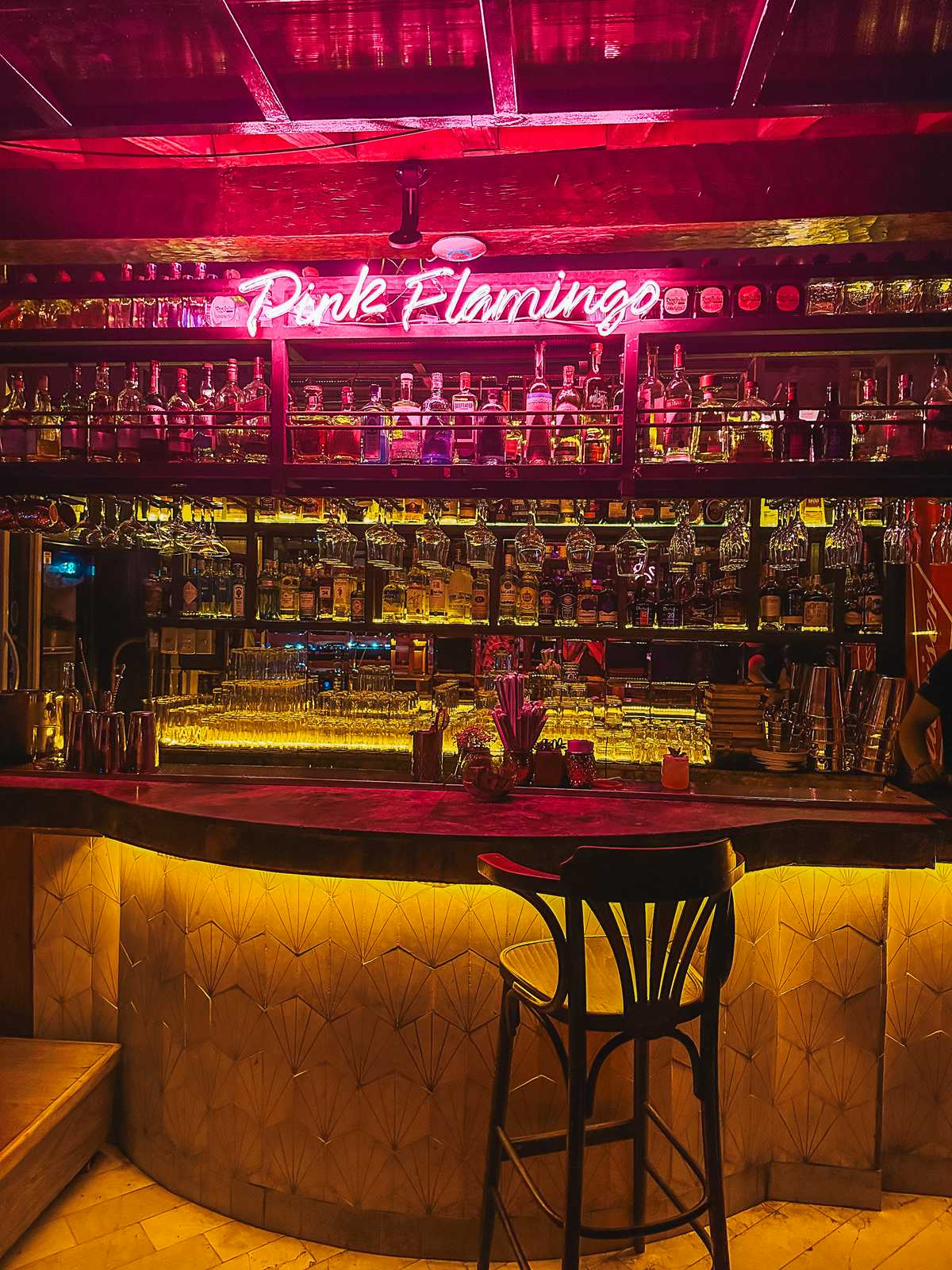 Bars in Getsemani
For an authentic taste of local culture, head to Casa Palenque, a vibrant bar in Getsemani. This bar celebrates the traditions of Palenque, a nearby town known for its rich heritage and music. Enjoy live performances of traditional champeta music and dance the night away.
For those seeking a night of dancing and entertainment, Taboo Disco Club is a popular nightclub. This vibrant spot features DJs spinning a mix of Latin beats, reggaeton, and electronic music, keeping the dance floor alive until the early hours of the morning.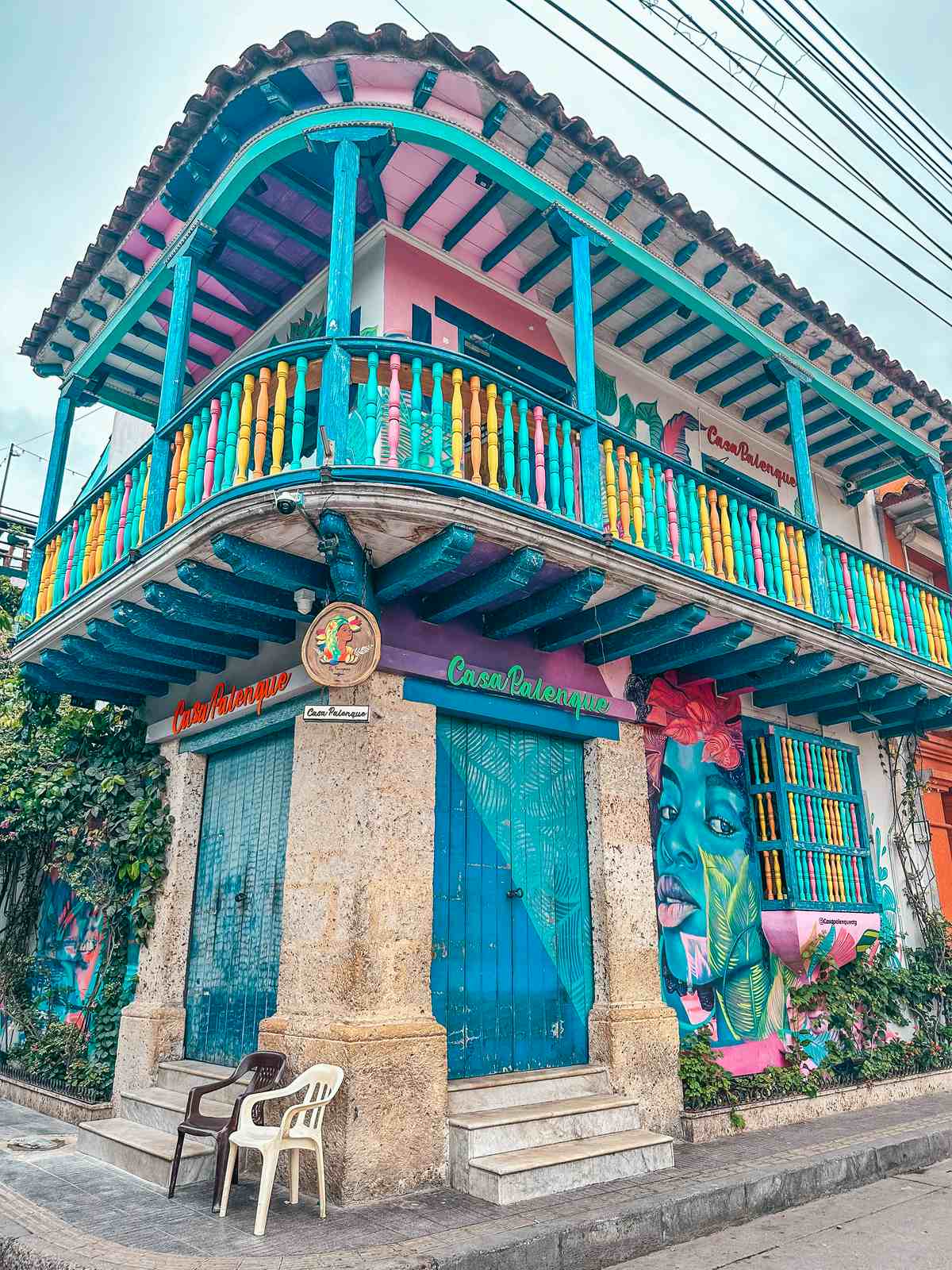 Take a day trip from Cartagena
Two of the most popular day trips from Cartagena are to the Rosario Islands or to the Mud Volcano. With only 3 days in Cartagena gauge if you have time for a day trip or not! We wanted to do the Rosario Islands, but it ended up raining we were supposed to go.
Cartagena itself doesn't have the most stunning beaches, but the Rosario Islands is a paradise of white-sand beaches and crystal-clear waters. It is a perfect destination for sunbathing, snorkeling, and diving.
This half-day boat tour includes lunch and snorkel gear for you to discover and explore the majestic archipelago of the Rosario Islands.
🌅 Sunset Cruise with Open Bar
If you want some time on the water, but don't want to commit to a day trip, check out this sunset cruise with an open bar!
Click herе to book
Discover the extraordinary landscapes of the Totumo Mud Volcano and the Pink Sea (Playa Rosada). Immerse yourself in the unique experience of floating effortlessly in a mineral-rich mud bath. The therapeutic properties of the mud are believed to revitalize the skin and provide a sense of relaxation!
Afterward, head to the Pink Sea, a natural phenomenon where the water takes on a mesmerizing pink hue, creating a dream-like setting for memorable photos and a tranquil beach day.
Where to Stay in Cartagena
Choosing the right accommodation is crucial to ensuring a comfortable and enjoyable stay in Cartagena. The city offers a diverse range of lodging options, from luxurious hotels in the historic Old Town to charming boutique accommodations in the vibrant Getsemani neighborhood. Here are some areas to consider when trying to determine where to stay in Cartagena.
Old Town
Staying in Cartagena's Old Town is like stepping back in time to a world of colonial charm and romantic ambiance. The cobblestone streets, colorful buildings, and historical landmarks create a unique atmosphere that is perfect for immersing yourself in the city's rich history.
For a perfectly located and affordable stay, consider Casa India Catalina. This charming boutique hotel offers easy access to the city's best activities, restaurants, and cultural sites. The hotel's inviting atmosphere and comfortable rooms provide a relaxing retreat after a day of exploration.
Additionally, the inclusive breakfast ensures you start each day with a delicious and satisfying meal, fueling your adventures in this enchanting city!
Book Casa India Catalina here, or view other accommodation options in Old Town here!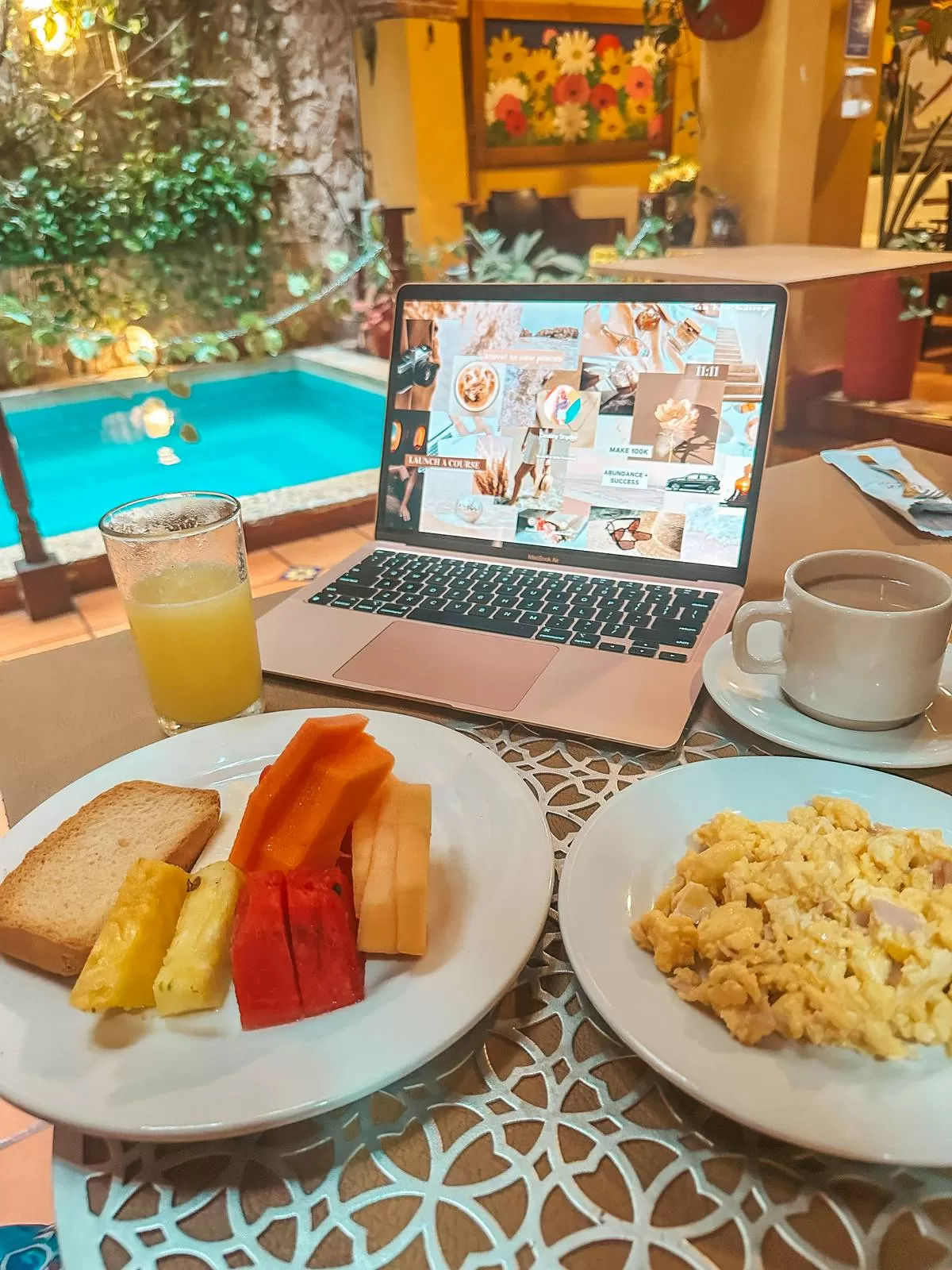 Getsemani
Located just outside the city walls, Getsemani offers a more affordable option for accommodation while still providing a central location to explore Cartagena's top attractions. Getsemani's hostels, boutique hotels, and guesthouses often feature colorful and artistic decor, creating a unique and welcoming ambiance for travelers.
Bocagrande
If you prefer a beachfront location, Bocagrande is an excellent choice. This modern area is famous for its high-rise hotels and condominiums that offer stunning views of the Caribbean Sea. You'll find a wide range of upscale hotels with easy access to the beach, as well as shopping centers and restaurants.
We actually stayed here for 1 of our 3 days in Cartagena, and we weren't too crazy about it. The beaches are just okay, and you're far from the best things to do in Cartagena. If you want a more luxurious stay though, this is the area you are going to want to book!
Check out hotel options for Bocagrande here!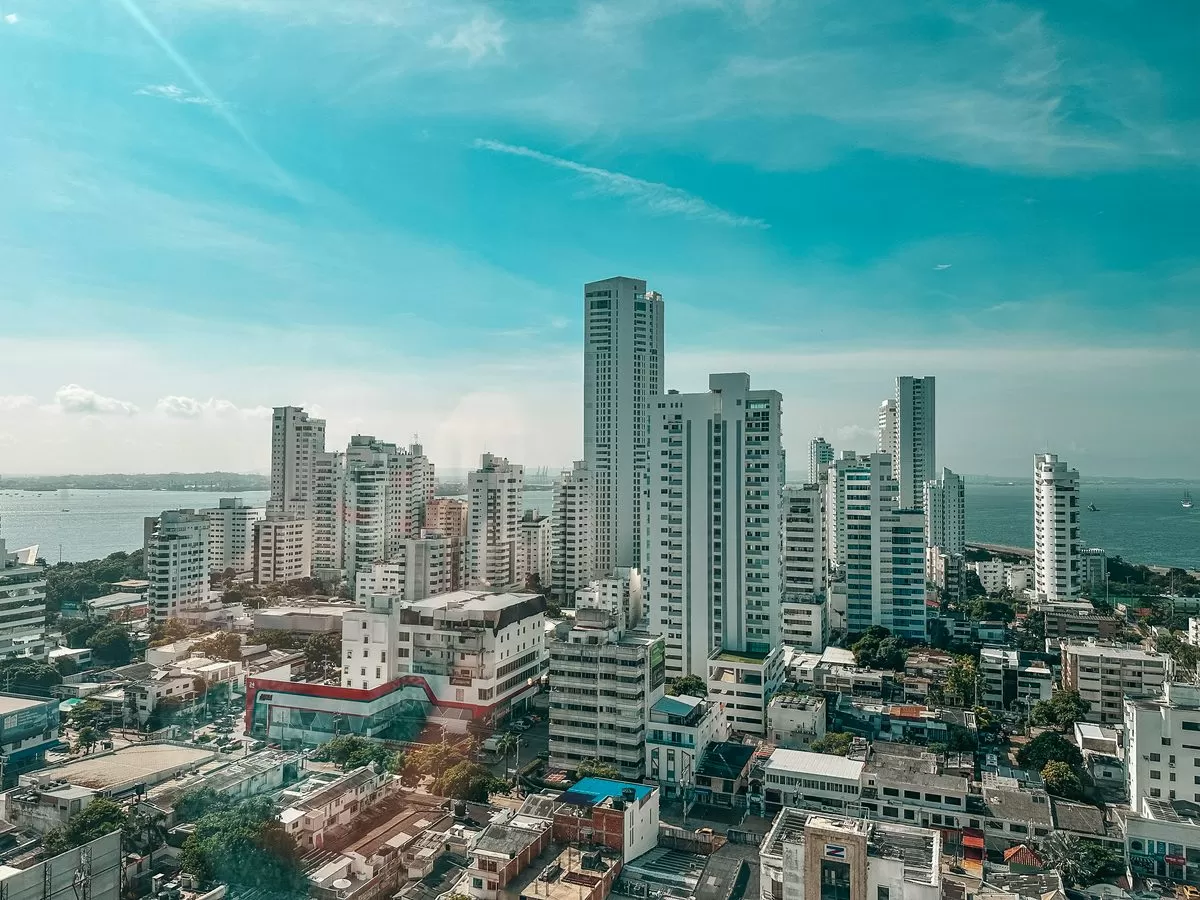 San Diego
San Diego is a charming and quieter neighborhood nestled between the Old Town and Getsemani. Here, you'll find a mix of boutique hotels and guesthouses in beautifully restored colonial houses. This area offers a blend of historical charm and modern comfort, making it an appealing option for travelers seeking a more intimate and serene experience in Cartagena.
Hostels are very popular in Colombia and extremely budget-friendly, check out Hostelworld to see what hostels are available for your dates!
Getting Around in Cartagena
Getting around in Cartagena is relatively easy, offering various transportation options to suit your preferences.
One of the best ways to experience the beauty and charm of Cartagena is on foot. The historic Old Town, also known as the Walled City, is a pedestrian-friendly area filled with colorful colonial buildings, bustling plazas, and intriguing shops. The best part about walking is it allows you to discover hidden gems, interact with locals, and take in the sights and sounds of this enchanting coastal town!
Taxis are a convenient mode of transportation for longer distances or if you prefer not to walk under the scorching sun. Taxis are readily available throughout the city, and you can either hail them on the street or find them at designated taxi stands. However, it's essential to keep a few things in mind to have a smooth taxi experience:
Agree on the fare— Unlike some cities where taxis use meters, taxis in Cartagena do not have meters. Before getting into the taxi, always negotiate and agree on the fare with the driver. This helps avoid any misunderstandings or overcharging during the ride.
Uber in Cartagena— In recent years, Uber has become a popular alternative to traditional taxis in Cartagena. If you're comfortable using ride-hailing apps, consider using Uber for reliable service and transparent pricing.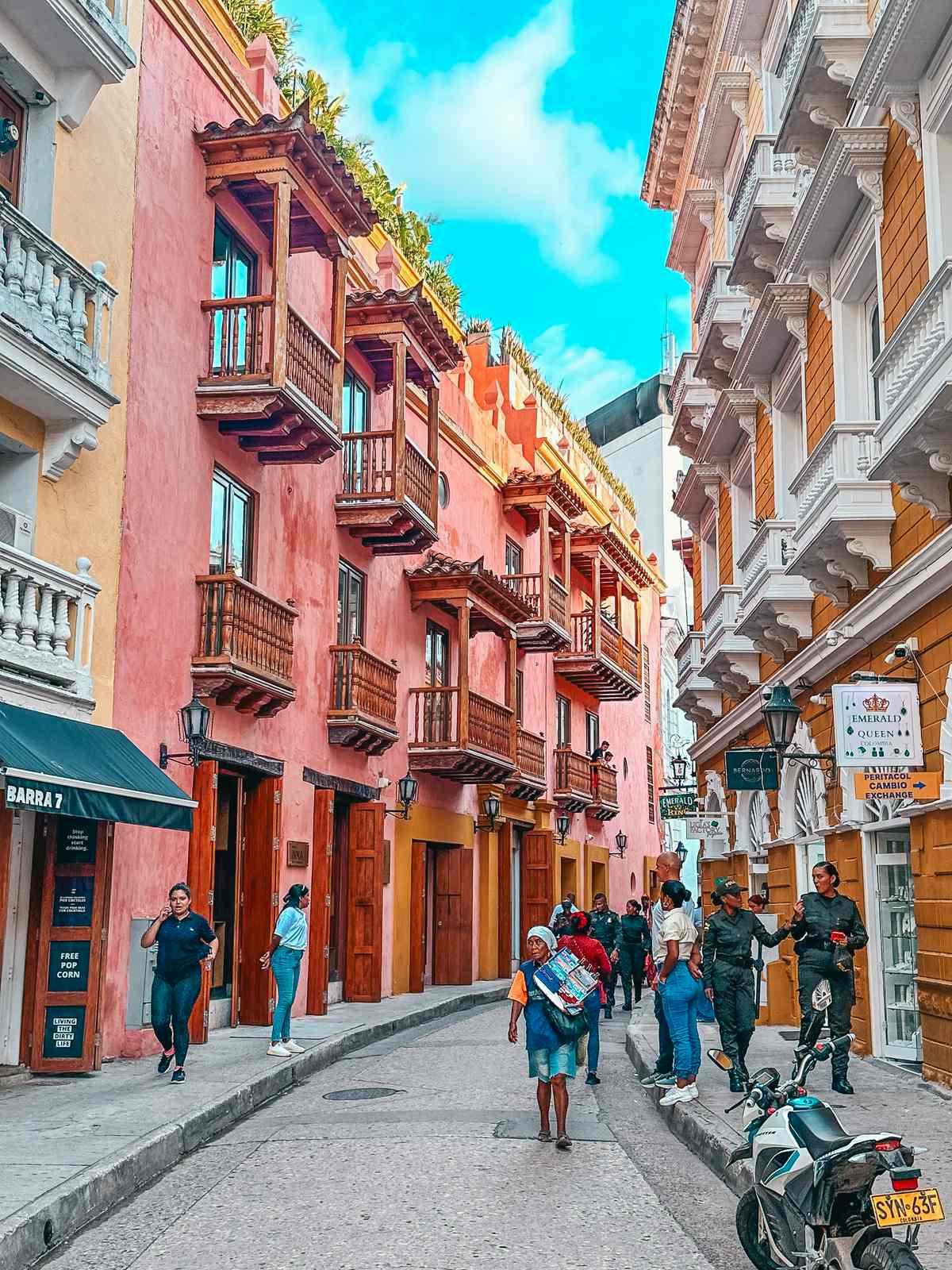 Cartagena travel tips
Stay hydrated— The tap water in Cartagena is unsafe to drink. Stock up on bottled water and stay hydrated, especially in the high humidity.
Pack well— Pack light, breathable clothing to stay comfortable while exploring Cartagena. However, if you plan to visit other cities like Bogota, where the temperatures are cooler, consider bringing some jackets and jeans.
Be mindful of your belongings— As with any tourist destination, it's wise to be cautious about displaying valuable items, such as your phone, in public places. The Colombian saying "Don't give papaya" reminds travelers not to put themselves in vulnerable positions where someone can take advantage of them. Keep your phone and other valuables in a secure spot to minimize the risk of theft.
Embrace bargaining— Bargaining is a common practice in Colombian markets. When shopping at local markets, don't hesitate to negotiate prices to get a fair deal on your purchases.
Understand payment terms— In some situations, vendors may ask how many quotas (payments) you would like to make for a purchase. Always answer "1" to ensure you make a single payment and avoid additional fees.
Navigate taxi services— The taxi situation can vary from city to city in Colombia. In Cartagena, you can use Uber or taxis. If opting for taxis, it's important to agree on the fare before getting into the car, as they are not metered in Cartagena. This helps you avoid potential overcharging and ensures a fair price for your journey.
Embrace a sense of safety— Colombia has made significant strides in improving its safety and security for tourists. While exploring Cartagena, follow the same safety rules you would in any foreign country: be aware of your surroundings, avoid walking down unlit roads alone at night, and keep your belongings secure.
Related read: How to spend 3 days in Bogota
Are you ready for an epic 3 days in Cartagena?!
I hope this blog post has given you valuable insights and travel tips to feel better prepared for your 3 days in Cartagena! With its stunning beauty, rich culture, and warm hospitality, Cartagena offers a truly enchanting experience. Embrace the city's tropical charm, immerse yourself in its fascinating history, and relish the warmth of its people.
May your journey through Cartagena be filled with unforgettable moments and fond memories that will stay with you long after your visit! Be sure to follow me on Insta @guidedbydestiny for more travel content and check out some of my other posts before you go: