This post contains affiliate links which means that I will make a small commission if you purchase a product after clicking on any of them, at no extra cost to you.
30A is a stretch of coastline that runs through several small beach towns in the Florida panhandle. This scenic and picturesque area is known for its pristine white sand beaches, turquoise waters, and charming seaside communities. Whether you're looking for relaxation or adventure, there are plenty of fun things to do in 30A!
We loved our little 2-day trip here! I actually wish we would've had more time to explore each of the beach communities. Initially, we planned on flying here but changed our mind at the last minute and decided to turn it into a fun little road trip making a pitstop in Ocala on our way back.
The drive from Tampa to Santa Rosa Beach was 6 hours (check out my long drive tips). It actually went by pretty quickly! This is definitely one of my new favorite weekend getaways from Tampa.
Looking for convenient transportation?
🚗 Rentalcars can make the process of car renting faster and easier, so you can have the best traveling experience.
Click herе to rent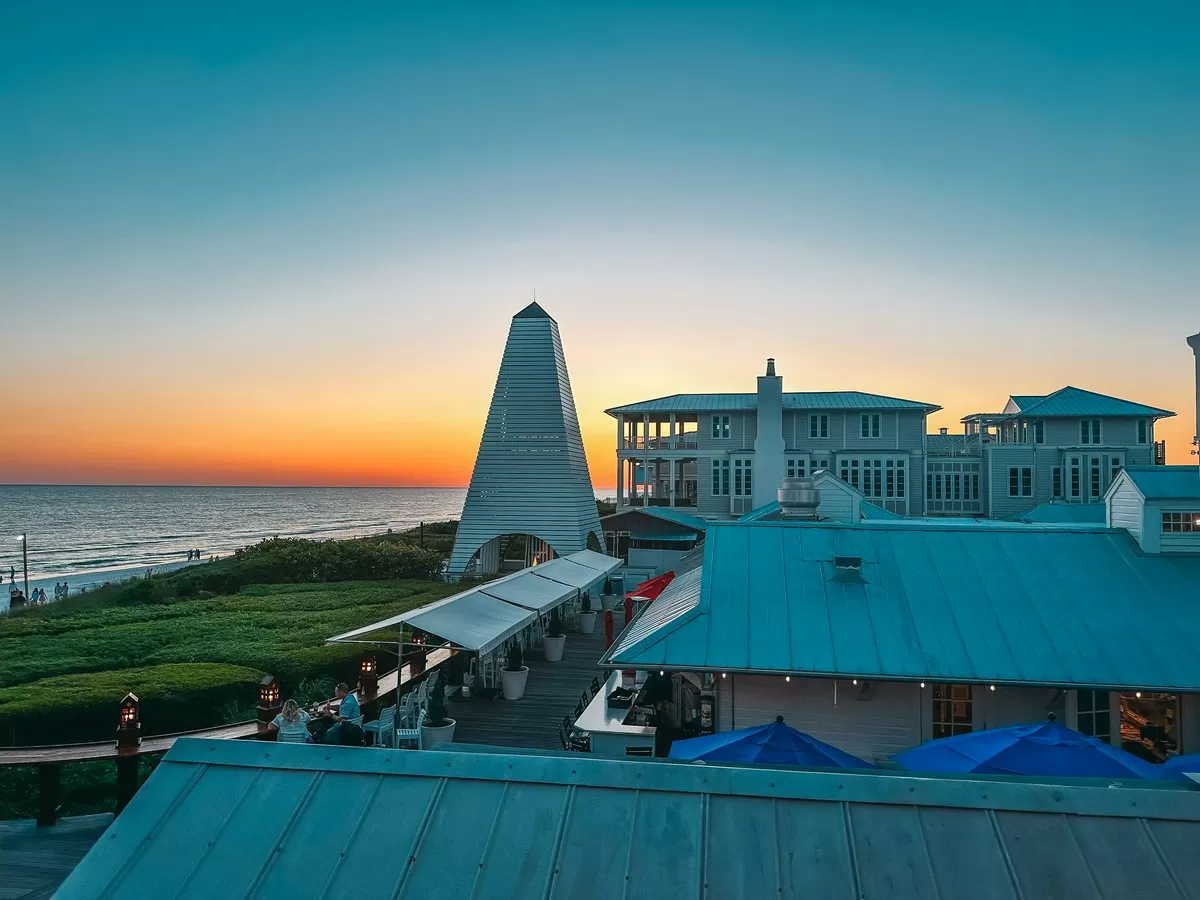 Why is it Called 30A?
The name "30A" refers to the scenic highway that runs along the Gulf of Mexico in the Florida Panhandle. The 24-mile highway connects multiple beach communities along the coast, including Rosemary Beach, Seaside, Grayton Beach, and Santa Rosa Beach.
The road offers stunning views of the Gulf of Mexico and the surrounding natural beauty. It has become a beloved destination for those seeking a relaxing beach vacation. The various communities along the highway each have their own unique charm and character, making 30A a diverse and exciting destination for travelers of all ages and interests!
When is the Best Time to Visit 30A?
The best time to visit 30A depends on your preferences, as each season offers something unique. The peak season for tourism is during the summer months, from June through August. The weather is warm and sunny and the water is perfect for swimming and water sports! However, this is also the busiest time of year, and crowds and prices can be high.
If you prefer a quieter atmosphere and cooler weather, you may want to consider visiting 30A during the spring or fall. The shoulder seasons, which run from March to May and September to November, offer mild temperatures, fewer crowds, and lower prices. You'll still be able to enjoy the beautiful beaches and outdoor activities but with a more laid-back vibe.
Winter is the least popular time to visit 30A, but it can still be a great time for outdoor activities like biking and fishing. The weather during the winter months, from December to February, is cooler and sometimes rainy, with average temperatures ranging from the mid-50s to the low 60s.
Regardless of when you decide to visit, it's always a good idea to check the weather forecast before you go and pack accordingly. Check out my Florida packing list as a base guide!
We visited mid-April and the water was just about at the perfect temp, not too cold, but great for a cool down.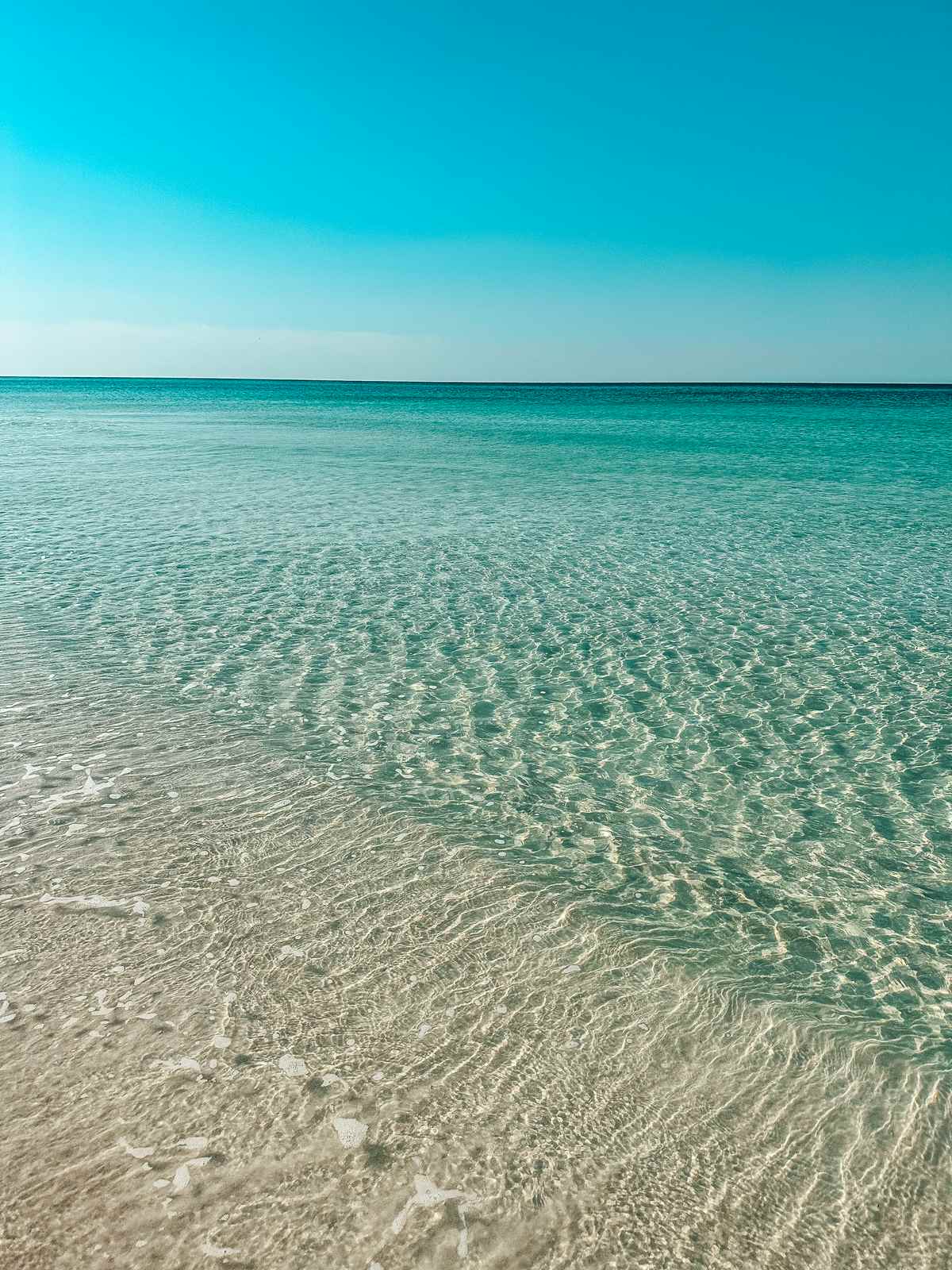 Fun Things to Do in 30A
Check out all of the beaches
The beaches along 30A are one of the biggest draws of the area! With sugar-white sand and crystal-clear water, they offer a relaxing and beautiful experience! Here are the most popular beaches along 30A and what you can expect at each:
Grayton Beach:
Grayton Beach is a great spot for swimming, sunbathing, and fishing. The state park here is home to some of the most pristine and undeveloped beaches in the area, as well as scenic trails and diverse wildlife.
Seaside Beach:
This beach is known for its picture-perfect scenery, with pastel-colored beach houses and a stunning white sand beach. Not to mention its lively town center with shops, restaurants, and entertainment. It's a popular spot for families, and there are plenty of amenities nearby.
Rosemary Beach:
This upscale beach community features luxury homes, high-end shops and restaurants, and a bustling town center with plenty of activities and entertainment. It's a quieter beach compared to some of the others in the area, making it a great spot for a relaxing day in the sun.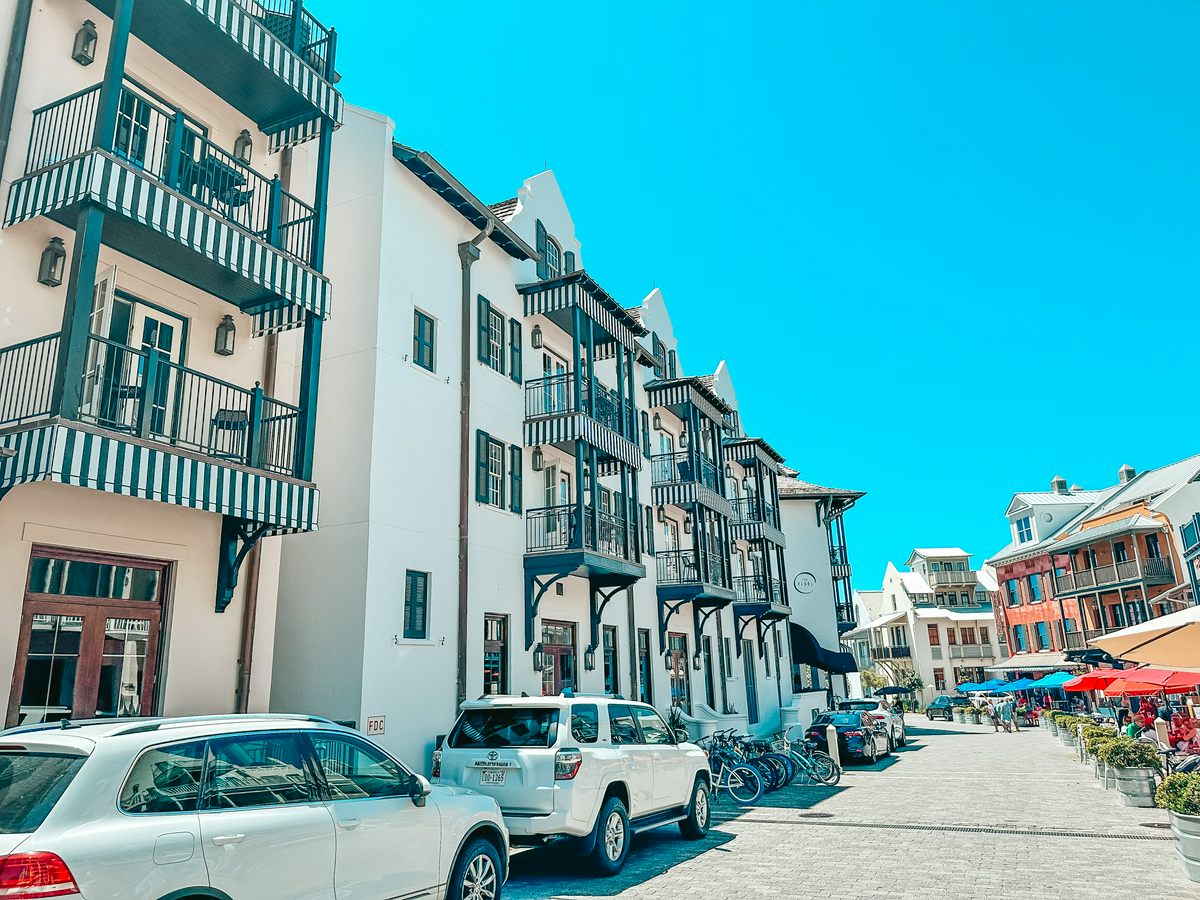 Santa Rosa Beach:
This family-friendly destination is home to a variety of shops, restaurants, and activities, including fishing, kayaking, and paddleboarding. The town has a laid-back and charming atmosphere. It also has a vibrant food scene, with many seafood restaurants serving up fresh catch from the Gulf of Mexico!
Capture the beautiful moments on a private photoshoot. 
| Tip
🚲 Get the most out of the beach day and explore Santa Rosa beach's beauty on an E-bike with the guided instructions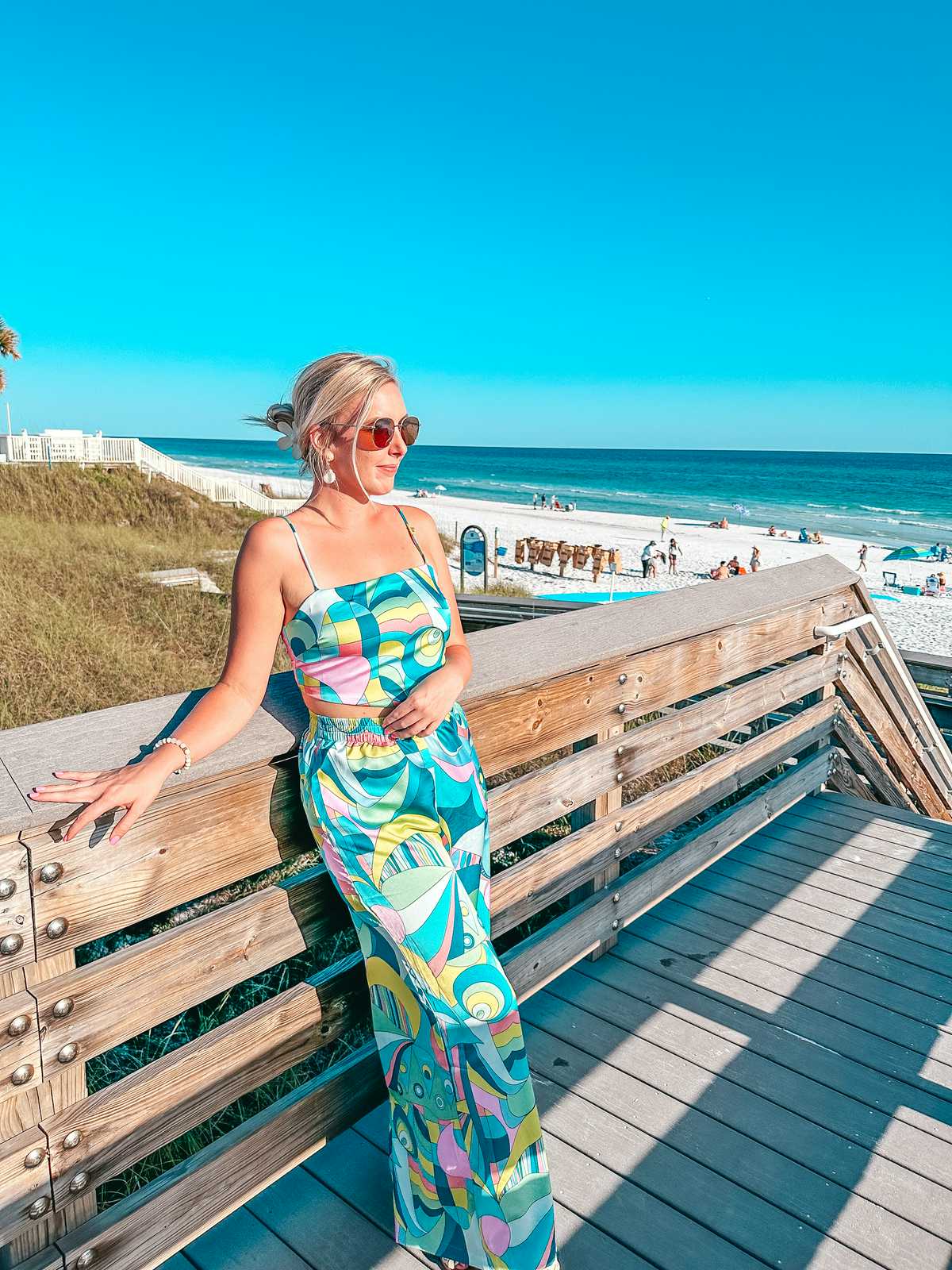 Alys Beach:
Known for its unique architectural style, the town features white stucco buildings with turquoise accents, and its narrow streets are lined with palm trees and beautifully landscaped gardens. Alys Beach is also known for its luxurious amenities, including a private beach club and pool, tennis courts, and an amphitheater that hosts concerts and events throughout the year. Alys Beach is a popular destination for those seeking a luxurious beach vacation.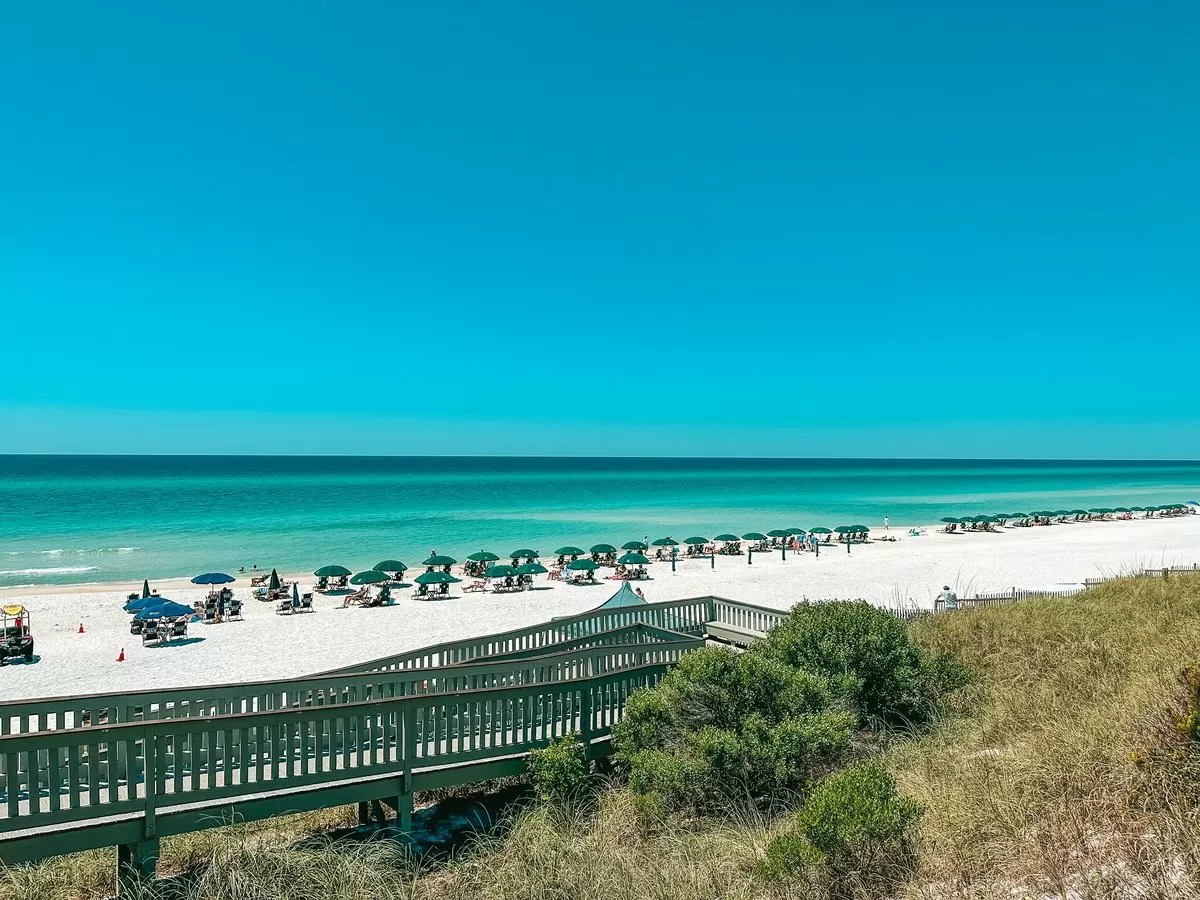 Rent a bike
One of the best ways to explore 30A is by bike! Renting bikes from YOLO Board and Bikes is an excellent way to get some exercise and take in the beautiful scenery along the way. The bikes are actually electric, so technically you can get as much or little exercise as you want while exploring 😉
The 30A bike trail is approximately 19 miles long and runs parallel to the scenic highway. The trail is flat and easy to ride, making it suitable for all skill levels.
The bikes are comfortable and well-maintained, and they come with helmets, locks, and baskets. They also do pick up and delivery to wherever you are staying (it's free if you rent for two days or more).
There are plenty of places to stop along the way, including beaches, state parks, and restaurants. Taking the bikes out and exploring the scenic coastal roads and quaint neighborhoods is easily one of the best things to do in 30A!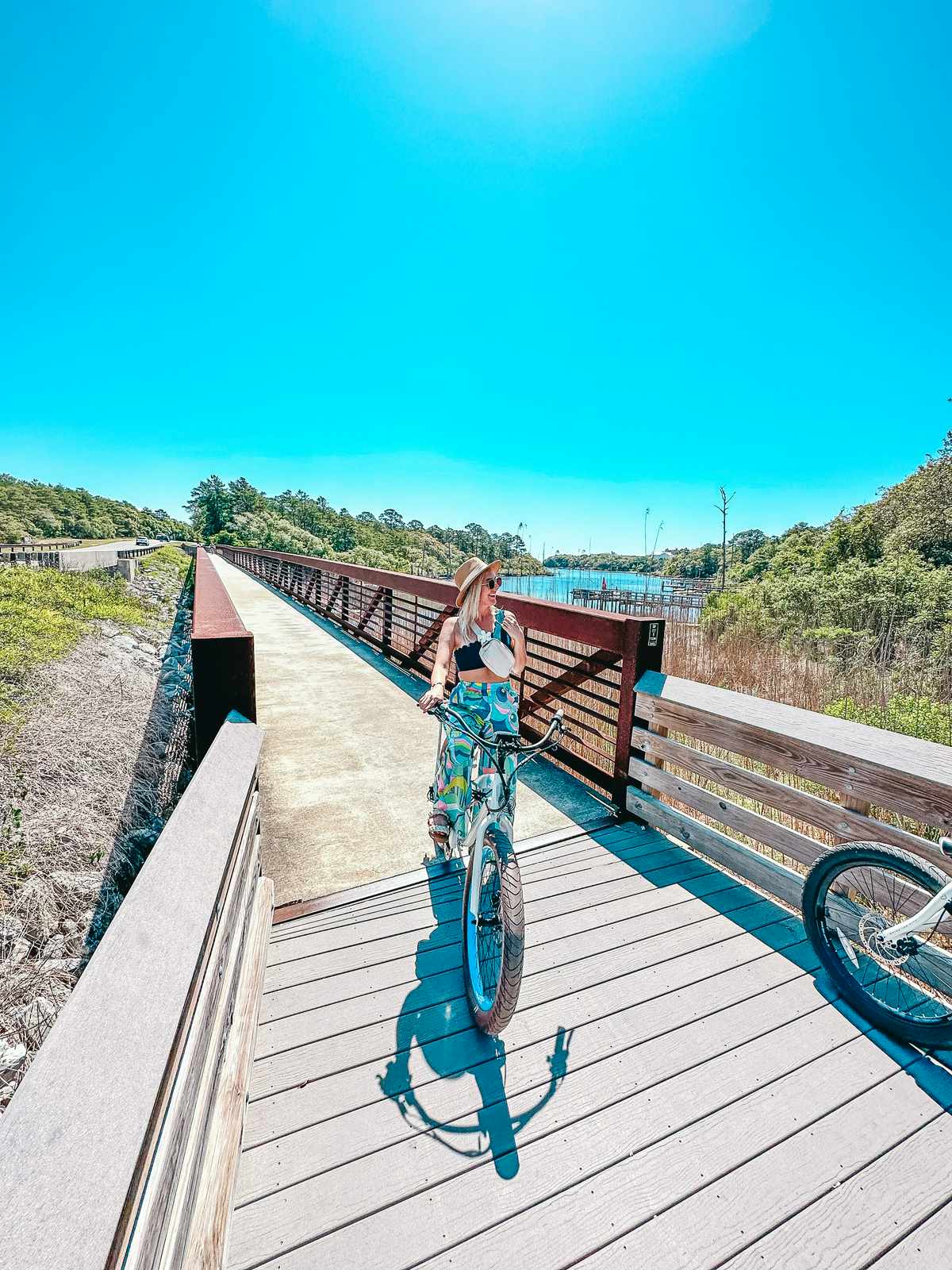 Take a boat tour
If you're looking for a fun and adventurous activity to do on your 30A vacation, I highly recommend taking a boat tour with Destin Boat Rentals. Their Crab Island 4-hour Adventure Tour is a fantastic way to spend a day on the water.
The tour takes you to Crab Island, a popular spot for boaters and swimmers, where you can enjoy a variety of activities at this epic sandbar. Along the way, you'll also get to visit their adventure park, which features an inflatable obstacle course, as well as go snorkeling, kayaking, or paddle boarding!
The tour is very family-friendly. You are able to bring a cooler with food and drinks, or you can snag your lunch from one of the vendors at Crab Island. We were blown away by the BBQ spot! It was the only food option, so my hopes weren't high, but we were more than satisfied with the ribs and wings that fell off of the bone.
If you're traveling with a group and want a private boat tour to Crab Island, check out this half-day pontoon rental.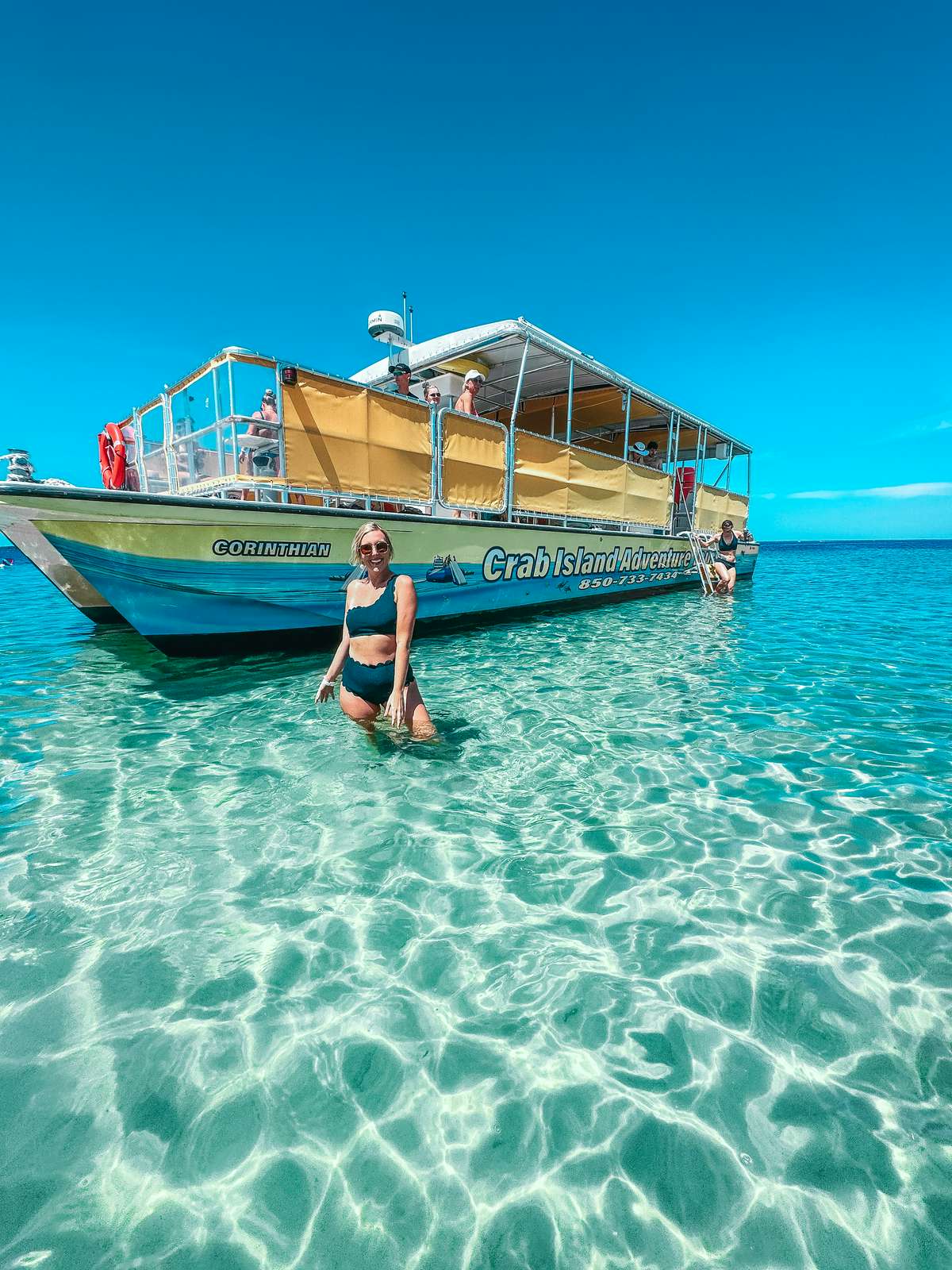 Visit the State Parks
30A is home to several state parks that offer a variety of outdoor activities. Grayton Beach State Park costs $5 per vehicle and offers visitors a chance to experience the stunning natural beauty of the area. The 2,000 acres of park includes crystal-clear waters, sugar-white sand beaches, towering sand dunes, and plenty of wildlife.
In addition to the beach, the park offers visitors several outdoor activities to enjoy. There are trails that wind through the park's sand dunes and forests, as well as a boat ramp for kayaking or fishing in Western Lake. The park also has picnic pavilions, grills, and restroom facilities for visitors to use.
Topsail Hill Preserve State Park costs $6 per vehicle and covers over 1,600 acres. It's home to a diverse range of wildlife, including deer, foxes, turtles, and various species of birds. One of the highlights of this park is the three-mile stretch of secluded beach, perfect for swimming, sunbathing, and beachcombing.
The park also offers several hiking and biking trails, including the popular Campbell Lake Trail, which takes you through a scenic pine forest to the edge of a coastal dune lake.
Those are the two most popular, but Deer Lake State Park and Camp Helen State Park are also nearby!
Go Shopping
If you're in the mood for some shopping, 30A has plenty of cute shops and boutiques to explore. The Hidden Lantern Bookstore is a must-visit spot for book lovers. It's located in Rosemary Beach and has a great selection of books, as well as gifts and stationery. Seaside Beach is also a great spot for shopping, with charming boutiques offering clothing, art, jewelry, and more.
Check out the seven best shopping spots in 30A.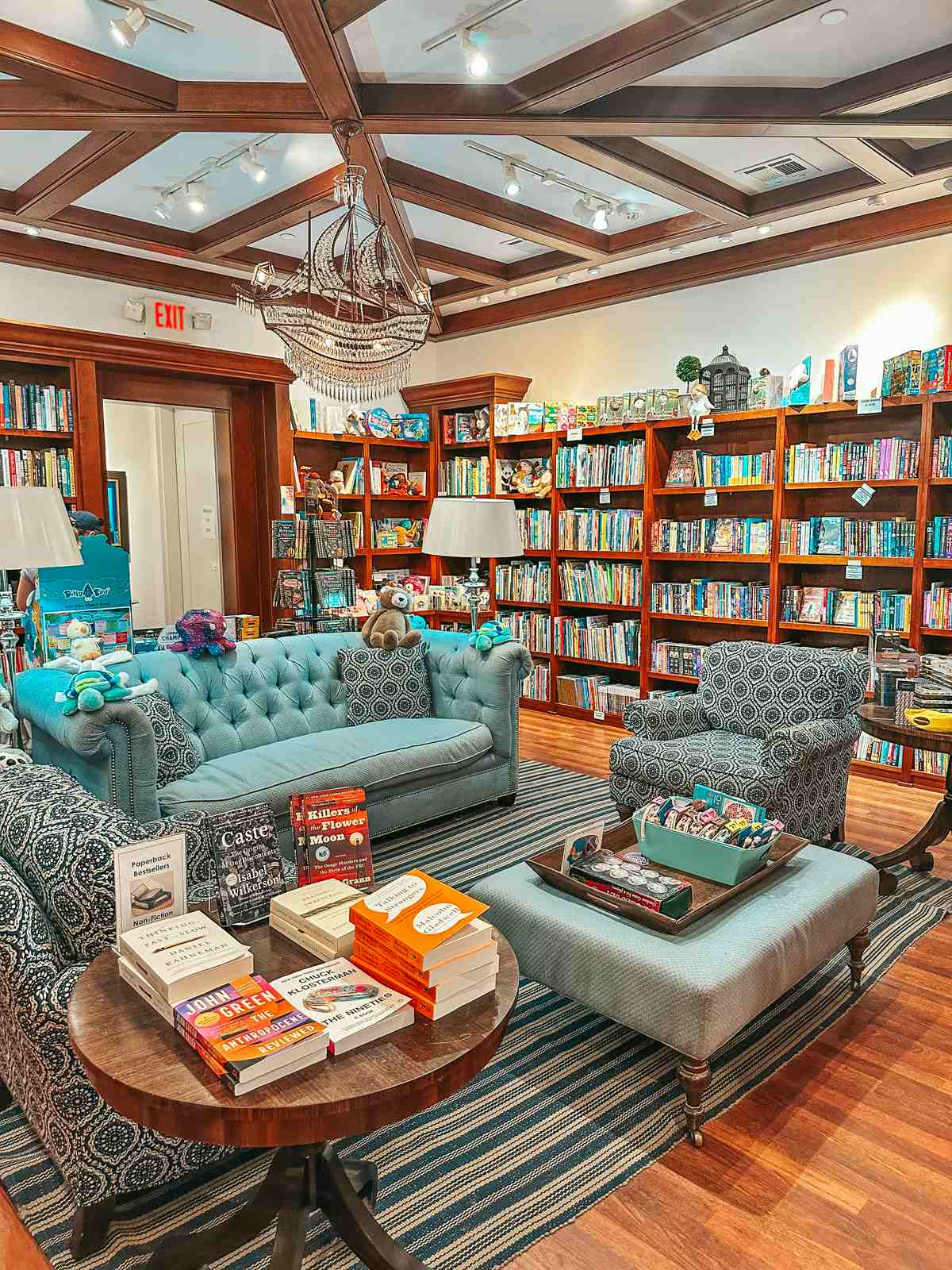 Enjoy local fare
There are plenty of delicious food and drink options along 30A. Be sure to get some of their delicious local seafood! Here are some of the best spots to grab a bite or a drink at:
Seaside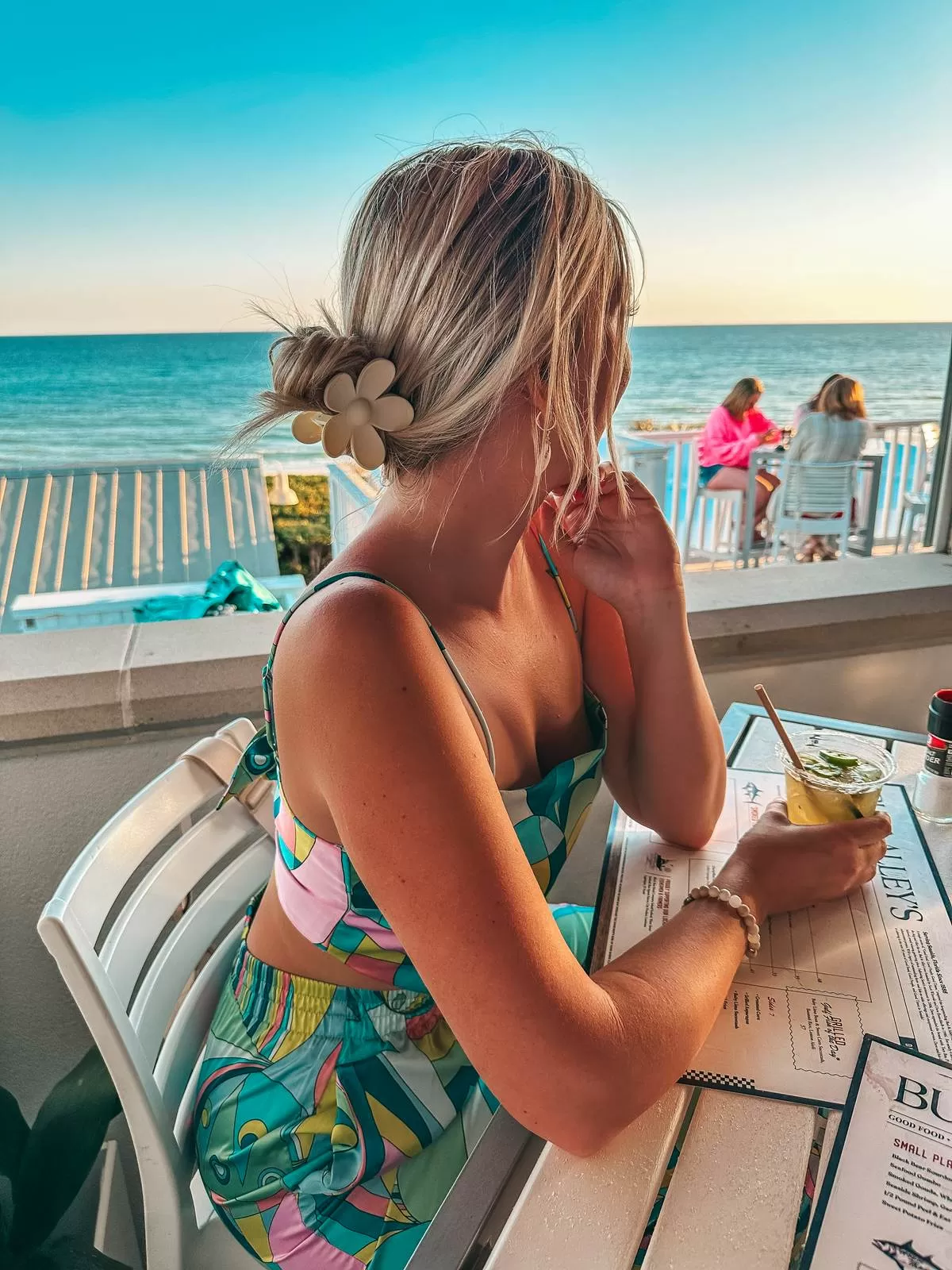 Alys Beach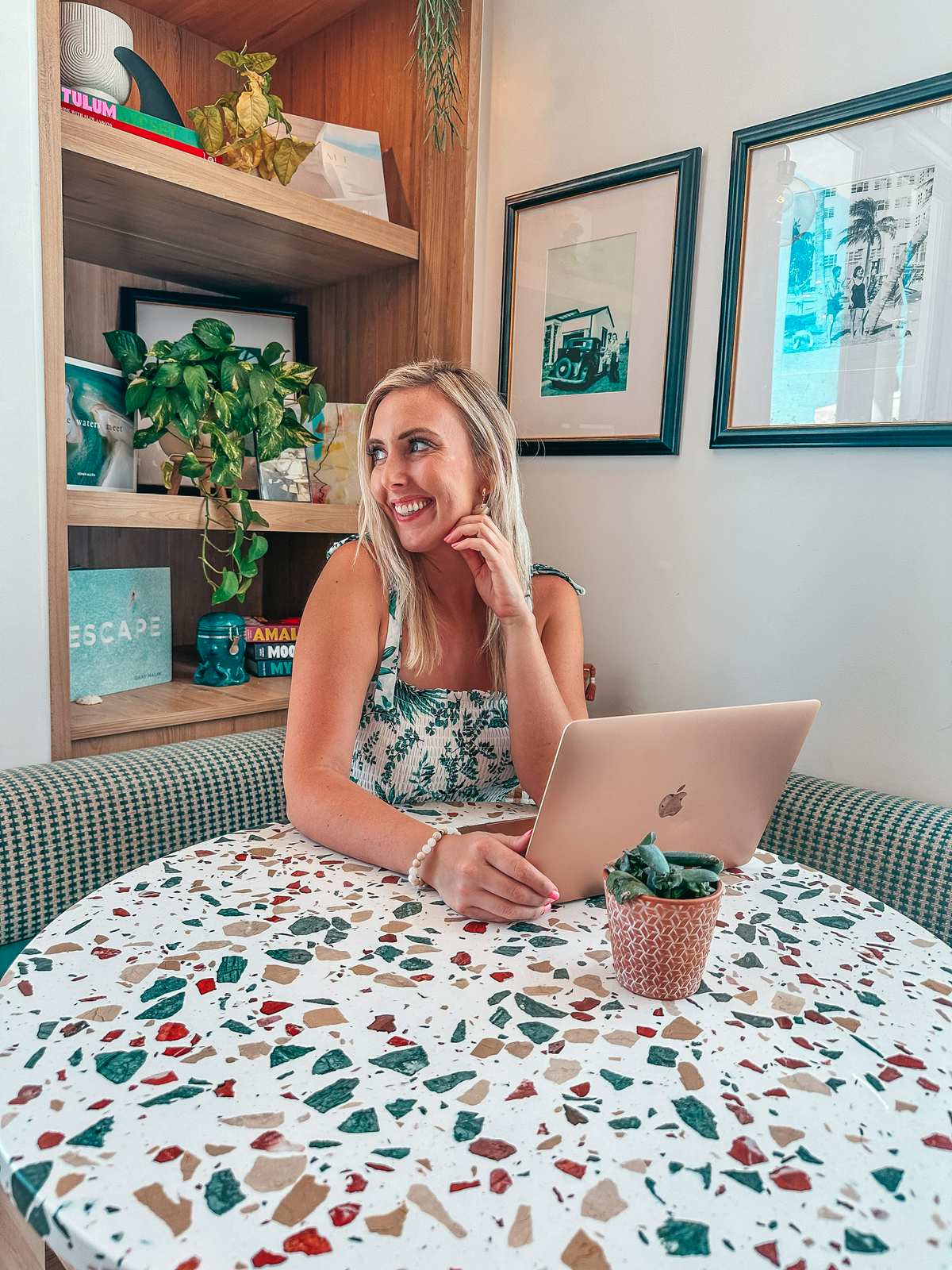 Santa Rosa Beach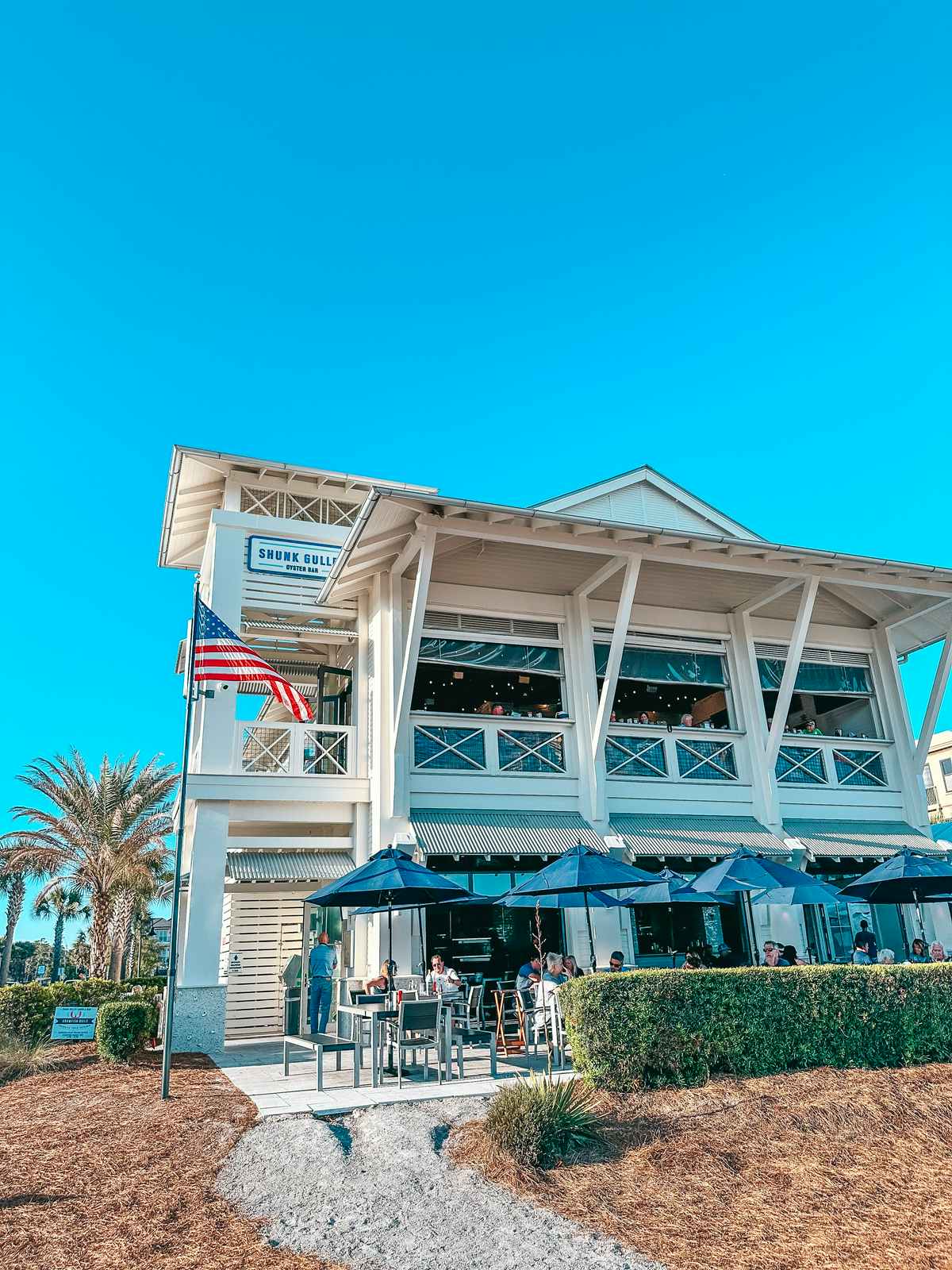 Rosemary Beach
For breakfast or dessert, The Donut Hole also seems to be a right of passage, and I understand why. There were so many options and they were delicious! Not to mention the prices were so cheap.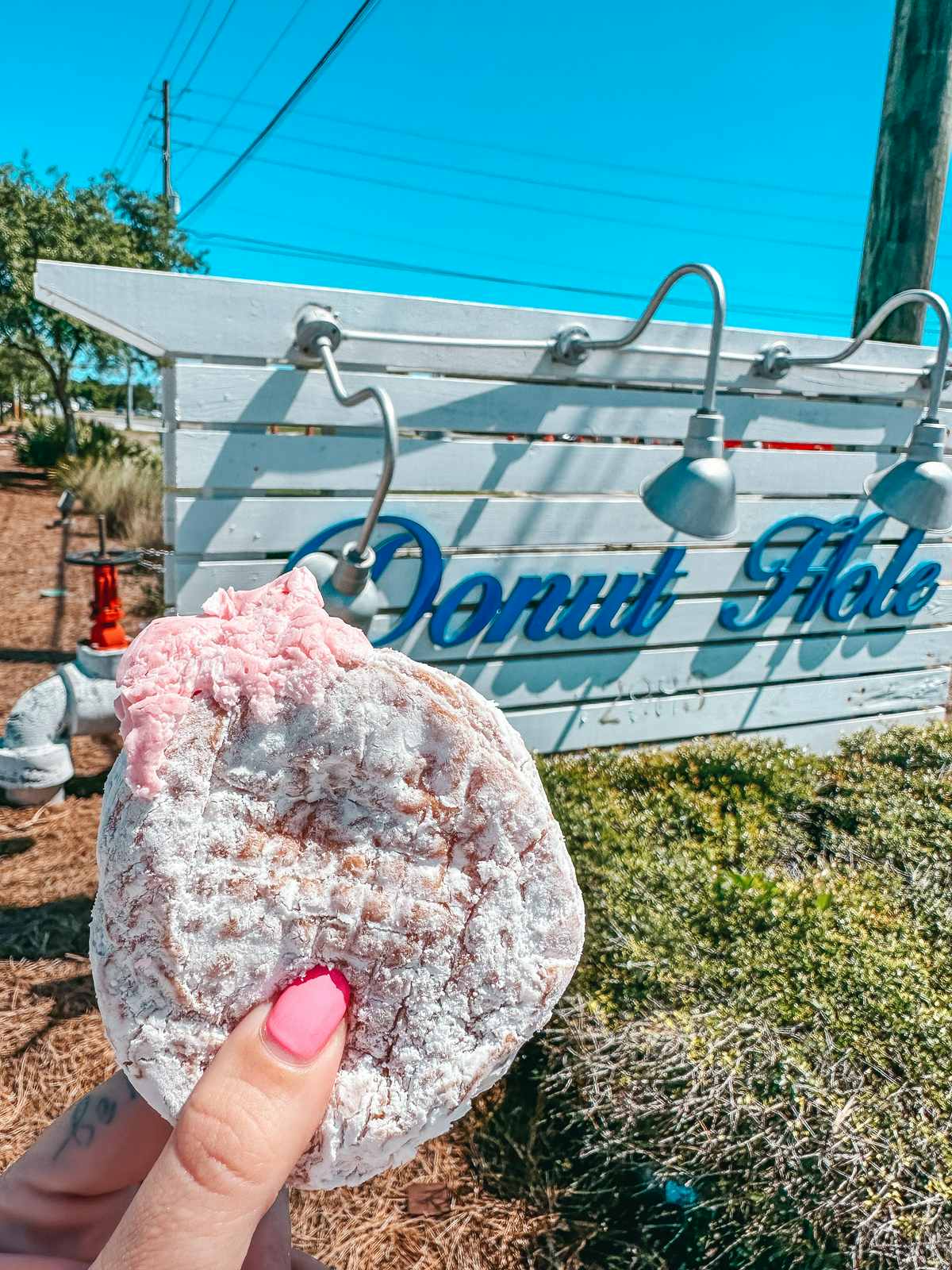 Check out some of the adorable coffee shops
Speaking of breakfast, there are plenty of cute coffee shops in 30A. These are located throughout the area, offering a range of delicious coffee drinks and bites! One of the coffee shops we visited and enjoyed was Sunrise Coffee Co in Santa Rosa Beach.
It's right across the street from the beach. It features a laid-back atmosphere while serving up a variety of hot and cold brews. Speaking of which, their coconut creme brulee cold brew was delish!
Another coffee spot we checked out was Badass Coffee in Santa Rosa Beach, which specializes in Hawaiian coffee blends and offers a variety of iced drinks perfect for sipping on a hot day. We actually loved this spot when we visited Maui and loved checking them out again on the east coast. This time we got a frozen coffee, and ya'll! It was dangerously good.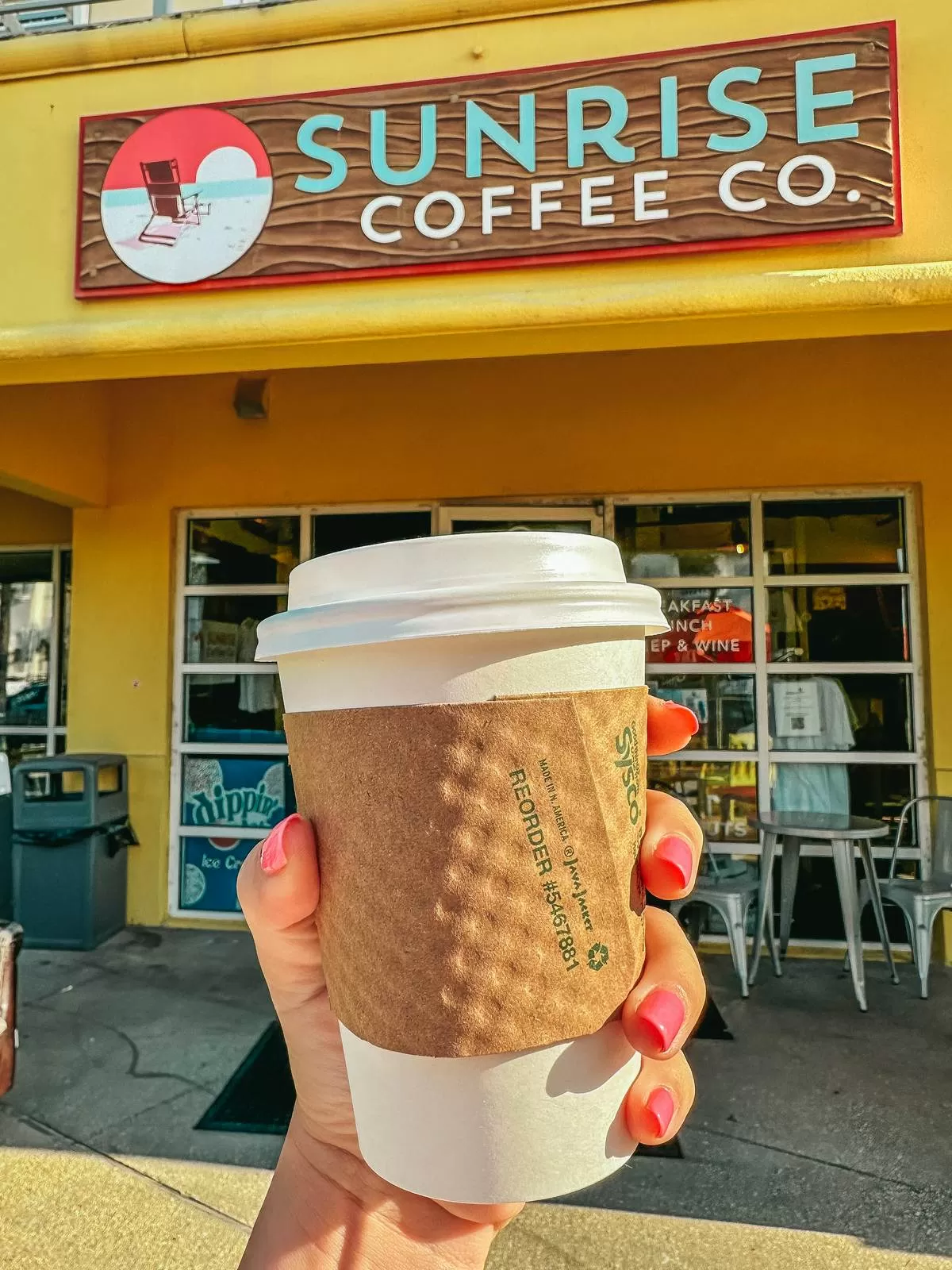 Lastly, we stopped by Beachy Bean Coffee Co, a cozy waterfront coffee shop that offers locally roasted coffee and a variety of tasty treats to enjoy with your drink. Their rose latte was beautiful and yummy, but their cinnamon toast crunch cold brew was unmatched!
We also heard great things about Black Bear Bread Co and Amavida Coffee, but there were unfortunately only so many coffees we could sip in a day! Nonetheless, my coffee lovers will not be short of great coffee shops to choose from in 30A.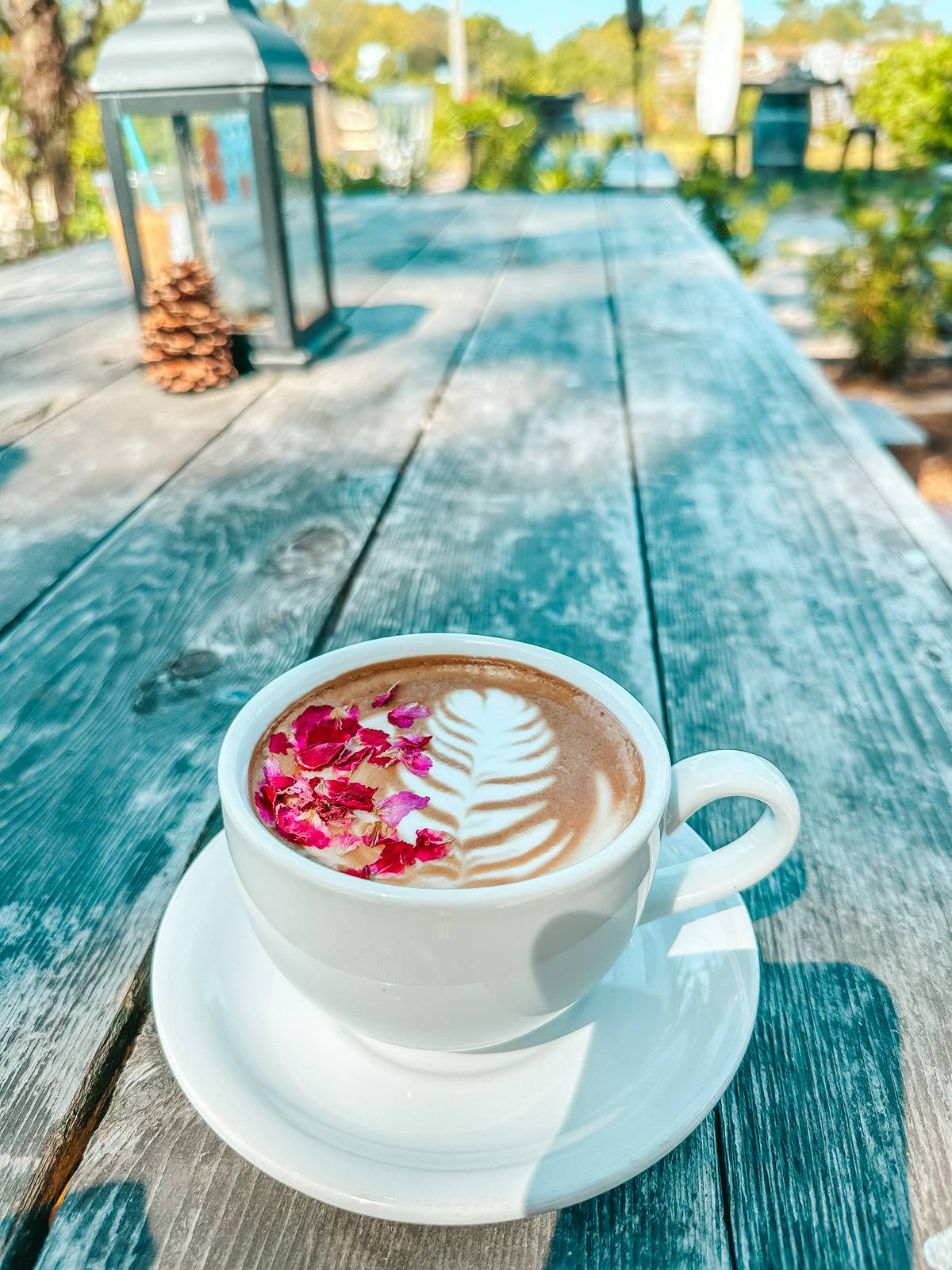 Visit the farmer's market
If you're a fan of locally sourced produce and artisanal goods, you won't want to miss the 30A Farmers Market in Rosemary Beach. This market is held every Sunday, year-round, from 9 am to 1 pm in the heart of the Rosemary Beach community.
With over 30 vendors, visitors can find a wide variety of fresh fruits and vegetables, homemade jams and jellies, artisan breads, handmade soaps, and much more. The market is a great place to support local farmers and artisans while enjoying the beautiful outdoor setting of Rosemary Beach!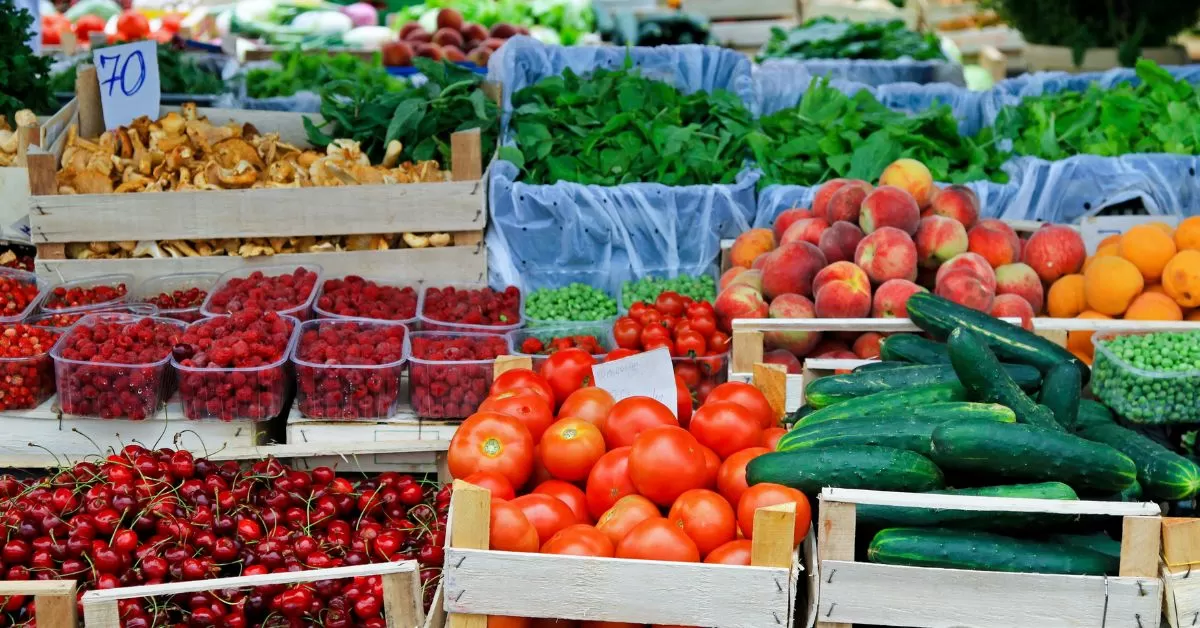 Have a beach bonfire
One of the more unique things to do in 30A is have a bonfire on the beach! In Tampa Bay this isn't allowed, so my interest was piqued when I saw this is something common for 30A!
Setting up a safe and enjoyable bonfire can be time-consuming and complicated. Fortunately, there are companies like Native Fires 30A that can take care of everything for you!
Native Fires 30A is a locally owned and operated company that specializes in creating beautiful and safe beach bonfire experiences. They provide everything you need for a memorable evening on the beach, including a fire pit, firewood, chairs, and even s'mores supplies!
Their team takes care of all the details. From obtaining the necessary permits to ensuring that the fire is safely contained. All you have to do is show up and enjoy the cozy warmth of the fire and the beautiful beach surroundings.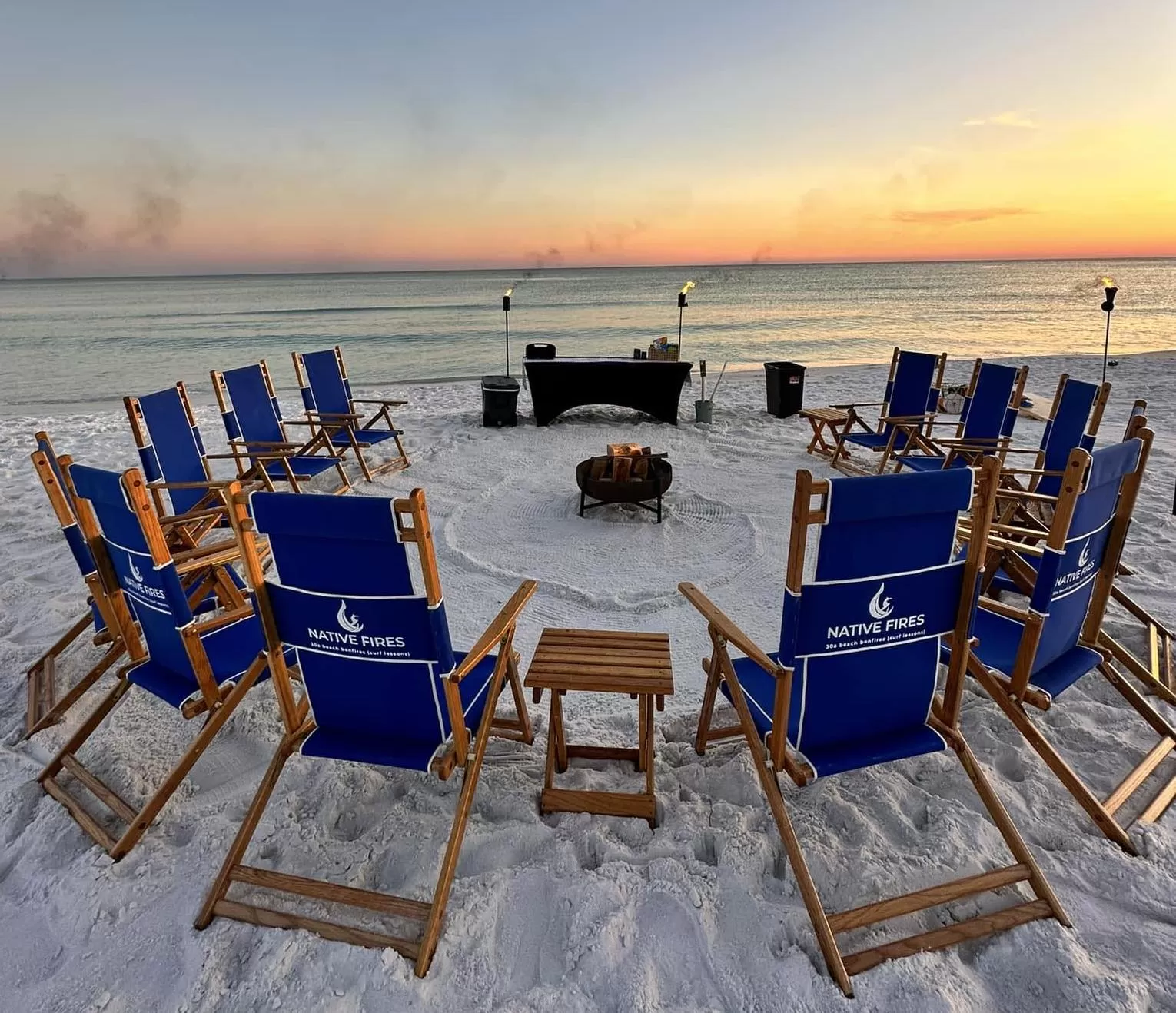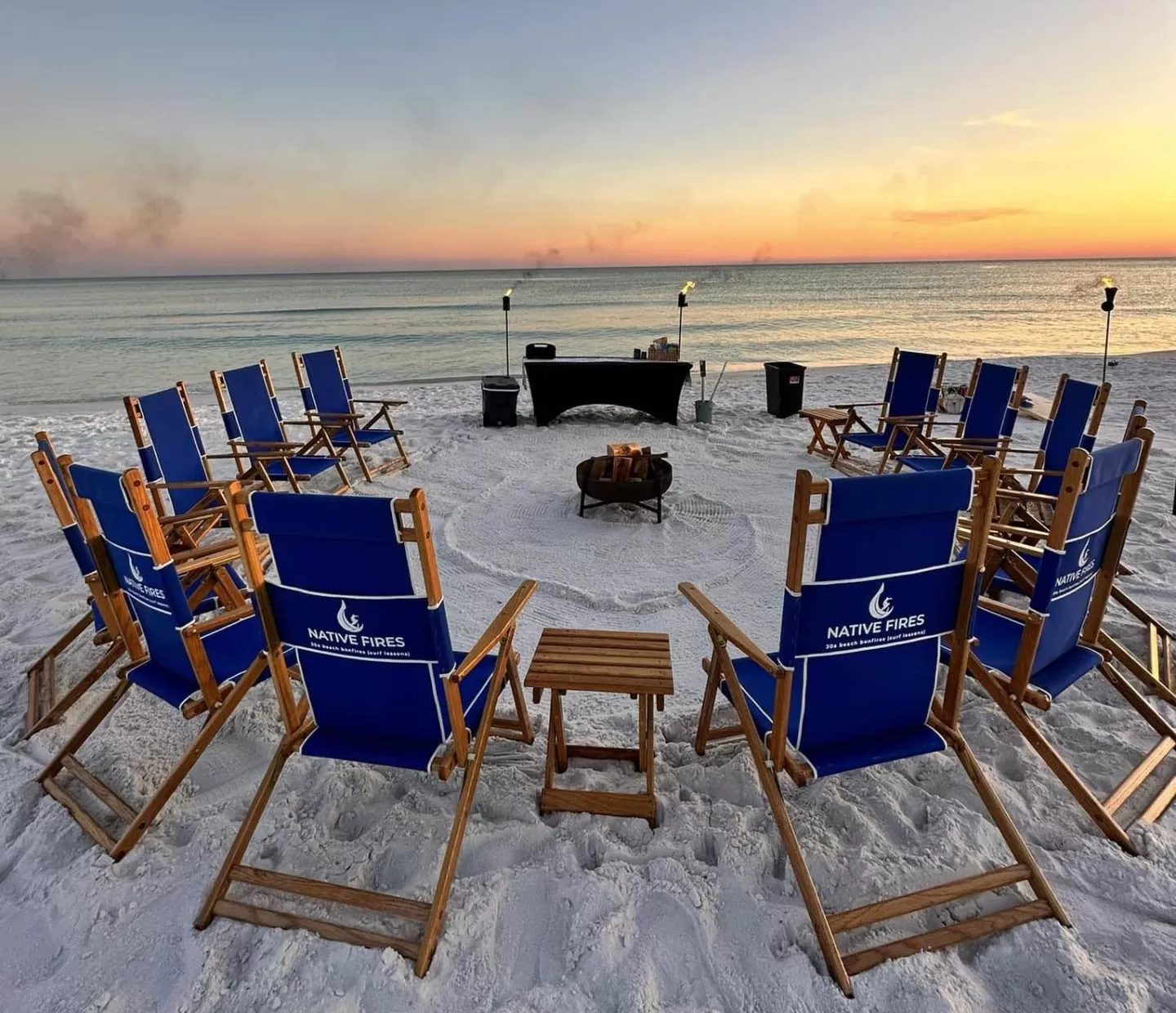 Check out a local brewery
30A is home to some fantastic breweries! Both of the most popular breweries in 30A are located in Santa Rosa Beach. Grayton Beer Company has a tap wall of 20+ unique beers. They are family and pet friendly and have games like darts, cornhole, and life-sized Jenga. Idyll Hounds Brewing Company offers everything from sours to stouts and has live music and food trucks on select days.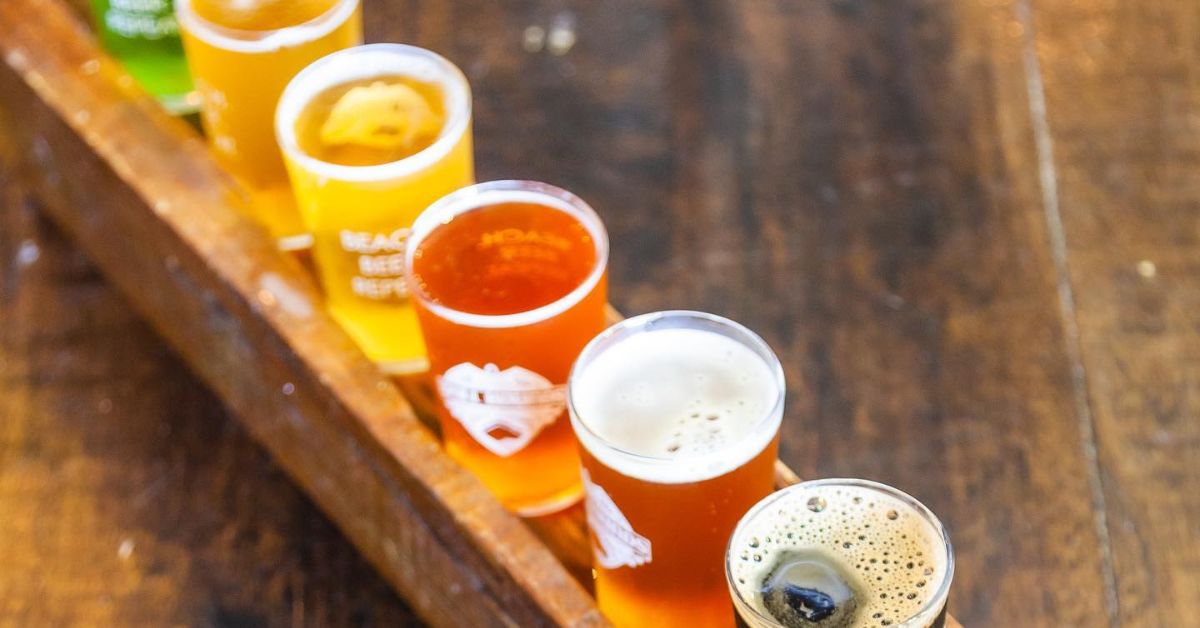 Where to Stay in 30A
There are plenty of options for where to stay along 30A! Kick Ash 30A Beach Bungalow is a 2 bed 2 bath adorable home located in Santa Rosa Beach. This location was perfect for us since it was located centrally in between PCB and Destin and we had planned on going to Destin for the boat tour.
The rental comes equipped with all of your beach essentials, is pet friendly, offers games like cornhole, and has a grill for cooking out. This location is perfect for couples traveling together, families, and pet owners traveling with their furry friends. It was the perfect home away from home for our vacation! Book here.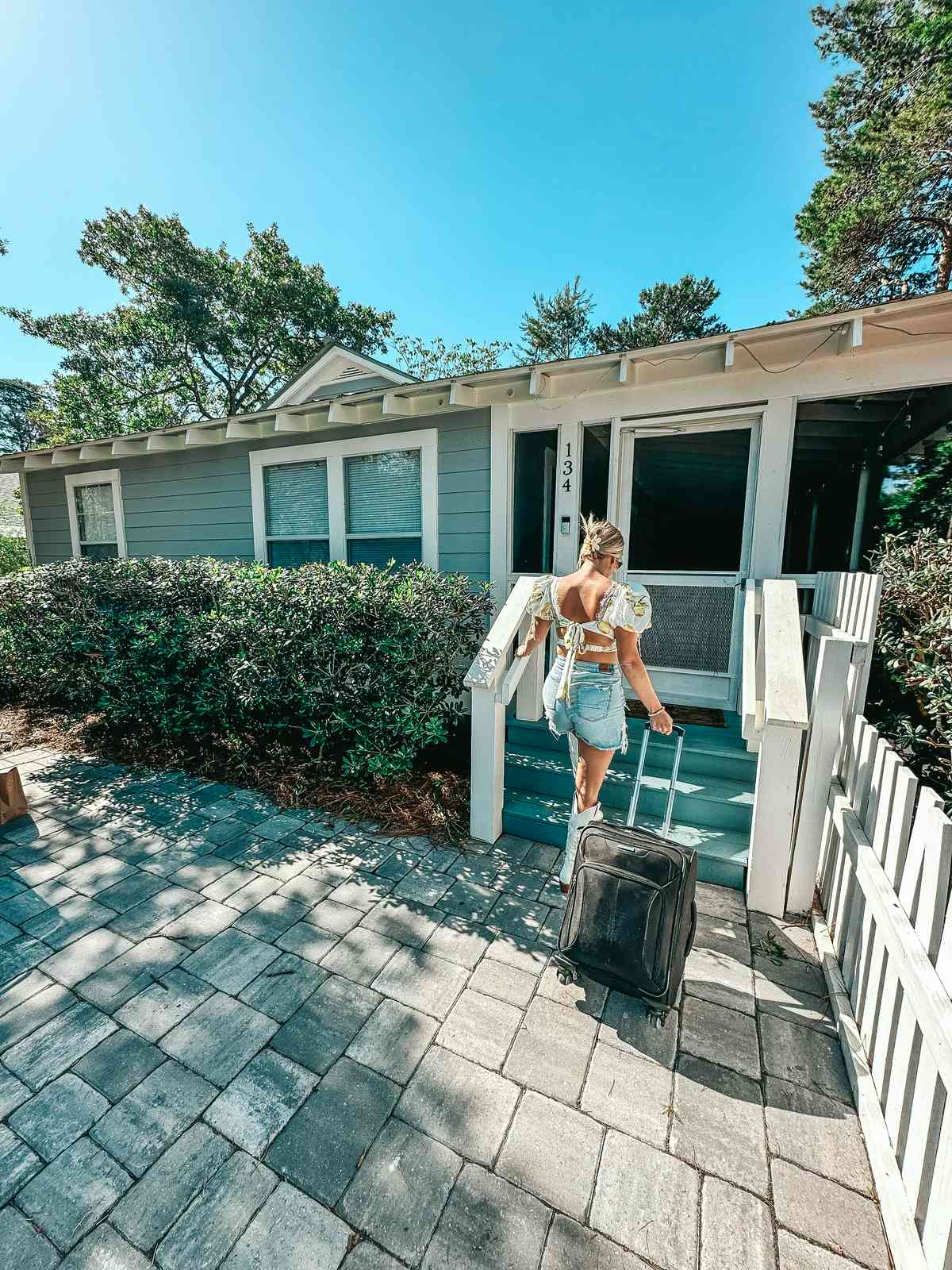 If you're looking for a hotel stay, The Pearl is one of the most iconic places to stay in 30A. This luxury boutique hotel is located in Rosemary Beach and offers stunning ocean views, an on-site spa, and multiple dining options. The hotel's rooms and suites are beautifully appointed and feature plush bedding, elegant decor, and all the modern amenities you need for a comfortable stay.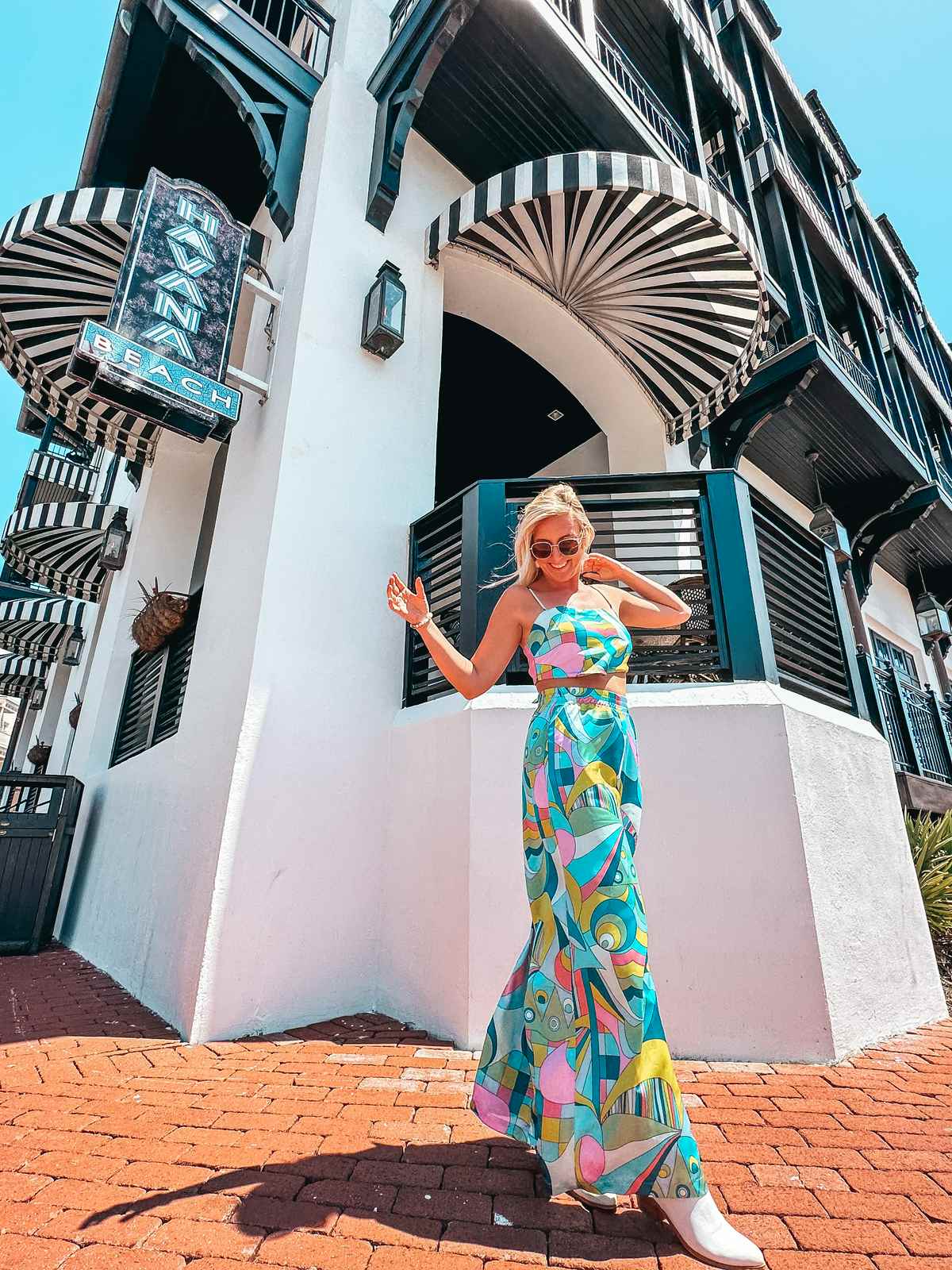 30A is a beautiful and relaxing vacation spot, with plenty to offer for everyone. Whether you're looking to spend your days lounging on the beach, shopping in cute boutiques, or enjoying delicious food and drinks, 30A has it all. Be sure to rent bikes, go on a boat tour, and explore the charming beach towns along the way!