This post contains affiliate links which means that I will make a small commission if you purchase a product after clicking on any of them, at no extra cost to you.
Key West is one of the most famed Keys in Florida and has been known around the world as one of the best places to visit for history, nature, and food.
There is an endless amount of things to do in Key West! The best part is it doesn't matter if you're taking a family vacation, a romantic Keys getaway, or a bachelor/bachelorette party in Florida! There truly is something fun to do for everyone!
This comprehensive guide is filled with all of the necessary info to make planning your trip to Key West a breeze.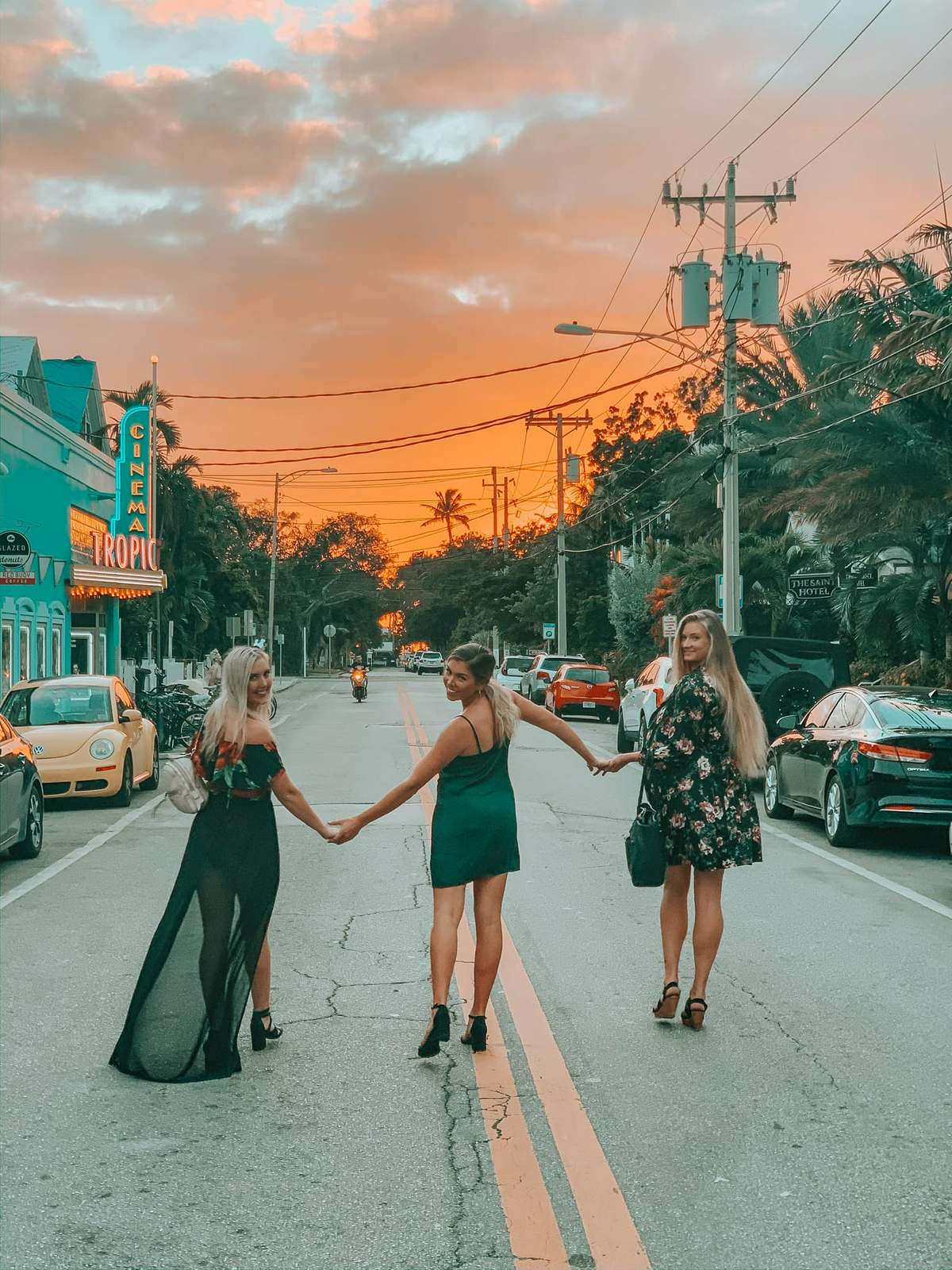 Fun Things to Do in Key West
Water activities in Key West
Go Snorkeling
A snorkeling adventure is the perfect way to kick off your Key West trip. If you're a morning person, do the morning snorkel tour. It comes with breakfast and unlimited mimosas (or draft beer if you prefer). The tour lasts around 3 hours, takes you to the 3rd largest living reef, and costs less than $50!
Not an early riser? No worries, you can kill 2 birds with 1 stone and combine your snorkel with a sunset cruise. This tour lasts approximately 3 hours and includes drinks, light apps, live music, and all of your snorkeling equipment (I'd say this is one of the best snorkeling tours in Key West!).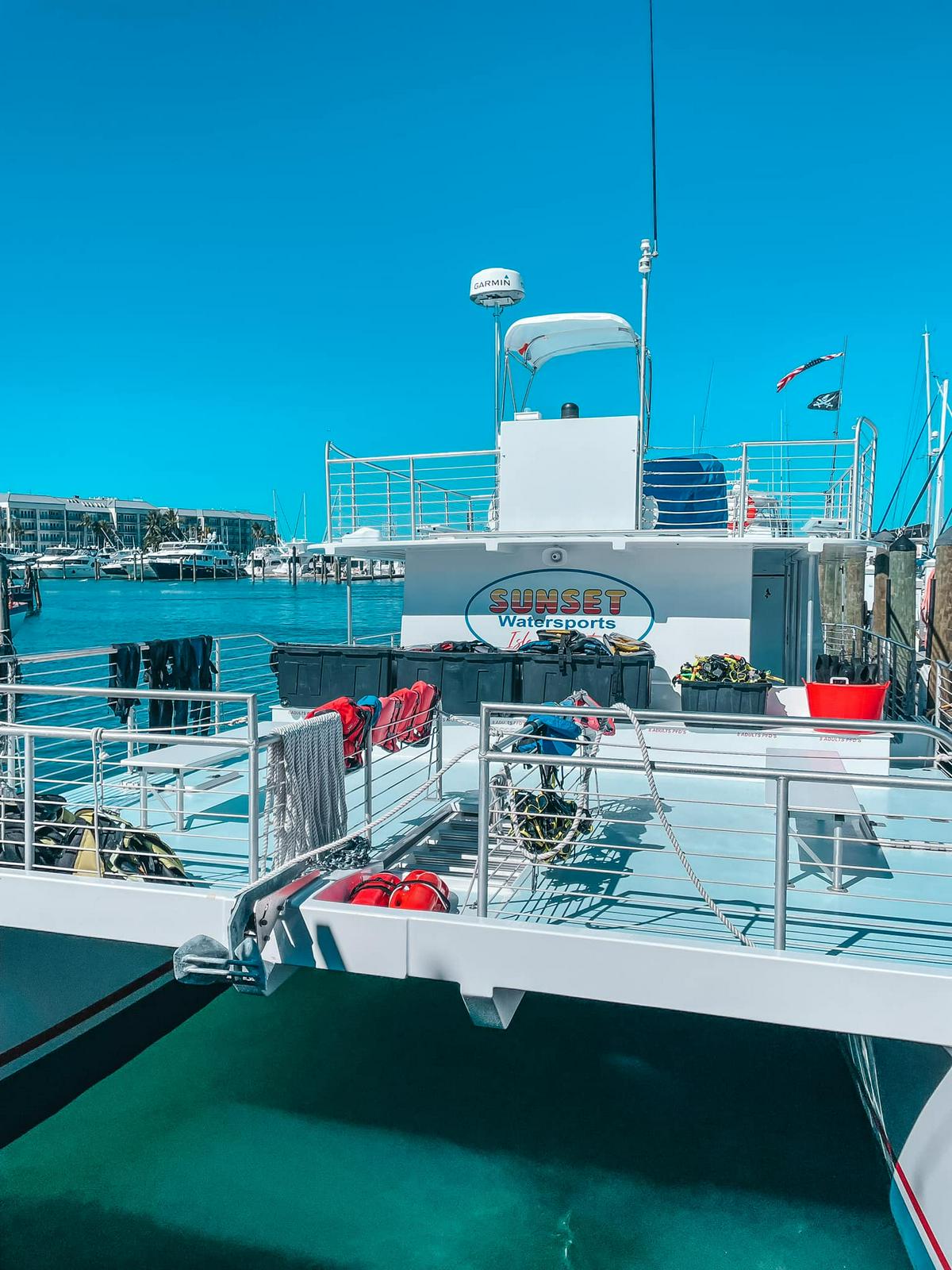 Boat tour
If you aren't wanting to get into the water, there are plenty of other fun boat tours you can do in Key West. If you're looking for something somewhat private (it only holds up to 6 people) you can rent one of the fun tiki boats!
These are BYOB, so you can bring your favorite drink of choice! Plus you have a friendly, informative captain for the ride.
🌊One of the best things to do in Key West?🌊
You're going to love this fun tiki boat that takes you out on the water! You can even do a sunset tour 😍
Click herе for pricing
If you've been following my posts, you know that's also one of my favorite things to do in Clearwater Beach and downtown St. Pete too!
We did the 2-hour Wind and Wine Sunset Sail with Danger Charters and it was so relaxing and fun! We tried plenty of wine, and noshed on tons of light bites as we sailed around for sunset! The staff on board were an absolute delight. Drinks, bites, and stunning views are all included in this 5-star experience.
If you want a boat tour that ensures you'll see plenty of marine life including multiple different shark species, dolphins, sting rays, and more check out this tour with Key West Extreme Adventures.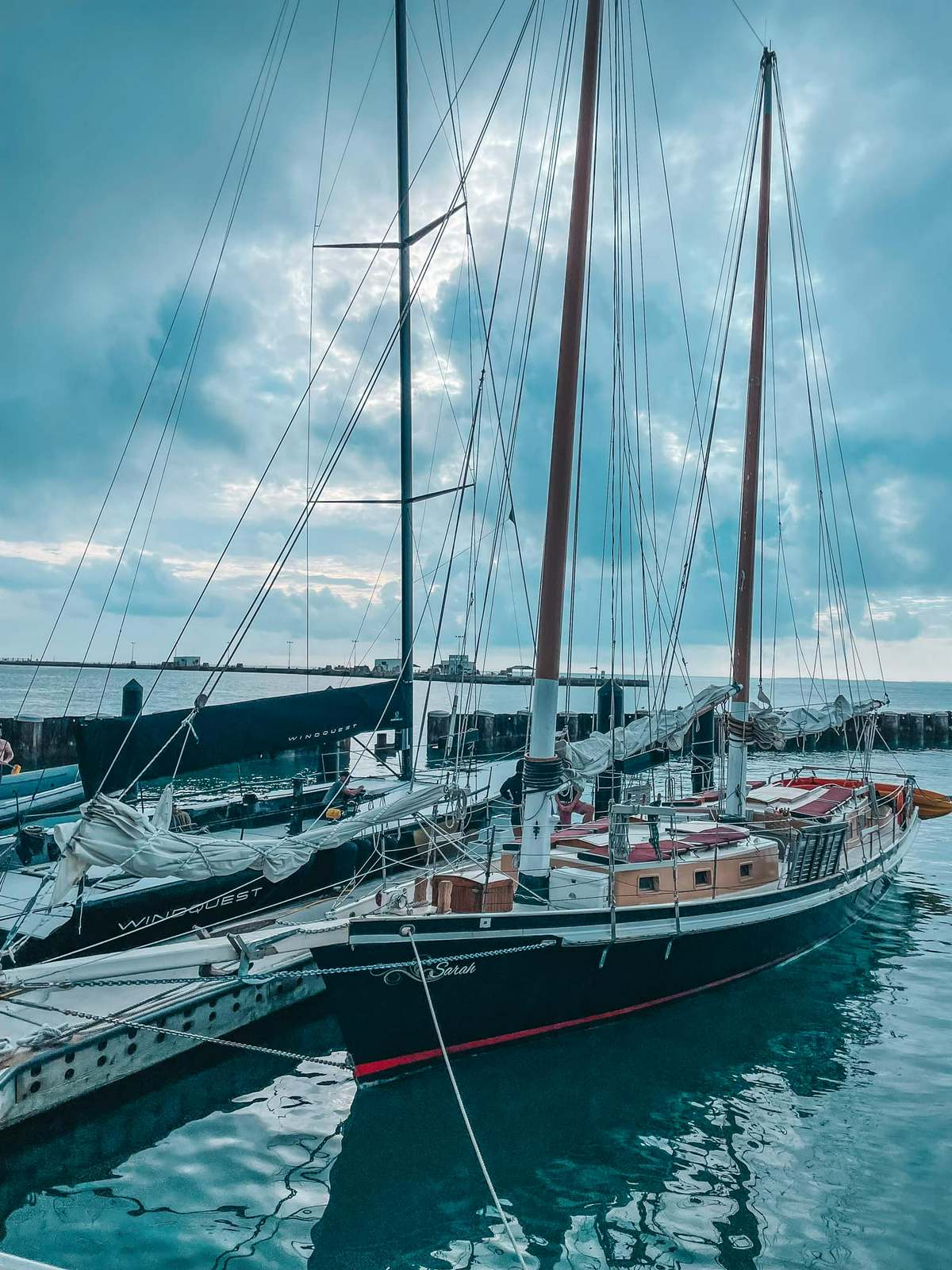 Get out on the water
Going parasailing, jet skiing, or kayaking is an absolute must! Parasailing provides beautiful aerial views, but is very chill. It's probably the most relaxing of the three suggestions.
For more of a thrill, definitely take a jet ski tour with Sunset Watersports. In Key West, you aren't able to just rent a jet ski and take it out wherever. You must book a tour that will take you to a few locations and cruise you around the area.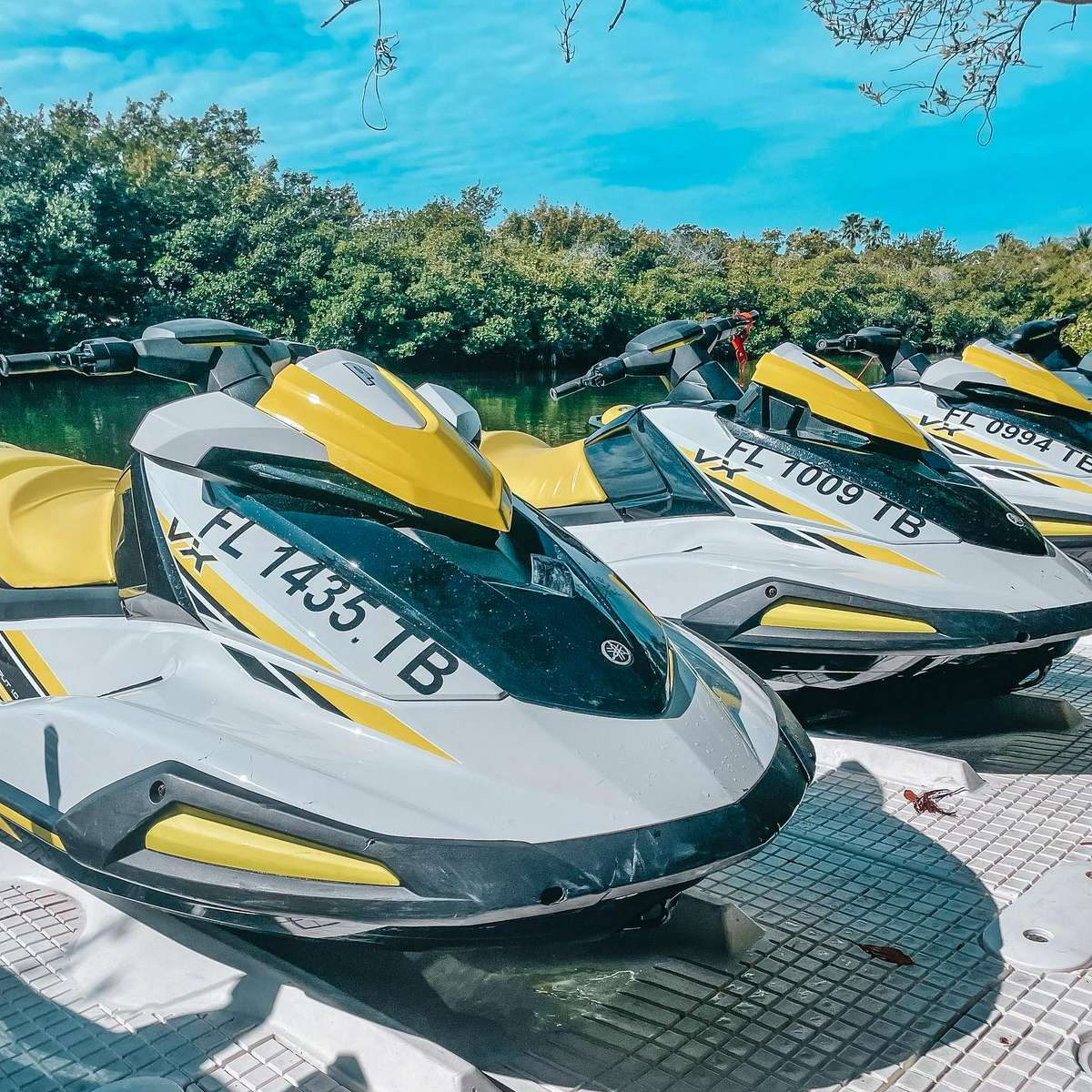 Honestly, I prefer tours anyways as I find myself bored after jetting around aimlessly for 20 minutes. Also, with tours, you're still able to get some free time where you can play around on the jet ski!
This was easily one of the highlights of my trip, and one of the most fun things to do in Key West. Our guides were so much fun, and informative! You get to ride tandem for no extra cost too which is great.
The tour lasts 1.5 hours, and you even stop at a little sand bar to take a dip! You must have your boater license in order to drive, but Sunset Watersports provides you with the test for a small fee.
If you're like me and you want to do it all, you're in for a treat! Sunset Watersports has a "do it all" package! It includes 12 different watersport activities including jet skis, parasailing, snorkeling, banana boat rides, grilled lunch, and even drinks for the insanely cheap price of $139.95!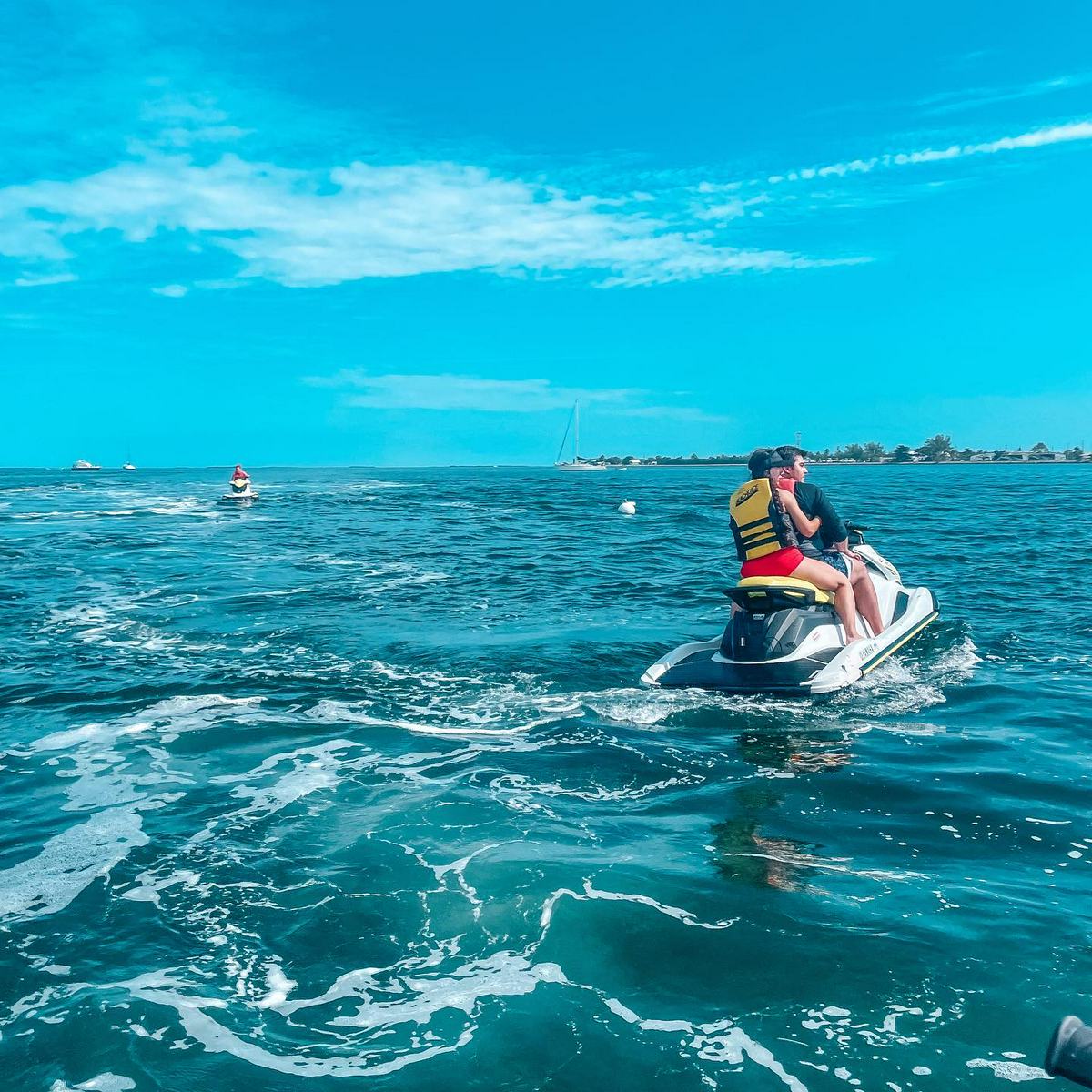 Tours and museums in Key West
Conch Train Tour
Established in 1958 the world-famed Conch Train offers you a great opportunity to explore Key West downtown in style.
This tour is at the top of the list for people visiting the island for the first time. Not only is it one of the best things to do in Key West, it's also one of the most unique!
You'll even get to see what used to be Ernest Hemingway's and Harry Truman's hang-out spots back in the day. It's the contrast of this 1900 train and the present modern views that will make this tour special.
The Conch Train tour lasts 75 minutes, yet manages to pack in a lot of interesting attractions. You'll get to learn fascinating history, fun facts, and folklore about the island from this narrated tour!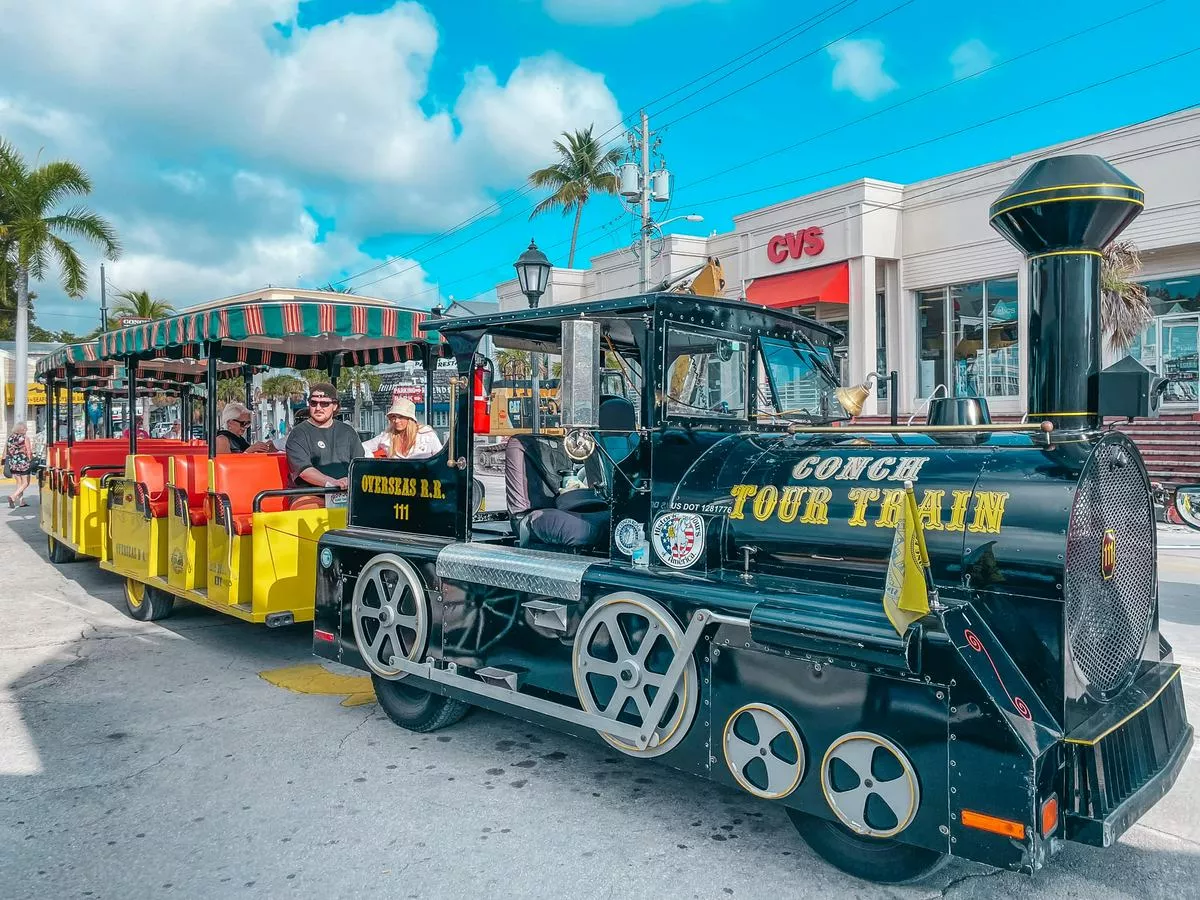 Old Town Trolley
Come rain come shine, Old Town Trolley makes sightseeing in Key West a delightful experience. If you're a first-timer in the city, this is the best way to learn the key facts about this small island.
The drivers offer a wealth of information and commentary as the trolley loops around the city which gives you a glimpse into the history, monuments, and attractions of Key West.
You can snag a 1- or 2-day pass for this hop-on hop-off tour.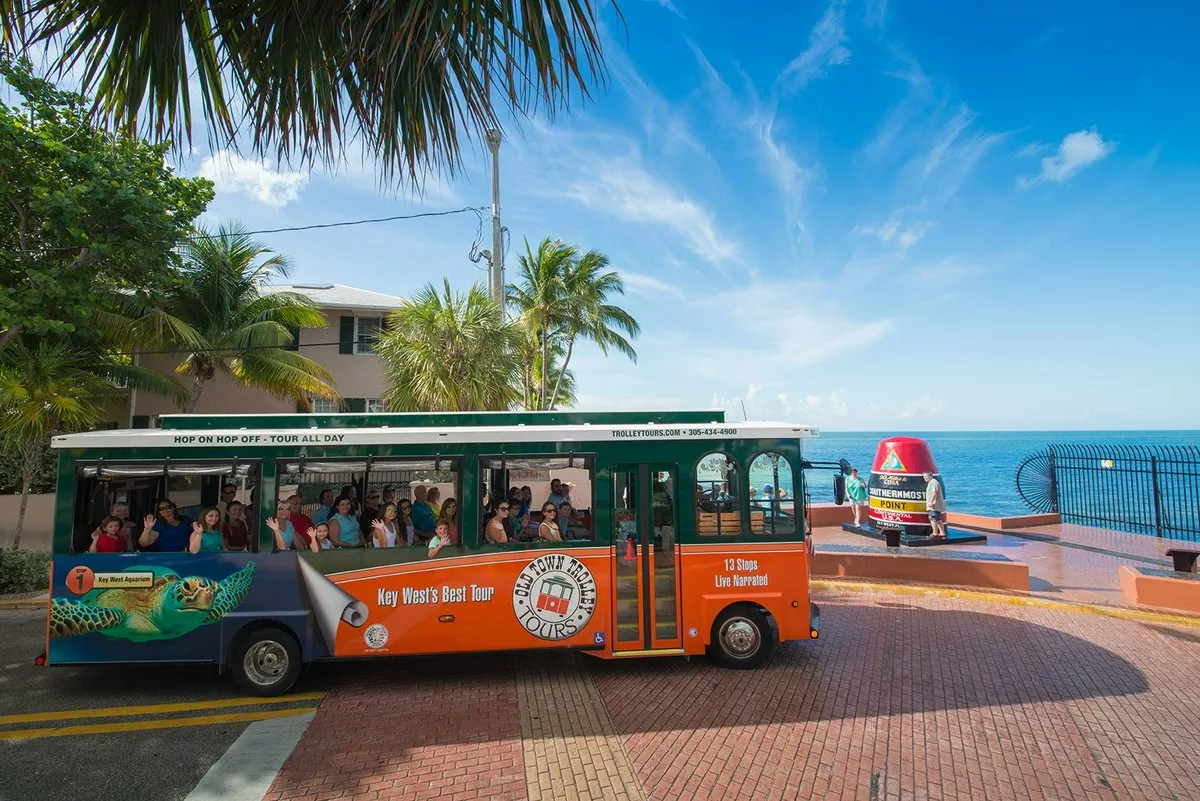 Ghost Tour
Being an old city with an extraordinary amount of history, it's not surprising that Key West is among the most haunted cities in the US.
And what can be more thrilling than exploring unexplained mysteries? If you're looking for a spine-tingling, unique thing to do in Key West, taking a ghost tour will give you quite an experience.
You'll visit the eeriest parts of Key West. Visit haunted houses, and even graveyards, while your guides (or paranormal experts) help you understand how ghost-hunting equipment helps detect supernatural activities.
The tours will help you see this island in a completely different light, in a fun and slightly frightening way.
Usually, this adventure involves nightly walks around the town, as you listen to disturbing legends that make the experience even more vivid.
Distillery Tour
A distillery tour can be therapy for a true whisky enthusiast. Getting a sneak peek at the behind-the-scenes while having the luxury of sampling an array of unique liquor flavors can turn an ordinary vacation into a memorable one.
In Key West, you'll find a couple of great distilleries! One to be sure to have on your list is the very first legal distillery on the island – the Key West First Legal Rum Distillery, which opened in 2013. Free tours and samples are offered daily.
Hemingway Home and Museum
If you're an Ernest Hemingway fan, the world-renowned novelist and short story writer, you'd be delighted to stroll around the premises where he wrote most of his work (70% of his lifetime work).
Honestly, I'm not the biggest Hemingway fan, but I still couldn't pass up checking out the museum, home, and famous six-toed cats!
He owned this house for about 10 years but after his death, the property was transformed into a museum in 1964. Today, this beautiful home houses the deepest history of Key West with Hemingway's life, work, and gift to the world at the forefront.
If you are a fan, you may also be interested in this guided walking tour that takes you to spots Hemingway worked and played. Lunch and a drink are included!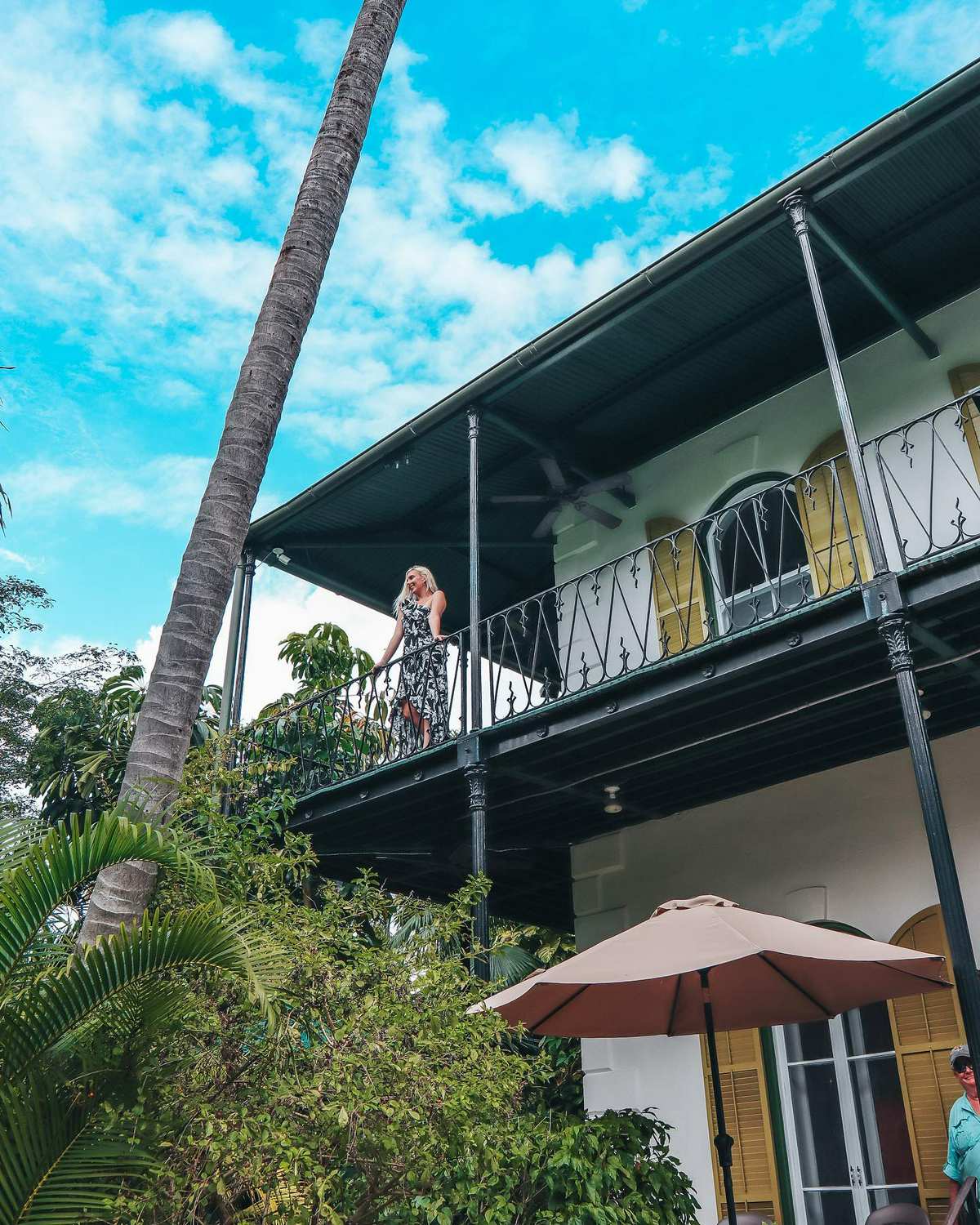 Harry S. Truman Little White House
Harry S. Truman Little White House is the only presidential museum in Florida! It was a winter home for President Harry S. Truman.
While it's mostly known as a president's haven during the coldest time of the year, this museum houses a lot of history about other presidents and influential people in society who also spent some time here.
As you stroll around the house you'll see lots of historical elements including the original furniture that has been perfectly maintained for generations.
Get tickets here!
Nature and animal activities in Key West
Beach (Fort Zachary and Smathers Beach)
If you're a fellow beach bum like me, you wouldn't need a slew of reasons to include a beach visit in your list of things to do in Key West.
Head to Smathers, the longest and most popular beach on the island. Here you can experience all the fun that comes with sun, sand, and water – from volleyball nets to watersports activities, this man-made beach is packed to the brim with irresistible amusement. And to top everything off, it's free to visit.
Fort Zachary on the other hand costs $6 per vehicle and offers a little bit more than just beach fun. It's a place full of history, and a place to go if you want to appreciate natural beauty.
It's a coral beach, and because it's also a state beach, it's one of the cleanest and among the best things to do in Key West if you want to unwind.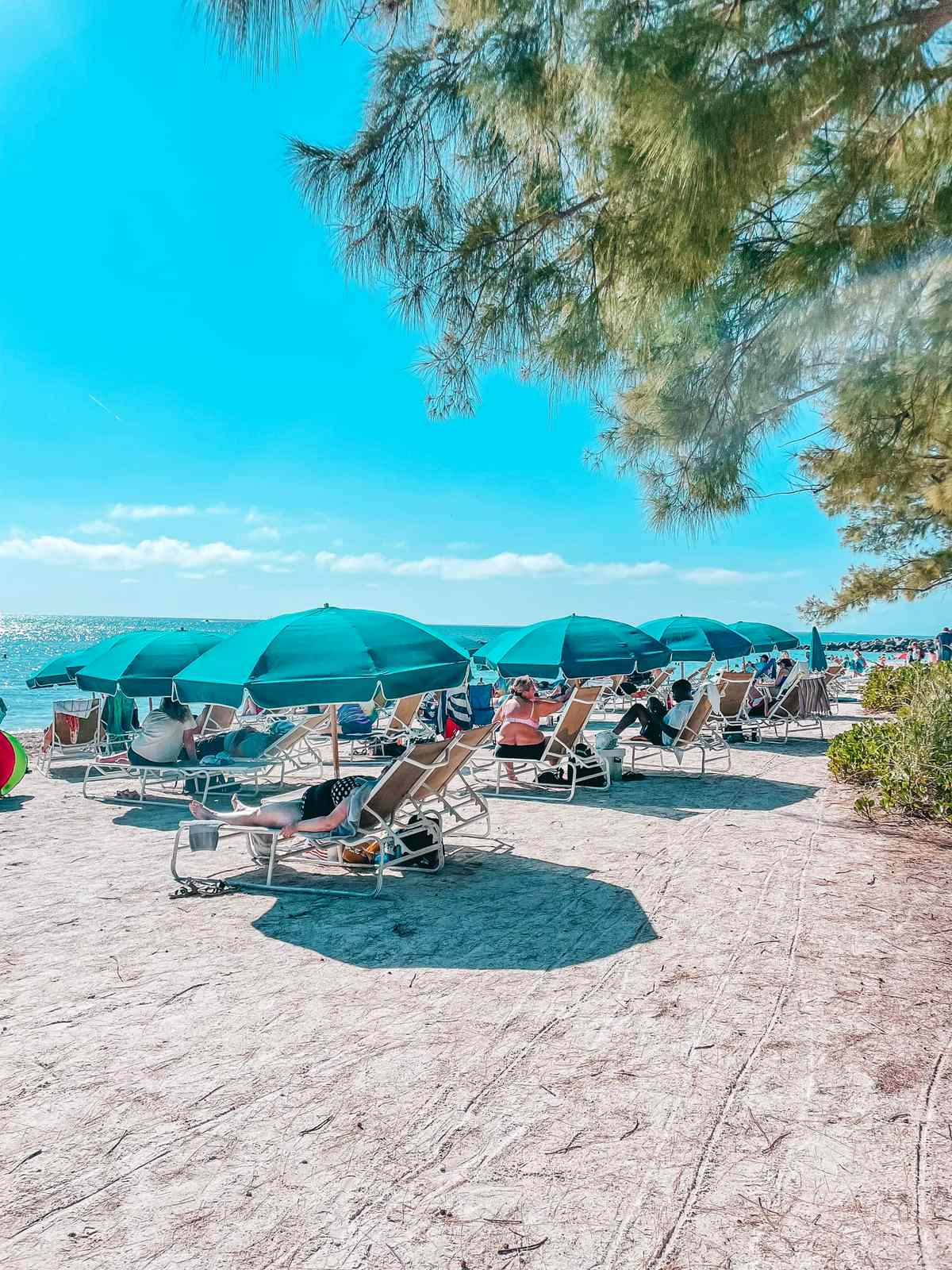 Key West Aquarium
The Key West Aquarium is located in Mallory Square and is an amazing place for families to stop and marvel at the island's marine life.
The aquarium features gigantic fish tanks brimming with crustaceans, invertebrates, and tropical fish. From stingrays, and jellyfish to alligators and sharks, there are so many awe-inspiring creatures to adore in this aquarium.
You even have the chance to touch real-life sea stars and urchins in the interactive touch tank.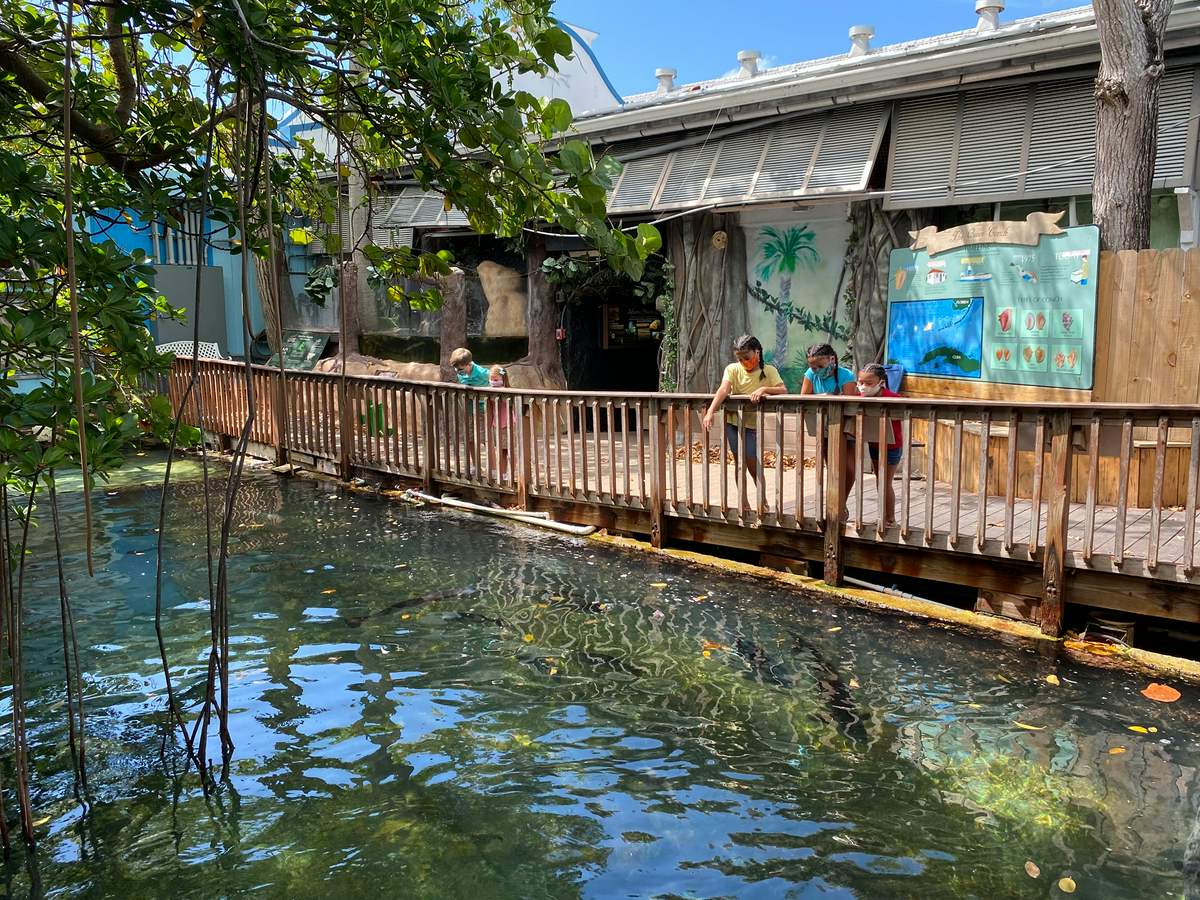 Key West Butterfly and Nature Conservatory
Key West Butterfly and Nature Conservatory is an incredible place to make a quick stop if you want to have some relaxing yet fun moments with nature.
With approximately 60 different species of butterflies and over 20 species of exotic birds, this conservatory is a treasure trove for nature lovers.
As butterflies of all sizes fly all around (and maybe even on) you, you'll certainly get absorbed by their beauty. Because this activity is in a climate-controlled, glass-enclosed habitat it makes it a great thing to do in Key West when it's raining too!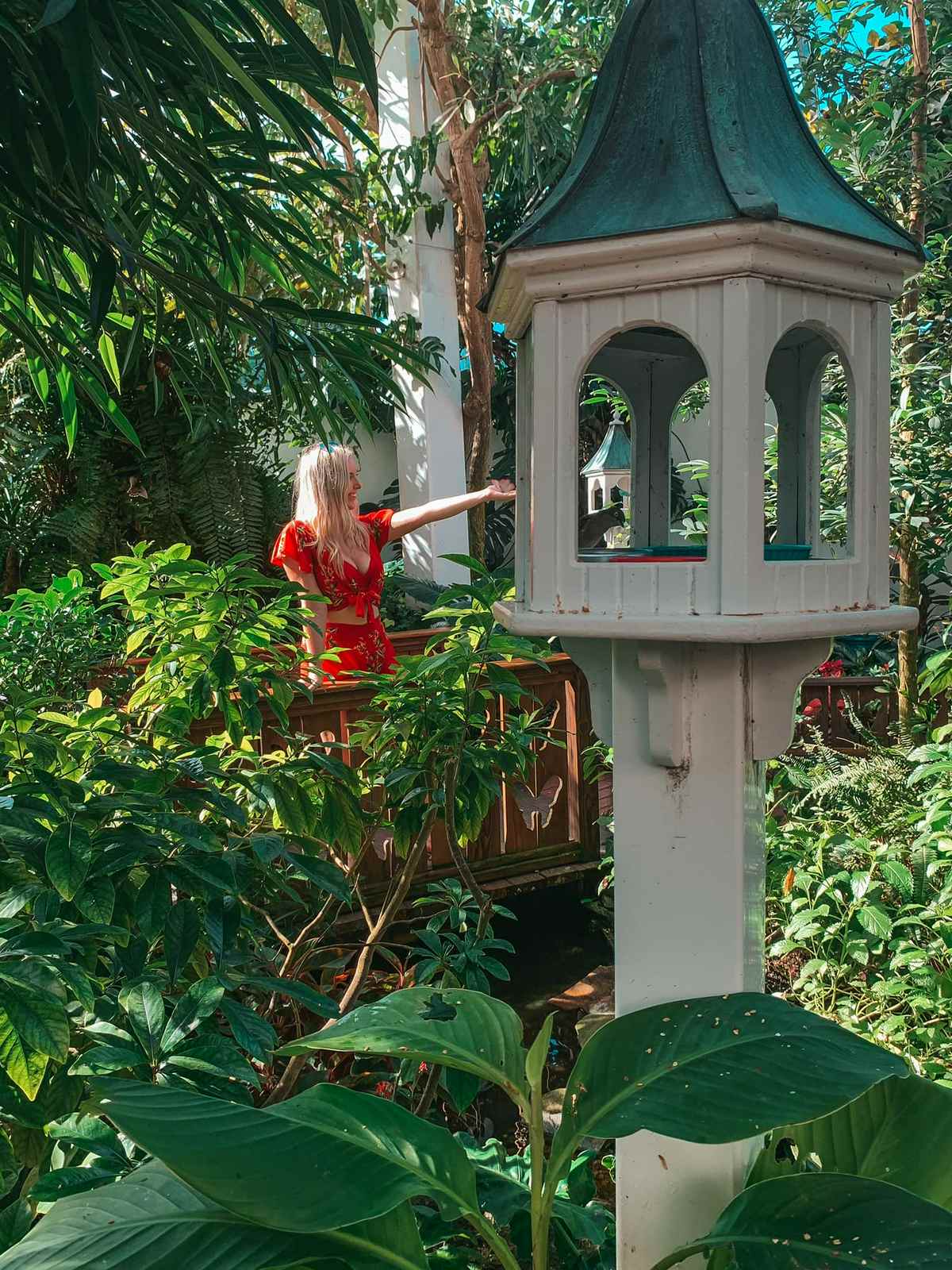 Dry Tortugas
If you have the chance during your visit to Key West, experiencing Dry Tortugas is a must. The place is made up of several small islets famed for their coral, laid-back beaches, and unrivaled snorkeling spots.
Besides being popular for unique beauty and solitude, it's also a locale with deep history. Garden Key has the largest brick masonry edifice, Fort Jefferson. If a stunning lighthouse and sea turtles are more appealing be sure to check out Loggerhead Key.
To get to Dry Tortugas you'll need to board a ferry, charter a private boat, or take a seaplane. Because of this, it means accessing the archipelago is an adventure in itself.
If you do plan to visit Dry Tortugas, beware that it will take up a good chunk of time, as well as cost a pretty penny. From what I have heard, the experience is well worth the expense.
The cheapest option is this day tour which includes snorkeling equipment, round-trip ferry service, breakfast and lunch, as well as the park fee.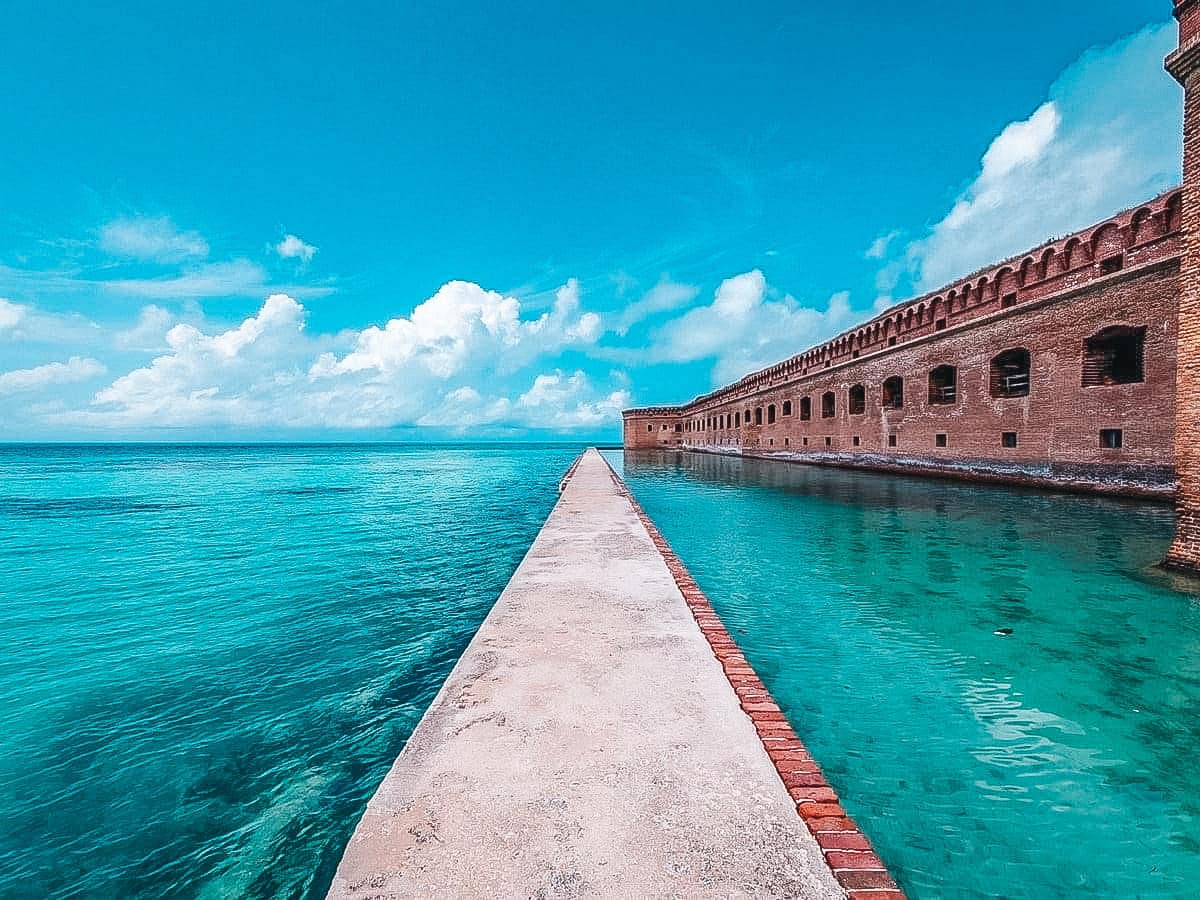 Other fun things to do in Key West
Sunset at Mallory Square
Mallory Square is popularly known for its 'sunset celebrations'. This place really comes alive in the evenings. Plan a stop here for a magical sunset, great local food, entertaining street performances, and captivating arts and craft exhibitions.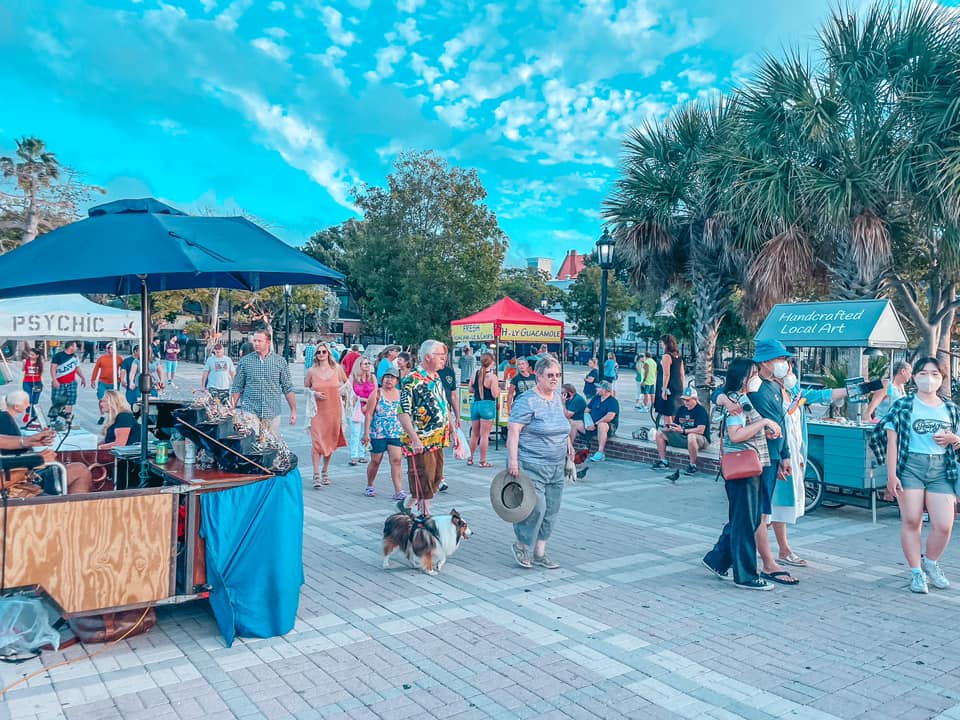 I also recommend popping next door to Sunset Pier. The views here are equally as charming, and they have one of the best mango pina coladas I've had to date!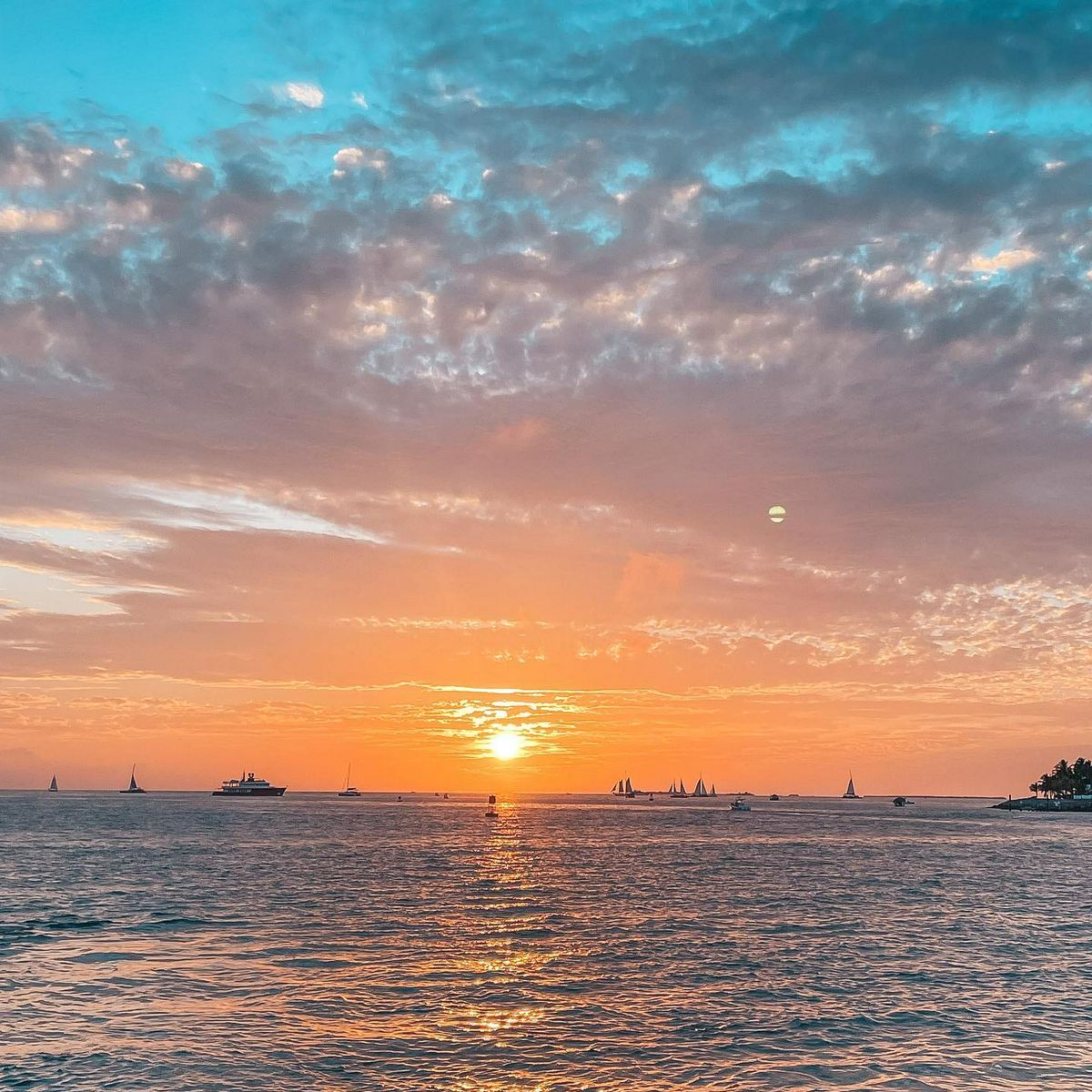 Snap a pic at the Southernmost point
The Southernmost Point Buoy is a concrete buoy that marks the southernmost point in the mainland United States, as well as the lowest latitude land of the contiguous North American states.
This spot just so happens to be one of America's most visited and photographed sights! So snap a pic if you get the chance. Be warned though the line gets extremely long starting pretty early.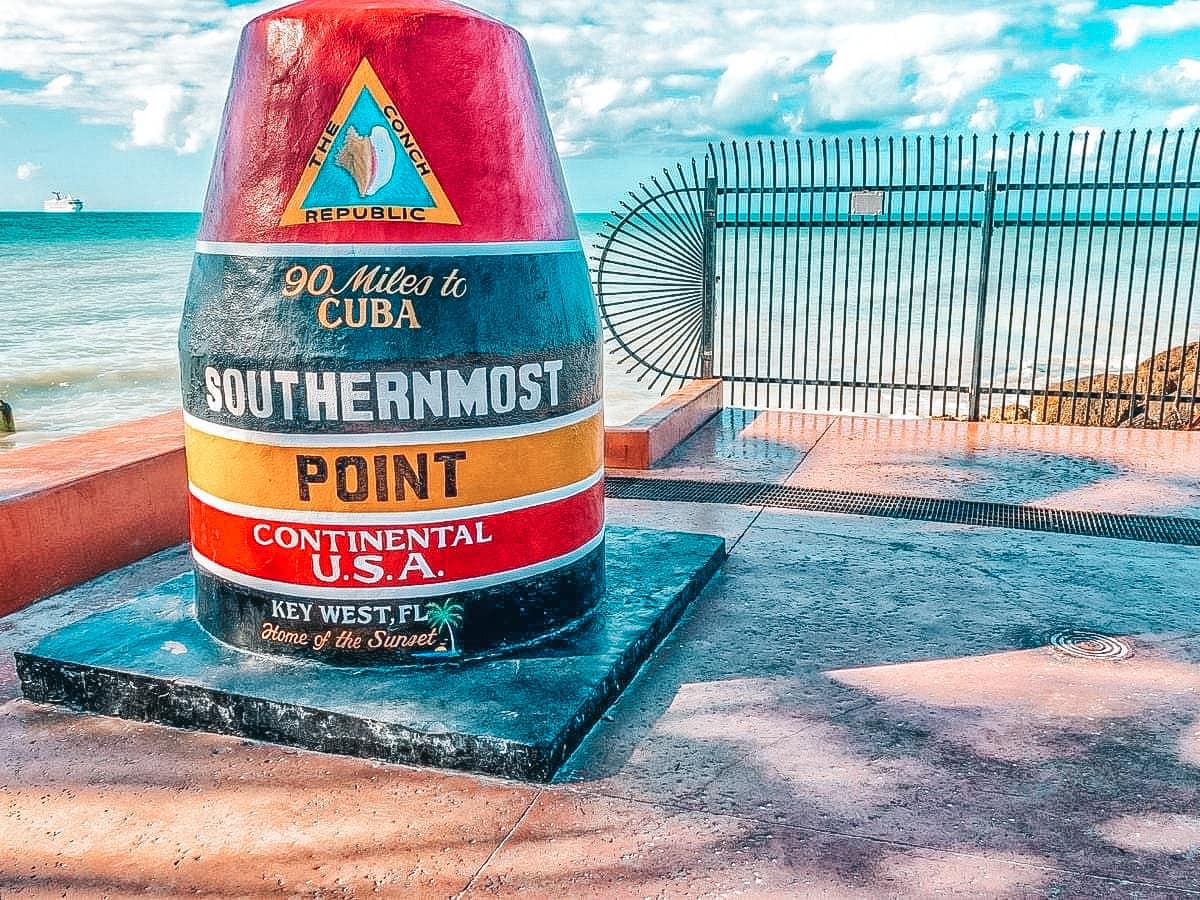 Get key lime pie from Kermit's
I'll admit it, I wasn't a key lime person until Key West. But boy am I converted! Kermit's key lime pie is an absolute delight. Better yet, get one of their chocolate-dipped key lime pies on a stick!
Luckily I waited until my last day to experience this, otherwise, it would've been a problem.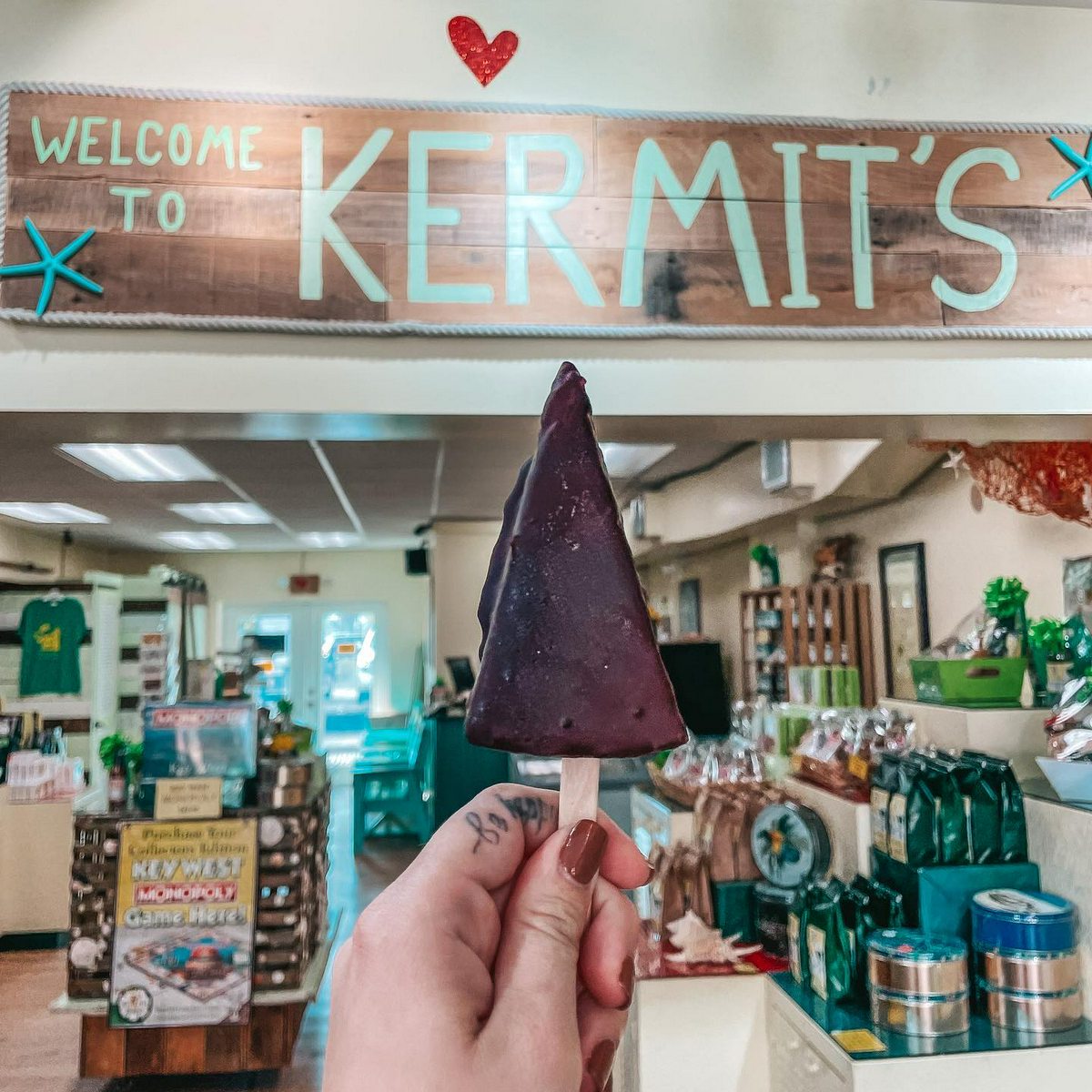 Duval Crawl
Honestly, if you know anything about Key West, you know the bar scene is quite lively. There are SO MANY fun bars, and all are unique.
I will list a couple of my faves, but I don't know that there's a bad bar in Key West! Just pick one and start making your way down.
Whether you're looking for live music, craft cocktails, games, or a place to dance the night away, there is a bar on Duval for you. Here are some of my favorite bars in Key West:
Hog's Breath
Captain Tony's
The Smallest Bar
Tiki House
General Horseplay
Sloppy Joe's
Whistle Bar and Garden of Eden
Durty Harry's and Ricks (you gotta end your night here! great for dancing)
Check out this TikTok for clips of each spot and what to get to drink!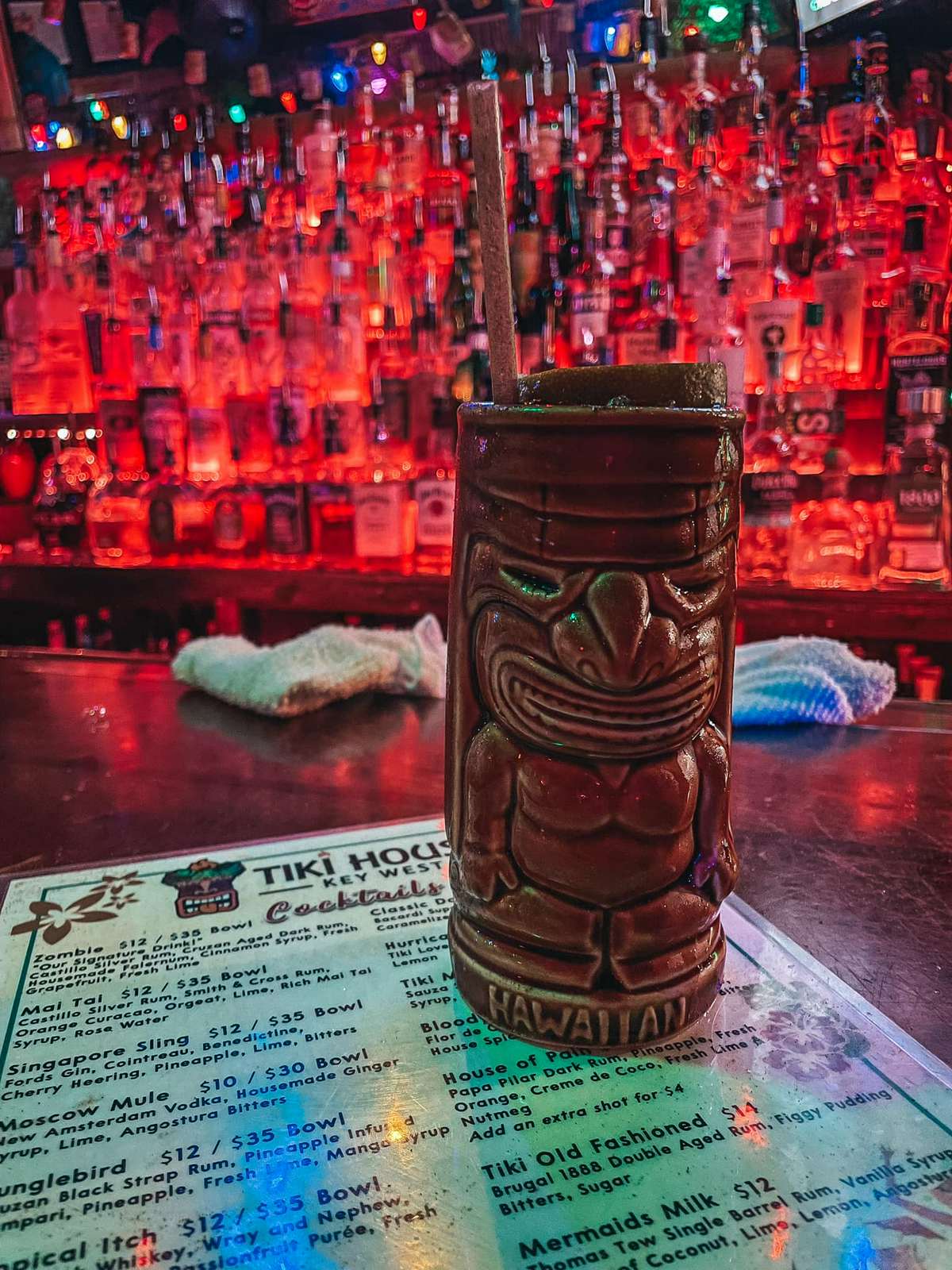 Where to Eat in Key West
Conch Republic
Conch Republic has amazing food, a great atmosphere, and fun drinks! From mojitos to STRONG pina coladas, you're sure to get a delicious drink that puts you right into vacation mode.
They have plenty of great seafood, but let me assure you that the way to go is getting royal reds peel and eat shrimp to start (it's not on the menu, but they have it ;)). Royal reds are the most delicate type of shrimp, and once you have this species it's hard to enjoy any other peel-and-eat! (For my peeps from Tampa Bay, they also serve royal reds at Crabby's Dockside in Clearwater Beach!)
This spot is located right at the marina, making it a super convenient stop after (or before) one of your fun excursions!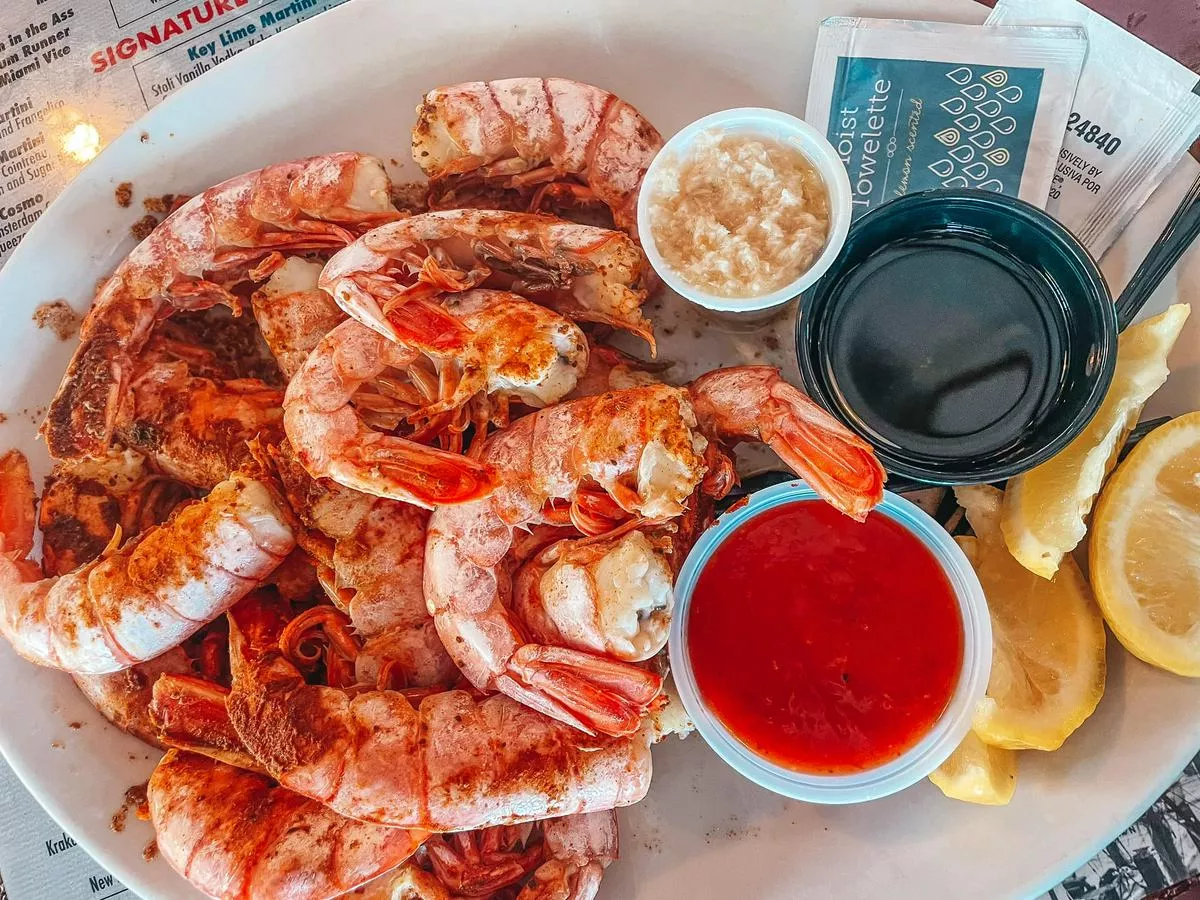 Blue Heaven
This iconic spot has a funky and whimsical vibe. Upon entering you'll understand exactly why Blue Heaven is on the list of places to eat in Key West. See for yourself all of the quirky features that give this spot its charm.
We went for brunch, and I was beyond delighted with my lobster benedict! Deciding what delicious menu item to get is honestly probably going to be the hardest decision you make all day (as it should be!).
Breakfast, lunch, or dinner, trying a slice of their key lime pie its sky-high meringue is a must!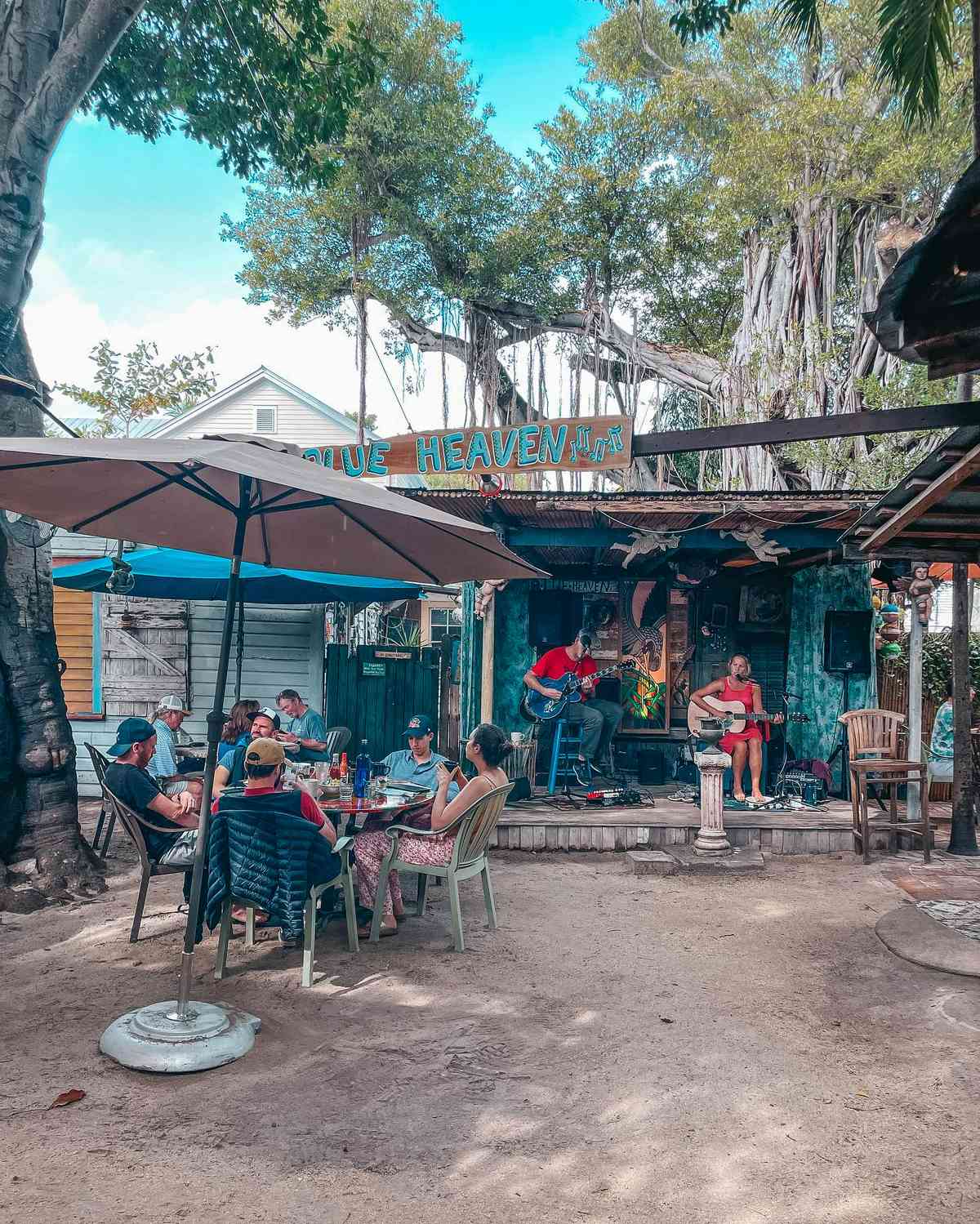 Salute! on the Beach
Salute! is actually Blue Heavens' sister restaurant. While I didn't get to try it myself, I can imagine it's equally as good with over 1,000 4 and 5-star ratings. Whether you want a quick bite for lunch or a good dinner after a long day on the beach Salute on the Beach is the place to be.
The open-air restaurant serves up Italian and Mediterranean cuisine and is located on Higgs Beach. Not to mention it offers a laidback ambiance with incredible views of the ocean!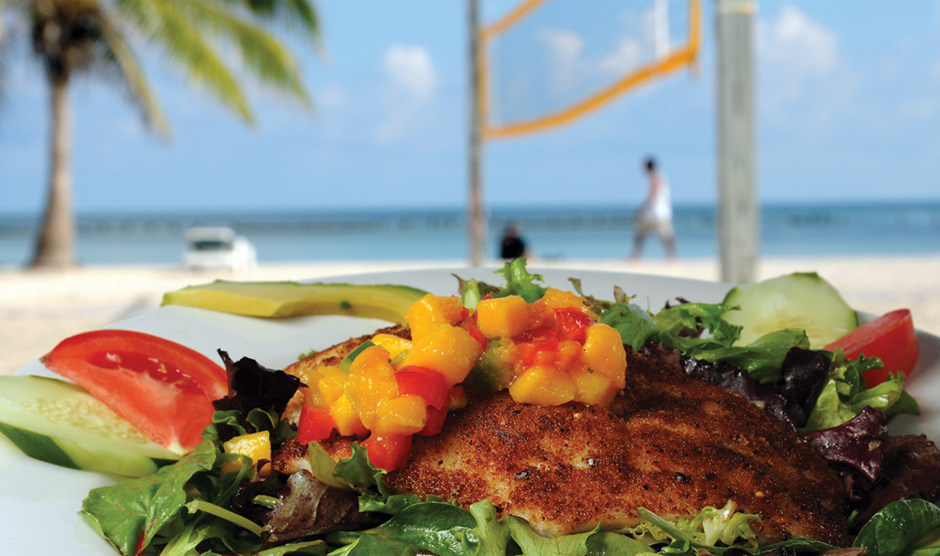 Cuban Coffee Queen
Cuban Coffee Queen is a staple for me every time I visit Key West. This joint serves up traditional Cuban eats and coffee. Not only is the coffee great, but the sandwiches are also MASSIVE and delicious.
Coming from someone who always gets just a normal Cuban, I couldn't resist switching things up here. I went with the Caliente Cuban mix and it packed heat and flavor.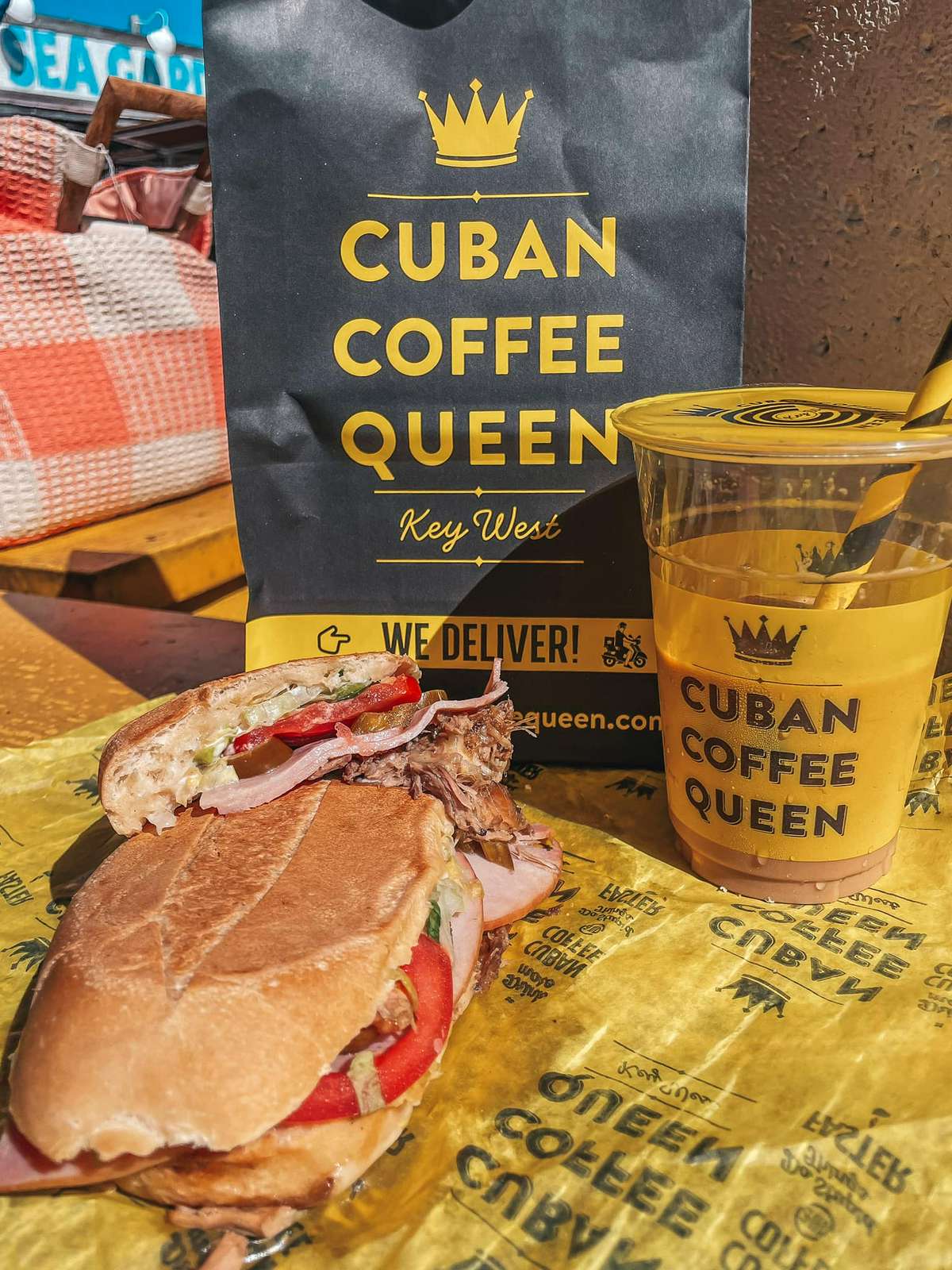 If you're wanting another good coffee spot, check out The Koffie House! The coffee was amazing, the atmosphere is adorable, and the staff was beyond sweet!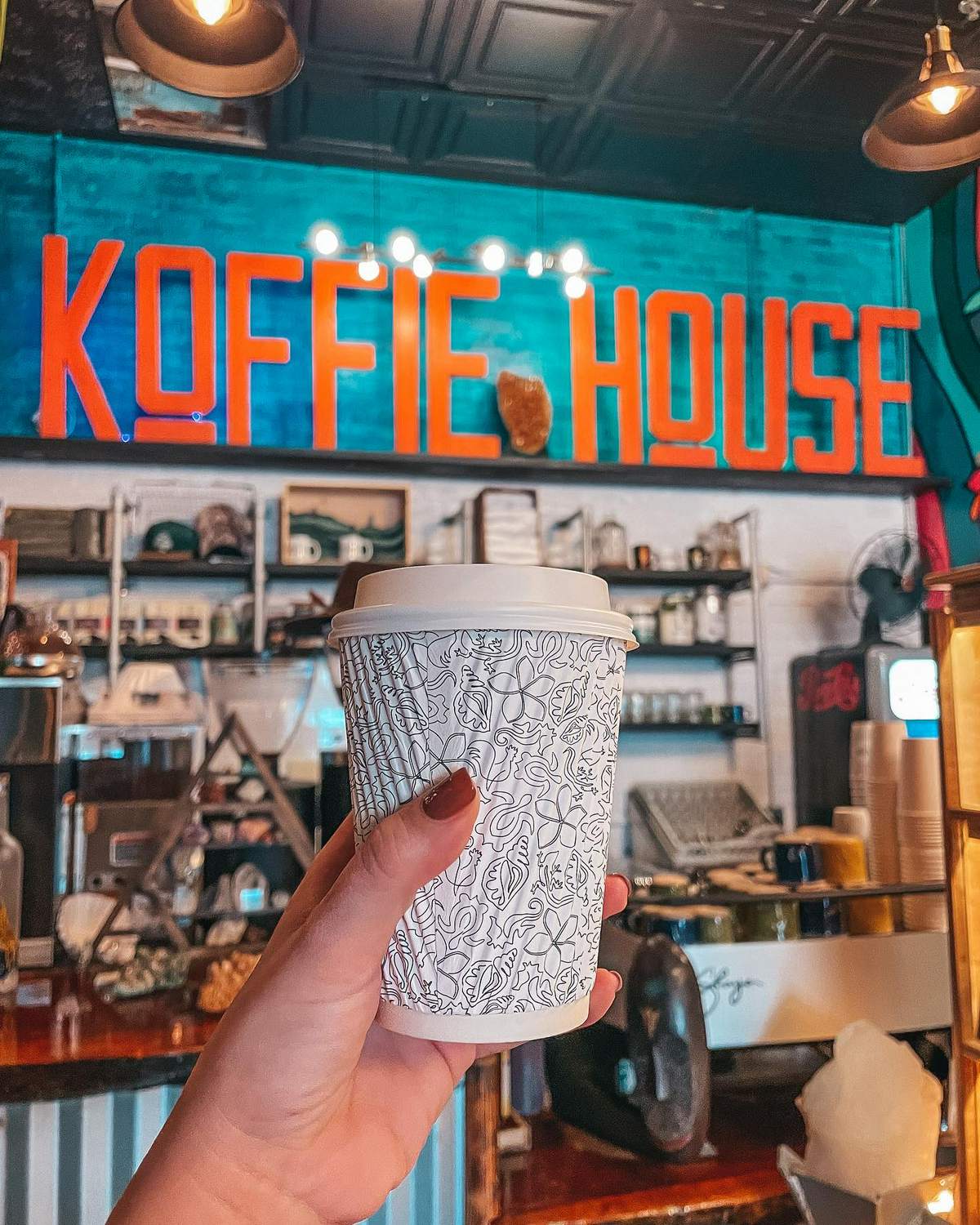 First Flight Brewery
First Flight is known as the place where the very first American International flight ticket was purchased in 1927! The aviation-themed restaurant and southernmost brewery has a beautiful canopy garden for dining which really makes your dining experience unique.
The restaurant's menu serves up American fare and heavily relies on locally sourced produce which makes it the perfect place to sample local cuisine. Grab a bite and a beer! Better yet if you make it here during their amazing happy hour that includes $3.50 pints and discounted bites.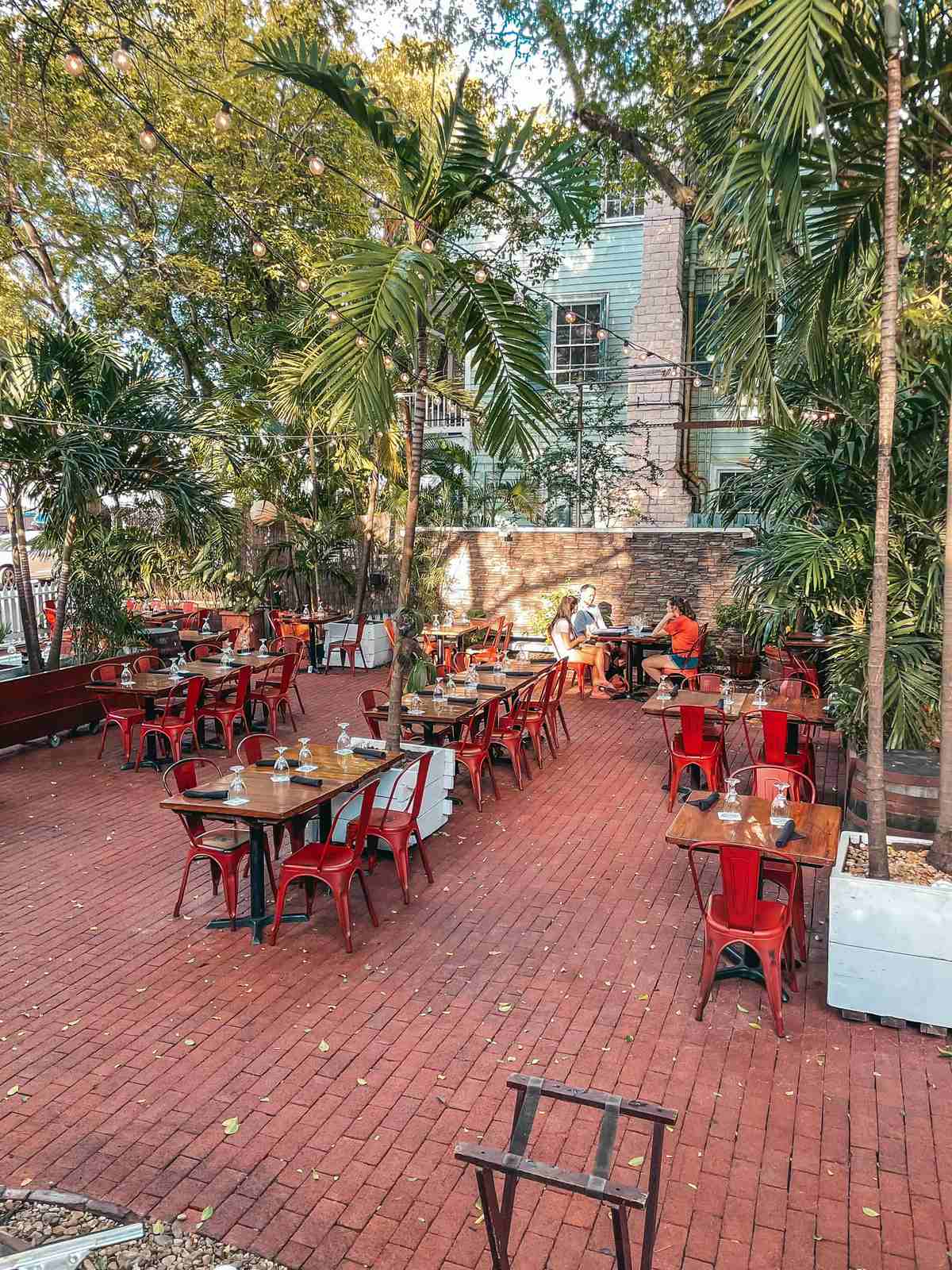 El Meson de Pepe
Situated a stone's throw away from the famous Mallory Square, El Meson de Pepe gives you a chance to taste authentic Cuban delicacies right at the heart of Key West downtown.
Their tostones and yucca were delightful accompaniments to our grouper dish that we got. It was a perfect combination of Key West seafood and Cuban cuisine.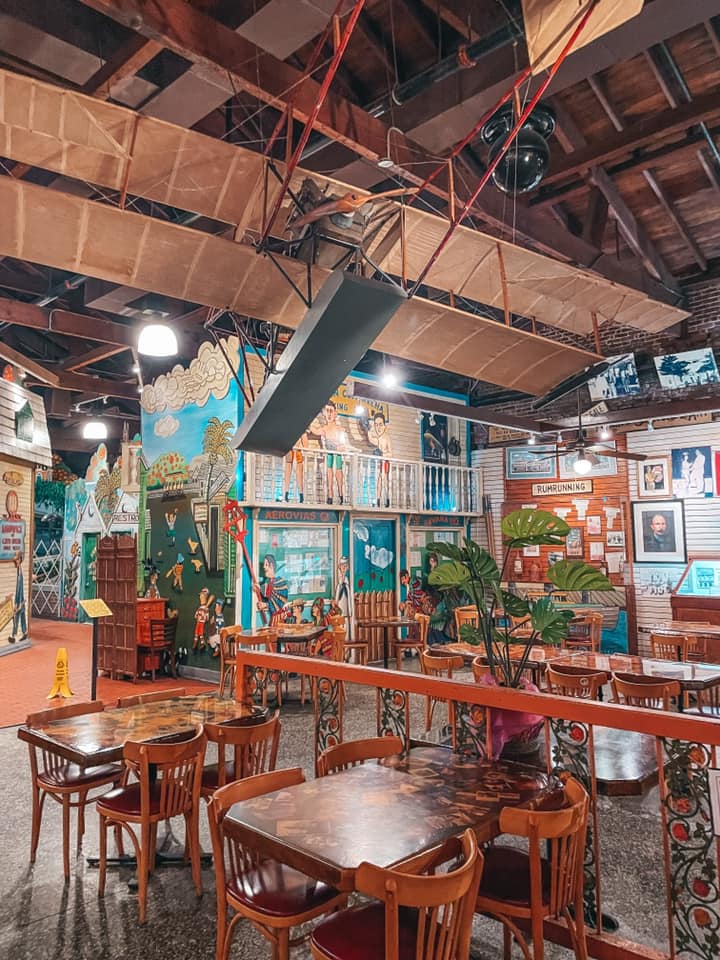 TIP: If you've had a boozie drinking day, Boat House has an INSANE happy hour. We ordered filet tips, a fried lobster tail, peel and eat shrimp, and each had a glass of wine and the bill was $33! Everything was half off from 4-7? It was insane. The food wasn't mind-blowing, but it got the job done after a day of drinking.
When is the best time to visit Key West?
March through May is the best time to visit Key West. I would avoid the summers if possible as it is extremely hot, and the winter is pretty busy making hotel rates at an all-time high. 
If you visit between March through May you can avoid the extreme heat and skyrocketing prices, plus the water is the perfect temp for swimming and water activities like snorkeling.
The rainy season in Key West is May through October, and hurricane season is June through November. If you do visit during the rainy season, you are most likely to still have some sunny parts of your day, just lots of scattered thunderstorms.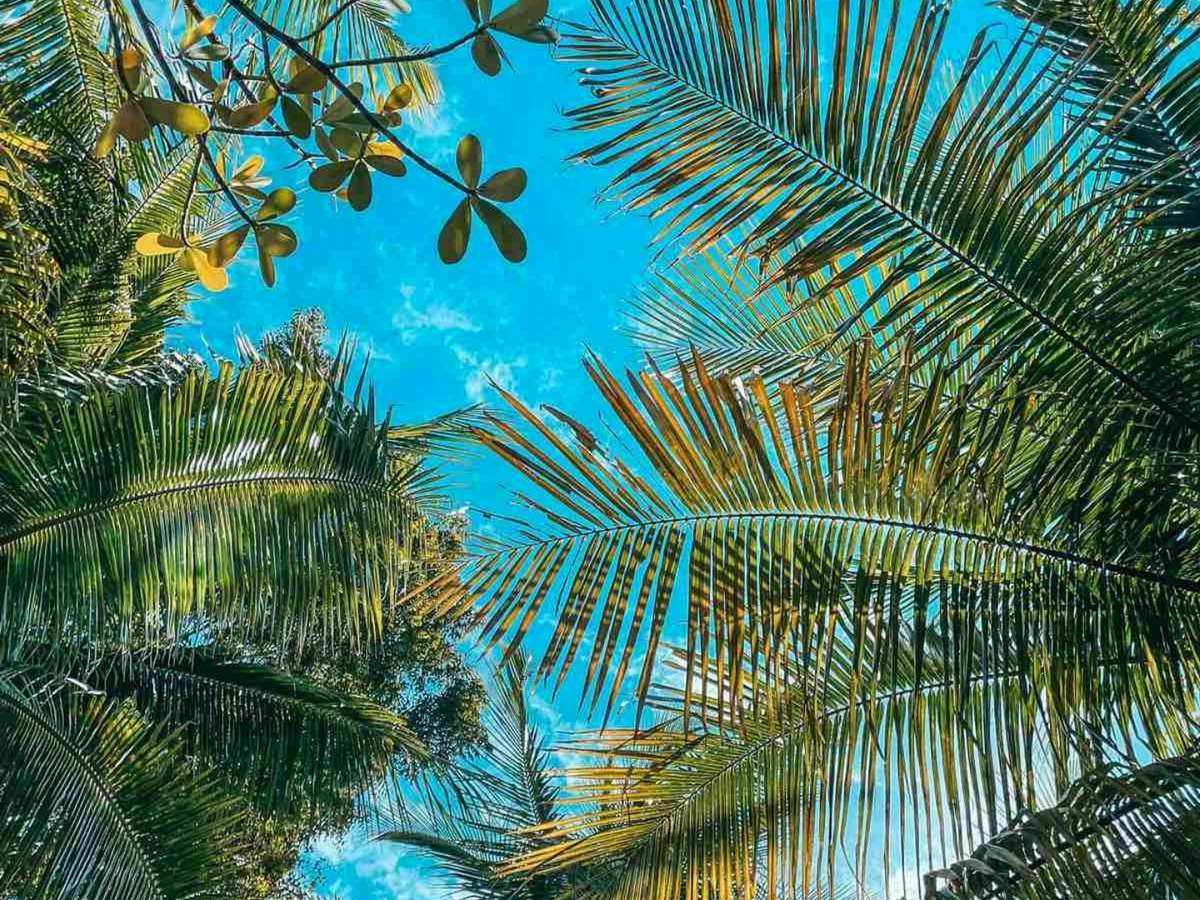 What is the best way to get to Key West?
You have a few options when it comes to how to get to Key West. You can drive, fly, or get to Key West by ferry.
If you drive, check out my road trip checklist! To be honest though, unless you plan on checking out more than just Key West. I don't think I would recommend driving. Just in case you do plan to drive, most of the hotels I suggest do include free parking.
If you take the Key West Express there is one that goes out of Fort Myers, and one that goes out of Marco Island. It takes around 3.5 hours to get from your departure port to Key West, and costs $172 round trip. If you purchase 8 days in advance or more you can get tickets for $142-$152 (depending on if you choose a weekday or weekend).
I have done this option before, and it was okay, however I feel that it is still more cost-effective to fly, plus it most likely will take less time.
If you plan to fly there are typically plenty of affordable flights through Allegiant. Jet Blue, Silver, Delta, and United also have some routes from certain cities to Key West as well.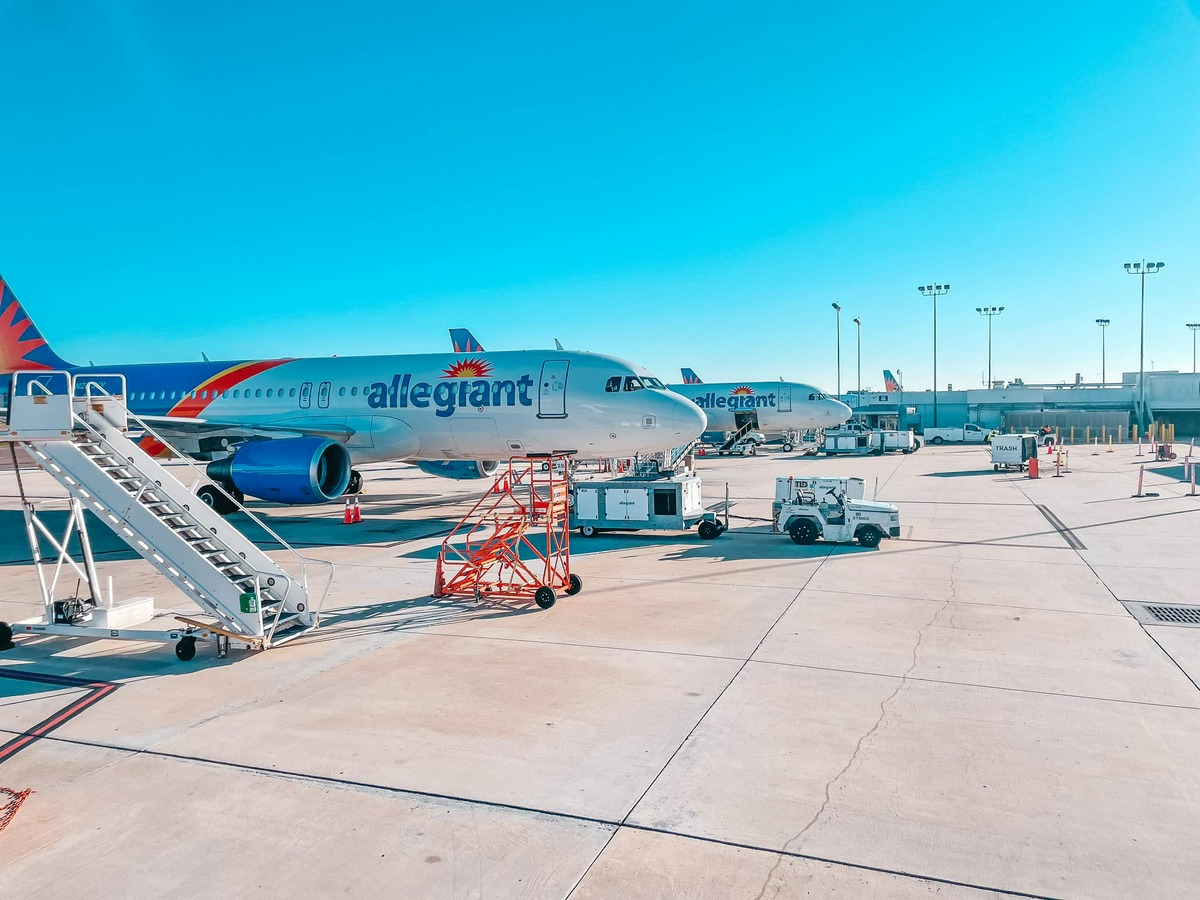 Where is the best place to stay in Key West
While Key West is pretty small, it still manages to have hundreds of accommodation options. Thank goodness for this, because these places book up quickly! These are a few options that I have stayed at or stood out to me, but feel free to check out the full list here.
If you do see a hotel you like be sure to book well in advance to ensure its availability. Along with that, the further in advance you book, the better the rates are most likely going to be.
La Concha Key West
The La Concha features an outdoor pool, pool bar, and free parking. The rooms and bathrooms are modern and decently sized. The number one selling point of this hotel though has got to be its clutch location. It sits right on Duval Street!
Douglas House
Douglas House comes extremely highly rated! It's especially recommended if you're doing a couples getaway. It is an adult-only inn.
The beach is just a short 5-minute walk, and attractions like the Ernest Hemingway Home and Museum are just a mere 2-minute walk.
Other great features are its shared outdoor swimming pool, free parking, and the fact that it's pet-friendly.
Andrews Inn & Garden Cottages
Situated in another great location right off of Duval Street you'll find Andrews Inn and Garden Cottages. Along with an outdoor pool, free parking, and extraordinary charm, you're also offered a lovely free hot breakfast and complimentary poolside happy hour!
Quick links for your Key West trip
🏨 Accommodation
Easily compare prices, secure great deals, and enjoy the added benefit of flexible cancellations up to 24 hours in advance for the majority of hotels with Booking
🎟️ Tours and tickets
Discover your next adventure with ease by using Viator which allows you to explore a multitude of local tours, ensuring you find the best experiences at the best prices.
🚘 Car rental
Rentalcars is the best tool for comparing prices if you plan on venturing to more than just Key West and need a rental!
I hope that you have enjoyed this list of some of the most fun things to do in Key West, as well as some other bonus tips for your upcoming trip. If you have any other questions, feel free to DM me!
Be sure to check out more of my Florida content before you go 🙂