This post contains affiliate links which means that I will make a small commission if you purchase a product after clicking on any of them, at no extra cost to you.
Of all the Gulf Coast destinations, few are as beloved as Orange Beach, Alabama. This sunny beach town is a mecca for anyone who loves sun, fun, and sand. With over 32 miles of pristine, white-sand beaches and a host of activities, Orange Beach is an ideal destination for families, couples, and solo travelers alike.
Orange Beach is located right next to Gulf Shores (minutes away) so we were easily able to experience both places! There are so many things to do in Orange Beach, as well as plenty of great restaurants, but honestly, our favorite thing was just relaxing and enjoying the poolside views at our hotel.
This stop was actually the last leg of our week-long road trip, through Mississippi, Louisiana, and Alabama. And it was definitely the most relaxing. Alabama showed me that Florida isn't the only state with beautiful white sand beaches!
Quick links for your Tampa trip
🏨 Accommodation
Easily compare prices, secure great deals, and enjoy the added benefit of flexible cancellations up to 24 hours in advance for the majority of hotels with Booking
🎟️ Tours and tickets
Discover your next adventure with ease by using Viator which allows you to explore a multitude of local tours, ensuring you find the best experiences at the best prices.
🚘 Car rental
Rentalcars is the best tool for comparing prices for your date amongst the most popular rental car companies!
Things to do in Orange Beach, Alabama
Explore Gulf State Park
Aside from the last activity on the list, this was my favorite thing to do in Orange Beach! I've never experienced a beach area that was part of a state park, and it was absolutely beautiful!
Gulf State Park has 28 miles of paved trails and boardwalks. Seven of the trails are part of the Hugh S. Branyon Backcountry Trail complex. We rented a bike from Infinity Bicycles to explore the trails and had so much fun. I'm always scared of bike riding because I worry about riding on the road, but that is not an issue here at all as there are plenty of miles of trails for you to bike.
Check here to read about all of the other trails you can explore at Gulf State Park.
I loved bike riding here so much, I came home and bought a bike, and now am a frequent rider of the Pinellas Trail in Dunedin!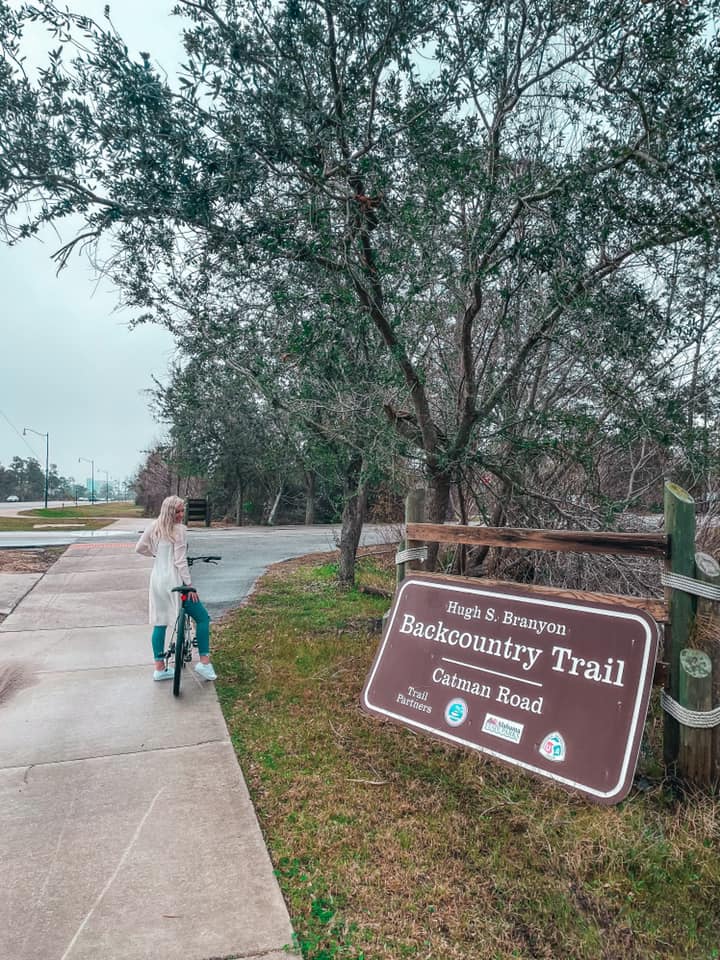 The Wharf
The Wharf houses a shopping area, a marina, restaurants, an amphitheater (hosting concerts like Luke Bryan and Brooks and Dunn), and plenty of family fun. A Ferris wheel. miniature golf, laser tag, and even an escape room— the whole family can be kept busy here.
We went during the day since they were hosting the Orange Beach Seafood Festival and Car Show, but if there aren't any events, I recommend going at night. Why, you ask? The Wharf has a free nightly Spectra Laser Light Experience! It delivers surround sound music set to choreographed lighting effects on the palm-lined Main Street, occasionally even offering themed shows.
⭐Travel tip
Get access to the Wharf's Ferris Wheel, the Alabama Gulf Coast Zoo, and the historic Fort Morgan with just one pass.
Get the pass here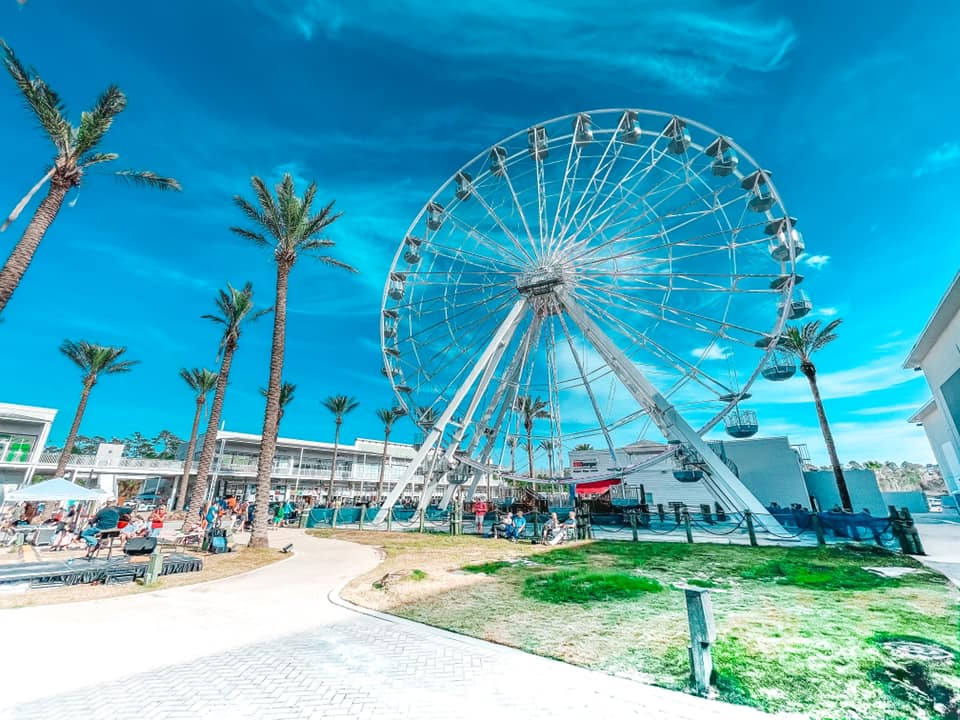 Get out on a boat
This is unfortunately something we didn't have the chance to do ourselves, and some weren't yet open for the season. However, all three of these companies came highly recommended!
For family fun, education, and spotting dolphins as well as other sea life experiences check out Fun Boat Dolphin Cruises! It's a two-hour cruise that they offer during the day as well as at sunset. This one is great for families, as they allow kids to have an encounter with the sea creatures local to the area where they can touch, hold, and learn about them!
One of my favorite things to do in Clearwater Beach, as well as St. Pete Beach, is now offered in Orange Beach! You can take a 90-minute sunset tiki cruise around Orange Beach.
Finally, you can kick back on a sailboat at sunset. Orange Beach Sunset Sailing Cruise is another thing to do in Orange Beach that comes highly recommended.
Be sure to book your tours in advance, especially during busy season. Book your sunset sailing cruise here!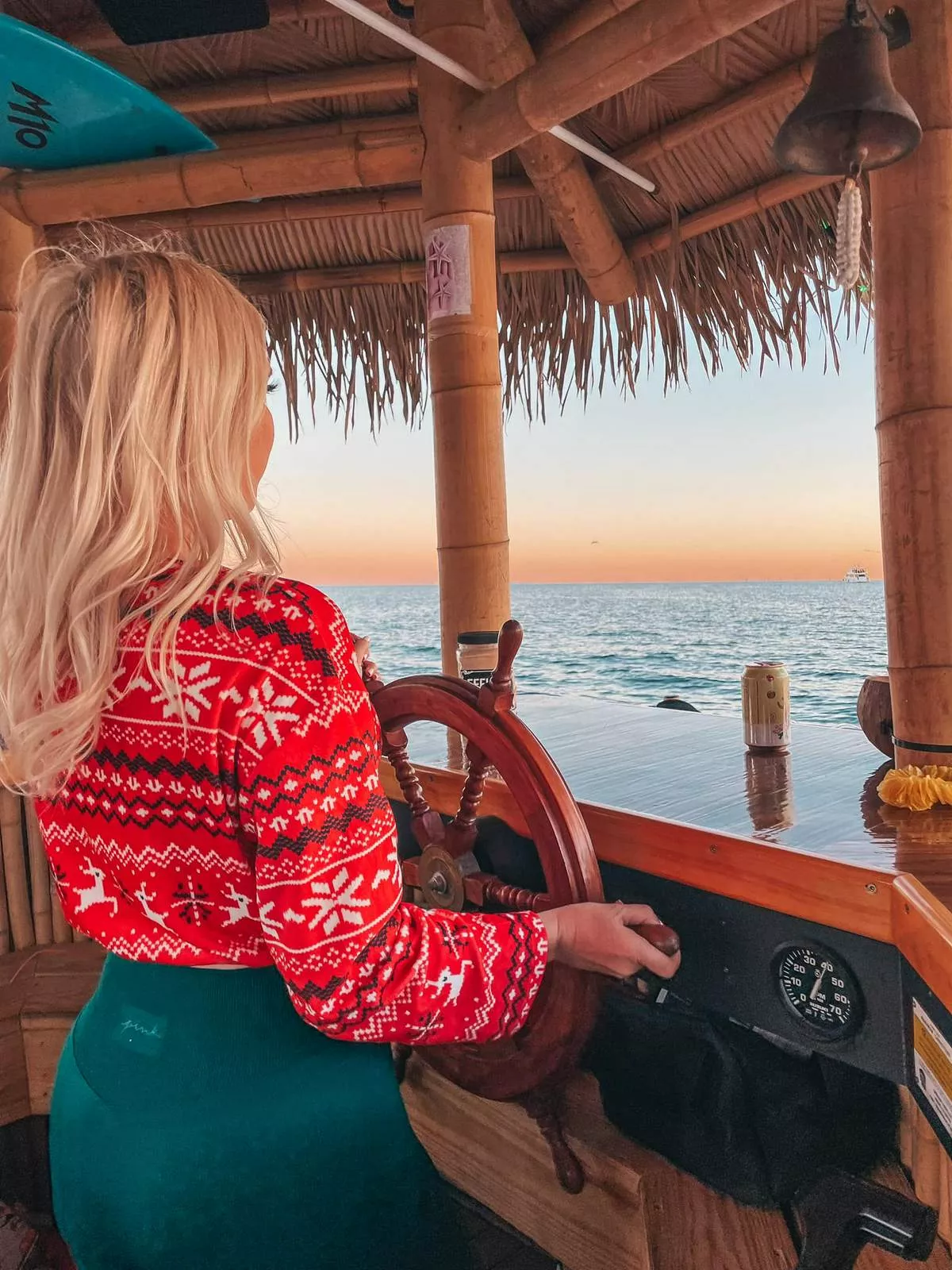 RELAX
There's always so much that I want to see and do in an area, but sometimes you just need to really take time to enjoy where you're at and not do a damn thing. I already raved about it, but we really did love hanging out poolside at Holiday Inn Express Orange Beach. It was so easy to unwind, and the beach was just steps away. So make sure you take time to just enjoy your vacation and really unwind.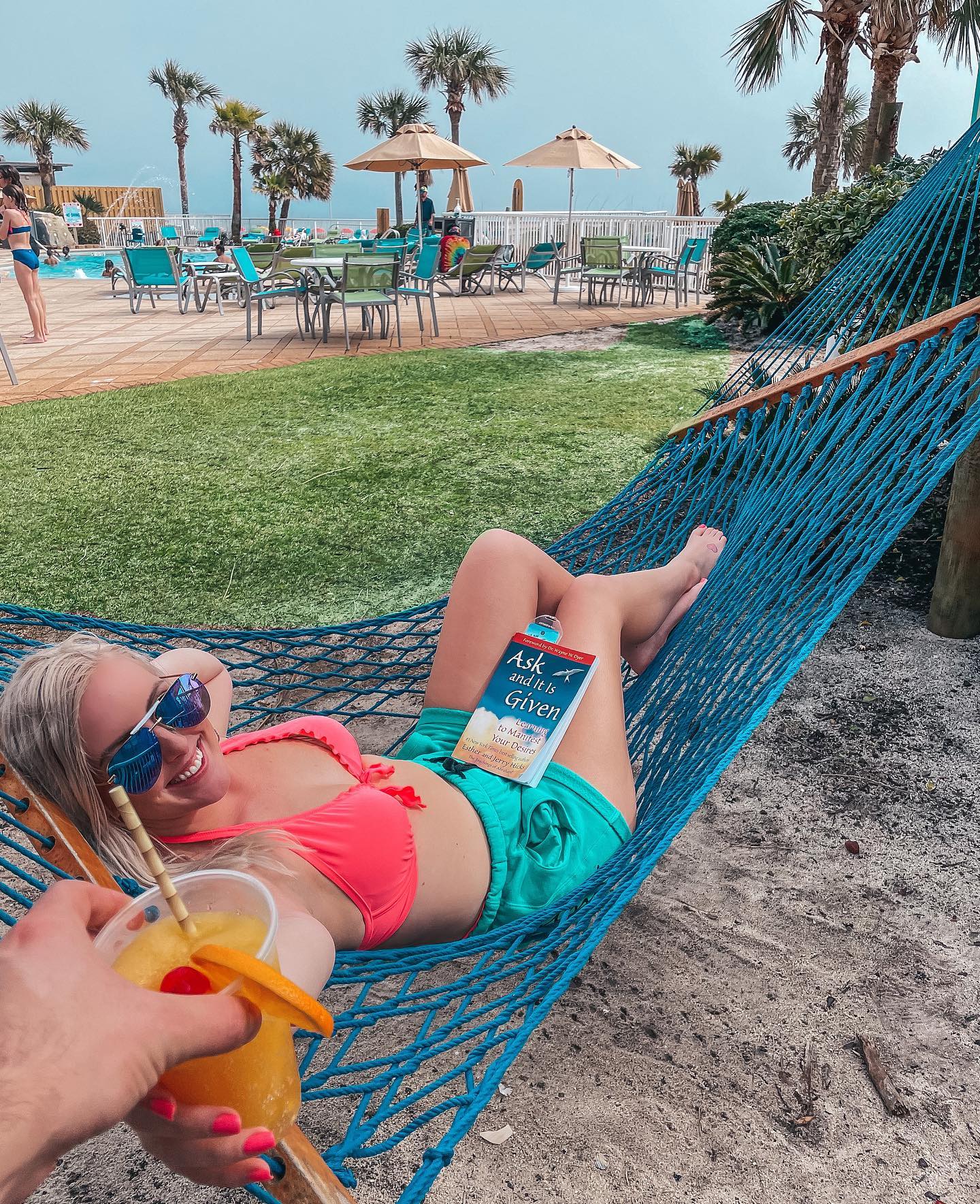 Pro tip: Be sure to check out Groupon before your trip! They are always having amazing deals on fun activities, like this Aeropro scenic beach flight or this cat boat rental!
Fun bars and restaurants in Orange Beach, Alabama
The Southern Grind
Tell me you're the cutest coffee shop without telling me you're the cutest coffee shop (see below).
This adorable beach-themed coffee shop gave me just the pick-me-up I needed! I honestly couldn't decide which coffee drink I wanted, so I got two! I had a French vanilla (vanilla + hazelnut) cappuccino and their white chocolate caramel macchiato!
Both were amazing. They also have breakfast items and even gelato! You will also notice that it doubles as a shop that sells the most beautiful coastal jewelry, home décor, and local art.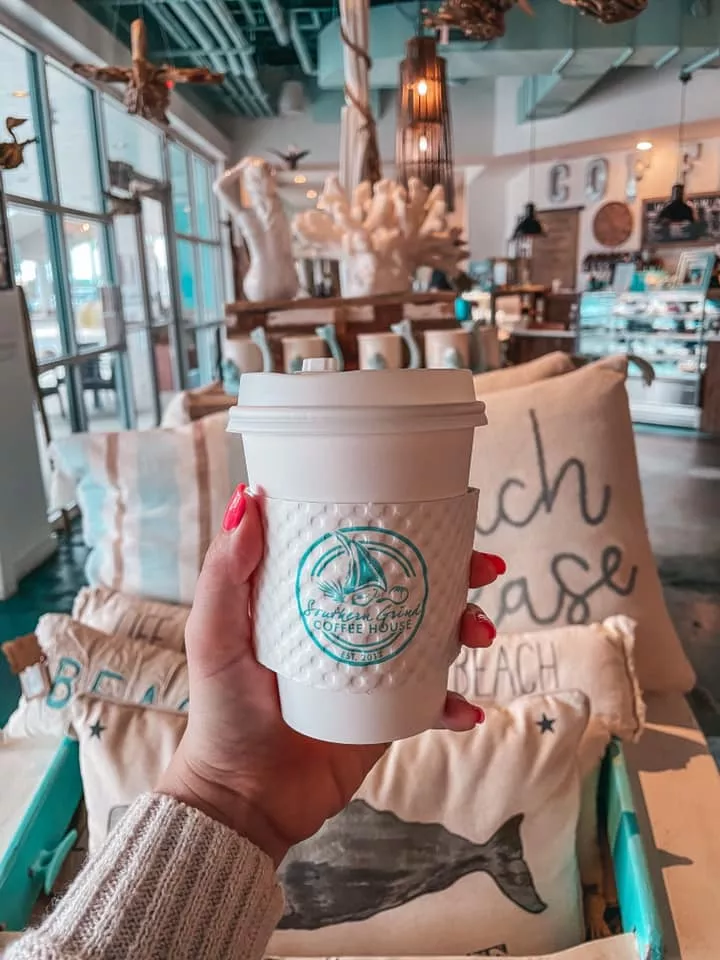 Ruby Slipper Cafe
This is the only breakfast spot we experienced since the Holiday Inn Express Orange Beach offered a complimentary breakfast. We only stopped here because I had wanted to check it out in New Orleans, but we didn't have time. We were so happy to see it pretty much across the street from HIEX!
They had so many unique menu items that made it hard to choose! Not to mention they had starters… for breakfast! We got the French toast bites which were served with a praline sauce (I could've drank the sauce, it was so good), and the Spanish omelet which was packed with flavor! They had amazing sounding drinks that I wasn't in the mood for at the time, but would definitely like to try next time!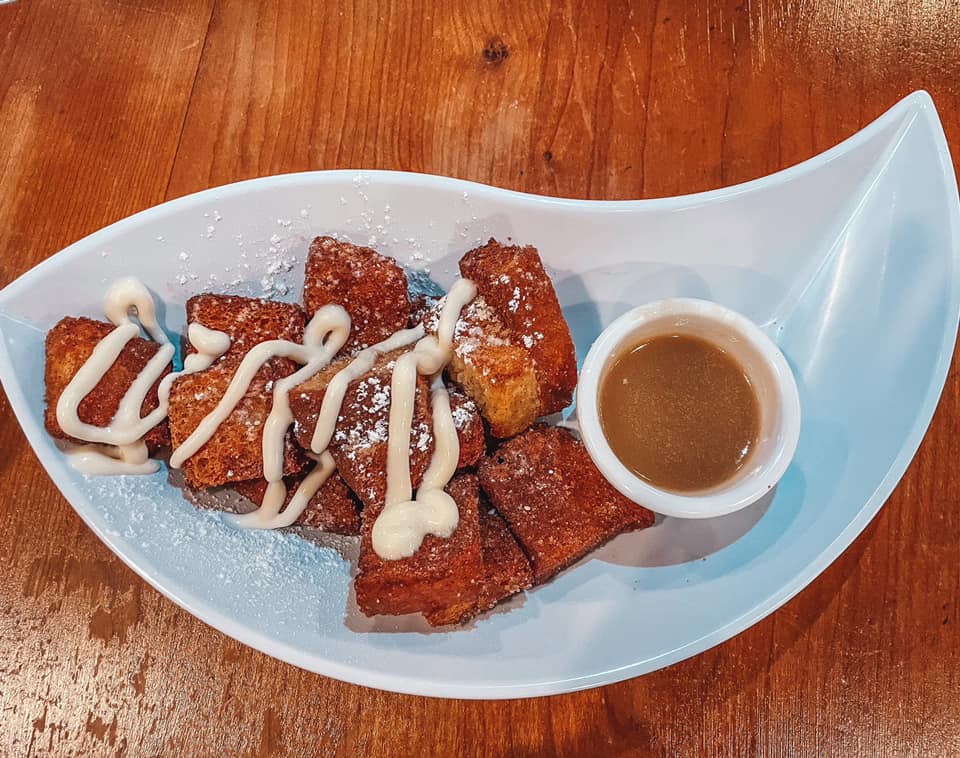 Big Beach Brewing
Big Beach Brewing was so beautiful! I absolutely loved the brick and how open it was. All of the beers served are made in-house, and they offer quite a variety! Lagers, Ales, IPAs, and a sour were all on tap when we went. I'm not much of a beer girl, so I usually go for sours.
The Fruiturama which encompassed raspberry, black currant, blackberry, AND cheesecake was really good and not too sour! There's plenty of outdoor seating options for you to enjoy your beer and some lovely Alabama weather.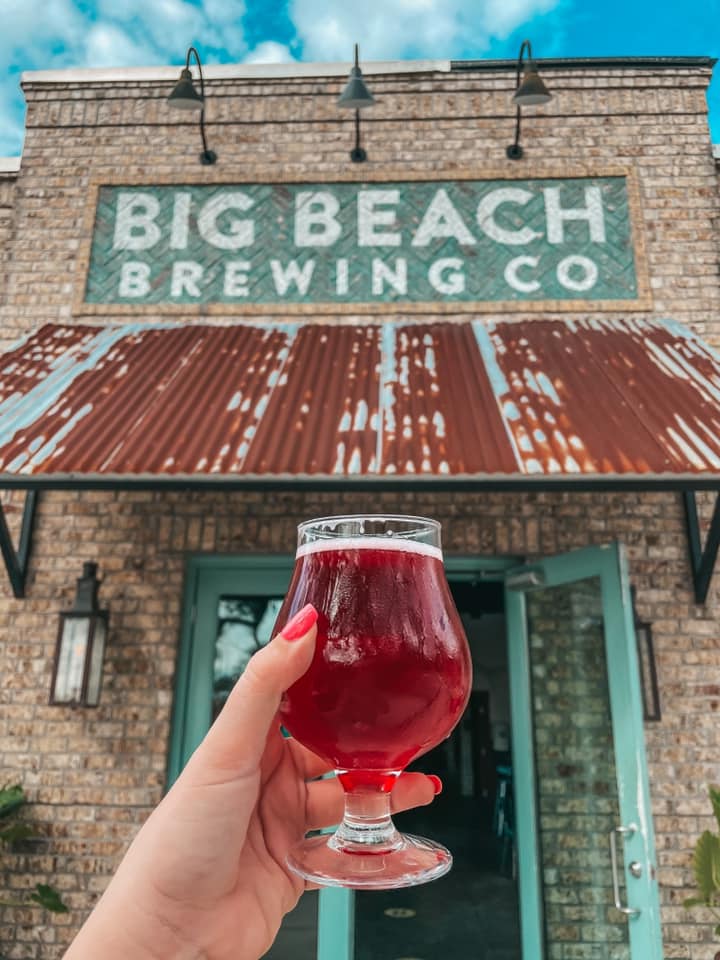 Tacky Jacks
You will immediately note the quirkiness of this spot. Colorful strips of duct tape cover this place from head to toe adding to the vibrant, fun atmosphere. There are a few locations. We went to the one across the street from Big Beach Brewing Co. which is located in Gulf Shores, but Orange Beach does have its own Tacky Jacks as well. All the locations are waterfront, so the views aren't too bad either! 
While Tacky Jacks does offer food, we came here for one thing, and one thing only. Tacky Jacks is known for their Bushwackers— order it and you will understand why. Remi nor I had ever experienced a Bushwacker before and I think we made the right choice getting it here. If you're not familiar, a Bushwacker is basically an adult milkshake— it's even topped with a 151 float!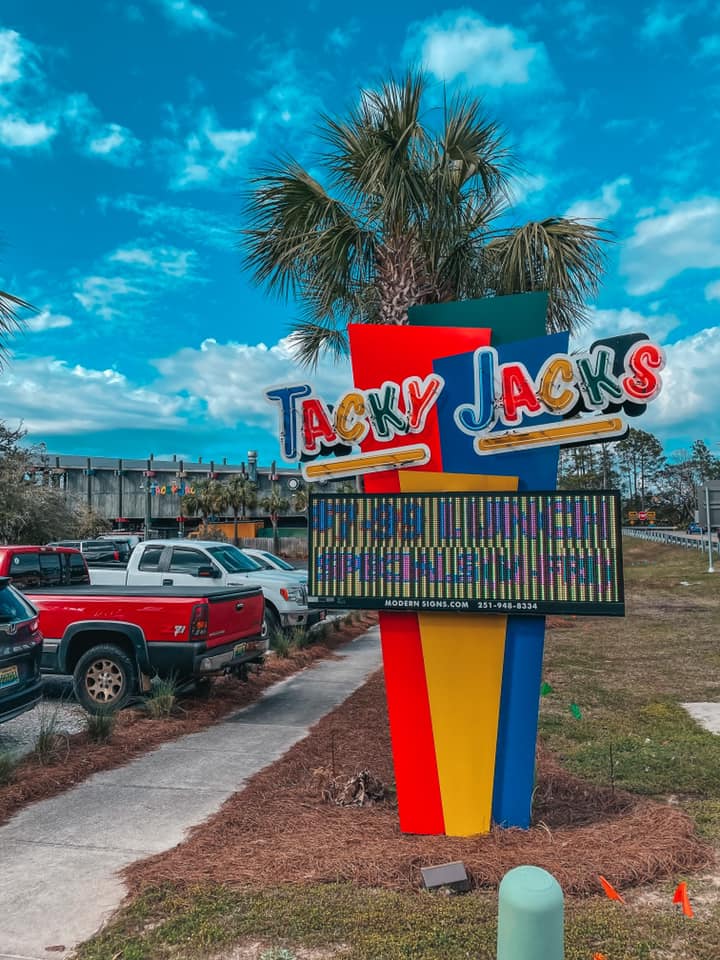 LuLu's
Absolutely LOVED this extremely family-friendly spot! Lulu's has it all— food, fun, drinks, and waterside views! It even has its own arcade and three-story climbing apparatus which is fun for kids and adults alike.
I loved sipping on my mango pina colada (my favorite beach drink) while dipping my toes in the sand before I was off to beat Remi at some basketball in the arcade. They also have live music every night! LuLu's is right by Big Beach Brewing and Tacky Jacks, making it really easy to hit all three in an afternoon or evening.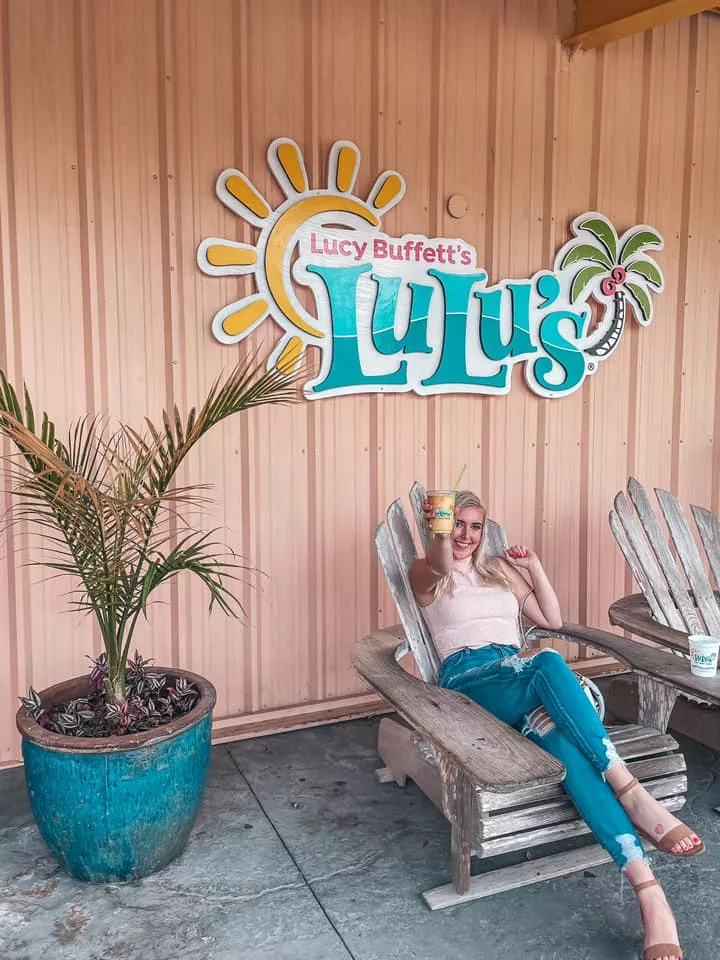 The Hangout
I don't remember the last time I visited an area that had so many fun restaurants! The Hangout had such a fun vibe. From the moment you walk up you'll see all of the fun photo ops and the entertainment venue.
Beach access, a daiquiri bar, live music, a sandpit, courtyard games, and more— I can promise you will not be bored here! We can attest to how light and refreshing their mojitos and mules were, and they'll perfectly complement your boozy beach day.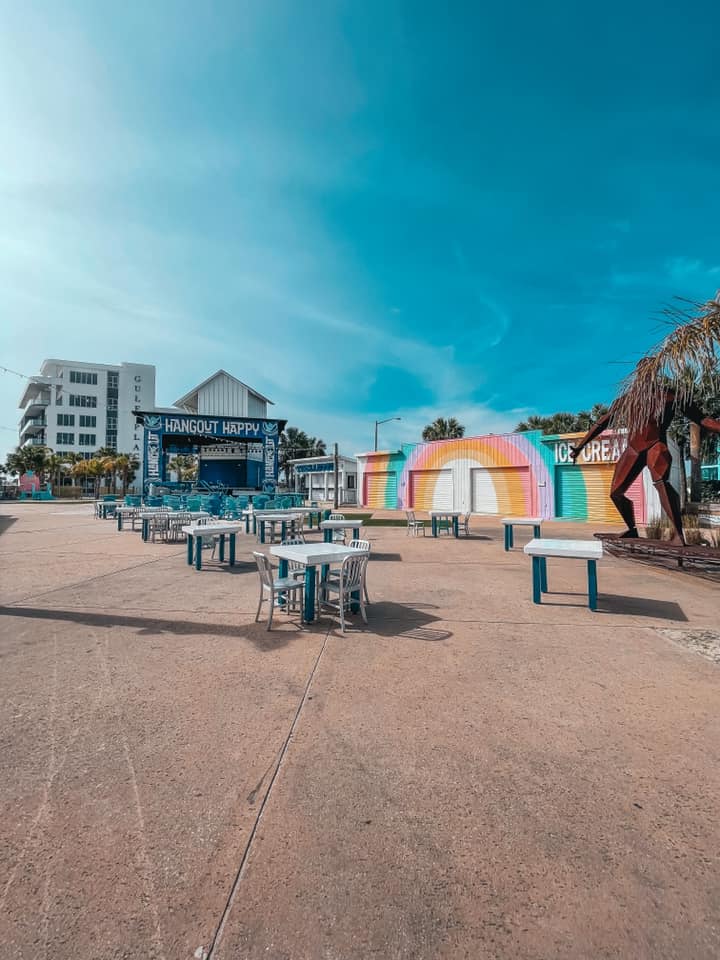 The Gulf
I definitely recommend checking out this spot for sunset. The Gulf was so unique, as it's an outdoor venue made from old shipping containers! They have a revolving menu that showcases locally sourced fresh ingredients.
The food looked amazing, but we ended up just enjoying a couple of drinks at the bar while taking in the ambiance and beautiful sunset before heading to Playa for dinner. The mojitos are fresh and light and use real fruit in them (I got berry) unlike many places! They are known for their mojitos, but they also serve up spicy blackberry jalapeno margaritas and a drink called "Surf's Up" which looks like a rainbow in a cup!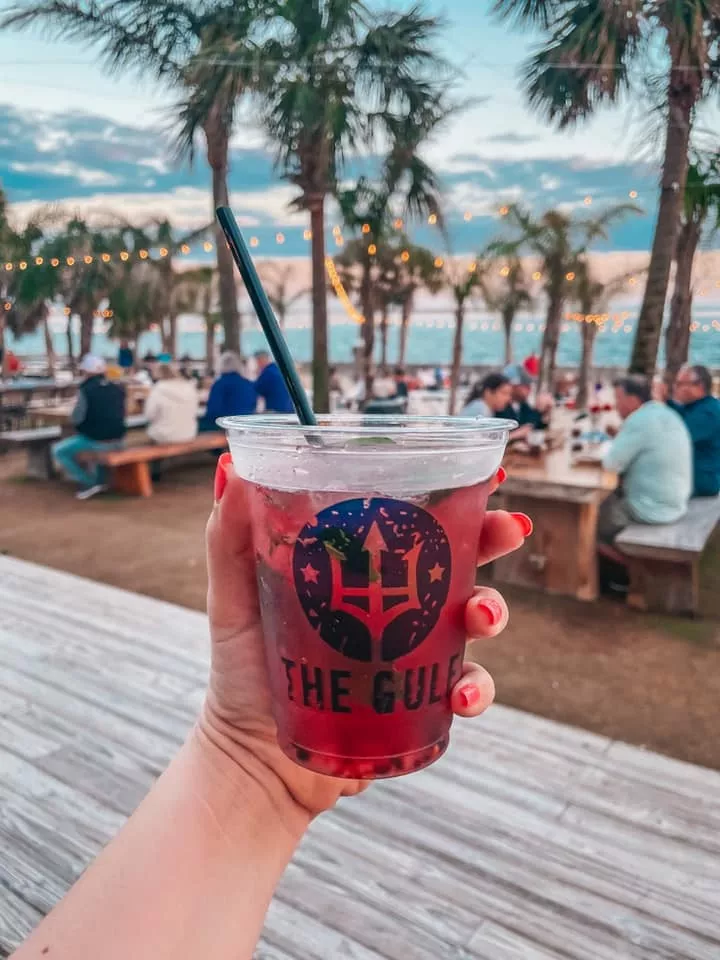 Playa
Do not miss checking out Playa for dinner— the interior is BEAUTIFUL, and the food was soooo good! I got grouper blackened topped with corn and mango salsa (I salivated reminiscing while typing that) with their potatoes. I never get potatoes, but let me tell you I've been on a potato kick since leaving here!
Each part of the dish was a mouthful of flavors that all worked together to take my taste buds on their own vacation. They also have fun yummy cocktails, and Remi really enjoyed his fish tacos too!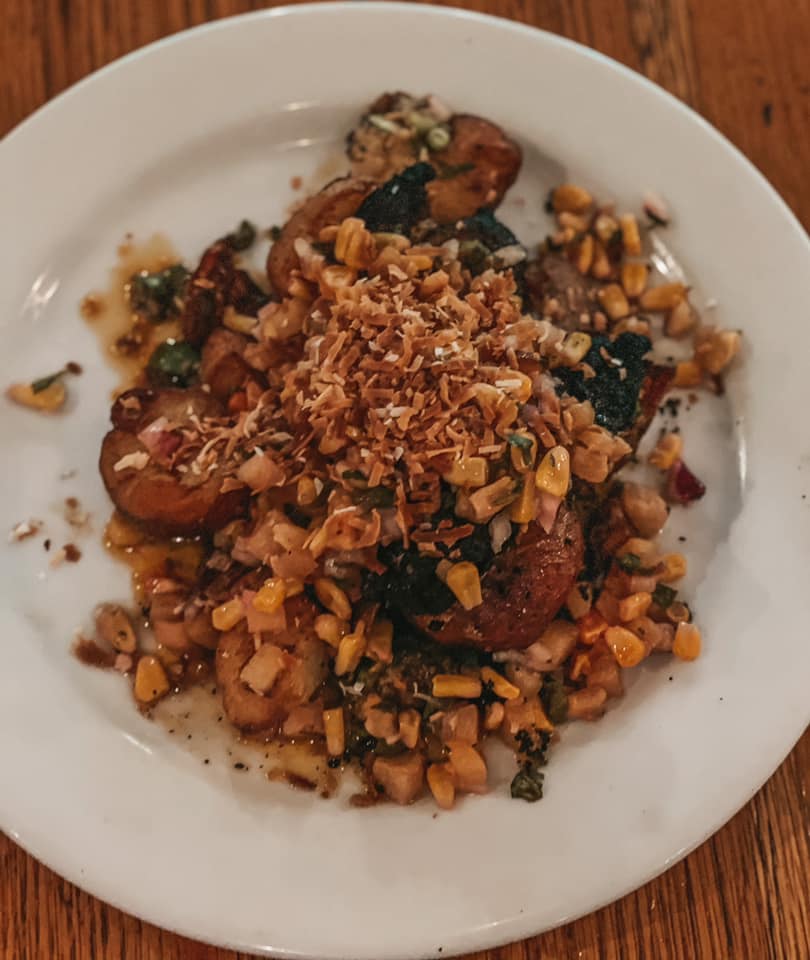 The best places to stay in Orange Beach, Alabama
Holiday Inn Express Orange Beach
While there are plenty of hotels to stay at in Orange Beach, Alabama let me tell you exactly why I loved our stay at Holiday Inn Express Orange Beach so much.
I'm usually all about spending as little as I can on my accommodation because I usually spend very little time there. But with Holiday Inn Express (HIEX), it's super affordable and offers amenities that make you not want to leave!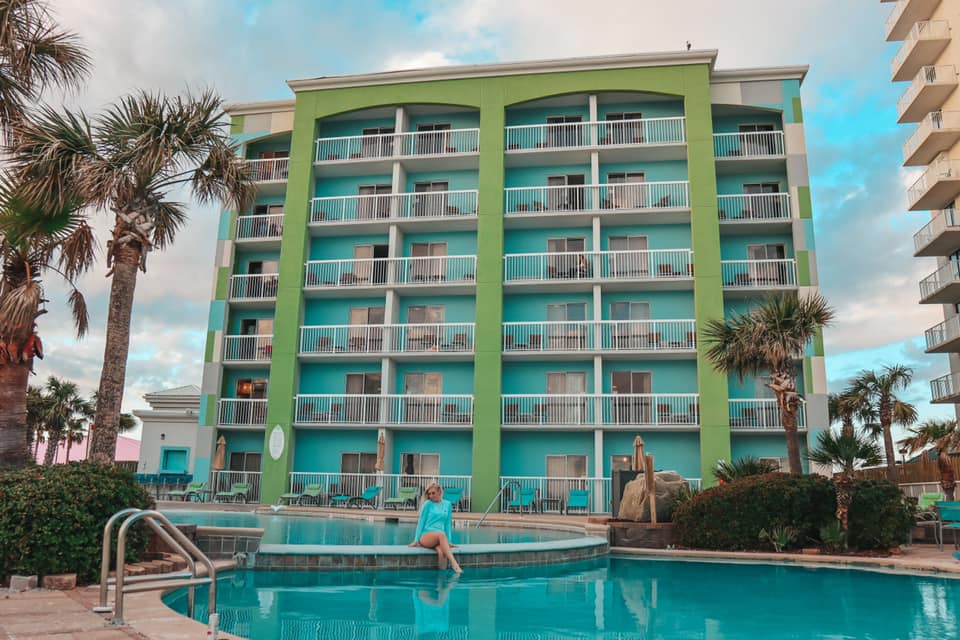 It's located right on the beach, and just a short walk or drive from all of the activities and restaurants I'll mention! We visited in February, so the Gulf was still pretty chilly. Luckily HIEX had a heated pool as well as a jacuzzi. We really enjoyed watching the sunset from the comfort of the jacuzzi on our last night. They also have their own pool bar called Sandbar where you can get anything from fun, frozen drinks to a white claw!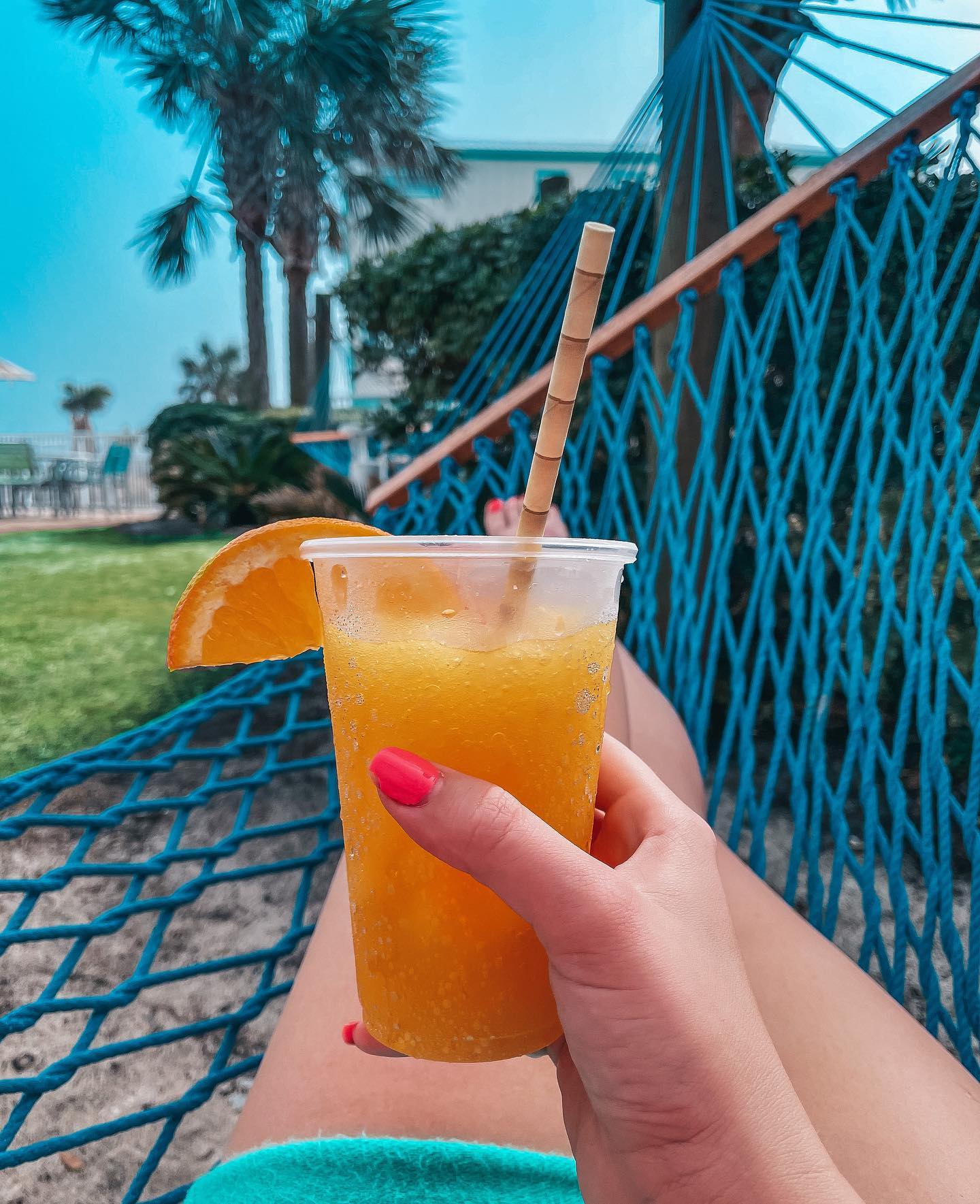 BONUS— the Holiday Inn Express Orange Beach also provides a free hot breakfast! I'm not usually much of a breakfast person but need a little something in the mornings to hold me over until lunch, so this was absolutely perfect. They offer things such as eggs, meat, biscuits and gravy, cinnamon rolls, and more. Also, since it's an IHG hotel, you can book with points!
Perdido Beach Resort
If you don't mind spending a little more, Perdido Beach Resort stands as a premier destination that embodies the epitome of Gulf Coast luxury and relaxation. Boasting a privileged location that offers breathtaking views of the emerald waters and sugar-white sands, the resort provides an unrivaled beachfront experience that is second to none.
With its prime location, impeccable service, and an array of exceptional amenities, Perdido Beach Resort undoubtedly ranks among the best places to stay in Orange Beach, promising an unforgettable Gulf Coast retreat that leaves you rejuvenated and inspired.
🏨Treat yourself to luxury🏨
Perdido Beach Resort is one of the most well-known and highly rated stays in the area.
Click herе to book!
Check out other places to stay in Orange Beach here!
From the white sand beaches to delicious Bushwackers, I hope you love Orange Beach every bit as much as I did.
Let me know which place or activity you'd want to experience first! And, don't forget, if you check out any of these spots use #guidedbydestiny on your pics to be featured on my Instagram!