This post contains affiliate links which means that I will make a small commission if you purchase a product after clicking on any of them, at no extra cost to you.
Are you planning a road trip but not sure what to pack? Look no further! In this blog post, I'll cover all the essentials you'll need for a comfortable and safe journey on the road. From snacks and entertainment to car maintenance supplies and safety gear, I'll make sure you don't forget a thing. So, grab your bags, and let's hit the road!
Check out my road trip essential storefront for a quick look at the roundup!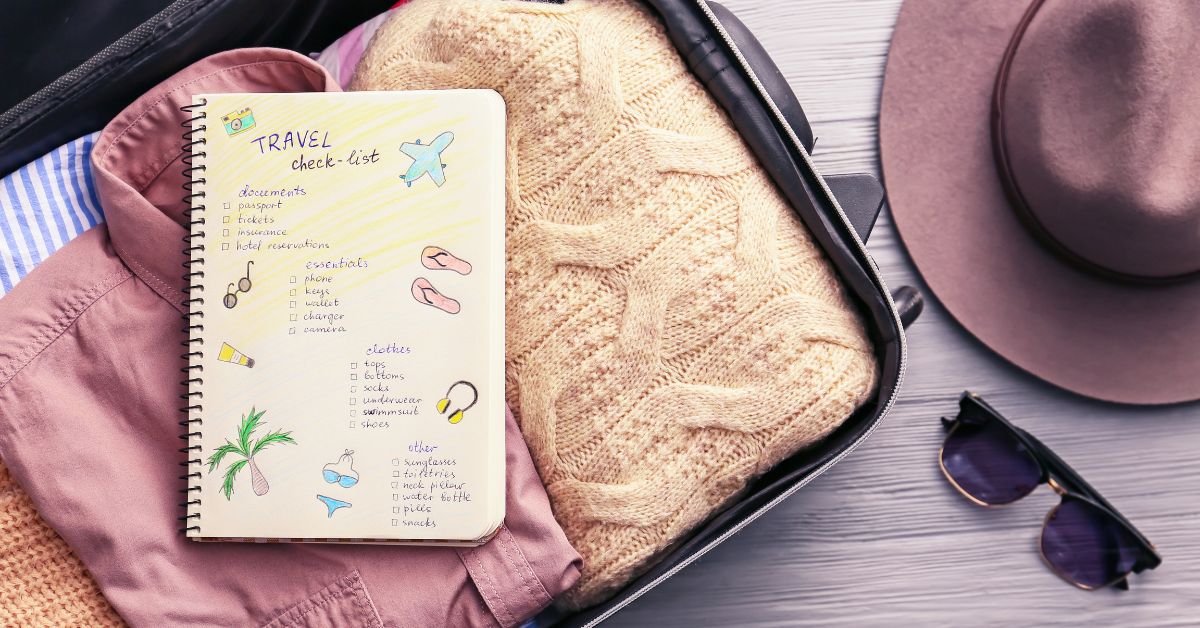 Road trip packing list
Convenience essentials to pack for a road trip
Car phone mount
I don't understand how people live without these. There are a lot of great ones out there, and they just keep getting more and more convenient! This one has a sensor to open and close by itself when you go to place and remove your phone, making one-hand placement super easy! And bonus— it's a 2-in-1, so it also charges your phone.
Car charger
If you don't prefer the 2-in-1 mount and charger I just mentioned, this dual charging port is pretty solid. Or maybe you're like me and need to charge multiple things on the go (phone, camera, GoPro, etc.), then you may want this baby— a six port USB car charging adaptor!
Travel trash can
I despise how messy a car gets on road trips thanks to snack wrappers, receipts, empty bottles, etc. Make sure you bring either a couple of little grocery bags or one big trash bag you can put all of your garbage in. If you want to be super extra with it, Amazon has this awesome car trash can that can strap around your console or the back of your seats, or you can use it for storage!
Wet wipes
I don't think I've ever traveled and gone a whole trip without needing a wet wipe for some reason or another. Definitely not going to hurt anything to take a couple of packs.
Snacks
I mean, duh, right? I feel sooo bloated after being in the car for so long, and I know sometimes the boredom just makes me want to chomp on something even if I'm not hungry. So, I like to take a little cooler and pack it with veggies that I cut up (green peppers, carrots, cucumber, etc.). I also like to pack white cheddar popcorn. It's super light, and I never feel too guilty after eating it.
Mini cooler
As I mentioned, I like to pack veggies for snacks, so I definitely utilize the mini cooler. Aside from using it for snacks and drinks during the road trip, it's also nice to have if you may be doing a beach stop or beach destination!
Since I use the mini cooler for things other than road trips, I love the convenience of backpack coolers! If you haven't seen them yet, they're adorable. I linked to a couple of the cuter ones I found here and here!
Car laptop adapter
I know some people get car sick if they try working from their laptops, but I find some of my productivity peaks while I'm a passenger on a road trip. This adapter ensures your laptop won't go dead in the midst of your productive streak!
Reusable water bottle
I don't go anywhere without my cute, reusable water bottle. It's important to stay hydrated, especially on road trips! I also find that I drink soo much more water when I have a water bottle that has a straw! If you're not into straws or you like to have options, this water bottle comes in several designs and sizes, with three different styles of lids.
Car air freshener
Who doesn't want their car to smell nice during their road trip? My personal faves are the Febreze car air fresheners. I feel like they last a long time, and the Hawaiian-scented one really puts me in vacation mode. Or if you want to be cutesie, these daisy ones are absolutely adorable!
Gum
I snack without reason (other than boredom) on road trips, so gum is a little distraction for my mouth. It's a good way to at least attempt to avoid mindless snacking, right? Green Stride is the best, don't @ me.
A good book or Kindle
What better time to get lost in a good book or your Kindle (this is the one I have)? This is one of my absolute musts for things to pack for a road trip. Jodi Piccoult is one of my favorite authors. Everything I've ever read by her has kept me on the edge of my seat, completely clueless as to how things are going to end. She covers a wide range of moral issues in her novels, including race, LGBT rights, abortion, and assisted suicide, to name a few. Her storylines are truly captivating.
Nail clipper kit
I ALWAYS forget these! And I also ALWAYS need scissors to cut off a tag or other random thing, get rid of a hangnail or trim a dang eyebrow hair that needs to be plucked. Seriously, every trip. I now have a super cute travel kit that I just leave with my toiletry bag so I always take it on the road. It's so adorable and has every little tool you could need!
Rain repellent
Something that gives me anxiety with road trips is bad weather. I hate driving in the rain. Luckily there is a windshield treatment water repellent you can put on your windshield to help with this!
Comfy essentials to pack for a road trip
Pillow
I personally just use a pillow from my bed. I do have neck pillows that I use when I fly, and I know some people prefer those for road trips too. I think this memory foam one is a great option because you can adjust it and customize where you want the support!
Blankie
Obviously, any blanket will do, but y'all… the material on this one is the bomb. Also, it folds up into a carrying case that makes it into a pillow! Anddd it has a little hook on it so you can easily attach it to your backpack when flying.
Eye mask
If you're doing some daytime road-tripping, it might be hard to get some shut-eye with the sun beaming in your face. You can go with cute or you can go with funny, but there are a ton of options. Both of the ones I linked to also come with earplugs!
Hat
In case a brush won't do the trick, I like to keep a cute ball cap to throw on and pretend my hair isn't a wreck. My faves are this pineapple one and this one that says "be kind". Both come in several different colors!
Comfy car shoes
Everyone is different. Some prefer tennis shoes, some prefer flip-flops, but I prefer taking my comfort next level by wearing slippers. My extremities get cold so easily and Remi is always blasting the AC, and even in those conditions, these are great for keeping my toes warm and comfy.
Sunglasses
My absolute favorite sunglass brand ever is Diff. I never thought I could rock aviators until I stumbled on their Dash collection for sunnies. The cool thing about Diff is that with each pair of glasses they sell, a pair of reading glasses is donated to someone in need from somewhere around the world.
Hygiene and beauty road trip essentials
Toothbrush + toothpaste
Small, cheap, and convenient, this little set comes with a travel-size toothbrush and toothpaste. But use whatever works, and just don't forget it! I like to keep mine in my purse or easily accessible travel bag so when we make the occasional pit stop I can freshen up a little.
Chapstick
My aesthetician actually just recently told me to steer away from chapstick because while it doesn't allow moisture out, it also doesn't allow any in. So I have been loving this balancing lip enhancement complex with avocado oil from Image skincare!
Lotion
Maybe it's because Remi is constantly blasting the AC that I always get dried out on road trips, but whatever the cause, moisturizer is something nice to have to keep your skin nourished on your travels.
Rose water mist
I don't wear makeup when I road trip (other than a little bit of mascara), and this is just a nice little refresher to randomly spritz on your face here and there. This rose water mist by Mario Badesco is affordable and has raving reviews. If you're curious about the benefits rose water has, here are 10 of them!
Dry shampoo
My hair seems to always get greasy more quickly during travel, so dry shampoo is a great quick fix. Not Your Mothers Beach Babe Texturizing Dry Shampoo is my favorite, but I haven't found it in travel size, so I usually throw my mini Batiste in my purse.
Hairbrush
I take a big one for the stay, but keep a mini one handy!
Deodorant
Nobody wants a stinky driver or copilot. And I don't know about you, but women's deodorant does not do the trick for me, so Men's Degree is my go-to.
Emergency essentials for a road trip
Roadside emergency kit
Ideally, you won't use this, but when you're accident-prone like me, it's best to be prepared. They have normal kits, but I'm extra and love pink and feminine, so that's my preference. The kit comes with a flashlight, whistle/compass, safety vest, warning triangle, jumper cable, tow rope, safety hammer (used to break glass and cut seat belts), and more!
AAA membership
It's only around $70 a year, and it's best to have that peace of mind— especially when doing a road trip! Not to mention, you can score discounts on hotels, restaurants, car rentals, and more with your membership!
Not essential by any means…but could be useful
Hook purse holder
This hook goes around the back of the driver or passenger seat and gives you quick and easy reach to your purse. You can also use it for grocery bags when you aren't traveling!
Visor sunglasses + credit card holder
Make your sunglasses easily accessible, and better yet, your card easily accessible for when you go through drive-throughs or need to get gas.
Vent sauce clip holder
Y'all, I am a dangerous dipper, and someone else obviously felt my pain, and their innovative, entrepreneurial ass came up with this genius creation. Dip your Chick-fil-A nuggets safely with this sauce clip.
Visor tissue holder
Just another thing for convenience and easy access while driving!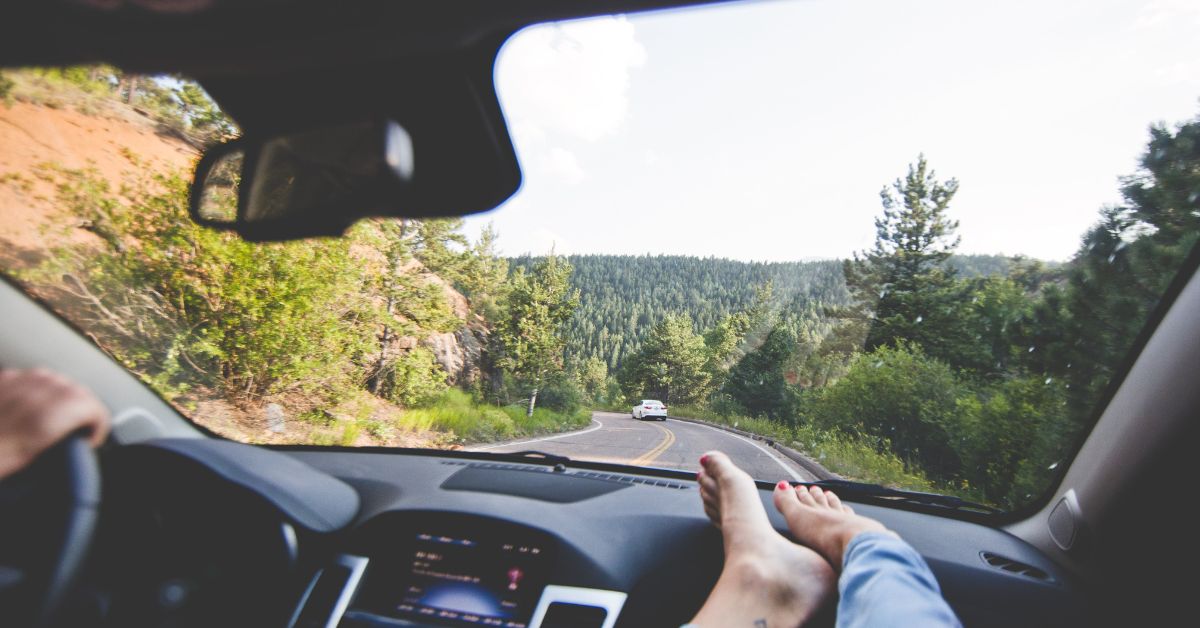 Bonus road trip tips
Get your music and podcast playlist ready before the trip and make sure it's all downloaded (you might lose service on the road, especially if going through mountains).
Make sure you wear comfy clothes, obvs. If you like a more loose-fitting look, there are a lot of different color and style options for these pants. If you like leggings in form-fitting styles, these are said to be a dupe for LuluLemon, and they have a cute little side pocket for your phone!
Take a cute backpack or travel tote bag that is open or easy to reach into to keep all of your items you'll want access to (eg. brush, toothbrush, toothpaste, snacks, nail clippers, etc.).
Road trips are genuinely one of my favorite ways to travel! I hope that you found this packing list helpful. Before you go, check out our road trip adventures through Arizona, Utah, Southeast US, and New England 🙂 And if you want more travel tips check out:
Hacks on how to travel more in 2023