This post contains affiliate links which means that I will make a small commission if you purchase a product after clicking on any of them, at no extra cost to you.
Nestled in the foothills of the Blue Ridge Mountains, Helen, Georgia is a charming and picturesque town that offers a unique blend of Old World charm and Southern hospitality. With its quaint Bavarian-style architecture, scenic natural beauty, and vibrant cultural scene, Helen is a must-visit destination for anyone seeking an escape from the hustle and bustle of city life.
Helen, Georgia was another pit stop on our epic southeast USA road trip, and let me be honest, I thought it was going to be a quick, spend-a-couple-of-hours-and-then-head-to-the-next-city kind of stop. Not the case. While a day trip to Helen, Georgia is enough to get a taste, I highly recommend spending more time here if you get the chance!
In this guide, I'll take you through the best things to do in Helen, GA plus one thing you can skip, so you can make the most of your visit. So pack your bags, grab your camera, and get ready for an unforgettable trip to Helen!
| Tip
If you prefer to travel on your own terms, consider renting a car. Use Rentalcars tool to compare pricing for top rental car companies.
Best things to do in Helen, Georgia
1. Enjoy authentic German fare
There are a number of places in Helen that have authentic German food, but Bodensee Restaurant was my favorite of the ones we tried. The food is so good you'll really forget you're in the States. I personally recommend their schnitzel, spaetzle, and house salad. If you aren't familiar, spaetzle is like a dumpling noodle.
I had mine with cheese and crispy onion, and WOW, was it good! Remi had the Jagerschnitzel that came with mushroom cream gravy, and instead of fries, we opted for the German potato salad. If you enjoy green salads, definitely make sure you start with their house salad that comes with a homemade dill and garlic dressing! It was so good that I've been attempting to make it at home myself!
And of course, don't leave without getting a beer stein! If you're a foodie, this is definitely one of the best things to do in Helen, GA!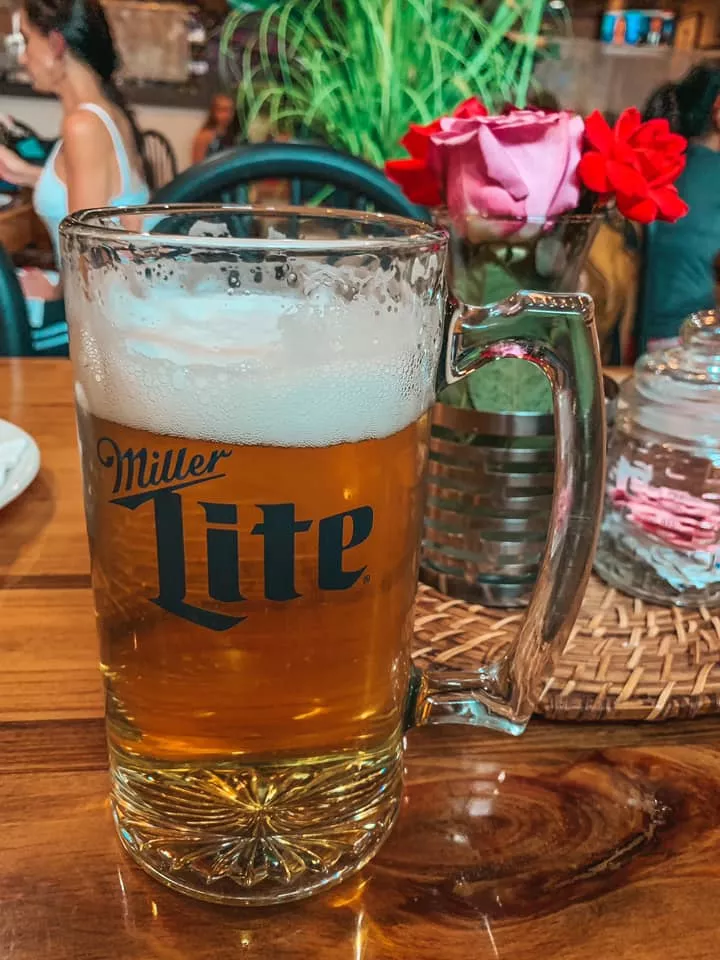 2. Grab a beer and giant pretzel at King Ludwig's Biergarten
King Ludwig's Biergarten was such a cute spot located in a really picturesque area in Helen. You can enjoy live music and giant mugs of beer along with a pretzel bigger than your head! And no worries— if you're not into beer, they have White Claws too 😉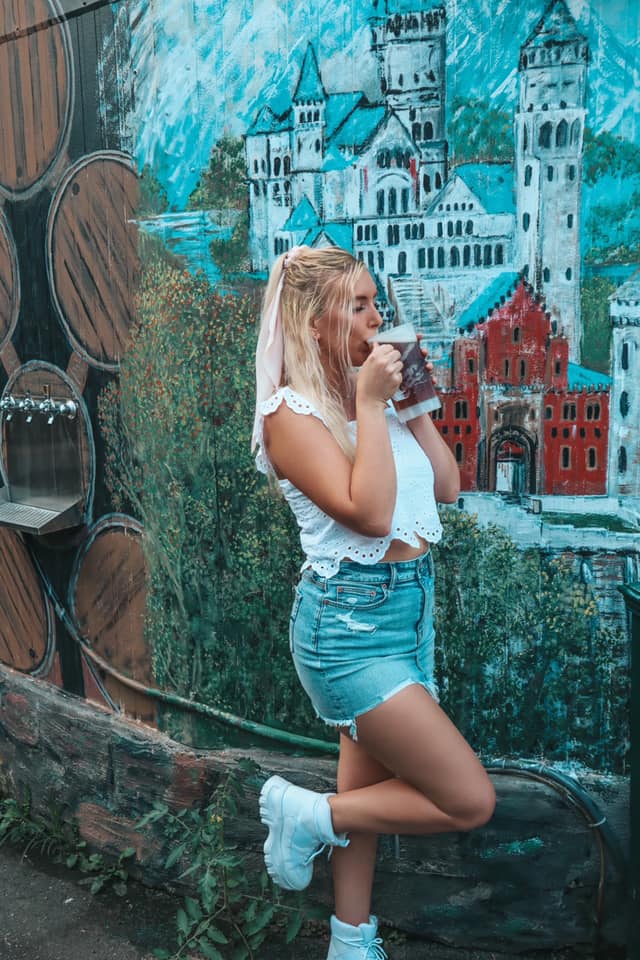 3. Get a charcuterie board from the Chattahoochee Cheese Market
We wanted to make a charcuterie board for a picnic we were going to have (the rain foiled the picnic plan), so we looked up where to get cheese and meat, and what a nice surprise finding this cute little place!
The Chattahoochee Cheese Market has everything you could want to make a charcuterie board— but even better, they make them there for you! And it's really decently priced (they have options starting at $15, and they make it on a cute wooden board you get to keep!).
I was so impressed with the presentation, variety, and flavor! We found this place on our way out, and I wish we'd found it sooner. It looked like they had some yummy coffee drinks and nice breakfast and lunch options as well!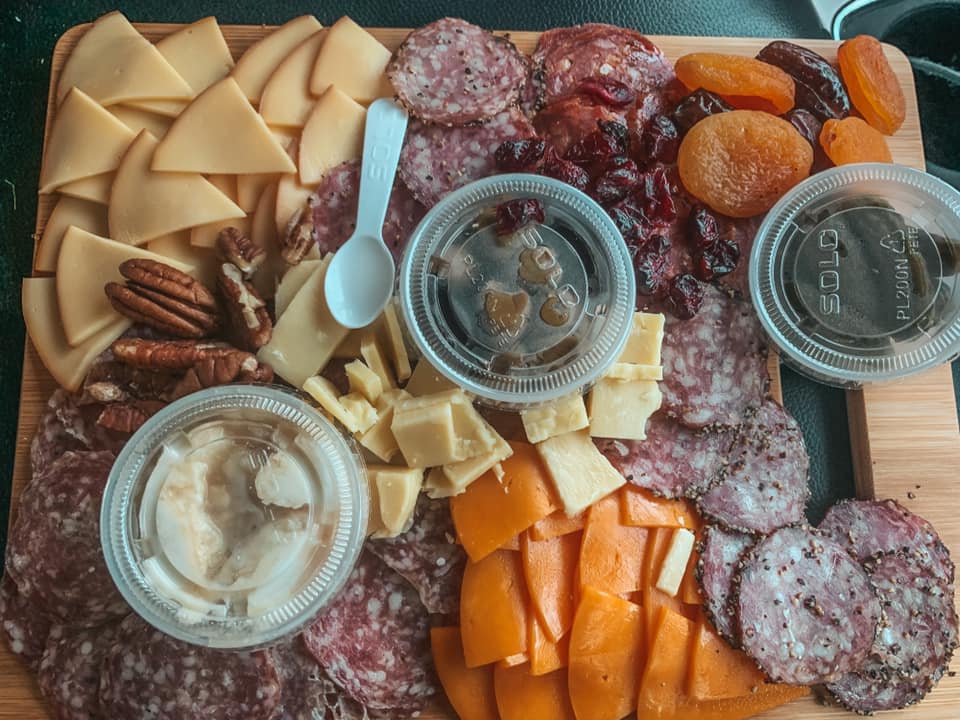 4. Explore Anna Ruby Falls
Anna Ruby Falls is a one-mile paved trail that leads you to some lovely sights of, you guessed it, waterfalls! This is a very easy and enjoyable trail that is suitable for all ages.
The trail is open from 9 am-5 pm and has a $3 per person admission fee. We got there shortly after it opened (around 10 am) and it was definitely more trafficked than I would have liked. But it was also a Saturday when we went.
It wasn't as busy when we were going up, but when we were going down, it was definitely more difficult to avoid people. If you can, avoid going over the weekend, but if you can't, just make sure you get there right as they open!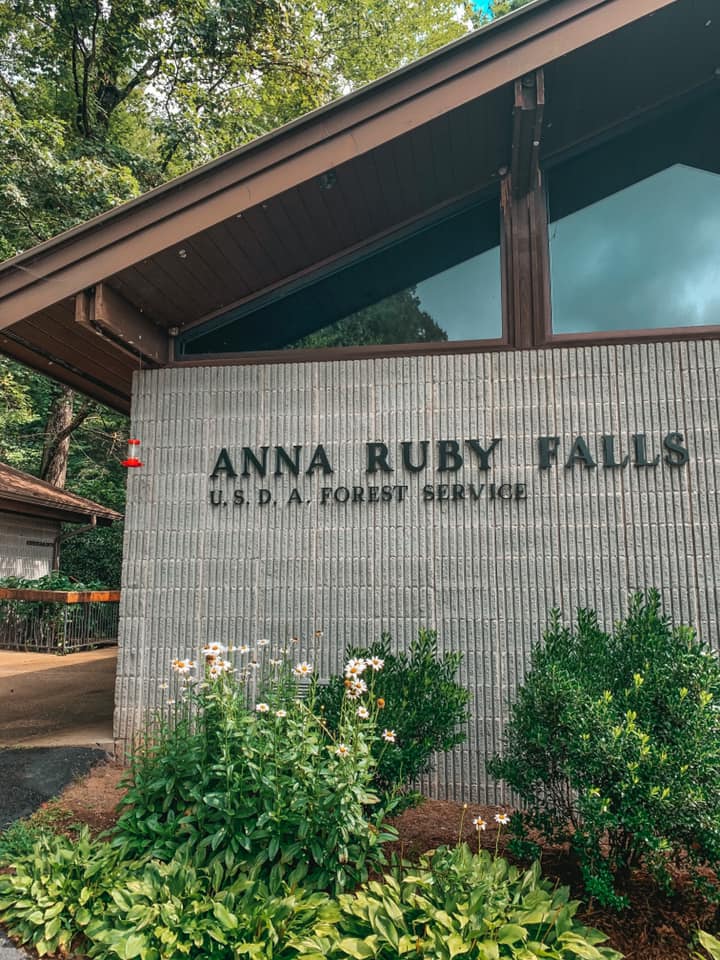 5. Visit some of Georgia's state parks
One of the best things to do when visiting Helen, Georgia, is to explore the nearby state parks and national forest. Two of the most popular options are Unicoi State Park and the Chattahoochee-Oconee National Forest.
Unicoi State Park is located just a few miles from Helen and is a great place to hike, swim, fish, and camp. The park features over 1,000 acres of forests, streams, and lakes, as well as a variety of recreational activities. Visitors can hike along the park's many trails, including the popular 2.5-mile Unicoi Lake Trail, which offers stunning views of the lake and surrounding mountains. The park also has a swimming beach, a fishing pier, and a lake for boating and paddling!
Related read: Check out this complete guide to Helen, Georgia attractions!
In addition to outdoor activities, Unicoi State Park also offers a range of amenities and accommodations, including a lodge, cabins, campsites, and picnic areas. The lodge features a restaurant, conference center, and gift shop, while the cabins and campsites offer a more rustic experience for those who want to spend the night.
The Chattahoochee-Oconee National Forest is a vast area of public land that encompasses over 860,000 acres in Georgia. The forest offers a variety of outdoor activities, including hiking, camping, fishing, and hunting. There are numerous hiking trails throughout the forest, ranging from short nature walks to multi-day backpacking trips. The forest also has many campgrounds, picnic areas, and scenic drives, including the Russell-Brasstown Scenic Byway, which offers stunning views of the surrounding mountains.
The Chattahoochee-Oconee National Forest is located just a short drive from Helen, with several access points throughout the area.
In our short time in Helen, we were unable to check out these spots, but they're on my list for our next trip!
6. Tube the Chattahoochee
Tubing the Chattahoochee with Cool River Tubing was legit one of the best parts of our whole two-week road trip! It was so much fun! Seriously, I'm telling you this is probably the best thing to do in Helen, and you aren't going to want to miss out.
You can tube for one or two hours down the river. The length of time you choose determines your drop-off point. It was raining when we were going, and we weren't sure how much we were going to like it, so we just did the one-hour trip.
We lucked out, and by the time we got dropped off by the bus, it had totally stopped pouring! The hour flew by and we really regretted not doing two. Remi even tried using the stick we had to make our way back upriver… unfortunately, to no avail.
You know what's even better than finding a super-fun, unique activity? When that activity is hella cheap! It was only $10 per tube ($14 on Saturday and Sunday), and it was the same price regardless of how long you went! They also have connectors (free of charge) so you can combine tubes together! We purchased a stick which I believe was $5, but it was definitely necessary to get us out of some sticky situations.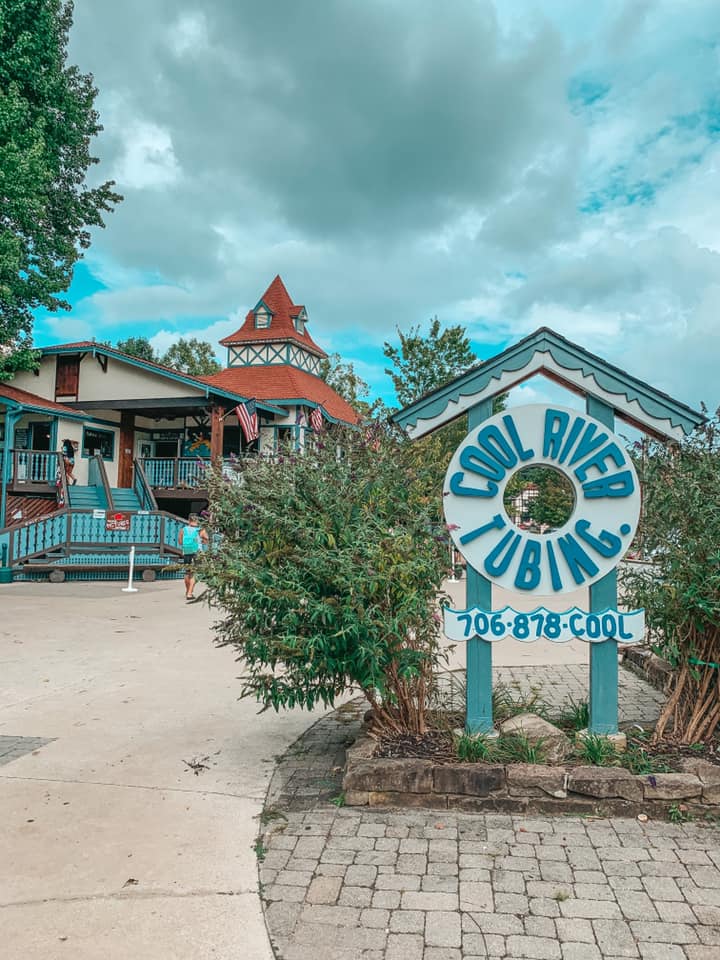 FYI: Coolers and drinks are not allowed on the river. However, they allowed us to take a couple of reusable water bottles.
7. Check out some wineries
This is something we, unfortunately, did not get to enjoy due to the limited hours most of the wineries had due to COVID. But I highly recommend checking out some if you have the chance! 
Habersham Winery is one of North Georgia's oldest and largest wineries! You can do tastings where you can try five different wines for $10, or for $12, try five different wines and get a souvenir cup!
Yonah Mountain Vineyards looked like they had the most breathtaking views, as it's literally located at the base of a mountain. I was especially bummed I didn't get to go to this one! Along with the views, they also frequently have live music on the weekends. They usually have cave tours and tastings, but due to COVID, they currently don't. This could change at any time, so double-check their website before going.
We were able to visit the Fox Vineyards and Winery tasting room, which is located in the heart of downtown, but we didn't make it to the actual vineyard. The tasting only cost us one dollar, and you only have to pay that if you don't purchase any wine (we got to sample five). The wines were too sweet for my liking, however, I did purchase some fun little gifts and souvenirs for friends from their shop. I definitely recommend scoping the tasting room out and giving some of their flavors a try!
🍷 Must-visit
Get out of the city and explore the untapped beauty of North Georgia's wine country on this full-day tour from Atlanta
Book here
8. Wander around downtown Helen, GA
The downtown area is so charming and there are so many cute places to take pictures (you know I can't resist)! As you step into this enchanting village of downtown Helen, you'll find yourself transported to a world that echoes the idyllic Alpine towns of Europe.
Quaint cobblestone streets lined with charming shops, restaurants, and boutiques beckon you to explore, while the tranquil Chattahoochee River streams through.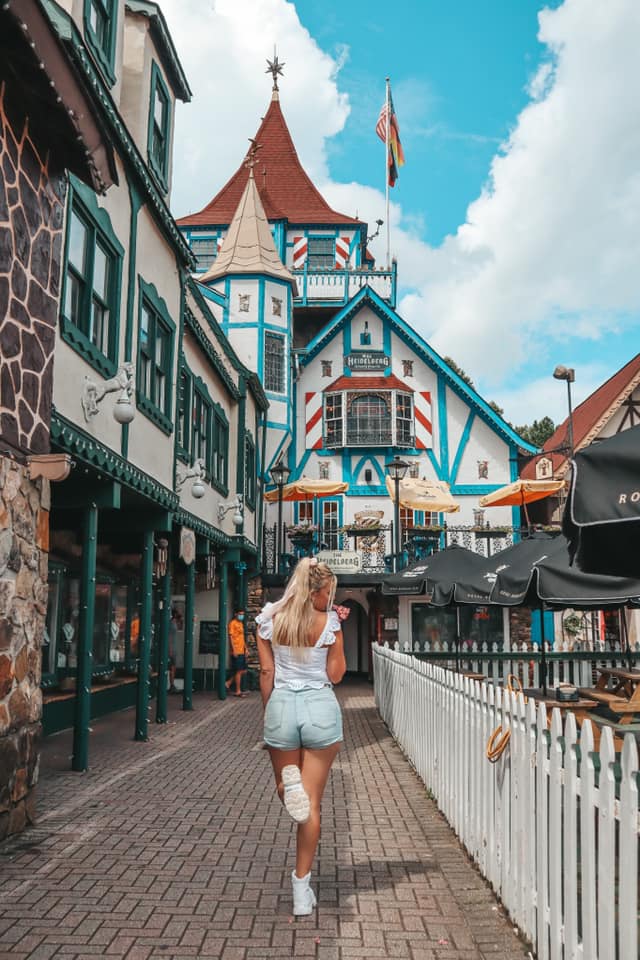 Something you should nix from your list of things to do in Helen, GA
Enjoying a carriage ride through the downtown area
Okay, I gave you the best things to do in Helen, but I feel like it's my duty to tell you there is something you should skip during your trip.
I was SO stoked to do a carriage ride! However, it was impossible to get a hold of the Alpine Carriage Company. Fortunately, it turned out to be a blessing in disguise. After reading the reviews many people seemed to have poor experiences (overpriced, didn't last long, mistreatment of horses, and difficulty getting a hold of the company).
I know it seems super cute, but my opinion is to save your money for the other fun things to do in Helen.
When is the best time to visit Helen, Georgia?
The best time to visit Helen, Georgia, depends largely on what you're looking for in a vacation. If you're interested in outdoor activities like hiking, fishing, and kayaking, then the spring and fall months are great times to visit. The temperatures are mild, and the scenery is beautiful, with vibrant colors in the fall foliage.
When it comes to the weather, Helen, Georgia, experiences all four seasons, with hot summers and cold winters. The average high temperature in the summer (June to August) is in the mid-80s, while the average low temperature in the winter (December to February) is in the 30s. It's important to check the weather forecast before you visit and pack accordingly.
Helen, Georgia events
If you're interested in taking part in some of the events and festivals that Helen has to offer, then the best time to visit is during the summer and fall months. One of the most popular events is Oktoberfest, which takes place from mid-September through the end of October. This event celebrates German culture with live music, traditional food and drink, and other fun activities. Visitors can enjoy beer gardens, polka dancing, and even a parade.
Other events and festivals in Helen include the Helen Art and Wine Festival, which takes place in May and features wine tastings, live music, and arts and crafts vendors. The Helen Christmas Parade, which takes place in December, is also a popular event that features holiday-themed floats, marching bands, and more.
The Helen Balloon Event is another popular event that attracts visitors from all over the country. It's typically in June and is a great opportunity to see hot air balloons up close and experience the thrill of a balloon ride.
If you're planning to attend any of these events it's important to plan ahead and book your accommodations early, as they attract a large number of visitors!
Overall, Helen, Georgia, is a great destination year-round, but the best time to visit depends on what you're interested in doing. Whether you want to enjoy the outdoors, take part in the local festivals, or simply relax and explore the town's charming Bavarian-style architecture, you're sure to have a blast in Alpine Helen no matter what time of year you visit.
Where to stay in Helen, Georgia
If you are wondering where to stay in Helen, we stayed at the Holiday Inn Express and really enjoyed it! It was decently priced, and breakfast was included. It's the highest-rated hotel in the area on Booking.com!
It's also in a great location. It's a 10-15 minute walk to the main area with all of the shops and some restaurants, but it had my favorite activity right in its backyard— Cool River Tubing, which took us cruising down the Chattahoochee River!
🏨Looking for the best hotel deal?
Compare hotel prices for your dates and have the flexibility of 24 hour advance notice cancellation for most stays with Booking.com
Click herе to compare prices
I almost always stay at IHG hotels and love my IHG Rewards Card. I almost always have gotten a free upgrade when asking, and they often allow extra perks like prioritizing you for late check-out/ early check-in. Check out my guide to travel credit cards to learn how to unlock all of the perks with some of the most popular credit cards!
If you want something a little cheaper, you can check out the Heidi Motel. It's quaint, cozy, and conveniently located. If you don't mind spending a little more and are planning to go with a group check out Bear Creek Lodge & Cabins.
Remember when planning your trip hotels are often double the price over the weekends as they are during the week.
Holiday Inn Express, an IHG hotel – Click Here
Are you ready for you ready to experience the best things to do in Helen, GA?
Whether you're indulging in authentic German cuisine, perusing unique artisanal crafts, or simply savoring the fresh mountain air, Helen, Georgia exudes a warmth that makes every visit feel like a cherished escape.
With a calendar filled with festivals, events, and year-round attractions, this charming town ensures there's always something delightful to discover around every corner!
Be sure to follow me on Insta @guidedbydestiny for more travel content (: You may also be interested in reading about our other road trip stops:
Snag my Ultimate Road Trip Packing List for some AWESOME recommendations you may have never thought of! 🙂
Looking for a shorter road trip itinerary? Check out how we spent 4 days in New England in the fall!