This post contains affiliate links which means that I will make a small commission if you purchase a product after clicking on any of them, at no extra cost to you.
I feel like I was the last to know about this adorable Bavarian town! Helen, Georgia was another pit stop on our epic southeast USA road trip, and let me be honest, I thought it was going to be a quick, spend-a-couple-of-hours-and-then-head-to-the-next-city kind of stop. Not the case.
There were so many fun things to do in Helen, not to mention the amazing German food! Once you get to this charming village, you're going to want it to be more than just a quick little visit. If you're planning your visit to this charming village here's a list of 7 things to do in Helen, Georgia!
Best things to do in Helen, Georgia
Enjoy authentic German fare
There are a number of places in Helen that have authentic German food, but Bodensee Restaurant was my favorite of the ones we tried. The food is so good you'll really forget you're in the States. I personally recommend their schnitzel, spaetzle, and house salad. If you aren't familiar, spaetzle is like a dumpling noodle.
I had mine with cheese and crispy onion, and WOW, was it good! Remi had the Jagerschnitzel that came with mushroom cream gravy, and instead of fries, we opted for the German potato salad. If you enjoy green salads, definitely make sure you start with their house salad that comes with a homemade dill and garlic dressing! It was so good that I've been attempting to make it at home myself!
And of course, don't leave without getting a beer stein! If you're a foodie, this is definitely one of the must-do things to do in Helen, Georgia!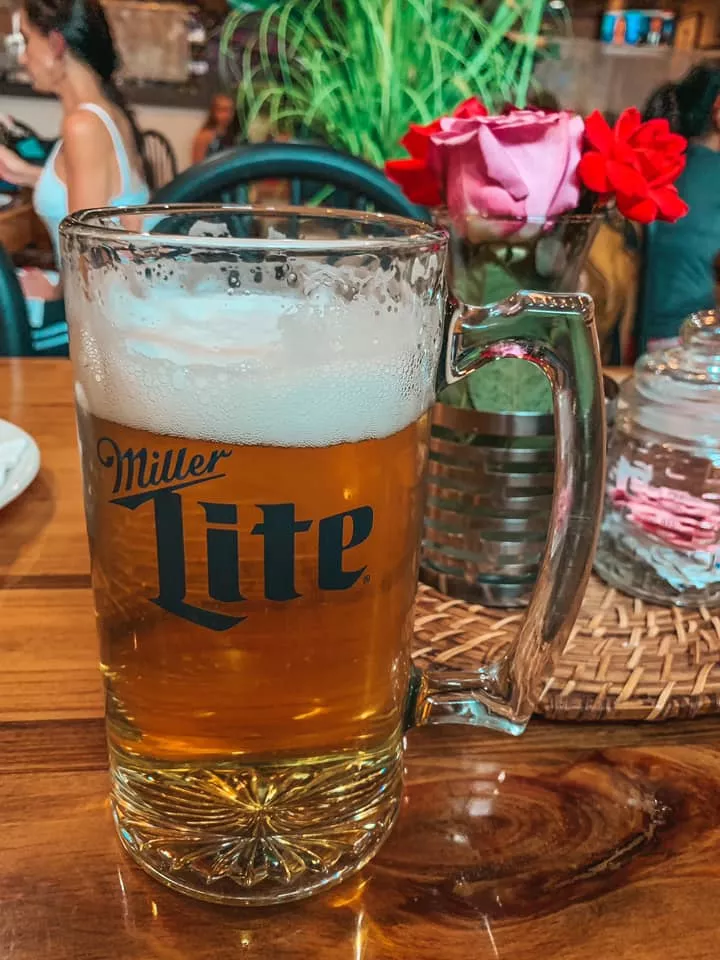 Grab a beer and giant pretzel at King Ludwig's Biergarten
King Ludwig's Biergarten was such a cute spot located in a really picturesque area in Helen. You can enjoy live music and giant mugs of beer along with a pretzel bigger than your head! And no worries— if you're not into beer, they have White Claws too 😉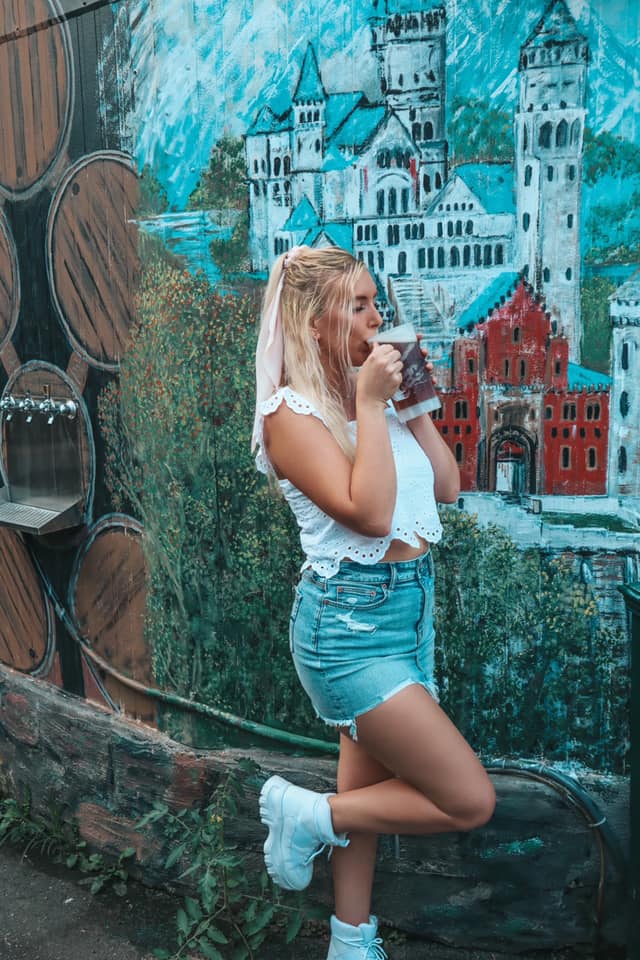 Get a charcuterie board from the Chattahoochee Cheese Market
We wanted to make a charcuterie board for a picnic we were going to have (the rain foiled the picnic plan), so we looked up where to get cheese and meat, and what a nice surprise finding this cute little place!
The Chattahoochee Cheese Market has everything you could want to make a charcuterie board— but even better, they make them there for you! And it's really decently priced (they have options starting at $15, and they make it on a cute wooden board you get to keep!).
I was so impressed with the presentation, variety, and flavor! We found this place on our way out, and I wish we'd found it sooner. It looked like they had some yummy coffee drinks and nice breakfast and lunch options as well!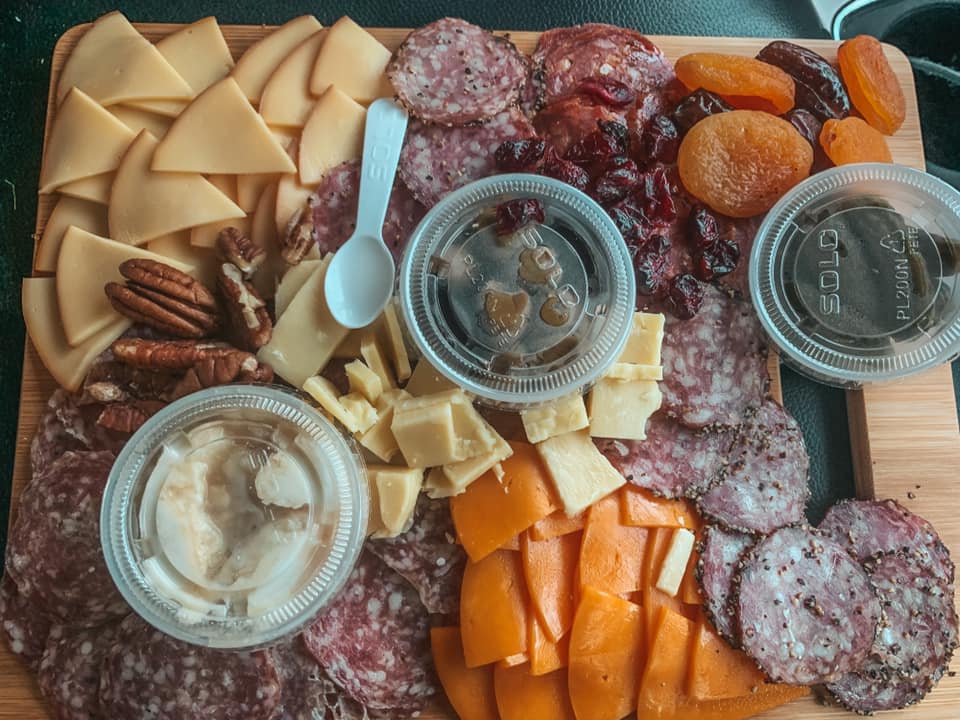 Explore Anna Ruby Falls
Anna Ruby Falls is a one-mile paved trail that leads you to some lovely sights of, you guessed it, waterfalls! This is a very easy and enjoyable trail that is suitable for all ages.
The trail is open from 9 am-5 pm and has a $3 per person admission fee. We got there shortly after it opened (around 10 am) and it was definitely more trafficked than I would have liked. But it was also a Saturday when we went.
It wasn't as busy when we were going up, but when we were going down, it was definitely more difficult to avoid people. If you can, avoid going over the weekend, but if you can't, just make sure you get there right as they open!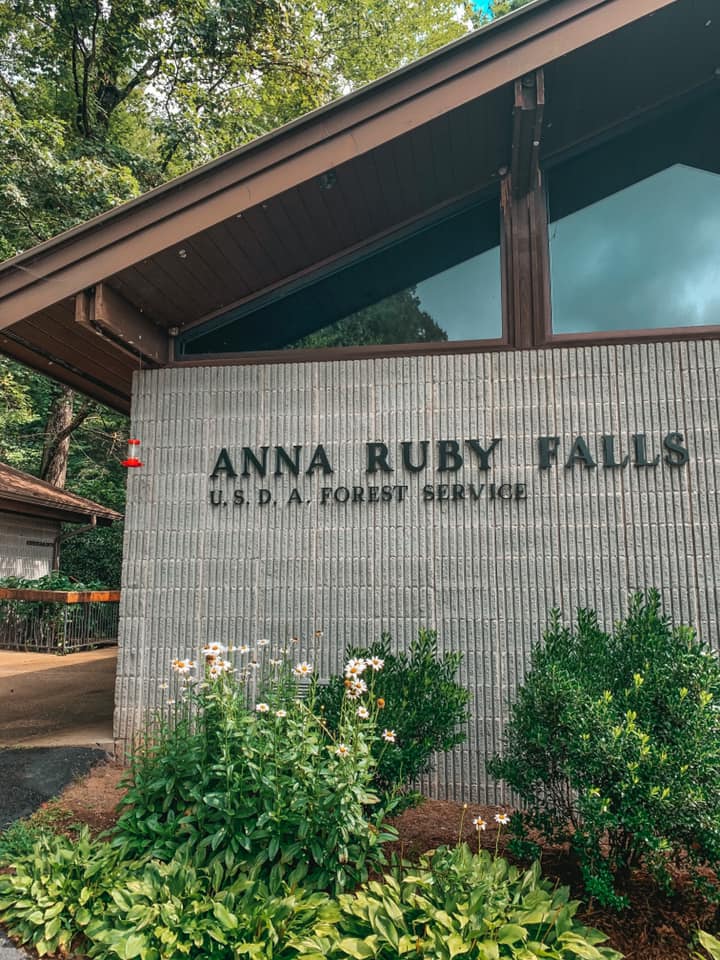 Tube the Chattahoochee
Tubing the Chattahoochee with Cool River Tubing was legit one of the best parts of our whole two-week road trip! It was so much fun! Seriously, I'm telling you this is probably the best thing to do in Helen, and you aren't going to want to miss out.
You can tube for one or two hours down the river. The length of time you choose determines your drop-off point. It was raining when we were going, and we weren't sure how much we were going to like it, so we just did the one-hour trip.
We lucked out, and by the time we got dropped off by the bus, it had totally stopped pouring! The hour flew by and we really regretted not doing two. Remi even tried using the stick we had to make our way back upriver… unfortunately, to no avail.
You know what's even better than finding a super-fun, unique activity? When that activity is hella cheap! It was only $10 per tube ($14 on Saturday and Sunday), and it was the same price regardless of how long you went! They also have connectors (free of charge) so you can combine tubes together! We purchased a stick which I believe was $5, but it was definitely necessary to get us out of some sticky situations.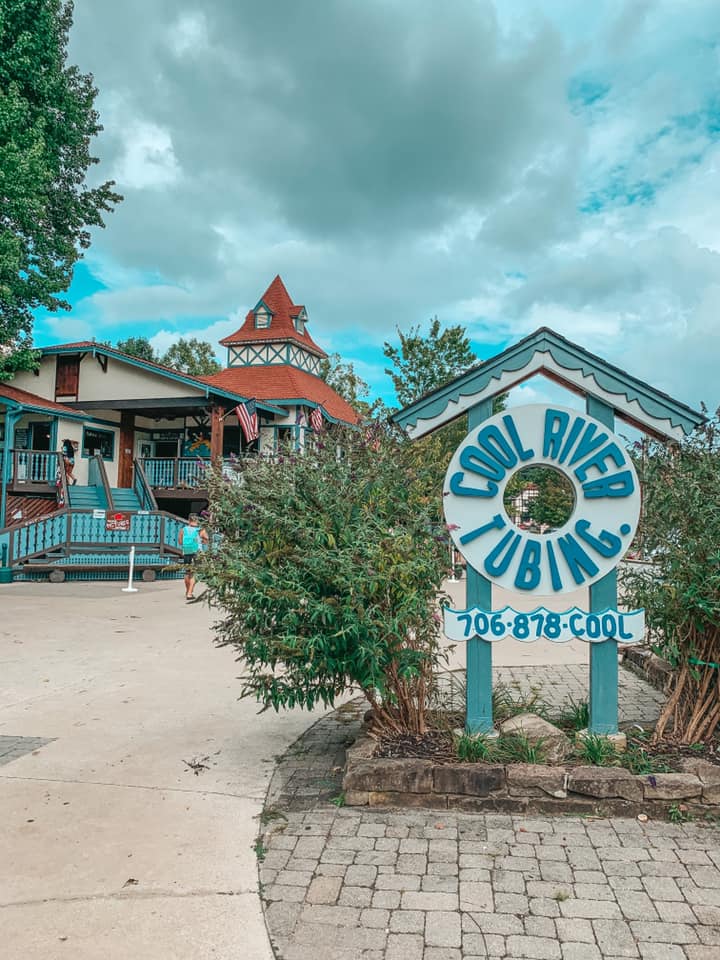 FYI: Coolers and drinks are not allowed on the river. However, they allowed us to take a couple of reusable water bottles.
Check out some wineries
This is something we, unfortunately, did not get to enjoy due to the limited hours most of the wineries had due to COVID. But I highly recommend checking out some if you have the chance! 
Habersham Winery is one of North Georgia's oldest and largest wineries! You can do tastings where you can try five different wines for $10, or for $12, try five different wines and get a souvenir cup!
Yonah Mountain Vineyards looked like they had the most breathtaking views, as it's literally located at the base of a mountain. I was especially bummed I didn't get to go to this one! Along with the views, they also frequently have live music on the weekends. They usually have cave tours and tastings, but due to COVID, they currently don't. This could change at any time, so double-check their website before going.
We were able to visit the Fox Vineyards and Winery tasting room, which is located in the heart of downtown, but we didn't make it to the actual vineyard. The tasting only cost us one dollar, and you only have to pay that if you don't purchase any wine (we got to sample five). The wines were too sweet for my liking, however, I did purchase some fun little gifts and souvenirs for friends from their shop. I definitely recommend scoping the tasting room out and giving some of their flavors a try!
Take advantage of the beautiful photo ops!
There are so many cute places to take pictures! Looking at some of the shots I got, you'd really think that I was in Germany 😉 My favorite photo-op spot was in front of the Heidelberg Restaurant located in the heart of downtown (see below). But there were plenty of other awesome spots as well, like the beautifully-painted wall by King Ludwig's Restaurant.
Make sure you take advantage of a few of these spots!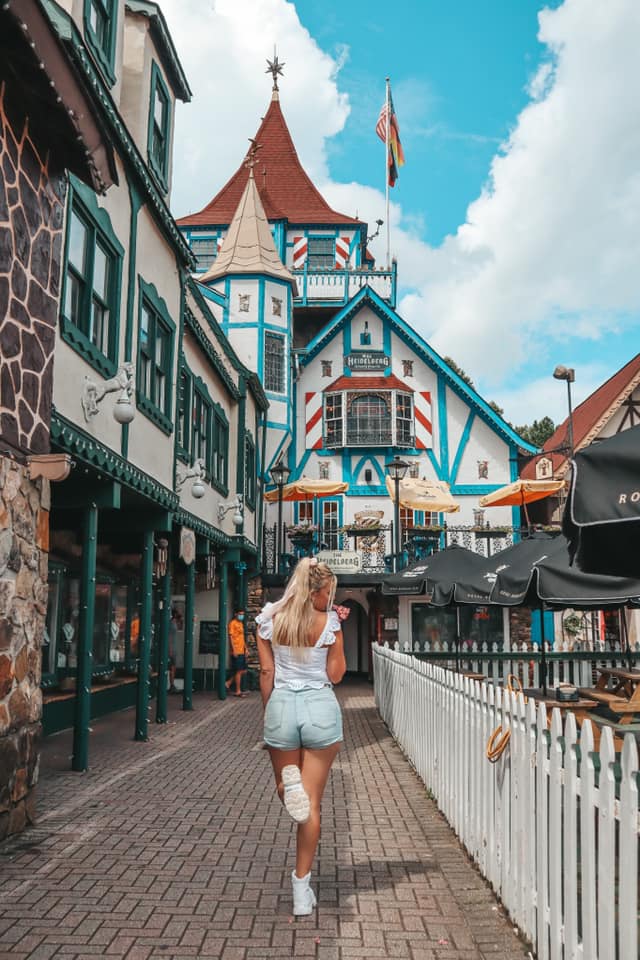 Something you should nix from your list of things to do in Helen
Enjoying a carriage ride through the downtown area
Okay, I gave you the best things to do in Helen, but I feel like it's my duty to tell you there is something you should skip during your trip.
I was SO stoked to do a carriage ride! However, it was impossible to get a hold of the Alpine Carriage Company. Fortunately, it turned out to be a blessing in disguise. After reading the reviews many people seemed to have poor experiences (overpriced, didn't last long, mistreatment of horses, and difficulty getting a hold of the company).
I know it seems super cute, but my opinion is to save your money for the other fun things to do in Helen.
Where to stay in Helen, Georgia
If you are wondering where to stay in Helen, we stayed at the Holiday Inn Express and really enjoyed it! It was decently priced, and breakfast was included. It's the highest-rated hotel in the area on Booking.com!
It's also in a great location. It's a 10-15 minute walk to the main area with all of the shops and some restaurants, but it had my favorite activity right in its backyard— Cool River Tubing, which took us cruising down the Chattahoochee River!
I almost always stay at IHG hotels and love my IHG Rewards Card. I almost always have gotten a free upgrade when asking, and they often allow extra perks like prioritizing you for late check-out/ early check-in.
If you want something a little cheaper, you can check out the Heidi Motel. It's quaint, cozy, and conveniently located. If you don't mind spending a little more and are planning to go with a group check out Bear Creek Lodge & Cabins.
Remember when planning your trip hotels are often double the price over the weekends as they are during the week.
Holiday Inn Express, an IHG hotel – Click Here
If you do any of these activities tag me on Instagram @guidedbydestiny and use the hashtag #guidedbydestiny so I can share it with my followers! 🙂
Don't miss reading about the other stops (Asheville, Chattanooga, and St. Simon's Island) on our epic southeast road trip! And especially don't forget to snag my Ultimate Road Trip Packing List for some AWESOME recommendations you may have never thought of! 🙂
If you're looking for a shorter road trip itinerary check out how we spent 4 days in New England in the fall!
Enjoy this post? Share it 🙂