This post contains affiliate links which means that I will make a small commission if you purchase a product after clicking on any of them, at no extra cost to you.
Nestled high in the Andean mountains, Bogota is a sprawling metropolis that exudes a unique blend of ancient history and modern allure. Even if you only have 3 days in Bogota you'll be able to do everything from exploring historical landmarks to immersing yourself in the city's thriving art scene and savoring the tantalizing flavors of Colombian cuisine.
While Bogota was my least favorite of the places we visited, I still had experiences here that made me love it! I had the best culinary experience of my life, did one of my favorite tours I've ever done in another country, and shopped until I dropped. This guide to 3 days in Bogota covers commonly asked questions, the best things to do, where to eat, and more!
Is Bogota safe?
Over the years Bogota has made significant strides in improving its safety, and it has become a more secure place for tourists. However, it is essential to exercise caution and be mindful of certain areas, just as you would in any major city!
The central and tourist-oriented areas, such as La Candelaria, El Retiro, and Parque 93, are generally considered safe for visitors. During our Colombia trip, we felt at ease exploring these neighborhoods and engaging with the friendly locals.
Like any metropolis, it's wise to be aware of your surroundings, avoid displaying valuables, and use reputable transportation services. Additionally, consulting with locals and hotel staff for advice on safe places to visit can be beneficial.
How many days in Bogota do you need?
While Bogota offers an array of captivating experiences, a well-planned 3-day Bogota itinerary can provide you with a fantastic taste of what the city has to offer! We only had 3 days and we were able to explore the city's historical landmarks, immerse ourselves in its cultural treasures, and indulge in its AMAZING cuisine.
While a longer stay allows for more in-depth exploration, 3 days in Bogota is enough to get a sense of its allure, making it an ideal choice for a quick escape or a delightful extension of your Colombian adventure.
What is the weather like in Bogota?
Bogota's weather features a pleasantly cool and mild climate throughout much of the year. Due to its high altitude, the city enjoys a relatively constant temperature range. Average temperatures typically hover around the 60s to low 70s Fahrenheit (15-25 degrees Celsius) during the day, with cooler nights dipping into the 40s and 50s Fahrenheit (5-15 degrees Celsius). The highest temp ever recorded in Bogota was 78 degrees Fahrenheit (26 Celsius)!
The city experiences a consistent amount of rainfall throughout the year, which contributes to its lush greenery and beautiful gardens. However, it's essential to note that the city's weather can be unpredictable, and you may experience sudden showers even during the drier months.
When we visited Bogota in July, we were pleasantly surprised with the mild climate being a refreshing change, especially coming from the sweltering humidity of Cartagena!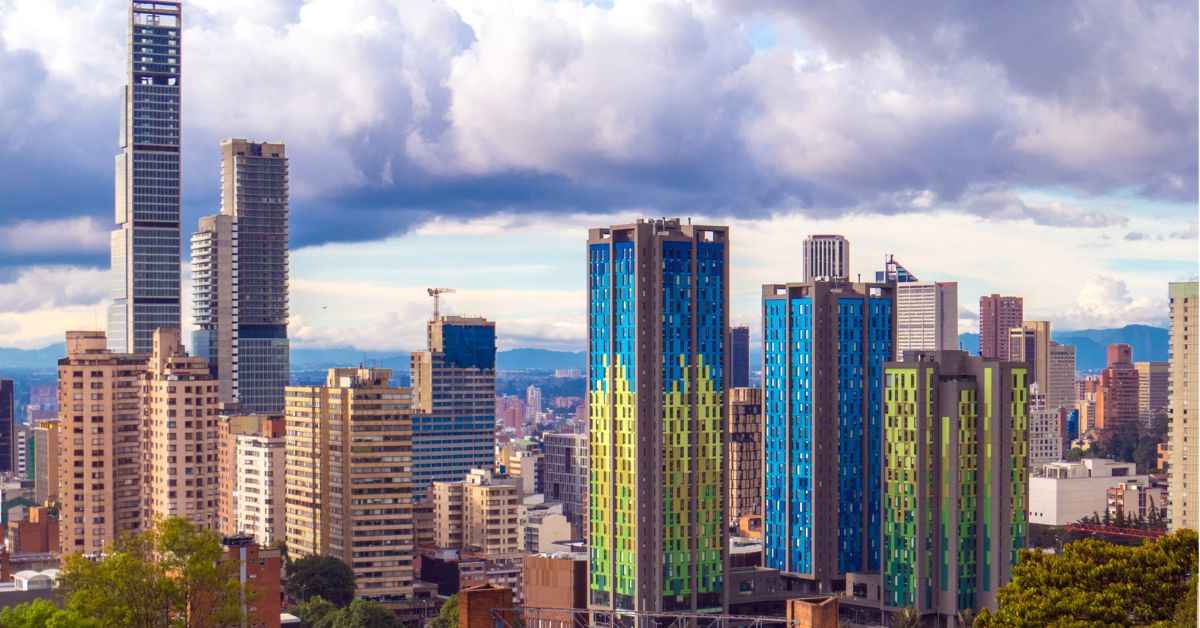 Best things to do with 3 days in Bogota
Ride the cable car up to the Monserrate
One must-do activity in Bogota is riding the Monserrate funicular, an iconic and breathtaking experience that offers panoramic views of the city. The funicular takes visitors to the top of Cerro de Monserrate, a mountain towering over Bogota. It's a popular spot, especially during sunset, which offers a magical sight as the city begins to light up!
However, if you plan to catch the sunset from this vantage point, be prepared for crowds as it's a favorite time to visit. Lines can move quite slowly, so giving yourself ample time is essential to ensure you don't miss this spectacular view. The Monserrate funicular operates from Monday to Saturday 6:30 AM – 11 PM. On Sundays, the operating hours are from 5:30 AM to 5:30 PM.
The cost of the funicular ride is 26,500 COP (approximately $7 USD) from Monday to Saturday and 15,500 COP (approximately $4 USD) on Sundays.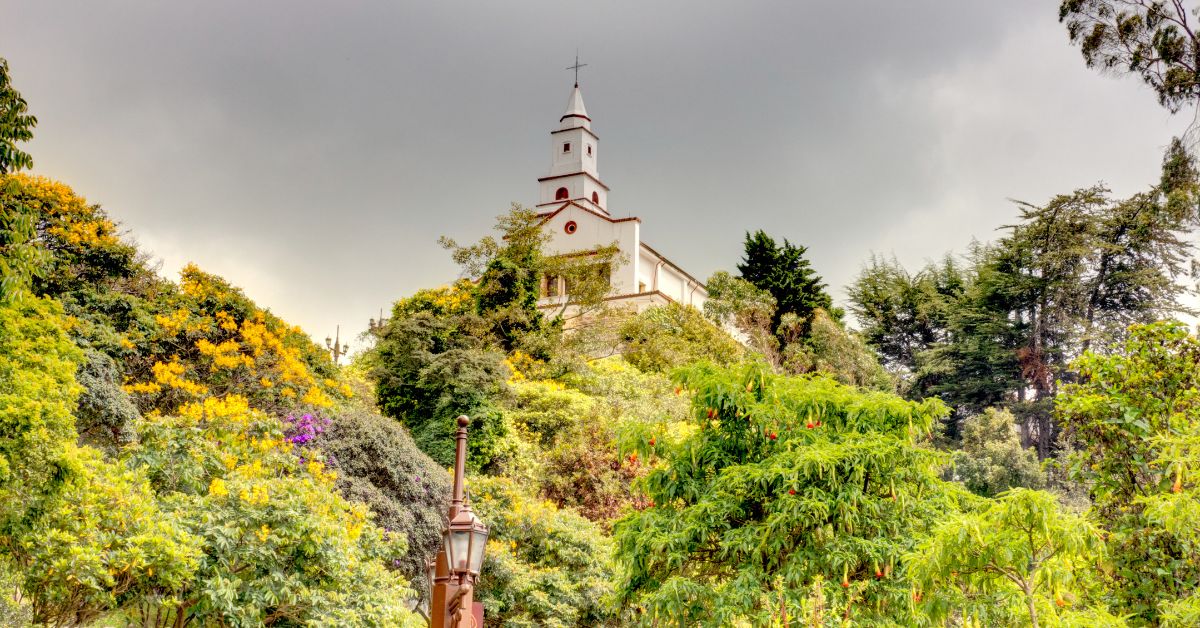 La Candelaria District
A visit to Bogota wouldn't be complete without spending time in the enchanting La Candelaria district. With its cobblestone streets, colonial architecture, and vibrant atmosphere, this neighborhood is a treasure trove of historical and cultural gems!
Don't miss the opportunity to visit some of the city's most significant landmarks, such as the stunning La Catedral Primada, the largest cathedral in Colombia, and the iconic Plaza de Bolivar, where you can witness the heart of Bogota's political life and experience the vibrant energy of Bogota. It's common to see street performers, artists, and vendors offering a variety of goods and souvenirs.
Check out Santa Clara Church and Iglesia de San Francisco, two of Bogota's oldest churches. Santa Clara stands as one of the city's most lavishly adorned churches. While it was deconsecrated in 1968, the government took over its ownership and transformed it into a museum, showcasing exquisite baroque paintings by esteemed Colombian artists.
The entrance fee is less than $1 (approximately 3,500 COP), but note that Museo Santa Clara is closed on Sundays and Mondays, so plan your visit accordingly.
Try Ajiaco
While exploring Bogota, don't miss the opportunity to savor the traditional Colombian dish, Ajiaco. Casa Mamá Luz located in La Candelaria is one of the city's best-known establishments for this hearty soup.
Ajiaco is a flavorful and comforting chicken and potato soup, typically served with corn on the cob, capers, avocado, and a dollop of cream, offering a delicious taste of Colombian culinary heritage that is sure to delight your taste buds.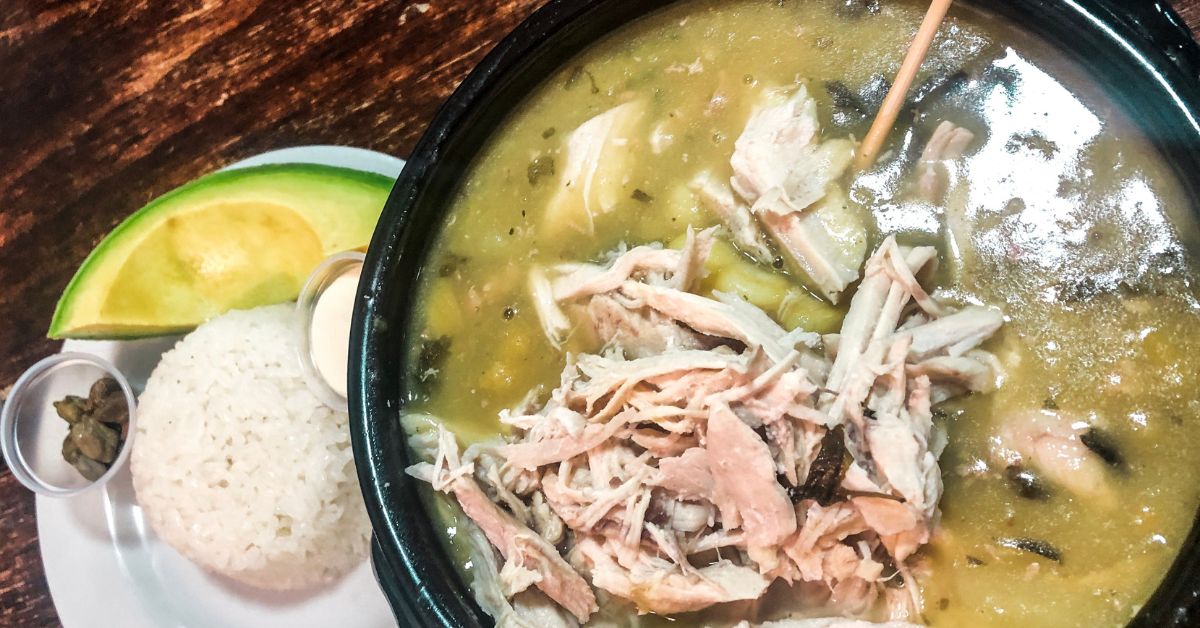 Santuario Nuestra Señora del Carmen
Santuario Nuestra Señora del Carmen, also known as the Sanctuary of Our Lady of Mount Carmel, is a prominent religious landmark located in the heart of Bogota's Chapinero neighborhood. This beautiful Catholic sanctuary is dedicated to the Virgin Mary, specifically to her title as Our Lady of Mount Carmel, a revered figure in Catholicism.
The sanctuary's architectural style is a stunning blend of Neo-Gothic and Neo-Romanesque designs, showcasing intricate details and impressive spires that soar toward the sky.
One of the highlights of a visit to Santuario Nuestra Señora del Carmen is its stunning stained glass windows, which filter the sunlight and cast a beautiful glow over the interior, creating a mesmerizing ambiance.
I was bummed that it wasn't open when we went, because I have seen the photos of the inside and it looks just as stunning as the exterior! The church is open every day from 7:30 AM – 11:30 AM.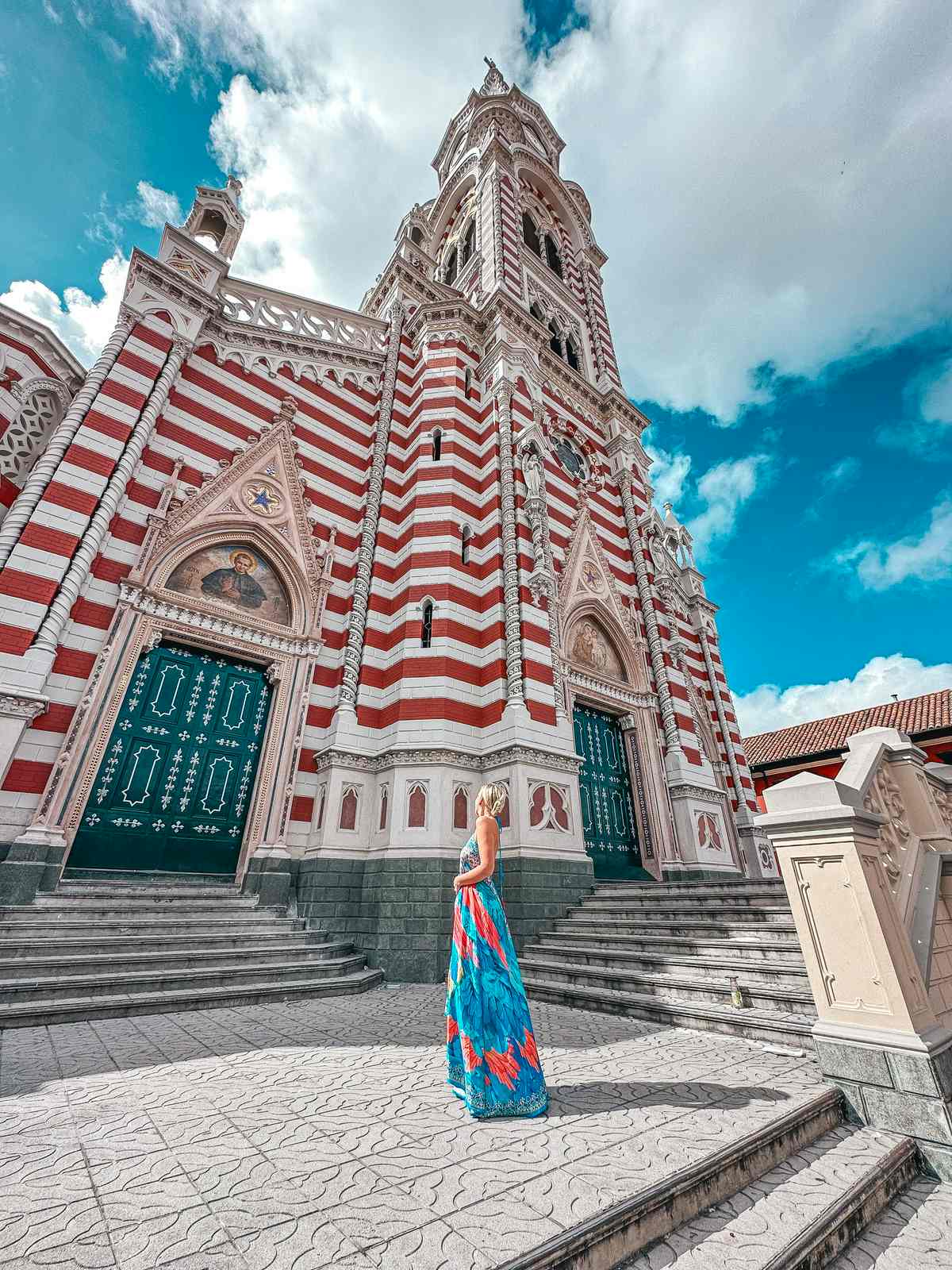 Botero Museum
The Botero Museum, nestled in the heart of Bogota's historic La Candelaria district, is a cultural gem that art enthusiasts should not miss. Founded in 2000 by renowned Colombian artist Fernando Botero, the museum is dedicated to showcasing his exceptional works of art, as well as an impressive collection of international artists.
What makes this museum even more appealing is that admission is entirely free, allowing visitors to immerse themselves in the world of art without any cost.
Fernando Botero, often referred to as the "maestro of volume," is celebrated for his unique art style characterized by "Boterismo." This distinctive style features exaggerated and voluptuous forms, bestowing his subjects with a sense of larger-than-life proportions.
Botero's art is known for its playful and satirical undertones, offering social commentary and inviting viewers to contemplate the complexities of the human condition.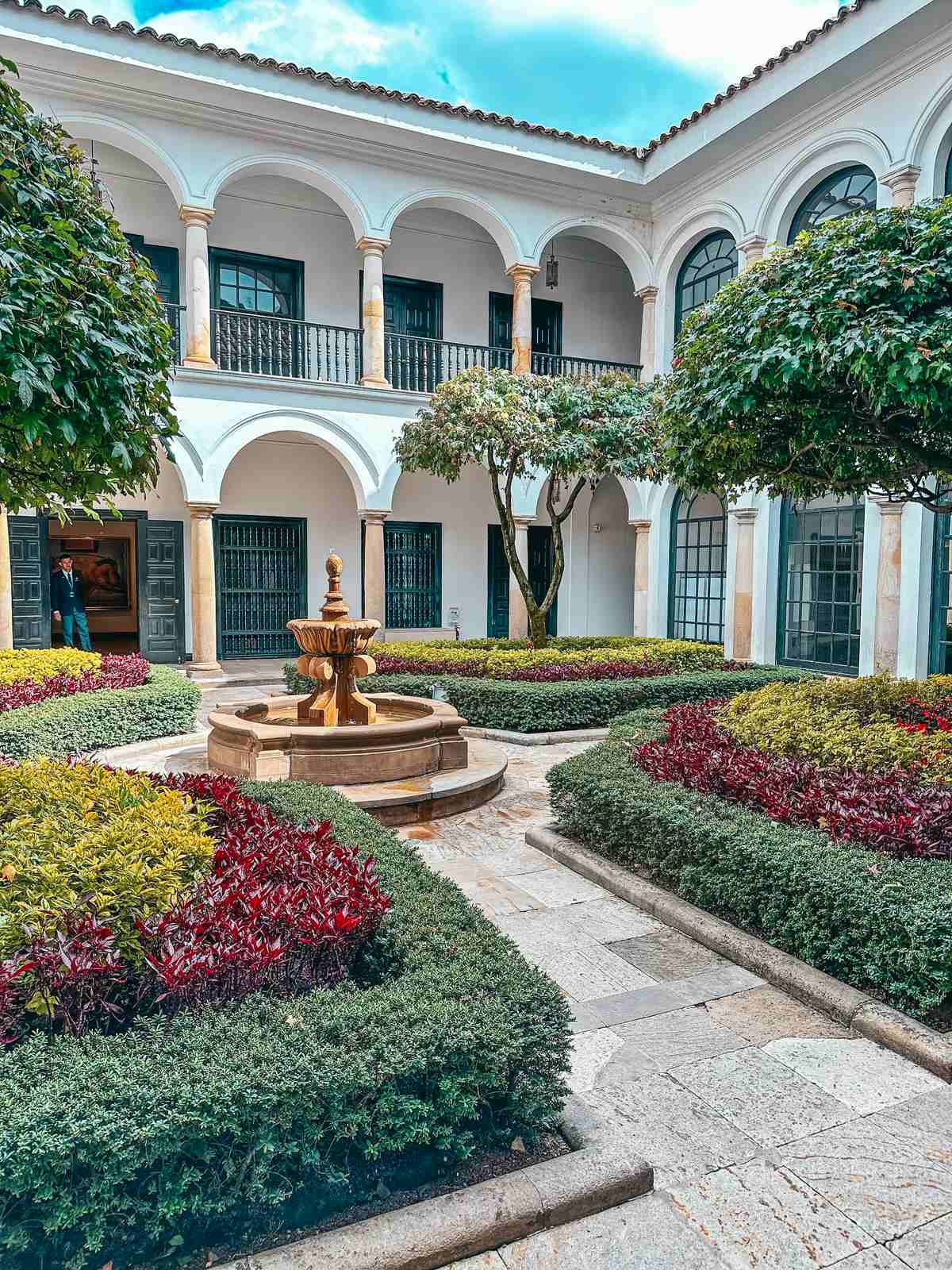 After exploring the art-filled galleries, take a break at the museum's charming café, which offers a delightful selection of coffee and treats!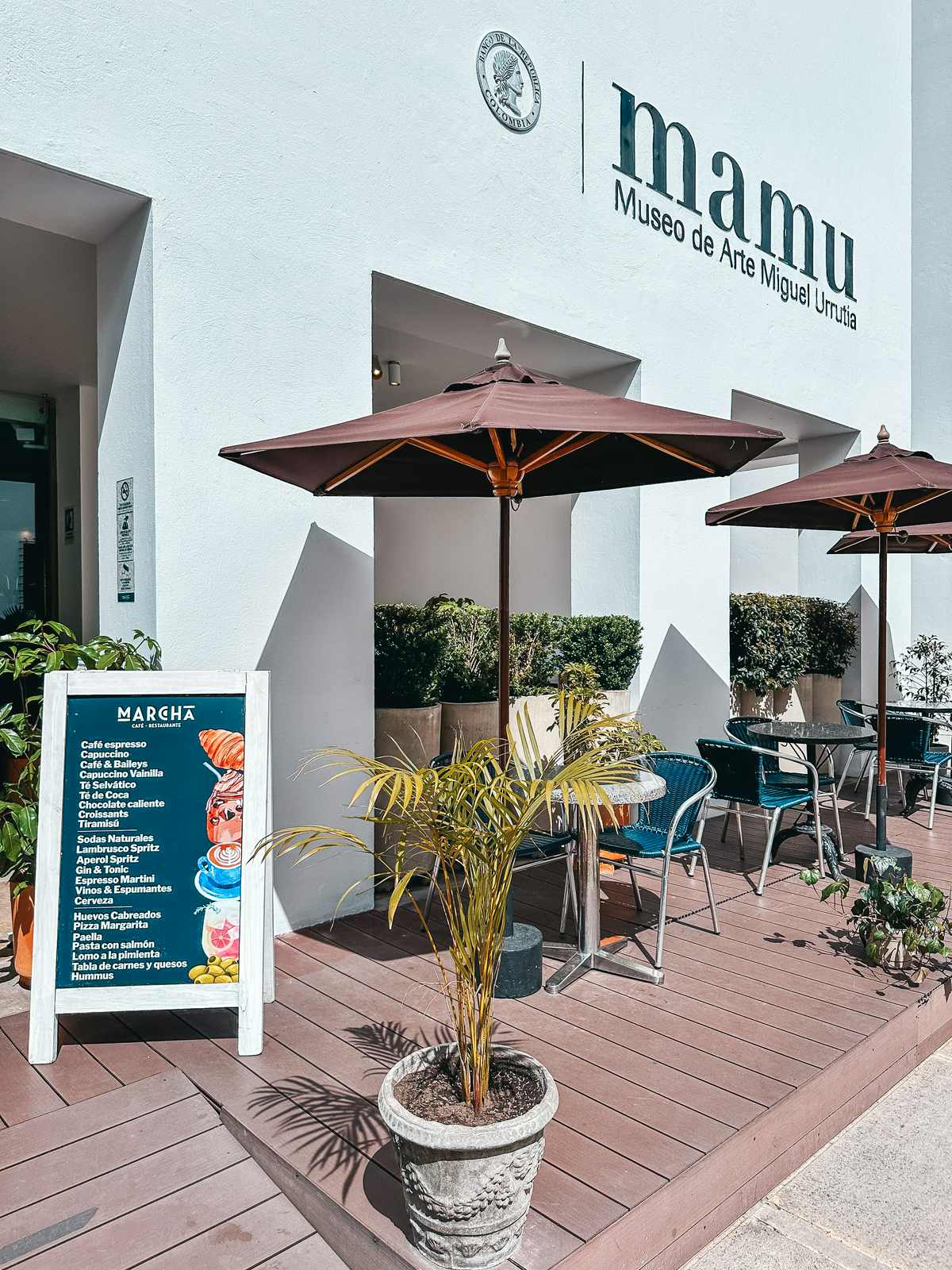 Botanical Gardens
The Botanical Garden of Bogota is a tranquil oasis located within the city, offering a refreshing escape into nature. This lush garden is a favorite destination for locals and tourists alike, providing a peaceful respite from the bustling streets of Bogota. It spans over 19 acres and is home to a diverse collection of plant species, both native and exotic, making it a haven for plant enthusiasts and nature lovers.
The entrance fee is around $1 (approximately 3,500 COP) and is open Tuesday through Sunday, from 8 AM until 5 PM. They are closed on Mondays, so plan accordingly. While you're in the area, you will also be near Parque Central Simón Bolívar which is also worth checking out if time allows!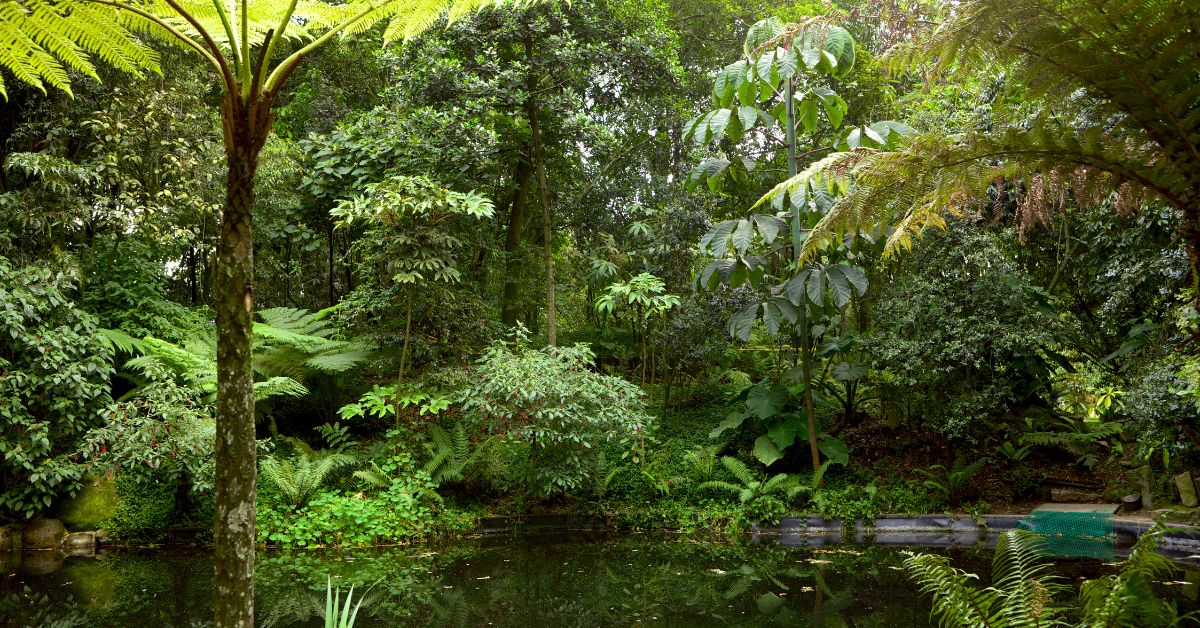 Create your own Colombian emerald ring
For those seeking a one-of-a-kind and truly special souvenir from Bogota, the "Create Your Own Emerald Colombian Ring" experience is maybe one of the more unique things to do in Bogota.
This tour takes you through Colombia's emerald heritage, where you'll learn about the country's rich history with these precious gemstones. Led by expert jewelers, you'll have the opportunity to design and craft your own personalized emerald ring, reflecting your unique style and taste.
💍 Create your own emerald ring
This hands-on experience allows you to be part of the creation process, turning your dream ring into a reality!
Click herе to book
During the tour, you'll gain insights into the meticulous art of emerald cutting and shaping. With the guidance of skilled artisans, you'll handpick the emerald and select the metals and design elements for your custom-made ring.
By the end of the tour, you'll walk away with not just a stunning emerald ring but also cherished memories of crafting a piece of jewelry that holds a special connection to Colombia's rich cultural heritage.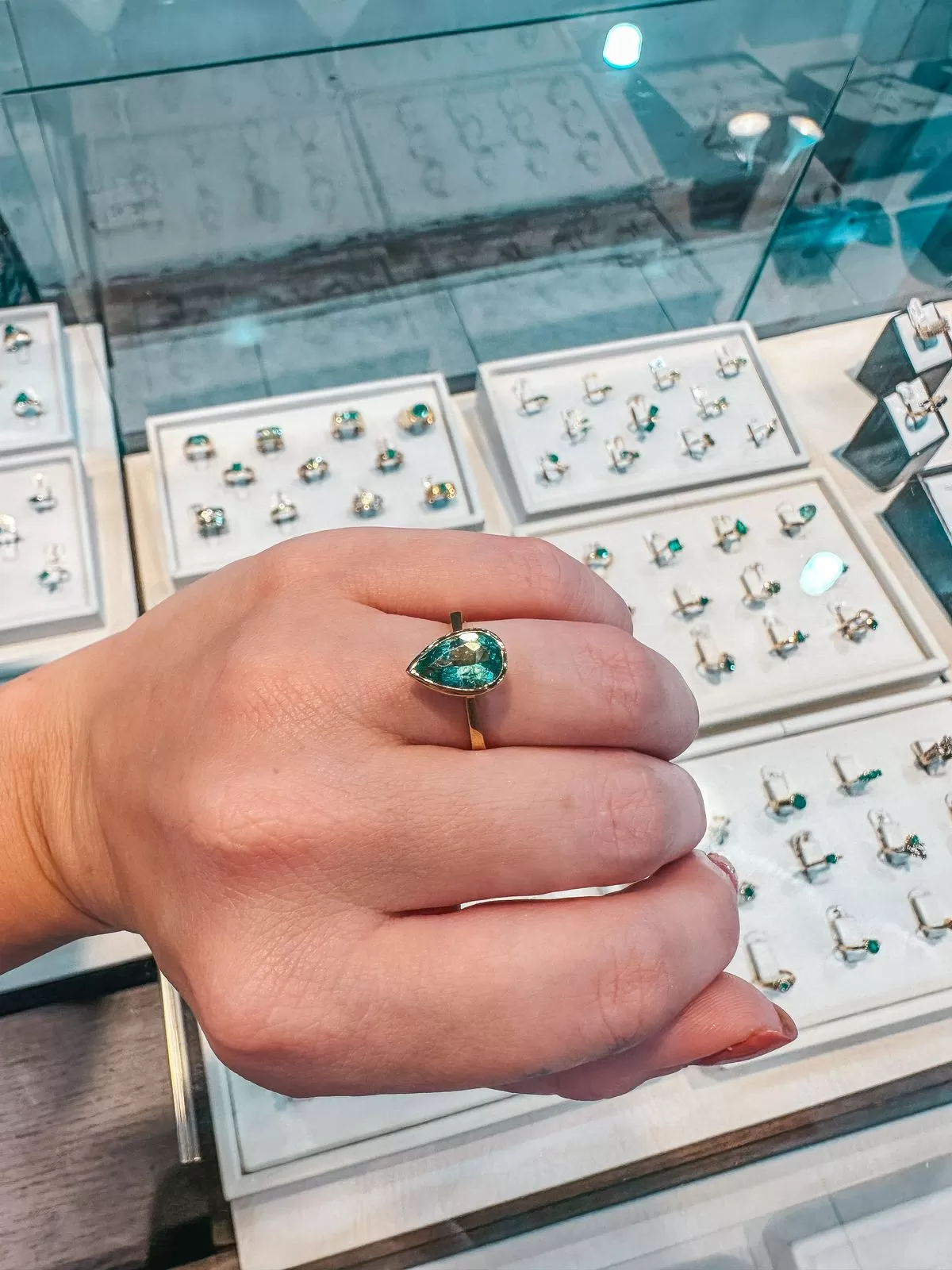 Wander the streets
Wandering the streets of Bogota is an enriching and rewarding experience, as the city's diverse neighborhoods each offer their own unique charm and cultural treasures.
Starting in La Candelaria, the historic heart of Bogota, you can begin your exploration at Plazoleta Chorro de Quevedo. This bohemian square is considered the birthplace of the city and is renowned for its vibrant street art and artsy ambiance.
From there, follow Calle Del Embudo, a narrow street filled with small shops and cafes, leading you to the end of Carrera 2, where you'll find a colorful cobblestone passageway full of funky bars and restaurants.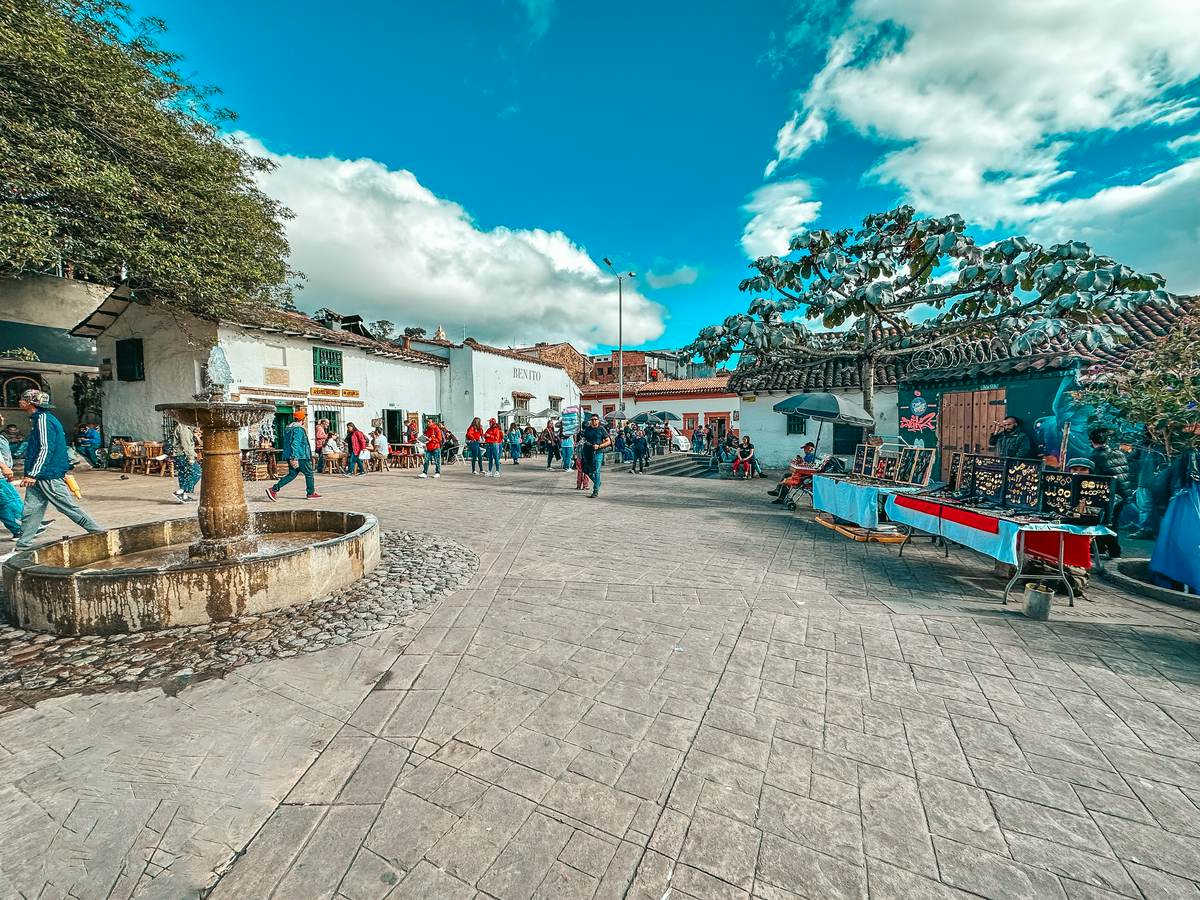 Better yet, check out this awesome (and cheap) graffiti tour through La Candelaria to learn more about the history of the city as told by its artists, or check out this highly-rated walking tour to dive into the city's history, politics, and culture with a local guide.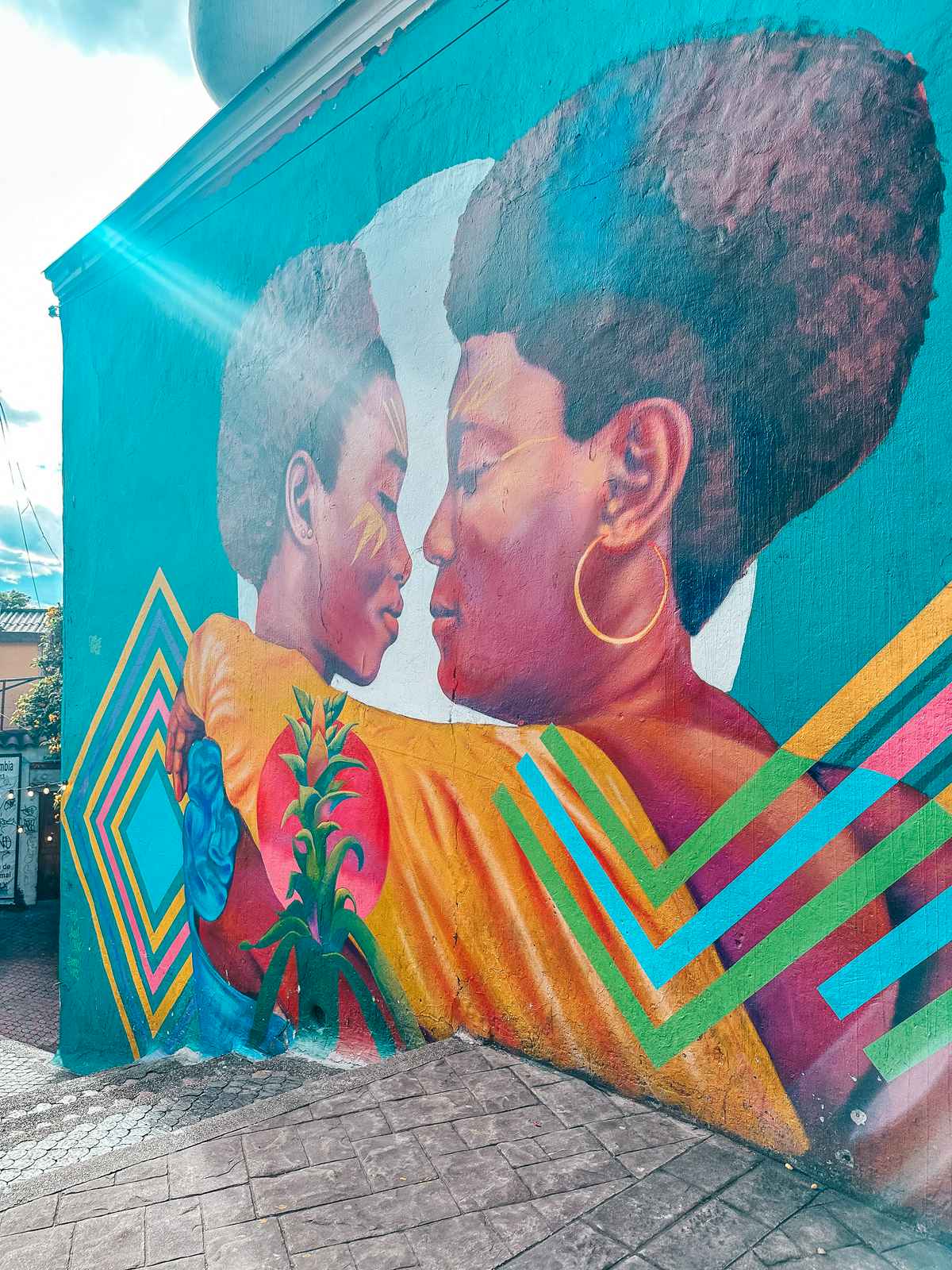 Embark on a coffee tour
If you're a coffee enthusiast with a passion for exploring the intricacies of this beloved beverage, a coffee tour should definitely be on your 3 day Bogota itinerary! While Colombia's more famous coffee regions like Armenia or Salento offer immersive coffee tours, if you can't make it to those areas during your Colombia trip, Bogota still has some highly-rated options to explore.
This day trip to Coffee Farm La Coloma takes you to the charming village of Fusagasugá, where the Coffee Farm La Coloma is nestled amidst the picturesque landscape. During the visit, you'll learn about the coffee cultivation process, from picking ripe coffee cherries to the roasting and grinding stages.
You'll have the opportunity to interact with local farmers and gain insight into their sustainable and eco-friendly coffee practices. As you savor freshly brewed coffee, you'll appreciate the nuances of flavor that make Colombian coffee renowned worldwide.
☕️ Coffee Farm Experience
Learn the art of coffee cultivation and discover the dedication required to produce top-quality coffee. The experience ends with a rewarding coffee tasting, where you can savor the fruits of your labor!
Click herе to book
Fruit tour at the Paloquemao Fruit Market
Checking out the Paloquemao Fruit Market is a delightful and immersive experience that should be at the top of your list for best things to do visiting Bogota! To make the most of this vibrant market, I highly recommend joining a fruit tour, which turned out to be our favorite thing we did during our stay in Bogota!
Our guide was not only sweet and friendly but also incredibly knowledgeable, providing us with fascinating insights into local dishes, Colombian culture, and the vast array of fruits available.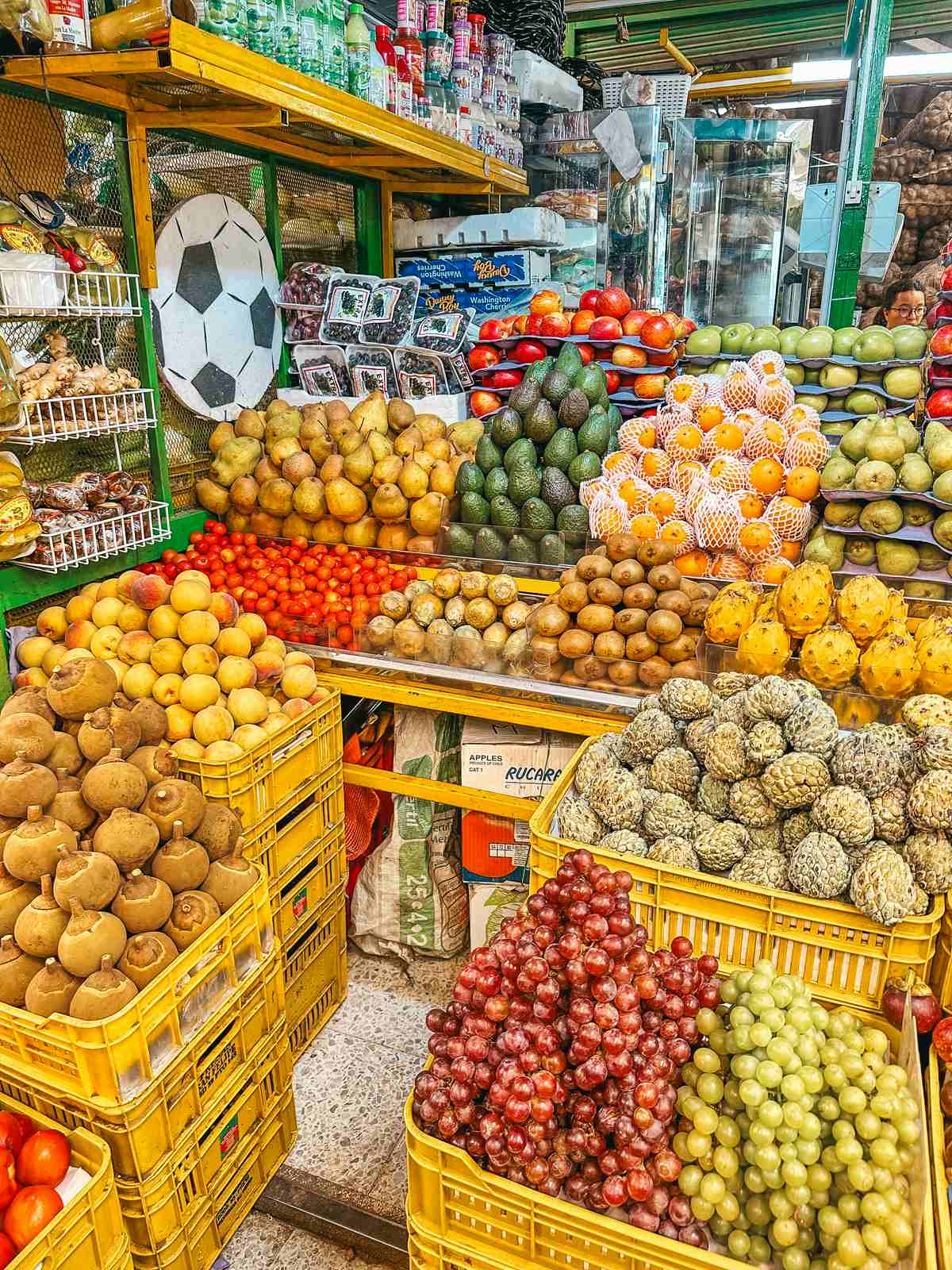 The fruit tour allowed us to sample over a dozen different fruits, each offering unique flavors and textures that we had never experienced before. From exotic tropical fruits to familiar ones with a local twist, the tasting journey was a true culinary adventure.
But the experience didn't stop at fruits! We also had the chance to savor other traditional delights, such as empanadas, locally brewed coffee, fresh juices, and artisanal breads.
What made this tour even more special was the small group size, with a maximum of six participants to ensure that the market's daily activities were not disrupted. In our case, we lucked out with a group of four, granting us our own private tour!
🥭 Fruit Tour
This tour does book up, click here to check availability for your dates and book in advance!
Click herе to book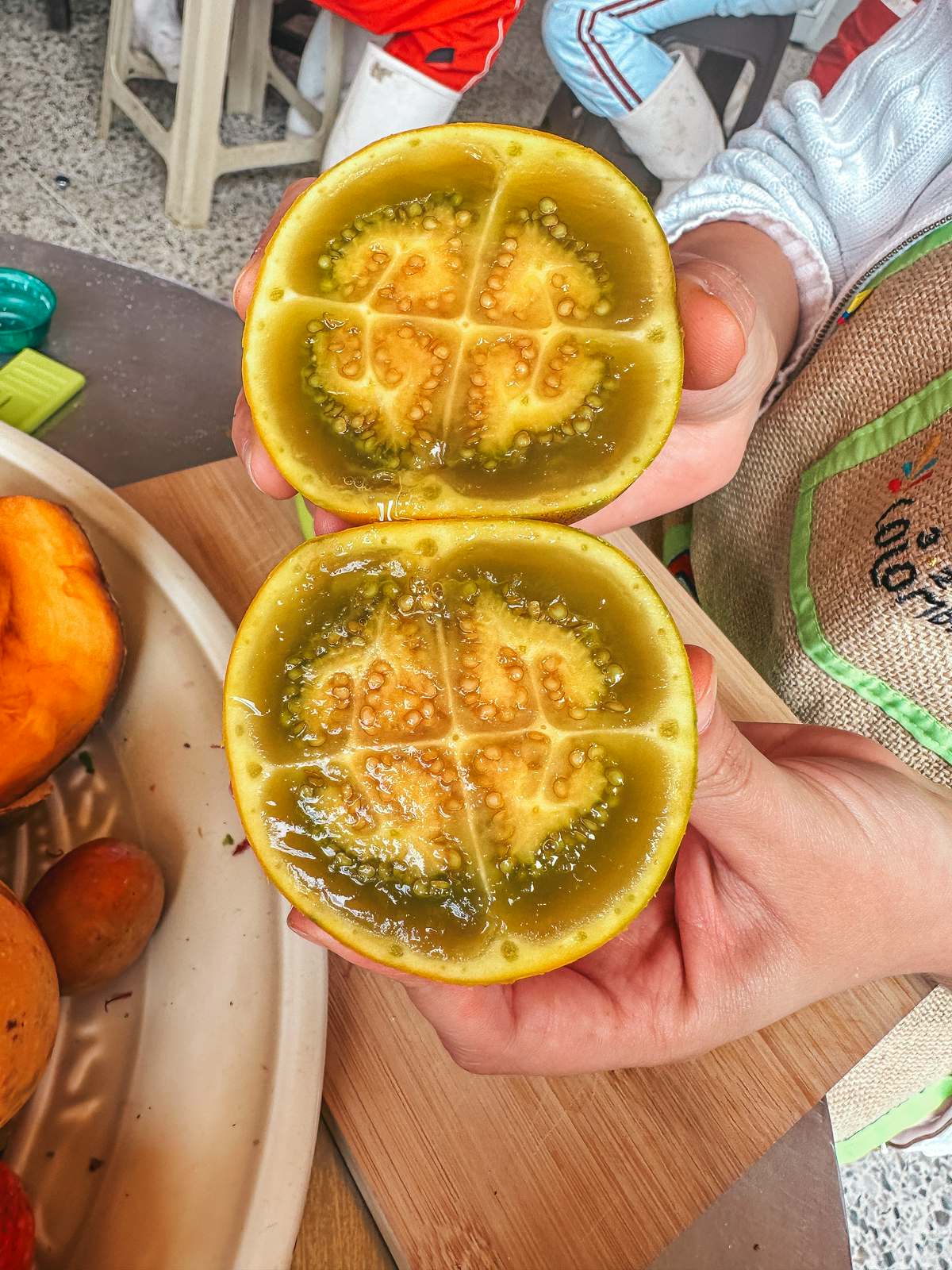 Day trip to Zipaquira
A day trip to Zipaquira is a must-do excursion from Bogota if you have spare time during your 3 days in Bogota. This day trip offers a captivating adventure to one of Colombia's most unique attractions! Zipaquira is famous for its awe-inspiring Salt Cathedral, a magnificent underground cathedral carved within the depths of a salt mine.
This architectural wonder is a true testament to human creativity and faith, attracting visitors from all over the world.
As you venture into the heart of the mine, you'll be mesmerized by the intricate salt-carved sculptures, illuminated by soft, colorful lights, creating a surreal and spiritual ambiance.
✝️ Zipaquira Guided Tour
Consider joining a guided tour that includes transportation from Bogota and informative commentary on the history and significance of this fascinating destination.
Click herе to book
In addition to the Salt Cathedral, Zipaquira offers a charming colonial town to explore. The cobbled streets, colorful facades, and quaint shops create a delightful setting for a leisurely stroll. Visit the main square, Plaza de los Comuneros, and the impressive Catedral Diocesana de Zipaquira, showcasing colonial architecture and religious heritage.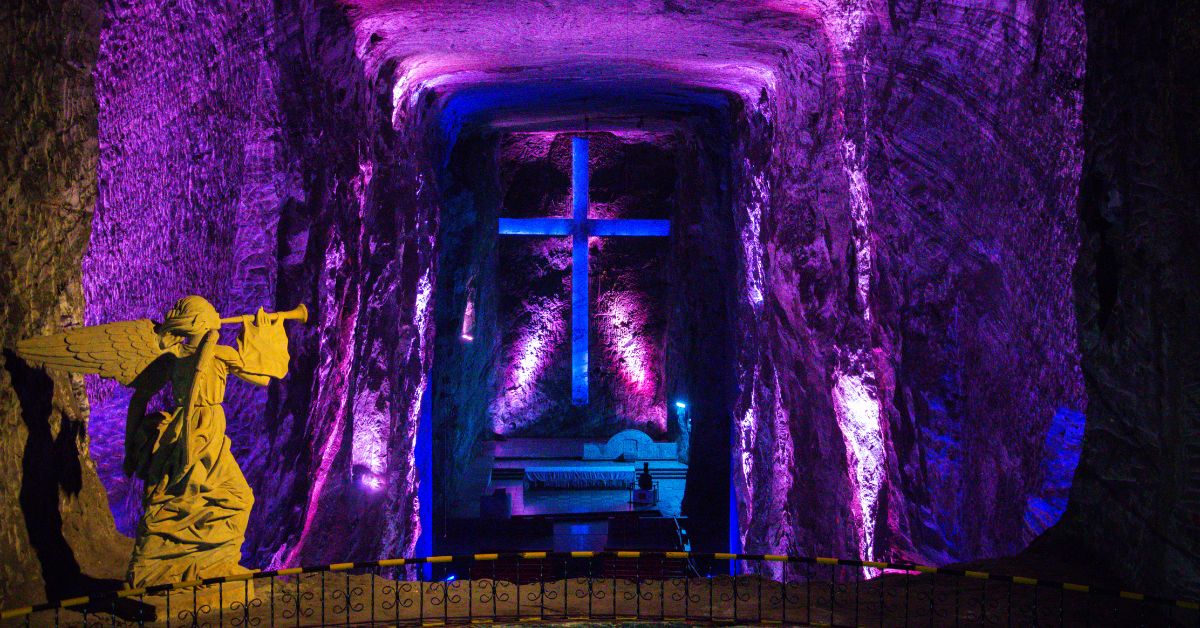 Experience the nightlife
By nighttime Bogota transforms into a vibrant nightlife hub, offering an array of exciting options for after-dark entertainment.
For those seeking a thrilling and inclusive nightlife experience, Theatron stands tall as the largest gay nightclub in Latin America. With over 13 unique rooms, each with its own theme and music style, Theatron welcomes thousands of party-goers who come to dance and celebrate until the early hours.
For lovers of salsa and Latin beats, Quiebracanto is the place to be. This popular salsa club draws in both locals and visitors with its infectious rhythms, encouraging everyone to hit the dance floor and experience the joy of Latin dance culture.
Even several of the restaurants we went to became nightclubs in the evenings! Whatever vibe or music genre you're looking for, you will certainly be able to find a nightclub in Bogota that fits the bill.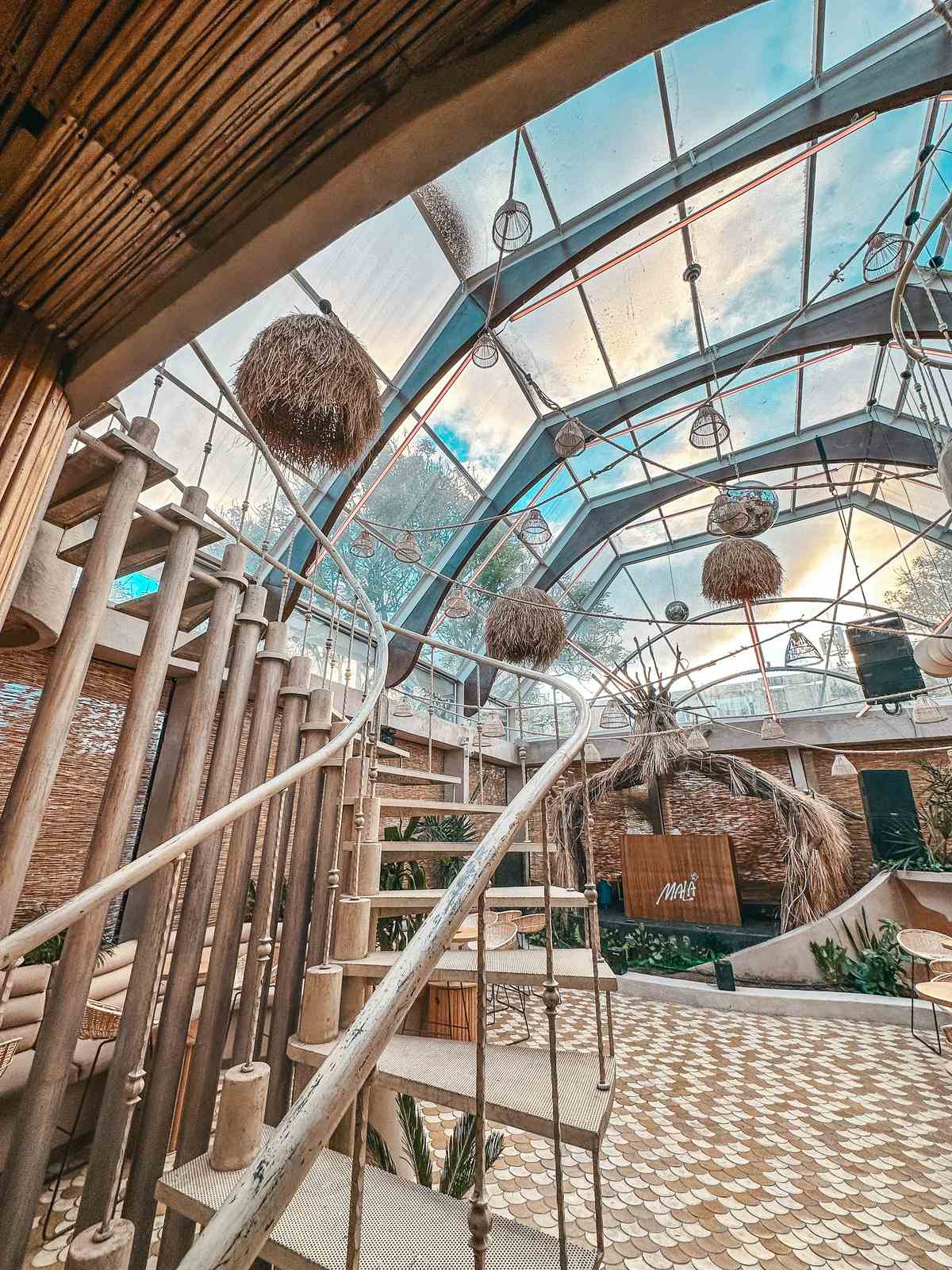 Best restaurants in Bogota
Rokko Asian Table
Located in the El Retiro district, Rokko Asian Table offers a delightful fusion of Asian cuisines that will tantalize your taste buds. With a contemporary and elegant ambiance, the restaurant sets the stage for a memorable dining experience. From sushi rolls to poke bowls, their menu is a delightful exploration of flavors, expertly crafted by talented chefs.
Their cocktails were delicious, and we loved their dumplings. But I have to say, the star of the show was hands down their poke bowl which was just bursting with flavor!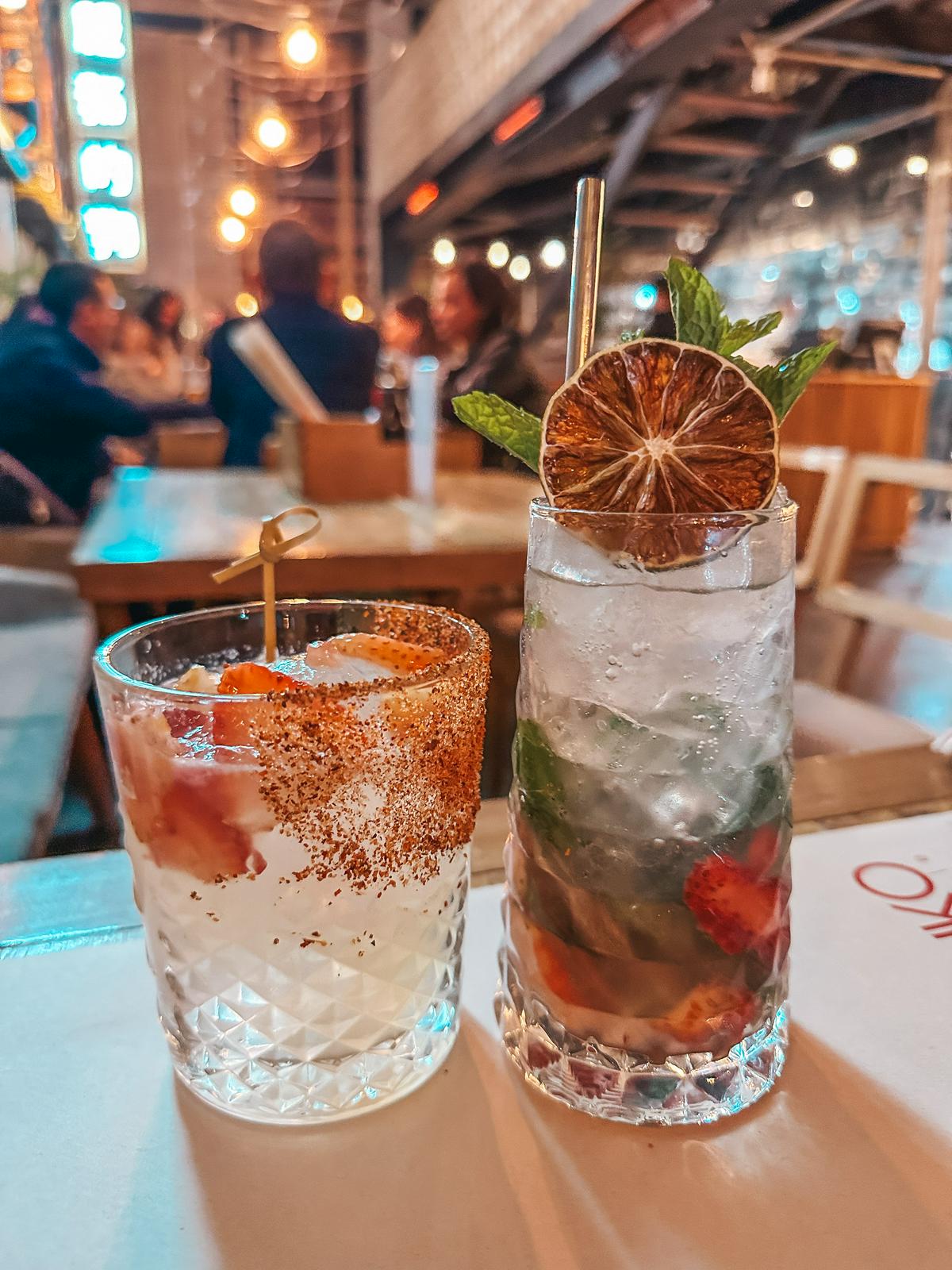 Malaflor
Malaflor is undeniably one of Bogota's standout restaurants, offering a remarkable dining and nightlife experience. The restaurant's menu boasts a delightful selection of dishes, including their lovely Pad Thai, perfect for those seeking a flavorful and filling dish. However, the real show-stoppers are the drinks, with mezcal cocktails stealing the spotlight!
The ambiance at Malaflor exudes a captivating Tulum-like vibe, featuring stunning boho decor that transports you to an exotic and laid-back setting. The restaurant's several levels create an inviting and dynamic space, where you can unwind and enjoy the evening.
As the night progresses, Malaflor seamlessly transitions into a lively nightclub, making it a popular spot for both dinner and dancing the night away.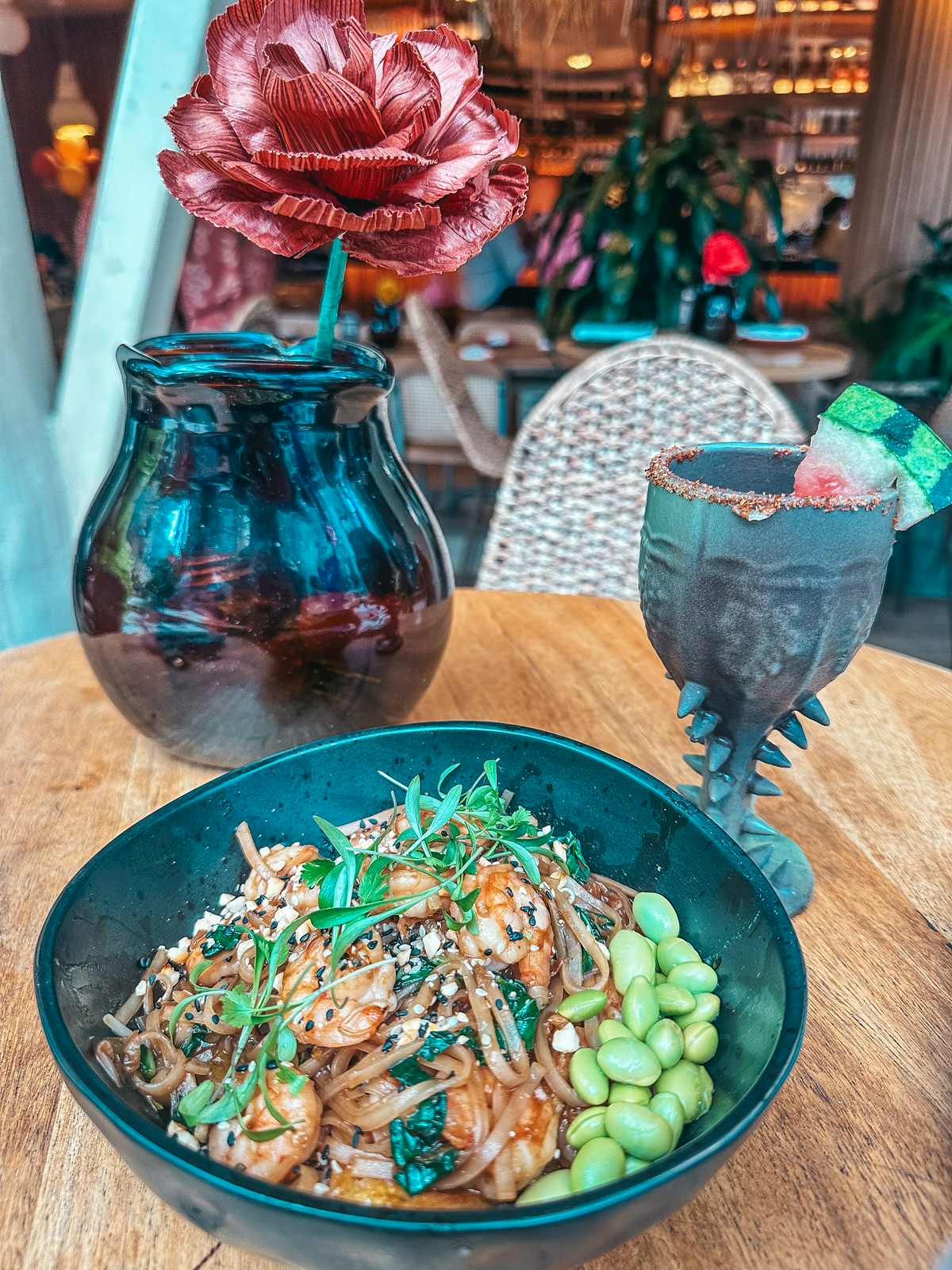 Salvaje Bogota
Salvaje Bogota is an absolute gem if you're seeking a stylish and elevated dining experience in the heart of the city. The venue, adorned with lush greenery, creates a captivating and welcoming atmosphere that perfectly complements its Asian-inspired cuisine. From the moment you step inside, you are treated to a culinary journey like no other!
The food is nothing short of amazing, with each dish thoughtfully crafted and beautifully presented. The glazed and spicy edamame offers a delightful burst of flavors, while the truffled mushroom dumplings are a true sensation for the taste buds. I really loved the Fujiroll which had the perfect balance of flavors and textures.
For those who find it hard to choose from the tempting menu, Salvaje Bogota has you covered with their exquisitely presented sampler options. These samplers feature a selection of rolls and sashimi, allowing you to sample a delicious variety in one sitting.
I have good news for my Florida peeps, this gem has a restaurant location in Miami as well!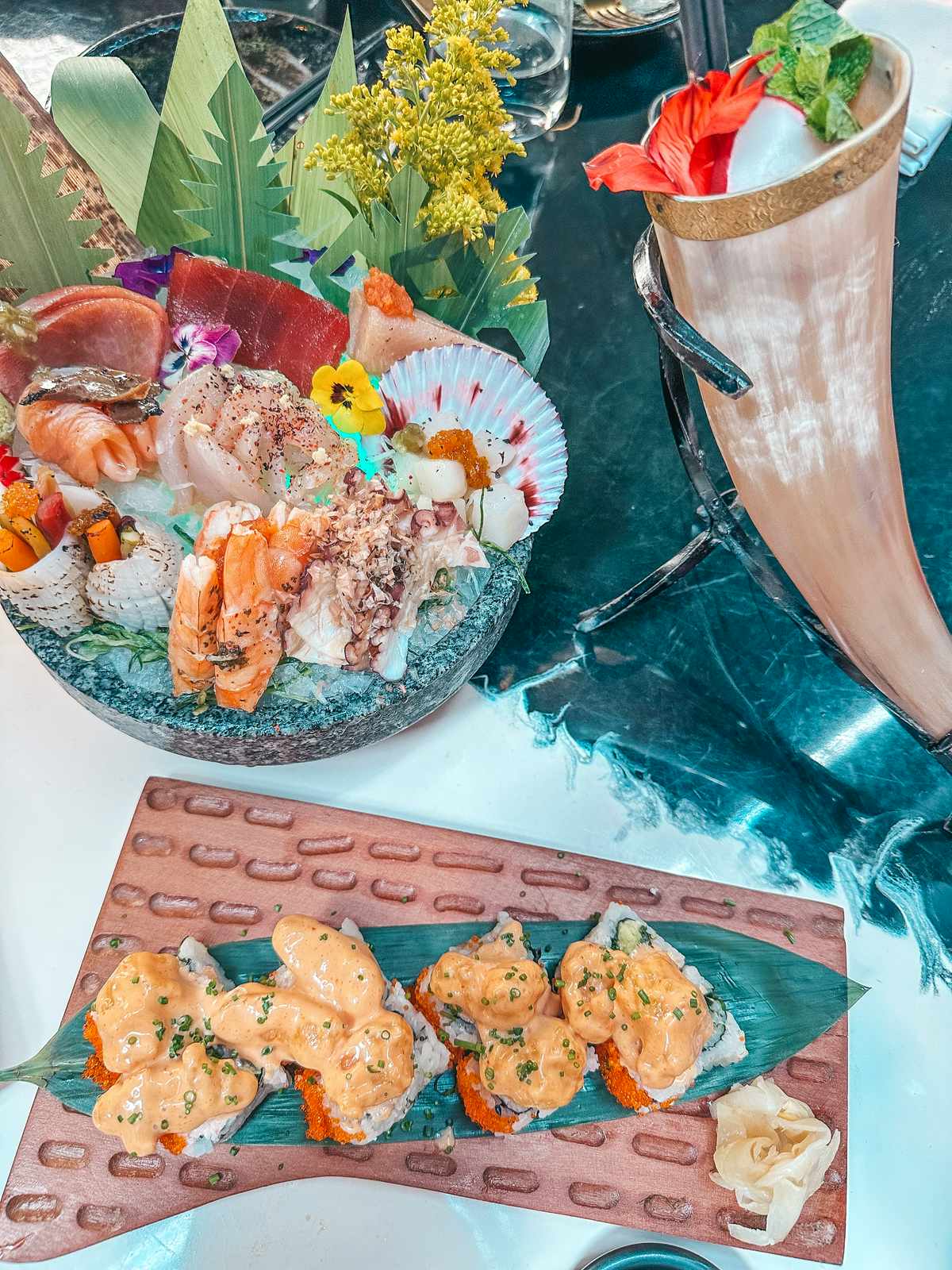 Omnia Restaurant
The ultimate dining experience awaits you at Omnia Restaurant, located inside The Atlantis Plaza Shopping Mall. While you can simply order from the menu, I highly recommend doing their unforgettable Omakase experience!
Omakase, meaning "chef's choice," delivers a masterful sequence of artfully prepared dishes, showcasing the freshest and most exquisite ingredients. The chefs' expertise and creativity shined through in each and every dish.
The combination of flavors, textures, and visual presentation makes this experience an unparalleled gastronomic journey.
This Bogota restaurant is more than just a place to dine though, it offers an extraordinary fusion of gastronomy and entertainment that sets it apart from typical dining experiences. As the evening unfolds, Omnia transforms into a captivating stage for a full-on show, adding a touch of theatrical flair to your dining journey.
The performances are a delightful surprise, commencing around 9 pm, and featuring a mesmerizing dragon show, an elegant Chinese umbrella dance meets a captivating terracotta dance.
To make the most of this enchanting experience, it's advisable to arrive earlier than 9 PM. This way, you can enjoy a more relaxed and immersive dining setting before the show begins. As the night progresses, the atmosphere becomes more vibrant and lively, transitioning into a nightclub-like ambiance. It's worth noting that the volume increases as the evening unfolds, making it an excellent spot for those who enjoy both fine dining and a lively party atmosphere.
At a total cost of $200 for three guests, including cocktails, dessert, an extraordinary show, and a generous tip, Omnia Restaurant proves that its Omakase dining is worth every penny for the best culinary experience of a lifetime.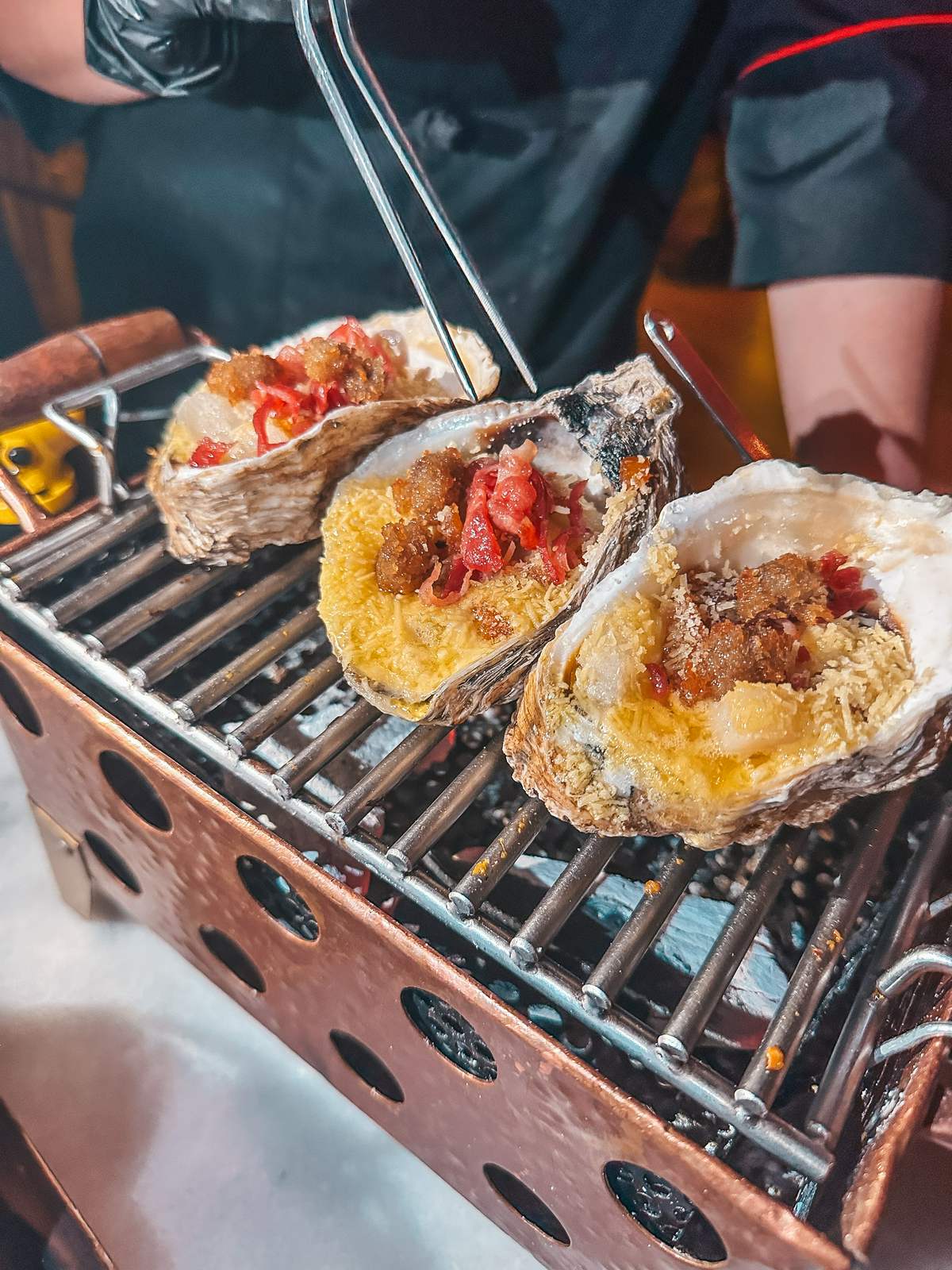 Cofibinz
Cofibinz is a coffee lover's paradise in Bogota, where artistry meets exceptional flavors. This charming coffee shop takes pride in serving some of the most stunning latte art in the city, turning each cup of coffee into a masterpiece! During my visit, I savored a latte adorned with a skillfully crafted bear, creating an Instagram-worthy moment and an absolute delight to sip.
Beyond the impressive latte art, Cofibinz also boasts a mouthwatering breakfast menu that promises a burst of flavors in every dish. The menu offers thoughtfully prepared items, ranging from savory options like perfectly seasoned avocado toast to sweet treats like fluffy pancakes, all designed to deliver a delightful culinary experience.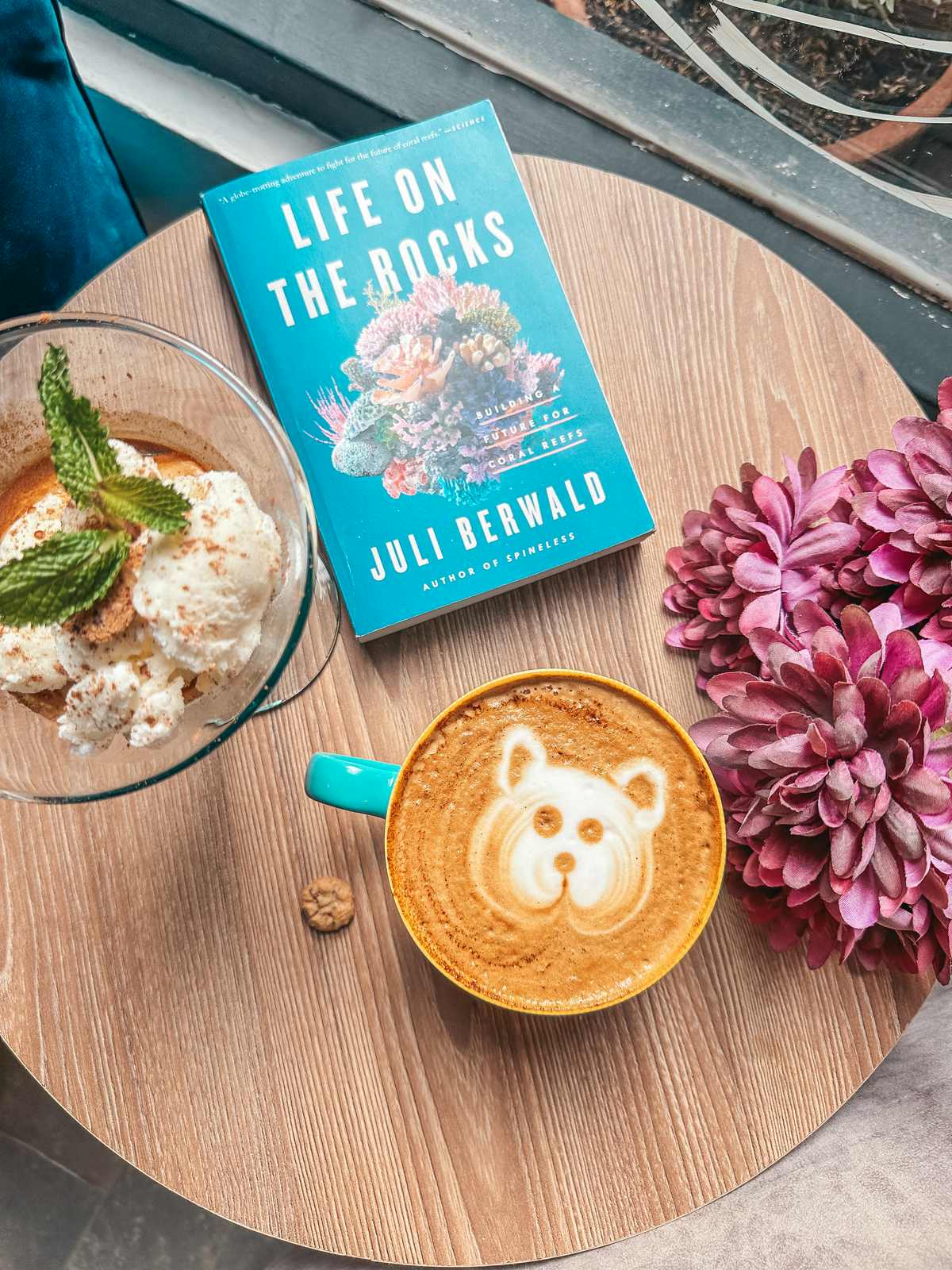 Where to Stay in Bogota
When it comes to choosing where to stay in Bogota, the city offers a diverse range of neighborhoods, each with its own unique vibe and attractions. Here are some of the most popular places to stay in Bogota.
La Candelaria
La Candelaria is a popular area, especially among backpackers and budget travelers. Known for its colonial charm and narrow cobblestone streets, this neighborhood offers a bohemian atmosphere and is a hub for art, culture, museums, and historical landmarks.
This area offers numerous hostels and budget accommodations, making it an excellent choice for those who seek affordable lodging options. However, it's essential to note that La Candelaria's lively ambiance and popularity can lead to noisy nights, which we experienced firsthand during our one-night stay.
Not only that, but we encountered issues like no hot water and several broken things due to the buildings being old. So, if you prefer a quieter environment and warm showers, you might want to consider other neighborhoods.
We stayed at Selina La Candelaria Bogotá, and while it looked super cool we really didn't enjoy our stay here at all and unfortunately ran into several problems. Spotty Bogota is highly rated and may be a better option if you're looking for a comfortable hostel in La Candelaria.
View the hostels available during your stay here, and hotels in La Candelaria here!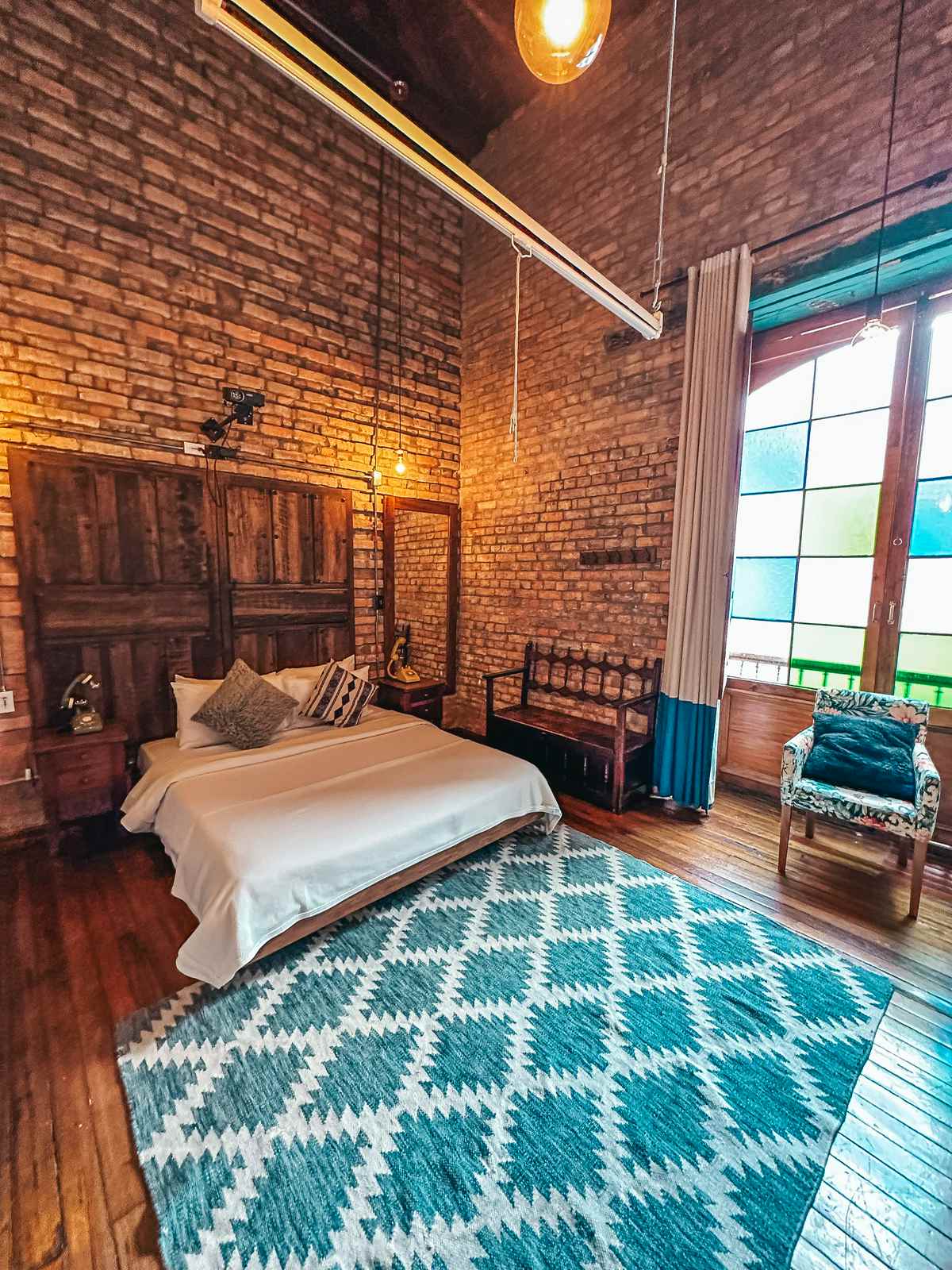 Chapinero
Chapinero is a dynamic and eclectic neighborhood in Bogota that appeals to both locals and visitors. It's divided into two main sections: Chapinero Alto and Chapinero Central. Chapinero Alto is known for its bohemian vibe, art galleries, and trendy cafes, while Chapinero Central offers a more commercial and business-oriented environment.
This neighborhood provides a mix of budget-friendly accommodations, boutique hotels, and Airbnb options. Its central location makes it easy to explore different parts of the city, and its diverse culinary scene offers a wide range of dining experiences. Chapinero is a great choice for travelers seeking a balanced blend of local authenticity and urban convenience during their stay in Bogota.
Click Clack Hotel and HAB Hotel are two popular options for this area! Check out the hotels and hostels available in Chapinero here.
Zona Rosa (Zona T)
Zona Rosa, also known as Zona T, is a vibrant and trendy district in Bogota that caters to a diverse range of travelers. This bustling area is famous for its lively nightlife, upscale shopping centers, restaurants, and entertainment venues. Zona Rosa is a favorite among young professionals, couples, and tourists looking for a lively and energetic atmosphere.
When we decided to relocate here after an initial stay in La Candelaria, we found ourselves instantly captivated by its elegance and peaceful atmosphere. We found our stay at Bo Living 81 to be extremely comfortable, affordable, and within walking distance to all of the places I listed under best restaurants in Bogota!
Check out accommodations available in Zona Rosa here!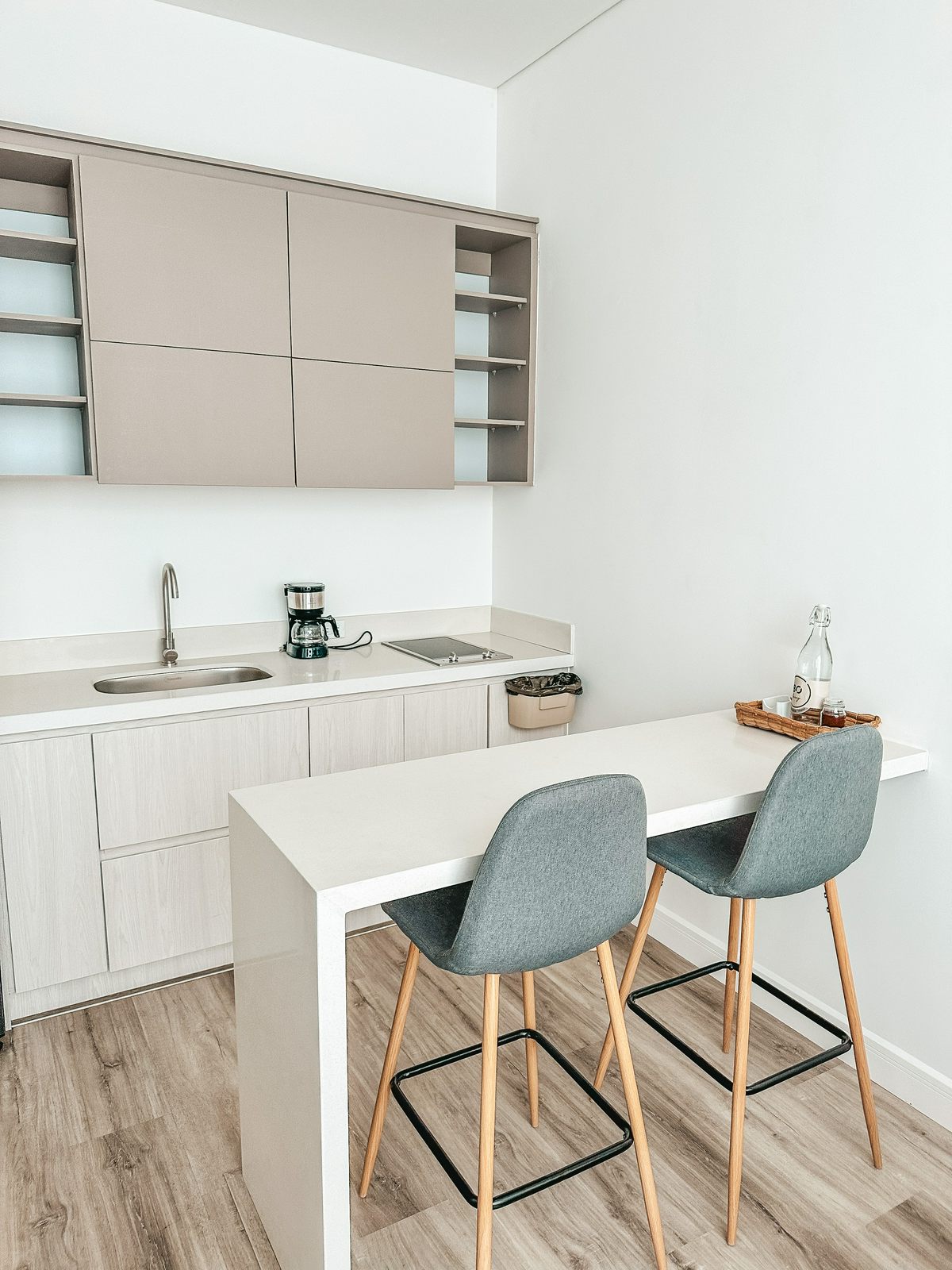 Getting Around in Bogota
Taxis are readily available in Bogota, but it's crucial to exercise caution, as the taxi service doesn't have the best reputation for safety and reliability. To ensure a safer experience, it's advisable to use well-known taxi companies or reputable taxi apps like Cabify, which provide a more secure way to hail a cab and estimate fares.
Uber is another popular option for getting around the city, offering a more comfortable and reliable service. However, it's essential to be aware that Uber operates in a legal gray area in Bogota, and some drivers may ask passengers to sit up front to avoid drawing attention. Despite the legality concerns, many travelers still opt for Uber due to its convenience and often better customer service.
You really only need these services for getting to and from the airport and to the different neighborhoods, but within the neighborhoods, it's very pedestrian-friendly.
Bogota travel tips
Weather preparation— Bogota's weather can be unpredictable, so pack layers and a sturdy umbrella. Even during the dry season, it's important to be prepared for occasional showers.
Neighborhood selection— Choose your accommodation wisely based on your preferences. La Candelaria is popular for backpackers with many hostels, but it can be noisy. For a more tranquil experience, consider staying in the El Retiro neighborhood.
Transportation safety— When using taxis, opt for known taxi companies or use reputable taxi apps to ensure a safer experience. While Uber is popular, be aware of its legal ambiguity, and some drivers may ask you to sit up front.
Cultural sensitivity— Embrace Colombian culture with an open mind and respectful demeanor.
Safety awareness— Exercise caution and be mindful of your surroundings, especially in crowded areas and tourist spots. Avoid displaying valuables and keep your belongings secure.
Try local cuisine— Indulge in Colombia's delicious food scene. Don't miss traditional dishes like Bandeja Paisa, Ajiaco, and Arepas. Venture to local markets for authentic street food experiences.
Cash vs. cards— Most places accept credit cards, but carrying some cash, especially in smaller shops and local markets, is wise.
Understand payment terms— In some situations, vendors may ask how many quotas (payments) you would like to make for a purchase. Always answer "1" to ensure you make a single payment and avoid additional fees.
Are you ready for an epic 3 days in Bogota?!
I hope this blog post has provided you with valuable insights and useful tips to make the most of your 3 days in Bogota. Whether you have just a few days to explore the city or a longer stay, Bogota promises a captivating experience filled with culture, history, and amazing culinary experiences around every corner. Happy travels!
Follow me on Insta @guidedbydestiny for more travel content 🤍