This post contains affiliate links which means that I will make a small commission if you purchase a product after clicking on any of them, at no extra cost to you.
Miami is a city that is known for its vibrant nightlife and diverse culture. One of the best ways to experience the unique atmosphere of Miami is by checking out the local restaurant scene. There is a variety of fun restaurants in Miami that offer not only delicious food but also an unforgettable dining experience.
From casual beachfront eateries to upscale restaurants, there's something for everyone in Miami. And new places are constantly popping up! Here is a list of a few of the fun restaurants you won't want to miss on your 2023 Miami trip.
Fun restaurants in Wynwood, Miami
Ooh Raw
Ooh Raw is super adorable and brightly colored. It totally meshes in with the Wynwood vibe. They're known for their poke and acai bowls.
I can't vouch personally for the poke bowls, but the acai bowls did not disappoint! You can get them served up in a pineapple, watermelon, or cantaloupe for a few extra bucks 😉 They have plenty of signature bowls, but feel free to create your own. They even have fruity pebbles and Reese's Puffs if you really wanna switch things up.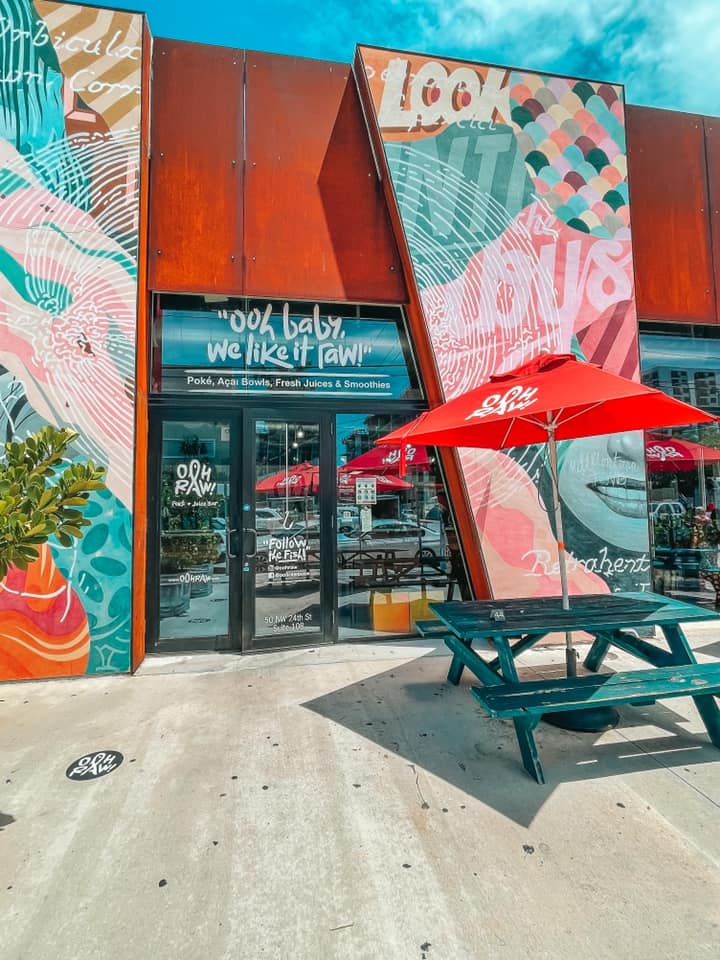 1-800-LUCKY
1-800-LUCKY is a food hall with Asian inspired eateries that will tempt you to come back time after time so you can be sure to try it all! We went here twice during our trip because it was so good. We got sushi from BSide Sushi, poke from Poke OG, and we couldn't leave without getting Taiyaki ice cream from Taiyaki NYC!
I highly recommend getting the Big Island OG bowl from Poke OG— it was SO FLAVORFUL. There is an indoor and outdoor part to this venue, and you can tell people come here for the food, but hang around for the fun environment. In the evenings you can even expect live music, or grab some friends and rent out a karaoke room!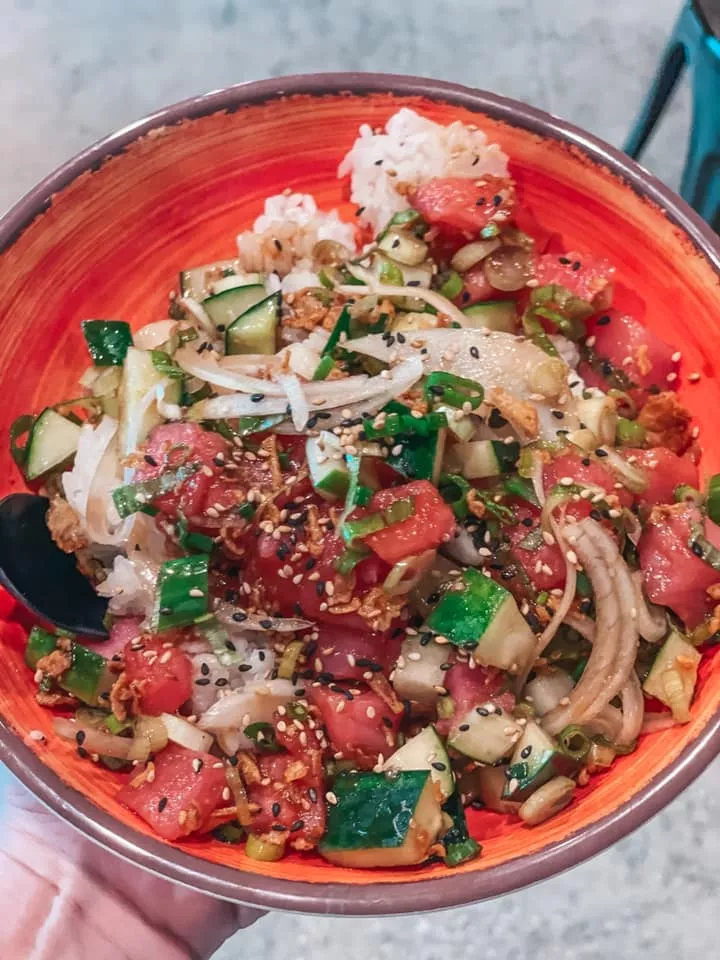 Wynwood Marketplace
The Wynwood Marketplace is open Thursday through Sunday and has a combination of art, music, shopping, and food. There are plenty of yummy food options in this open-air venue, or just enjoy a fun cocktail from The Deck!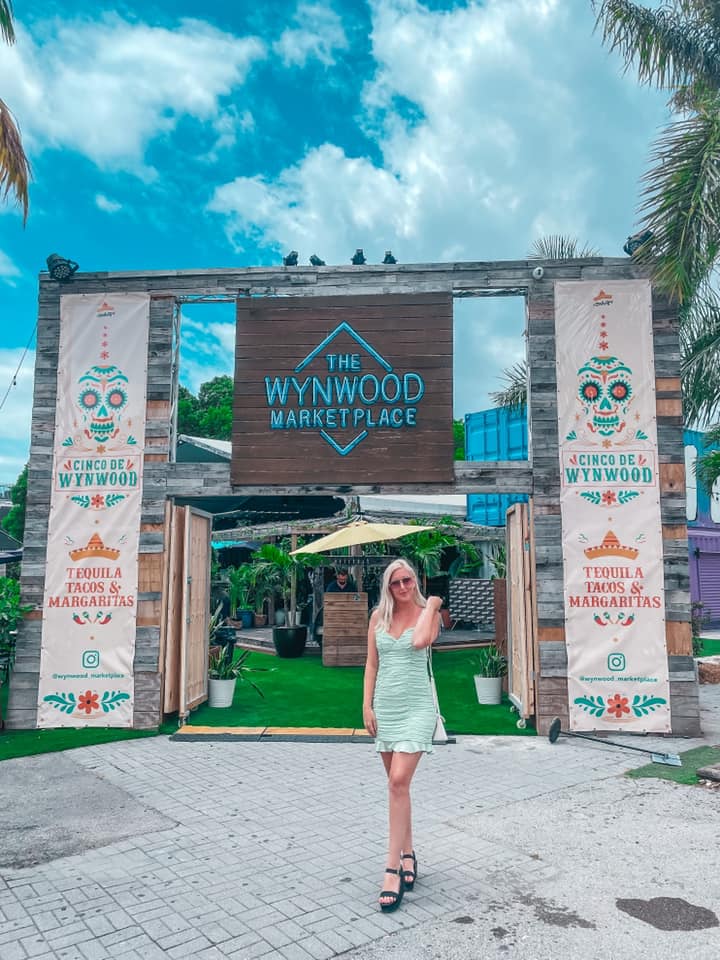 Mayami Wynwood
Full disclosure, I didn't actually get to experience this spot… YET. We peeked in as we were ending our trip, and everything about it felt extra AF, and I was here for it. It's upscale dining, and there is a dress code. The atmosphere, the cocktails, and the Mexican dishes all looked amazing— check out their page to see what I mean!
Fun restaurants in Downtown/Brickell Miami
The Wharf
The Wharf has such a fun and lively environment! This spot actually reminded me of Sparkman Wharf that we have here in Tampa. Along with fun music, drinks slinging, and some games, there are also a number of food truck options, ranging from pizza to tacos and everything in between.
We went with the taqueria and it didn't disappoint. I definitely recommend grabbing some food and drinks here— and keep on the lookout for fun events The Wharf is constantly putting on!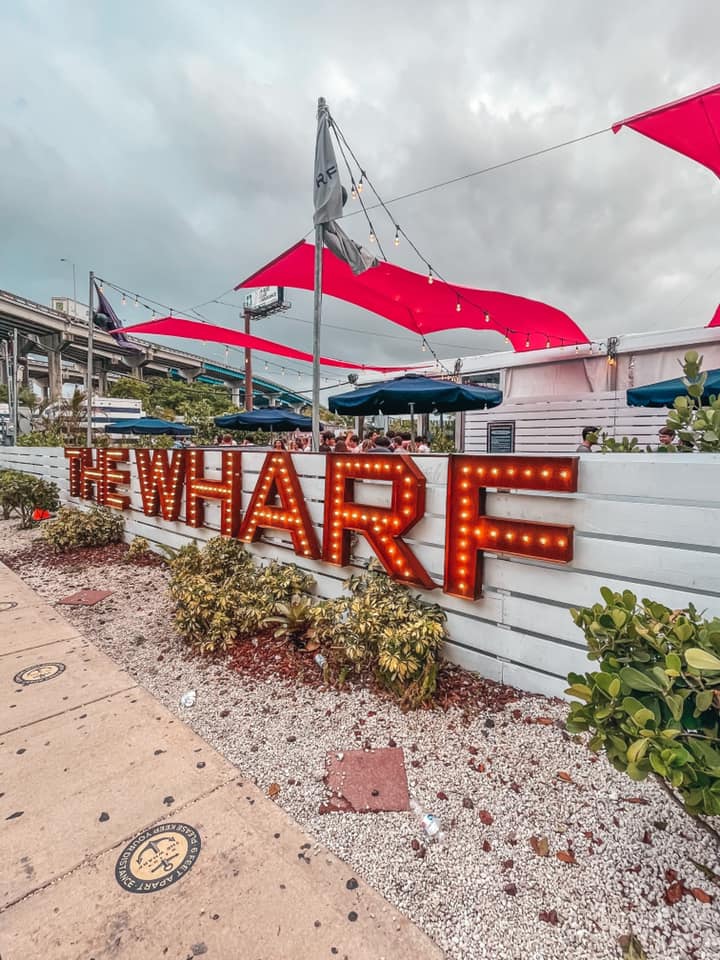 Kiki on the River
We went to Kiki on the River for my friend's Miami bachelorette party and had the absolute best time! This boho-chic waterfront restaurant is located in downtown Miami. Kiki's offers an eclectic mix of Greek and Mediterranean dishes and creative craft cocktails. Plus, the stunning photo ops throughout are endless!
This place is not just aesthetic though, the food and drinks were genuinely delicious! I still dream about their pasta. We just ordered a little bit of everything and passed it around the table family style. We spent our entire Sunday here and had the best time ever!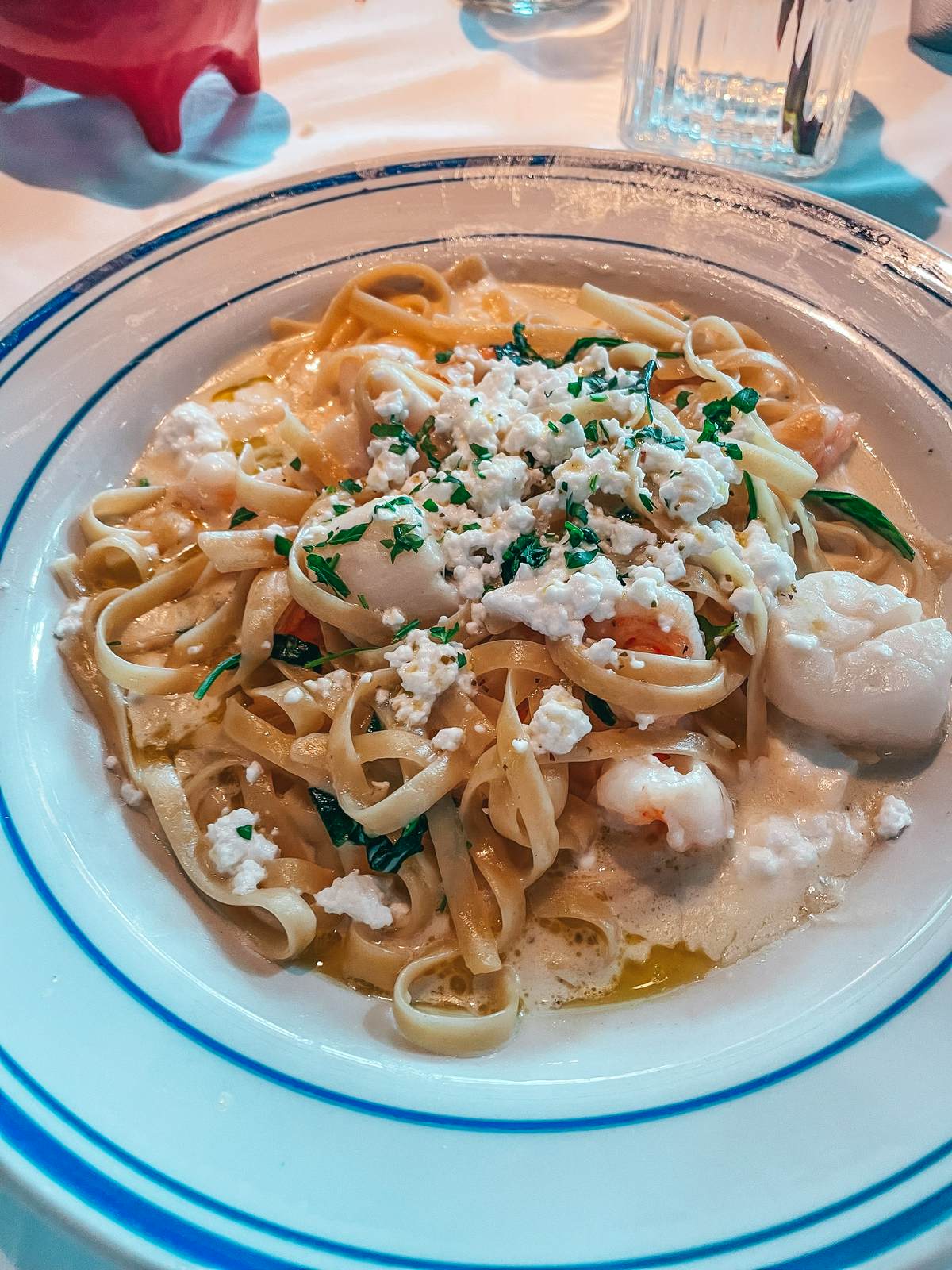 Fun restaurants in Miami's Design District and Midtown
Swan
This was the perfect spot for lunch! Swan's menu is centered around seasonal and market-driven ingredients and offers so many light, refreshing options! I can personally attest to how delicious their Muffy Salad with champagne poppy vinaigrette was. And did I mention how freaking adorable the venue is?
Inside is beyond gorgeous with a feminine pastel palette, and the outdoor courtyard area is like garden meets jungle. I didn't make it upstairs (they don't open until 11 PM), but Bar Bevy is located upstairs and has a completely different vibe with a more dark, Moroccan aesthetic.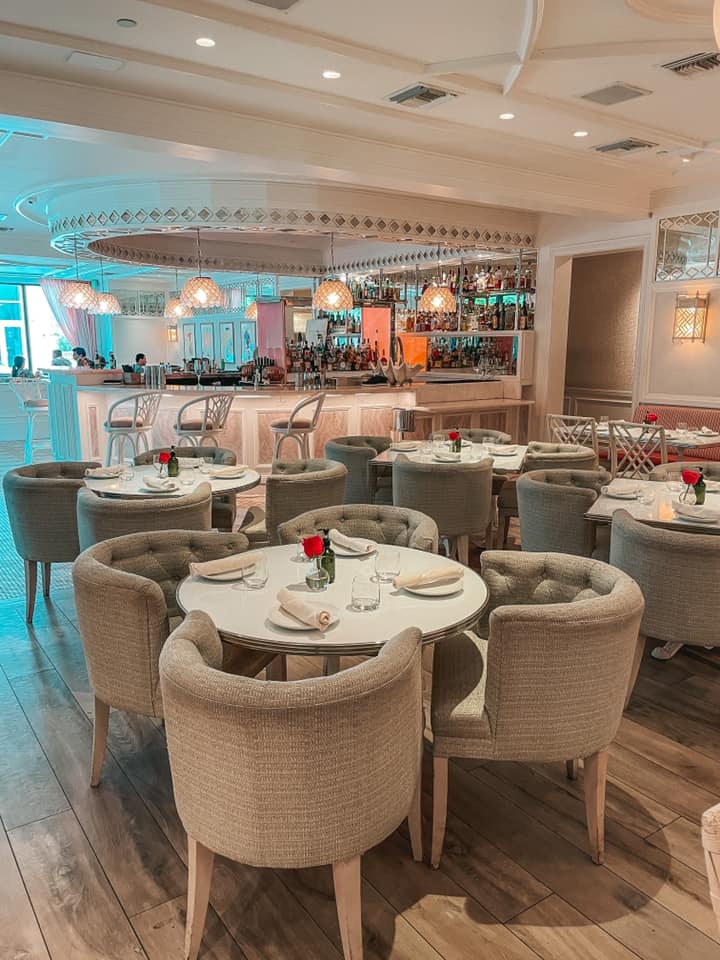 Little Hen
This spot is an absolute MUST for brunch. If like me, you're worried that maybe this place is all about the beautiful aesthetic but won't deliver on the food— be ready to be proved wrong, because Little Hen is more than just a cute aesthetic.
So many menu items sounded delicious, but after getting recommendations from our waitress I decided to step outside of my comfort zone and order the chilaquiles and WOW! SO GOOD. My only regret is that I didn't add chicken to them.
They have a ton of fun menu items as well as cocktails. (Check out this Reel for a better look at Little Hen).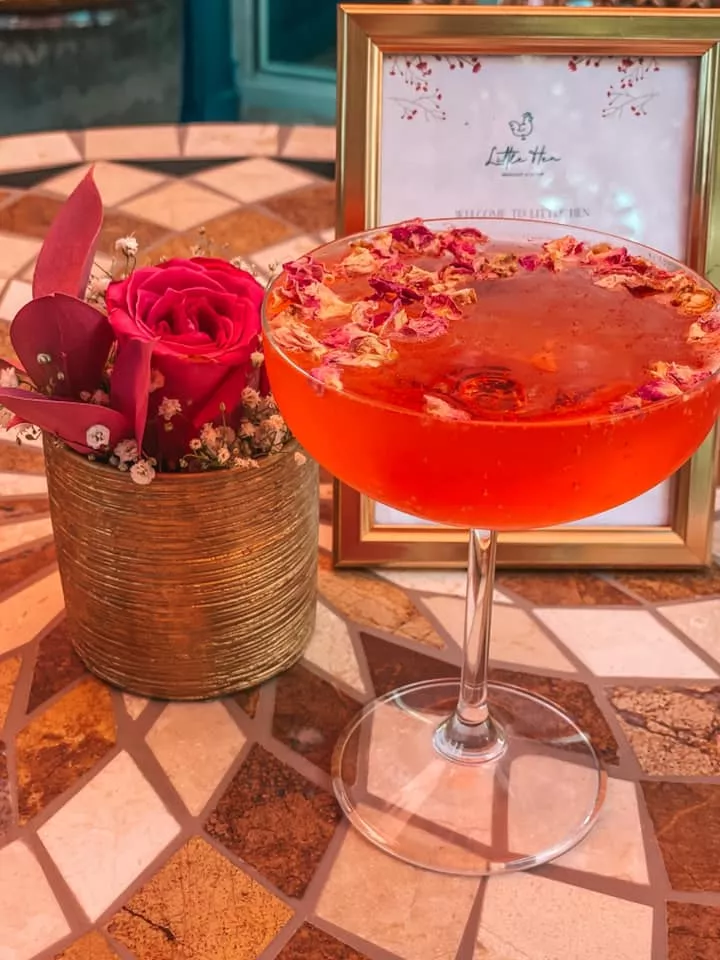 Fun restaurants in Little Havana
Casa Florida
It's hard not to fall in love with this vintage, stylish outdoor venue! Similar to Little Hen, this is a super Insta worthy spot. We only got a nibble here, but really enjoyed their broiled oysters. Better yet, they were a part of their "golden hour" and were half off!
Their golden hour is Wednesday-Friday from 5-7 PM. Their menu is more light bites and some sandwiches, but they also offer a brunch menu on Saturdays and Sundays.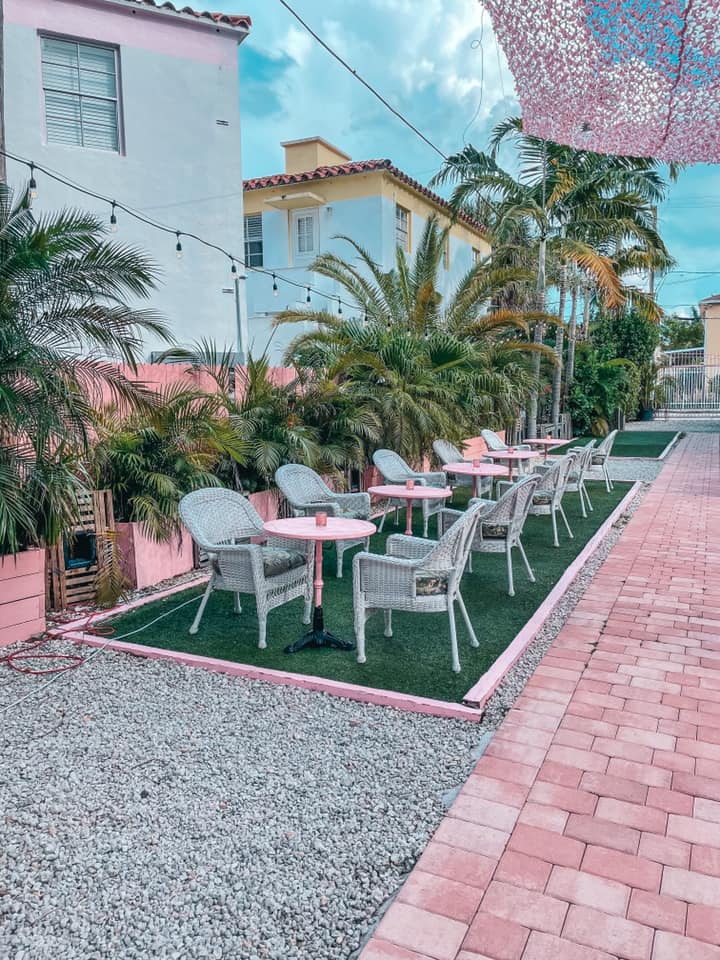 Doce Provisions
Remi is Cuban, so it was a given we had to squeeze in some Cuban cuisine while in Little Havana. Doce Provisions has a modern take on Cuban food, and I was here for it. We had the Masa de Puerco Chino which is served with pineapple confit, veggies, and maduro fried rice.
It was so flavorful and delicious. Their motto is "locally sourced x crafted with love," and it shows through when you try their food. Enjoy your food on their lovely tropical patio in the back!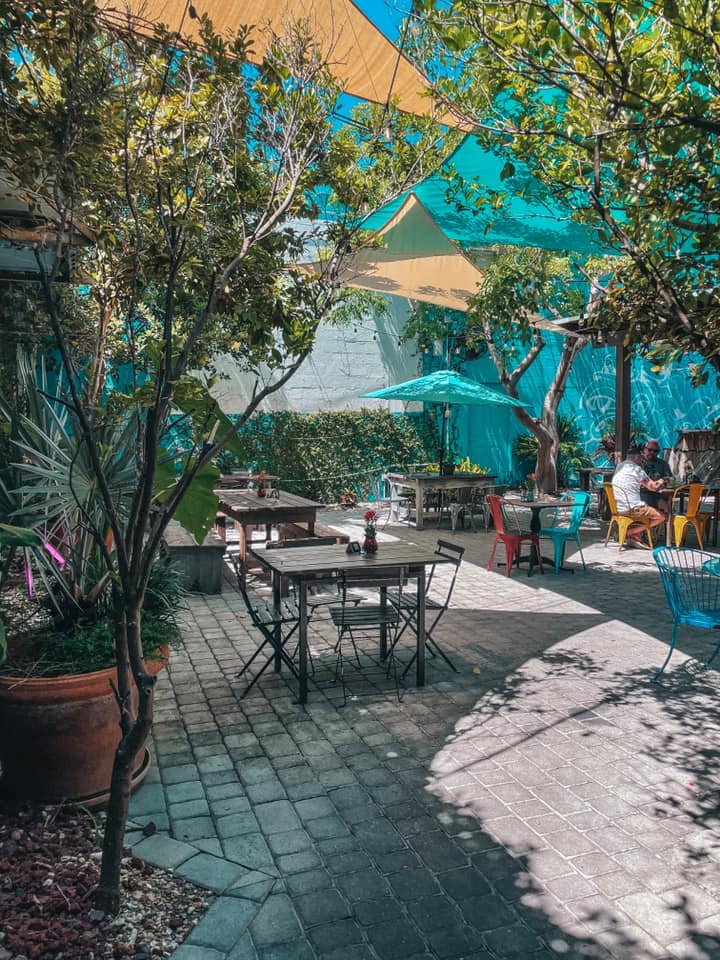 Pro Tip!: If you are driving around Miami, use Spot Hero to find cheap parking! I even use this when parking my car overnight so I don't have to pay the hefty hotel parking fees!

Fun restaurants in Miami Beach
Chotto Matte
This Japanese and Peruvian cuisine spot has a bomb happy hour, a GORGEOUS interior, and the most delicious dessert that will keep you dreaming about it for months to follow. The HH includes a couple of light bite options (the spicy edamame was delicious) as well as some really great drink specials.
We got the 2-for-1 deal on their cocktails. I can definitely recommend the Pisco Peach. Be sure to try one of their delicious sushi rolls as well, but whatever you do make sure to save room for dessert. Their Magical Chocolate Ball is dulce de leche, treacle cake, coconut ice cream, and red berry dust— your own personal piece of heaven.
I unfortunately don't have a photo of the dessert…because we devoured it.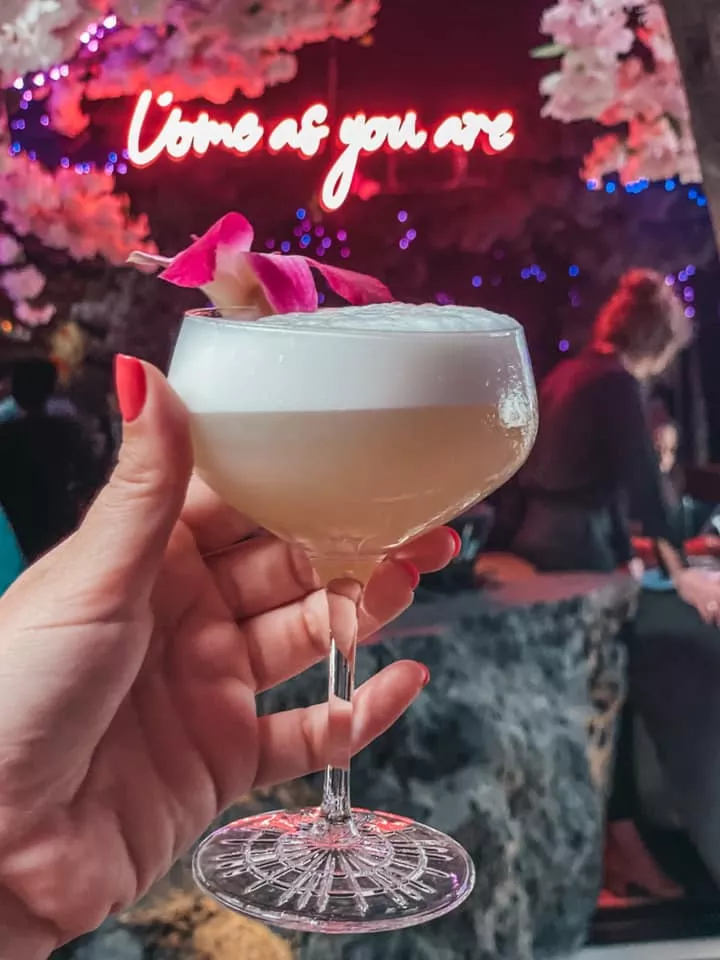 Hosteria Romana
Hosteria Romana is right on Espanola Way, which is already the cutest area. But you will truly feel like you've teleported to Italy the second you sit down at your seat all thanks to the music, the environment, and of course, the food. This was truly the closest food I've tasted to Italy since my trip two years ago.
I recommend sharing a few things, because their portion sizes are large! We shared a caprese salad and lasagna and it was the perfect amount of food. Oh my gosh, and you have to get a mojito! They have original or different flavors with fresh muddled fruit— and they come in the hugest glasses and your own sugar cane.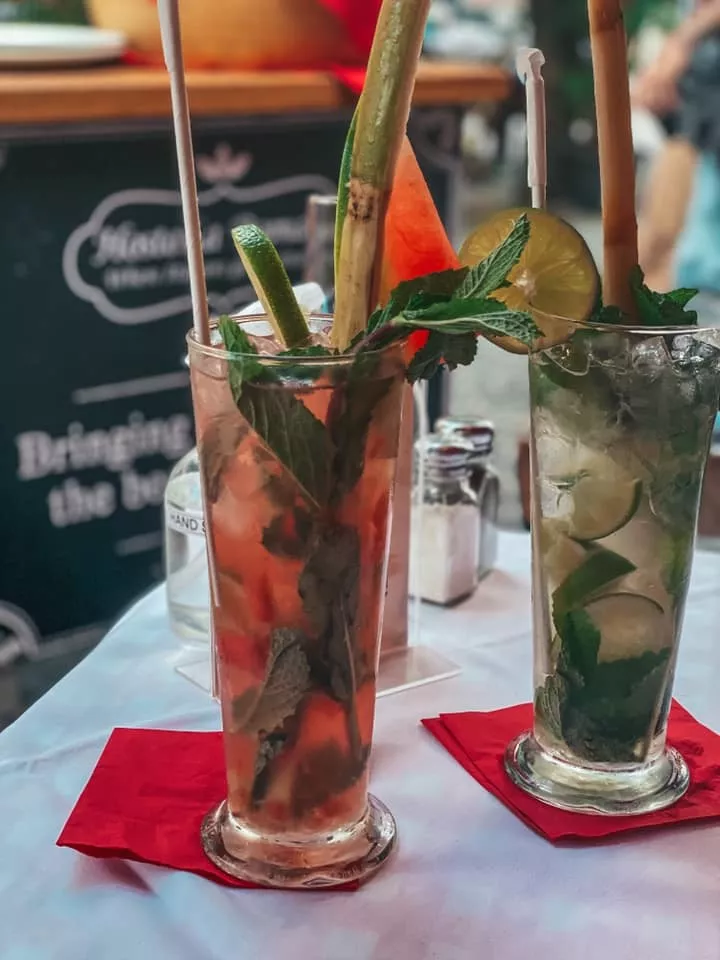 Juvia
Of course, no trip is complete without checking off a rooftop bar/restaurant! Juvia is pricey, but has such a unique, innovative, and delicious menu I promise it's worth it. We tried a little bit of everything between the four of us, and I would hate to be at the table next to us overhearing the sounds of pure bliss we were expressing.
I will say you should definitely get the summer truffle ceviche if it's available. Ceviche without truffle will no longer be accepted by me. I recommend going around sunset if possible. The night views were truly beautiful.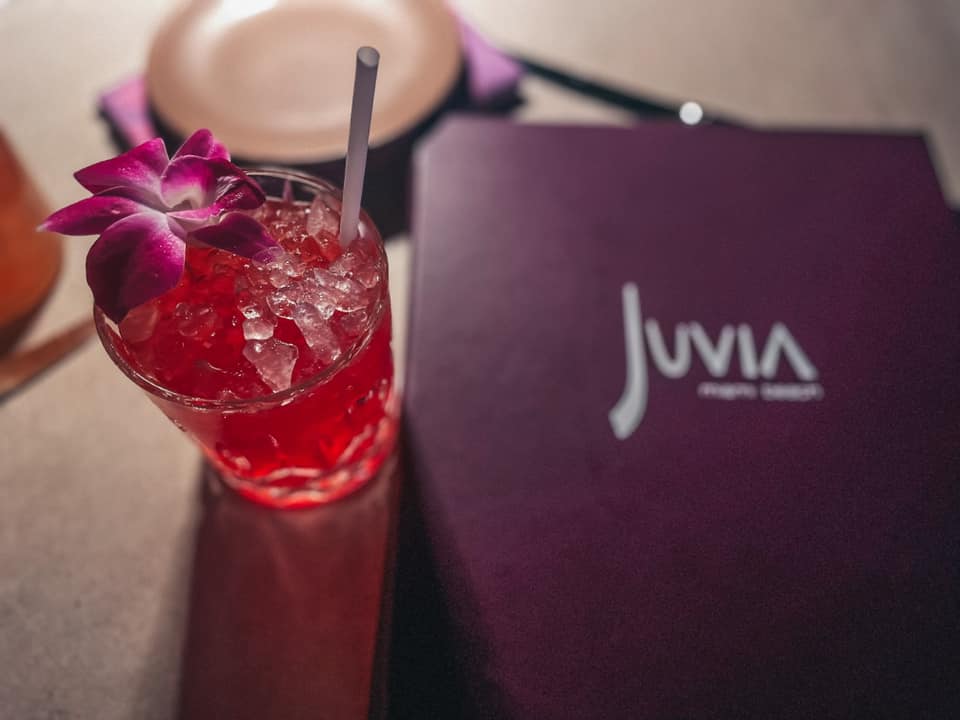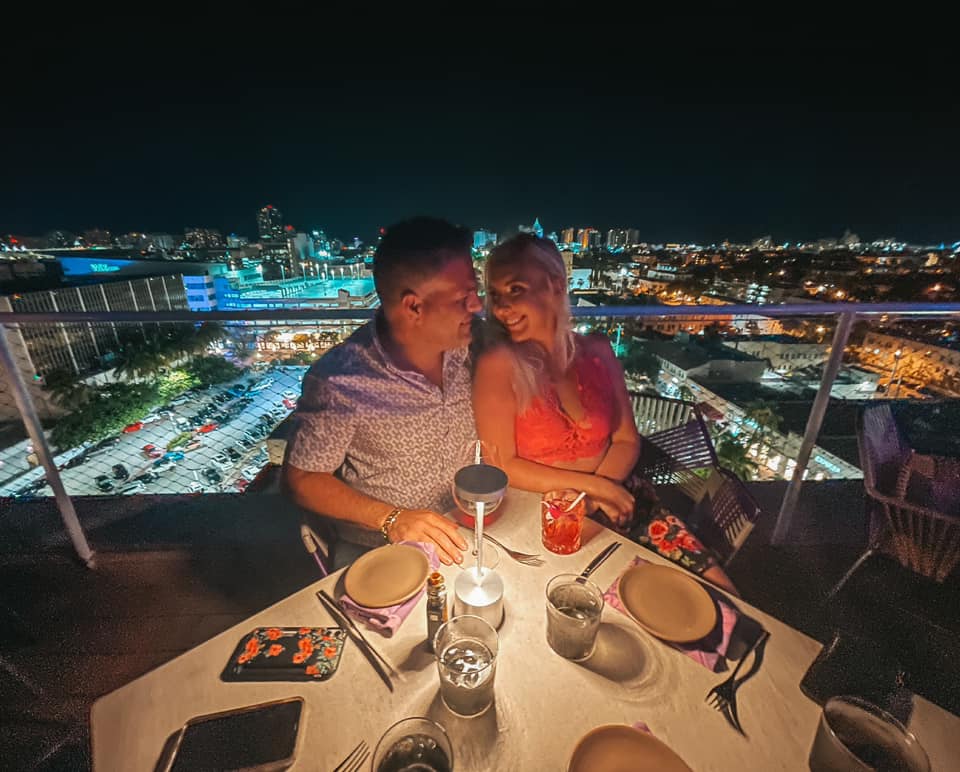 Bebitos Cafe
This is a new Miami breakfast staple for me. Such an adorable café serving up delicious coffee and Cuban-inspired bites. I have never ordered or wanted a croissant until I came here. I got the fried egg croissant and it was everything. The caramelized onions and honey mustard arugula gave it such a unique flavor, you will definitely enjoy every last bite.
The staff was so helpful and kind, and there are little touches throughout the café that really make you appreciate the aesthetic. Like how thoughtful and adorable are their stir sticks?!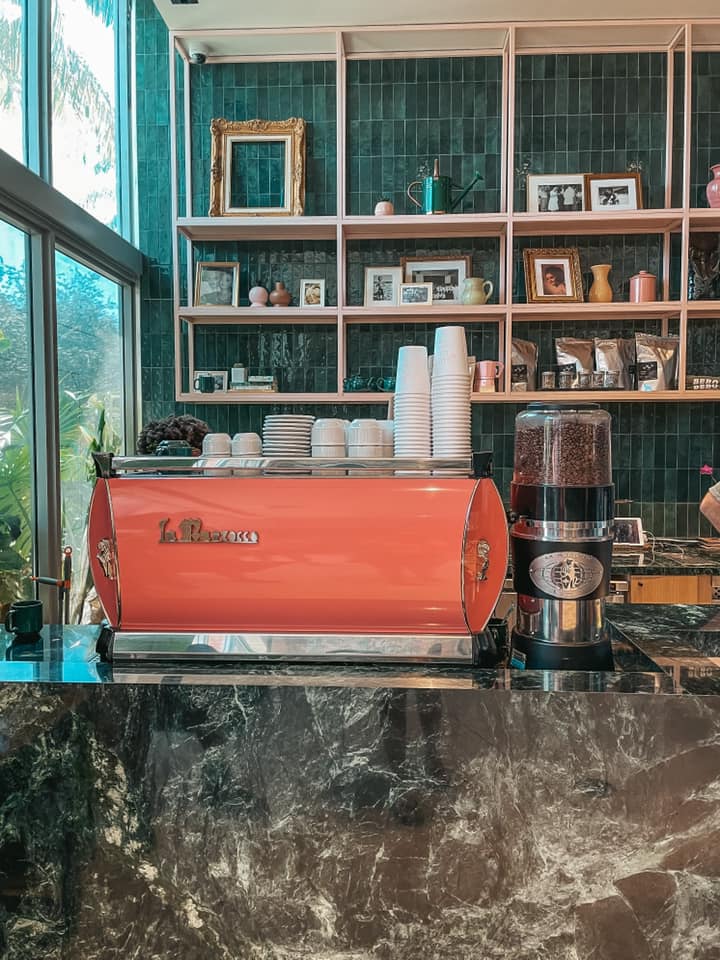 Gianni's 
If you want to eat here, MAKE RESERVATIONS. They were booked up a couple of months in advance when I checked. Gianni's is located at the former Versace Mansion. It is on the pricey side, however Monday –Sunday 11:00 AM to 4:30 PM they offer a $34 lunch menu which includes an appetizer, entrée, and dessert!
The mansion is extremely beautiful and definitely a sight to see. If like us you aren't able to get reservations, at least go and grab a drink and check out the venue! It's beyond beautiful, and while the drinks are pricey, the Berrisace Collins was truly one of the best drinks I've had in Miami.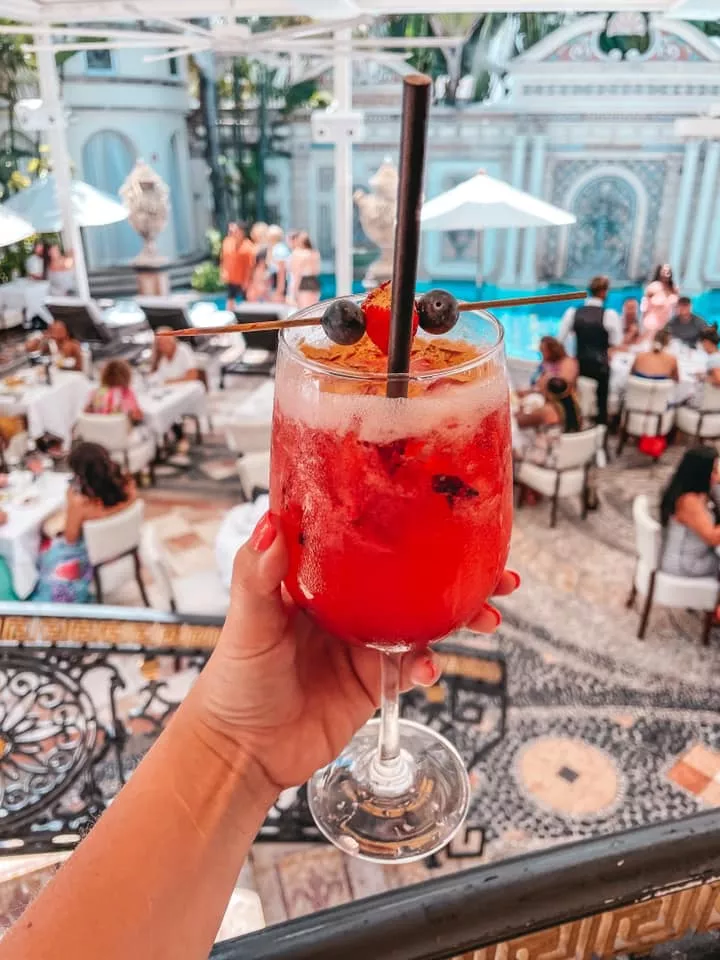 Which place do you want to hit first?!
Make sure to check out my Miami Guides on Instagram @guidedbydestiny for more Miami tips and recommendations! If you plan to head even further south, I have a complete guide for visiting Key West. If you enjoyed this post, don't forget to share it 🙂