This post contains affiliate links which means that I will make a small commission if you purchase a product after clicking on any of them, at no extra cost to you.
Step into the enchanting world of Helen, Georgia, where a tapestry of adventure, culture, and natural beauty is at every turn! Nestled in the North Georgia mountains, you're going to fall in love with each of these charming Alpine Helen, GA attractions.
From cascading waterfalls and scenic hiking trails to immersive cultural experiences and eclectic shops, Helen boasts a diverse array of activities that embody its unique blend of Southern hospitality and European flair. Whether you're seeking outdoor activities or a taste of cultural exploration, this guide on Helen's attractions will showcase the very best of what this picturesque destination has in store.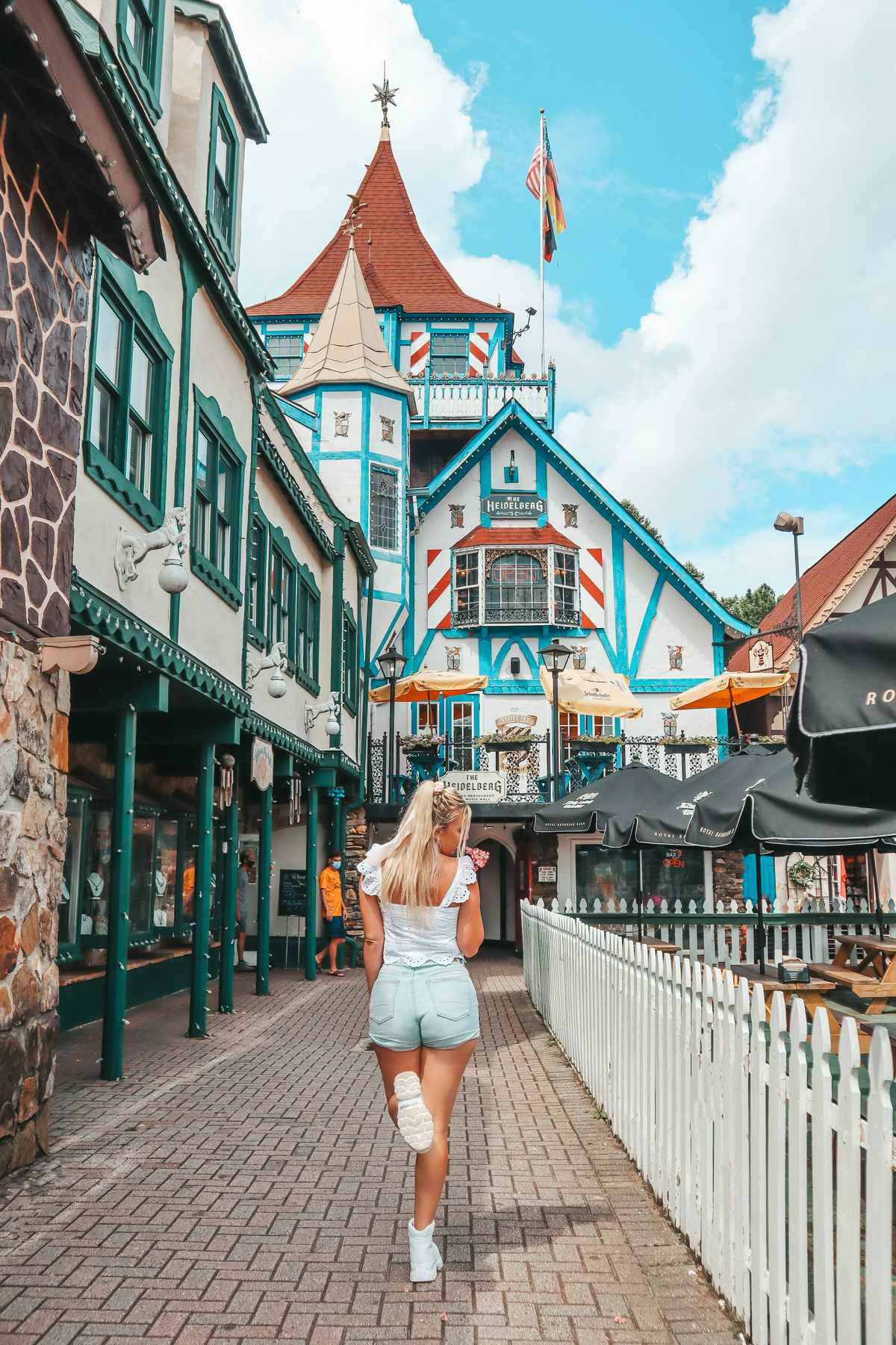 Fun Helen, GA Attractions
1. Downtown Helen
Downtown Helen offers a captivating blend of Old World charm and Southern hospitality. Strolling through cobblestone streets lined with quaint Bavarian-style architecture will truly make you forget you're in the US.
Helen's downtown is complete with charming shops, quirky boutiques, and inviting cafes. The aroma of freshly baked pretzels mingles with the sounds of live music, creating an atmosphere that's both festive and relaxing.
Explore the hidden gems of local craftsmanship, from handcrafted souvenirs to delicate ornaments, while indulging in a variety of delicious cuisine, from traditional German fare to Southern comfort food.
The lively energy of Downtown Helen is contagious, inviting travelers to immerse themselves in the unique blend of culture, shopping, and dining that sets the town apart as a one-of-a-kind destination.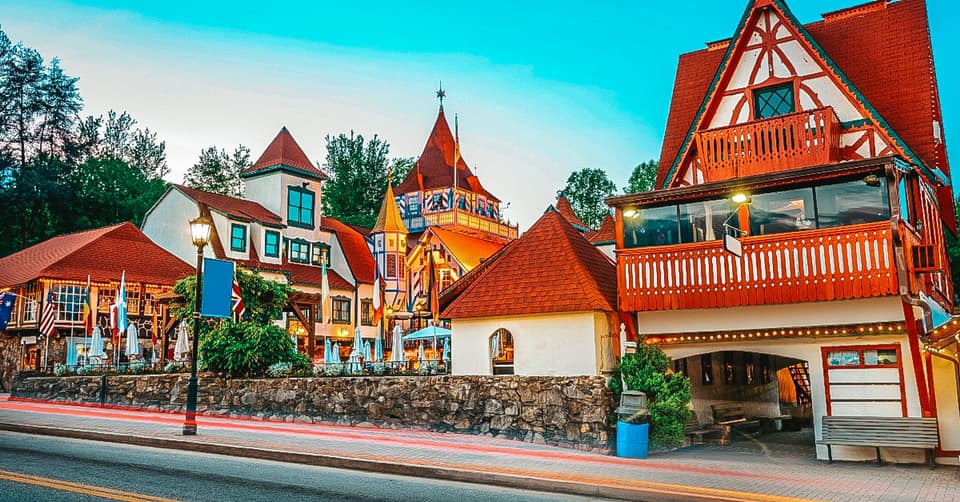 2. Anna Ruby Falls
Nature's masterpiece, Anna Ruby Falls, calls adventurers to embark on a scenic journey into the heart of the Chattahoochee National Forest. The trail leading to the falls is a tranquil escape, winding through lush woodlands and offering glimpses of the captivating creek.
It's a one-mile paved trail that is open from 9 am-5 pm and has a $3 per person admission fee. This is a very easy and enjoyable trail that is suitable for all ages.
We got there shortly after it opened (around 10 am) and it was definitely more traffic than I would have liked. But it was also a Saturday when we went.
The sight is a testament to the natural wonders of the region, creating an awe-inspiring tableau of white water against a backdrop of verdant forests. Naturally, Anna Ruby Falls is easily one of the top attractions in Helen, Georiga, and is a great way to experience the tranquil beauty of the North Georgia mountains.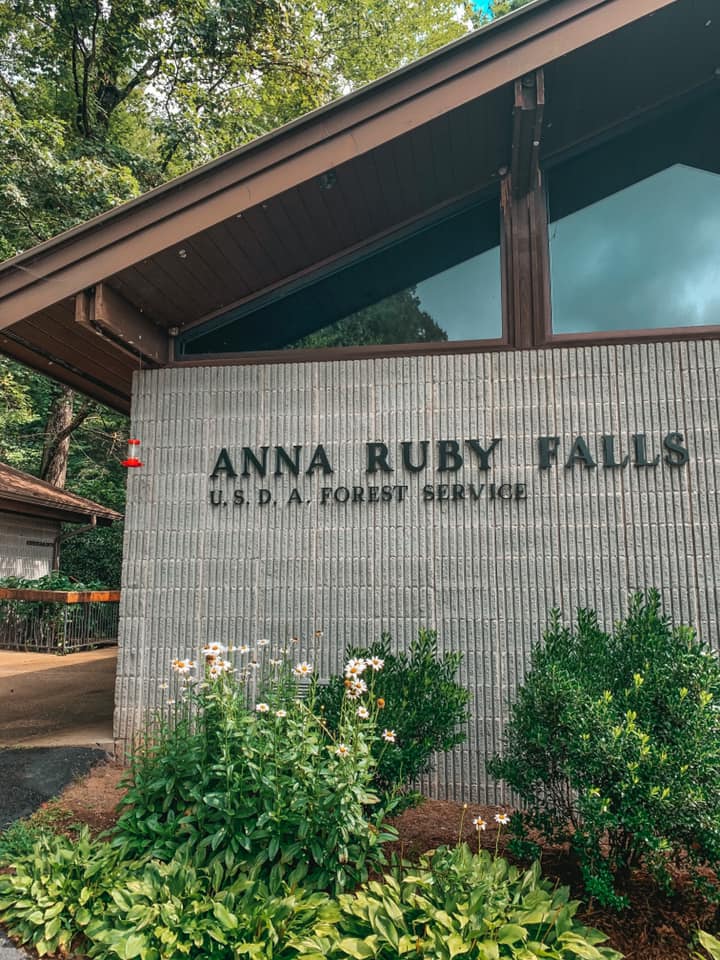 3. Tubing on the Chattahoochee
In my humble opinion, tubing the Chattahoochee with Cool River Tubing may be the best thing to do in Helen! This was our favorite experience from our 2-week Southeast USA road trip.
You can tube for one or two hours down the river. The length of time you choose determines your drop-off point. It was raining when we were going, and we weren't sure how much we were going to like it, so we just did the one-hour trip.
We lucked out, and by the time we got dropped off by the bus, it had totally stopped pouring! The hour flew by and we really regretted not doing two. Remi even tried using the stick we had to make our way back upriver… unfortunately, to no avail.
Ya know what's even better than finding a super-fun, unique Helen, GA attraction? When that activity is hella cheap! It was only $10 per tube ($14 on Saturday and Sunday), and it was the same price regardless of how long you went!
They also have connectors (free of charge) so you can combine tubes together! We purchased a stick which I believe was $5, but it was definitely necessary to get us out of some sticky situations.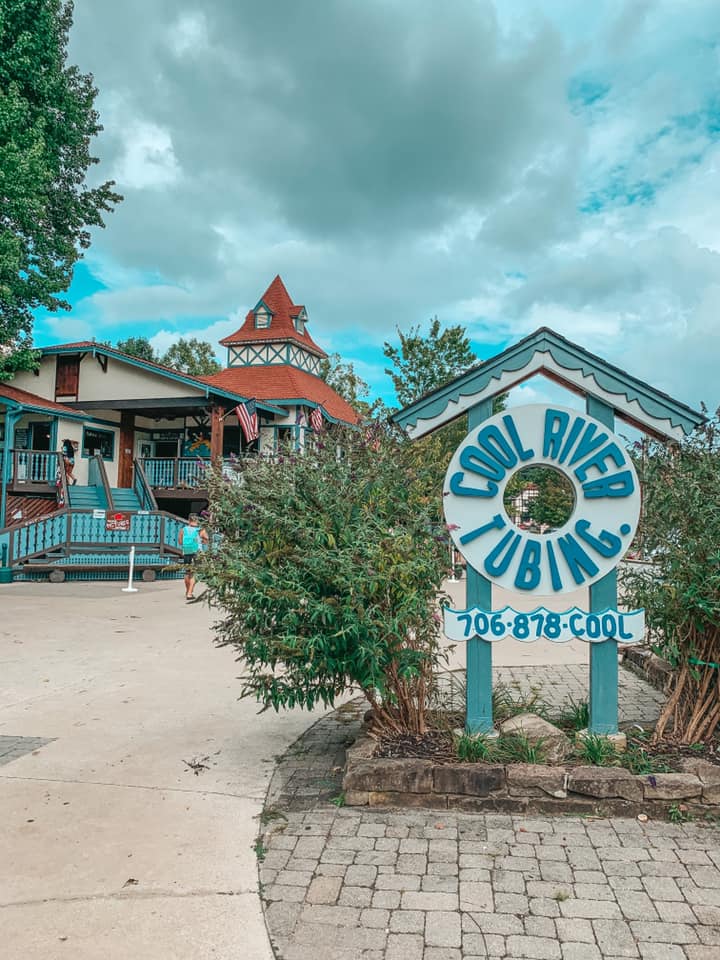 4. Unicoi State Park
Nestled at the foothills of the Blue Ridge Mountains, Unicoi State Park is the perfect Helen activity if you're an outdoor enthusiast seeking respite in nature's embrace. The park's pristine wilderness offers a diverse range of activities, from hiking along scenic trails to fishing in the tranquil lake.
One of the most popular trails is the 2.5-mile Unicoi Lake Trail, which offers stunning views of the lake and surrounding mountains.
You can immerse yourself in the vibrant colors of wildflowers during springtime hikes or enjoy the rustic beauty of fall foliage. Unicoi's serene lake is perfect for paddle boating, kayaking, and fishing, inviting you to discover the peaceful charm of its waters!
The park also features a variety of cozy accommodations, from comfortable cabins to a welcoming lodge, ensuring that every visitor can fully immerse themselves in the natural wonders of North Georgia.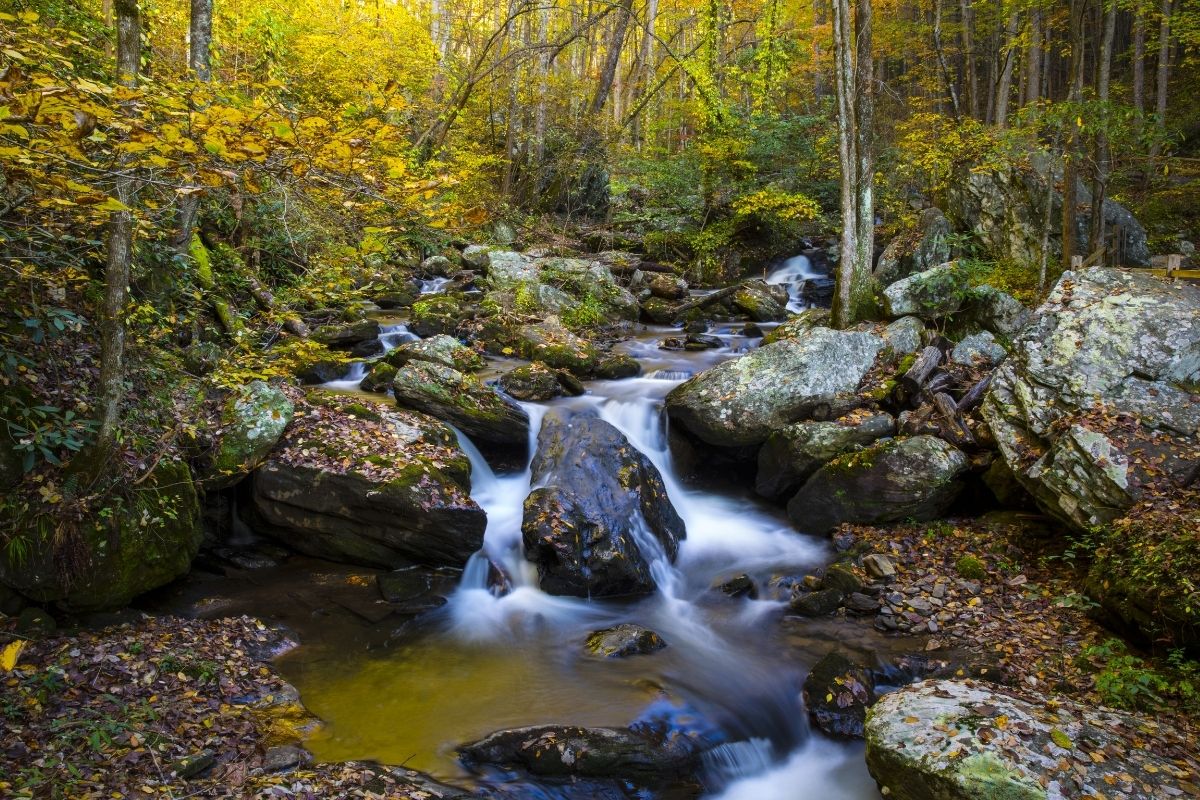 5. Oktoberfest
Helen, GA, comes alive in a burst of cultural celebration during Oktoberfest, an annual event that will transport you straight to the heart of Germany's Bavarian traditions! This lively and vibrant festival captures the spirit of the Alpine village, with a dazzling array of activities, music, and polka dancing that celebrate Bavarian heritage.
Oktoberfest takes place from mid-September through the end of October.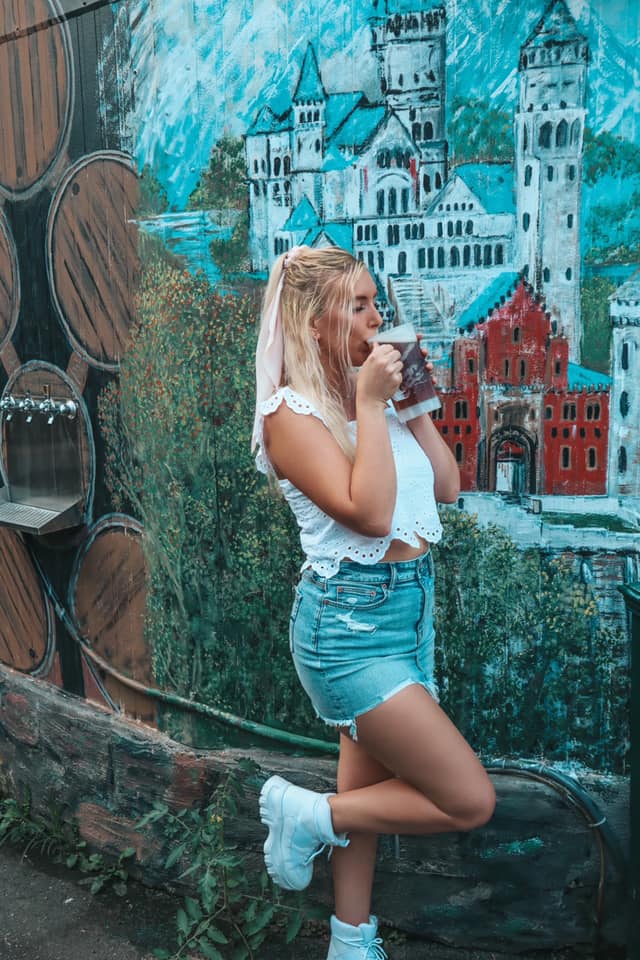 6. Visit the Alpine Village Shoppes
It's hard to resist wandering through quaint storefronts, pausing to admire intricately designed ornaments, local artistry, and charming collectibles that capture the essence of Alpine Helen.
The shops include unique boutiques, artisanal galleries, and specialty stores. You're sure to find a treasure trove of unique finds, from handcrafted souvenirs to European-inspired trinkets.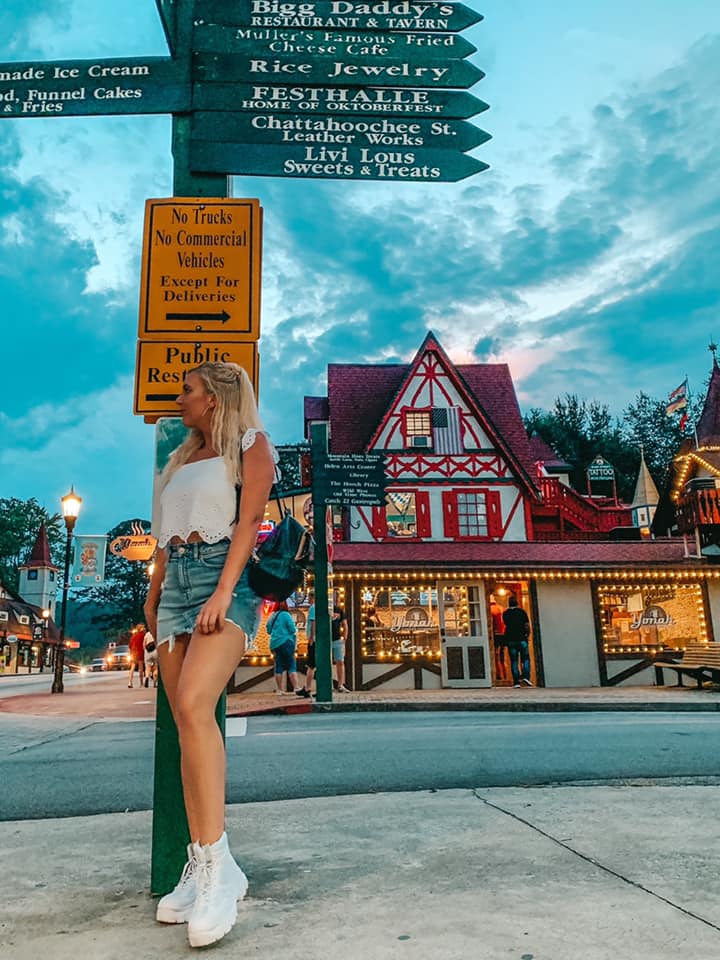 7. Indulge in the German fare
This Helen, Georgia attraction is for my foodies! Get ready to fall in love with the authentic flavors of German cuisine that define the town's cultural identity. From the hearty warmth of schnitzels to the comfort of sauerkraut and warm pretzels, the culinary experiences here are a direct link to Bavarian traditions.
Restaurants and eateries throughout Helen proudly offer a range of German fare, each dish meticulously prepared to capture the essence of this rich culinary heritage. Dine in the midst of Bavarian-style ambiance, where wooden beams and traditional decor create an atmosphere that transports you to the heart of Germany.
Bodensee Restaurant was my personal fave that we went to!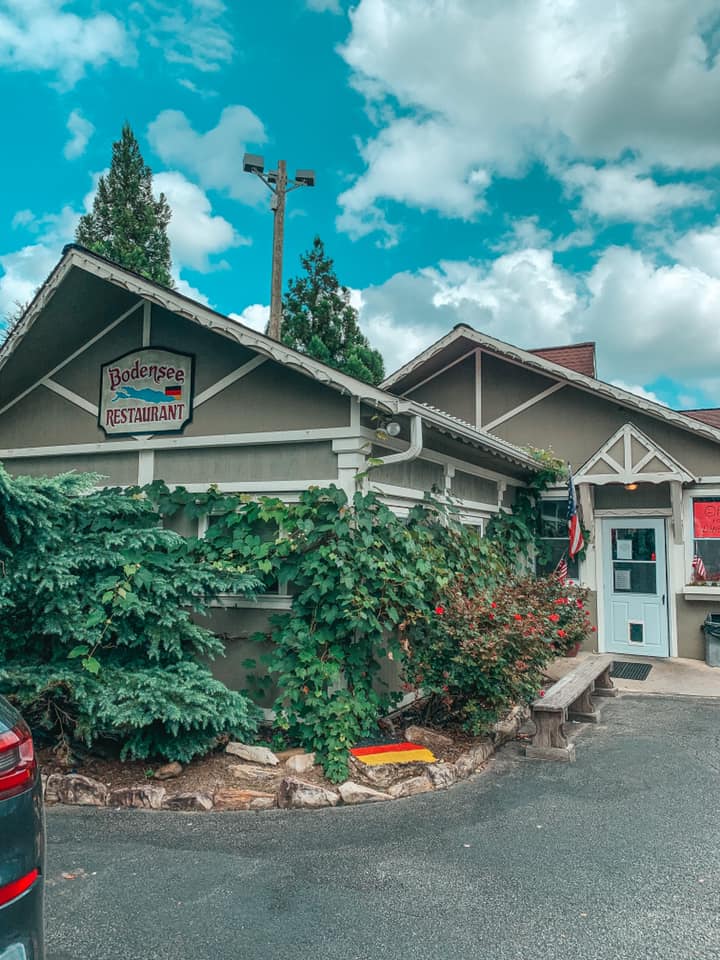 8. Sip at the wineries
The rolling hills surrounding Helen, GA, are home to a cluster of exceptional wineries that invite you to embark on a journey of wine exploration. These wineries offer not only a taste of the region's finest wines but also the chance to witness the artistry of winemaking in action.
Sip on exquisite wines while taking in the picturesque vineyard views that stretch to the horizon. Winery tours provide insights into the production process, allowing you to connect with the dedication and passion that goes into crafting each bottle.
Whether you're a wine connoisseur or simply seeking a serene escape, the wineries near Helen offer a unique opportunity to savor the flavors of the region while basking in the beauty of North Georgia's wine country!
Wineries near Helen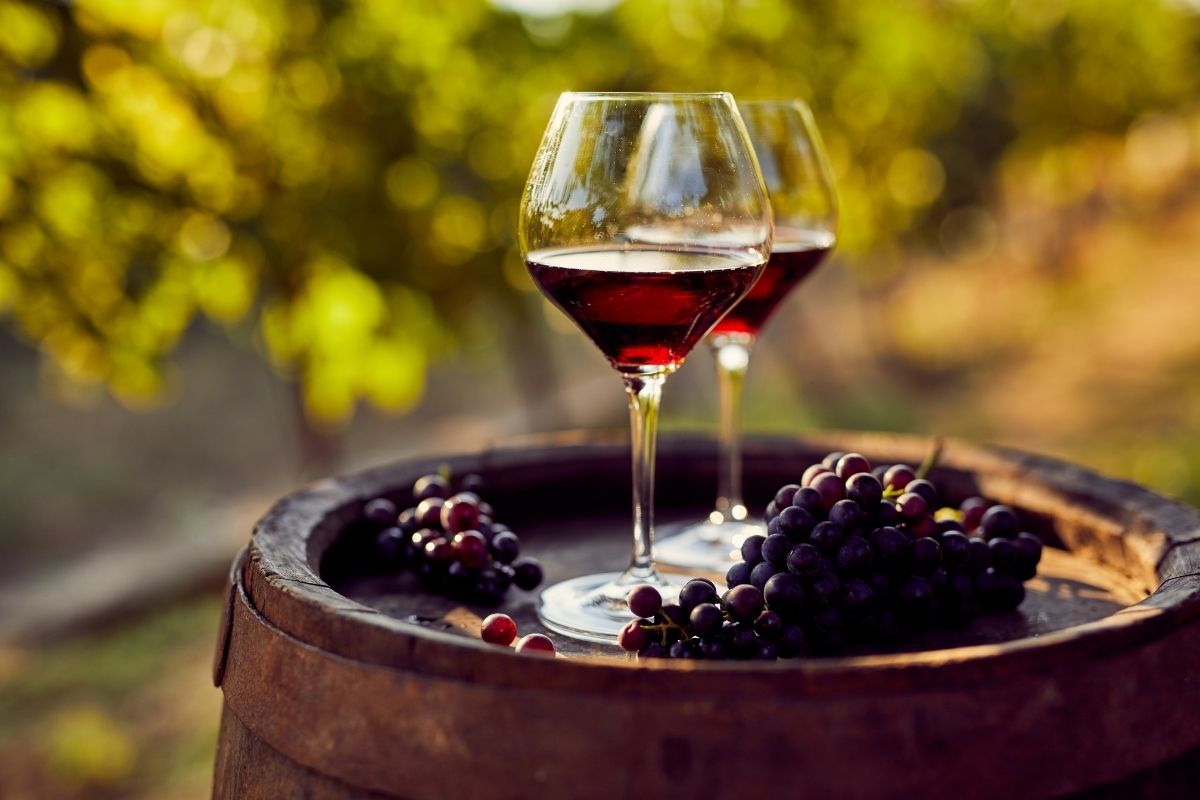 9. Helen Water Park
For a splash of excitement and a dose of family fun, Helen Water Park is the ultimate destination. The water slides offer exhilarating twists and turns that are sure to keep the thrill-seekers engaged, while the lazy river provides a tranquil retreat for those looking to unwind.
The Helen Water Park is open 7 days a week from June through early September.
10. Smithgall Woods State Park
Smithgall Woods State Park is considered an angler's paradise as it's home to the renowned Dukes Creek, one of north Georgia's premier trout streams. Offering a haven for catch-and-release fishing, this splendid property ensures a top-notch experience by limiting the number of anglers and designating specific fishing days. Reservations are essential for securing your fishing spot.
Five miles of trails and 18 miles of roads beckon hikers and cyclists to explore the enchanting hardwoods, serene streams, and diverse wildlife that grace the park's terrain.
If you would like to stay in this area, nestled among the scenic beauty are six charmingly adorned cottages offering a combined 17 bedrooms complete with modern amenities. These cozy cottages provide a variety of features, from tranquil porches along the babbling stream to private hot tubs.
If visiting you must register at the visitor center, and parking is available for $5 per vehicle.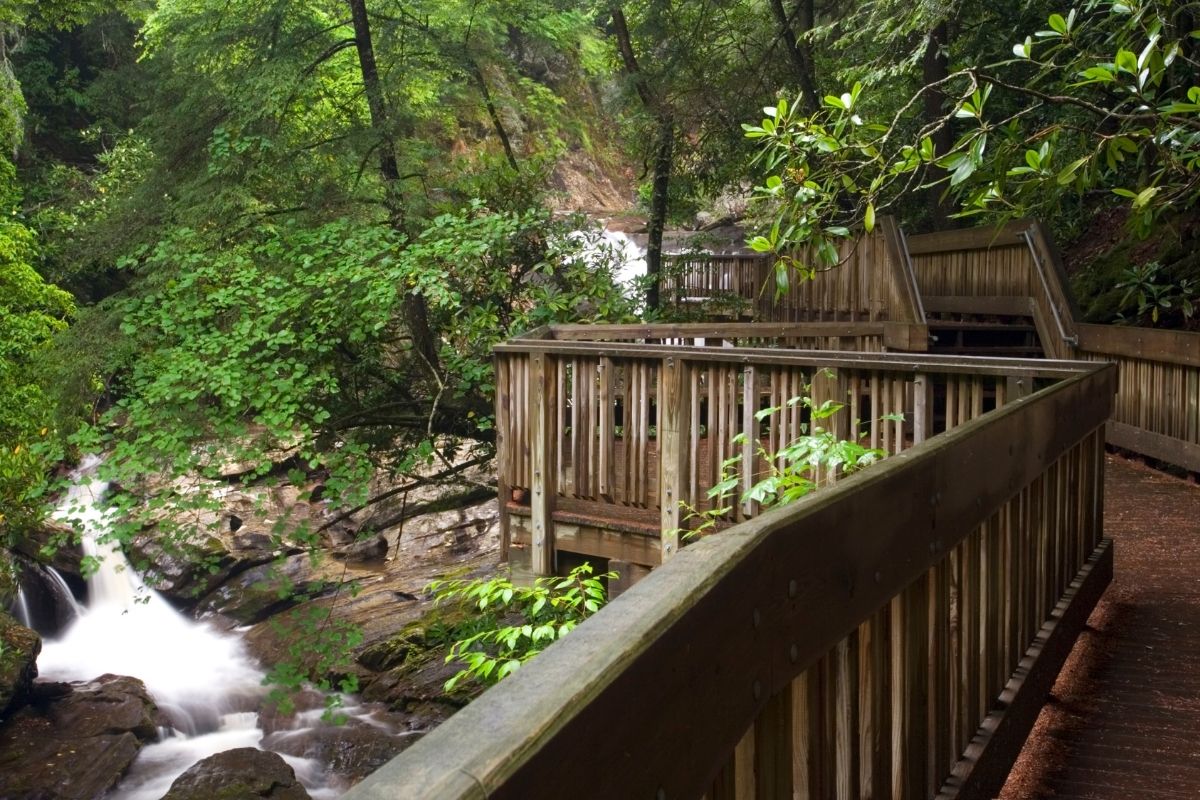 11. Escape Room
Helen's escape room experiences offer an immersive adventure that challenges your wit and creativity. Whether you're a puzzle enthusiast or simply seeking a unique group activity, these escape rooms promise an exhilarating test of teamwork and problem-solving skills.
Locked in a themed room, you and your team must decipher clues, solve riddles, and unravel mysteries to unlock the door within a set time frame! I have only done one of these in Clearwater Beach, but we found it to be such a fun, family-friendly activity and had a blast!
12. Uhuburg Castle
Discover the enchanting world of Uhuburg, a Renaissance castle located just beyond the town of Helen, GA.
General Admission grants you access to Uhuburg's courtyard, allowing you to immerse yourself in the castle's outdoor ambiance, walls, lookout tower, and gardens at your leisure. You're free to choose your preferred arrival and departure times within the open hours on Saturdays and Sundays, from 10:00 AM to 3:00 PM, with the last entry being an hour before closing.
For a deeper dive into Uhuburg's treasures, consider joining the guided tours led by knowledgeable hosts that can offer you insight into the castle's most captivating features, from murals to gardens.
Check out the stunning views along the Wall Walk, philosophical murals that provoke thought, and serene contemplation spots like the Zen Garden. Ascend the Lookout Tower for a panoramic view of the Blue Ridge Mountains.
There are also nearly 2 acres of Courtyards to explore! The Carnivorous Bog, Native Garden, Produce Garden, Greenhouse, and Ponds complete the sensory journey, allowing you to immerse yourself in Uhuburg's captivating world.
Whether you're seeking a tranquil retreat, an exploration of architectural marvels, or a connection with nature, Uhuburg will deliver an unforgettable experience that merges history, philosophy, and natural beauty within its majestic walls!
13. Go ATVing
Venture into the rugged wilderness surrounding Helen, GA, with an ATV or UTV adventure that promises an adrenaline rush and a connection with nature. Guided tours allow you to explore off-road trails, traverse through forests, and ascend mountainous terrain while taking in breathtaking views.
Experience the beauty of Helen's surroundings in a unique and guided tour via a scenic ATV and UTV ride. This adventure is tailored for those seeking a memorable journey rather than an X Games thrill. Safety and adherence to guidelines are paramount on this single-track, mountainous trail—this isn't a high-speed escapade.
You'll embark on a captivating 5-mile loop through picturesque mountain terrain, capturing the essence of the region's natural allure. The trail offers breathtaking views, a visit to a goldmine, and an exhilarating drive through a cave.
For a family-friendly stop, enjoy the mini animal farm and try your luck at gold panning. Let this ATV/UTV tour be your gateway to an unforgettable journey through Helen's awesome landscapes.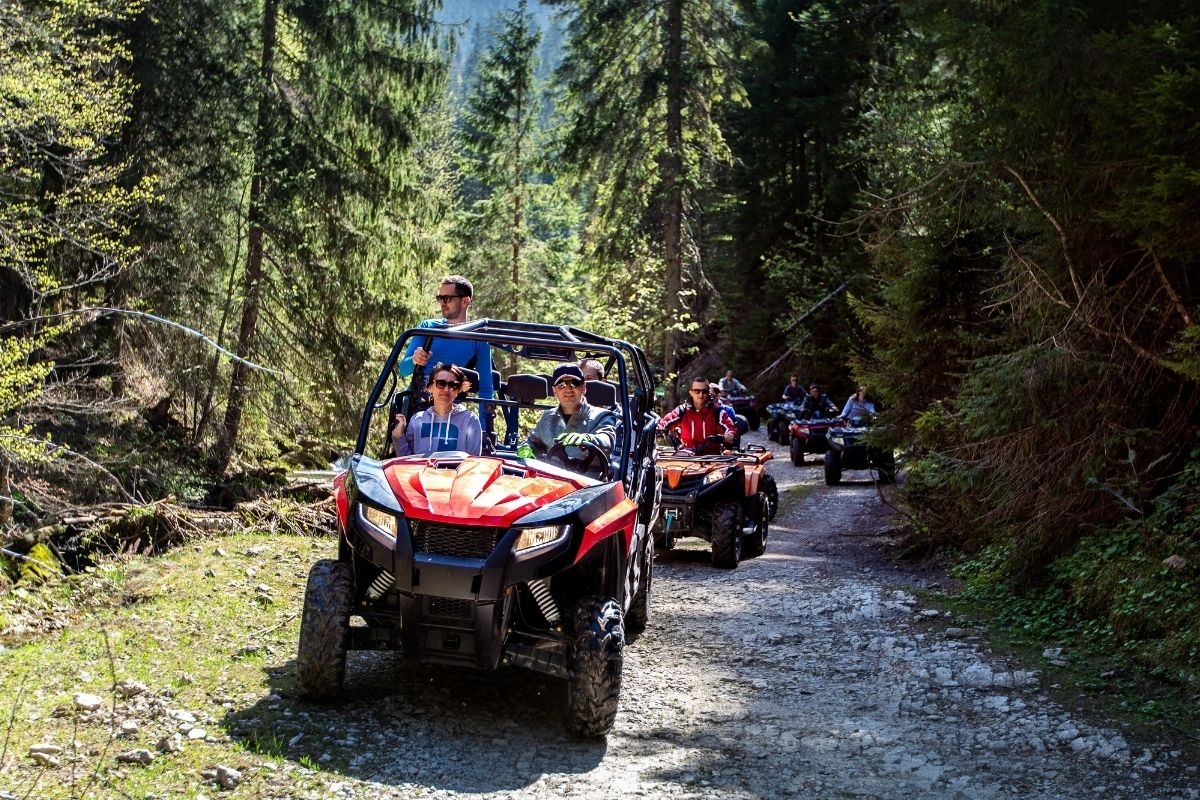 14. Georgia Mountain Coaster
Experience the thrill of the Georgia Mountain Coaster, where gravity takes the wheel on a twisting, turning adventure down the mountainside. This alpine coaster offers a unique blend of speed and scenic beauty as you glide through forests and curves.
Control your own speed or let gravity dictate the pace as you zoom through the North Georgia landscape. This Helen attraction is open 7 days a week (weather permitting) and hours vary by day.
15. Helen Arts & Heritage Center
The Helen Arts & Heritage Center is a treasure trove of creativity, history, and community spirit. Immerse yourself in exhibitions that showcase local artistry and heritage, providing insights into the town's cultural evolution.
The center engages visitors with art and Helen's history through contemporary works and displays. Workshops and events provide opportunities to connect with local artists and craftsmen, creating a bridge between tradition and innovation. One of the things that sounds most intriguing to me is the pottery studio! Sessions start at $30.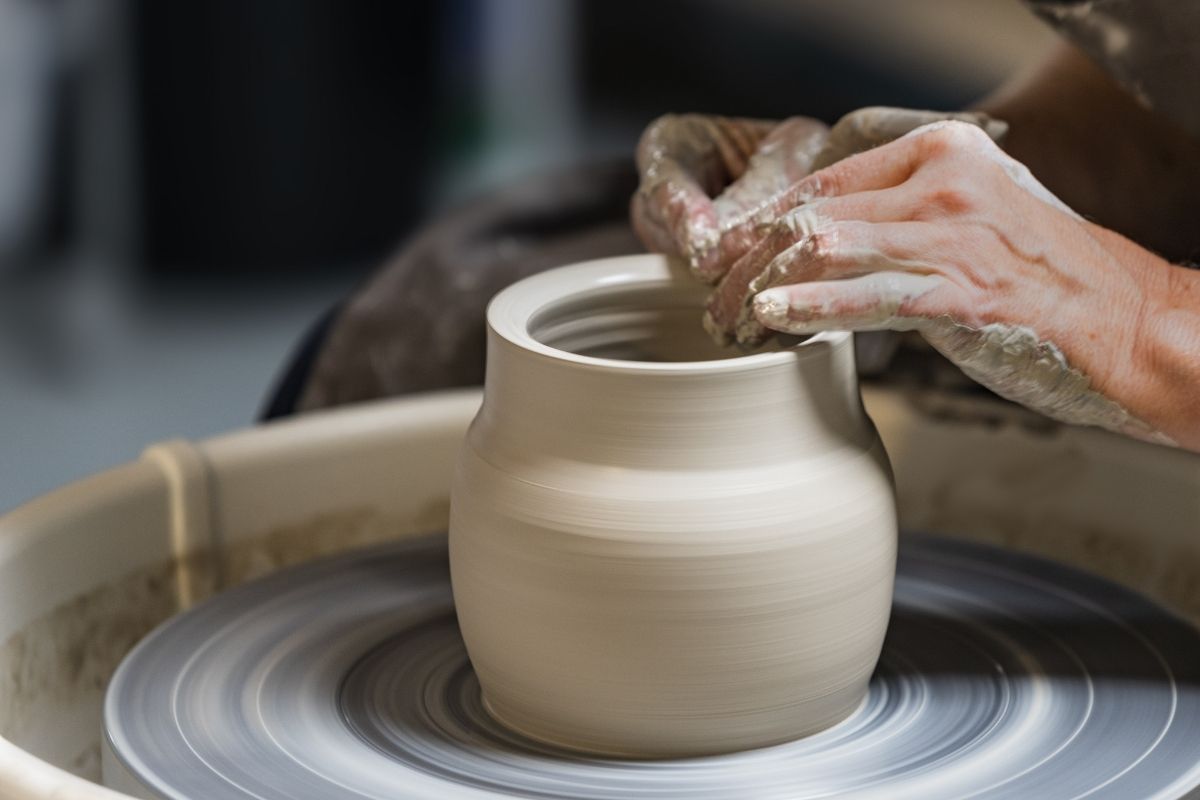 16. Visit the nearby town of Cleveland
A short 30-minute drive from Helen, the nearby town of Cleveland offers a delightful blend of attractions that promise memorable experiences. Step into the North Georgia Wildlife and Safari Park, where encounters with animals from around the world create moments of wonder and education. From majestic big cats to friendly farm animals, the zoo offers an up-close and personal connection with wildlife. They even have a safari drive-thru!
On the other end of the spectrum, explore a field of fragrant beauty at a lavender farm, where rows of lavender create a serene oasis. Enjoy demonstrations, workshops, and shopping where you can purchase handmade lavender products.
The lavender field is open Saturdays from 11 AM to 4 PM April thru Labor Day and October and November.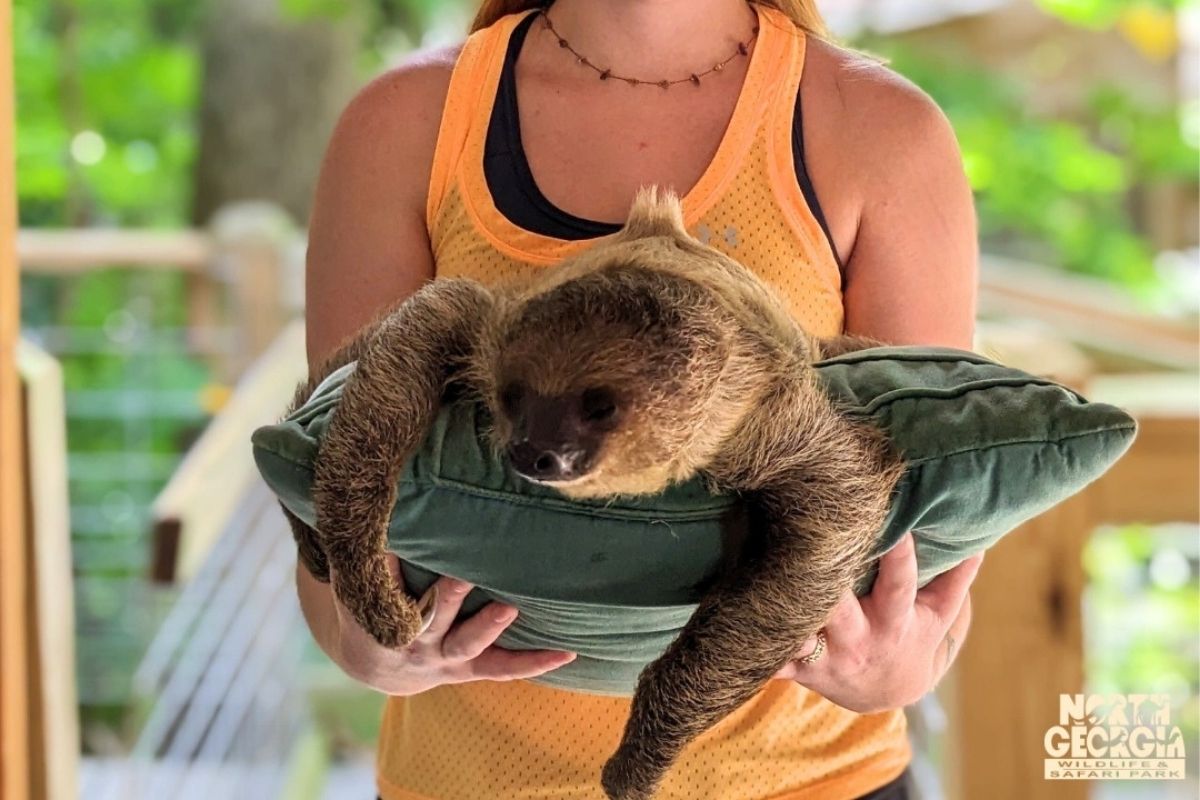 17. Helen Balloon Race
Experience the magic of flight and the beauty of the North Georgia mountains from a unique vantage point at the Helen Balloon Race. Annually, the sky becomes a canvas of colors as hot air balloons ascend against rolling hills, creating a mesmerizing spectacle.
Usually in June, this event lets visitors witness balloon launches and even take tethered rides for an aerial adventure preview!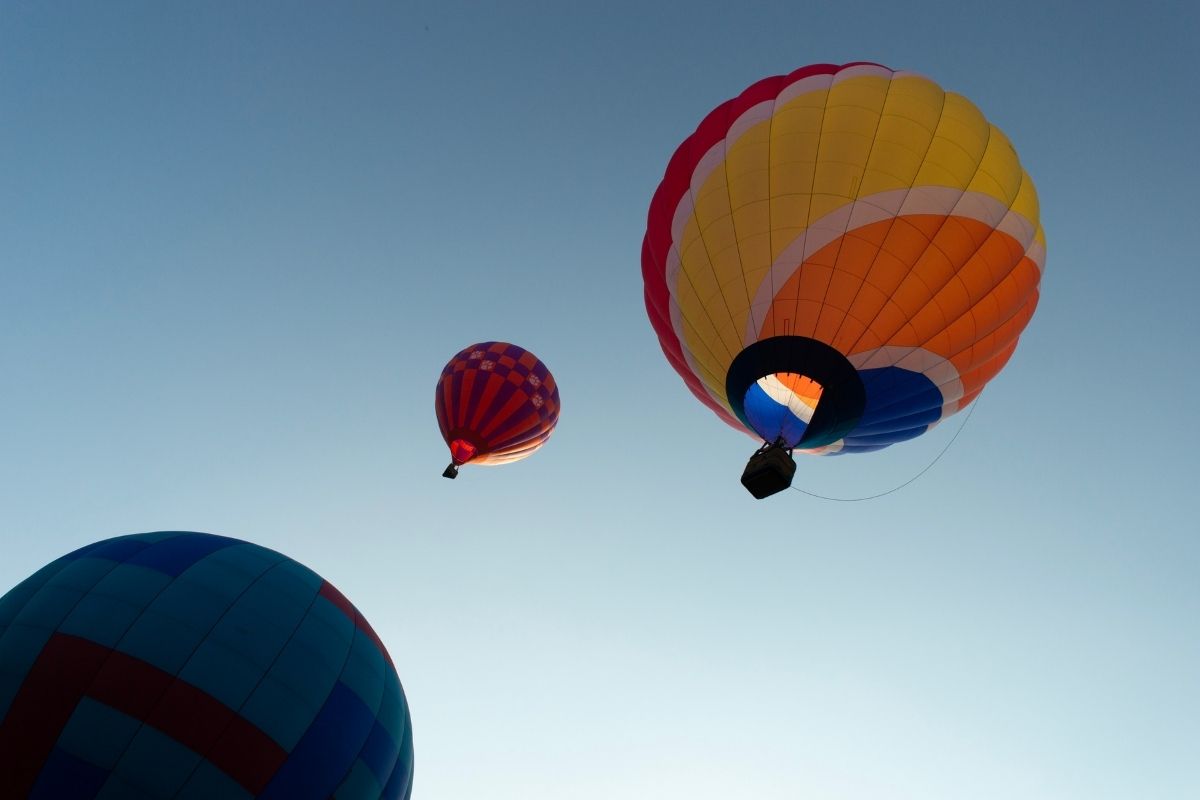 18. Mini Golf and Go-Karting
Another cheap, but fun Helen activity is mini golf! It's perfect for family-friendly fun and a dash of friendly competition. Putt your way through whimsical courses that transport you to themed worlds, from tropical jungles to enchanted castles.
Afterward, rev up the excitement with go-kart races or team up in laser tag at Alpine Fun Factory. These Helen attractions provide the perfect mix of entertainment for visitors of all ages.
19. Vogel State Park
Nestled in the heart of the Chattahoochee-Oconee National Forest, Vogel State Park invites you to immerse yourself in the serenity of nature's embrace. The park's tranquil beauty is characterized by its pristine lake, where paddle boating and fishing offer moments of relaxation.
Explore hiking trails that wind through dense woodlands, leading to captivating waterfalls and panoramic vistas. Campsites and cabins allow you to experience the great outdoors while enjoying modern comforts. Vogel State Park's scenic landscapes and abundance of activities make it a haven for those seeking solace in nature's splendor.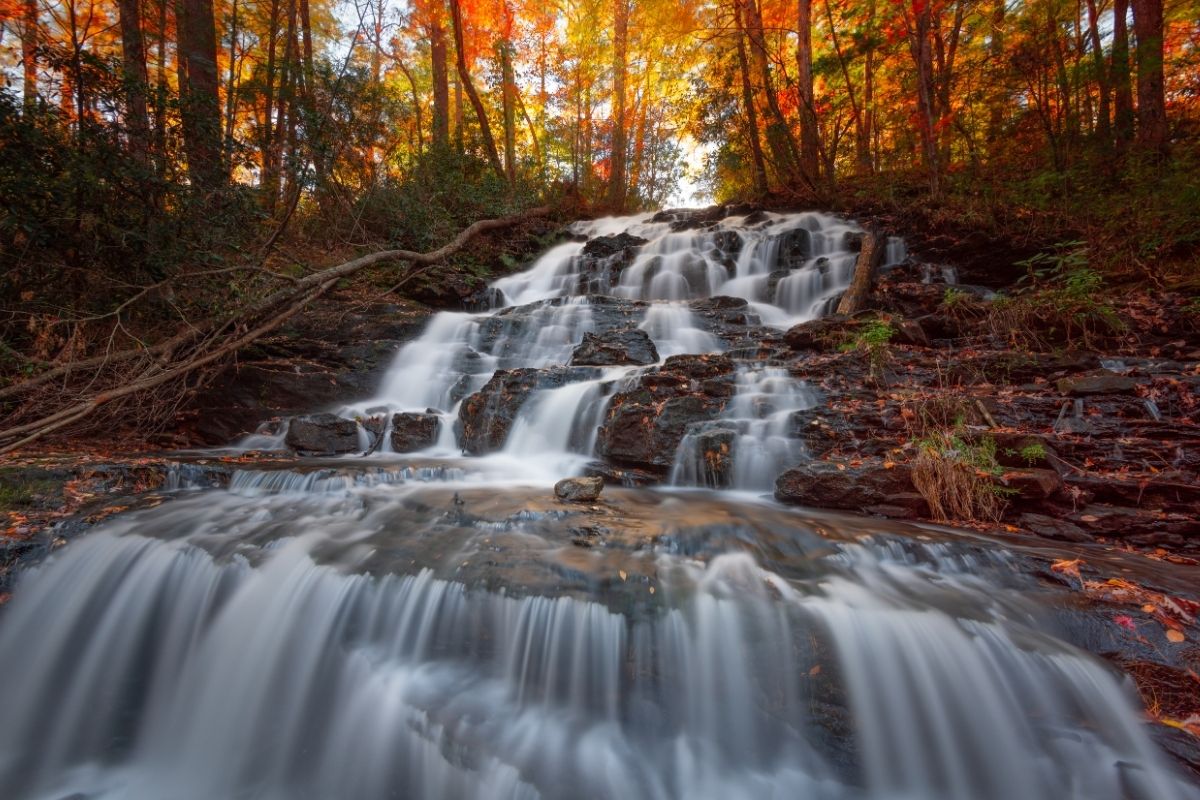 20. Cool River Adventure Courses
Embark on an unforgettable adventure at Cool River Adventures' Helen Adventure Courses. This outdoor attraction offers an exhilarating experience for all thrill-seekers. Featuring various adventure courses, including treetop challenges and ziplining, you can explore, conquer, and embrace the treetop heights.
Navigate suspended bridges, test your balance on log walks, or soar through the forest on a zipline! They provide three course options with varying durations and elements, catering to different ages and experience levels.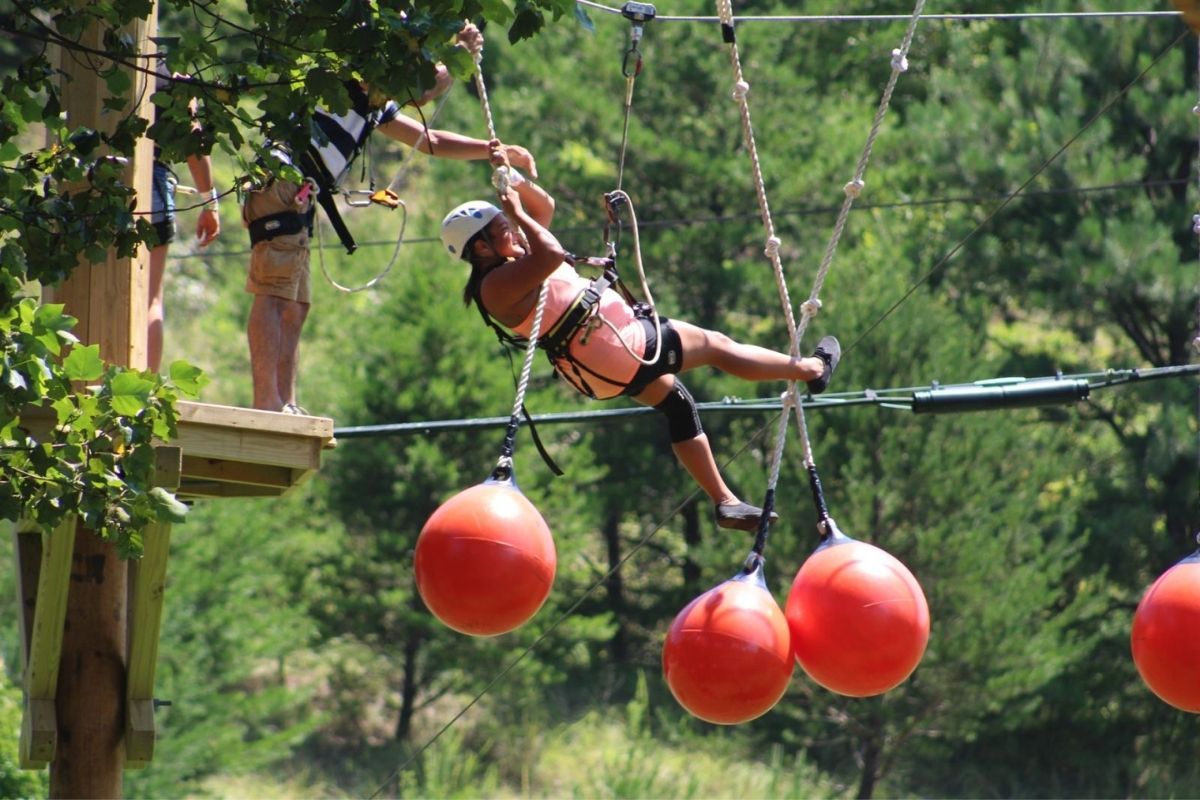 21. Christmas in Helen
Experience the magic of the holiday season like never before during Christmas in Helen! The town transforms into a winter wonderland, with twinkling lights, festive decorations, and a cheerful atmosphere that warms the heart.
Stroll charming streets, savor holiday-themed events, and admire picturesque Alpine architecture adorned with festive flair. They even have a Christkindlmrkt!
From festive parades to Santa visits, Helen's Christmas is enchanting, capturing the spirit of the season in a magical way!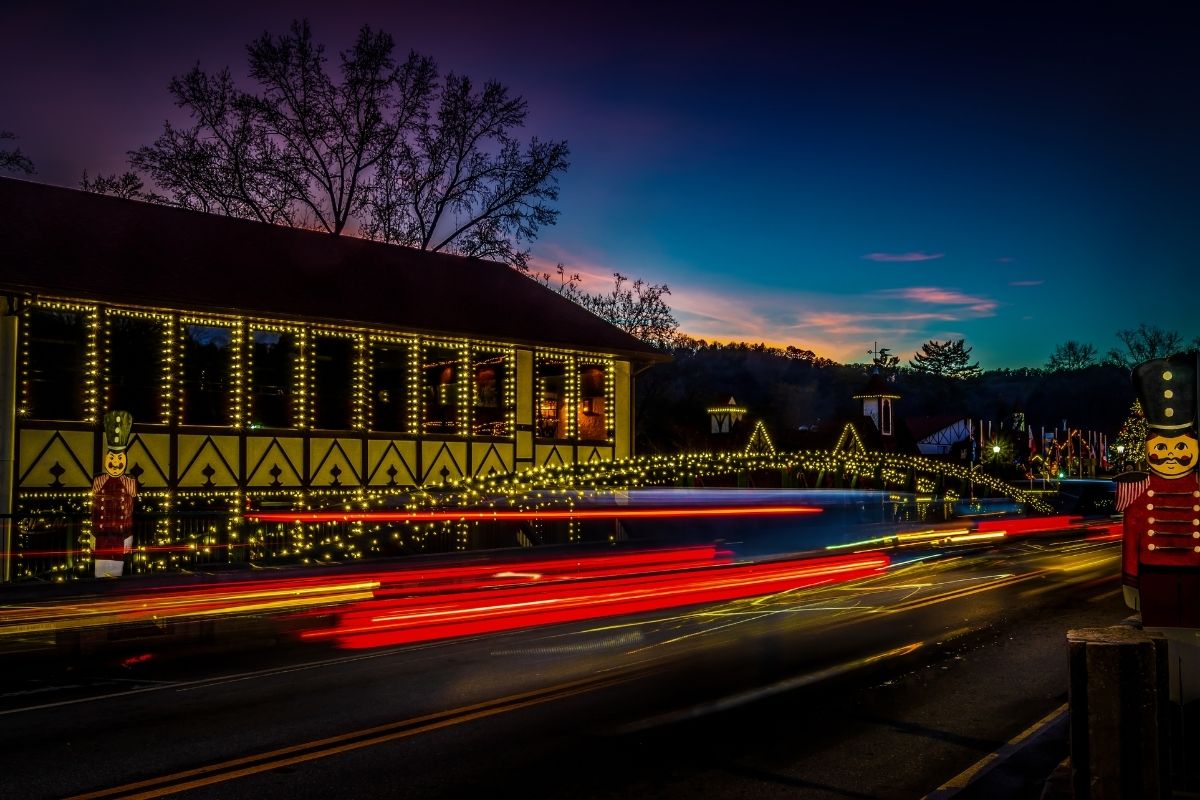 22. Throw some axes
Unleash your inner lumberjack with an exhilarating session of axe throwing in Helen. This unconventional activity offers a blend of skill, competition, and sheer enjoyment as you aim for the target with precision and accuracy.
They are open 7 days a week and also have cornhole, darts, Jenga, and giant pong available to play. We threw axes in Lakeland, and I was surprisingly good once I got the hang of it!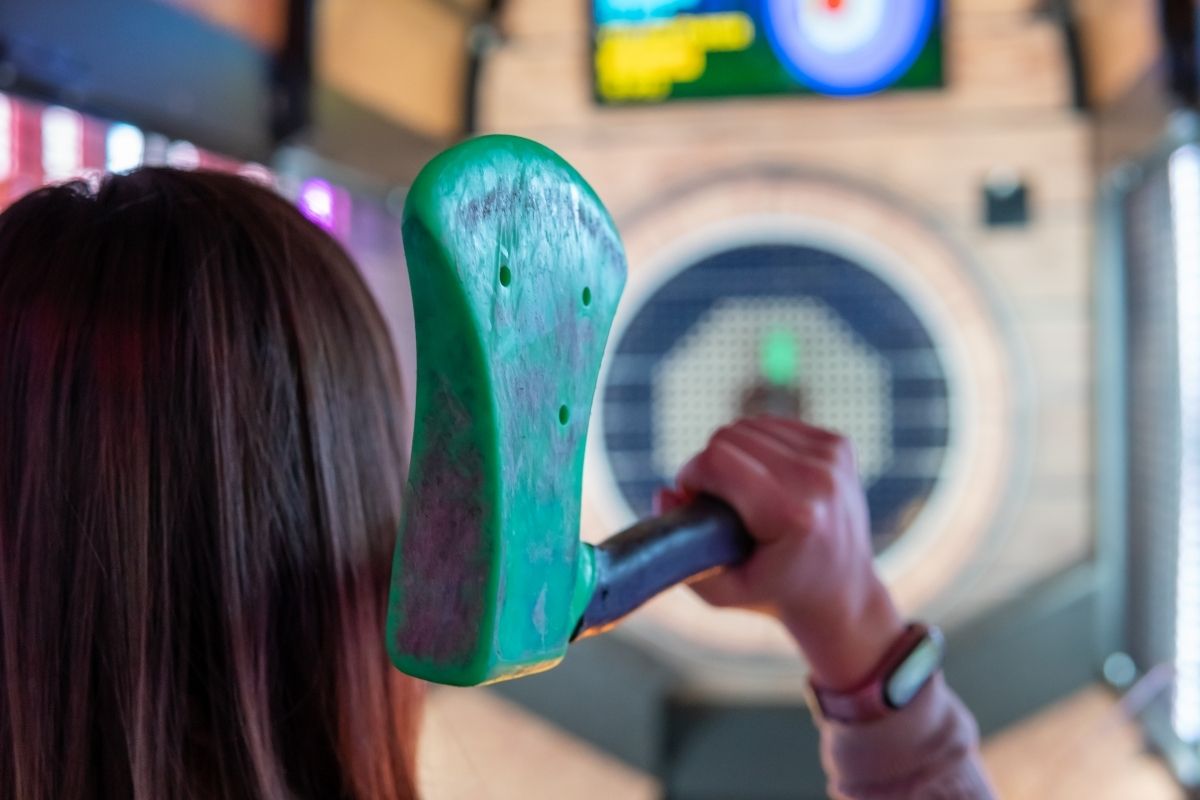 23. Nora Mill Granary
Step back in time and immerse yourself in the rich history of Nora Mill Granary. This historic grist mill has been a staple of the Helen community for generations! You'll get to explore the mill's intricate mechanisms and witness the process of grinding grains into flour using traditional methods.
The adjacent store offers tons of unique finds, including freshly milled products and handcrafted gifts.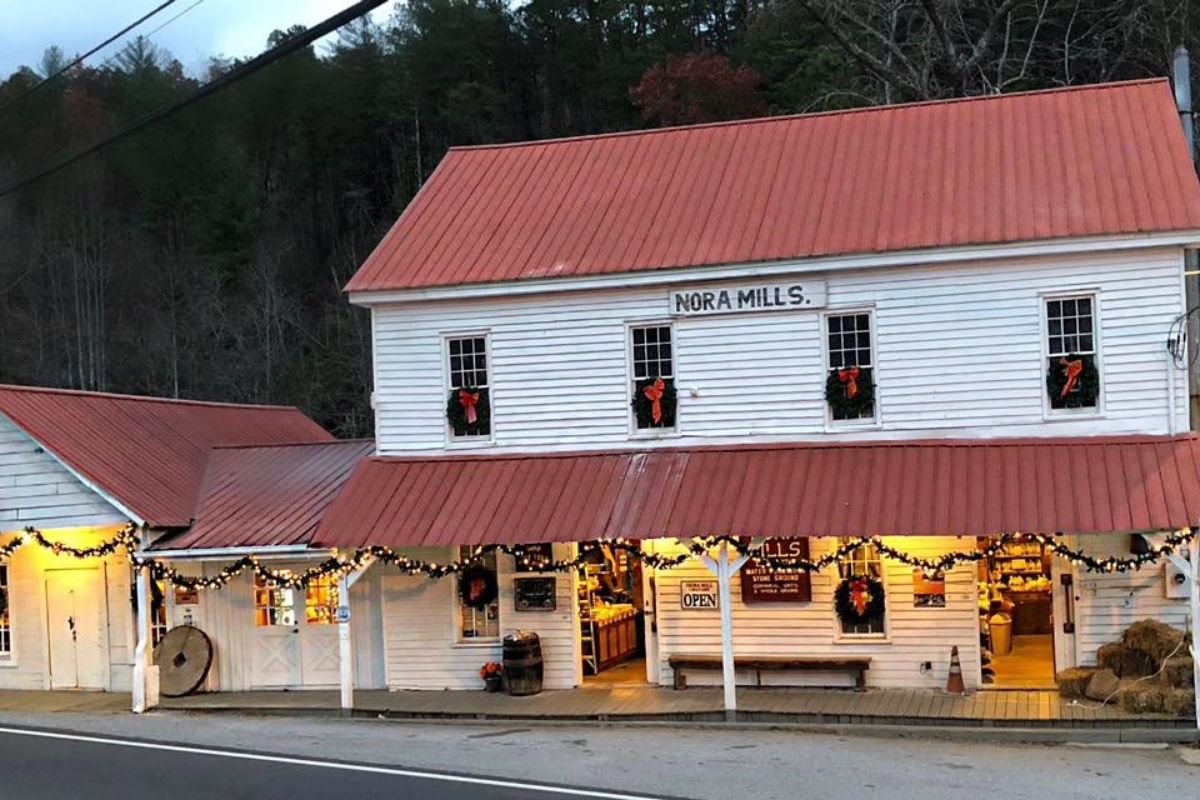 24. Horseback riding with Chattahoochee Stables
Explore the picturesque landscapes of Helen and its surroundings with a horseback riding adventure courtesy of Chattahoochee Stables. The tour lasts one hour and is available year-round.
Led by skilled wranglers, you'll journey through forests, fields, and scenic trails, revealing stunning North Georgia mountain vistas.
25. Zip Lining
Unicoi Zipline provides the ultimate zip line adventure in Helen, GA! Experience family-friendly challenge courses, exhilarating zip line canopy tours, and an immersive nature trek among the treetops. Revel in breathtaking birds-eye views of the North Georgia Mountains, making it a top destination for thrilling outdoor escapades.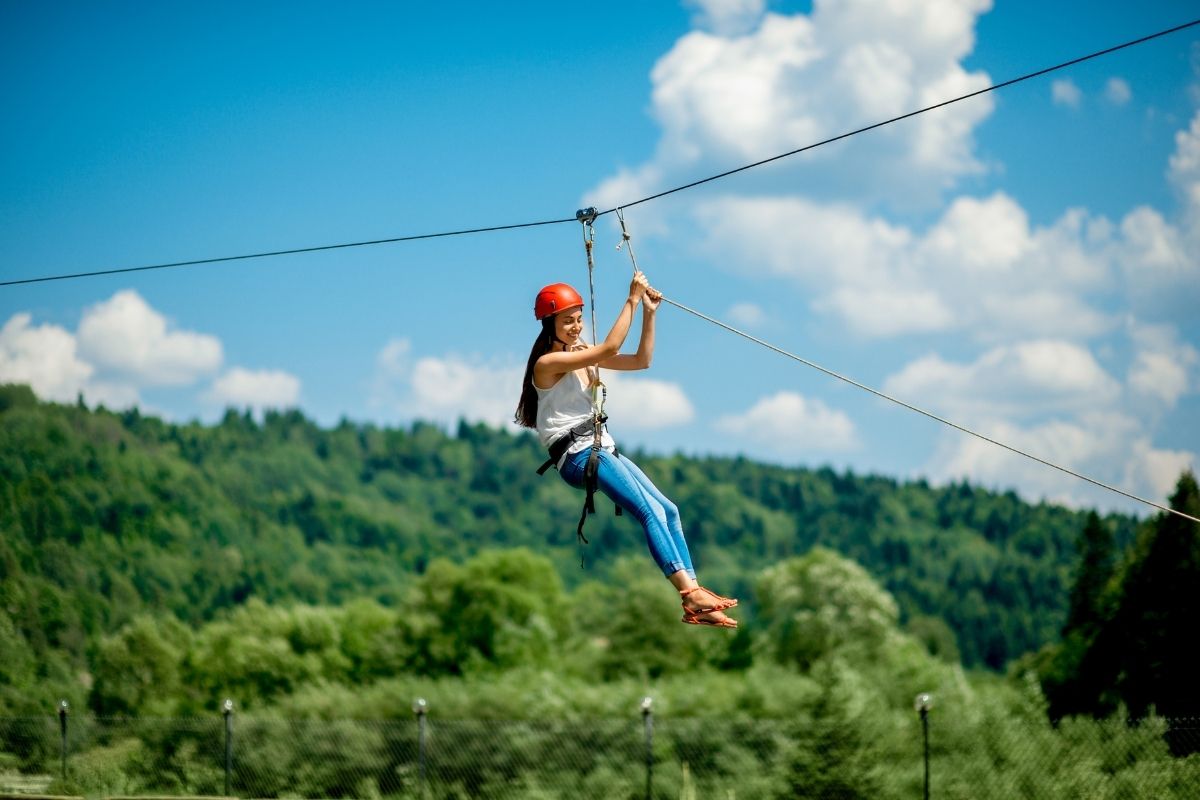 26. Sautee Nacoochee Center
Sautee Nacoochee Center is a multifaceted hub that celebrates the arts, history, and creativity of the area. Explore galleries featuring local artists' works, delve into historical exhibits, and engage in workshops to experience diverse creative expressions.
Pottery to painting, the center nurtures community and creativity, a must-visit Helen, Georgia attraction for soulful connections in Sautee Nacoochee. Whether you're admiring art or participating in a hands-on experience, the center provides a rich tapestry of culture and inspiration.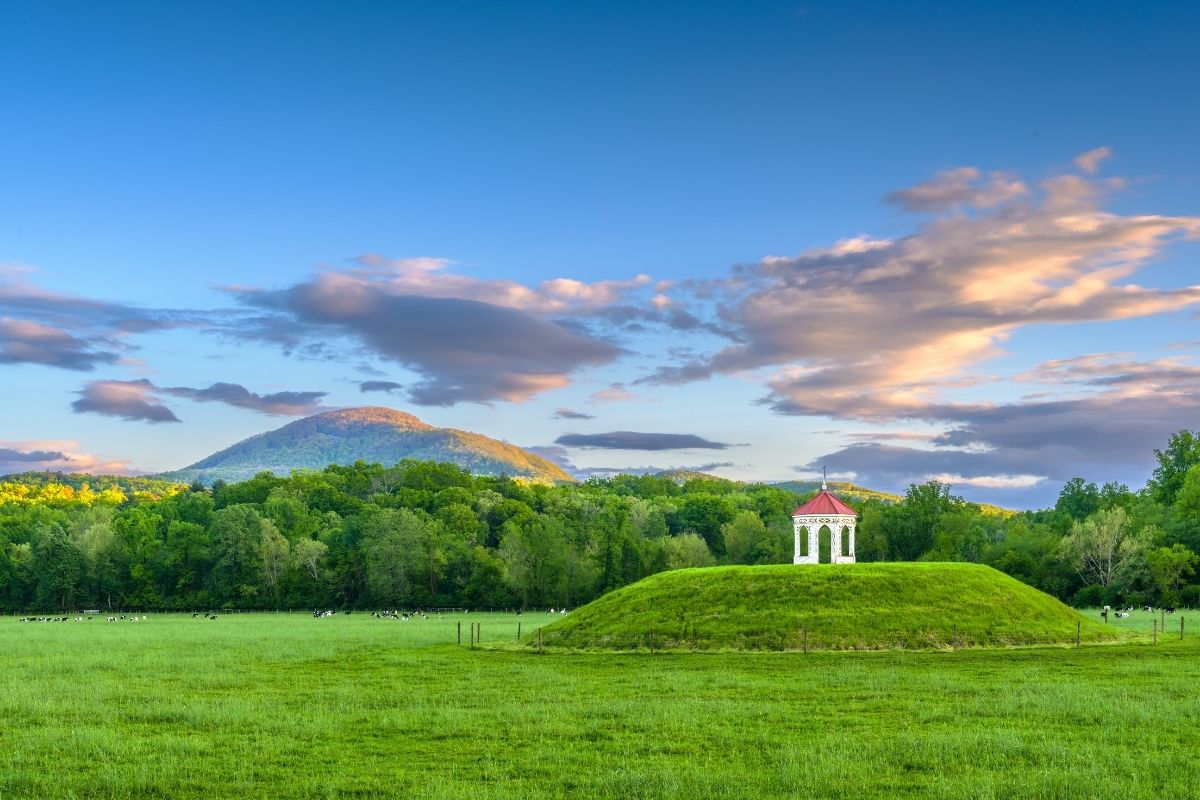 27. Hiking in Yonah Mountain
Lace up your hiking boots and set out on an adventure in the picturesque landscapes of Yonah Mountain! This iconic peak presents diverse hiking trails for various skill levels, welcoming both beginners and experienced hikers.
As you ascend through forests and rocky terrain, you'll be rewarded with breathtaking views that stretch across the surrounding valleys.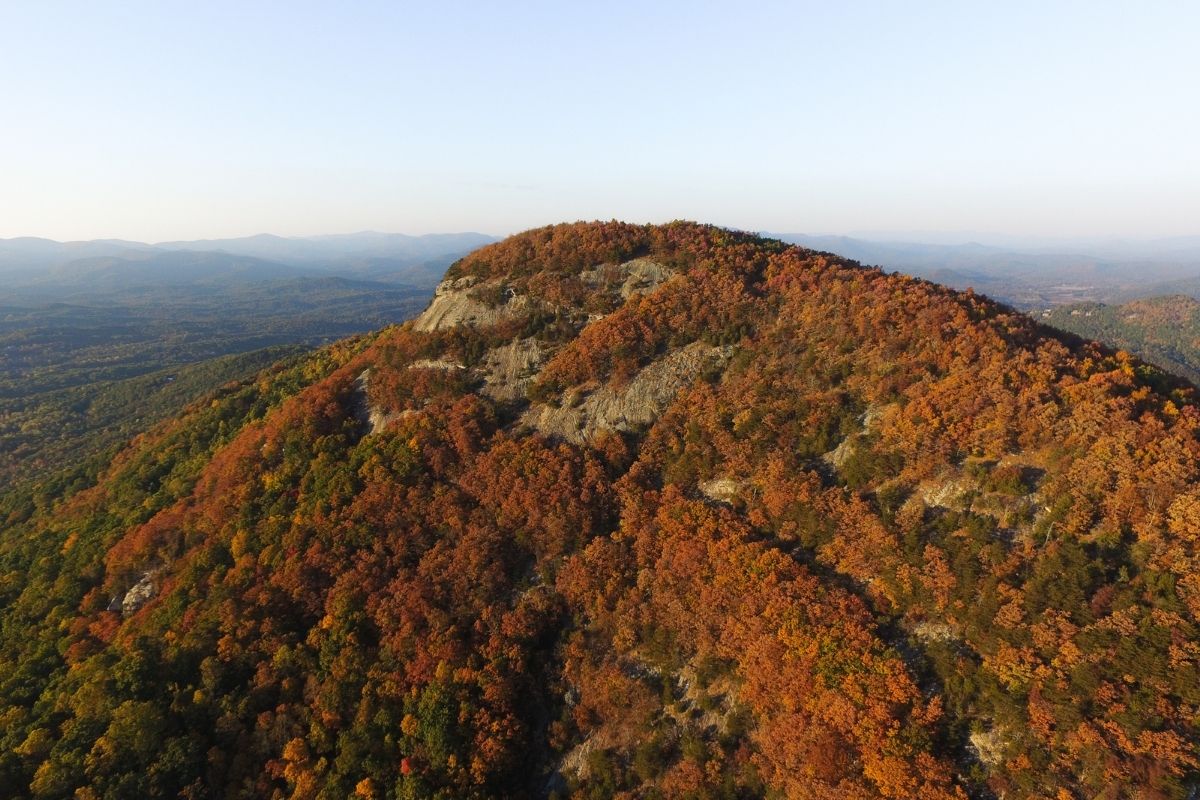 Where to stay in Helen, GA
During our memorable visit to Helen, we ended up staying at the Holiday Inn Express & Suites Helen. Our experience was nothing short of fantastic! The location was absolutely perfect, situated right next to Cool River Tubing.
It was a happy accident that we booked our stay last minute, as we hadn't initially planned to spend the night in Helen. However, the charm of the town captured us within minutes, and we decided to extend our visit. The convenience and comfort offered by Holiday Inn Express truly exceeded our expectations, from the strategic location to the wonderful amenities they provided.
While our stay at Holiday Inn Express was exceptional, if you're seeking a more authentic experience, Helen boasts a variety of charming cabins and vacation rentals available through platforms like VRBO and Booking.com! These options could provide a unique and immersive stay, allowing you to fully immerse yourself in the town's quaint ambiance.
🏠Ready to book your stay in Helen?🏠
Check out cabin and VRBO availability for your dates.
Click herе to browse
Which Helen, Georgia attraction are you most excited about?
In Alpine Helen, each corner holds a fresh adventure, from charming downtown exploration to embracing nature's beauty and cultural indulgences. From the captivating Anna Ruby Falls to the exhilarating zip-lining experiences, the possibilities are endless! I hope you enjoyed this guide to Helen, Georgia's attractions, and are looking forward to your upcoming adventure.
Be sure to follow me on Insta @guidedbydesitny for more travel content 🙂