This post contains affiliate links which means that I will make a small commission if you purchase a product after clicking on any of them, at no extra cost to you.
Are you ready to embark on a delicious journey through the best bars and restaurants in Wilmington, North Carolina? Whether you're a food enthusiast or a cocktail connoisseur, this charming city offers a variety of must-visit bars and restaurants that will tantalize your taste buds and leave you longing for more! From cozy speakeasy-style bars to delicious dining establishments, Wilmington has something for everyone.
Best Restaurants in Wilmington
Prost
Offering a taste of Germany in the heart of Wilmington, Prost brings authentic Bavarian cuisine to the table. The menu boasts traditional German dishes such as bratwurst, schnitzel, and sauerkraut, accompanied by a variety of German beers and wines.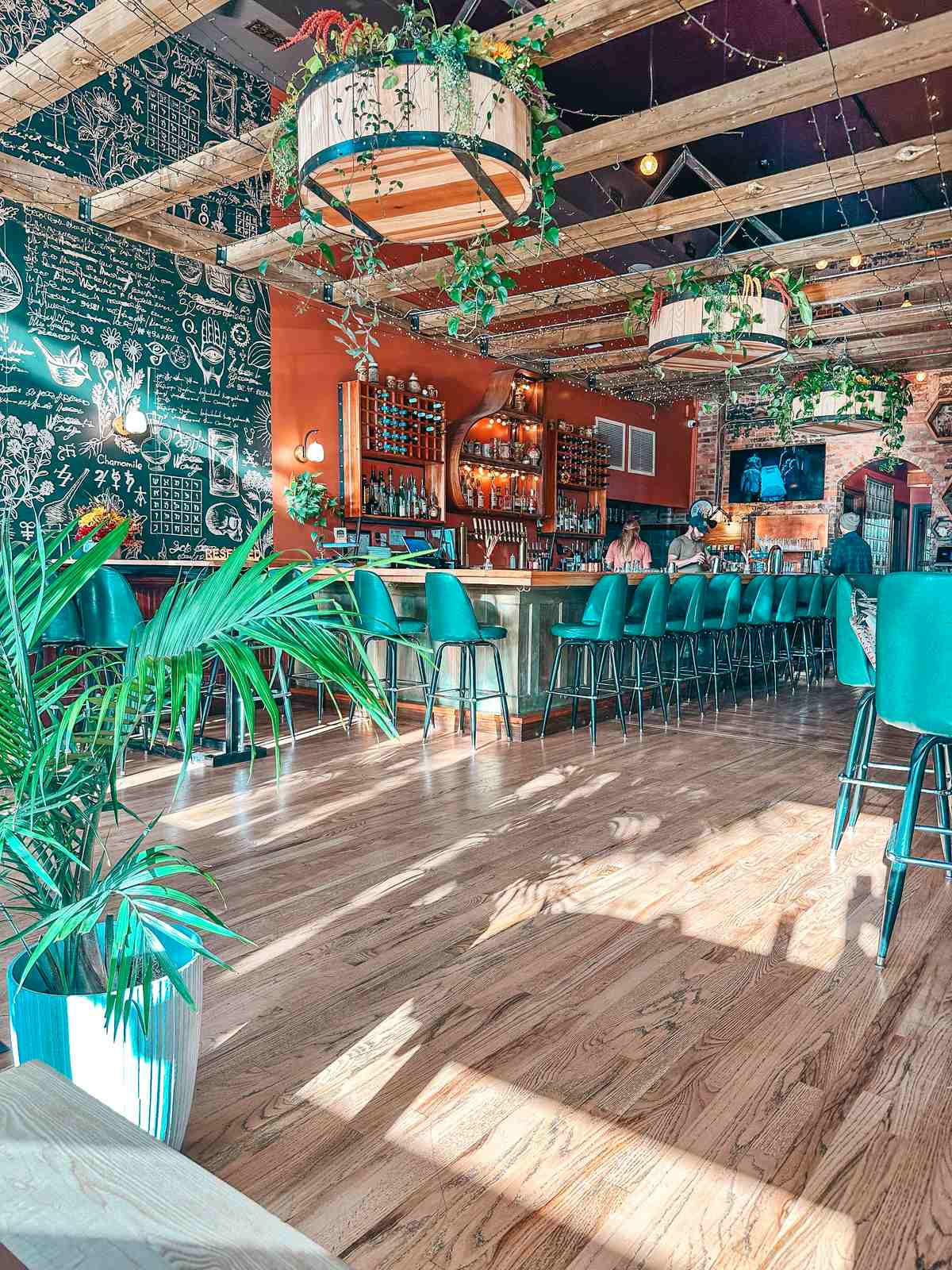 The warm and welcoming atmosphere, along with the friendly staff in traditional attire, enhances the overall dining experience. Whether you're craving hearty comfort food or looking to explore the flavors of Germany, Prost is the perfect Wilmington restaurant!
They also have a really great happy hour. We got and loved their cucumber salad, pretzel, and chicken nachos. The nachos were so unique with their German twist, and they are only on the happy hour menu! So if you're there during happy hour these are a must.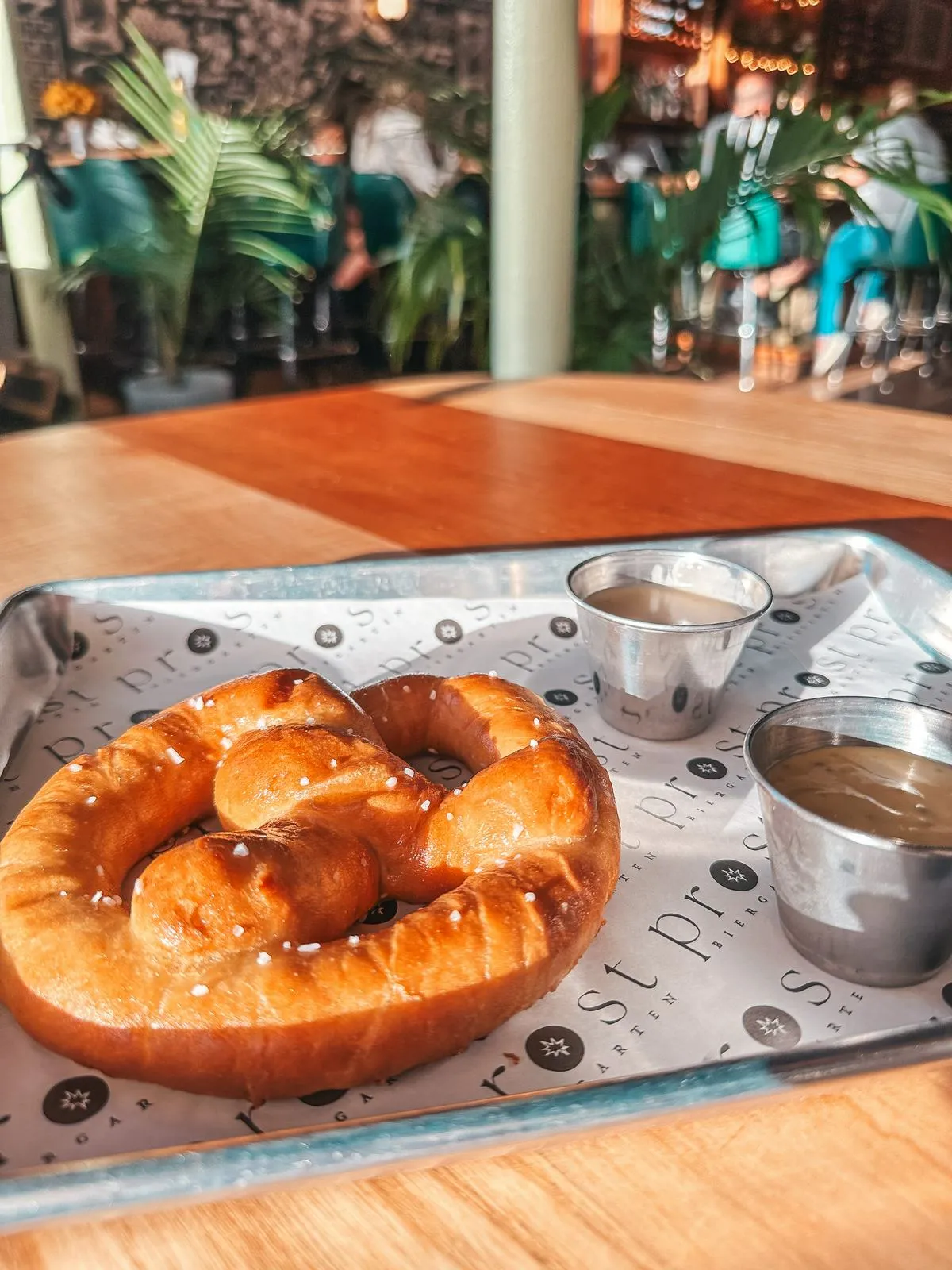 Olivero
Olivero offers an elegant yet comfortable dining experience. The menu celebrates the food of Italy and Spain through a New Orleans and North Carolina lens.
From meticulously prepared seafood dishes to artisanal pastas and succulent steaks, the menu at Olivero emphasizes seasonal ingredients and impeccable presentation. The beautiful ambiance and exceptional service make it an ideal spot for a special occasion or a romantic evening!
I loved the croquetas (not pictured), and the lasagna which was not only delicious but extremely unique! The lasagna was an octopus bolognese, chorizo, and whipped ricotta. It was light and such a lovely blend of flavors.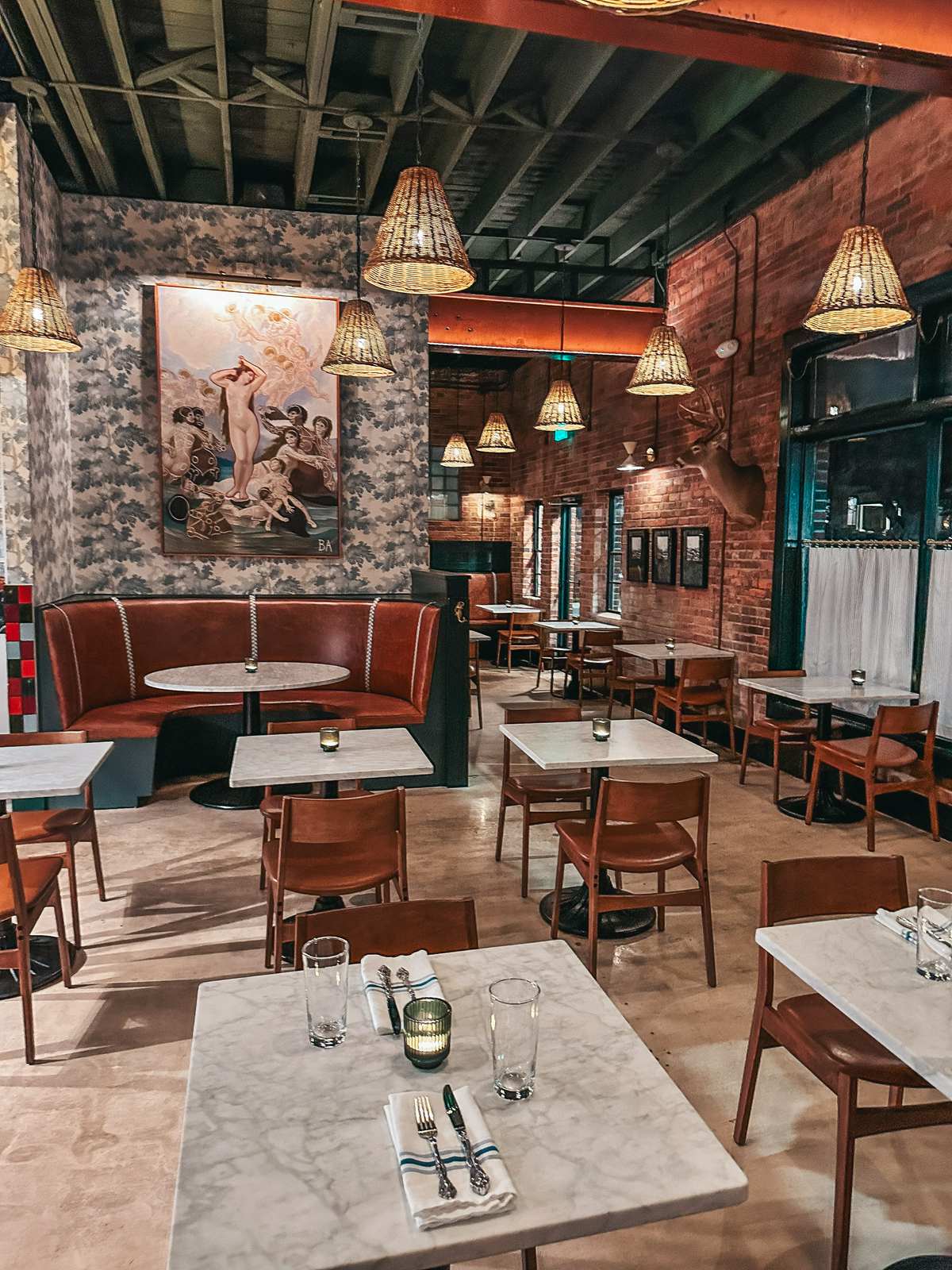 Drift
Drift is an exceptional restaurant that specializes in serving delectable breakfast and lunch options. Known for its cozy ambiance and top-notch food, this place is a must-visit! Their cold brew is particularly heavenly, providing a refreshing start to the day.
While their bowls are highly recommended, we couldn't resist trying their breakfast burrito, filled with a combination of scrambled eggs, cheddar cheese, chorizo, refried black beans, salsa roja, pickled radish, and cilantro crema. The explosion of flavors in each bite truly exceeded our expectations.
Adding to their charm, Drift has multiple locations, with each showcasing a slightly unique menu, making every visit a delightful surprise.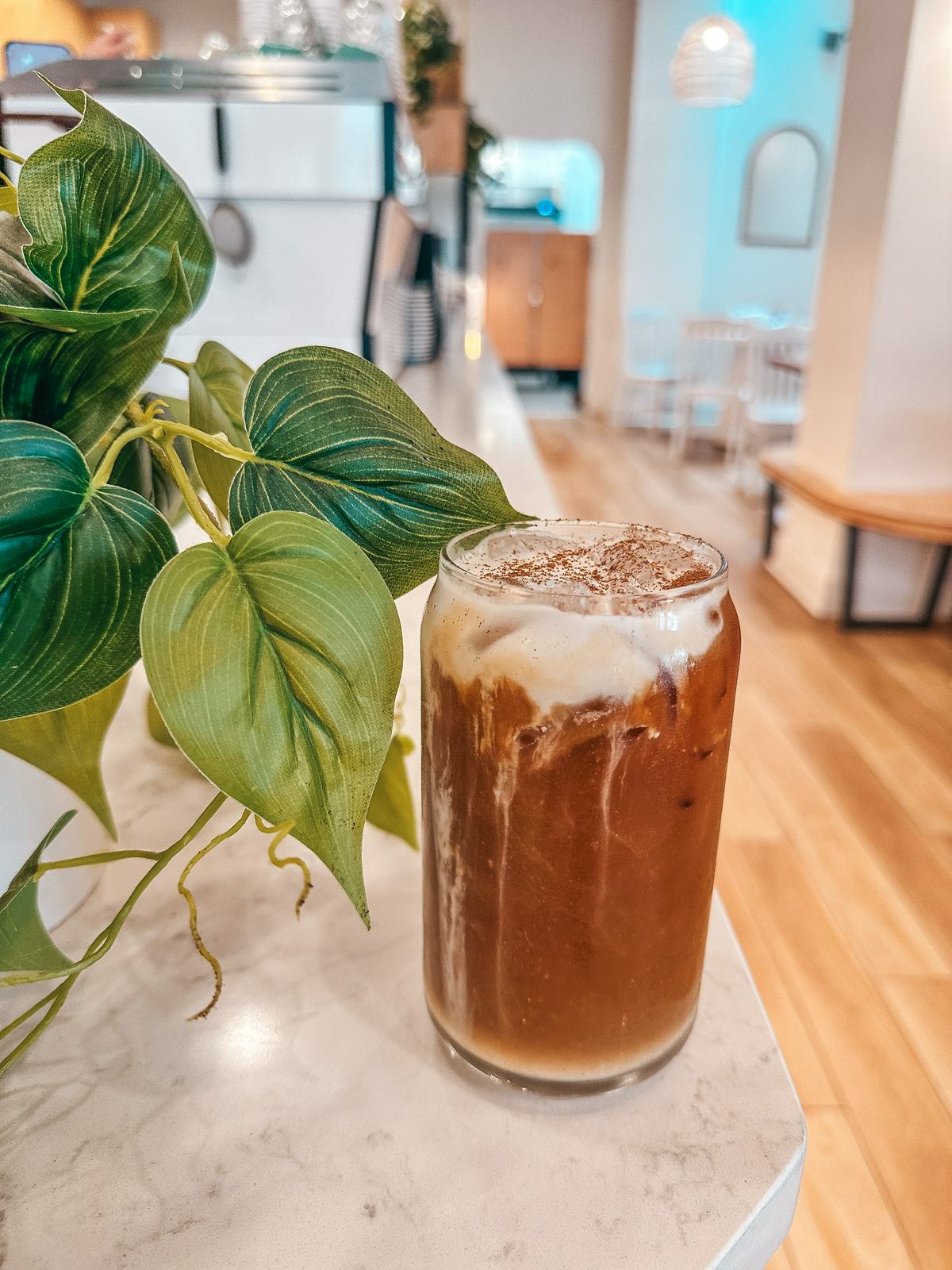 Cousins Italian Deli
Escape to Italy without leaving Wilmington at Cousins Italian Deli. This cozy and charming deli brings the flavors of Italy to life through a variety of mouthwatering sandwiches. We went with the Tuscany and loved every last bite.
The warm hospitality and delicious sandwiches make Cousins Italian Deli a beloved spot for both locals and visitors!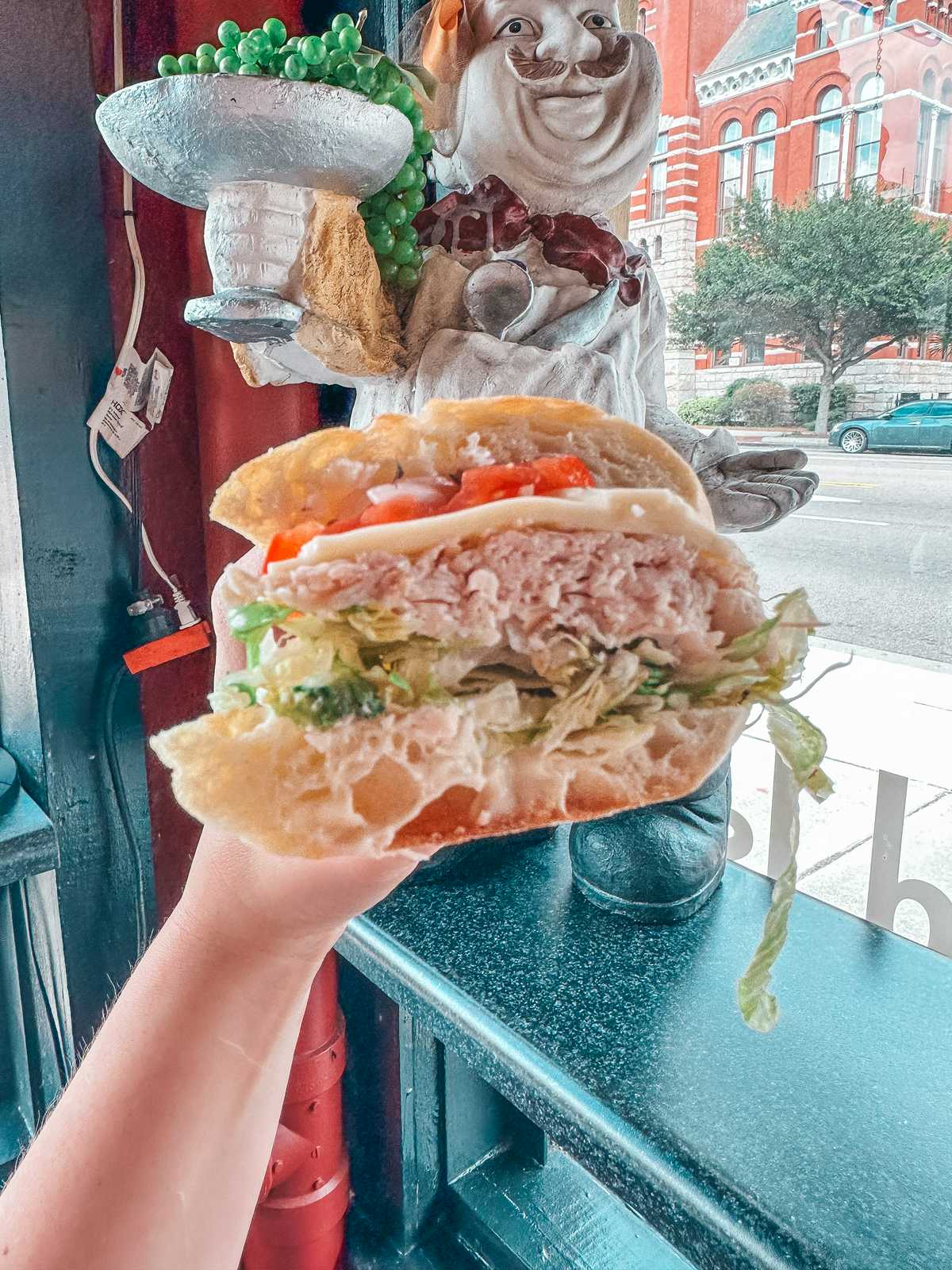 Ceviche's
Although technically located in nearby Wrightsville Beach, Ceviche's is an absolute must-visit! With its vibrant and beachy atmosphere, this lively restaurant specializes in fresh seafood and Latin-inspired flavors.
From ceviche bursting with zesty flavors to perfectly cooked scallops, Ceviche's offers a tantalizing array of dishes that showcase the best of coastal cuisine. And don't miss out on the empanadas!
Pair your meal with a refreshing cocktail or one of their specialty margaritas, and you'll have a dining experience that captures the essence of vacation and the coastal Carolina lifestyle! We enjoyed this spot so much that we went twice during our weekend in Wilmington.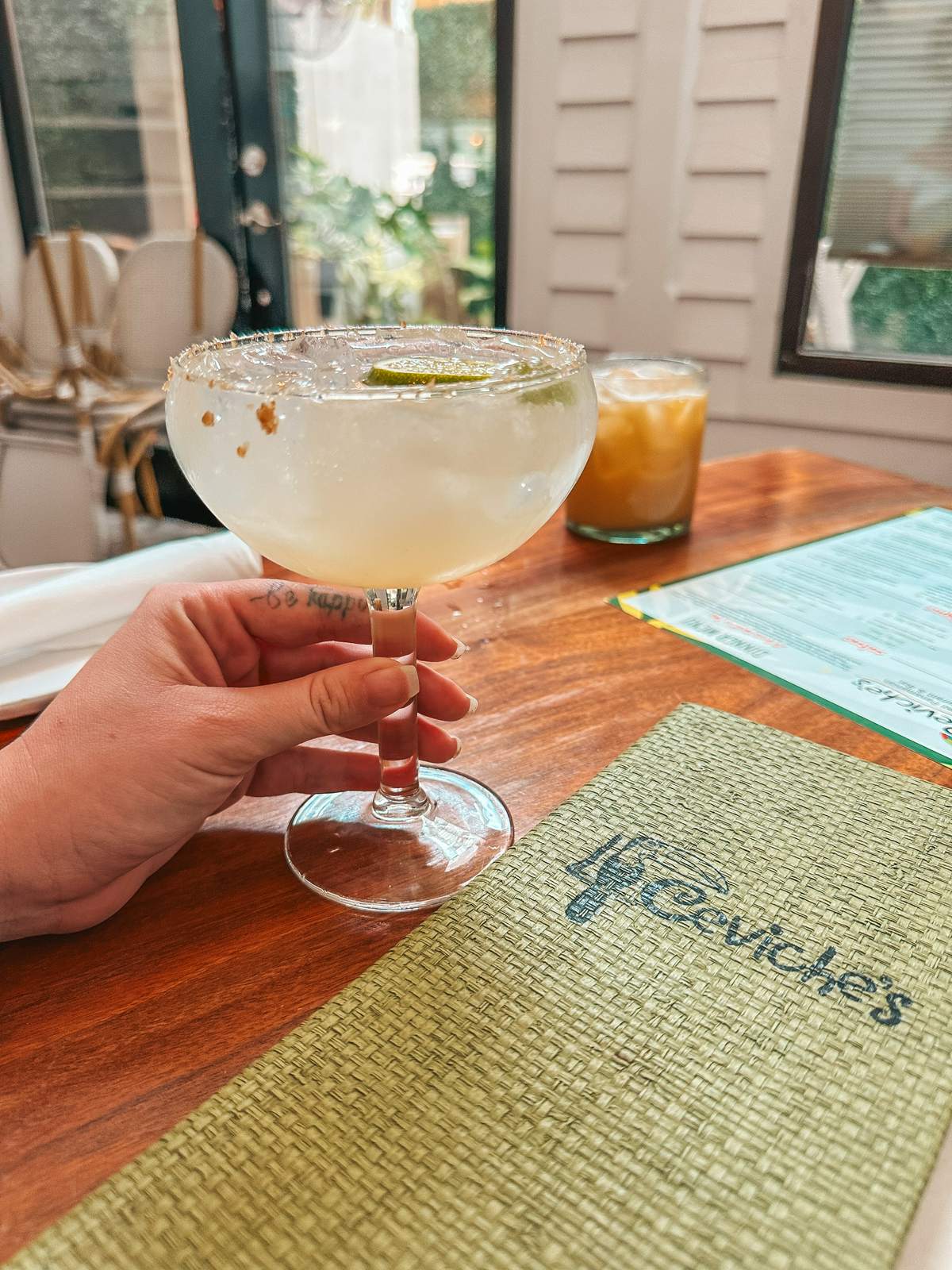 CheeseSmith
Grilled cheese lovers rejoice – CheeseSmith is a grilled cheese-centric restaurant that will satisfy your cravings! We were in quite a dilemma trying to decide which one to order. Finally, we decided on the buffalo baby, which had a nice little kick to it and was served on the most amazing crispy, golden, grilled-to-perfection bread.
There's no way there's a wrong answer at this Wilmington restaurant! Go as safe or bold as you want. Also notable was the locally brewed kombucha from Panacea that I paired with it.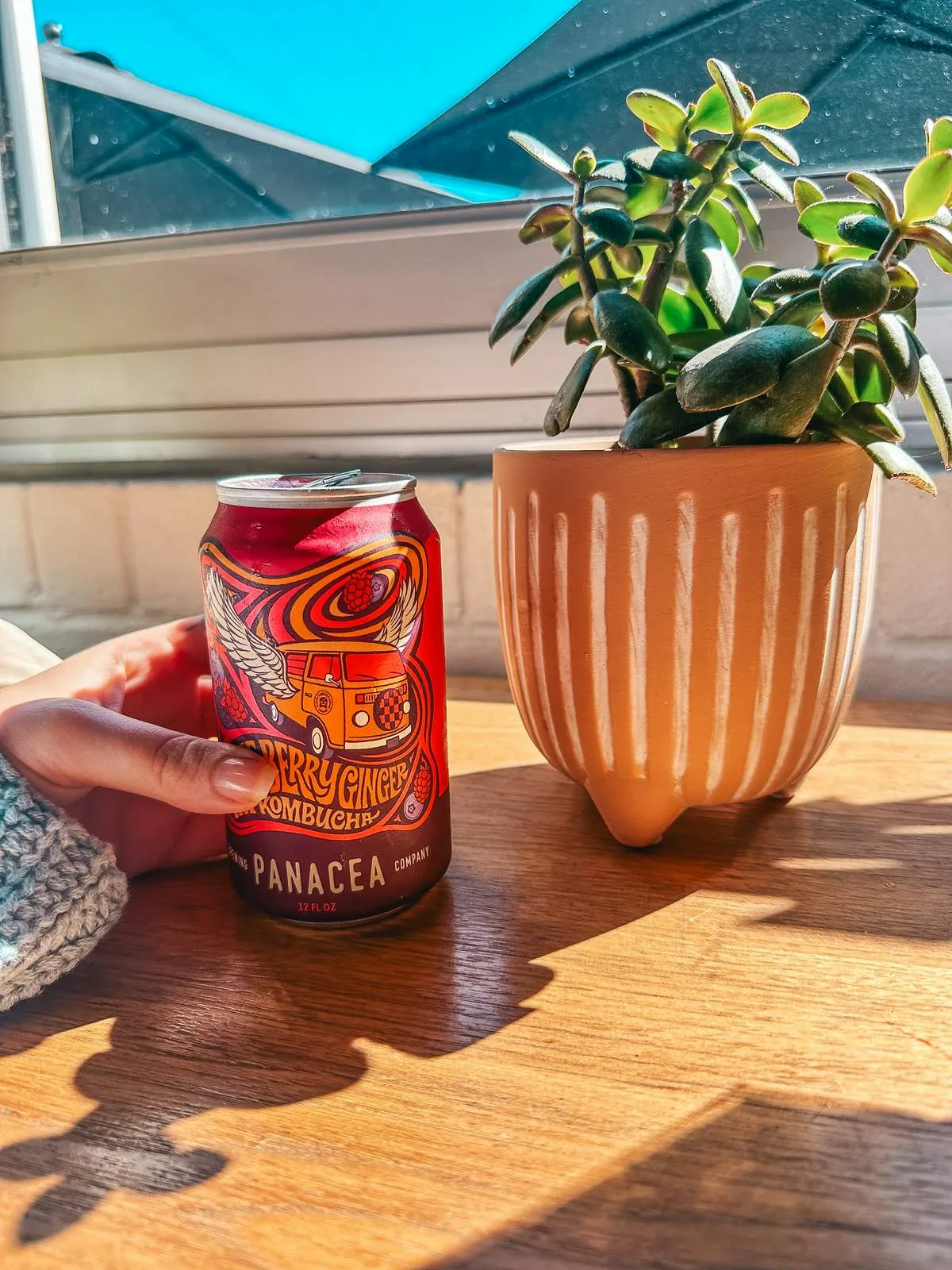 Seabird
Located in the heart of downtown, Seabird is a trendy and inviting restaurant that celebrates the coastal culinary traditions of the Carolinas. They focus on locally sourced ingredients, and craft dishes that highlight the region's bounty, from fresh seafood to seasonal produce.
Because of this, the menu changes frequently and offers an intriguing mix of classic Southern dishes with a modern twist, ensuring a dining experience that is both familiar and adventurous.
Their chicken biscuit left me speechless (and that's coming from someone who has only liked maybe one other biscuit ever, shoutout to Good Thyme in Lakeland), and the cappuccino was so smooth.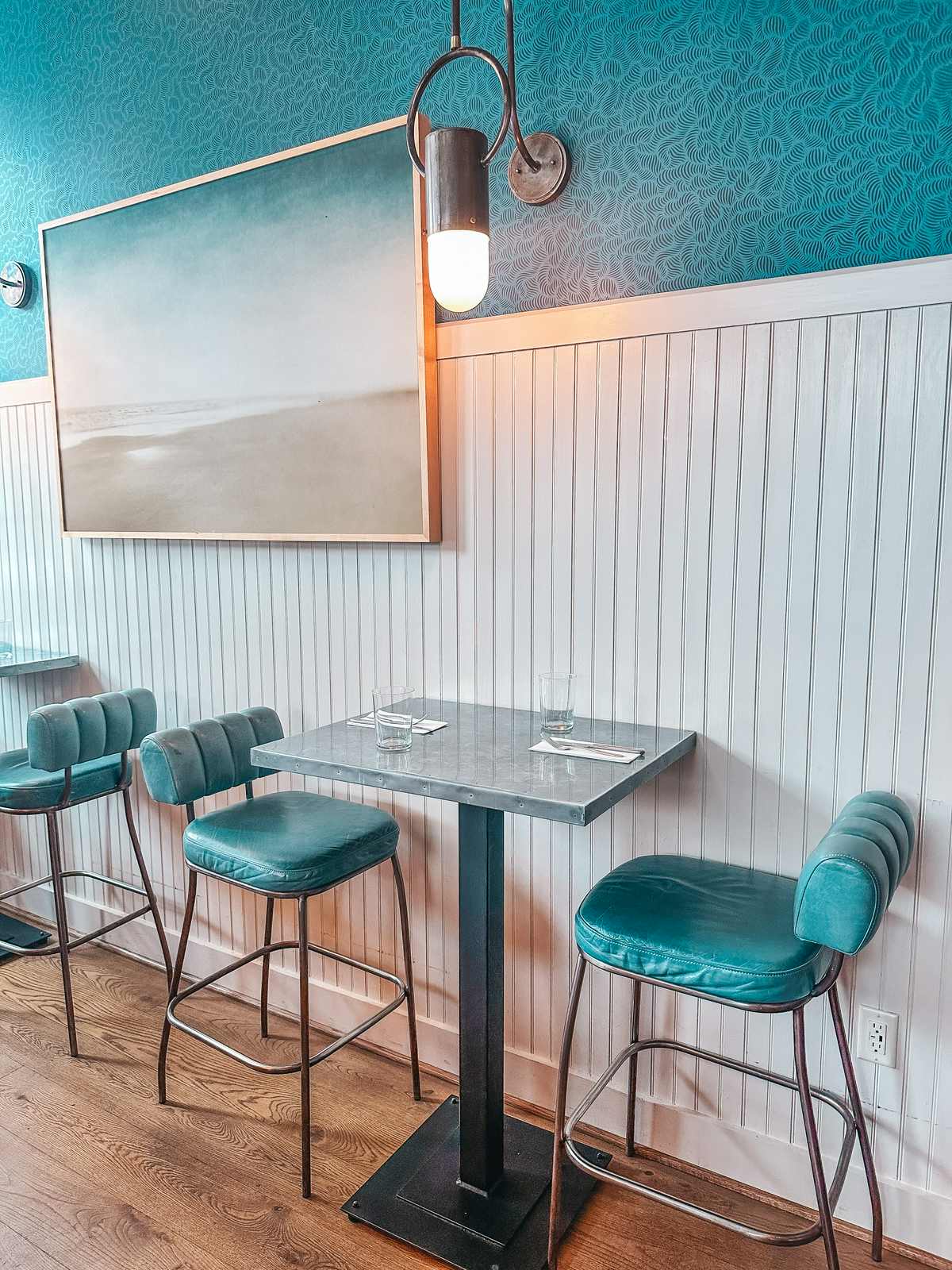 Best Bars in Wilmington
Banter
Banter is the go-to spot for craft beer enthusiasts and cocktail connoisseurs. With an extensive beer list featuring local brews and a creative cocktail menu, this cozy bar offers a laid-back atmosphere. We loved that this Wilmington bar wasn't super loud and we were able to enjoy conversations with friends. Pro tip? Get the espresso martini!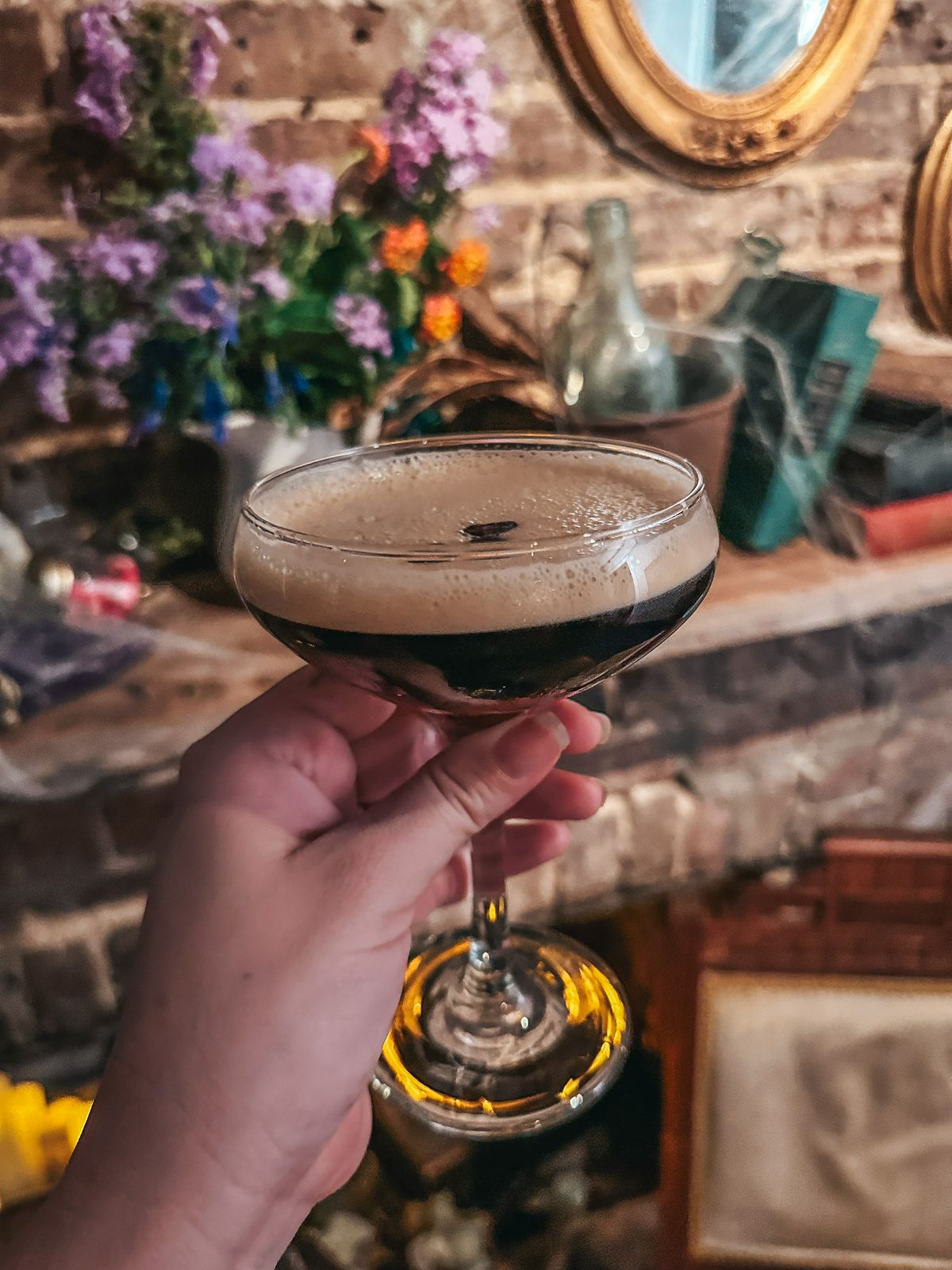 Dram and Draught
For a sophisticated yet relaxed ambiance, head to Dram and Draught. This stylish bar has an impressive collection of finely crafted spirits, including whiskey, bourbon, and my personal favorite, mezcal.
Whether you're a seasoned whiskey aficionado or new to the world of spirits, the knowledgeable staff will guide you through the options and create a tailored experience that suits your taste. They also even have live music some nights.
They also have a bar location in Raleigh!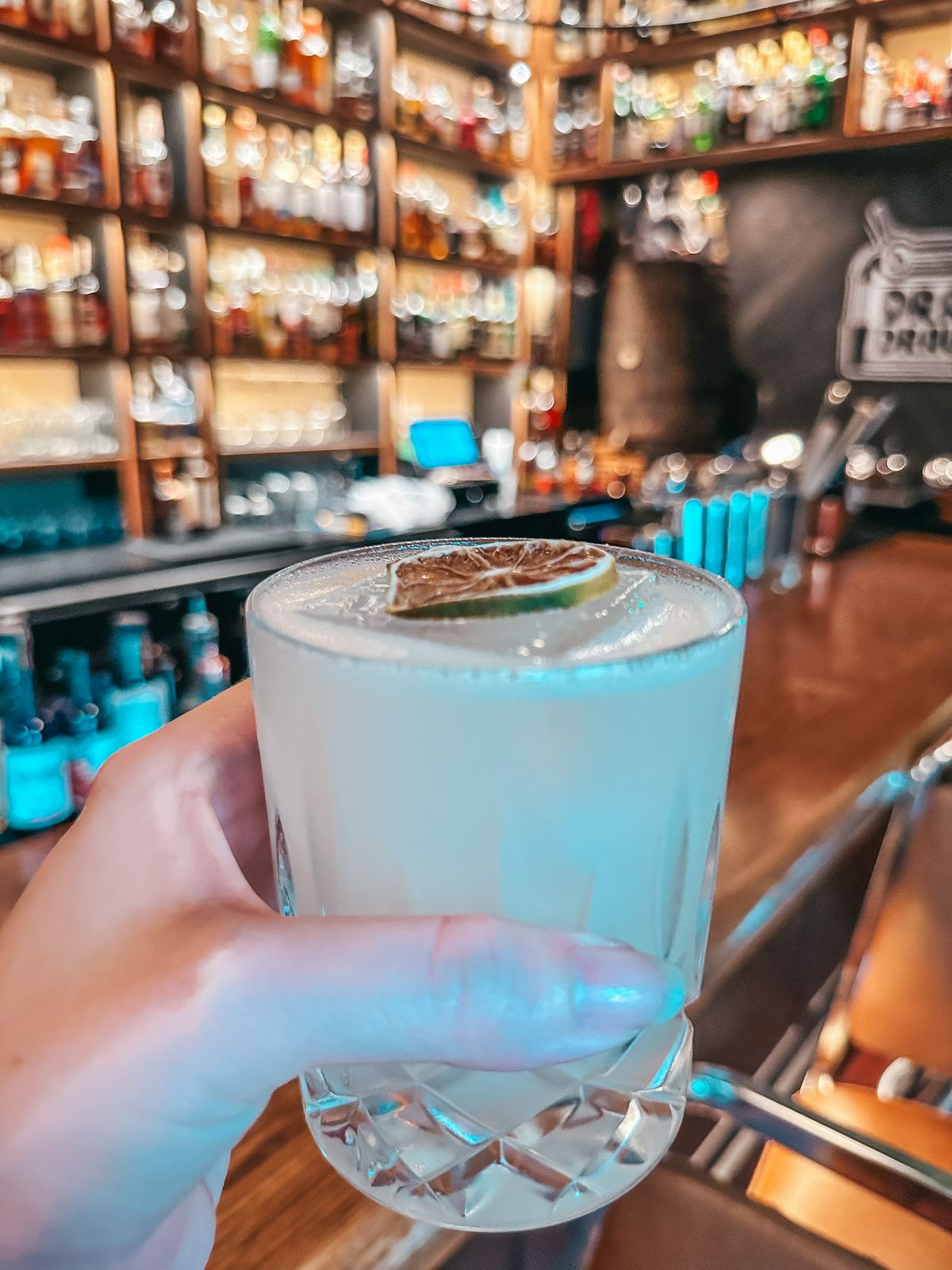 Blind Elephant
Hidden away in a speakeasy-style setting, Blind Elephant offers a twist on the classic bar experience. Step into a bygone era as you enter this secret cocktail bar, known for its creative libations and cozy ambiance.
The entrance is conveniently located down an alley near Front Street Brewery. No password is required for entry, but an annual membership fee of just $5 is necessary to enjoy all the benefits.
The expert mixologists at Blind Elephant are passionate about their craft, serving up creative handcrafted cocktails made with precision and artistic flair. Enjoy the warm and intimate atmosphere while sipping the unique flavors of their signature drinks or creative concoctions!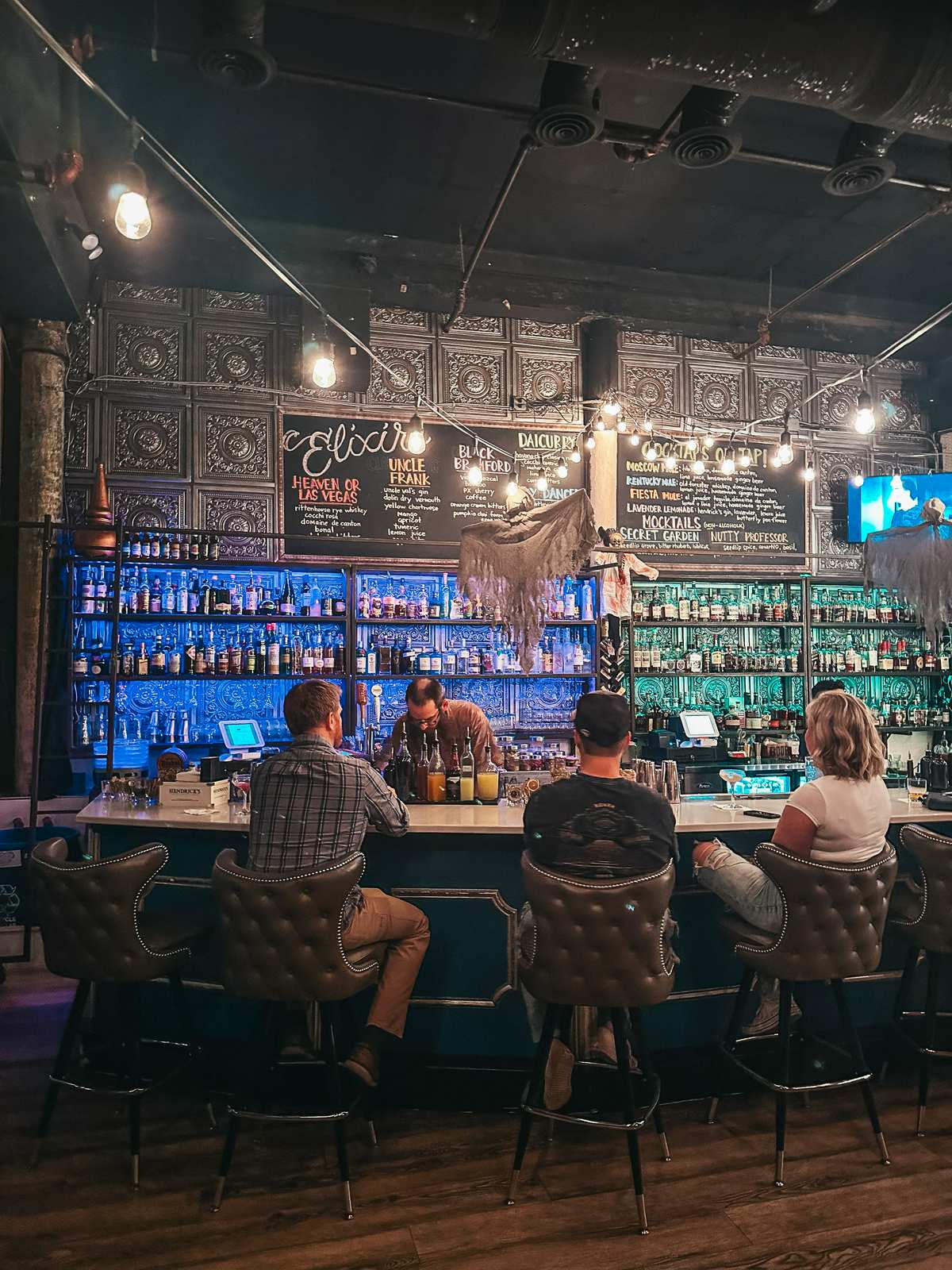 End of Days Distillery
If you're a fan of spirits, a visit to End of Days Distillery is a must. This local distillery specializes in crafting small-batch, hand-made spirits using traditional methods.
Take a tour of the facility, learn about the distillation process, and sample their exceptional spirits. From gin and vodka to rum and whiskey, End of Days Distillery offers a range of flavors that are sure to impress.
We went during a weekend night and just enjoyed the vibes and cocktails. We got their season pumpkin spice old fashioned and the basic which was basically a pumpkin spice espresso martini. These may have been my favorite drinks from the trip!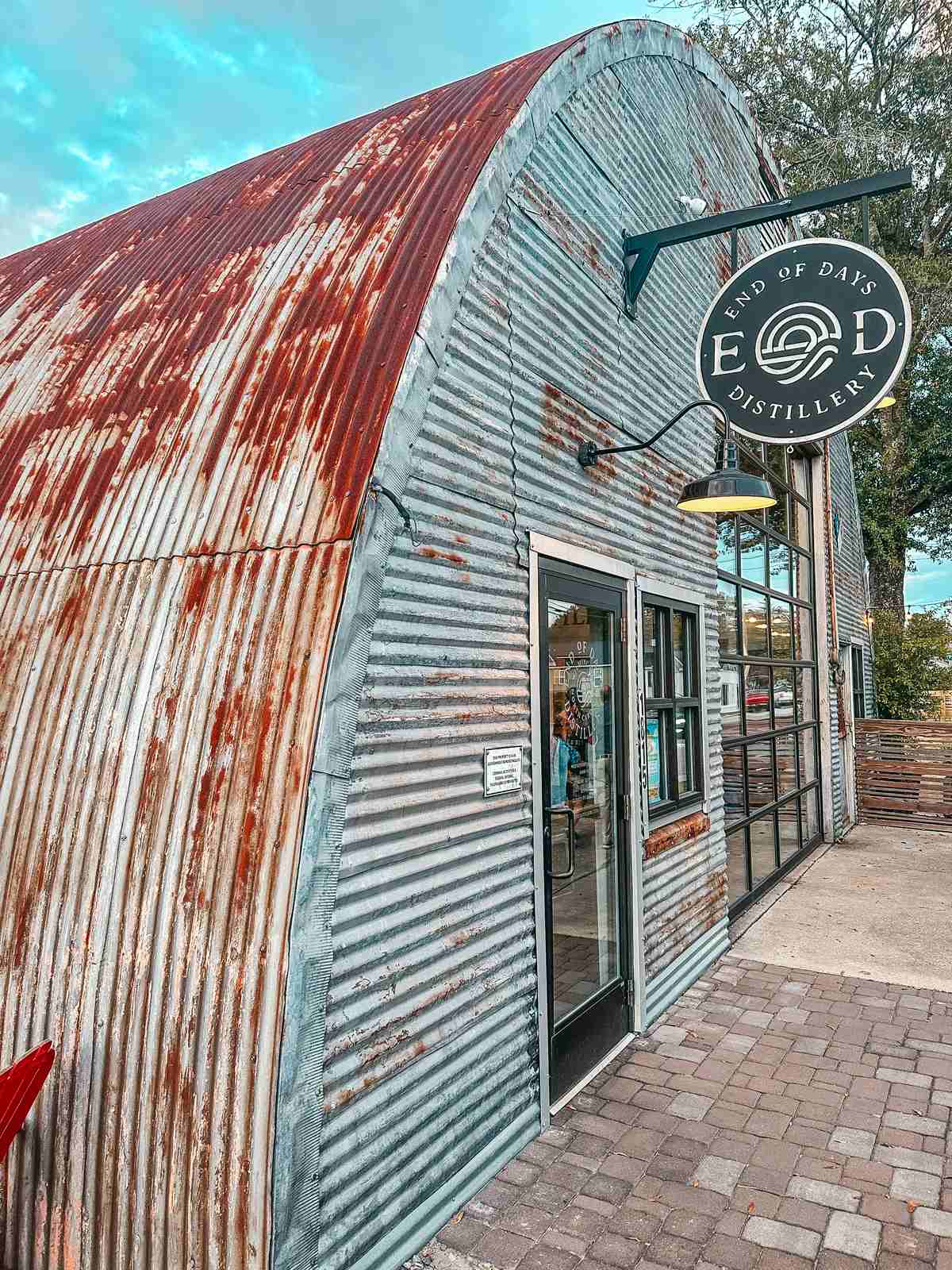 Alcove Beer Garden
Alcove Beer Garden is a hidden gem located in the Cargo District in Wilmington. This welcoming outdoor patio is the perfect spot to unwind and enjoy a wide selection of local and craft beers on tap. They even have a full bar and several cocktails for my non-beer lovers.
The relaxed atmosphere, friendly staff, and communal picnic tables create a sense of community, making it a great spot for gathering with friends or meeting new people. I really enjoyed my time in the Cargo District and found the use of containers to be so creative and resourceful!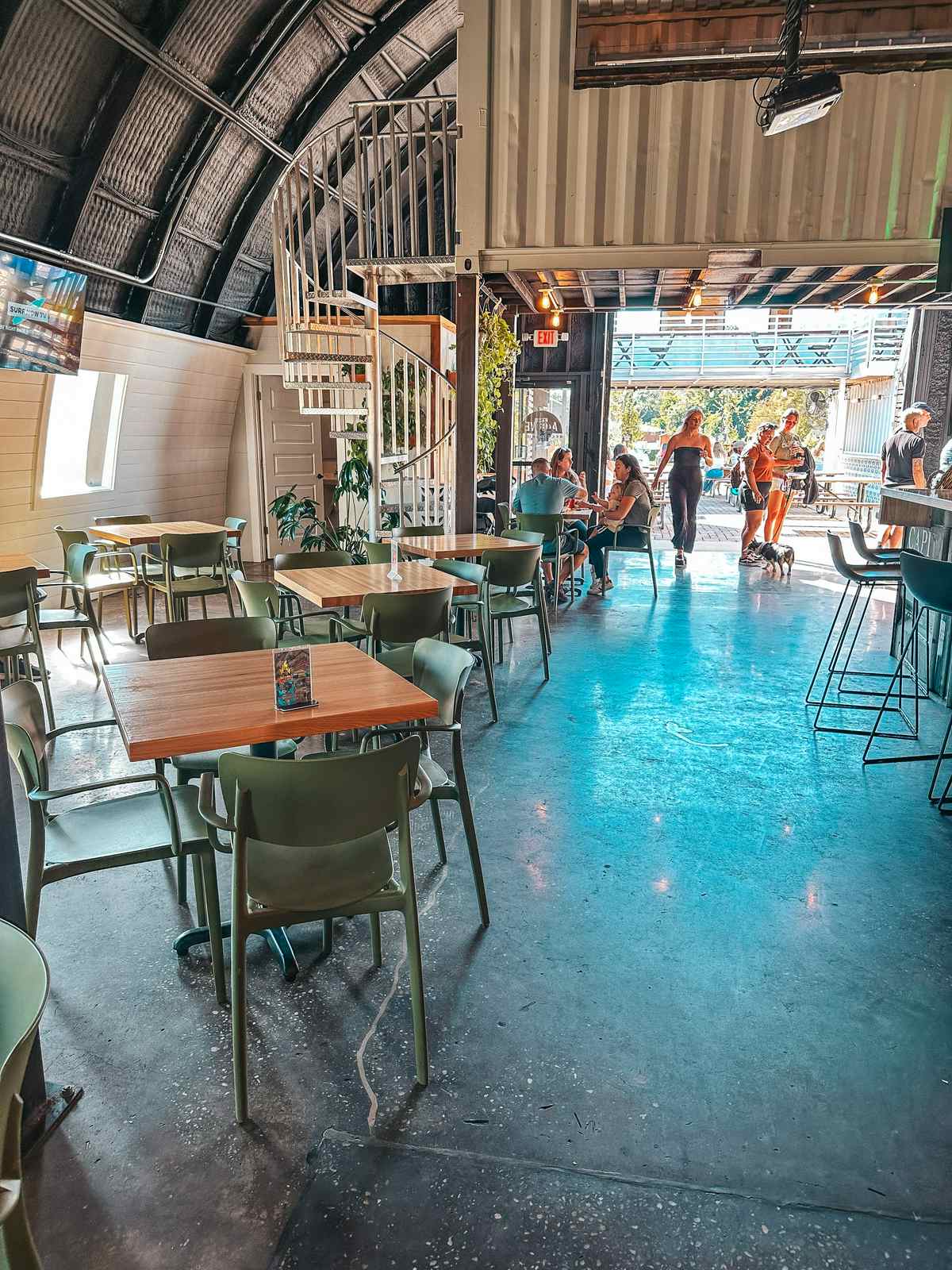 Blue Post Billiards
For an evening of games, drinks, and fun, head to Blue Post Billiards! Located in the heart of downtown Wilmington, this lively bar offers pool tables, dartboards, and other games, guaranteeing a memorable night out.
With its energetic atmosphere, Blue Post Billiards is a popular spot for locals and visitors alike to relax, socialize, and enjoy some friendly competition.
Ready to experience the best bars and restaurants in Wilmington?
A visit to Wilmington is not complete without exploring its thriving restaurant and bar scene. From the bustling bars adorned with craft spirits and inventive cocktails to the diverse array of restaurants showcasing flavors from across the globe, there's no shortage of culinary delights to discover. These amazing bars and restaurants in Wilmington are sure to leave you with a lasting impression.