This post contains affiliate links which means that I will make a small commission if you purchase a product after clicking on any of them, at no extra cost to you.
Clearwater has stunning beaches, fun activities, and delicious seafood restaurants, but did you know they also have a pretty solid brewery scene? That's right, there are 6 fun breweries in Clearwater and I'm here to give you all the fun deets!
Fun Breweries in Clearwater
Big Storm Brewing Co.
First of all, we need to have a little commotion for Big Storm's branding. It's so beautiful, and really stands out! I'm not even typically a beer drinker, but the cans are so pretty I want to try them all.
They have 4 locations throughout Florida, but their Clearwater taproom is located at their primary beer production facility and features a large 3,500 square foot outdoor patio with 19 televisions and an outdoor bar.
Florida favorites include Tropic Pressure Golden Ale, steeped with hibiscus flowers, and Bromosa Tangerine IPA, brewed with all-natural tangerine puree. Since Big Storm is a distillery as well, I decided to go with a cocktail! I got their raspberry lemonade, and it was so good I could hardly believe there was alcohol in it.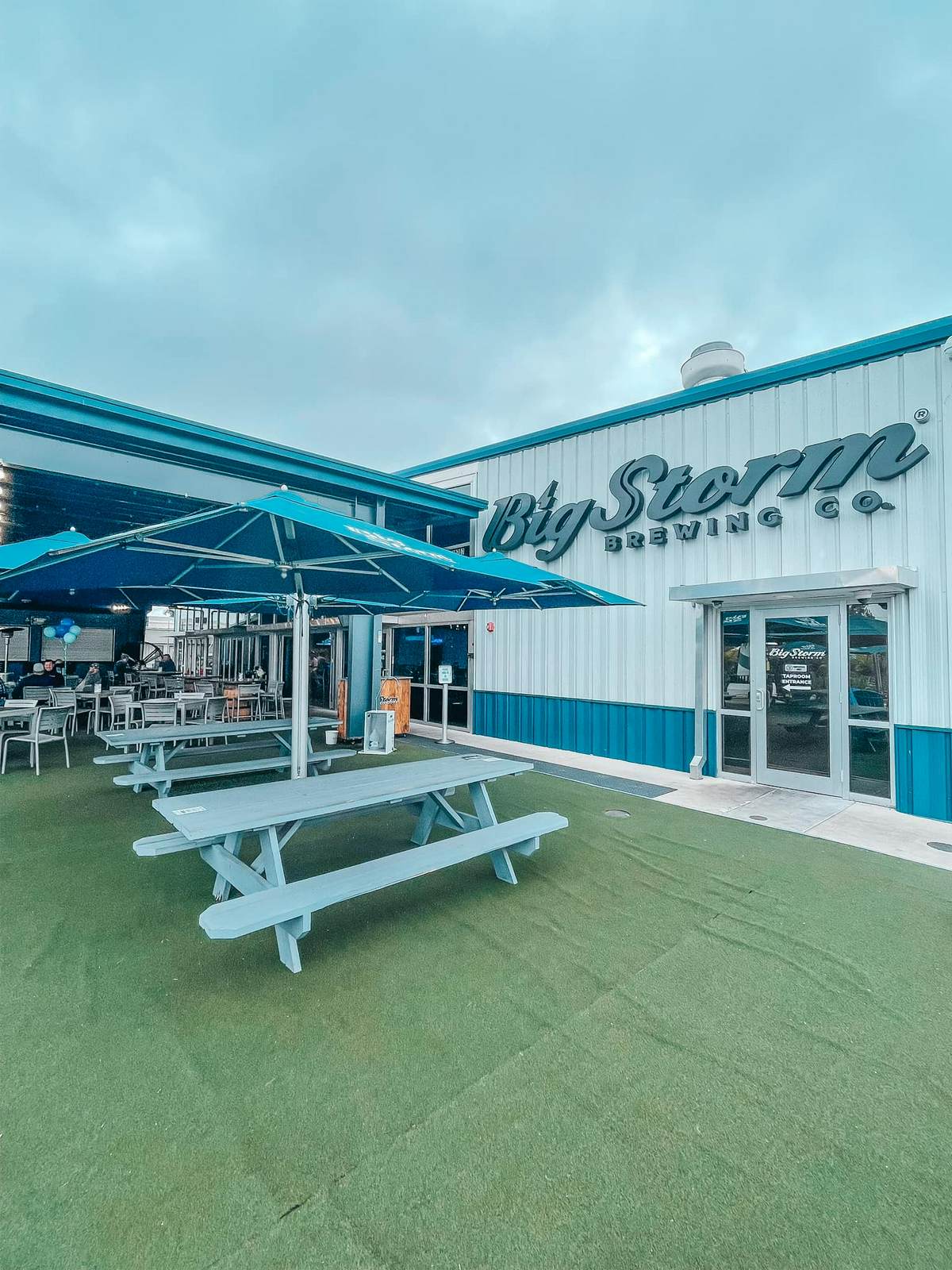 They have trivia nights on Mondays and live music on Fridays. If you've come hungry, Big Storm Brewery has a decent-sized food menu with quite a variety from tacos to salads. We got the brisket, mac and cheese, and salad with their homemade guava vinegarette and it was the perfect explosion of flavors.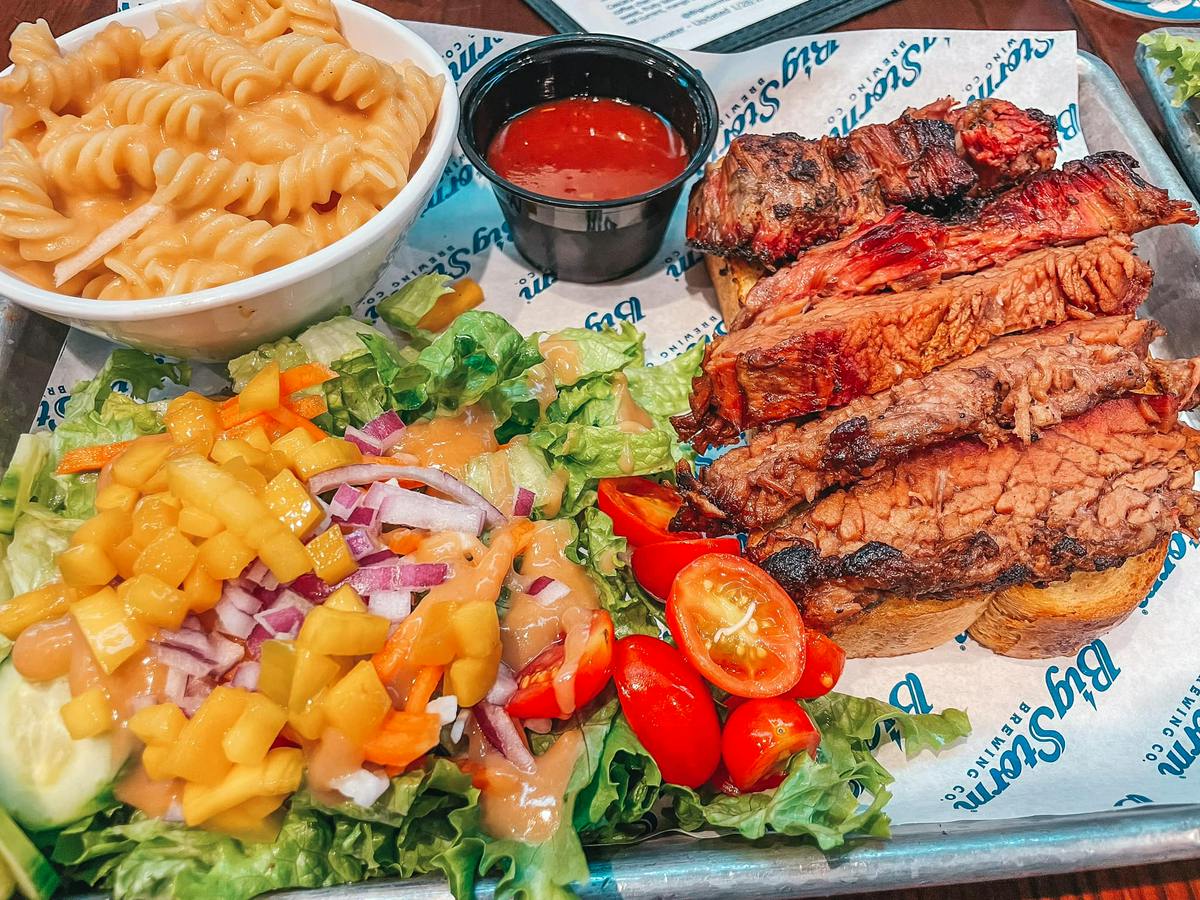 Clearwater Social Brew and Cork
Clearwater Social Brew and Cork is the first (but no longer only) brewery on Clearwater Beach and offers a lot more than just a great local brew selection. The atmosphere here is different from the local beach bar vibe— it has more of an industrial look. And they even offer fun games from foosball to Nintendo.
The beers on the 24 rotating taps are hand-selected, and if you're like me and can't make up your mind, they have a flight option. Or get one of their $2 domestic drafts! Not into beers, but love breweries? They offer ciders, meads, and wine!
This spot is on my list of best beach bars in Clearwater Beach as well!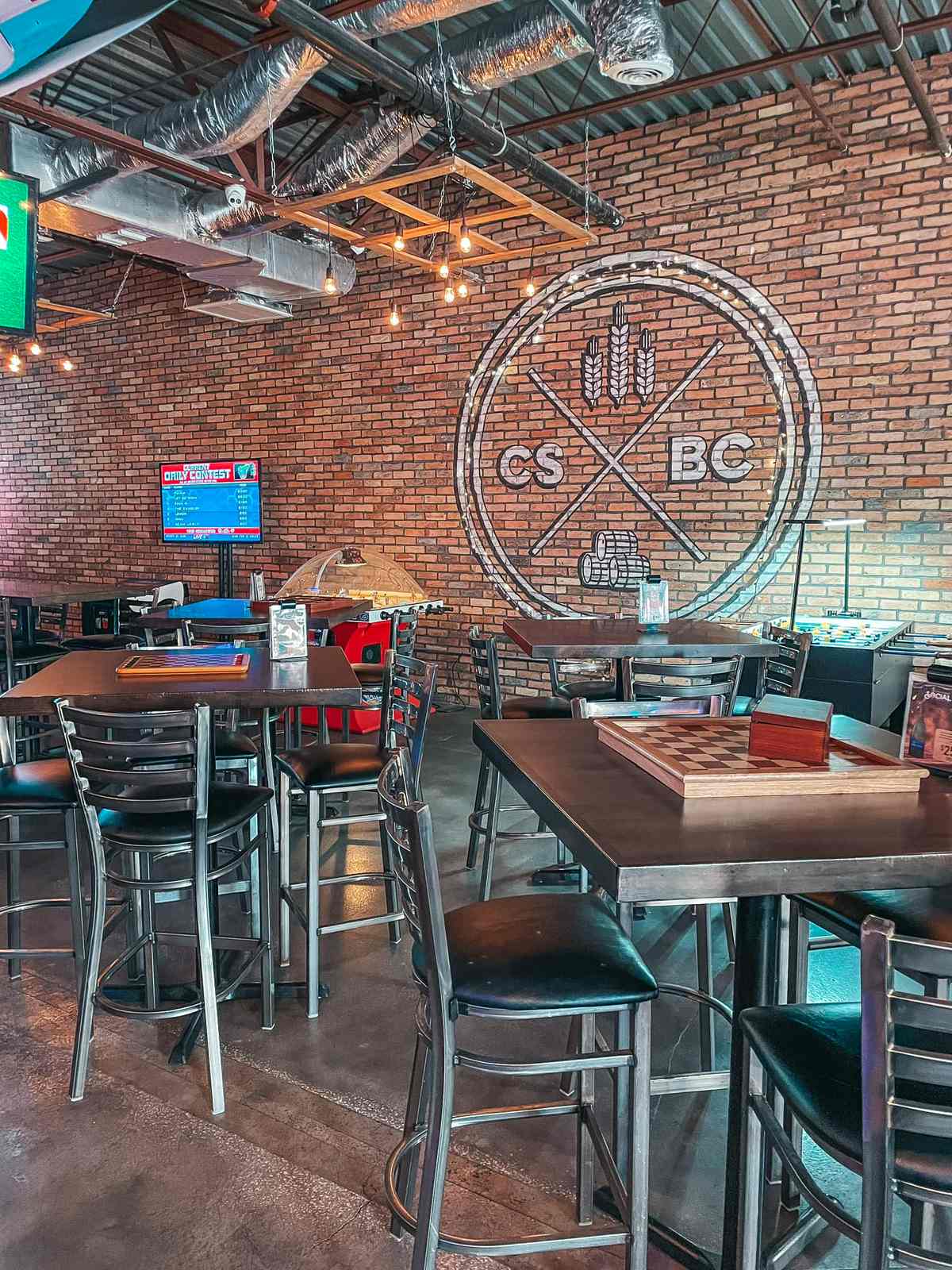 3 Daughters Tasting Room
You already know I was beyond pumped when my favorite brewery in downtown St. Pete decided to put a tasting room in Clearwater Beach!
3 Daughters Clearwater Beach location has all of your favorite brews, ciders, and seltzers ready to be enjoyed while you take in the stunning 220-degree views overlooking Pier 60 and the intercostal waterways of Clearwater Harbor.
Enjoy the drinks, the views, and beating your companion at one of the fun board games. We played Guess Who for the first time in ages and had so much fun!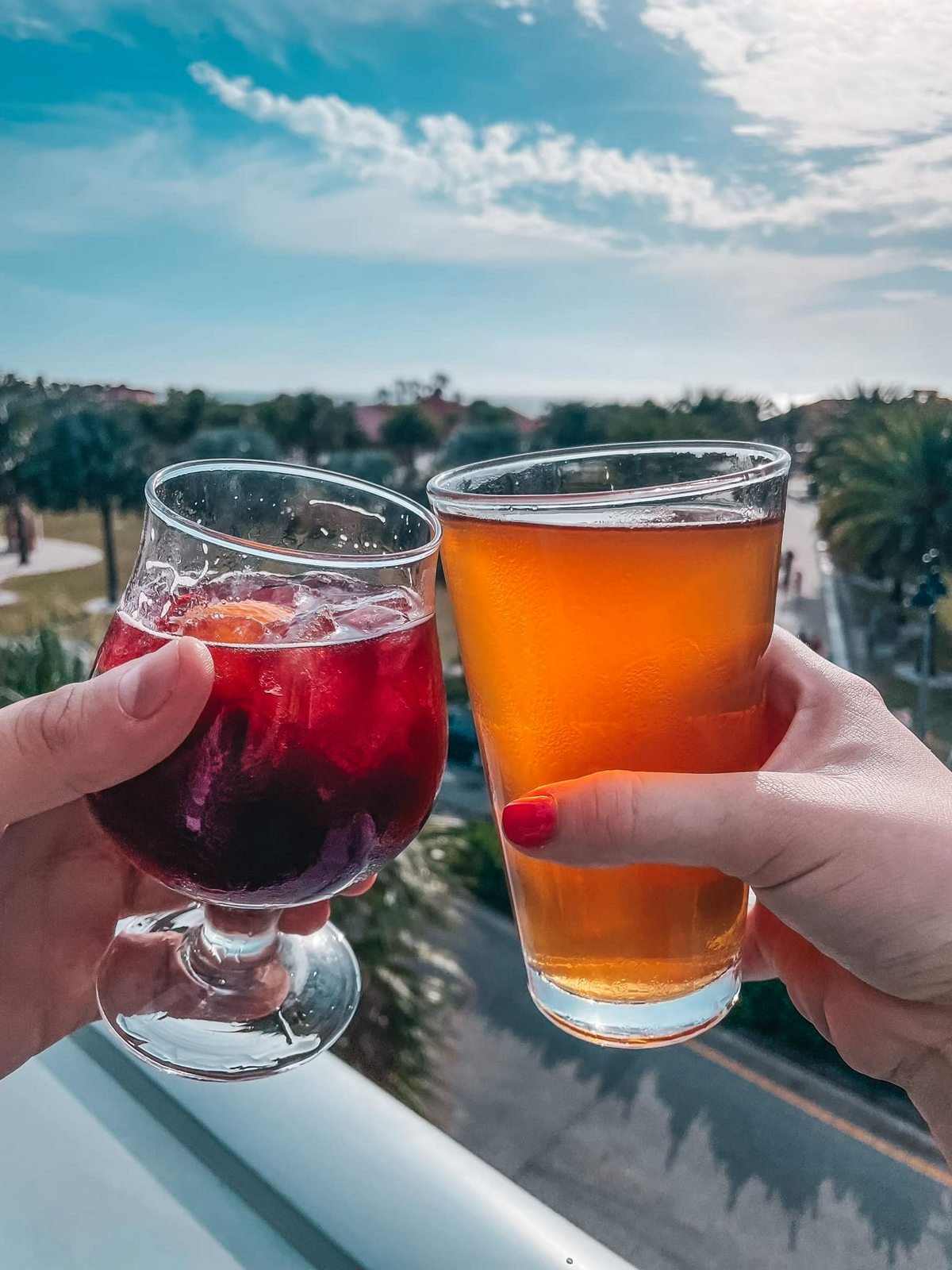 Grindhaus Brew Lab
Grindhaus Brew Lab is a family-owned and operated local Clearwater brewery that exclusively utilizes the best ingredients. Every beer on tap is handcrafted in small amounts to ensure that it is delivered as fresh as possible.
Grindhaus is known for selling a diverse selection of beer varieties, with new and experimental beers on tap every Friday and free Cult and Classic movies screening in the Lab Theater on Friday and Saturday nights. Their OH, BEEHIVE! cream ale made with Florida orange blossom honey is a fan favorite! I personally really enjoyed their berry the past, which is a strawberry vanilla Berliner Weisse sour ale.
Making things even more fun, Grindhaus doesn't serve their brews up in your typical pint, but instead one of their trademark beakers.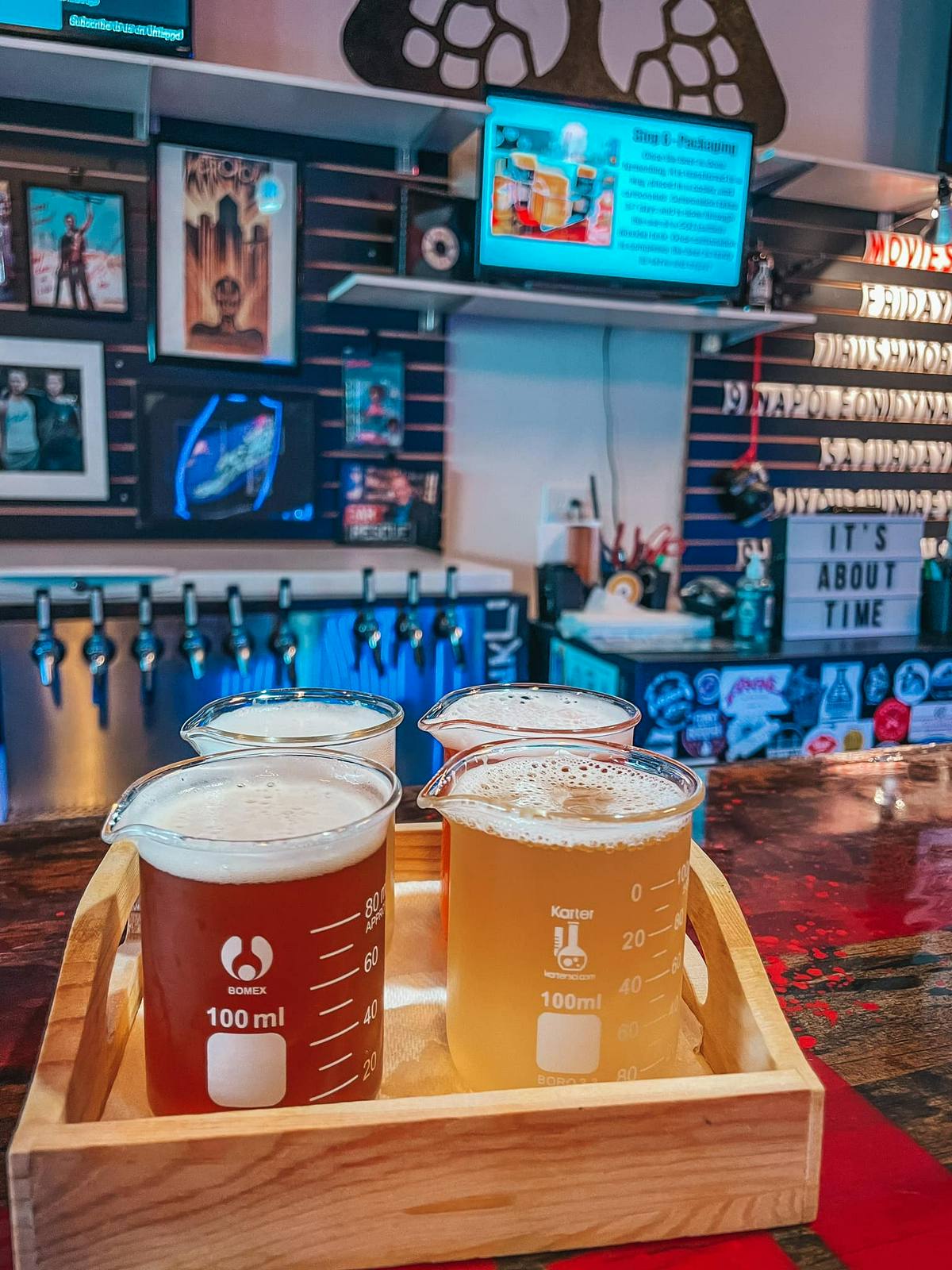 As far as food goes, they only offer popcorn and snacks, but you're allowed to bring in or order in any food you'd like. BONUS: if you take your receipt from Grindhaus to Southern Lights Brewing Co. you get 50% off your first beer, and vice versa! They're pretty close to each other so you may as well check them both out 😉
Related reads: Check out these 15 amazing day trips from Tampa or the best breweries in Tampa!
Southern Lights Brewing Co.
Southern Lights Brewing Co. specializes in handcrafted small-batch ales and lagers with an emphasis on quality and taste. They strive to produce unique, world-class beers that appeal to a wide array of tastes and palates.
Southern Lights also has a recent addition of their very own beer garden where you can enjoy your beer with your four-legged friend. Or feel free to head inside and play on one of their fun pinball machines! They even have darts (for free!) and some board games.
Join them for Trivia Tuesdays, and take advantage that the location is right next door to Jet's Pizza 😉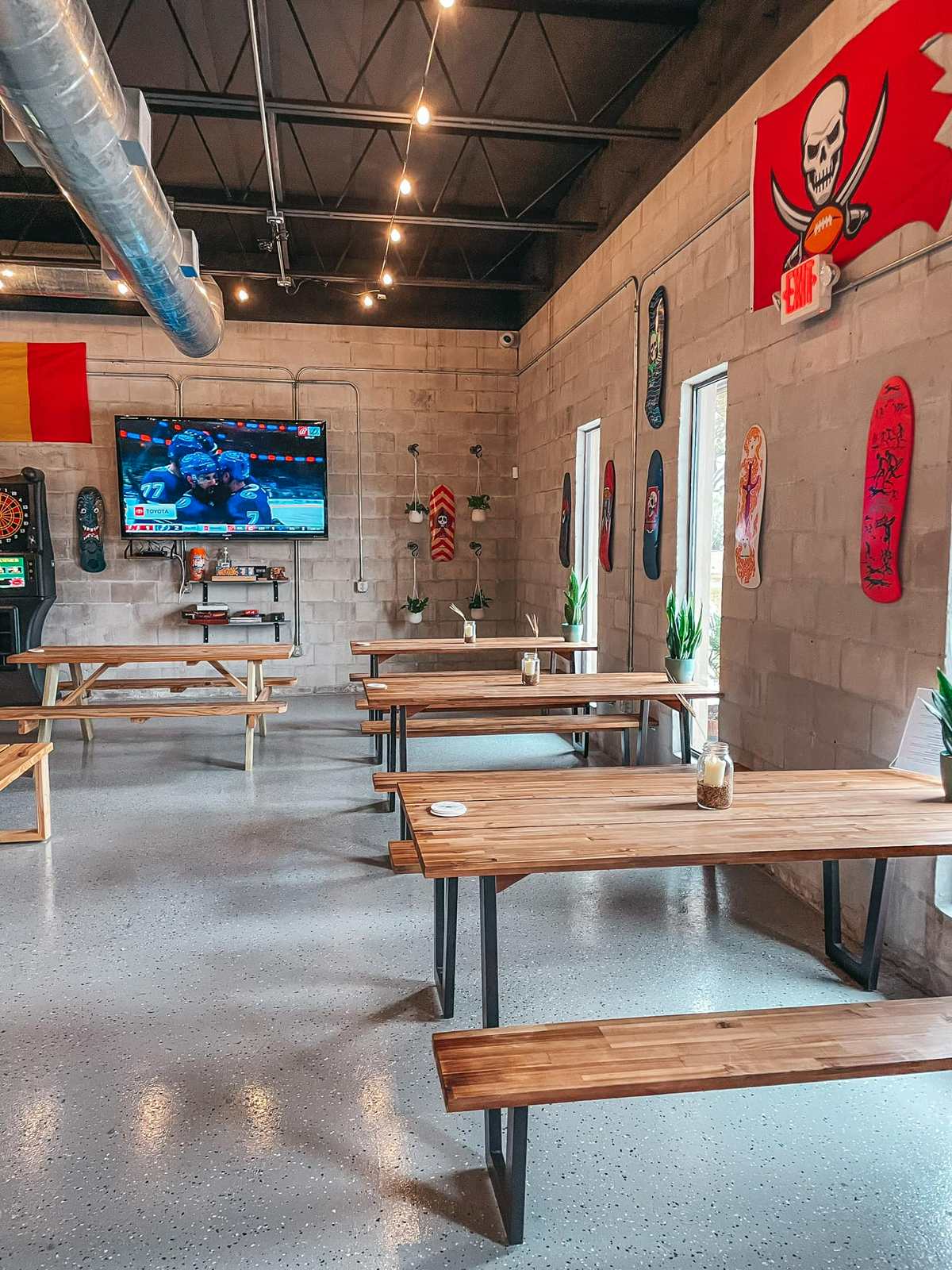 Clearwater Brewing Company
Clearwater Brewing Co. is an independently owned microbrewery tucked between downtown Clearwater and Dunedin, Florida. The brewery has a unique, fun look to it as it was once an old gas station.
They have IPAs, lagers, stouts, and even wine and local cider. If you enjoy IPAs, they are known for their A Dolphins Ale. Remi, who always orders Belgian triples, was beyond impressed that they offered a Belgian quadruple— he didn't even know that was a thing!
If you can't quite make a decision they offer flights. Whatever you decide, enjoy it while basking in the amazing Florida weather on their open-air patio.
They also have fun events such as open mic night on Wednesdays, Drum Circle the second Friday of every month, and poses and pints (yoga and beer) is coming back soon!
Alright, now that you have your list for the best breweries in Clearwater, where are we heading first?!
Clearwater isn't the only place that has a great brewery selection! Check out Dunedin, St. Pete, St. Pete Beach, and Safety Harbor for even more fun options!