This post contains affiliate links which means that I will make a small commission if you purchase a product after clicking on any of them, at no extra cost to you.
Safety Harbor Florida is such an adorable coastal and colorful gem. It's the perfect day trip (or even weekend staycation!) if you're looking for something to do in Tampa Bay! This small town on the shores of Tampa Bay is bursting with personality, history, and natural beauty. Whether you're a local or a visitor, there's no shortage of fun things to do in Safety Harbor.
From outdoor adventures to cultural experiences and delicious dining options, this hidden gem of a town has something for everyone!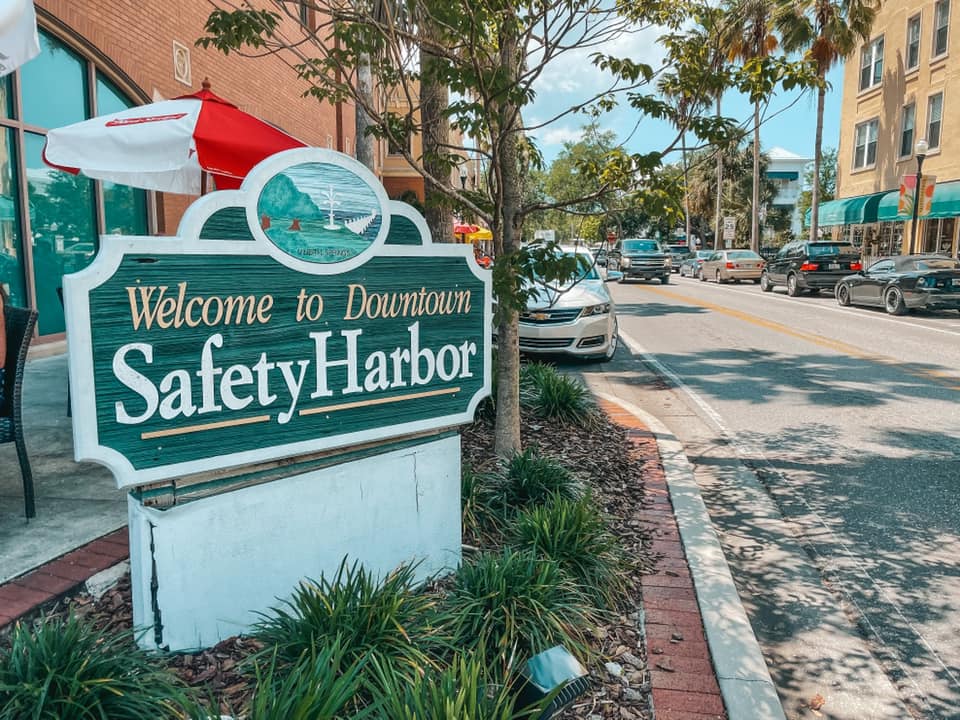 Fun things to do in Safety Harbor
1. Check out Safety Harbor Main Street
Safety Harbor's Main Street is full of adorable shops, dining, and galleries. You will see plenty of bistro-style seating and lots of people strolling and enjoying the fresh air. When Remi and I were walking it I had to look at him and say, "It feels like we're in a movie." It was so quaint, innocent, and charming.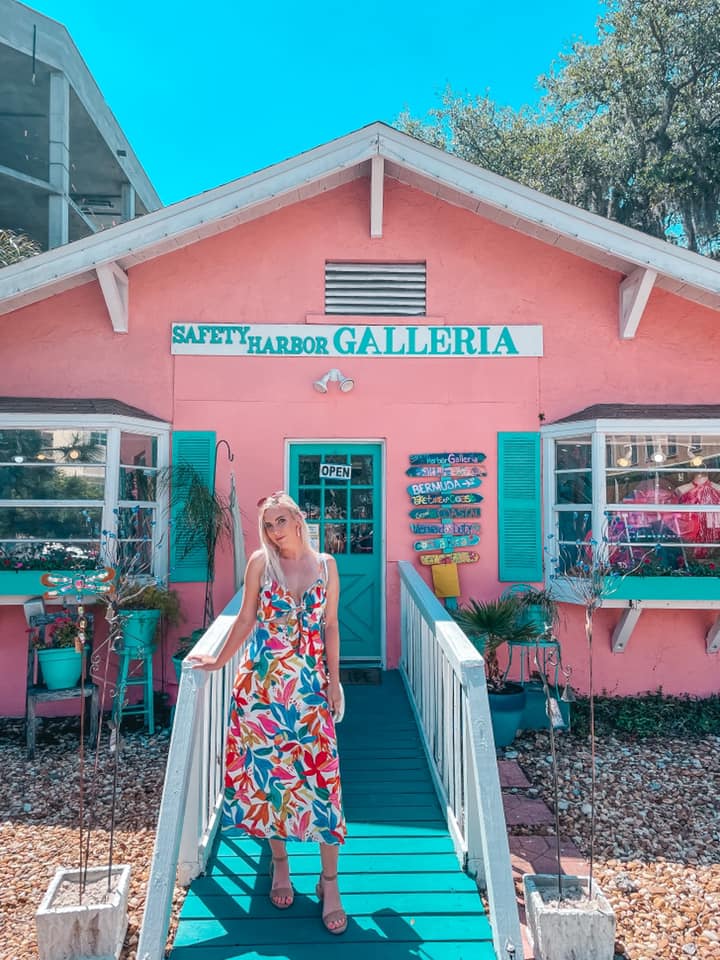 2. Stroll the Safety Harbor Pier
If you wander a little bit from Main Street you'll stumble onto the Safety Harbor Pier. Take a walk out on it and spot Tampa off in the distance. If you're lucky you may even spot a manatee swimming by!
If you want to do more than stroll, this is also a popular fishing spot in Safety Harbor, so bring a pole!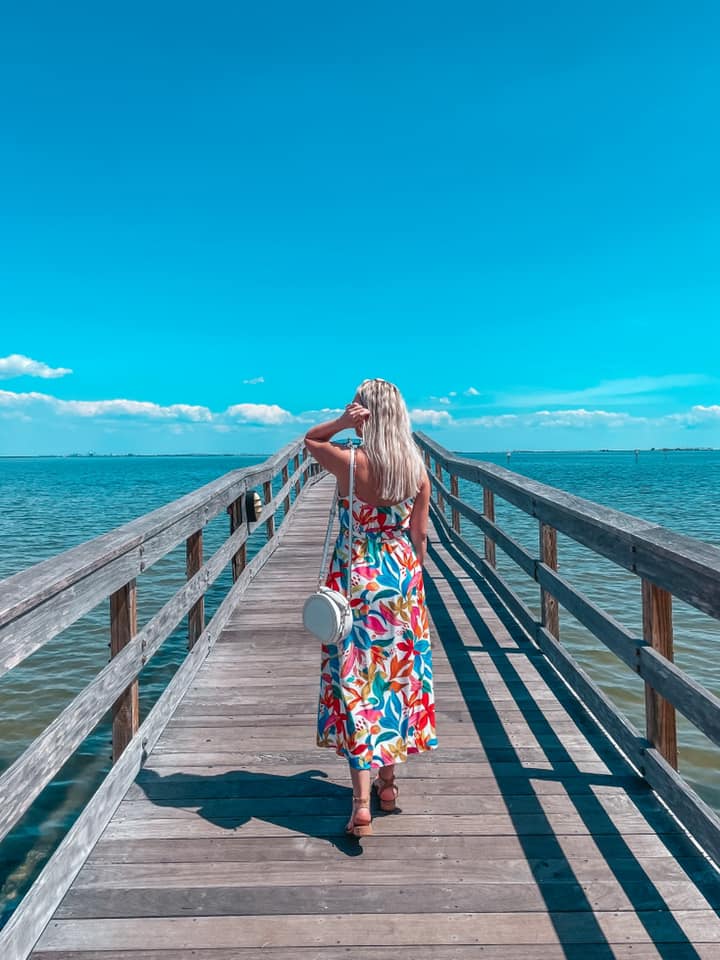 3. See Butterflies at Folly Farms Nature Preserve
Escape to a haven of natural wonder at Folly Farms Nature Preserve in Safety Harbor. This sprawling 9.95-acre oasis offers an enchanting blend of outdoor exploration and serene tranquility.
Enjoy traversing walking trails that wind through native and butterfly gardens, immersing yourself in the vibrant colors and fragrances that fill the air. Discover hidden nooks like the charming gazebo where you can pause for a moment of reflection or capture the perfect photograph.
The observation garden invites you to witness the ebb and flow of the local ecosystem, while the playground promises endless fun for younger visitors. With amenities including restrooms, art installations, and an abundance of captivating features, Folly Farms Nature Preserve ensures it's a must for your list of things to do in Safety Harbor.
4. Visit Phillippe Park
There are a number of little parks in Safety Harbor. There's Baranoff Park, Safety Harbor Waterfront Park, and my personal favorite, Philippe Park. Philippe Park is so beautiful— it's a lovely spot to have a picnic and watch the sunset, or even just take a stroll and enjoy mother nature!
It'd also make a great picnic spot.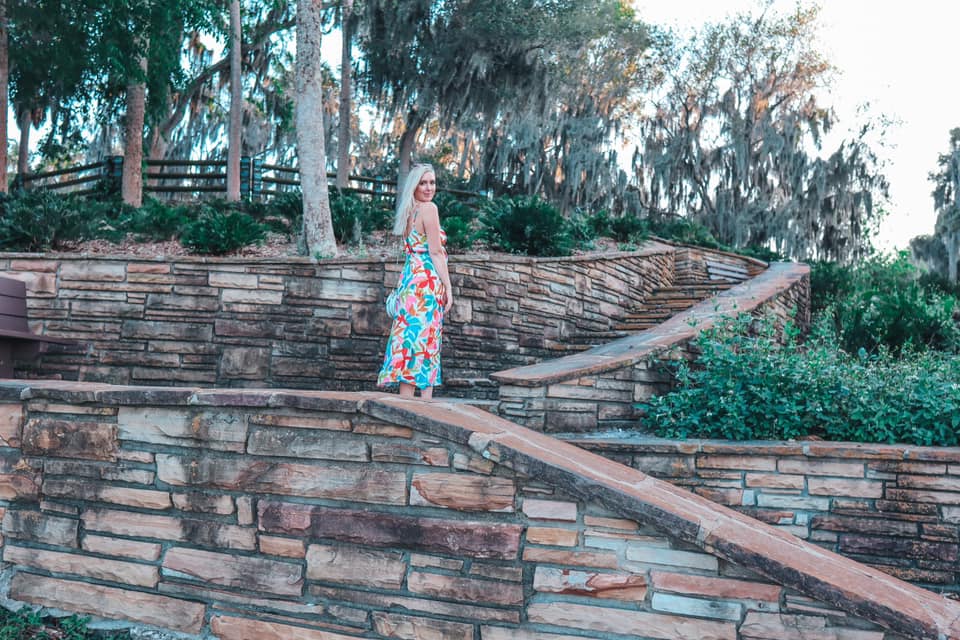 5. Kayak with Tocobaca Tours
Experience the charm of Safety Harbor in a whole new light with Tocobaga Tours. This premier kayak tour company offers an unforgettable way to explore the hidden treasures of this enchanting town.
Embark on guided kayak tours that lead you through serene waterways, allowing you to witness the town's natural beauty from a unique perspective. Glide past picturesque mangroves, observe local wildlife in their natural habitat, and absorb the peaceful ambiance that only a kayak journey can offer!
Whether you're a novice or an experienced kayaker, Tocobaga Tours provides an accessible and enjoyable adventure suitable for all skill levels.
6. Brewery Hop
Crooked Thumb and Troubled Waters Brewing are must-stops if you're exploring downtown Safety Harbor! Troubled Water Brewing is right on Main Street, while Crooked Thumb is less than a ten-minute walk away.
Related read: Best Breweries in St. Pete, Fun Breweries in Clearwater, Breweries in Tampa, and Best Breweries in Dunedin
Troubled Waters offers several in-house-made beers as well as a few guest beers. They are known for their Sour Patch Kid Berliner, which is very light and enjoyable! You may also appreciate other fun varieties like Mango Habanero SMaSH or Raspberry Lemon Fun Police.
Can't decide? Get a flight! They also have foosball and other board and card games. I loved embarrassing Remi at Uno after he annihilated me at foosball.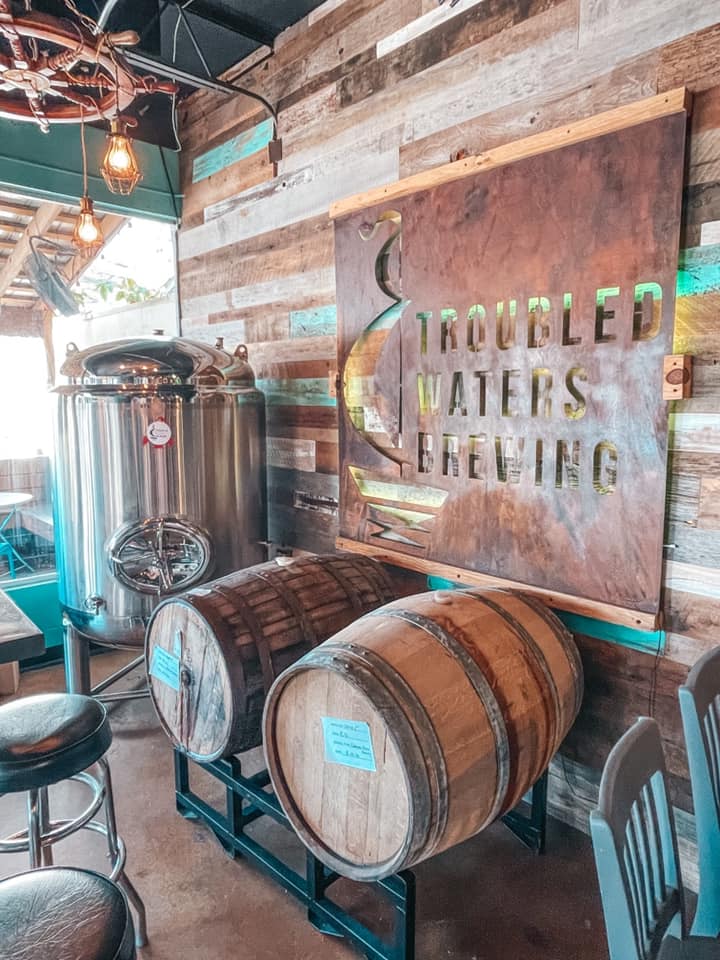 Crooked Thumb has a very large warehouse-style tasting room as well as a beer garden. You absolutely HAVE to get the Strawberry Shakedown!! It's fruity but subtle, with flavors of strawberry and vanilla.
They usually have other fun options as well like Where's the Rum? A tiki-inspired fruited sour. You'll probably want to stay for a few. For tips, reviews, and more info on Crooked Thumb click here.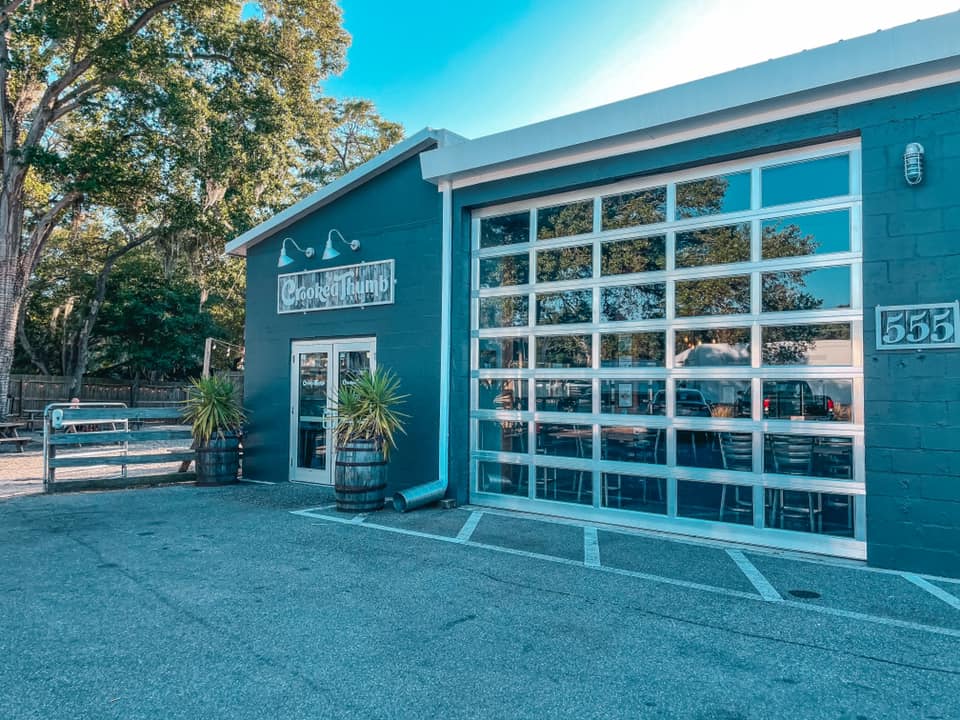 7. Experience some local eats
There are so many delicious eateries to choose from in downtown Safety Harbor! Bar Fly is a local favorite serving sandwiches, tacos, and delicious bloody marys. It's definitely a great lunch spot. They offer indoor or outdoor seating with colorful, fun decor.
You can find open-air seating, plenty of seafood, salad, and wrap options, and typically live music at Whistle Stop. Don't leave without grabbing a milkshake! If you want a little more of an elevated experience, Water Oak Grill is a seafood and steak bar that also serves up delicious craft cocktails.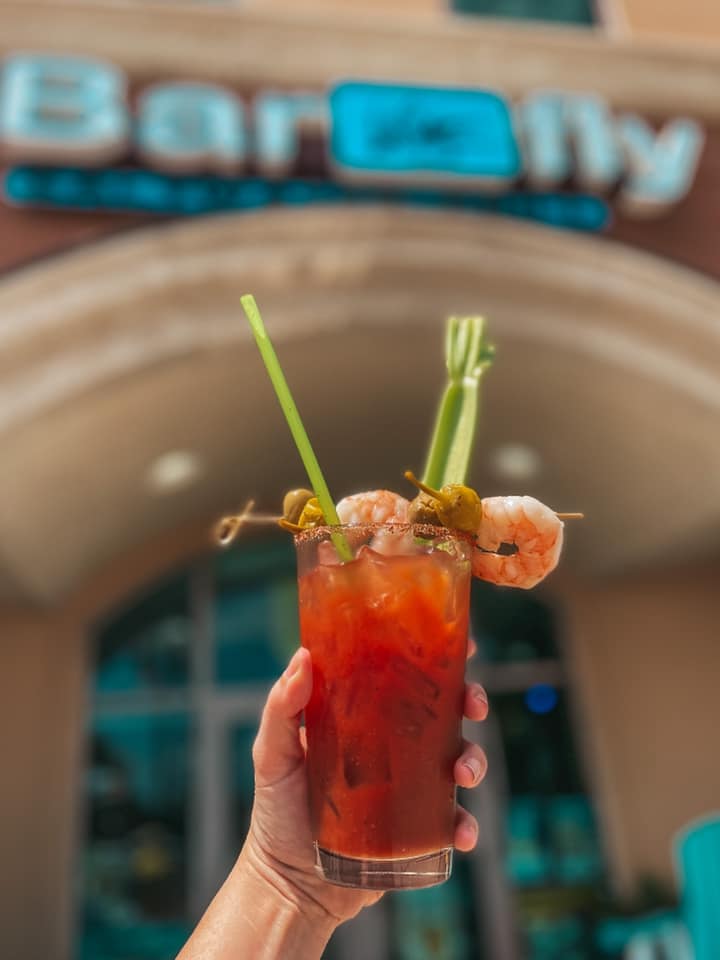 8. Experience Safety Harbor's Market on Main
Immerse yourself in the vibrant community spirit of Safety Harbor at the Market on Main—an enchanting weekly event that encapsulates the town's essence. Every Sunday, this bustling marketplace comes to life, offering an array of local treasures and experiences that cater to all ages.
From hand-crafted gems to delectable local food vendors, you'll find yourself immersed in a world of creativity and flavor. But that's not all—Market on Main is more than just a shopping destination. It's a hub of communal delight, where free community yoga sessions, face painting for the little ones, arts and crafts, and lively live music come together to create an atmosphere brimming with joy and connection.
Indulge in a fresh glass of orange juice, savor pickled delicacies, and explore the stalls brimming with an abundance of produce! Whether you're seeking unique artisanal goods, delectable treats, or a slice of local life, Safety Harbor's Market on Main is a Sunday tradition that promises a captivating blend of commerce, creativity, and camaraderie.
Related read: Check out the best restaurants in Clearwater Beach, downtown St. Pete, Channelside, and Dunedin.
9. See a Movie at Gigglewaters
This place was on my list of Tampa Bay date ideas for the longest time before I finally got to check it out! It's a super cute venue and a unique experience with food, craft cocktails, and movie screenings.
Check out their upcoming screenings and head over to check them out! It has somewhat of speakeasy vibes which is why I really enjoy this spot! If you're a fan of speakeasies, be sure to check out my list of fun speakeasies in Tampa Bay!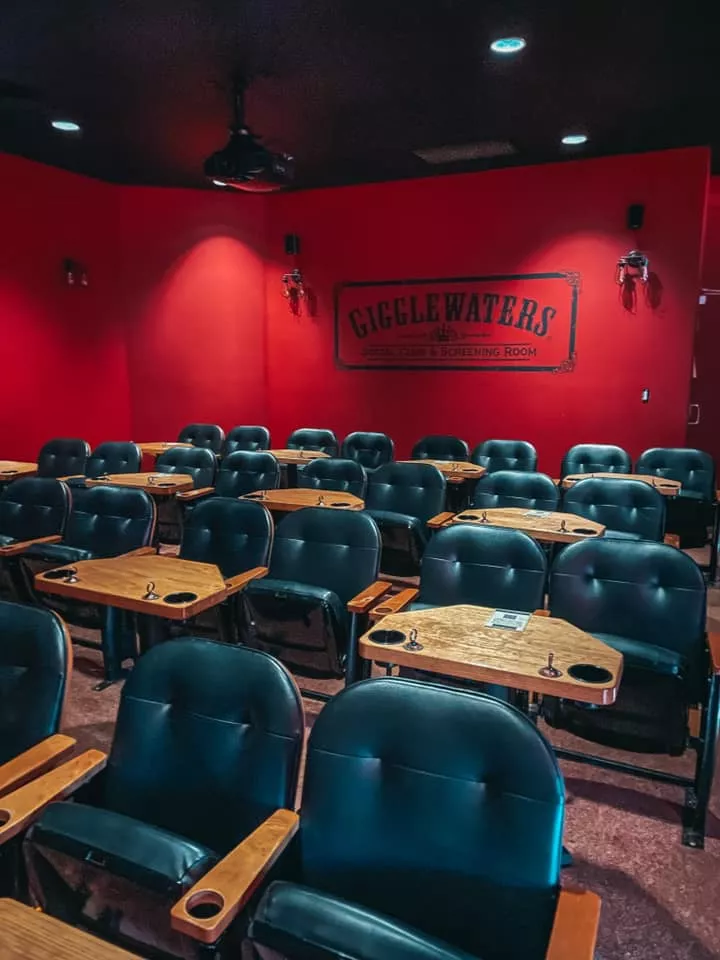 10. Do a Ghost Tour
Experience an enthralling blend of history and the supernatural with this ghost tour. One of the top activities in this charming town, this tour offers a unique journey guided by a real medium!
Delve into the mysteries of Safety Harbor's past as you explore its historic streets, listening to spine-tingling tales of the paranormal and unearthing fascinating historical anecdotes. With the tour guide also serving as a medium, be prepared for a captivating evening that bridges the gap between the tangible and the otherworldly, making this an exceptional and memorable adventure in the heart of Safety Harbor.
11. Whimzeyland
Just a little walk from Main Street, you will find Whimzeyland. You may be asking yourself, "What on earth is Whimzeyland?" I asked myself the same thing. Bright colors, tiled mosaics, junk art animals, and over 800 painted bowling balls all come together to create Whimzeyland.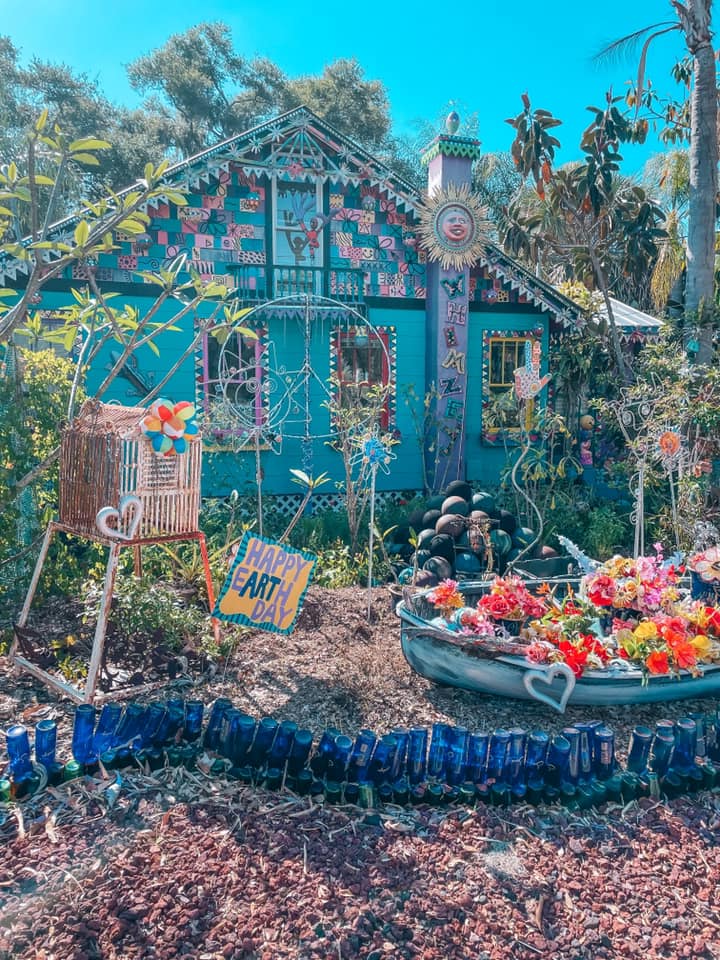 Whimzeyland is actually also known as "The Bowling Ball House." It's home to two artists who began the transformation of an ordinary home in 1985. When shopping at a local flea market they saw a sign that said "10 free bowling balls per person."
After calling some friends they ended up having 60 bowling balls, and in doing art show travels they've also had other artists create bowling ball art for their collection… and well yeah, the rest is history.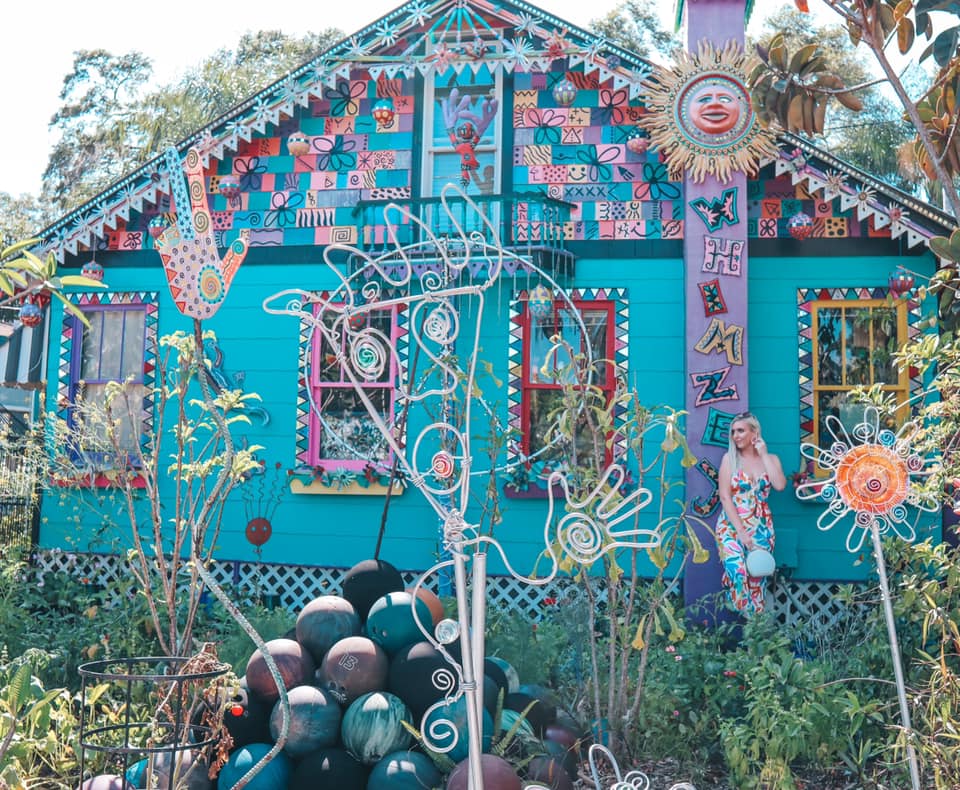 Outside of the home they also have a gazebo where they sometimes have small performances, shows, and events. You can also schedule a 90-minute tour of Whimzeyland, Safety Harbor Art and Music Center, and a couple of other places you may not have known were a component of Whimzeyland!
12. Safety Harbor Art and Music Center (SHAMc)
Decorated just as magically as Whimzeyland, SHAMc is another must-see spot in Safety Harbor. Here you can experience workshops, classes, open mic nights, and music events!
13. Grab a coffee from the adorable HavenHouse Eatery & Coffee Shop
If you're looking for a charming and cozy spot to enjoy a cup of coffee or a light bite, HavenHouse Eatery & Coffee Shop in Safety Harbor is definitely worth a visit. I recently stopped by and was immediately struck by the adorable decor and inviting atmosphere. The second-level open-air seating offers a lovely view of the surrounding area and creates a serene ambiance that's perfect for relaxing.
Of course, the coffee is the star of the show at HavenHouse, and I wasn't disappointed. I tried their birthday latte, which was light and yummy, and paired perfectly with my delicious Caprese sandwich. I appreciated the fact that they offer a variety of options that are organic, nitrate-free, and nutrient-rich, making it easy to make healthy choices while still enjoying a treat.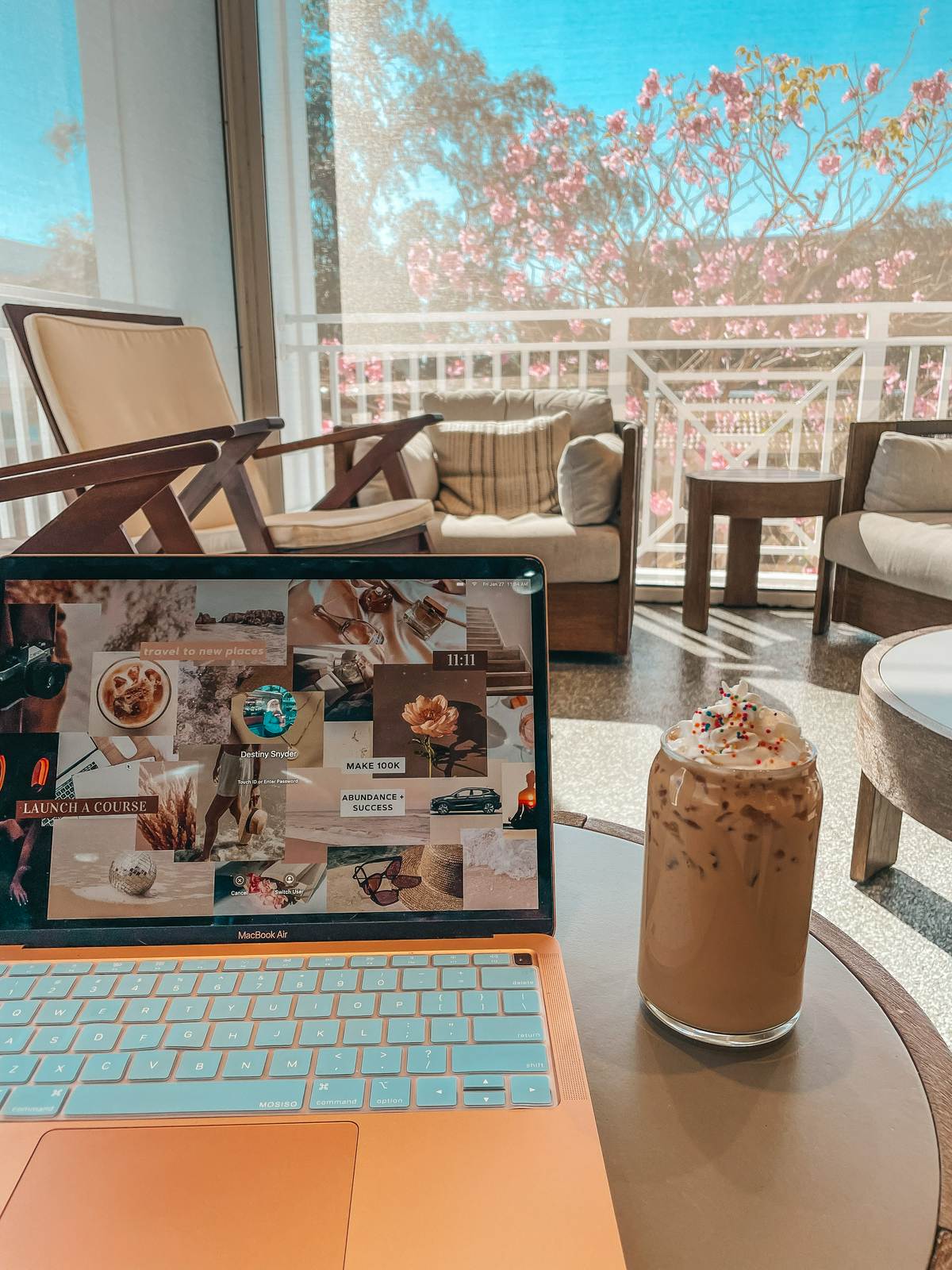 Where to stay in Safety Harbor
As I mentioned, Safety Harbor is quaint. So there aren't too many options for places to stay, so make sure to book in advance.
Candlewood Suites offers suites with kitchenettes, a fitness center, an outdoor pool, and is close to all of the downtown Safety Harbor action.
If you are traveling with more than one person, there are some adorable cottage-style homes available for rent. These homes usually offer more space and privacy compared to hotel rooms and are equipped with amenities like a full kitchen, living room, and backyard. Here are my top 3 selections:
How fun is this quirky, charming little gem in Florida? Would you Safety Harbor, Fl?
Be sure to check out some of my other Florida posts before you go!
Best things to do in downtown St. Pete