This post contains affiliate links which means that I will make a small commission if you purchase a product after clicking on any of them, at no extra cost to you.
I wasn't really a brewery person prior to moving to Florida, but this state has officially converted me. This area is known for more than its stunning sandy beaches, I mean it isn't nicknamed the Gulp Coast for nothin'! Tampa Bay is jam-packed with innovative, amazing breweries (check out downtown St. Pete, Tampa, and Clearwater too!), and Dunedin is no different.
Many of the breweries serve food, have games, and offer other options aside from beer as well. So even if you aren't typically a brewery person I encourage you to give them a chance. Here are the best breweries in Dunedin!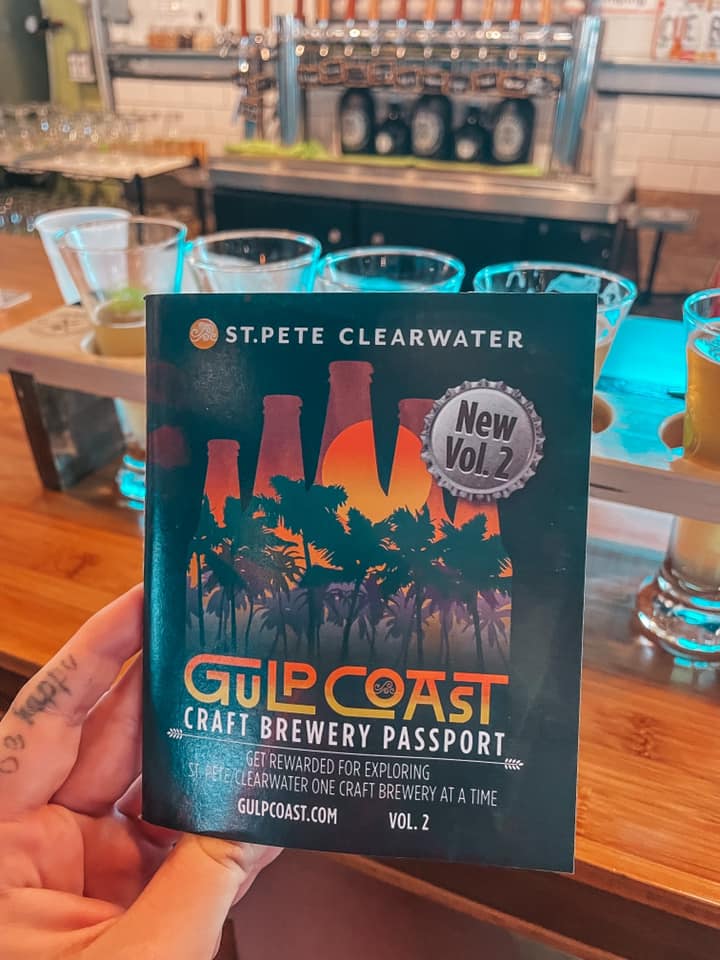 Best breweries in Dunedin
Dunedin Brewery
Dunedin Brewery is Florida's oldest microbrewery! Their brews are hand-crafted by their collective brewers in small batches 14-20 barrels at a time. They offer wheats, ales, IPAs, lagers, and more.
They typically have some fruited beers, which are a good option for those who aren't too into beer. One of their signatures is their Biere de Cafe which is a brown ale made with chocolate and local Joffrey's French Roast. I just tried Joffrey's for the first time when I stayed at the Aloft Tampa Midtown, and I'm obsessed.
Also, if you're looking for a Dunedin brewery with food, this is one of the few that has a full kitchen. They have sandwiches, wings, and more.
I've heard great things about their Brewhouse nachos, and I can personally vouch for their Buffalo cauliflower, which is in fact superior to other Buffalo cauliflower.
You can enjoy your beer and snacks in or outdoors! They even frequently have live music, and other events be sure to check out their calendar. They are open every day of the week besides Monday.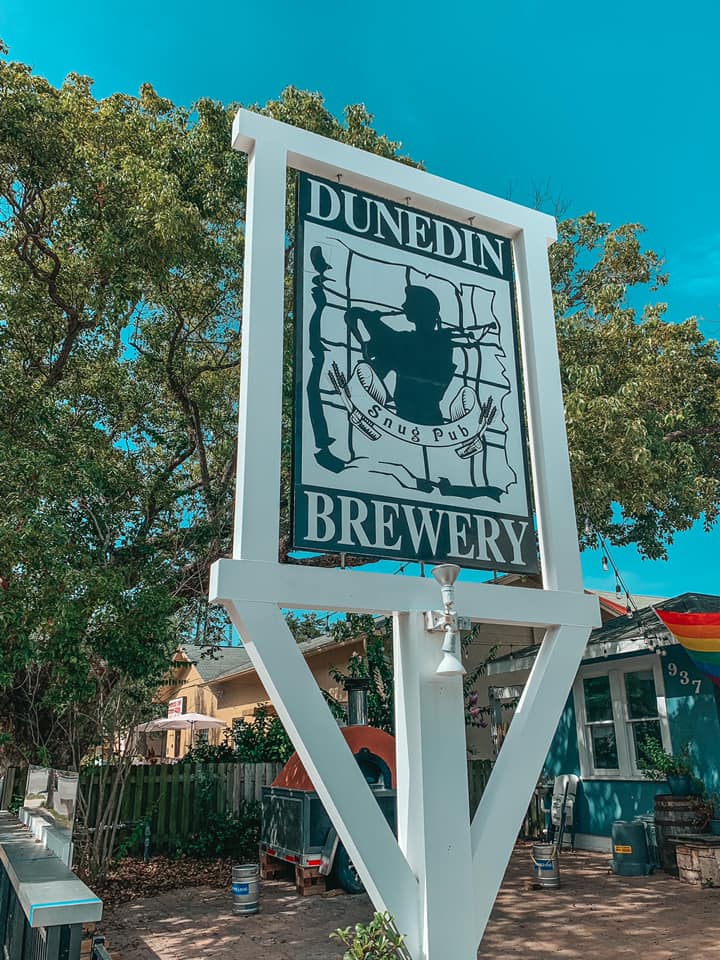 Woodwright Brewing Company
This brewery is actually set in a woodworking shop! When you walk up to this place, it definitely stands out unlike any other building in Dunedin. It almost felt like it belonged somewhere in Tennessee because you really don't see places built like this down here. I really enjoyed the rustic and welcoming feel!
Woodwright Brewing Company has over 14 beers on tap, most of which are traditional German and European-styled beer. Most of their recipes adhere to the German purity laws which allows only the addition of hops, barley, water, and yeast.
They don't have any fruity beers, but they do offer wine if you're not into this style of beer. Remi was in heaven as Hefeweizens are his favorite type of beer.
Going along with their German theme, you can get a Bavarian pretzel (or other German-inspired bites) served with beer cheese made from Woodright's Irish Red from The Duneatery located in Woodwright's beer garden. The beer cheese was everything. I got third-degree burns on my fingers from having the incapability of letting the pretzel cool off before attempting to pull it apart to dip in the cheese. But trust me, it's even better once the pretzel has cooled off a little bit.
They are open Thursday through Sunday.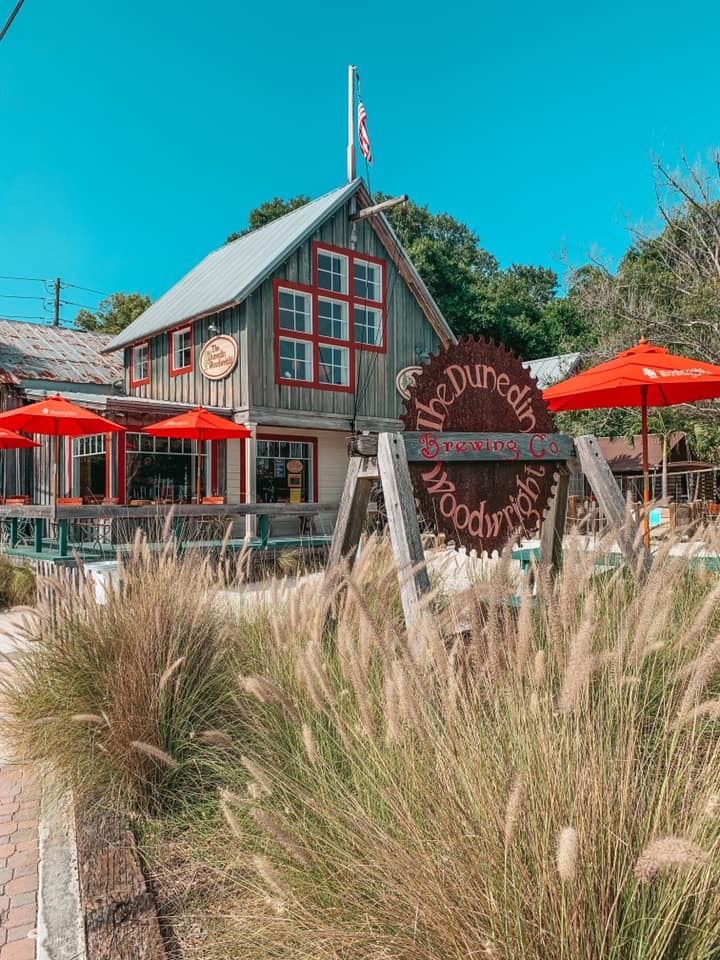 Cueni Brewing Co
With the friendly staff, fun environment, and interesting selection of brews, it's no wonder it's on the list of the best breweries in Dunedin. Cueni Brewing offers hand-crafted beers with a focus on English Ales and Belgians. They offer 13 beers on tap, as well as a few ciders and wines.
My personal favorite and probably one of the most interesting beers I've ever had was their "There Gose My Pickle" which is a 5.5% ABV Gose with Dill pickle. They did it perfectly.
We did a small flight, but they also have a Florida flight where the beers go in a flight shaped like the state of Florida and allows you to sample all 13 beers. They also have games, one of my favorite bar and brewery additions.
I was already a fan of this brewery, and then I noted some Ohio decor. Turns out the owners are from Ohio just like me, moving here to chase their dreams!
The great thing about this brewery is it's right off the Pinellas Trail. We literally were riding our bikes and saw how cool this spot looked and had to stop!
They are open every day of the week besides Monday.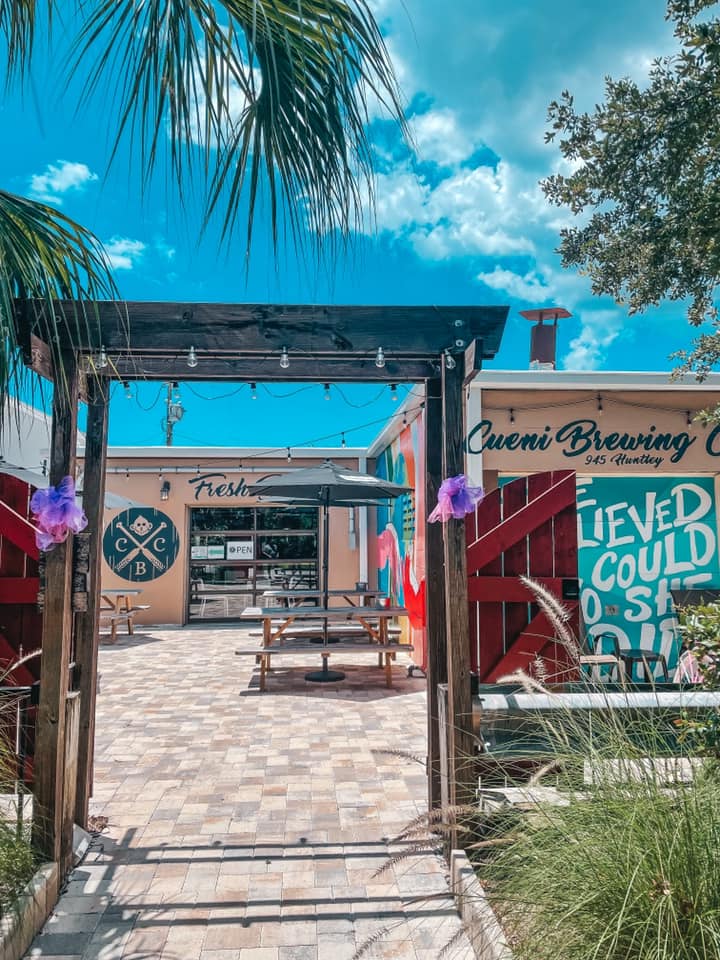 7venth Sun Brewery
I first enjoyed 7venth Sun's beers in Seminole Heights. Making this one of the best breweries in Dunedin and in Tampa 😉 Their original location in Dunedin is located right next to HopScotch Cafe, one of my favorite restaurants in Dunedin because of their amazing Cuban sandwich.
You will find 10 beers on tap from Saisons and lagers to sours and creamsicle wheats. 7venth Sun likes to take a new approach while innovating traditional styles utilizing the availability of tropical and citrus fruits Florida has to offer, and their tap list is ever-changing.
I enjoy sours, so I really like 7venth Sun. Even if they don't have a beer on tap, check out their cans, bottled beers, or wine. They have canned sours like Sakura Obscura which is a Florida sour with cherry and pomegranate and When Marsha Met Sylvia which is a mango, strawberry, lactose imperial sour.
7venth Sun usually does have a nice array of options on tap though, and if you can't decide they offer flights! They are open every day of the week, but hours vary.
Caledonia Brewing
Caledonia Brewing is a small-batch craft brewery located in the historic Dunedin Times building. They focus on natural and organic ingredients and serve their own small-batch craft beers alongside some local guest taps.
Remi loves their Razzmanian Dubbel which is a Belgian Dubbel with raspberries, and their Tripping Tripel, which is a Belgian Tripel. I enjoyed their guest tap Pinch of Salt – Peach Cobbler, which was a fruited sour. I have heard good things about their Dead and Berried which is a dark chocolate oatmeal stout with raspberries
For the non-beer drinkers, they offer wine, canned cocktails, hard seltzers, sangria, and ciders.
Check out their Instagram page, because they are always doing fun weekly events like "craft and drafts", game night, trivia, bingo, and more. They also have everything to satisfy your sport-watching needs (beer and TVs). Also, Caledonia Brewing now has BBQ from "Q" Southern Outpost. I haven't had it yet, but it looks amazing.
They are open every day of the week, but hours vary.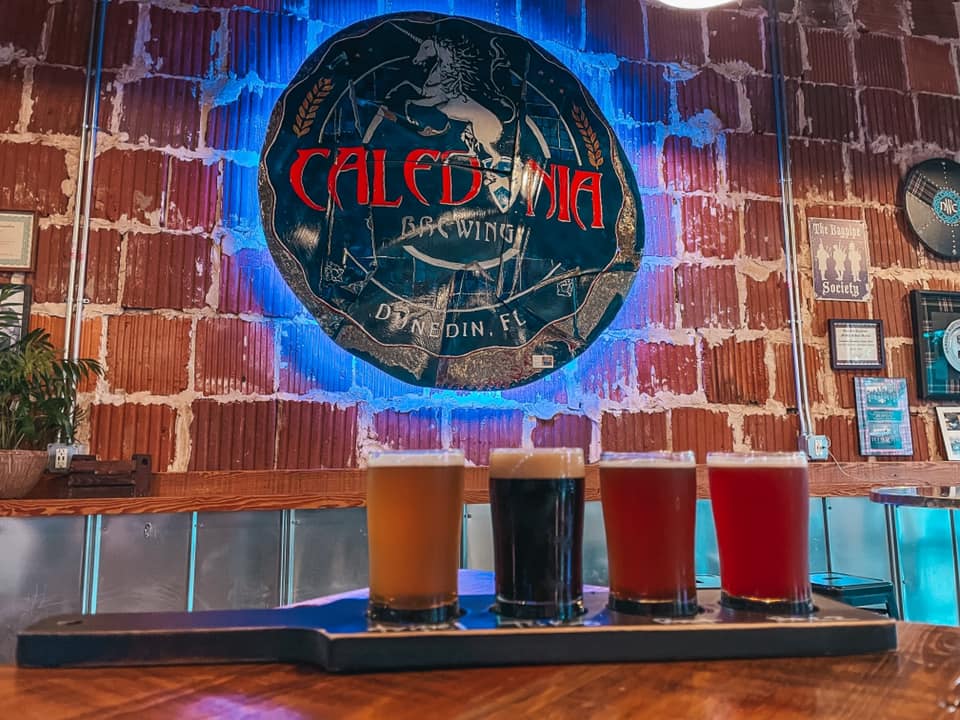 HOB Brewing Company
At HOB you can find hand-crafted microbrews designed for taste, smoothness, and quality. This may be the most popular brewery in Dunedin, it's ALWAYS buzzing. This isn't a surprise, because along with great brews, they also provide a fun, lively environment.
HOB has over 40 beers on tap that change daily! Check out what they're serving today here. I don't even know where to begin, but just know you have plenty of solid options.
It's hard to miss their expansive outdoor patio and stage. They have HOB Live serving up music and brews, be sure to check out their calendar to see who's performing! They also have games varying from pinball to giant Jenga to provide even more entertainment.
You also won't want to miss their 2nd Friday Night Market which has merchandise, food, and craft vendors along with music, fun, and of course, beer! The festival runs from 6-10 pm.
If you want some eats, Corvo Bianco serves up wood-fired Neapolitan pizza sure to satisfy any hunger.
They are open every day of the week, but hours vary.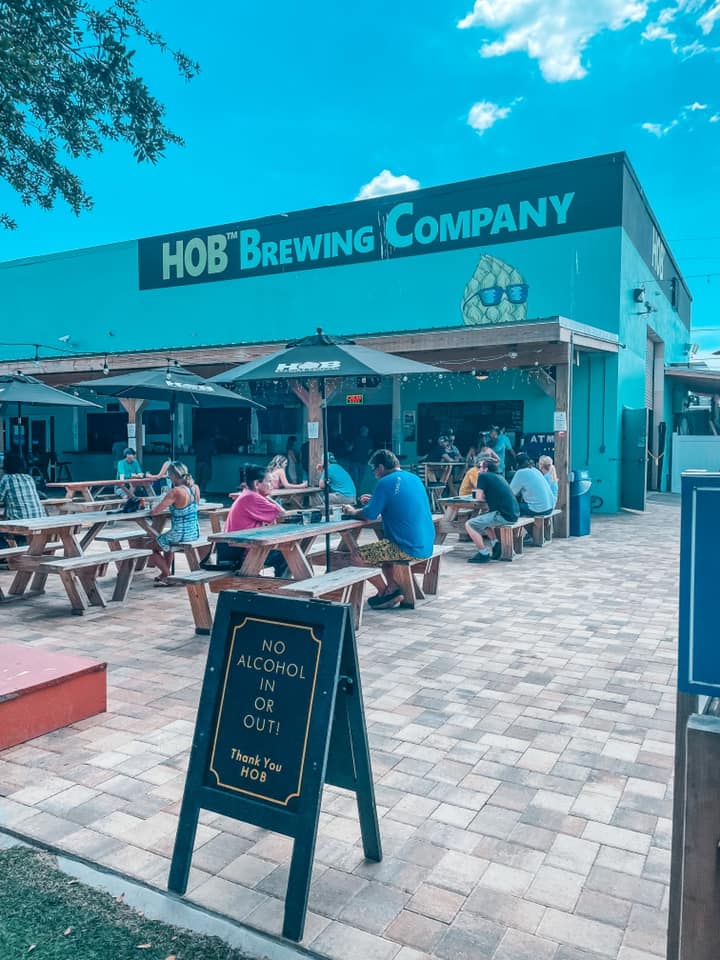 Soggy Bottom Brewery
Soggy Bottom has a Prohibition, post-Depression theme. You'll notice the venues' character and industrial elements that add to the atmosphere. My favorite touch is their chairs made out of kegs, license plates, and old tractor seats.
If you enjoy games while you drink, this will probably be one of your favorite breweries in Dunedin. They have pool, darts, cornhole, and board games for your entertainment! I always love challenging Remi to a game of darts while we enjoy our beers. The loser buys the next round!
They also have plenty of seating on their outdoor patio if you prefer the fresh Florida air while you drink.
Soggy Bottom is a place about more than just the beer though, you'll leave here talking about the brews, but also the amazing staff. They provide a great experience that makes you want to return again and again.
If you're into porters, they are known for their toasted coconut porter. I'm not usually a coconut person, or even a porter person for that matter, but still found it to be enjoyable! Their Pumpkin Slaughter was probably the best pumpkin beer I've had. It tasted almost like a slice of pumpkin pie and it definitely had hints of nutmeg. Remi's favorite was the Blackberry Wheat, which he said he could "throw back all day".
Getting hungry? Southern BBQ is right next door.
They are open Thursday through Sunday.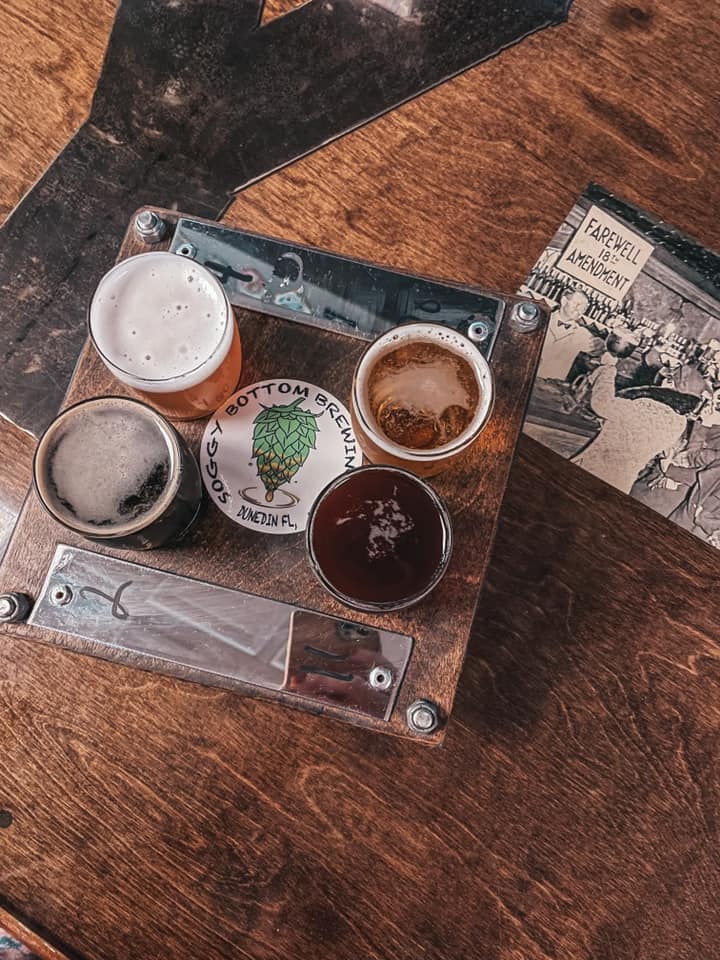 I really hope you enjoyed this list of the best Dunedin breweries, and take the time to check out each of these unique spots! Dunedin is a very special place, and it's very apparent that these owners and brewers take pride in what they do.
If you are looking for more Dunedin fun, be sure to check out my Dunedin guide or these cute coffee shops in Dunedin, and follow me on Insta @guidedbydestiny for more Tampa Bay and travel content!
And as always if you liked this post on the best breweries in Dunedin, don't forget to share it 🙂