This post contains affiliate links which means that I will make a small commission if you purchase a product after clicking on any of them, at no extra cost to you.
Are you looking to plan the ultimate Miami bachelorette party? Look no further! Miami is one of the most beautiful cities in the world, and with its gorgeous beaches, lively nightlife, and vibrant culture, it makes for the perfect destination for a memorable bachelorette party.
Here, you will find all the information you need to plan an amazing Miami bachelorette party that your bride-to-be will never forget! From choosing the perfect venue to deciding on fun activities, I have got you covered. Read on to find out how to plan the perfect Miami bachelorette party!
Also, before you go be sure to check out my epic list with a variety of fun and unique items perfect for any bachelorette party, including adult drink pouches, bachelorette party games, photo booth props, and more!
Quick links for your Miami bachelorette party
🏨 Accommodation
Easily compare prices, secure great deals, and enjoy the added benefit of flexible cancellations up to 24 hours in advance for the majority of hotels with Booking
🎟️ Tours and tickets
Discover your next adventure with ease by using Viator which allows you to explore a multitude of local tours, ensuring you find the best experiences at the best prices.
🚘 Getting around
Lyft is your best bet for getting around in Miami. If someone from your group is new to Lyft, use code DESTINY136873 for money off of your first ride!
Why should you have your bachelorette party in Miami?
Miami is an ideal destination for a bachelorette party. With its year-round warm weather, beautiful beaches, and a never-ending list of fun activities, it's the perfect place to celebrate your upcoming nuptials with your closest friends.
No matter the time of year, you can count on mild temperatures, with average winter lows in the mid-50s and highs in the upper 70s.
As far as activities go, Miami is chock-full of fun things to do. During the day, take a stroll along one of the many beautiful beaches, sip margaritas at one of the city's many outdoor bars, or explore the Wynwood Arts District.
At night, dance the night away at one of Miami's many trendy nightclubs or hop aboard a sightseeing cruise to take in the city from the water. There's truly no shortage of things to do in Miami!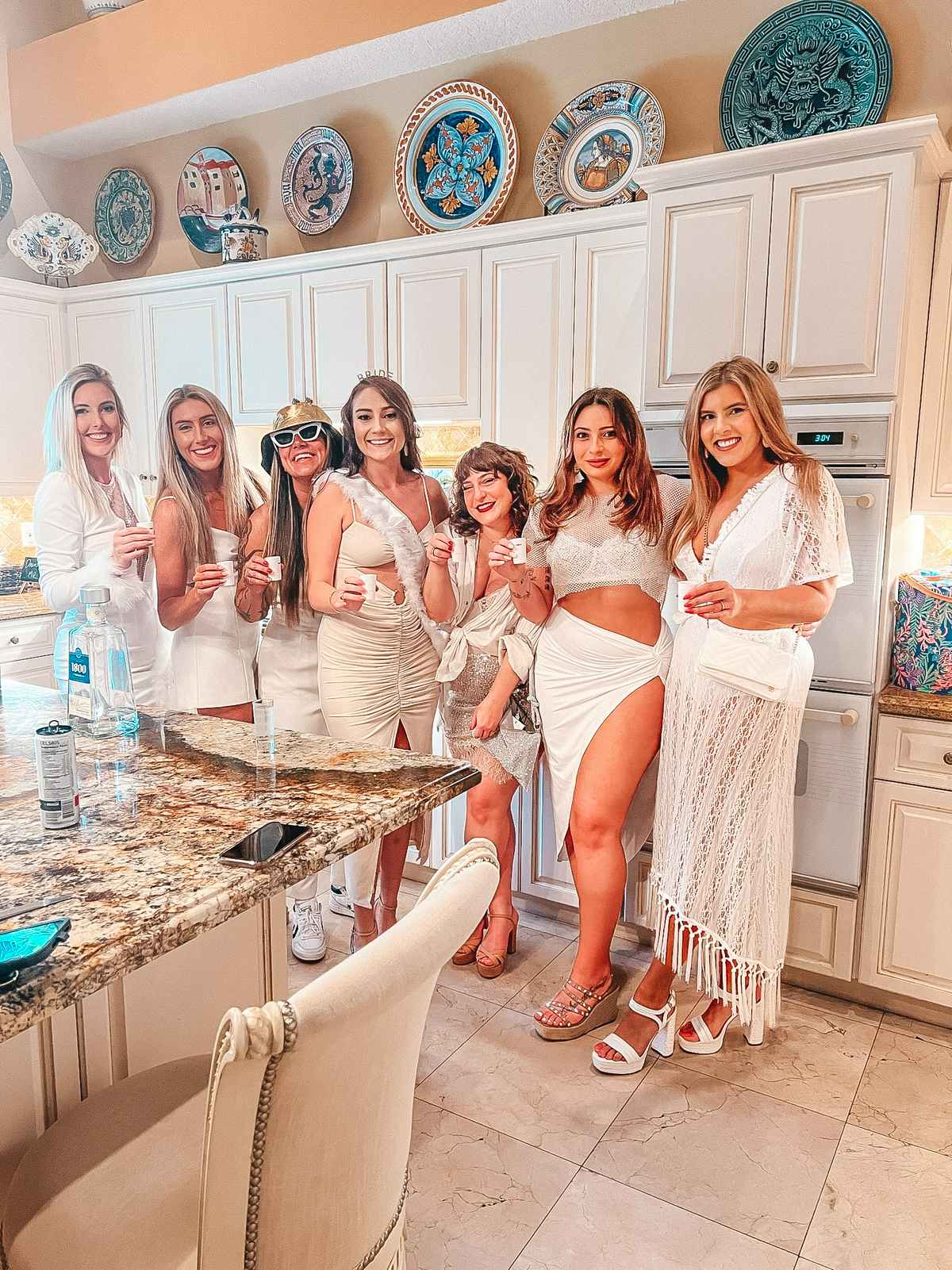 When is the best time to have a bachelorette party in Miami?
Overall, March to August is the ideal time for having a bachelorette party in Miami. During this time, you can enjoy all that Miami has to offer—from its vibrant nightlife and exciting attractions to its stunning beaches. You and your guests will have a memorable time celebrating your special occasion!
If you're planning on having a bachelorette party during the off-season, which is typically September through February, you can still enjoy the city's attractions and the warm weather, although it can be a little cooler and the beaches may not be as packed. This is also a great time to visit Miami if you're looking for cheaper accommodations.
While the Florida winter months don't get too cold in Miami, they do bring the occasional cold front. During the summer months, it can get hot, and often have mid-day showers, as this is their rainy season. So, while there isn't really a bad time to visit Miami, each season has its pros and cons.
Best Miami bachelorette party activities
Beach day on South Beach
Nothing says bachelorette party like a beach day in Miami! South Beach is the perfect destination to soak up some sun and take a dip in the warm ocean water. Spend the day lounging on the beach, swimming, playing beach volleyball, and enjoying the scenic views of the city skyline.
There are also plenty of shopping opportunities, with trendy boutiques, souvenir shops, and art galleries all along the waterfront. For an added bonus, book a beach cabana for the day and relax in luxurious comfort with private seating and a range of pampering services. It's sure to be a day your bachelorette and her friends will never forget!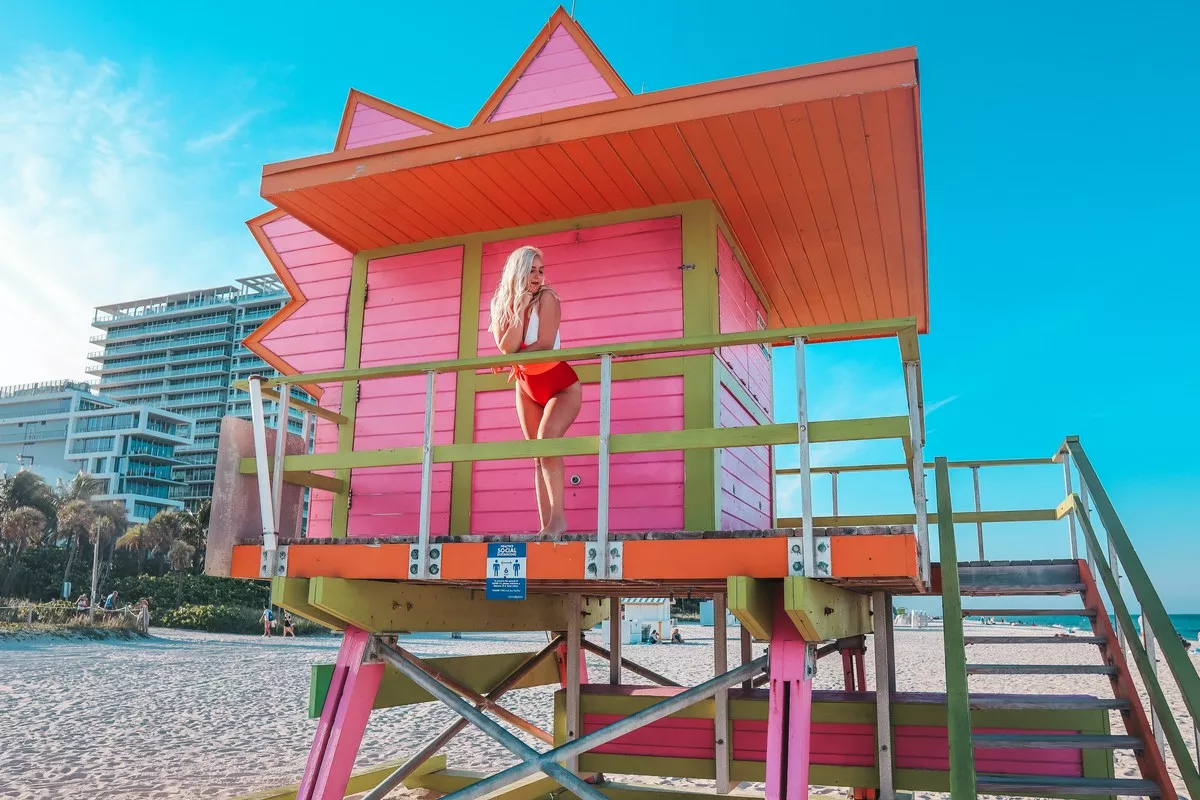 Hire naughty butlers
This was EASILY one of the highlights of the bachelorette party! We had such a blast with The Cheeky Butlers, and I will say I recommend it so much more than strippers.
The Cheeky Butlers we had were so much fun and handled the entire night so perfectly. They began the night by meeting with a few of the girls to go over boundaries (which they listened to and respected). Once that was established they gave us some fun ideas on how to announce their arrival to the bride.
They served us food and drinks, we played games, and even had some heart to hearts haha! Check out a video recap of the Bach weekend with a teaser of our experience here!
The Cheeky Butlers offer such fun, flirty entertainment for any bachelorette party. Plus, they helped us create the best lasting memories for the bride. Be sure to have your cameras ready and get ready to enjoy a night full of fun and laughter!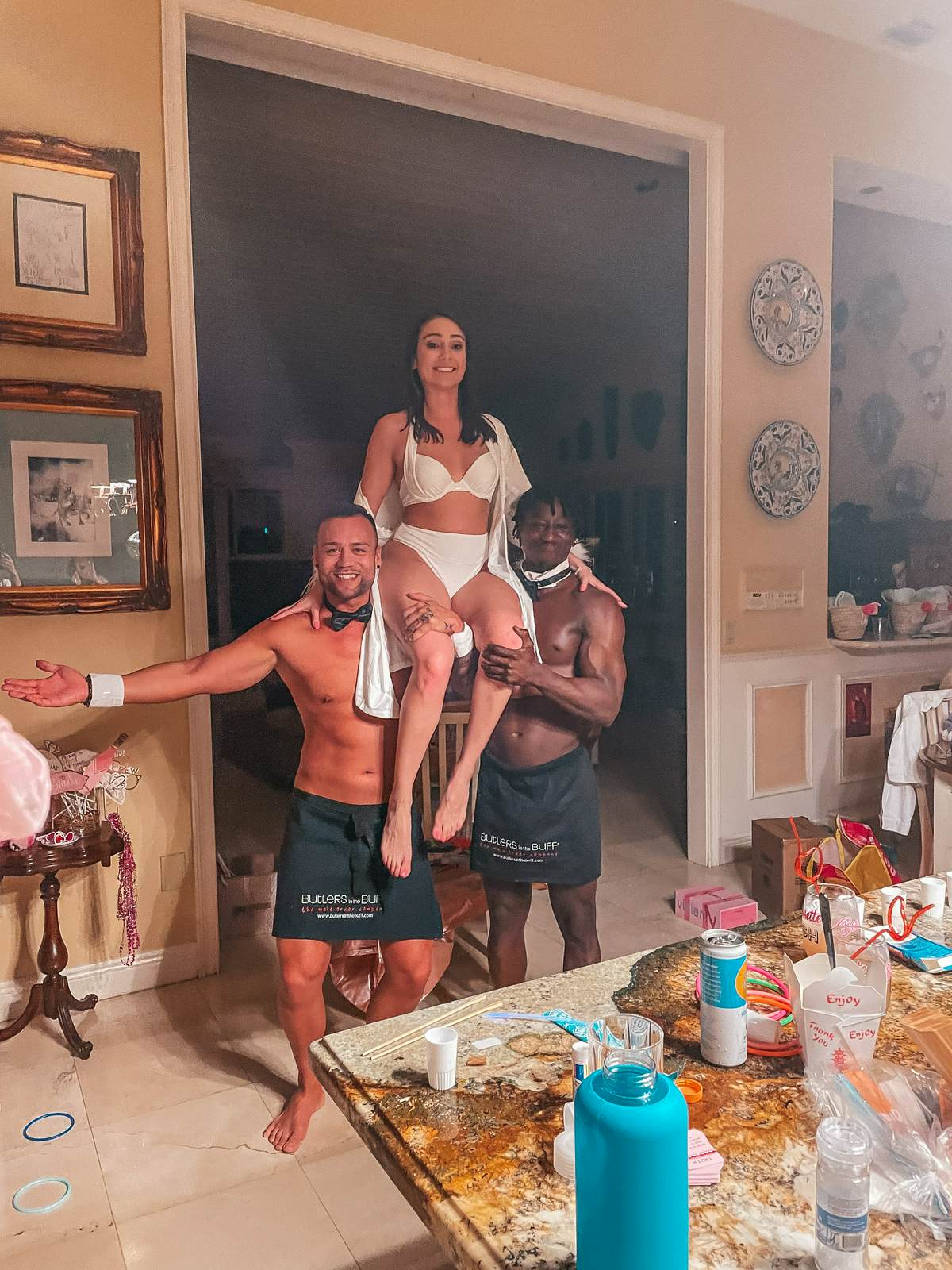 Go to a Miami pool party
When it comes to Miami pool parties, there's no shortage of fun places to go. Whether you're looking for a luxurious day by the pool or a wild night out, there are plenty of options available for bachelorette groups.
Some of the most popular spots in Miami include SLS, Daer, and Strawberry Moon. All three offer an upscale atmosphere with lots of amenities such as private cabanas, live DJs, and even tasty drinks.
Strawberry Moon is the most aesthetic and is located at The Goodtime Hotel, this pool party is probably the least wild of the three (that's not to say it's not a party scene). SLS has day and evening pool parties, and Daer is a bit off of the beach but you can typically reach out to promoters and get a deal for a party bus shuttle and entrance.
Regardless of which place you choose, these hotspots are sure to provide a memorable bachelorette experience that your whole group will enjoy!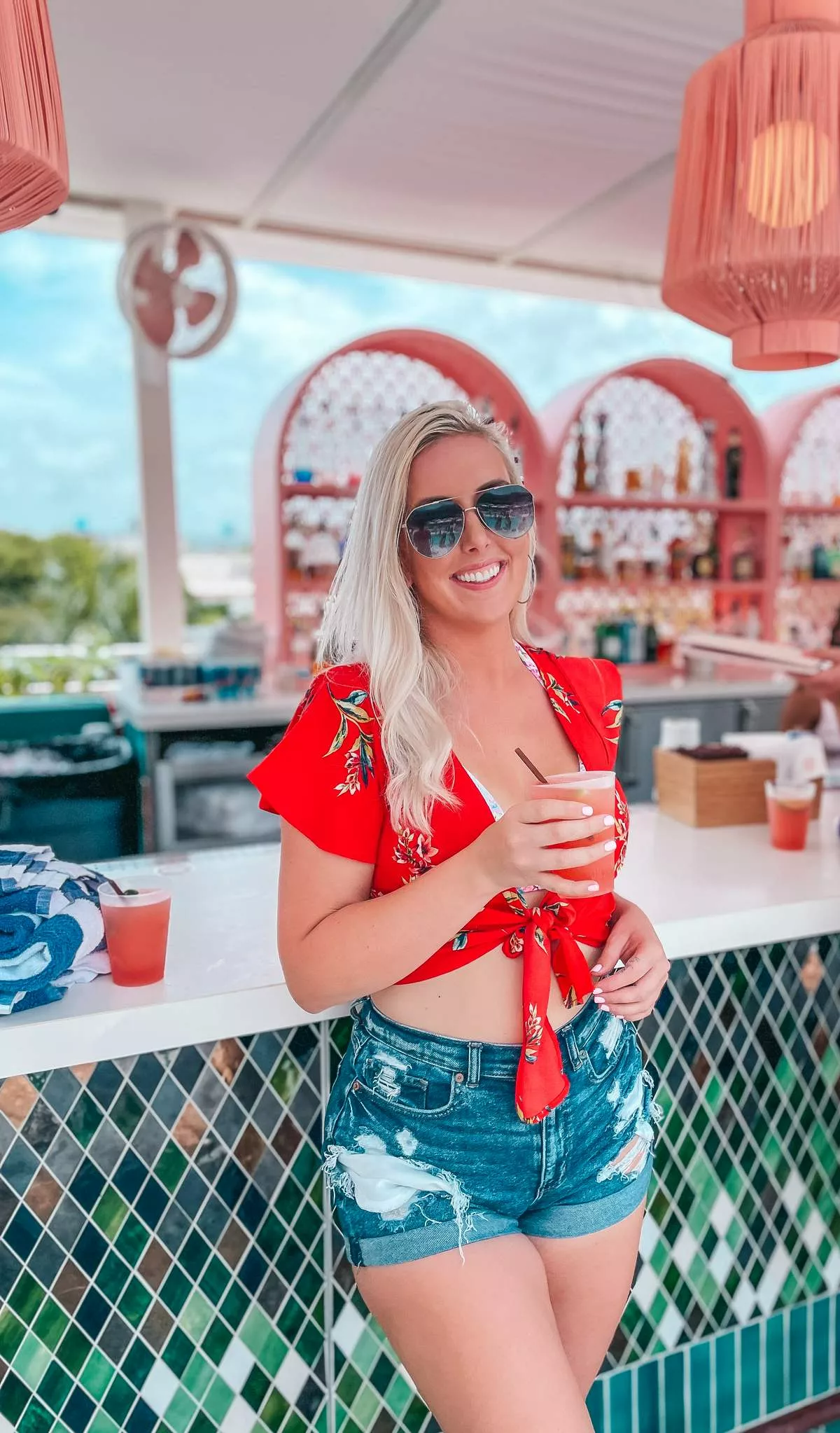 Enjoy Miami nightlife
For the ultimate night out in Miami, head to one of the city's hottest nightclubs. From glamorous lounges to ultra-exclusive rooftops, you'll find plenty of options to dance the night away! I will give you some of the more popular options, but just know there are truly so many options, and at the end of the day if you're with your crew you're going to have a good time!
Some popular Miami nightclubs:
If you're looking for deals, there are plenty of club promoters in Miami that often offer discounted or free entry for groups of women.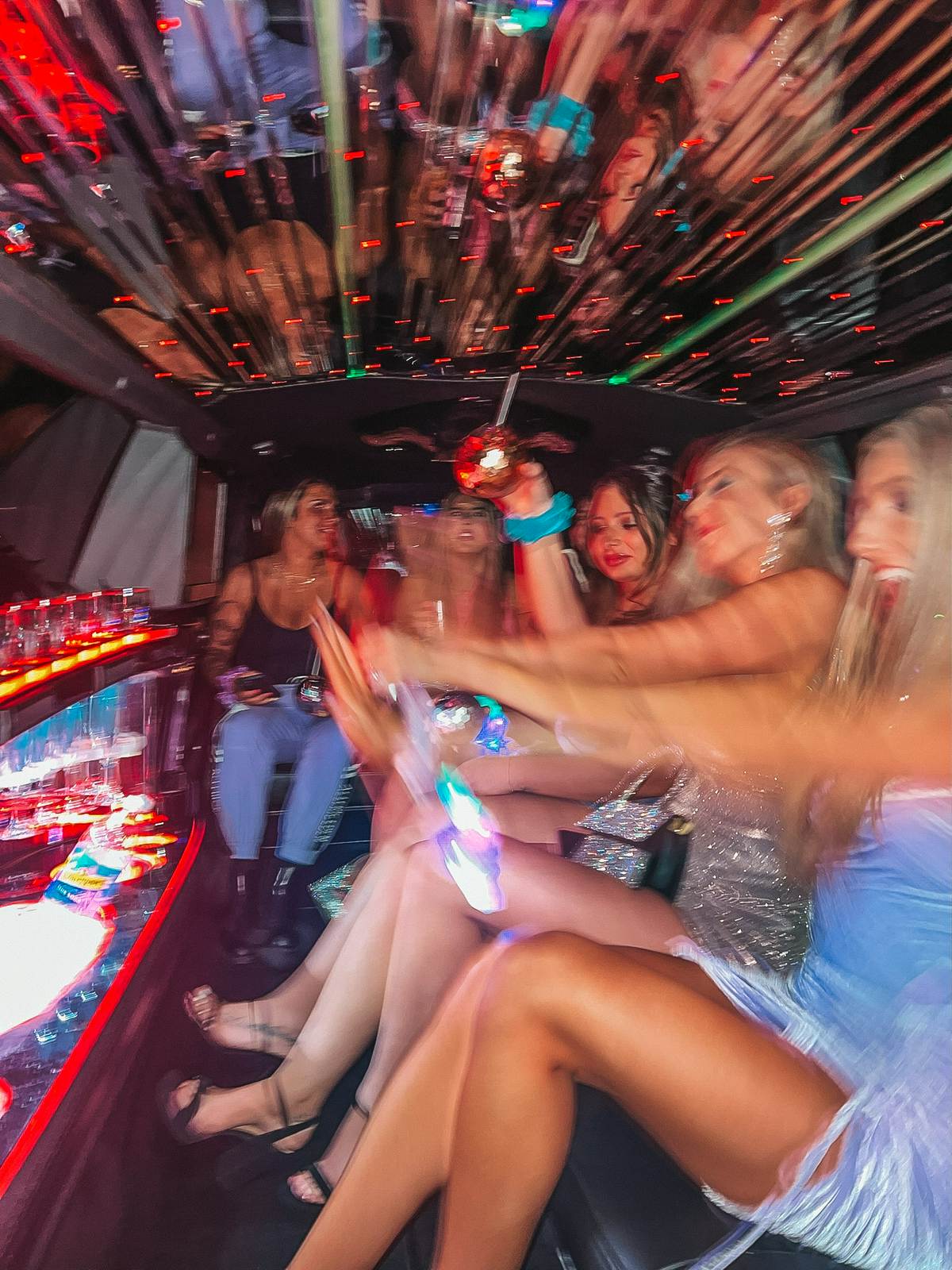 Do a yacht day
Cruise around the city with your closest girlfriends while taking in the sights and sipping on some of your favorite drinks. You can make stops at various locations or just enjoy the ride. The cost varies depending on the size of the boat and the duration of the trip, so it's best to get some quotes before you commit.
For the best experience, rent out a luxury yacht that is complete with a personal chef, bartender, music, and other amenities. This will give you and your bridal party an experience like no other! Whether you're looking for a romantic sunset sail or a fun-filled day of swimming and sunning, a yacht day is a perfect way to make your Miami bachelorette party truly special.
This private yacht cruise can accommodate up to 8 guests but only lasts around 2 hours. However it's a super affordable rate, so I'm sure you could double the booking and price for a lengthier yacht day experience.
Have a lovely picnic
If you're looking to add a touch of glamour and elegance to your Miami bachelorette party, consider planning a picnic! I cannot recommend Paspalum Luxury Picnic and Designs enough! Carola was such a pleasure to work with, and was able to bring our visions to life. Our beautiful bride-to-be, Alexia @thegalalife, had a beautiful engagement picnic setup, as well as a bachelorette party setup.
For the bachelorette party picnic, everything was actually set up for our arrival at the house. The theme was Alice in Wonderland tea party and it was perfection. So even if you want to have a picnic set up at your rental, that is an option as well.
With delivery, styling, and takeaway services, this is such a beautifully curated and stress-free bachelorette party activity!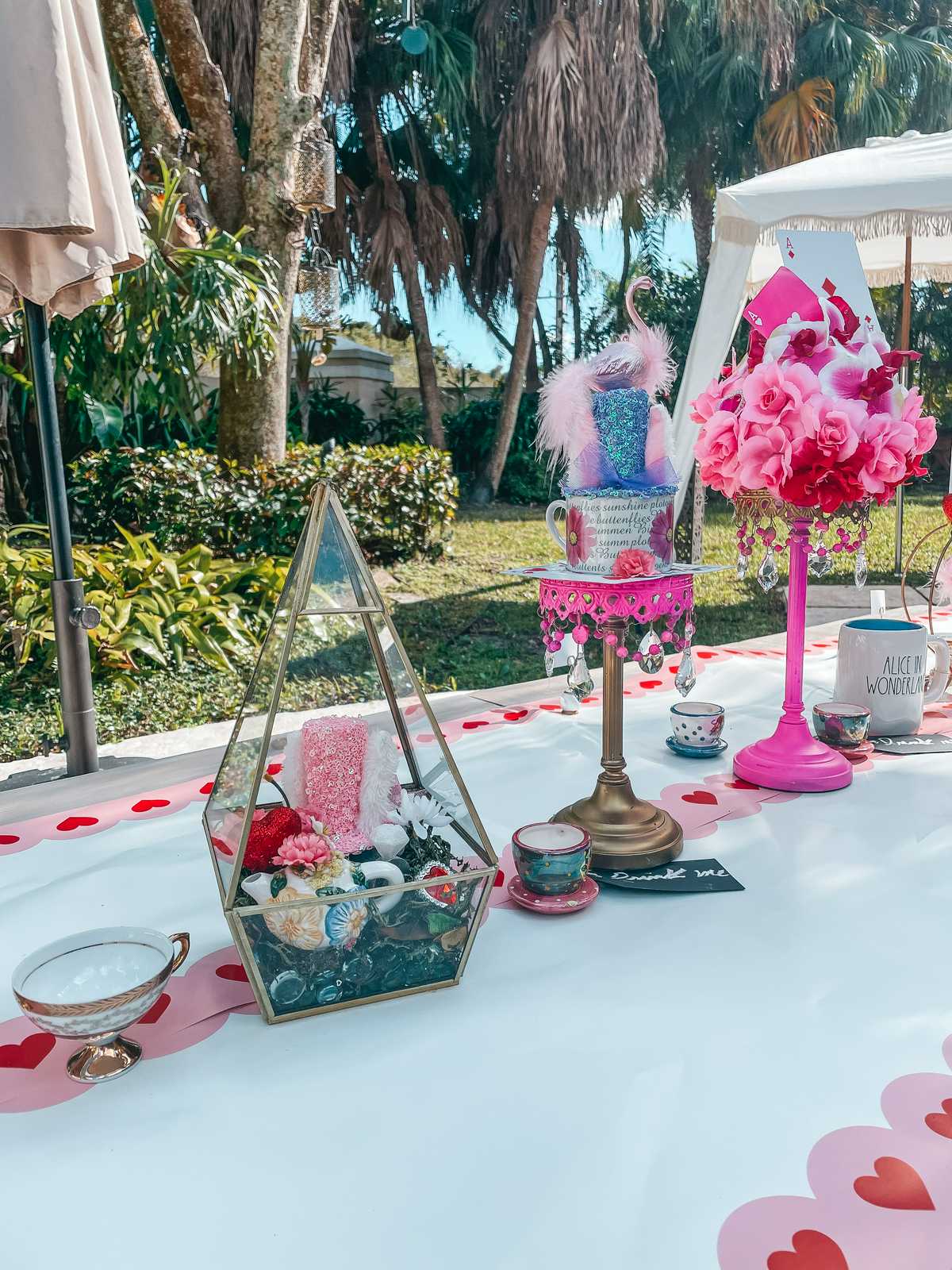 Do dinner at Sexy Fish
Sexy Fish is just one of Miami's many fun restaurants, but it seems to be the talk of the town! This chic restaurant is located in the heart of South Beach and offers a selection of seafood and sushi dishes that are sure to delight.
With a stunning setting that includes a bright blue pool, an aquarium full of exotic fish, and stylishly decorated interiors, Sexy Fish is the perfect spot for your Miami bachelorette party. The menu features a wide range of delicious dishes including everything from succulent seafood towers to sushi rolls with creative fillings, not to mention their extensive cocktail selection.
Juvia and Joia Beach are two other fun Miami dinner suggestions! But honestly, the options are endless. Just be sure to make reservations in advance, especially if you have a bigger party!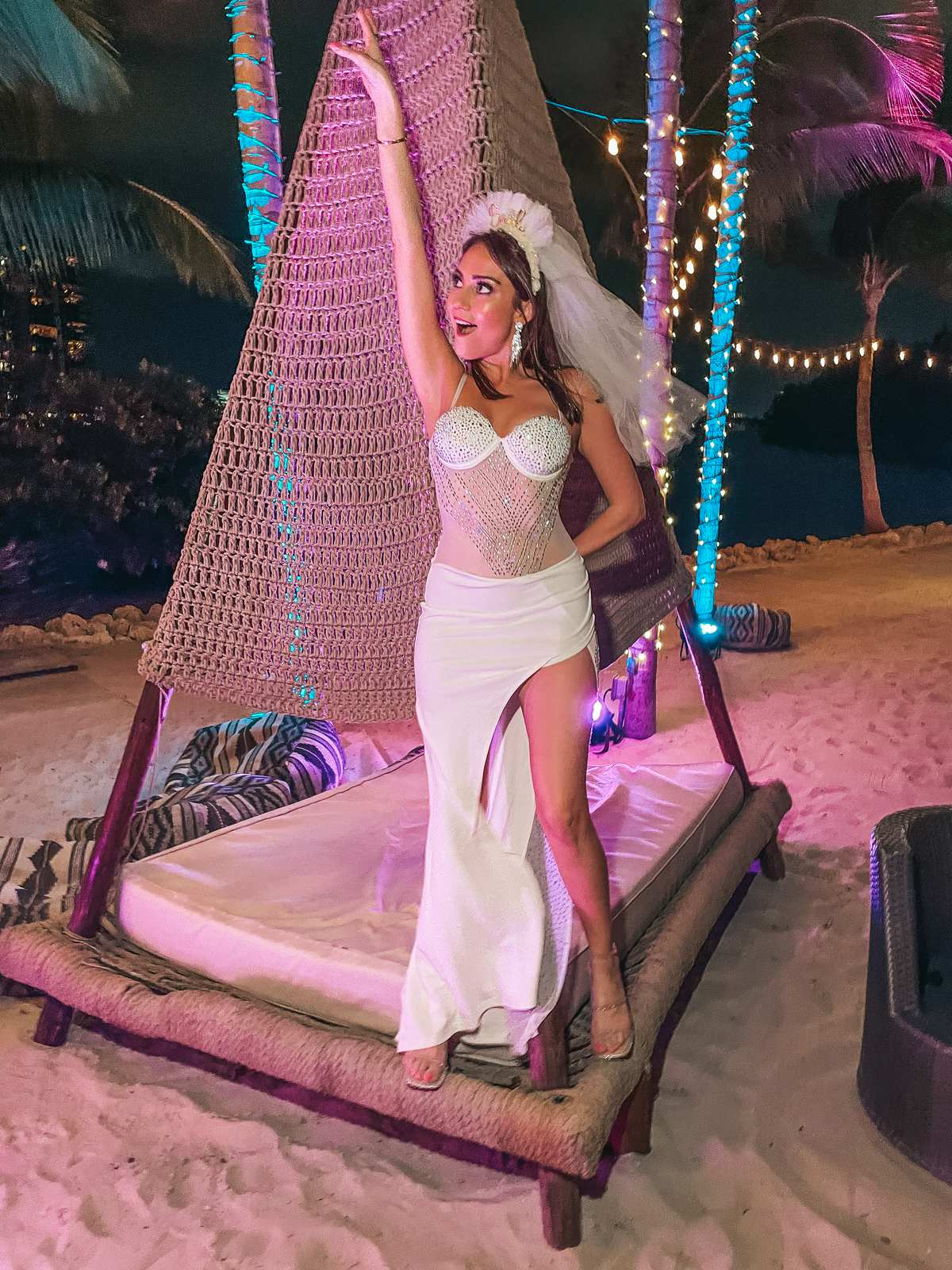 Do Sunday brunch at Kiki on the River
If you're looking for the perfect Miami bach brunch spot, Kiki on the River is calling your name! This boho-chic waterfront restaurant is located in downtown Miami. Kiki's offers an eclectic mix of Greek and Mediterranean dishes and creative craft cocktails. Plus, the stunning photo ops throughout are endless!
This place is not just aesthetic though, the food and drinks were genuinely delicious! I still dream about their pasta. We just ordered a little bit of everything and passed it around the table family style. We spent our entire Sunday here and had the best time ever!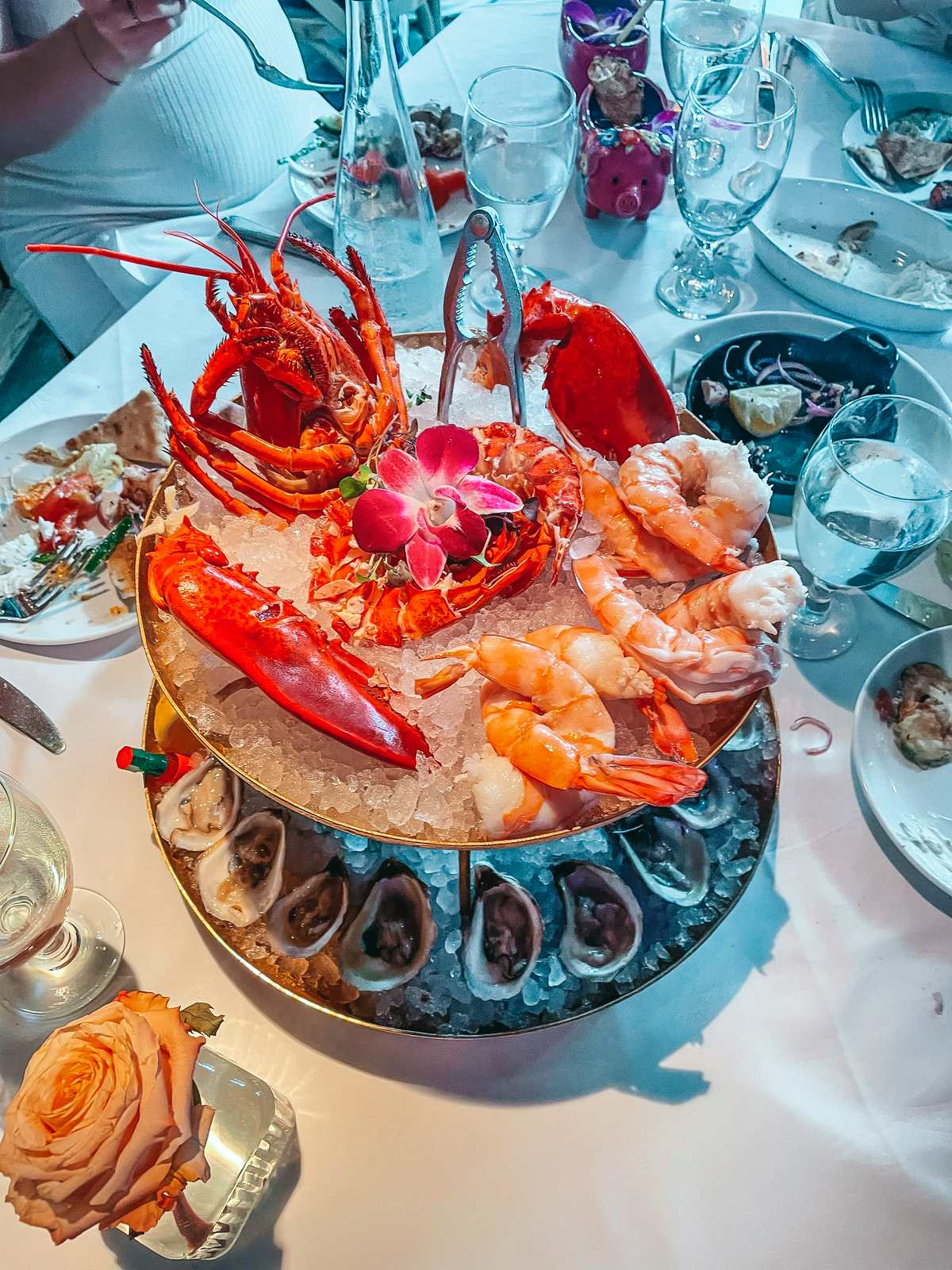 Another great brunch spot in Miami, that is super Insta-worthy and perfect for a bachelorette trip is Little Hen! They even do afternoon tea.
Speaking of Insta-worthy, you'll love these Miami Instagram captions!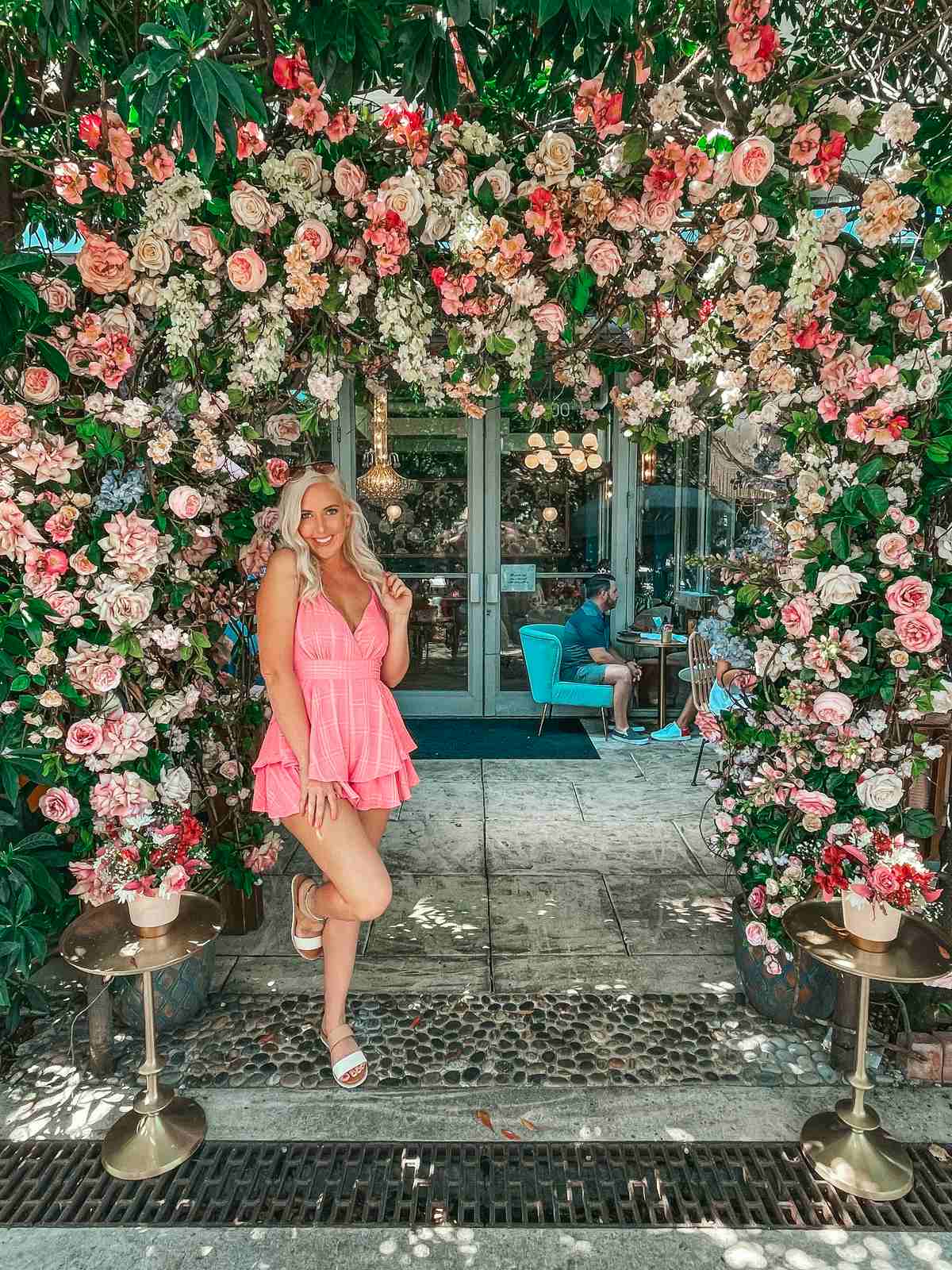 Getting around in Miami
When planning a bachelorette party in Miami, one of the most important things to consider is transportation. Depending on how far you're traveling to reach your activities and how big your group is, you'll want to make sure everyone has a safe and reliable way to get around.
If your group is large, and you're not staying near the action you may want to book a private driver for the night or rent a party bus or limo. For smaller groups, Uber and Lyft are both reliable and affordable options.
We were staying off of the beach so we did a limo the first day, a scheduled driver drop off and pick up the second day, and shared Ubers the last day and it worked out perfectly for us.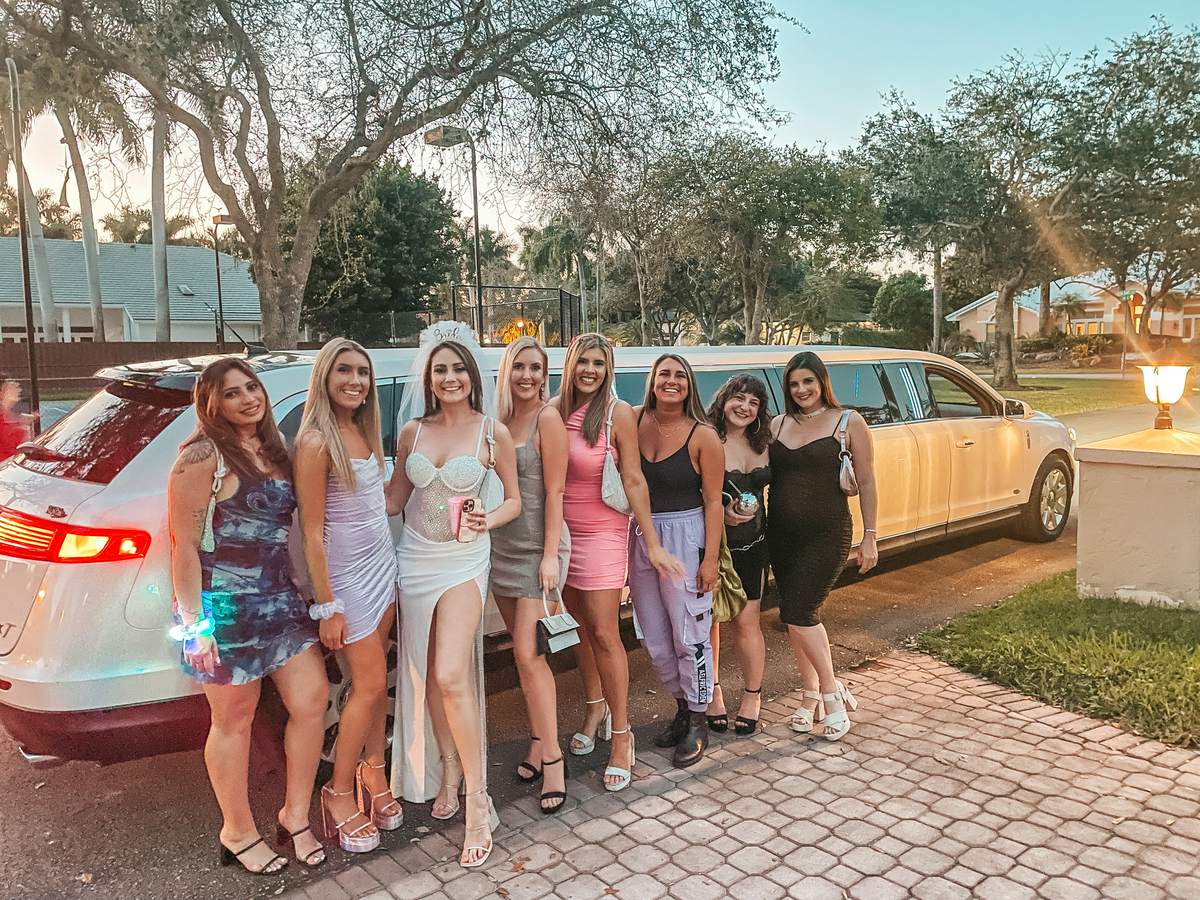 Where to stay in Miami
When it comes to planning the perfect bachelorette party in Miami, you'll want to make sure your lodging is just as memorable as the activities you plan. Luckily, Miami has an array of luxurious and stylish hotels and condos located in safe neighborhoods to choose from. If you are going for a bachelorette party it's crucial you plan accommodation in advance, especially if you're going during a busy season!
When you book through Booking.com you often have a decent cancellation window, so I would recommend booking ASAP and can adjust if need be.
Some popular hotels in Miami
If you want more options and have a group of 6 or more, check out these accommodation options or VRBO for some penthouse and condo options!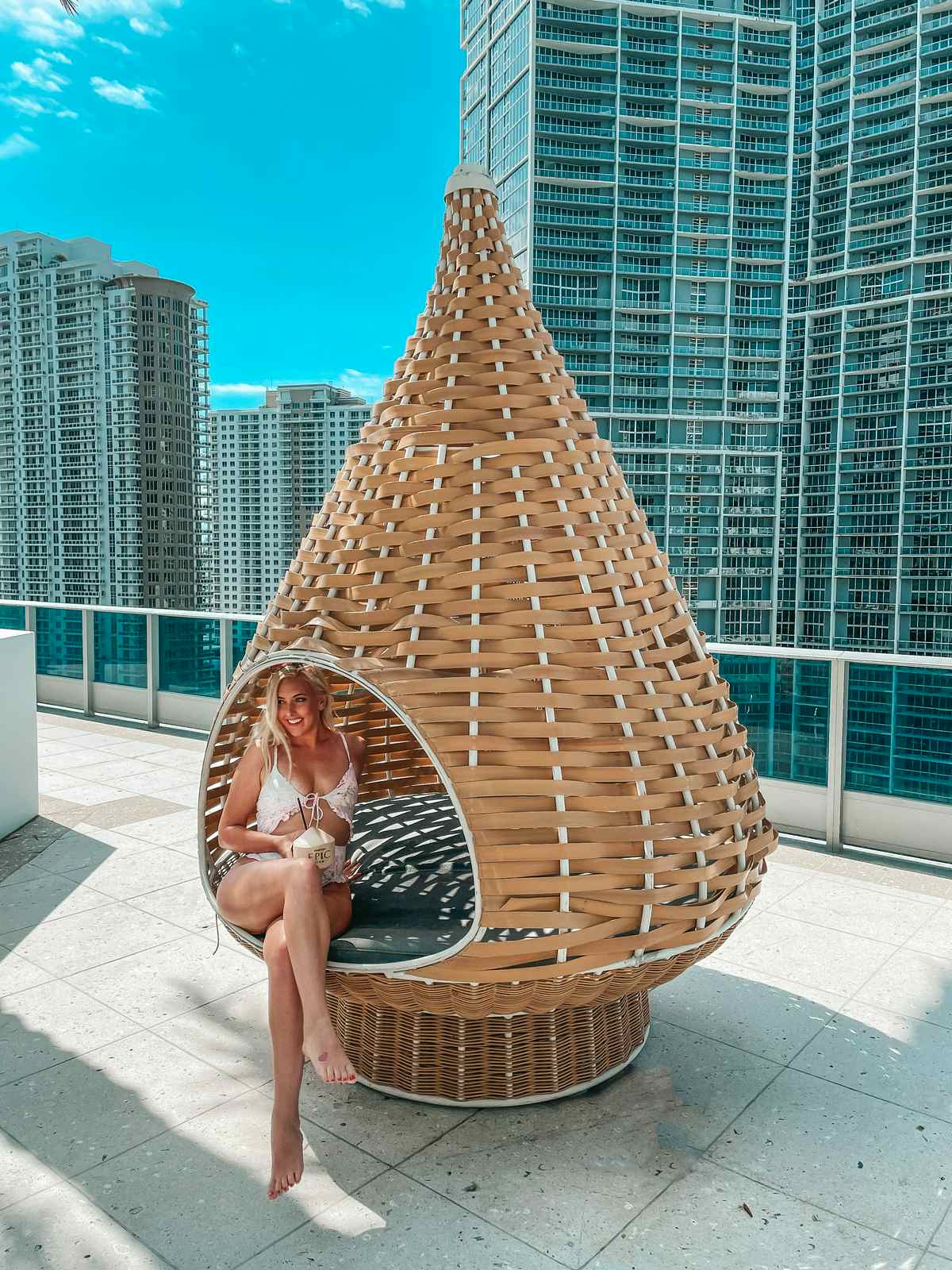 Ready to party in Miami yet?
There you have it! Miami really is the perfect destination for a bachelorette party. With its sunny weather, beautiful beaches, vibrant nightlife, and endless activities, there is something for everyone in this exciting city. Whether you're looking to relax, party, or explore, Miami offers a range of options that will make your bachelorette party unforgettable. So gather your girlfriends, pack your bags, and get ready for an unforgettable trip to Miami!
If you're still debating which Florida destination you want to have your bachelorette party in, check out my other bachelorette party posts:
Clearwater Beach bachelorette party guide
St. Petersburg Florida bachelorette party guide
Tampa Florida bachelorette party guide