This post contains affiliate links which means that I will make a small commission if you purchase a product after clicking on any of them, at no extra cost to you.
Asheville is such a North Carolina gem. While Asheville is mostly known for The Biltmore, it's also full of unique breweries, eclectic coffee shops, and amazing eateries— all surrounded by the gorgeous Blue Ridge Mountains. This was one of our favorite stops on our epic two-week southeast US road trip!
If you're going to be visiting and don't know where to start here is a list of fun things to do, where to stay, and the best places to eat in Asheville!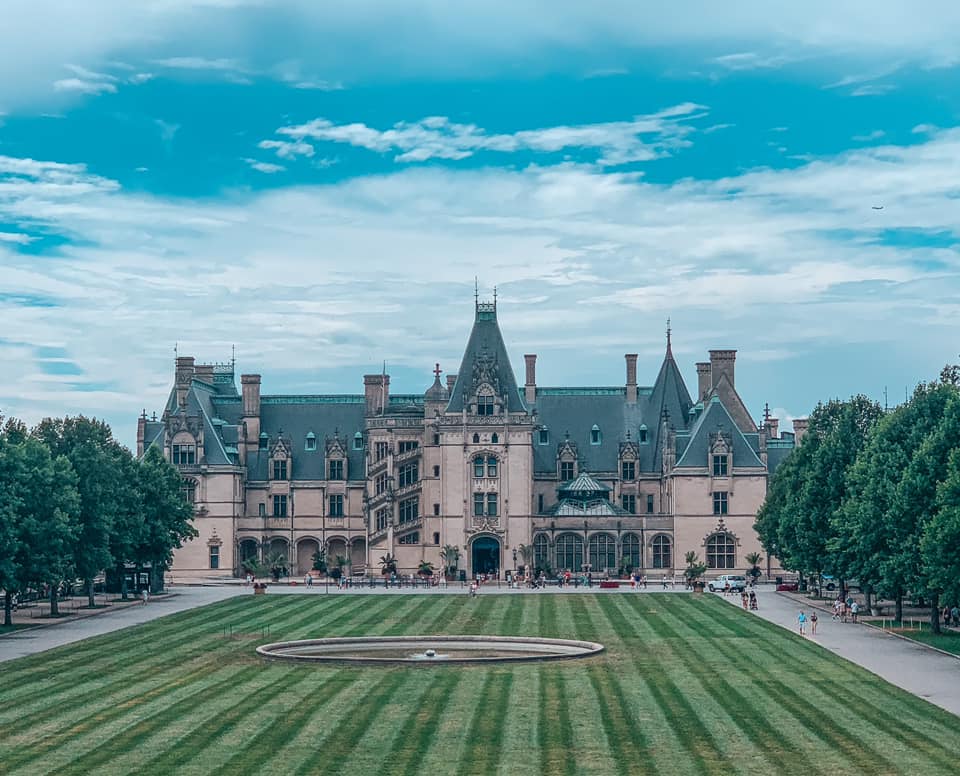 Best things to do in Asheville
The Biltmore
I mean truly, you can't go to Asheville without experiencing The Biltmore. This has to be one of the most popular things to do in Asheville, and that's for good reason! The Biltmore Estate is 8,000 acres, 250 rooms, and literally America's largest home. The estate includes the Biltmore house, gardens, Biltmore Winery, and Antler Hill Village. There's even a farmyard!
If you're looking for an iconic stay during your Asheville trip you can stay at the Village Hotel on Biltmore Estate or The Inn on Biltmore Estate.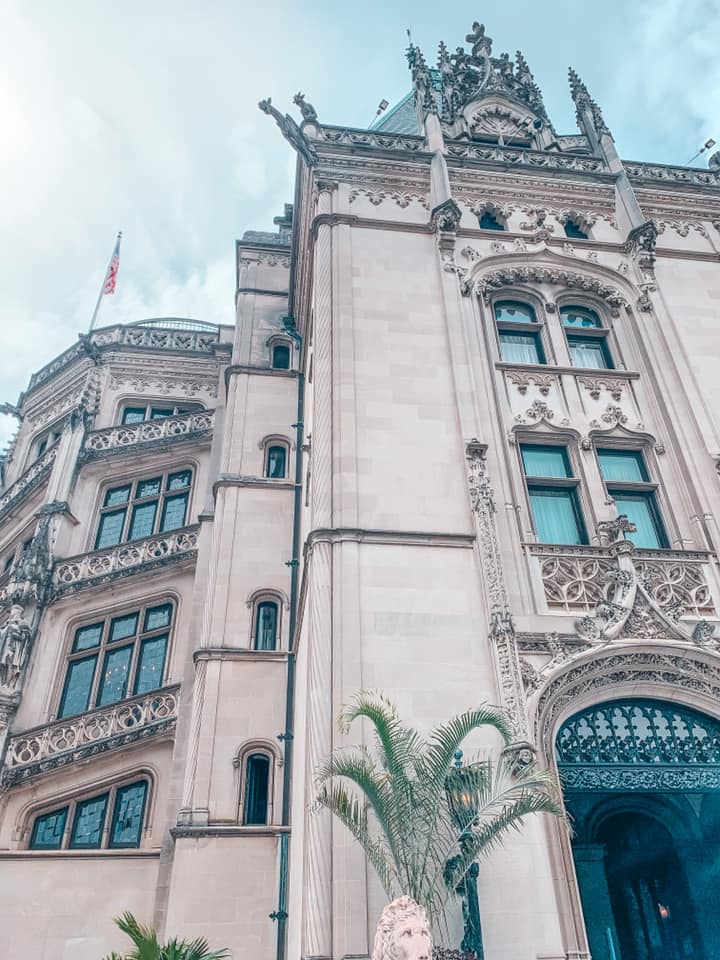 A couple of tips: be sure to reserve your tickets ahead of time, set aside at least a half a day to experience all The Biltmore Estate has to offer, and make sure to schedule your wine tasting (this is included with your ticket) the day of your tour!
These fill up, and unfortunately did before we could schedule it for our trip. There are even trails you can do, and there was an unexpected sunflower field when we were there! Here's everything you won't want to miss during your Biltmore visit!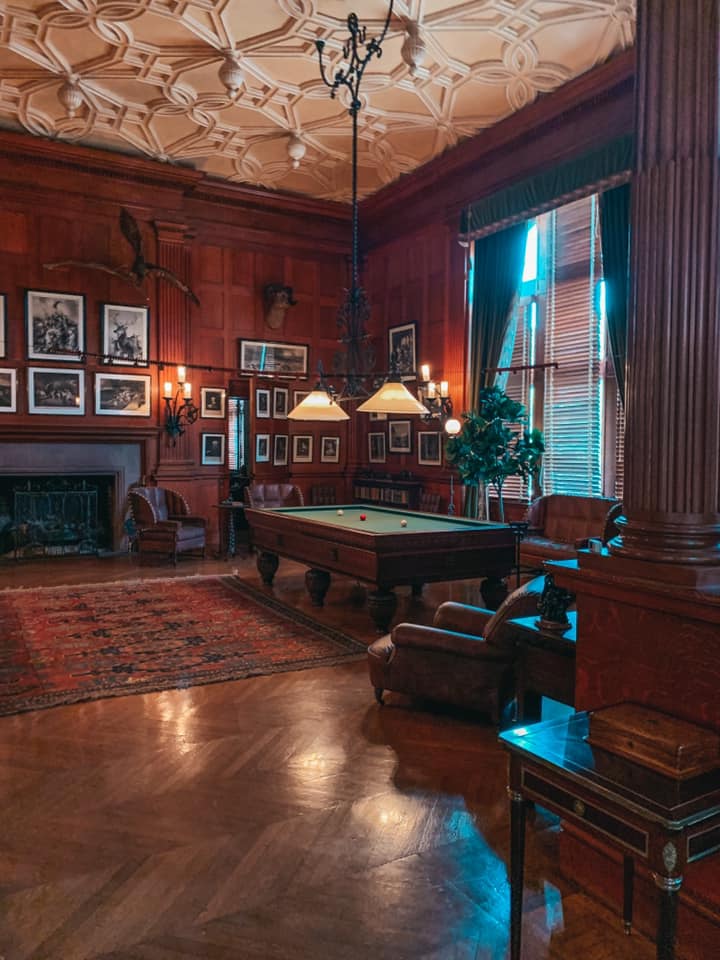 If you end up visiting in the winter, I've heard it's especially beautiful around the holidays. 
Grove Arcade
Do a little bit of shopping, and maybe grab a bite at Grove Arcade. It was actually constructed in 1928 to be America's first indoor shopping mall! It's super cute inside and has a nice variety of shops.
It won't take up too much of your time, but is a nice little pit stop while you're out and about exploring the city! If you're into bookstores, definitely be sure to check out the Battery Park Book Exchange and Champagne Bar!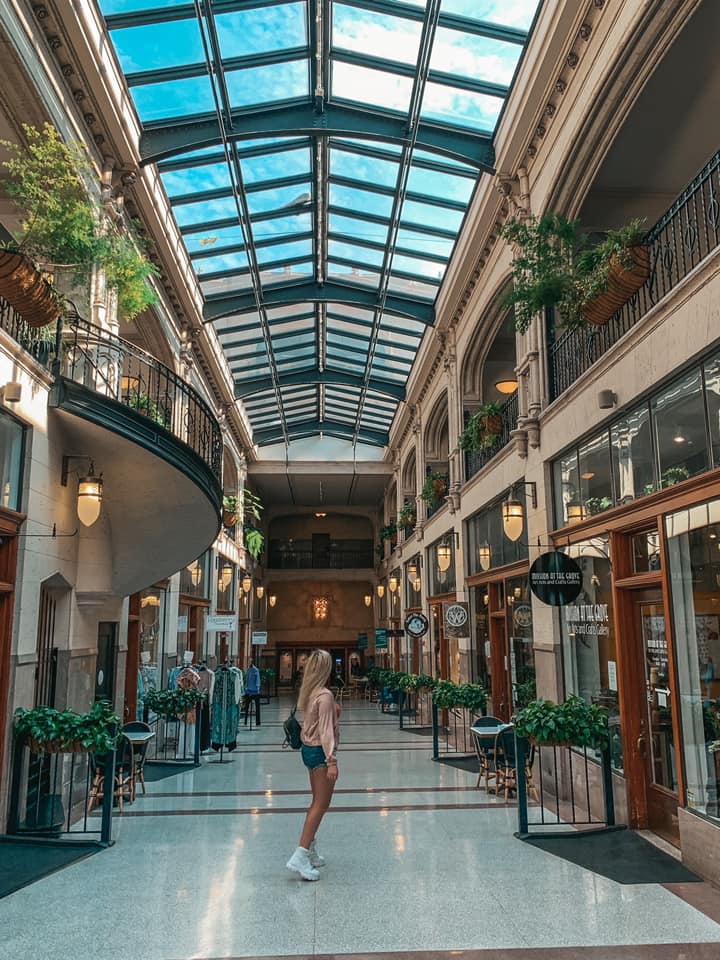 Experience the great outdoors
There are so many hikes to do around Asheville! Your toughest choice will be deciding which one(s) you make time for. We ended up doing Catawba Falls, which is around 30 minutes away, and Dupont State Forest, which was about 45 minutes away.
Graveyard Fields also came highly recommended by the locals, but we didn't have enough time! Here's a list of some of the top hiking trails in the area so you can decide for yourself!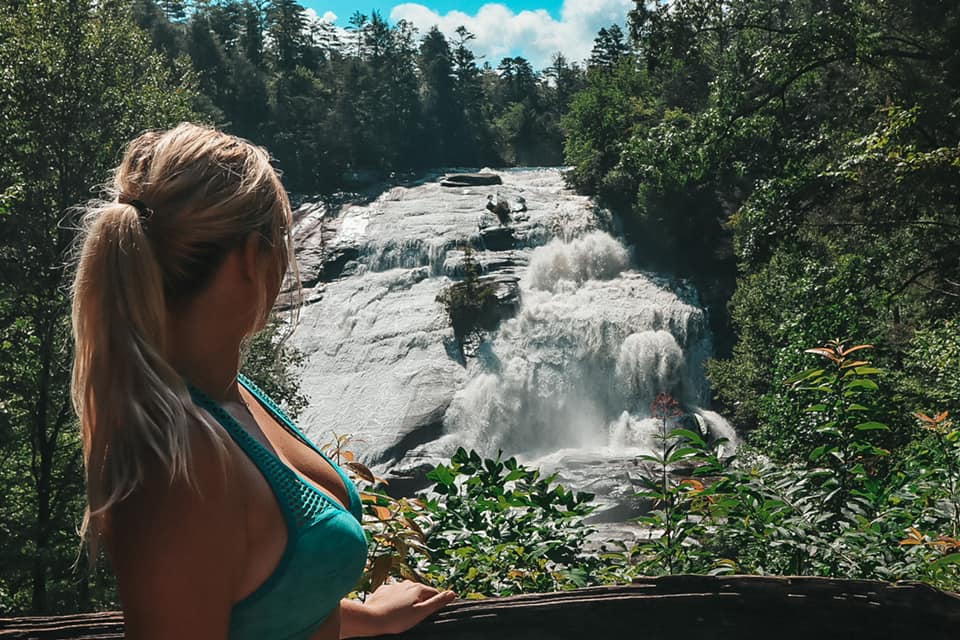 Catawba Falls was our favorite hike we did. It's located in Pisgah National Forest and is a pretty easy hike (2.3 miles out and back). It took us around two hours to complete, and that's including a little photoshoot at the falls, but set aside about three hours just to be safe. Definitely go early if you want to try to avoid the crowds, because this is a pretty heavily trafficked hike!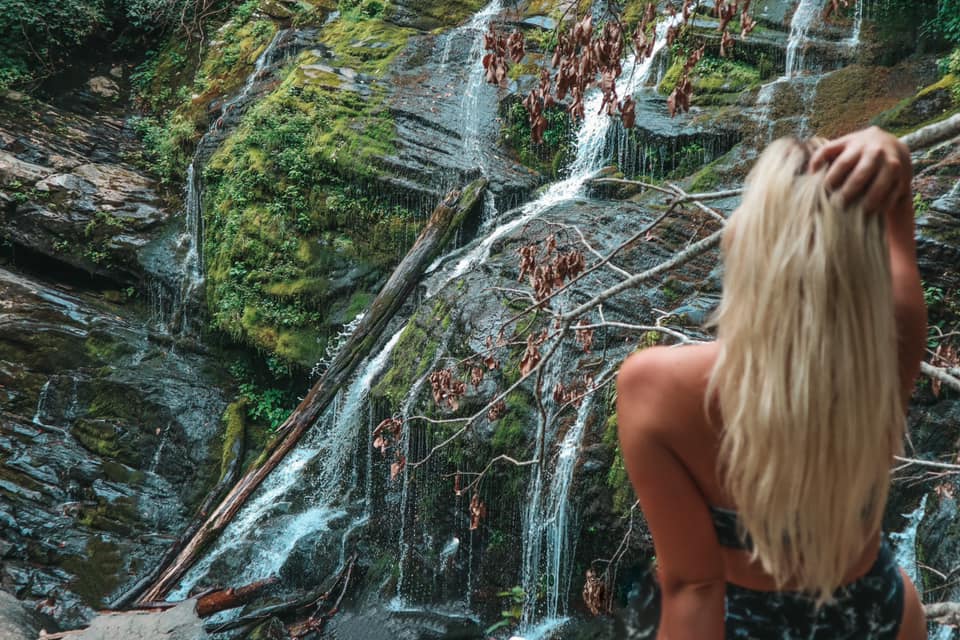 TIP: Download All Trails to use for your hikes! You get tips, up-to-date info on the trails, and GPS tracking to show your position on the trail so you don't get lost (this came in handy A LOT for me).
Brewery hop
The brewery scene in Asheville is seriously insane. Coming from an area that has places like Dunedin and St. Pete, I'm somewhat of a brewery snob, but I can guarantee you Asheville will not let you down!
My non-beer drinkers are really going to be in love with Asheville because just about every brewery we hit offered cocktail and wine options along with their beers. Aside from that, they also have really eclectic menus.
For lunch one of your days, you should pop around to some breweries and get a bite at each to share. A few of my favorite breweries from the trip are listed below!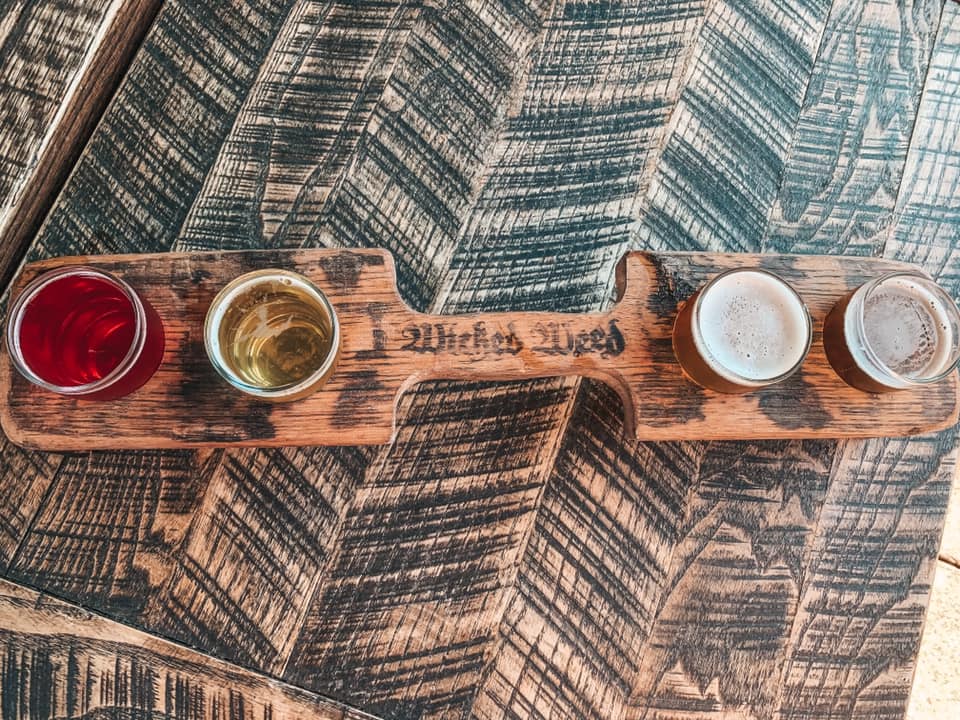 Check out the River Arts District
I wish we would've had more time to explore this eclectic up-and-coming area, also known as RAD. There are cafes, breweries, restaurants, studios, and plenty of colorful buildings and street art.
Many of the buildings are converted warehouses that give off an industrial vibe. There's even an indoor and outdoor skatepark! Not that I have any idea how to do anything other than skate in a straight line, but it was so cool to see kids out there enjoying it!
We grabbed a cup of coffee from Summit Coffee Co on our way to our hike and that was unfortunately all we had time for here. Check here for where to eat and what else to do in the River Arts District.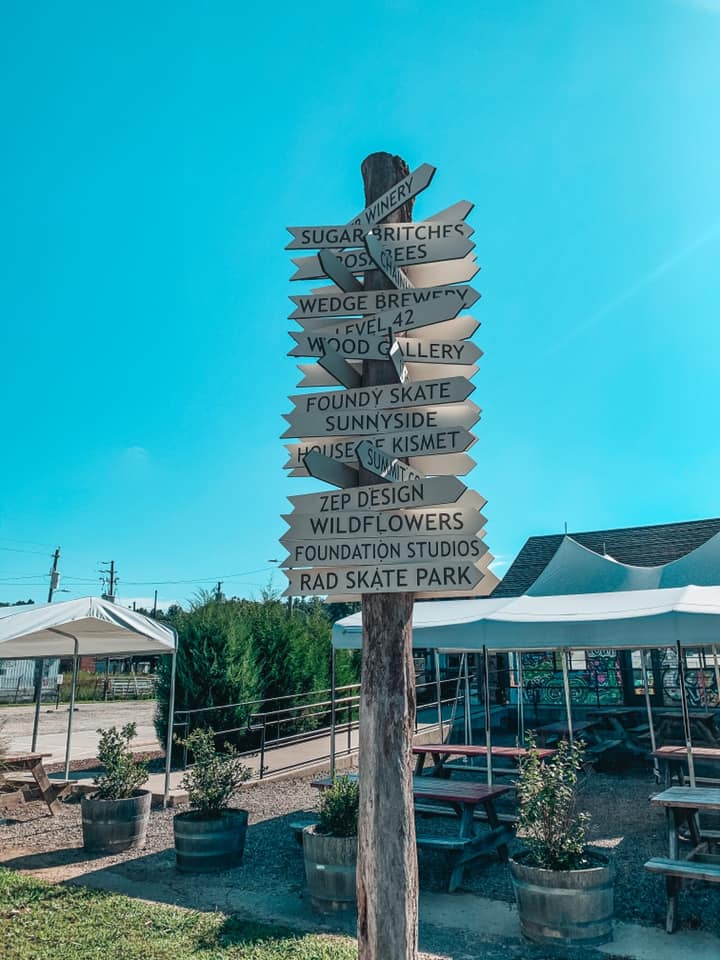 Coffee shops, breweries, and best places to eat in Asheville
Double D's Coffee
Grab some coffee at Double D's. It's located in a 1963 British double-decker bus! When we went the inside was closed because of COVID, however, they have an adorable patio area adjacent to the bus where we enjoyed our coffee and muffin.
We are typically basic with our coffee order, but they had so many fun options we stepped out of our comfort zone and got one of their iced lattes. Along with coffee, they also serve up smoothies and milkshakes! Heads up— this spot is cash only. High Five Coffee also sounded like a great coffee spot, but we didn't get a chance to make it!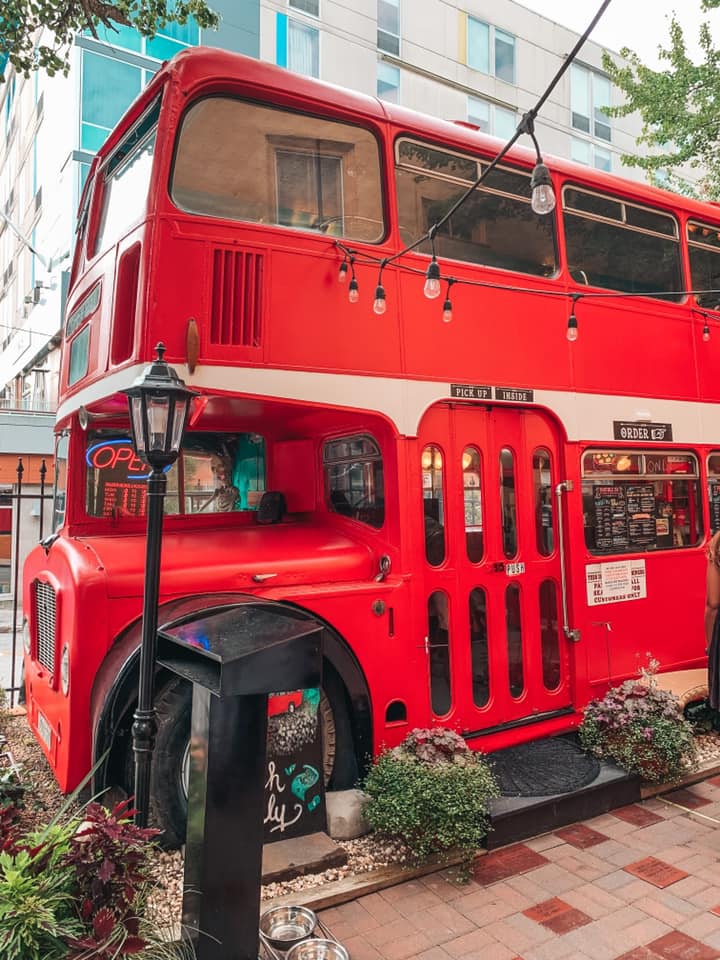 The Bier Garden
This sports pub offers over 250 beers from around the world. The Bier Garden has a very laid-back atmosphere, and it was a great post-hike lunch spot. We were able to load up on carbs (and Remi loaded up on a little bit of beer) all for a pretty cheap amount. While they do have a lot of pub food, they also have really delicious-sounding salads if you're wanting some lighter fare!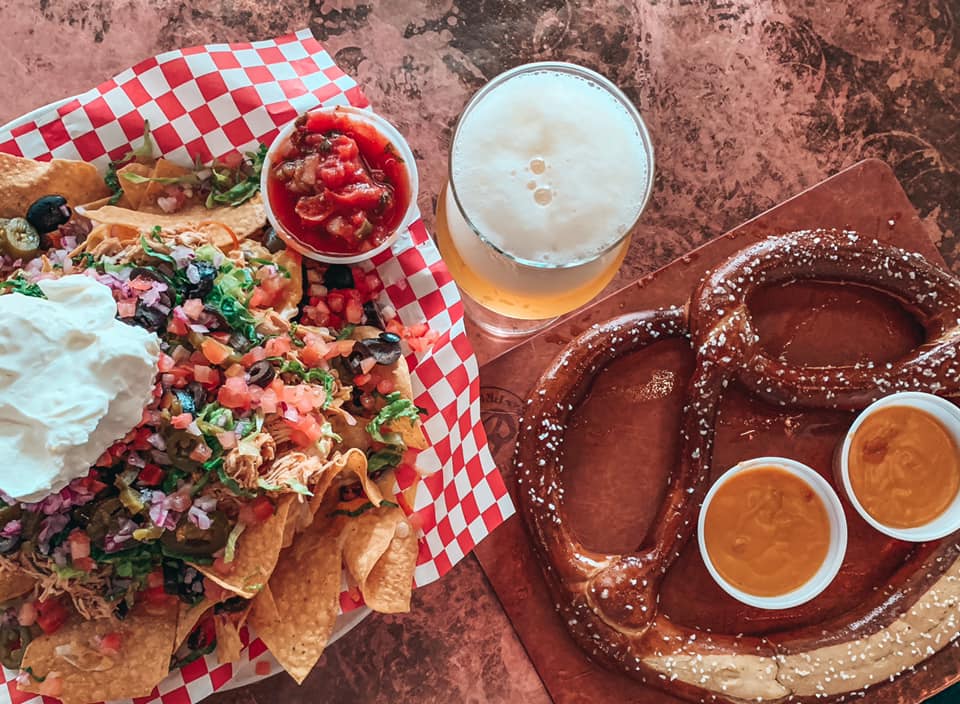 Pack's Tavern
Pack's is located in a restored old-town building and provides such a welcoming environment. It's a local and family-owned restaurant, and you can really feel that as you enter. They have a HUGE menu with just about everything that you could possibly be craving!
I wish we would've been able to come back here another night because when we went we were still mostly full from our heavy lunch. We just got the French onion soup and a strawberry pecan salad with shrimp, and they were both SO good! They offer salads, sandwiches, pizza, seafood, and everything in between. And again, this is a place where the prices are very reasonable!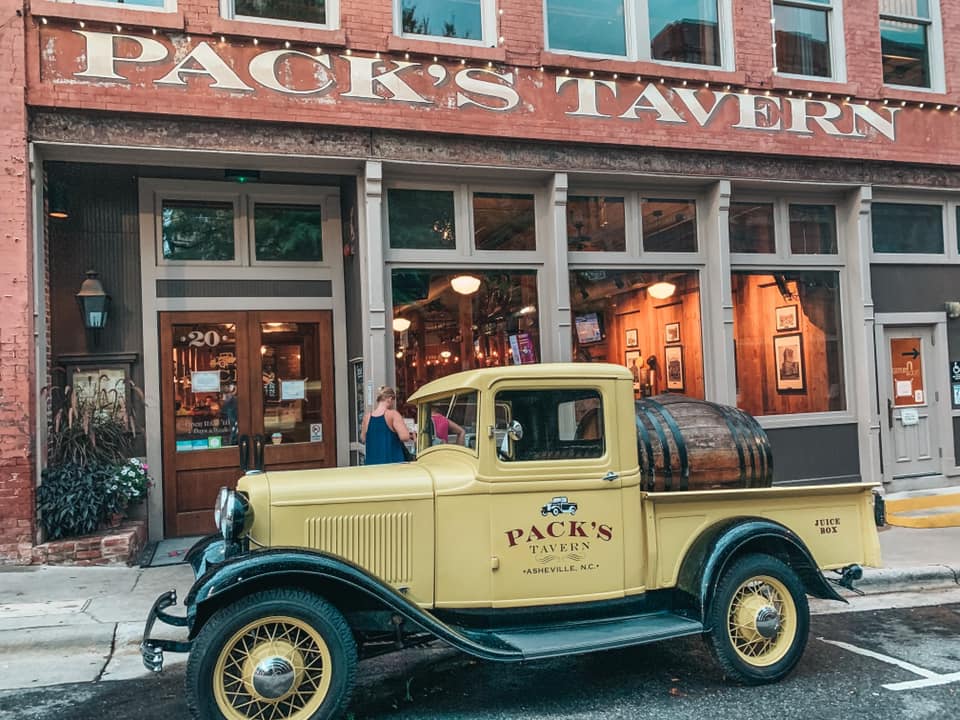 Hemingway's Cuba Restaurant and Bar
Located on the fourth floor of Cambria Downtown Asheville hotel, you're going to swoon over these rooftop views. You'll get views of downtown Asheville as well as the Blue Ridge Mountains. Aside from the views, you'll also find delicious Cuban cuisine and cocktails. If possible, I definitely recommend making a reservation, especially if you want to go around sunset!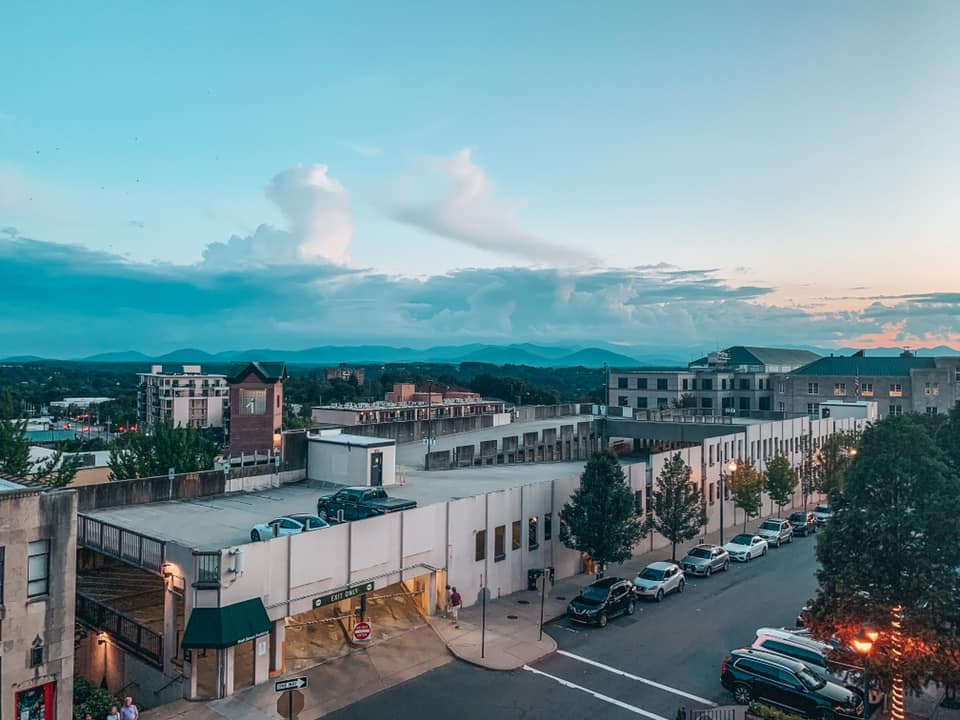 Capella on 9 and Pillar Rooftop Bar are another couple of rooftop options in the area!
Wicked Weed
This brewpub incorporates a full restaurant, brewery, tasting room, and bottle shop. Since it's a full restaurant, they do have a cocktail and wine menu, but I hope I can persuade you to try some of their beers, even if you're not typically a "beer person." They have so many fun flavors and styles of beer, and they offer flights! They locally source the majority of their food, so their menu changes seasonally.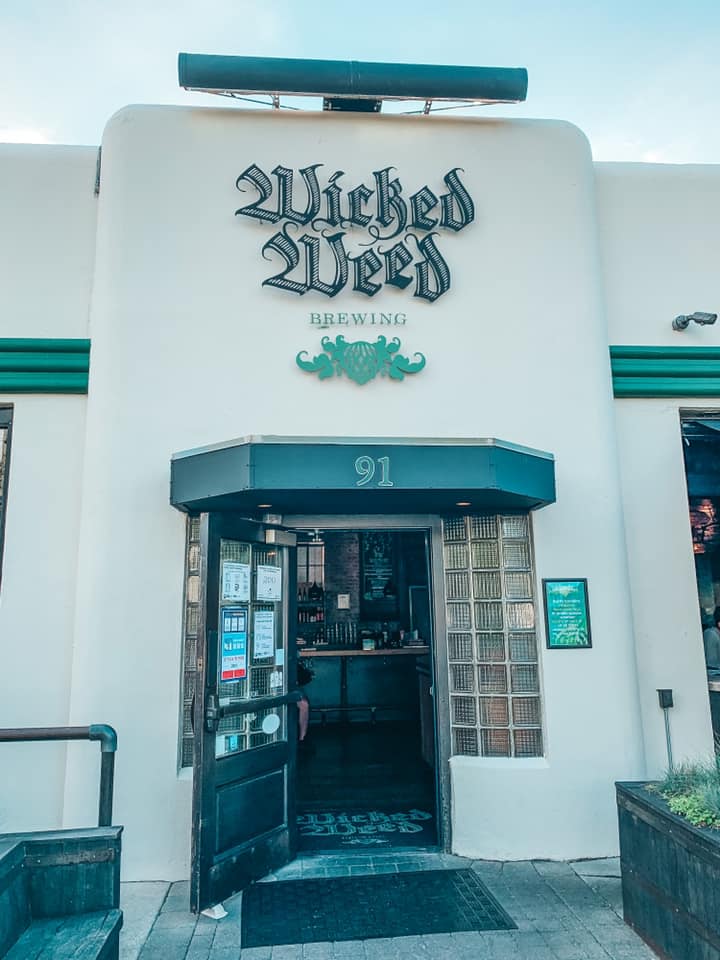 There's indoor and outdoor seating, as well as a little rooftop patio. While there is a lot of seating, they do get pretty busy, and they don't take reservations, so try to avoid peak times. While you can't make reservations, you can get a tour of the brewery! Schedule one here.
Funkatorium
The Funkatorium is actually an extension of Wicked Weed Brewing and the East Coast's first sour beer-dedicated taproom! Check out their amazing barrel room and bier garden! They have 16 sour and wild beers on tap to choose from. Sours are fruitier and more tart than your typical beer, and honestly, these are always my beer style of choice.
Seriously, look at these flavors and tell me you don't want to try them all! Again, if you aren't in the beer mood, they offer cocktails and wine here as well. If you're feeling a little peckish, they have snacks, salads, and sandwiches you can enjoy while you sip.
This may have been one of our top breweries in Asheville.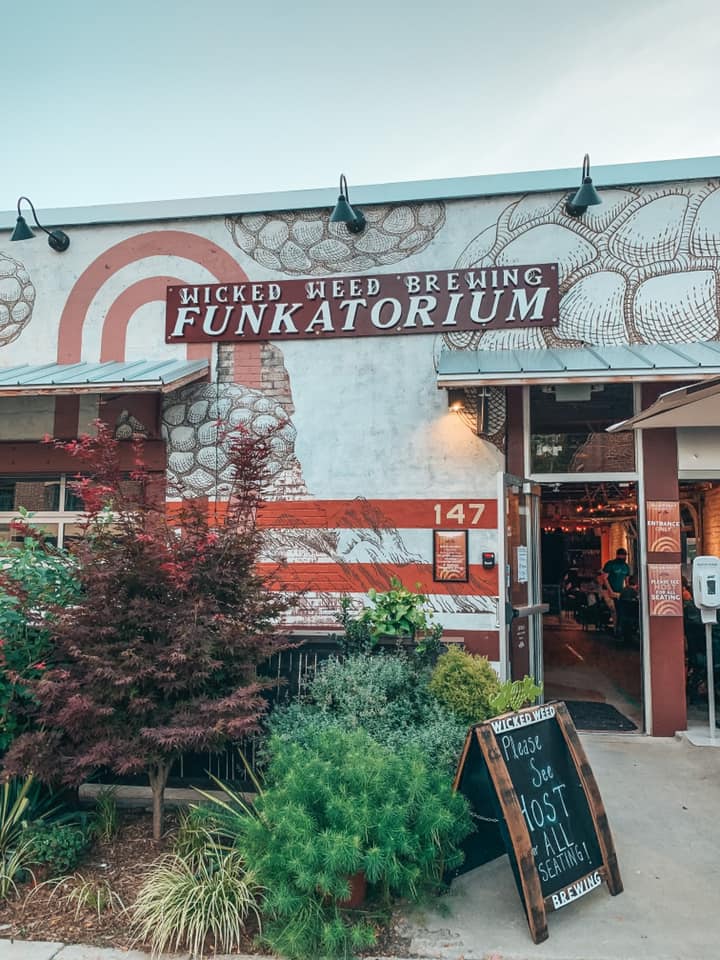 Burial Beer Co. was another brewery that was highly endorsed by some locals, but we didn't get a chance to make it there ourselves!
Antidote at Chemist Spirits
Antidote was beautiful and time traveled me back decades. While this wasn't a speakeasy, it definitely gives off some of those vibes when you step inside. The bartenders were craftsmen preparing divine cocktail concoctions. You can enjoy your drinks on the patio or on their incredible rooftop, which even has an adorable fireplace.
If you don't see anything on the drink menu that piques your fancy, let the bartender know what you like and they are more than happy to create a personalized creation just for you!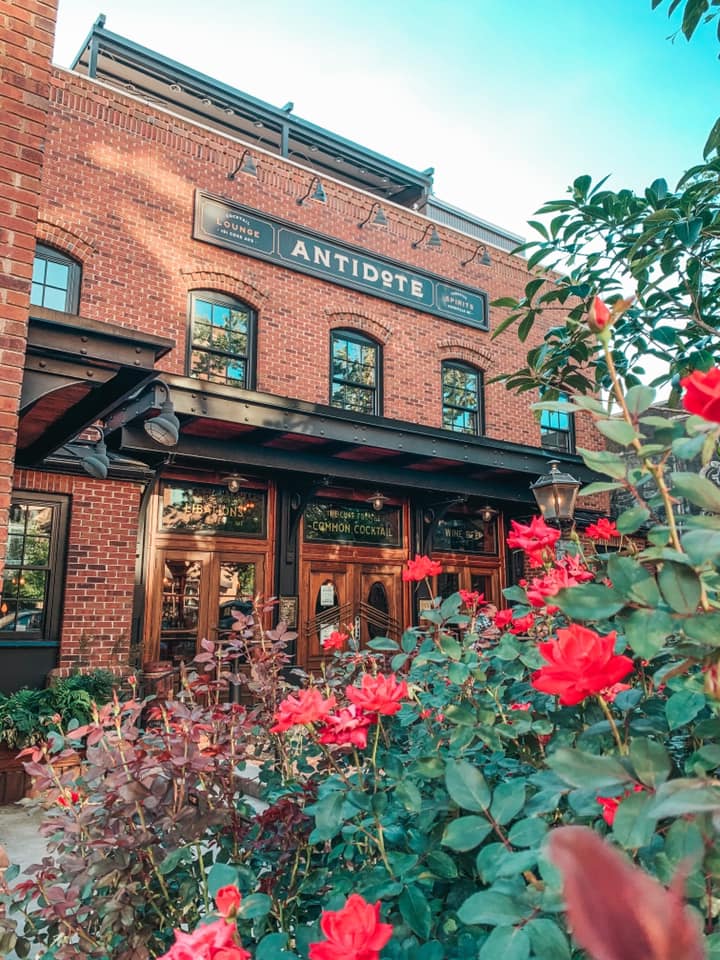 Where to stay in Asheville, North Carolina
Hotel Indigo Asheville Downtown
Hotel Indigo Asheville Downtown is one of the more affordable options, with a great location and beautiful mountain or city views from the rooms. They also have their own restaurant on site. It, unfortunately, wasn't open when we went, but the food and drinks look amazing.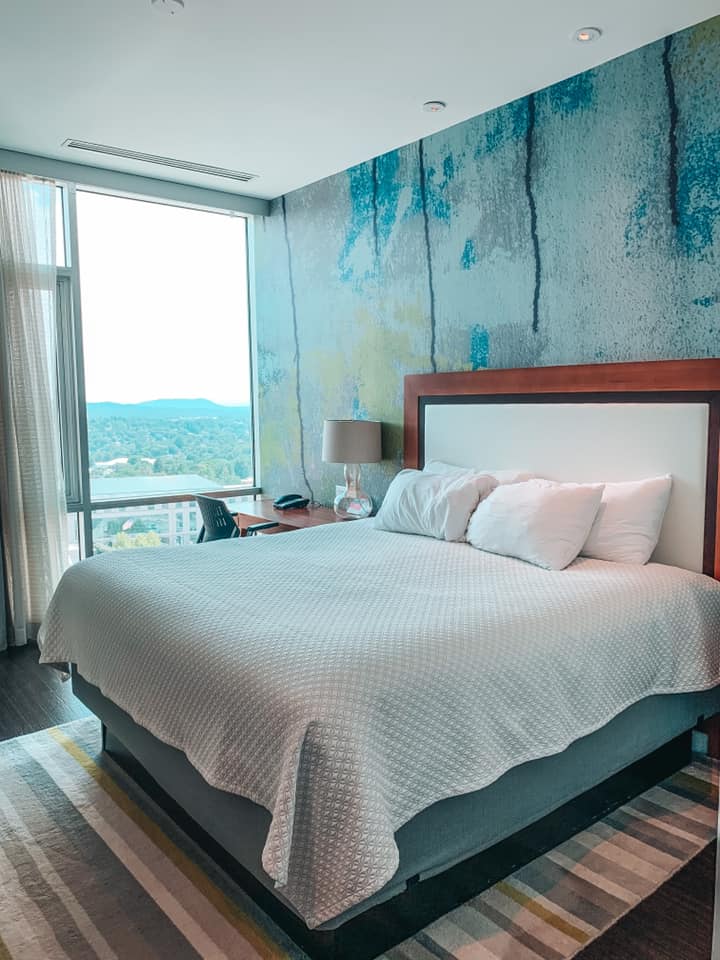 Hotel Arras
A little bit more expensive than Hotel Indigo is Hotel Arras. Kimpton hotels are always BEYOND beautiful, offer a free wine hour, and are pet friendly! Hotel Arras is in the heart of downtown and has two chic, globally-inspired restaurants. 
Other stays
If you're down to really splurge, you can always book a night or your entire stay at either The Residences at Biltmore or Cottages on Biltmore Estate.  
There are also a lot of cool, unique Airbnb stay experiences in the area too! For part of our stay we did this adorable tiny home!
For all other options, check here!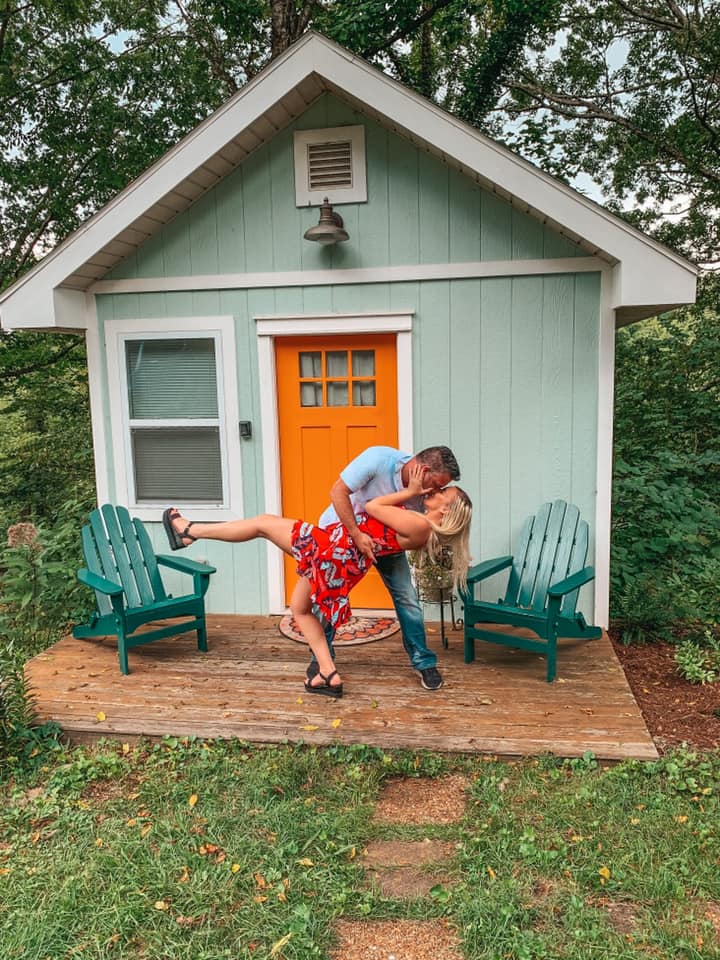 NOTE: You will see me frequent IHG hotels because 1) they have a flexible cancellation policy 2) they are typically affordable, in great locations, and give you the most bang for your buck, and 3) as an IHG rewards member and cardholder anytime I ever ask if there are free upgrades available, I've always been given one! So you can pay the bottom dollar, and get upgraded to a suite!
Check out my ultimate travel credit card guide to discover how to utilize the perks for free flights and free nights!
I hope you enjoyed this Asheville guide! For more from my Southeast US road trip, peep my Instagram @guidedbydestiny! If you check out any of the things to do in Asheville that I recommended be sure to use the hashtag #guidedbydestiny so I can share it on my Instagram.
If you enjoyed this post don't forget to like and share 🙂