This post contains affiliate links which means that I will make a small commission if you purchase a product after clicking on any of them, at no extra cost to you.
I don't know that I've ever been to a city with more adorable coffee shops, awesome breweries and wine bars, bomb restaurants, and fun things to do than St. Petersburg, Florida. Asheville came close! Maybe I'm biased, but I still think St. Pete is the best.
If you're into craft beer, or just fun, quirky places, then you're going to love these top St. Pete breweries. We aren't called the Gulp Coast for nothin'! Also, BONUS they're all dog-friendly breweries!
And of course, I couldn't leave out my non-beer drinkers. There are so many fun and delicious wine bars for my vino lovers to check out as well!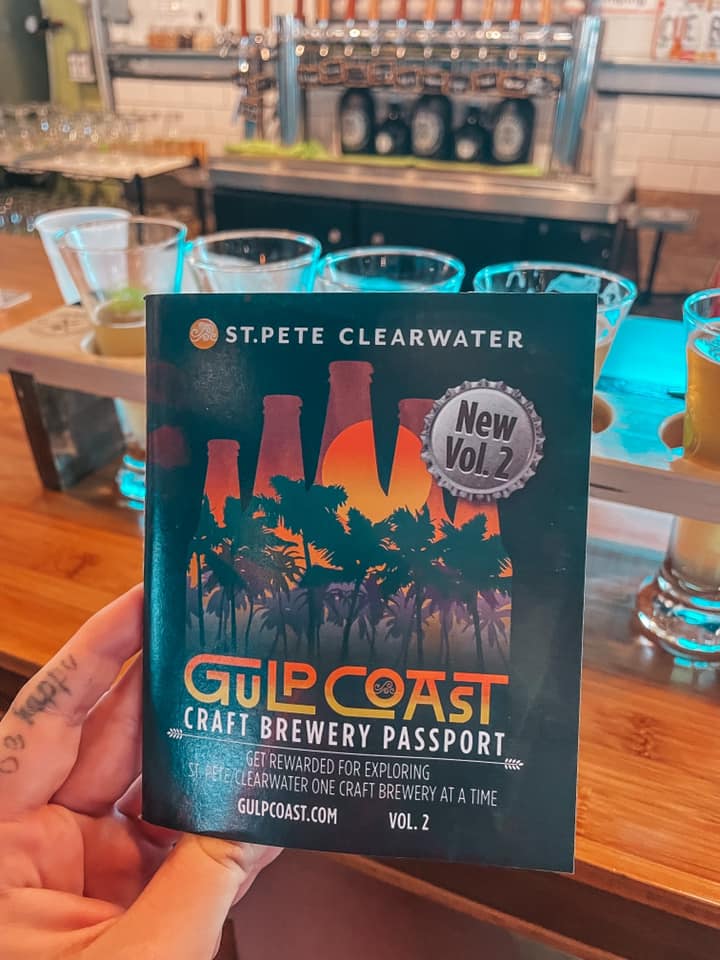 Best St. Pete breweries
3 Daughters
When it comes to St. Pete breweries 3 Daughters has been one of my go-to spots since moving to Florida. It's one of the largest independent breweries in the state of Florida.
They have a nice selection of beers in just about any style (Remi loves their Beach Blonde Ale). Better yet, they have several delightful ciders and seltzers on tap as well! We almost always do a flight. If you're lucky enough to visit when they have their blueberry peppercorn cider on tap, it's an absolute MUST!
Being located in a warehouse, it has ample space for fun events and LOTS of games.
There is a small room that has arcade games like pinball, another room with a bar and tables where you can play card games, and the main area. The main area has a stage where bands often perform.
There are darts and foosball in this area as well. An outdoor area has even more seating, as well as cornhole, Connect Four, and Jenga. This St. Pete brewery is perfect for the whole family, and you will often see kids running around having a blast here!
They also offer a pretty solid food menu with sandwiches and snacks if you work up an appetite playing games while you drink!
3 Daughters has now expanded with a tasting room on Clearwater Beach.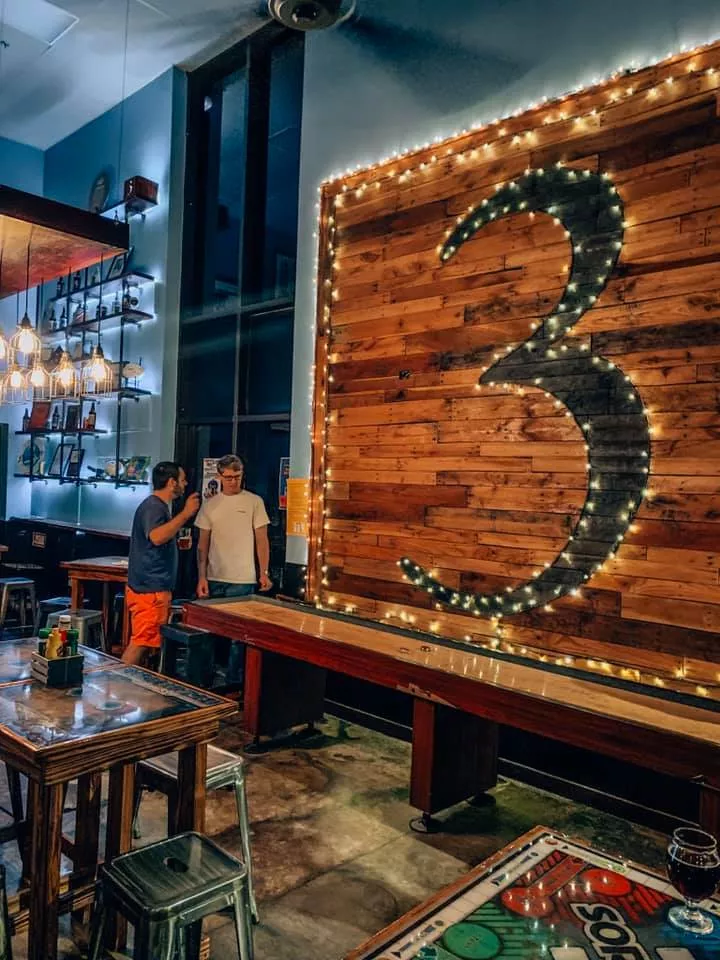 If I Brewed the World
If I Brewed the World is a small batch St. Pete brewery specializing in fun and eclectic flavor profiles. They have indoor and outdoor seating on their back patio area.
Our bartender was extremely knowledgeable about the brewing process, and we learned a lot about how exactly the owners made their Spicy BBQ Sauce Smoke Sour legit smell and taste like BBQ!
They also had a Green Apple Jolly Rancher sour and Grape Laffy Taffy Sour (among several other interesting concoctions) that were super delicious and unique. Whatever they have on tap during your visit is sure to be a treat to your tastebuds, and possibly like nothing you've ever experienced!
If I Brewed the World is like the Willy Wonka of breweries. Also, can we get a little commotion for the name? It's so clever and fun!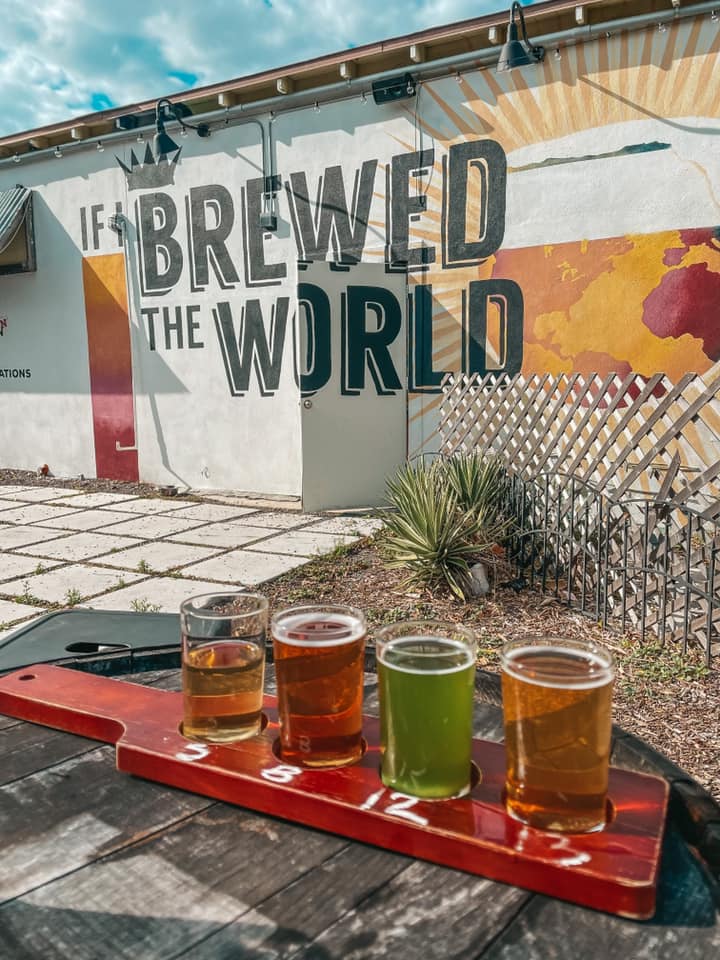 Cage Brewing
Cage Brewing is a microbrewery with 18 craft beers on tap (all their own). They have IPAs, ales, porters, and more. You can even enjoy a guest cider if you prefer.
The beers and service are great. They have a large outdoor covered beer garden where you can enjoy your brews while listening to a band perform or playing a game of foosball or cornhole. They also have pinball machines, old-school video games, and a pool table.
On Monday nights they even have trivia. You definitely won't be bored at this spot! Also, be sure to note the intriguing galactic theme they have throughout the brewery.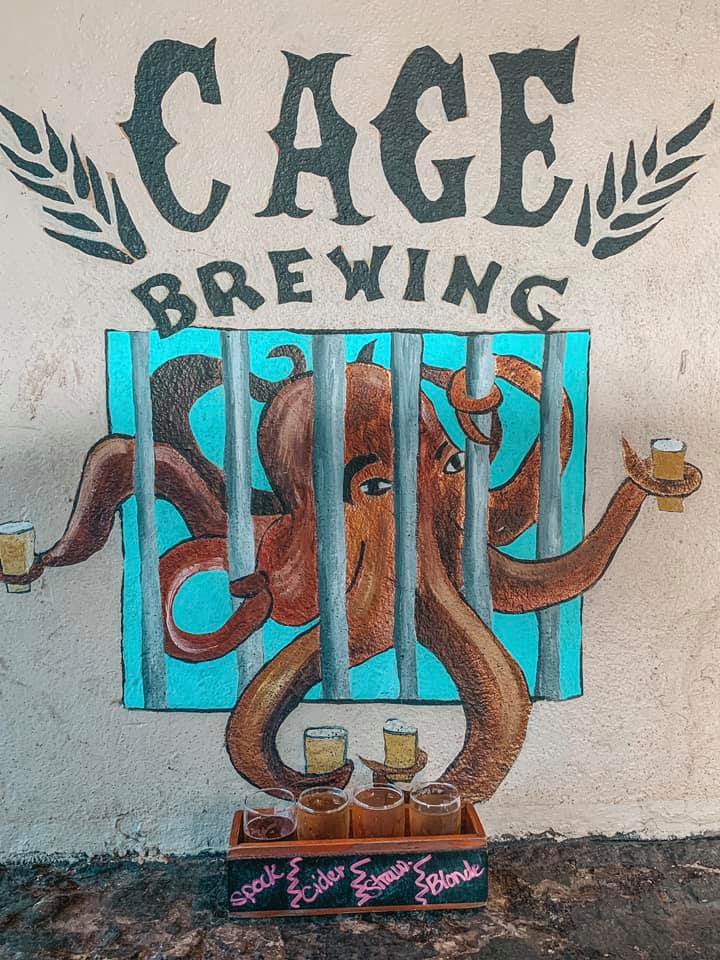 Overflow Brewing
This St. Pete brewery is great for my fellow sour lovers, which earns it a spot on the list of best breweries in St. Pete. This is the style of beer I am most drawn to, and Overflow Brewing has 4 to choose from as I write this. They have unique sours like the Hilo-Copter Rides Sour which is Berliner aged on apple, hibiscus blossoms, rose hip, pineapple, and coconut. Like how interesting does that sound?!
Call me a sucker for aesthetics, but their sours are always such beautiful, vibrant colors too. They have three different-sized flights— you can do 4, 6, or 8 different beers.
Overflow has a great number of board games as well as a video game area for those who like to keep themselves occupied while they drink. This place screams fun— even their beer taps are fun Lego handles!
Right Around the Corner
SO MANY classic old-school games here. Remi absolutely loves this St. Petersburg arcade brewery. I'm not sure what he loves more, the beer or watching me embarrassing myself at Street Fighter. 
With all of these fun games, they allow children until 9 pm, so feel free to make it a family affair. They have several classic arcade games, Skee-Ball, pool, darts, and a number of game systems (PlayStation, N64, Sega, etc.).
But back to the reason we're all here, the beer. They have 20 local craft beers on their rotating tap including around 9 that are their own. IPAs, coffee blonde ales, wheat beers, stouts. You name it, they got it. They even offer wine!
Check out their Facebook page for fun events and nightly specials.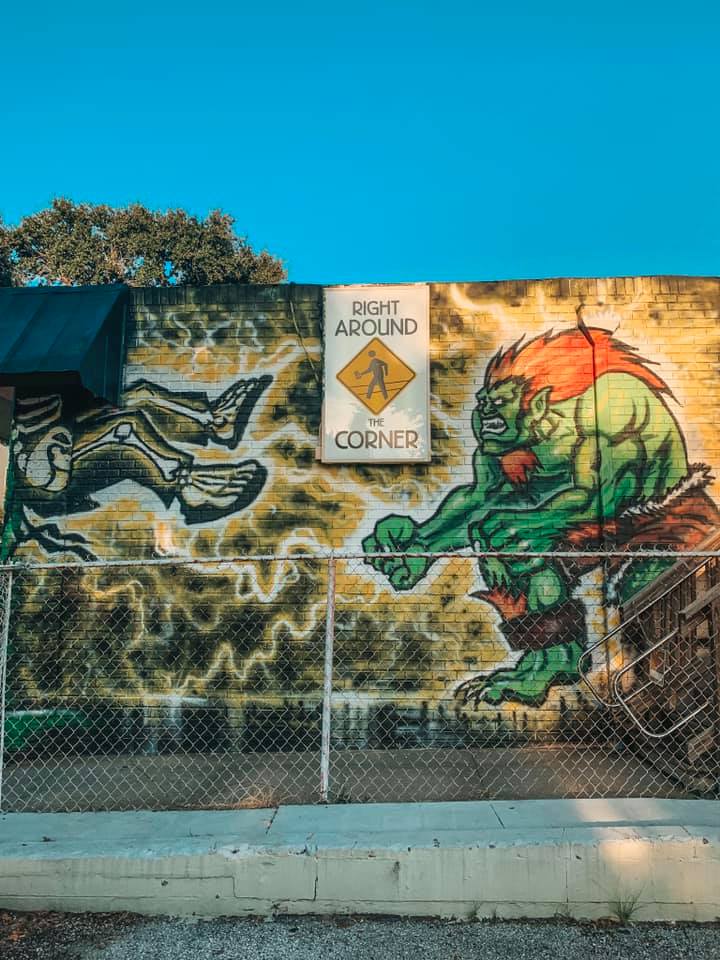 Among the other best breweries in St. Pete you should check out include:
Green Bench
St. Pete Brewing Co.
Pinellas Ale Works
Also, if you enjoy great craft beer scenes, you can also find some great breweries in Dunedin, Tampa, and Clearwater! St. Pete Beach also has Mastry's Brewing which is worth a stop!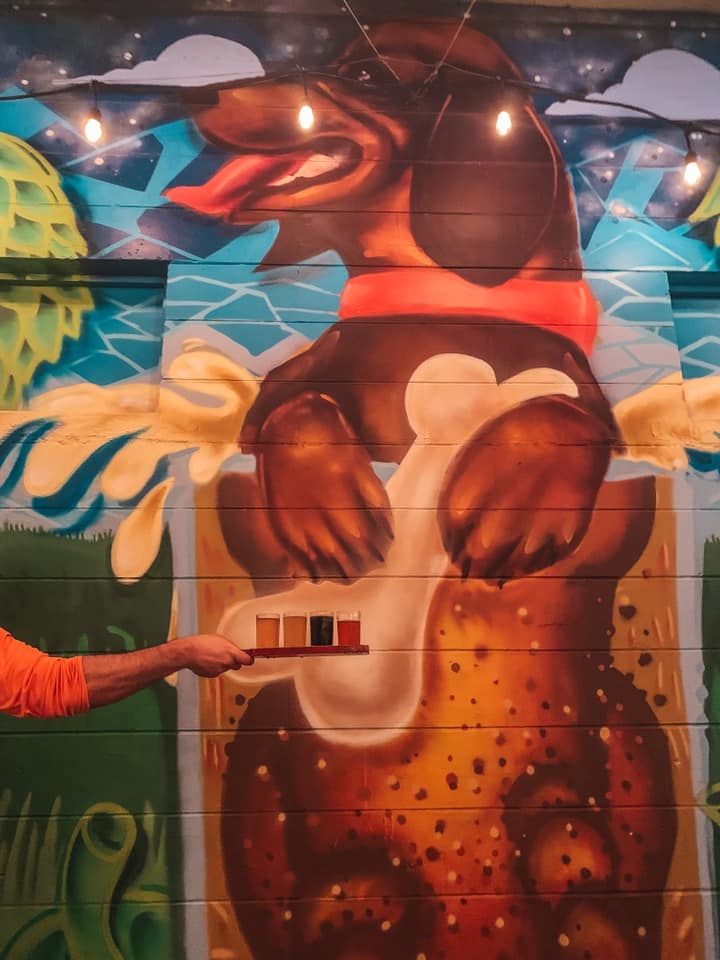 Best St. Pete wine bars
Some nights are for beers and games, and some are for wine and charcuterie! Here are 4 great wine bars for my St. Pete wine lovers! Also, for my hard-core wine lovers, be sure to check out my post on 6 awesome wineries in Tampa Bay!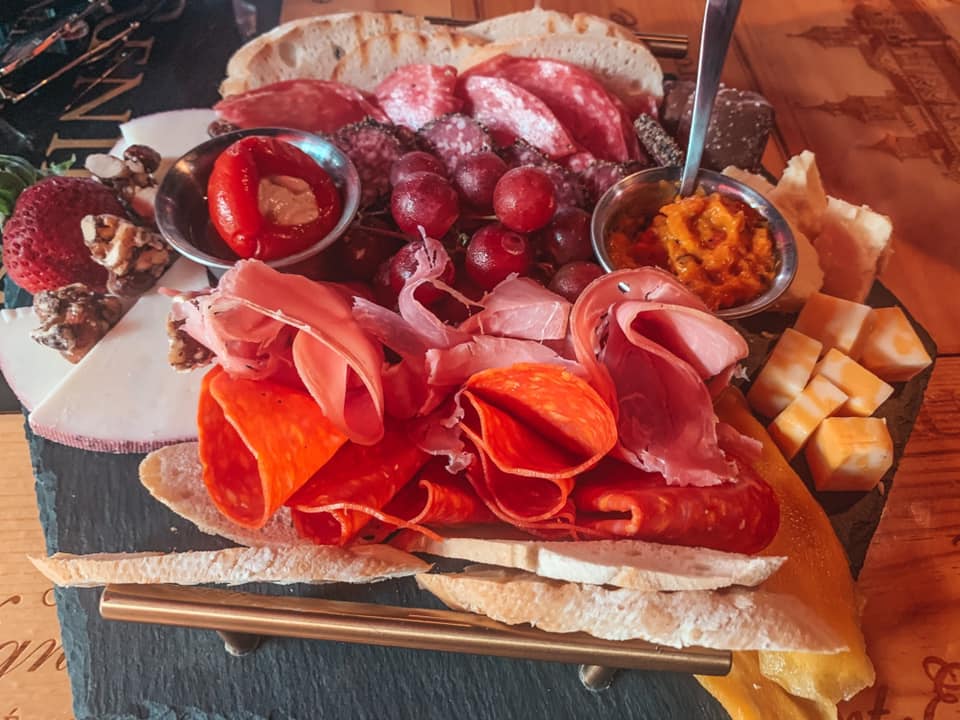 Bar Chinchilla
I totally adore this intimate wine bar in downtown St. Pete. Bar Chinchilla has an eclectic selection of over 50 fine wines from across the globe as well as 8 craft beer taps (and a bottle list) that rotates regularly.
They have happy hour every day (except Mondays when they're closed) from 4 pm to 7 pm, which grants ½ price on select glasses of wine and $1 off craft drafts.
Bonus! They also do monthly tastings and have a 3 tiered wine club! The wine club is a subscription service where Bar Chinchilla does the work for you and hand-selects your bottles of wine based on your preferences. There are several other perks that come with the wine club, so be sure to check it out!
I'm normally a white wine drinker, but I had a glass of their San Felo Toscana Sangiovese and it brought me over to the dark side.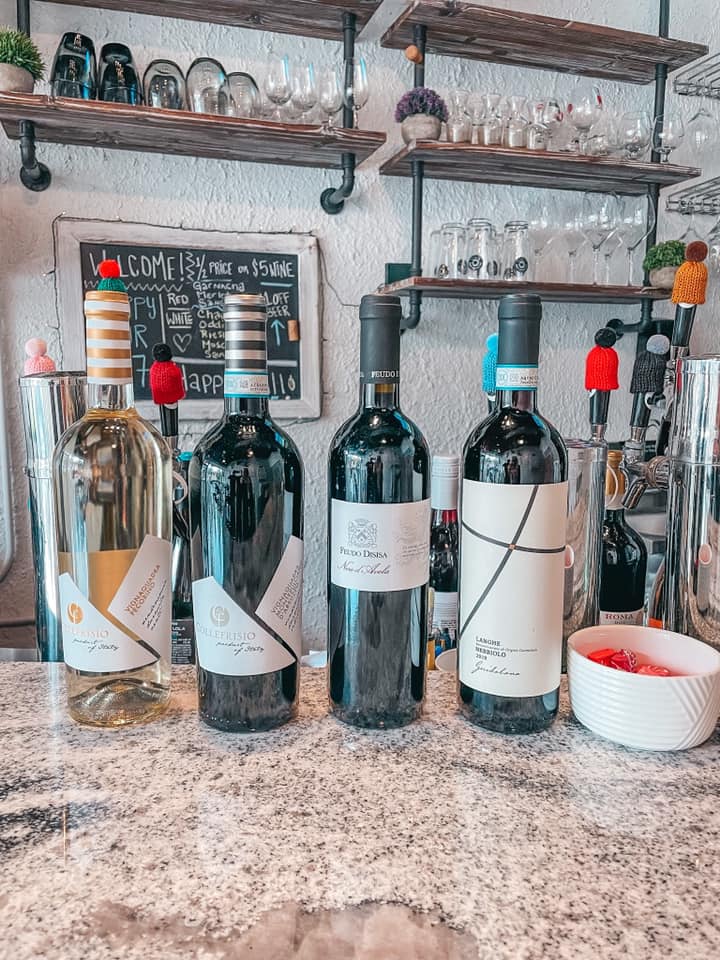 Book + Bottle
I have quite the obsession with cute bookshops, and I'm used to them serving coffee, but Book + Bottle takes things next level and pairs an array of literary works with a glass (or bottle) of wine. Why didn't I think of that?
They also have coffee though, and they are on my list of best coffee shops in St. Pete as well.
They have Free Friday wine tastings occasionally if you go between 5-7. So go in and see what they're pourin'! Check out their calendar to see all of the fun events they have going on.
This is a really great hangout spot, and I think you'll enjoy the atmosphere. Make sure to check out their wine club too.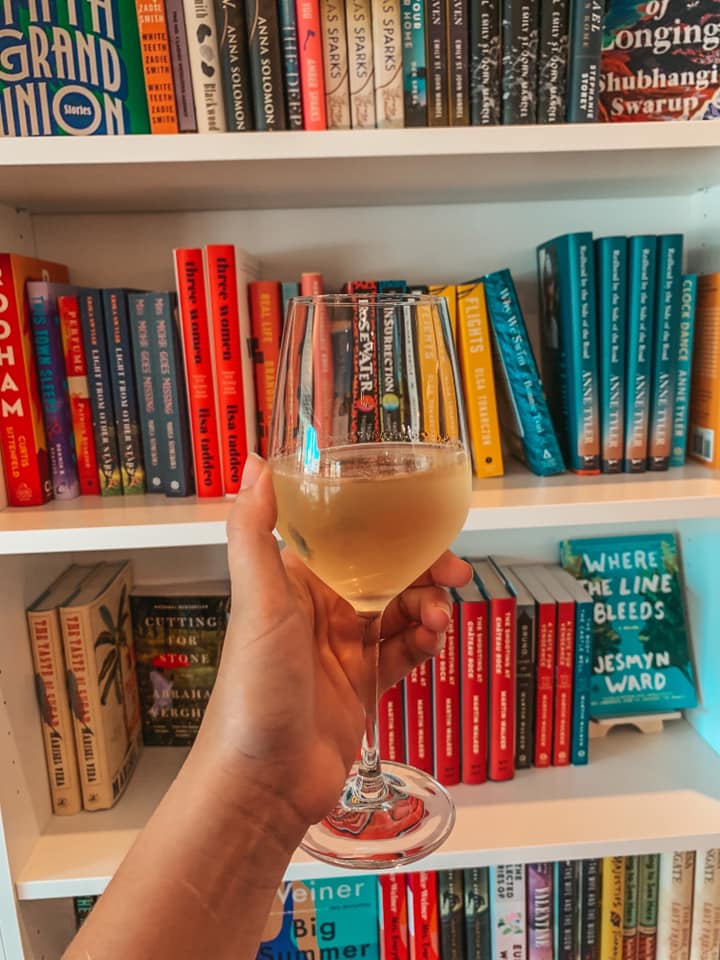 Dracula's Legacy and Wine Bar & Bistro
At Dracula's it feels like Halloween year-round, and I'm here for it. This Romanian-European-based wine bar in downtown St. Pete offers a great wine selection of over 100 options.
Taste several wines with one of their wine flights, or sip on one of their $5 house wines. They sometimes offer wine tastings for $20 that include 6 different wines and appetizers.
Come hungry! They have flatbreads and other small bites, and their charcuterie is out of this world.
This is kind of a hidden gem. I honestly didn't stumble upon it until years after moving here. It's tucked away in a courtyard area next to the Sundial. There's often live music in the courtyard too!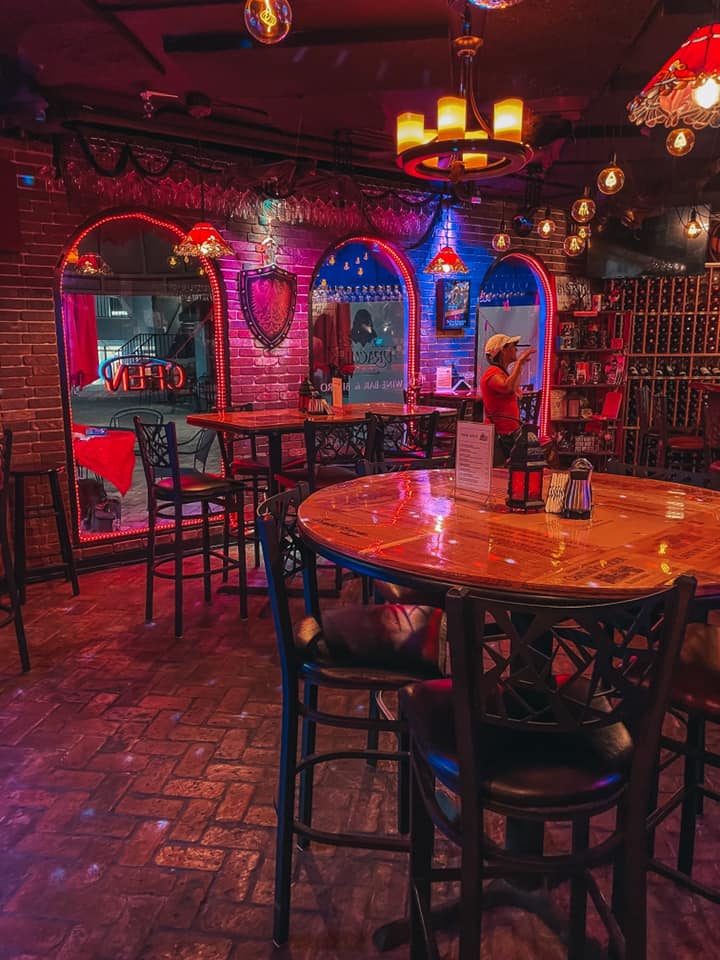 Bacchus Wine Bistro
Bacchus has a wine library that has nearly 100 selections from countries such as France, Italy, Spain, and the US.
They have small plates, charcuterie, French eats, and desserts. You can build your own charcuterie board, or dessert board if you have a sweet tooth!
If you enjoy a  great happy hour, check them out anytime between 3-6 pm to get $4.50 select wines and small plates.
I hope that you enjoyed this list of the best St. Pete breweries and our top wine bars! I recommend checking out each and every one of these St. Pete staples, so you better get sippin'!
If you want more St. Pete content, check out some of my other posts:
Best bars in downtown St. Pete
Best downtown St. Pete restaurants
Birthday party ideas in Tampa Bay
If you enjoyed this post, don't forget to like and share 🙂 And follow me on Insta @guidedbydestiny for more Florida fun 🙂