This post contains affiliate links which means that I will make a small commission if you purchase a product after clicking on any of them, at no extra cost to you.
Whether you're visiting for a bachelorette party, birthday, family vacation, or spring break this Florida packing list includes all the necessities! Of course you need bathing suits, sandals, toiletries, and the other basics when packing for your Florida getaway, but there are a few other things you'll want to be sure to pack that you won't want to forget! So here is your ultimate Florida packing list from a resident Floridian! For the TLDR, you can also peep my storefront where a lot of these items are linked!
Florida packing list
Sunglasses
I know that this might seem like too obvious of an item to put on a Florida packing list, but I can't tell you how many times I have forgotten to grab mine before heading to the airport or hopping in the car. You do not want to be squinting your entire trip or trying to find an overpriced, cheaply made pair at one of the beach shops— so don't forget them!
Diff sunglasses are my favorite, and they give back for every pair of sunglasses purchased (check out their mission here)! Plus they are always having bomb BOGO deals.
Linking my favorite style here.
Sunscreen
Perhaps the most important item on the Florida packing list. It's all fun and games until someone gets sunburnt on their first day (been there!). Make sure to pack some reef-friendly SPF, and reapply throughout the day. Being a Floridian now, I seriously make sure to put sunscreen on even when I'm just exploring, not even going to the beach. I promise you will still get a tan!
Beach blanket
This is a Florida necessity. Forget laying out on a beach towel— you need a whole ass blanket. I love this one from Amazon because it's large, sand proof, and lightweight! It can pack up super compactly so regardless of whether you're flying or driving, it's not going to take up too much space in your luggage! (Check out my space-saving packing hacks!)
Speaker
No beach day is complete without some good jams. This Bluetooth speaker is perfect for the beach— it's portable, waterproof, and you can just clip it onto your beach bag! And they have so many color options to choose from!
Beach Bag
Let me put you onto the cutest and most convenient beach tote! This beach bag doubles as a mini cooler. Especially if you're flying, you wouldn't really be able to pack a cooler, however this beach bag is a 2-in-1! You can even detach the cooler and use them totally separately if you prefer.
Cute outfits
Let me put you onto something: Clothing rental subscriptions. This has come in handy for me so much for when I travel! Starting at $79/month you can rent two clothing items and one accessory at a time with unlimited swaps! And the clothing items are SO CUTE!! If you use my code "DESTINY1F" at checkout you'll get $30 off, making it only $40 for your first month. For more details on how Fashion Pass works, click here!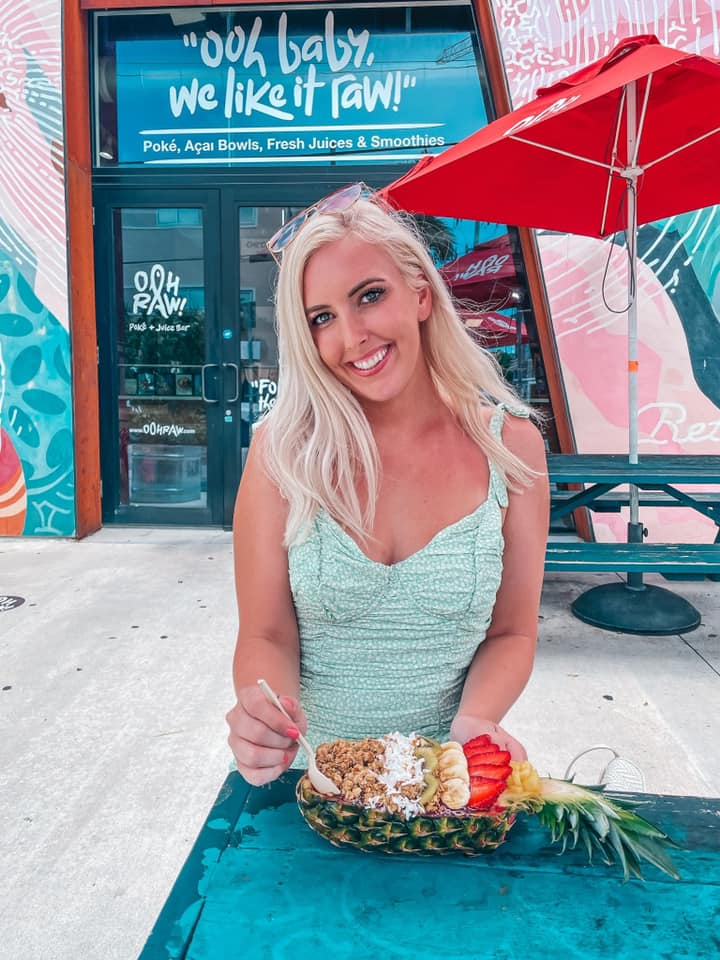 Bathing suit cover-up
I feel like this bathing suit cover-up gives such a relaxed, but somehow sophisticated look. I'm truly obsessed. I personally have it in just about every color— and it doubles as a sleep shirt!
Comfy walking shoes
In case you plan on hitting up the amusement park scene during your Florida trip, you're going to want to be sure to pack some comfy walking shoes! I love the Adidas Cloudfoam because they're lightweight but still offers support, and there are dozens of color and style options!
Portable charger
Chances are you're going to be out and about a bit during your trip, so to ensure your phone always has a charge don't forget to pack a portable charger! I personally like this one, just because it doesn't require a cord.
Waterproof case
Take your phone into the ocean and even record fun underwater videos! This affordable waterproof case is so perfect for your Florida vacation. The one I linked is even a 2-pack!
Double-lined water bottle
Keeping hydrated in the Florida heat is crucial. You'll love these double-lined water bottles that keep your drinks cold for up to 24 hours!
Bug spray
Bugs aren't usually bad for the beach, or just walking around— but if you plan on doing any nature trails, islands, or springs you will definitely need to pack some travel-sized bug spray. They even have mosquito-repellent bracelets if you don't want to pack another liquid!
Fun drinking bong
You will be the funnest person at the beach if you pack this. I actually encountered someone on the beach who had this and knew I needed one for myself. It's called a Kong, and it's a koozie that doubles as a beer bong! Okay, sure, this Florida packing list item isn't a necessity, but it sure is fun!
Umbrella
Unfortunately, you never know what you're going to get with Florida weather. Especially if you're visiting in the summer, you're going to want to make sure to pack an umbrella, as there seems to always be scattered rain showers throughout the afternoon. Don't worry— they usually don't last long! But still, be prepared.
If you are taking a road trip to Florida, be sure to check out my ultimate road trip packing list! Are there any Florida packing list essentials I left out? Let me know in the comments what your Florida trip must-haves are!
Follow me at @guidedbydestiny on Instagram for more Florida fun and tips! Check out some other Florida posts while you're here:
Best Things to Do in 30A Florida
Top Weekend Getaways From Tampa
Enjoy this post? Don't forget to share it 🙂