This post contains affiliate links which means that I will make a small commission if you purchase a product after clicking on any of them, at no extra cost to you.
Dunedin is one of my favorite places in Florida. It's beautiful, it's charming, and the restaurant scene is truly something else! Making this list of the best restaurants in Dunedin wasn't an easy task, because I honestly haven't had a bad restaurant experience in Dunedin.
Dunedin's restaurants offer unique globally inspired sushi, amazing BBQ, fresh seafood, and some of the best enchiladas. I mean it, it does not matter what you are craving, you are definitely going to find something to satisfy your tastebuds in Dunedin! So take a day trip, or make it a fun date night and check out each of these amazing Dunedin restaurants.
Best restaurants in Dunedin
Pisces Sushi
I cannot stress enough how absolutely necessary it is to have Pisces Sushi on your list of restaurants in Dunedin to check out! Hats off to the chef, because this was truly one of the most mind-blowing sushi experiences I have ever had. Eat here and you will understand exactly why this spot is at the top of the list of the best restaurants in Dunedin.
If you have yourself convinced that you don't like sushi, I'm telling you, give this place a chance. I can guarantee you your mind will be changed.
The dishes and rolls are inspired by global cuisine, so this is so not your typical sushi place. Pisces Sushi has the most unique combinations that you're not going to be able to resist stepping outside of your comfort zone!
We got the Aloha Broha and Mofongo Bongo. The Aloha Broha was a Hawaiian-inspired roll that consisted of coconut shrimp, avocado, and cream cheese, topped with spicy tuna, coconut aioli, mango vinaigrette, kaji pepper, pineapple, coconut flakes, and scallion.
The Mofongo Bongo was a Cuban-inspired roll that contained sweet plantain, cucumber topped with avocado, chipotle, chimichurri, black bean and corn salsa, and plantain chips— so even if you don't like seafood, they have a number of rolls for you! Each roll is also made to order and they let you know that you can customize each roll however you'd like!
Do not let your taste buds miss out on this experience!
The Restorative
Looking for a hidden gem in Dunedin, Florida? Look no further than The Restorative, a restaurant that may be a little off the beaten path, but is well worth the trip. Tucked away in an unassuming strip mall, this restaurant is known for its ever-changing menu, fresh ingredients, and unique flavor combinations.
The Restorative's chefs are extremely creative, and their passion for food is evident in every dish they create. With a small and cozy atmosphere, make sure to book your reservations early to guarantee a table, or a seat at the bar, where you can witness the magic happening in the kitchen!
When it comes to the food, The Restorative truly delivers. From their homemade naan bread to their beef tartare, every bite is a flavor explosion in your mouth. However, even if this dish isn't on the menu when you visit, there are plenty of other options to choose from that are sure to satisfy your taste buds. Add this spot to your list of date night restaurants!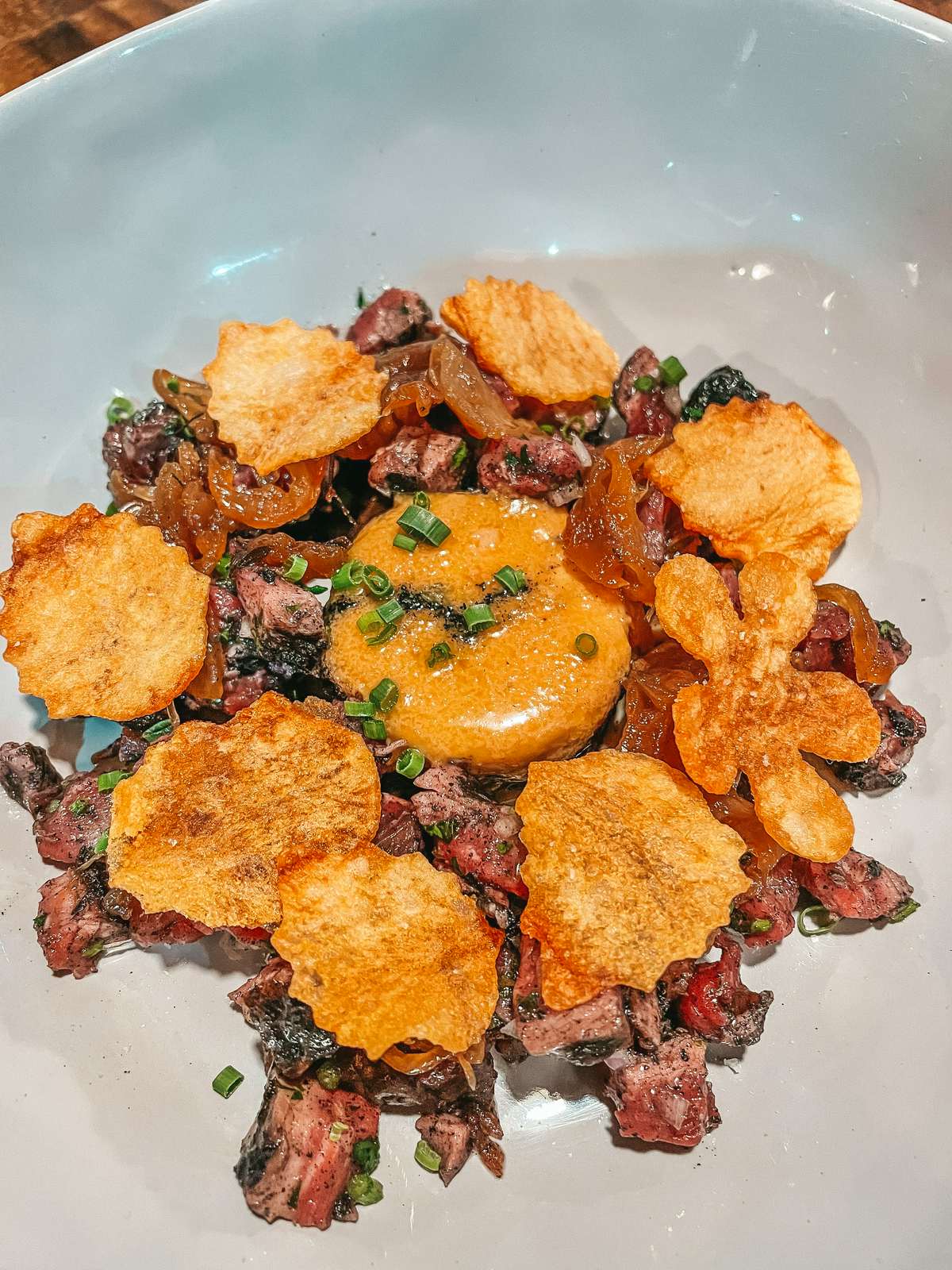 The Dunedin Smokehouse
Craving BBQ? The Dunedin Smokehouse is for you. The meat here is very tender, lean, and moist (I hate that word too, but it was!). I've struggled to find places that serve lean meat that isn't too dried out, so I was thrilled when I had The Dunedin Smokehouse's brisket.
Everything from the side dishes to sauces are made from scratch. And who doesn't love a place where the sides are just as good as the main? They have over a dozen sides to choose from. From classics like baked beans, potato salad, and green beans, to twists on classics like sweet potato cornbread and granny apple coleslaw.
Their menu is quite large, and they offer items aside from BBQ like buffalo chicken wraps, salads, and burgers. Personally, I don't know if I could go and eat anything other than their BBQ though!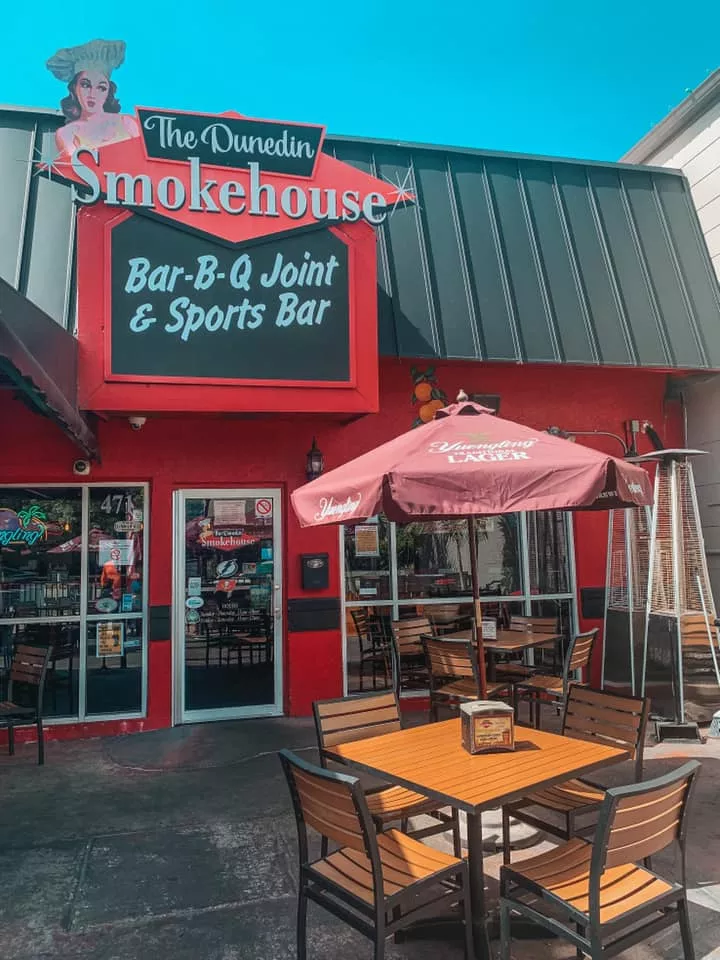 Casa Tina
Casa Tina is described as a spot for grubbing on "fresh, healthy, authentic Mexican food." When asking around what places in Dunedin to check out, this was almost every single person's first response. And after checking it out, I agree it's a must-stop, and definitely one of the best restaurants in Dunedin!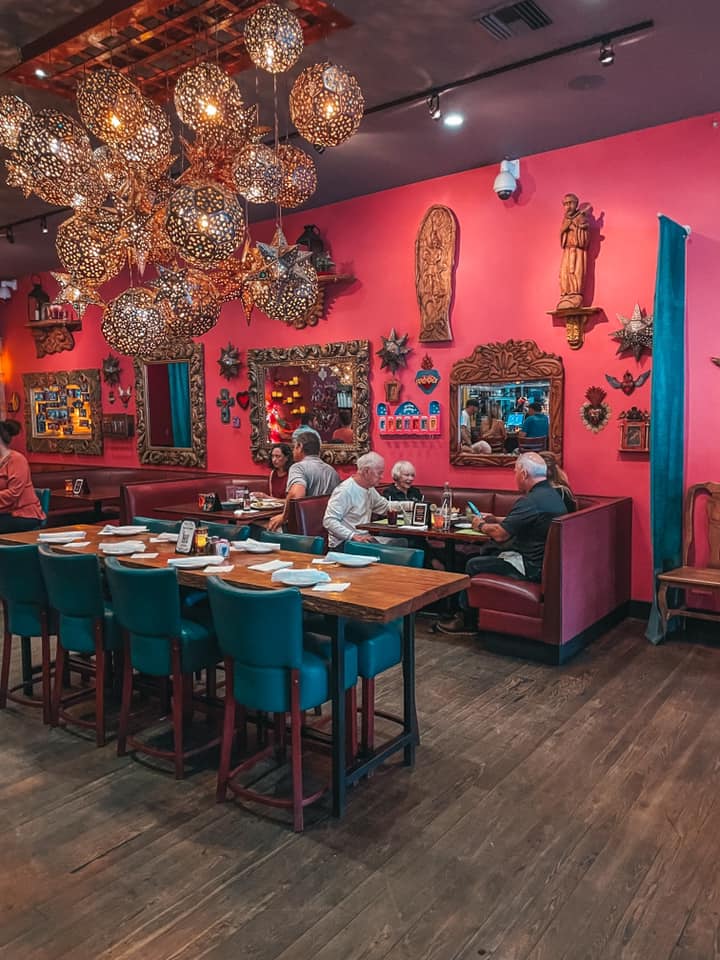 One of their most popular dishes is their enchilada en Salsa Roja. I don't have anything to compare it to, because this was my first enchilada ever, but I can tell you if they all taste like that it certainly won't be my last!
If you're doing our own foodie tour and don't want the whole meal, you can even order a single enchilada a la carte (that's what we did).
Of course, Remi had to get a margarita, and with all of the recommendations this place had, my curiosity got the best of me. I had to try it. Mine and tequila's reunion was not nearly as painful as I was imagining it to be! My tastebuds were… dare I say it, delighted.
Casa Tina made the perfect margarita, with perfectly balanced flavors— not too much sour mix, and the tequila was smooth! Since my last visit to Casa Tina, I have a newfound love for mezcal, and recently went back to try some of their mezcal drinks, and they didn't let me down either!
Along with amazing food and drinks, I think you'll also enjoy the beautifully colored and fun decor and environment, as well as the kind staff.
Also, bonus for all of my vegetarian and vegan friends out there! All of their sauces, rice, and beans are vegetarian, and they have several vegan options available.
The HopScotch Cafe
I feel like the HopScotch Cafe is a total hidden gem when it comes to restaurants in Dunedin. It's a little cafe that serves up beer, wine, sandwiches, and charcuterie.
The sandwiches are travel-inspired, and the owners are originally from Seattle (one of my favorite places), so yeah it's no wonder this place is my jam (pun intended ;)).
For sandwiches, they offer options under the categories: Americana, Caribbean Inspired, Old World(ish), and Pizzette. I'll tell ya right now you need to have their Cuban (it's one of the best Cubans in Tampa Bay!). It was big enough for Remi and me to split, although I was a little bummed I didn't have the other half to take home as a snack for later. The Cuban is made with pressed La Segunda Cuban Bread (an Ybor classic).
They also have plenty of great local beers canned or on tap that go great with sandwiches! And it's conveniently located right next door to one of the best breweries in Dunedin 🙂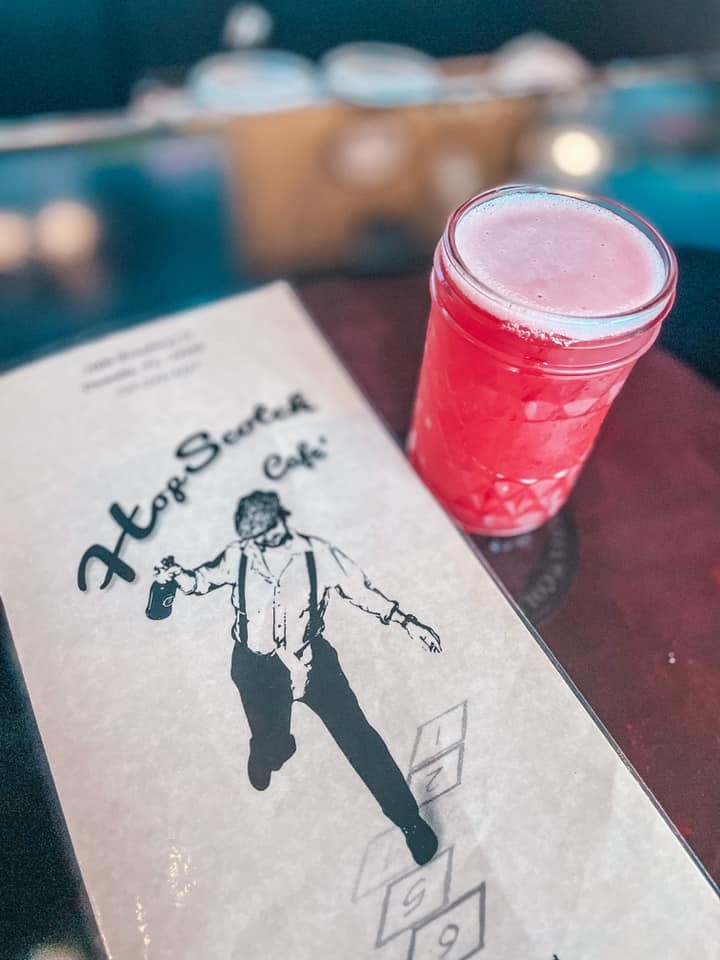 Bon Appétit Restaurant
Bon Appétit Restaurant serves up delicious and fresh seafood you can enjoy with waterfront dining. They also have an elegant dining room area if you prefer to eat inside. I just love going here at sunset and enjoying the views from the outside seating area. They have a long dock that has small tables along it and is lined with blue lights that light up once the sun sets.
This place has a way of making you feel relaxed. Even as a local, it makes me feel like I'm on vacay. It's one of the best restaurants in Dunedin for great seafood and cocktails.
Their French onion soup and chilled Ahi tuna are absolute musts to start! The tuna was some of the best I've ever had. It was very fresh and literally fell apart in my mouth. Their French onion soup and sauteed Gulf shrimp are also worth getting.
As for entrees, they have a number of great options and even offer some three-course specials at a very affordable price (it ranges from $30-35). It includes seafood, steak, chicken, and vegetarian options. All of which come with a starter soup or salad, and end with a dessert.
As for drinks, if you enjoy watermelon, the Watermelon East Side is so refreshing and just what you need on a warm Florida day! If you're into martinis, they have a ton of options. Deciding which drink to get was the hardest decision I had to make all day.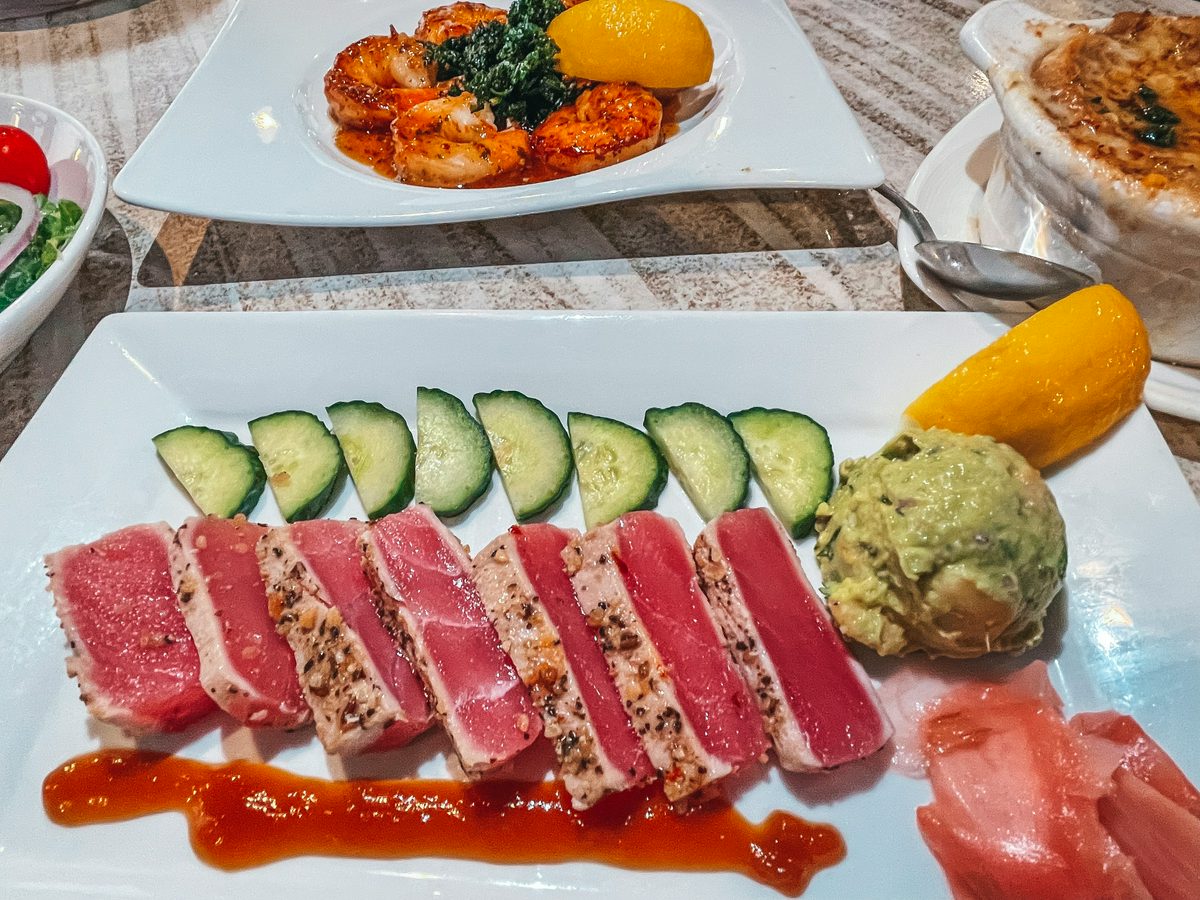 Crown and Bull
It doesn't matter what time of the day it is— morning, evening, or late night, Crown and Bull is hoppin'! With brunch every day of the week and delicious bloody Marys, you can start your day off on the right foot here (that's what I did). Most people around town will probably tell you to make sure you get one of their bennies.
I had yet to be steered wrong by this town, so I went for it and got the crabcake bennie. It lived up to the hype. The crab cake was full of flavor and lump crab meat, the hollandaise was delish, and the English muffin remained crisp until it was all gone. 
The bloody Mary had a little kick (you can get spicier if you'd like), and a super light, natural flavor that I really enjoyed. I love bloody Marys, but I usually have a hard time finishing them because they can be so thick and heavy— but that was not the case here! It also comes garnished with bleu cheese-stuffed olives if you're into that (I'm not, but it was a treat for Remi).
The outdoor area in the back is a great place to enjoy your drinks at night! Featuring string lights throughout and an old, lit-up oak tree that really adds to the ambiance. Make sure to enjoy at least one of their signature cocktails or martinis. I don't even know where to begin with how amazing all of these sound, so I'm just gonna leave the menu here if you want to peep at it. After deep deliberation, I got an All Razzed Up Martini, and it did not disappoint.
The Living Room
The Living Room was another place that came highly praised by locals and friends long before I got the chance to check it out for myself. Sometimes that worries me, maybe a place isn't going to live up to the hype. Well, that certainly wasn't the case with The Living Room.
You can find a menu full of tasty, and interesting dishes inspired by world cuisine. The presentation certainly goes a long way, and The Living Room delivers on taste and visuals. The vibe is upscale, yet relaxed, and they have live entertainment from Thursday through Sunday.
All of their dishes are very unique, if you are unsure about what you may enjoy the servers here are extremely helpful in guiding you. We ended up starting with the beef bulgogi wraps, which I probably never would have ordered otherwise, but LOVED them! And as you would expect at a bomb restaurant like this, they also have a great list of cocktails waiting to be paired with their heavenly food.
Caracara
I have seriously been dying to visit Caracara ever since they opened! We finally got to check them out, and it was everything I could've hoped for, and more.
Their menu includes Asian tapas, tacos, and rice bowls. Everything on the menu literally sounds amazing, but we went with the lump crab nachos, short rib quesadilla, and tempura fried green beans (which were on special).
Remi and I haven't stopped talking about Caracara since we left! The flavors were heavenly, and they put their quesadilla on pita bread…like, that's genius. Am I right?!
They also do an excellent job of catering to those with special diets (gluten-free, vegetarian, and vegan).
If you visit on the weekend you can't leave without checking out their bar The Nest. It's an amazing lounge area that gives off speakeasy vibes. It's the perfect place to unwind and have a few drinks with some friends after enjoying Caracara's amazing food!
This spot is also located right next door to one of my favorite Dunedin coffee shops, Dunedin Coffee Company.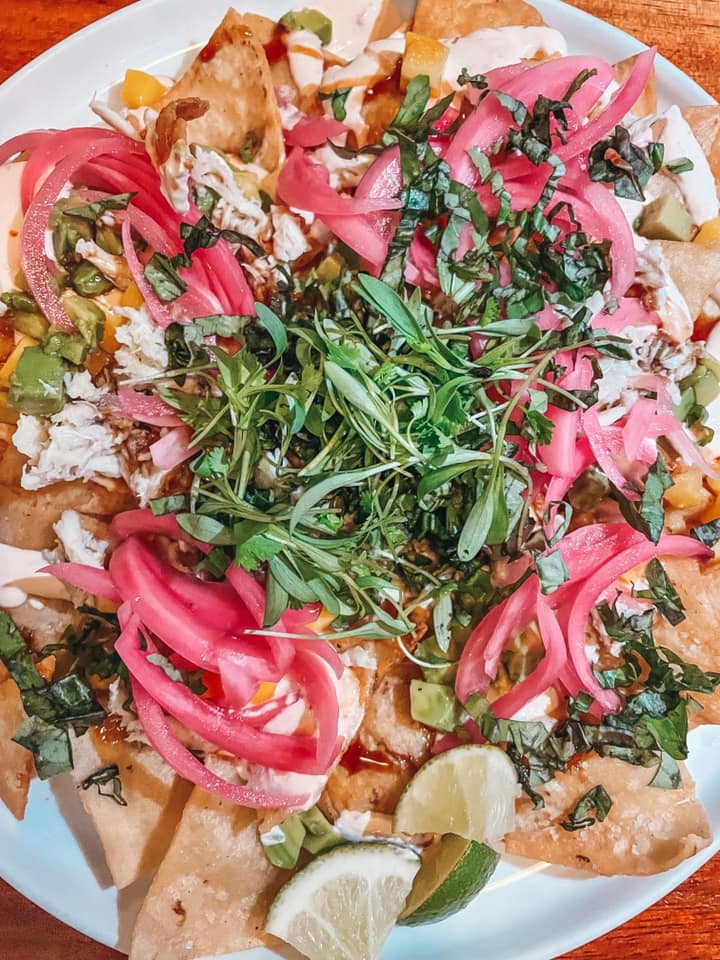 Clear Sky Draught Haus
This is a favorite for visitors and locals alike. You can find Clear Sky bustling even on a Monday evening! But don't worry, the service is excellent and speedy. Seriously, I felt like our food was done in record time! (It's so good their other location also made it on my list of best restaurants in Clearwater Beach, as well as best breakfast spots in Clearwater Beach.)
Clear Sky is a gastropub with a fresh chef-driven pub grub menu, and the menu is EXTENSIVE! We had the most difficult time trying to decide what to get because literally everything sounded so good. They have burgers, pasta, seafood, steaks, flatbreads, Asian inspired dishes. If you're worried they're doing too many things, and the food may be mediocre. Let me assure you that is not at all the case.
For our meal, we started with the risotto brisket balls and ended with the sesame chicken. Both selections were done so well, and packed such amazing flavor! It's going to take us some time, but Remi and I agreed to make it our life mission to make it through the entire menu.
They have a lengthy cocktail and wine list, as well as 37 craft beers on tap, and another 30+ varieties of bottled beer.
They serve breakfast, lunch, and dinner and even have a bloody mary bar on the weekends!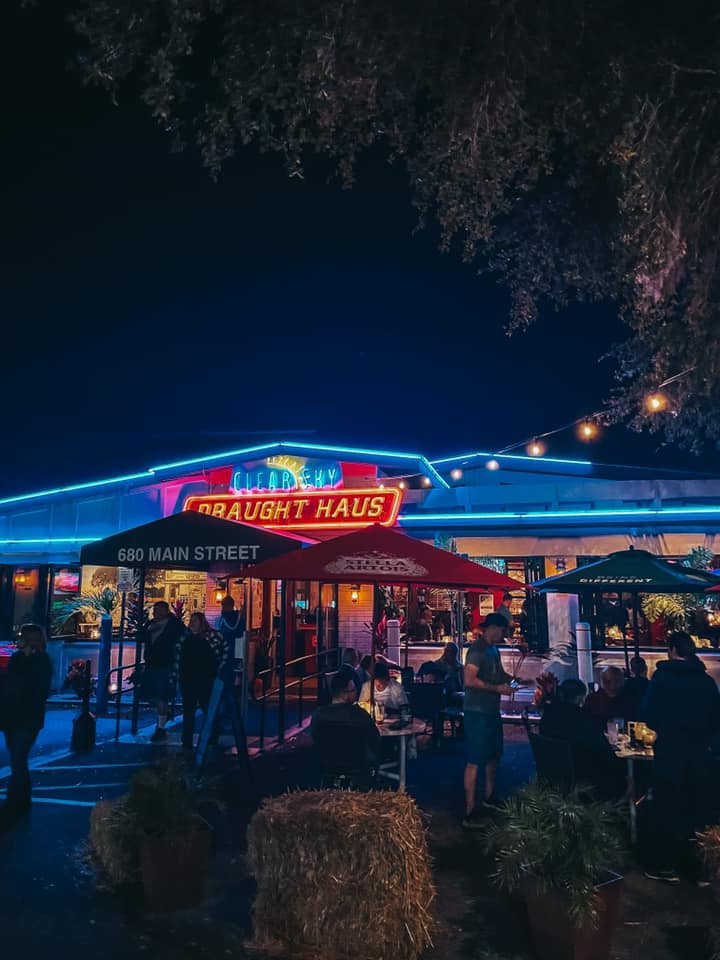 HEW Parlor & Chophouse
It definitely doesn't have to be a special occasion to eat here, but every time you eat here it will feel like a special occasion! HEW Parlor & Chophouse is located inside The Fenway Hotel in Dunedin and has al fresco dining poolside, or on the veranda, as well as indoor seating.
They have an extensive whisky and scotch collection inspired by Dunedin's Scottish heritage, chef-driven seasonal preparations, live music, and spectacular service. Our waiter guided us through the entire experience helping us decide on everything from our cocktails to our dessert. He didn't let us down once!
The scallops and filet were cooked to perfection, while the Brussels sprouts and mushrooms provided a burst of flavor! We started with the Wagyu beef roll and fried green tomato "Cuban". They were truly unique dishes that were unlike anything else I've ever had.
The HEW Parlor & Chophouse is open every day of the week for brunch and Wednesday through Sunday for dinner.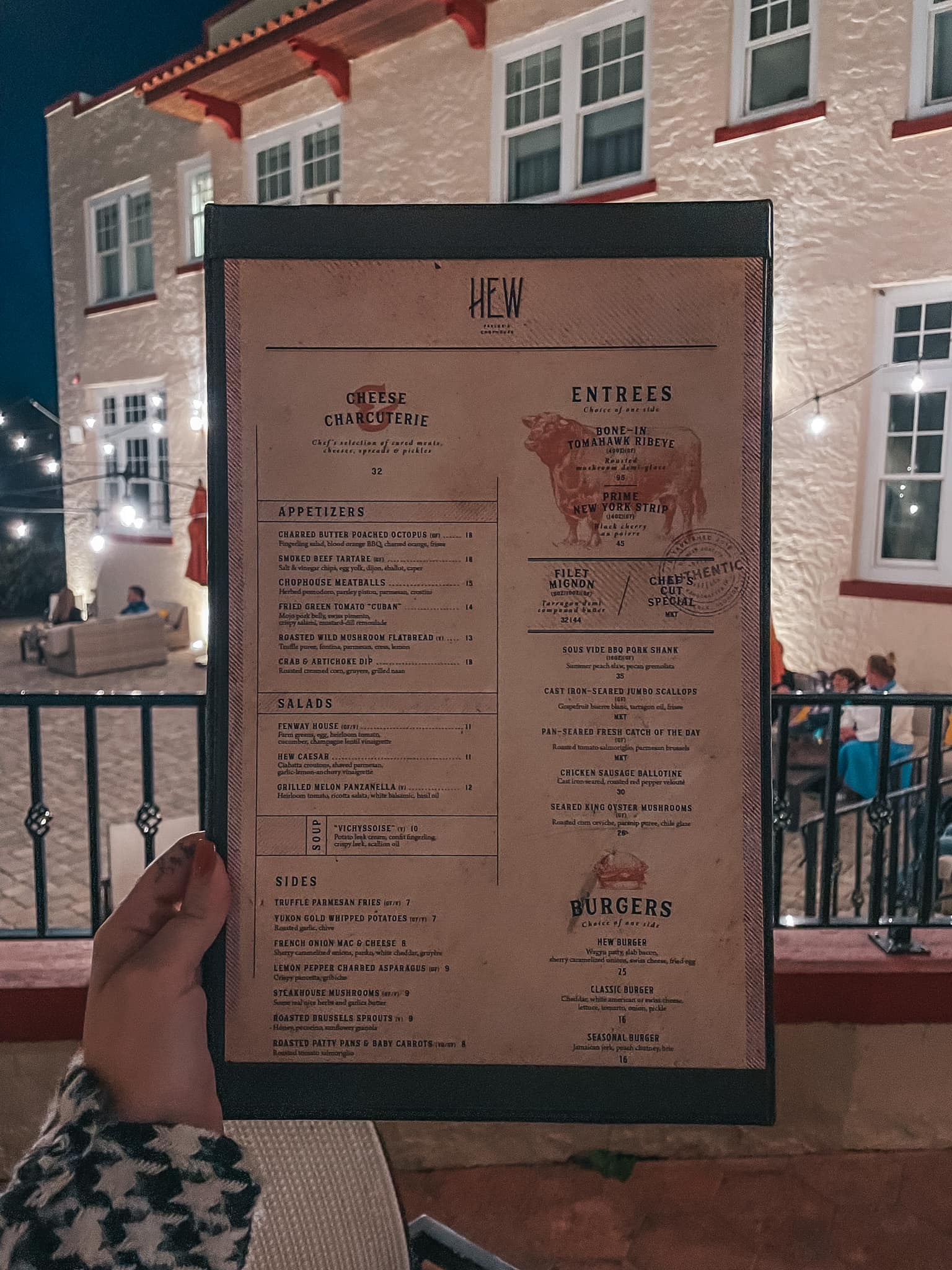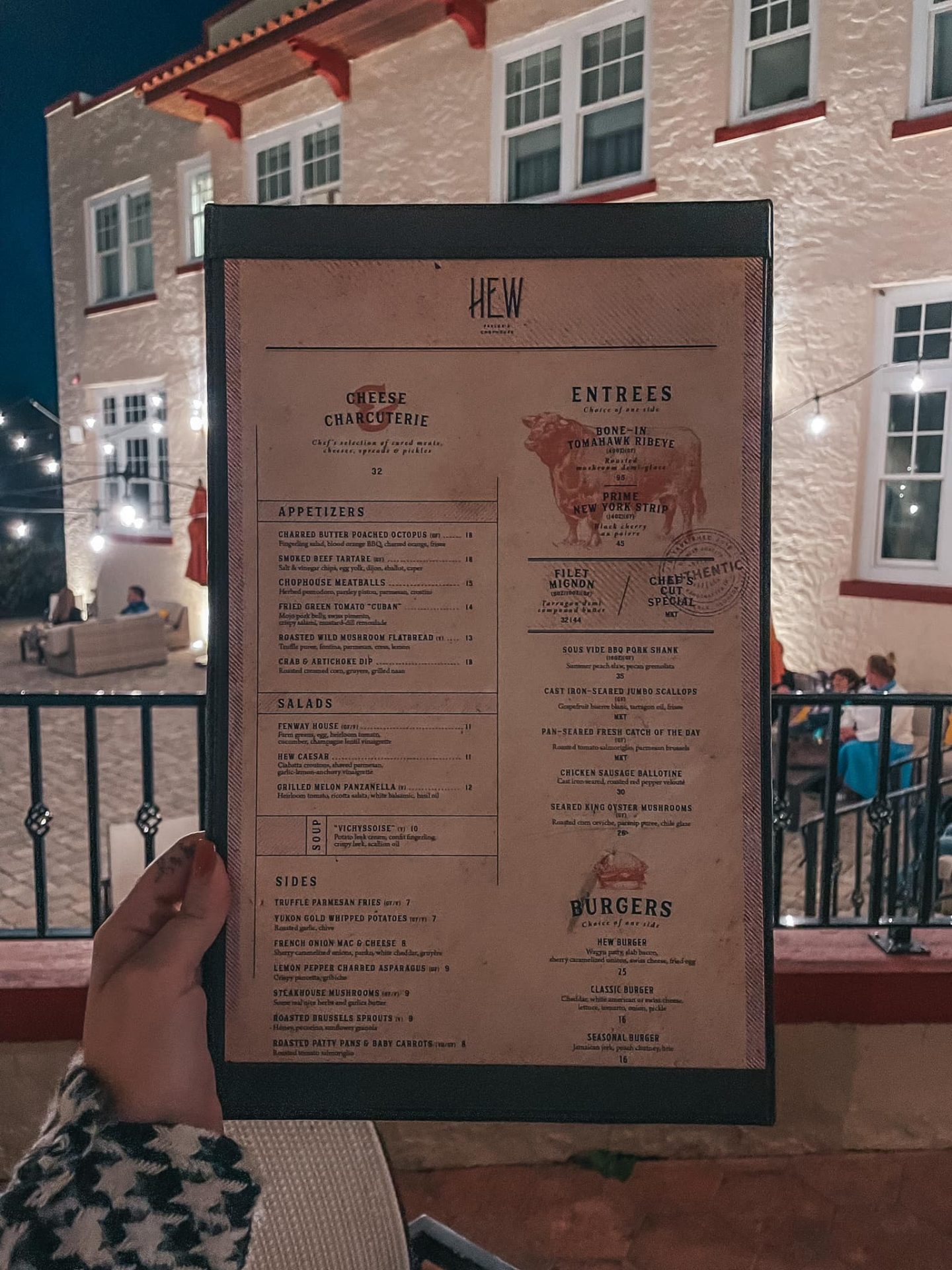 I hope that you enjoyed this list of the best restaurants in Dunedin, Florida. Even more so I hope that you get the chance to experience each one of these gems!
Be sure to check out some of my other Florida posts before you go. And follow me on Insta @guidedbydestiny for more Tampa Bay and travel content 🙂
Fun things to do in St. Pete Beach
Best things to do in Clearwater Beach