This post contains affiliate links which means that I will make a small commission if you purchase a product after clicking on any of them, at no extra cost to you.
Clearwater Beach is a very popular tourist destination due to its beautiful beaches, fun activities, reputable accommodations, and extraordinary restaurants. If you're visiting Clearwater Beach and wondering where the best seafood, waterfront dining, or family-fun restaurants are, look no further! 
I have compiled the best restaurants in Clearwater Beach for any occasion into this post. As a local, I really enjoyed putting this list together. While there are several very well-known restaurants that are seen as "must-stops," there are also a number of hidden gems! I can't wait for you to eat your way through Clearwater Beach!
Note: Most restaurants in Clearwater Beach do not take reservations and work on a first-come, first-served basis. If a place does allow reservations, I will mention it and highly encourage making them! Please have patience with the restaurant staff if you do visit during busier times.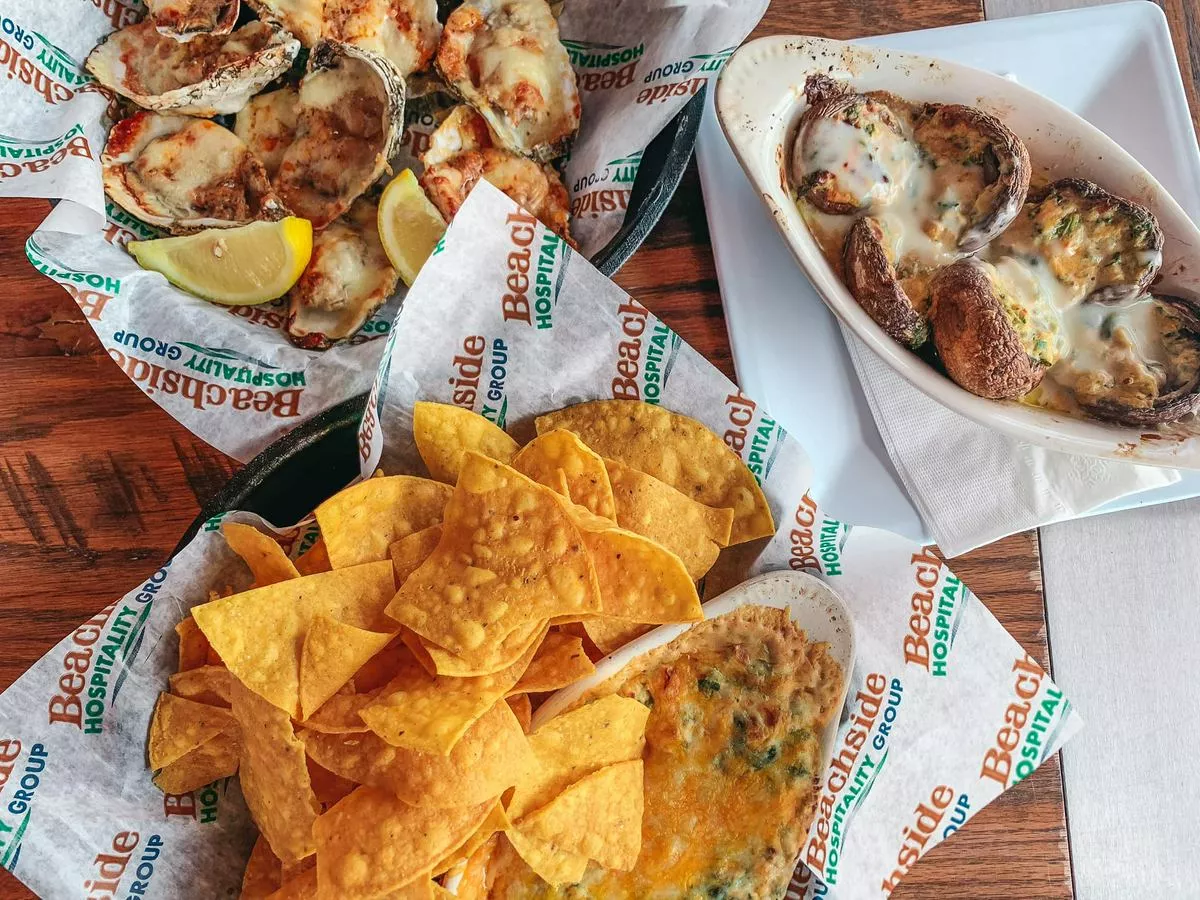 Best restaurants in Clearwater Beach
Frenchy's Rockaway
Some of the best seafood in Clearwater Beach AND you're beachfront? Frenchy's is definitely one of the most well-known brands when it comes to Clearwater restaurants, and while there are several locations, Frenchy's Rockaway has got to be the best when it comes to atmosphere and experience (and of course food) in my humble opinion.
The seafood is fresh, they have live music daily, and their beachy cocktails are enough in themselves to put you in vacay mode.
They're known for their She Crab soup, grouper sandwiches, and garlic crab fries. Plus, they offer stone crab when it's in season. Their Loopy Lada (a pina colada made with Fruit Loop vodka) is one of the best drinks on Clearwater Beach and something you can't leave without trying!
Crabby's Dockside
Crabby's is another well-known name when it comes to the best Clearwater Beach restaurants. They have multiple locations as well.
You have great views of the beach if you choose to dine on their third floor, fun cocktails, and yummy seafood. I do have one problem with Crabby's Dockside, and that's that so many of their appetizers are so delicious— it's hard for me to have any room by the time my entree comes!
Seriously, their boom boom shrimp bites, creamy crab and spinach dip, royal red peel and eat shrimp, and New Orleans grilled oysters are all absolutely delightful and the perfect seafood medley!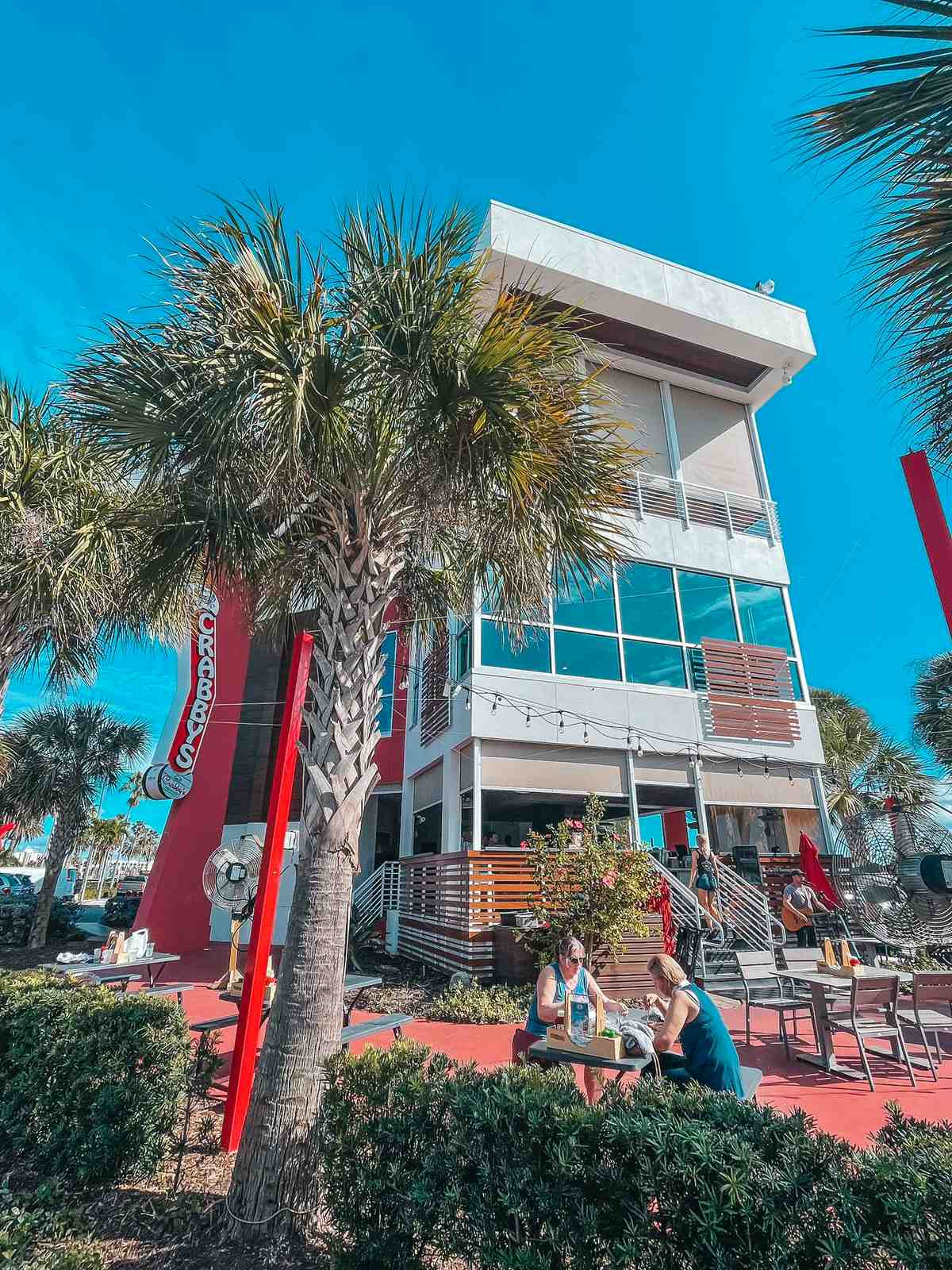 If by chance you do end up having room for the main course I suggest getting one of their crab or lobster platters. They prepare their Bairdi crab legs oven roasted with Old Bay, and they're truly some of the best crab legs on the beach! If you're looking for the best lobster on Clearwater Beach, Crabby's offers a 1 lb tail that is cooked to perfection! It's INSANE. You definitely will be leaving here full and satisfied.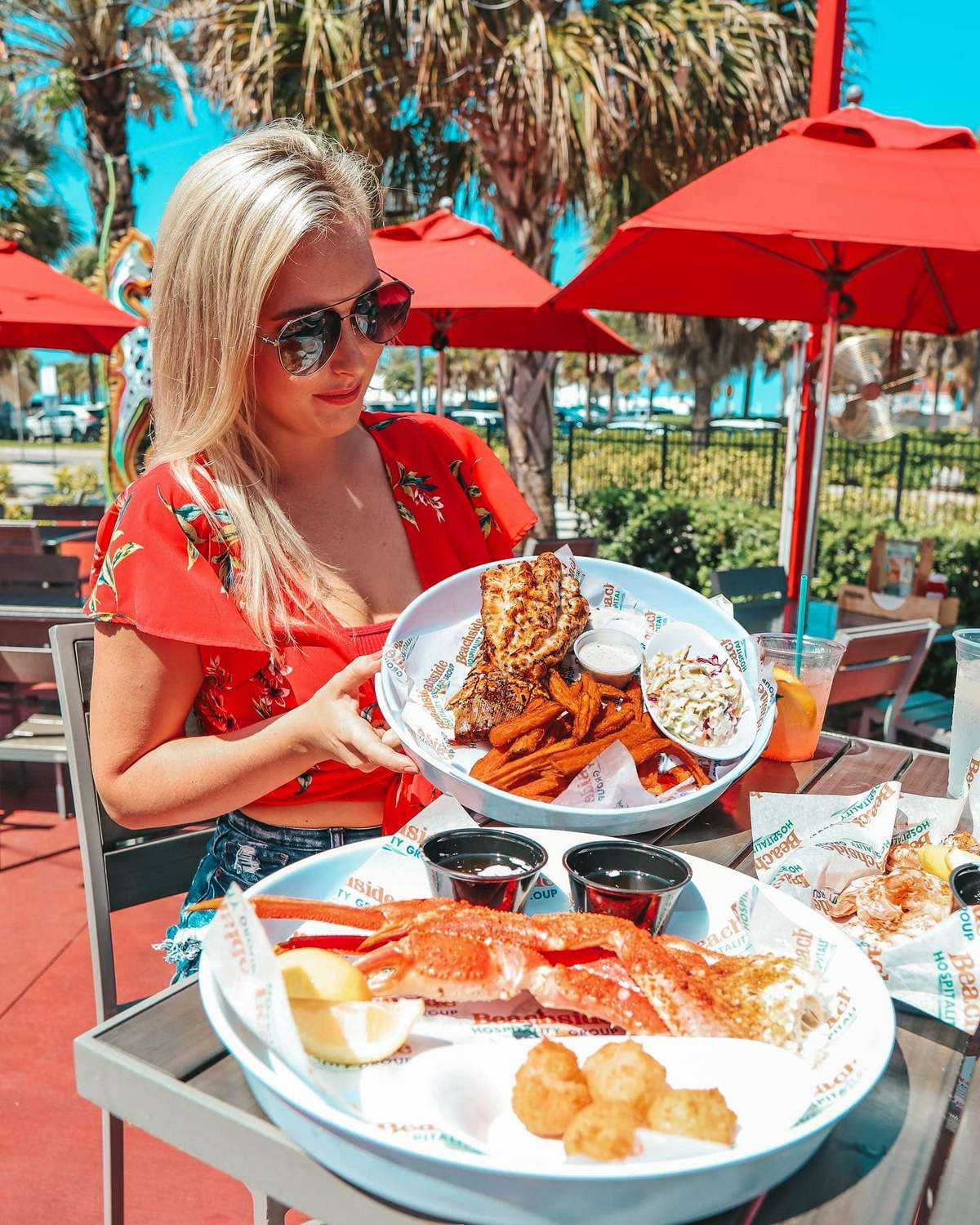 Also, if you're on south beach, check out Salty's Island Bar and Grill! They are owned by the same hospitality group and have similar menus with some of their own unique offerings.
Crabby's and Frenchy's are both great family-friendly restaurants and even offer some seafood options on their kid's menus!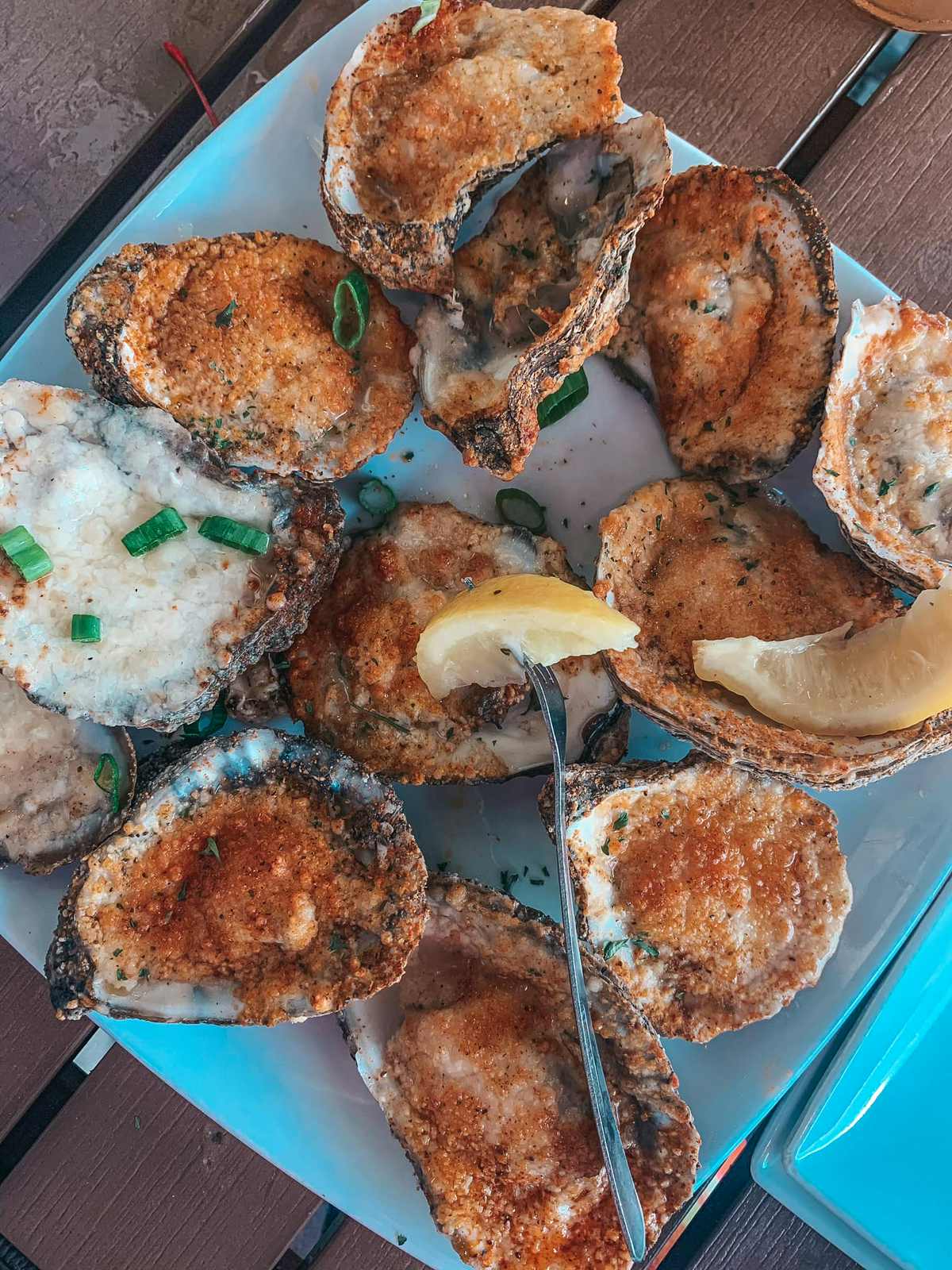 SHOR American Seafood Grill
Head to SHOR American Seafood Grill if you want to savor delicious fresh seafood, steaks, and innovative vegetarian dishes while taking in stunning sunset views on Clearwater Beach! I only recently discovered this Clearwater Beach restaurant, and I really feel like I've been missing out!
Their fried calamari is one of the few that I like! (Forbici in Hyde Park also does a nice job preparing it.) Next, we had their bolognese and blackened redfish. Both were packed with flavor and their own unique flair. The blackened redfish is probably one of the best-prepared fish dishes I've had on Clearwater Beach.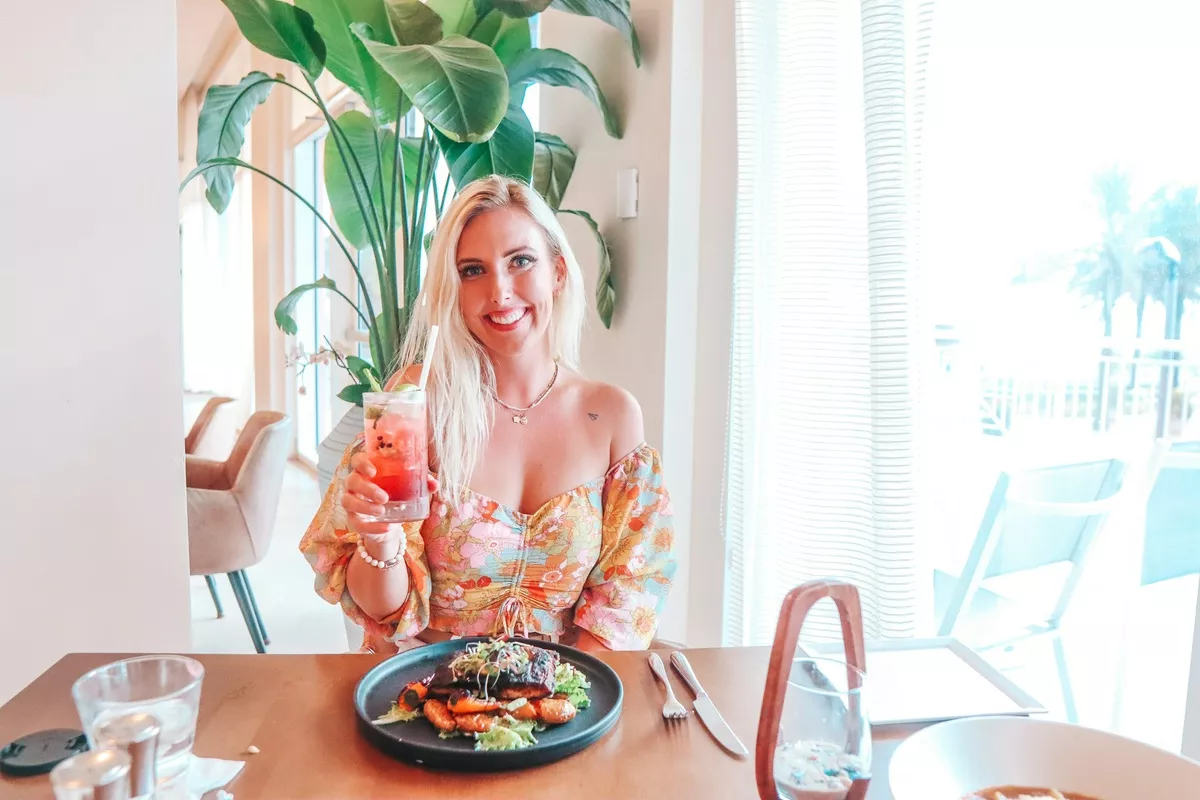 Their cocktails were divine— they are currently debuting a new menu that uses a "flavor blaster" device that infuses their cocktails with aromatics and smoke for a one-of-a-kind cocktail experience.
Don't you dare skip dessert! Even if you opt to drink it, they have several amazing dessert cocktails including a couple of variations of an espresso martini which I cannot recommend enough. Along with amazing food and drinks, the atmosphere is sophisticated yet relaxing, and the service is truly some of the best I have ever received!
With its awesome vibe and delicious food and drinks, it's definitely one of my favorite date night restaurants in Tampa Bay.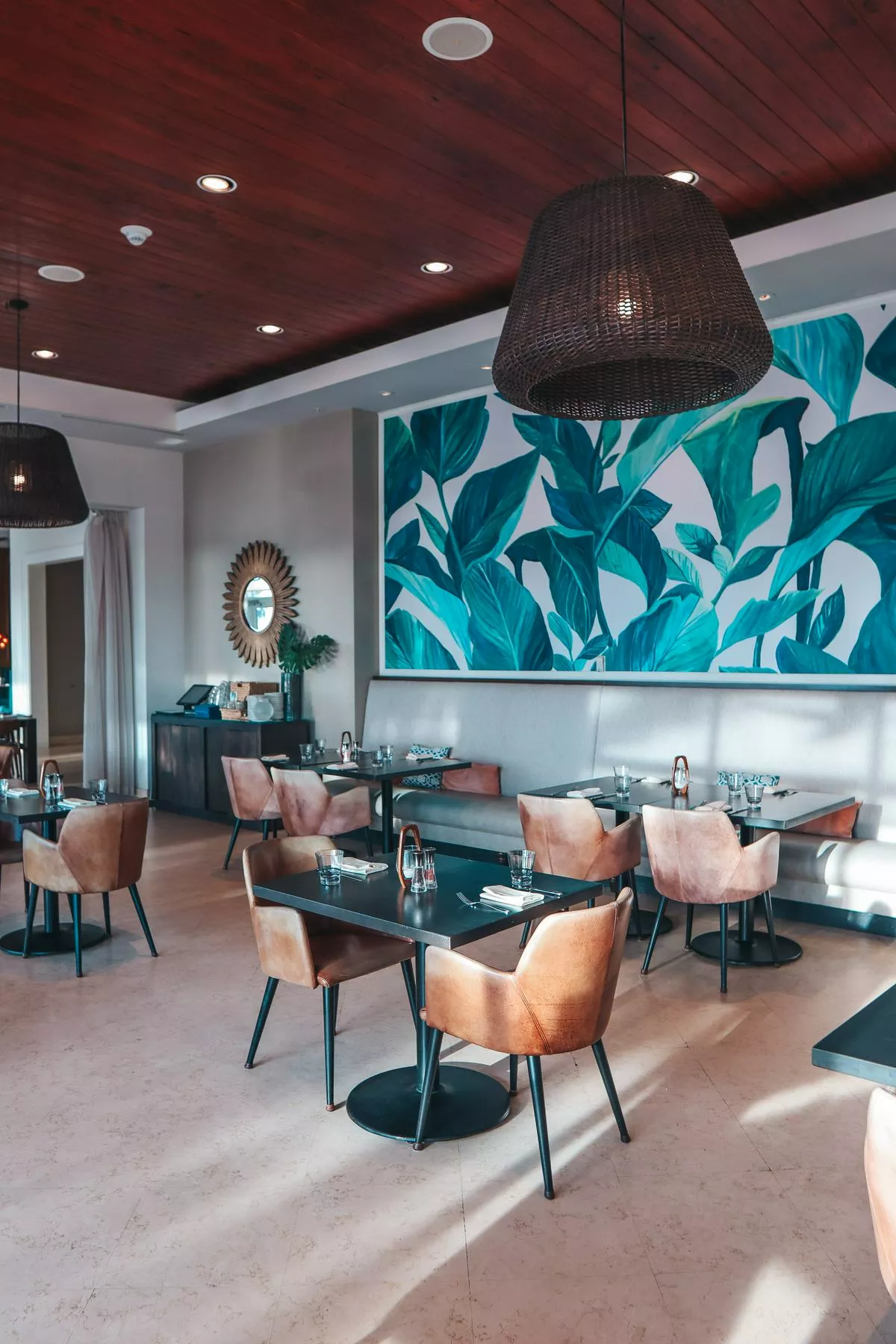 Palm Pavilion
Burgers, tacos, bowls, salads, and more! Palm Pavilion has such a solid menu with plenty of good eats. Not to mention they are located right on the beach (just a hop, skip, and a jump away from Frenchy's Rockaway).
This is the place that made me fall in love with coconut shrimp! And their grouper sandwiches are outstanding as well. You have 3 different styles to choose from. 
I know that sometimes when you're on vacation it feels like it's impossible to eat healthily, but if you visit Palm Pavilion I can assure you that won't be an issue. I'm a sucker for a good salad, and Palm Pavilion's southwest salad and the sunset salad both provide a heavenly array of flavors.
I know you're probably here for the seafood, but just know that there are lighter options available, even on the beach!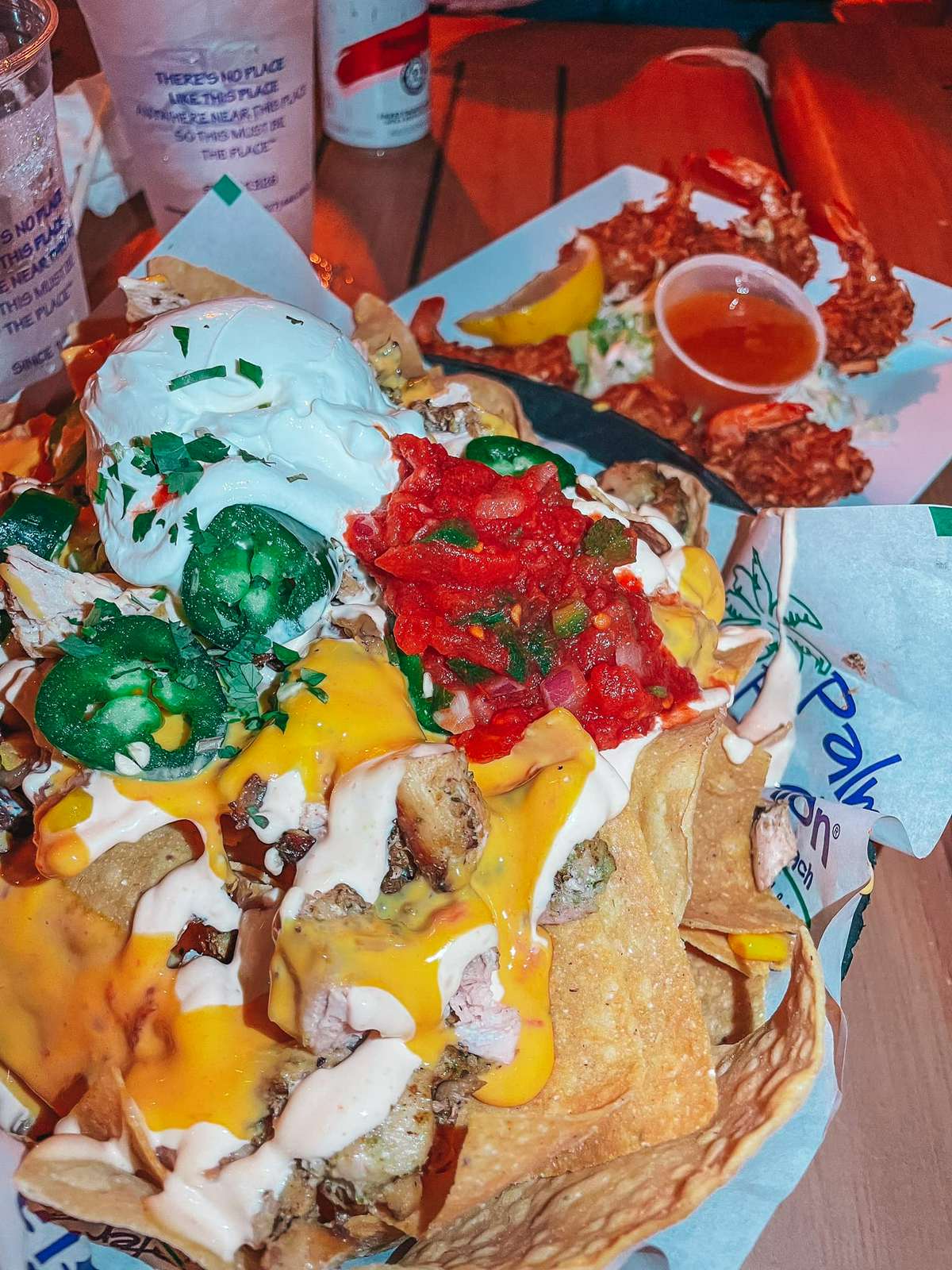 Jimmy's Fish House
Jimmy's Fish House is the best waterfront restaurant in Clearwater Beach. It's not located on the beach— the outdoor area is literally located on a deck that goes right over the ocean.
Not only is the environment stunning, they also have live music every night (it gets very fun and lively on Fridays and Saturdays!), delicious seafood, and a nightly sunset celebration which includes free shots 😉 It's the perfect dinner spot for celebrating fun occasions like a Clearwater Beach bachelorette party.
I can recommend endless dishes from this spot, but whatever you do, start with the jolly mon shrimp!
The crab legs, blackened grouper, crab-crusted salmon, and crispy honey shrimp bowl are all some of my favorites! Want something on the lighter side? The grilled salmon salad is AMAZING and enough to leave you satisfied.
They also have a sister location, Jimmy Guana's, in Indian Rocks Beach.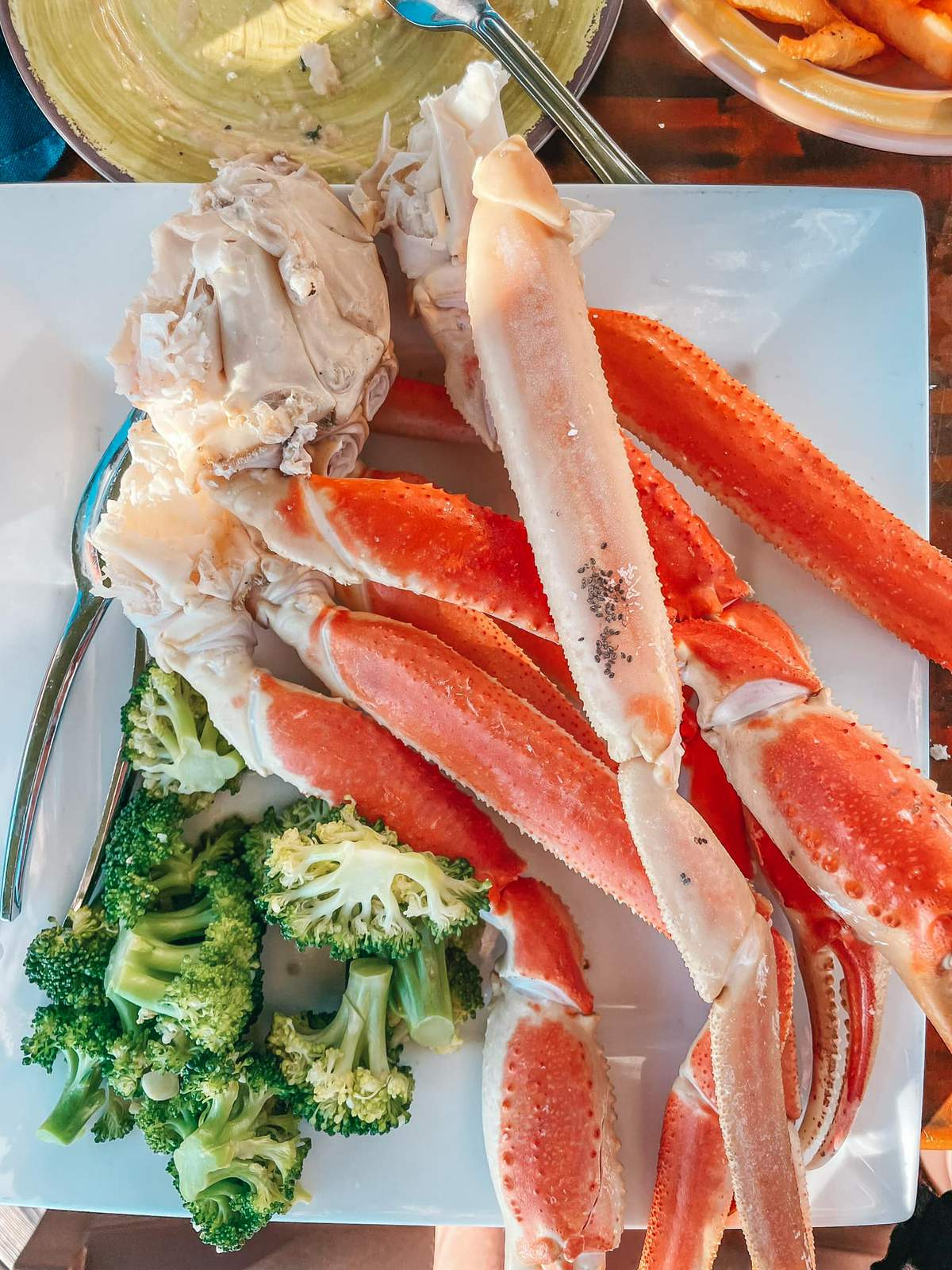 Cooters
What I love about Cooters is they have AMAZING daily specials and happy hours! Mondays and Tuesdays they do crab legs, all-you-can-eat fish and chips on Wednesday, and Thursdays are Grouper Thursdays where they feature nearly a dozen grouper dishes. Their blackened grouper is some of the best grouper in Clearwater Beach.
The atmosphere is sports pub meets beach bar, so along with the fresh seafood you can expect bomb wings and cold beer as well! If you've read my other blog posts, you most likely know that I have a slight obsession with oyster shooters. Their menu just happens to feature their very own Cooters Shooter— so throw one back for me if you go!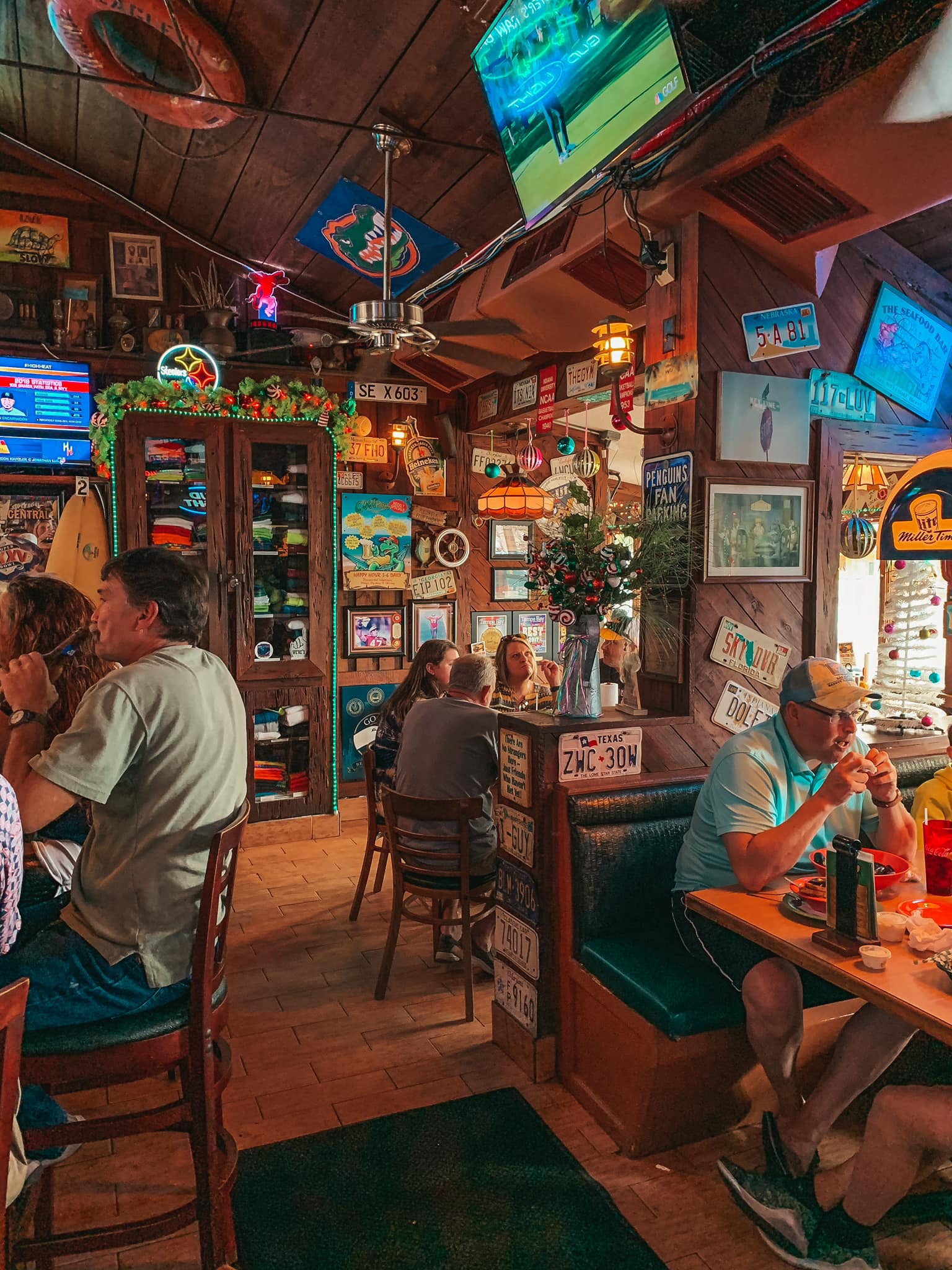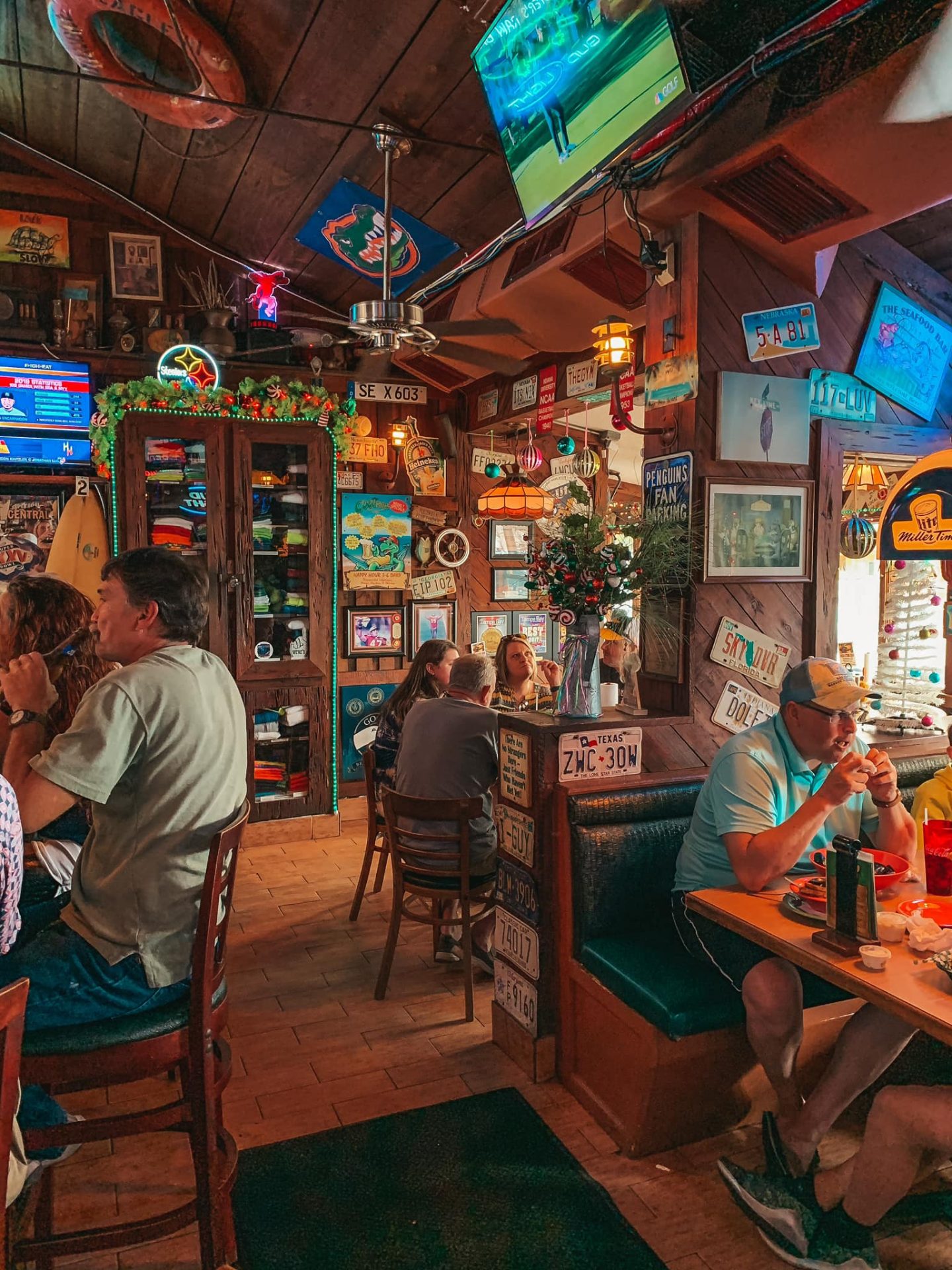 Clear Sky
This is a favorite for visitors and locals alike. Clear Sky is a gastropub with a fresh chef-driven pub grub menu, and the menu is EXTENSIVE, featuring flavors from around the world with samples of Mexican, Asian, Italian, French, and classic American dishes.
We had the most difficult time trying to decide what to get because literally everything sounded so good. If you're worried they're doing too many things and the food may be mediocre, let me assure you that is not at all the case.
For our meal, we started with the crab hush puppies and ended with the sesame chicken and cajun seafood pasta. All 3 selections were done so well and packed such amazing flavor!
They serve breakfast (it's one of the best breakfast spots in Clearwater Beach too), lunch, and dinner and even have a bloody mary bar on the weekends. Be sure to check out their Dunedin location too!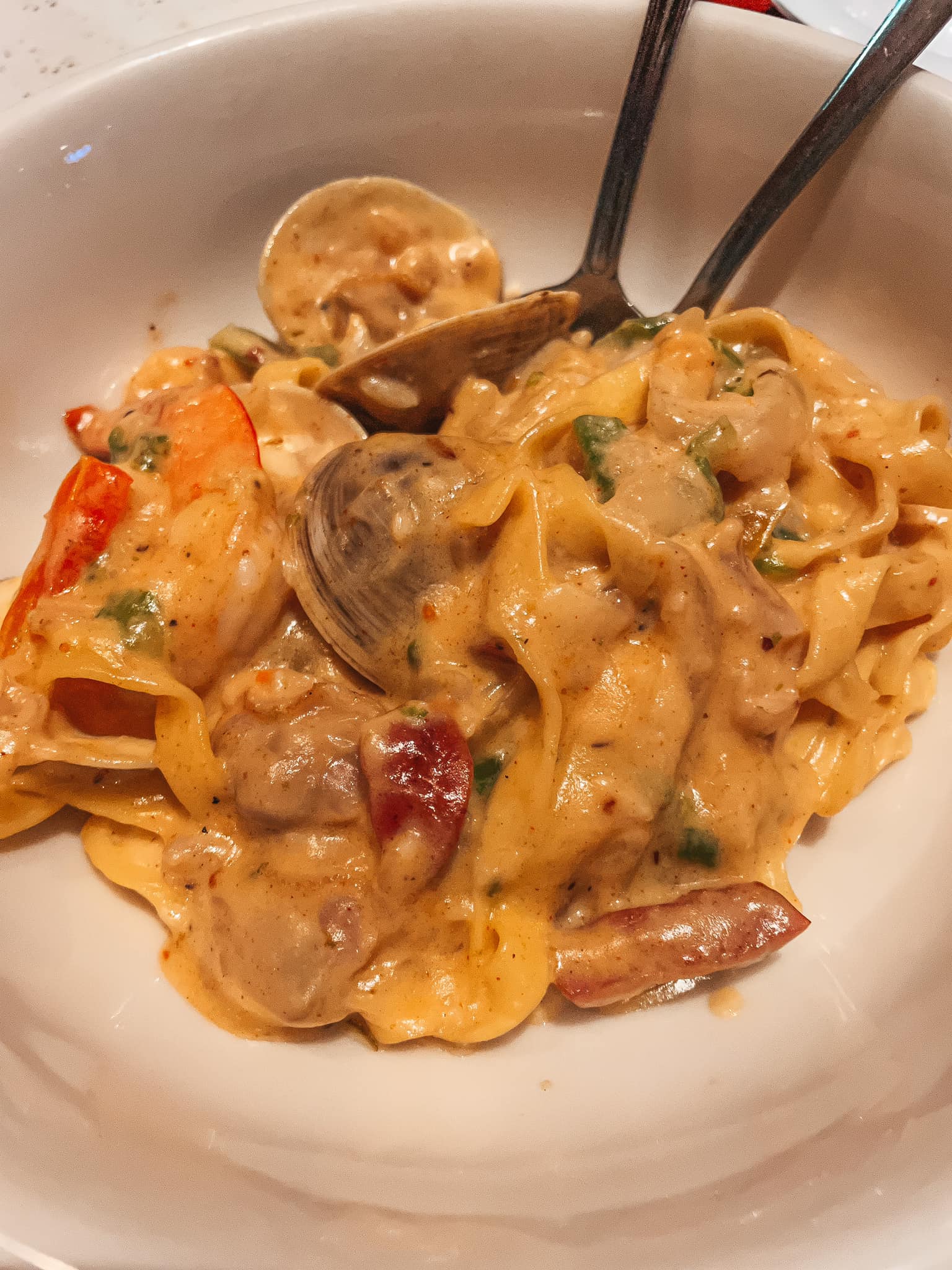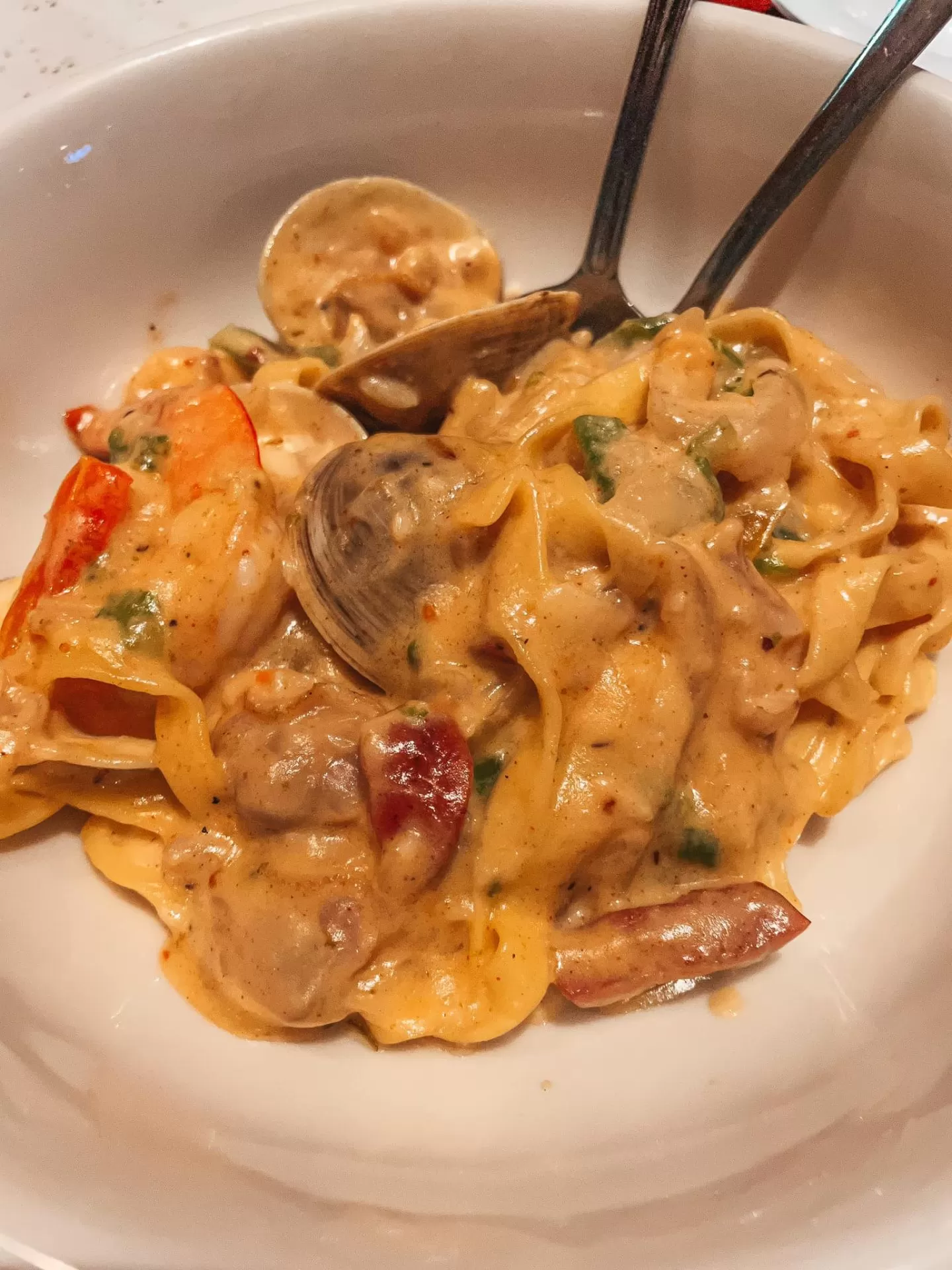 Brown Boxer
There is a Brown Boxer on North and South Beach. While both have amazing food, I prefer the one on North Beach a little more, only because it has an arcade upstairs!
It's typical pub fare here, but they do it sooo well! Their tuna nachos, loaded nachos, boxer balls (basically mini Reuben balls with a yummy sauce), and boneless wings have all played a helping hand in helping me get over some classic Clearwater Beach hangovers.
They also have excellent burgers, wraps, and tacos. Boxer is great for affordable prices and delicious food, and they even have some solid daily specials (varies by location). This is a great Clearwater Beach restaurant to watch a football game or get some late-night bites after a day of drinking!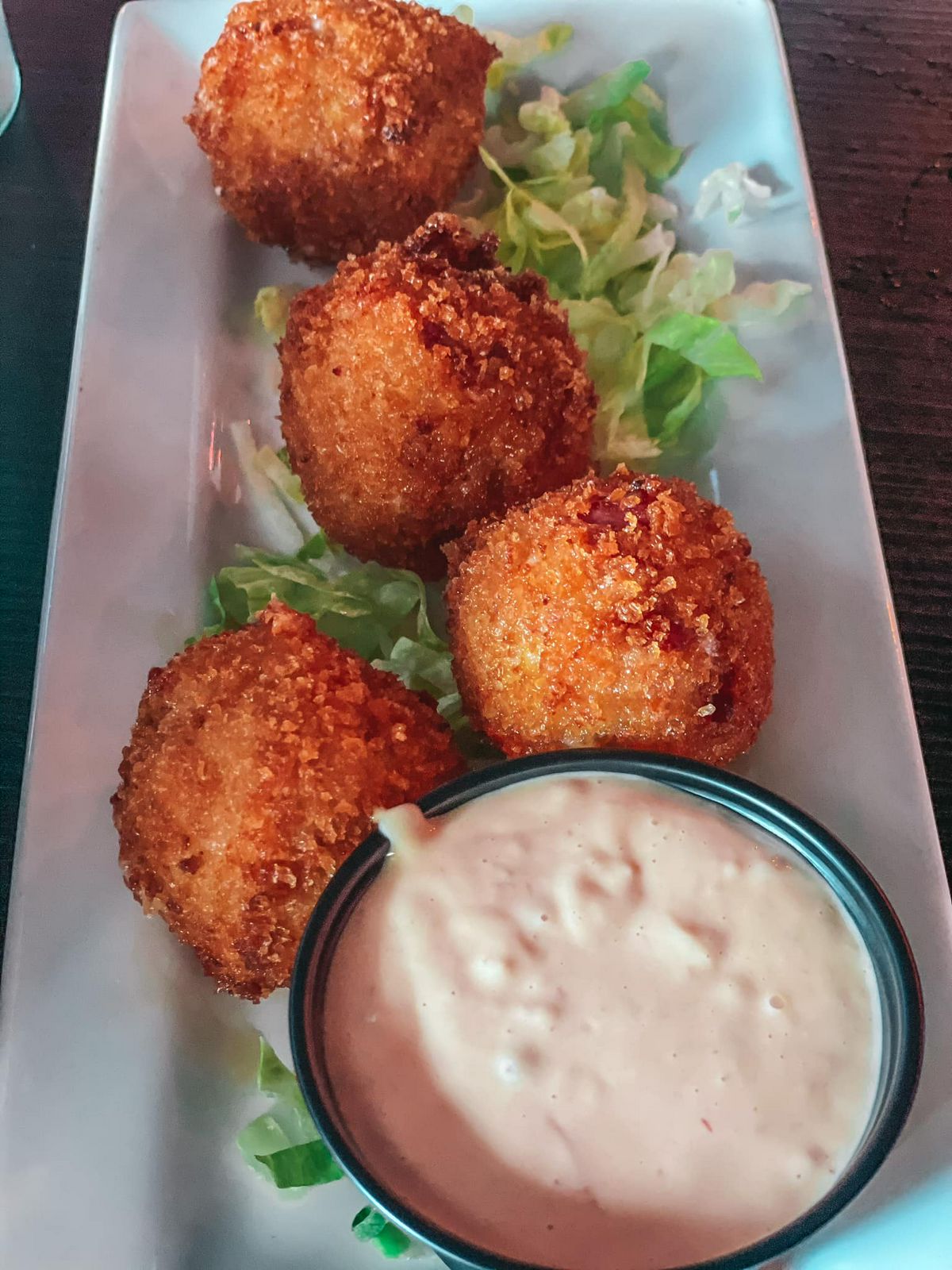 Bait House Tackle & Tavern
Looks may be deceiving with this dockside fish shack and tackle shop that has some of the best seafood in Clearwater Beach. Bait House has been open since the 1940s! While the full-service restaurant only came to be in 2010, they definitely know what they're doing.
Their daily menu features locally caught seafood with an assortment of beer and wine. Order their fresh catch, but not before starting with their world-famous drunken shrimp. I honestly considered doing one order for my app and another for my entree. It was that good!
They are closed on Mondays and Tuesdays. Bait House is one of the smallest restaurants in Clearwater Beach with just a handful of tables on the patio (plus a few bar stools), so be prepared to potentially wait for a little if you come during typical busy lunch and dinner hours.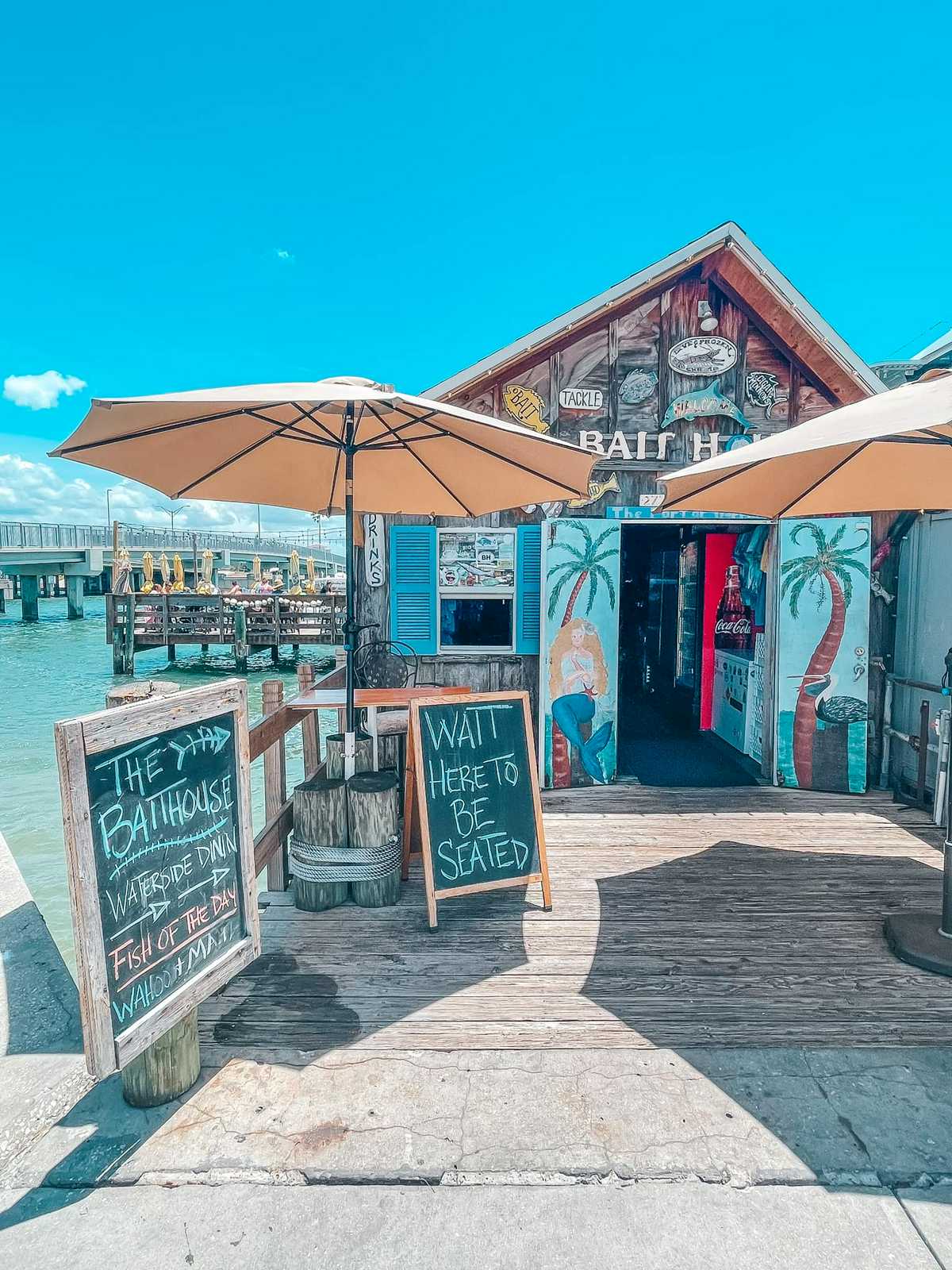 Badfins
Brews on tap (34 of 'em!), tacos, typical pub grub, and live music are all available at this laid-back hangout with terrace seating. The menu is a Mexican seafood blend. Badfins also has artisan cocktails, milkshakes, and desserts for those of you with a sweet tooth.
The whole menu is pretty fire, but if you need more assistance in deciding, check out their online menu which features photos of each item. I went with their snapper tacos (the "oh snap" on the menu). They tasted unbelievably fresh and flavorful!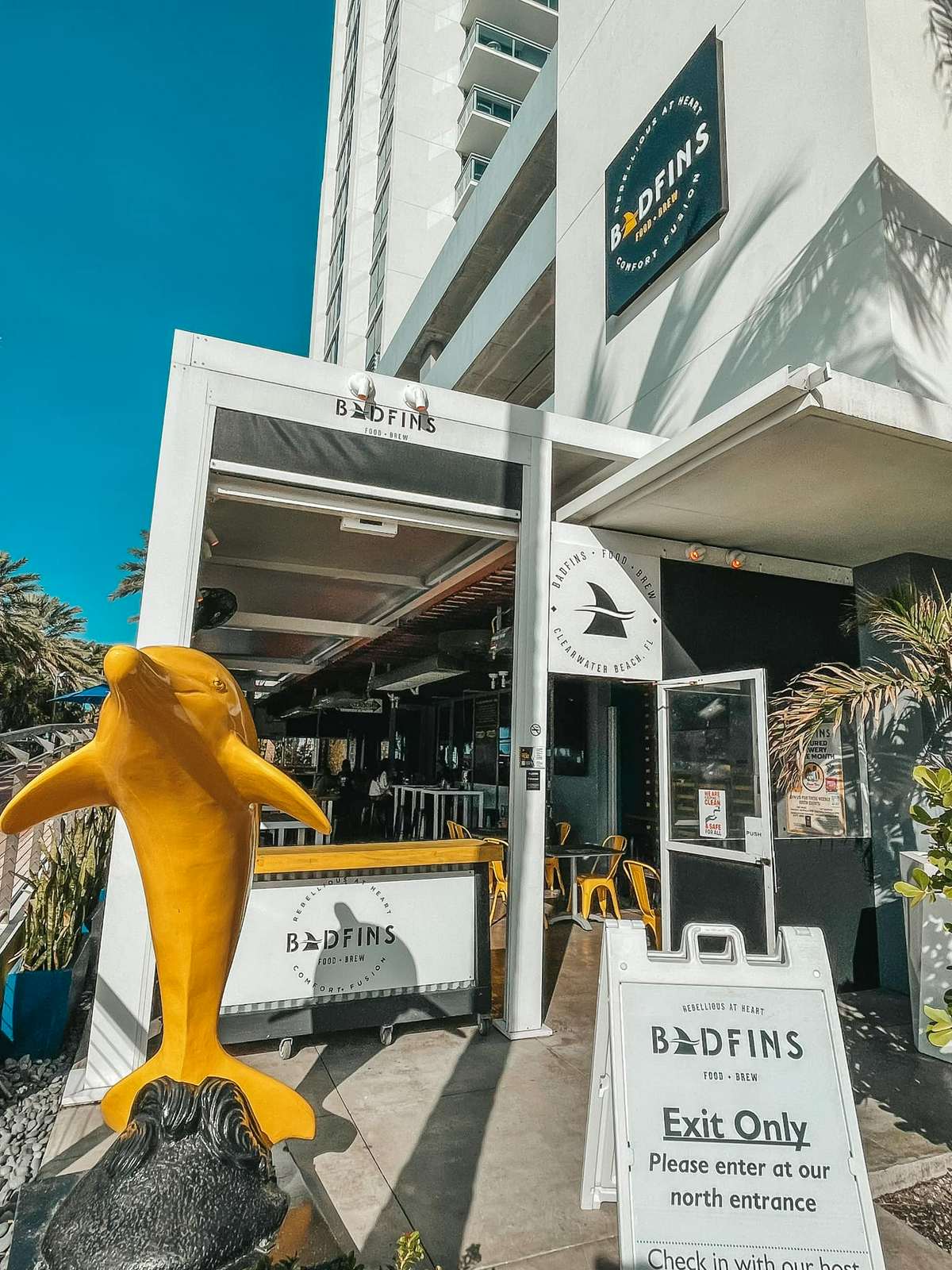 I have to give Tommy's Tiki an honorable mention— it's a tiki bar right on Clearwater Beach outside of The Hilton. Their cocktails are delicious, but if you're looking for a light bite during your beach day, their Greek salad is the best on the beach! Their quesadilla and fries were also extremely noteworthy too.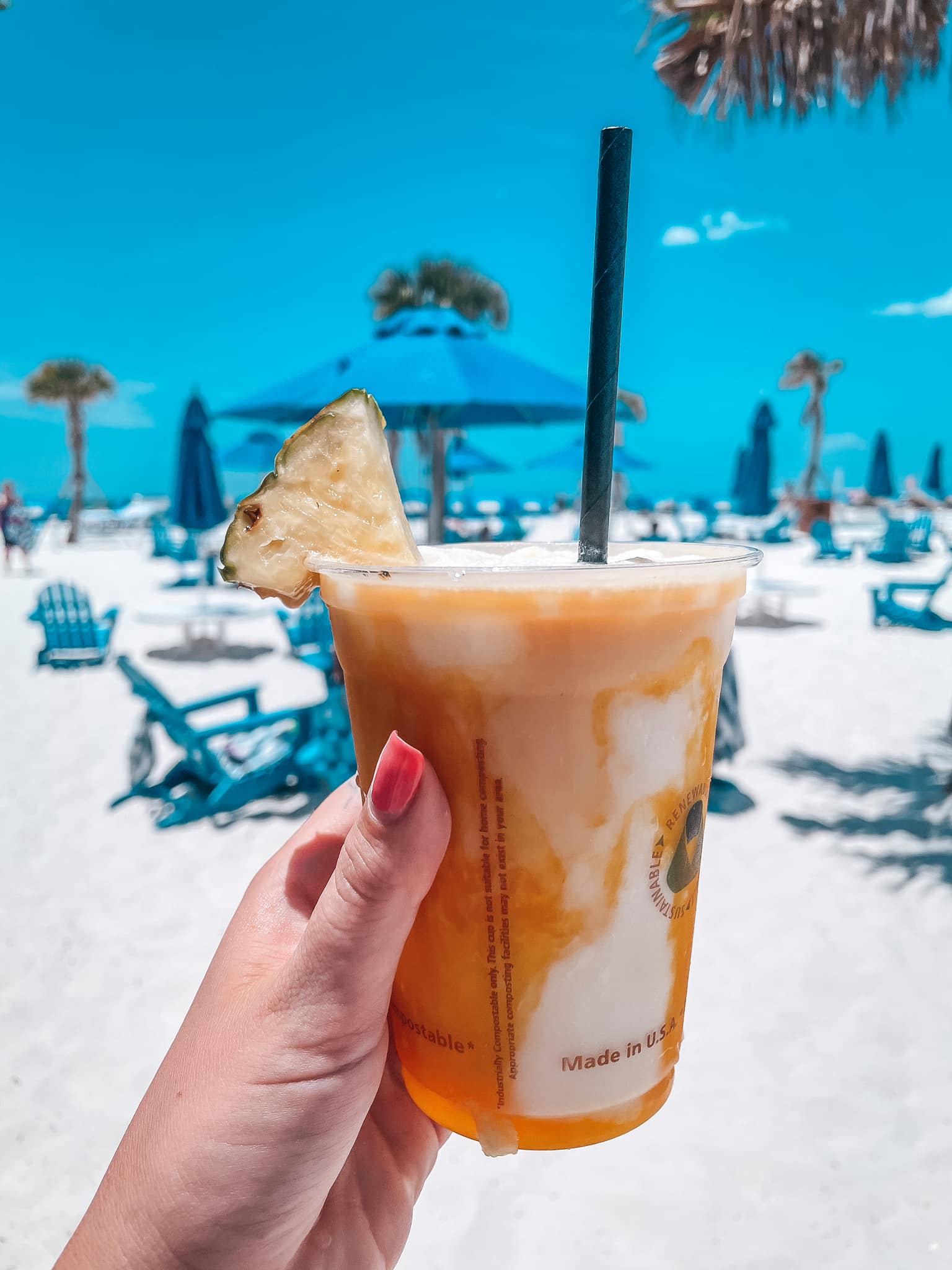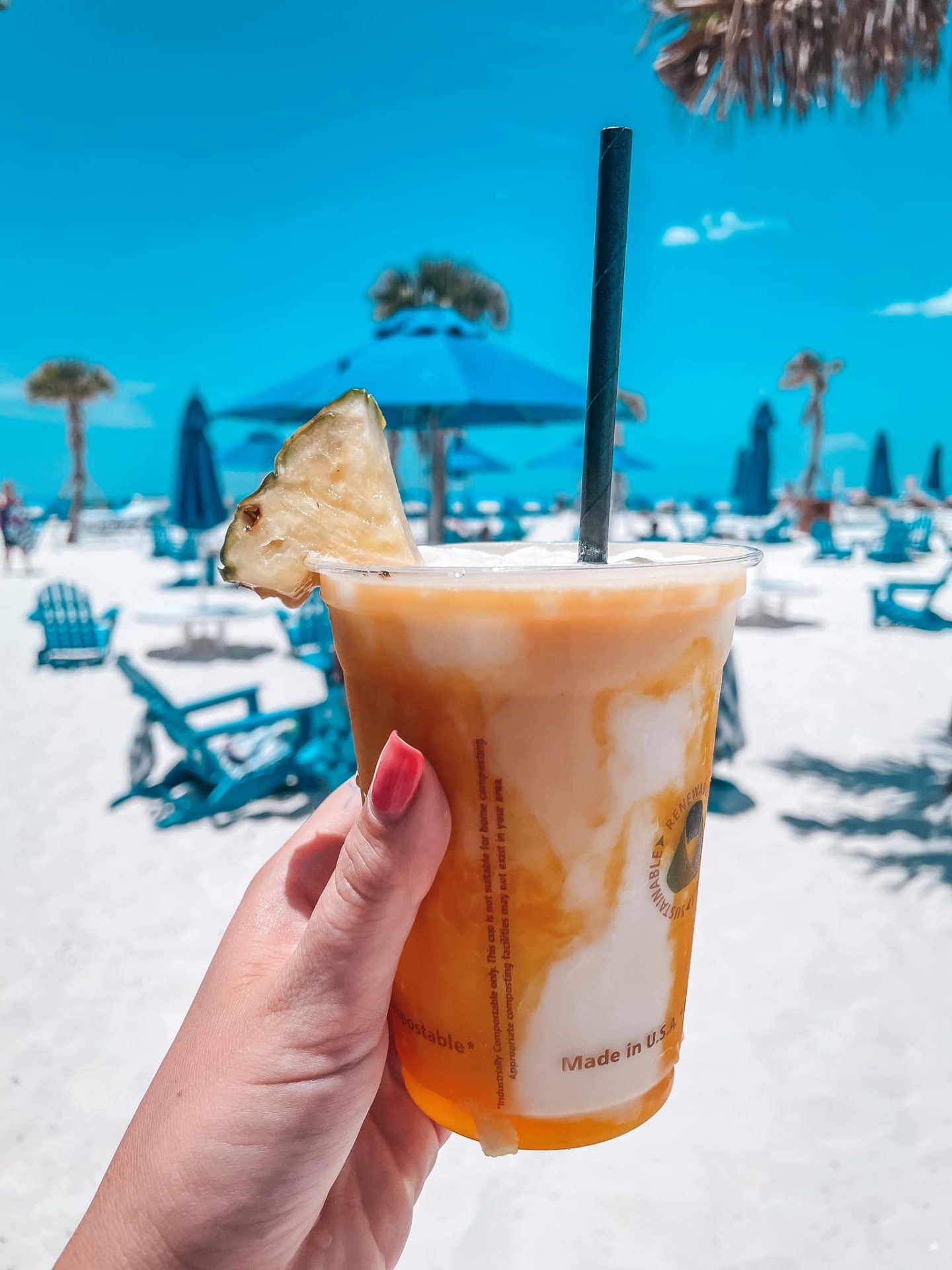 I hope this list of the best Clearwater Beach restaurants in Florida assists you in planning your beach vacation! Whether you're looking for pub grub, waterfront dining, or the best seafood in Clearwater Beach, I can assure you this list has you covered. Let me know which Clearwater Beach restaurant is your favorite in the comments!
Best things to do in St. Pete Beach