This post contains affiliate links which means that I will make a small commission if you purchase a product after clicking on any of them, at no extra cost to you.
I love a good coffee shop. There's nothing like sitting in a cozy café, enjoying a cup of joe with friends, family, or just you and your laptop. The best part is that there are plenty of cafés in Dunedin Florida to satisfy your cravings for coffee and pastries.
Many of you know I fell in love with this charming town long ago, and it has been so fun exploring every inch of Dunedin from breweries to restaurants to bars, and now finally all of its adorable coffee shops! If you're looking for a place to grab a coffee while exploring downtown Dunedin, you're not going to want to miss any of these spots.
Best Dunedin Coffee Shops
1. Sandpiper Coffee
This Dunedin coffee shop, like several others on this list, is a house transformed into a cafe making the space even more cozy and warm. The hazelnut latte from Sandpiper Cafe was so deliciously smooth with the perfect amount of sweetness and flavor! They have their own custom-blended coffee which is roasted on-site in the cafe to ensure peak flavor and freshness. 
They have indoor, porch, and adorable outdoor seating where you can enjoy your coffee and breakfast or lunch. I have yet to eat here, but they have a lovely menu with everything from French toast to breakfast quesadillas.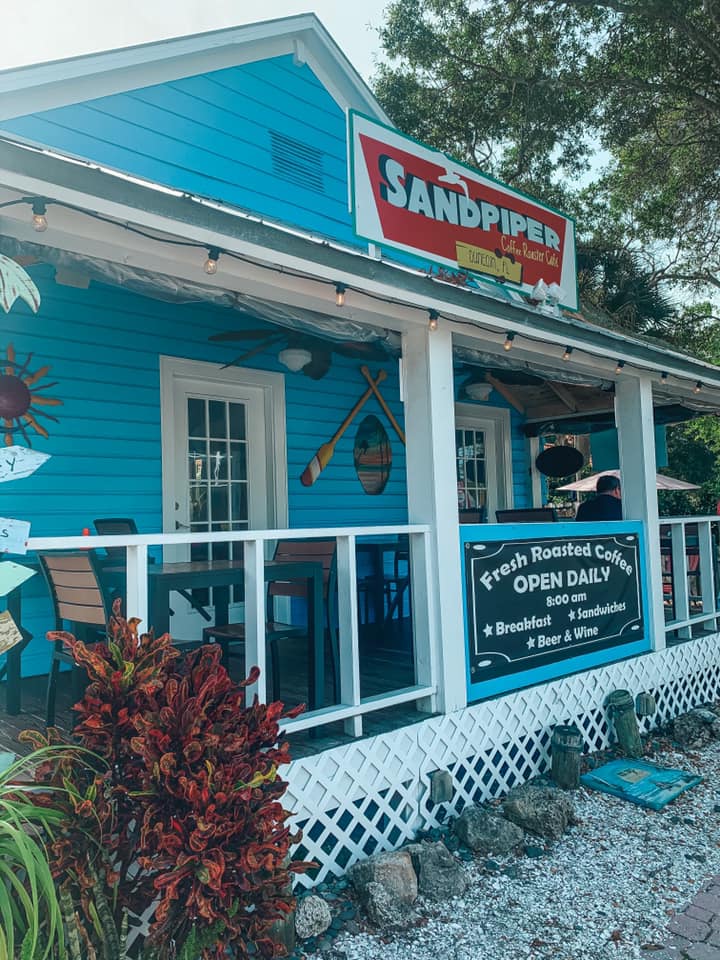 2. Tukro Coffee
TuKro Coffee is too cute! It's the perfect place to post up with your laptop or catch up with a friend. And of course, it helps that their coffee is to die for. All of their syrups are made in-house from scratch with all organic ingredients.
They always seem to have a fun specialty latte or coffee drink, and their concoctions haven't let me down thus far! I especially love their snickerdoodle iced latte with oat milk. Oh, and don't even think about leaving without a pastry 😉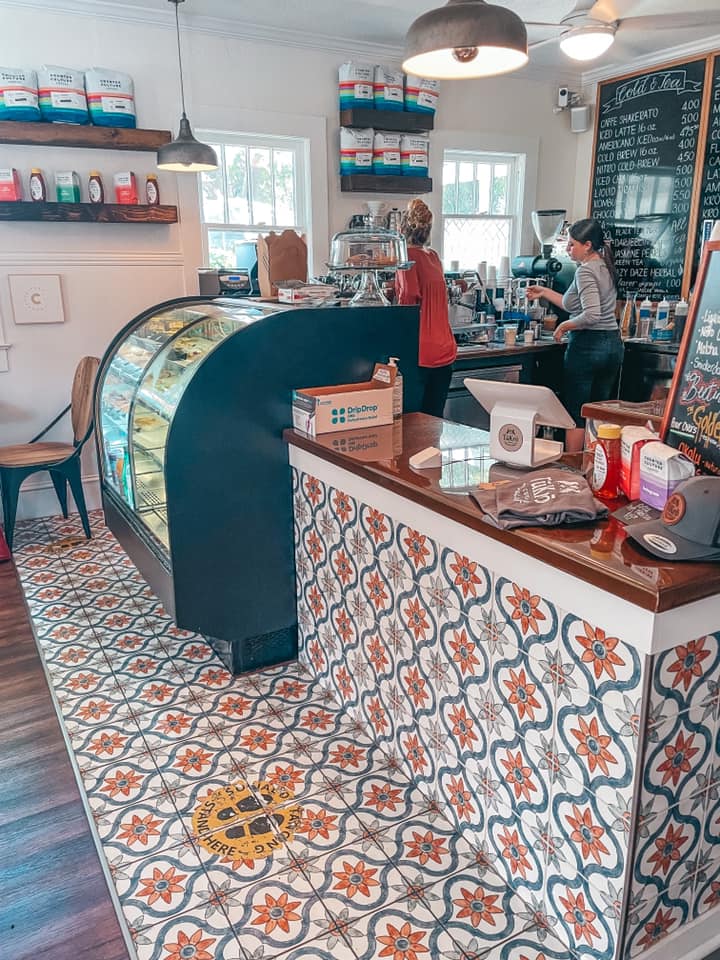 3. Lavita Bakery and Gelato (formerly known as Scone Age Bakery)
Lavita Bakery and Gelato is a local favorite that serves up the best scones in town. The menu offers great options for vegetarians and vegans as well. Lavita's owners pride themselves on using fresh and organic ingredients to bring scratch-made traditional baked goods back to the table.
Their scones are certainly what they're known for, however, I struggled for several minutes before finally settling on my sourdough cinnamon roll which they kindly warmed for me. It was delicious! But I will certainly be back to make my way down their list of baked goods which changes daily.
The atmosphere is relaxed but cozy, with plenty of seating inside or outside on the patio.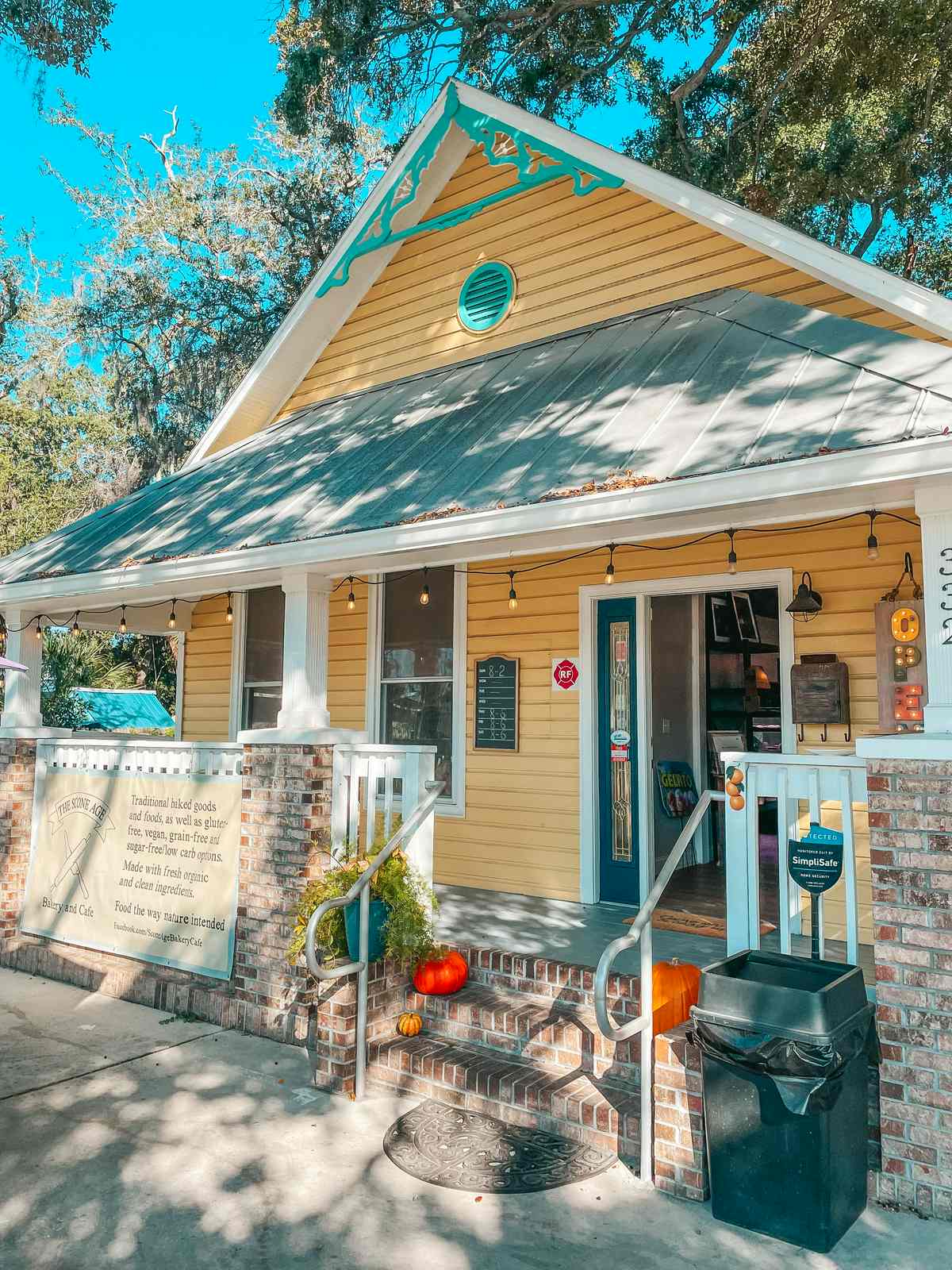 4. Art Smart Coffee
This Dunedin coffee shop is one of a kind. Art Smart Coffee doesn't just serve up amazing coffee, they provide you with an immersive art experience. You're surrounded by all forms of art from sculptures to paintings, all of which are for sale. They even have items such as vintage jewelry for sale.
Another thing that sets them apart is they serve up their iced coffee with coffee ice cubes! I take forever to drink and enjoy my coffee, so the fact that I get to avoid it being watered-down is a huge win.
5. Dunedin Coffee Company
Dunedin Coffee Company is another quaint and cozy coffee shop in Dunedin. It has a quiet atmosphere and good food. I enjoyed my basic vanilla cappuccino the last time I went, however, I recently got wind that their iced vanilla lavender coffee, cafe con Leche, and white chocolate raspberry freeze are all divine. I definitely plan on making my way back here ASAP so I can let you know if that checks out 😉
Dunedin Coffee Company also has plenty of baked goods and a full breakfast menu to order from if you bring your appetite.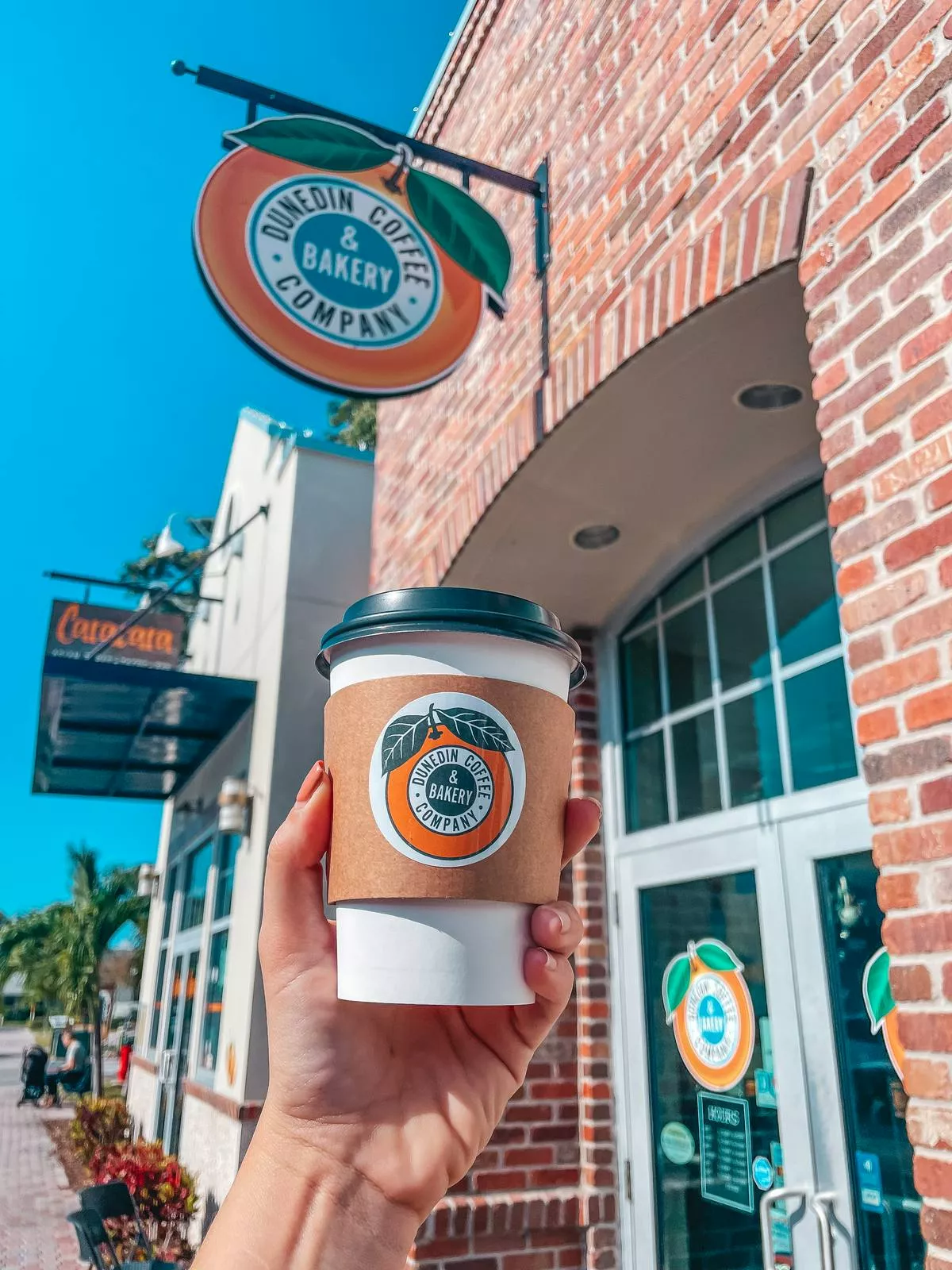 6. Veskolini Cafe
Veskolini Cafe is a European-style cafe you're going to want to visit hungry. The coffee shop has a large selection of breakfast, lunch, and bakery items.
Seeing so many veggies on their bagel breakfast sandwiches definitely gave me warm flashbacks to Budapest, it was my favorite breakfast! The only problem with this place is the internal battle of do I do savory or sweet.
With bakery options like coffee cake muffins, pistachio and ricotta cake, and limoncello mascarpone I obviously couldn't decide. I enjoyed my savory breakfast sandwich, and Remi got their chocolate croissant. Both were great, but the true star of the show was their hot caramel Brulee latte. It was the perfect amount of sweet and creamy.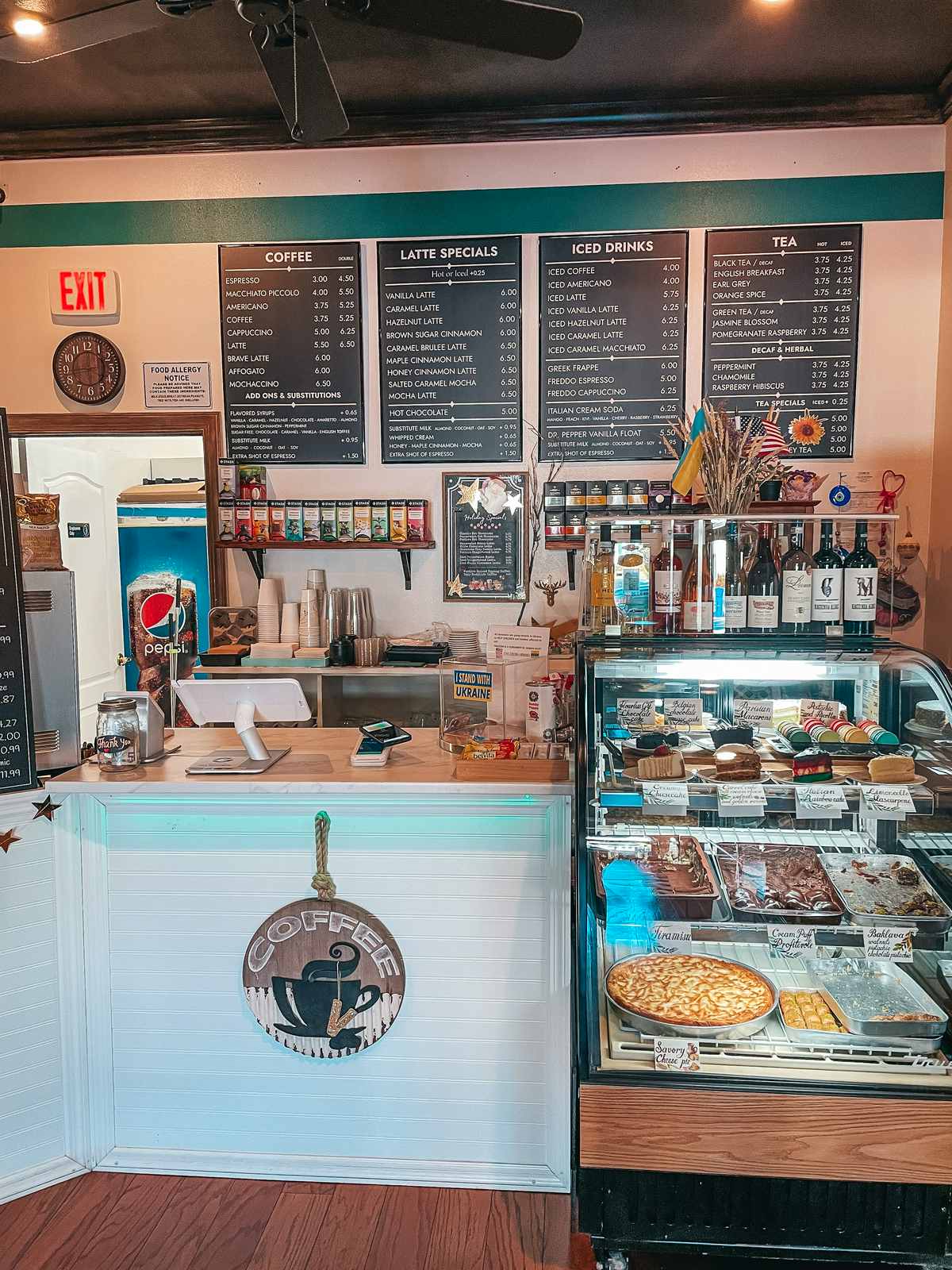 I hope this guide has given you some ideas on where to go for coffee in Dunedin. Don't let the size of the city fool you, there are plenty of great cafes in Dunedin to get your caffeine fix at, and they're all within walking distance or a short drive from each other!
If you're a coffee shop fanatic like myself, be sure to check out the best coffee shops in downtown St. Pete and Tampa as well!