This post contains affiliate links which means that I will make a small commission if you purchase a product after clicking on any of them, at no extra cost to you.
Kailua and Kaneohe are stunning towns on Oahu not to be overlooked. I truly fell in love with them on my last visit. You can expect hikes, waterfalls, beautiful beaches, and amazing food as just a few of the things that top the list of best things to do in Kailua and Kaneohe.
Similar to the North Shore, you won't find any hotel towers or resorts here. These parts are more about charming coffee shops, cozy bed-and-breakfasts, family-run eateries, and amazing outdoor activities.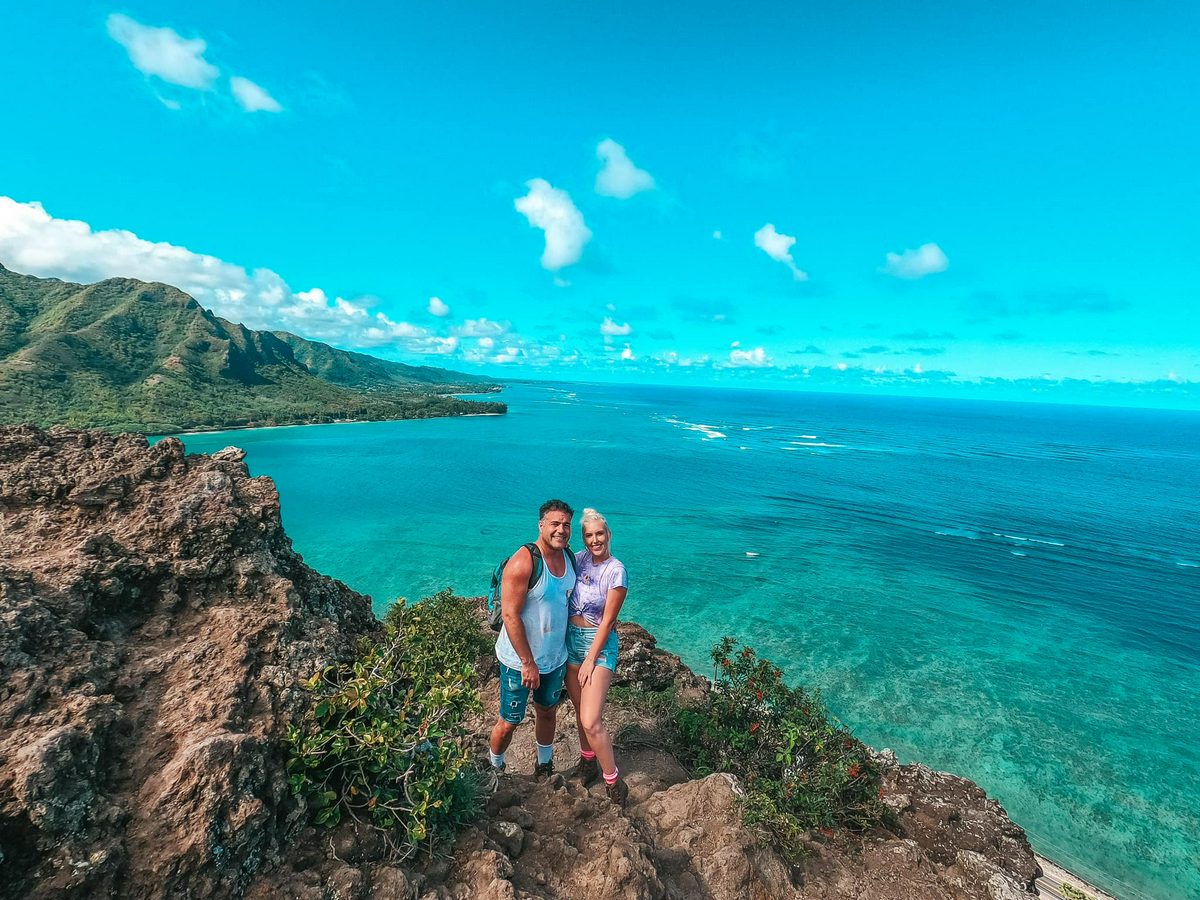 Things to do in Kailua
Lanikai Pillbox Hike (aka Kaiwa Ridge Trail)
This is one of the best hikes on Oahu, and I honestly think it's one I will do every time I visit. The best time to do the Lanikai Pillbox hike is at sunrise. It's absolutely magical.
I am sure the view is beautiful no matter what time you do this hike, but I really hope you get to experience a sunrise here. This means waking up well before the sun comes up, and factoring in drive time and initial hike time to make it to the top while it's still dark.
It takes some extra effort, but the panoramic view you get of the island at the peak with the sun coming up behind the ocean is a sight you will never forget. If you do this hike your first morning on the island, it definitely helps you adjust to the time change. I have woken up before my alarm both times!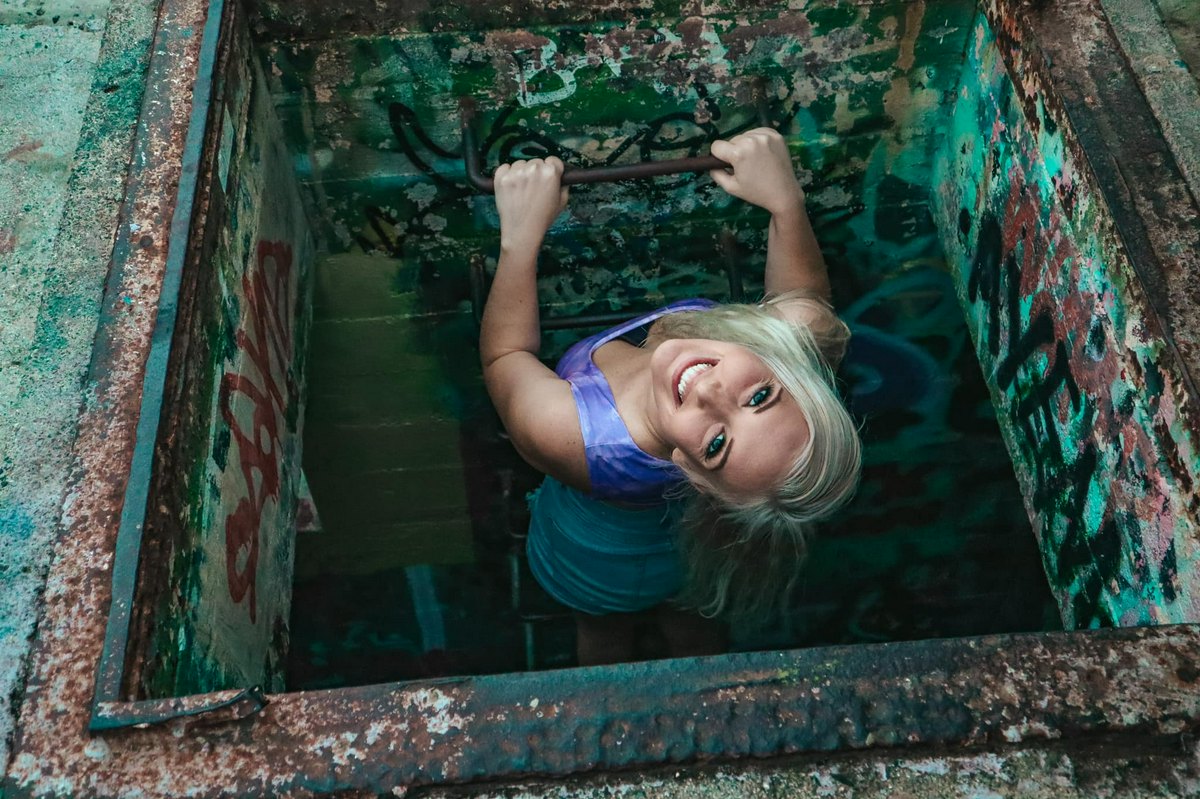 This hike is a 1.8-mile out-and-back trail, and I'd describe it as moderate. If you're doing it to watch the sunrise, then it's going to be dark on your way up, so be sure to bring a headlamp (one of the necessary items on my Hawaii packing list)! With the rocky path and some of the climbing you're going to have to do, your phone flashlight just isn't going to cut it.
Once you reach the top, there are a couple of military bunkers you can climb on that give you an even better view, and they're a nice spot to chill while you wait for the main event. Including the 30 minutes of us lounging around the top enjoying the view, it took us about an hour and a half round trip. 
Your GPS is most likely going to take you to the trail entrance right by the Mid Pacific Country Club, where there is usually (or has been both times I went) a security guard letting you know you can't park there. Finding parking along the streets has been easy enough in the early mornings!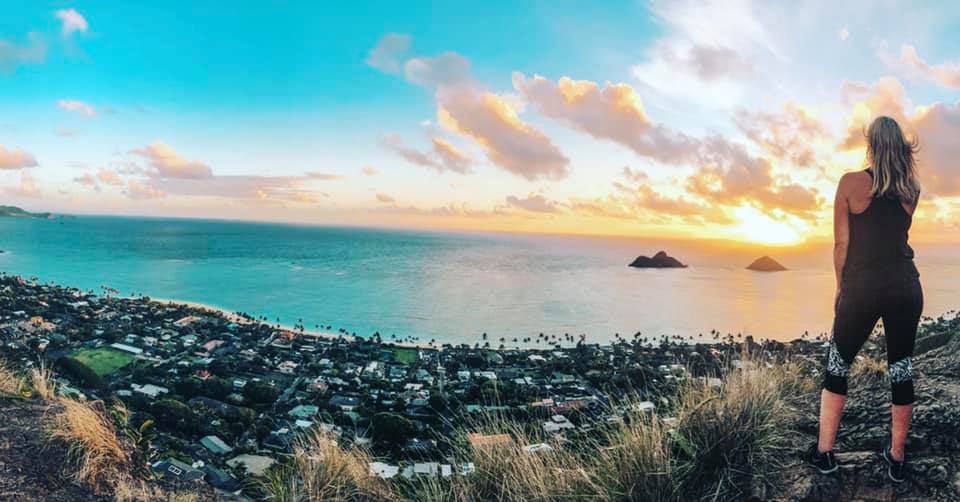 Kayak at Kailua Bay
Kayaking around the beautiful beaches is easily one of the best things to do in Kailua. With Kailua Beach Adventures you can choose between a guided or self-guided tour that takes you on a half-day eco-adventure.
Expect to enjoy spectacular island views from the ocean by paddling out to Popoia Island (Flat Island) or the Mokulua Islands, snorkel with green sea turtles and explore bird sanctuaries, and relax on the beach at Lanikai with this tour!
All kayaking and snorkeling equipment, as well as lunch, are included in this excursion.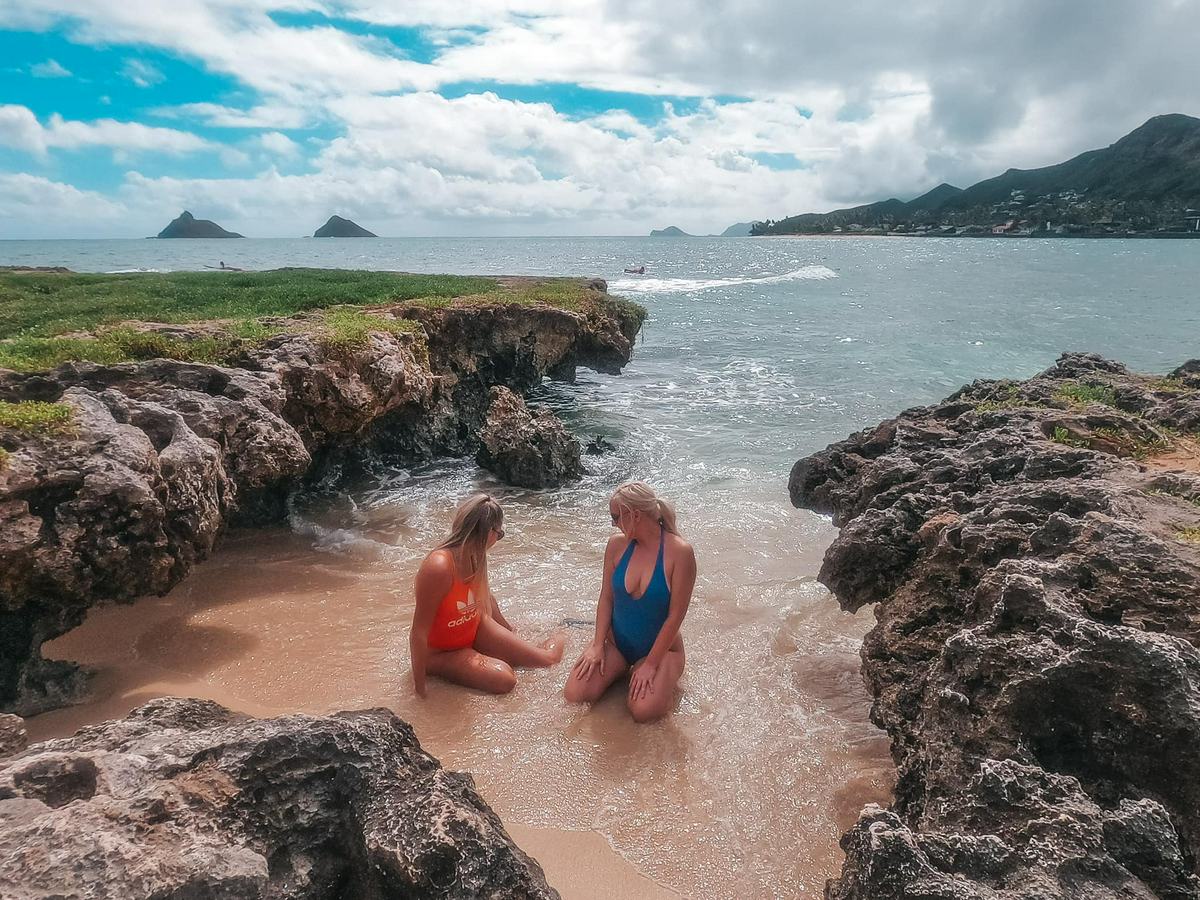 Visit the shops and restaurants in Kailua Town
Kailua Town is absolutely adorable. There are boutiques, coffee shops, restaurants, bookstores, and more! If you want to rent a bike to get around the area, there's even The Bike Shop where you can get your rental. Just enjoy strolling (or riding) around here bouncing in and out of shops and restaurants. Here are a few of my favorite shops:
Kalapawai Market
Book Ends
Bikini Bird
Classic Waves
Coco's Trading Post
D'Vine Kailua Wine Bar
Kailua Crystals
As for dining, Easy Que, Maui Brewing Co., and Kono's are solid options for lunch or dinner! And of course you gotta check out a spot to grab an acai bowl!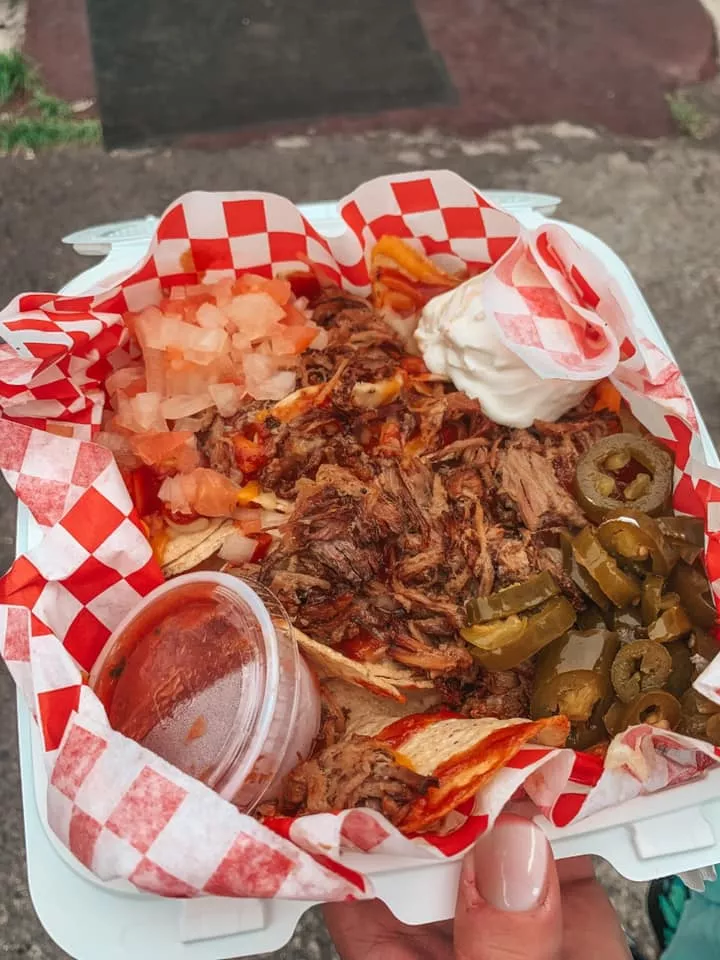 Where to stay in Kailua
I personally find the charm of Kailua or Kaneohe much more appealing than the busier Waikiki/Honolulu. These areas have a genuine local and relaxed atmosphere. Despite this, it's worth noting that the choices for accommodations here are somewhat limited.
Similar to the North Shore, hotels are not common in these parts. While there are a handful of available rentals, they tend to be in high demand and get booked up quickly. So, if you're considering a stay on this side of the island, it's advisable to make your reservation as soon as possible!
For example, there's a delightful 2-bedroom plantation home that's just a 14-minute walk from Kailua Beach and even offers air conditioning. Take a look at the available options here for your travel dates.
Alternatively, VRBO is another excellent platform to explore. Consider this lofty luxury bungalow. This newly constructed bungalow flawlessly blends modern design with traditional elegance. Its open floor plan is adorned with floor-to-ceiling windows that open up to a private, gated patio. And the rate was around $200/night when I was looking, which isn't too bad!
Things to do in Kaneohe
Kualoa Ranch
My main reason for wanting to go here was wanting to see where one of my favorite movies, Jurassic Park, was filmed. But it is so much more than that!
Kualoa Ranch offers numerous tour package options, or you can book tours individually. We did the ATV package, which included a one-hour ATV tour, a Jurassic Jungle Jeep Expedition, an Ocean Voyage Adventure, and a lunch buffet.
The ranch is absolutely beautiful! You get to see a lot of movie scene spots from flicks such as King Kong, Jumanji, and of course, Jurassic Park. I thought the ATV tour was a really fun way to explore and enjoyed it the most out of the three.
But like I said, they have a lot more package and tour options. They also have horseback riding, ziplining, and electric bike tours!  So definitely scope out their site to see which tours pique your fancy.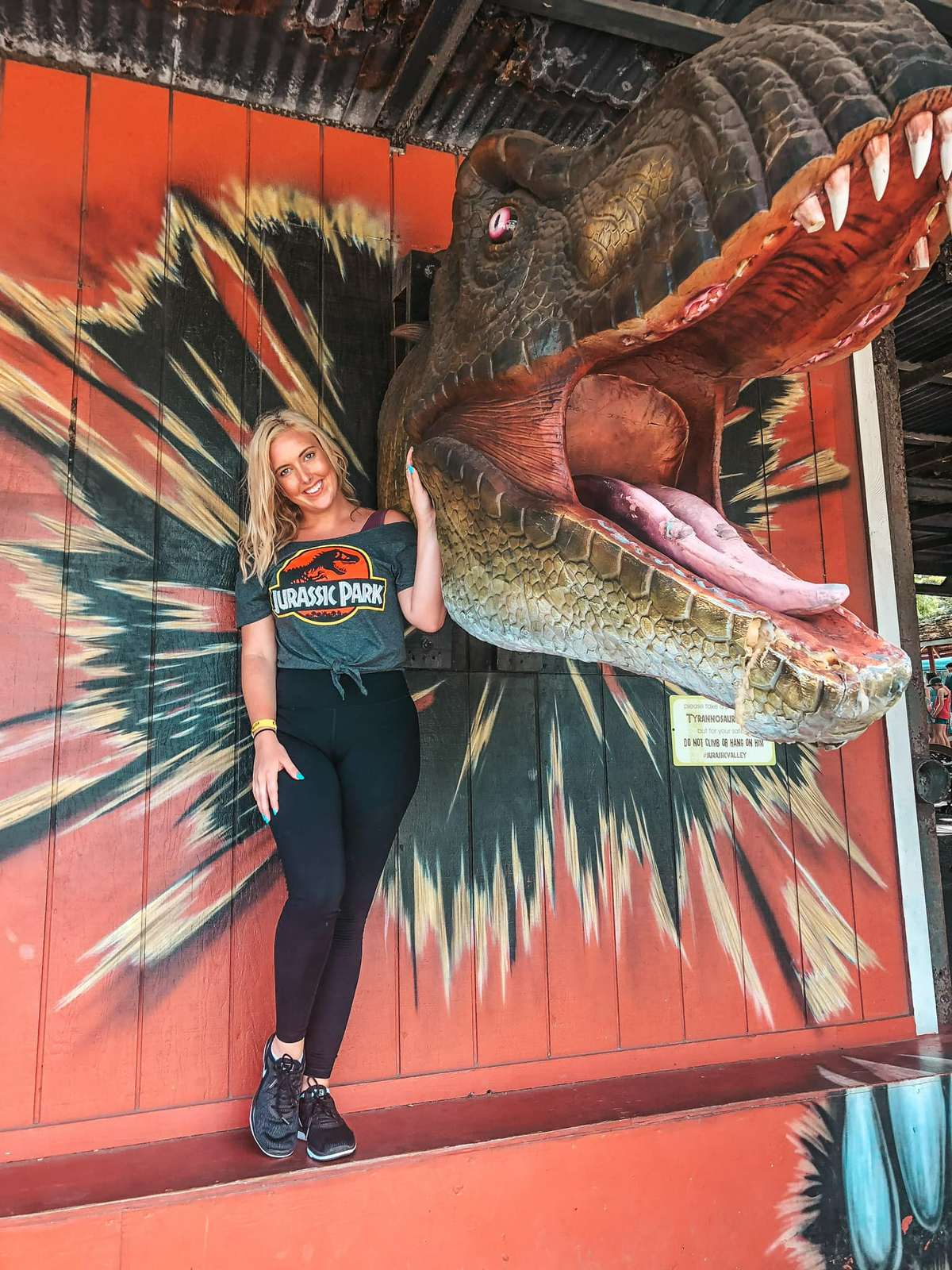 Byodo-In Temple
I still can't get over that this is in Hawaii! The Byodo-In Temple in Oahu is a smaller-scale replica of the over 950-year-old Byodo-In Temple in Uji, Japan.
It was established in 1968 to commemorate the 100-year anniversary of the first Japanese immigrants to Hawaii. It is one of the most unique things to do in Kaneohe (and it's really affordable)!
Admission is only $5, and you can even call ahead to reserve a guided tour if it interests you. We spent about 45 minutes walking around. The grounds are extremely pleasant and peaceful.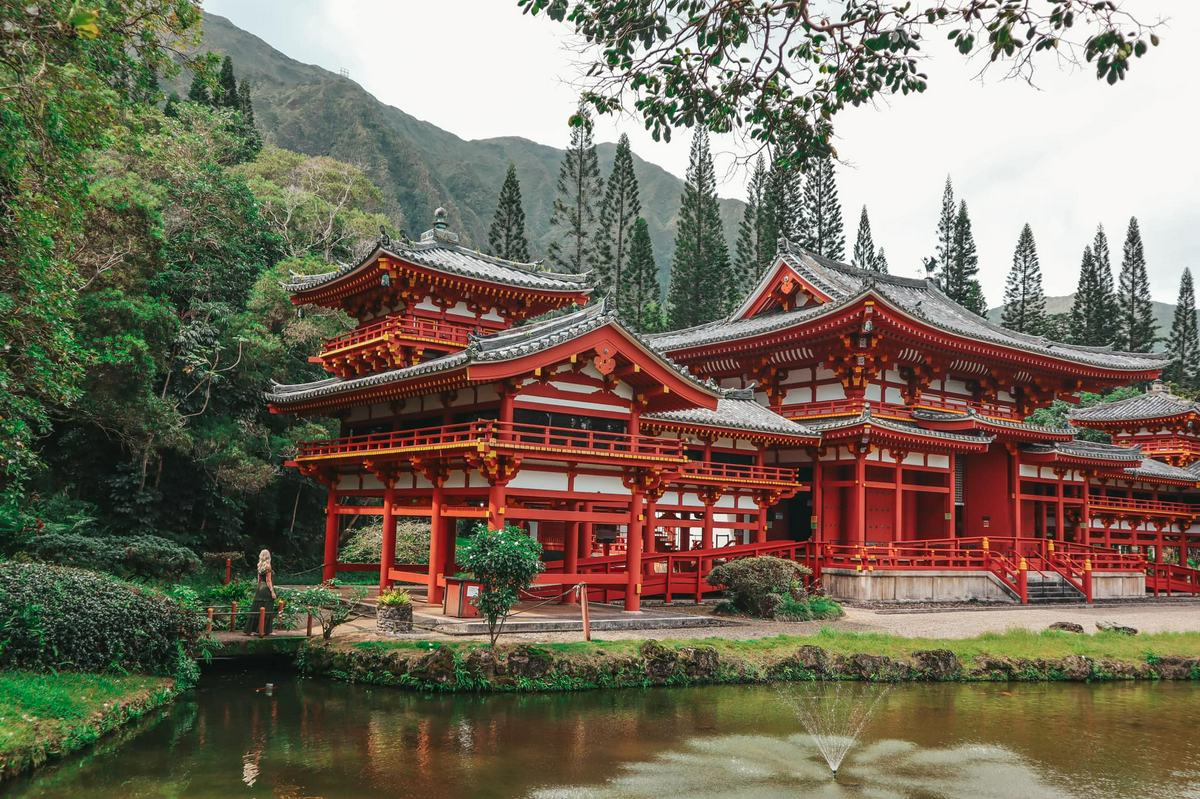 Ho'omaluhia Botanical Garden
Once you're done at the Byodo-In Temple, you may as well head 20 minutes south to check out the Ho'omaluhia Botanical Garden. Naturalists will especially enjoy this location— it truly makes you feel like you're in paradise.
You are in a lush rainforest garden surrounded by the most majestic mountain ranges. And some days there is even this fog that somehow makes the scenery even more dramatic and beautiful.
There are lakes, trails, and camping areas here as well. The garden has plants from key tropical locations around the globe organized into various collections focusing on Africa, Hawaii, India and Sri Lanka, Malaysia, Melanesia, the Philippines, Polynesia, and the tropical New World.
Plants native to Hawaii and Polynesia, as well as Arecaceae, aroids, and heliconias, are given special attention.
This is a must-see that should be at the top of your list for things to do in Kaneohe, and making the activity even sweeter, it's free!
Peep my complete list of free things to do in Oahu!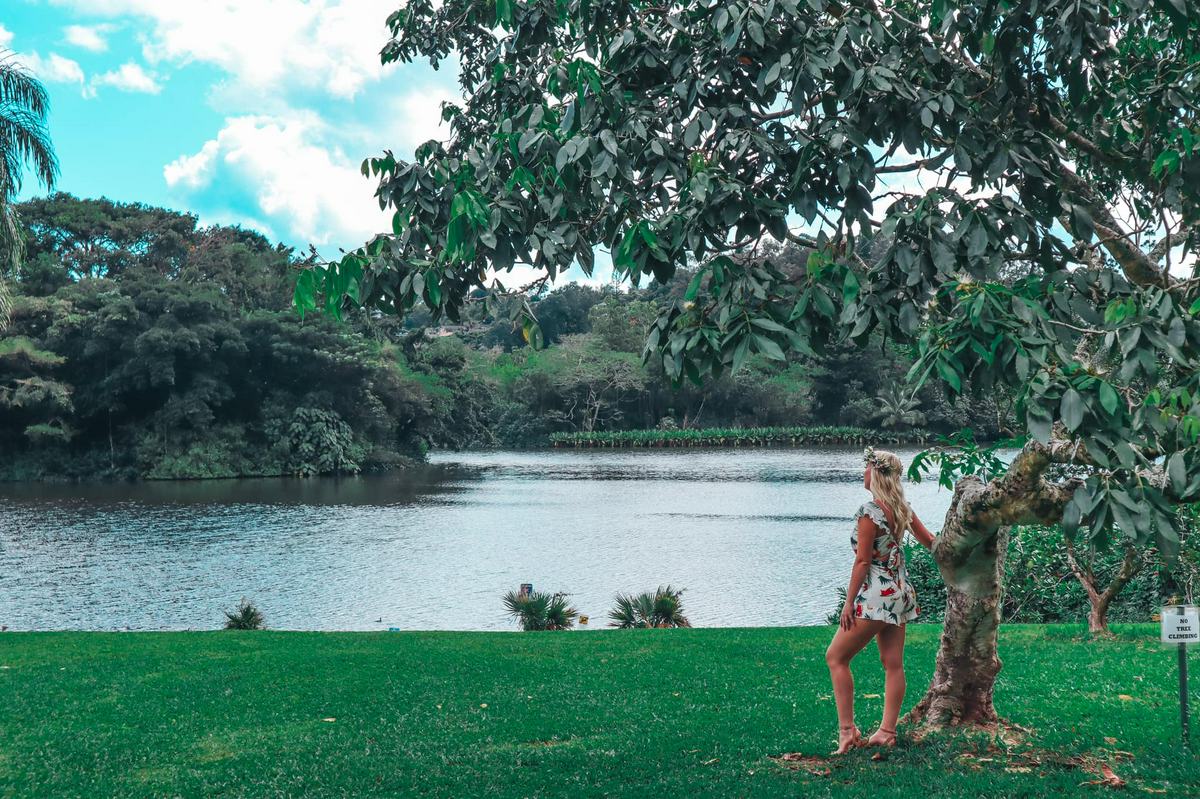 Friendship Gardens Trail
Friendship Gardens Trail is a nice, leisurely loop trail. It's even kid-friendly! The trail is just .5 miles, however it is a part of a larger loop that you may accidentally stumble upon. We actually did this and ended up hiking well over the .5 miles, so I definitely recommend downloading the map from Alltrails. I believe the bigger trail is marked by pink ribbons, so if you stumble upon those, turn back.
This hike usually has very little traffic, which is nice. It's very green, lush, and mostly shaded aside from the beautiful lookout spot. Meaning you should definitely bring bug spray! This trail can also get pretty muddy, so don't wear anything you don't mind getting dirty.
As for parking, it is limited. There are about 3-4 spots, but they are literally right at the head of the trail which is nice. We were the only car when we went around noon!
If you aren't that lucky, park at the bottom of the hill and walk up.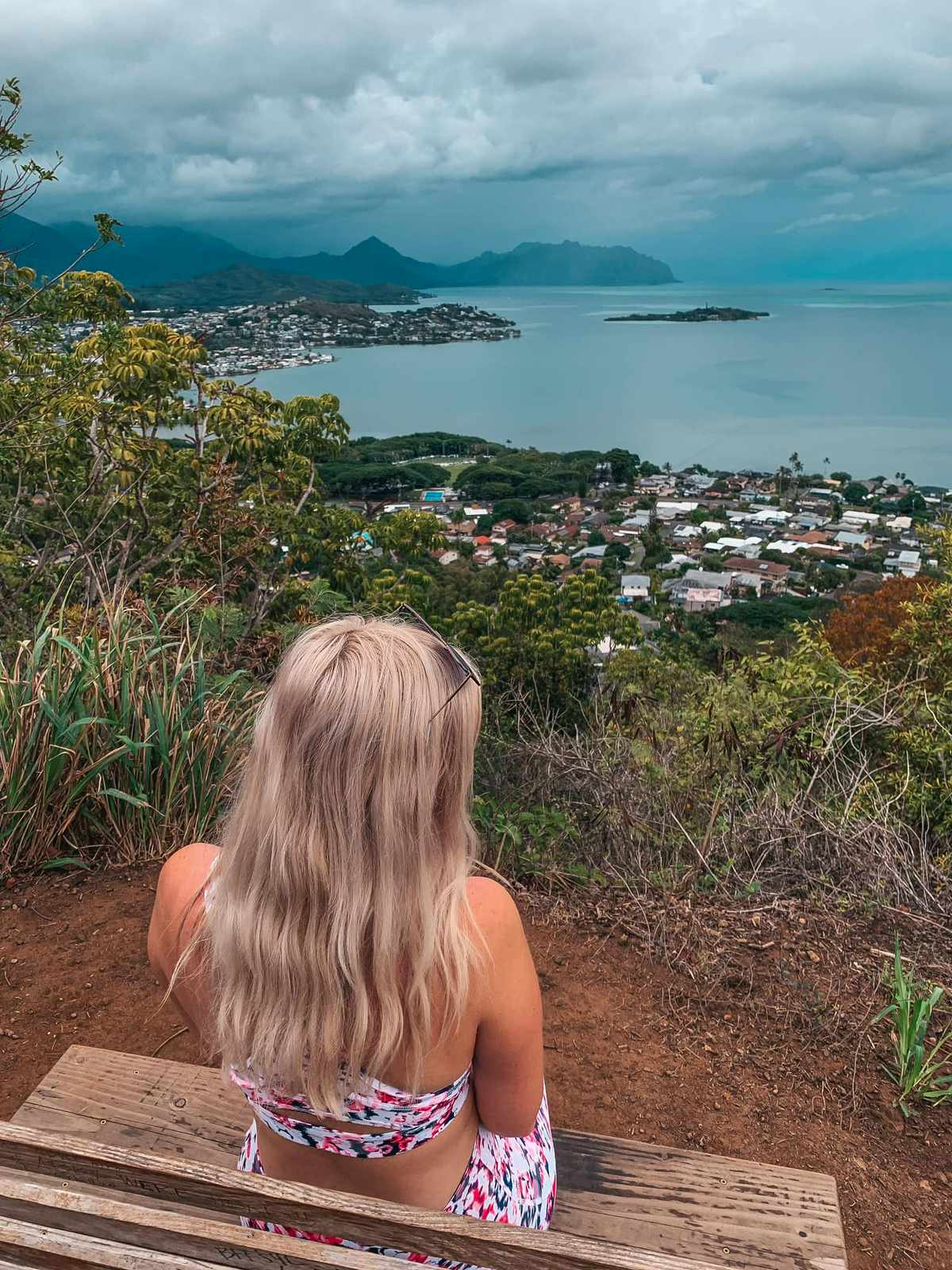 Crouching Lion
This hike is actually about 25 minutes outside of Kaneohe, but if I had to pick a runner-up for the best hike on Oahu, this is it! The views are unbelievable for this short, yet somewhat challenging, trail.
Crouching Lion is a .4-mile out-and-back trail that is short, but steep. Be sure not to go after or during rainfall, as it can get dangerously slippery. There are danger signs when entering the trailhead and you really do want to be careful, as there are steep drops at the top.
It took us a little over an hour to complete this trail, but we spent a good chunk of that time just in awe of the panoramic view we were witnessing from the top. We found parking just off the side of the road, and there was plenty of it when we went on a Tuesday afternoon.
Once you're done with the hike, grab a refreshing, cold coconut from Coconut Girl and Guys.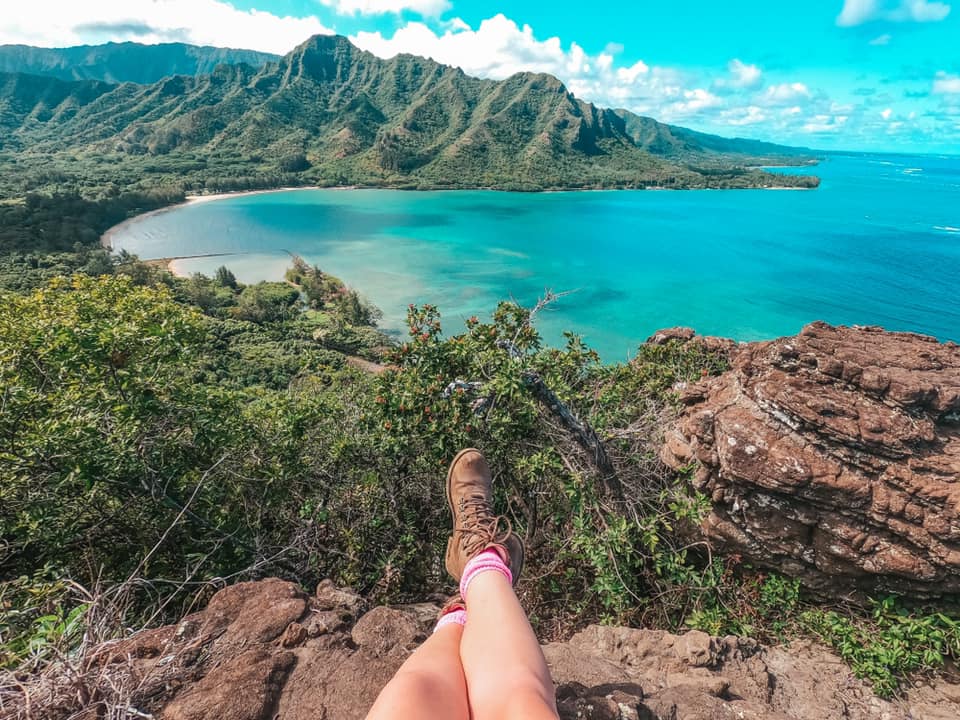 Snorkel at the Kaneohe Sandbar
Kaneohe Sandbar is an excellent spot for swimming and snorkeling, however, it's tricky to get there without your own boat. That's where Captain Bruce Private Yacht Charters comes in!
Cruise to the sandbar where you can spot turtles, relax, snorkel, or paddleboard. All of your snorkeling equipment will be provided, along with a paddleboard for use. Snacks and a community cooler are also available.
Haleiwa Joe's
Not only is this one of the best restaurants in Kaneohe, but it's also one of the best restaurants in Oahu. Haleiwa Joe's is hands down one of the best restaurant experiences you will have in your life. 
That's a bold statement, I know— but seriously. The views are breathtaking, the food is immaculate, and the drinks set a gold standard. We went here twice during our trip, and I can't wait to experience this place again when I go back.
Get there early to ensure you have a chance to try their prime rib. It's first-come, first-serve and they almost always run out by the evening. One order can feed 2-3 people— seriously it's HUGE! The seafood chowder is also a must.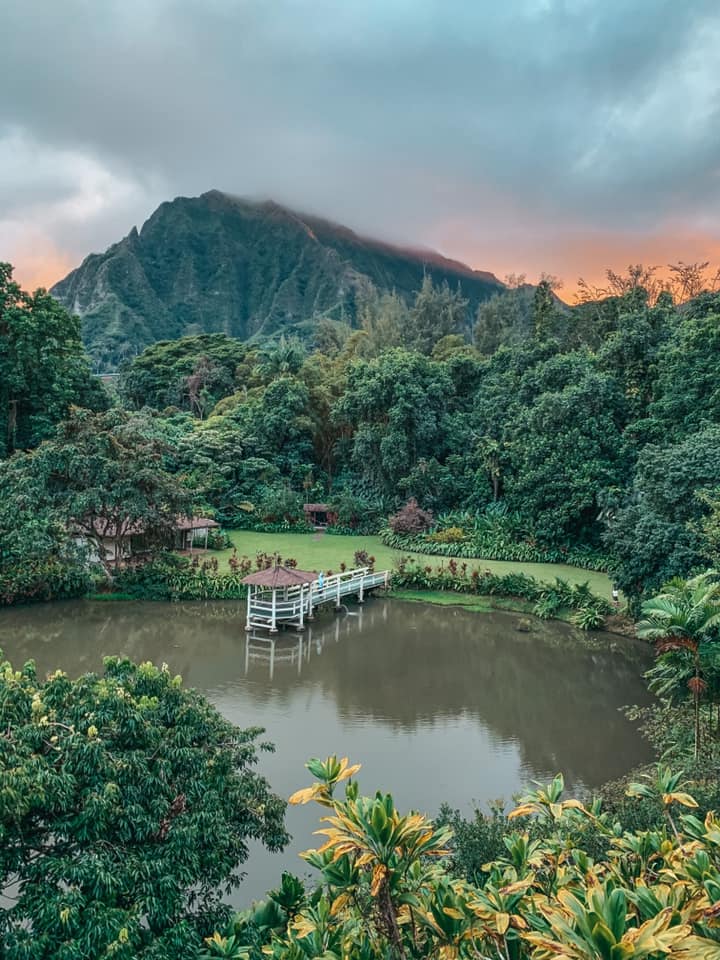 And did I mention they give you homemade guava butter with your rolls?! Hawaii is known for its Mai Tais, and Haleiwa Joe's had some of the best— get the giant one to share!
They are located in the Haiku Gardens in Kaneohe, so you can explore and take pictures there before or after dinner. There is also another location in Haleiwa if you're staying on the North Shore!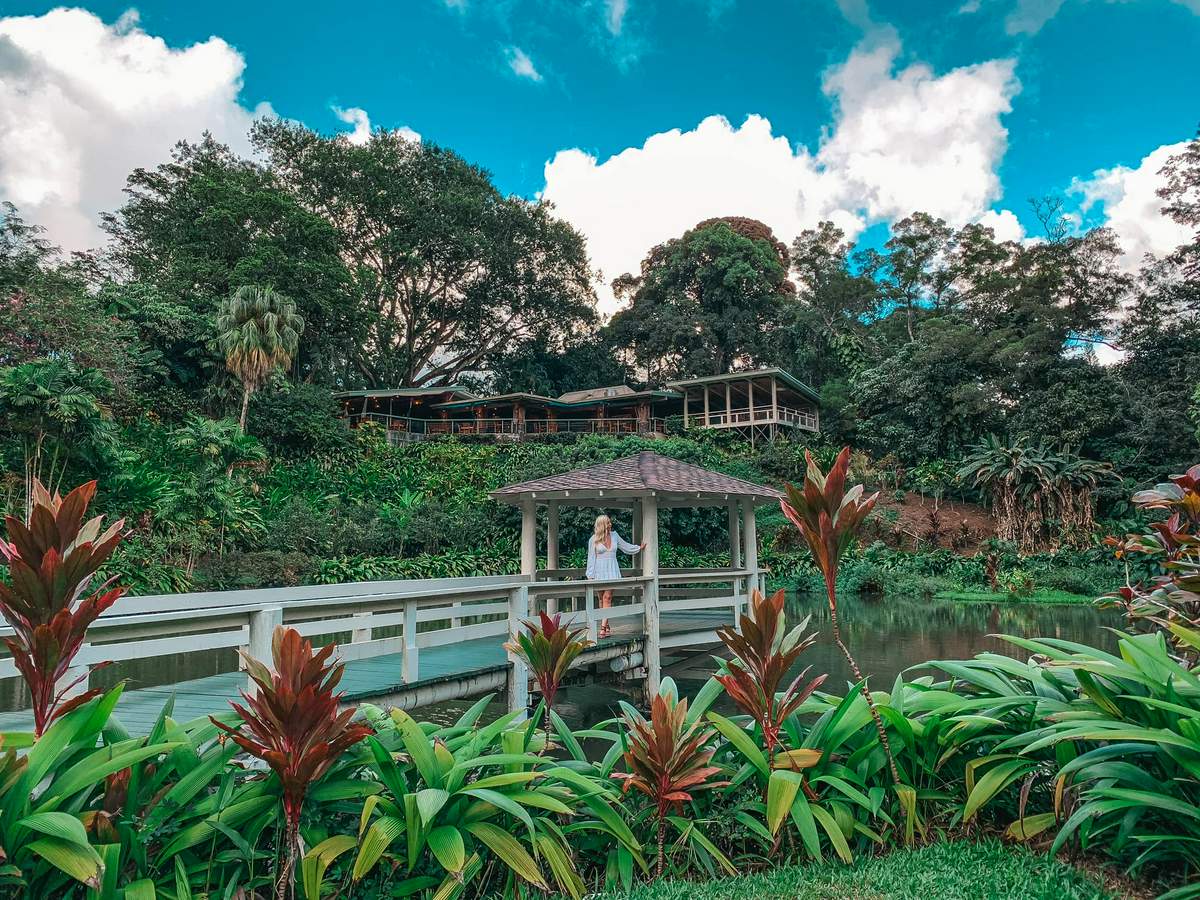 Where to stay in Kaneohe
Similar to Kailua, Kaneohe also has a restricted selection of accommodations. However, with careful planning and booking well ahead, you can uncover some real hidden treasures.
For instance, there's a charming 2-bedroom home that offers sweeping panoramic views of the bay and mountains. With the capacity to accommodate 6 guests, it provides both space and comfort. What's even better is that it tends to average around $150 per night!
To see if it's available during your intended stay, you can explore availability here. Furthermore, don't forget to check the options listed on Booking.com for additional choices in the area.
Quick links for your Oahu trip
🏨 Accommodation
Your best option for finding accomodation in Kaneohe and Kailua is VRBO
🎟️ Tours and tickets
Discover your next adventure with ease by using Viator which allows you to explore a multitude of local tours, ensuring you find the best experiences at the best prices.
🚘 Car rental
Rentalcars is the best tool for comparing prices for your date amongst the most popular rental car companies!
How to get around Oahu
Depending on how long you're staying I definitely recommend renting a car to get around! There are so many parts of the island to see.
We got SO lucky when we went when they very first reopened. We only paid around $320 for our rental car for 2 weeks!!
You probably won't get that lucky, but I do recommend booking your rental in advance to get the best rate. Most have free cancellations. Also check out Turo, which has become pretty popular on Oahu.
If you plan on staying in a few different areas on the island, you can also wait to rent a car for a part of the trip. You won't really need one while you're staying in Waikiki, but everywhere else I'd say it's best to have one.
Which Kaneohe and Kailua activity are you most looking forward to?
There really are so many amazing things to do in Kailua and Kaneohe. I hope that you take some of your time on the island to experience its beauty. Some of the best hikes on Oahu are located here, and even some of the best restaurants in Hawaii can be found in these areas! Regardless of the type of adventure you're looking for during your Hawaii trip, Kailua and Kaneohe have something to offer.
If you enjoyed this post, be sure to share it and check out some of my other Hawaiian island guides like:
2 Weeks Island Hopping in Hawaii