This post contains affiliate links which means that I will make a small commission if you purchase a product after clicking on any of them, at no extra cost to you.
Maui is an island full of beauty and wonder, and it's no secret that many travelers flock there for a relaxing vacation. If you're planning your trip to Maui soon and only have three days, this Maui 3-day itinerary will help you make the most of your time.
Maui was on of our stops on our epic 2-week trip island hopping in Hawaii! From the awe-inspiring sunrises at Haleakala National Park to snorkeling at Kapalua Bay, this itinerary is sure to make your time in Maui unforgettable.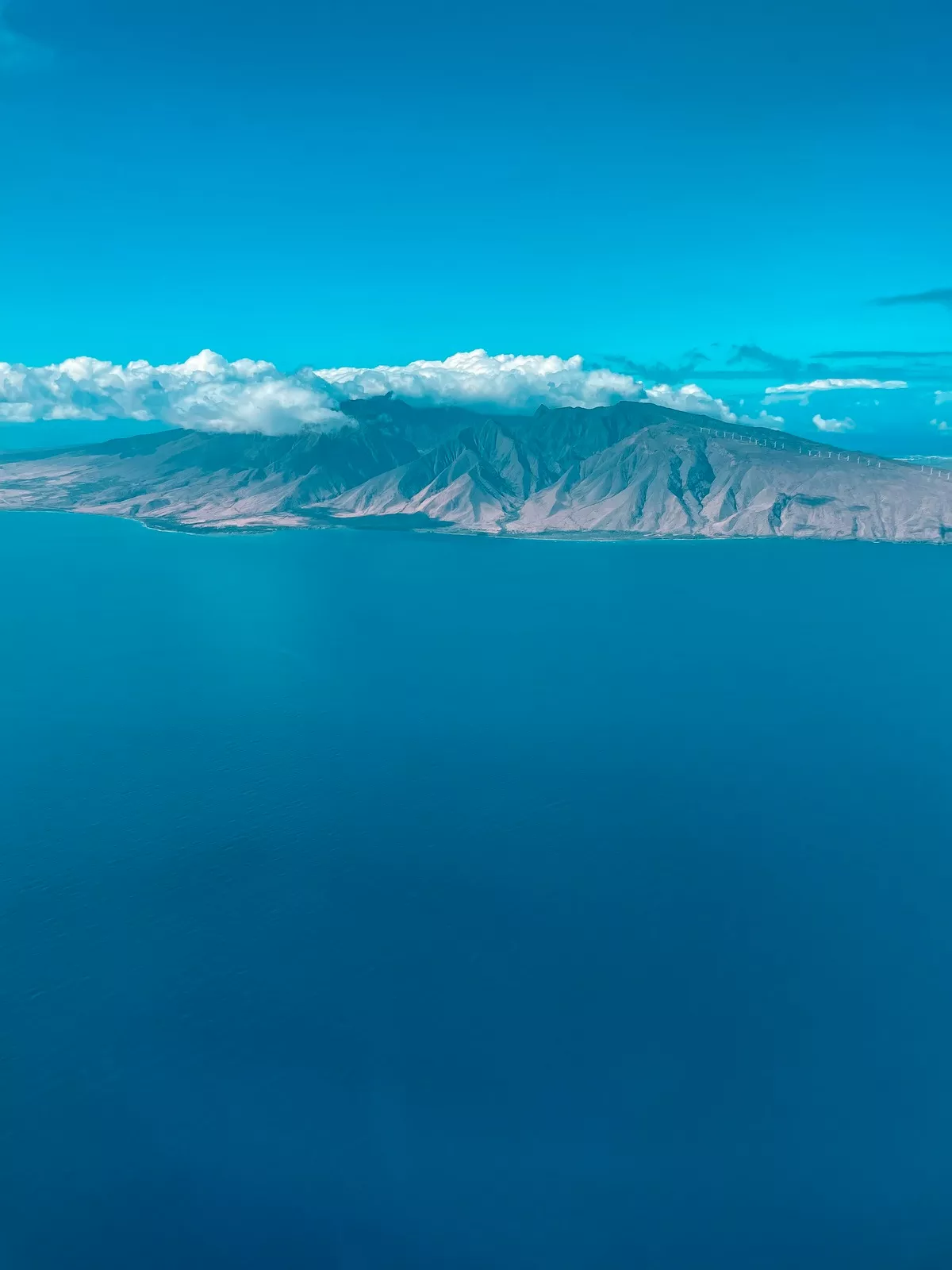 Where to stay on Maui
West Maui includes Lahaina, Kaanapali, and Kapalua and is probably the most popular area to stay in. You have plenty of options in this area for top-rated resorts, hotels, and condos. This area is great if you want access to beautiful beaches, lots of local shopping, and good restaurants. Its downfall is it can be a more crowded area and it's a little further from Haleakala and Road to Hana. All things considered, we really enjoyed our stay on this part of the island!
Here are some of the most budget-friendly options I could find on this part of the island (note that budget-friendly on Maui does not necessarily mean cheap):
Aston Kaanapali Shores— Located on the beautiful Kaanapali Beach, the Aston Kaanapali Shores features an ocean-front pool and restaurants. Plus guests can enjoy the on-site massage center or take free scuba lessons! The property features a garden pool that lights up in the evening and offers free weekly ukulele classes. Parking is available for an additional $10 per day
Royal Lahaina Resort & Bungalows— located along Kaanapali Beach and offering three outdoor pools, a hot tub, a fitness center, and a free shuttle to Whaler's Village makes Royal Lahaina Resort a great option! They also have a full-service restaurant, ice cream parlor, two bars, and a coffee shop. The resort offers flower lei and puka shell-making classes and features Hawaiian and Polynesian arts and crafts. Parking is available for an additional $30/day.
Aston Maui Kaanapali Villas— the highest-rated stay among the three. It includes free parking, a private balcony, two adult pools, and sits on 11 acres of lush tropical garden.
The only thing I would've changed if we were staying one more day is I would've liked to do one night in Hana so we could've taken our time even more with the Road to Hana. Hana is quite small, and there aren't too many options for lodging so if you would like to do a night or two here be sure to book soon!
Hana-Maui Resort by Hyatt Residence seemed to have the most availability if you are waiting to book, but Heavenly Hana Paradise is a little more affordable and has excellent reviews! If you're traveling with a small group, Hana Bay Oceanfront Elua Cottage is a 2-bedroom house that has the DREAMIEST views and design.
Quick links for your Maui trip
🏨 Accommodation
Easily compare prices, secure great deals, and enjoy the added benefit of flexible cancellations up to 24 hours in advance for the majority of hotels with Booking
🎟️ Tours and tickets
Discover your next adventure with ease by using Viator which allows you to explore a multitude of local tours, ensuring you find the best experiences at the best prices.
🚘 Car rental
Rentalcars is the best tool for comparing prices for your date amongst the most popular rental car companies!
Epic Maui 3-day itinerary
Day 1: Ocean Vodka Organic Farm and Distillery
Once you've picked up your rental car, head right over to Ocean Vodka Organic Farm and Distillery! It's just a short 15-minute drive from the airport.
A tour here is a must! It was so interesting learning about how much thought went into every detail of the spirits produced here, down to the bottles. They offer tours every day on the hour starting at 11 AM and the last one being at 5 PM. We were lucky enough to make it right on time for the 5 PM!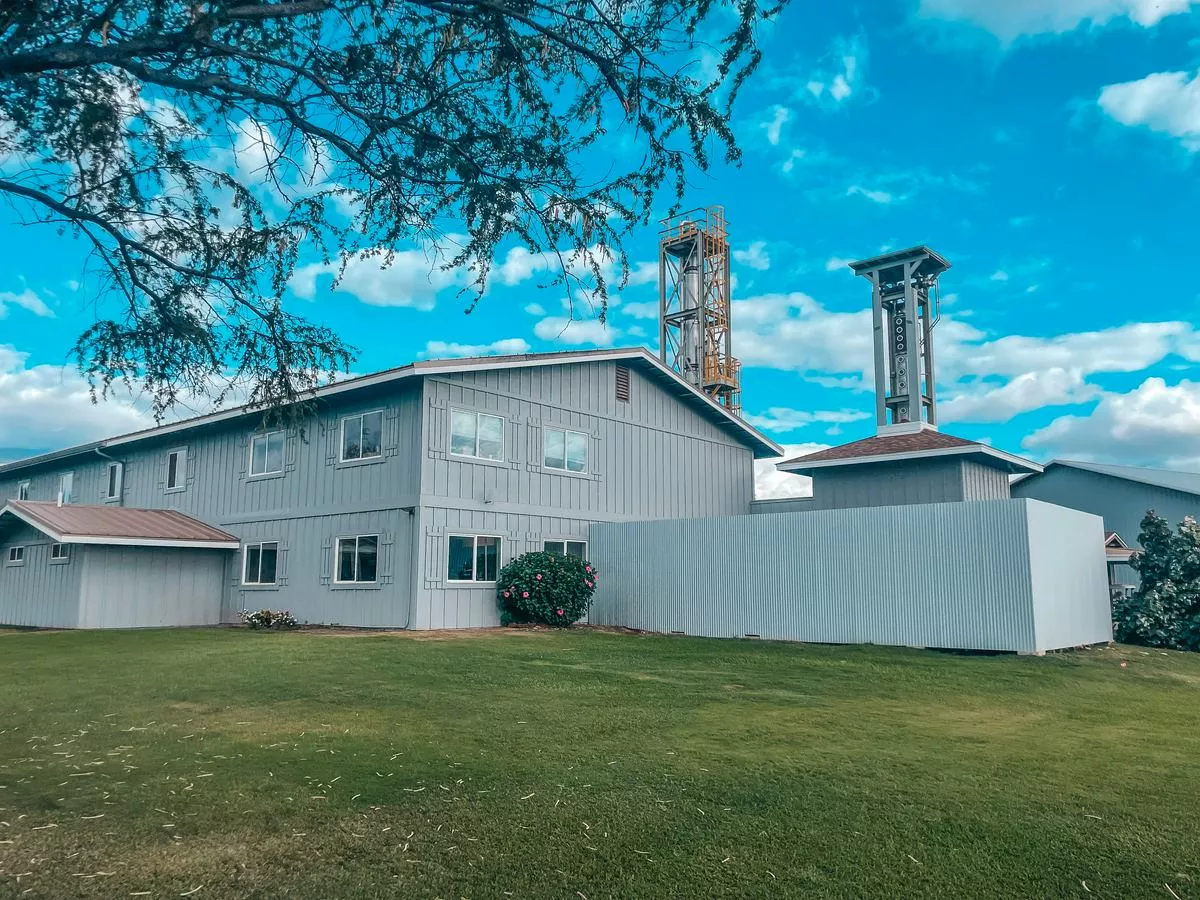 The tour is around $20, but along with the tour and sampling, you also get a souvenir shot glass. In the tasting you get to sample their vodka, rums, and gin. For an additional cost you can also try their BRUM which is an exclusive limited series first release, 24-month bourbon barrel-aged rum, finished with hand-charred kiawe (a species of mesquite tree).
Their Ocean Vodka uses mineral water that is drawn from 3,000 feet below the Kona Coast. Water at those depths contains over 70 naturally occurring mineral nutrients including magnesium, potassium, and calcium! Therefore I'm telling myself those shots I did was just my daily vitamin.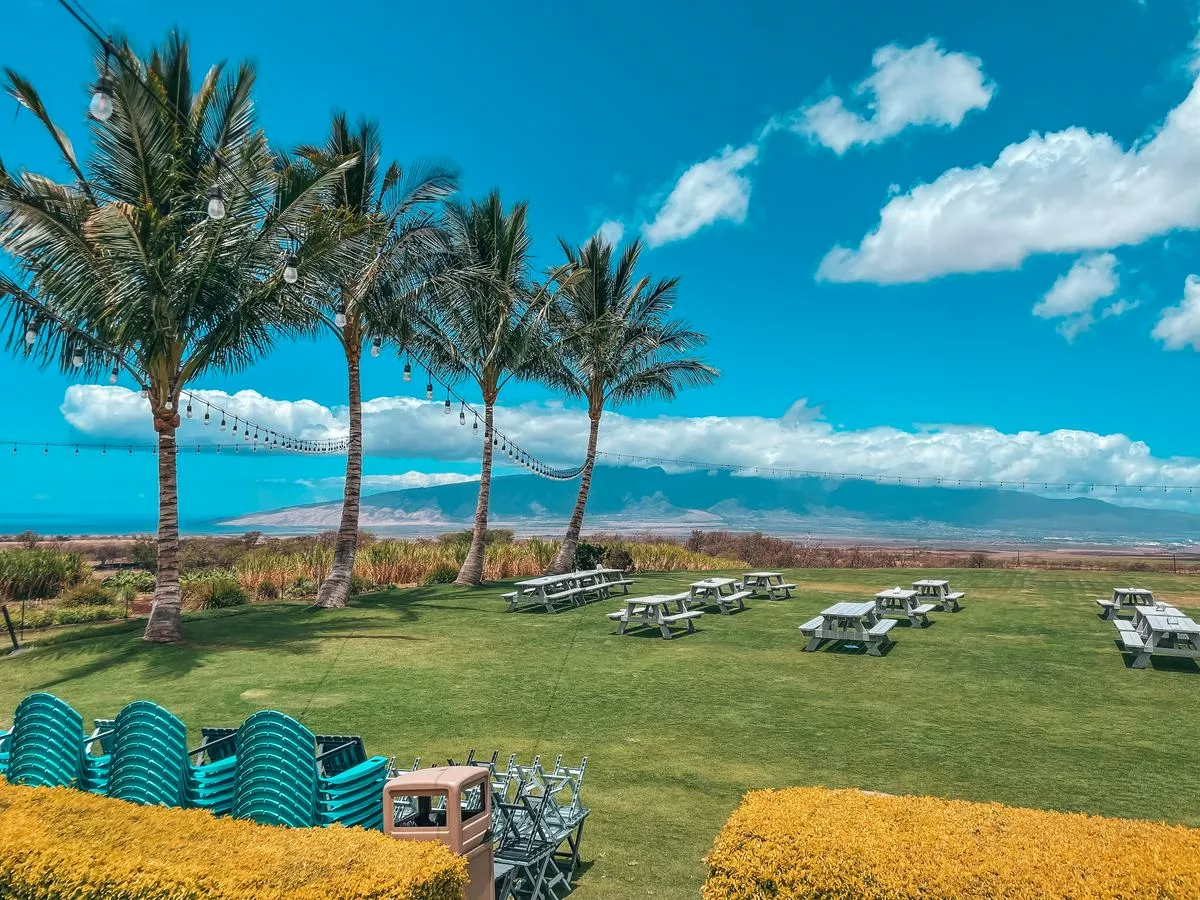 Grabbing dinner from their Cafe at The Point before you leave is an absolute must! They incorporate fresh ingredients from their farm in their dishes and cocktails. We tried their poke bowl, banana pops, banana bread, and pizzas! The kimchee-hoo pizza was truly unlike anything I have had before in the best way! Absolutely bursting with flavor and unique ingredients.
Another thing that is amazing about the farm and distillery is it sits atop a mountain and allows you to take in the most stunning, epic views while you enjoy your food and drink. Especially if you arrive on a weekend evening and don't have dinner reservations anywhere, this is the perfect spot to head.
Ocean Vodka Organic Farm and Distillery is easily one of the best things to do in Maui. We loved it so much, we hit it again on our way out!
After this, we headed to check in so we could rest up for our big day tomorrow!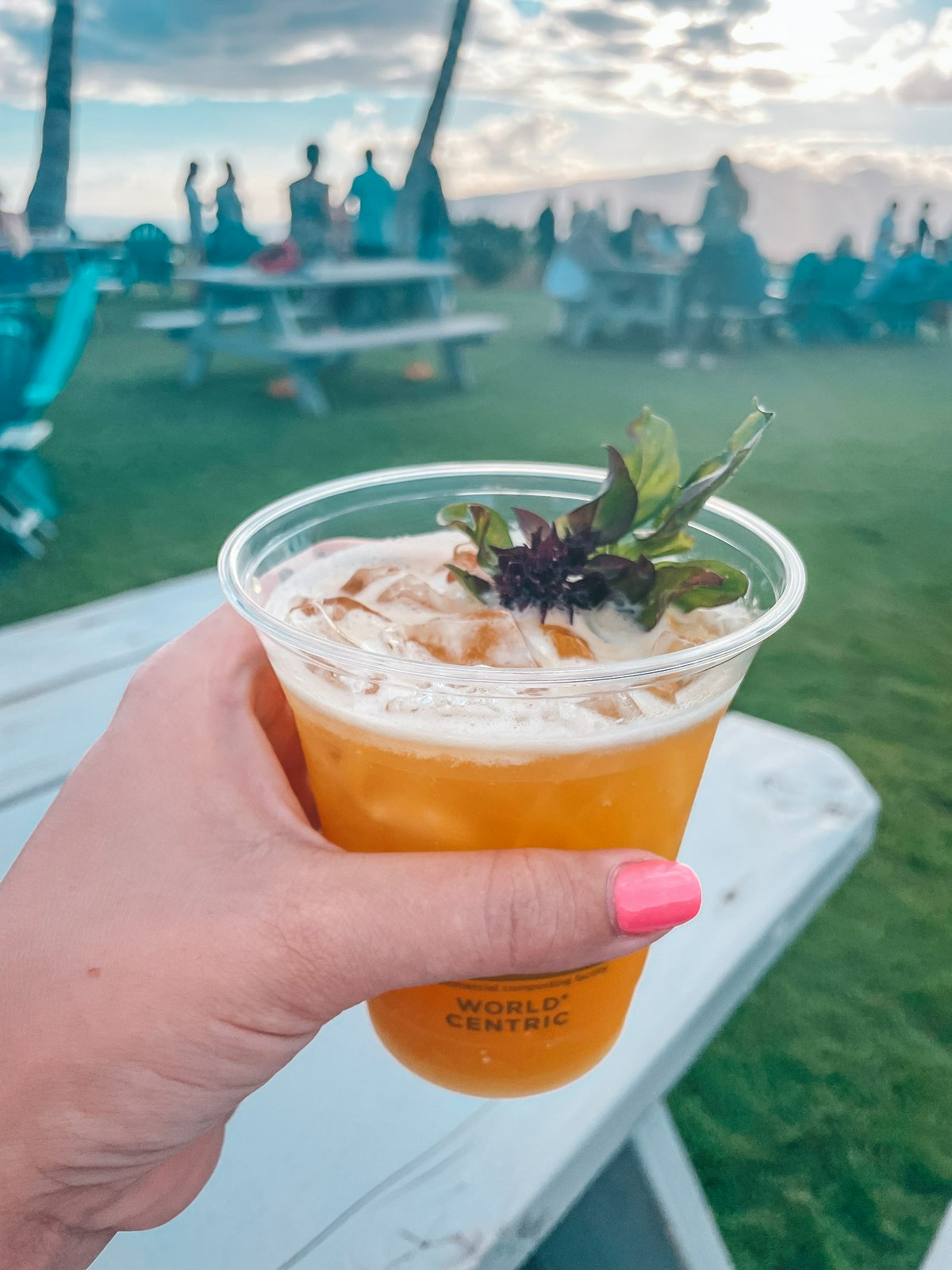 Day 2: Road to Hana and Mama's Fish House
Road to Hana
If you've researched anything about what to do in Maui, you know that the Road to Hana is easily one of the most iconic adventures you can have here!
To someone who is visiting Maui for the first time though, it can all seem pretty overwhelming. Which route do you take? Which stops do you visit? How much time do you allot?
Which route do you take?
In case you are unfamiliar, the Road to Hana is a 64.4-mile stretch of road lined with waterfalls, swimming holes, hikes, and even some solid local food finds.
Let's begin with deciding which route you want to take:
The "classic" Road to Hana— you'll start in Pa'ia Town and make your way to Hana. If you select this route I suggest heading right to Hana without stopping and working your way back because many of the stops closer to Hana close around 4 or 5 PM. PLUS this can help you beat a little of the crowd!
The "loop" Road to Hana—this takes you through the entire 65-mile stretch starting with Pa'ia Town and complete a counterclockwise loop around the island.
The "reverse" Road to Hana— you start at the point most consider the end and make your way to Pa'ia Town completing the entire route clockwise.
No matter which route you choose, you should allot an entire day for this adventure, and start early! (This will most likely be your most jam-packed day out of the Maui 3-day itinerary.) We hit the road around 4:30 AM and did the "reverse" route and loved it! We had a majority of the stops along the first half pretty much to ourselves despite it being a Saturday.
Shaka Guide App
My biggest piece of advice is to download the Shaka Guide app prior to hitting the road and purchase the tour for whichever route you decide you're going to be taking. They actually have an app for each individual island, as well as Utah, Arizona, and Nevada!
Having your own personal, local tour guide costs less than $20 and it was so helpful and informative! The app goes off of your GPS, and you can download it so it works offline. It tells you the best stops, and which ones you can maybe skip if you're in a rush or getting tired.

This took away so much of the overwhelm for us, and we really felt like we got a deeper understanding of the places we were stopping at.
If you are doing the reverse route as we did, your tour guide will mention how the roads are not as developed on the backside, which can be a little sketchy. I will say that this freaked us out a bit, however, we did not have 4-wheel drive and we were totally fine. You have to judge for yourself what you feel comfortable with though, and if this is a concern for you I would just take the classic route to be safe.
Also be sure to check the weather before hitting the road, because if there is a lot of rain these less traveled roads can get flooded easily and there is no alternate route, you will just have to turn around.
Before hitting the road stop and grab a coffee and some breakfast at Akamai Coffee or Maui Coffee Roasters! We did Akamai Coffee which was a cute little drive-thru.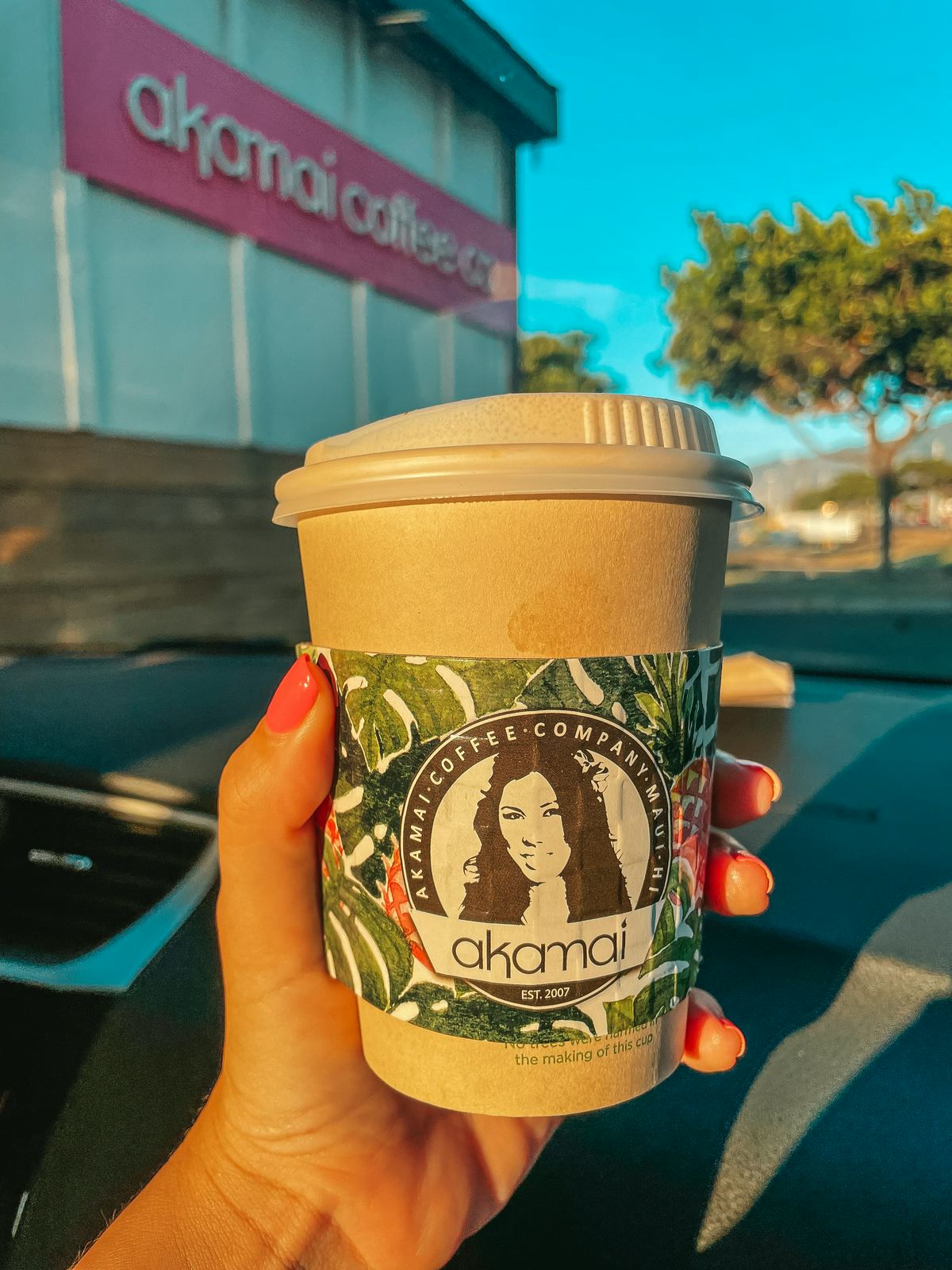 Which stops do you make?
If you download the Shaka Guide you will get all of the recs and guidance you need, but I will still tell you a few of my favorite stops! I would recommend stopping at these destinations:
Wailua Falls— This was such a beautiful 80 ft. waterfall, and it's also a popular swimming spot. You can snap pics from your car, or take advantage of the parking here and get out and take a dip.
Cliff jump at Venus Pools— There is a little trail you need to follow to get to the Venus Pools, but it's enjoyable and not too challenging. Do not forget to spray on your bug spray before doing this trail! We were getting bit up. This is a nice spot to take a dip and give yourself a thrill.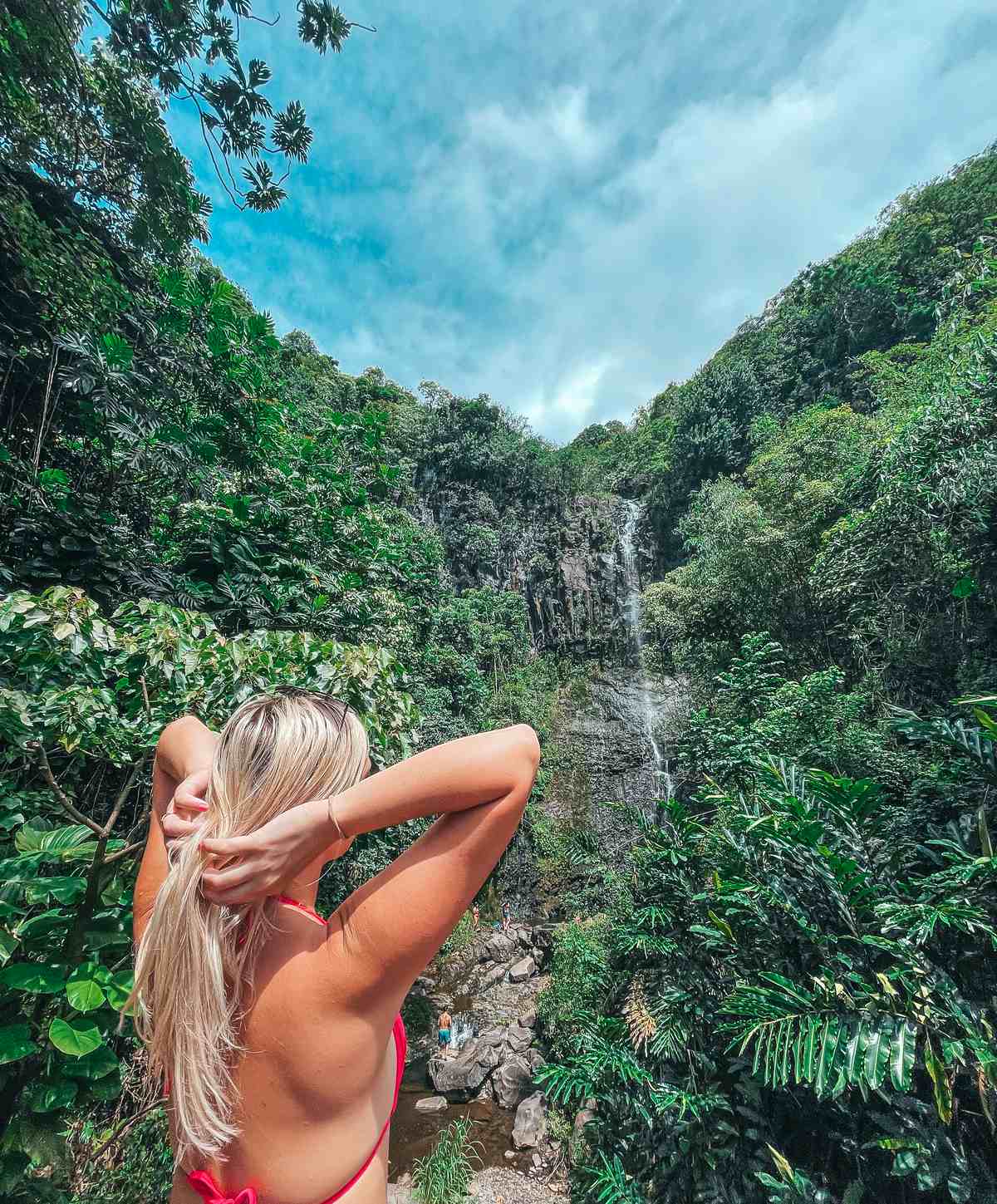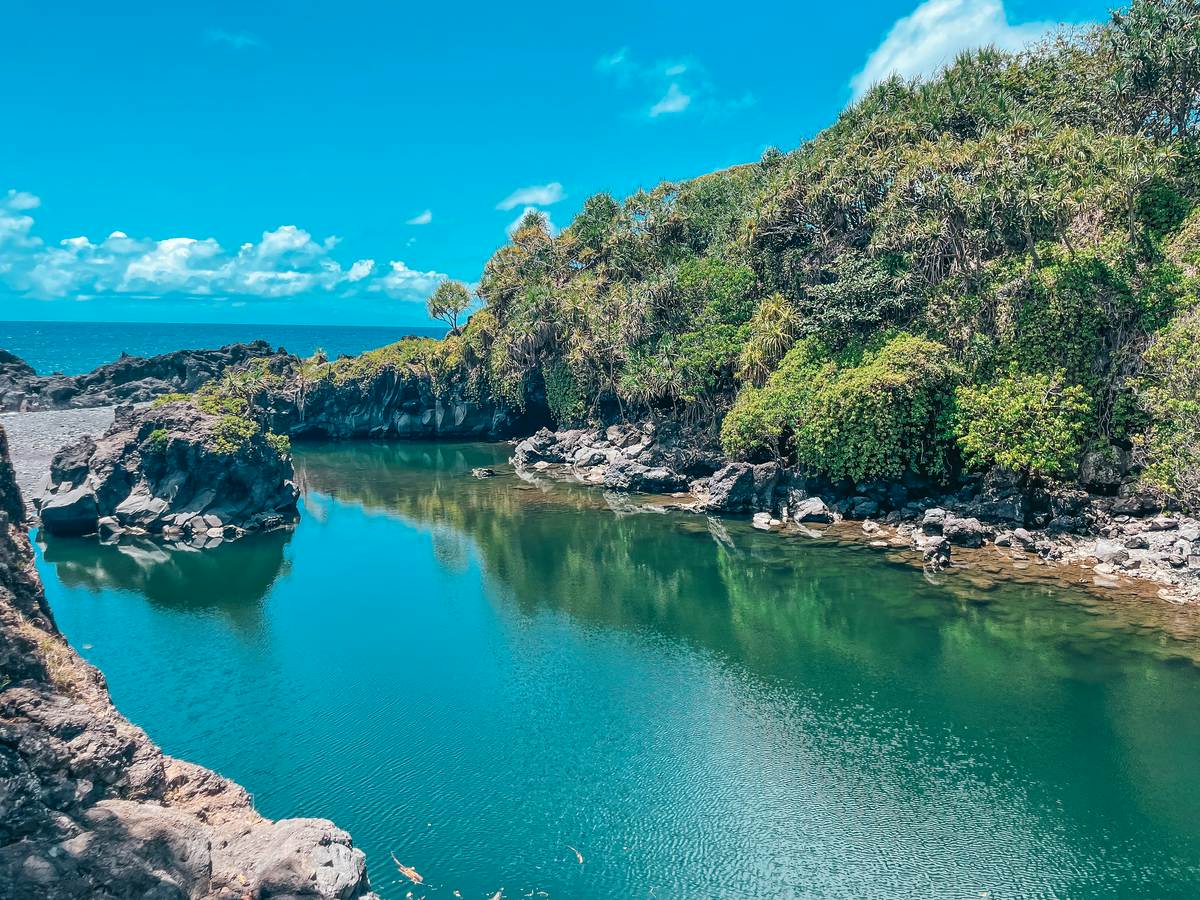 Secret Lava Tube Cave— This was a quick, easy stop and it was the first lava tube cave I've ever gotten to experience! We didn't check it out, but I heard that the Hana Lava Tube is also a sight to see.
Black Sand Beach at Waianapanapa State Park— this may have been my favorite stop of all! A reservation is required, and you can book here up to 14 days in advance. It costs $10 to park and $5 per person. They don't take same-day reservations.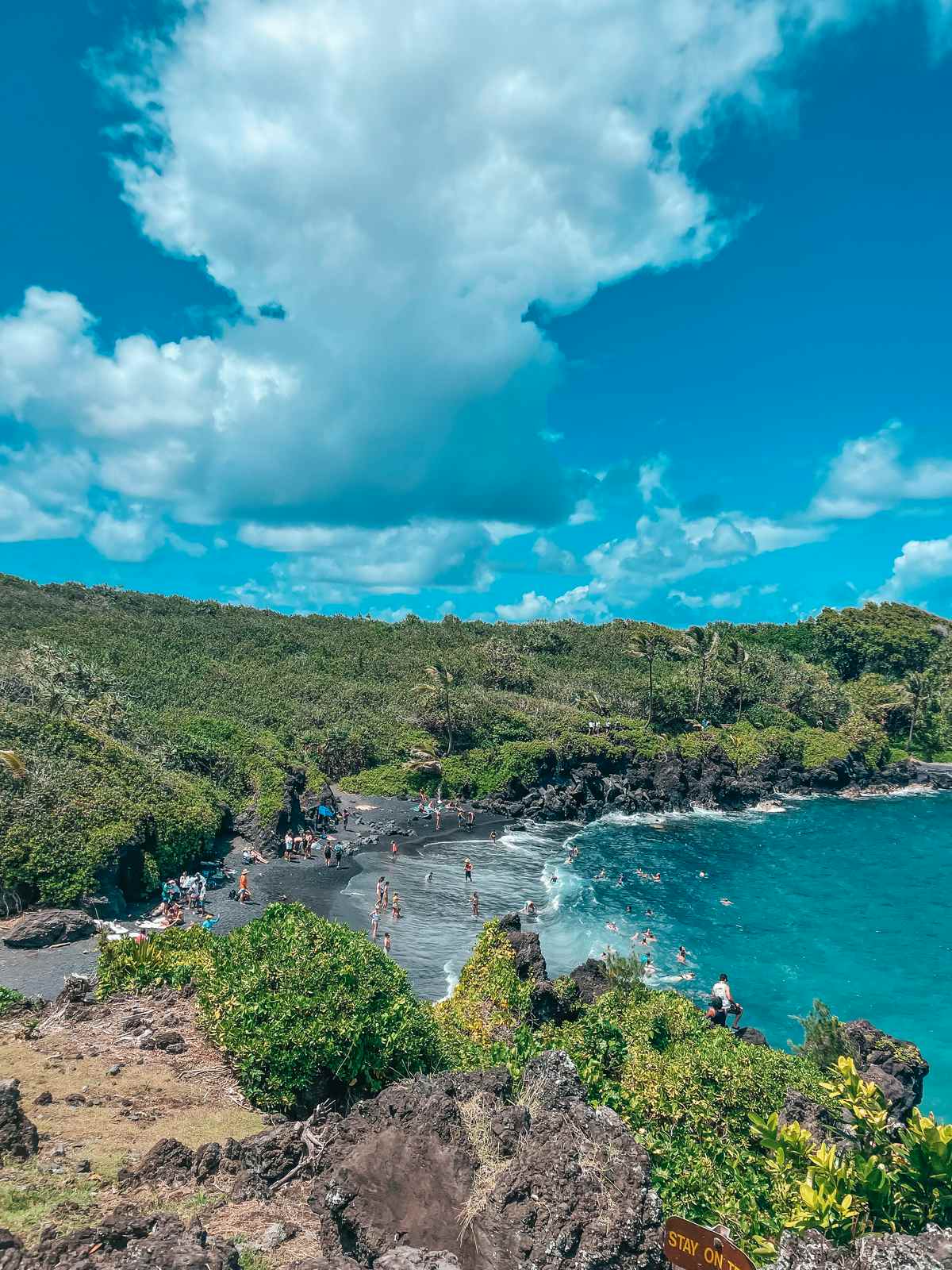 Huli Huli Chicken— located about 20 minutes outside of Hana, and definitely a must-stop if you're getting hungry. The chicken was so tender and juicy I couldn't believe it! We shared one order between the three of us because we knew we wanted to hit some spots in Hana too. I also hear they sell out pretty early!
Poke Bobs and Ae's Thai Kitchen— both of these spots are found in a little food truck court in Hana. We had a poke bowl and the daily special curry which happened to be pumpkin and they were both phenomenal. Thai food in Hawaii really is something else.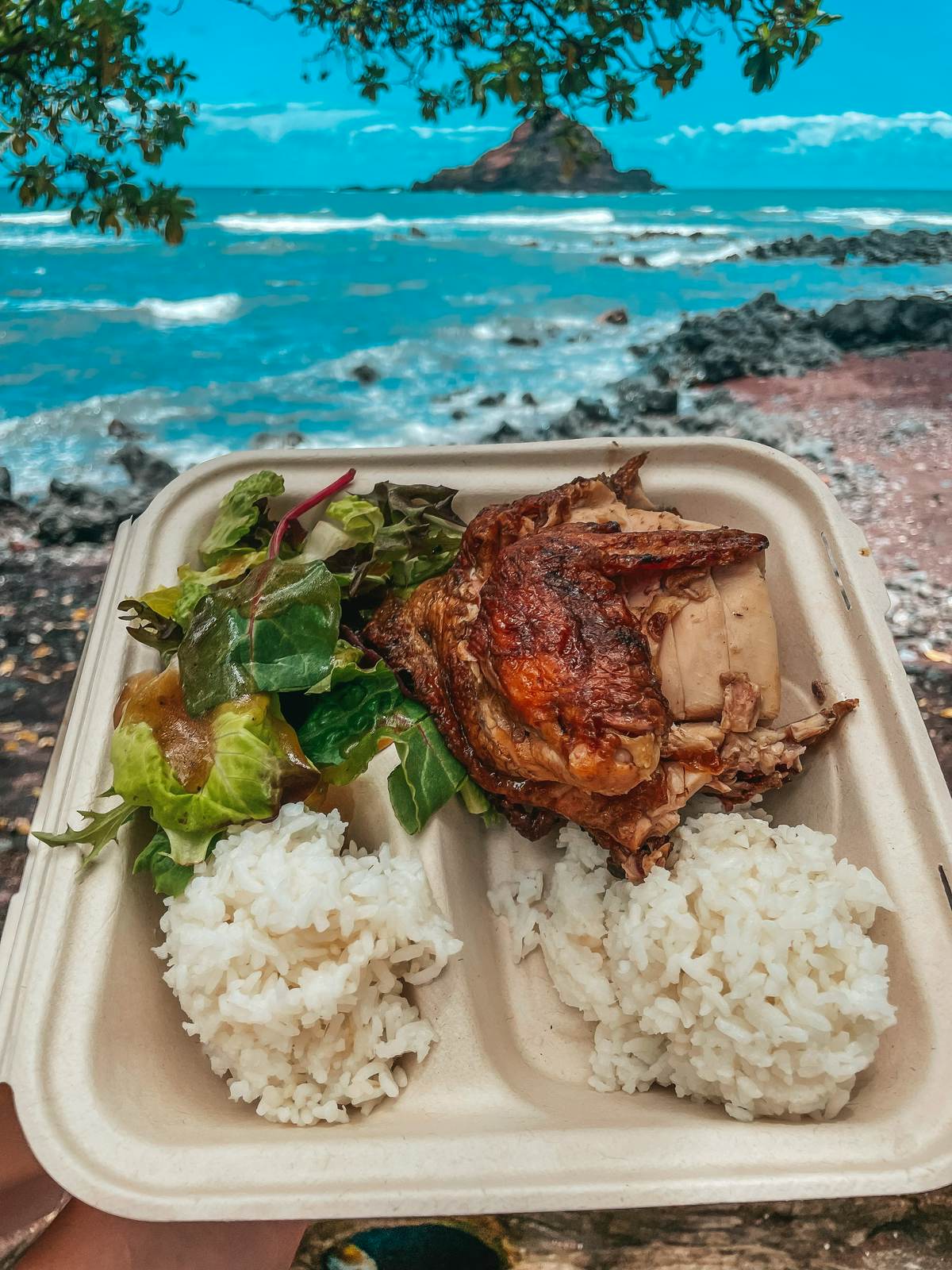 We, unfortunately, didn't do Twin Falls, but I do suggest making it a stop. It's a 1.8-mile out-and-back trail near Haiku, Maui. It's moderately challenging but leads to a beautiful swimming hole.
Many blogs recommended Seven Sacred Pools, and while it was the single most popular tourist spot, they no longer allow swimming here. It's located within the Kīpahulu District of Haleakalā National Park so you would have to pay $30 for entry unless you have the America the Beautiful Pass.
Waimoku Falls is found at the end of the Pipiwai Trail located within the park as well, however, if it has been dry that week you may not see much water falling. If it's been dry I don't know that I would spend the $30 to visit.
There is also a red sand beach we didn't have the opportunity to check out! The route to get there may be somewhat hazardous, but I feel this post gives a good idea of what you can expect.
We pretty much loaded up the car for this trip so we were prepared for anything. We brought bug spray, a change of clothes (we wore our bathing suits), cash, sunscreen, towels, hiking boots, hiking sandals, our National Parks Pass, GoPros, cameras, phone chargers, plenty of water, and snacks.
You will go pretty long stretches without there being any food or restaurants, so it's definitely wise to be prepared with some snacks. If you plan on doing any of the lava tubes bring a headlamp or flashlight (check out my other Hawaii packing list recommendations). Also, make sure to fill up your tank before hitting the road!
IMPORTANT: Make sure you drive responsibly, respect the locals, and do not park illegally.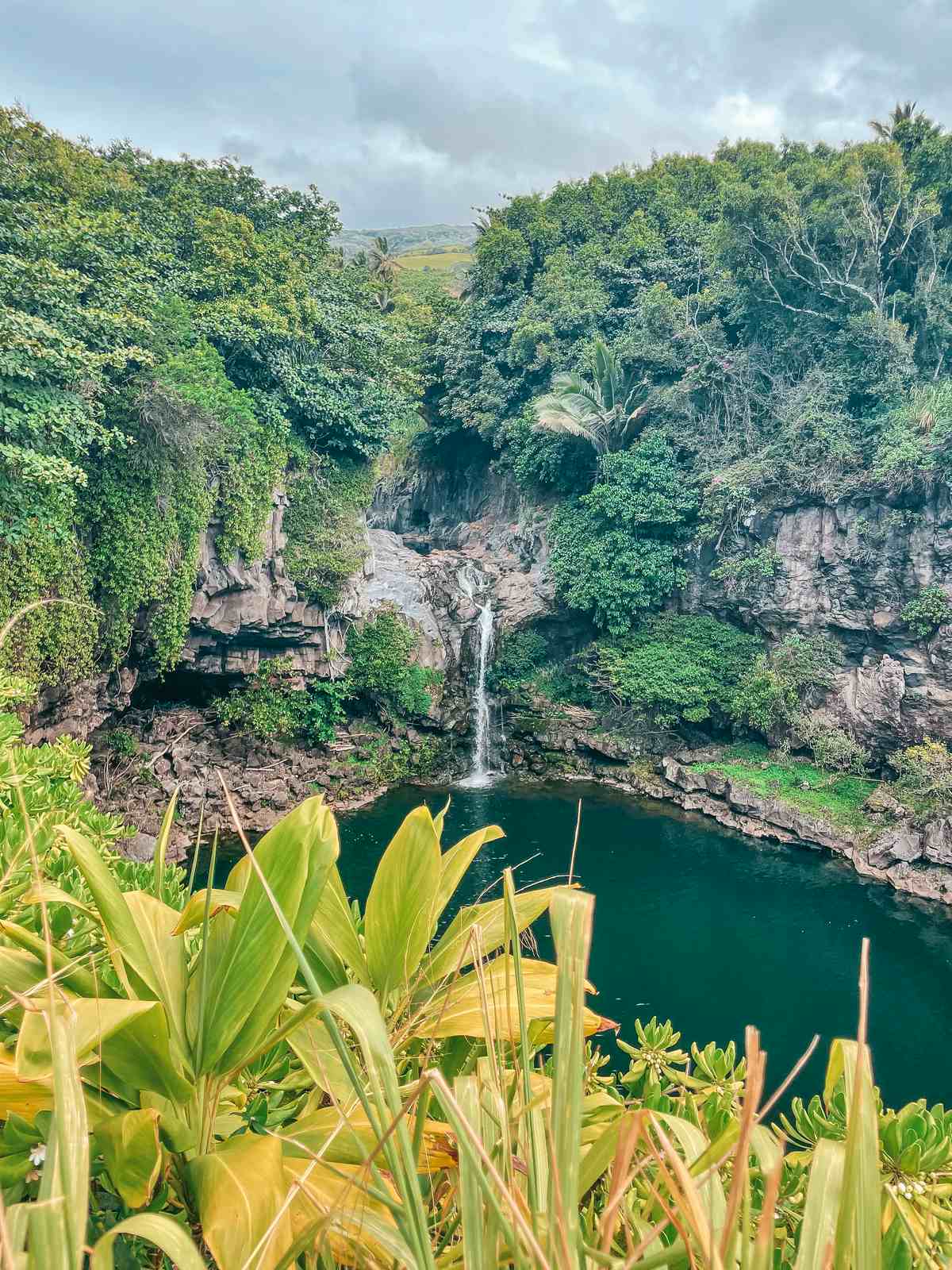 Mama's Fish House
If you are reading this guide months before visiting call Mama's Fish House right now to make your reservation! It is a must-do on Maui. This restaurant has been around for over 40 years, and is booked up for months (with good reason). Their prices are higher than most places on the island, but it's worth it if you're looking for something special.
We actually couldn't make a reservation but ended up making this our last stop on our Road to Hana tour and they were able to squeeze us in at the bar. The food, drinks, and service blew us out of the water. We weren't even hungry after our lunch stop, but knew we had to try at least a few things!
I had several of their Pau Hanas with mezcal instead of gin, and they were so deliciously smooth! I also tried Casie's mai tai, and it did not disappoint. To eat we got the macadamia nut crab cakes, shrimp wontons, and a salad. Even though we only ordered apps they still brought us bread and some soup samples which was so nice.
They sent us off with some Maui dark mango chocolate that was absolutely divine! The ambiance and views here are also so beautiful. I may forever regret not having room for an entire meal here.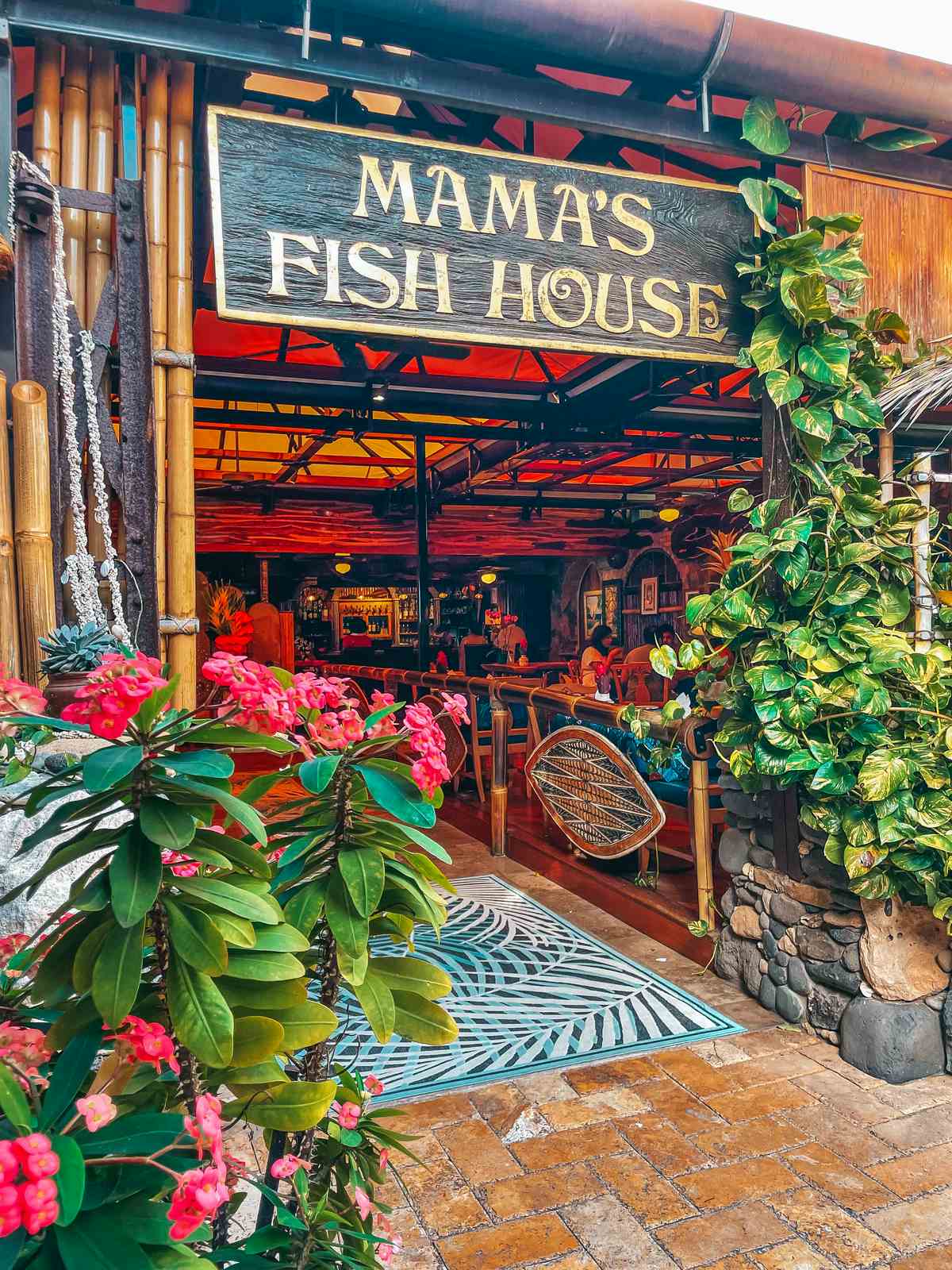 Day 3: Brunch, snorkel, and explore Lahaina
Coffee and brunch
We started our morning by grabbing some coffee from Badass Coffee and let me tell you I think I know why they call it Badass Coffee. The coffee was good, yes, but there was only one woman running the show from cashier to barista and she was CRUSHING it! I've never seen a coffee line move so quickly, let alone with one worker!
After coffee, we headed to Lahaina to get brunch at Down the Hatch. We were making one good decision after another. The food here was so beyond delicious I wish I could've gone back to check out their dinner menu!
Their food is really good, and the atmosphere is fun and lively, with live music and lots of people having a good time. We had the breakfast burrito and huevos rancheros Montana. The lava lava sauce that comes with the burrito is to die for. No brunch at Down the Hatch is complete without a $12 carafe of Lahaina sunrise (trust me).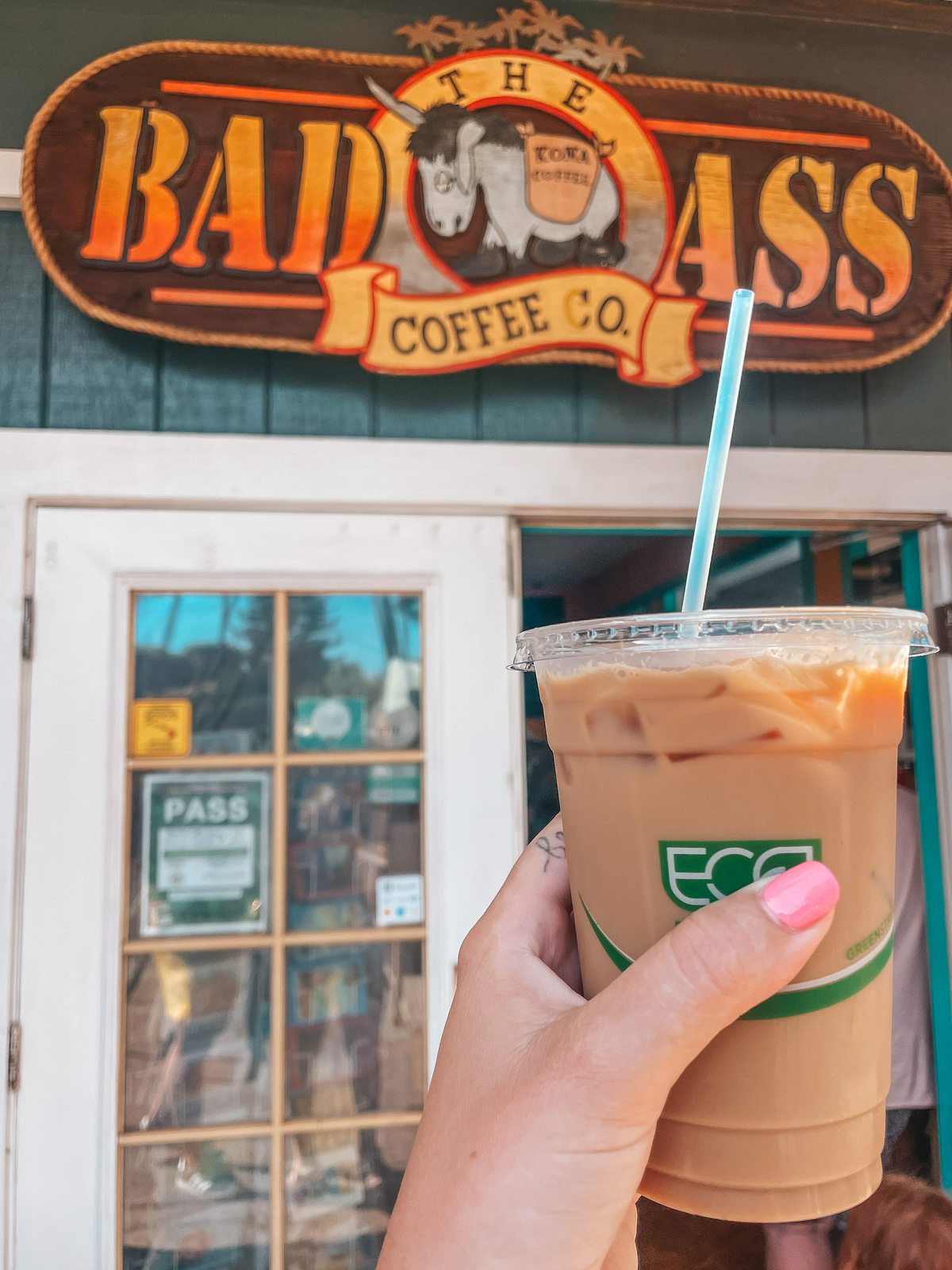 Snorkeling at Kapalua Bay
Snorkeling is one of the best ways to see Maui. There are several great snorkel spots on the island, and Kapalua Bay is one of them. Here you'll find a large coral reef teeming with fish and other marine life like turtles, eels, dolphins, and more! We saw SO MANY turtles it was insane! This was honestly the best place that I have ever snorkeled without having to take a boat.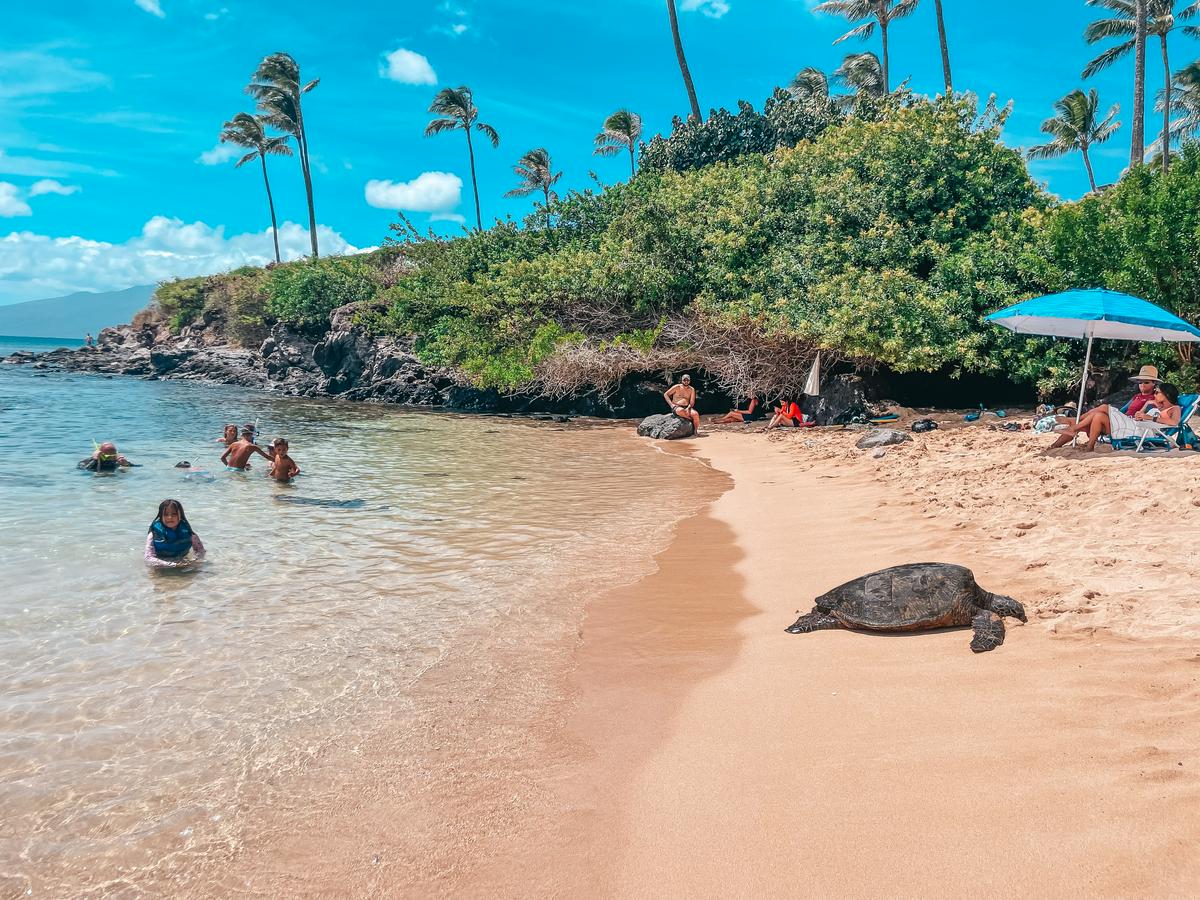 You can also kayak or paddleboard here if you prefer to stay dry. If you're looking for an easy-going afternoon activity that won't cost much money or time but still offers plenty of fun, Kapalua Bay might be just what you're looking for! We were able to park here for free, but I suggest getting here early to ensure a spot.
Some other good snorkel spots include:
Olowalu
Black Rock Beach
Honokeana Bay
Maluaka Beach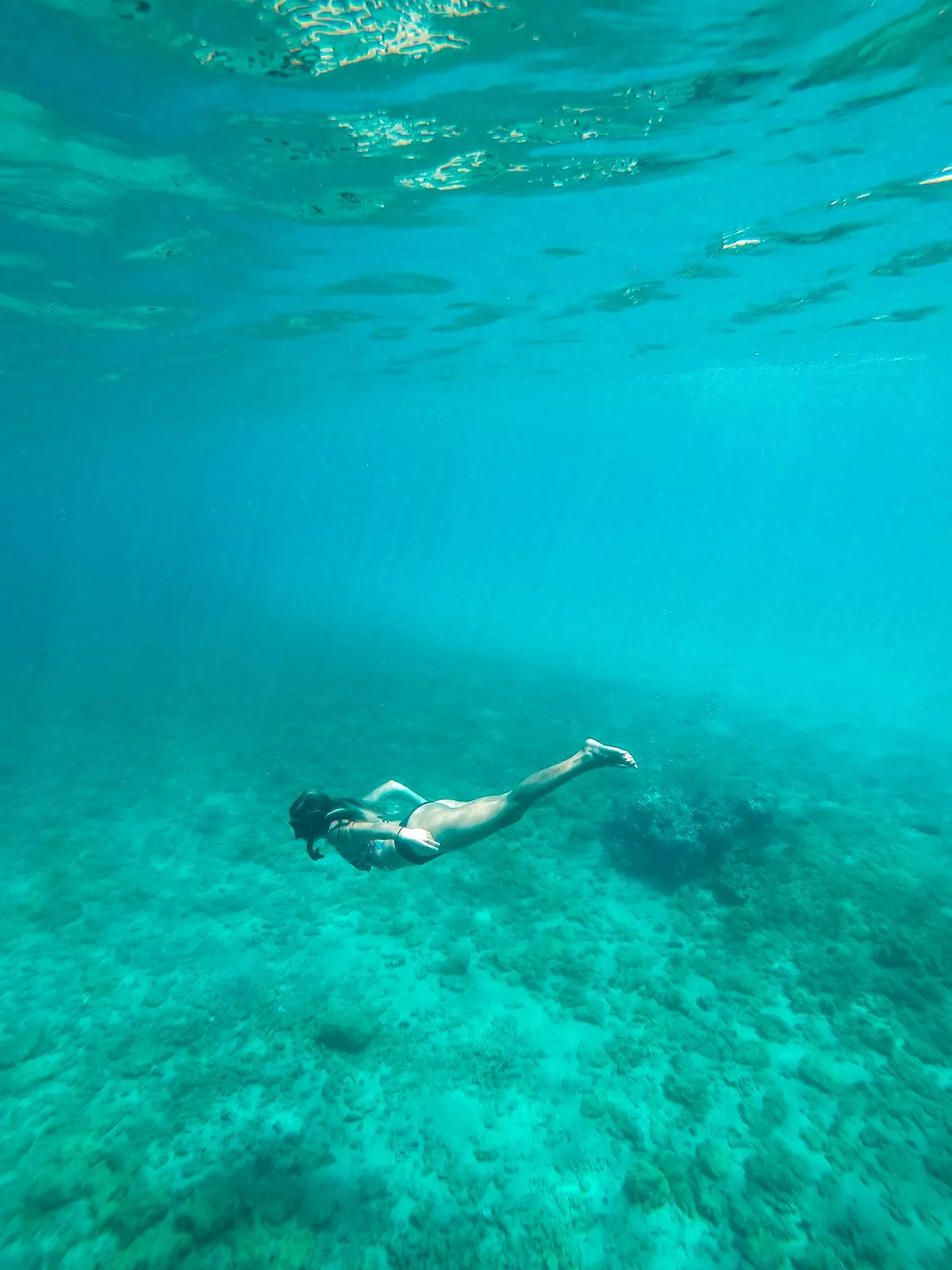 Dinner and drinks in Lahaina
After working up quite the appetite from snorkeling all day we decided to head back to the hotel to get ready for a nice dinner and drinks. We went to Whalers Village which has plenty of options. Because it was a Sunday evening and we had no reservations we tried to go around happy hour time in hopes of fighting a little less of a crowd.
If you can make it for happy hour, start at Monkeypod which has happy hour from 3:30-5 PM daily. They have one of the best mai tais I've had in Hawaii, and it's $4 off during happy hour. Their happy hour specials also include 1/2 off apps (aside from their poke nachos and lobster deviled eggs), $12 pizzas, $2 off beers, $3 off wine, and $4 off craft cocktails. You really can't beat that!
If you're not stuffed yet, save room because the coconut-crusted calamari from Hula Grill is a GAME CHANGER. I don't typically enjoy fried calamari (Italy spoiled me), but theirs was unreal. It was so thick and tender.
If you have a sweet tooth, hula pie is kinda a must-try in Hawaii. Imagine macadamia nut ice cream piled high on a delicious chocolate cookie crust with a layer of cool chocolate fudge, whipped cream, and toasted macadamia nuts. If you prefer to drink your dessert, Hula Grill's lava flows are a pure delight.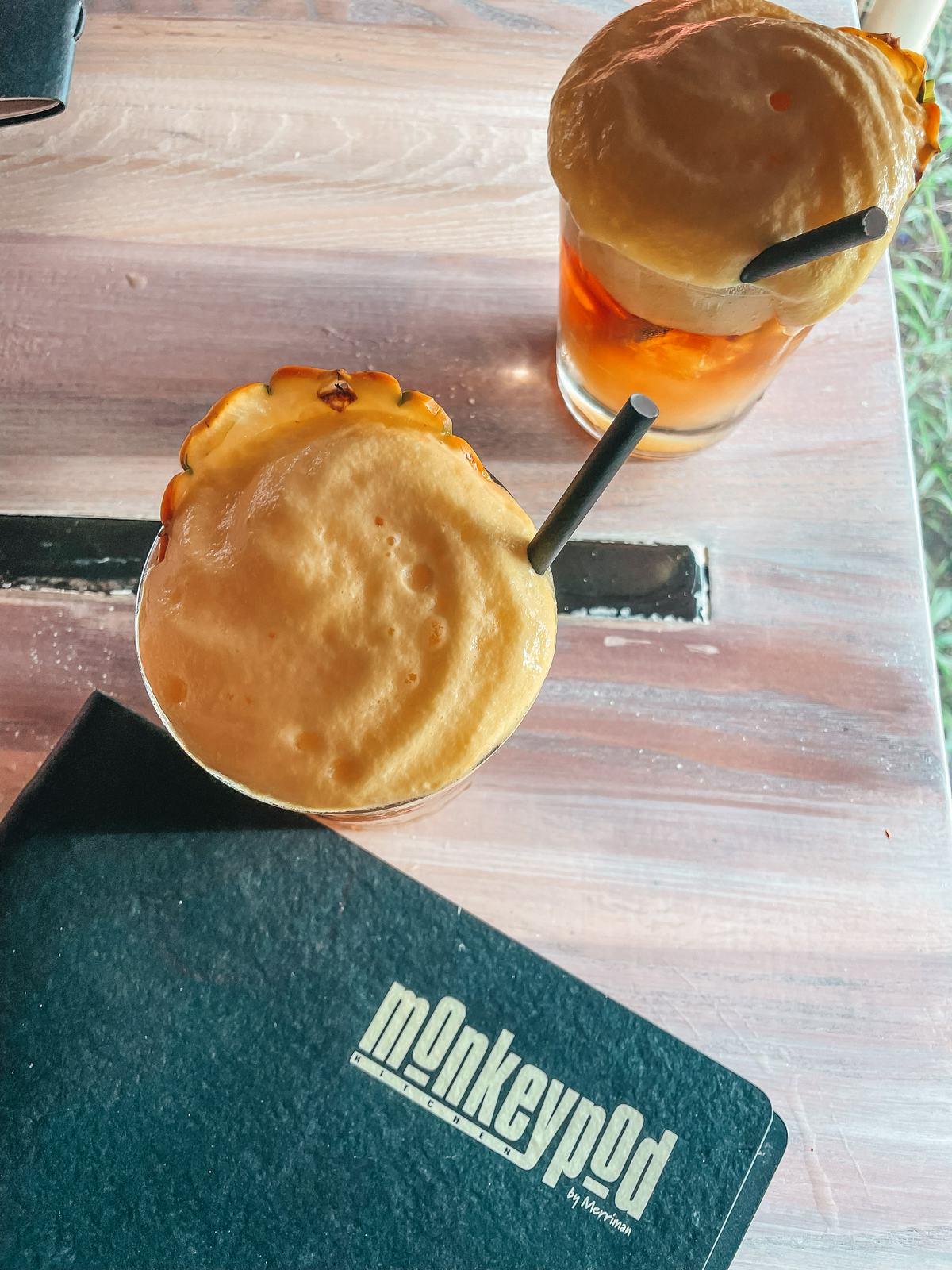 We didn't make it in time, but Fleetwoods on Front Street also has a happy hour from 3-5 PM. They also do a nightly sunset ceremony starting at 5:45 PM. Make a reservation if you want to check that out!
Morning and afternoon before heading out
We flew out early afternoon and decided to explore Lahaina a little bit more and grabbed a coffee from Belle Surf Coffee and got some fun finds from Beyoutiful Soul Shop.
Beyoutiful Soul Shop is a must-visit! This eclectic shop has unique and adorable clothes, tarot cards, crystals, and so much more! It's also a woman-owned business and the owner Jessalyn couldn't be sweeter!
After our little shopping spree we had to head back to Ocean Vodka Farm and Distillery. We couldn't resist visiting one last time before leaving for our next stop— Big Island! Be sure to check out my Big Island itinerary if it's on your list too.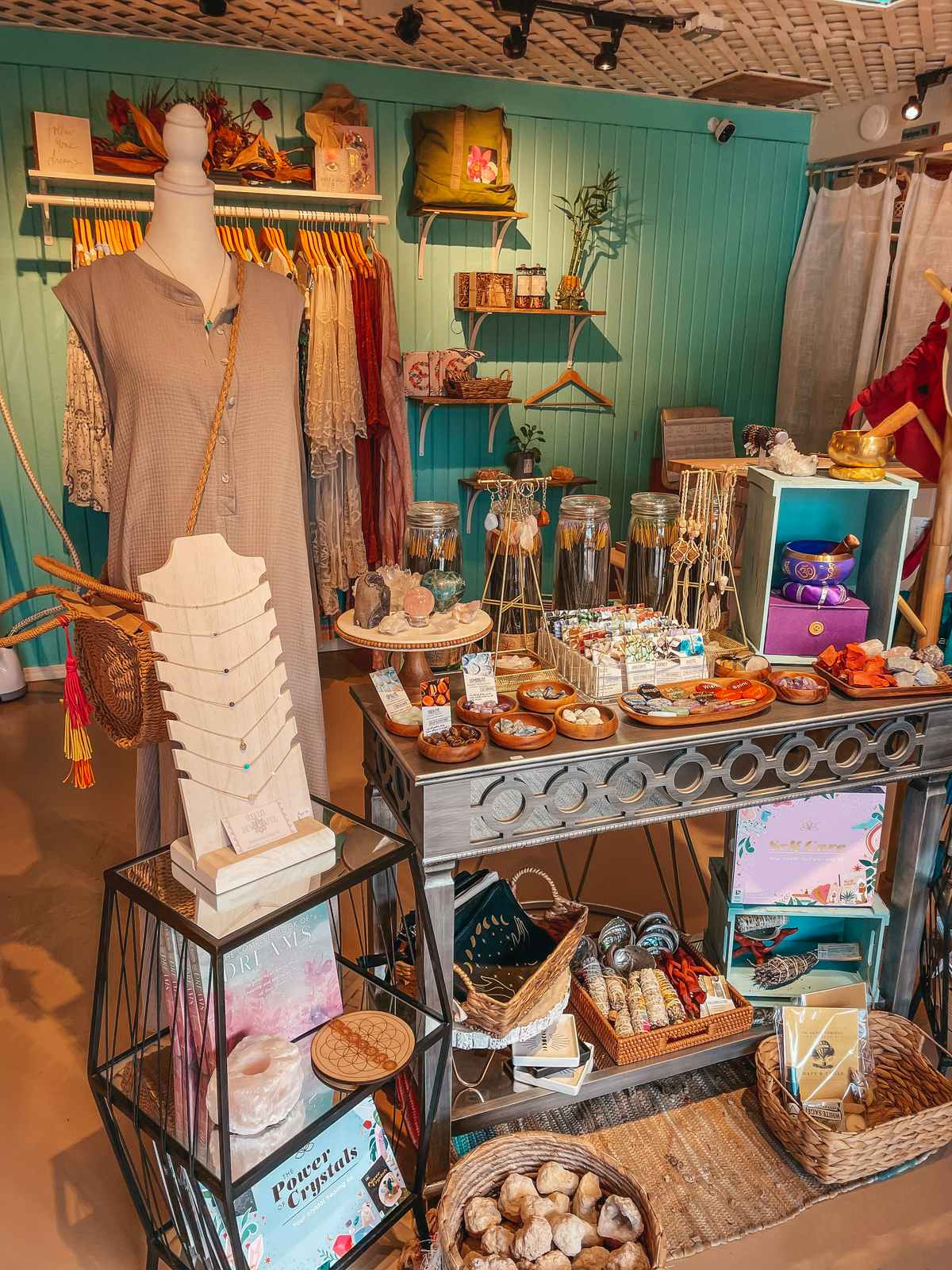 Other alternatives for your Maui 3-day itinerary:
Haleakalā National Park
I know you're probably wondering how a Maui 3-day itinerary doesn't include Haleakala in it. Unfortunately, we were unable to get reservations, and while we could have went for sunset without one we had done so much driving for Road to Hana we just didn't feel as up for it.
Haleakala Crater is a powerhouse of nature in every way. It dominates the island of Maui and can be seen from almost anywhere. This inactive volcano, which is 10,023 feet above sea level, serves as the backdrop to an incredible variety of landscapes and skylines.
This unique location is alive with tales of both traditional and contemporary Hawaiian culture. Additionally, the park provides care for several endangered species, some of which can't be found anywhere else. Haleakala actually has more endangered species than any other national park!
The most popular time to visit Haleakala National Park is during sunrise, however reservations must be made. You can make reservations up to 60 days in advance. There are also some extra reservations released for any given day 2 days (48 hours) in advance at 7:00 AM.
The park entrance fee is $30 for a private vehicle unless you have an America the Beautiful Pass. If you plan on going to multiple National Parks, I highly recommend getting the America the Beautiful Pass! It's $80 and covers the entrance to over 2,000 parks across the US and is valid for 1 year!
If you do get to go for sunrise be sure to pack some warm clothes! It gets quite chilly at the top. If you can't get reservations, you can always visit for sunset. No reservations are required after sunrise.
Set on going for sunrise, but couldn't secure a reservation? This Haleakala Maui Sunrise Tour might interest you. They handle the reservation. It lasts around 8 hours and includes breakfast, round-trip hotel transportation, tour narration by a professional guide, and entrance fees.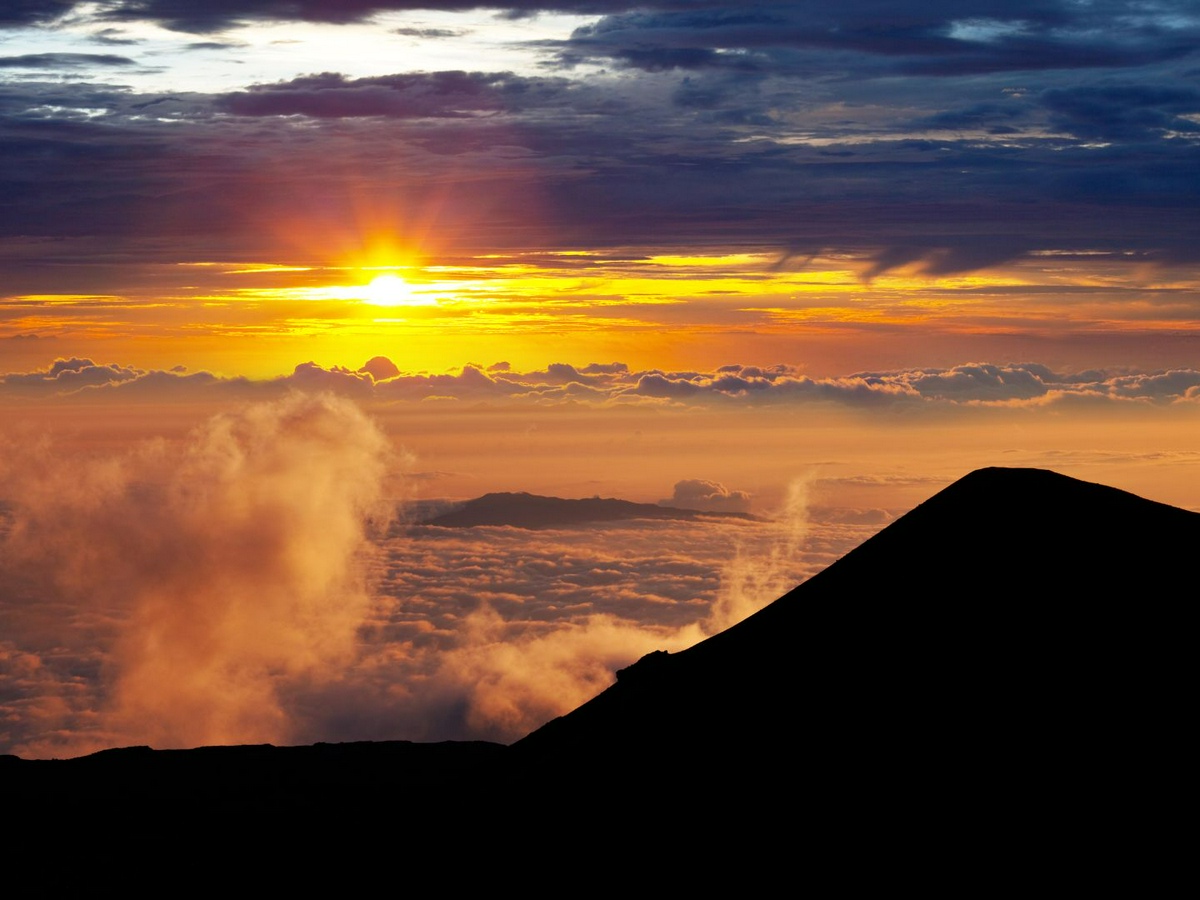 Snorkel Molokini Crater
Off of the south coast of Maui sit Molokini Crater
The eruption that created Molokini Crater is thought to have taken place some 230,000 years ago. Since then, the cinder cone has eroded into a crescent-shaped atoll. Since its catastrophic volcanic formation, Molokini Crater has been a valuable habitat for birds, marine life, and humans.
You can go scuba diving, snorkeling, or snuba diving here. If you're looking for an especially fun snorkeling adventure, this 5-hour all-inclusive boat tour includes breakfast, and lunch, and has a 20-ft waterslide!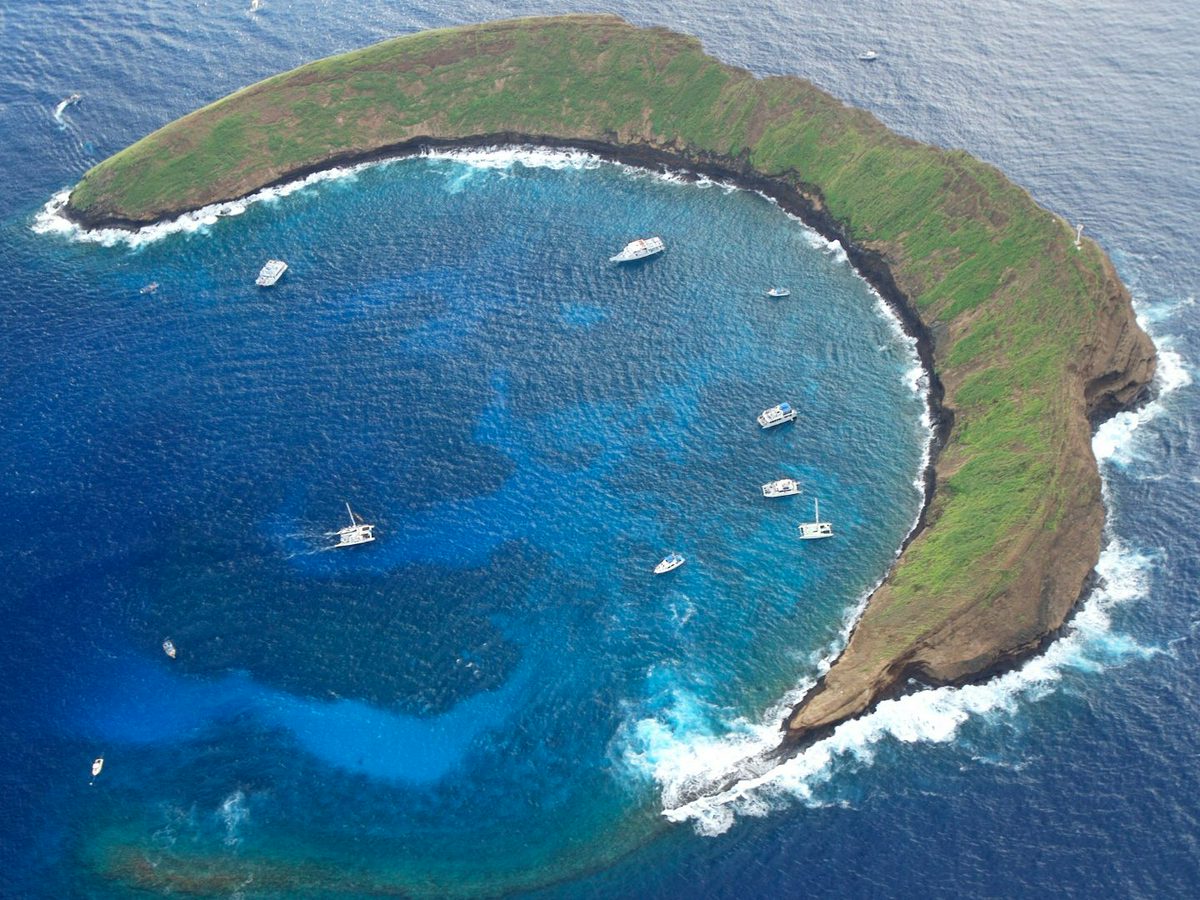 I hope that this Maui 3-day itinerary has given you the inspiration you need to make some fun plans for your upcoming trip! The island truly is an amazing place, and there's so much to see and do. Whether it's snorkeling with sea turtles or hiking through ancient rainforests, there's something on Maui for everyone.
If you have any questions, feel free to ask in the comments below, or DM me on Instagram @guidedbydestiny! I'd love to hear from you 🙂 Check out some of my other Hawaii posts before you go: