This post contains affiliate links which means that I will make a small commission if you purchase a product after clicking on any of them, at no extra cost to you.
If you're surprised to find out you can find wineries in Tampa Bay, you're not alone! I was pretty shocked myself. Because of Florida's hot and humid climate it is difficult to grow most grape varieties. This hurdle didn't stop these 6 wineries in Tampa Bay from producing some amazing wine though!
Many of these wineries have discovered a way to utilize Florida's tropical fruits to produce unique variations of wine, and others get their juice to produce their wines from vineyards all over the world. Regardless of their method, the outcomes have been quite delicious in my opinion.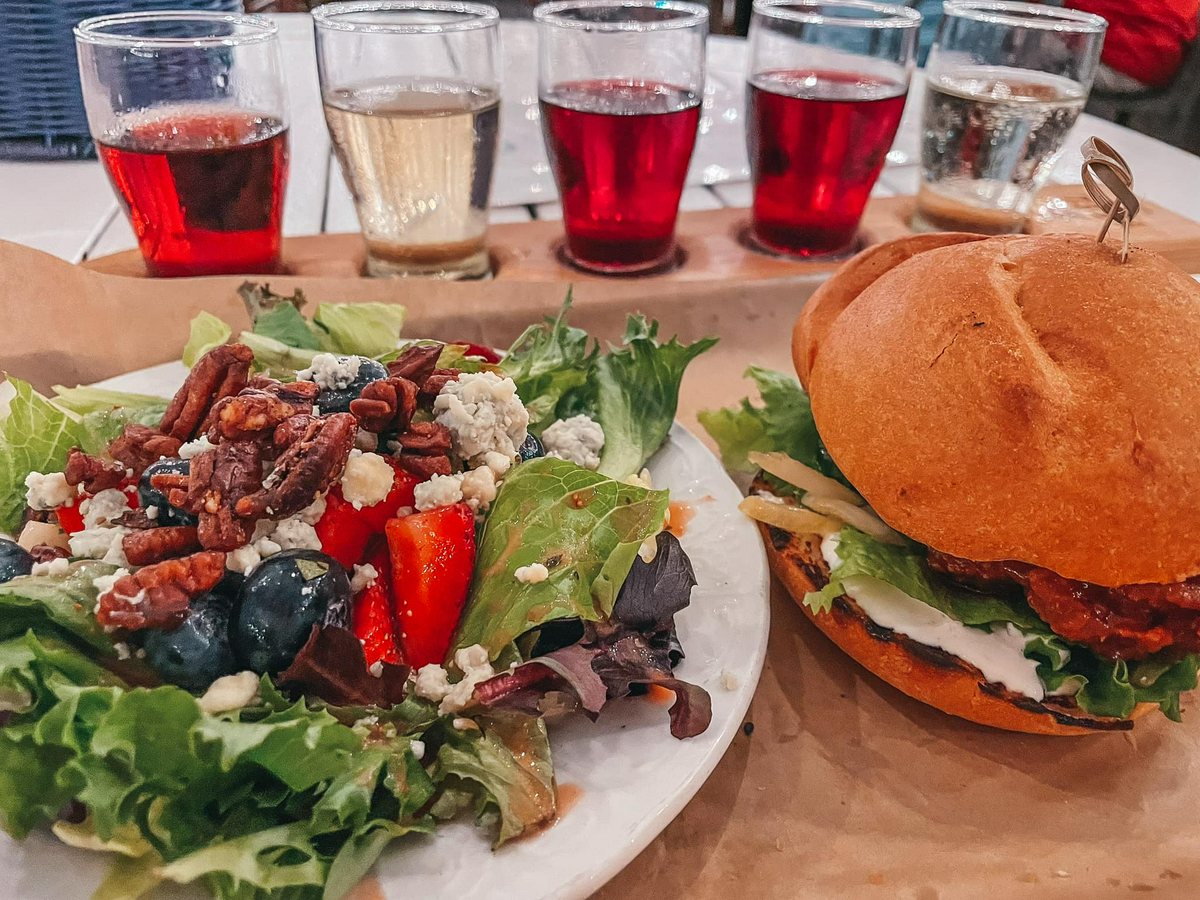 Wineries in Tampa Bay
Tarpon Springs Castle Winery – Tarpon Springs
It's not every day you find a European winery east of the Mississippi River. In fact, Tarpon Springs Castle Winery is the only European winery in this region.
This family-owned operation crafts wine using family recipes passed down from generation to generation from Sant'Arsenio, Italy.
You can sample everything from Cabernet Sauvignon and Merlot to Sangiovese and Castillo Rojo wines at Tarpon Springs Castle Winery.
They even have outstanding Groupon deals to tour the winery and experience this fantastic opportunity for wine tasting in Tampa Bay.   
Keel and Curley – Plant City 
Keel and Curley is a farm, winery, brewery, and eatery all wrapped up into one. If you want to sample one-of-a-kind wine, this is the place to do it!
This winery started as a blueberry farm but quickly transformed into something more significant. Its founder, farmer Joe Keel, needed something to do with his end-of-crop blueberries, so he thought, "why not turn it into wine?"
Today, you can sample their four distinct blueberry wines or any of their other fun red and white varieties at their wine tasting room.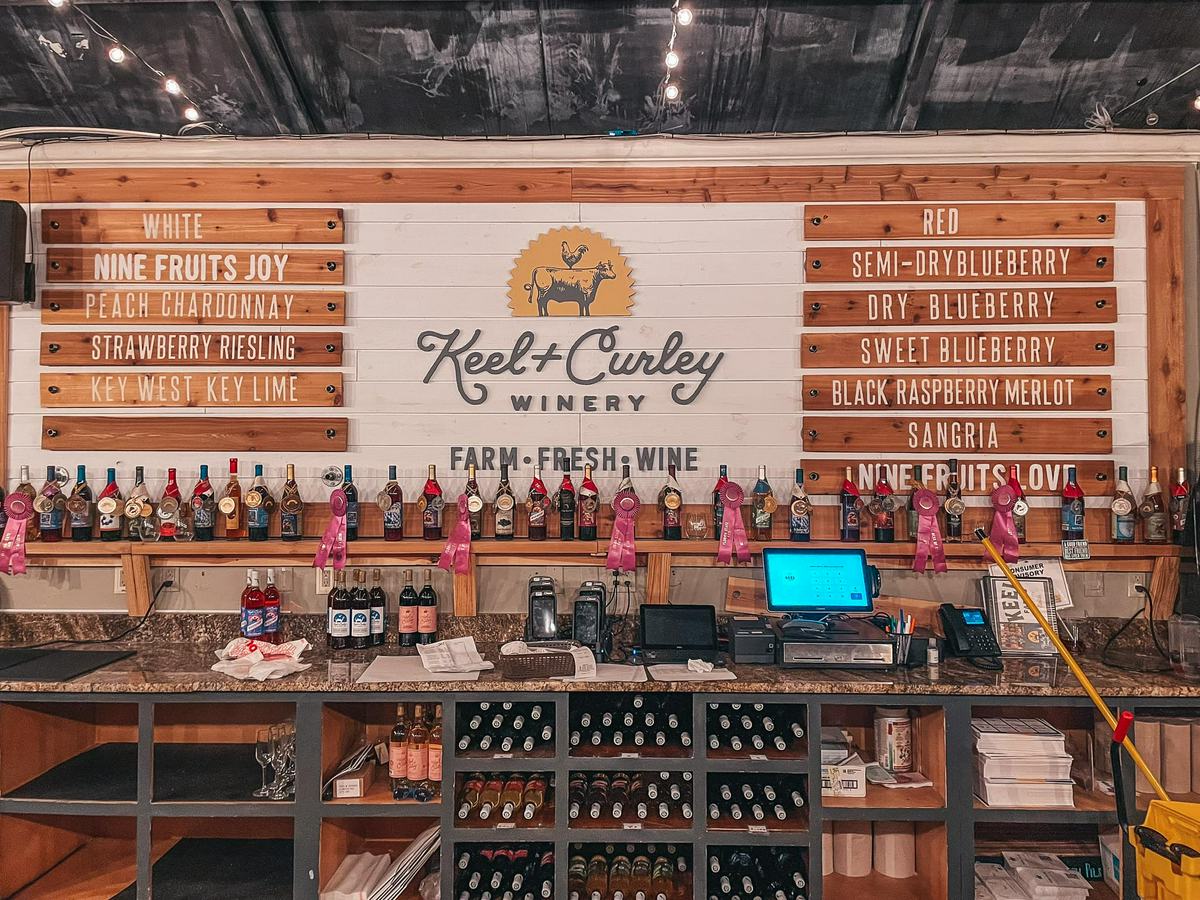 As I mentioned, Keel and Curley is also a brewery, and their brews and ciders are equally as good as their wines! Their seasonal pecan pie cider left an everlasting impression on me and I think about it daily. During strawberry season they have a strawberry shortcake cider that's also amazing. Aside from 3 Daughters, Keel and Curley may just have my favorite ciders in Tampa Bay.
Come hungry! Their menu is delightful and they have everything from pub fare to refreshing salads.
If you are interested in learning more about Keel and Curley and want to get some BTS be sure to check out their tours! You can do a tour and tasting for $25, or book the experiences individually.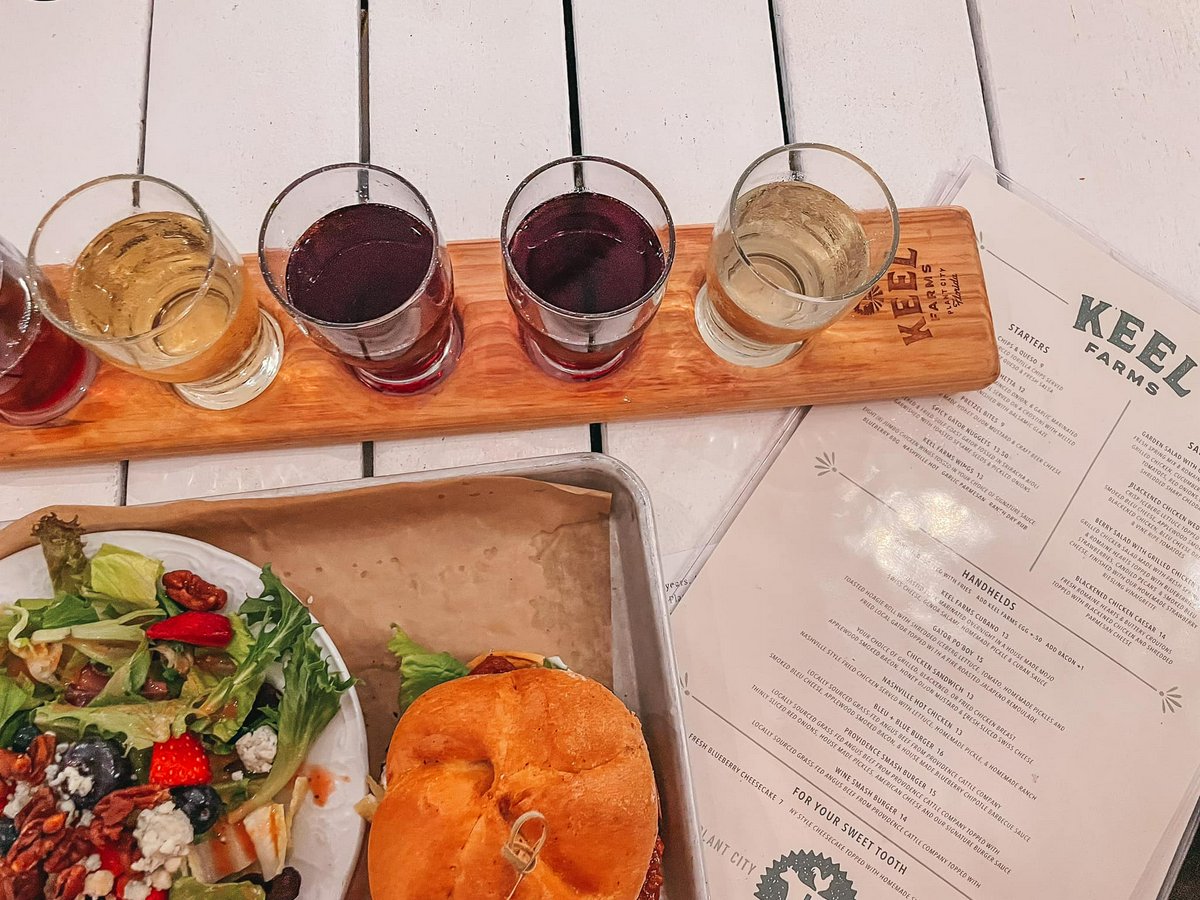 Two Lions Winery – Palm Harbor 
Two Lions Winery started in 2009 with a bit of determination and experimentation. Its owner, Rose, dedicated herself to making outstanding wine. The process took some trial and error, but it paid off. 
It is now an award-winning establishment that is one of the top wineries in Tampa Bay, crafting small-batch wine made with love.
They have classic flavors like Malbec and Cabernet Sauvignon alongside refreshing flavorings like tropical white wine and Suncoast Grigio. They even have refreshing wine slushies, perfect for the humid Florida weather.
This is another Tampa Bay winery that is also part brewery! They have ales, IPAs, porters, and more. Rose has created over 20 beers at the brewery, be sure to check out Two Lions rotating taps.
Murielle Winery – Clearwater
Murielle Winery is a family-owned establishment specializing in wine made with premium grapes and taste-tempting fruits. Setting Murielle Winery apart from other wineries even more, they don't use any electricity in the wine-making process.
No matter your taste in wine, they have you covered. Murielle has traditional dry, sweet white and red, blush, and dessert wines. You can sample any of these and learn more about them at their shop's free wine tastings.
Related read: For more fun wine spots, check out the best wine bars in downtown St. Pete!
Florida Orange Groves Winery – St. Pete Beach 
When you think of Florida, a few images come to mind. These usually include sunny beaches, tropical weather, and clear blue water.
Florida Orange Groves Winery produces wine that captures Florida's essence. These are not your typical French or Californian wines. Instead, their wines contain local tropical fruits, such as key lime and mango, to give them a Floridian twist. Their wines are true-to-flavor, so you'll get a healthy dose of each fruit in every sip.
They produce over 43 varieties of wine, and they have tastings and tours daily. Visiting this establishment is a one-of-a-kind wine tasting in Tampa Bay experience.
The tastings have 3 parts: a flight of their most popular wines (from sweet to dry), your pick, and then some slushie samples! For my pick, I did their Hot Sun tomato wine with bloody mary mix! Super unique, and super delicious.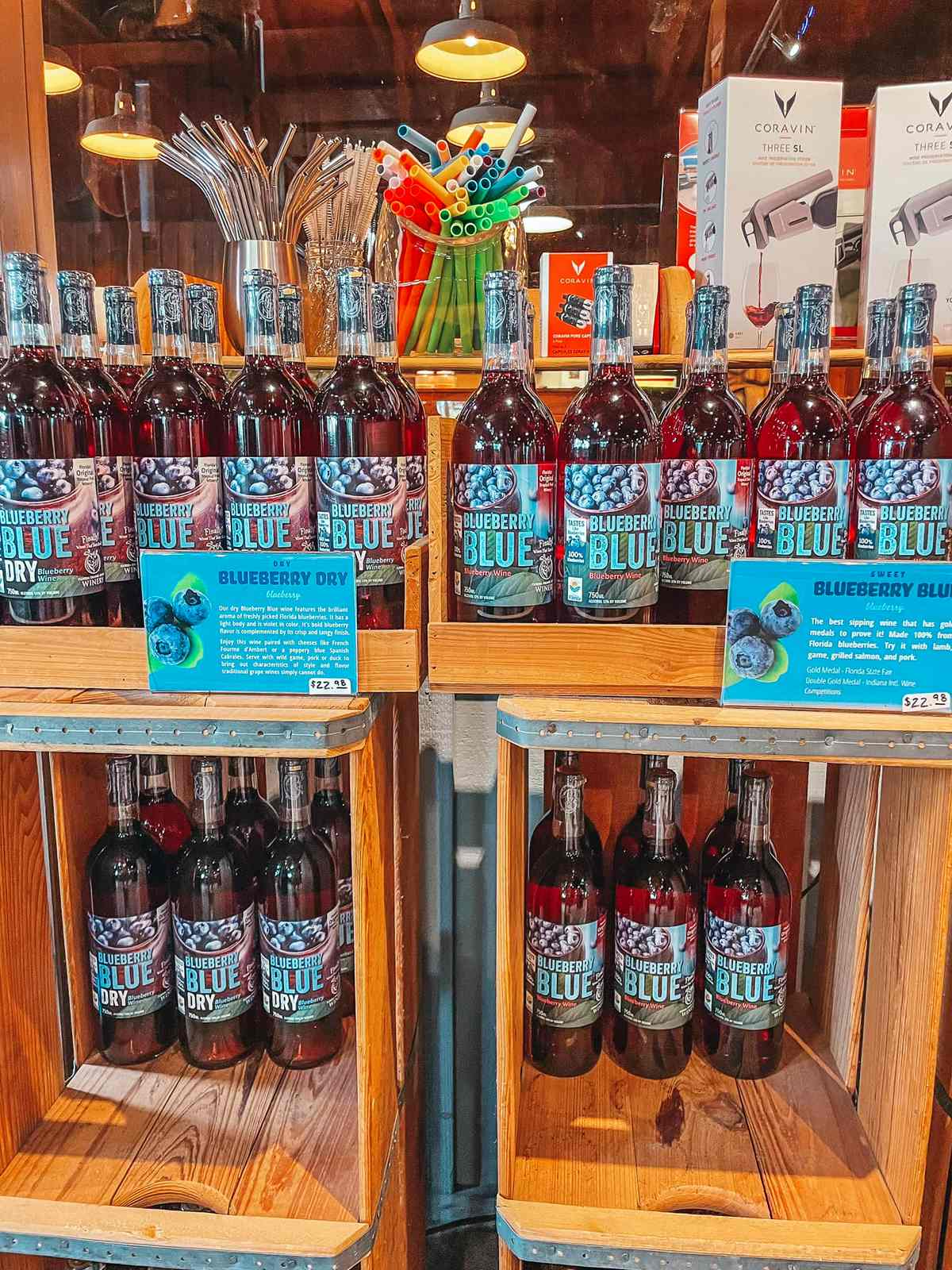 Aspirations Winery – Clearwater 
Are you looking for one of the best wineries in Tampa Bay? Aspirations Winery has many accolades to prove it is one of the state's best. It won House Beautiful Magazine's "best winery in the state of Florida" and Clearwater's "small business of the year" awards.
They hand-craft over 30 wines every year! While they specialize in making some of the tastiest award-winning, fruit-infused wines around, they also produce dry reds, whites, and some dessert wines.
Remi and I absolutely fell in love with their Tropical Breeze, which is Aspirations' lime and coconut wine (I'm not even a coconut person!). We loved it so much that we grabbed a bottle for home.
This winery has been crafting its award-winning fruit-laced concoctions for over ten years. Visit to take a tour and sample all of their tasty flavors! Even check them out for one of their fun paint or Wine-O Bingo nights!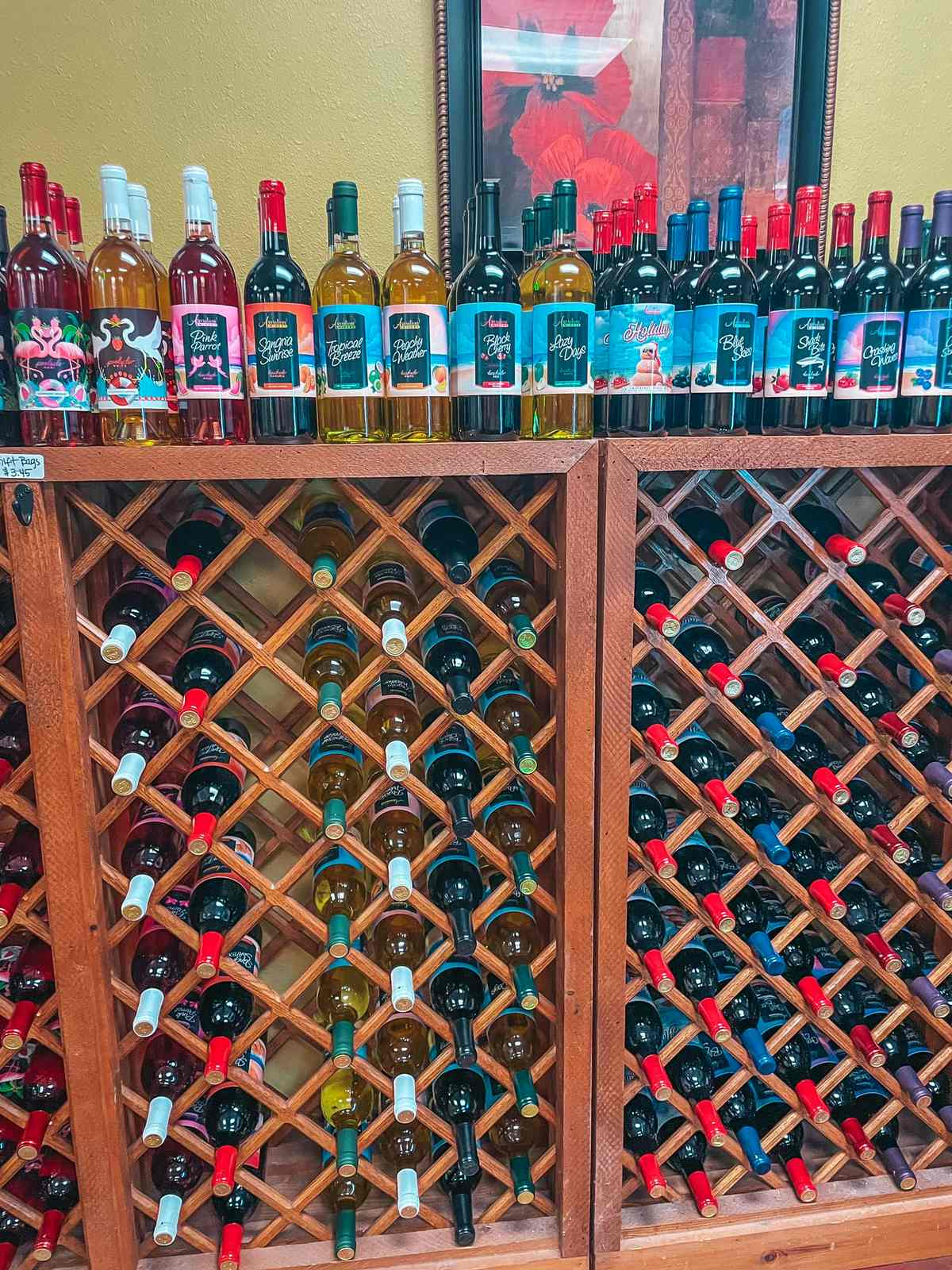 The Florida Winery – Madeira Beach
The Florida Winery's slogan is "acquired taste not required." This tagline perfectly describes their offerings. You can find this Tampa Bay winery at John's Pass in Madeira Beach.
You'll find all types of flavors at this renowned winery. They have unique flavors like white sangria, chocolate-covered blanche, and peach wine. Remi's favorite ended up being their Flamango, a mango wine with a hint of chocolate habanero. Additionally, they have a few wine freeze mixes to help you beat the Florida heat.
If you're interested in sampling these delicious wines, you can visit their shop for some of the best free wine tastings in Tampa Bay.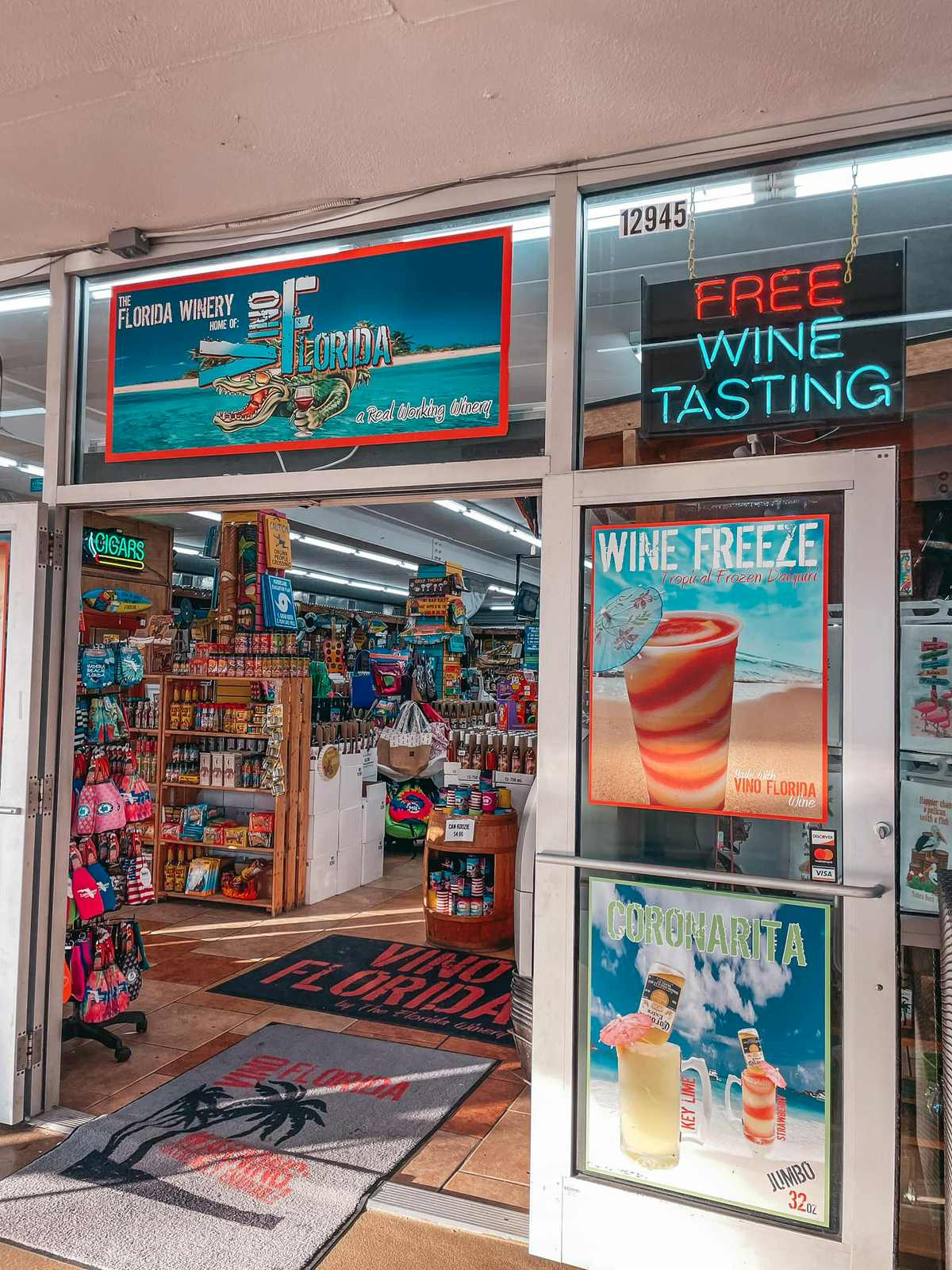 While these Tampa Bay wineries may be a bit different than your typical winery, they all bring something unique to the table. I hope that you enjoy checking out each of these fun spots! Be sure to follow me on Insta @guidedbydestiny for more Tampa Bay and travel content 🙂
Check out some of my other popular posts before you go:
Breweries in Clearwater to check out
Best breakfast restaurants in Clearwater Beach