This post contains affiliate links which means that I will make a small commission if you purchase a product after clicking on any of them, at no extra cost to you.
Tampa, Florida is quickly becoming one of the most popular destinations for travelers looking for sun and fun. And it's no wonder why – with its beautiful beaches, vibrant cultural scene, and countless outdoor activities, there's something for everyone in Tampa. Recently, Tampa was even included in Time Magazine's 2023 list of the world's greatest places, further cementing its status as a must-visit destination.
If you're planning a trip to Tampa, you're in luck – this bustling city has a lot to offer. In this blog post, I'll explore some of the best things to do in Tampa, as well as recommendations for where to eat and stay, so you can make the most of your time in this amazing city. So, whether you're a first-time visitor or a seasoned traveler, read on to discover the best of Tampa!
Quick links for your Tampa trip
🏨 Accommodation
Easily compare prices, secure great deals, and enjoy the added benefit of flexible cancellations up to 24 hours in advance for the majority of hotels with Booking
🎟️ Tours and tickets
Discover your next adventure with ease by using Viator which allows you to explore a multitude of local tours, ensuring you find the best experiences at the best prices.
🚘 Car rental
Rentalcars is the best tool for comparing prices for your date amongst the most popular rental car companies!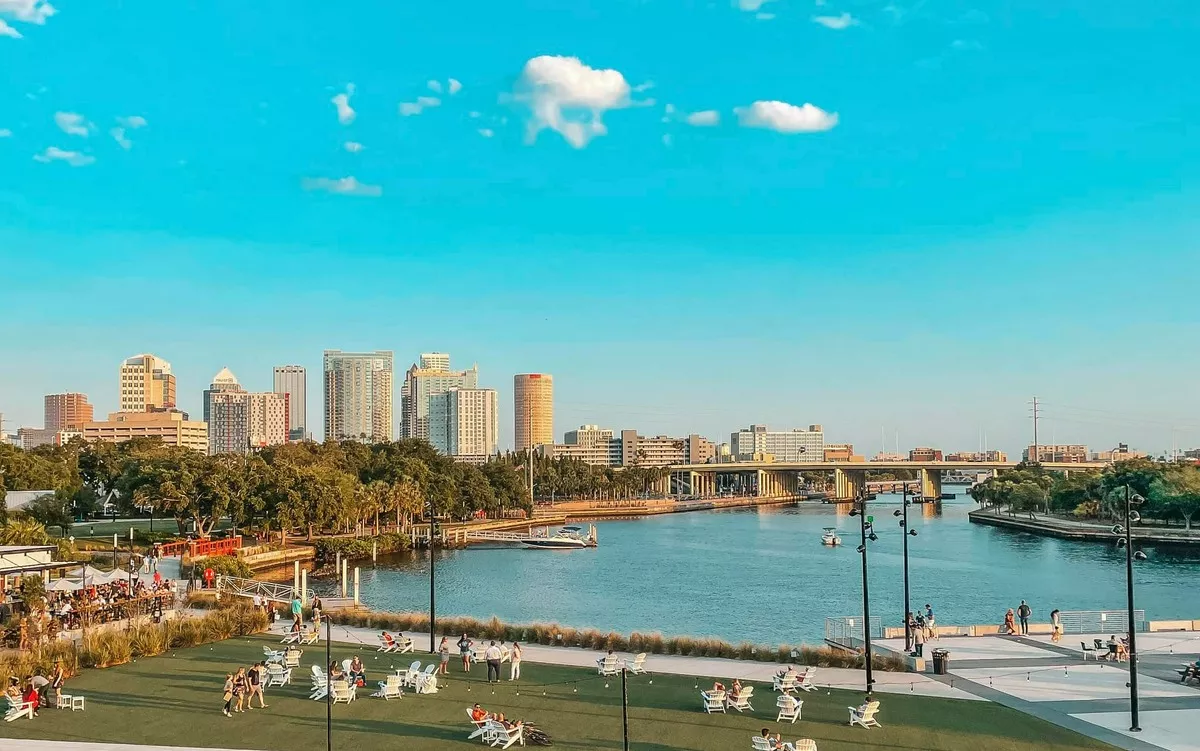 When is the best time to visit Tampa?
There really isn't a bad time to visit Tampa, but there are things to keep in mind when planning your trip!
Florida winters are mild, however, you probably won't be able to have too many beach days if you visit Tampa in the winter. The water usually cools down by October/November and doesn't warm up again until around late May. Not that you don't see people in the water still, it's just not as enjoyable!
Summers can be humid with frequent scattered showers, but they usually don't last long!
I recommend coming in May, or the fall and winter. The weather is lovely then, and at the beginning of fall, the water is still warm enough to swim.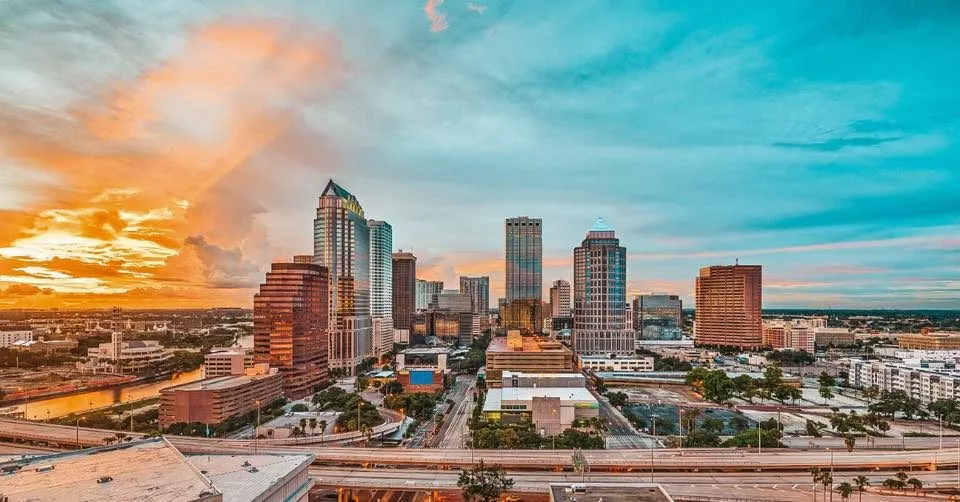 Fun Things to Do in Tampa
🎟️TAMPA CITY PASS🎟️
Want to do ALL of the fun things in Tampa during your visit? The Tampa City Pass allows you to experience some of the top Tampa attractins at a fraction of the cost!
Click herе to book
Waterfront & beach activities in Tampa
Boat tours
Tampa Bay Fun Boat is a popular sightseeing boat tour with daytime and sunset cruises. 
If you want your own private boat with a captain included, Staying Afloat Party Boat prices start at $700 for 4 hours for up to 12 people. Or you can do a 2-hour charter exploring the heart of downtown Tampa for $400 for up to 12 people.
Both options have longer charter options as well.
Pirate Water Taxi
The Pirate Water Taxi is a fun hop-on, hop-off shuttle service. With 14 stops and a narrated tour that allows you to explore downtown Tampa and the Riverwalk District all day!
All-day passes are $25 for adults and $15 for kids.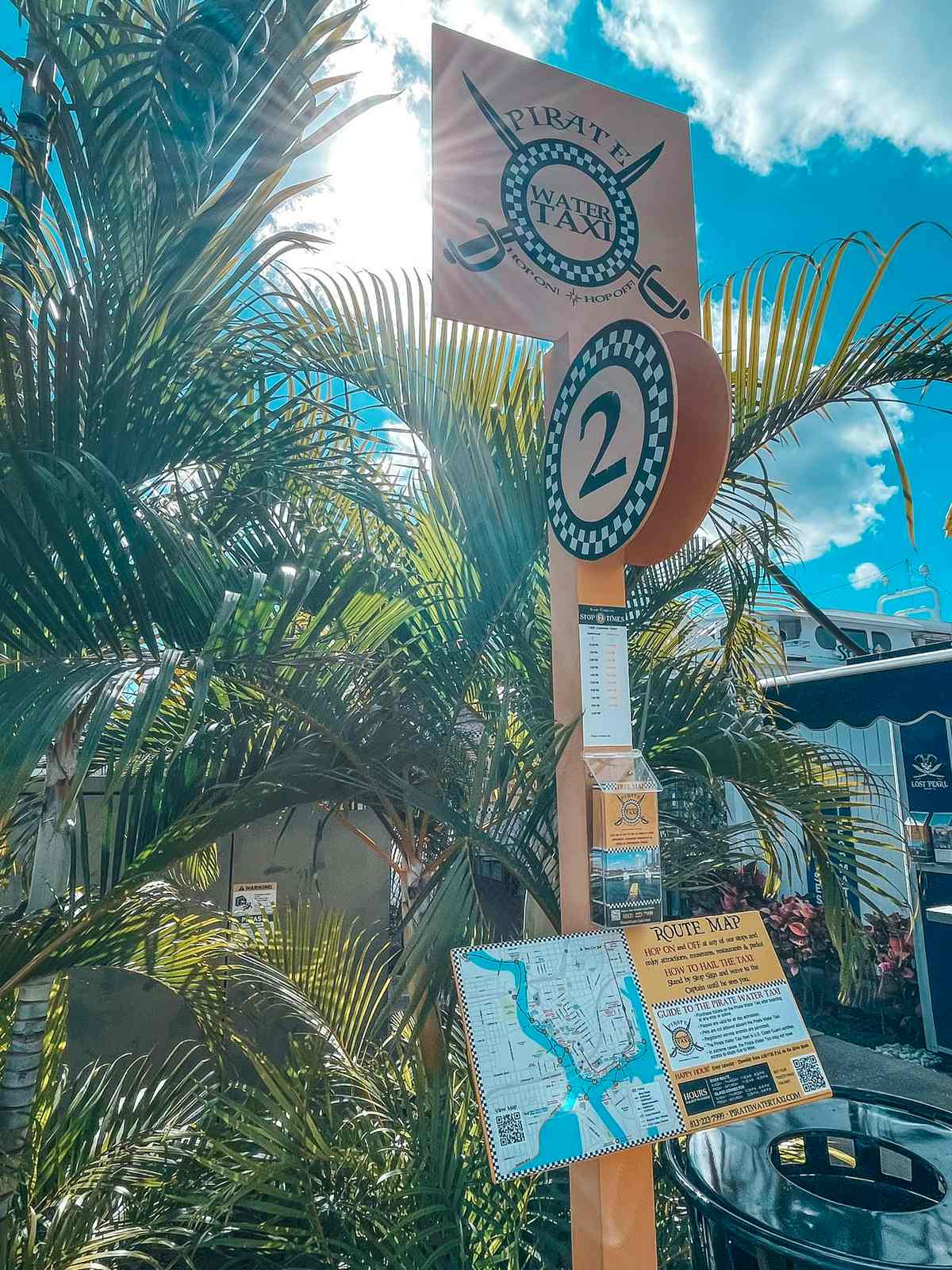 Dinner Cruise
Yacht StarShip Dinner Cruise is a buffet-style cruise. The menu offers seafood and non-seafood options. The price includes your meal and an open bar that's Free at Sea.
The open bar includes Bud Light, Michelob ULTRA, Bud Light Seltzer, house wines, and house liquors. They also have a DJ providing an even more enjoyable evening!
Prices vary depending on if you choose to do your cruise in the early evening, happy hour, or at sunset. And you can purchase tickets to do just the cruise without dining as well!
The food and service were actually phenomenal for our experience, plus I loved the views of downtown from the water!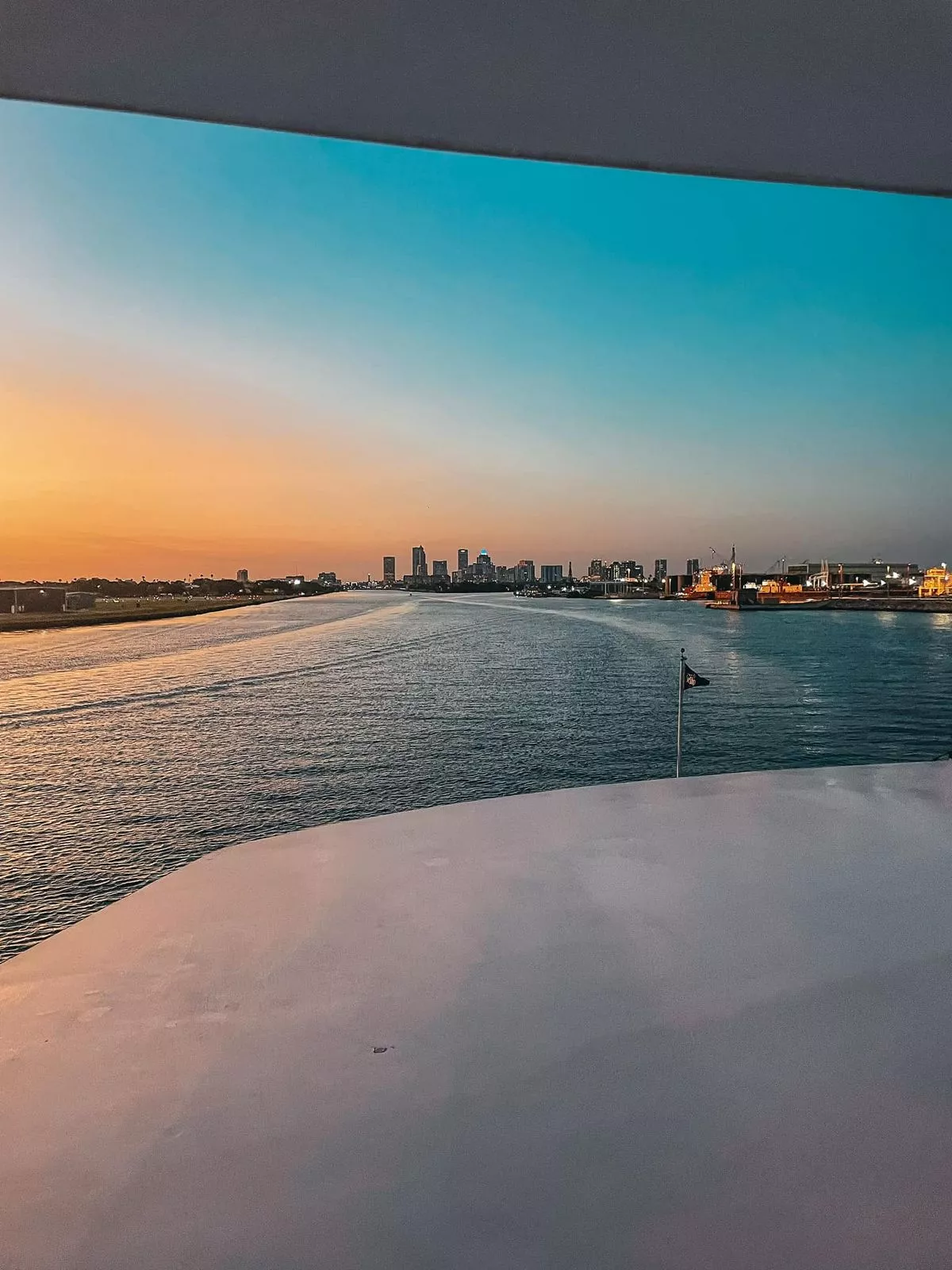 Kraken Cycleboats
I'm sure you've seen pedal pubs, well, Kraken Cycleboats takes things to the next level and takes you out pedaling on the water!
The Kraken holds up to 15 people, and seats are $45 each. The price includes a 2-hour cruise, souvenir cups, coolers, a captain, and a sound system. It is a BYOB experience.
You get a mini tour of downtown Tampa from the bay and even get to make a pitstop at Armature Works!
Water bike/kayak/SUP
These are some of my favorite activities! No matter how many times you do them, it feels like a new adventure every single time!
Not only that, there are an ENDLESS amount of locations you can explore. If you're staying in downtown Tampa, the most convenient rental location will most likely be from Urban Kai at Armature Works.
There are truly a number of great kayak spots in the Tampa Bay area, but if you don't mind taking a little drive, Weeki Wachee is my favorite place that I have found for kayaking!
Book your Weeki Wachee kayak tour here!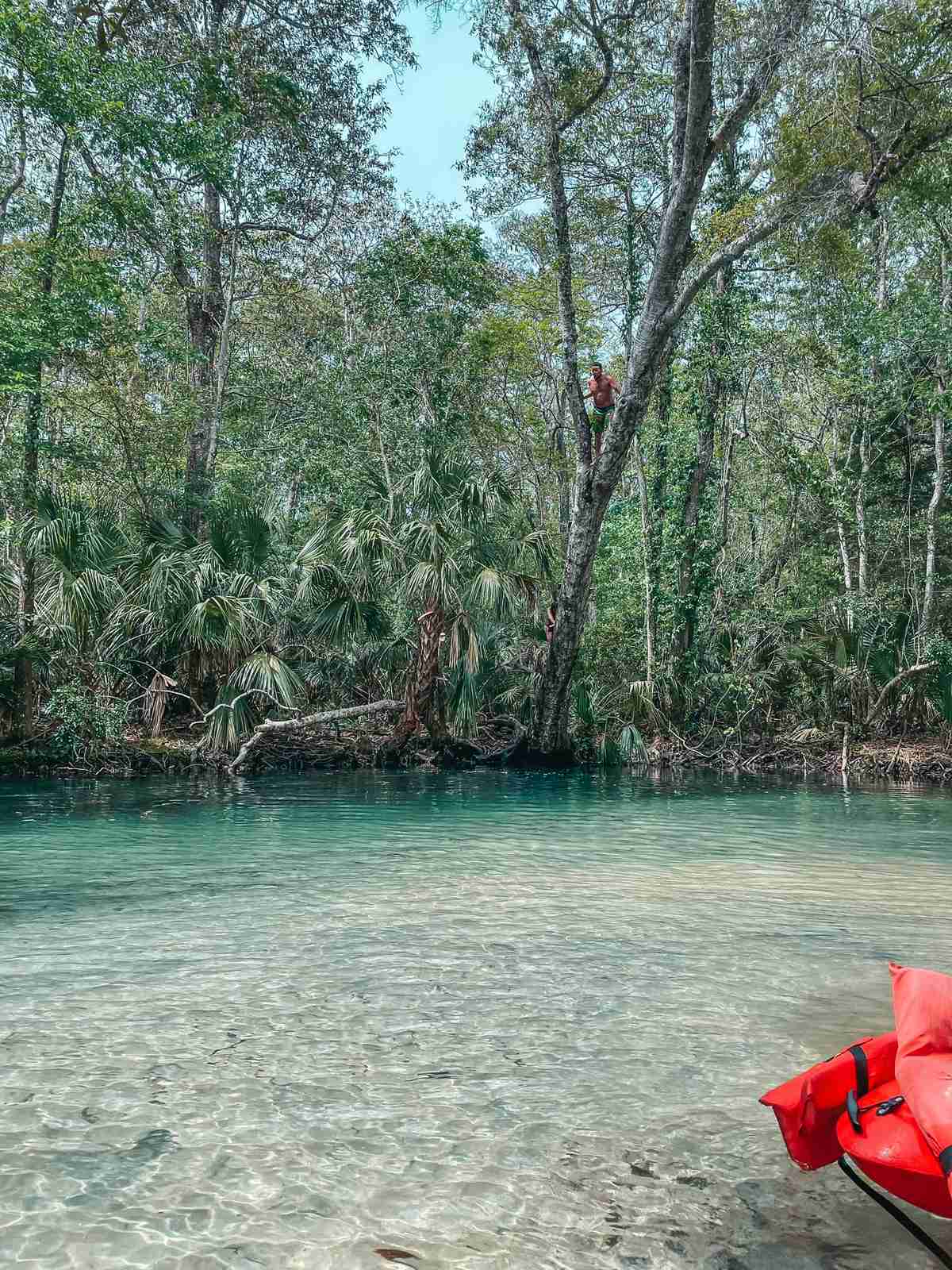 Beach Day
Tampa beaches are a little different than ones such as Clearwater Beach and St. Pete Beach, but they are still beautiful and a great spot to catch some rays!
Ben T. Davis is probably the most popular beach in the Tampa city limits. It stretches along the Courtney Campbell Causeway and provides a white sand beach, picnic shelters, and beach volleyball. It's also close to Whiskey Joe's (one of my favorite waterfront dining spots in Tampa) and WTR, two other fun spots! You can even rent kayaks or paddle boards to take out on the water here.
If you drive, you will have to pay for parking. And if you're going over the weekend you'll want to arrive at a decent time to ensure you can snag a spot.
Cypress Point Park and Picnic Island Park are two other popular Tampa beaches. Check out this list for all of your beach day necessities.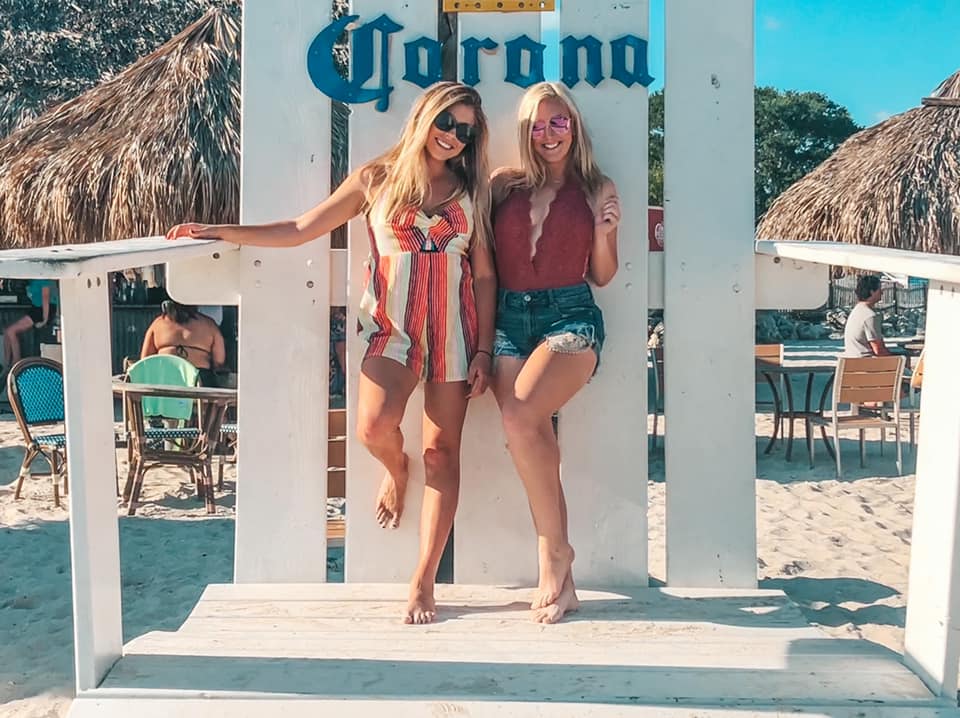 WTR
I absolutely love WTR— it is such a fun venue! If they aren't hosting an event during the week you can have a pool day there for free.
They do often have great performers and DJs here, especially on the weekends. The environment here is super fun and there's always great music. It's located right on the bay, so you get poolside luxury with a view!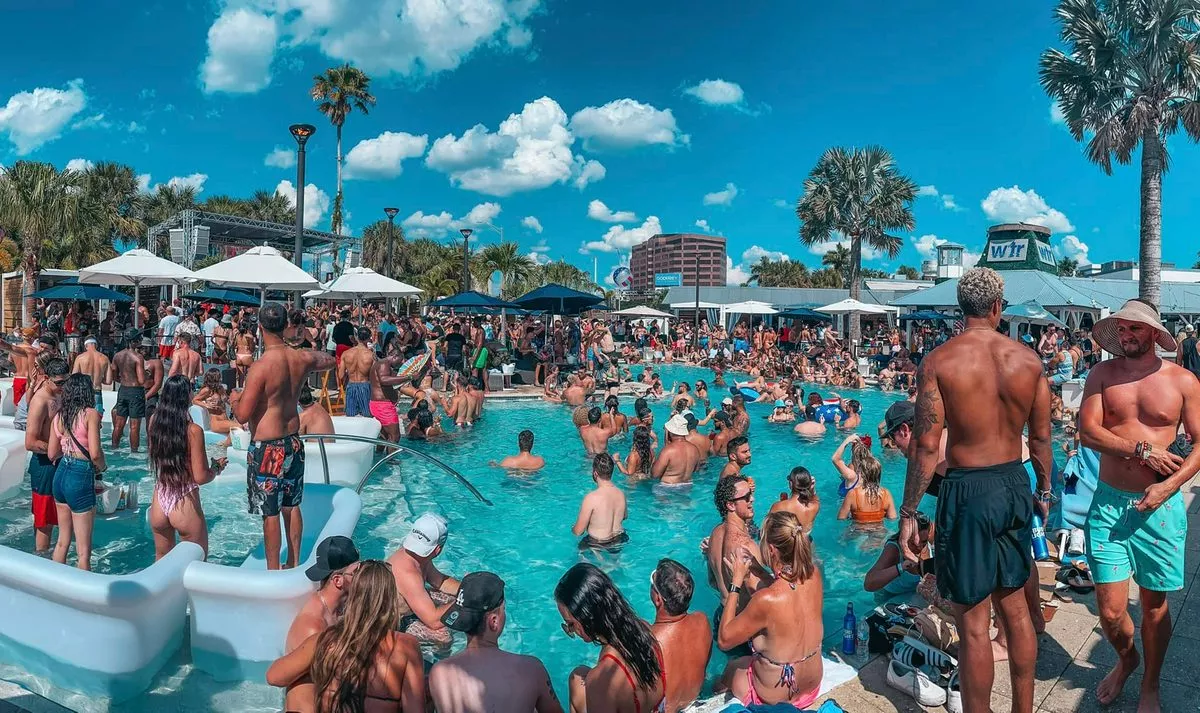 Cruisin Tikis
More suited for 21+, Cruisin Tikis is your own personal floating bar. Cruise around Tampa, St. Pete, or Clearwater on a 1½- to 2-hour cruise.
You bring your own booze and snacks, but the tiki provides you with cups, ice, a blender, and a fun way to explore the area. This was honestly one of my favorite boat tours. We had a total blast! I especially love this idea for Tampa bach parties and birthday celebrations.
Book your Cruisin Tiki tour here!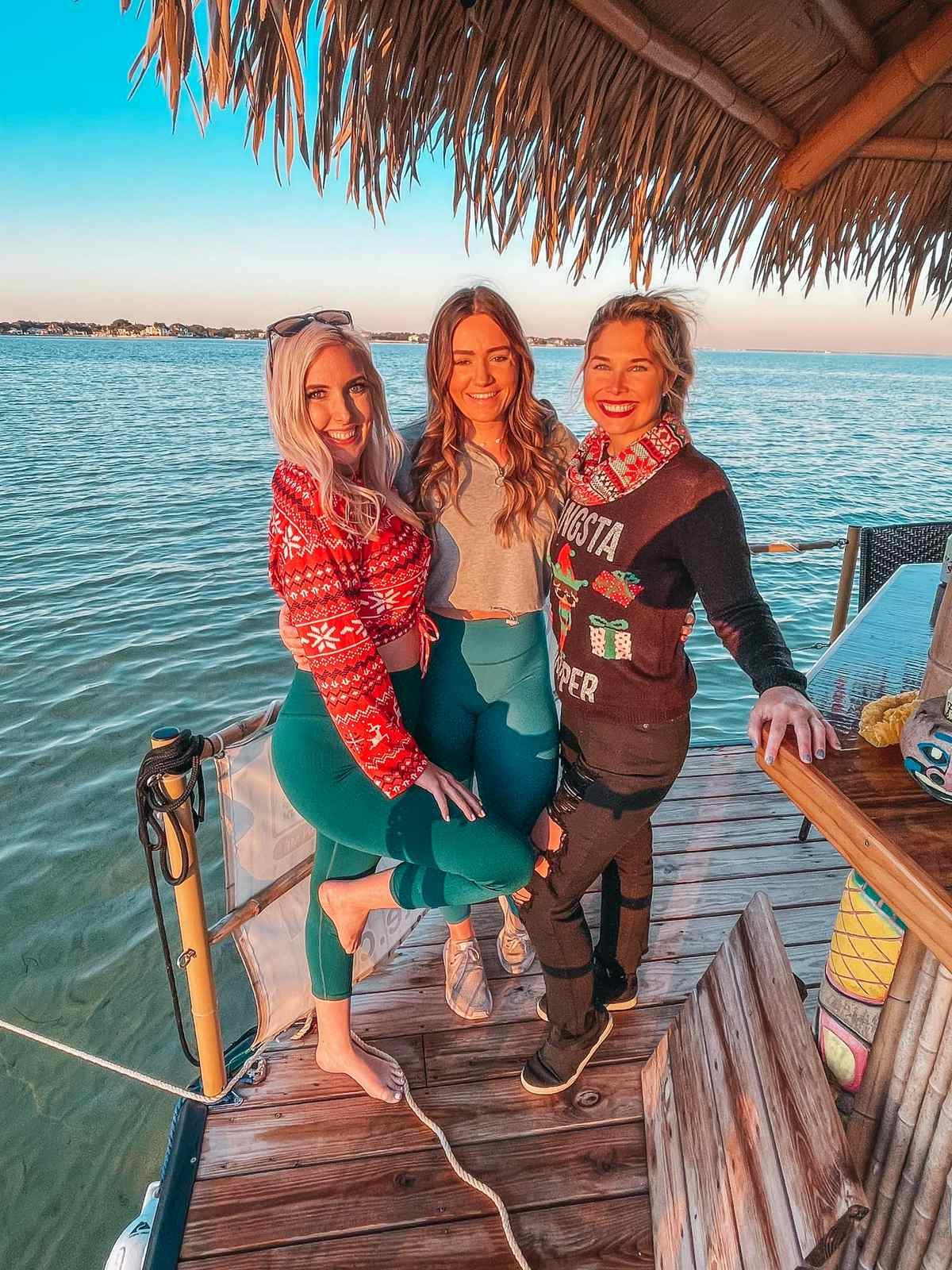 Other outdoor activities in Tampa
Hot Air Balloon
How cool would it be to see Tampa from an aerial view? This experience was truly amazing and absolutely surreal.
You have to do this experience at sunrise, and it almost makes it feel even more magical as you rise in the balloon with the sun in a harmonious moment. You feel weightless and at peace.
Read about my full experience here.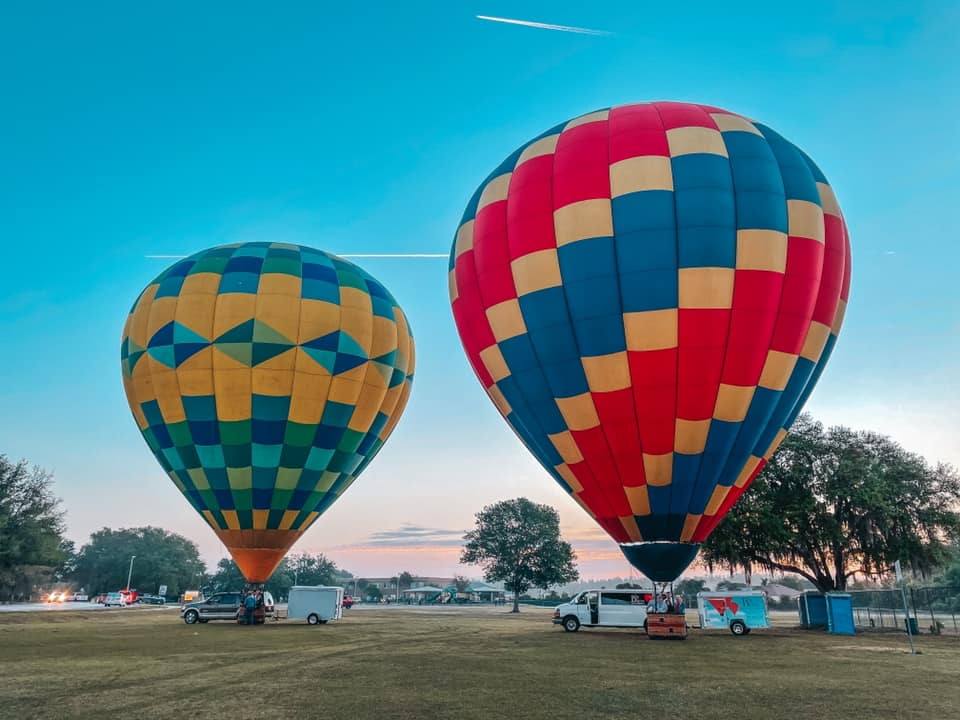 Helicopter Ride
Another thing to do in Tampa that may give you a little bit of a thrill! At The Hangar, you can do a helicopter ride through Tampa Bay Aviation and get an aerial view of this beautiful area.
There are different options from the length of ride, the area you want to see, and what time you want to go that will determine the cost. Afterward, grab a drink at The Hangar!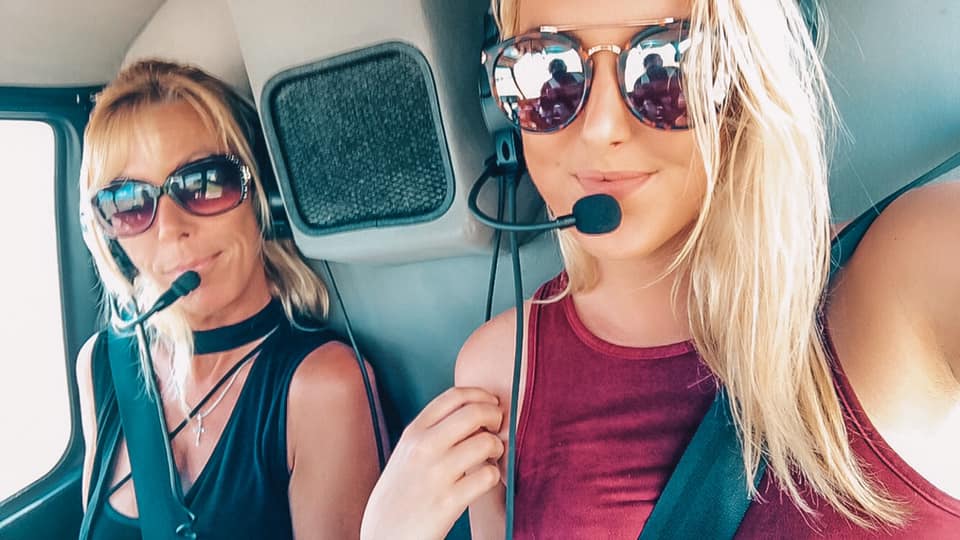 Theatres, Museums, and Concert Venues in Tampa
Tampa Museum of Art
The Tampa Museum of Art provides innovative exhibits and art classes with a focus on ancient, modern, and contemporary art. TMA actually has one of the largest Greek and Roman antiquities collections in the Southeastern United States!
Check here to see their current exhibitions. They also often have fun events like make-and-take art workshops!
Adult admission is $20 There are several discounted rates, and college students enter for free!
Check out my Amazon recommendations for your Florida packing list!
Tampa Theatre
The Tampa Theatre is not only a protected historic landmark, but it's also a local icon. Every time you pass it, it's hard to not gaze at it in admiration.
Better yet if you get to experience one of the 600+ events that are held here each year!  
You can see contemporary films, classic movies, comedians, musicians, and even get tours.
Ticket prices vary depending on the event or show you choose to see. There are concessions as well as a full bar available.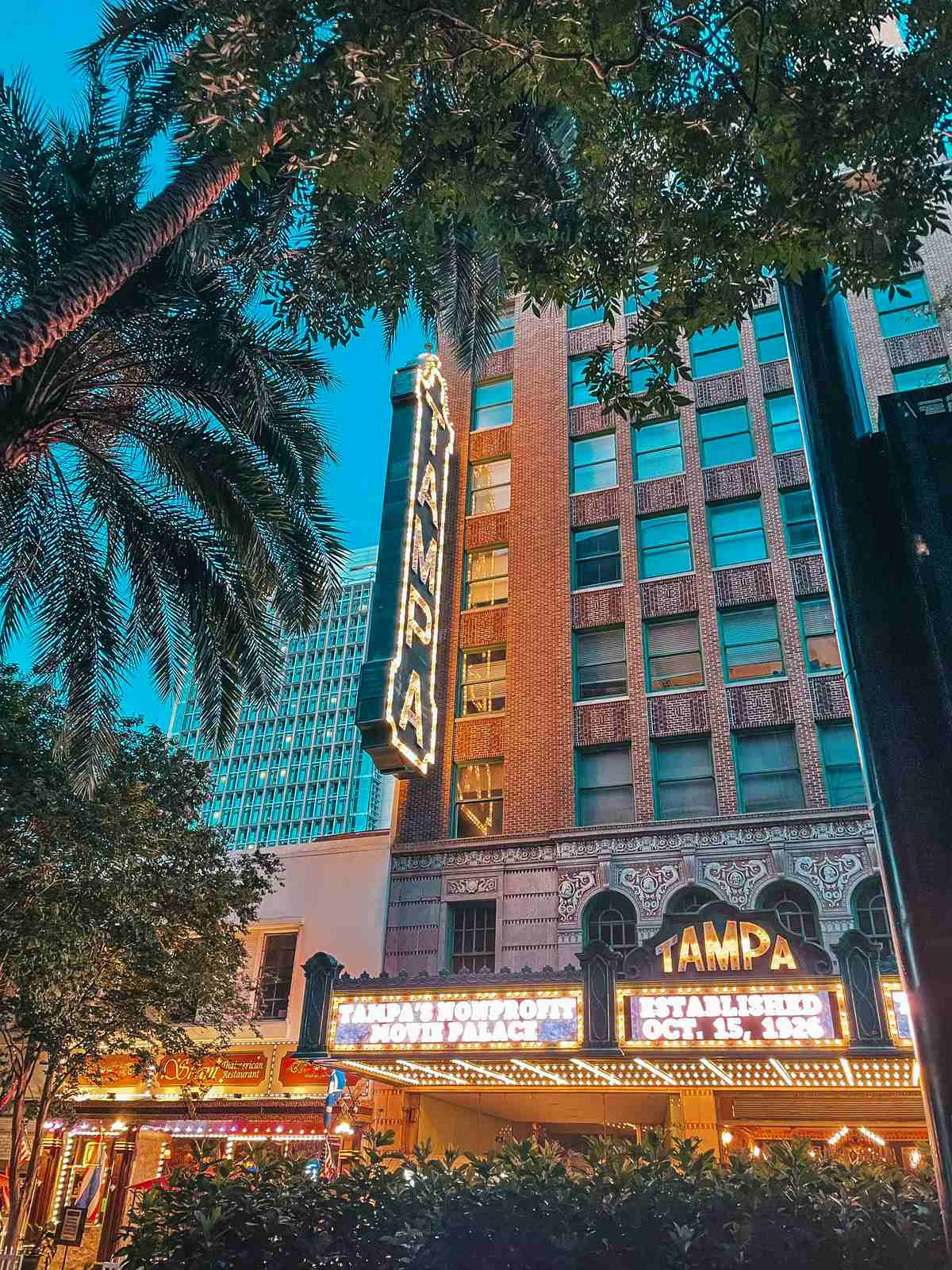 Straz Center
The Straz Center for the Performing Arts is the second largest performing arts complex in the Southeastern US.
You can expect to see performances and events ranging from the grand opera to Broadway shows, as well as classical music and rock concerts. Around the holidays you can get tickets for the Nutcracker!
In 2022 you can expect to see Frozen and Pretty Woman: The Musical! Ticket prices vary by event and seat.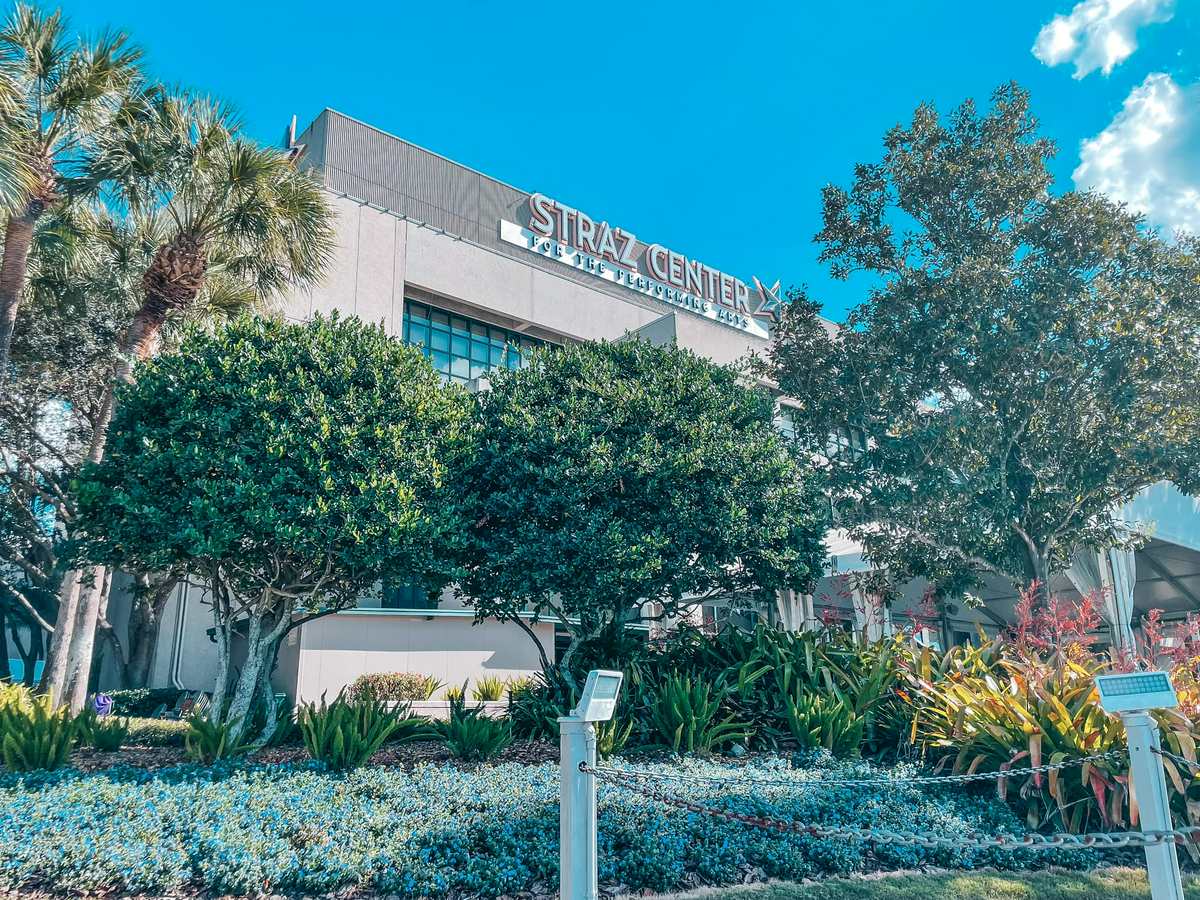 See a show at The Ritz
The Ritz is located in Ybor, and it's the place to go if you're looking for a fun show. They usually host EDM artists, with the occasional rap and other genre guests.
If you're into the artist or music playing, you're going to have a good time. I've gone to a great number of shows at The Ritz over the years myself, and I really enjoy their shows.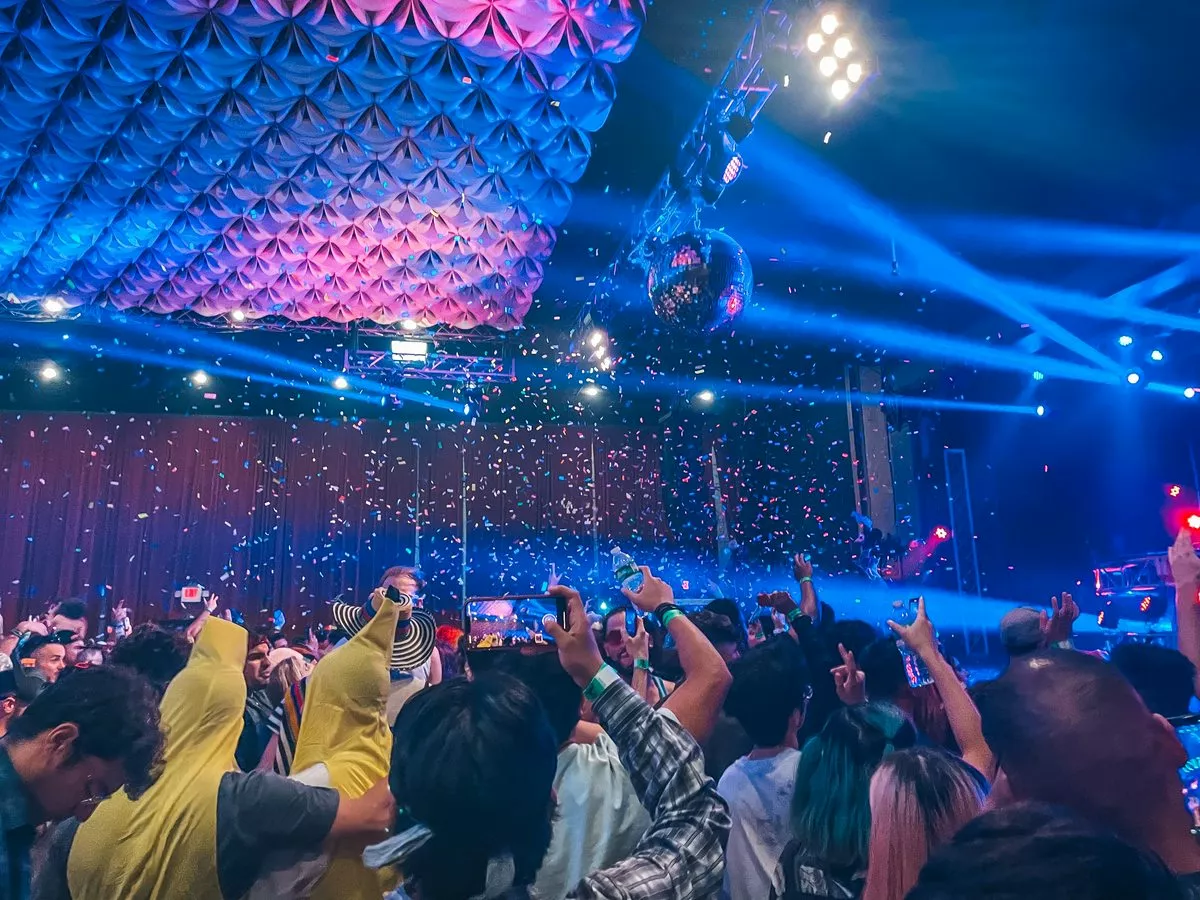 The Dali Museum
If you're into museums, The Dali Museum is a must. Aside from Europe, St. Pete houses the largest collection of Salvador Dali's work! It's truly a unique experience, and it's so fun trying to interpret Dali's Surrealism.
Tickets are $25 for adults. Make sure to reserve your tickets in advance! After you're done at The Dali, make sure to check out St. Pete Pier!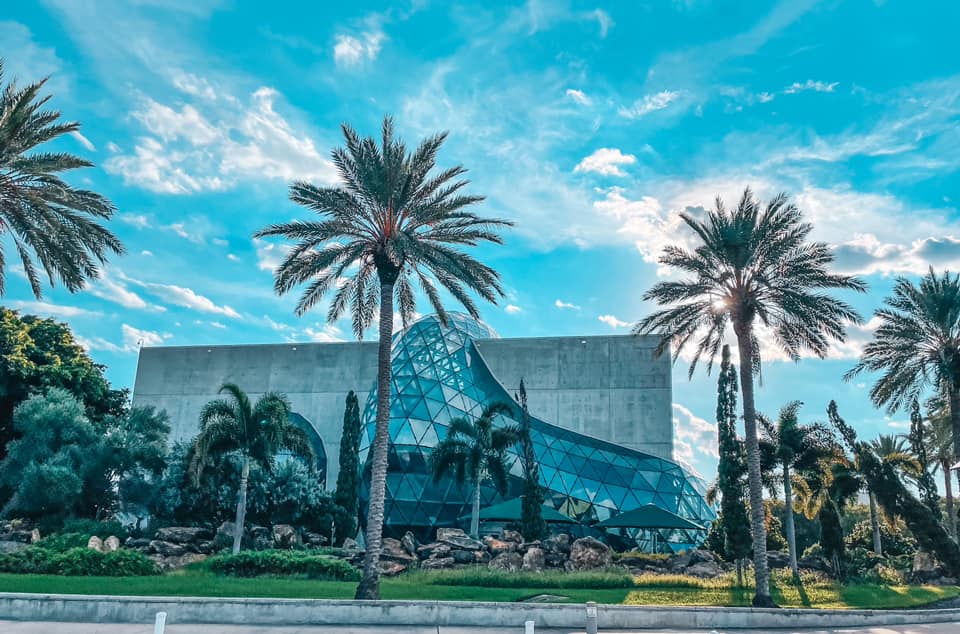 Shopping, Dining, & Drinking in Tampa
International Plaza and Bay Street
Located just a short drive from Tampa International Airport you'll find International Plaza and Bay Street shopping center. If you enjoy shopping, it's a really stunning mall with stores like Armani, GUCCI, and Kate Spade along with an open-air village and several restaurants ranging from fine dining to quick eats.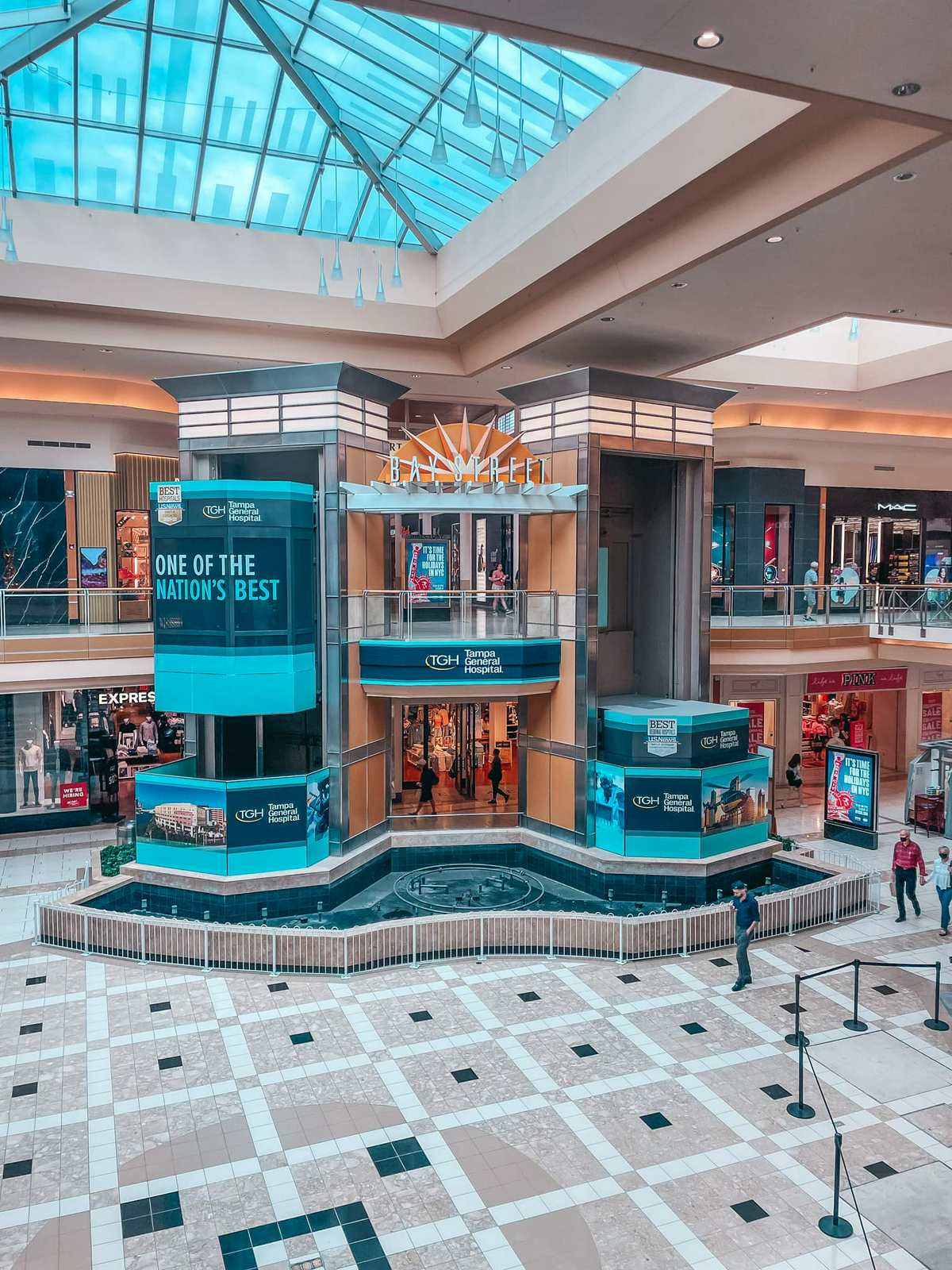 The Riverwalk
Bike, Rollerblade, scooter, walk, or jog the Tampa Riverwalk. It's one of my personal favorite free things to do in Tampa! It's so enjoyable strolling the Riverwalk and taking in the beautiful city as well as the Hillsborough River.
The Riverwalk is 2.4 miles, but feel free to walk as little or as much as you want. Some interesting stops along the Riverwalk include:
Julian B. Lane Riverfront Park
Armature Works
Curtis Hixon Park
Water Works Park
Just to name a few! There are also several free events throughout the year held at the Riverwalk!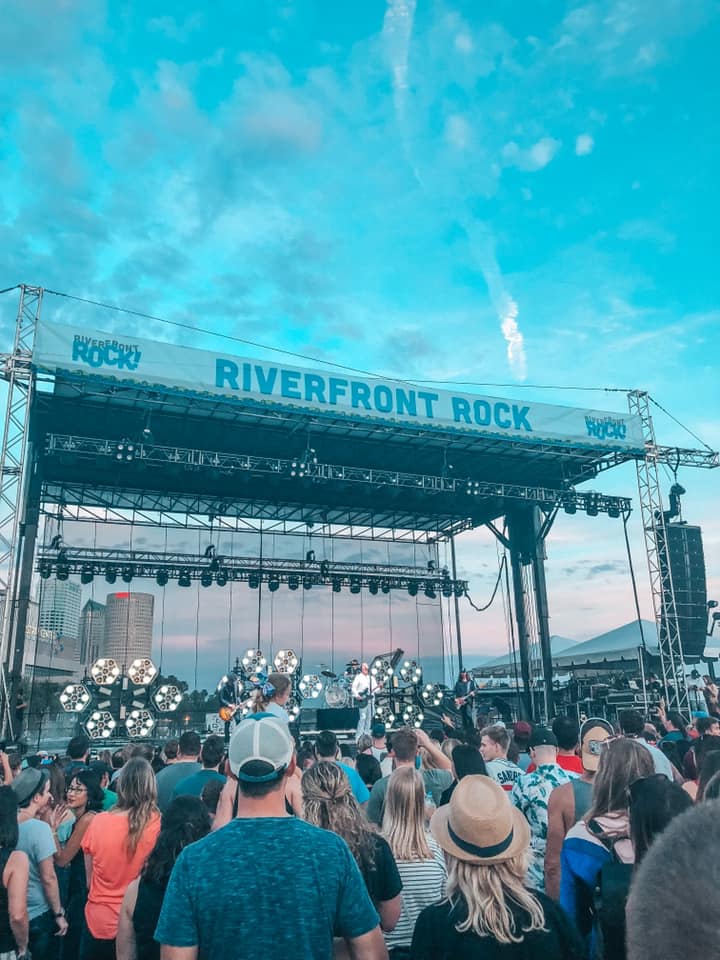 Sparkman Wharf & Splitsville
This is such an awesome waterfront location located right in Channelside. Sparkman Wharf has a ton of little food stands set up with several fun options.
Once you go into Splitsville, you'll notice the setup is southern and upscale, but it has a chill vibe. They have darts, pool, lawn bowling, bowling, ping pong, and Skee-Ball.
During the week, everything can be very open, but on the weekends, it tends to get busy. You can test your luck, show up and get your name on a list, and explore the area and get some eats at Sparkman while you wait, or you can call ahead and make a lane reservation for bowling.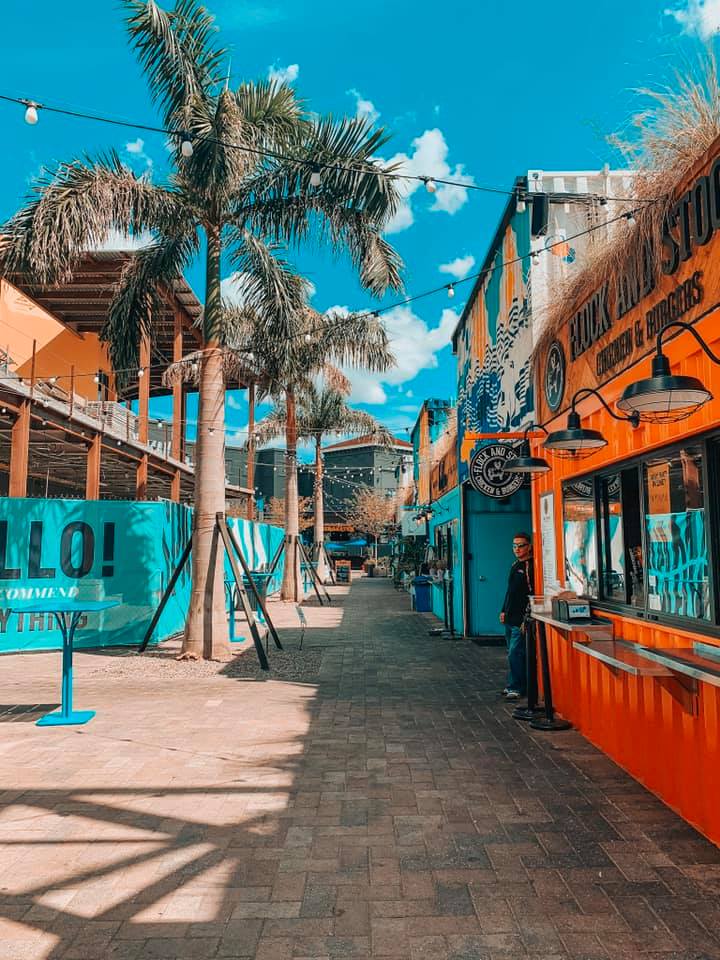 Cake Drip
If you're looking for a fun and unique thing to do in Tampa check out The Cake Drip! This dessert spot in Hyde Park allows you to create your own custom chocolate bar in-house. For this option select their "chocolate tasting flight". This is a 21+ experience, and champagne is included.
Not only can you customize your chocolate bar, but you can also make your own custom cake as well. Cake Drip is more than just a delicious dessert spot – it's an experience! They have adorable photo areas around the shop that will make for great Instagram photos, too.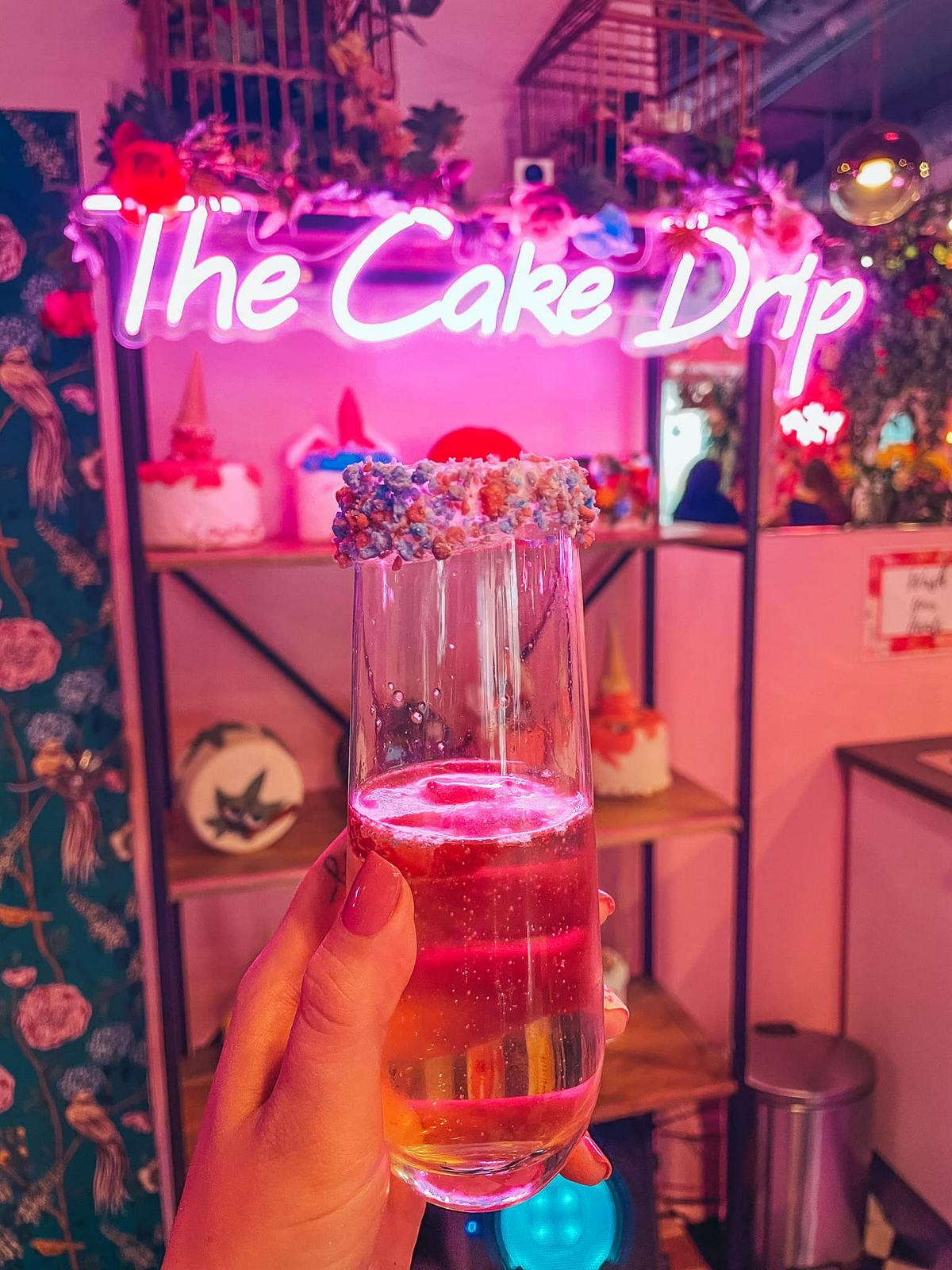 Hard Rock Casino
Dress up a little bit and head to the Hard Rock! Grab a bite to eat at The Rez Grill (or one of the casino's numerous options) and try your odds at the slots or tables! If you win, up the ante by treating yourself and getting a room for the night!
They also often have fun pool parties, and getting dinner at Council Oaks is a must!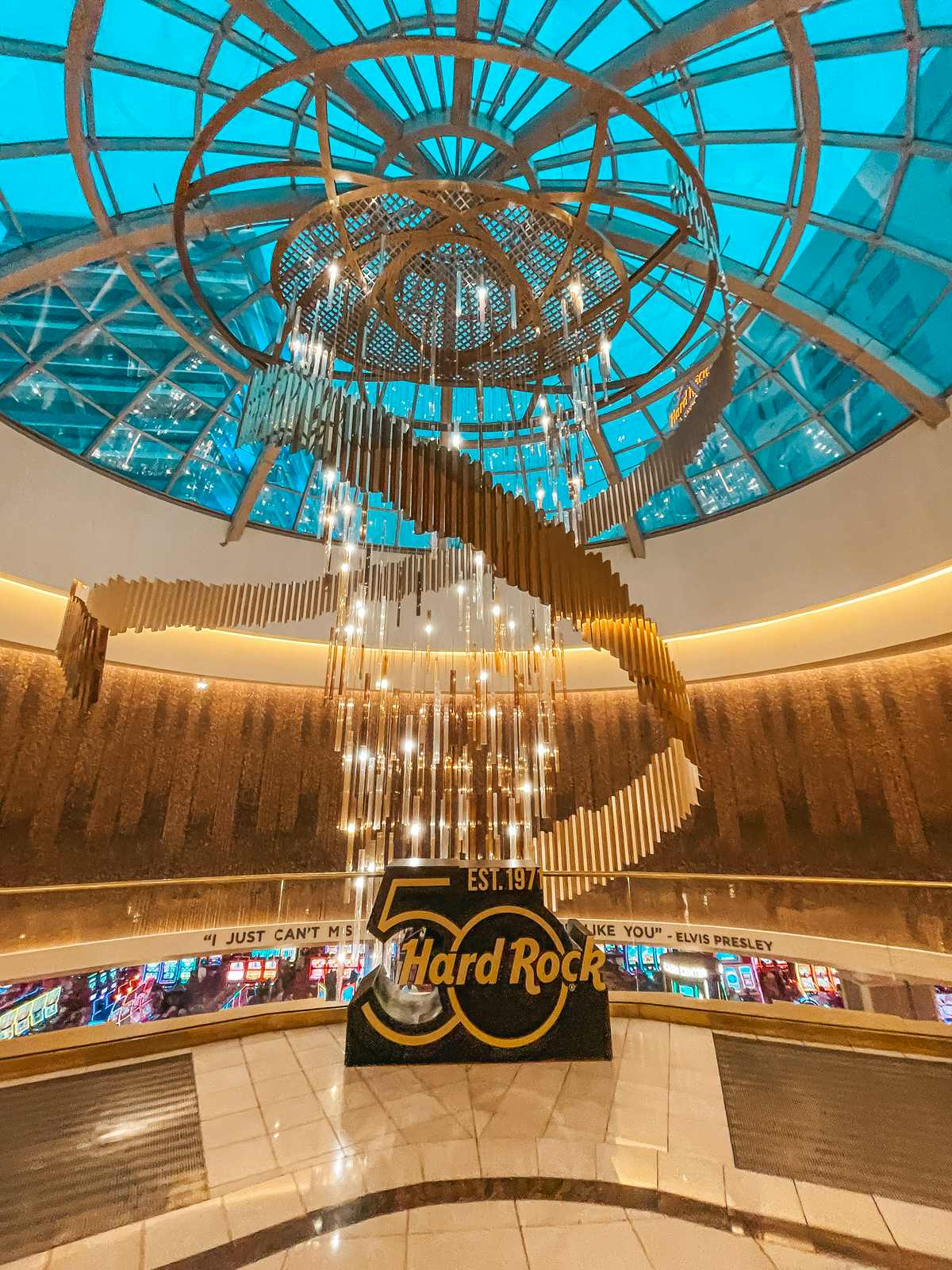 Wat Thai Temple
I feel like this is a pretty unique thing to do in Tampa. I haven't been yet, but I have heard nothing but great things about this spot! The Temple grounds are open daily between 9 am and 6 pm if you want to go at a time outside the Sunday Market.  
If you do visit the Sunday Market, get there early because they do sell out! They only make a certain amount of each menu item. Also, it's cash only, so don't forget your wallet.
Everyone I know who has visited raves that it's the best Thai food in the area, and from the pictures, I totally believe it! You can even enjoy your meal at one of the picnic tables by the Palm River.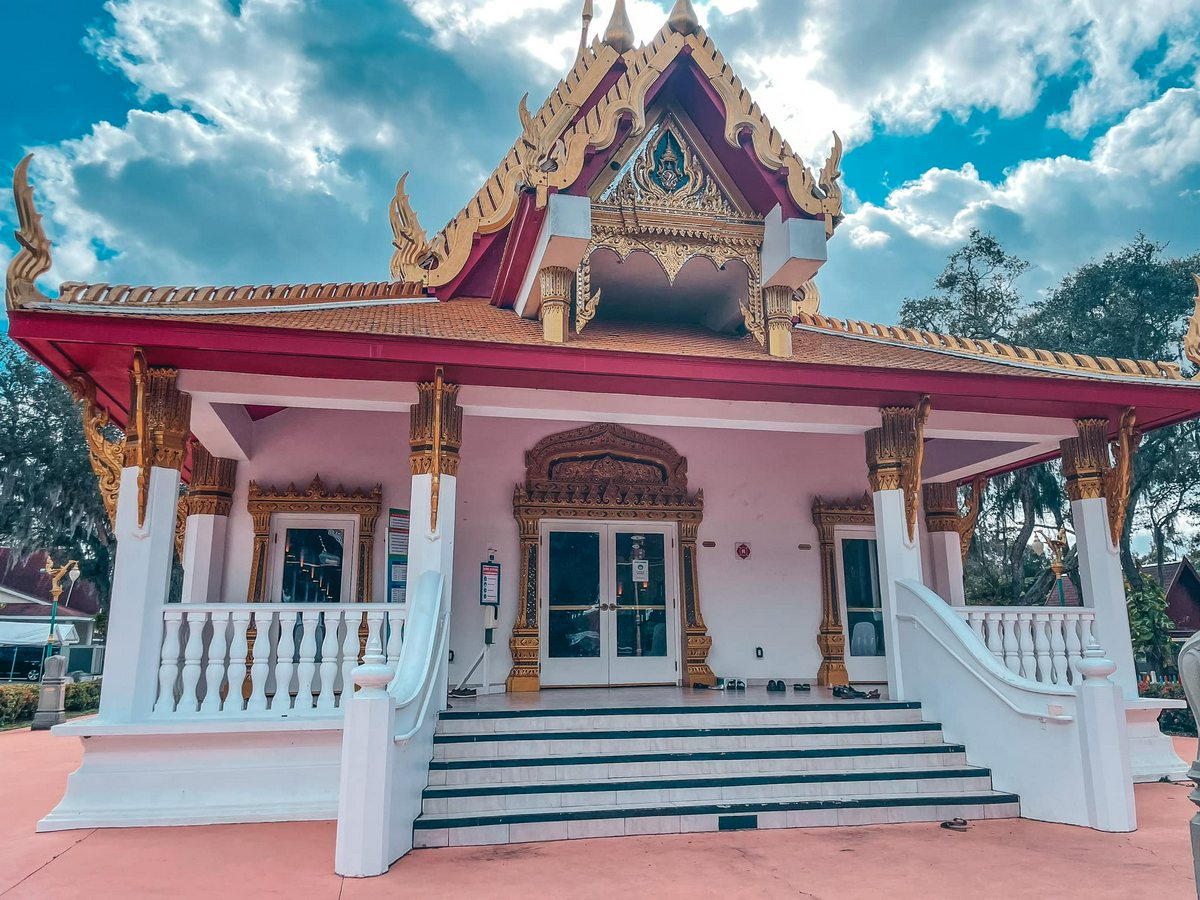 Family-Friendly Activities in Tampa
Florida Aquarium
The Florida Aquarium houses over 14,000 creatures. It's not just limited to marine life either. There are otters, lemurs, alligators, pythons, free-flying birds, and more alongside the marine life you know and love. Sea turtles, dolphins, eels, and sharks are all aplenty throughout the aquarium.
There is a splash pad for the kids and touch pools where you can get up close and personal with stingrays, sea stars, anemones, sea cucumbers, and other interesting creatures. I would say this experience usually takes around 2-3 hours.
Ticket prices fluctuate between $28-$32 depending on multiple factors. Book your tickets online and skip the line here.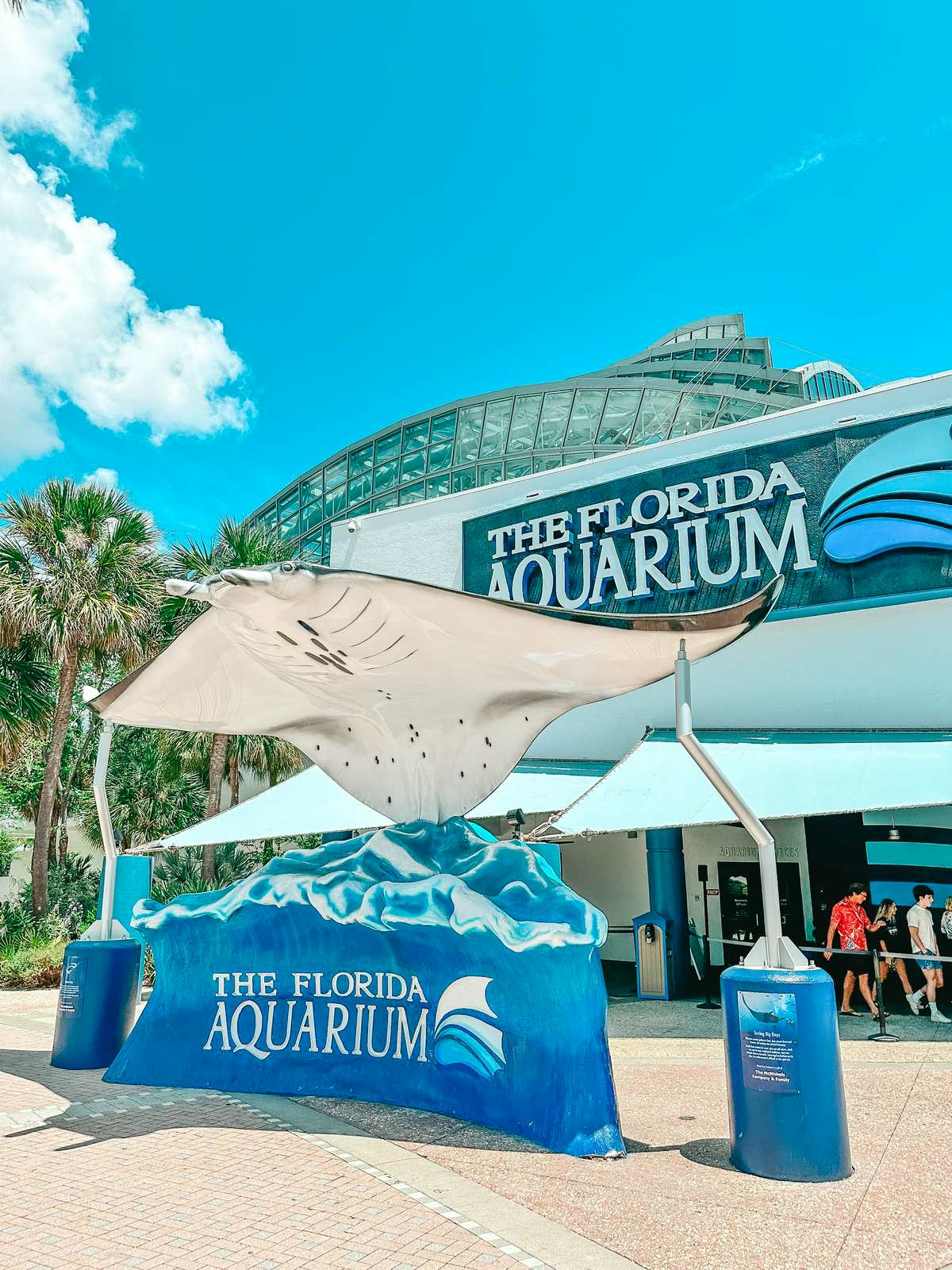 Make a custom candle at Candle Pour
One of the more unique things to do in Tampa is offered by Candle Pour, where creativity and scent blend seamlessly to create a truly personalized candle-making adventure.
The process is both engaging and gratifying as you begin by perusing the scent wall, selecting your favorite fragrances from an array of options. Next, you will collaborate with an expert who will assist you in combining 3-4 of your chosen scents to craft the perfect candle that reflects your individual taste.
This is one of the best things to do in Hyde Park! While you wait for your candle to settle you can wander around the charming village or even grab a bite at on of Hyde Park's top restaurants!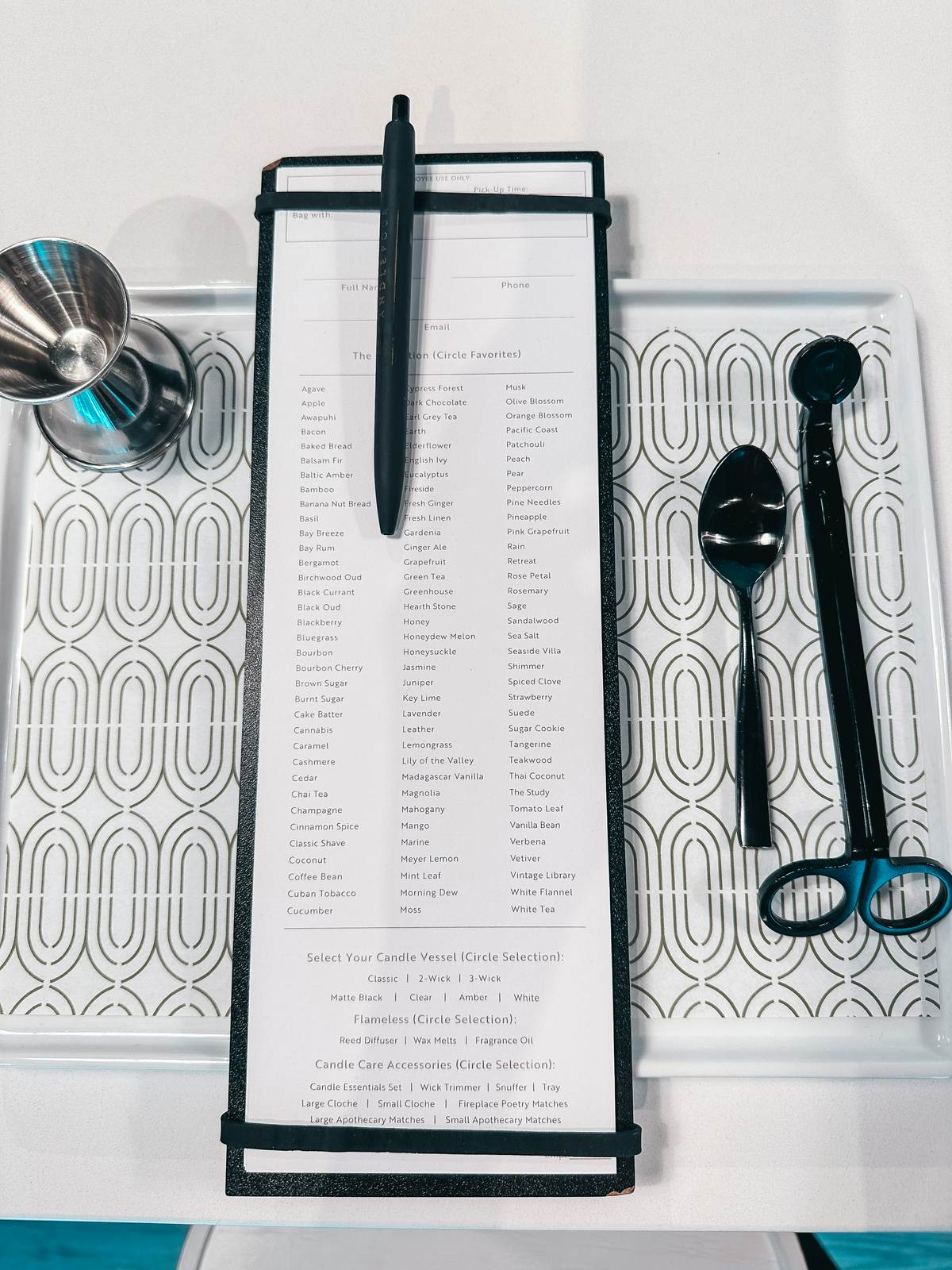 Check out a sporting event
Tampa Bay has been killing it these few years in sports. The games are so fun to watch and be a part of. Depending on the season, cheer on one of our Tampa Bay teams, whether it be The Rays, The Bucs, or The Lightning!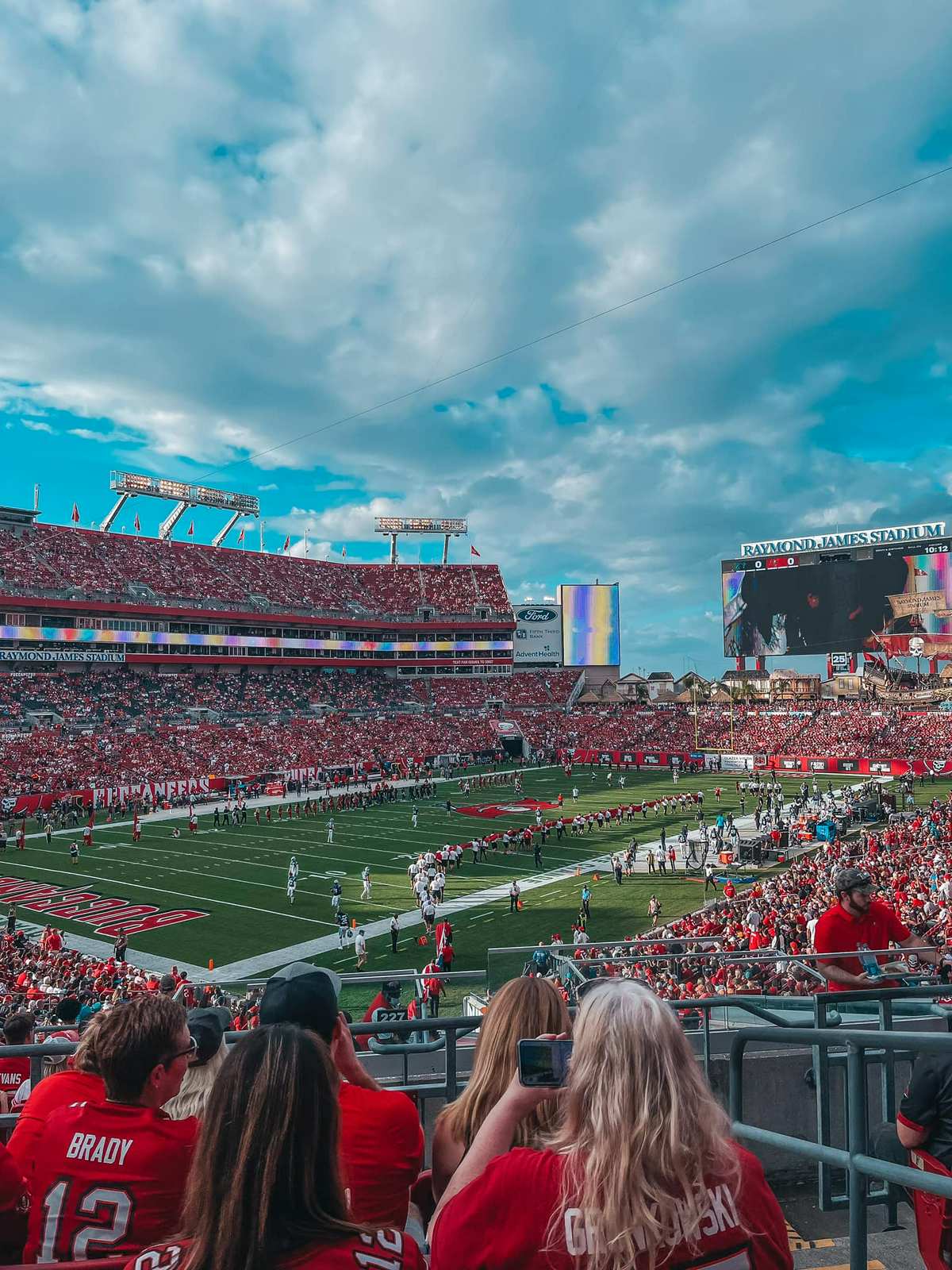 HorsePower for Kids & Animal Sanctuary
HorsePower for Kids, Inc. is a non-profit organization that provides a farm and petting zoo for adults and children alike.
Their goal is to provide fun, educational opportunities for children and adults to interact with and care for animals that have been rescued from a variety of situations.
They have quite a diverse animal crew! Check out their gallery here.
Admission is $12 per person, and they also have a playground, train rides, and offer pony rides for $3 per ticket (weight limit is 70 lbs.).
Topgolf
Topgolf is a 3-level golf entertainment complex that features 102 bays, a rooftop terrace, lively bars, and a unique spin on your golf game.
Even for those who don't actually like golf, Topgolf is fun. Is it embarrassing when you attempt to swing and miss the ball completely (speaking from experience)? Sure. But after a few of their yummy cocktails, you'll be convinced you're the next Tiger Woods (minus the scandal). This is fun for groups, or even just you and your partner or friend!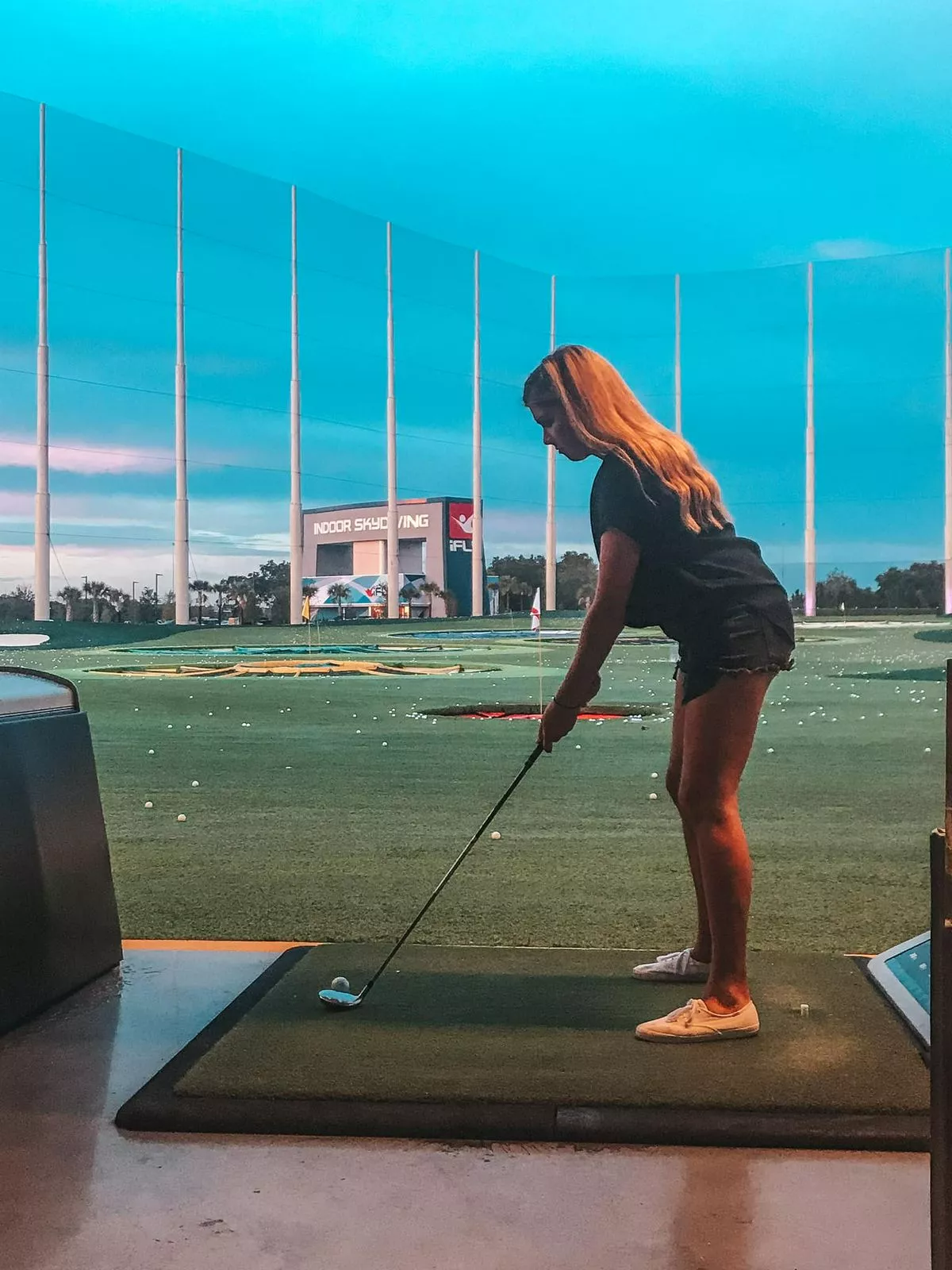 Dave & Buster's
SO MANY GAMES. Places like this are so fun, because it doesn't matter what type of game person you are— they have something for you! Basketball, DDR, the classics like Pac-Man, etc. It really makes you feel like a kid again running around here.
Pro tip: sign up for Dave & Buster's emails to get monthly savings as well as $10 in free gameplay with a $10 gameplay purchase for joining!
Dave & Buster's can be a little far of a drive, but it's right by Topgolf if you choose to do that too. GameTime in Ybor may be a closer option, and they also have plenty of fun games!
Sky Zone
Sky Zone is the world's first indoor trampoline park. They have over a dozen core attractions including an air court, sky tower, ninja warrior course, and free climb.
An all-day pass is just $29.99. But be sure to check out their Family Fridays and Sunday Fundays for special deals!
Escape room
I enjoyed this way more than I thought I would to be honest! It is so fun working together (or maybe against each other) to solve riddles and clues and try to beat the clock to get out of the room! What makes escape rooms even more fun is there are so many different themes to choose from!
Check out The Great Escape Room Tampa to see what rooms they currently have!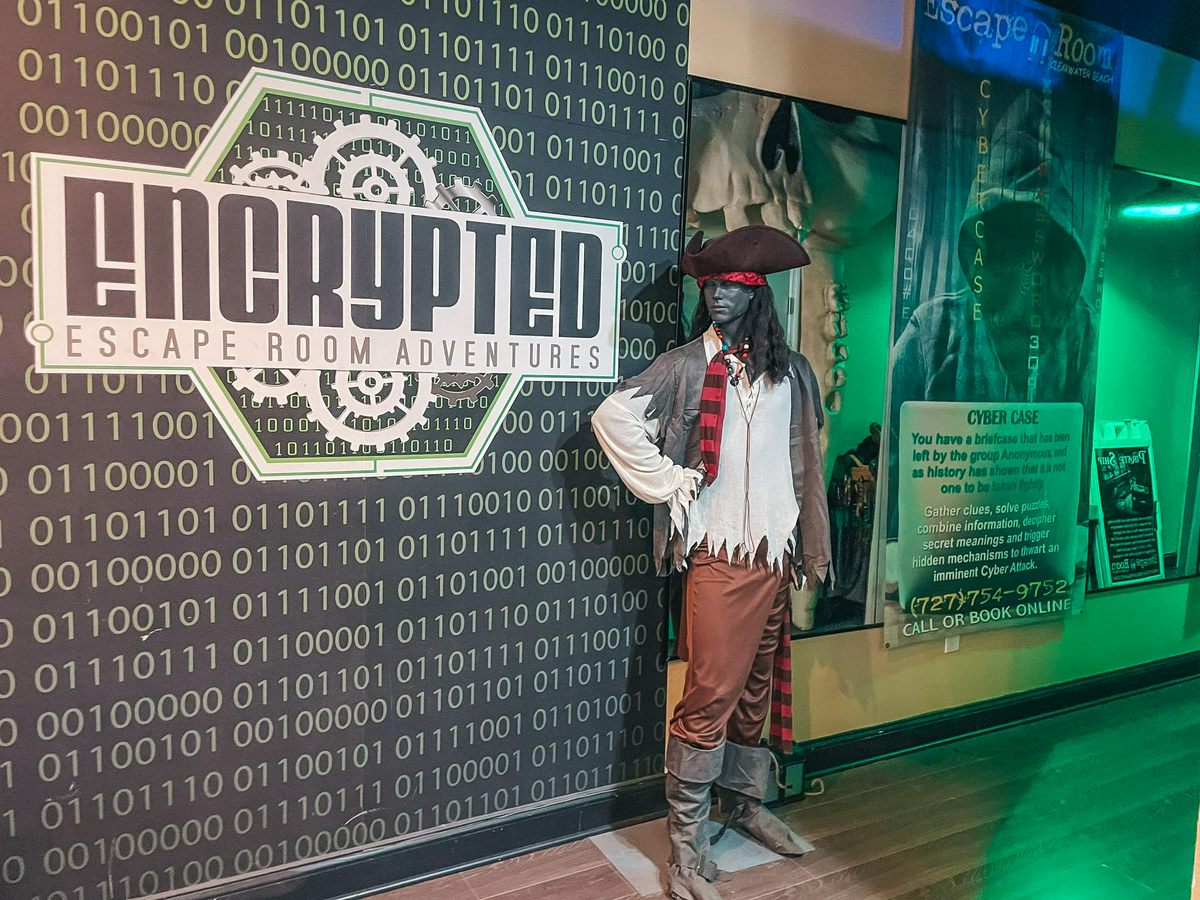 Busch Gardens
If you're more into adventure and amusement parks, spend the day at Busch Gardens. It's an African-themed amusement park that even has a safari you can do!
On this safari, you literally get to hand-feed giraffes, and it's the coolest thing! Tickets are around $100, and it's an additional $50 for the feed the giraffes safari tour.
Also, for my 21+ crowd, you can enjoy some cocktails throughout the park.
Get your Busch Gardens tickets here!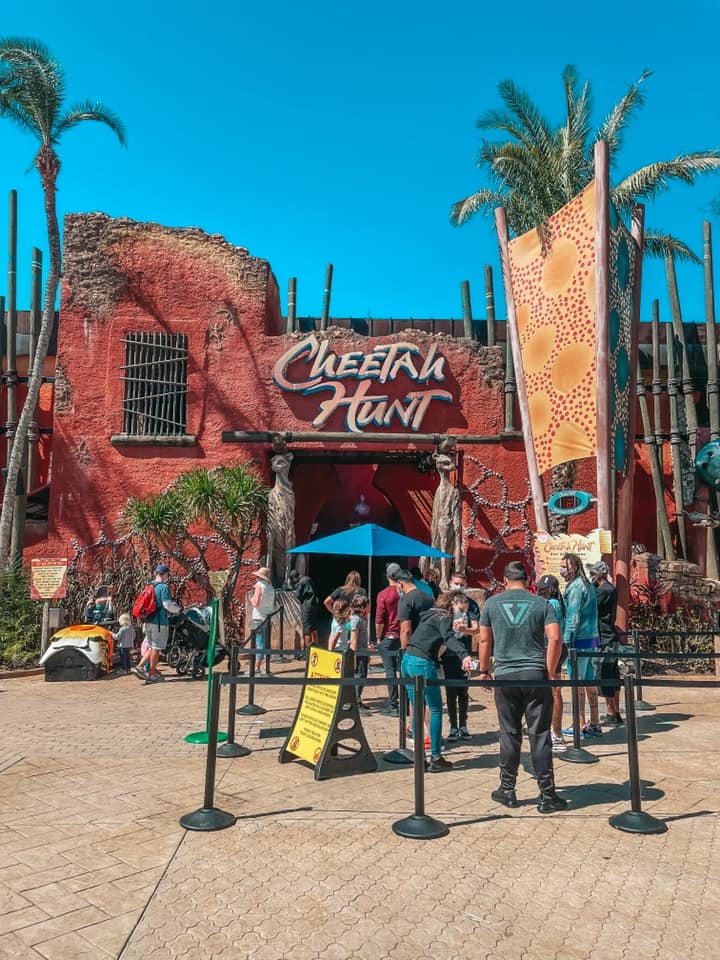 Adventure Island
Located just across the street from Busch Gardens is Tampa's own waterpark. Adventure Island has waterslides, wave pools, a lazy river, and even VR snorkeling! Kids and adults alike are sure to be entertained here.
Or feel free to relax in a cabana while the kids wear themselves out! Get your Adventure Island tickets here.
Spend a day exploring one of Tampa's surrounding areas
Clearwater Beach, Dunedin, St. Pete, Tarpon Springs, Weeki Wachee, Ybor, and Orlando are just a few of the amazing day trips you can take from Tampa!
For example, you can take a fishing trip or a cruise on a sunset In St. Petersburg or go attraction-seeing in Orlando – don't forget your city pass here.
If you're looking for things to do in Tampa with your significant other, check out some date ideas for Tampa!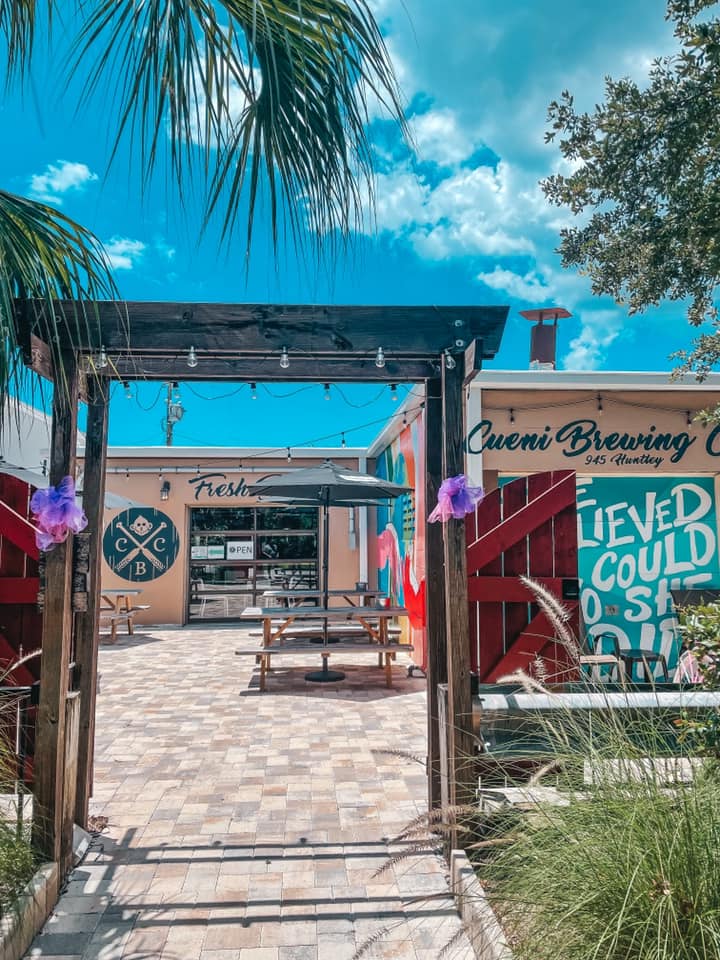 Nightlife in Tampa
Best bars in SOHO Tampa
SoHo is popular with the college crowd. MacDintons, SoHo Saloon, Bar HWRD, Corner Bar, and Green Lemon are some of the most popular spots. Most of these spots have large outdoor areas as well as dancing.
Best bars in Ybor
Ybor nightlife gets pretty wild, so if you're looking for a crazy night out, this may be the place to go with hot spots like Piranha, Bad Monkey, and Coyote Ugly. Or if you're into shows, The Ritz always has something going on and often has big-name DJs! If you want to start your night off tamely, you can start at Copper Shaker for a delicious craft cocktail.
I also really like First Chance, Last Chance because they have an outdoor area and games!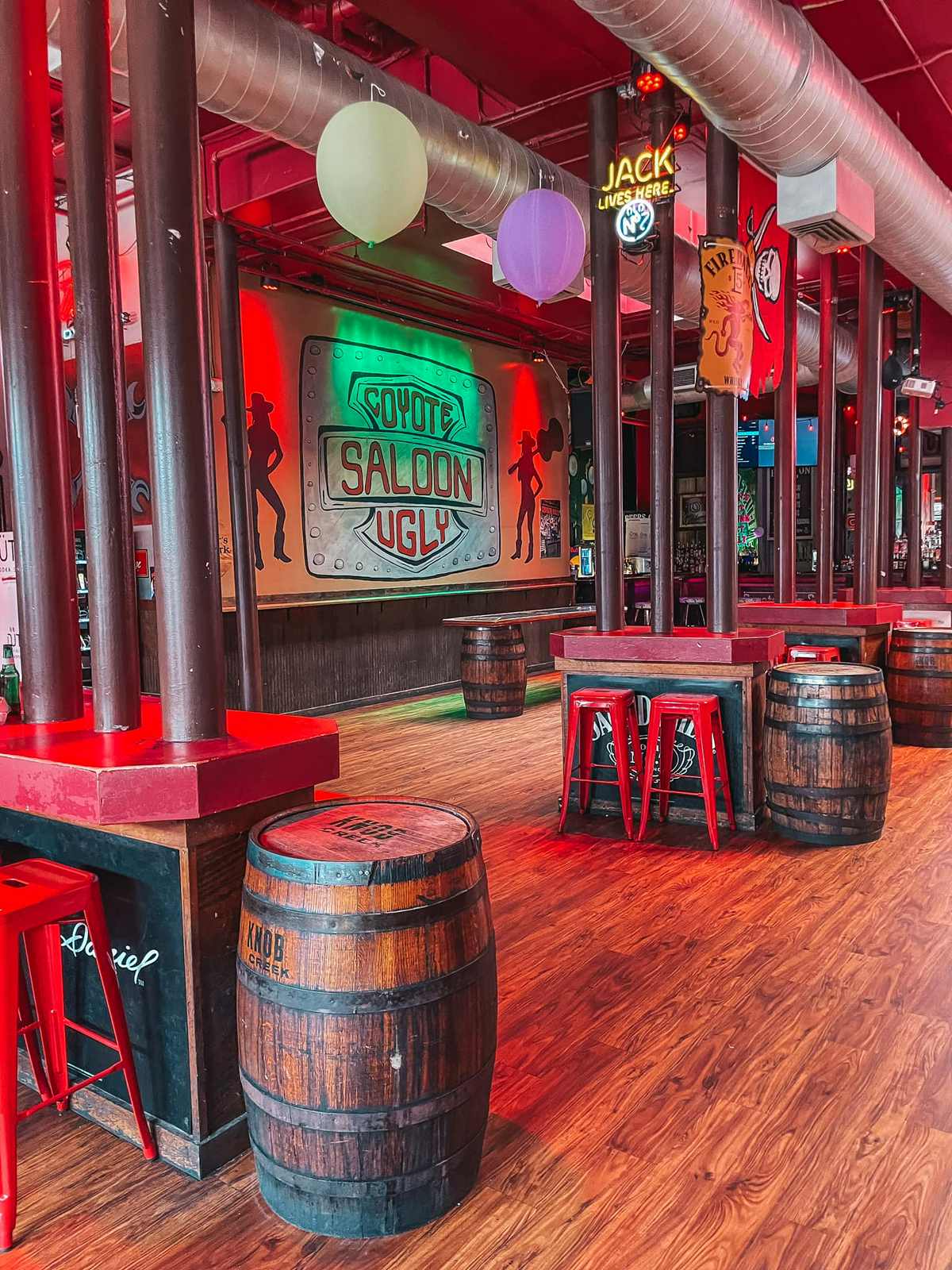 Best bars in Downtown Tampa
If you're sticking to downtown, CW's Gin Joint, Eden, American Social, Gen X, and Park and Rec are all solid choices with completely different vibes. American Social is a local hot spot located right on a channel of Hillsborough Bay. It's a massive sports bar with scenic views and a fun environment.
Eden is a nightclub that has four different levels with various themes all exuding a vibrant fairytale dreamscape. This place is wildly fun, and the crowd typically averages from mid-20s to late 30s. They have upbeat areas for dancing and fun, as well as places to chill out and chat.
Gen X is at the top of my list for fun bars in Tampa. This place will take you right back to the '80s and early '90s. They have pinball, Atari pong, cubbies full of random VHS tapes and lava lamps, and even on-theme drinks like adult Capri Suns!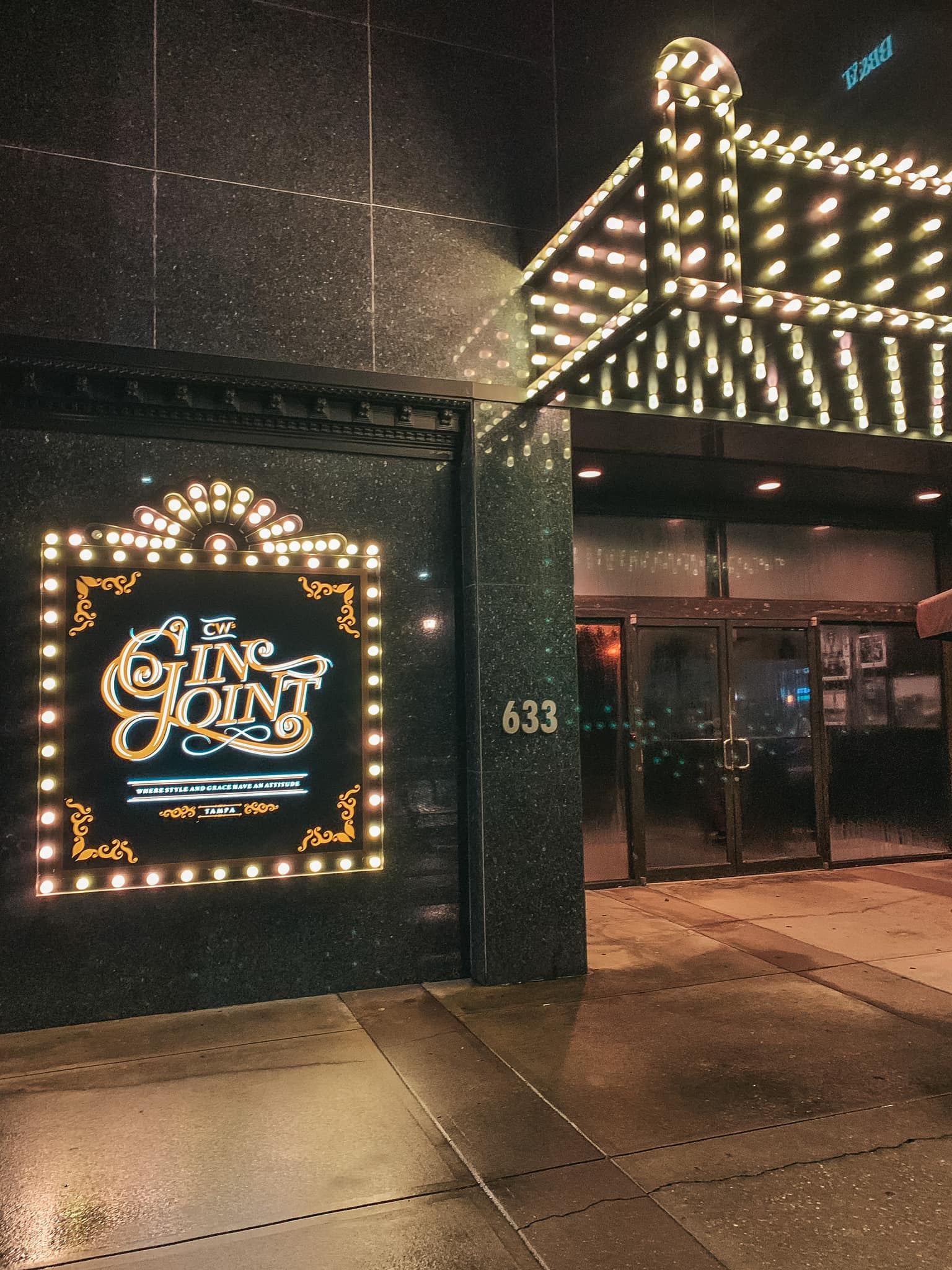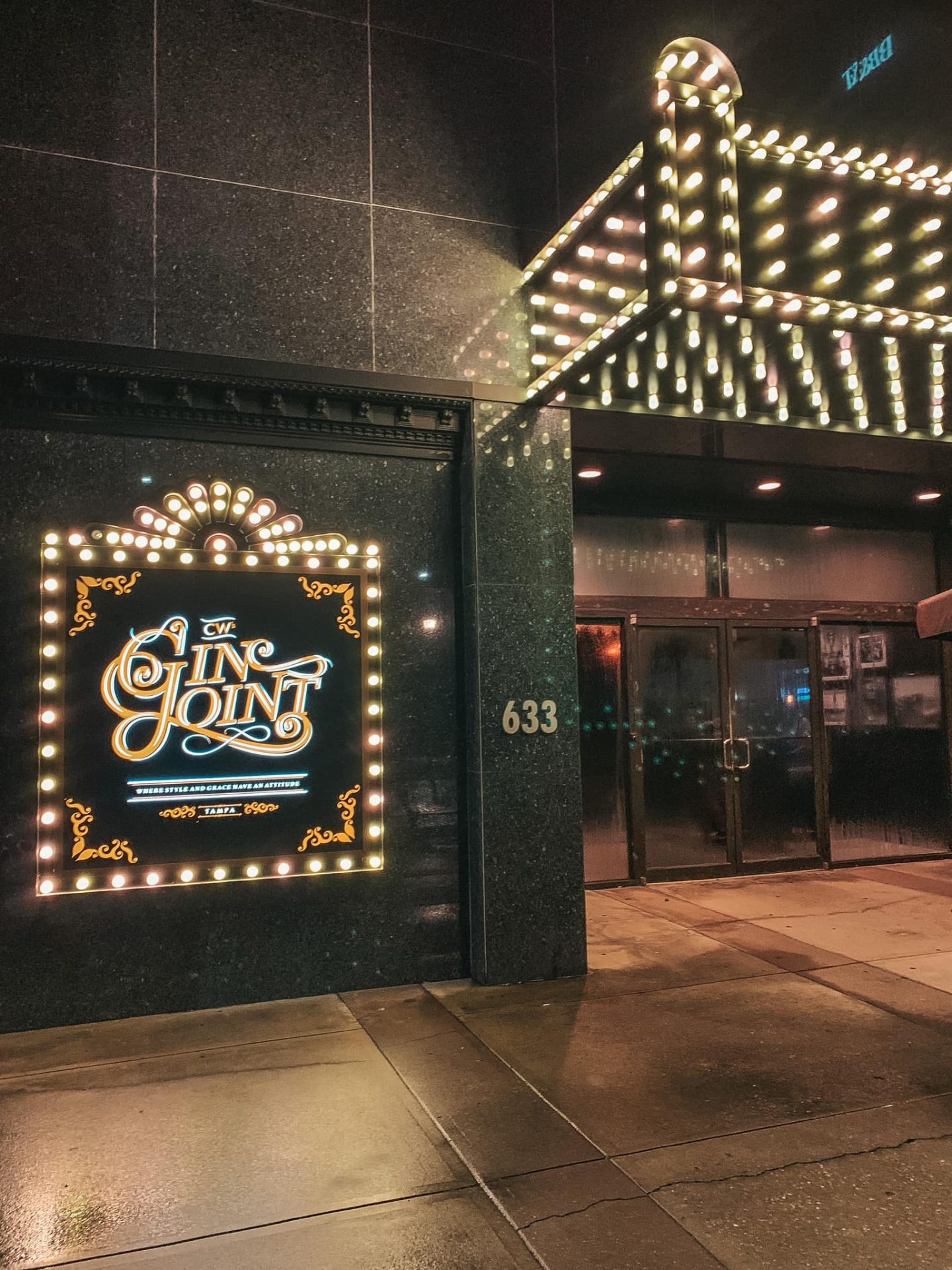 Park and Rec has a ton of games, and people are usually dancing here too! Gin Joint is more sophisticated and gives off speakeasy vibes with delicious cocktails and light bites.
Speaking of speakeasies, I have quite a thing for speakeasies myself. If you do as well, be sure to visit Ciro's! You must make a reservation, and you will get the password texted to you a few hours before 🙂
Check out the best speakeasies in Tampa Bay and my complete list of the best bars in Tampa!
M. Bird at Armature Works has views, vibes, and great cocktails. It's one of the best rooftop bars in Tampa Bay!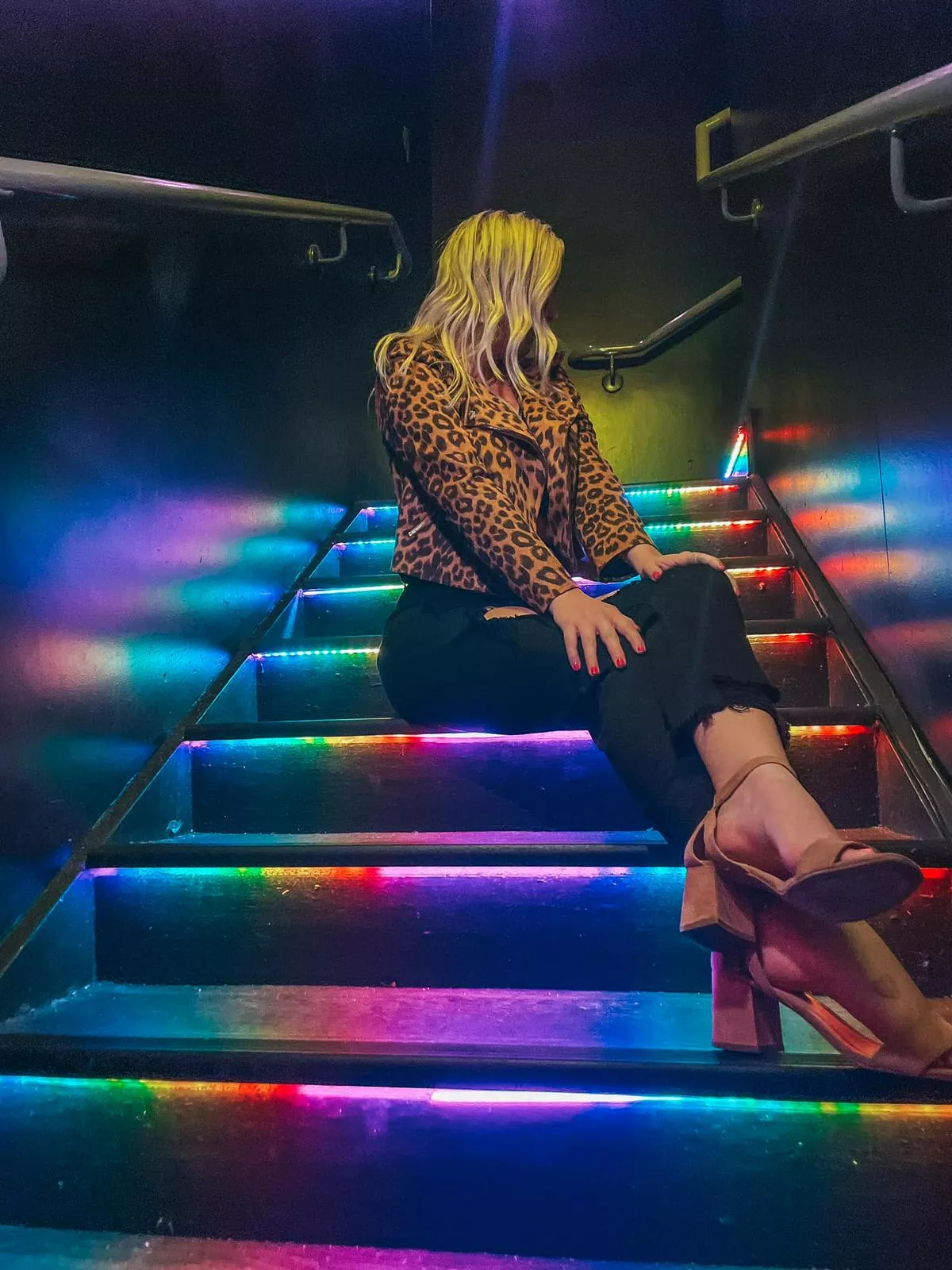 Personally, my favorite place to go out is in downtown St. Pete. On Central and 1st Avenue there is bar after bar you can pop in and out of! It's super walkable, and there are so many different types of bars you're sure to find one that fits your needs! If breweries are more your scene, St. Pete has a number of awesome breweries to choose from.
I think that just about covers every option that you could possibly want for a night on the town!
Special Events in Tampa
If you're a fan of music festivals, Sunset Music Festival is held at Raymond James Stadium over Memorial Day Weekend every year. It's always a magical, fun time. It's an EDM music festival, so you can expect names like Slander, Alison Wonderland, and Marshmello. Those are just a few examples from previous years.
Another really fun annual event Tampa has is Gasparilla. You can expect drunk "pirates" invading the streets and canals, parades, and fun parties throughout the city. For the history of the event check here.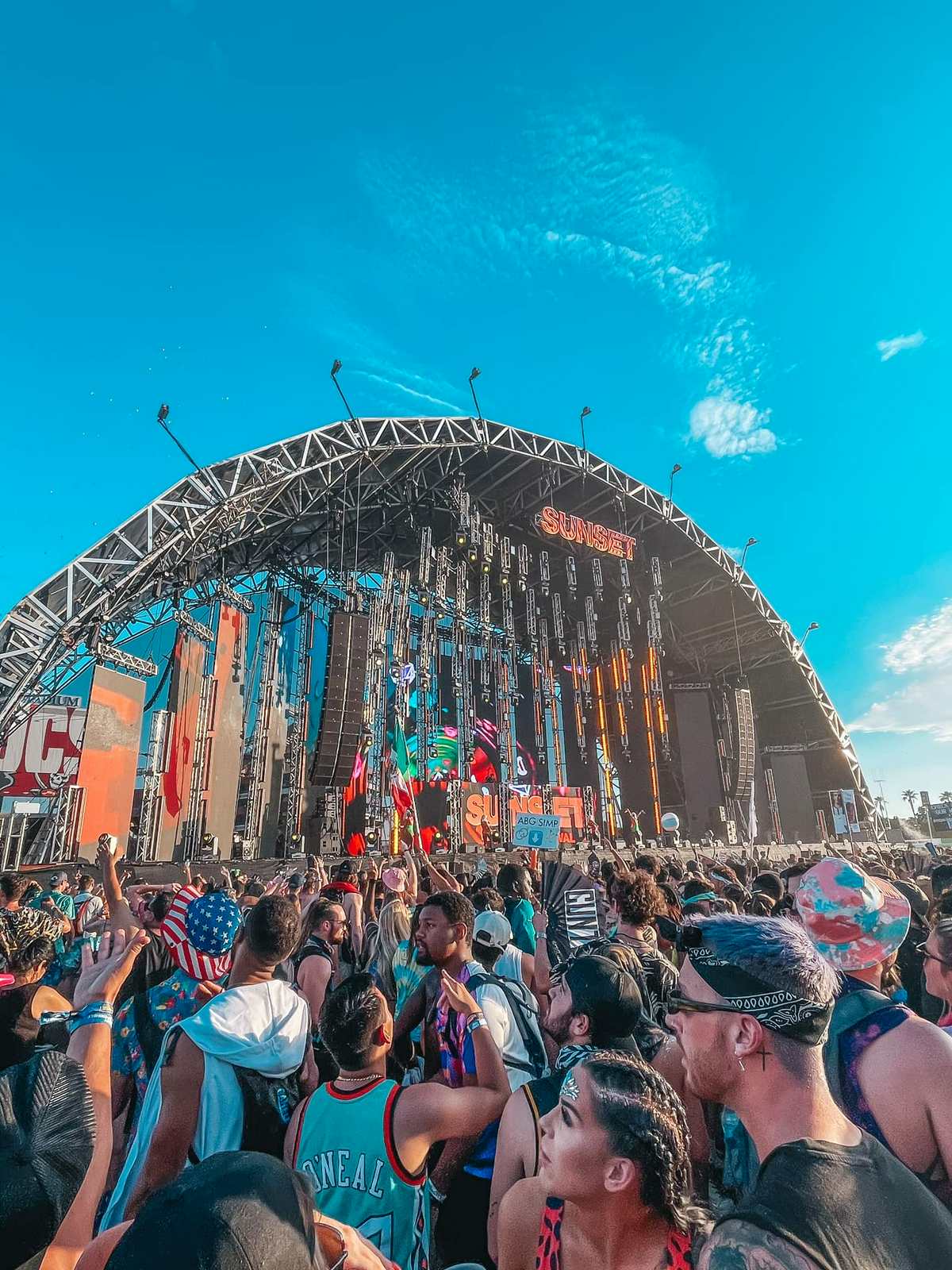 Best Restaurants in Tampa
Best restaurants in Tampa for an upscale dining experience
In Tampa, if you are wanting an upscale dining experience, the best places to eat are Meat Market and Bern's Steakhouse. Both are phenomenal for steak and seafood options. Be sure to make reservations! Bern's is typically booked up months in advance. Even if you can't get into Bern's for dinner, try going for dessert! They have their very own dessert room (with some of the best desserts in Tampa!) that is totally separate from their dinner dining experience!
Related read: Check out my complete list for the Best Restaurants in Tampa!
The great thing about Bern's is they literally give you soo much food! I always split a steak dinner with whoever I go with to ensure we have room for the Dessert Room. The photo below is my meal after it was split! Oh, and if you're a soup lover they have an amazing soup flight that includes two of my favorites, lobster bisque, and French onion.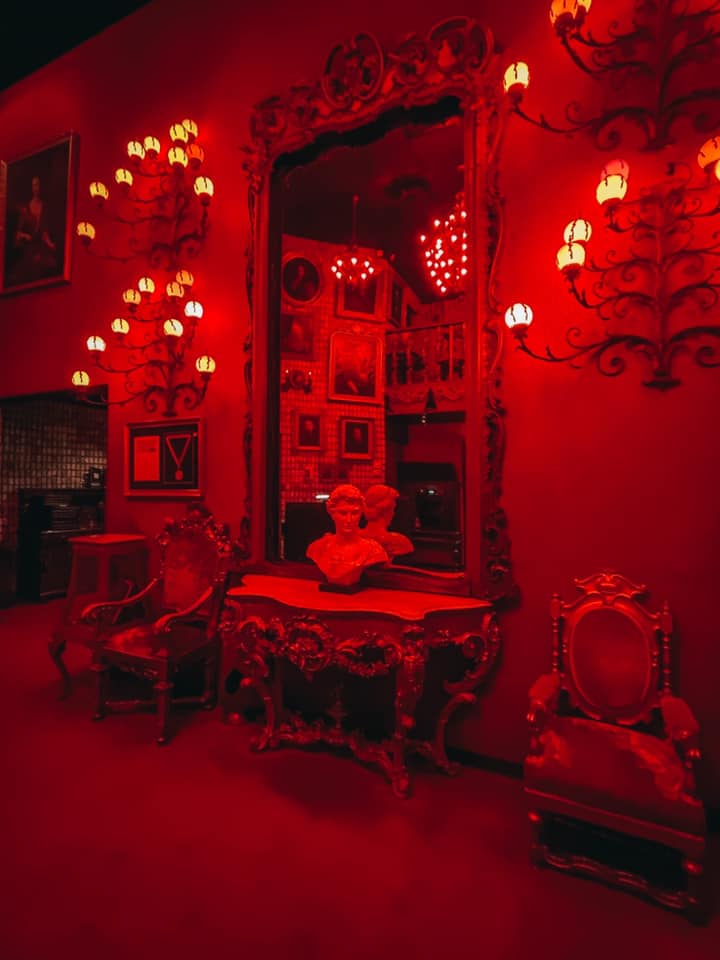 Hack: If you go to Haven for dinner, Bern's sister restaurant, they can also put you on the list for the Dessert Room.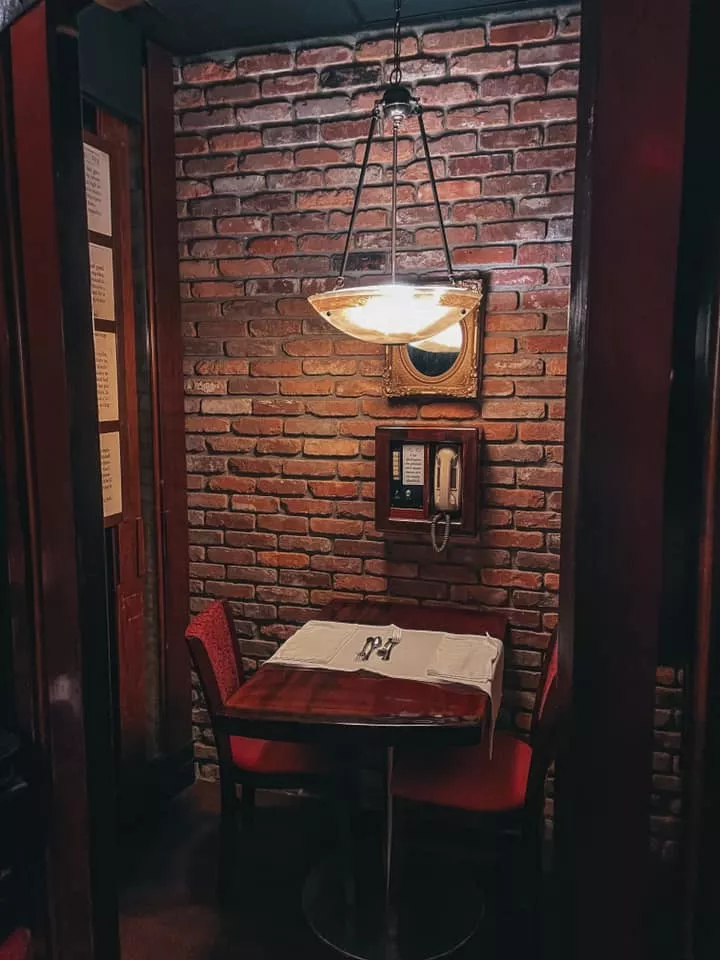 Another great spot that is newer to the Tampa restaurant scene is Ponte located in Midtown Tampa. Ponte Modern American is a sleek and sophisticated restaurant with a focus on locally-sourced ingredients and contemporary American cuisine. It offers a unique dining experience that is both refined and approachable. The menu features a variety of dishes ranging from small plates to entrees, all expertly crafted by the restaurant's talented chefs.
Highlights include mushroom soup and escargot to start, then make your way to their boneless short ribs or scallops! Whether you're celebrating a special occasion or simply looking for a delicious meal, Ponte Modern American is a must-visit restaurant in Tampa.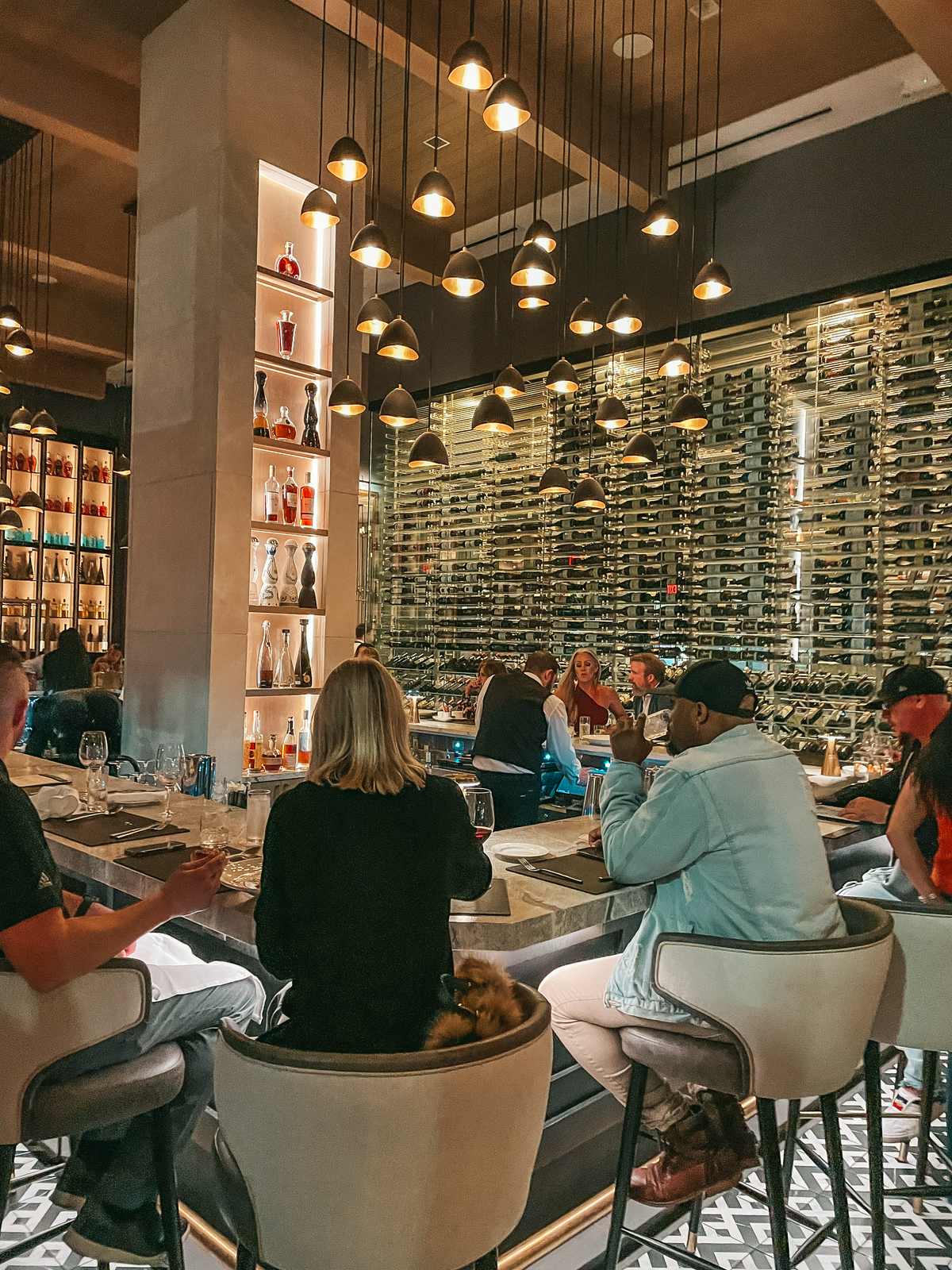 Best trendy restaurants in Tampa
Haiku is a sophisticated restaurant that specializes in Asian fusion cuisine, including sushi and other seafood dishes. The food isn't the only thing aesthetically appealing— this venue is stunning and the atmosphere is lively. It provides delicious food and an elevated but fun experience.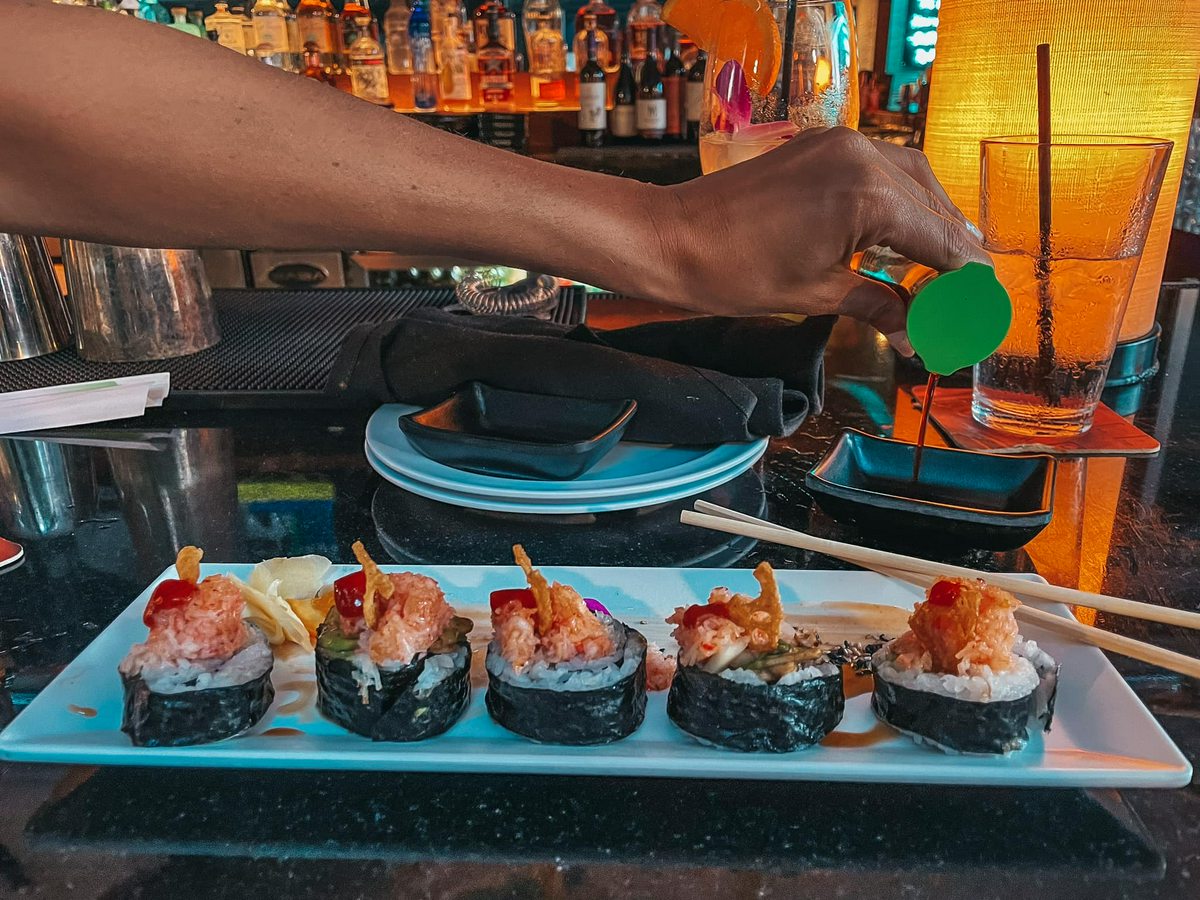 Best casual restaurants in Tampa
For something a little more low-key, Armature Works is amazing. It's like a large food hall in an old warehouse. There are so many food options, it doesn't matter what you're craving because you're sure to find something! I'm personally hooked on Muchachas quesatacos.
For my vegan friends, Armature Works has Dharma Southern Kitchen which offers vegan BBQ options and Southern-inspired comfort food dishes. 3 Dot Dash in Seminole Heights is another popular option!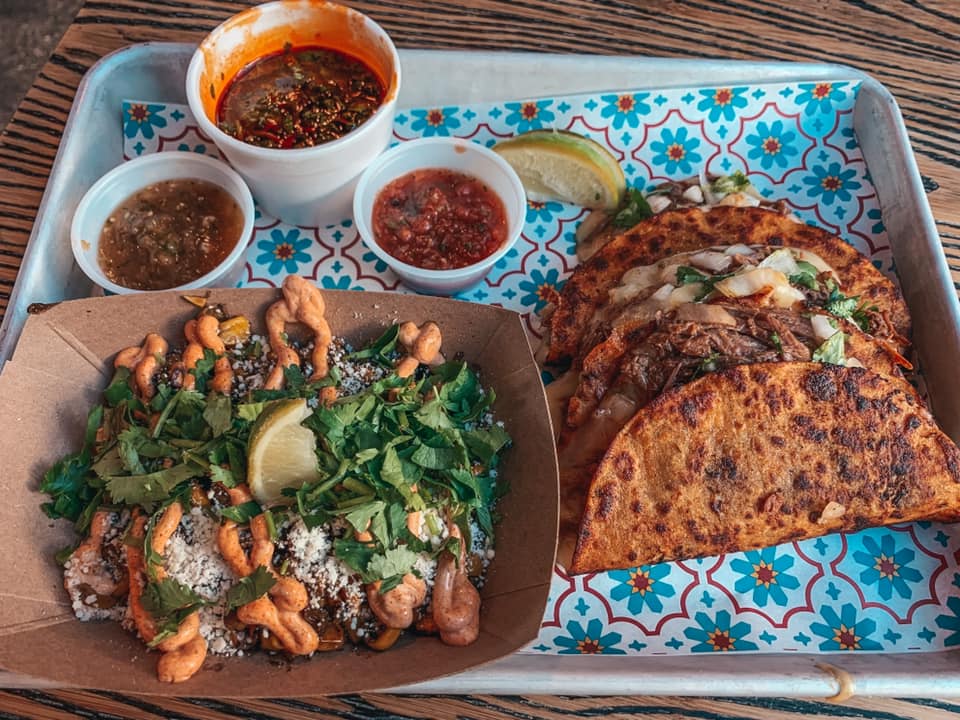 Best restaurants in Tampa for breakfast or brunch
For breakfast or brunch, Oxford Exchange is an AMAZING spot! You will fall in LOVE with the interior design of this stylish place! And it's more than just a pretty face— the food and drinks are amazing too! I love their French toast, and they serve Buddy Brew coffee, which in my opinion is the best coffee in Florida!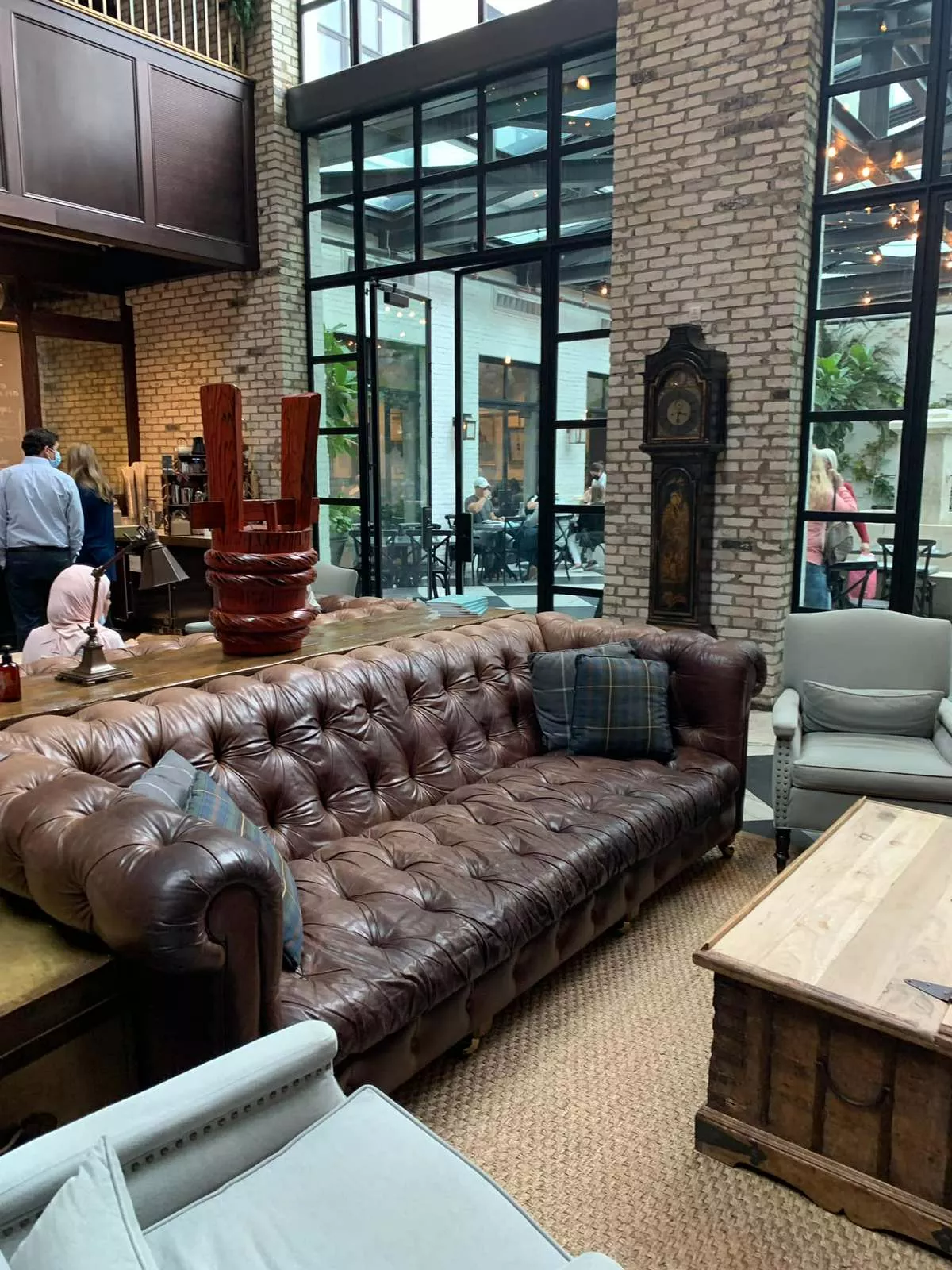 The Attic is a space intended to fulfill all of your brunch needs! Delicious breakfast and lunch options, but their fun coffee drink creations are what really stole my heart!
This is a place to go during the week with your laptop and just enjoy the city views and fresh air. I had the cookies and cream iced latte which was BOMB, but they are always introducing fun, new coffee concoctions, so make sure to ask what they have or check out their Insta!
If you make your way over to St. Pete, there are SO MANY amazing restaurants in the area, but here is a list of the best!
If you are exploring other areas of Tampa Bay, be sure to check out my list of the best restaurants in Dunedin, Clearwater Beach, and downtown St. Pete!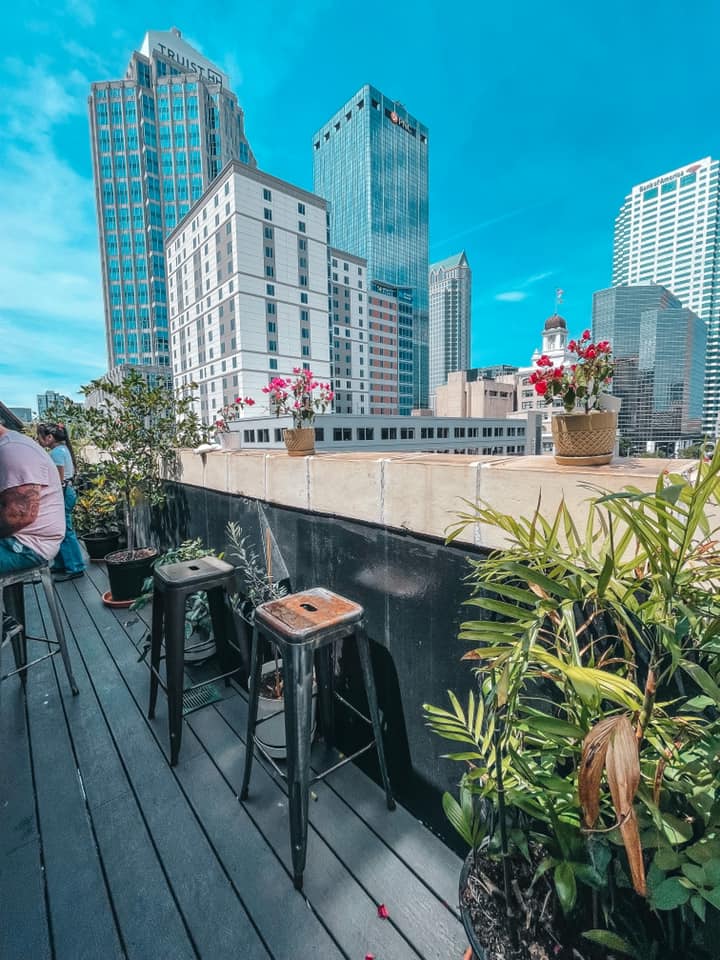 Best coffee shops in Tampa
There are so many amazing coffee shops in Tampa as well as St. Pete! If you eat at Oxford Exchange or The Attic Cafe, they both offer delicious coffee drinks as I mentioned, or you can check out one of these spots:
Buddy Brew
I've already praised my obsession with Buddy Brew, but not only is the coffee great, the shops are also adorable too. They're great hangout areas if you want somewhere cute to enjoy your cup of coffee or if you're attempting to be productive. I always get their vanilla or pumpkin spice cappuccino and it's yet to fail me.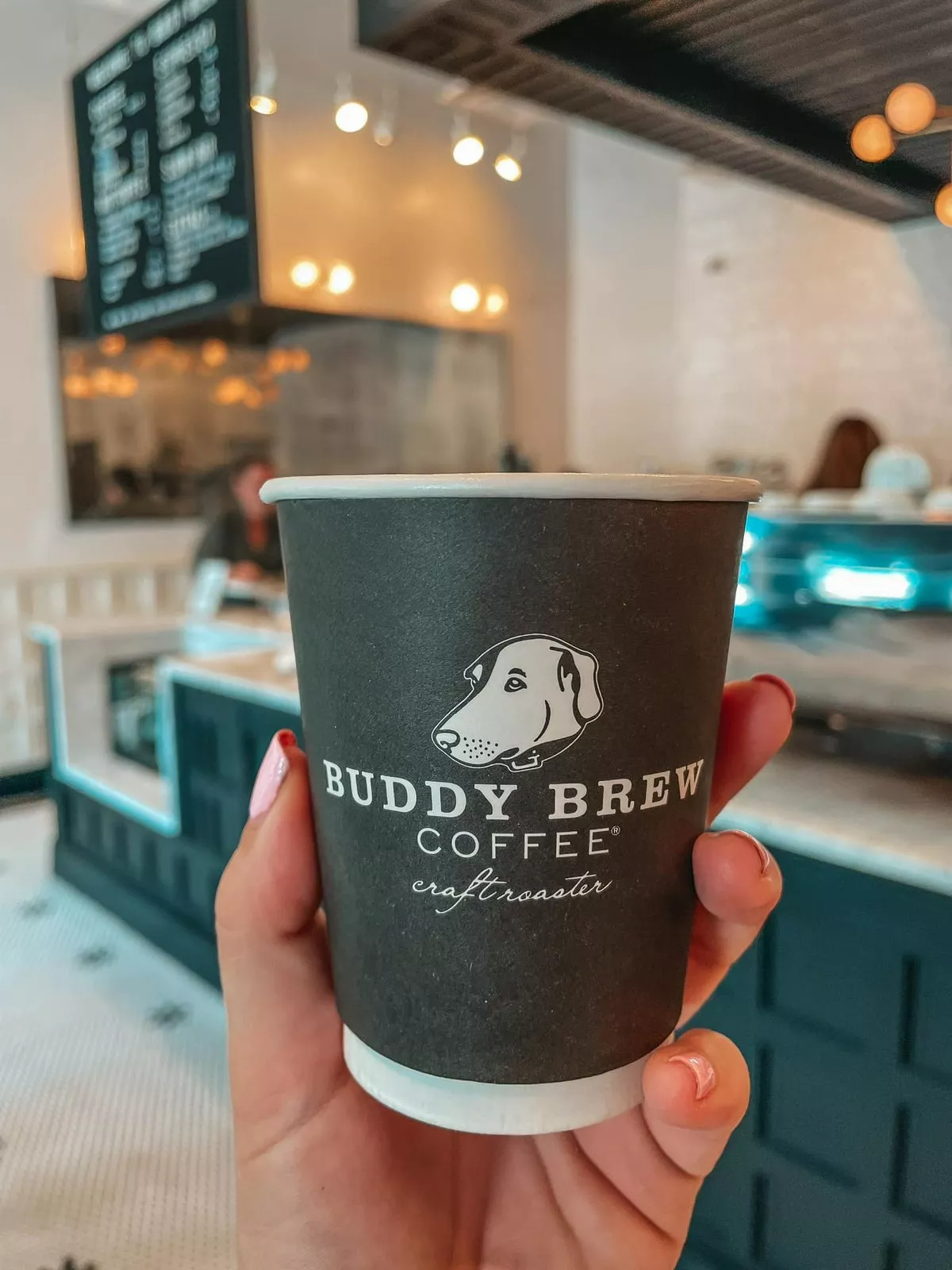 Willa's
This is my most recent find, and it may just be giving Buddy Brew a run for its money! Willa's serves up King State coffee and has the most adorable shop. If you go around the holidays they even decorate adorably with pastel pinks and greens.
The coffee was top-notch— we tried the fall spice and vanilla cappuccino and loved them both! They are a scratch kitchen, so I recommend grabbing a bite to eat as well. I just got a bagel with their own scallion cream cheese and I am officially a cream cheese lover now! (I usually eat my bagels plain.)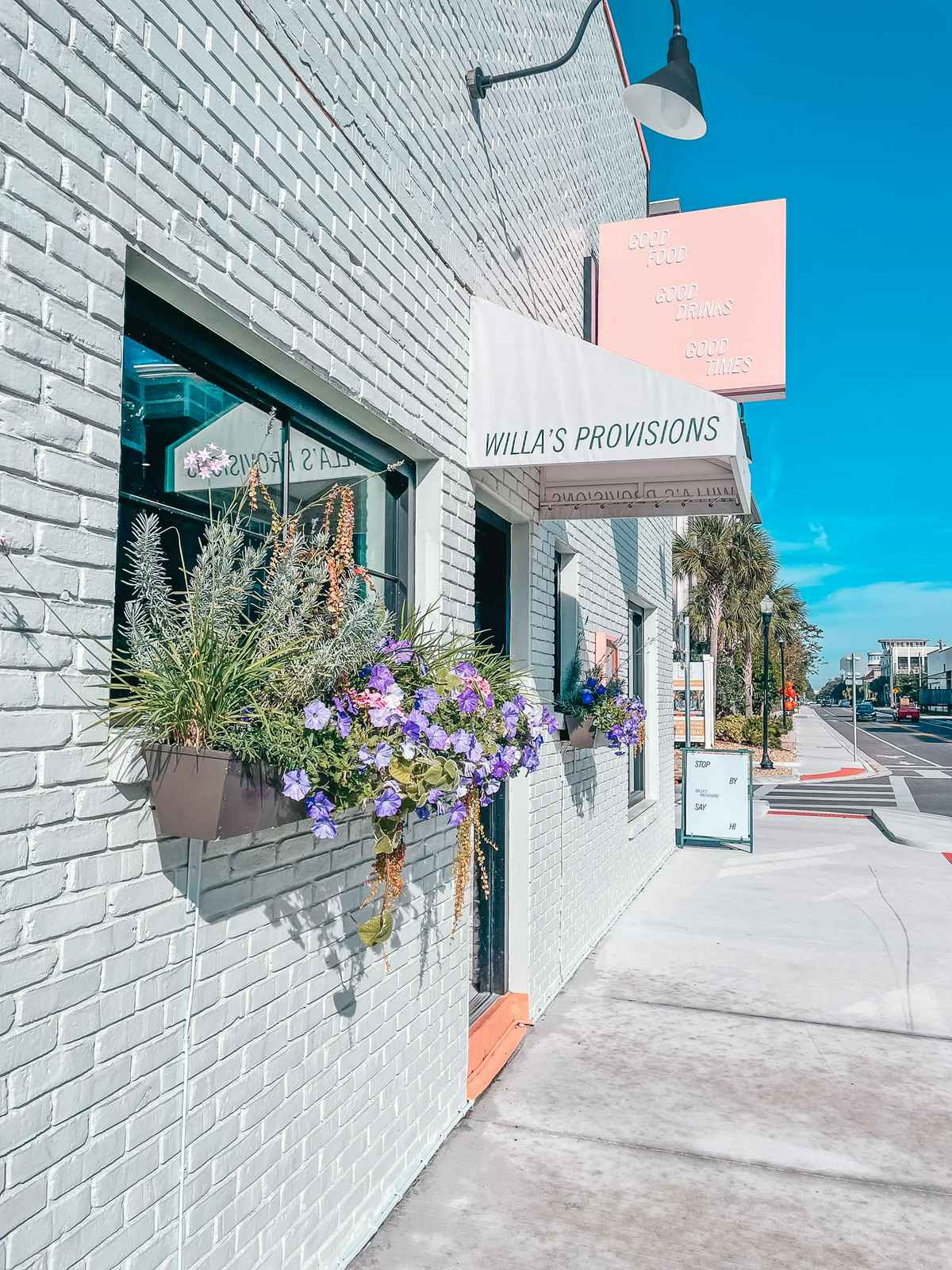 Chocolate Pi
Chocolate Pi is an adorable eclectic shop that delivers some super unique lattes. The strawberry shortcake is my personal favorite, but they also do a brushed suede latte that is black and has glitter! They're also known for their cakes and macaroons if the lattes didn't give you enough of a sweet tooth fix.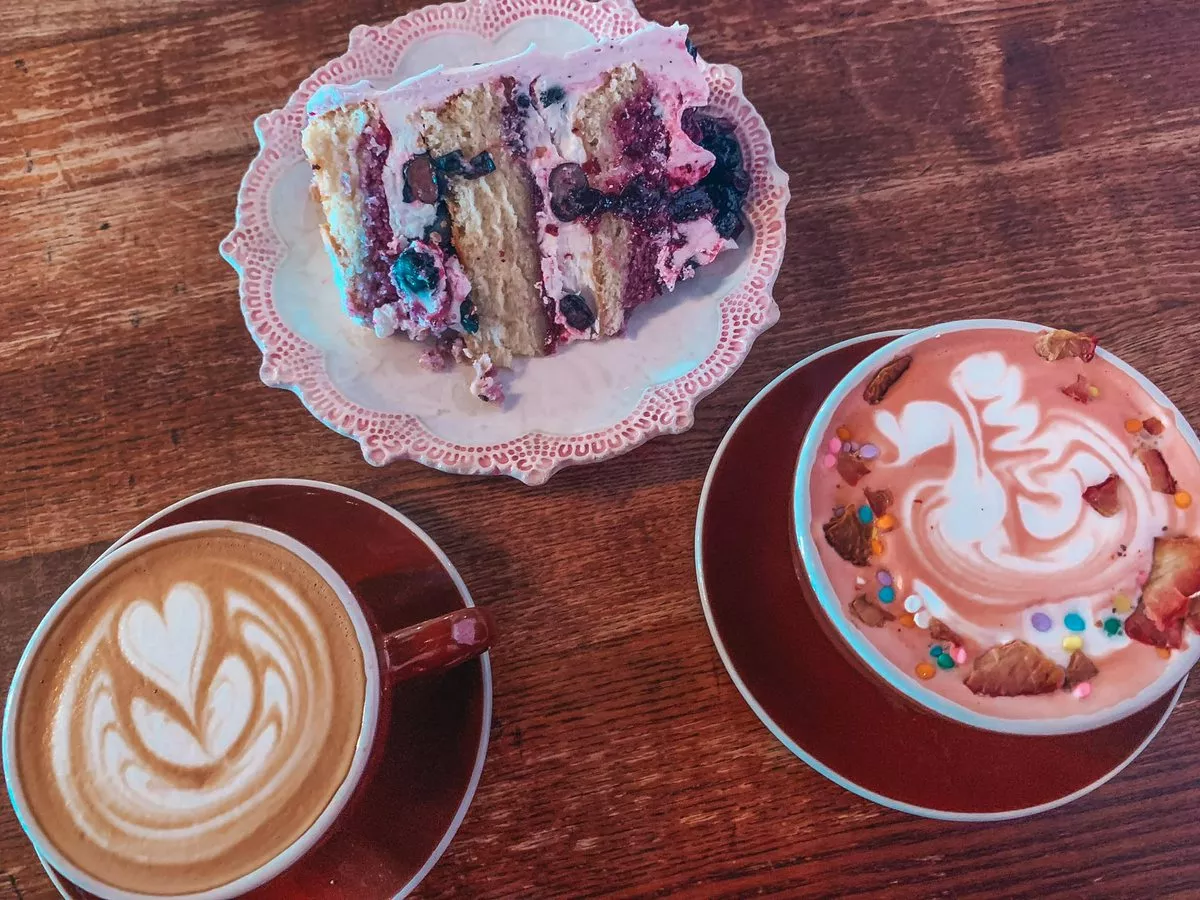 King State
King State is a coffee shop that also has delicious-looking food and craft beers. The aesthetic has everything you would want in a coffee shop. I went with their vanilla cappuccino. It was yummy and earned bonus points for the cute design. King State is a really great hangout spot!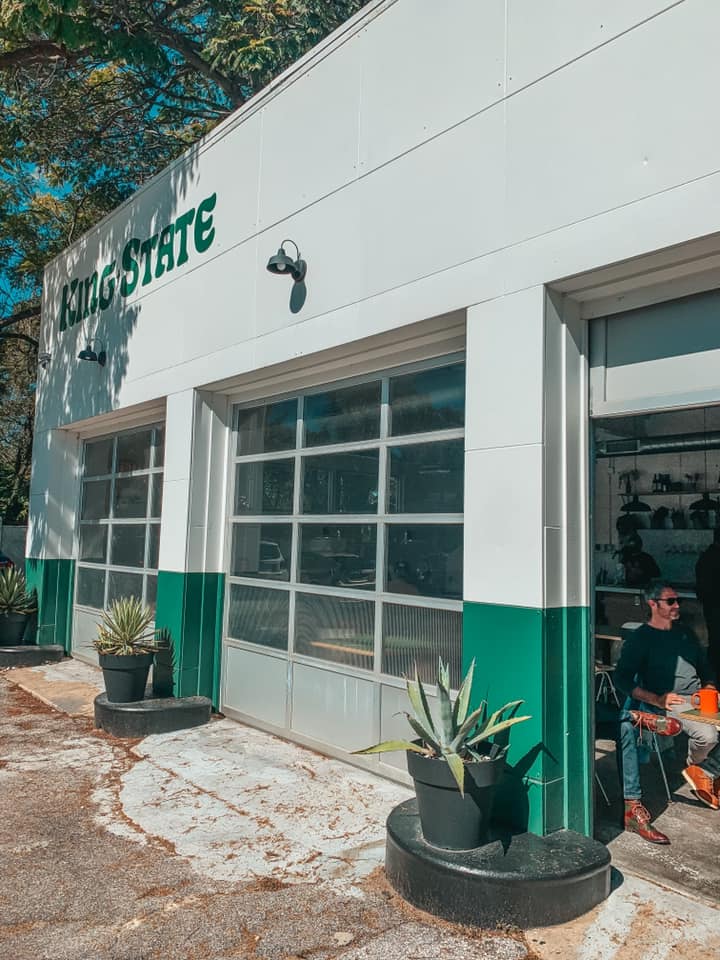 Be sure to check out my list of the best coffee shops in St. Pete!
Where to stay in downtown Tampa
If you're staying in the downtown area, a hotel will most likely be your best bet. There aren't too many Airbnbs in the downtown area, and they often end up being more expensive than a hotel with all of the additional fees.
There are a ton of awesome hotels in Tampa. Where you're going to want to stay just depends on what your itinerary looks like!
If you don't mind splurging The Tampa Edition is the newest hottest spot on the block! It provides an extraordinary, luxurious hotel experience that is unlike anything else Tampa Bay has seen. It even includes seven food and beverage venues to be explored. Read my full review on this luxurious, stunning Tampa hotel!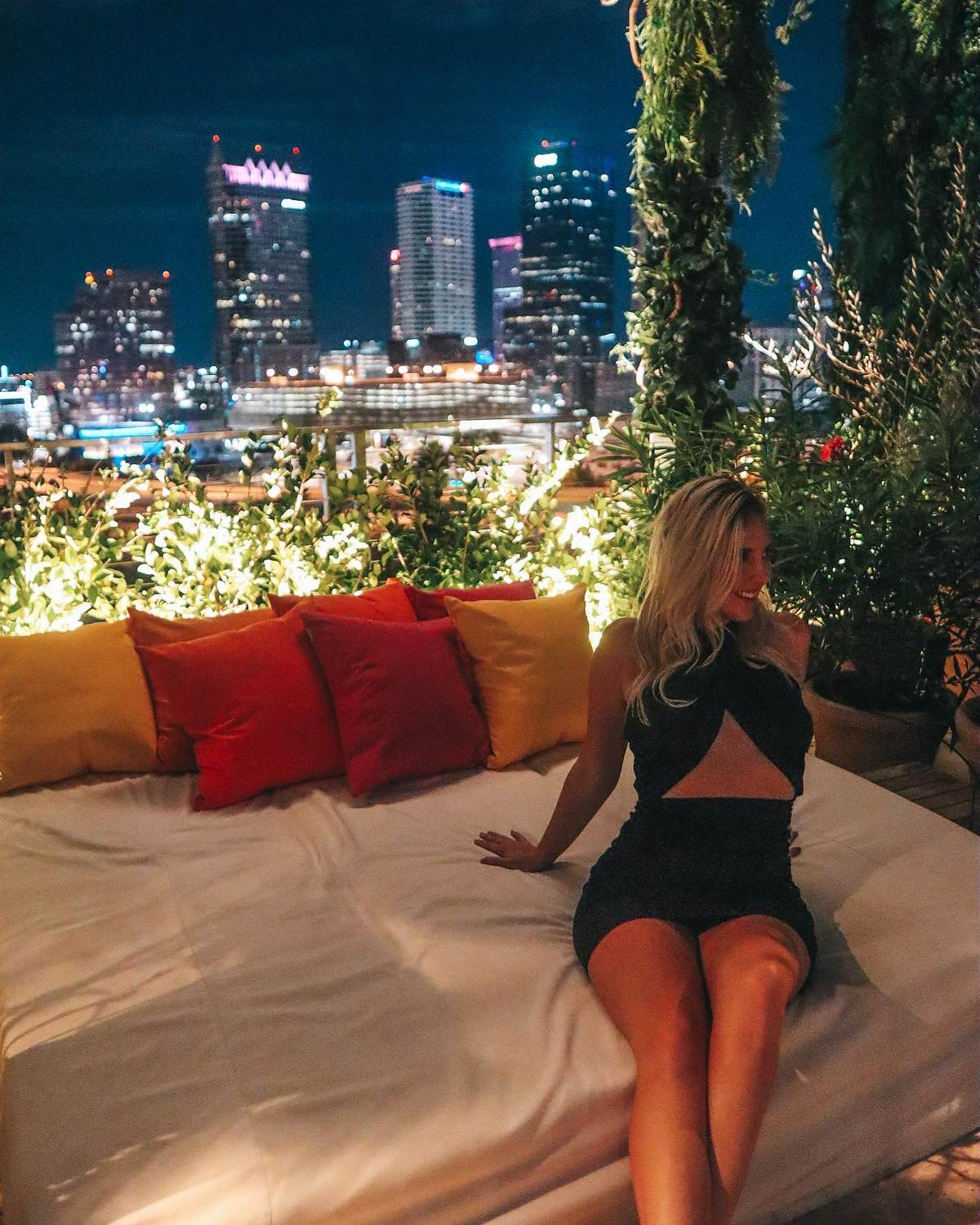 If you're wanting to stay in downtown Tampa, I recommend checking out Hyatt Place Downtown. The reviews are excellent, and they have an outdoor pool, fitness center, and a modern, sleek look. Not to mention the location is prime. The JW Mariott Tampa Water Street is also a great location, plus you can use your Bonvoy points to book!
You're right in the heart of downtown— a 10-minute walk (give or take a few) to the Riverwalk, nightlife, and the Amalie Arena.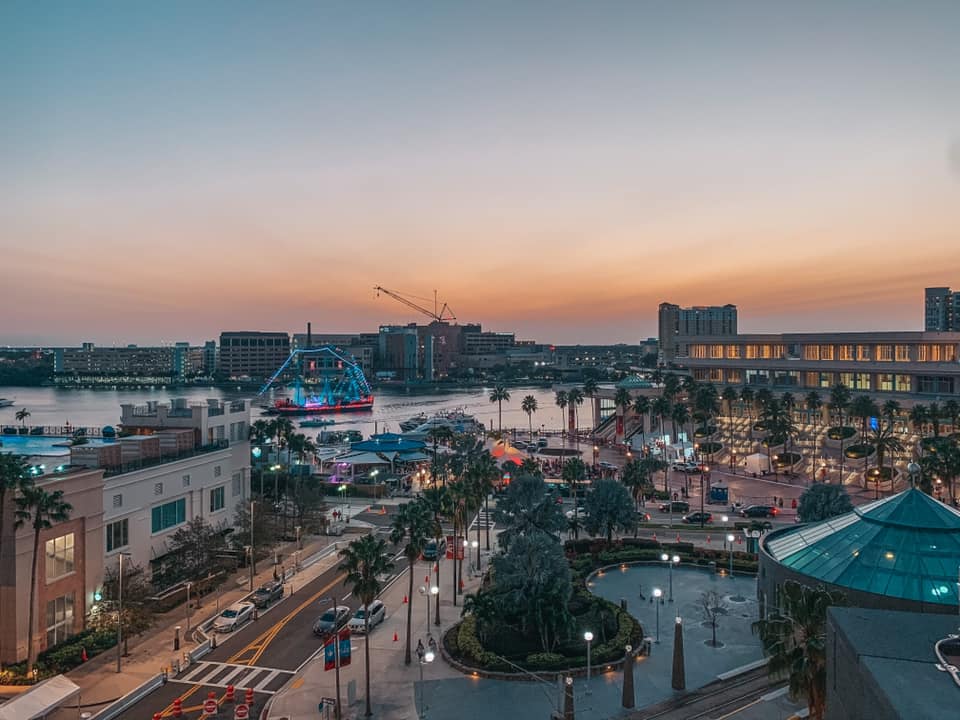 Other areas to stay in Tampa
If you want to stay in the Hyde Park area of Tampa, the Epicurean Hotel is stunning. Not to mention their on-site restaurant Elevage is all the rage! Or, if you've made reservations months in advance (or get lucky), you can head across the street to Bern's Steakhouse.
If you want to stay near the water and have some views, The Godfrey Hotel and The CURRENT Hotel are both solid options providing beautiful sights of Tampa Bay.
Younger crowds may prefer The Godfrey as it is known for its fun and wild pool parties on the weekends.
Midtown is great if you're visiting for business and want to be less than 10 minutes from the Tampa International Airport, International Plaza and Bay Street (a gorgeous shopping center), Hyde Park Village, Raymond James Stadium, and Armature Works and other awesome downtown Tampa spots. You're basically in the center of all of Tampa's happening spots. If this sounds like an area you'd want to stay in, check out my full review on the area and the Aloft Tampa Midtown.
The Heights is nice if you want to do things like Busch Gardens (it's 15 minutes away), but still be somewhat close to the other areas in Tampa and just 5 minutes from Raymond James and Amalie Arena. There's a cute affordable Bungalow that sleeps up to 6 people and has 3 bedrooms if you're traveling with a crew or the fam.
The Karol Hotel is actually in Clearwater, but if you're trying to explore several areas and don't want to move hotels each time, this could be a great option. Check out my full review of the Karol Hotel!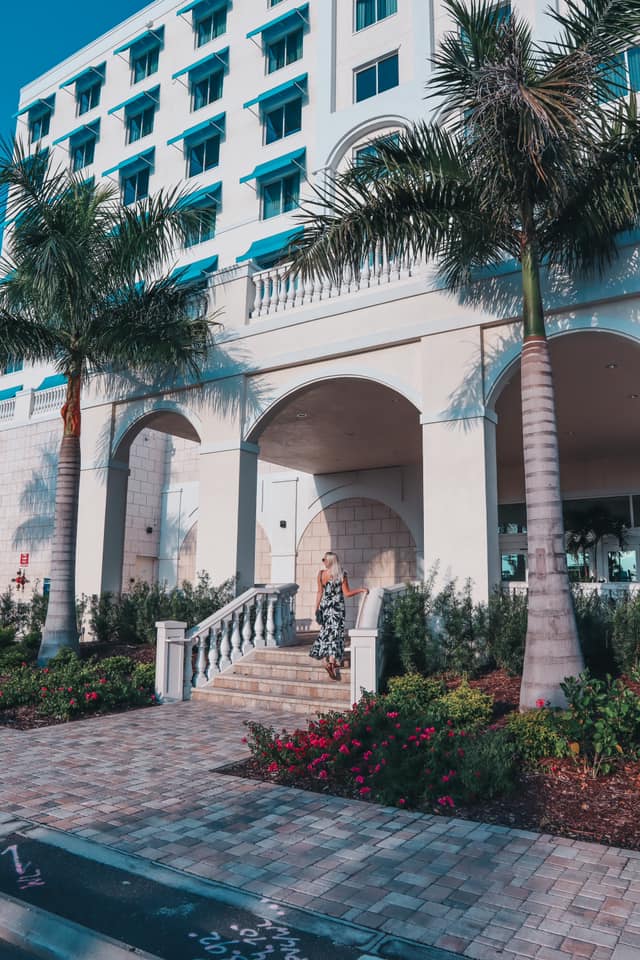 How do you get around in Tampa? 
If you plan to just stay in Tampa, you can get an affordable (around $15) Uber or Lyft into the city (it's about a 15-minute ride). I recommend renting a car though since you will most likely want to explore the surrounding areas as well!
If you do rent a car, download the SpotHero app. Hotels sometimes charge hefty parking fees, but SpotHero helps you find affordable parking in the area to avoid that!
If you're just exploring Tampa, you will be fine walking, scootering, and Ubering. But like I said, I highly encourage giving yourself enough time to explore surrounding areas, and this would require renting a car.
If you really don't want to rent a car there is the Cross Bay Ferry which will actually take you from downtown Tampa to downtown St. Pete! Just know that it is not currently running Mondays and Tuesdays. Adult fares are $20 round trip!
Thanks for reading!
I really hope that you enjoyed this Tampa guide! Even more so, I hope you get the time to explore all of Tampa's beauty as well as some of the surrounding areas!
Enjoy your time here! And don't forget if you check out any of my recommendations, be sure to follow me on Insta at @guidedbydestiny and use the hashtag #guidedbydestiny so I can share it with my followers 🙂
Check out some of my other popular posts before you go: