This post contains affiliate links which means that I will make a small commission if you purchase a product after clicking on any of them, at no extra cost to you.
Obviously taking a hot air balloon ride in places like New Mexico and Arizona is pretty popular, but did you know you can take a ride on a hot air balloon in Tampa!? Well, if you read my date ideas for Tampa Bay you did 😉 Honestly, I had no idea myself until I was writing that blog post thinking what would be the perfect date for me as an adventurer.
Of course my mind immediately went to a hot air balloon ride (it was a long-time bucket list item for me). I remembered Tampa had a hot air balloon festival a while back that I was unable to make it to, but didn't think you could actually do the experience year-round— but you can!
So here's an answer to all of the questions you might have about enjoying a hot air balloon ride through Tampa and my personal experience with Big Red Balloon!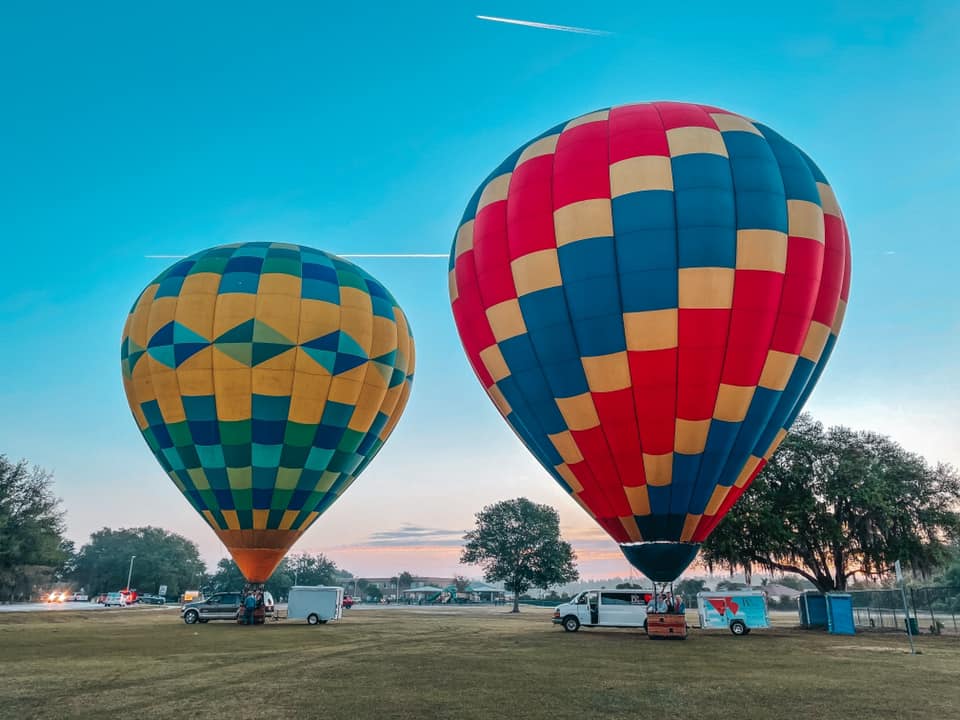 Where can you ride a hot air balloon in Tampa?
Big Red Balloon will have you meet at one of two Bob Evans restaurants in the Tampa (Temple Terrace) area. The night before your flight, they will inform you which one to meet at.
When do the hot air balloon rides take place in Tampa?
Flights are done daily at sunrise! You meet at the location mentioned above an hour before sunrise. While the flights are done year-round, I recommend waiting until after daylight savings, so dates March-September are probably the most ideal. I say this because the weather is a little nicer, and you don't have to get up as early!
Related read: Check out my ULTIMATE Tampa guide for the best things to do, restaurants, and places to stay
How long does the hot air balloon ride last?
The flight lasts approximately one hour, however, plan to spend around 4-5 hours on the whole experience between transportation time, witnessing the balloon's inflation, flight time, the champagne toast, and enjoying your breakfast at Bob Evans.
How much does the hot air balloon ride in Tampa cost and what is the cancellation policy for Big Red Balloon?
There are a few factors that determine price, including age and if you want a shared Adventure Flight or a private Sweetheart Flight, so check here for a current pricing detail as well as their cancellation policy!
What is included in the price for the hot air balloon ride in Tampa at Big Red Balloon?
An approximately one-hour flight, all ground transportation to and from the launching and landing fields, a champagne toast after the flight, as well as a complimentary breakfast after the flight at a local Bob Evans Restaurant.
My experience with Big Red Balloon in Tampa
We arrived in the morning at the Bob Evans we were instructed to and filled out waivers before loading up in the van and heading to the spot we would be taking off from. Dave and the crew began unloading the basket and envelope, and even let us get in on the action and assist with the setup. The whole setup process took maybe twenty minutes, and then we were off! (Well, first we got some pictures of course!)
We did the shared adventure, and while the basket is small, I honestly forgot there was anyone else in there with us. You can definitely make the moment more romantic if you do the sweetheart flight, but I don't think the views or experience was any less magical having others on board with us.
How it felt
This truly was a remarkable experience. The fact that we did it at sunrise made it even more special. The feeling of rising in the balloon with the sun made the moment harmonious. You feel weightless and at peace. Aside from when Dave (the pilot) would have to ignite the burner, it was truly so peaceful up in the air.
It just made me realize how many sounds we are constantly hearing on the ground that we don't always realize until there's just silence as you're looking down at it all. Do you remember those road map rugs that were always in kiddie play areas? Looking down felt like I was a little kid again playing with one of those mats— it was wild.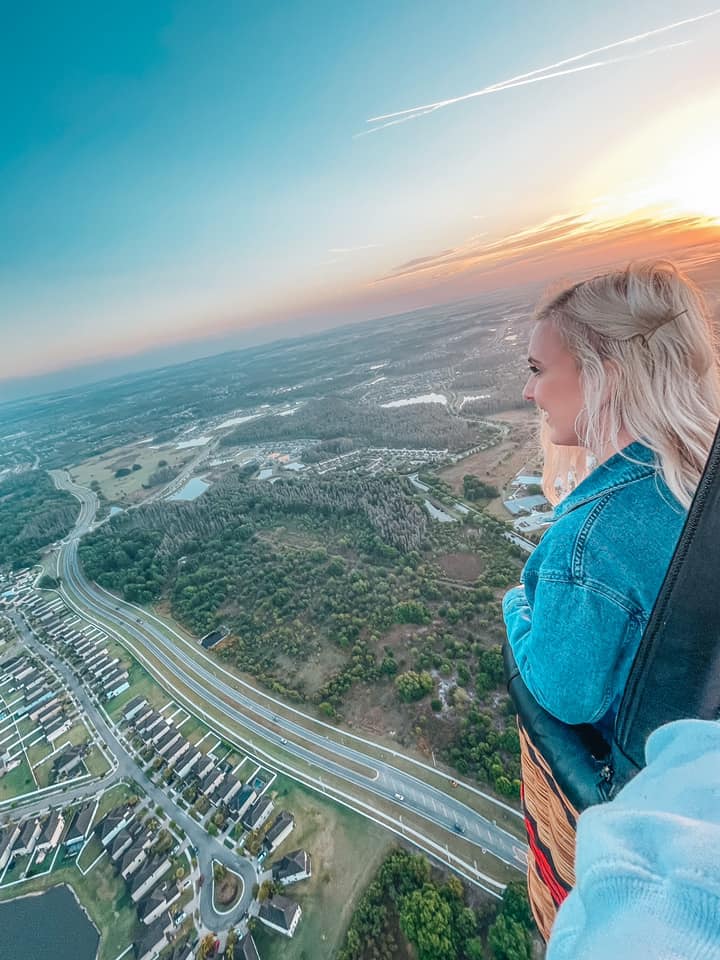 What to wear
If you're wondering what to wear, dress for whatever the weather is when you're about to head out. I wore a dress and jean jacket, and while I was a little chilly getting ready to fly, once we were in the air I was totally fine. You'll feel some warmth from the burner. I will say that a dress may not be the best option though, as you have to climb in and out of the basket. Do make sure to wear close-toed shoes with your outfit, as you will be taking off and landing in fields.
Feeling safe
Dave is the owner and one of the pilots at Big Red Balloon and has over 3,000 hours of flight experience! We felt totally safe in his hands and loved how knowledgeable and excited he was about explaining the process and history of ballooning to us. If you have the opportunity to have this experience, I highly recommend it!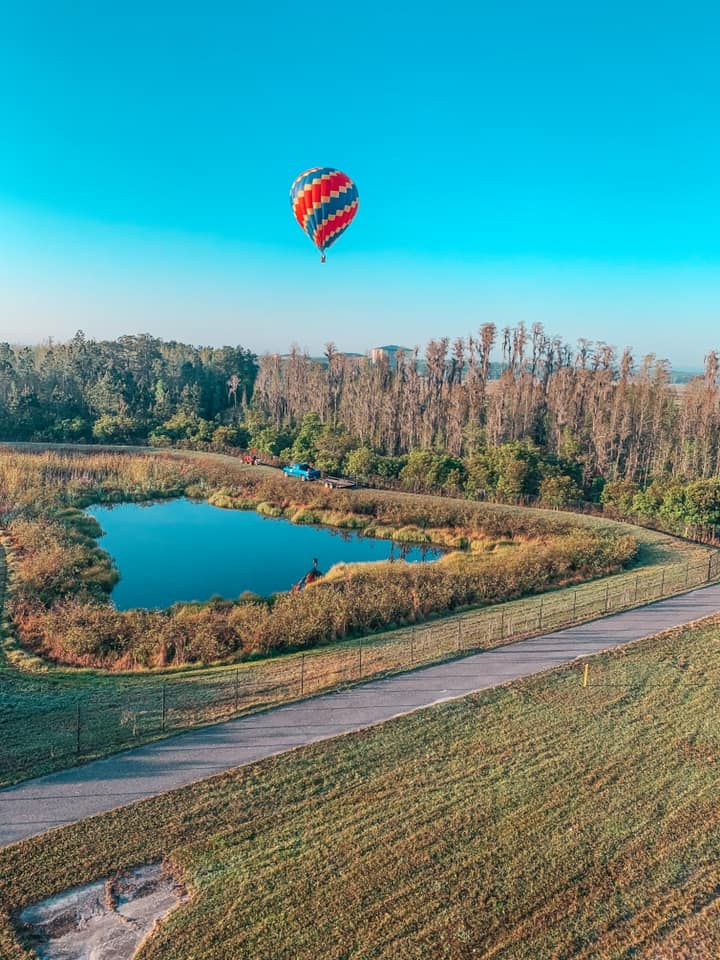 Additional information
If you're curious about safety, why the balloons only fly at sunrise, and other details regarding Big Red Balloon company, check out their FAQ page here!
Check out the video of our experience here! And don't forget to share this post if you enjoyed it 🙂 Also be sure to check out all of my other Tampa Bay posts including fun birthday ideas in Tampa, and follow me on Instagram @guidedbydestiny for more local content.