This post contains affiliate links which means that I will make a small commission if you purchase a product after clicking on any of them, at no extra cost to you.
Hyde Park is a charming neighborhood in Tampa, Florida.  Honestly, it's one of the most beautiful areas in the city, with more than 50 retail shops and dining options for people to enjoy.
It is a favorite for visitors and locals alike and is a great place to visit on a day trip.  There are many great restaurants here, but here are five of the must-visit eateries in Hyde Park, Tampa.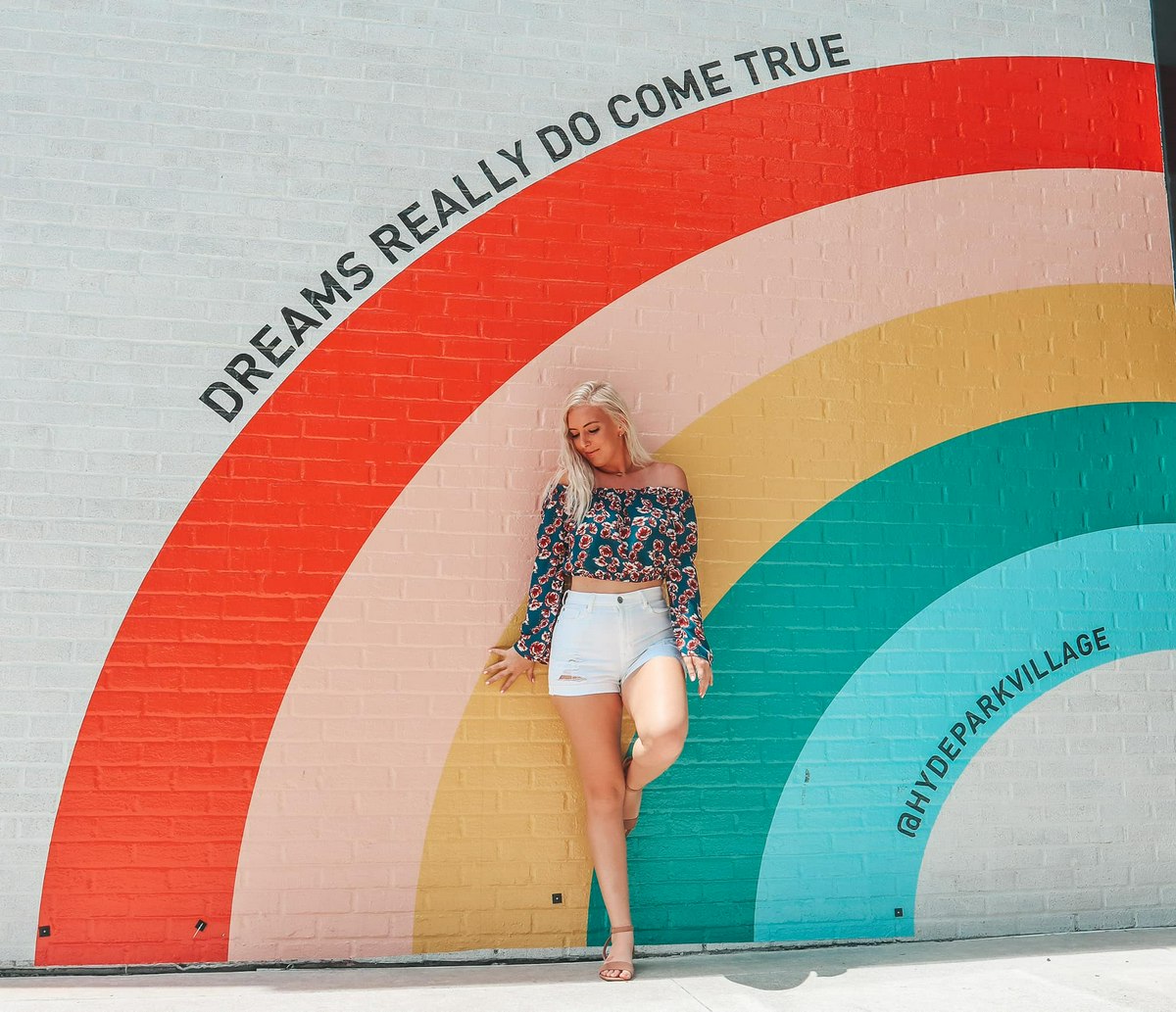 Amazing restaurants in Hyde Park Tampa
Timpano
Located in the heart of the historic neighborhood of Hyde Park, Timpano is a grand Italian steakhouse in a luxurious setting. The menu features Italian comfort foods with a modern angle.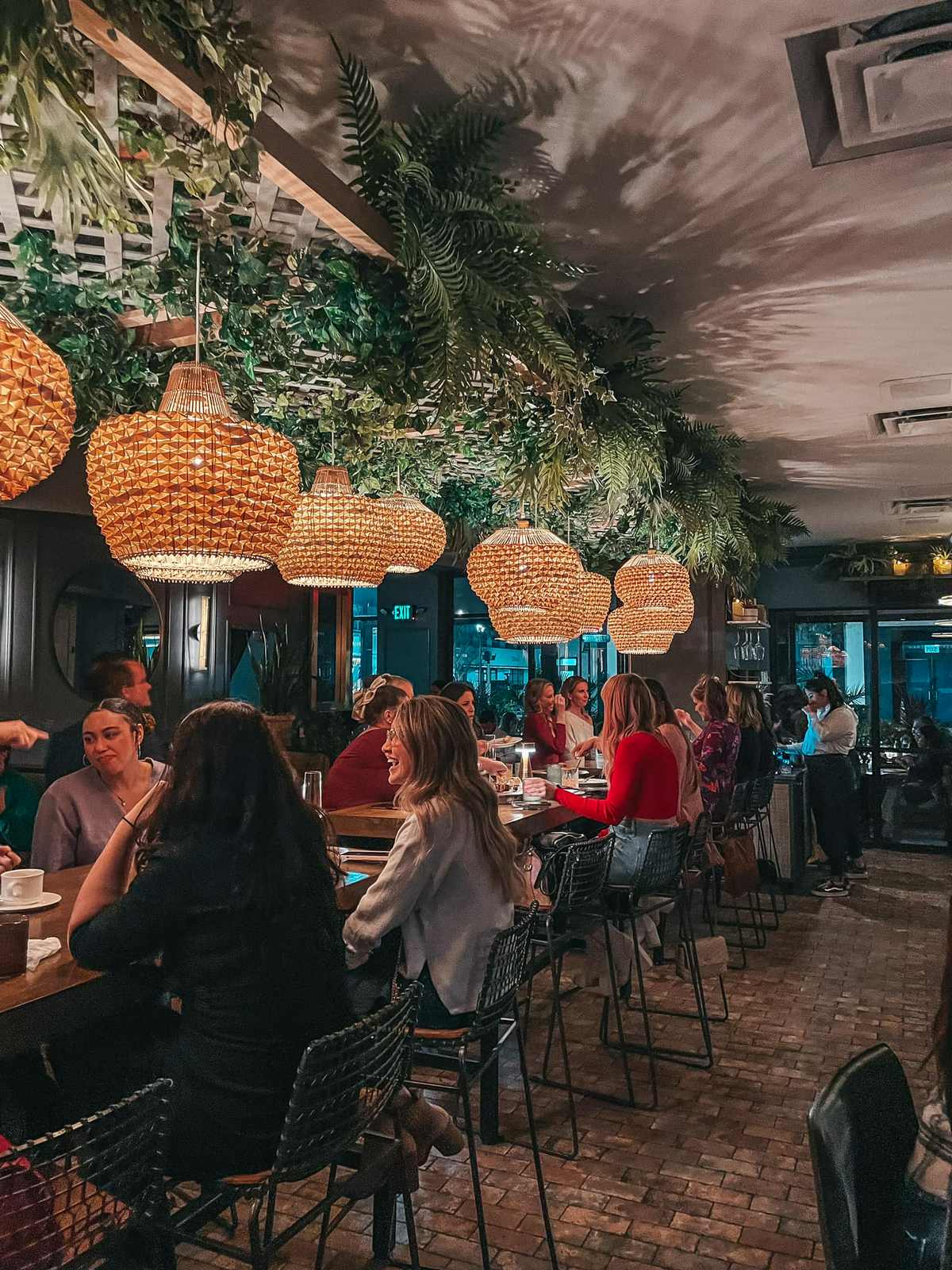 Timpano hosts dinner and brunch, with menu items ranging from pasta to Wagyu Beef and Cape Canaveral Shrimp. I couldn't resist getting anything other than the Parm to Table Macaroni Experience which is pesto prepared tableside in a parmesan wheel. I'm honestly not one to order pesto at an Italian restaurant, but Timpano changed the game for me. It was so flavorful and fresh!
In addition, diners will be impressed with the extensive wine and signature drink menu that includes everything from espresso martinis to a frozen strawberry Aperol spritz.
When you enter it has a very lively atmosphere, but the dining towards the back gives more of an intimate vibe, making it a perfect date night restaurant. Be sure to make reservations for this popular spot if possible.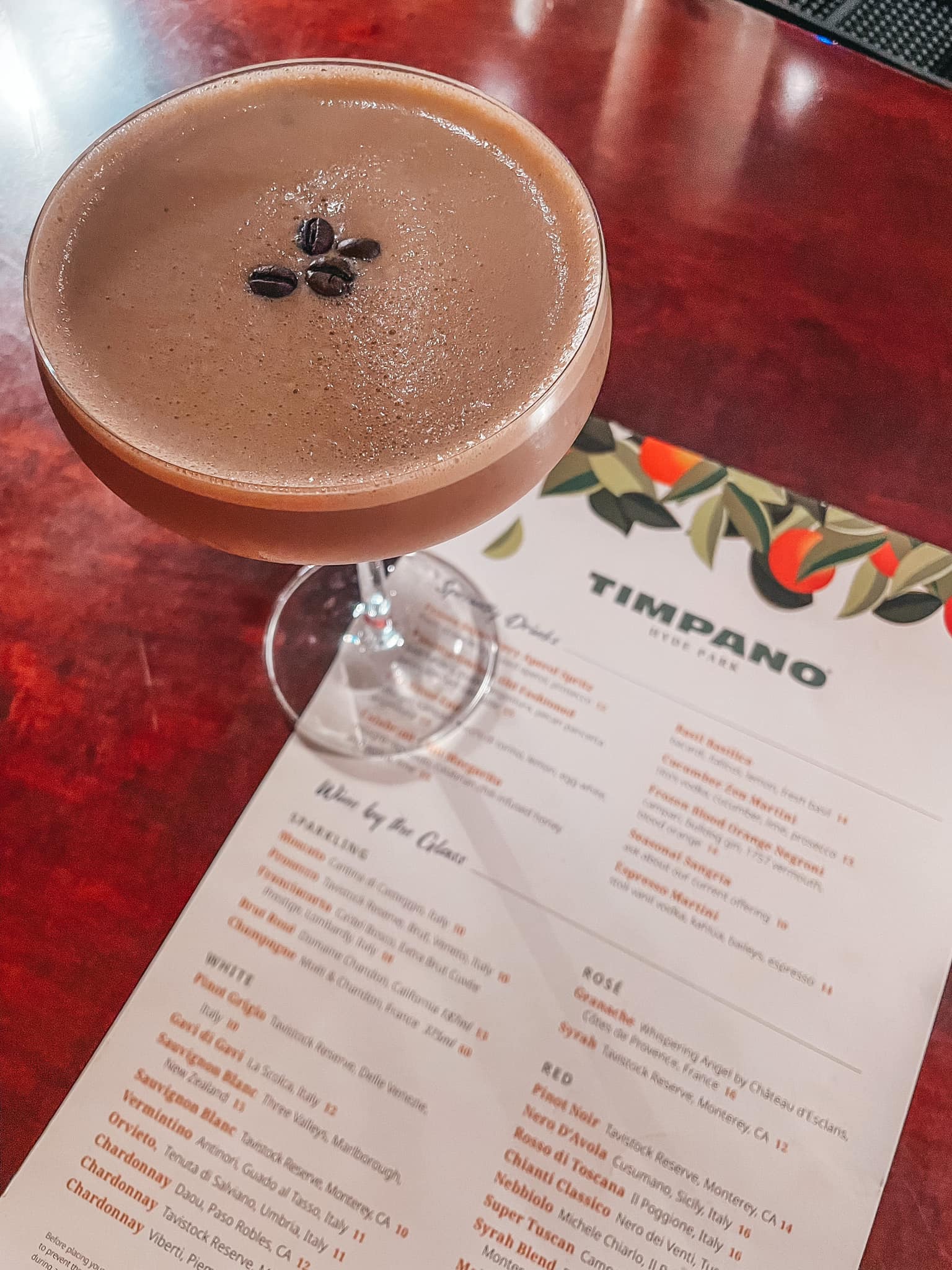 Meat Market
Meat Market is totally on my list of best restaurants in Tampa. My experience here was so good I truly didn't want it to end. The food, the drinks, the service, and the atmosphere are all top-notch.
This unique 6,000-square-foot steakhouse offers a fantastic ambiance for diners looking for an exquisite meal in Hyde Park, Tampa.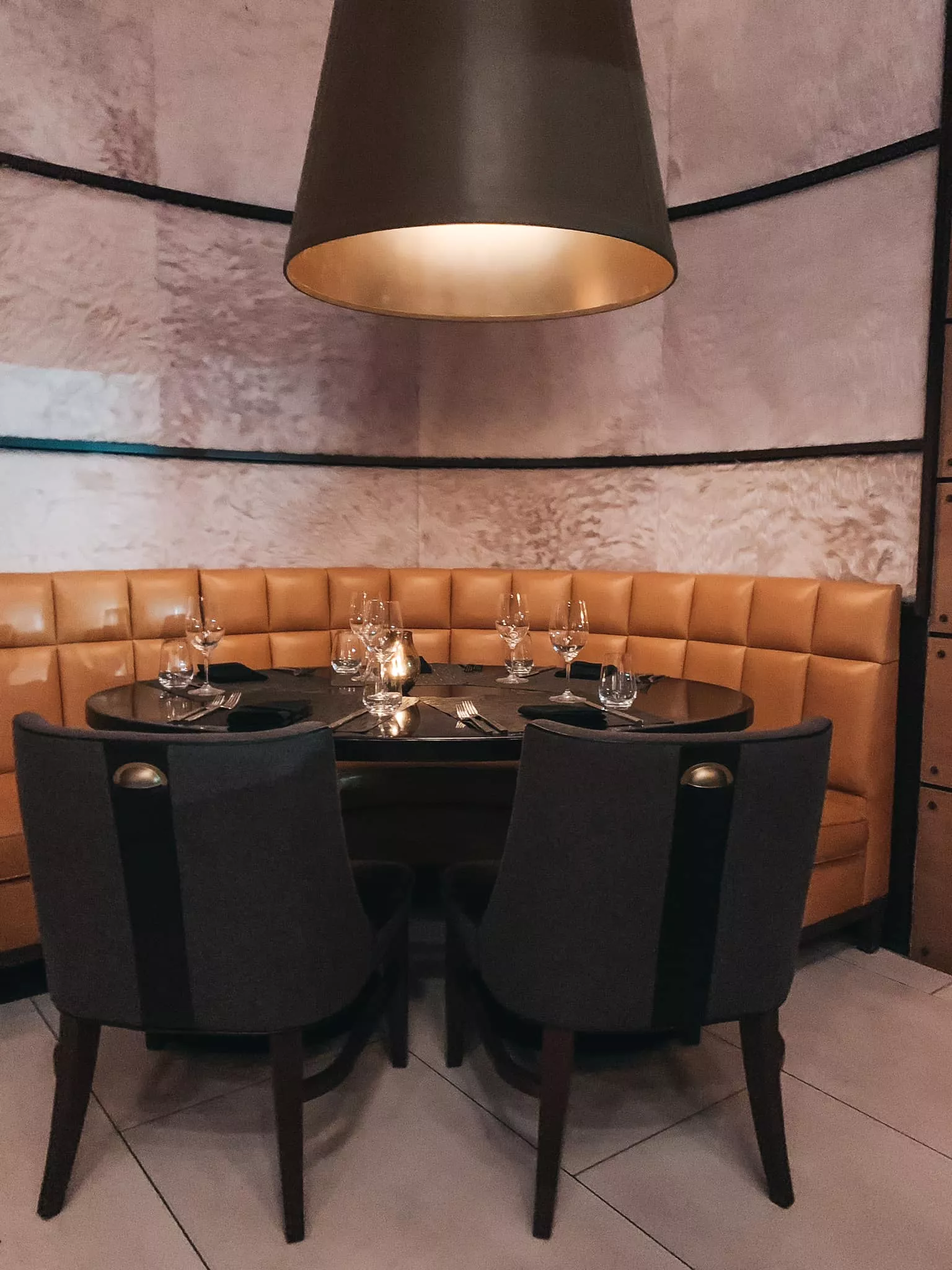 Sit back and relax with the stylish decor and leather seating while enjoying a large steak and cocktail at Meat Market.  Other menu items include appetizers, fish, oysters, and salads. Even the sides were amazing, be sure to try the Brussels sprouts and asparagus.
The restaurant also offers unique cocktails such as Rosé Spritz, Mojito, and Manhattans. I typically go with the Honey Bunny which is vodka, strawberry puree, and Prosecco. And, of course, one of their drunken oyster shooters!
Again, if possible, be sure to make reservations.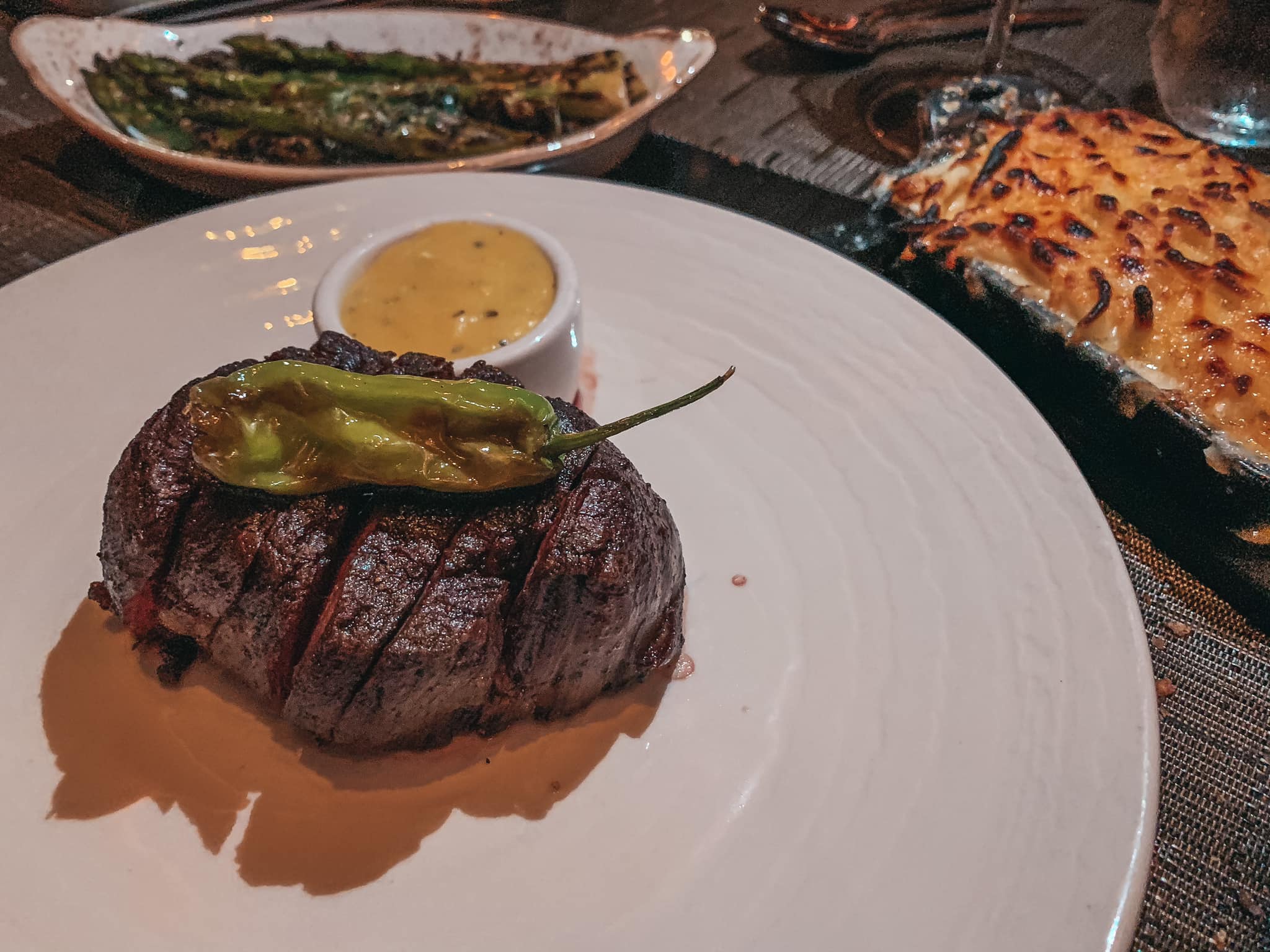 Bartaco
Influenced by the food and culture of Brazil, Uruguay, and Southern California, this restaurant in Hyde Park serves up exclusive street food in a laid-back environment. There is a great outdoor patio for visitors to enjoy, and food options include appetizers, tacos, rice bowls, and delicious desserts.
The tacos are great, but their mezcal cocktails stole my heart. They make their drinks with fresh-squeezed juice and they taste so light and refreshing. They even have a guava mezcalita which I haven't enjoyed since Hawaii!
Other exciting drink options at Bartaco include creative margaritas, sangrias, and mojitos. There are also agua frescas and Mexican cane sodas available.  This fresh restaurant is a favorite of many and a must-try while in Hyde Park, Tampa.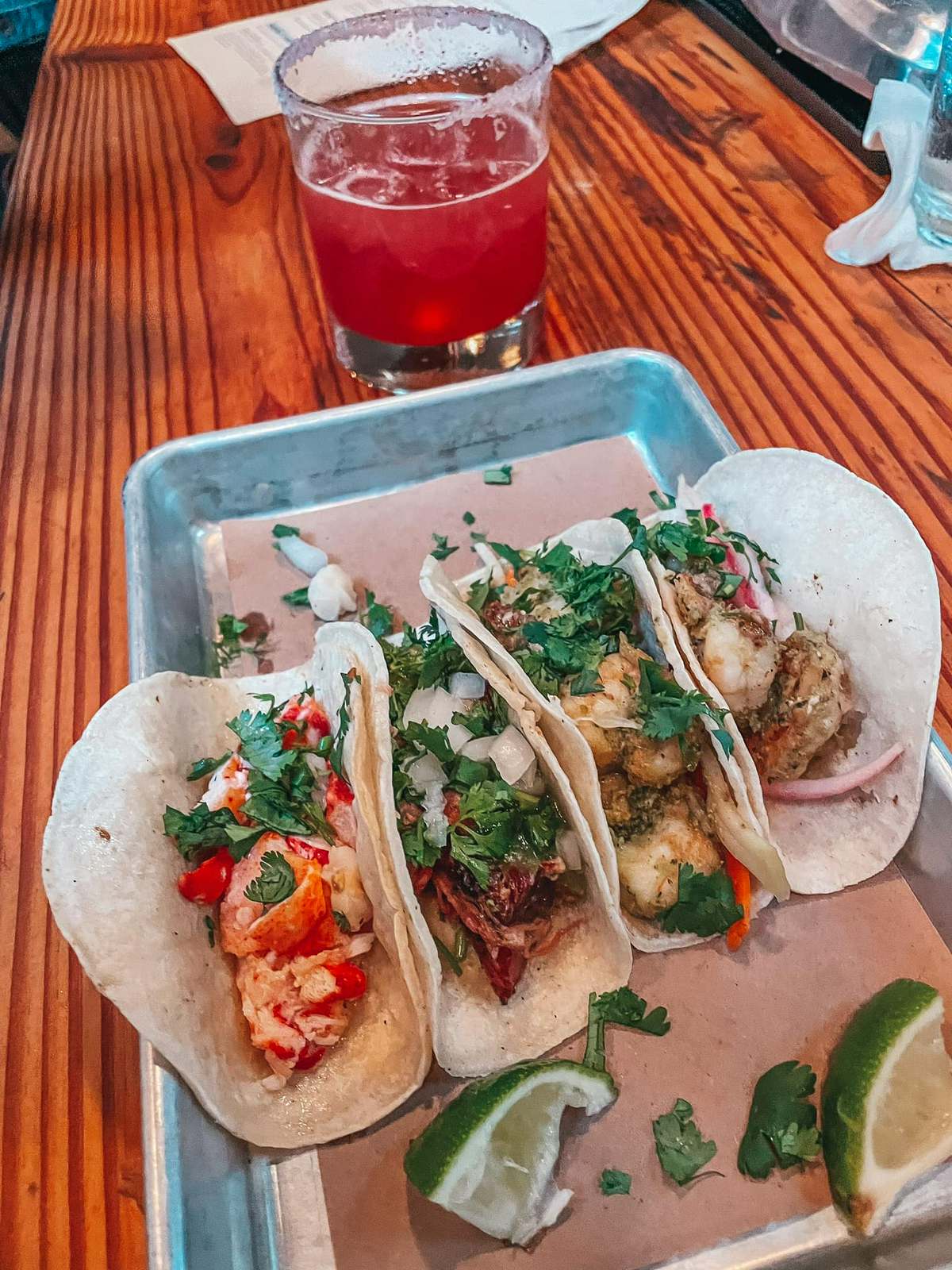 Forbici
Another terrific Italian option in Hyde Park is Forbici, which features outdoor seating and is well-known for its fantastic pizza options. The name "Forbici" comes from the pizza being cut with scissors.  Diners enjoy fresh Italian meals at this restaurant with wines on tap and curated craft cocktails to enjoy with pasta, pizza, and other classic plates.
While they're known for their pizzas and pasta, I can't stay away because of their fabulous, tender calamari! It's even $8 on their daily happy hour menu which is from 3 – 6 PM.
Visitors rave about delicious desserts such as the Lemon Olive Oil Cake, Tiramisu, and Cannoli. Forbici is one of the Ciccio Restaurant Group concepts, so you already know this Hyde Park restaurant is not going to disappoint.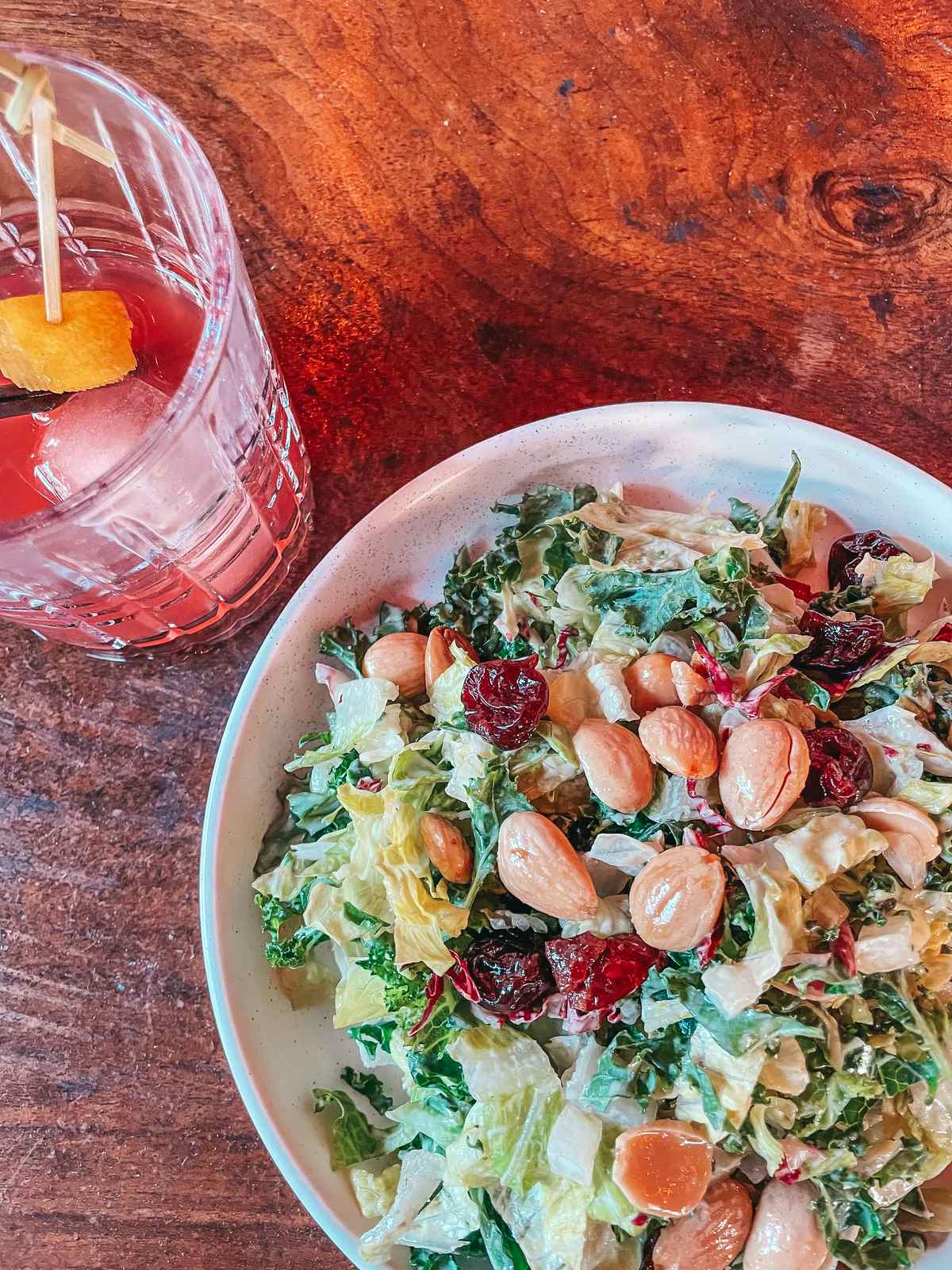 On Swann
On Swann serves up American favorites with local flair while supporting small, local companies on their impressive and delicious menu. This restaurant is very popular with locals and visitors for its seasonal menus and locally grown ingredients.
The bar menu is extensive, and the venue's ambiance inspires conversation and fun. Dinner options include burgers, short ribs, pork chops, and more to delight visitors. There is also a fun brunch menu available on the weekends.
Even if you're just wanting to have a light lunch, and do tapas On Swann is a great spot. The kale salad exceeded my expectations and was full of flavors and textures that married together perfectly.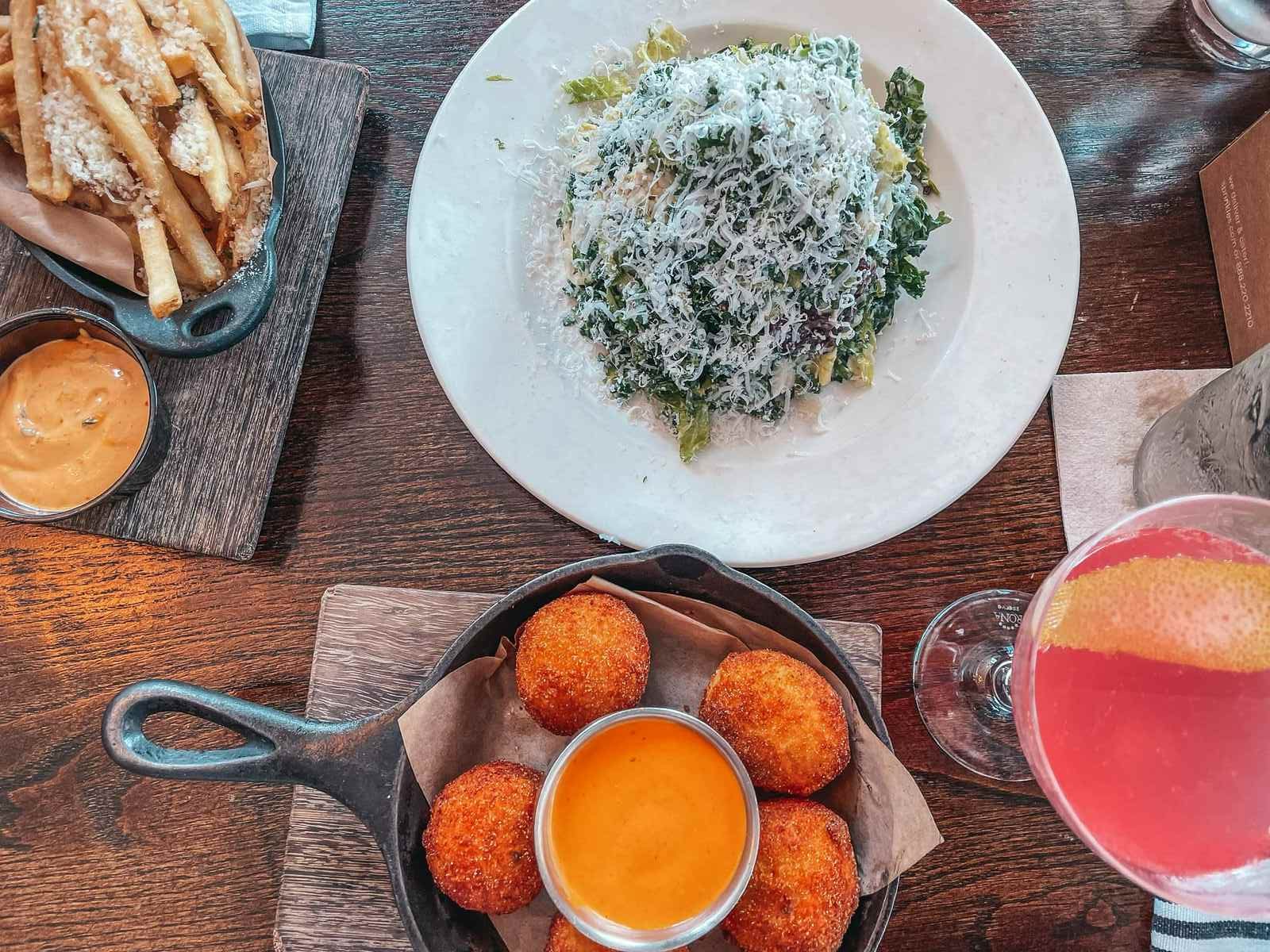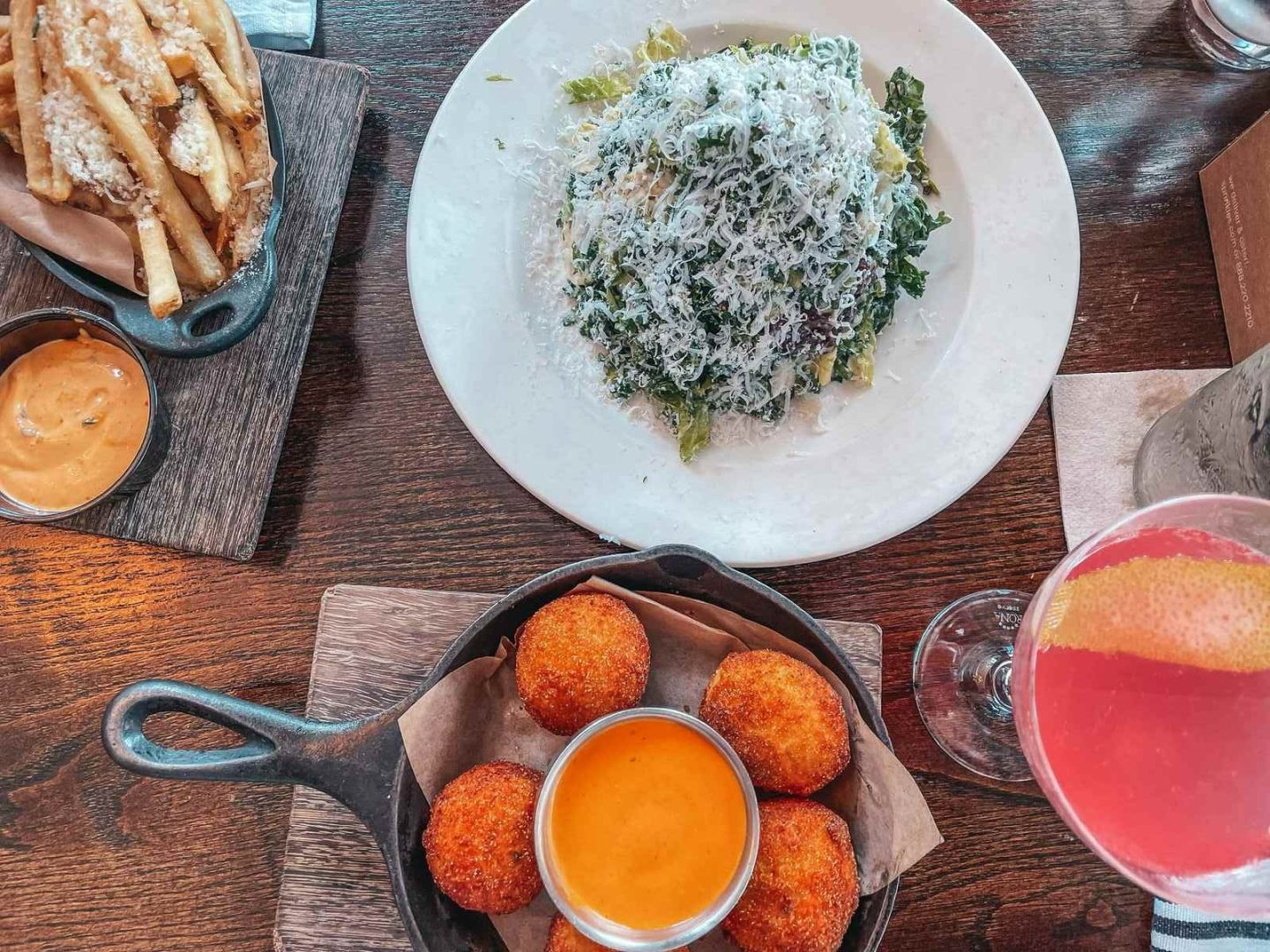 If you're wanting to snag dessert be sure to check out these fun and delicious spots: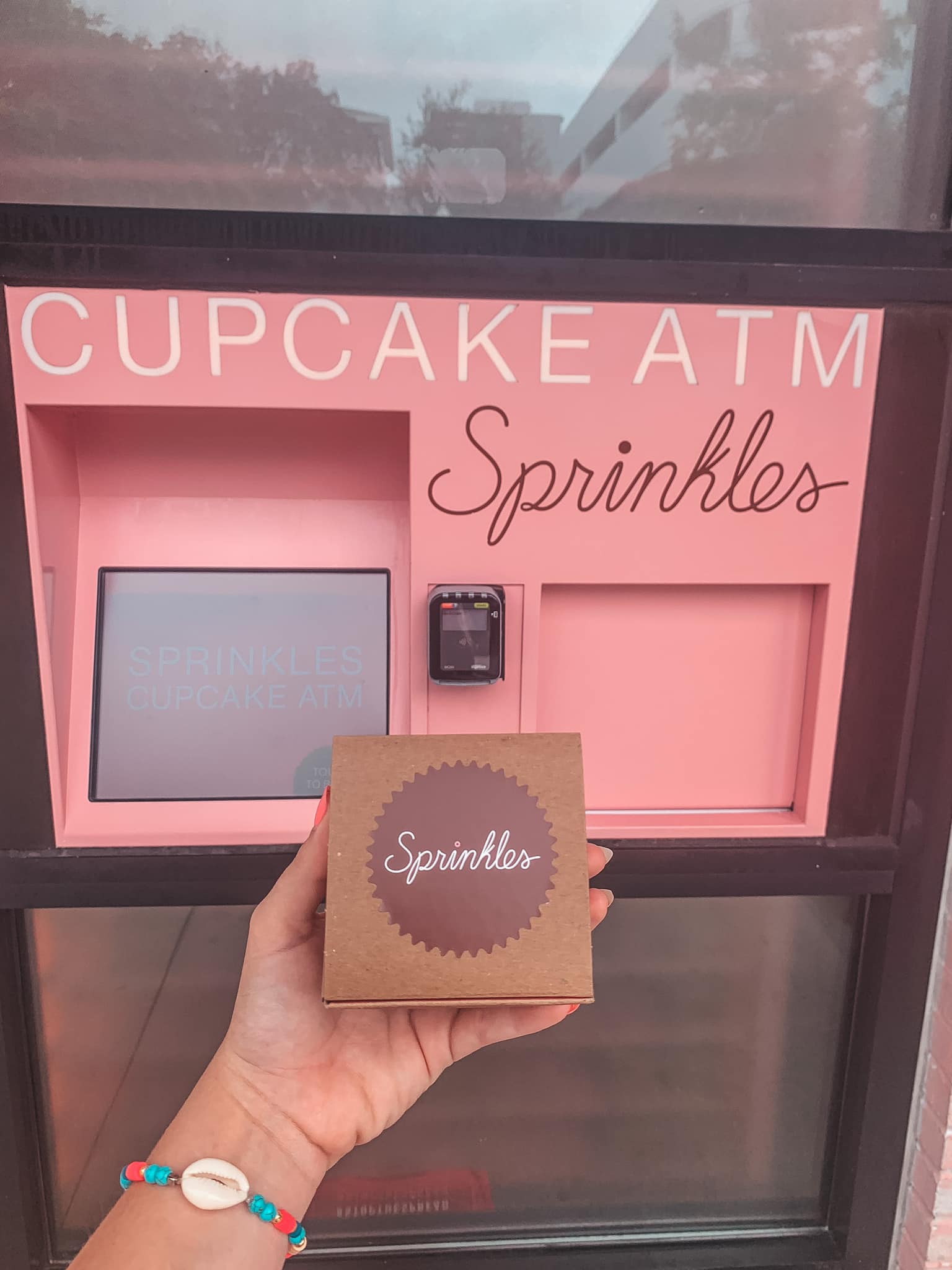 Hyde Park, Tampa, is the perfect neighborhood for dining out and exploring.  If you're looking for a great restaurant to eat at in the area, you can't go wrong with any of the ones on this must-visit list. Whether you're craving Italian or American favorites, you can find all that and more in Hyde Park.
Follow me on Insta @guidedbydestiny for more Tampa Bay content, and be sure to check out some of my other local posts before you go!
Waterfront restaurants in Tampa