This post contains affiliate links which means that I will make a small commission if you purchase a product after clicking on any of them, at no extra cost to you.
St. Pete Beach is a beautiful destination on Florida's Gulf Coast. If you're looking for fun things to do in St. Pete Beach for your visit, this post has got you covered! This gorgeous destination is perfect for families, couples, spring break, bachelorette parties, and more!
I created this post because every time I looked up the best things to do in St. Pete Beach I noticed that many of the lists included so many things that weren't actually in here, so rest assured that each of these activities are based and found right in St. Pete Beach!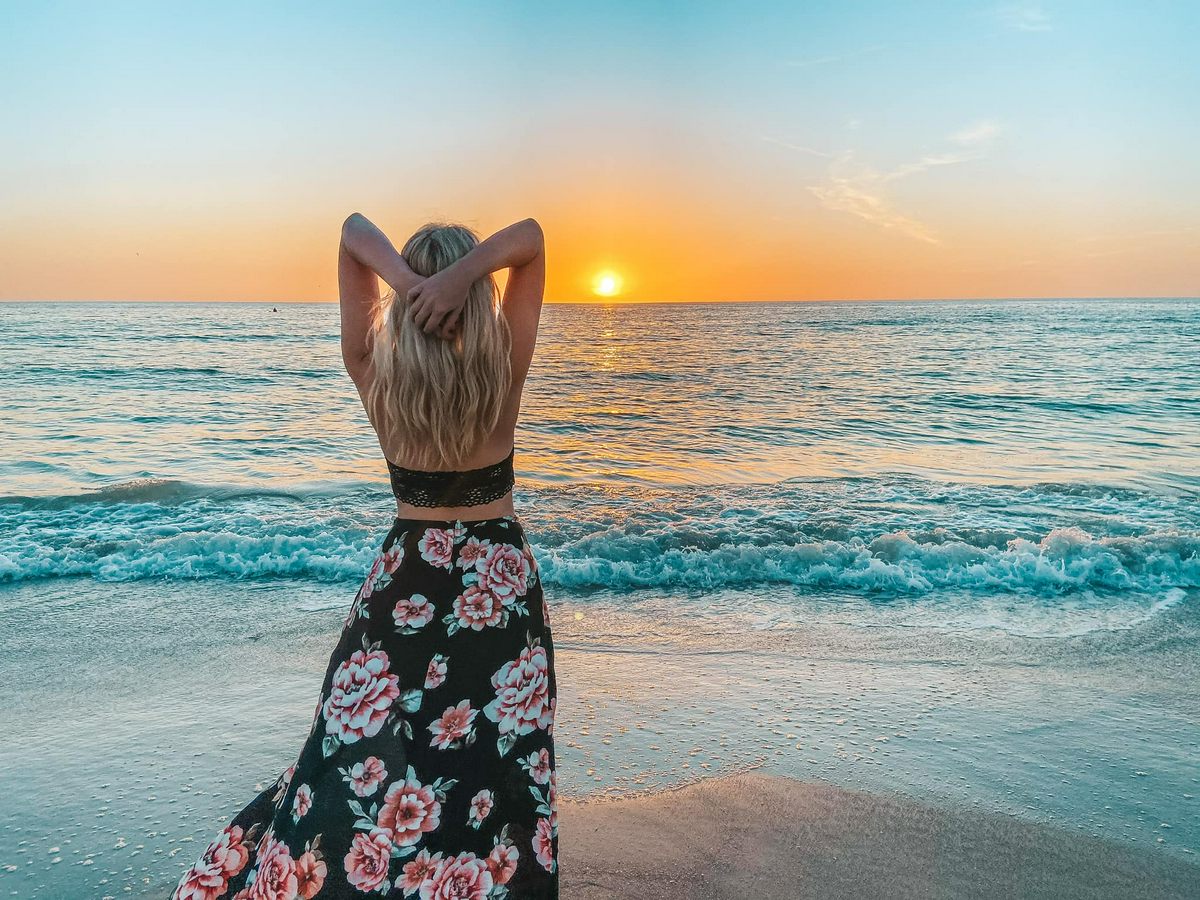 Quick links for your St. Pete Beach trip
🏨 Accommodation
Easily compare prices, secure great deals, and enjoy the added benefit of flexible cancellations up to 24 hours in advance for the majority of hotels with Booking
🎟️ Tours and tickets
Discover your next adventure with ease by using Viator which allows you to explore a multitude of local tours, ensuring you find the best experiences at the best prices.
🚘 Car rental
Click here for the best tool for comparing prices for your date amongst the most popular rental car companies!
Things to do in St. Pete Beach
Beach Day
Now this is obvious, but the best thing to do in St. Pete Beach is simply just have a fun beach day! Enjoy the white sand, emerald waters, and beautiful sunshine.
In front of TradeWinds they have a giant inflatable water slide, and during the summer months they even have a floating water park!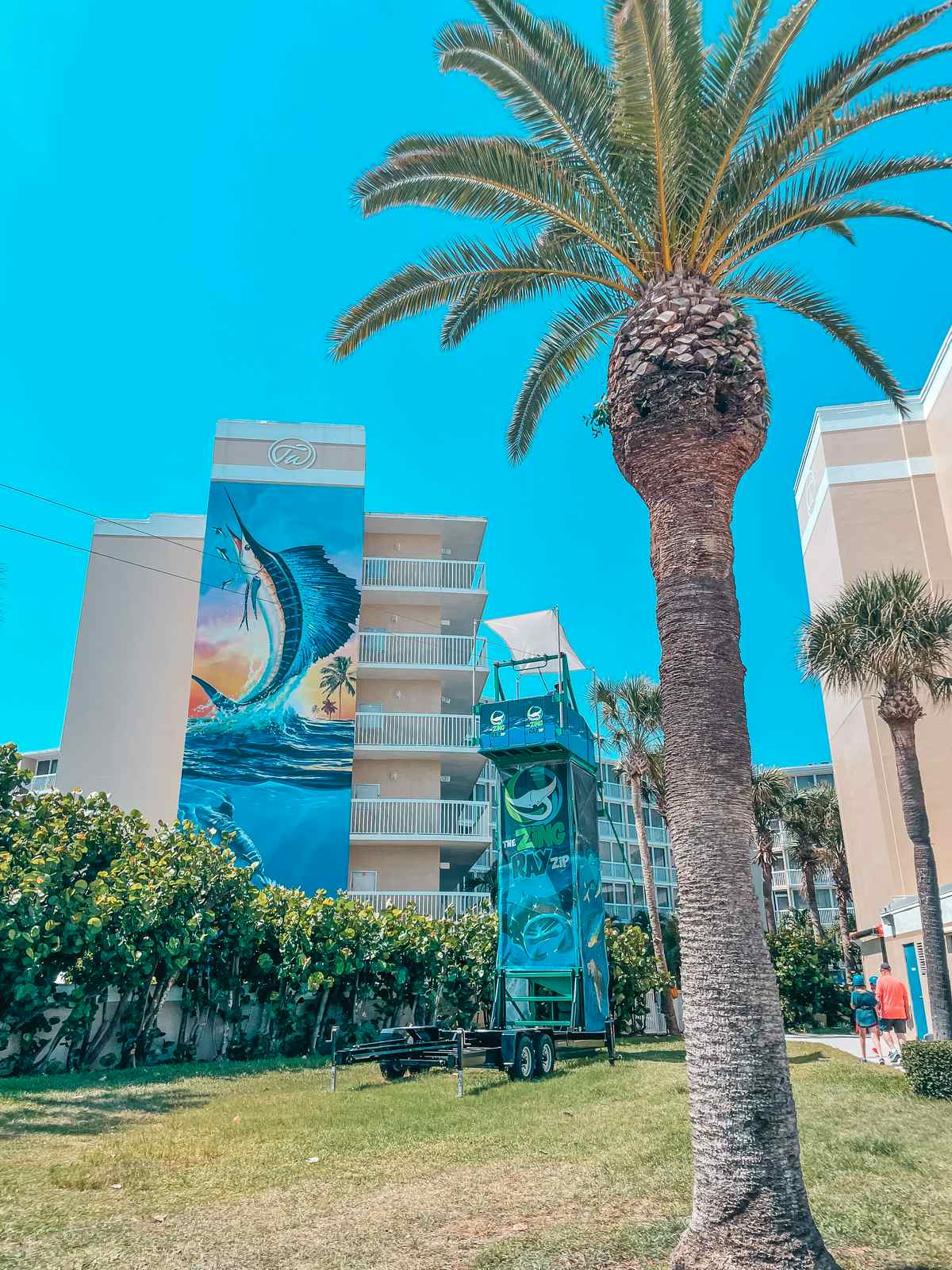 If you want to take your St. Pete beach day to the next level, check out The Cabana Club! They literally take care of everything for you (set up and tear down) and provide water, sunscreen, a speaker, a portable charger, and more. Like truly you name it, The Cabana Club has got it covered! And how cute is this setup?! It's perfect for birthdays and bach parties. Which btw, St. Pete is one of my favorite Florida destinations for bach parties!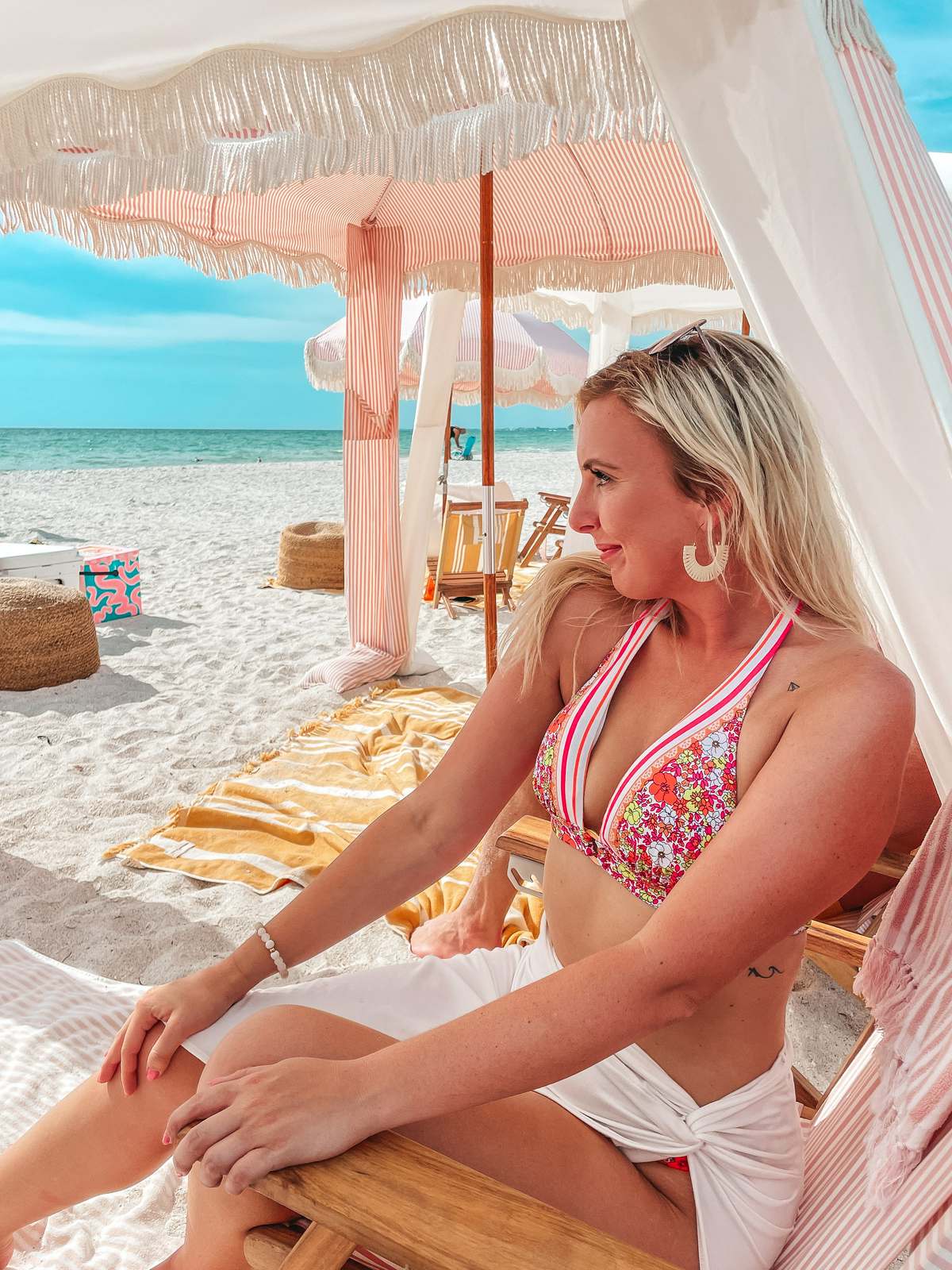 Whether you're doing Cabana Club or a beach picnic, if you think you're going to want snacks Sea Grapes on St. Pete Beach actually provides awesome charcuterie boards! Not only that, but you can get a complete picnic package which includes charcuterie, dessert, a bottle of wine, a beach blanket, a picnic basket, and ocean-friendly packaging and utensils.
We used them for our picnic at our Breeze Bungalow girls' night and absolutely loved the spread!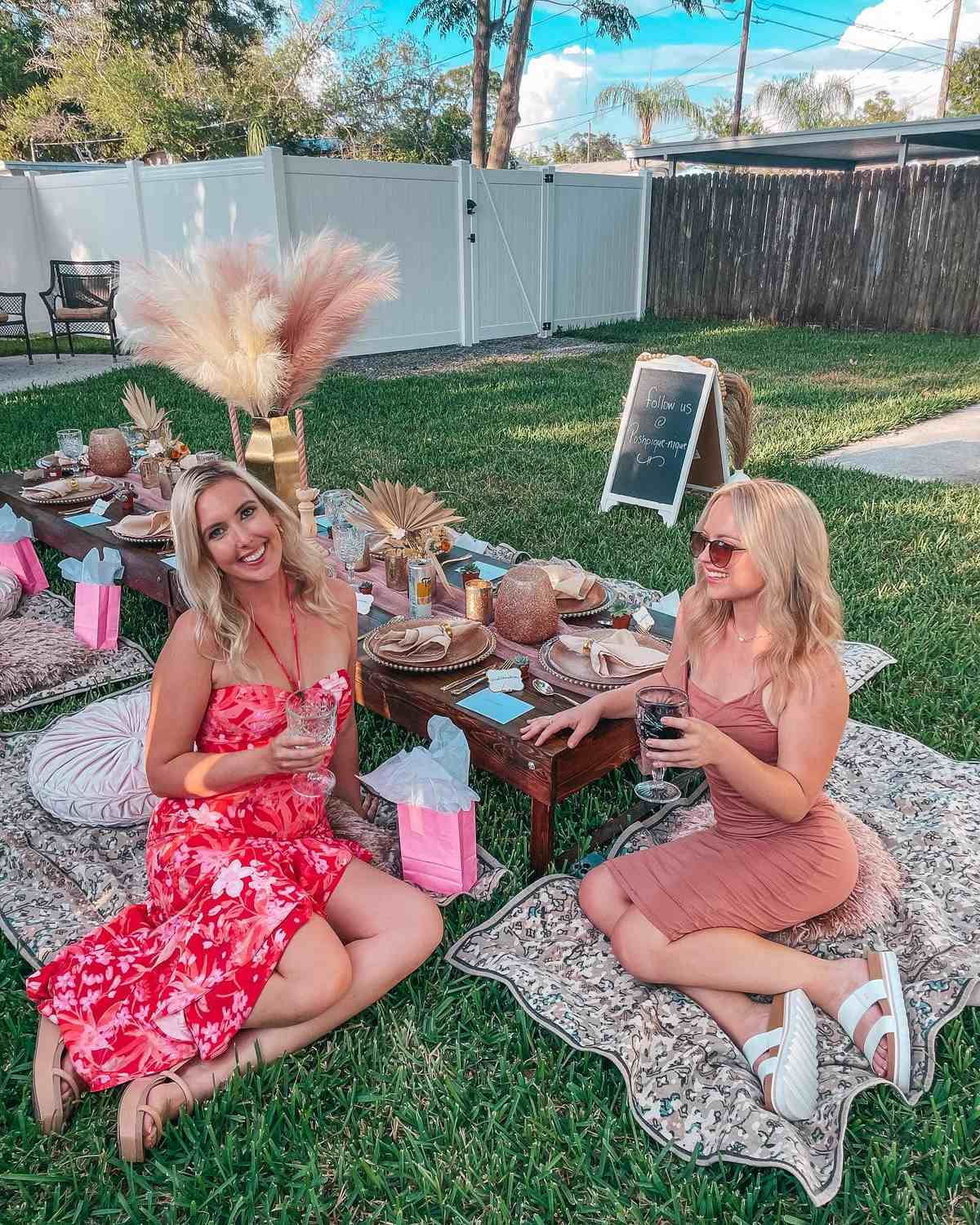 If you want to make it a boozy beach day check out some of the fun St. Pete Beach bars and head to PCI, Jimmy B's, or Coconut Charlies! These spots are always lively, often have live music, and even have games like beach volleyball to keep you entertained.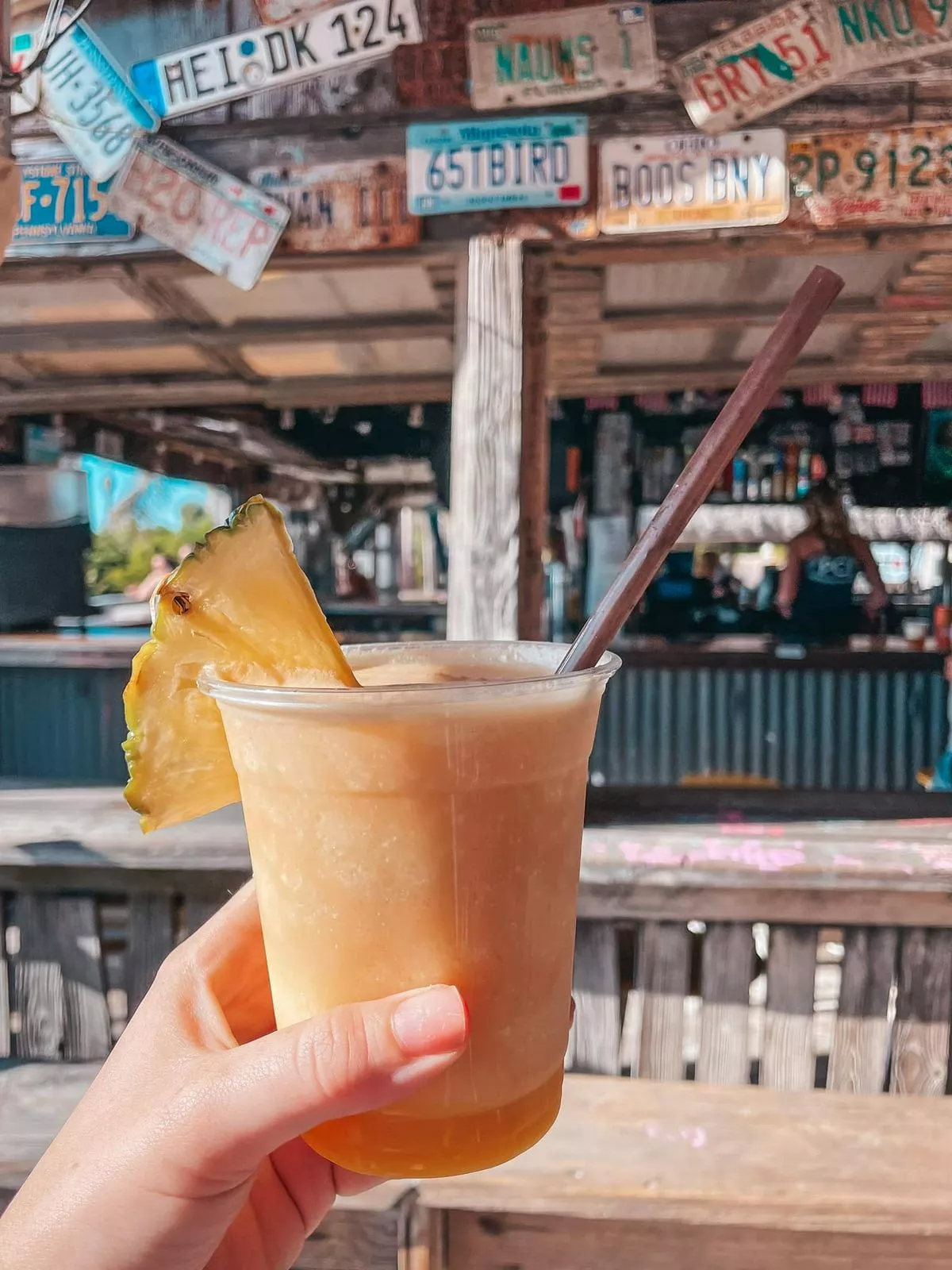 Florida Orange Groves Winery
Take a break from the beach at Florida Orange Groves Winery, one of my favorite wineries in Tampa Bay! They produce over 43 varieties of wine, and they have tastings and tours daily.
The tastings have 3 parts: a flight of their most popular wines (from sweet to dry), your pick, and then some slushie samples! For my pick, I did their Hot Sun tomato wine with bloody mary mix! Super unique, and super delicious.
They're known for their citrus, berry, and tropical wines, but also offer port, grape, and sparkling wines as well. And of course their slushie mixes! Check them out for their occasional comedy night and paint and sip events as well.
For more fun wine spots, check out the best wine bars in downtown St. Pete!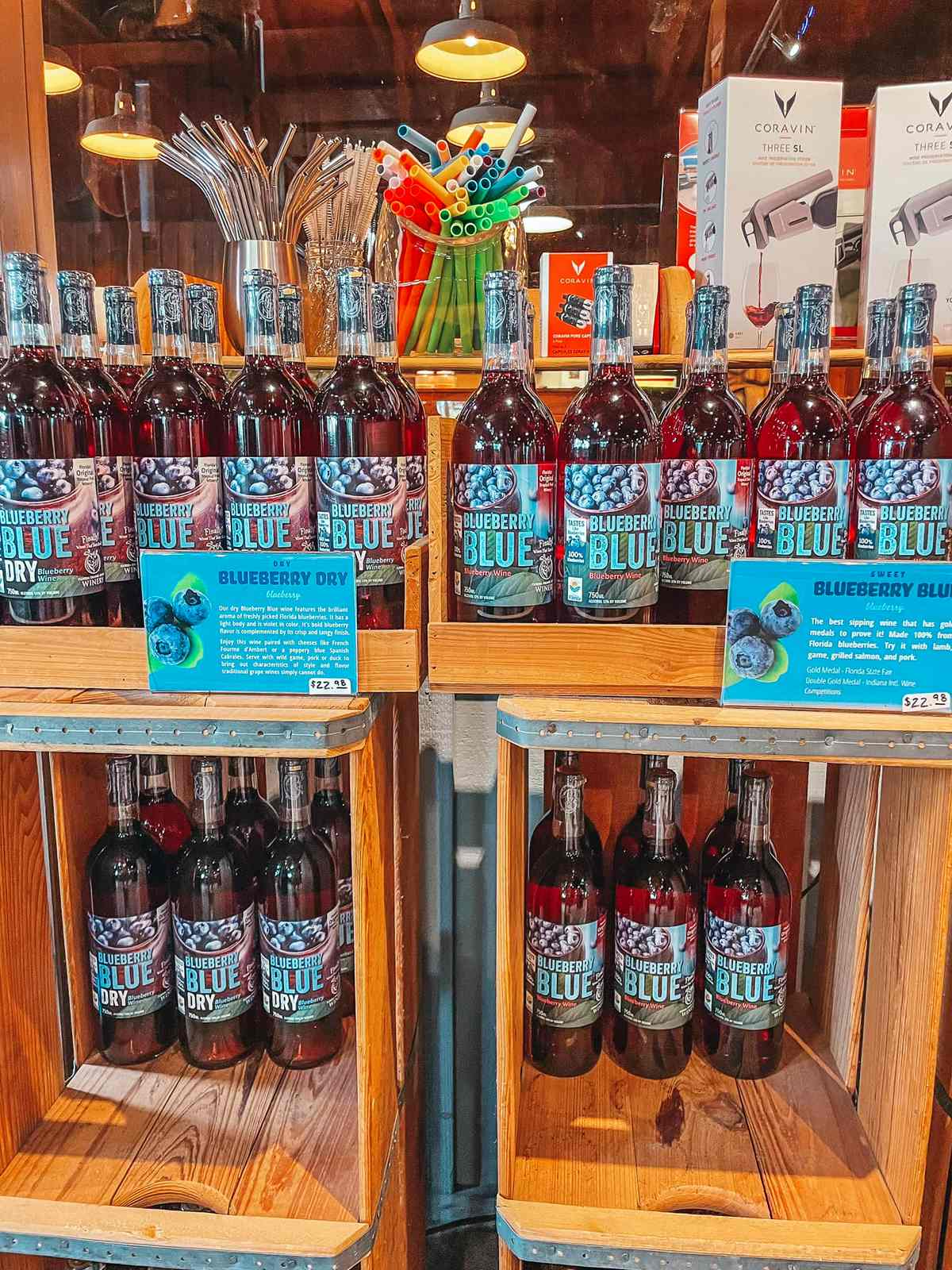 If wine isn't really your thing, you can also check out Mastry's Brewing. It's the first craft brewery and tasting room in St. Pete Beach. They have sours, porters, pilsners, and more! You can also head downtown for several more awesome breweries that are all within walking distance!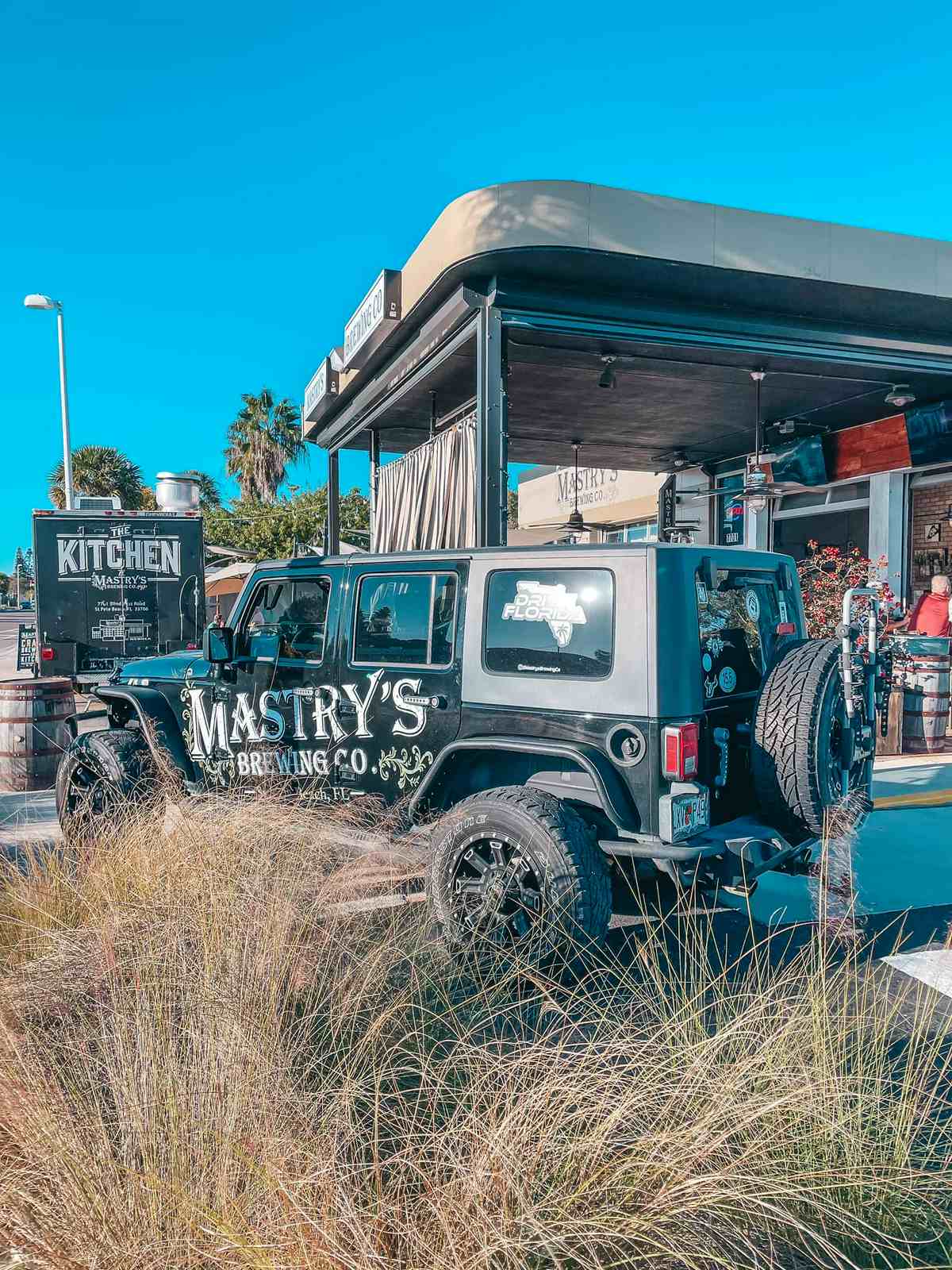 Drum Circle
The drum circle is a super fun, unique, and free thing to do in St. Pete Beach. I think the only way one really knows about it is if you're a local or if you accidentally stumble upon it!
It occurs every Sunday at Gulf Front Park (right on the beach) – 10400 Gulf Blvd Saint Petersburg, Florida. It goes from 3 pm-10 pm. You'll find people of all ages here dancing, playing their own instruments, or just enjoying the vibe.
If you do plan on taking children here, just be aware there are definitely people enjoying recreational drugs.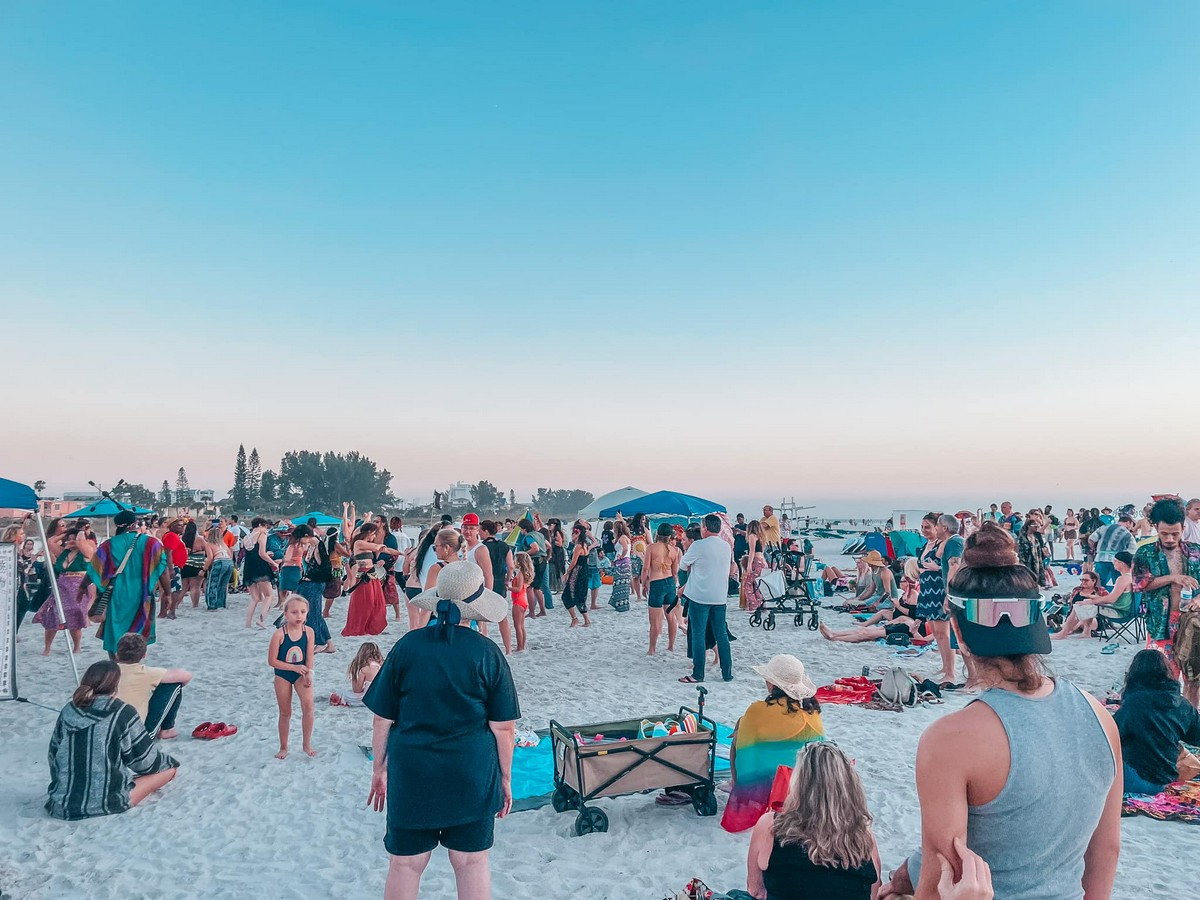 Enjoy some watersports
Suncoast Watersports has all of your beach adventure needs covered. Whether you want to Jet Ski, kayak, snorkel, parasail, or ride on a banana boat they have a rental with your name on it.
Parasailing is one of my favorite activities personally, but there's really not a wrong option here!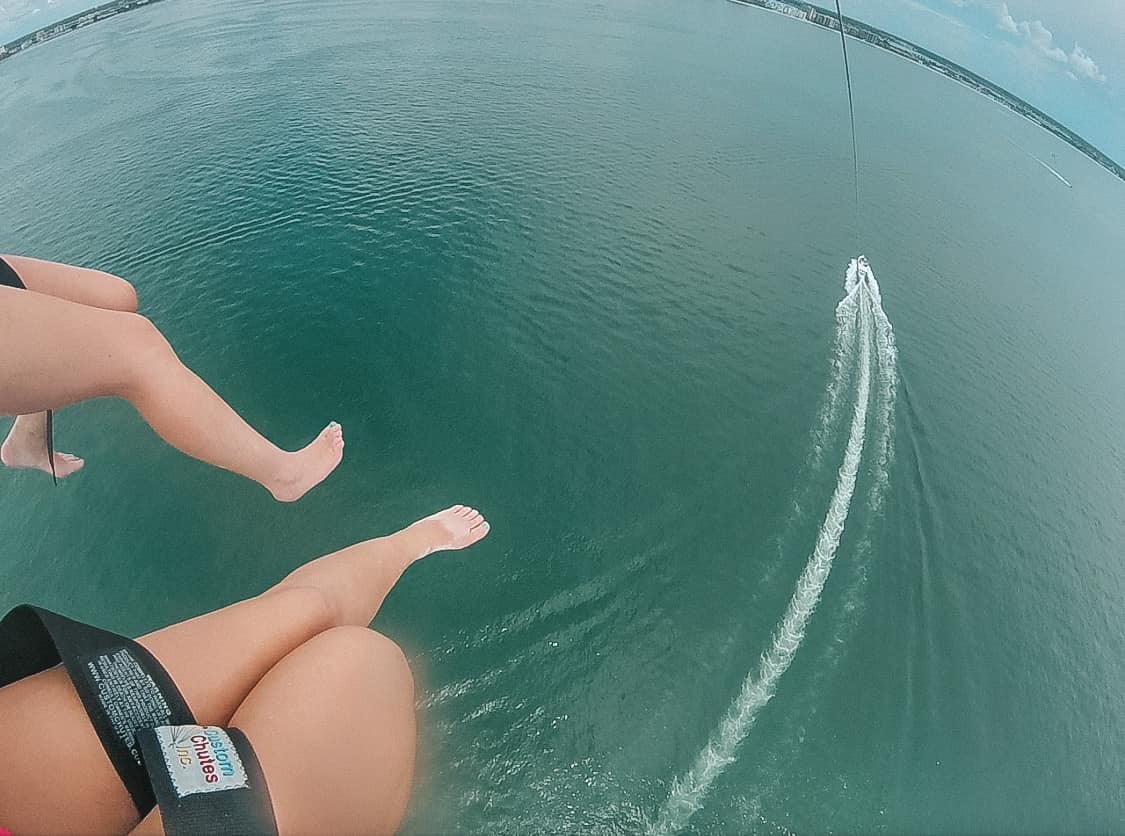 Sunday Market
One of my favorite things about the Tampa Bay area is there are markets everywhere!
Every Sunday, St. Pete Beach hosts the Sunday Market on Corey Avenue. You can find fresh food, artisan crafts, plants, produce, and live music! There are between 50-80 vendors at each market so you're sure to find something interesting.
Once you're done at the market check out the shops, boutiques, and galleries that Corey Ave has to offer too.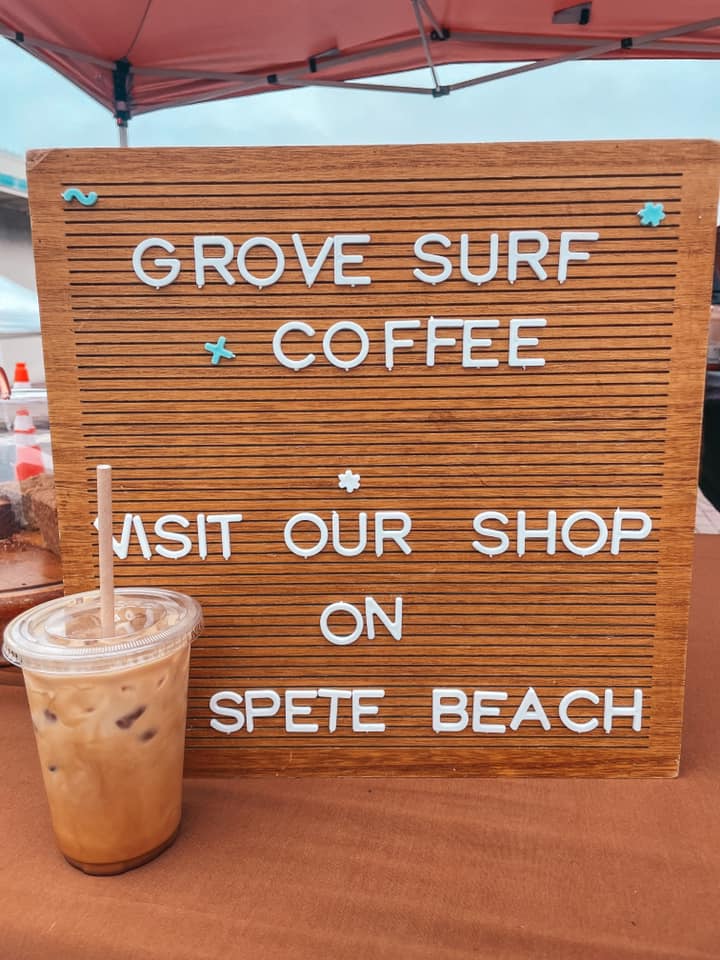 Do a boat tour
Of course, a boat tour is one of the best things to do in St. Pete Beach! You have plenty of options too.
Dolphin Racer is a speedboat that gives you views, the opportunity to witness dolphins jumping in the wake, and informative commentary. Or you can skip the crowd and commentary and take out your own personal mini speedboat from Speed Boat Adventures.
One of my favorite boat tours is with Island Ferry LLC. It's a 2-hour dolphin watch and snorkel cruise. It goes out of Tierra Verde (just a 10-minute drive from St. Pete Beach), requires at least 2 people for booking, and has a free cancellation up to 24 hours before if you book here!
Starlite Cruises offers a sunset dinner cruise (you can also purchase tickets without buying food) or there's also a small group sunset cruise (with over 250 5-star reviews!).
So, like I said, plenty of boat tour options on St. Pete Beach for ya!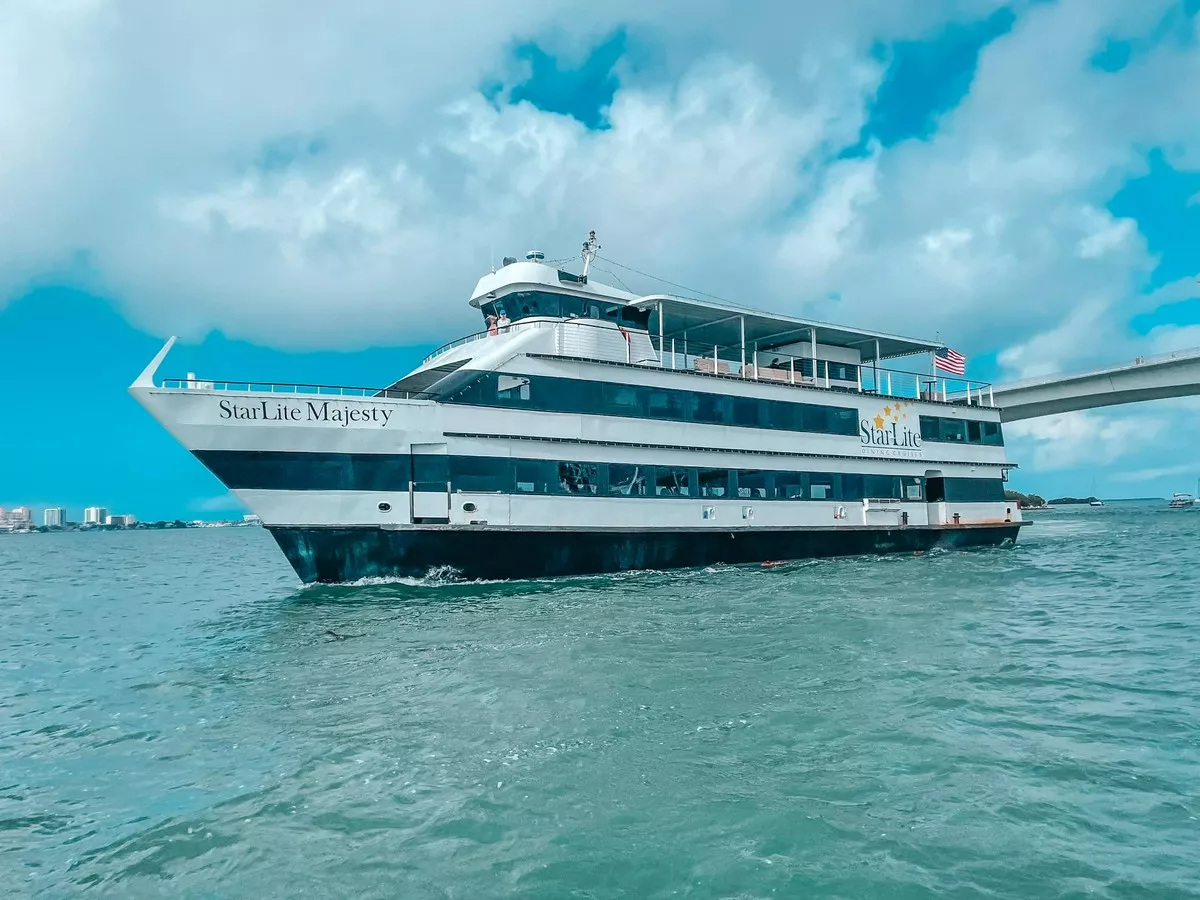 Go on a unique kayaking or motorized stand-up paddleboard tour
One of the most unique things to do in St. Pete Beach is some of the fun kayak tours! Take a clear kayak tour of Shell Key Preserve. Your guide will take you on a 2-2.5 hour guided tour where you can see wildlife, learn about the area, and get some fun pics snapped if you want!
Sharkey's Glass Bottom Tours offers LED-illuminated night tours on glass-bottom kayaks. You will have a guide, and they even provide you with fish food to ensure you get to witness some marine life on your trip.
If stand-up paddleboarding felt intimidating to you before, you have to check out eSUP Adventures! They offer motorized paddle board adventures to Shell Key Preserve. You can make the adventure as leisurely or as involved as you want.
By utilizing the motor you can cruise along anywhere from 4-6 mph. Plus the overhead view you get into the water makes the experience that much cooler.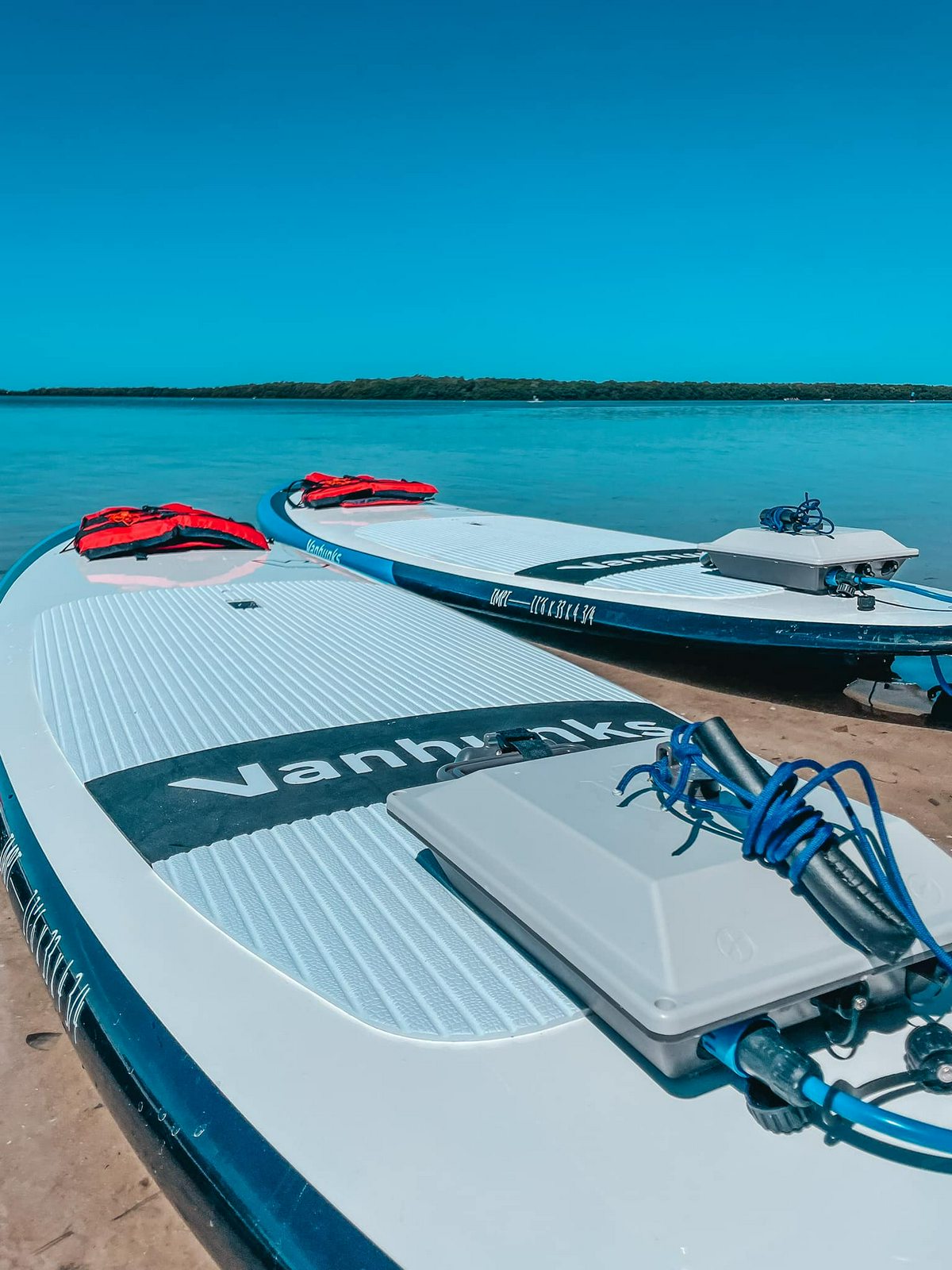 Enjoy the fresh catch
I totally understand if you are in the area and want some options for good, fresh seafood! I suggest checking out Shrimpys Blues Bistro or Brass Monkey. Both spots have waterfront views and great menus. Shells isn't waterfront but they have an amazing and affordable fresh seafood menu!
If you want a nice dinner in St. Pete Beach, Spinners is one of my favorite date night spots. The restaurant literally spins, giving you 360-degree views of St. Pete Beach! Don't worry, the movement is very slow, so you'll hardly notice!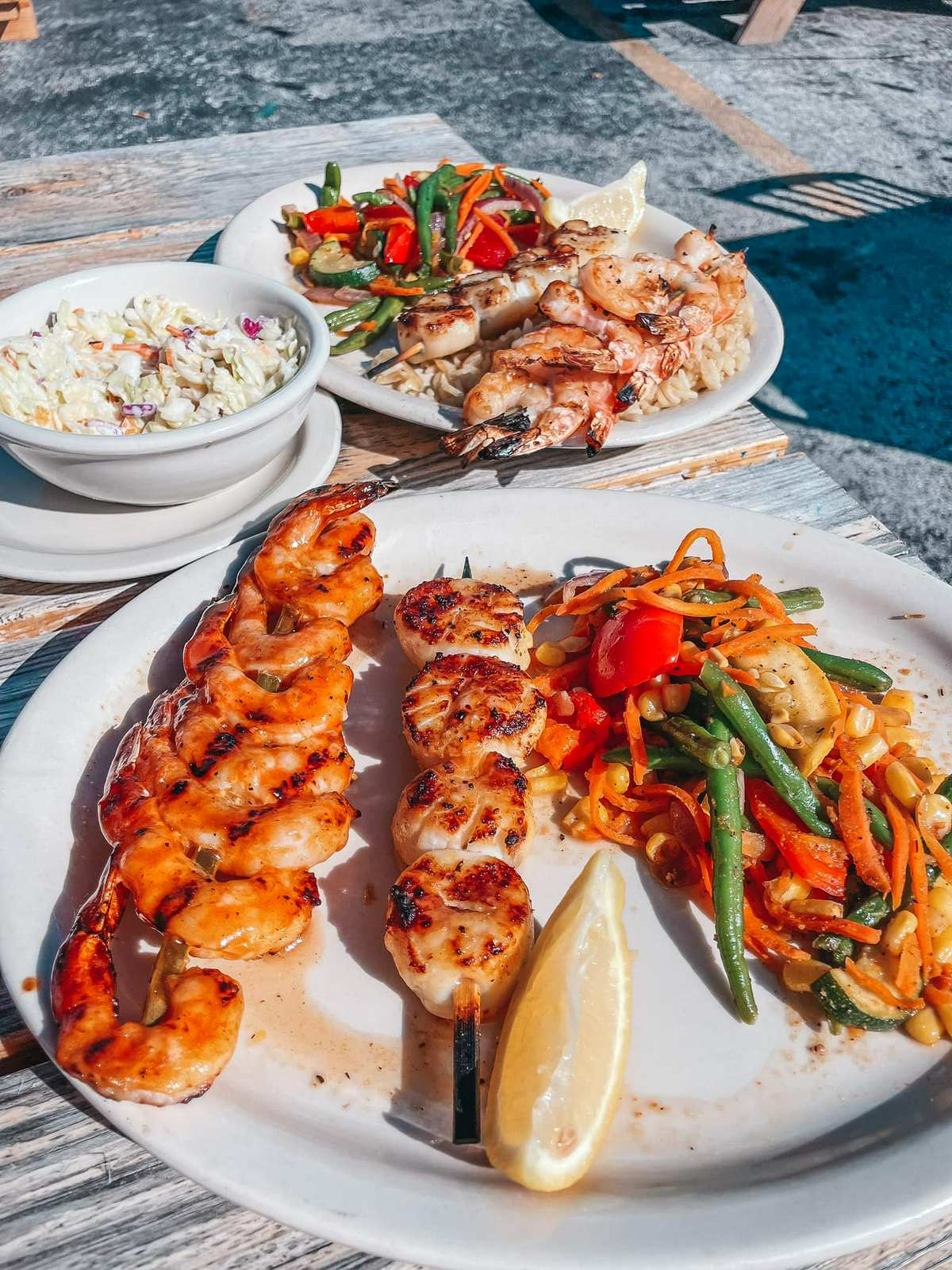 Gulf Beaches Historical Museum
If you want to get a little bit of history during your beach trip, check out the Gulf Beaches Historical Museum. This is another great free activity in St. Pete Beach. They're open Fridays and Saturdays from 11 am to 2 pm.
In the museum, you'll see a timeline display from 1500 to the present along with artifacts, memorabilia, photographs, and postcards with a special Don Cesar Hotel display.
Check out my Amazon recommendations for your Florida packing list!
Go bowling
Bowling is one of the best things to do in St. Pete Beach when it's raining and for families. Little Centers is located right across from the Florida Orange Groves Winery. So feel free to catch a little buzz wine tasting before renting some lanes.
Prices at this alley are super affordable! They range from $20-$40 per hour and shoe rentals are $3.
Where to Stay in St. Pete Beach
There are a number of amazing options when it comes to where to stay in St. Pete Beach. If you want to experience both downtown St. Pete and St. Pete Beach, I recommend staying at the Breeze Bungalow which is actually a stunning, colorful 2-bedroom property situated right between downtown and the beach!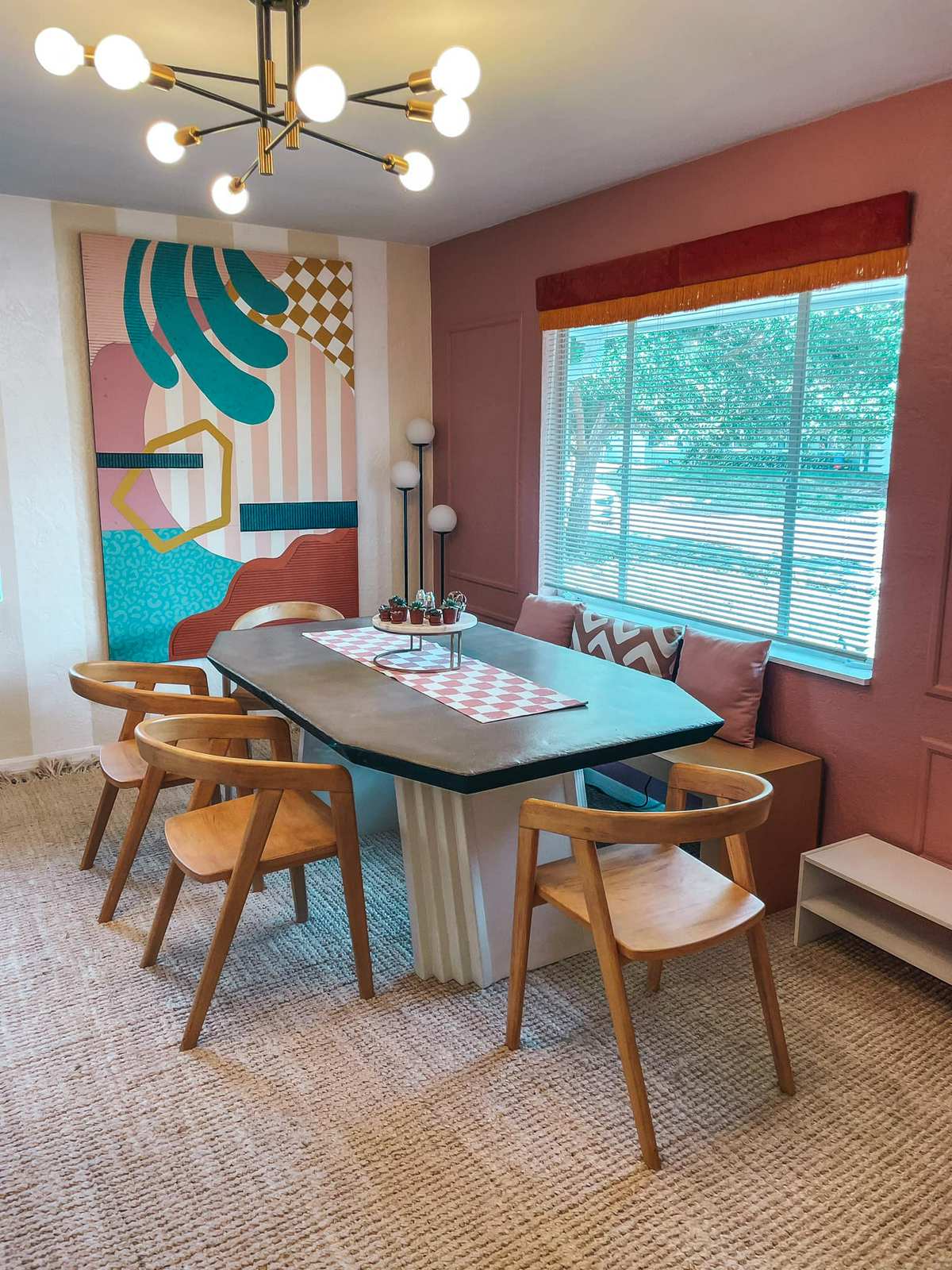 If you want to be beachfront, The Don Cesar is ICONIC. It's a huge pink hotel better known as the "Pink Palace." There are 2 heated pools, 3 lounges, newly renovated rooms, and the beautiful Spa Oceana. Go here if you're looking for a magical experience.
Bellwether Beach Resort and TradeWinds are two other great options if you're looking for a beachfront hotel in St. Pete Beach! Spinners, one of my favorite restaurants in St. Pete Beach that I mentioned earlier, is actually located at Bellwether Beach Resort.
Hotel Zamora is another solid option, plus it has one of the best rooftop bars in St. Pete.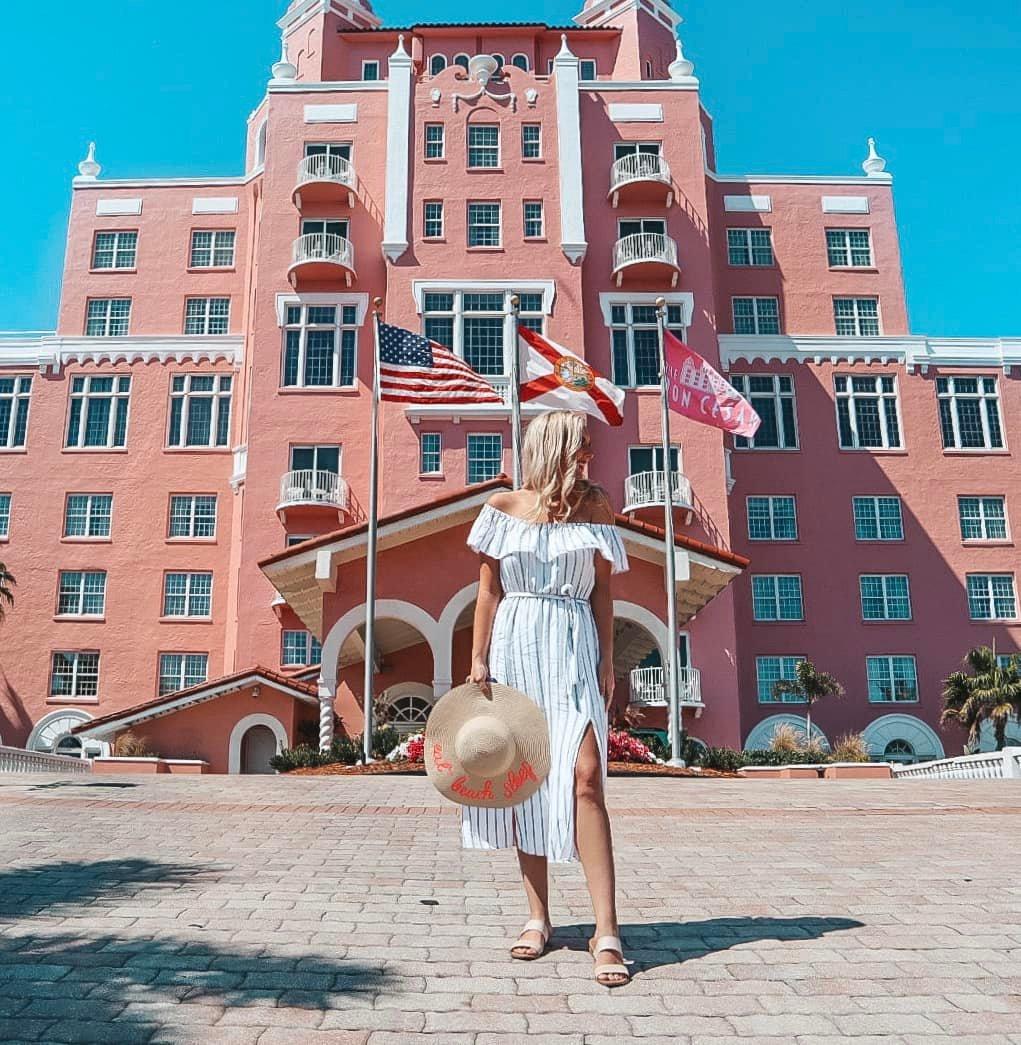 Getting around St. Pete Beach
If you're staying on the beach, a lot of it is walkable. If something is a little far, of course, you can do Uber or Lyft, or you can take a little cheaper option and do the trolley!
Bike rentals are also such a fun way to get around St. Pete Beach (it's my personal favorite).
If you don't mind spending a little bit more, Scoot Scoot Rentals is located in downtown St. Pete and is such a unique way to get around the beach. They have golf cart rentals, coupes, Polaris Slingshots, and so much more! You can do anywhere from 2-hour rentals to several days.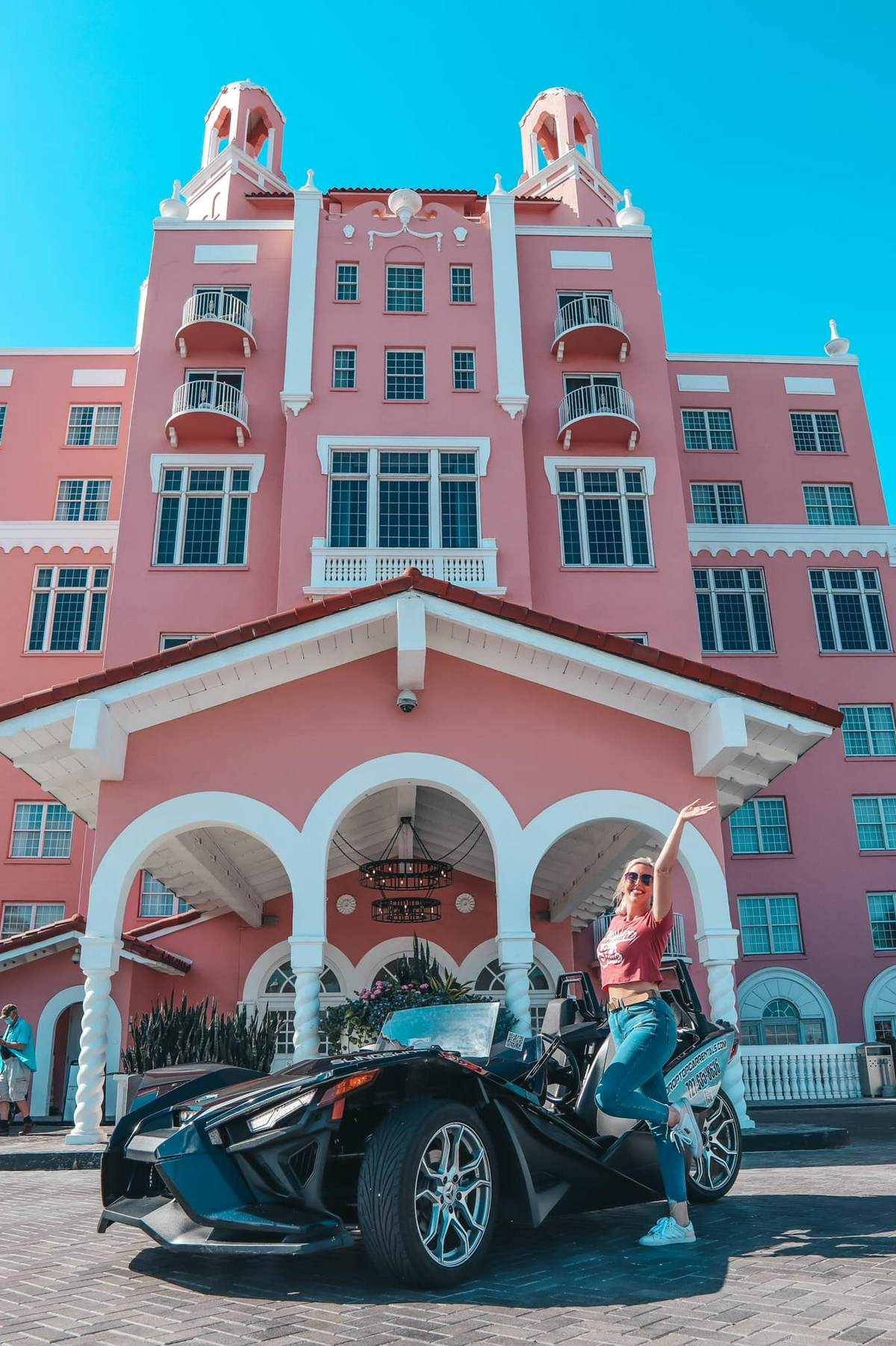 As you can see there are plenty of fun things to do in St. Pete Beach! If you have the time I highly encourage checking out some of St. Pete Beach's surrounding areas as well!
Downtown St. Pete, Clearwater Beach, Indian Rocks Beach, Pass-a-Grille, John's Pass, and Gulfport are all 10-40 minutes from St. Pete Beach (with Clearwater Beach being the furthest) and have something unique to offer. There are so many amazing spots for day trips!
I hope that you enjoyed this guide and are pumped for your upcoming trip (or maybe you're a local like me who's just looking for something new and fun to do!). Before you go, be sure to check out some of my other Florida posts and follow me on Insta @guidedbydestiny for more 🙂
Best Clearwater Beach Restaurants